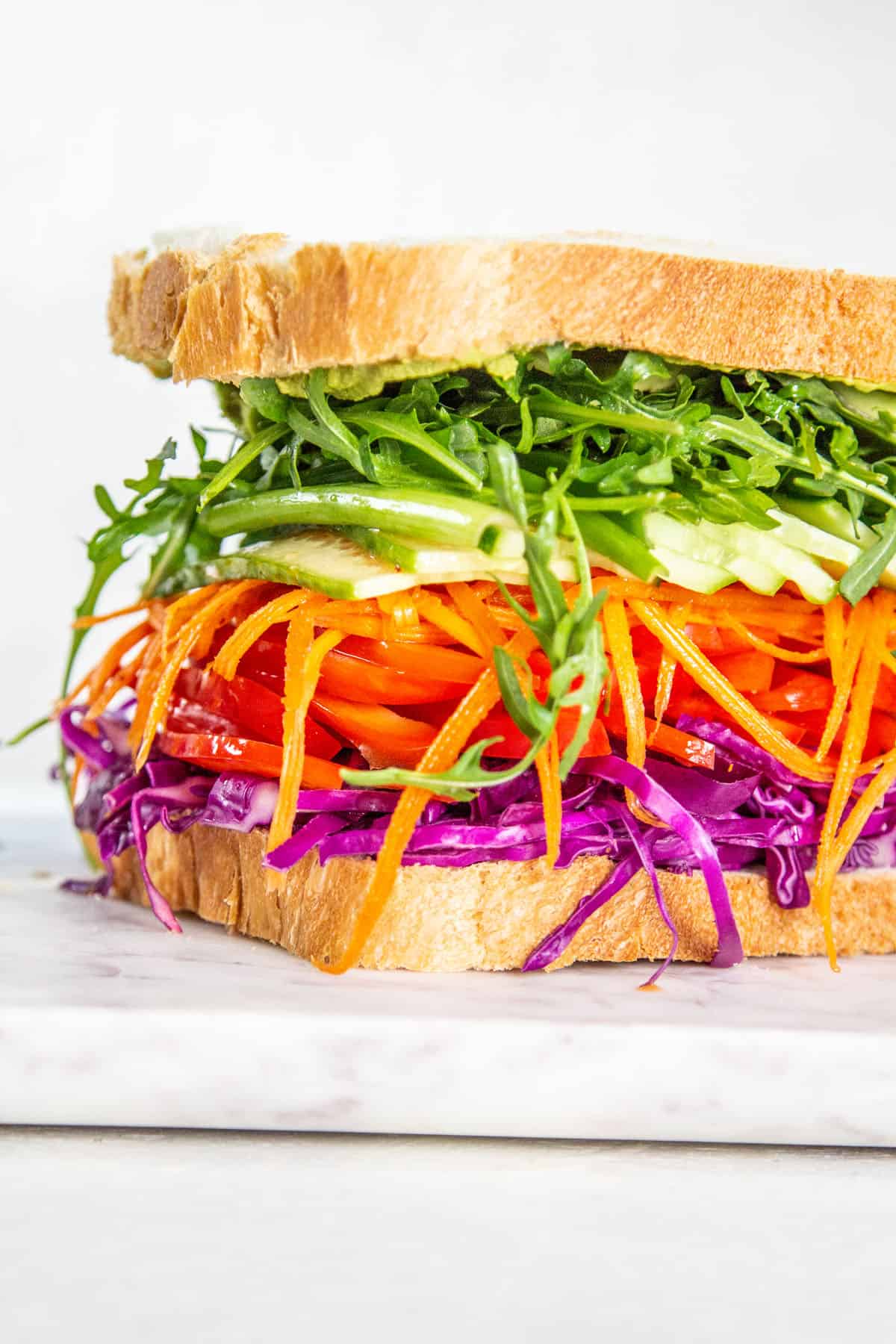 CA GROWN Blog
Discover. Learn. Connect.
A Delicious California-Grown Veggie Sandwich Recipe To Try Now
March 7, 2023
Eat the Season!
Sign Up For Weekly Recipes
« Back to Recipes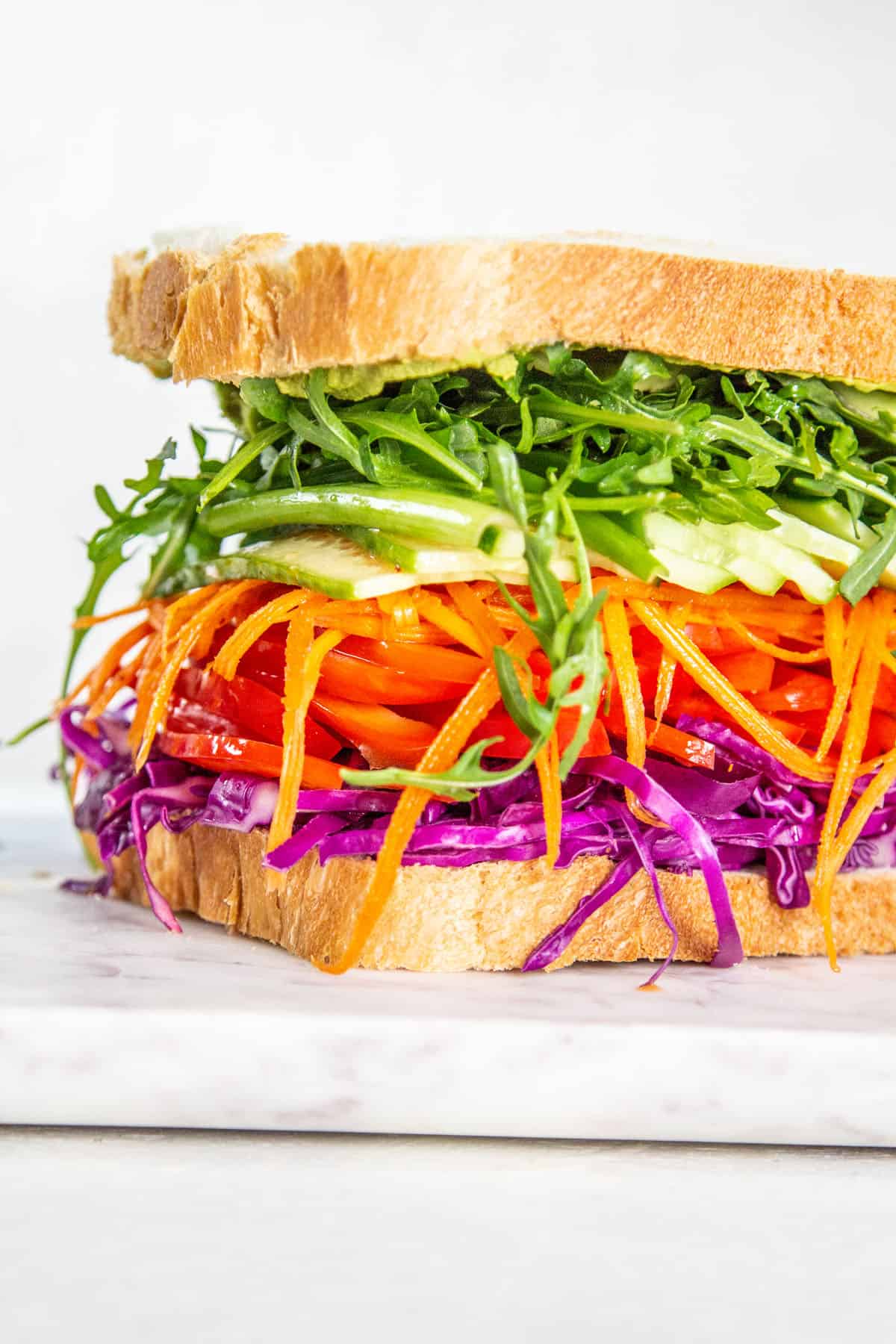 A Delicious California-Grown Veggie Sandwich Recipe To Try Now
Are you searching for a healthy and delicious lunch option that is easy to make and packed with nutrients? Look no further than this California-Grown Veggie Sandwich recipe! This sandwich is not only delicious, but it also features some of California's most well-known and loved ingredients – like leafy greens, avocados, and pistachios. So let's dive in and discover why a veggie sandwich should be your go-to lunch option and how to make the ultimate California-Grown Veggie Sandwich.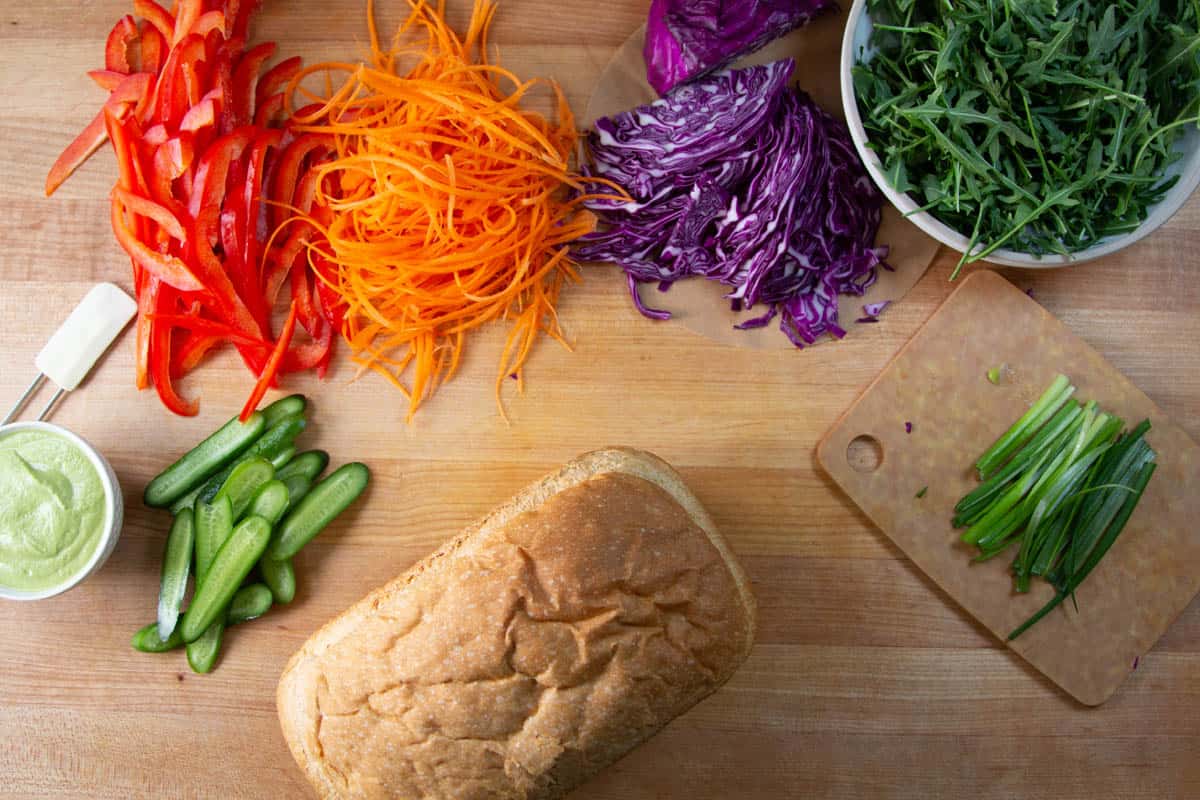 Upgrade Your Lunch Game with this Delicious Veggie Sandwich Recipe!
A veggie sandwich is a great choice for a healthy and delicious meal. Eating a diet rich in fruits and vegetables is really good for your health and can help lower your risk of diseases like heart disease and diabetes.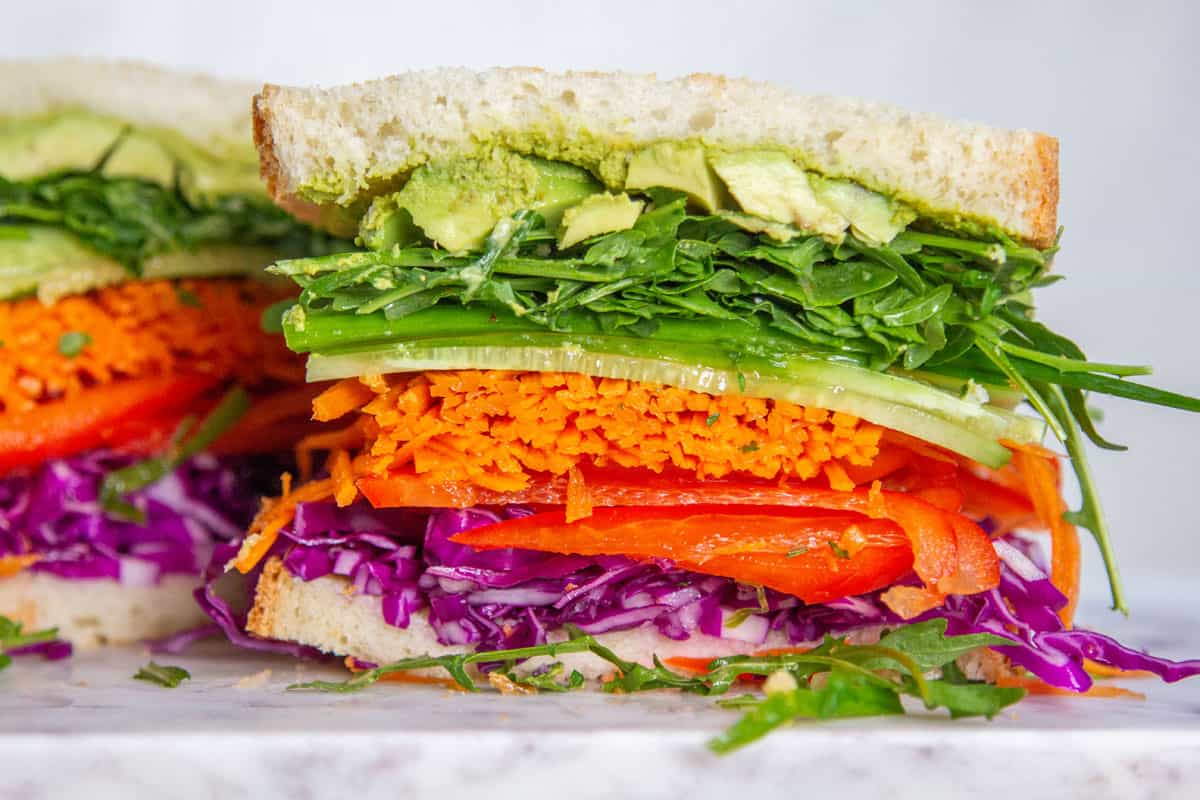 Get Your Daily Dose of Veggies with the Ultimate California-Grown Inspired Sandwich.
A veggie sandwich isn't only good for your body, though – it's a delicious and satisfying meal choice! With the right ingredients, you can enjoy a sandwich that is packed with flavor and texture. Imagine biting into a warm slice of bread, followed by the creamy goodness of avocado and the crunch of fresh vegetables like cucumber, carrots, and green onion. And with a hearty dollop of our Pistachio Basil Sandwich Spread, every bite is literally bursting with flavor. Trust us; you won't even miss the lunchmeat!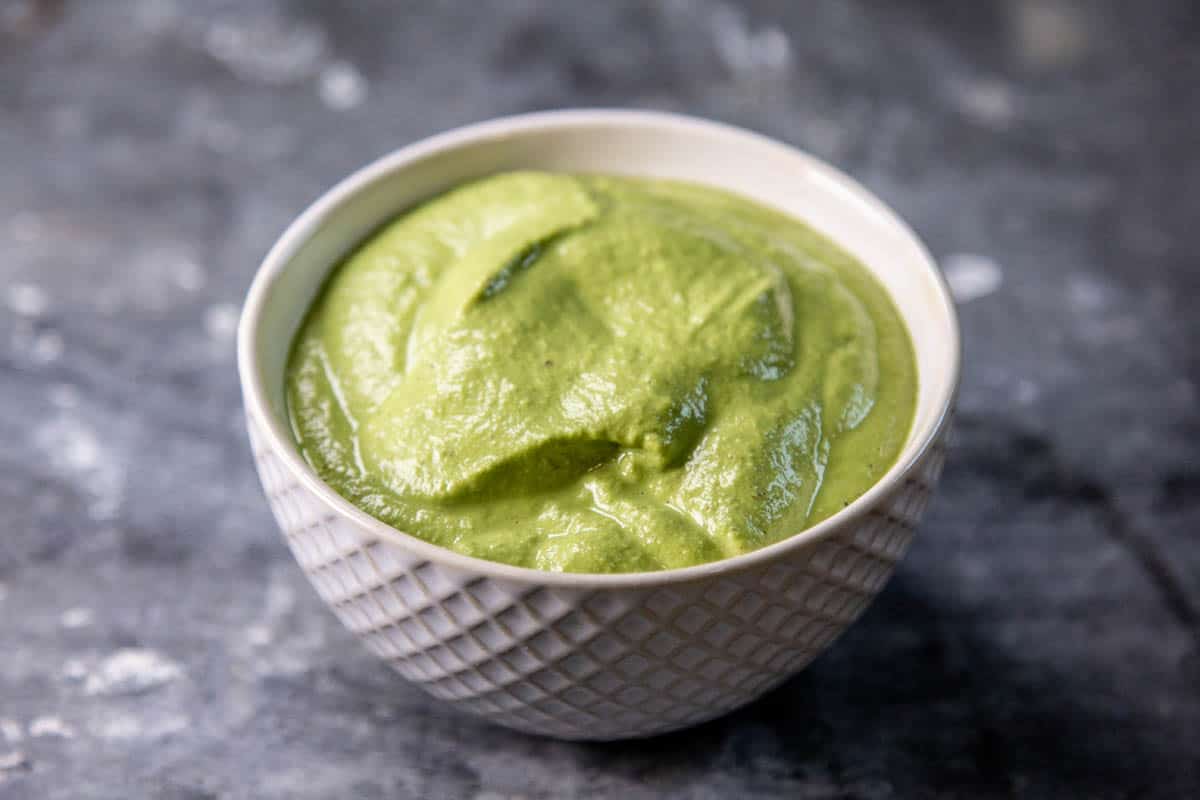 While we love this combination of veggie-forward ingredients with our Pistachio Basil Sandwich Spread – your taste buds may desire a different sandwich schmear though. Below are a few more delicious options you could try.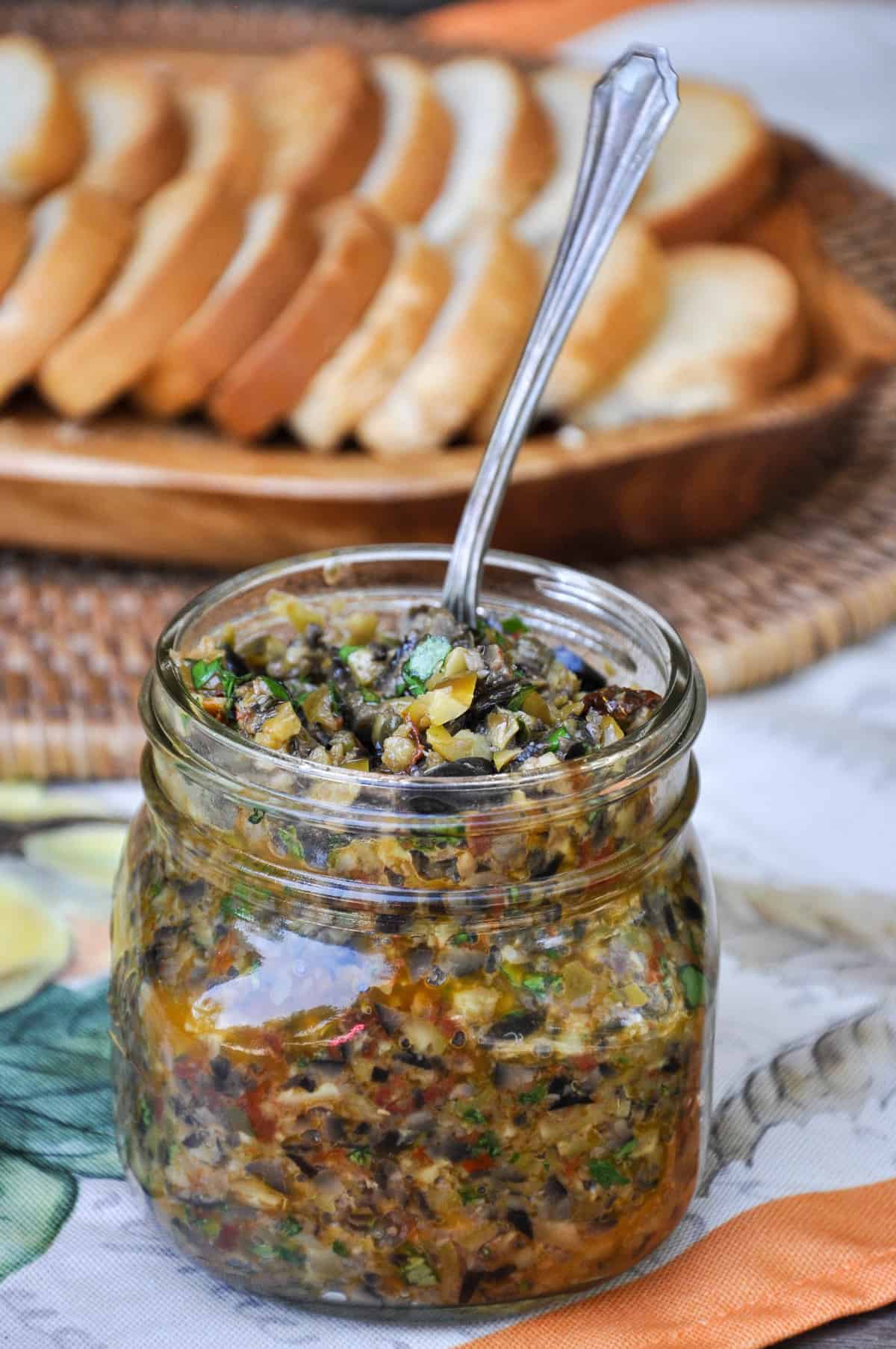 The Sandwich Revolution: How to Make a Veggie Sandwich You'll Actually Look Forward to Eating.
How to prep raw vegetables for making veggie sandwiches.
When it comes to making a perfect veggie sandwich, preparation is key. Slicing or grating raw vegetables like carrots, red cabbage, and cucumbers into super thin slices makes them much easier to chew and helps create a more enjoyable sandwich. The last thing you want is to bite into a sandwich and wind up with a solid chunk of raw vegetables that you must try to chew through gracefully. Thin shreds, or tangles of vegetables, are best.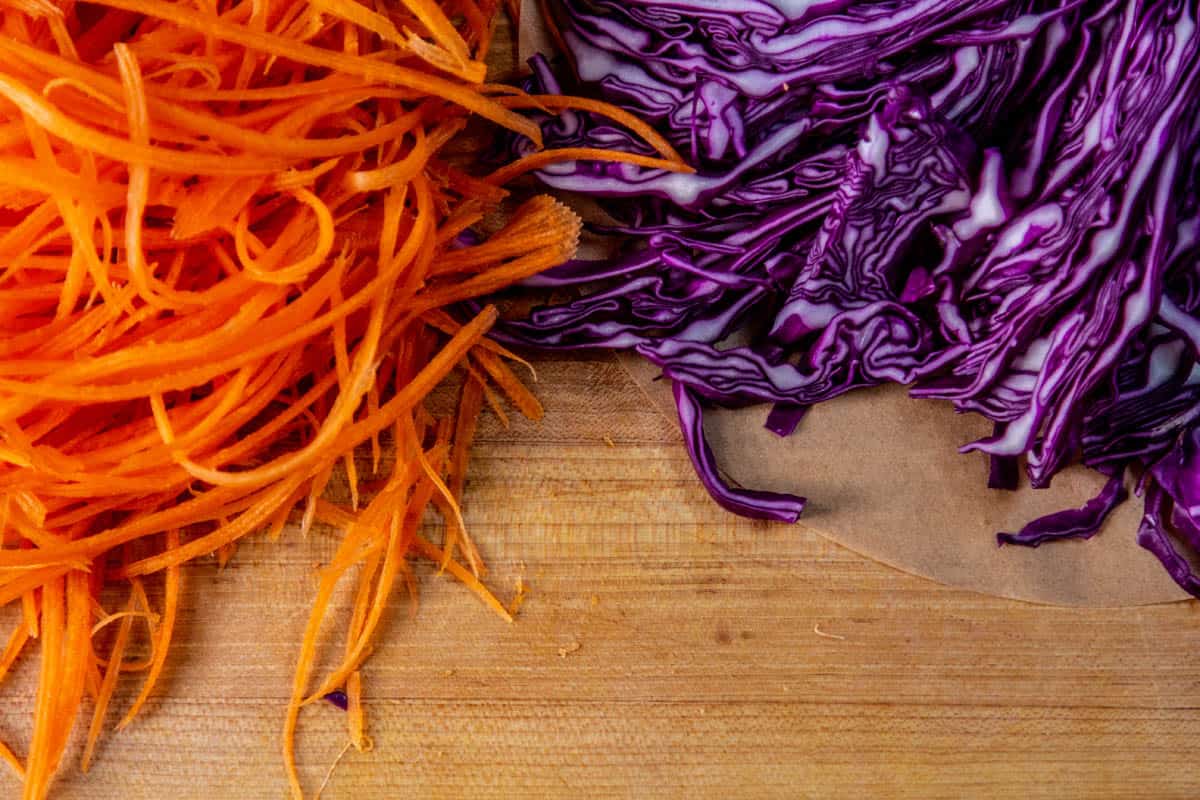 By slicing or shredding your veggies thin, you ensure that each bite is easy to chew and flavorful. Plus, it makes for a more visually appealing sandwich when each ingredient is sliced uniformly.
When you're making a veggie sandwich, it pays to take the time to slice or shred your veggies extra thin – your taste buds (and your jaw!) will thank you.
Season every single layer!
Look, this step is as essential as having a sandwich spread. Season those layers! Take the opportunity to sprinkle a little salt and pepper on every layer of veggies that you layer onto your sandwich.
Adding a pinch of salt to raw vegetables can make a world of difference in the flavor department. Salt can help bring out the natural flavors of vegetables and can even help reduce any bitterness or harshness in certain veggies.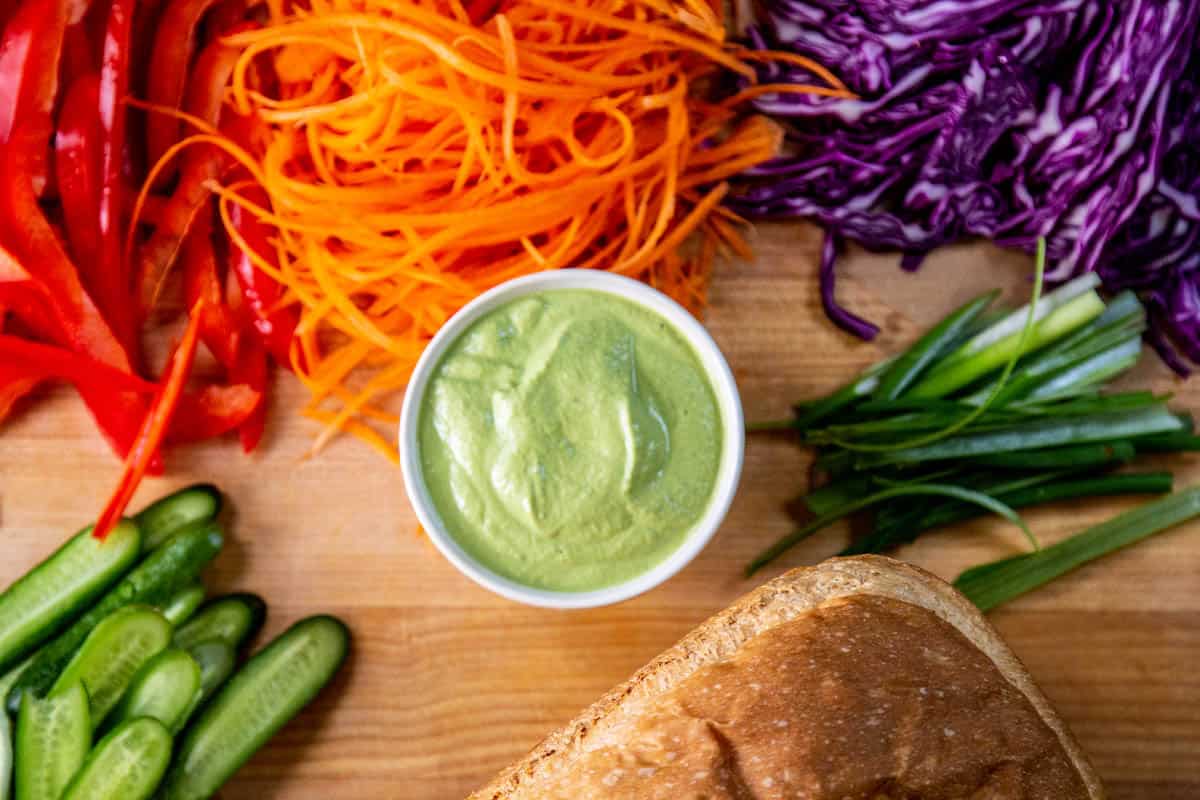 Adding a touch of salt also helps to tenderize vegetables. Salt breaks down the cell walls of vegetables, making them easier to chew and digest. This is especially helpful for tougher vegetables like carrots or red cabbage.
Say Goodbye to Boring Lunches Forever with Delicious Vegetable Forward Sandwiches and Toast Recipes.
When we asked our California Grown Creators to share their favorite recipes and accouterments for making epic veggie sandwiches and toasts, they really delivered! Keep scrolling for more vegetable-forward lunch ideas!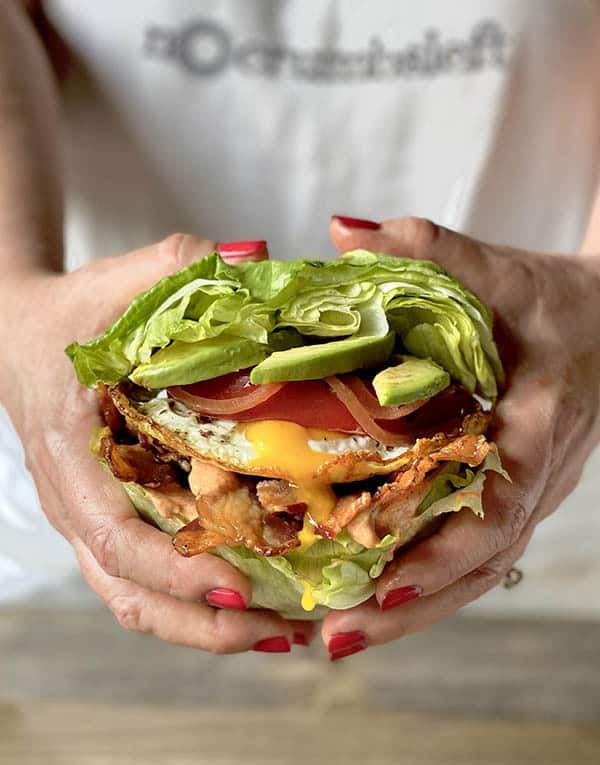 Teri of nocrumbsleft created a really fun double twist on a Cobb Salad. First, she turned this salad into a sandwich, and for the second twist, she used a fried egg instead of hard-boiled. The best part? It is deliciously Whole30.
Salt & Wind's ideal deli veggie sandwich is satisfying but light, fresh but substantial, and has a good deal of crunchy texture. This veggie sandwich has it all; whipped goat cheese, toasted multigrain bread, roasted sweet potatoes, loads of fresh veg, and a drizzle of tahini for that extra bit of decadence.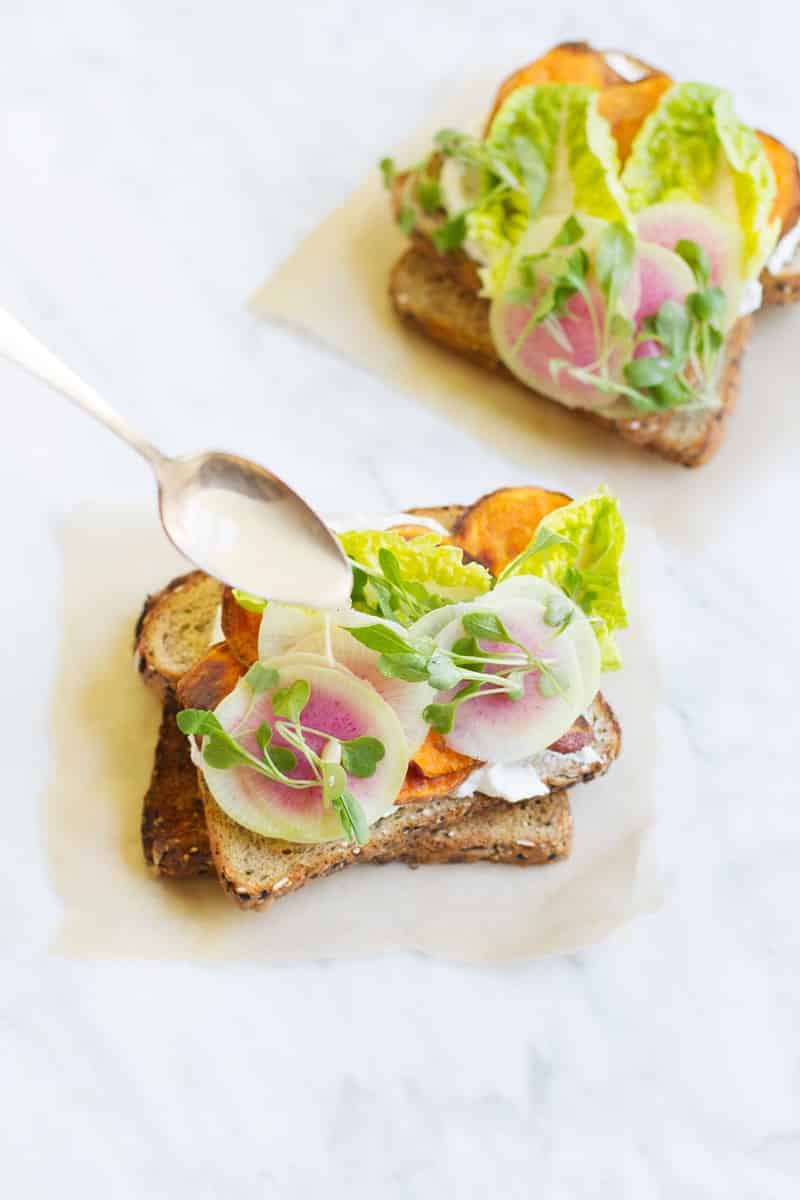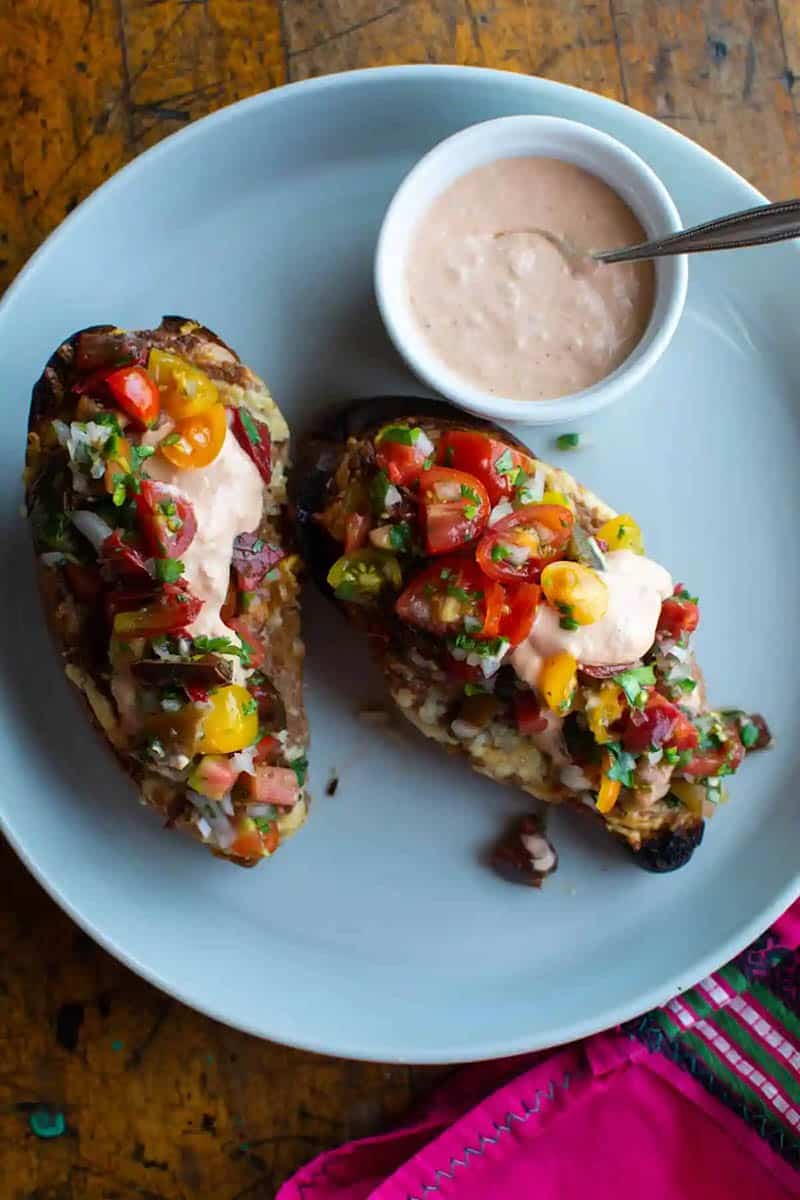 This open-faced sandwich from Hola Jalapeno is layered with refried beans, melted cheese, and fresh pico de gallo. This no-fuss, vegetarian meal is great for breakfast, lunch, or dinner. It's extra good with a dollop of roasted garlic–tomato crema on top!
This epic veggie sandwich from This Mess is Ours is piled sky-high! It has cheese, lightly dressed arugula, eggplant bacon, heirloom tomatoes, and citrus pickled onions. Plus, a rosemary white bean hummus that will knock your socks off!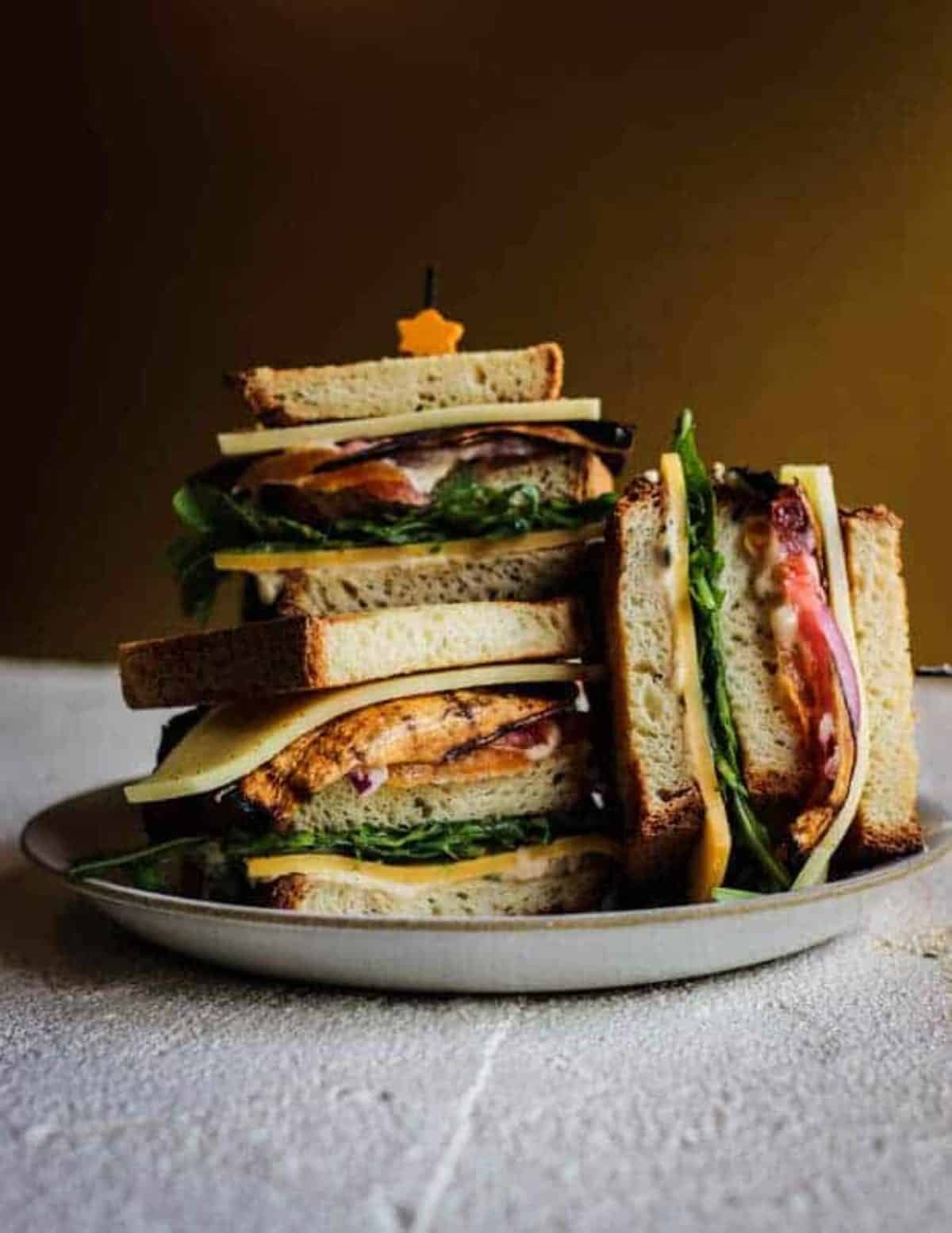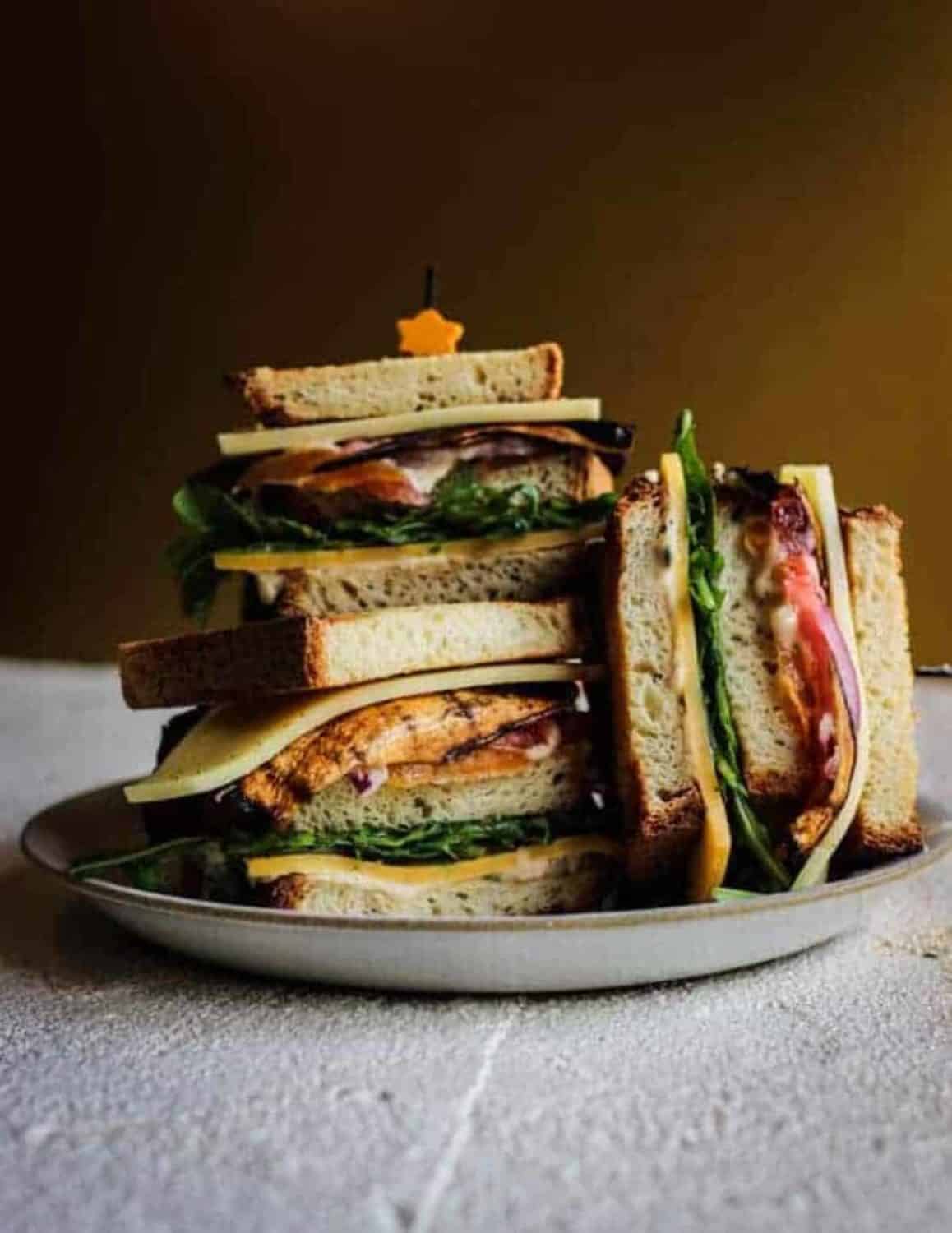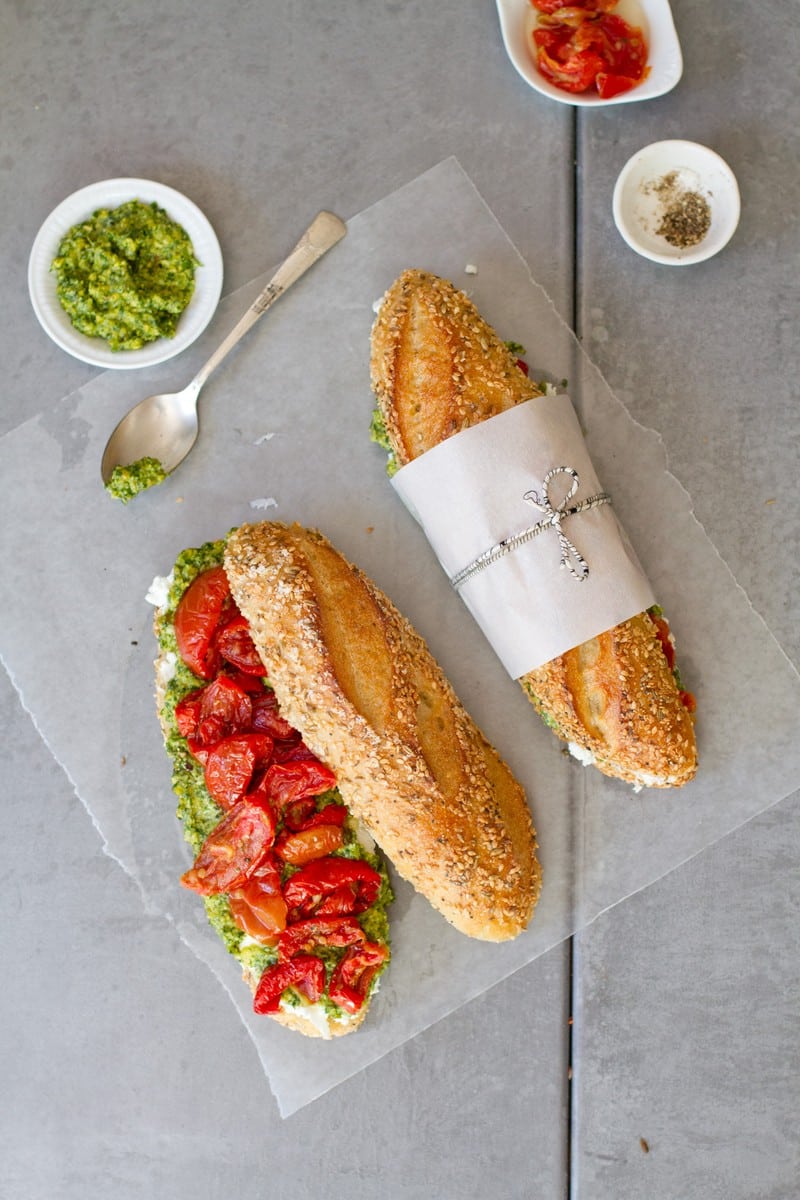 There's an art to the ideal picnic sandwich–made right, the bread soaks up the flavors, and everything is perfectly marinated by the time the shindig gets swinging, as is the situation with this Slow-Roasted Tomato and Cilantro-Cashew Picnic Sandwich from Salt & Wind.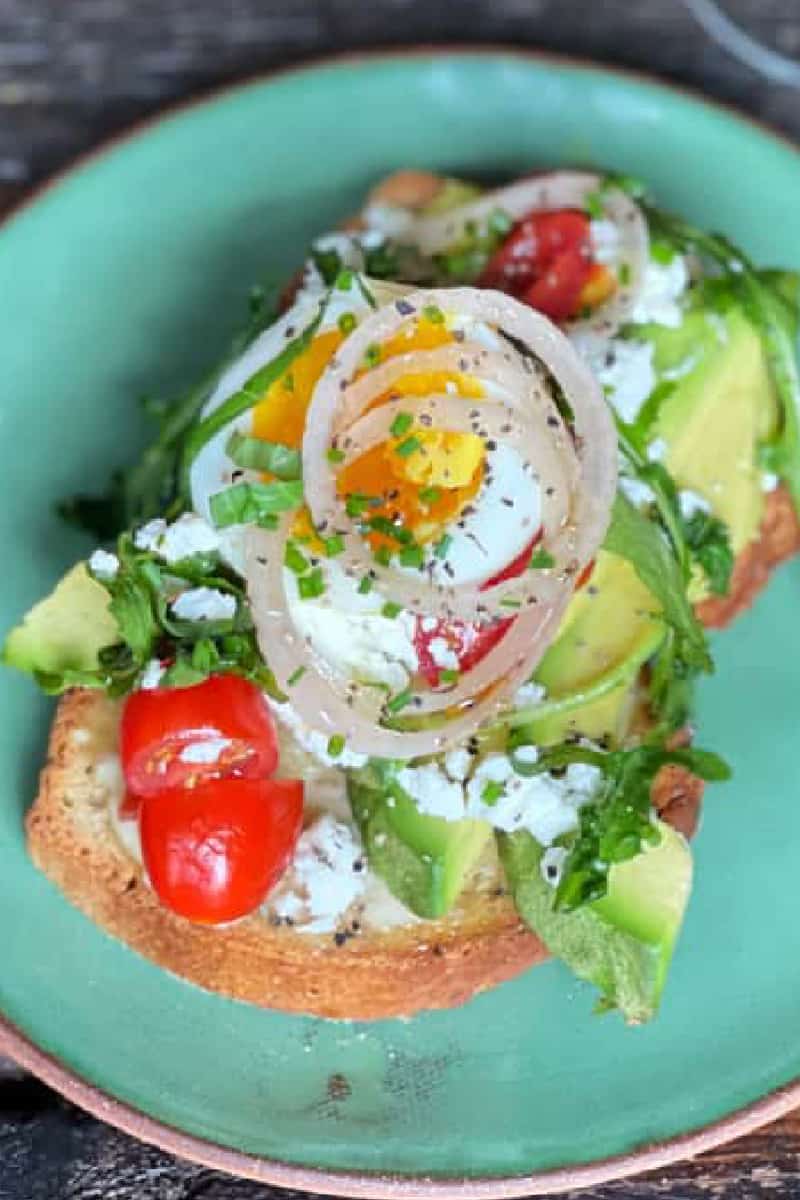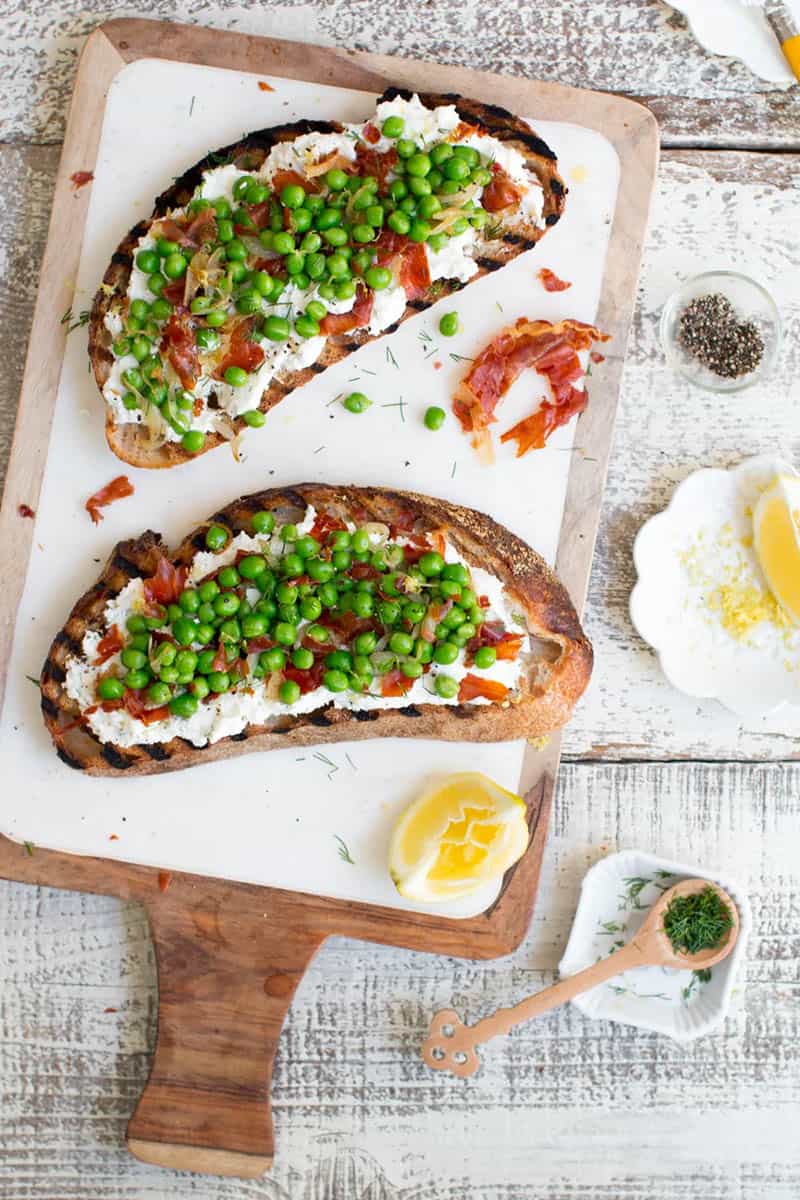 A hearty stack of grilled sourdough, tangy, whipped goat cheese spread, fresh spring peas, crispy prosciutto, dill & lemon gathers together to bring the Spring to this Tartine from Baking the Goods.
BE SURE TO SHARE YOUR VEGGIE SANDWICH CREATIONS WITH US BY SNAPPING A PIC AND TAGGING US ON SOCIAL USING #CAGROWN.
Craving more CA Grown goodness? Follow us on Pinterest for fresh and fabulous recipe inspiration!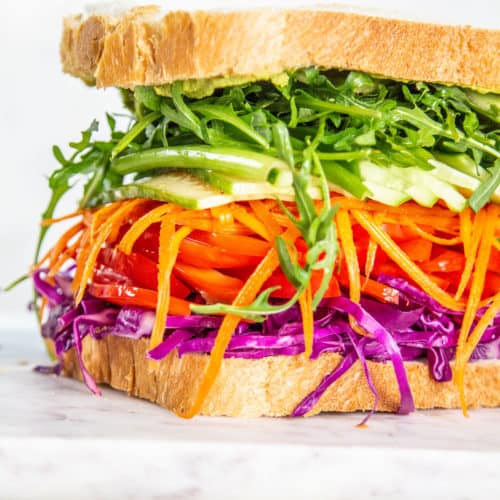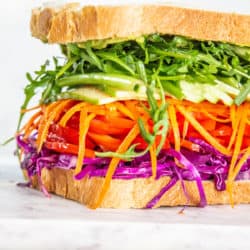 California-Grown Veggie Sandwich and Pistachio Basil Sandwich Spread
Our California-Grown Veggie Sandwich is easy to make and packed with vibrant fresh ingredients like leafy greens, avocados, and pistachios.
Equipment
a very sharp knife, mandoline, or a vegetable peeler with teeth for shredding.

Blender
Ingredients
Pistachio Basil Sandwich Spread
1 cup raw pistachios soaked in boiling water for 30 minutes, drained and rinsed
1 jalapeno pepper seeds and ribs removed
1 cup warm vegetable broth
½ cup fresh basil leaves
½ cup flat leaf parsley leave and stems
½ cup shredded Tuscan kale
1 medium-sized clove garlic peeled and roughly chopped
2 tablespoons minced shallot
kosher salt and ground coarsely ground black pepper to taste
California-Grown Veggie Sandwich
1 small head red cabbage shredded thinly
5 ounces arugula or other leafy greens
3 large carrots shredded thinly
3 small seedless cucumbers sliced thin
2 green onions halved, white parts removed if desired, then sliced very thin lengthwise
1 red bell pepper seed removed, thinly sliced lengthwise
1 large avocado pit and peel removed, sliced
prepared Pistachio Basil Sandwich Spread or other deisred sandwich spread
slices of bread any variety
Instructions
To make the Pistachio Basil Sandwich Spread
Place all of the ingredients in the order listed into a high powered blender. Blend until completely smooth. Use immediately or store refrigerated in an airtight container for up to 3 days.
To make the California-Grown Veggie Sandwich
Toast bread if desired and spread with a hearty amount of Pistachio Basil Sandwich Spread.

Layer the prepared vegetables onto one slice of the bread one at a time, sprinkling with a very small amount of salt and pepper over each layer. Top with the other slice of bread and serve immediatley.
Video
Nutrition
Calories: 404kcalCarbohydrates: 54gProtein: 15gFat: 17gSaturated Fat: 2gPolyunsaturated Fat: 5gMonounsaturated Fat: 9gTrans Fat: 0.01gSodium: 339mgPotassium: 1129mgFiber: 12gSugar: 14gVitamin A: 8769IUVitamin C: 128mgCalcium: 232mgIron: 5mg