Good things come in small packages and pistachios are no exception! This small but mighty nut adds flavor, texture, a pop of color, and lots of nutritional benefits to whatever dish you add them to. Read on to learn how pistachios are grown and harvested in California and for over 20 of the best recipes with pistachios from our California Grown Creators!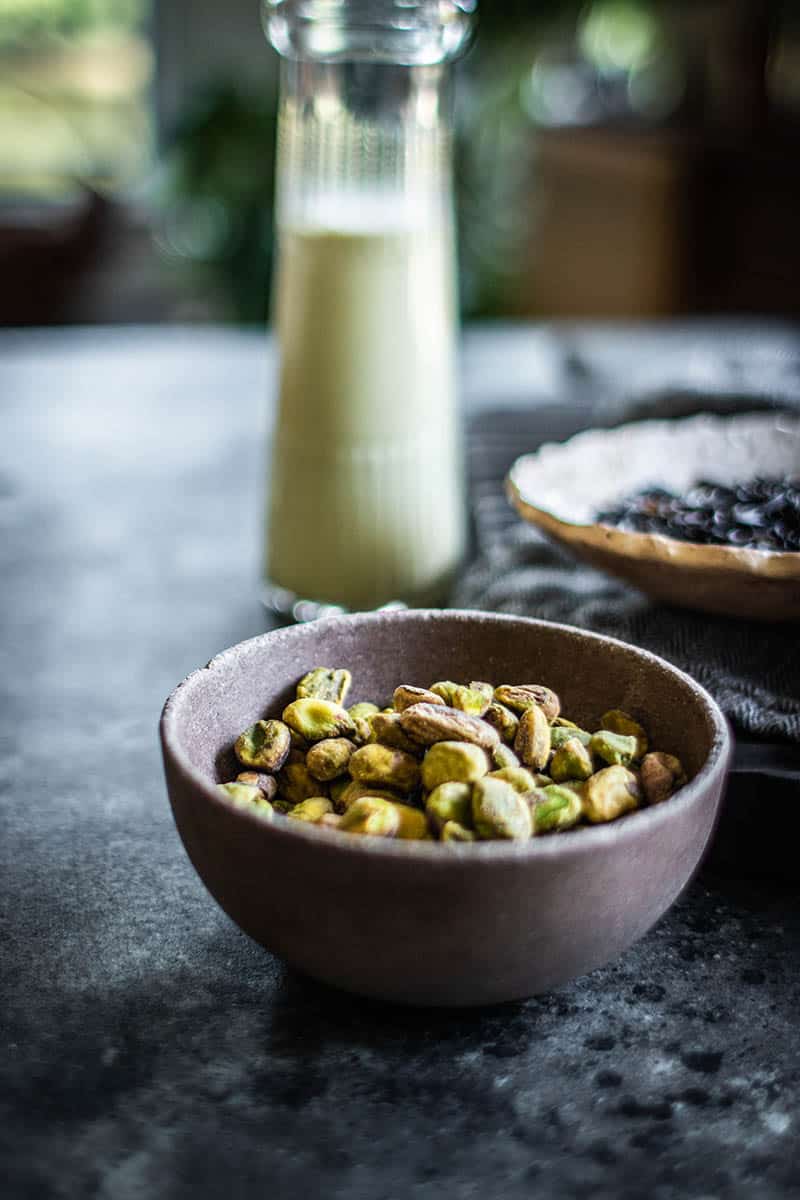 Are pistachios good for you?
The answer to that question is a resounding yes! Pistachios are very good for you and here are 3 key reasons why:
Pistachios are classified as a complete protein source that provides all nine essential amino acids in adequate amounts for people 5 years and older.
A single serving of pistachios has 6 grams of plant-based protein and meets 10% of your dietary fiber intake needs too.
A 1-ounce serving of pistachios equals approximately 49 nuts, that is more nuts per serving than any other snack nut.
Ever wondered what it would be like to be a pistachio farmer?!
Being a pistachio farmer is a pretty cool gig if you ask us! We have had the pleasure of connecting with a few California pistachio farmers and now you can connect with them too by learning more about them and how they grow and harvest pistachios in the articles below.
Where are pistachios grown in California?
Believe it or not, California grows 99 % of the United States pistachio supply, with over 312,000 acres planted throughout 22 counties! Pistachio trees thrive in California's Central Valley due to the fertile soil, hot, dry climate, and moderately cold winters.
When are pistachios harvested in California?
Nature decides when it's time to harvest pistachios. In California, harvest takes place anywhere from late – August to early October when the fruit is mature and the shell has split.
Start your day with these recipes for pistachio!
Did you know that gram for gram pistachios have as much protein as an egg? It's true! And just 2-ounces of pistachios have as much potassium as a banana!! Incorporating pistachios into your breakfast recipes is a sure way to bring lots of great flavor, texture, and color, all while reaping some serious rewards when it comes to nutritional benefits.
Sweet recipes with pistachio!
Chances are if you are a baker, you've laced a treat or two with pistachios! Their vibrant color and rich, buttery flavor can't be replicated.
Savory recipes with pistachio!
Have you ever made savory recipes with pistachio? There are all sorts of incredible savory flavor combinations that benefit from the addition of pistachios. From pistachio pesto to pistachio dusted roasted salmon, these savory recipes are great for weeknight family dinner or for a dinner guests will not forget!
Recipes with pistachio for the holidays!
Pistachios' brilliant green hue makes them the perfect nut for adding to holiday dishes like cakes and cookies! Raw pistachios are typically more vibrant in color than roasted ones, so if color is what you are going for be sure to shop for the raw version.
Craving more CA Grown goodness? Follow us on Pinterest for fresh and fabulous recipe inspiration!
BE SURE TO SHARE YOUR FAVORITE RECIPES WITH PISTACHIO WITH US BY SNAPPING A PIC AND TAGGING US ON SOCIAL USING #CAGROWN.