Meet a Farmer: Daniel Jackson of Family Tree Farms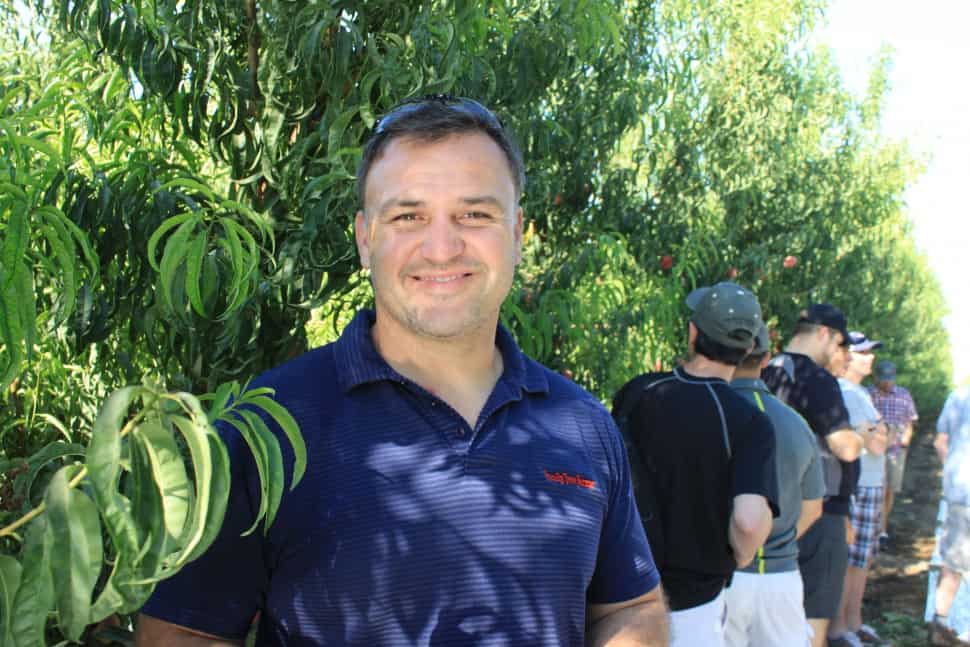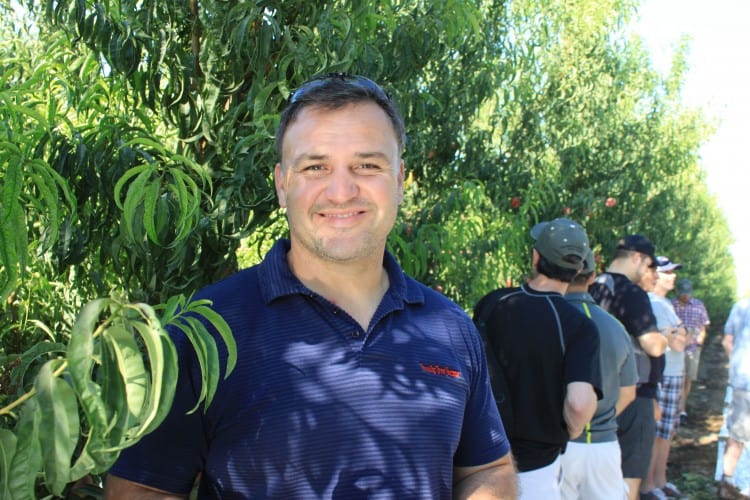 Meet Daniel Jackson, co-owner of Family Tree Farms and eighth generation farmer. Like his grandfather before him, Daniel is a firm believer in doing business with honest and dependable people. Learn more about his family and why he says "Farmer" is his most important title.
CA GROWN: What are you doing today?
Daniel: Today I went to the west side to plant some of my first pistachio varieties out there and now I'm heading back to the office to start doing paperwork. The season is over now, so we're getting into pruning and I also checked on our crew that's pruning some of our tree fruit because one of the main commodities that we do produce is tree fruit (peaches, plums, apricots, nectarines and blueberries). We're getting all of those trimmed and ready for the next season because we're already looking ahead and thinking about 2017.
CA GROWN: What is your favorite thing about your job?
Daniel: It really depends on the season. During harvesting season, there's always a little bit more of an adrenaline rush because there's so many things going on. May is typically our busiest time of the year because we have blueberries, cherries and we're also doing our tree fruit at that time. Right now, it's a little slower so that's one thing I like about farming is that it's seasonal. You get these ebbs and flows of work that come in and out, and right now like I said, we're just waking up and getting the crews ready with pruning and then finishing up in the office. But depending on the season, we can be packing fruit all night sometimes so it just kind of depends.
CA GROWN: What's one of your favorite things about your job?
Daniel: We get to produce something that people eat, so you're creating an experience for all your consumers. Every day is different on the farm and that's one thing that's exciting about it. Farmers get to do something that keeps people alive, we produce food and that's an important job. My most important title I'm proud of is farmer – I get to go out and grow produce that people eat, so it's a job that I really love. So I wake up with a little bit of pride for what I do everyday because we're not only producing something that is nutritious and helping people live a healthy life, but we're also growing things people enjoy eating and I think that's the best part of my job knowing that we do that.
CA GROWN: How do you give back to the community?
Daniel: We give back in a lot of ways. Fair season just passed, so we saw a lot of kids that were selling their animals and we were able to buy a few of those. We also give back to our community through our schools and probably the most important thing we do is we give back through the faith-based community. We're really involved in our churches as owners, so we're able to give back in that way and support different missions that help in compassionate ways throughout the world.
CA GROWN: What drew you into the farming profession?
Daniel: I grew up in this profession. It was something that I got to watch my dad do and because I was raised in a healthy family that had a strong structure with a great mom and dad like I did, it was really easy to say I wanted to do what my dad did because he was one of my main role models and his love and passion for what he did rubbed off on me and my brothers as well. Going into college, I knew that that's what I wanted to do so I majored in Plant Science at Fresno State. From there, I was able to plant some of my own varieties of tree fruit while in college and continued on from there. I've always seen my dad put his boots on in the morning and I loved seeing his shadow on the soil and I really do appreciate the opportunity to be a farmer.
CA GROWN: What are your hobbies or pastimes when you're not farming?
Daniel: My wife and I are high school sweethearts and we've had six kids together, so our passion right now is raising our family and being involved with a good community of people in our church. So really, our hobby is our kids – from watching them participate in athletics to spending time with them. They're my most precious thing in my life and to be able to spend time with our family is what we really like to do. I think spending time with the ones you love and cherishing those memories are definitely important.
CA GROWN: What are some things you do to ensure you produce, package and market the most flavorful fruit in the world?
Daniel: One of the most important things that we do is research and development. It's been vital to our company in the last 15 years to be able to say "how do we plant the best genetics possible in order to give the consumer the best experience?" What we've done is develop a research center on one of our main growing regions in the Visalia area and we've basically taken genetics from 28 different breeders from all over the world and brought it into our climate and growing region and we've been able to research a lot of those genetics. We've been able to see these different genes so we can make really good decisions on what we can grow. We've been doing this for 11 or 12 years now and we've really seen the fruits of that research because the varieties our company has put out feel like they've been home runs.
CA GROWN: What advice would you give to someone who wants to become a farmer?
Daniel: If you really want to get into it, you need to know how to do it. It's obviously easier to start smaller and it does take a lot of capital nowadays to get involved, so if you could secure some sort of financing beforehand and you have the know-how and most importantly the passion, you'll be successful. Without the passion and love for what you do, farming can be too difficult at times to really want to get through the hard times. You have to also be able to network well and find good people that are honest that you do business with. Honesty is the most important thing. My dad has a picture in his office of him and his dad shaking hands and that goes to show how my grandfather did business. He didn't do it with contracts or signings, when he shook someone's hand it was a deal and my family has always taken that to heart. So if you're getting into farming, you need to do business with good people who have integrity and have a good reputation of doing the job they tell you they're going to do.
CA GROWN: What has contributed to your long-term success in the past and what are you doing to ensure continued success in the future?
Daniel: One thing that helped us be really successful now is that my family actually lost everything during the 80s when interest rates went up. That gave us a chance to start over as farmers and we started leasing ground cheap and doing some things that allowed us to get back into the game economically. Losing everything was actually a blessing in disguise because we were able to start over with a new and fresh outlook. One thing I think that's ensuring our success down the road is the genetics research because it's so important to plant the right varieties. It makes the people who buy fruit heroes when they go home and give them to their children because they enjoy the fruit so much and will continue to come back and buy from us. Also being wise in the global agriculture market is what's going to keep us successful in the future.