CA GROWN Blog
Discover. Learn. Connect.
Homemade Pistachio Ice Cream Recipe
September 25, 2018
Eat the Season!
Sign Up For Weekly Recipes
« Back to Recipes
Homemade Pistachio Ice Cream Recipe
This homemade Pistachio Ice Cream recipe from Susan the CA GROWN Mom is truly delicious. Whip up a batch in your kitchen soon!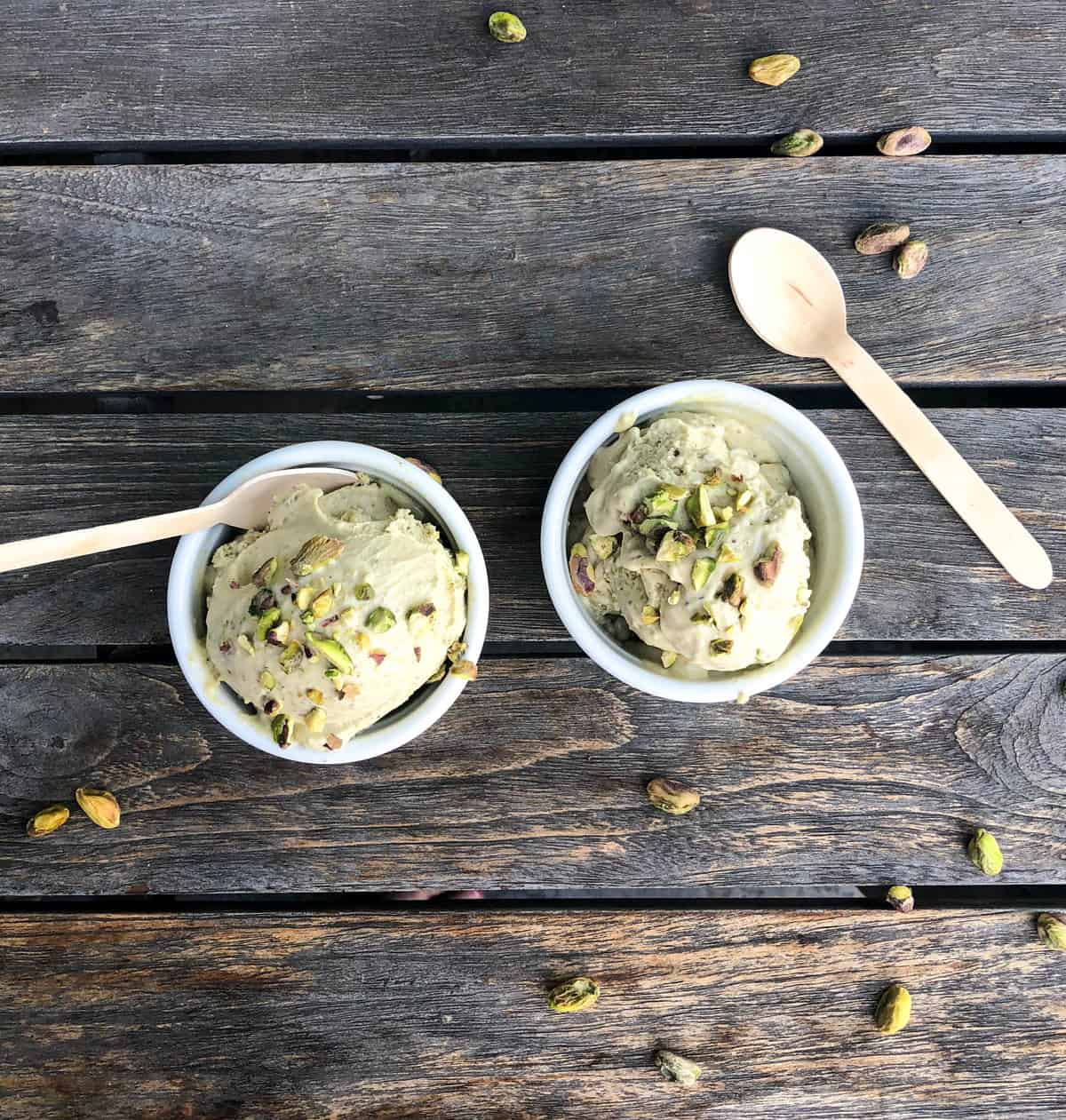 Pistachio Ice Cream is my absolute FAVORITE treat. I've tasted every brand from every corner of the state.
I've had reallllly good, creamy, nutty versions and some not-so-good versions.
I really don't care for the versions that are loaded with artificial colors and flavors… I like all that wonderful flavor to come straight from the pistachios…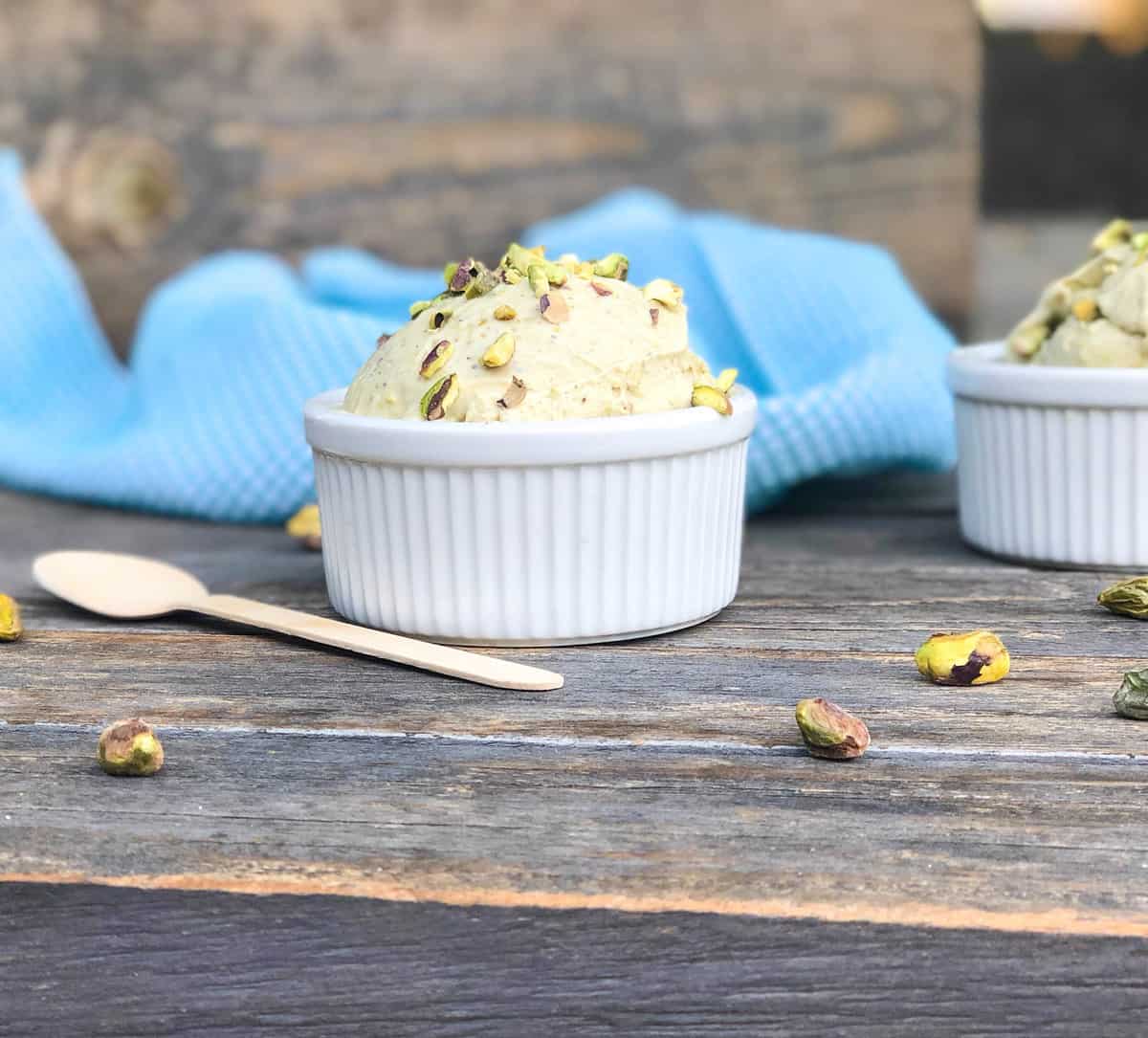 This rendition is creamy and nutty. The color is gorgeous and has a natural hue of the pistachio that is incorporated throughout. It is suuuppper good!
Of course, the base is pistachios and sugar! Fabulous combination, don't ya think?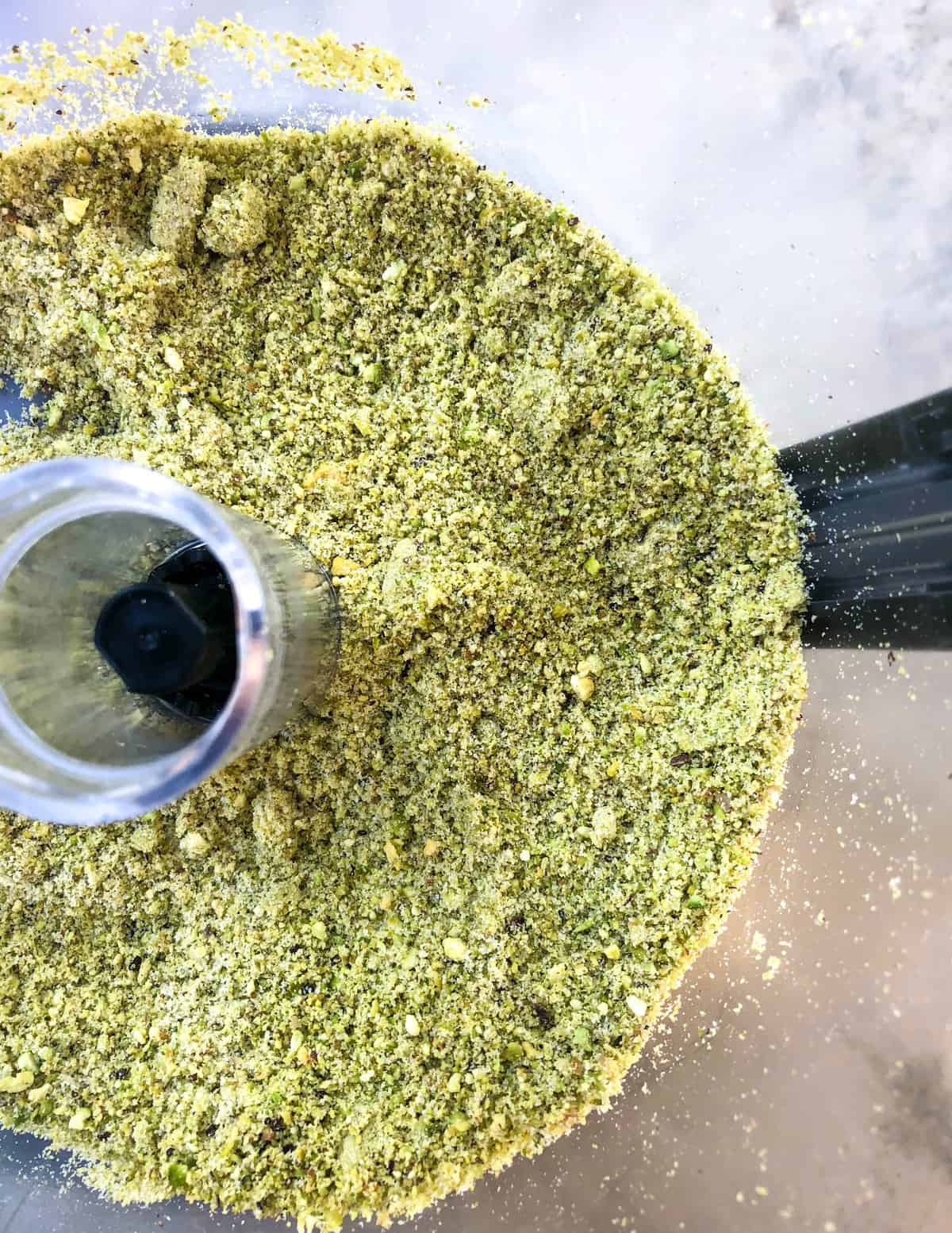 We grind them together in a food processor until it forms a nice crumble.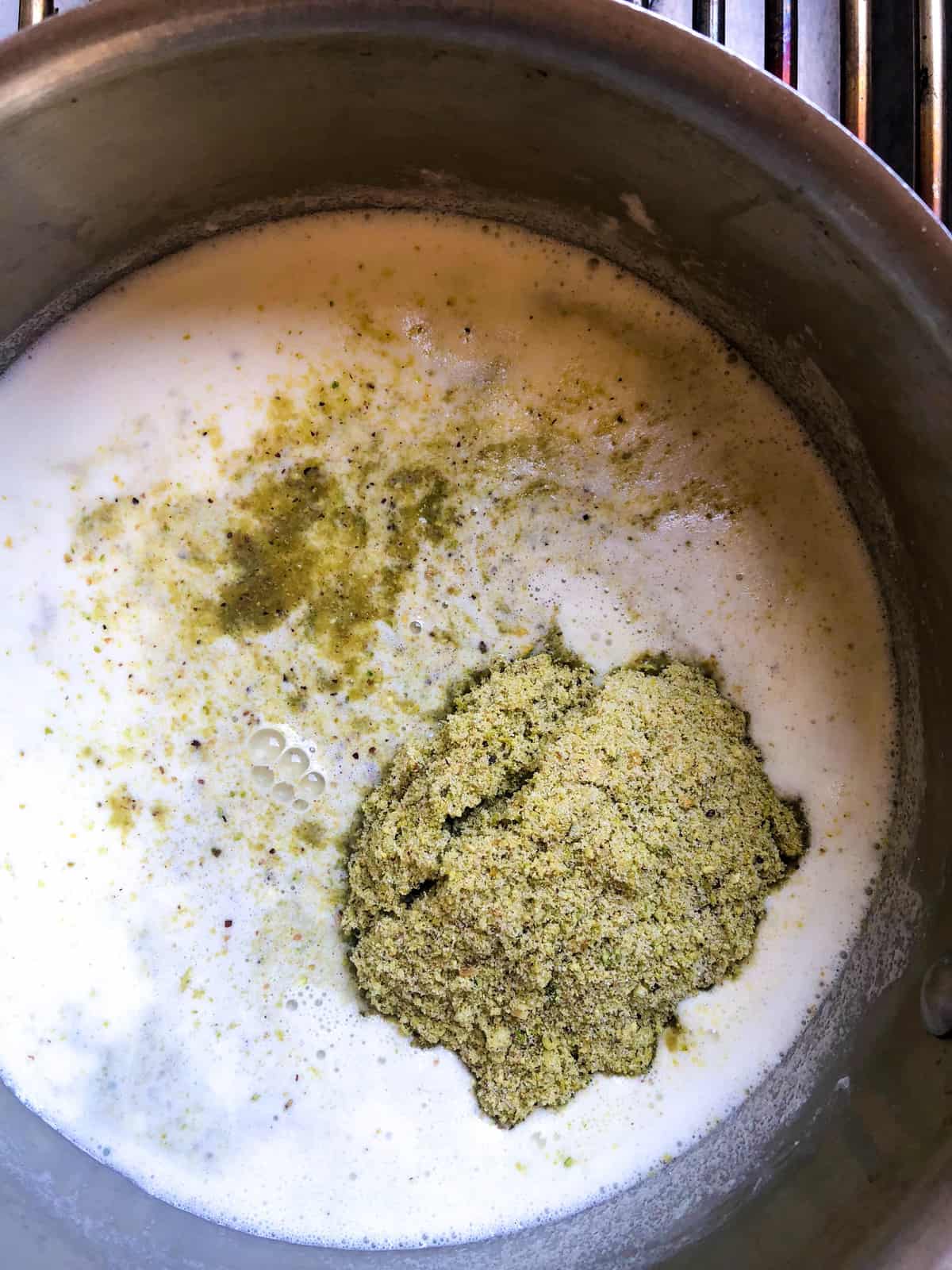 Add that mixture to a milk and cream combination that has been heating on the stove.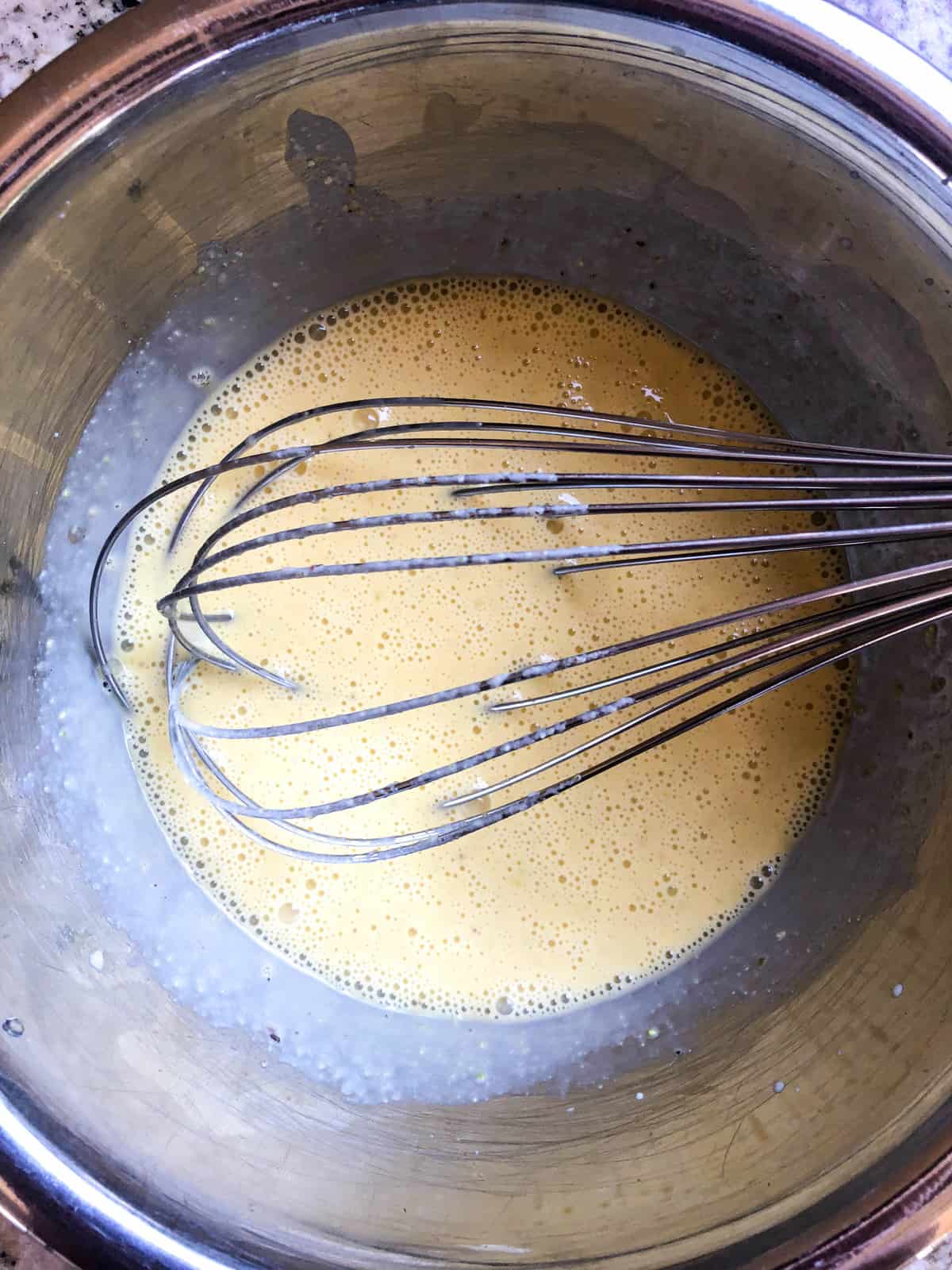 Bring to a boil and add the beaten eggs.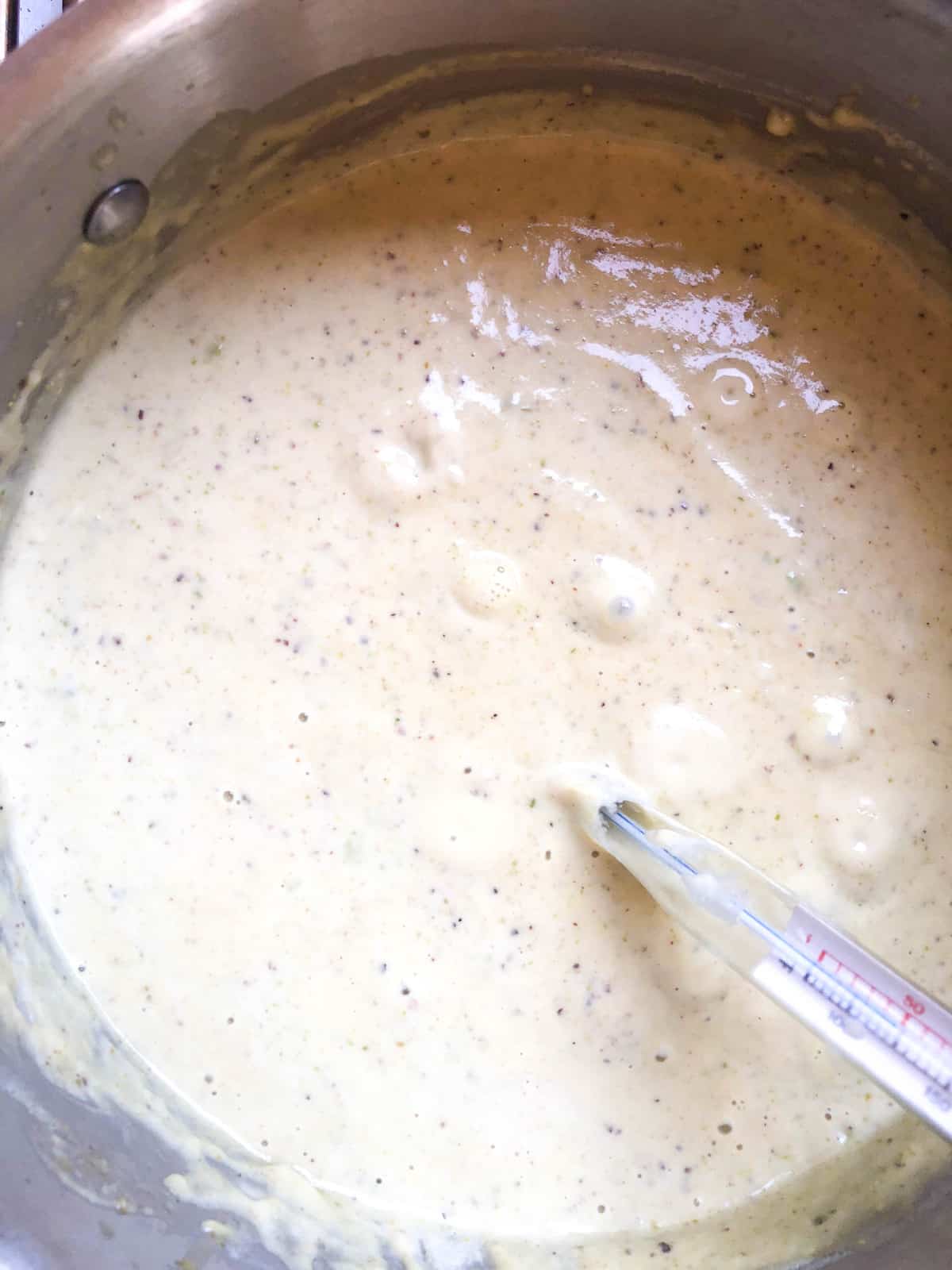 Allow your mixture to come to a boil again and reach a temperature of 170 degrees.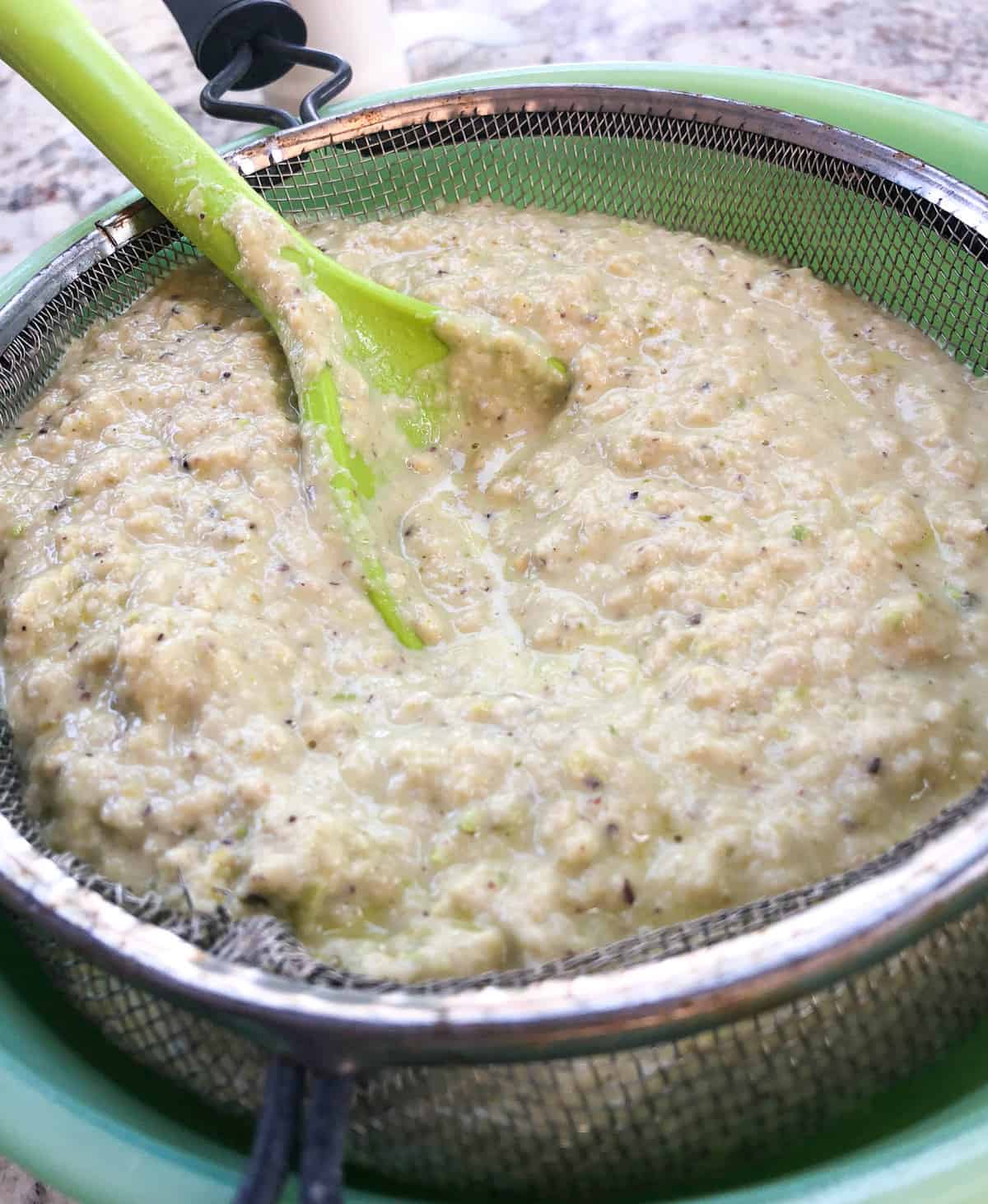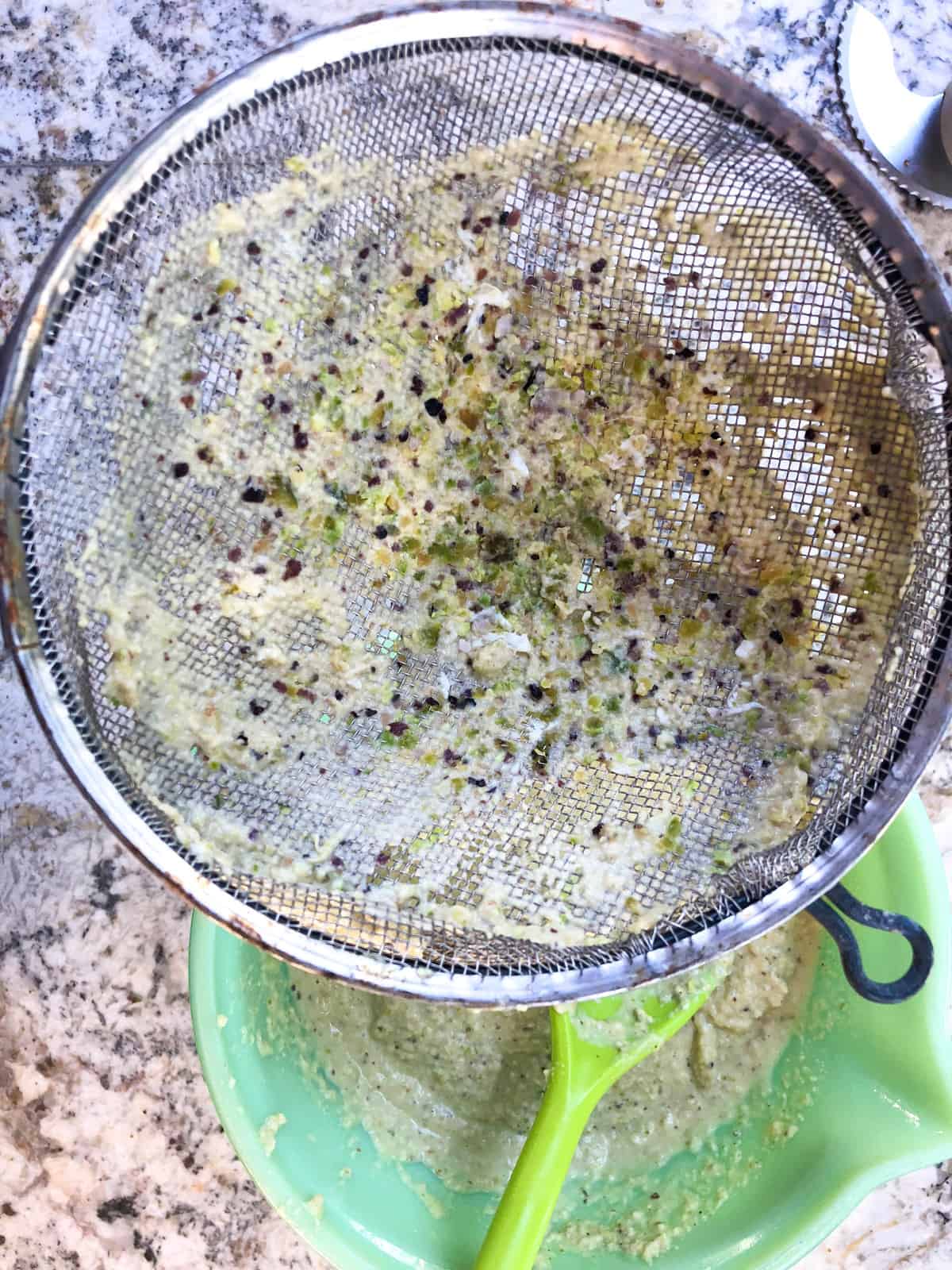 Pour into a wire mesh sieve and push through until all the liquid has passed through.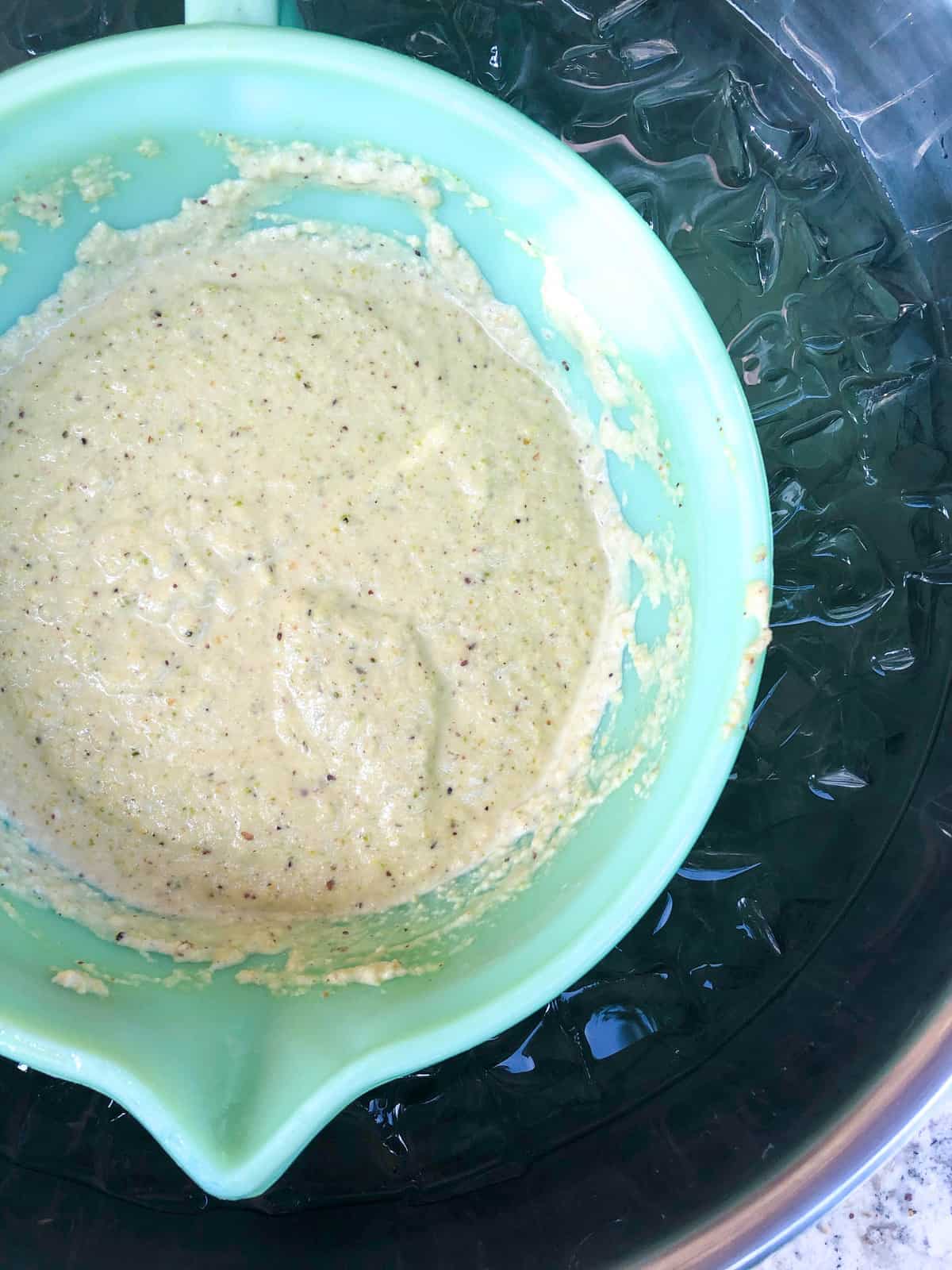 Place in an ice bath until cooled and refrigerate a few hours and up to overnight.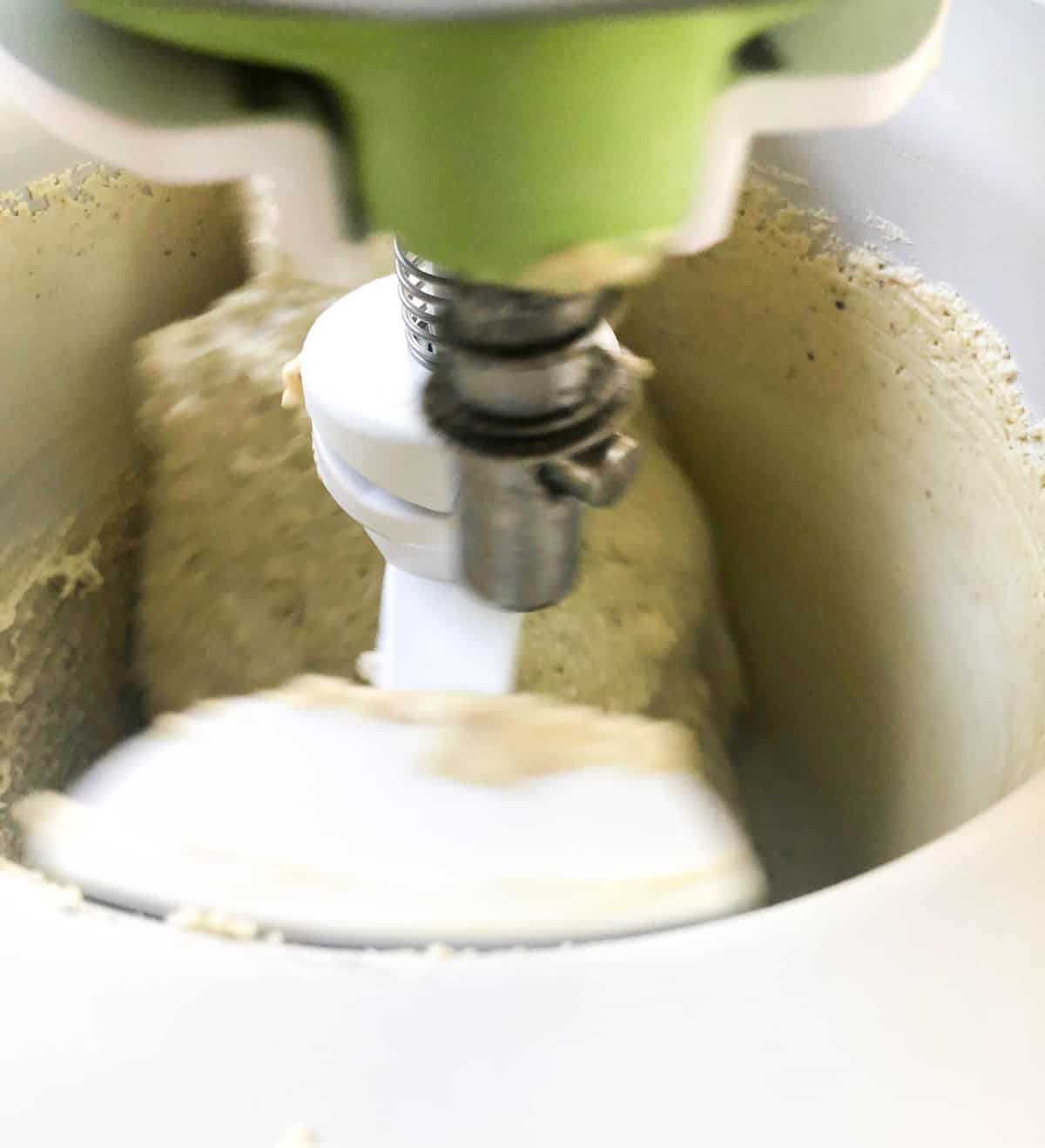 The next day, or a few hours later, place the mixture into an ice cream attachment and mix for about 20-30 minutes.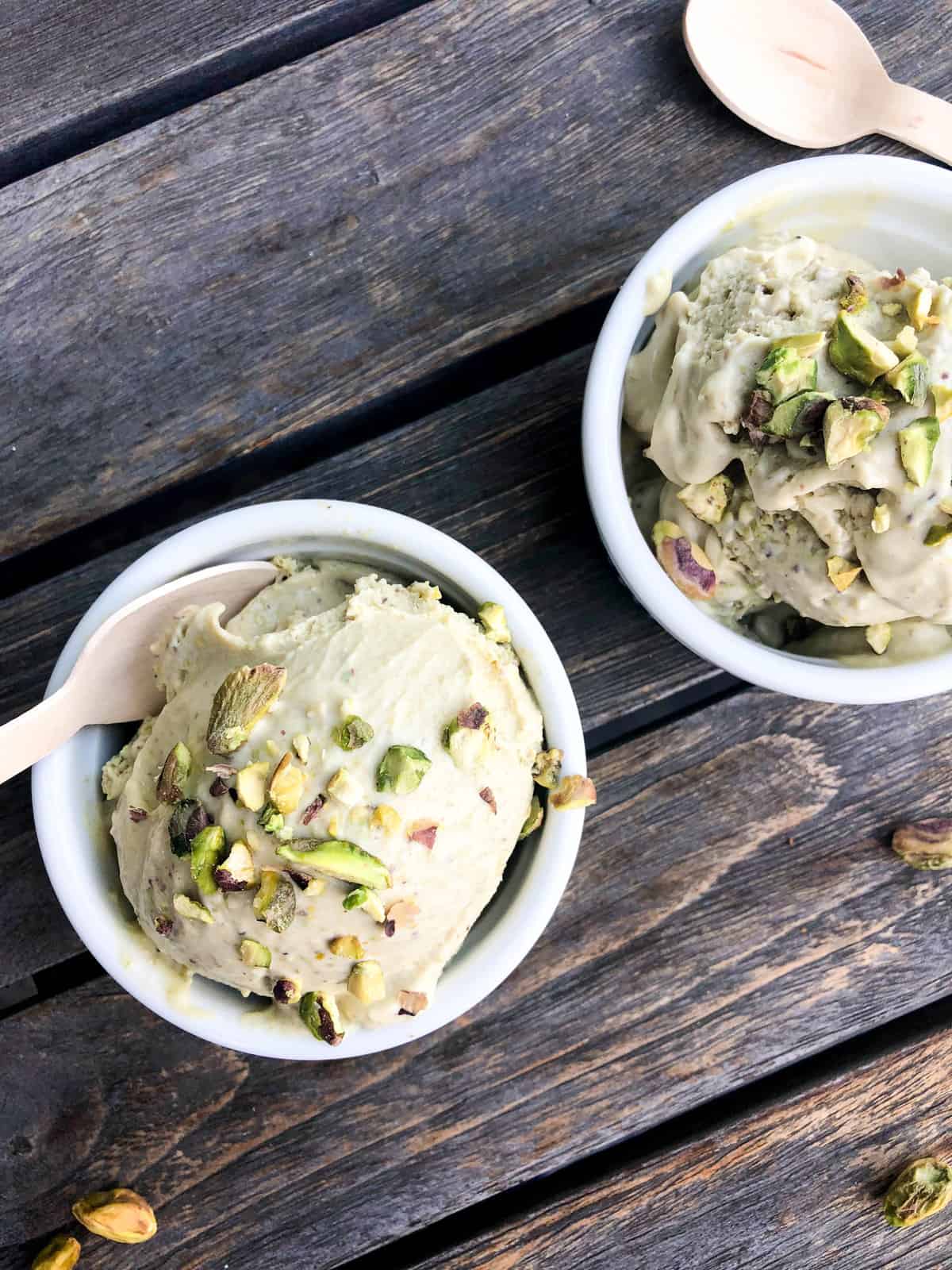 You can enjoy right away, or freeze for a few hours if you prefer.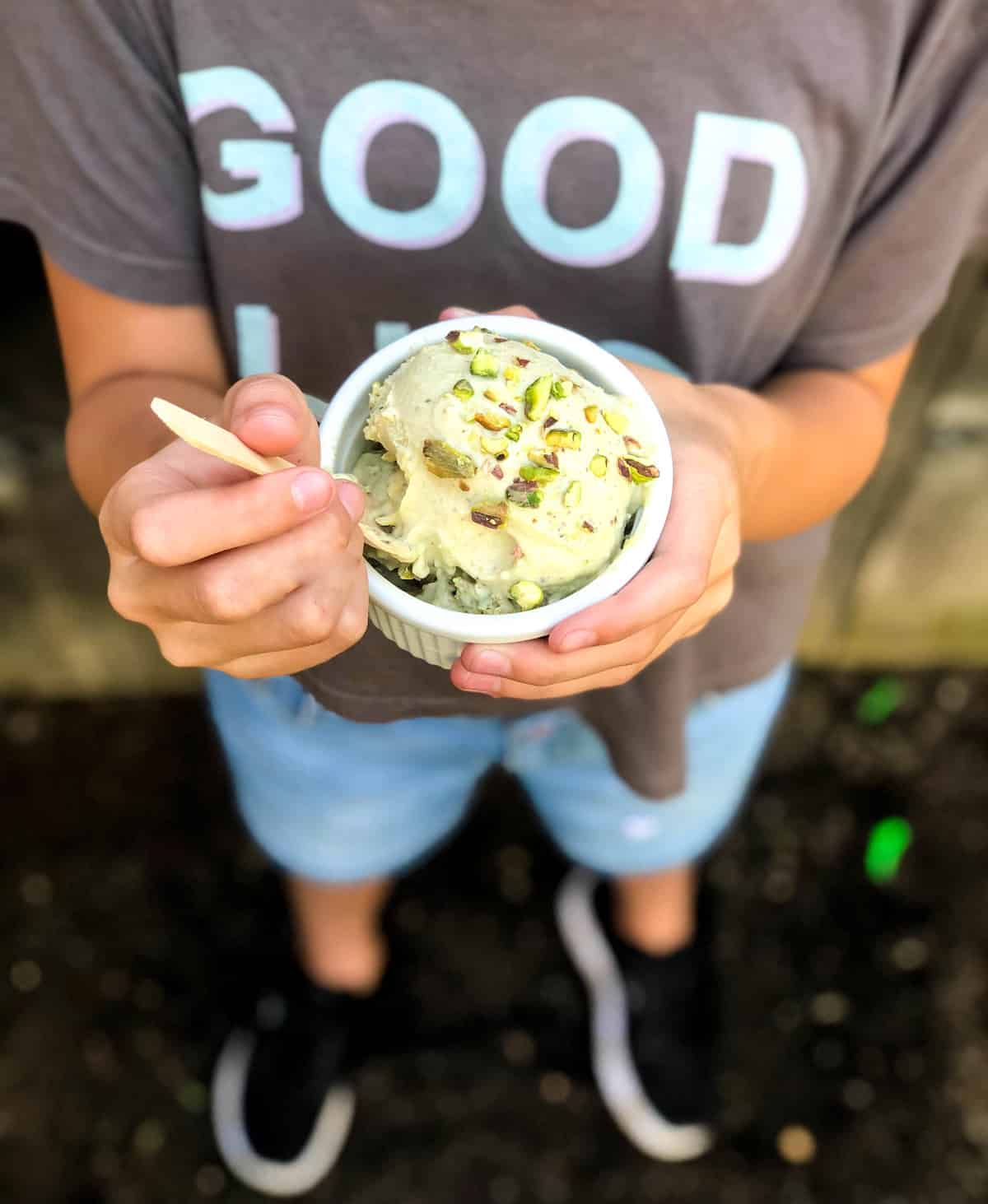 Either way, prepare to be amazed! Life is GOOD!
If you love pistachios as much as I do, check out this list of the BEST Pistachio Recipes We've Ever Tried. I can't wait to bake up these Edible Flower Pistachio Shortbread Cookies, this Orange Juice + Pistachio Cake, this Apple + Pistachio Cake and these Pistachio Cupcakes with Raspberry Buttercream.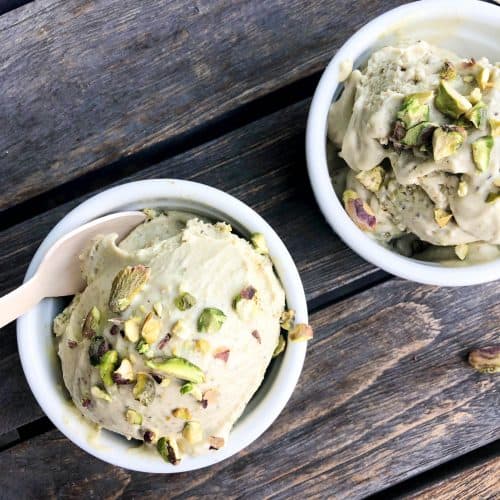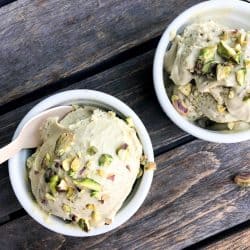 Pistachio Ice Cream
Equipment
food processor

Mixing bowl
Ingredients
3/4 cup pistachios, divided
3 eggs + 2 egg yokes
1/2 cup sugar, divided
1 1/2 cup whole milk
1 1/2 cup heavy cream
1/4 tsp. almond extract
1/4 tsp. vanilla extract
Instructions
In a large heavy bottom saucepan bring the milk, cream and ¼ c. sugar to a boil.

Meanwhile, in a food processor, grind ½ c. of the pistachios along with ¼ c. of the sugar until fine. Pour into the milk mixture, and allow it to continue heating to a boil, whisking every minute or so.

In a medium size mixing bowl, lightly beat the eggs and egg yolks. Temper the eggs by gradually pouring a cup or so of the hot milk/pistachio mixture in, whisking vigorously to prevent the eggs from scrambling. Gradually add the egg mixture in a slow, steady stream back into the saucepan. Cook over low heat, stirring occasionally with a rubber spatula, until it thickens and reaches 170 degrees on a thermometer, about 5 minutes.

Remove from the heat pour through a mesh sieve and into a large mixing bowl. Add the almond and vanilla extract, whisk to combine. Place over an ice bath and chill until cool. Then cover with plastic wrap, pressing it against the mixture to prevent a skin from forming. Refrigerate for at least 2 hours, preferably over night.

Remove from the refrigerator and pour into an ice cream machine or attachment bowl. Freeze according to the manufacturer's instructions (about 20 minutes if you're using a KitchenAid bowl). When the ice cream is firm, coarsely chop the remaining ¼ c. of pistachios and fold in. Place in a freezer-safe container and chill for 3-4 hours before serving.