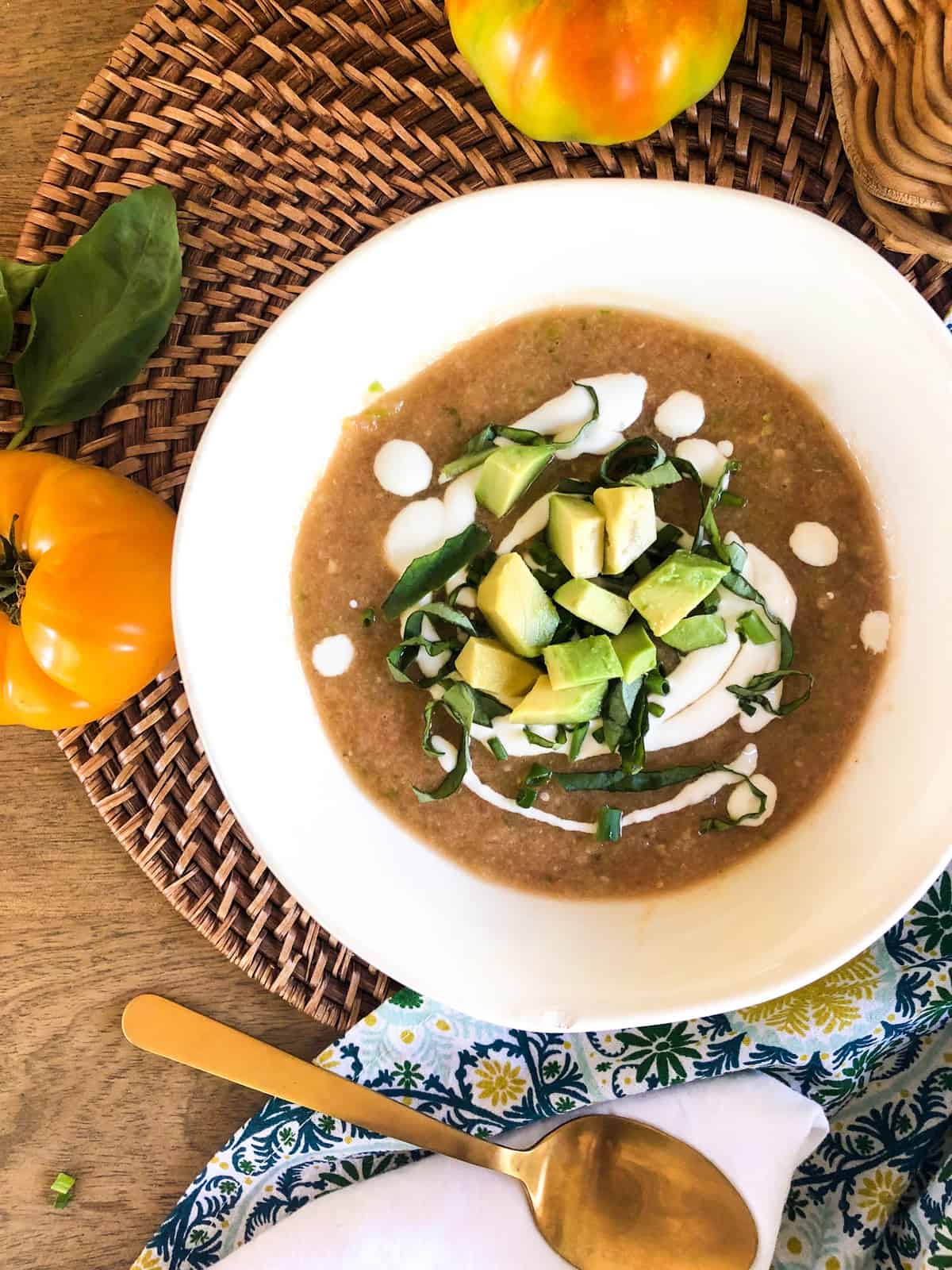 CA GROWN Blog
Discover. Learn. Connect.
Heirloom Tomato Gazpacho
September 17, 2018
Eat the Season!
Sign Up For Weekly Recipes
« Back to Recipes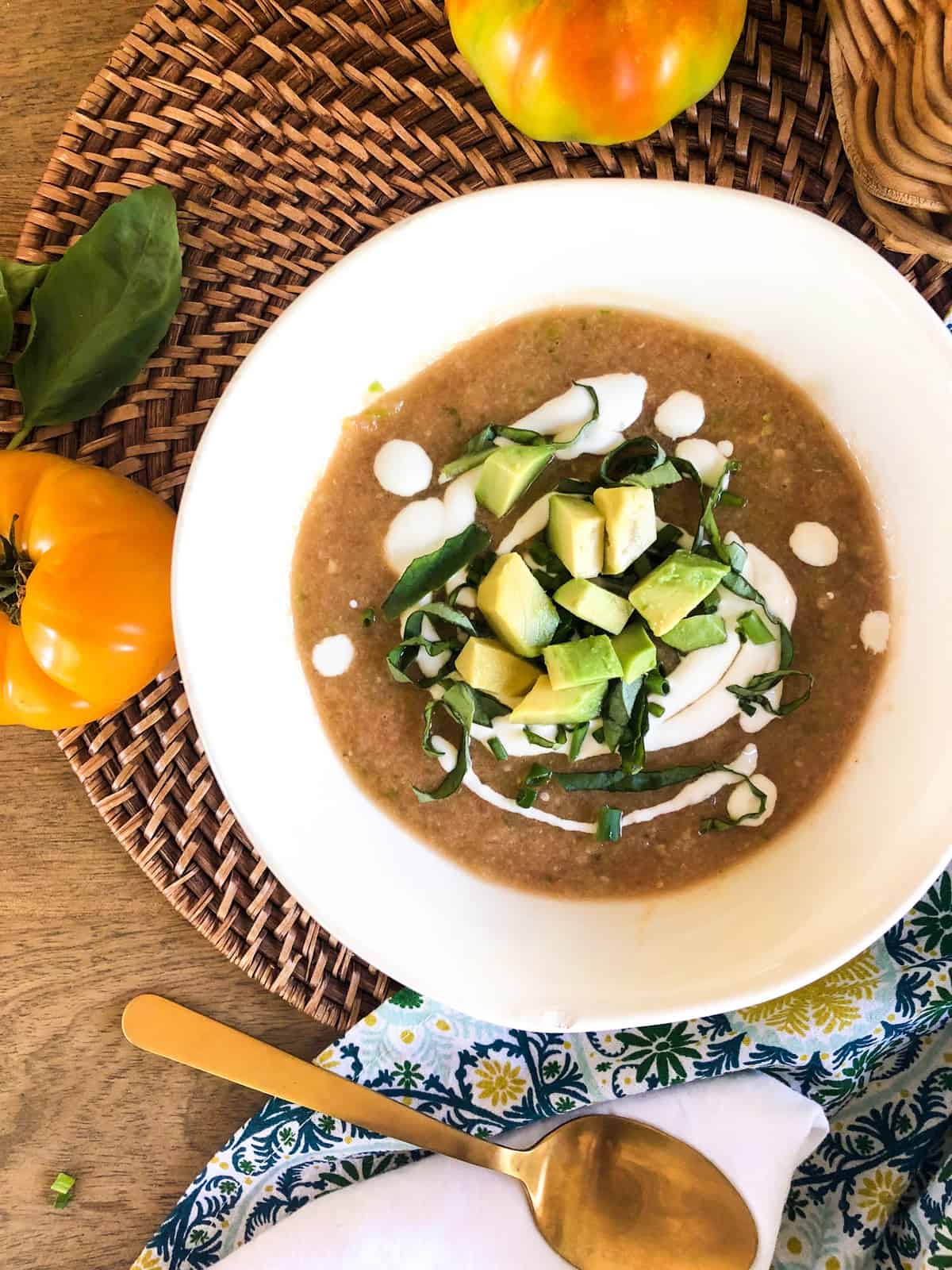 Heirloom Tomato Gazpacho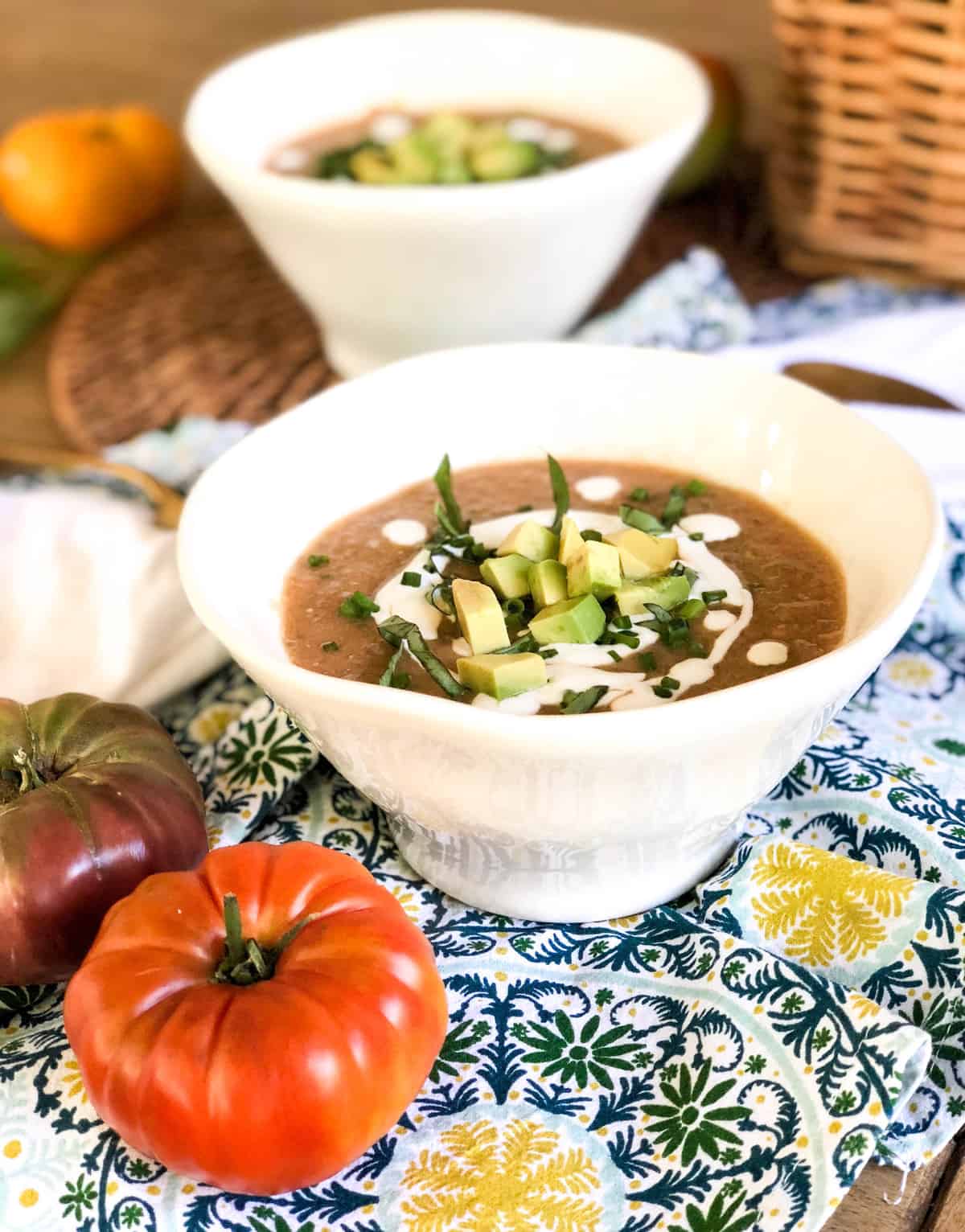 Summer is coming to a close and I'm trying to hold on to the tastes and textures of the garden. Heirloom tomatoes are my favorite type of tomato nowadays! Don't get me wrong, I love a plump, juicy Roma, but the heirloom has a meatiness that you can quite get from your typical tomato.
And even though we aren't quite to soup weather yet, this cold soup hits all the spots. Hearty and satisfying without the heat, because let's face it, eating a warm soup when we are still in the '90s just ain't my thing…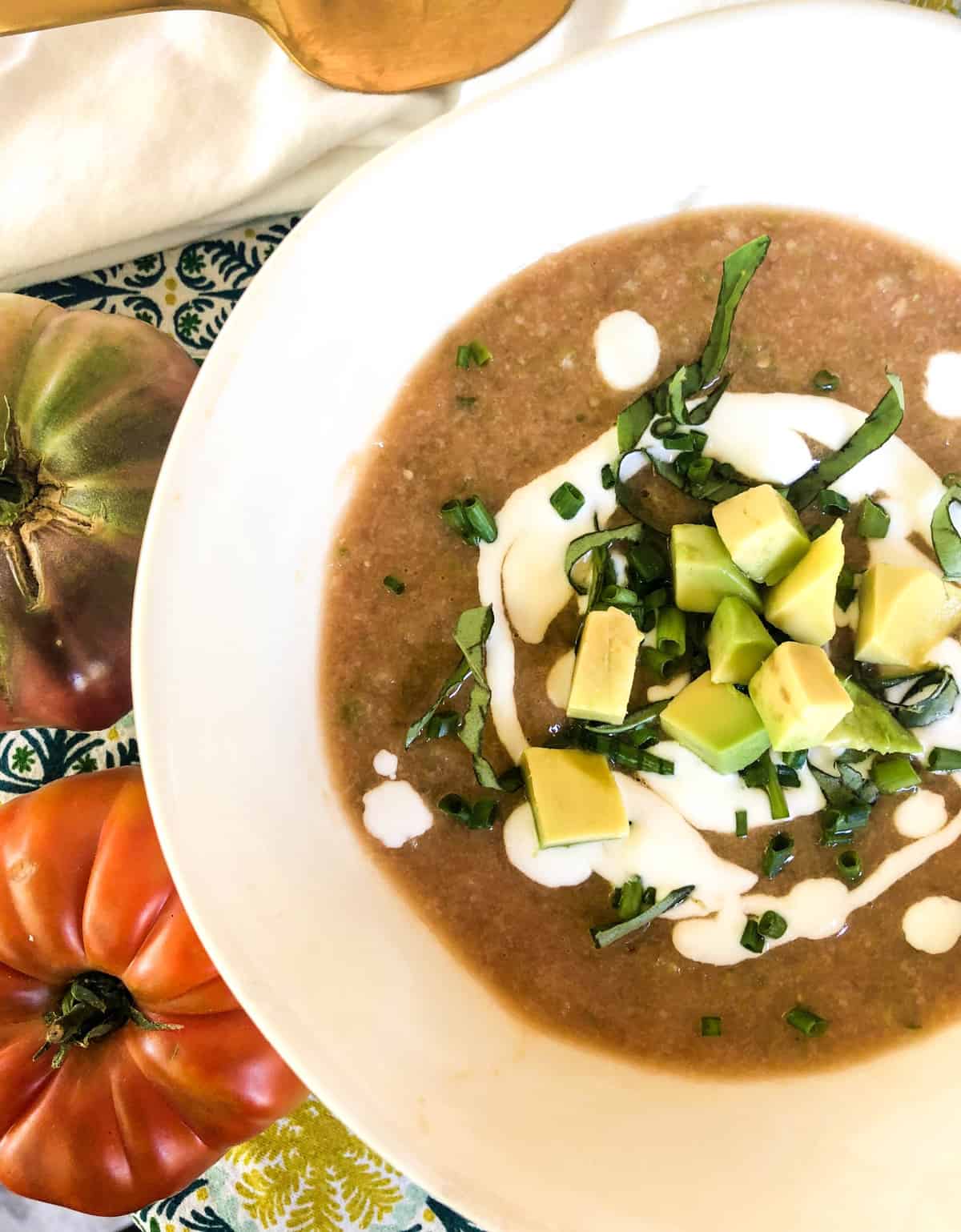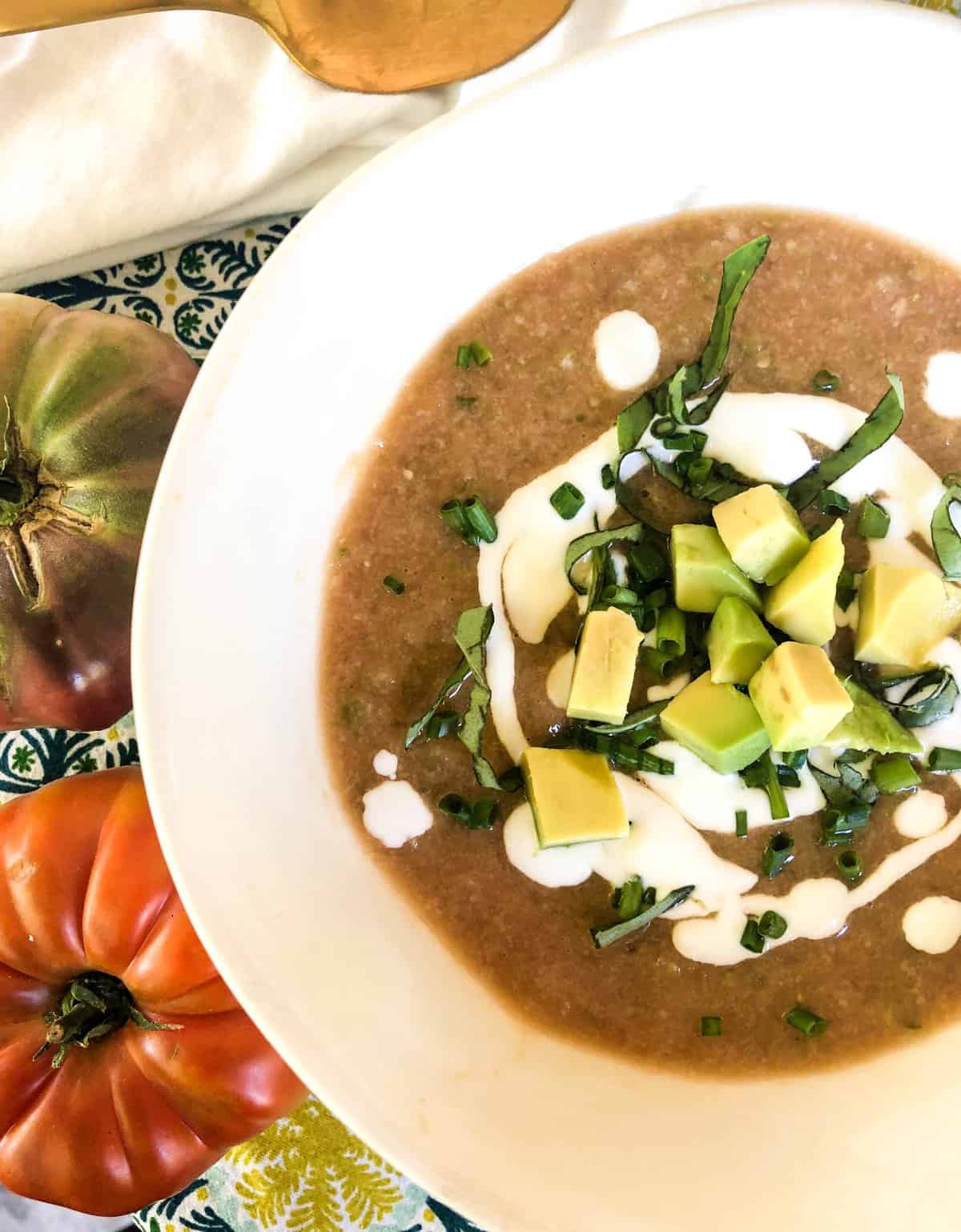 Garnished with fresh seasonal toppings like avocado and basil, this soup is sure to be a new late summer fave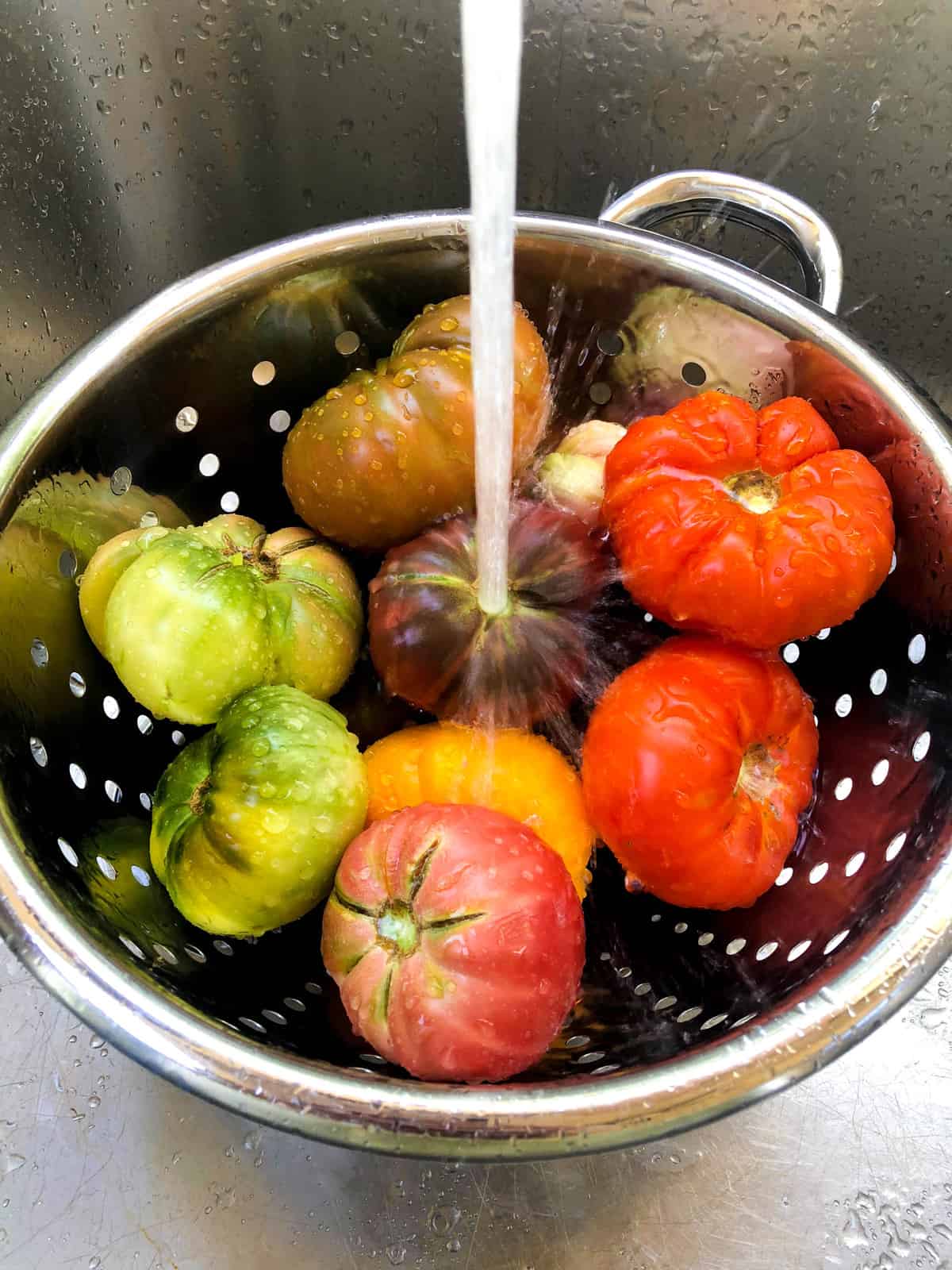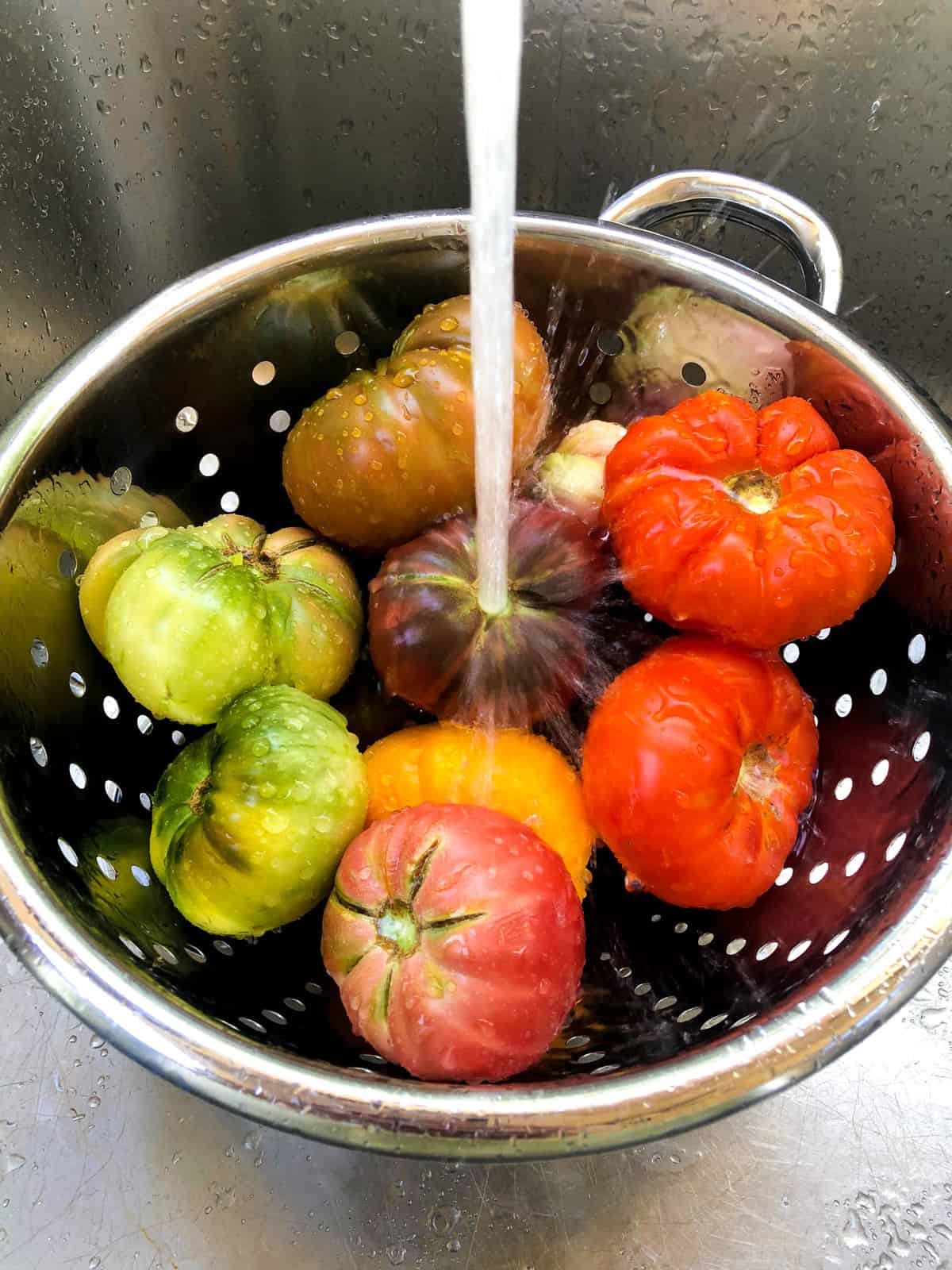 We start by thoroughly washing our heirloom tomatoes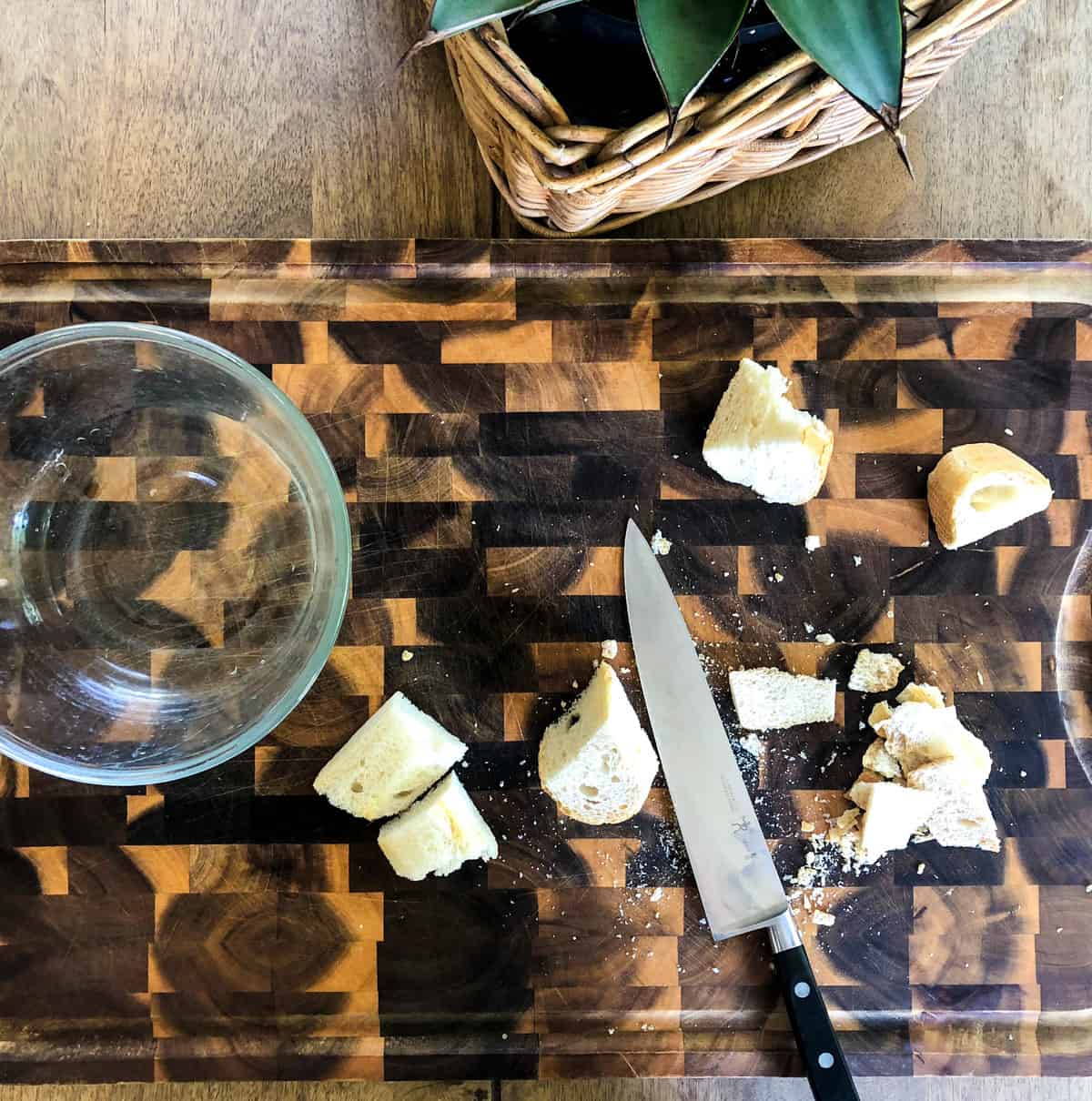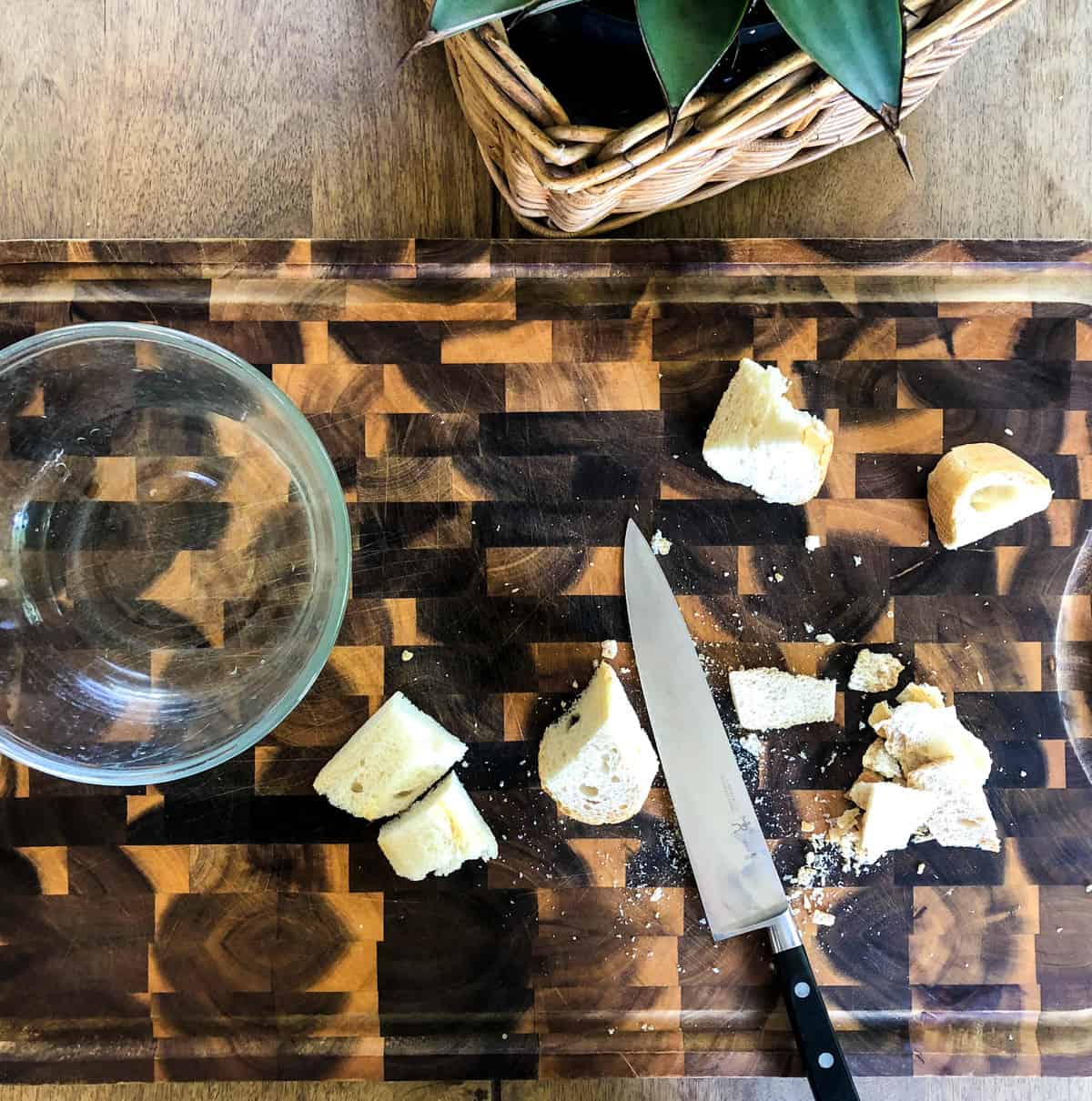 Cut the crust off of the stale french bread and soak in a bit of water to hydrate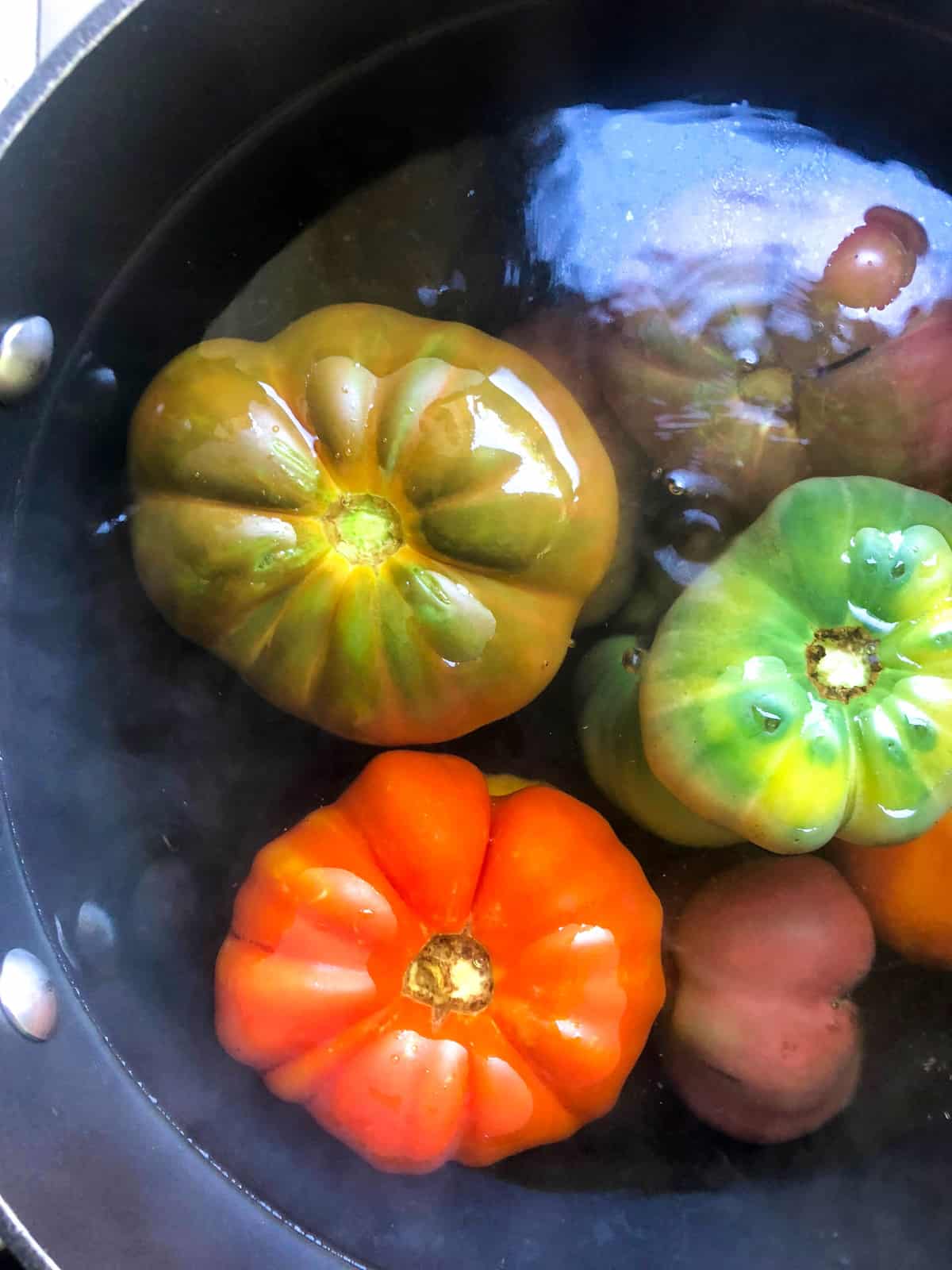 Place the tomatoes in a bath of boiling water for about a minute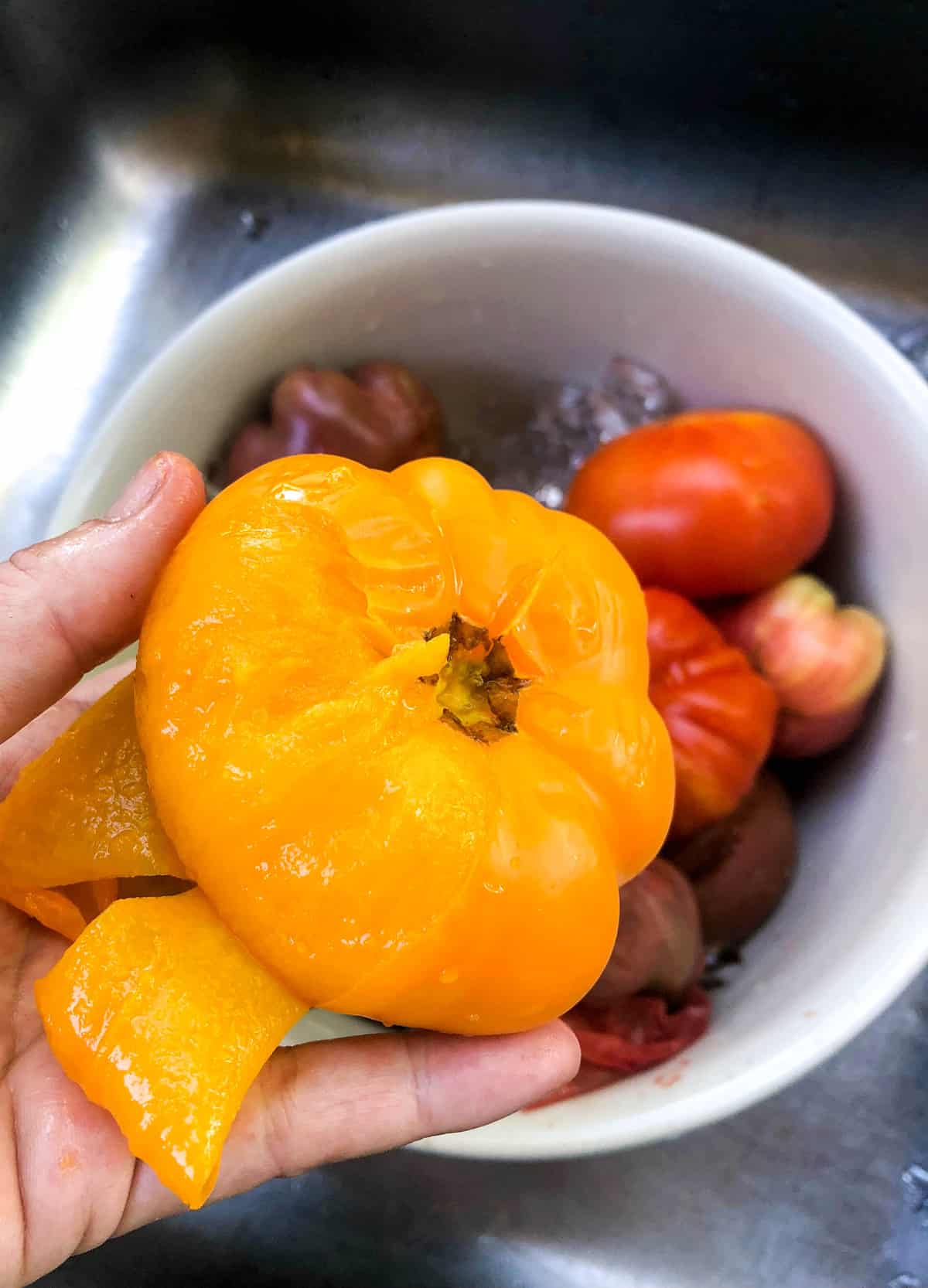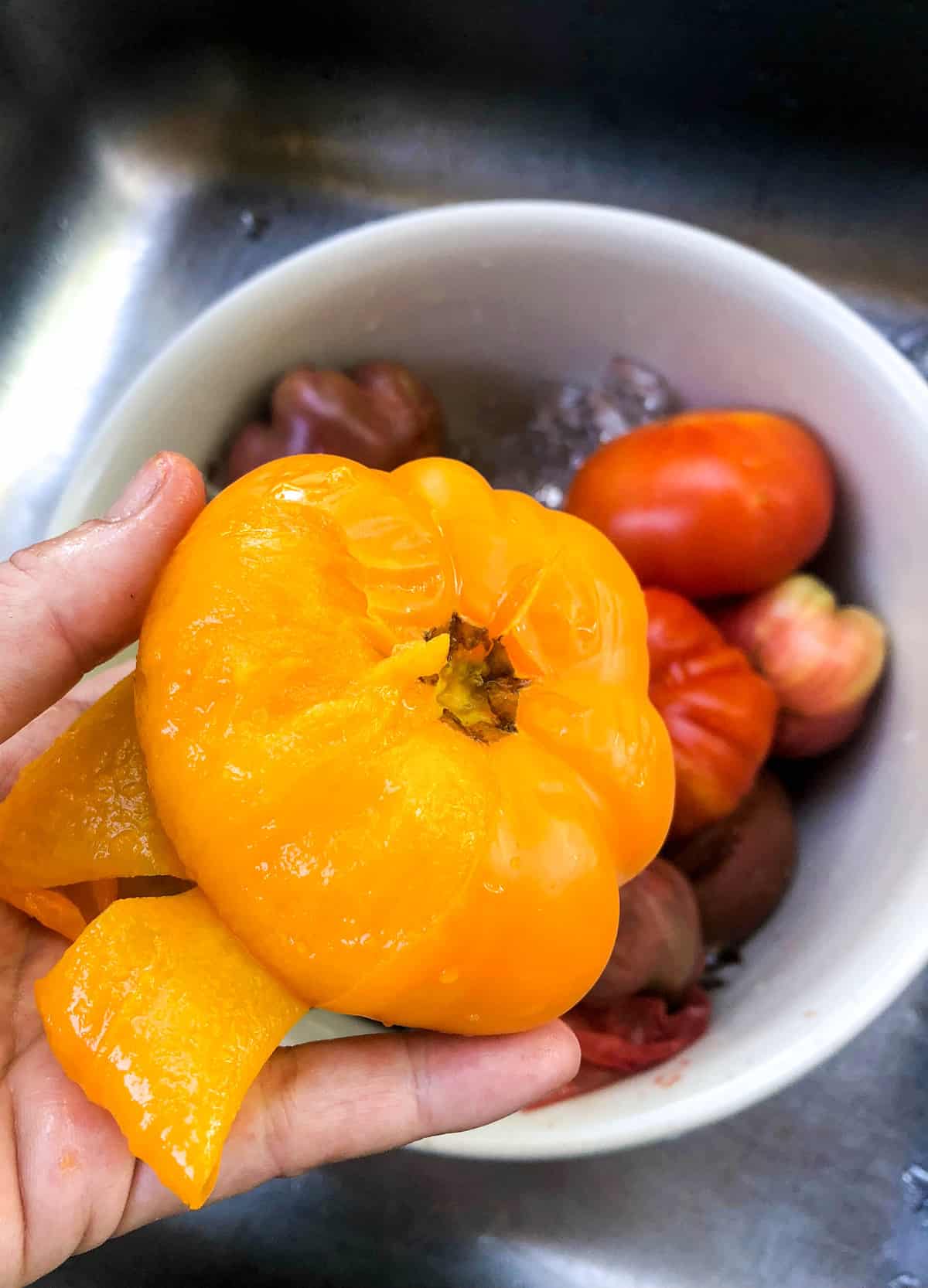 When cooled, you can easily peel the skin away from each tomato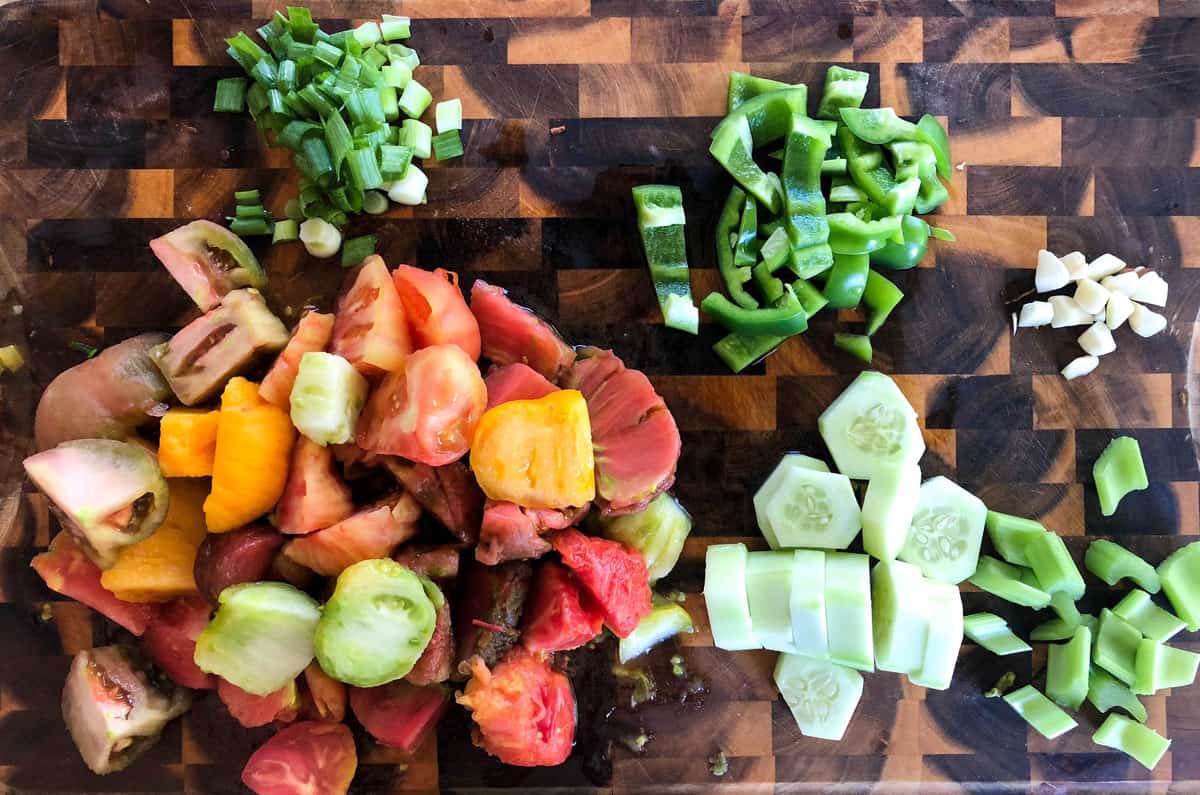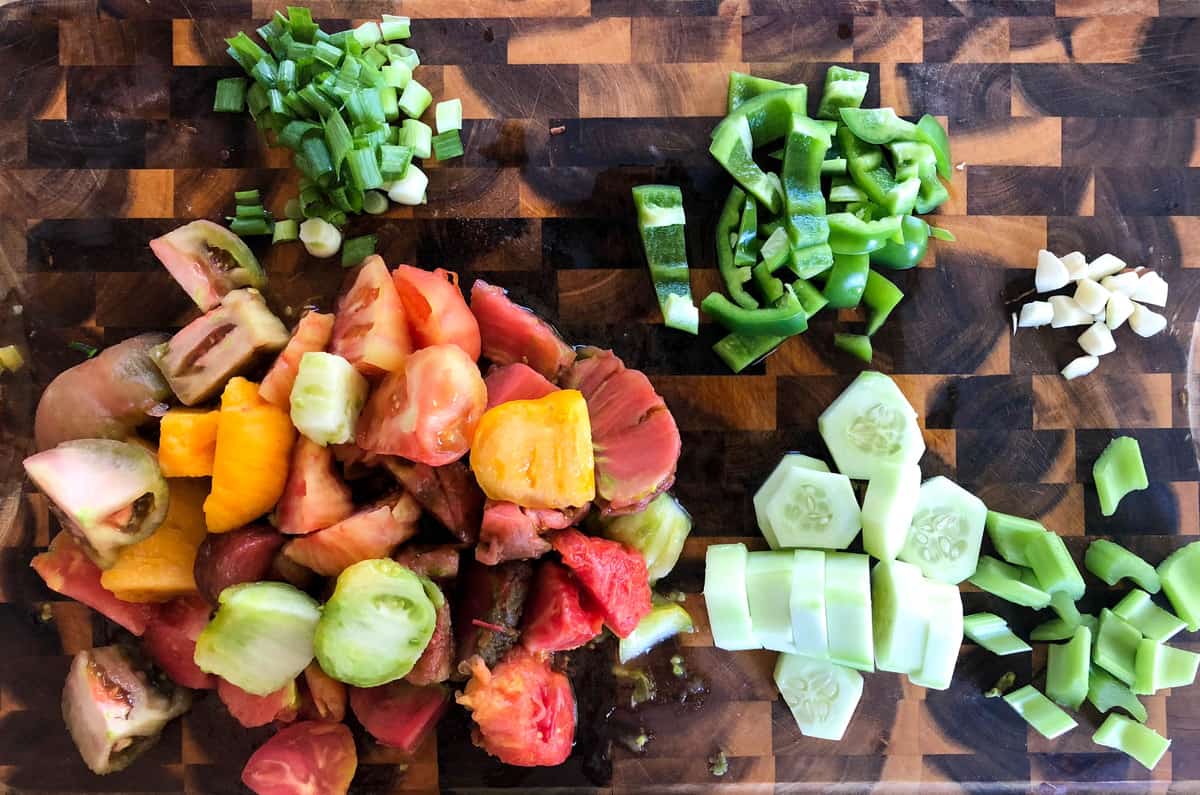 Chop the rest of your ingredients and prepare them for the food processor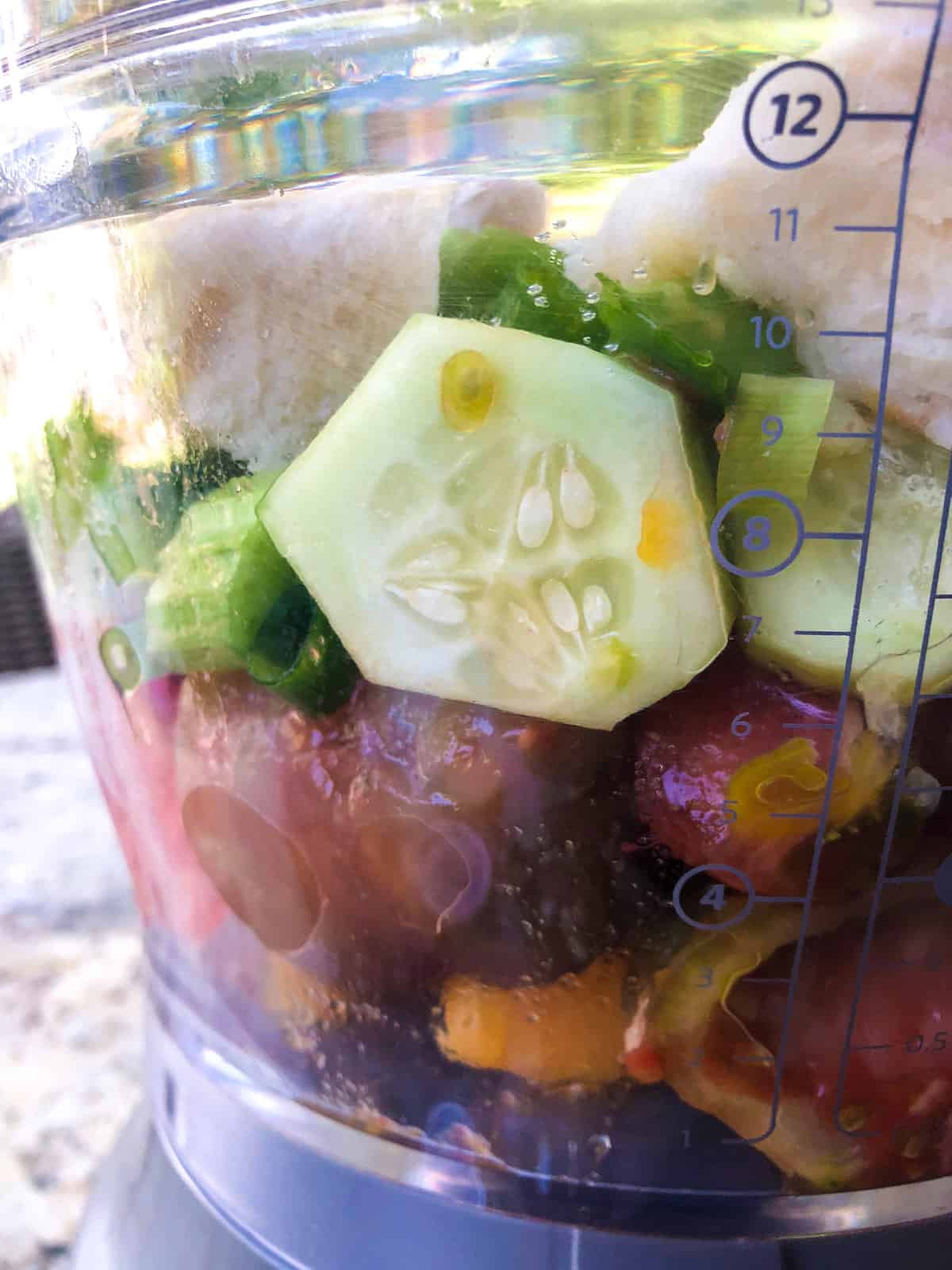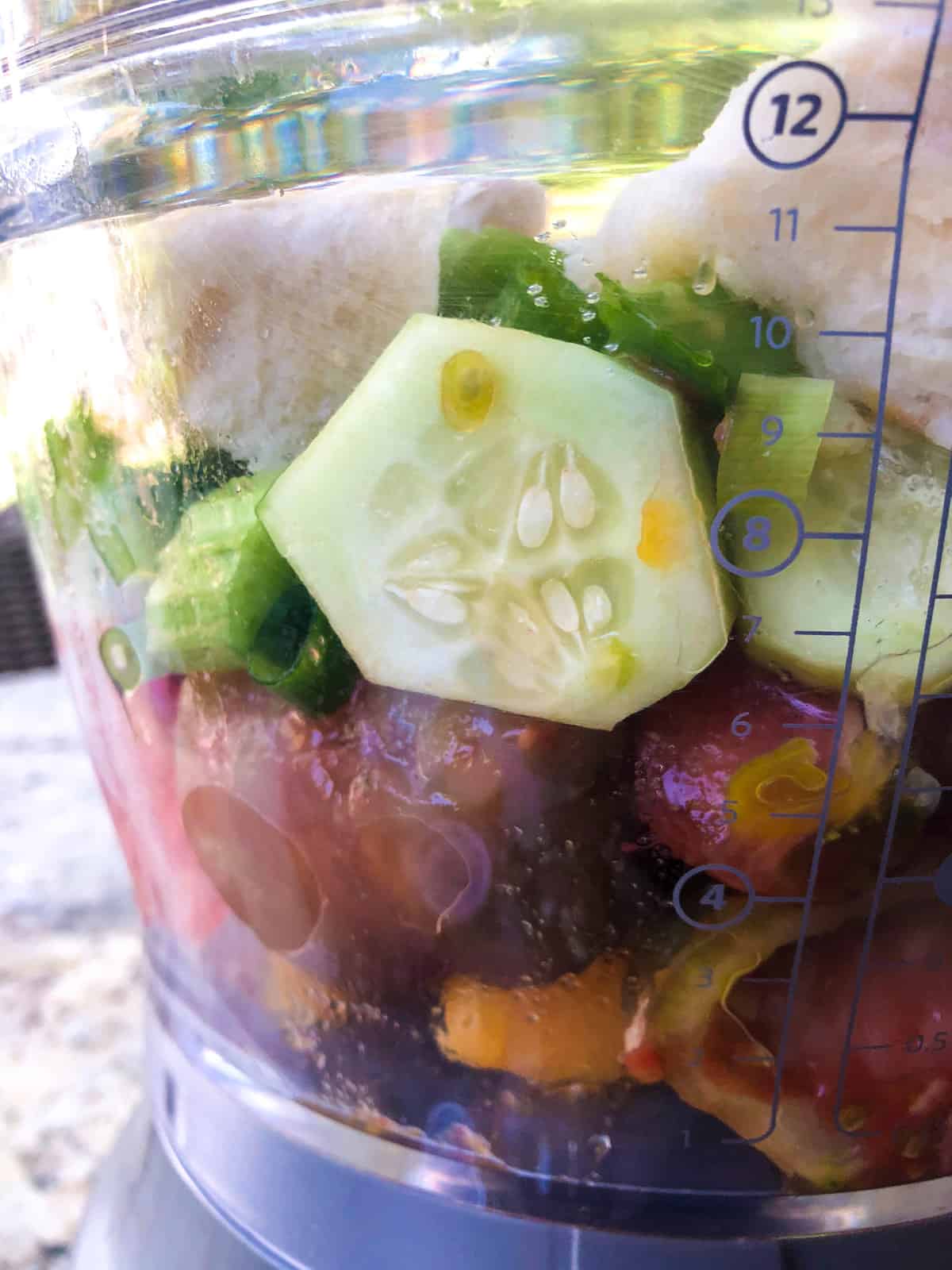 Add the chopped ingredients, hydrated bread along with olive oil, spices, and lemon juice and blend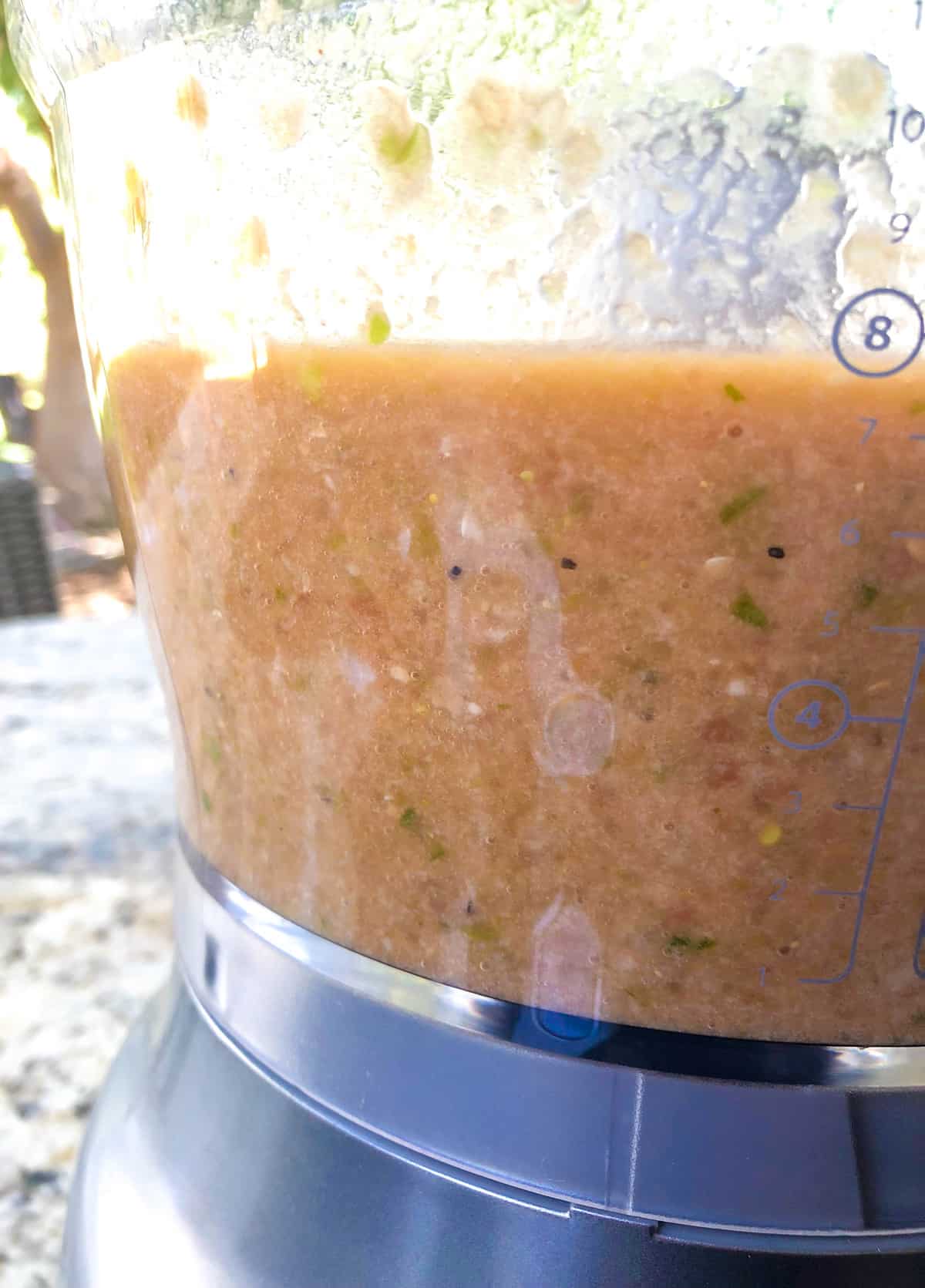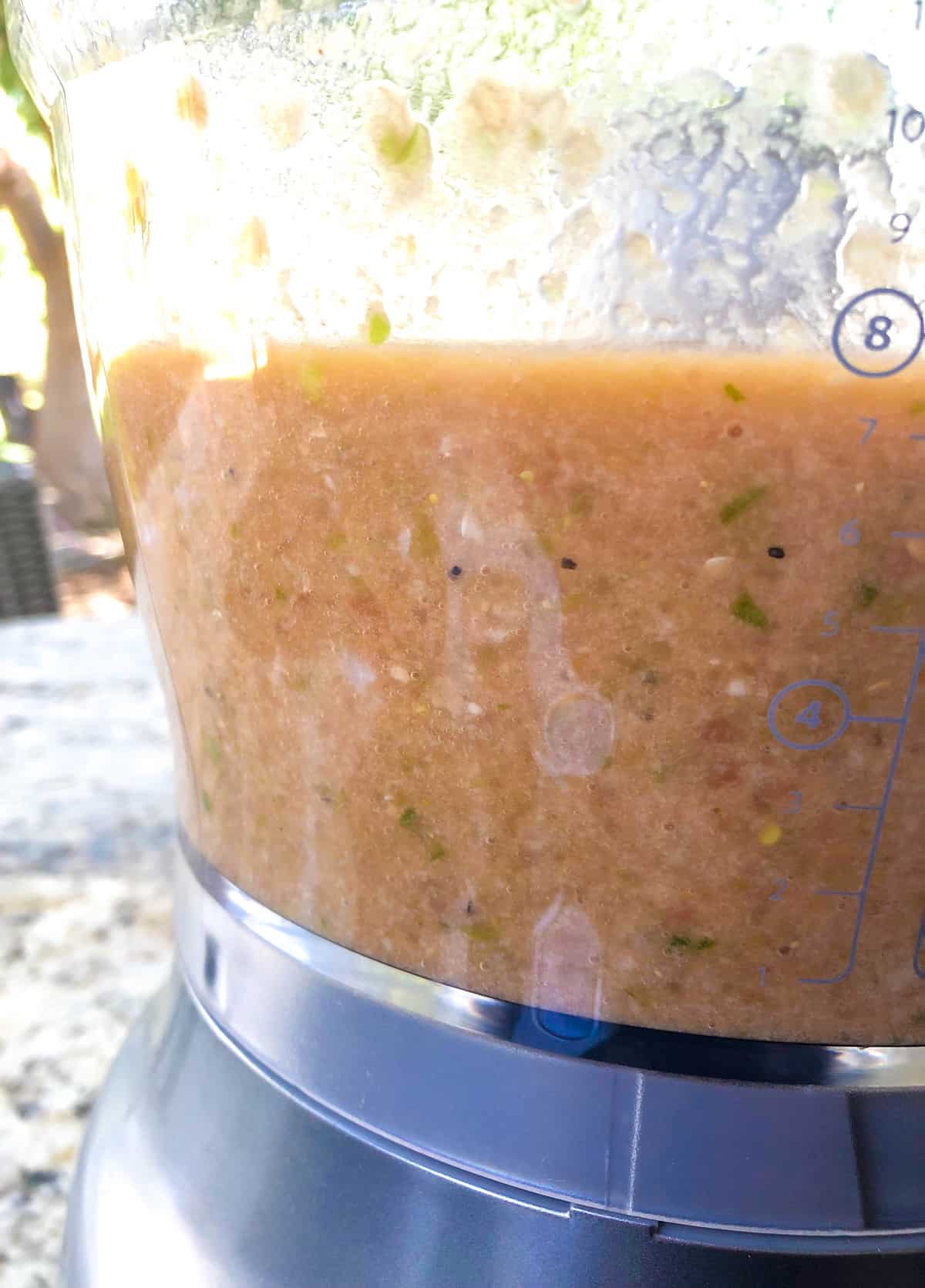 It shouldn't take too long to get to a smooth soup consistency. Refrigerate for a few hours or overnight if you have enough time.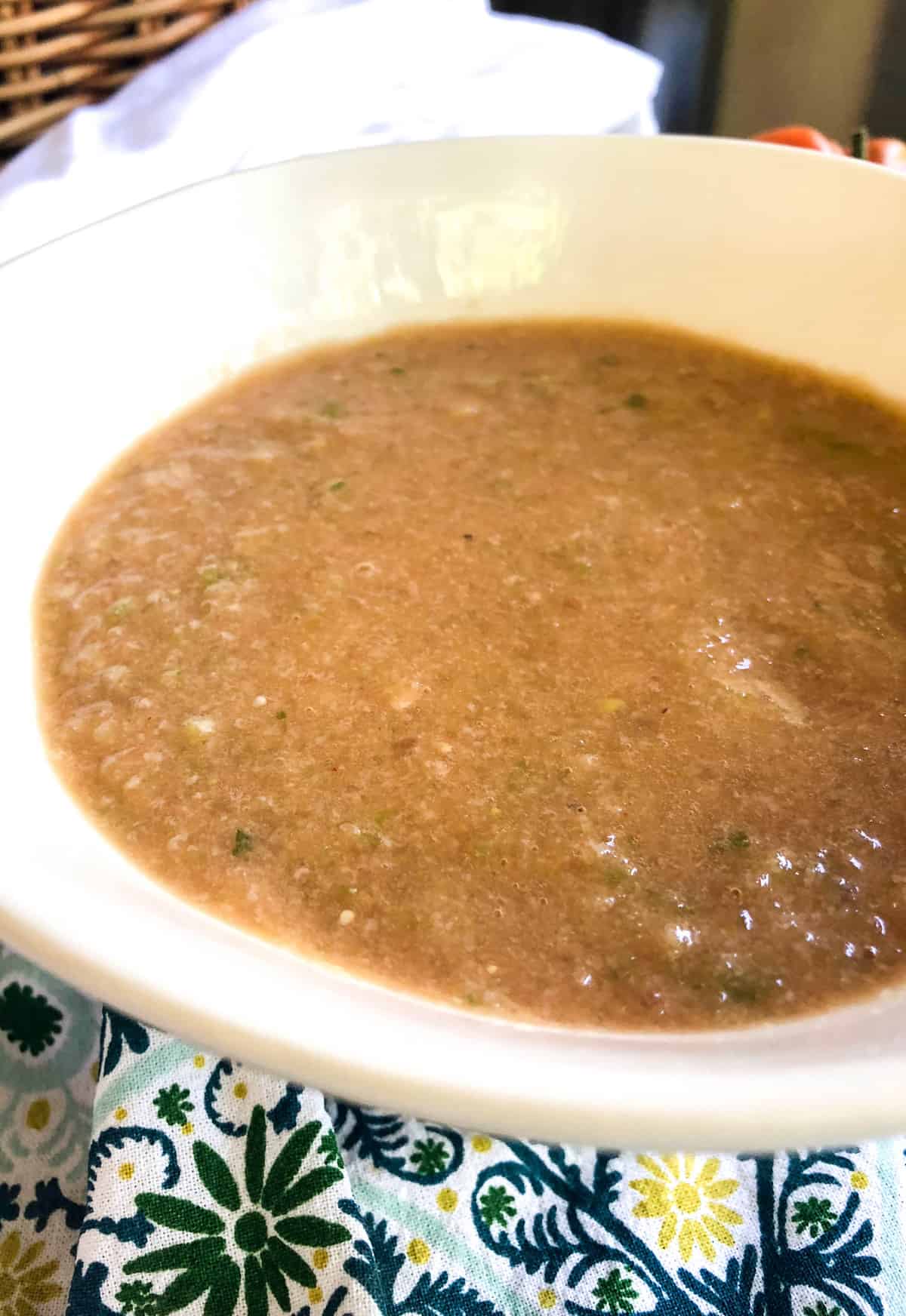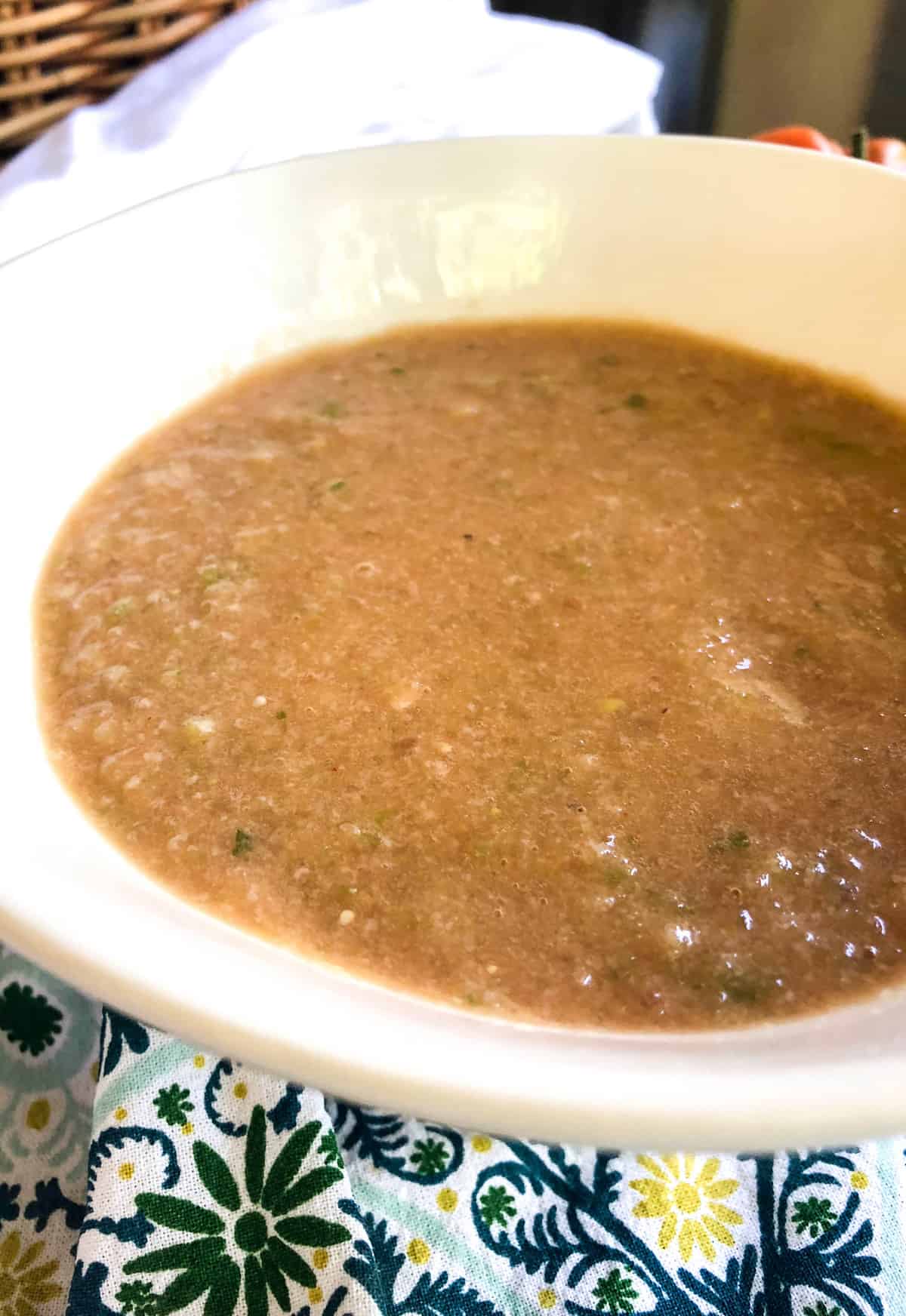 Pour into individual bowls and garnish with toppings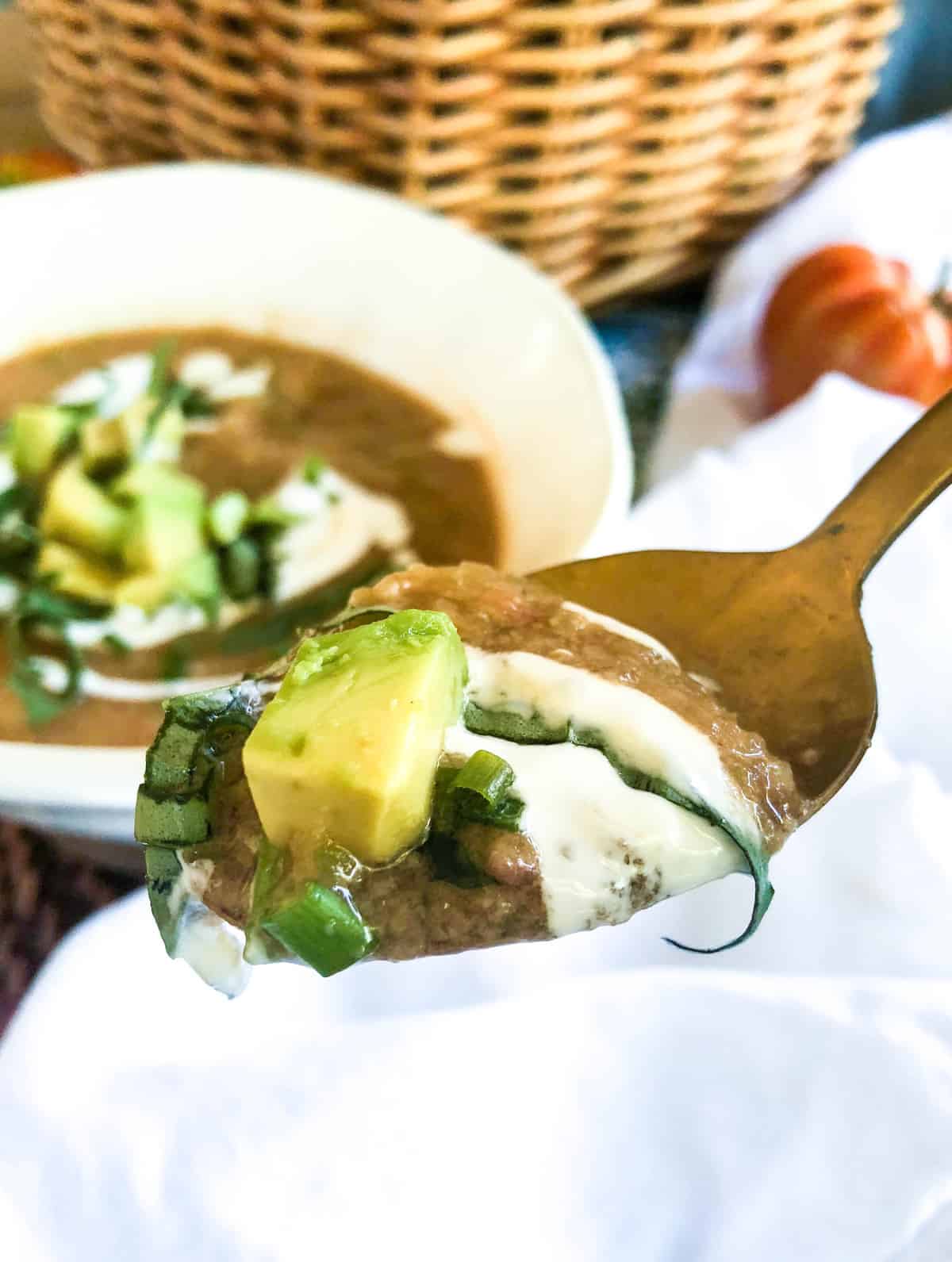 Scoop up and enjoy!
Heirloom Toamto Gazpacho
2018-09-17 19:59:58
Serves 8
Ingredients
5 slices stale artisan bread, crust removed
1/2 cup water
5 large ripe heirloom tomatoes
1 large cucumber, peeled, chopped
1 celery stalk, chopped
1 green pepper, deseeded, roughly chopped
2 green onions, trimmed, roughly chopped
2 garlic cloves, peeled, roughly chopped
1/2 cup olive oil
1 lemon, juice of
Salt and pepper
1 tsp cayenne pepper, optional
Sugar
GARNISH
1 avocado, peeled, pitted and diced
Crema or Sour Cream
Chopped fresh Parsley
Chopped Chives
Instructions
Start a pot of boiling water and bring to a rolling boil
Cut the stale bread into large cubes and place in a shallow bowl with the water to soak up and hydrate the bread
Dunk the tomatoes into the boiling water for about a minute. Remove from water and allow to cool. Once cool, easily remove the skins form the flesh and rough chop
Add the tomatoes, celery, cucumber, pepper, onions, garlic to the food processor. Top with the soaked bread. Pulse the processor a few times to combine. While the processor is running, add the olive oil, lemon juice along with spices and sugar. Run the processor for at least a minute to combine.
If time allows, refrigerate for up to 24 hours.
Pour into individual bowls and top with garnish
Adapted from Inspiration
California Grown https://californiagrown.org/