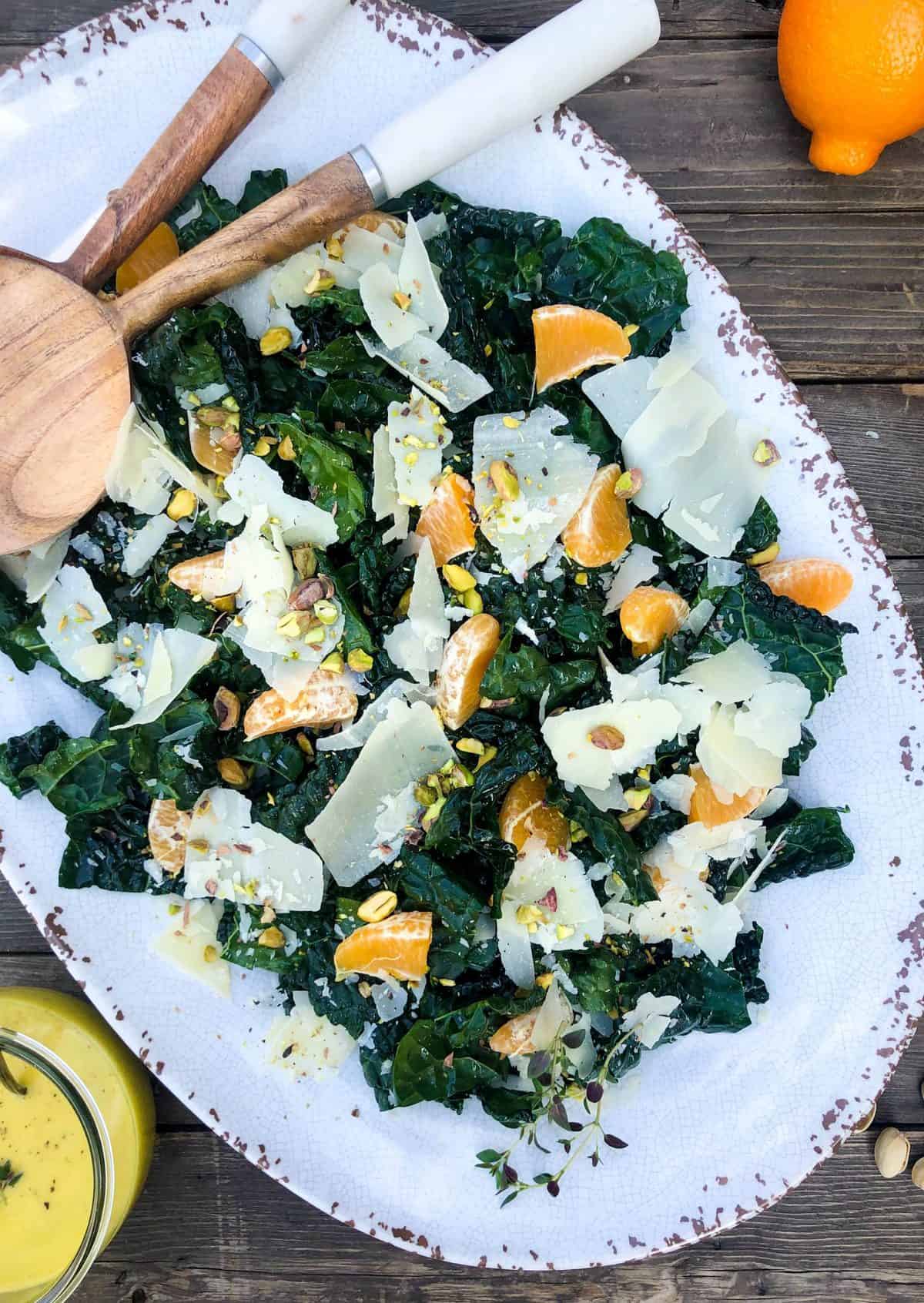 CA GROWN Blog
Discover. Learn. Connect.
Tangerine Pistachio Kale Salad
March 11, 2020
Eat the Season!
Sign Up For Weekly Recipes
« Back to Recipes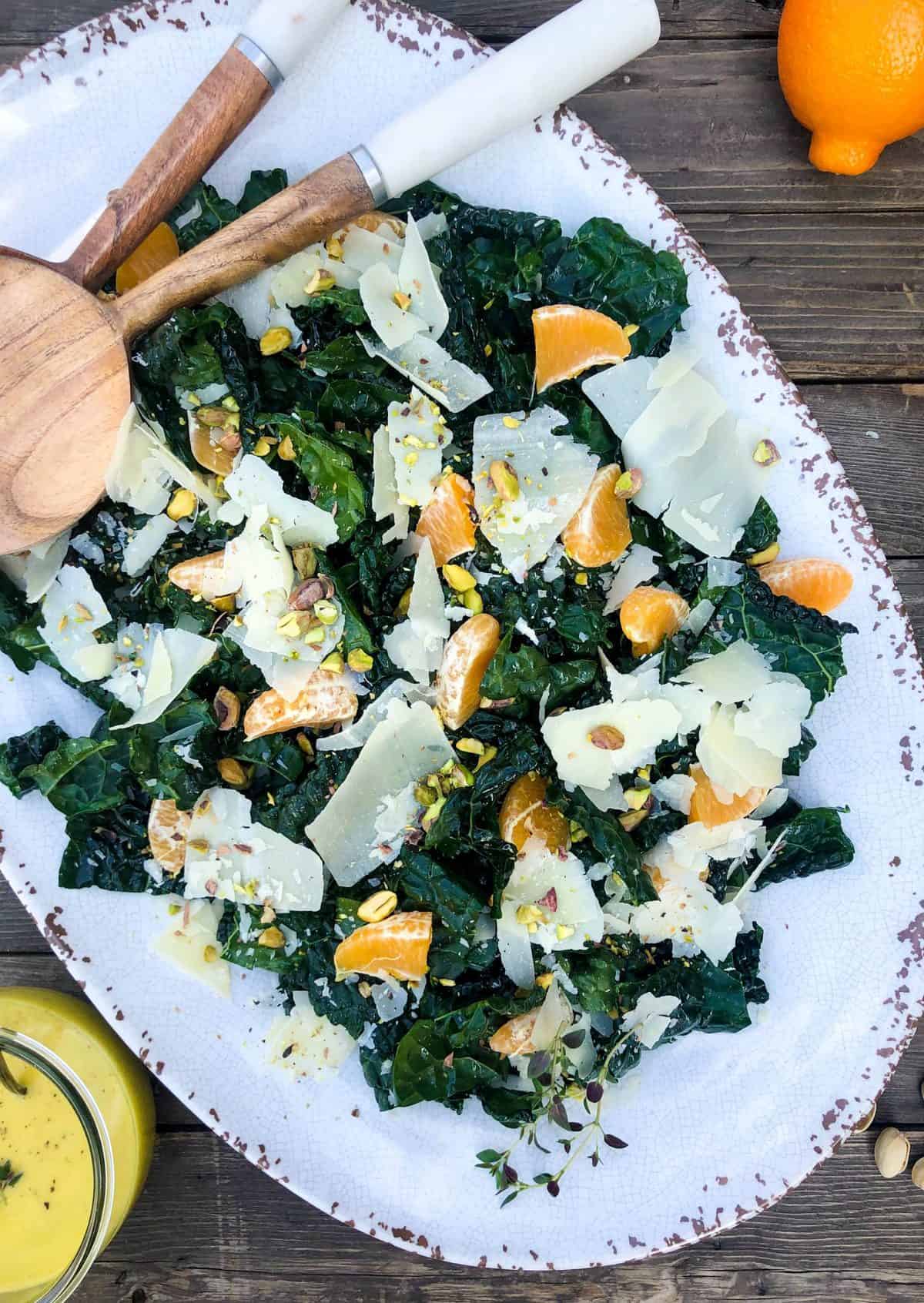 Tangerine Pistachio Kale Salad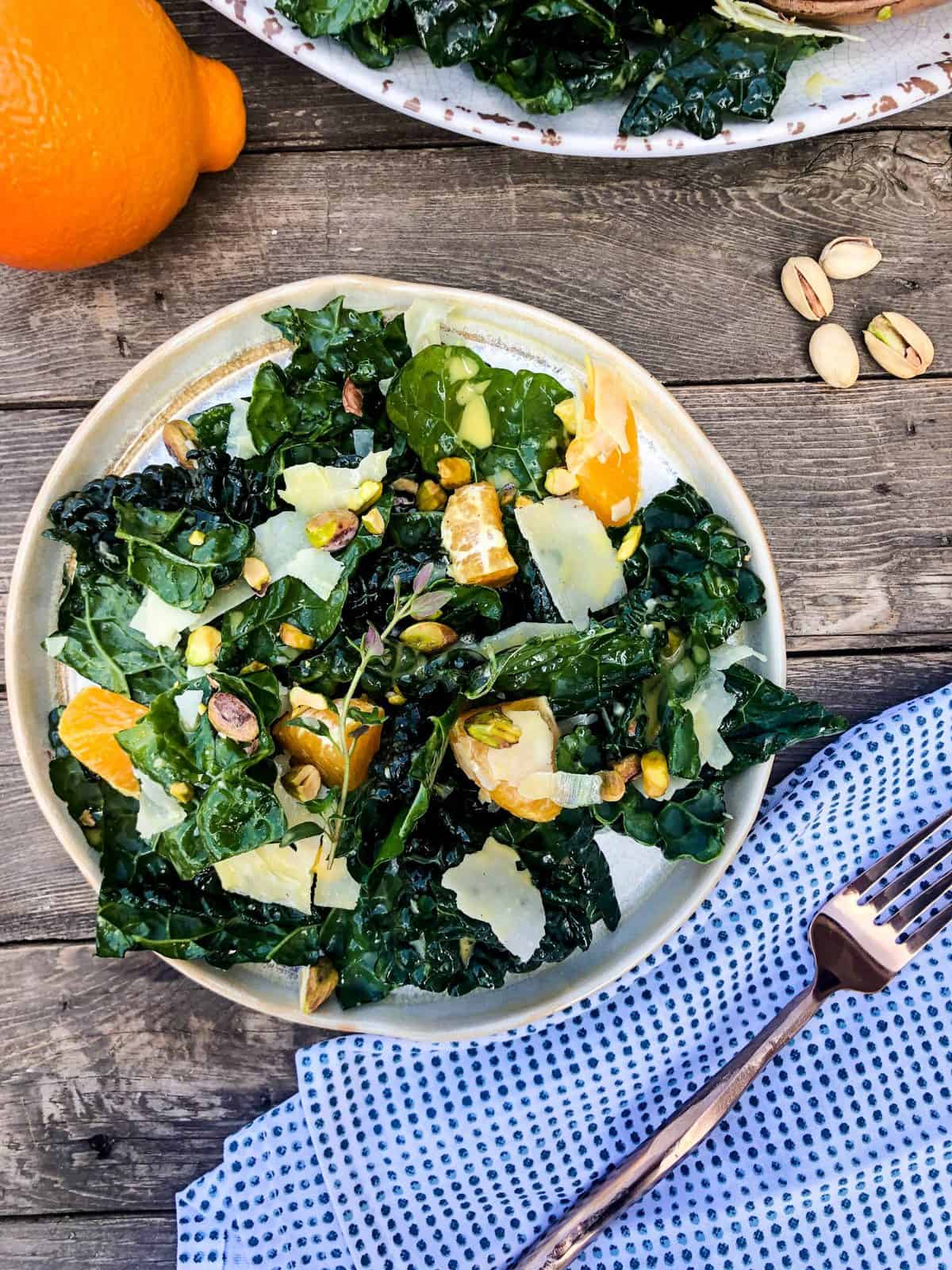 I've been on a kale salad kick! Remember my Kale Caesar Salad? Bomb!
I can't stop making them. I might need an intervention! But, I guess you don't need help stopping what is good, right?
This time I mixed my favorite winter citrus with my favorite California nut. What could be better?
I also made my own super easy dressing that incorporates tangerines too! Double Yum!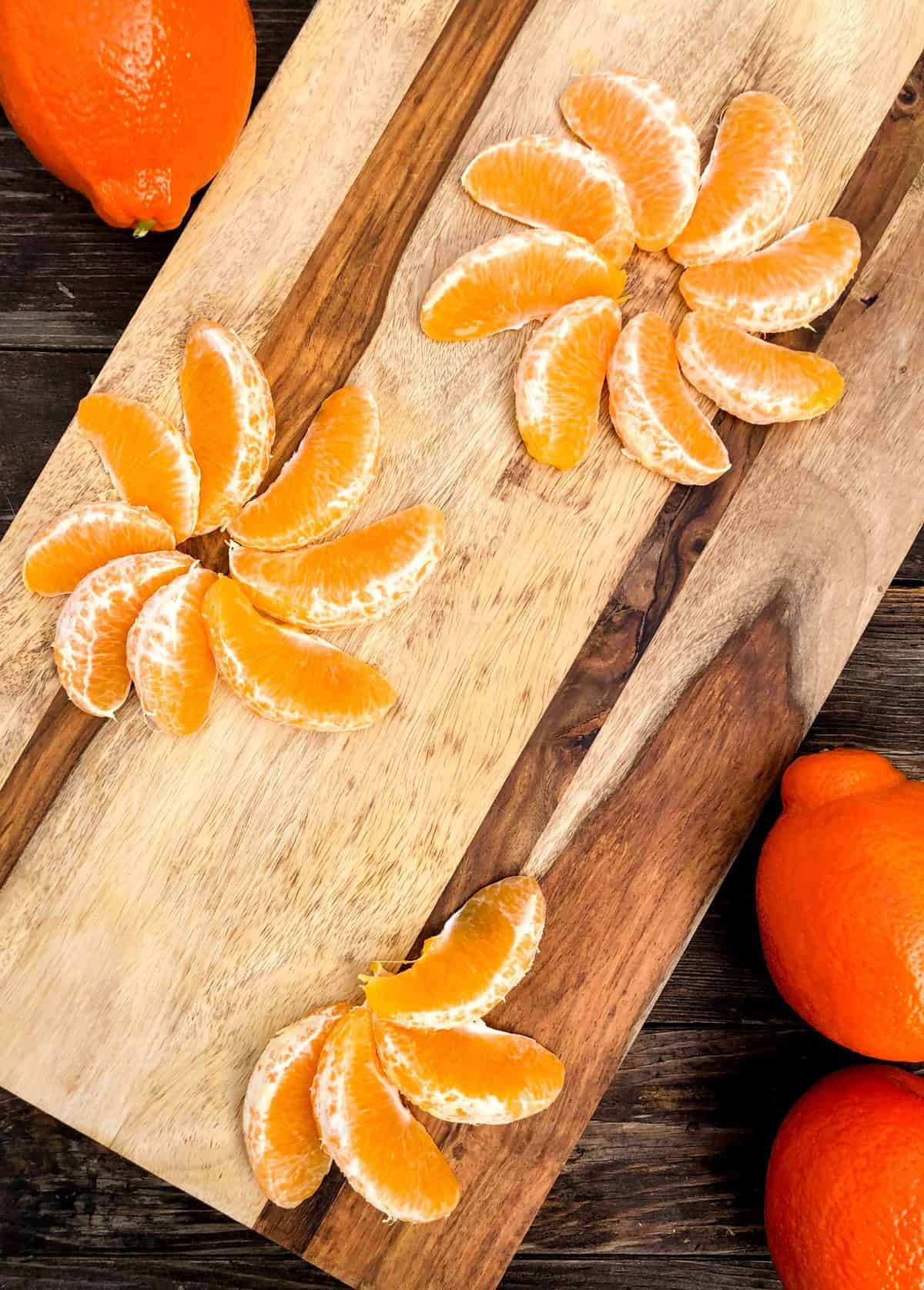 First, I picked out the sweetest, juiciest tangerines around. And that wasn't very hard because the grocery stores are bursting with the golden fruit right now!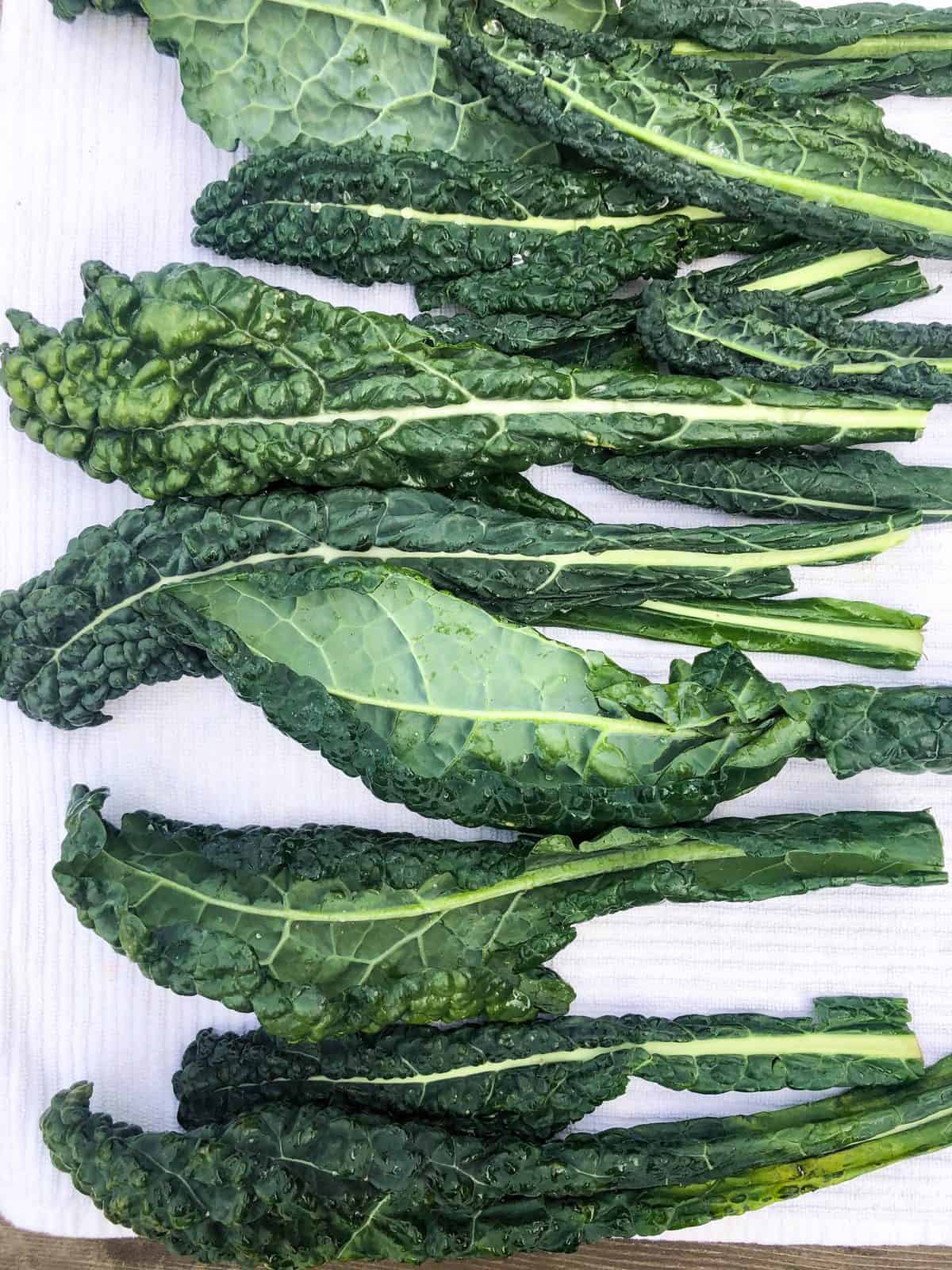 For this salad, I decided to use Lacinato Kale, also known as dinosaur kale. Some people shy away from this variety because of the rough texture, but I have a trick for you that will help soften the coarseness, making the lacinato kale your new fave!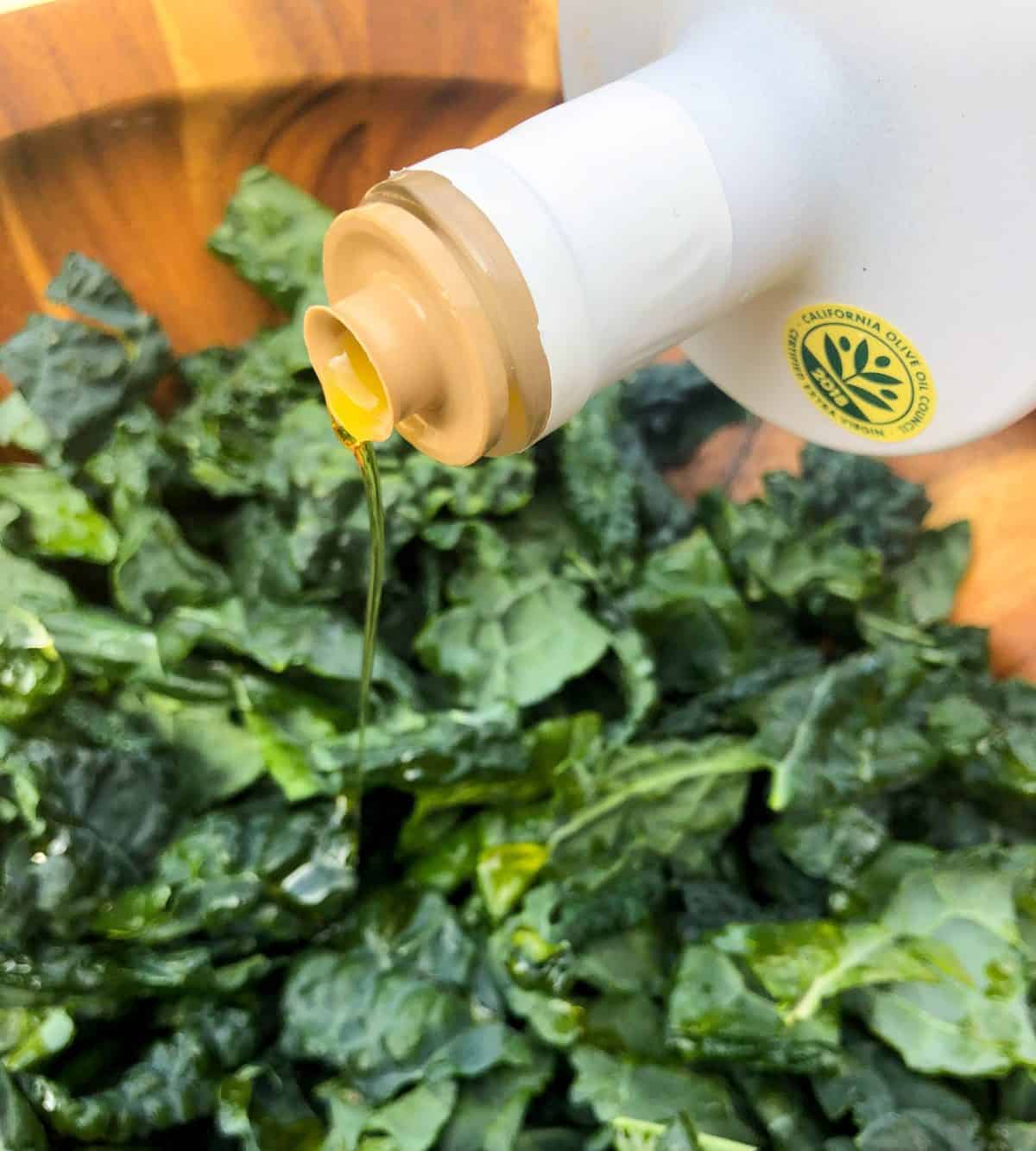 Remove the woody stems and rough chop the leaves into larger bite-sized pieces. Pour a few teaspoons of olive oil to the bowl and toss the leaves for a few minutes. Voila! Soft, tasty kale is now in your future.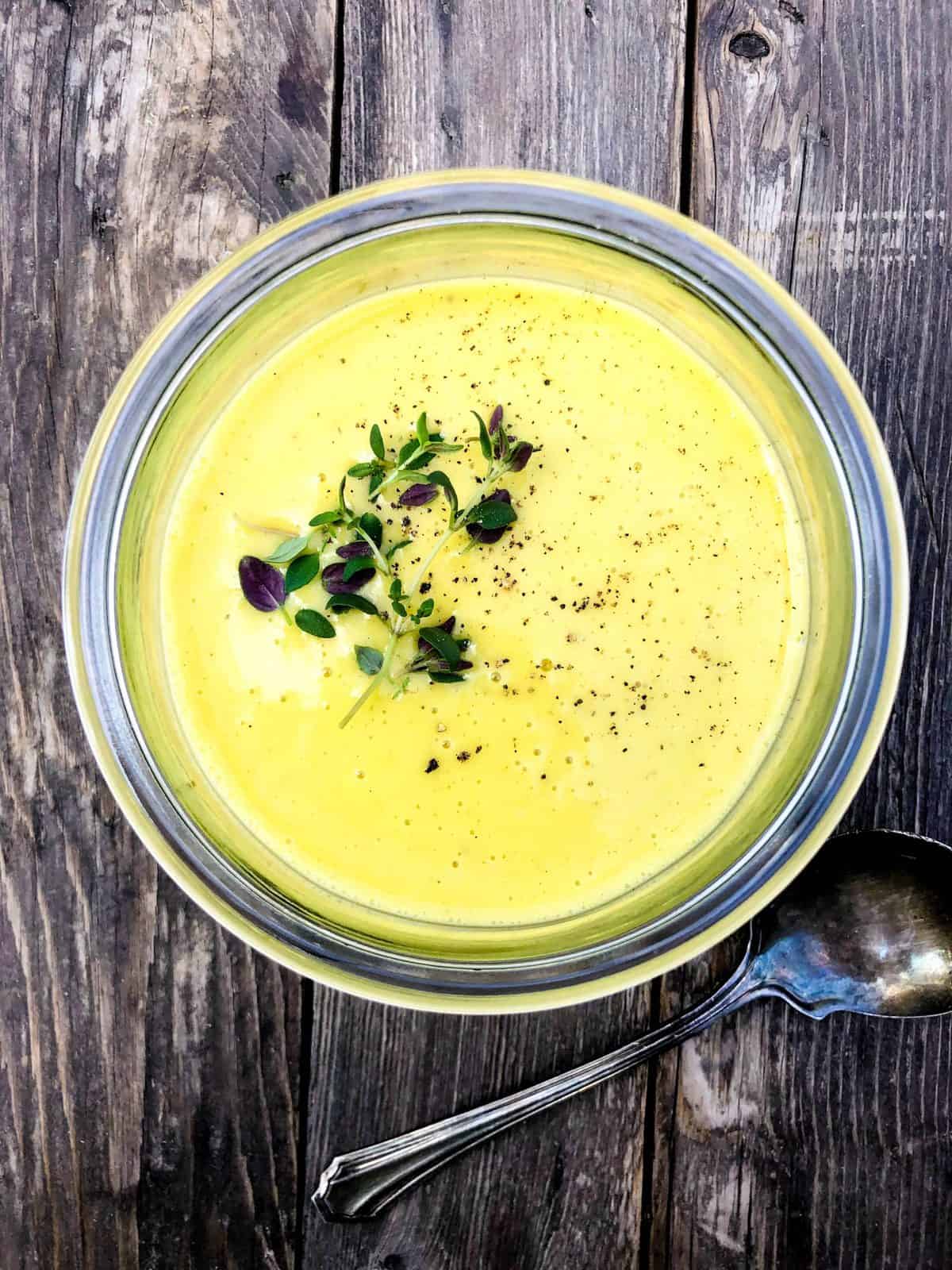 While the kale is marinating, whip up the Honey Dijon Tangerine Vinaigrette. With ingredients you probably already have in your pantry, this dressing is the star of the show!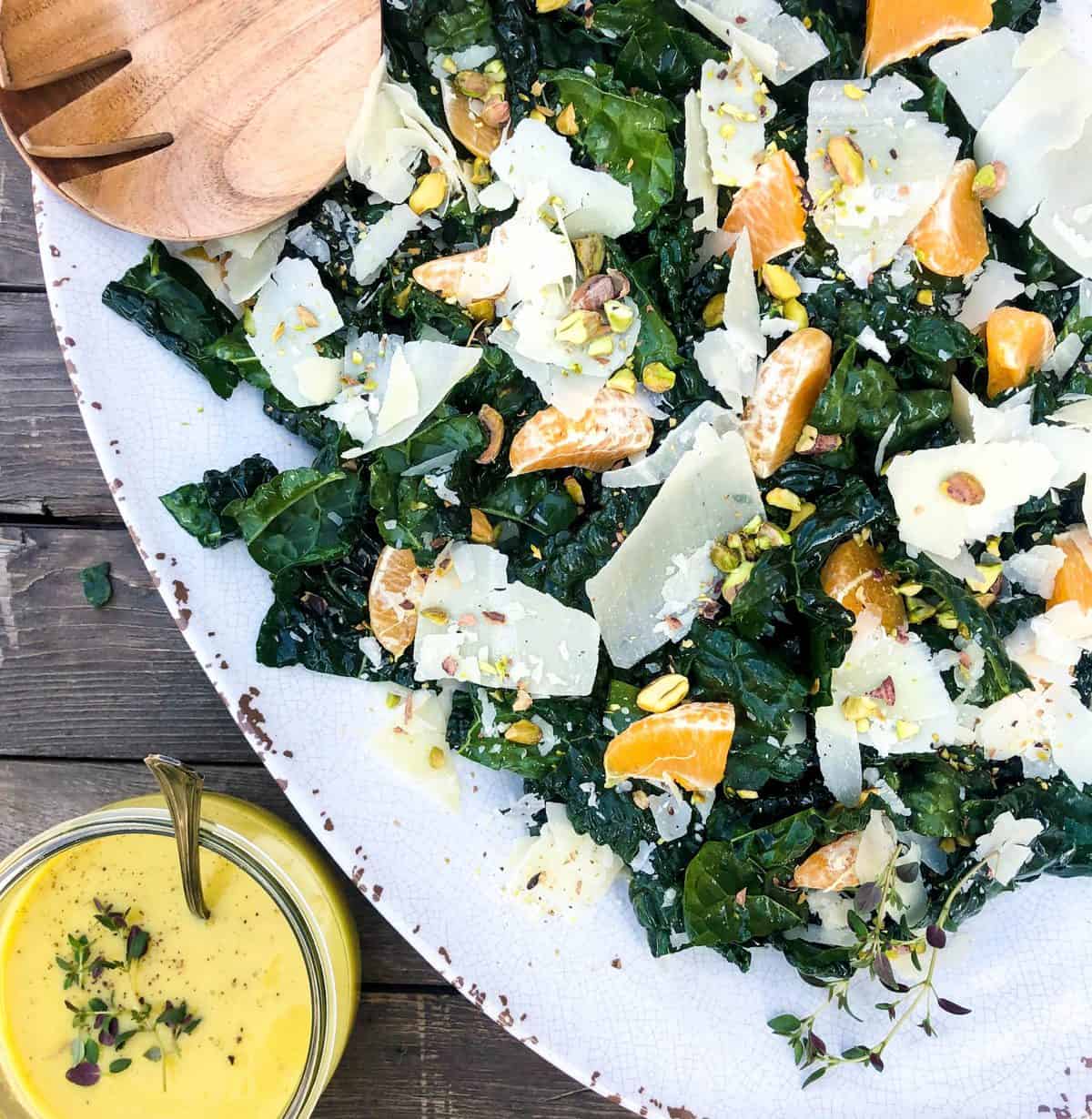 Layer the kale, tangerines, shaved parmesan and chopped pistachios on a large platter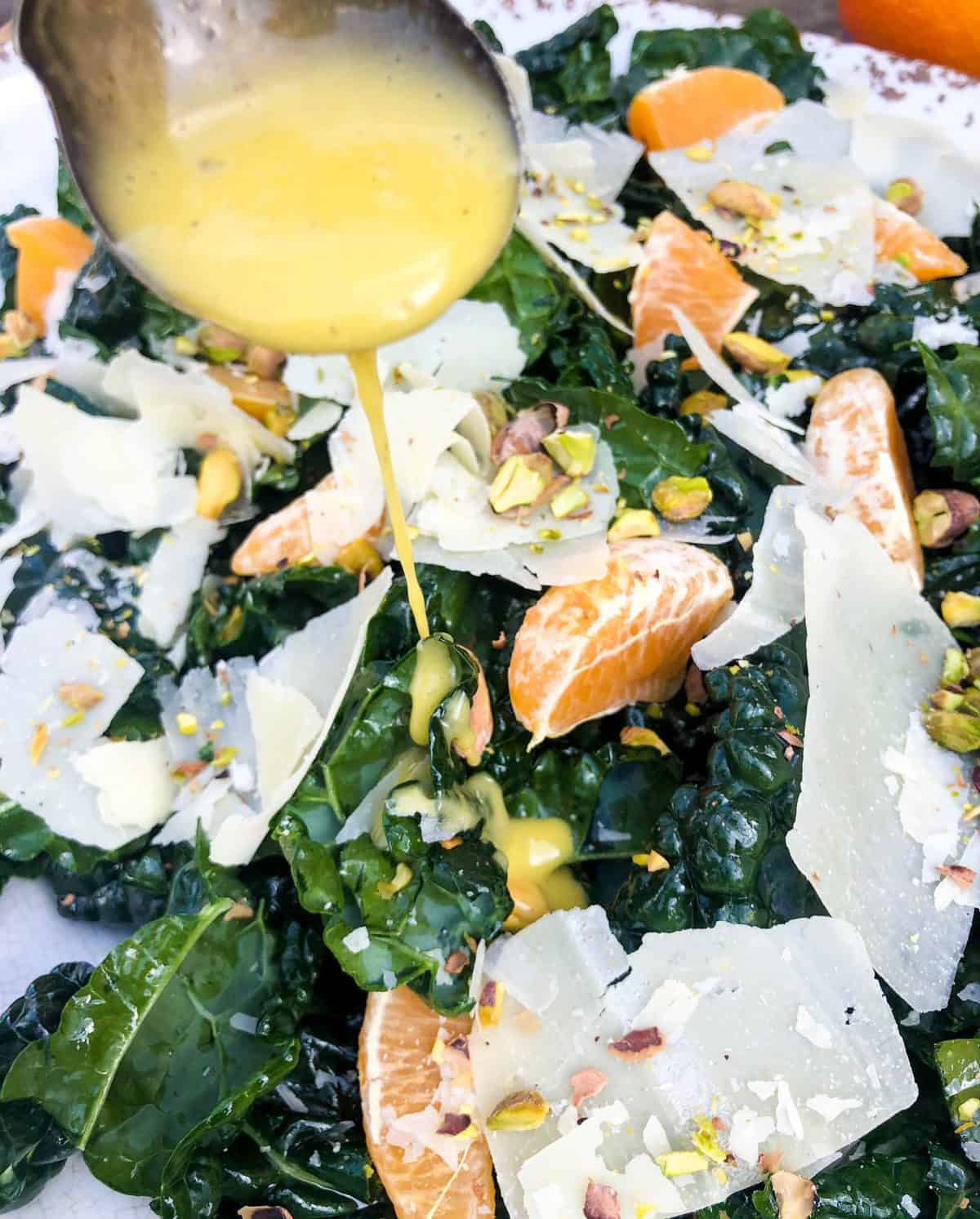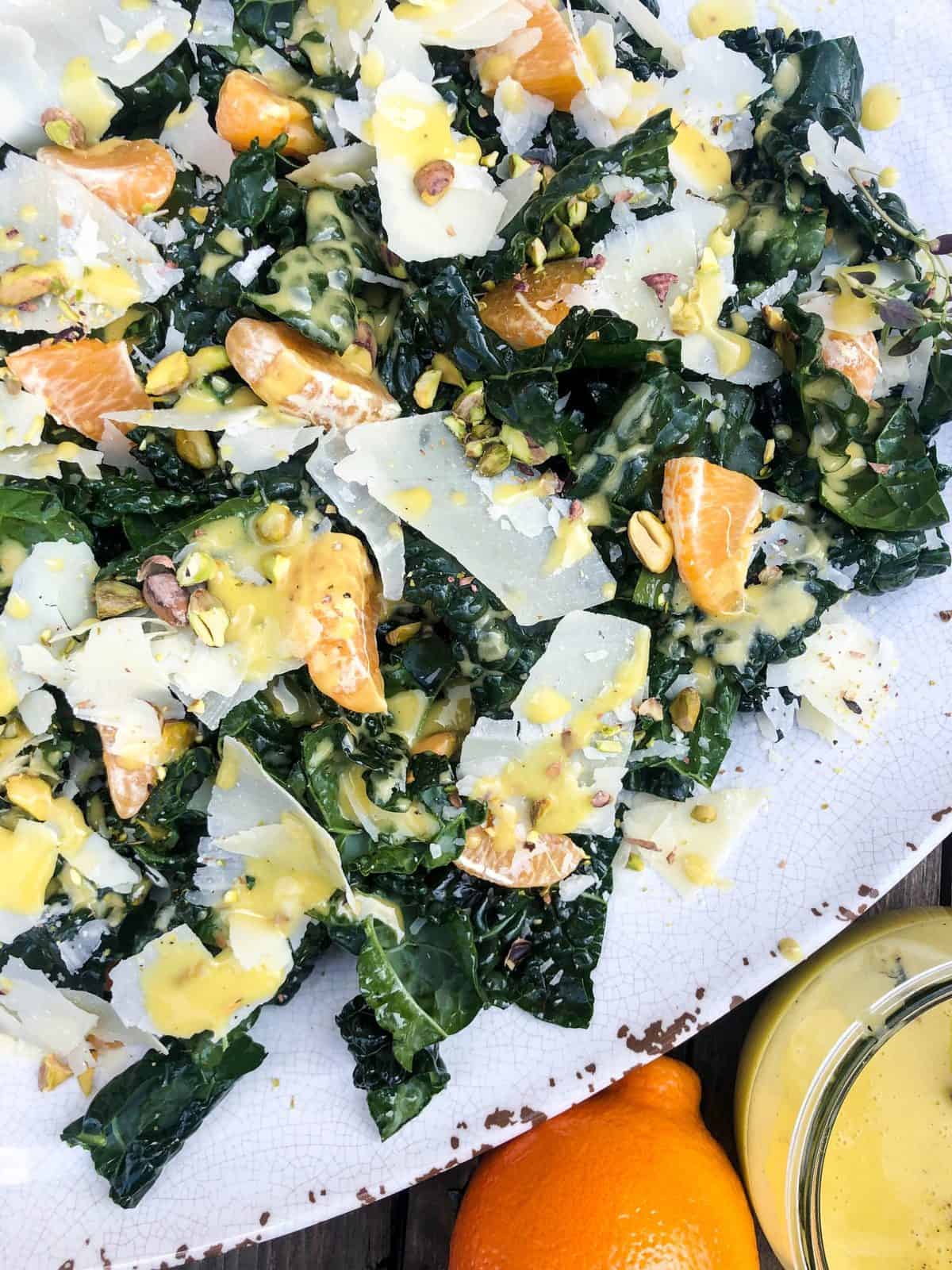 Drizzle the vinaigrette over the salad and toss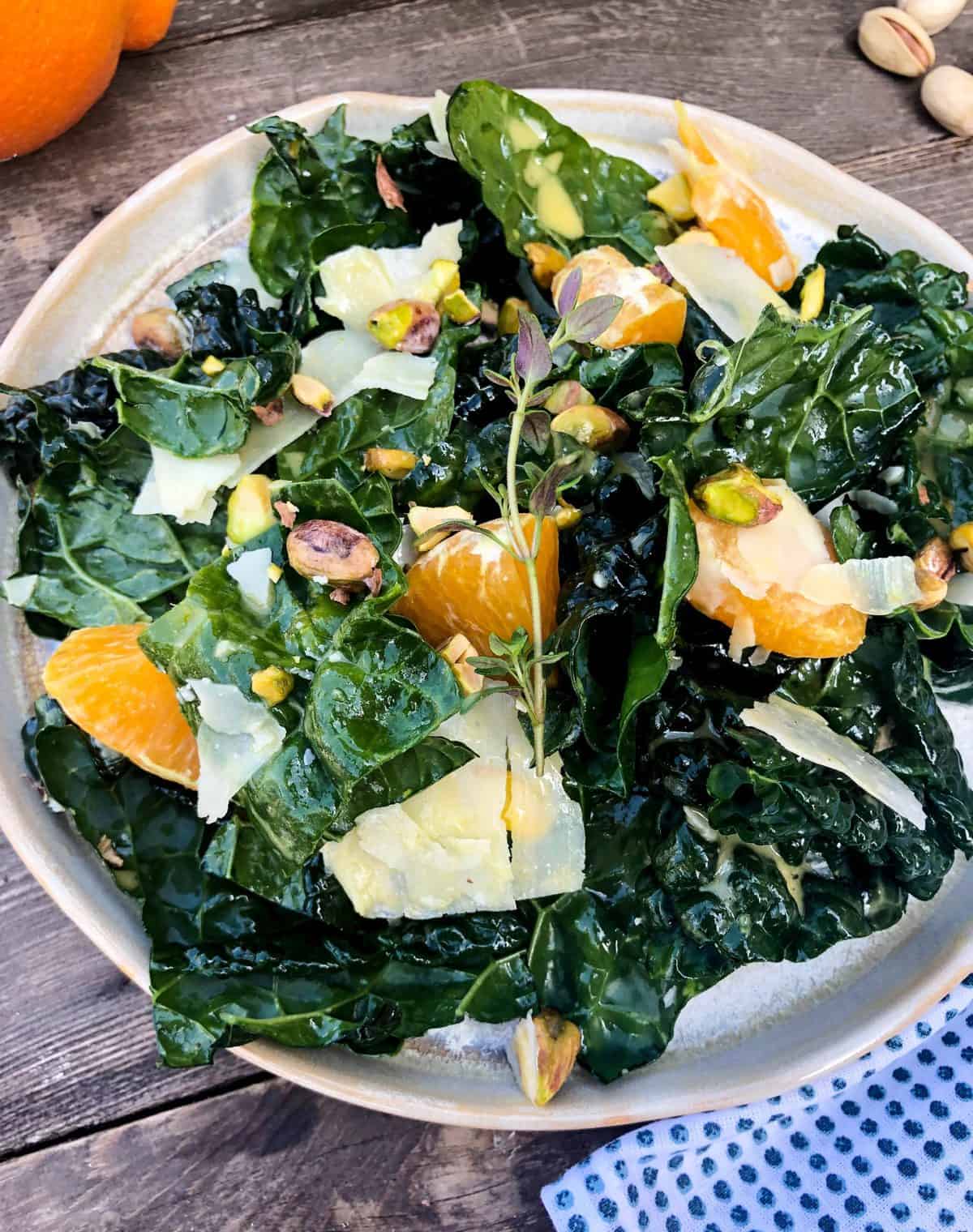 Serve and enjoy!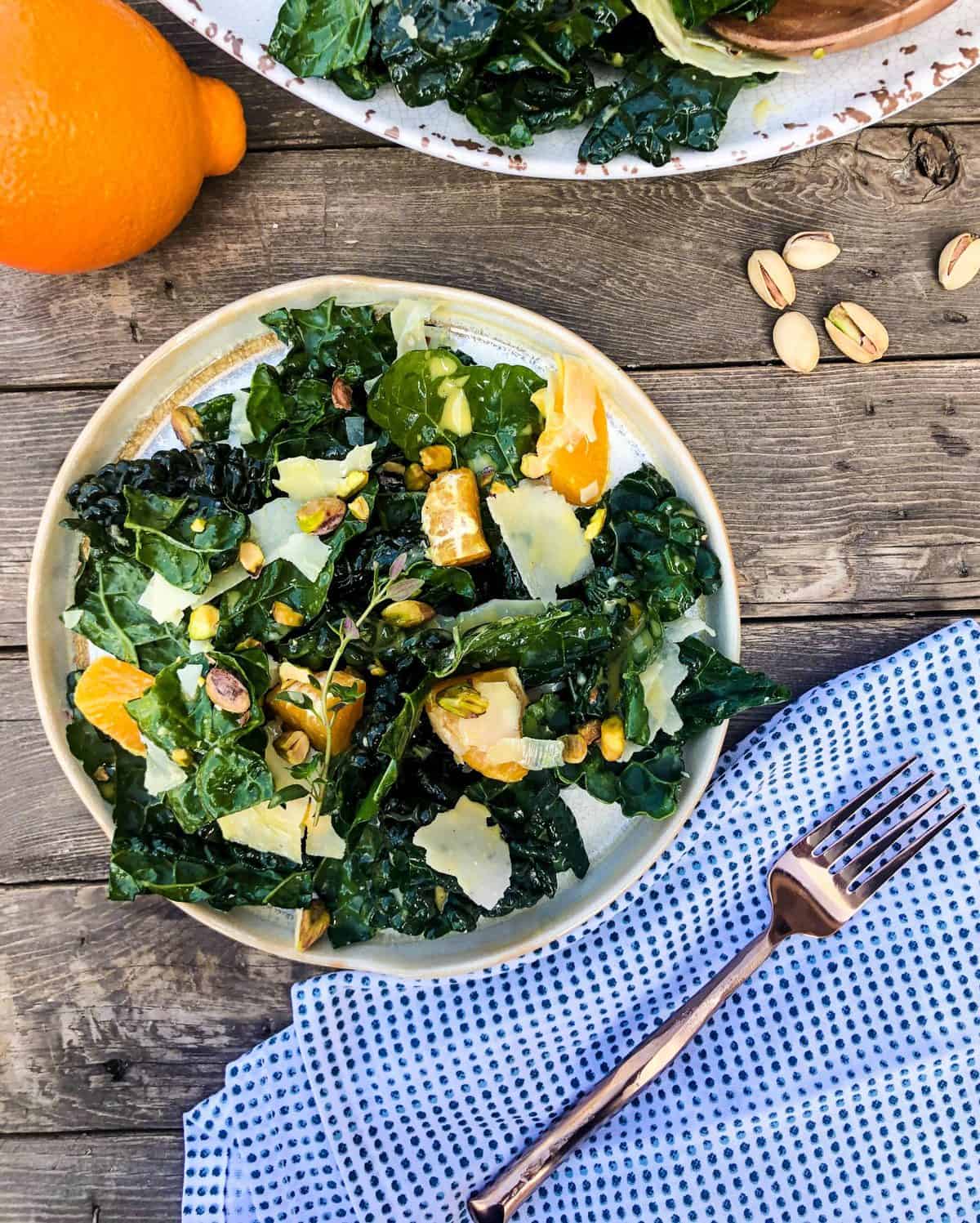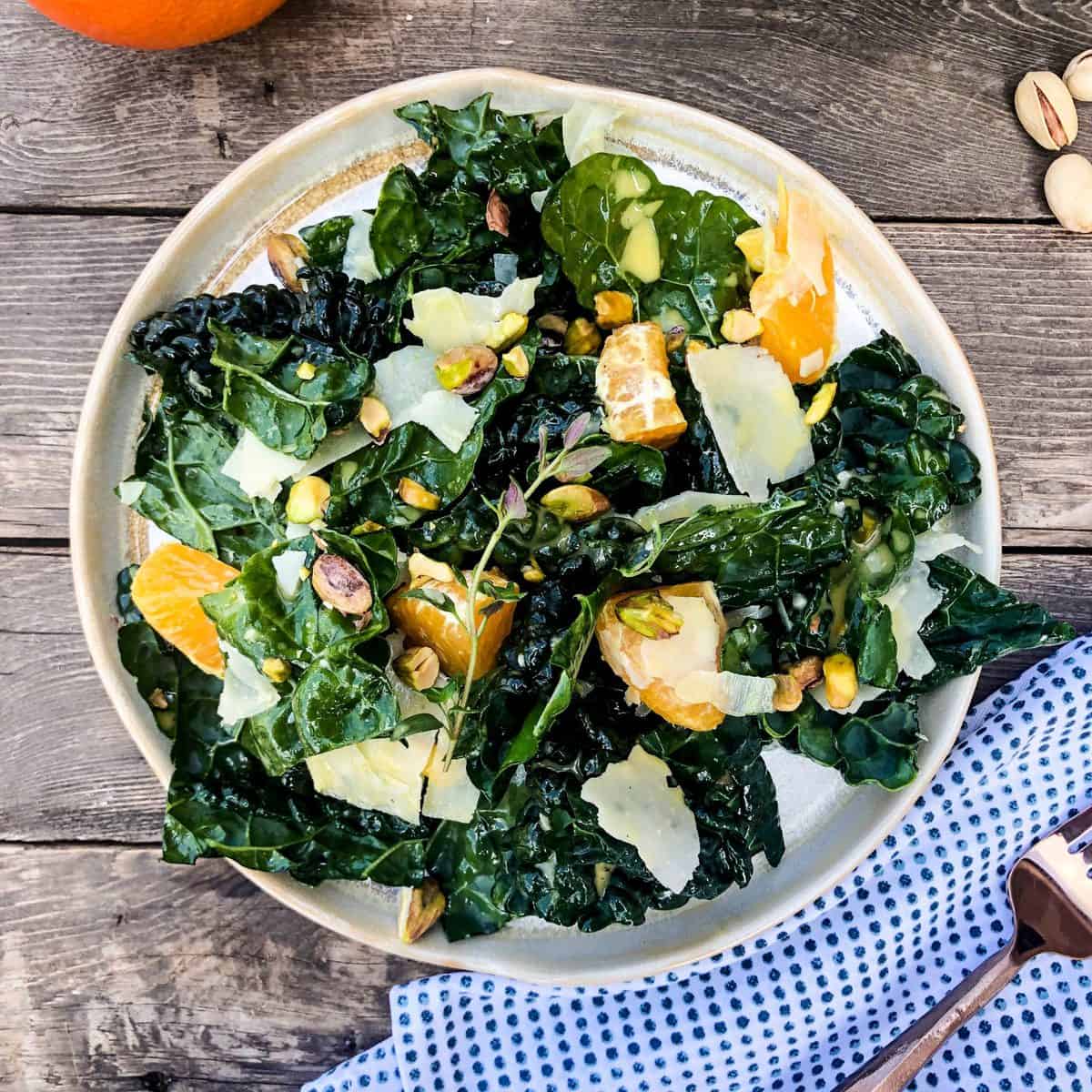 Make this salad soon! So yummy!
Here is the recipe for ya…
Tangerine Pistachio Kale Salad
2020-03-08 19:50:23
Ingredients
SALAD
2-3 bunches of Lacinato kale
2 t. olive oil
2 tangerines, peeled and sections cut in half
1/4 cup shelled pistachios, rough chopped
4 oz. shaved parmesan
DRESSING
1/3 cup fresh tangerine juice (about 2 tangerines, juiced)
1 T. dijon mustard
2 T. honey
1 T. finely chopped shallot
2 T. rice vinegar
1 t. fresh chopped thyme
salt and pepper to taste
3/4 cup extra virgin olive oil
Instructions
Remove the stems from the kale and rough chop the leaves. Place in a bowl and add the olive oil and toss to coat all the pieces. Set aside and make the dressing.
FOR DRESSING: Add all the dressing ingredients except for the olive oil. Add to a blender and blend for 30 seconds. Pour in the oil and blend until mixed well. Set aside and assemble the salad.
Add the kale to a large platter and layer the tangerines, parm and pistachios. Drizzle some dressing over the salad and toss to combine.
California Grown https://californiagrown.org/