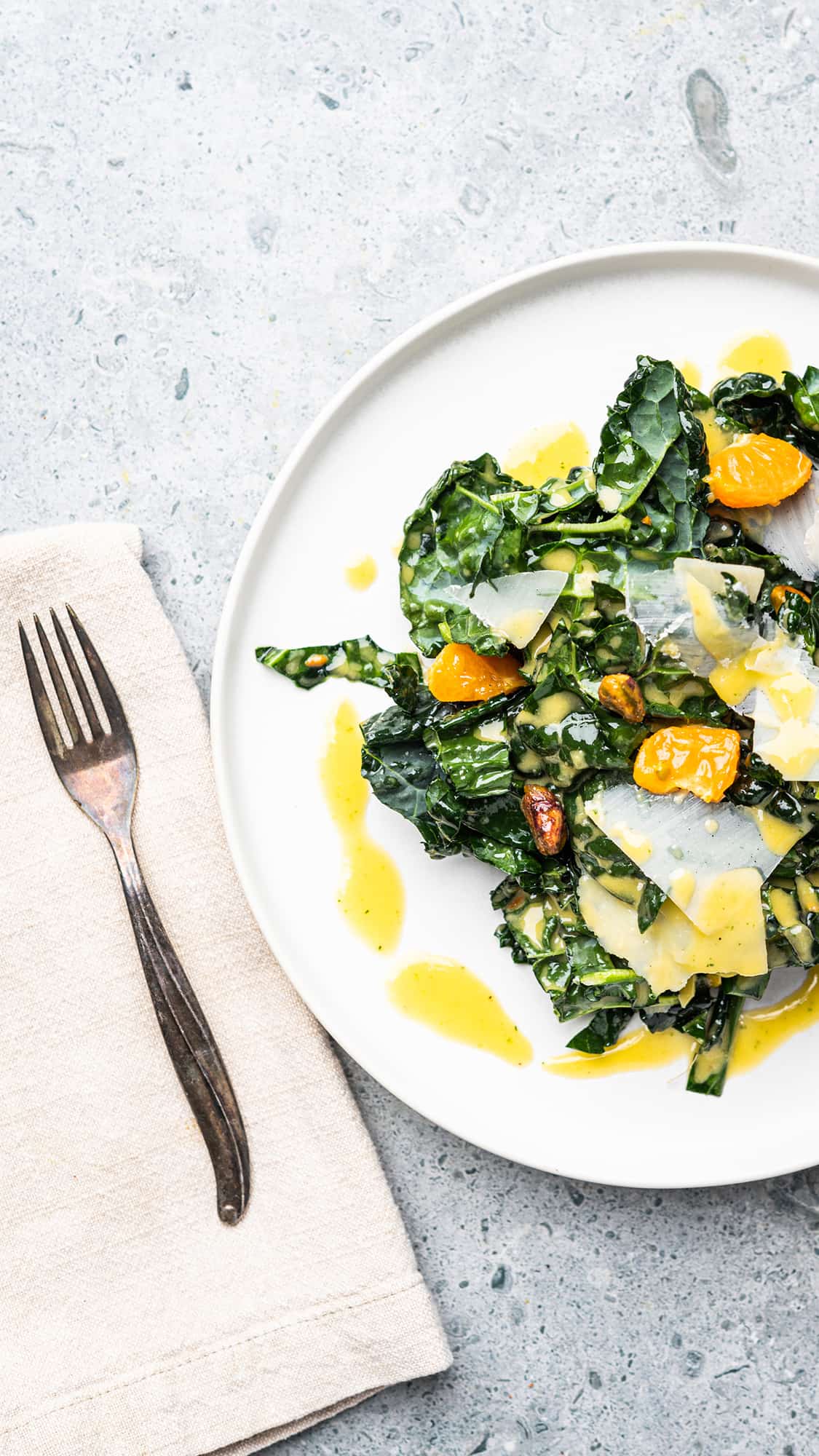 CA GROWN Blog
Discover. Learn. Connect.
A Sensational Kale, Tangerine, and Pistachio Salad Recipe
March 11, 2020
Eat the Season!
Sign Up For Weekly Recipes
« Back to Recipes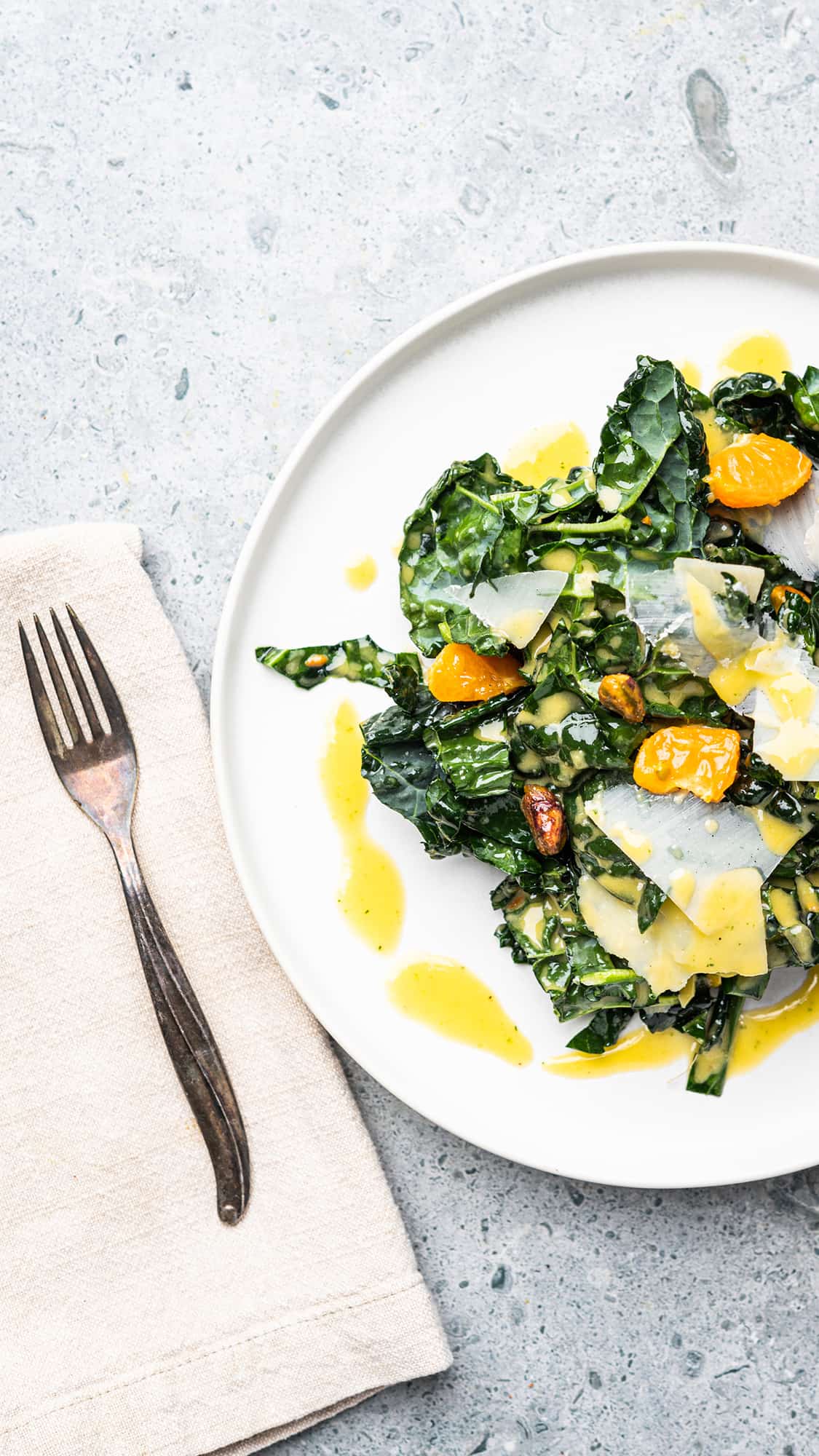 A Sensational Kale, Tangerine, and Pistachio Salad Recipe
This sensational Kale, Tangerine, and Pistachio Salad recipe is loaded with hearty winter greens, bright California citrus, and perfectly toasted pistachios. It is the perfect, healthy pick me up for even the most frigid of winter days.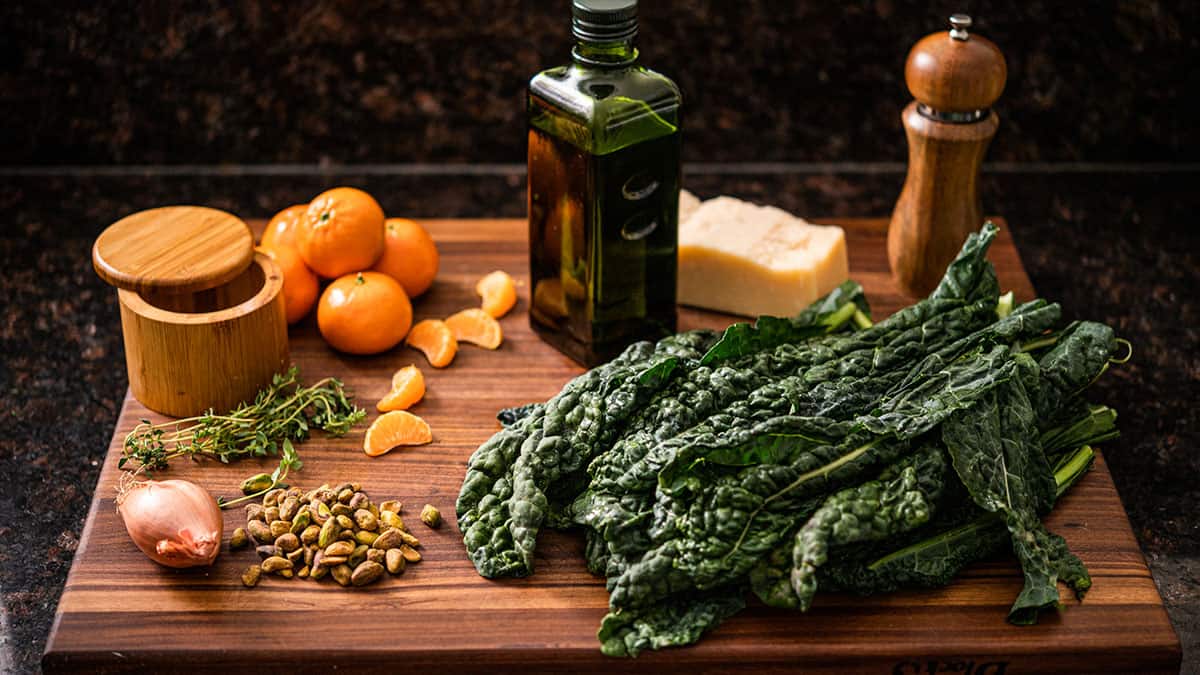 This Kale, Tangerine, and Pistachio Salad recipe calls for Lacinato Kale, also known as dinosaur kale. Don't shy away from this variety because of the rough texture. This recipe will show you a few tips and tricks for tenderizing the kale to create the perfect bite, every time.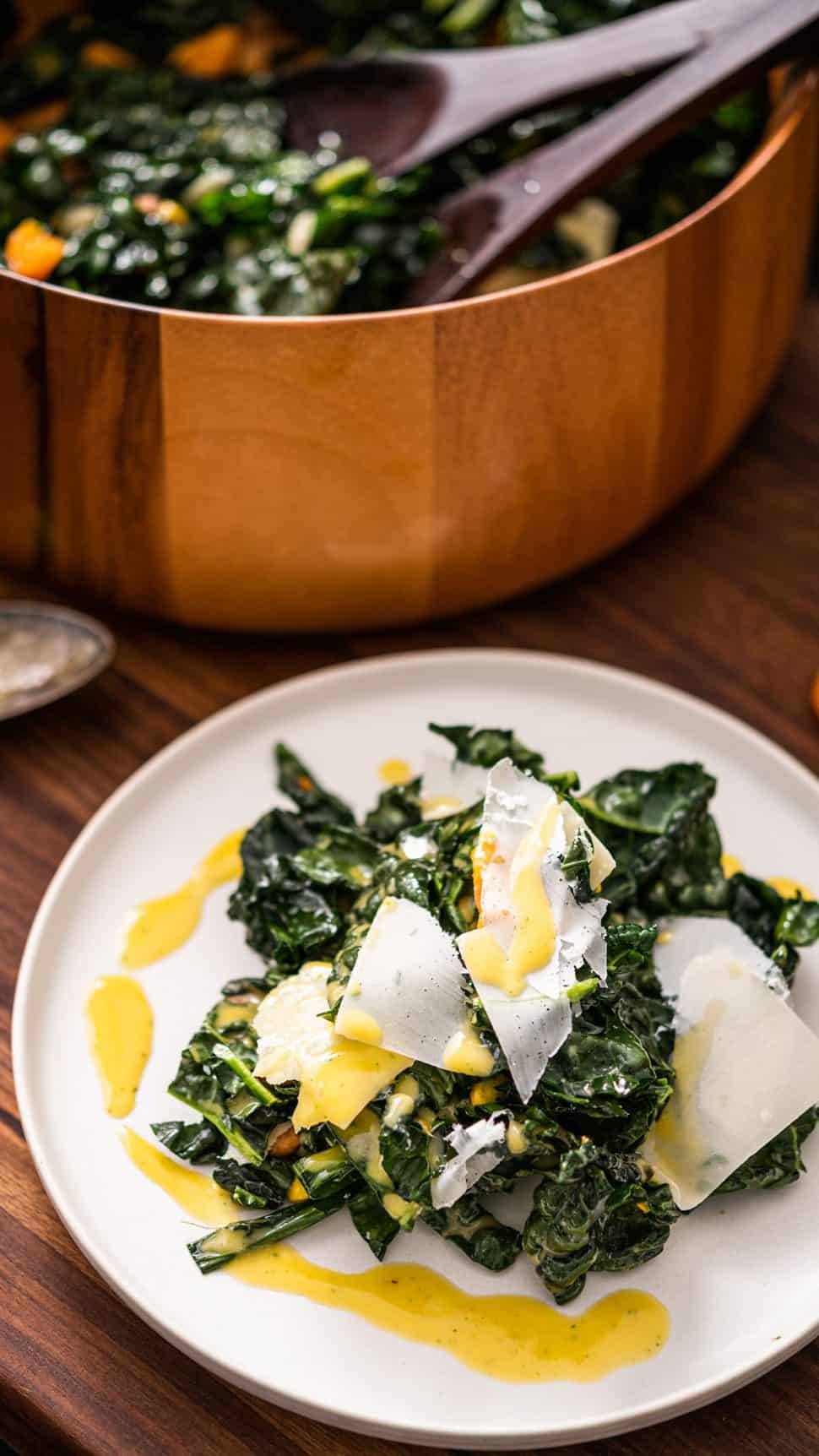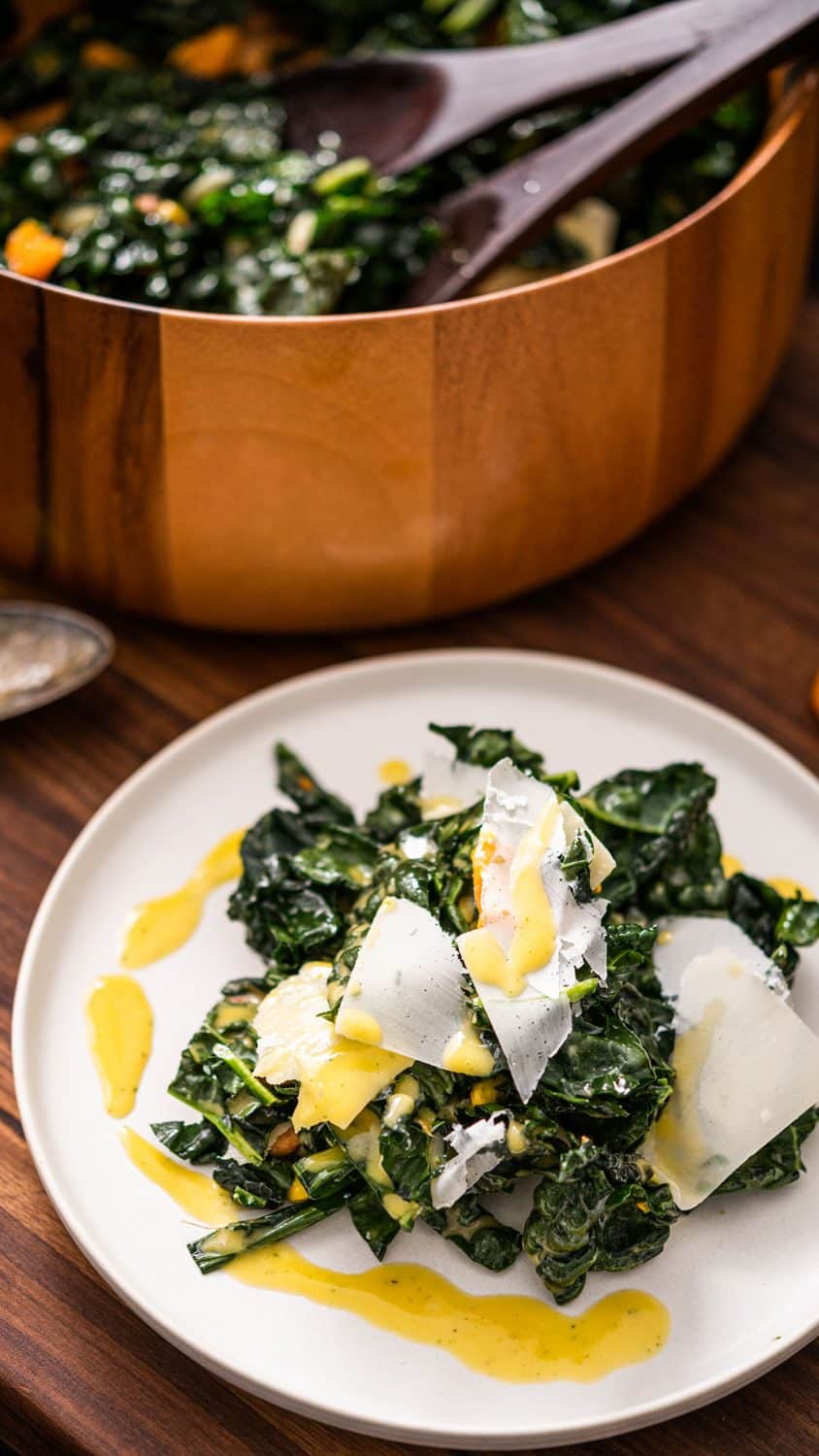 How to tenedrize tough kale for kale salad.
Remove the woody stems and rough chop the leaves into larger bite-sized pieces. Pour a few teaspoons of olive oil into the bowl with the kale then use your hands to vigorously massage the leaves for a few minutes. You will notice the texture of the kale begin to change and the amount of kale in the bowl will seem to shrink as well. This means you are doing it right! Tender kale in every bite is in your future now friend!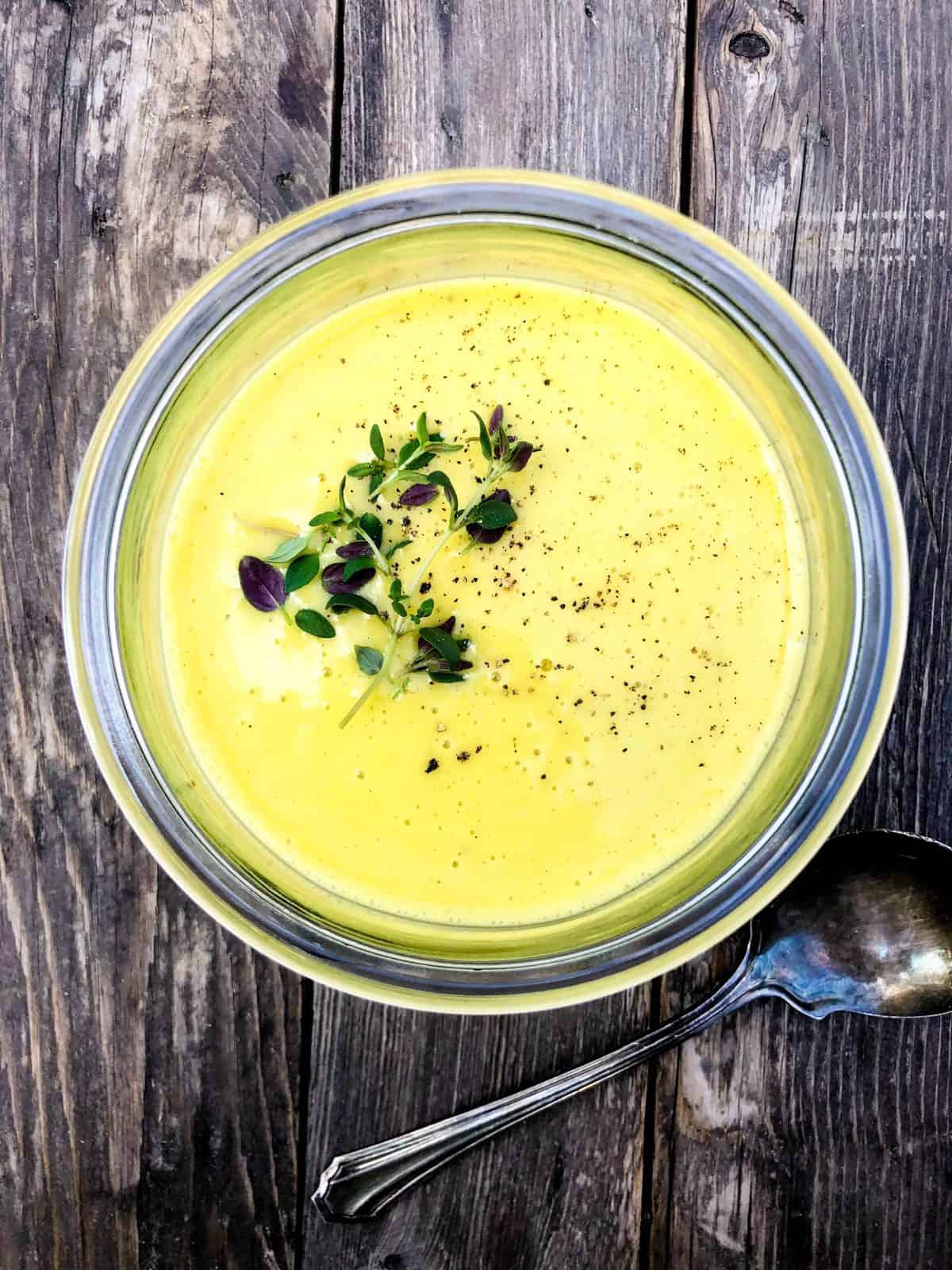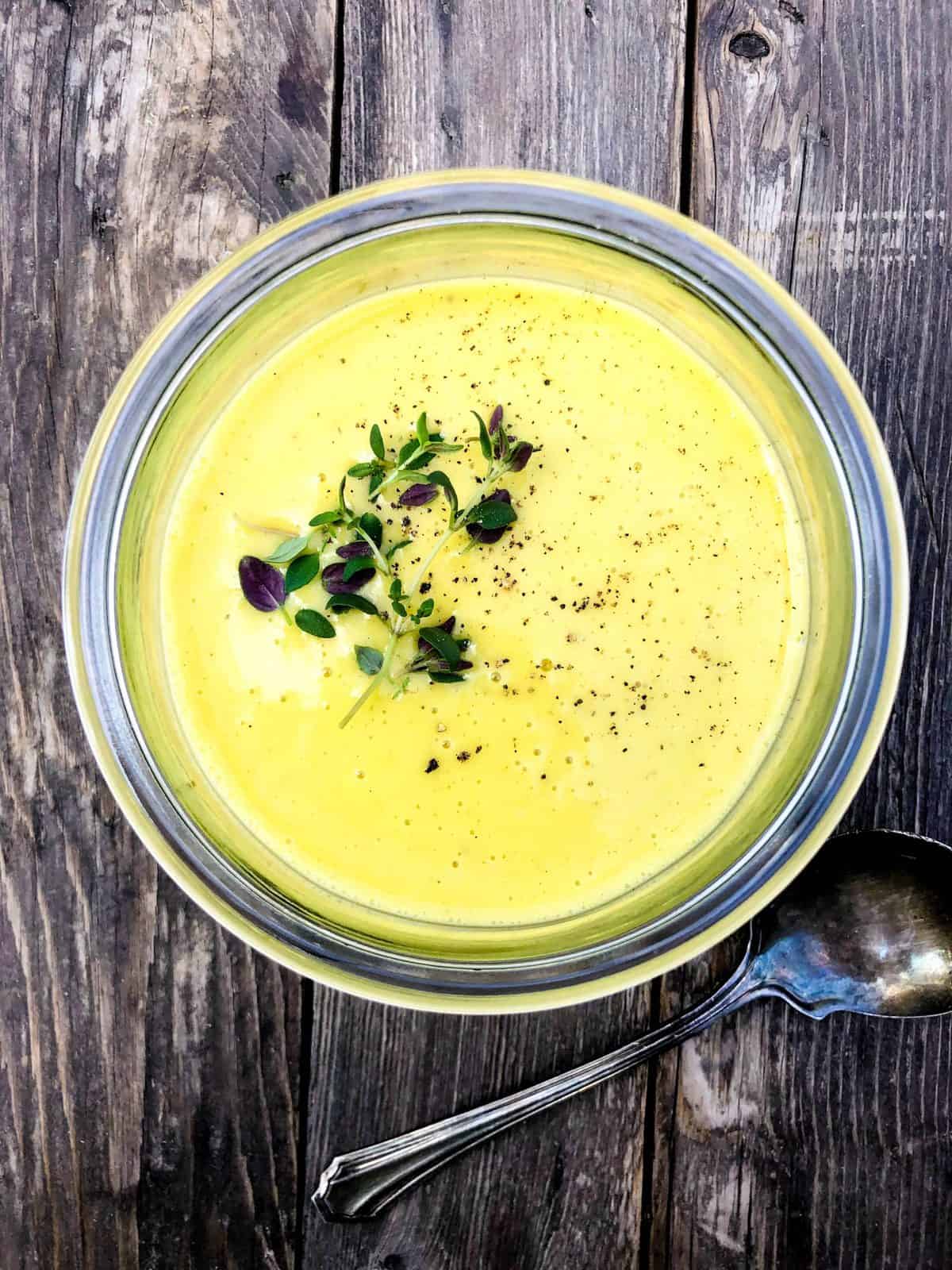 Next, while the kale is marinating, whip up the Honey Dijon Tangerine Vinaigrette. This dressing is the star of the show and can be made with ingredients that you probably already have on hand in your pantry!
All that's left is to layer the kale, tangerines, shaved Parmesan, and chopped pistachios on a large platter. Drizzle the vinaigrette over the salad and toss. Serve and enjoy!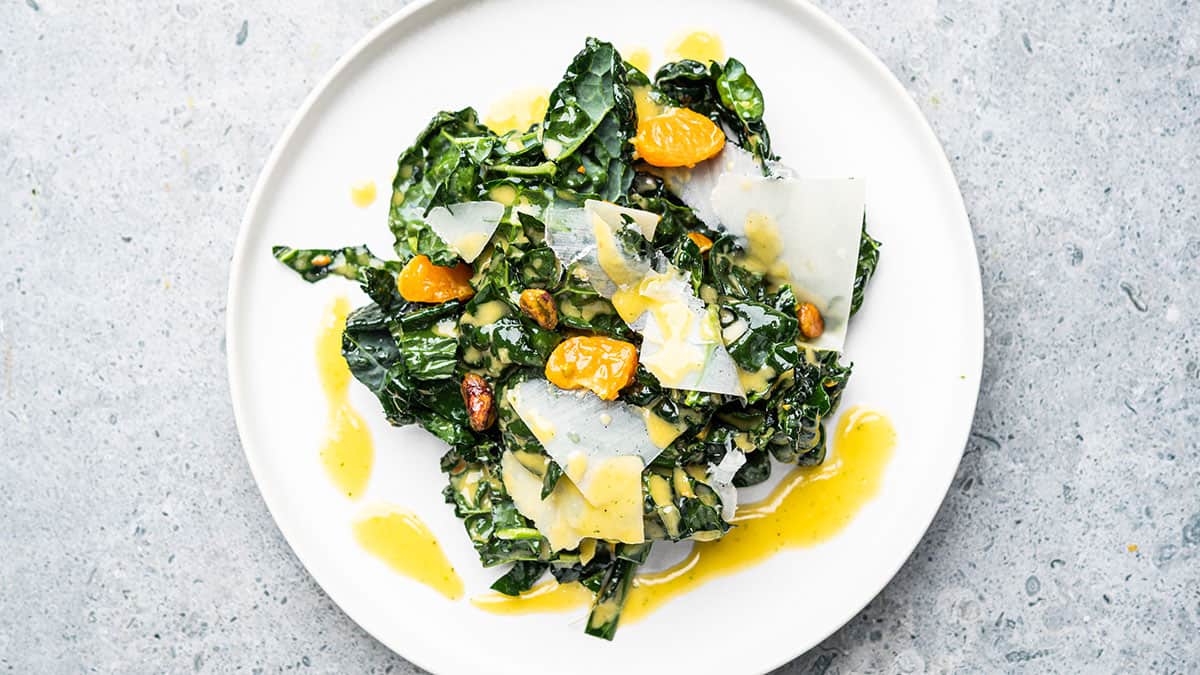 Hungry for more kale salad recipes to get you through the winter months ahead? Just keep scrolling!
Did you know that kale salad is a staple in lots of households during the cooler months of the year? Those hearty leafy greens are not only delicious when prepared correctly, but they are really good for you too! Here are a few of our absolute favorite winter salad recipes that showcase kale.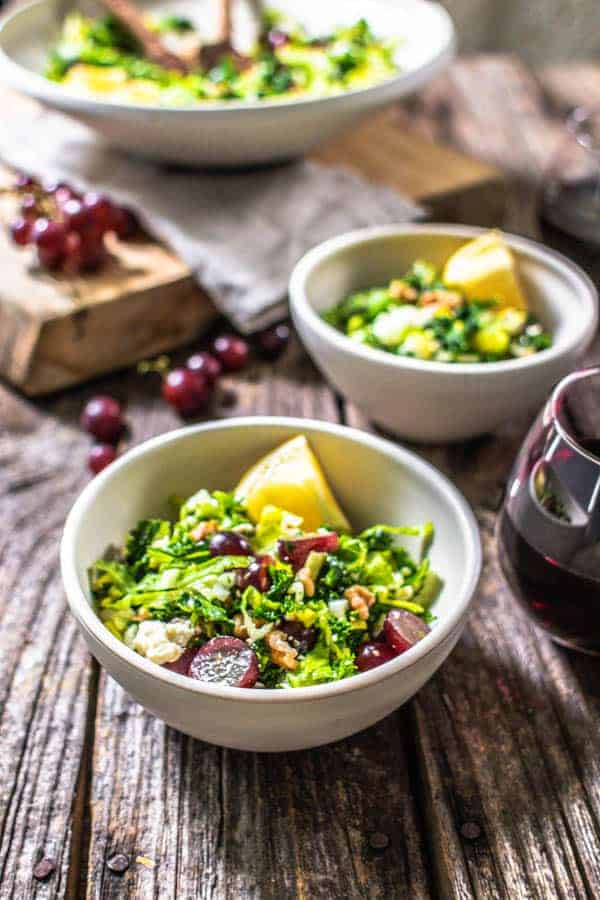 Consider this kale salad recipe from This Mess is Ours to be your kale salad primer! Meg spills all the details about how to make a restaurant-quality kale salad at home every single time.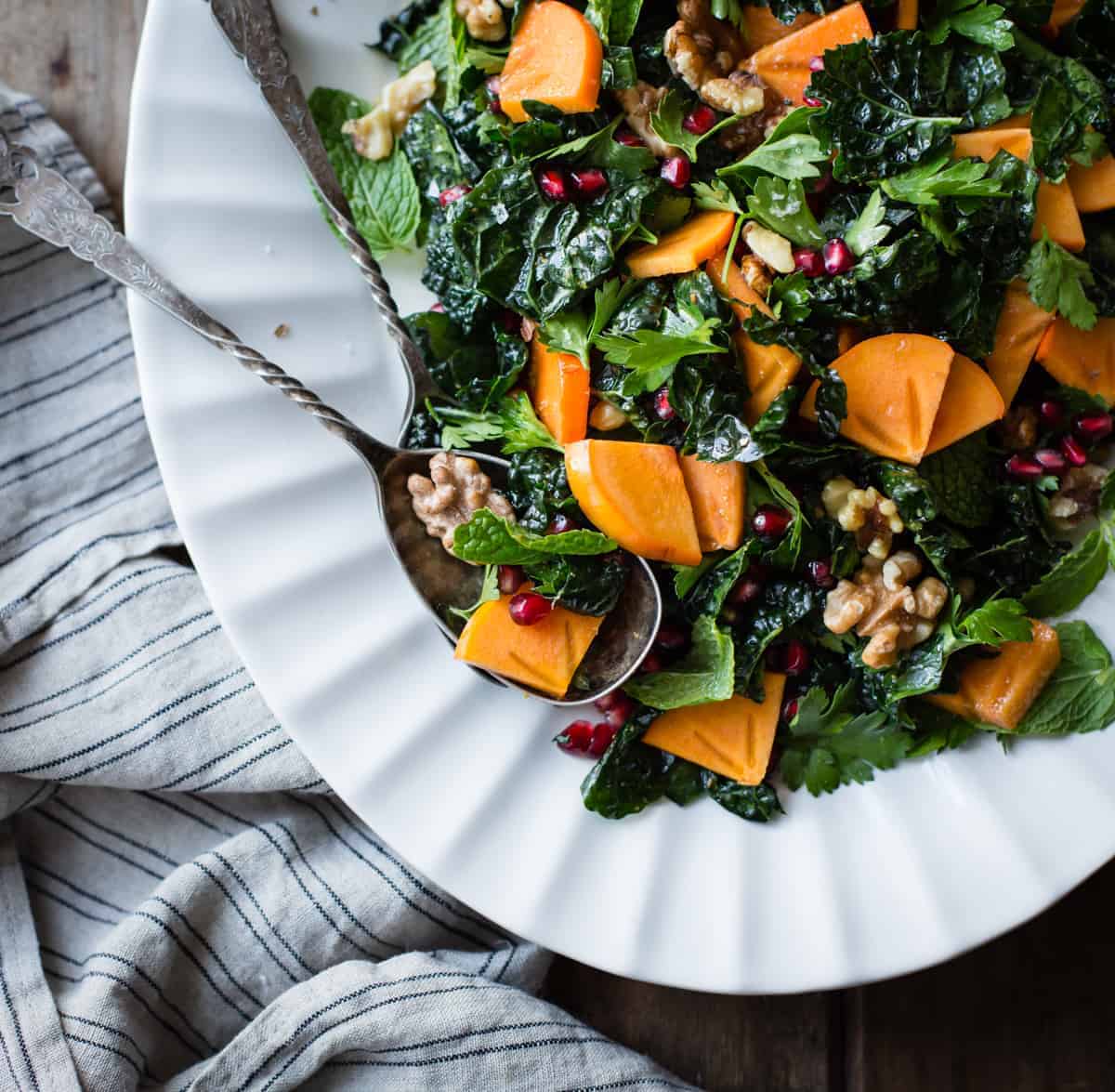 This salad from The Bojon Gourmet is marinated in a toasted cumin maple dressing and tossed with a mess of herbs, pomegranate, persimmon, and walnuts, kale salad never tasted so good.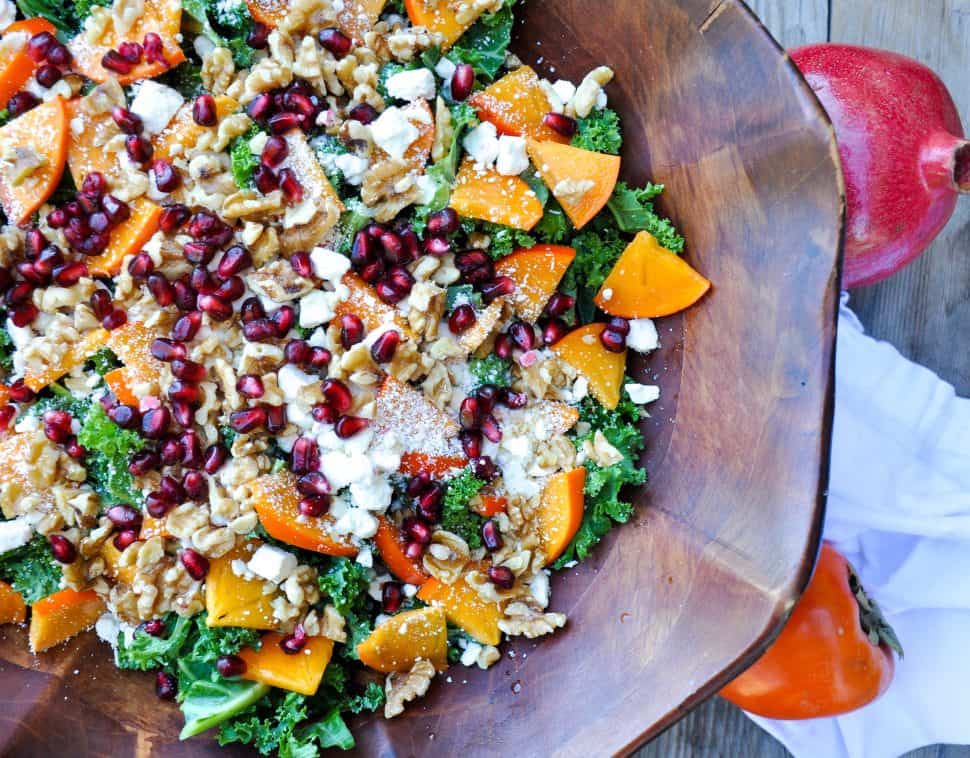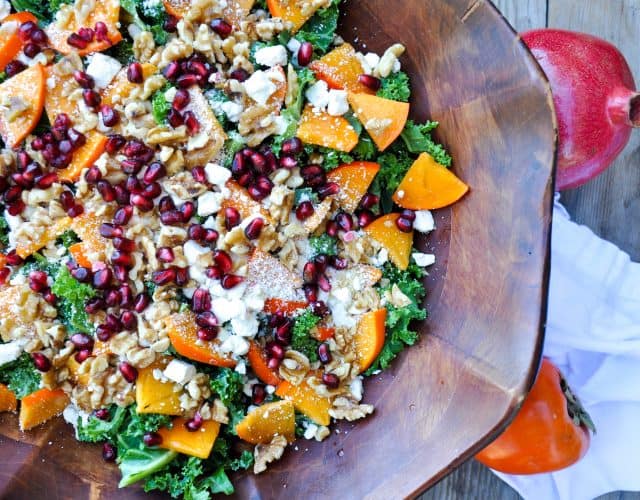 This jewel-toned salad is sure to brighten up even the most blustery of winter days!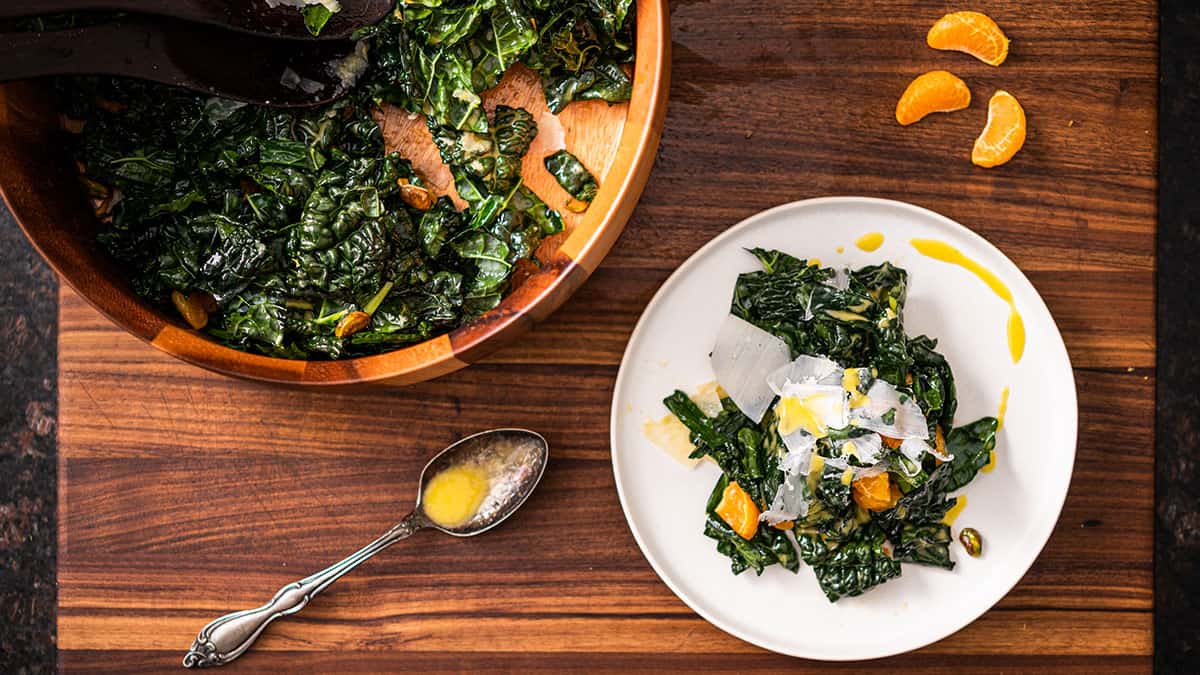 Be sure to share your Kale Salad creations with us by snapping a pic and tagging us on social using #CAGROWN.
Craving more CA Grown goodness? Follow us on Pinterest for fresh and fabulous recipe inspiration!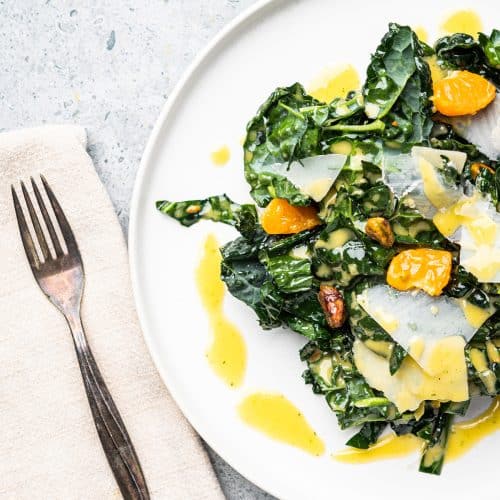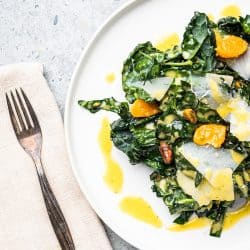 Tangerine Pistachio Kale Salad
This is the perfect, easy to make, winter salad with fresh kale, citrus, and pistachios!
Ingredients
SALAD
2-3 bunches of Lacinato kale
2 teaspoons olive oil
2 tangerines peeled and sections cut in half
1/4 cup shelled pistachios rough chopped
4 ounces shaved Parmesan cheese
DRESSING
1/3 cup fresh tangerine juice about 2 tangerines, juiced
1 tablespoon dijon mustard
2 tablespoons honey
1 tablespoon finely chopped shallot
2 tablespoons rice vinegar
1 teaspoon fresh chopped thyme
salt and pepper to taste
3/4 cup extra virgin olive oil
Instructions
For salad
Remove the stems from the kale and rough chop the leaves. Place in a bowl and add the olive oil and toss to coat all the pieces. Set aside and make the dressing.
For dressing
Add all the dressing ingredients except for the olive oil to a blender and blend for 30 seconds. Slowly pour in the oil and blend until mixed well. Set aside and assemble the salad.

Add the kale to a large platter and layer the tangerines, Parmesan, and pistachios. Drizzle some dressing over the salad and toss to combine.
Video
Notes
Remaining dressing can be stored in the refrigerator for up to 5 days.
Nutrition
Calories: 401kcalCarbohydrates: 14gProtein: 8gFat: 36gSaturated Fat: 7gPolyunsaturated Fat: 4gMonounsaturated Fat: 23gCholesterol: 13mgSodium: 334mgPotassium: 169mgFiber: 1gSugar: 11gVitamin A: 771IUVitamin C: 16mgCalcium: 255mgIron: 1mg