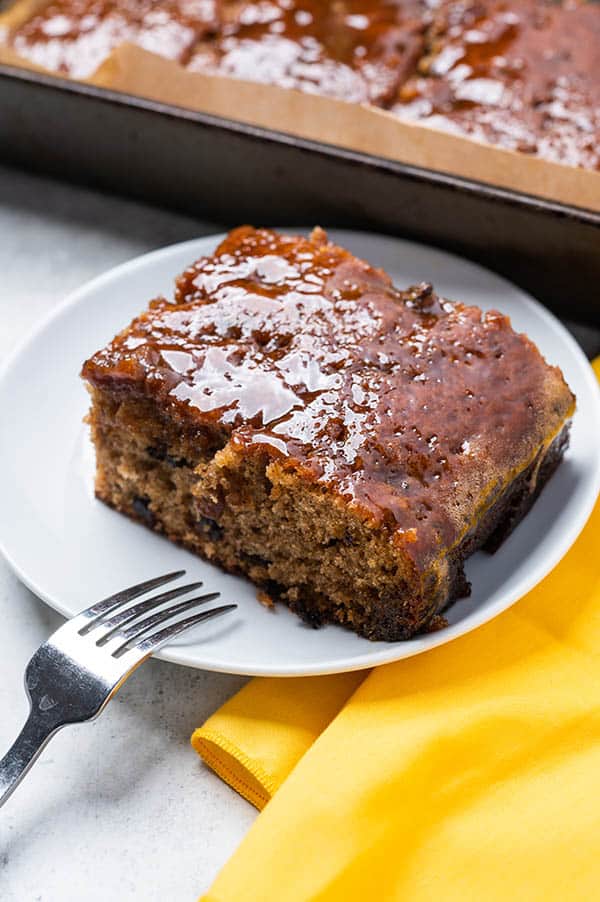 CA GROWN Blog
Discover. Learn. Connect.
A Simple Recipe for Vintage Prune Cake with Glaze
March 5, 2020
Eat the Season!
Sign Up For Weekly Recipes
« Back to Recipes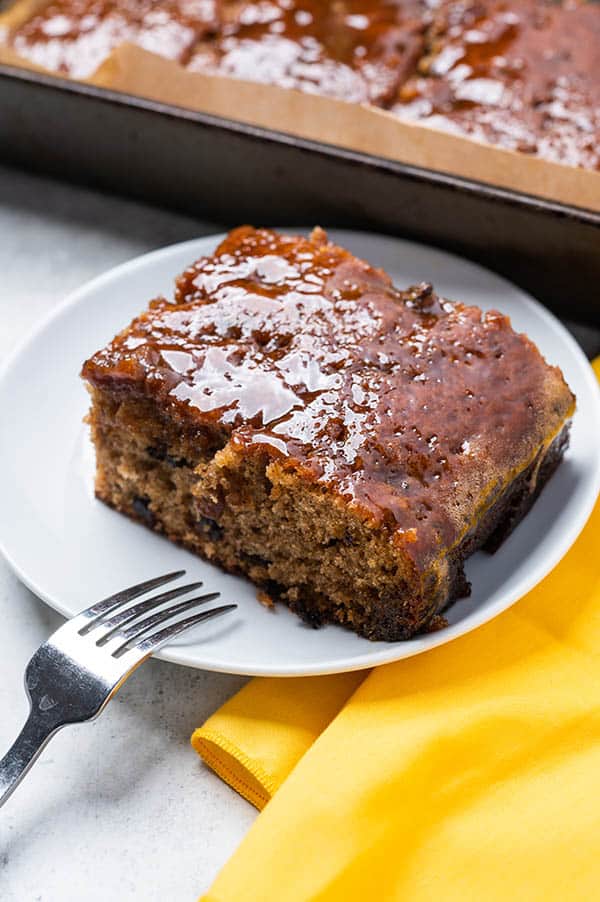 A Simple Recipe for Vintage Prune Cake with Glaze
This recipe for a soft, prune-studded spice cake with glaze is a true dessert classic! From the tender crumb of the prune cake to the buttery-sweet glaze drizzled over the top, you will be hooked after the first bite.
What is glaze for a cake made of?
A glaze is a mixture of sugar and liquid that is thin enough to pour. Typically, a glaze is about the consistency of thin corn syrup. You can use a glaze to coat fruit-filled cakes like this Vintage Prune Cake, cupcakes, or bundt cakes.
The glaze for this cake is made by cooking buttermilk, dark corn syrup, and other ingredients in a saucepan. While the cake is still warm, holes are poked across the top, and the warm glaze is poured over.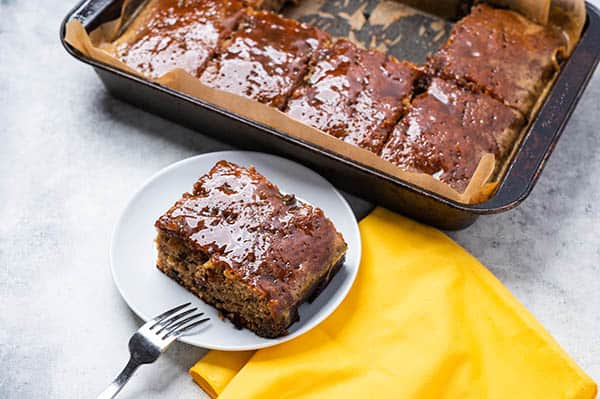 How to make a Vintage Prune Cake with Glaze step-by-step.
This prune cake is a generations-old recipe that has really stood the test of time and for good reason. It's a no-fail dessert recipe for a cake with glaze. Who doesn't love a no-fuss slice of cake at the end of a long day?!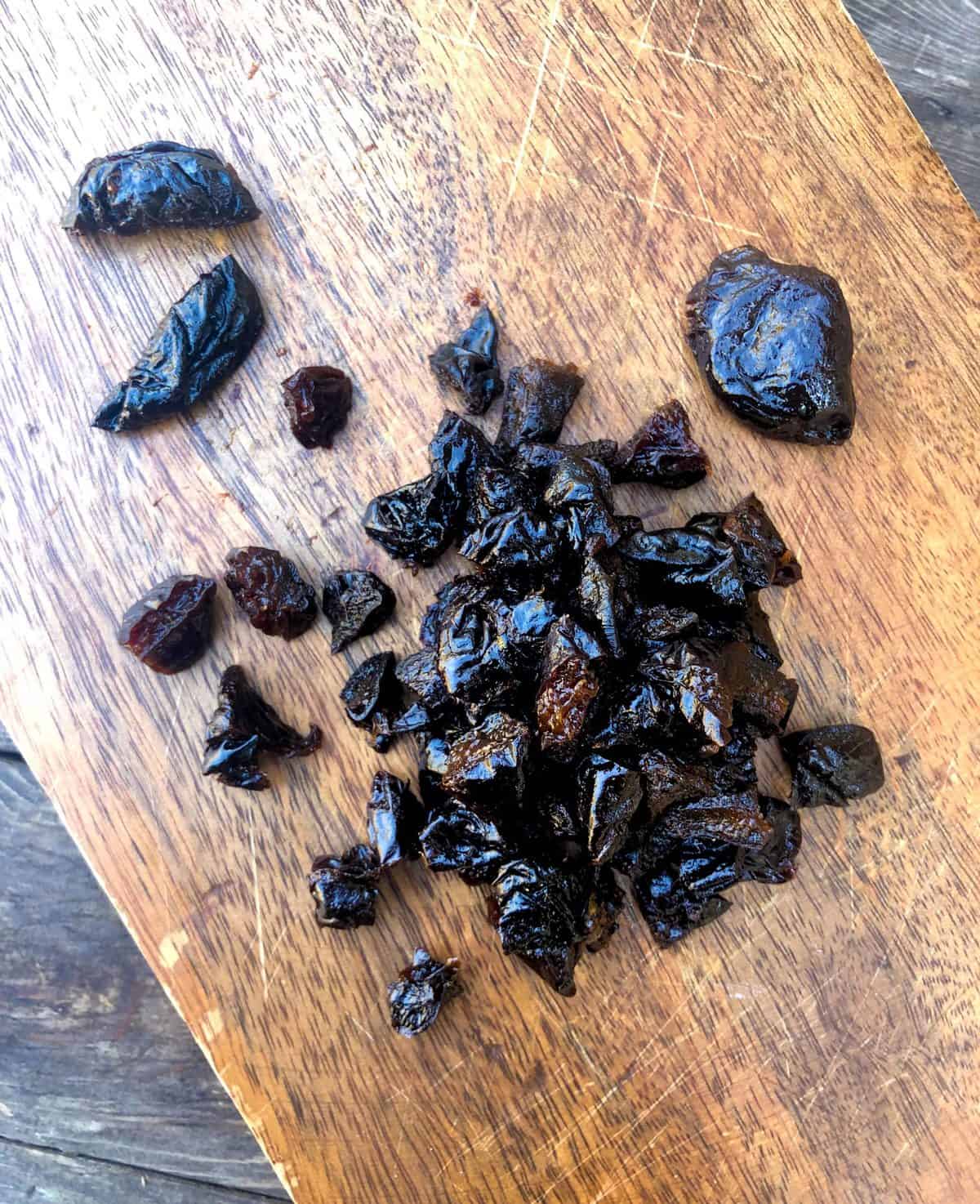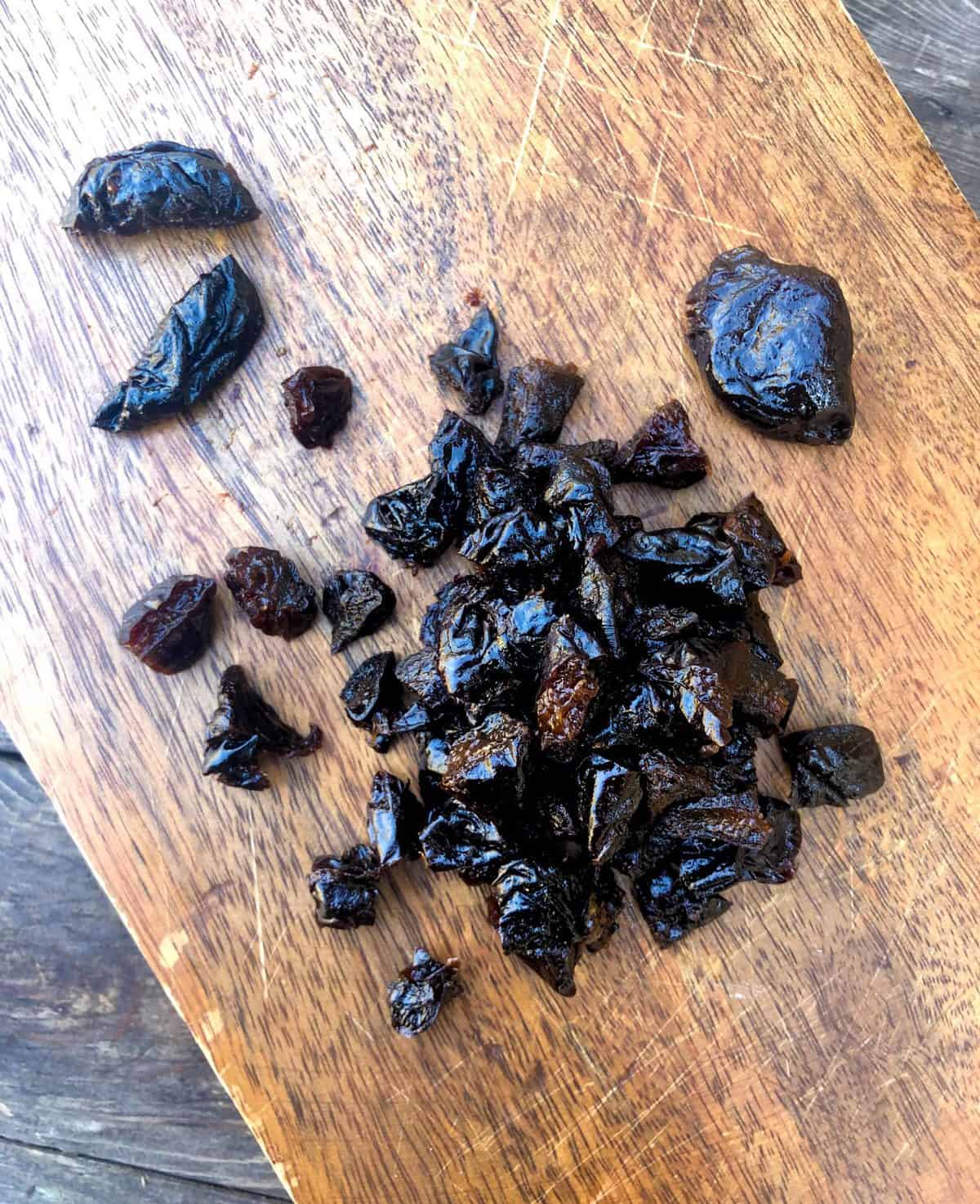 Step 1: Dice the prunes
This recipe for cake with glaze calls for prunes to be diced and added directly to the batter.
We found that cutting the prunes into sixths created the perfect bite-sized morsels for the cake.
To cut a prune into sixths first, cut once lengthwise and then three times crosswise.
What are the benefits of baking with prunes?
Sure the benefits of prunes for your health are widely known. But, can we talk about the benefits of prunes for your cooking?! Whether you use prunes whole, diced, and soaked or you make prune puree – just start making your list about all of the various recipes you want to make a little healthier because prunes can get you there!
Prunes and prune puree can help you cut the butter, sugar, eggs, and fat in all of your favorite baking recipes!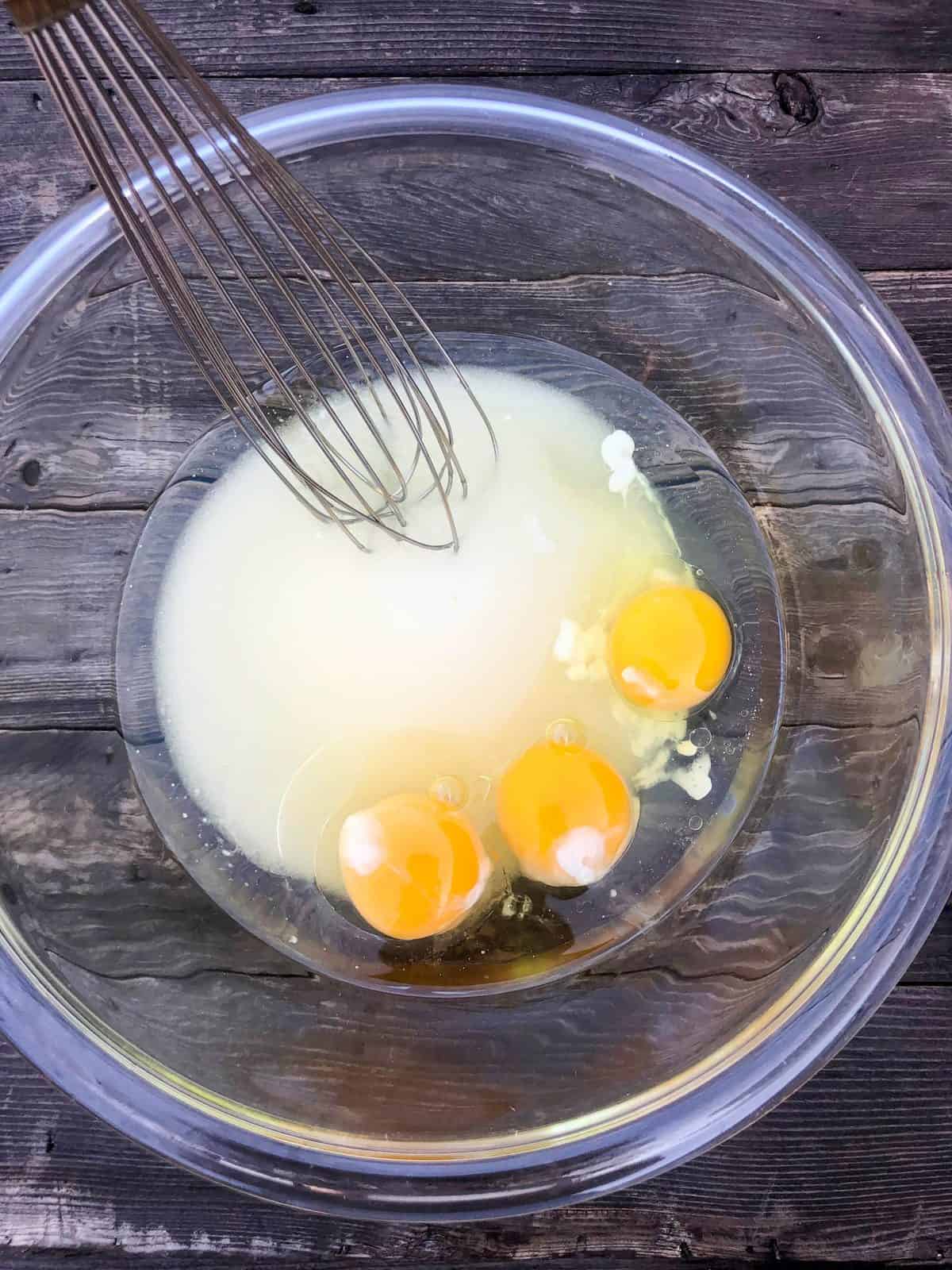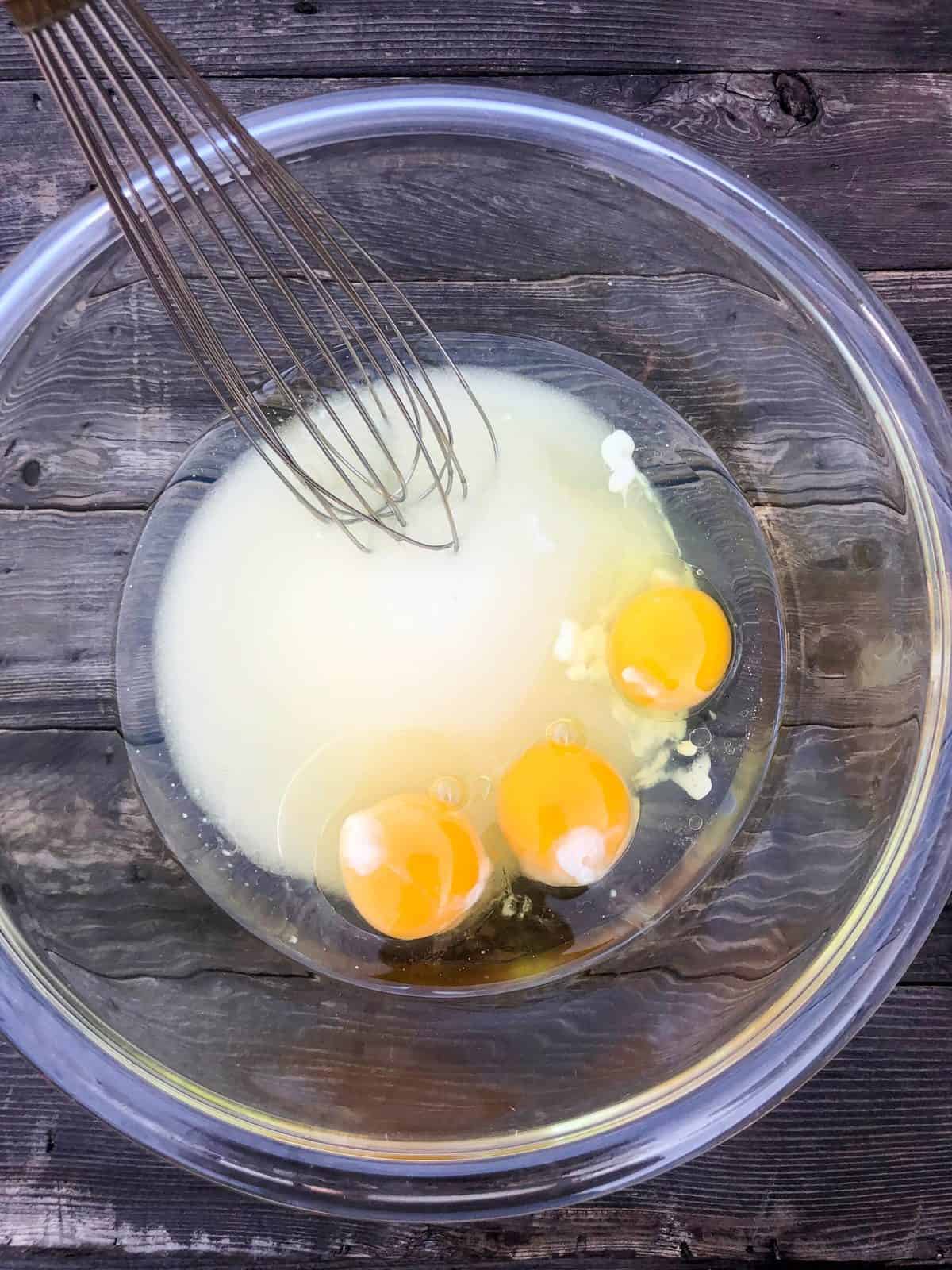 Step 2: Prepare the batter for prune cake with glaze.
Combine the oil, sugar, and eggs and whisk to combine.
Then, stir the buttermilk and chopped prunes into the mixture.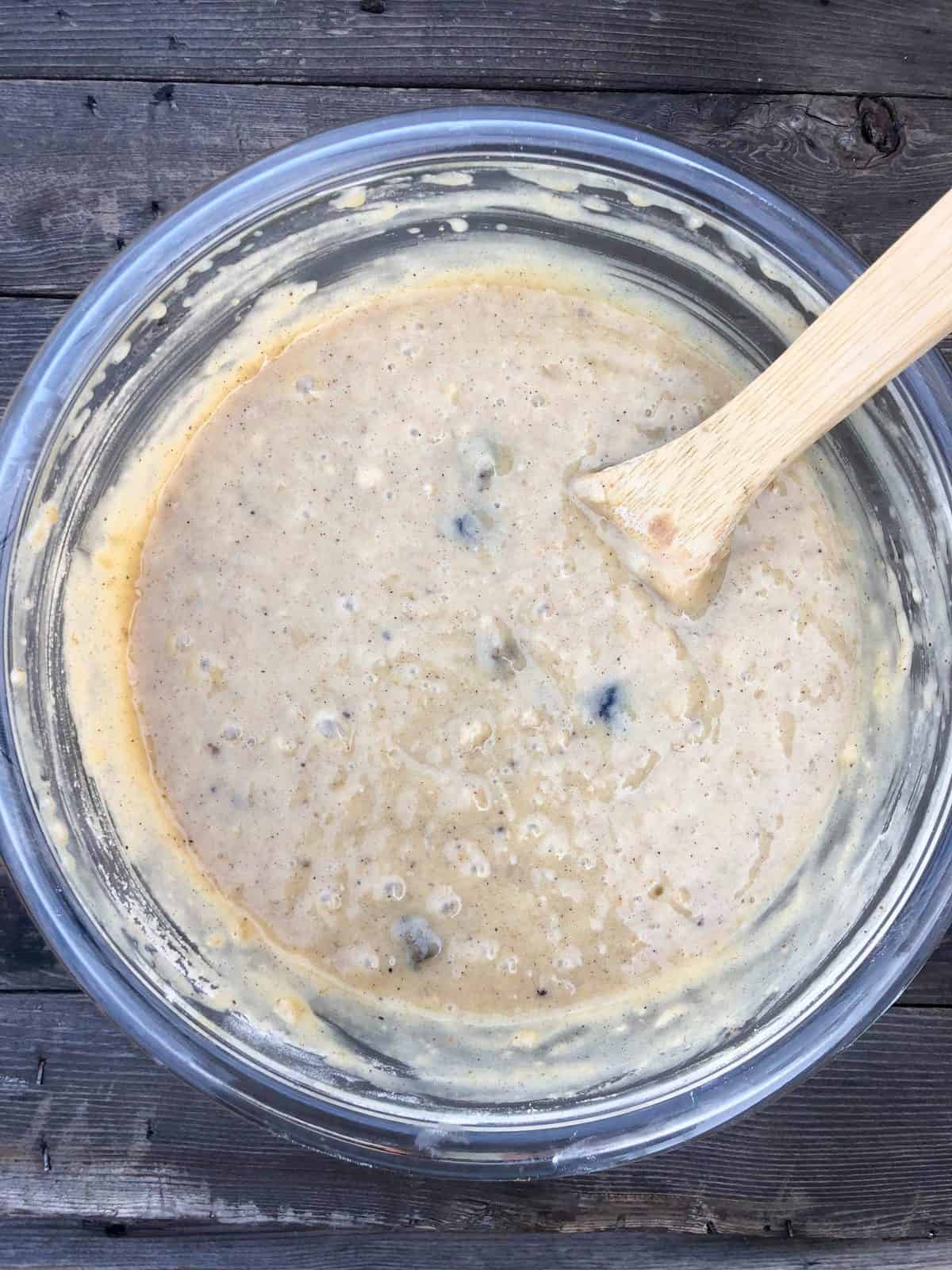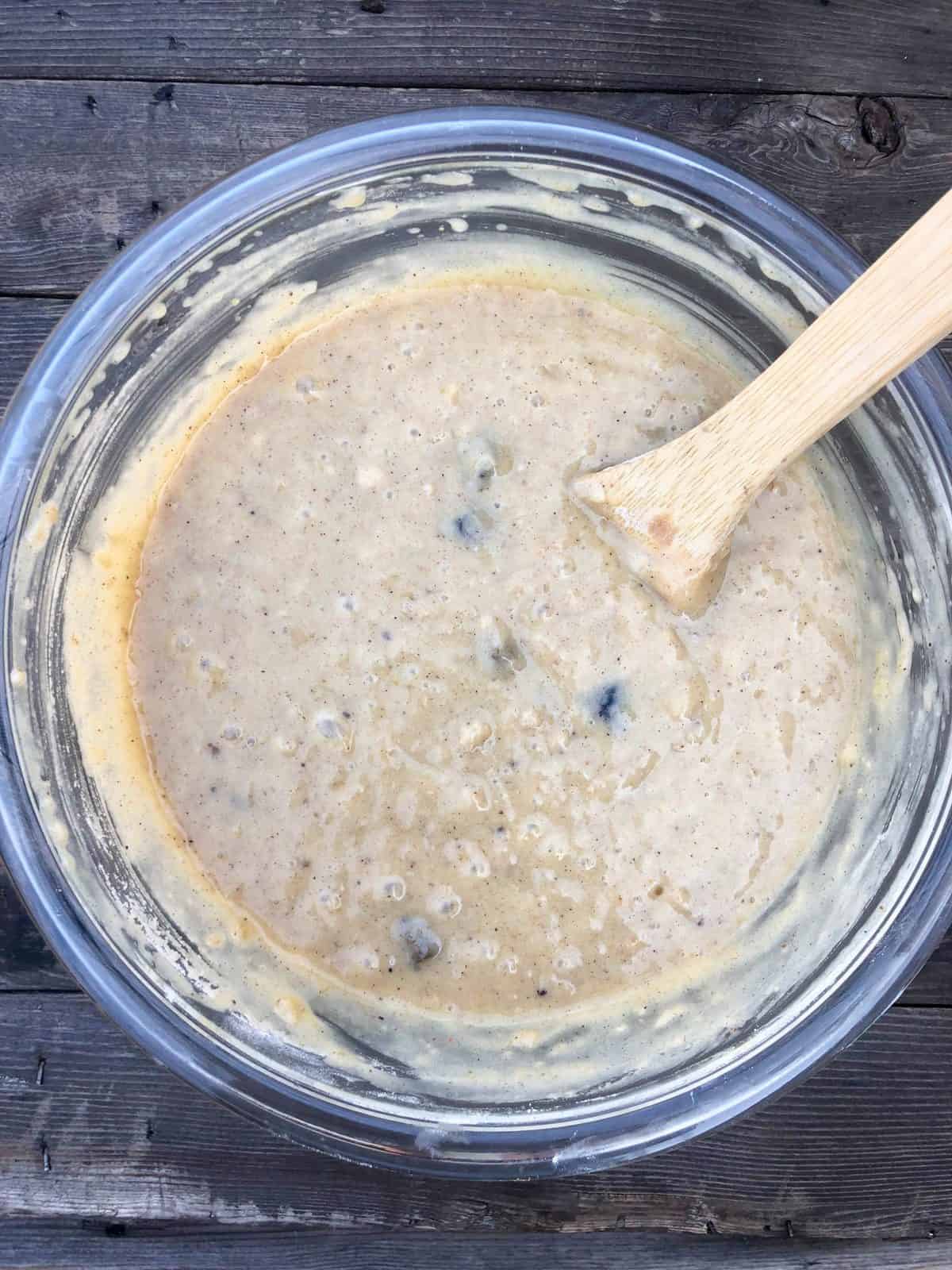 Steps 3 & 4: Mix & bake.
Next, add the dry ingredients, warming spices, and vanilla extract to the batter.
Pour the batter into the prepared pan and bake as directed in the recipe card for Vintage Prune Cake with Glaze below.
While the cake bakes in the oven, make the glaze on the stovetop and keep warm until the cake has cooked through.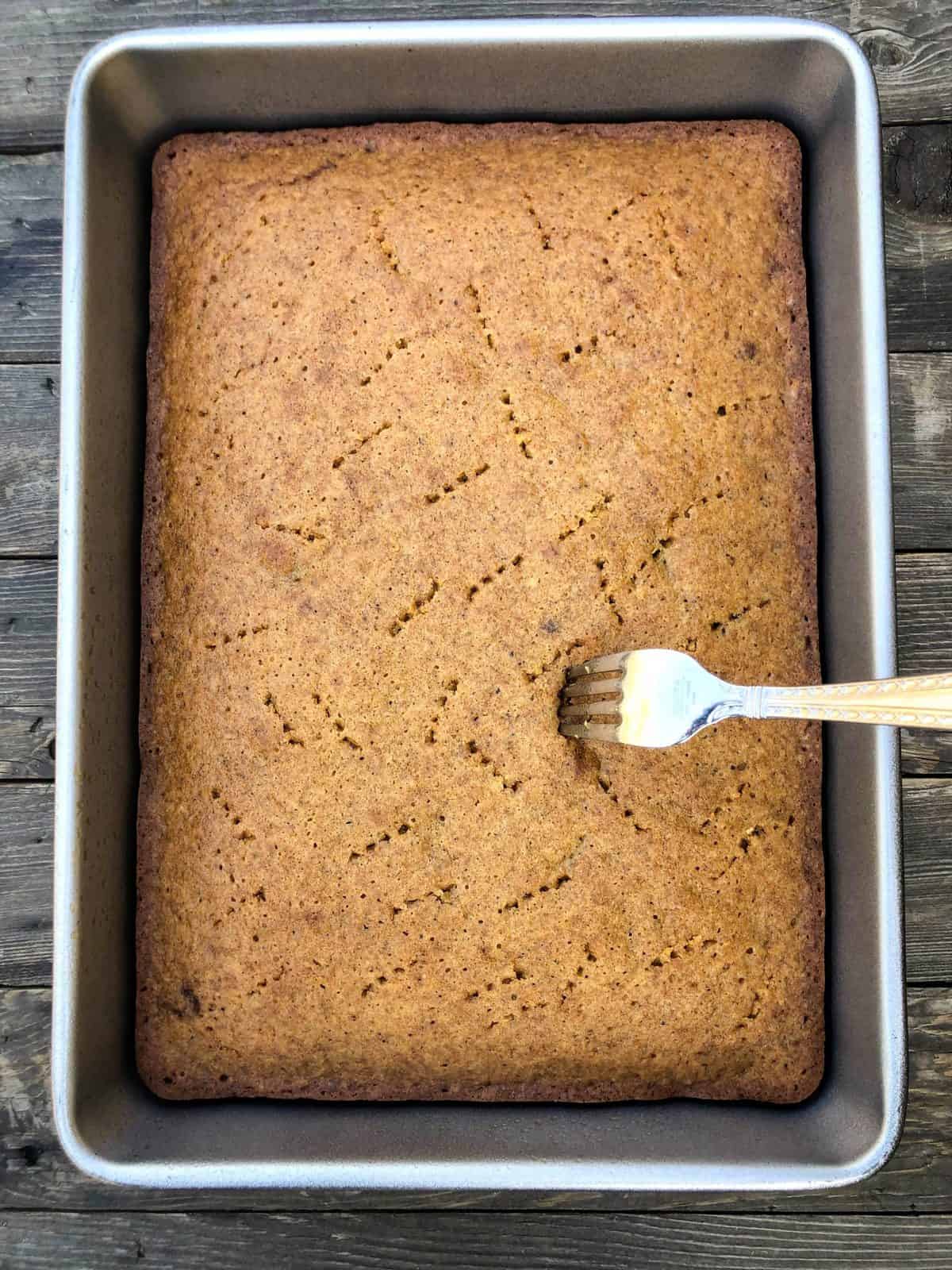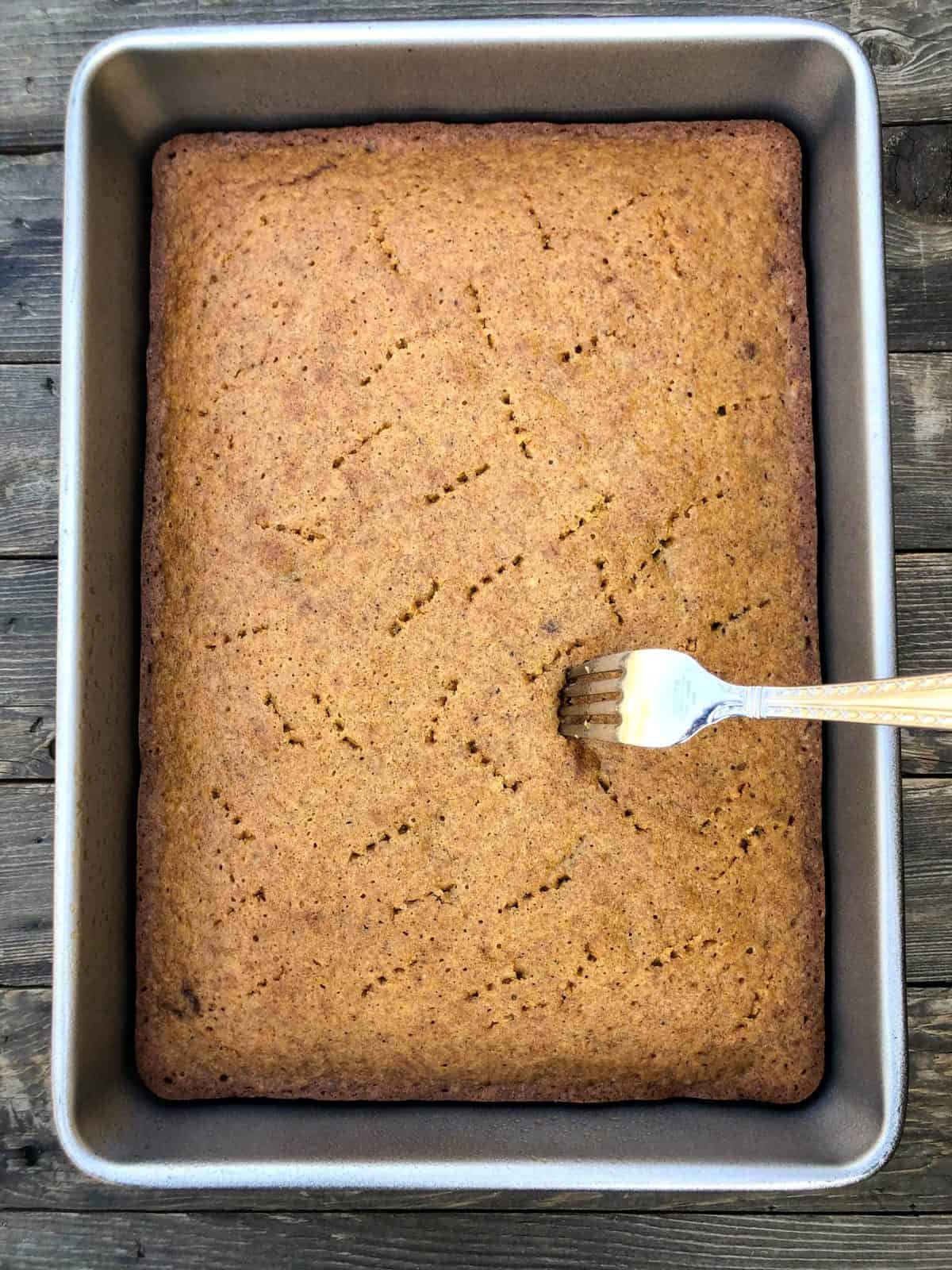 Step 5: Poke, poke, poke!
While the cake is still warm from the oven use a fork and poke holes all over the surface of the cake. This will create pockets for the warm glaze to seep down into the cake.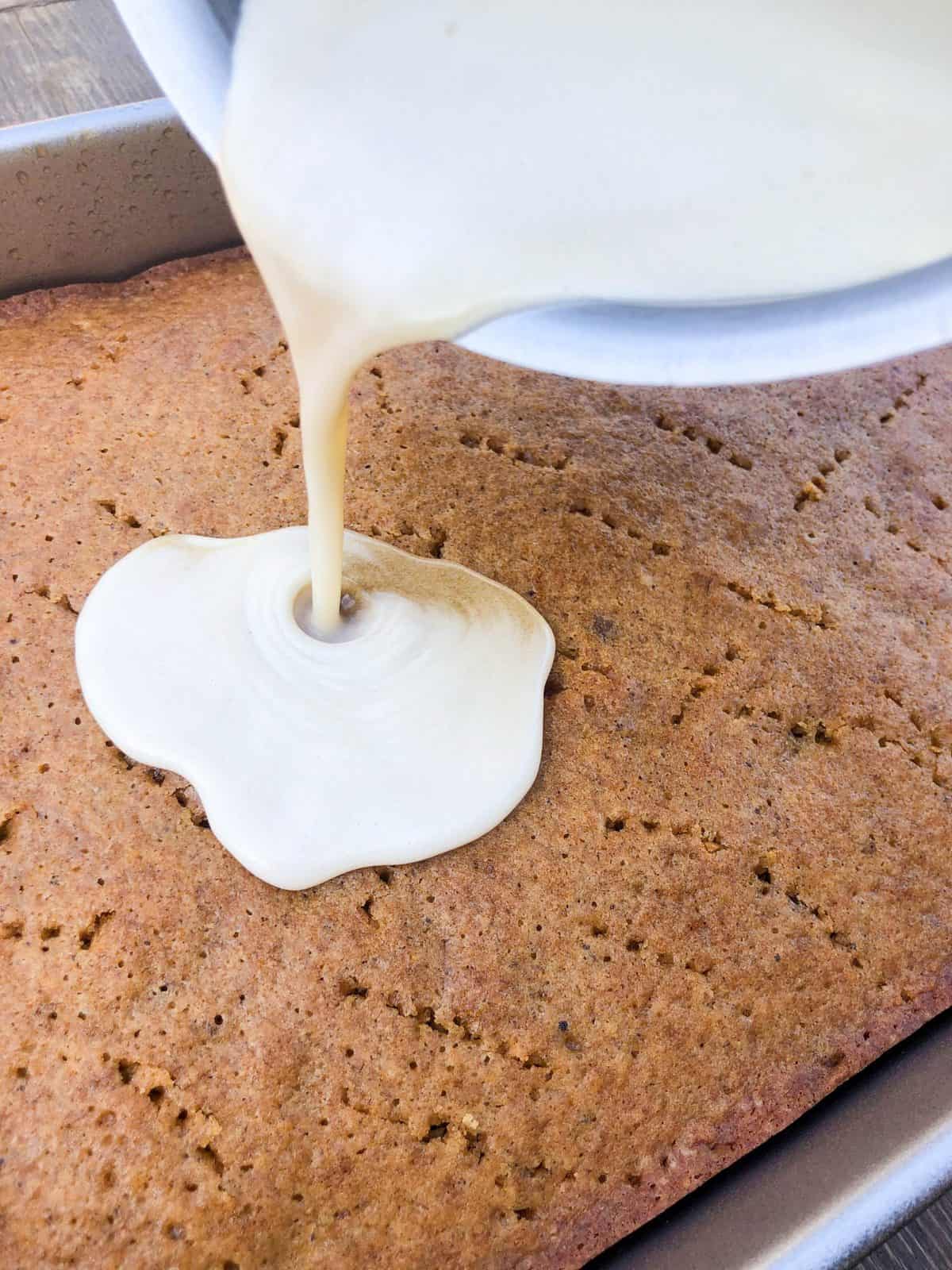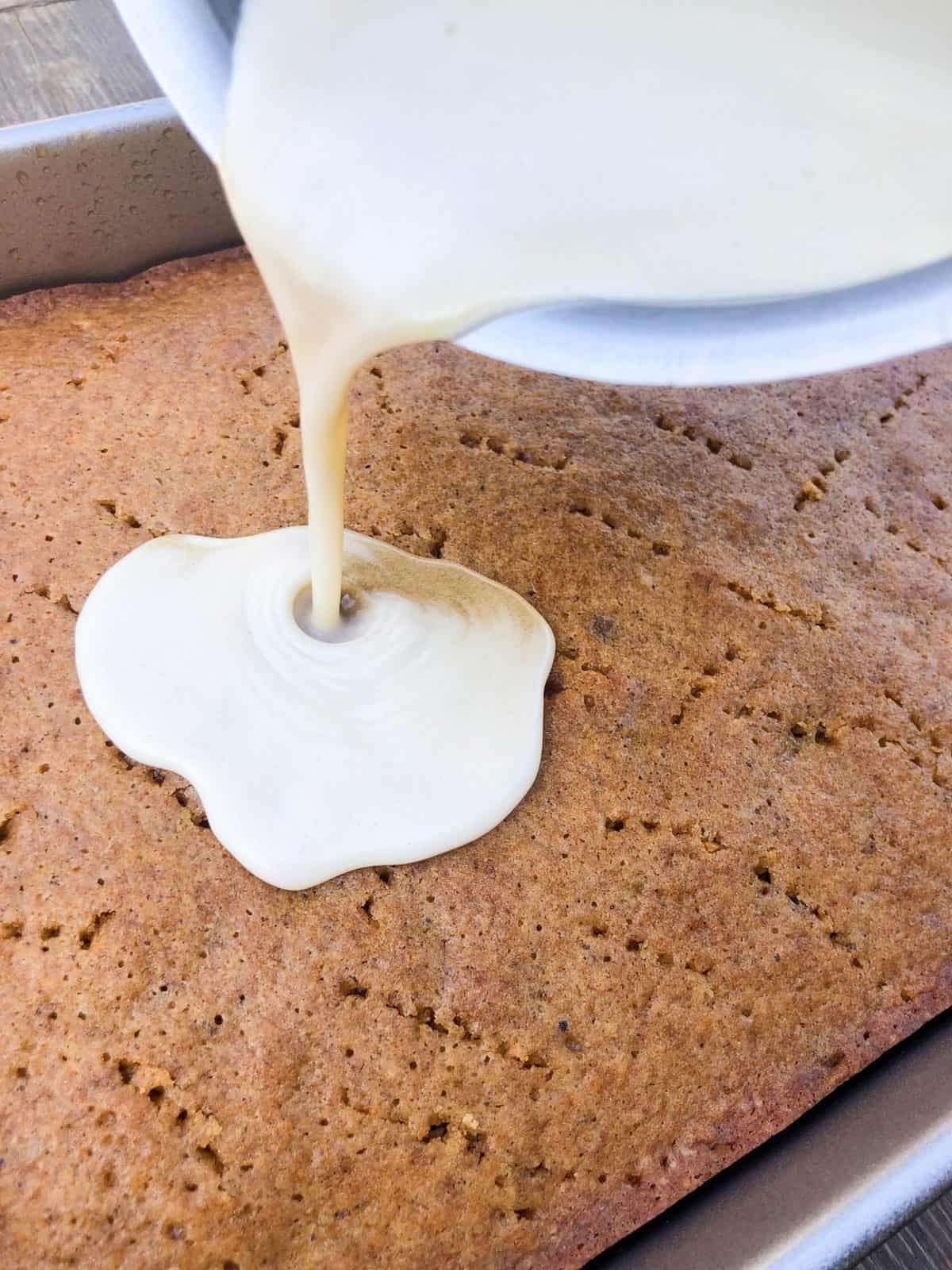 Step 6: Pour the glaze.
Pour the glaze over the top of the cake, allowing the sauce to ooze into the cake through all of the holes that you poked and around the edges. Simply dreamy!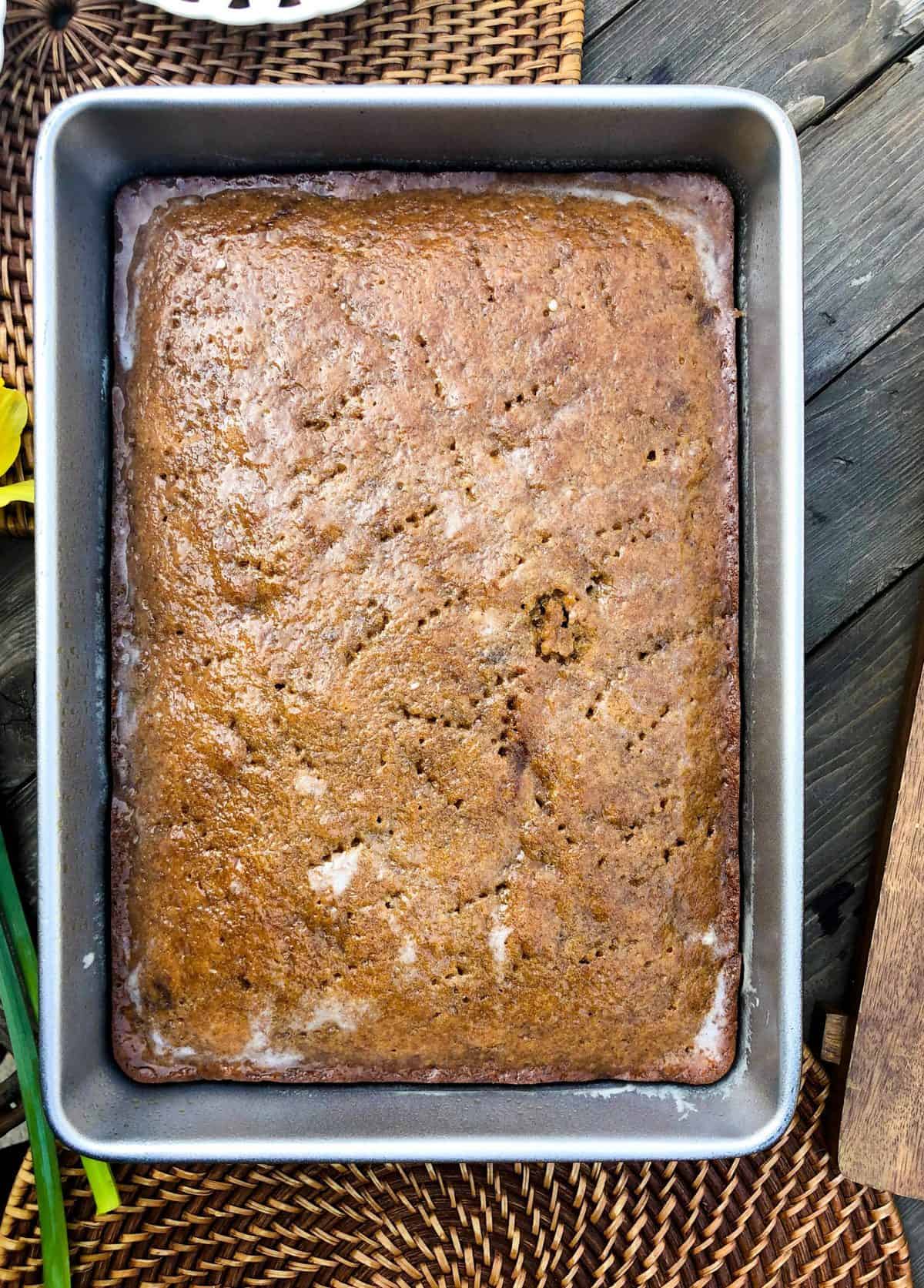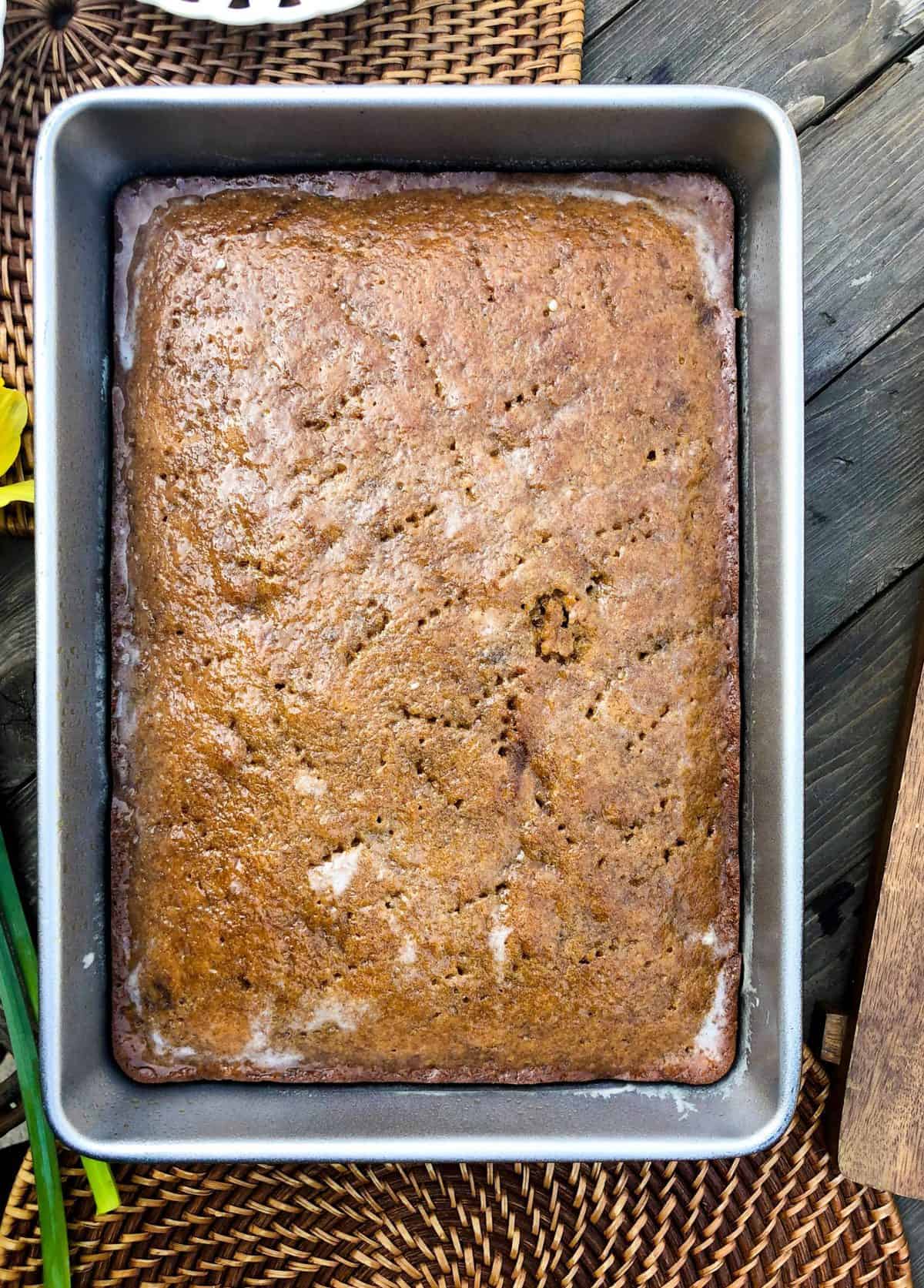 Step 7: Slice and serve.
Time to dig in! Make your slices as big or as small as you want and store any leftovers right in the pan, covered, at room temperature.
This cake will stay moist and decadent for 4 days or maybe more, we don't know. One of these cakes hasn't made it that long on the counter at our house.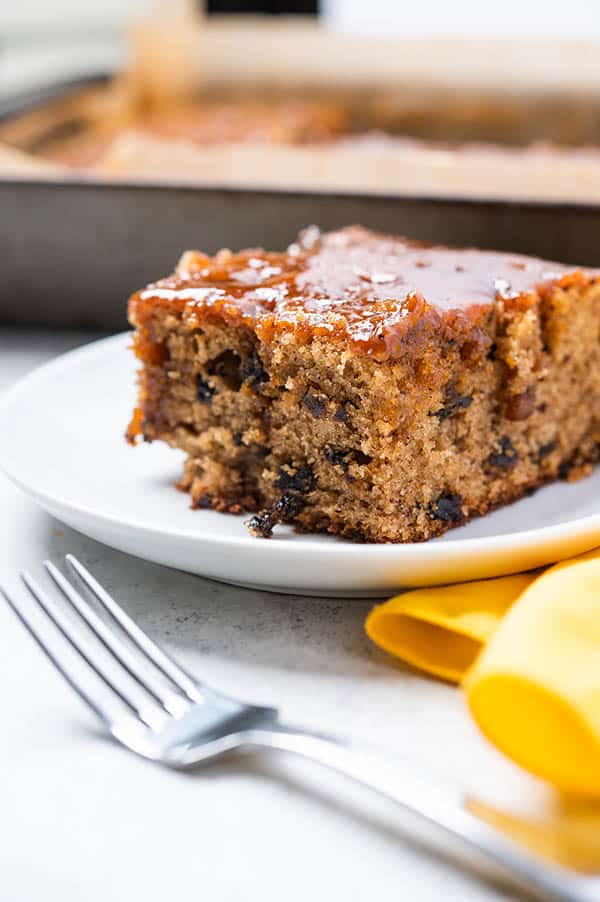 Just look at that slice! This no-fuss baking recipe yields a cake that is nice and tender, with lots of fruit and spices in every bite to please the palette.
Hungry for more cake with glaze recipes? Scroll down for more!
This cake only requires a handful of ingredients – any vanilla cake mix, freshly squeezed orange juice, chopped pistachios, eggs, butter, and vanilla pudding. This cake is tender and moist, keeps well at room temperature for over three days. Plus, it can be customized to your liking with different types of nuts or fruit juices.
Roasted Banana Prune Bundt Cake with Cream Cheese Glaze
Love banana bread but looking for something slightly more sophisticated? Enter the Bundt cake with glaze from Bake from Scratch.
Roasted bananas add sweet, caramelized flavor, California Prunes give the cake natural, fruity depth, and the Bundt pan gives the whole thing a beautifully polished look. Drizzled with a Vanilla Cream Cheese Glaze, this Bundt is everything you could want in a cake and then some.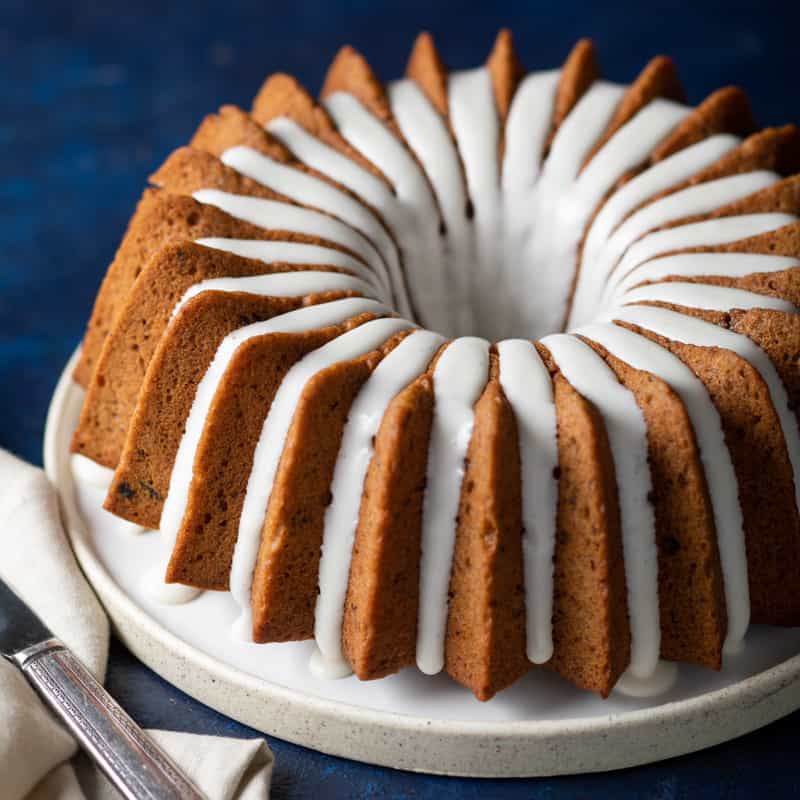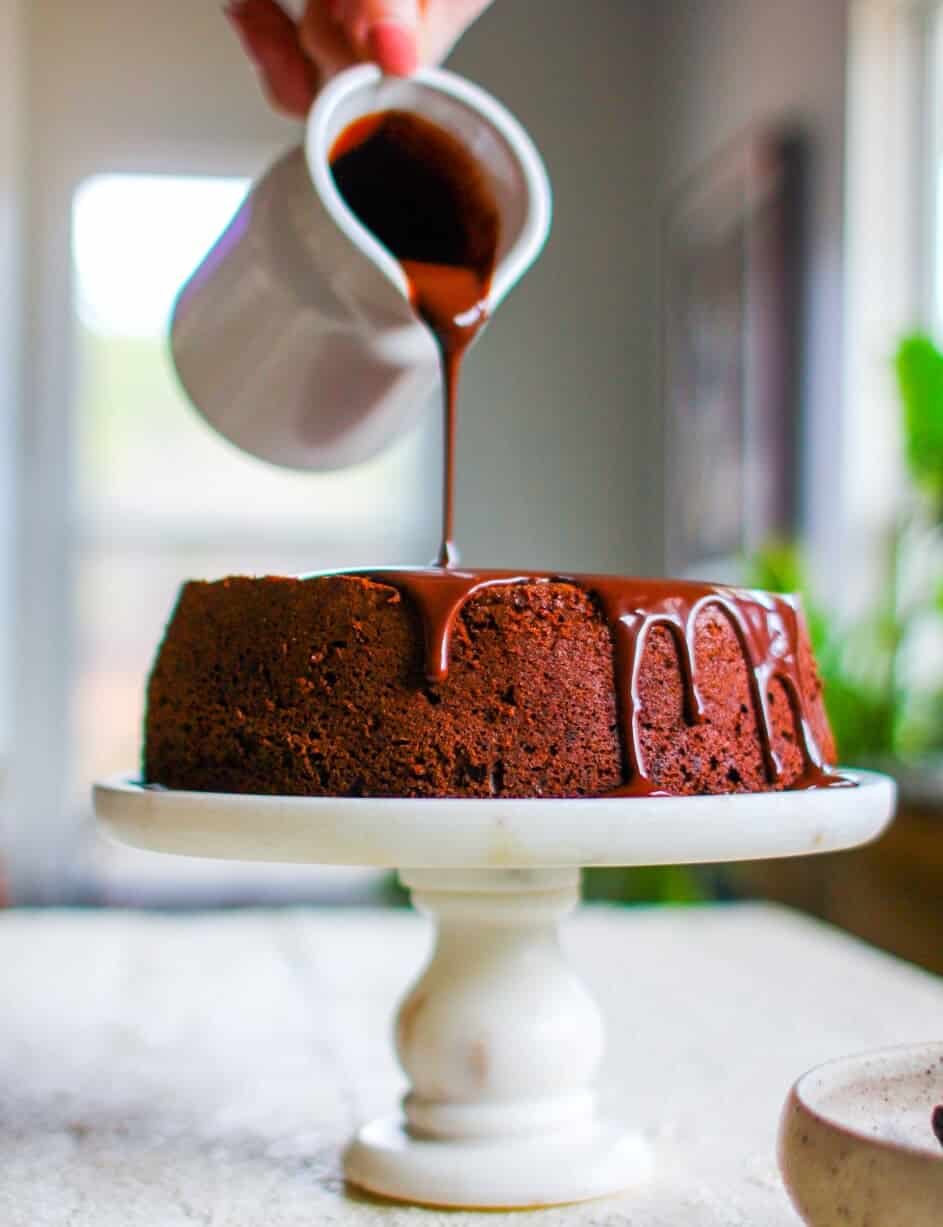 This decadent chocolate fudge cake from This Mess is Ours gets a drizzle of delicious chocolate ganache and makes an absolutely incredible paleo dessert!
That's right, I said paleo – naturally sweetened, no refined sugar, no processed sugar – just an incredible chocolate fudge cake that most everyone can enjoy.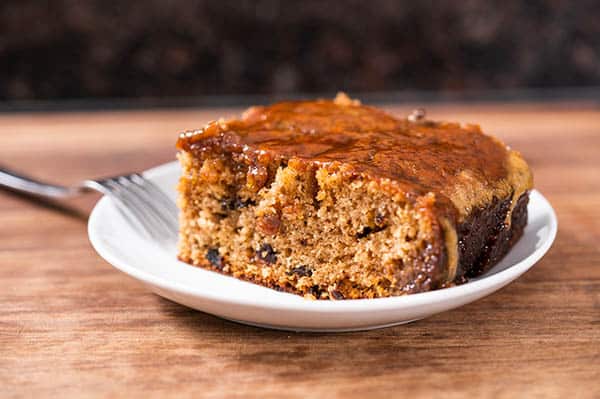 Craving more California Grown goodness? Follow us on Pinterest!
DO YOU HAVE A FAVORITE RECIPE USING CALIFORNIA PRUNES THAT WE'VE MISSED OR A QUESTION ABOUT THE BENEFITS OF PRUNES? SNAP A PIC AND TAG #CAGROWN ON INSTAGRAM OR LEAVE A COMMENT!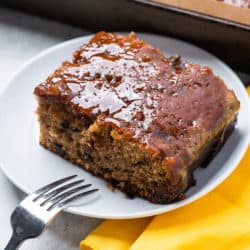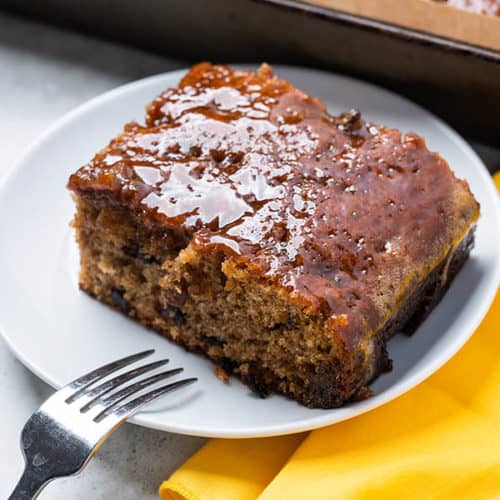 Vintage Prune Cake with Glaze
This recipe for a soft, prune-studded spice cake with glaze is a true dessert classic! From the tender crumb of the prune cake to the buttery-sweet glaze drizzled over the top, you will be hooked after the first bite.
Ingredients
BATTER
1 cup pitted prunes chopped
1 cup buttermilk
1 cup vegetable oil
1 1/2 cups sugar
3 eggs
2 cups flour
1 teaspoon baking soda
1/2 teaspoon salt
1 teaspoon cinnamon
1 teaspoon ground cloves
1 teaspoon allspice
1 teaspoon nutmeg
2 teaspoon vanilla extract
GLAZE
1/2 cup buttermilk
2 tablespoons date syrup or dark corn syrup
3/4 cup sugar
1/2 teaspoon baking soda
6 tablespoons butter or margarine
1 teaspoon vanilla extract
Instructions
Preheat oven to 350°F (175°C) and prepare a 13×9 pan.

In a large bowl add together the oil, sugar, and eggs mixing well with a spoon.

Add in the chopped prunes and buttermilk and stir to combine well.

Combine the flour, soda, salt, cinnamon, cloves, allspice, and nutmeg and use a wire whisk to mix well in a separate bowl. Add to the buttermilk mixture and mix well again. Add in the vanilla and mix.

Pour batter into the pan and bake for 45 minutes or until baked through. While cake is baking, combine all the glaze ingredients and bring to a simmer over low heat. Keep warm until cake is done.

Remove pan from oven and poke several times with a fork. Pour warm glaze over the cake and serve.
Nutrition
Calories: 405kcalCarbohydrates: 87gProtein: 7gFat: 4gSaturated Fat: 2gPolyunsaturated Fat: 1gMonounsaturated Fat: 1gTrans Fat: 1gCholesterol: 66mgSodium: 432mgPotassium: 130mgFiber: 1gSugar: 63gVitamin A: 166IUVitamin C: 1mgCalcium: 74mgIron: 2mg
Interested in more baking recipes with prunes? Keep scrolling!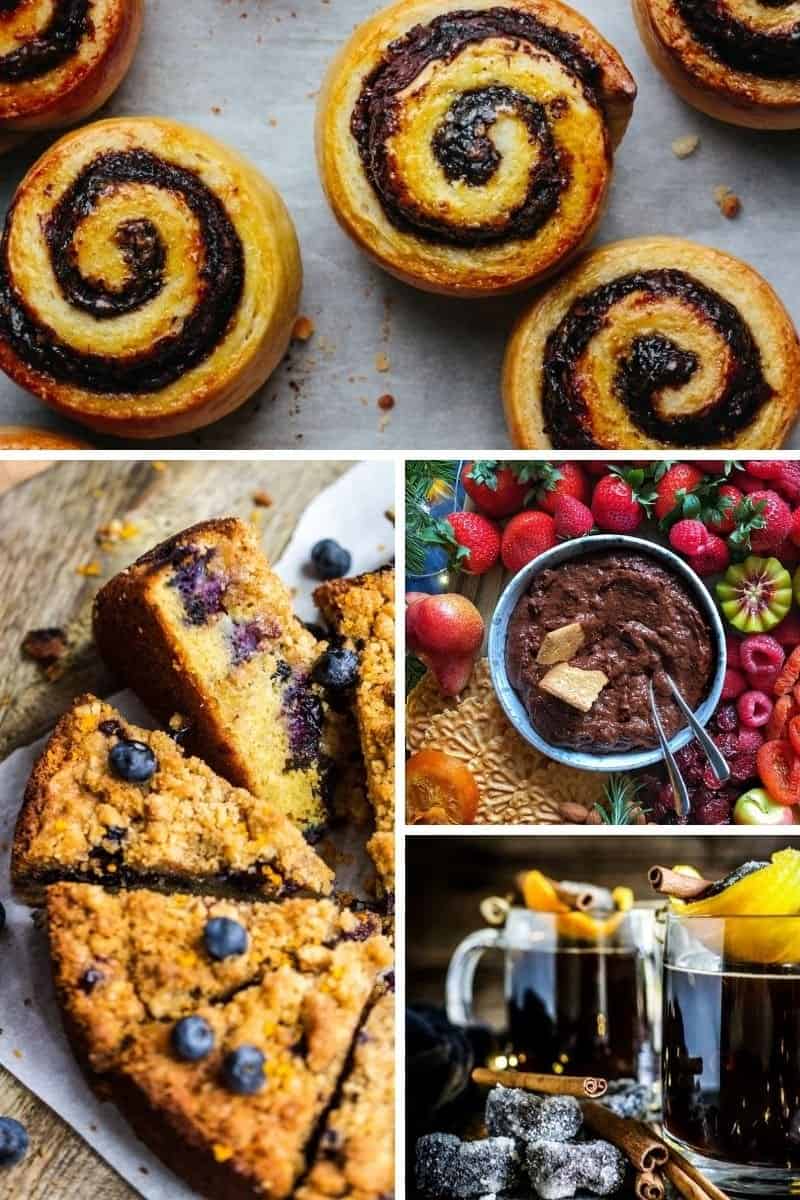 When it comes to prunes there is a lot to know which is why we are diving deep into the history and benefits of prunes while also sharing our favorite recipes that really showcase all this superstar fruit has to offer!
We are big fans of baked goods around here. What's not to love, right? Well, all that added sugar for one. What if we told you there was a way to cut refined sugar, but not cut out flavor? We've told you before, but we'll tell you again, adding California Prunes is an easy way to make healthier desserts that everyone will love!