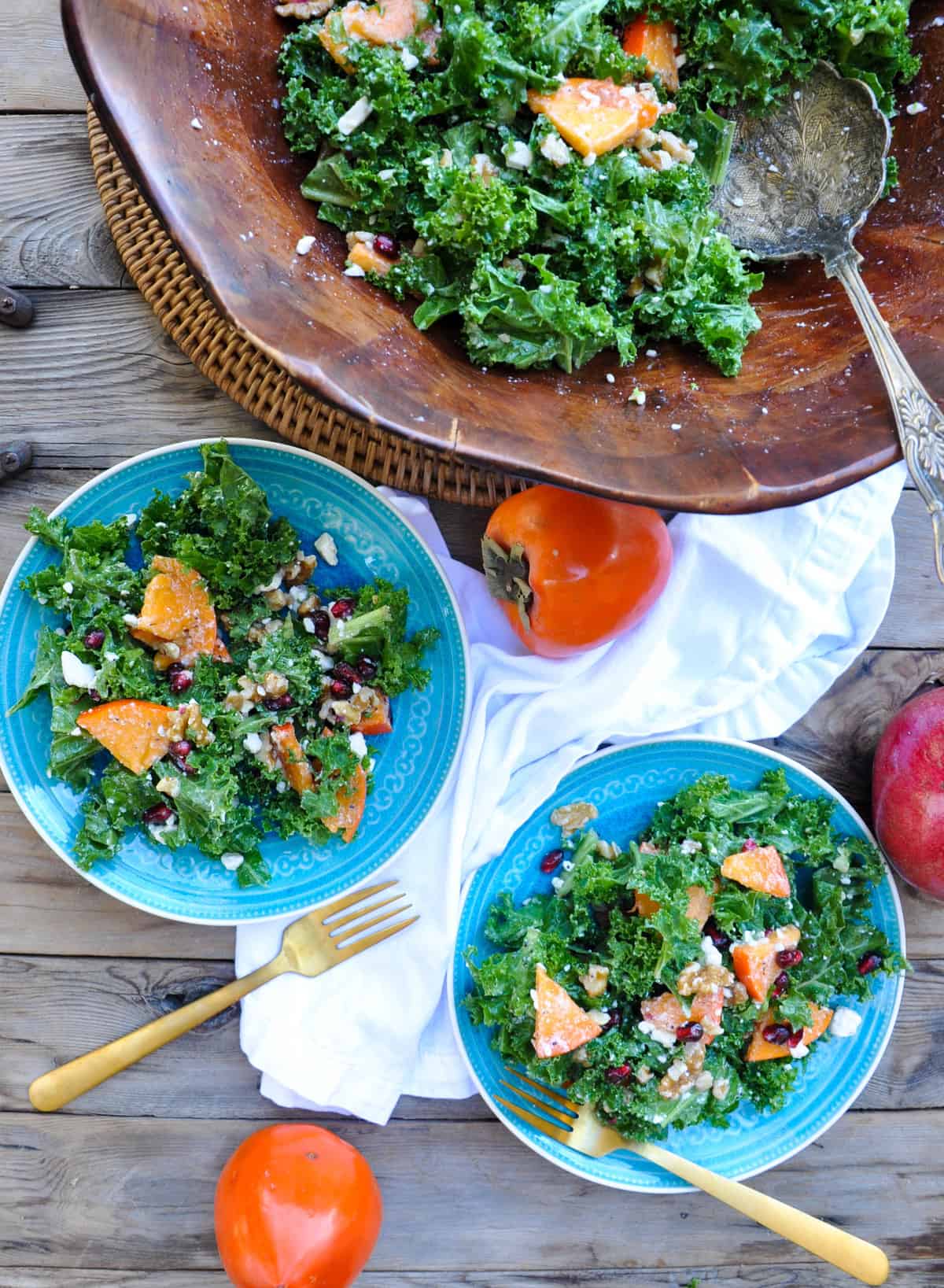 CA GROWN Blog
Discover. Learn. Connect.
Persimmon Kale Salad with Walnuts and Pomegranate
November 29, 2017
Eat the Season!
Sign Up For Weekly Recipes
« Back to Recipes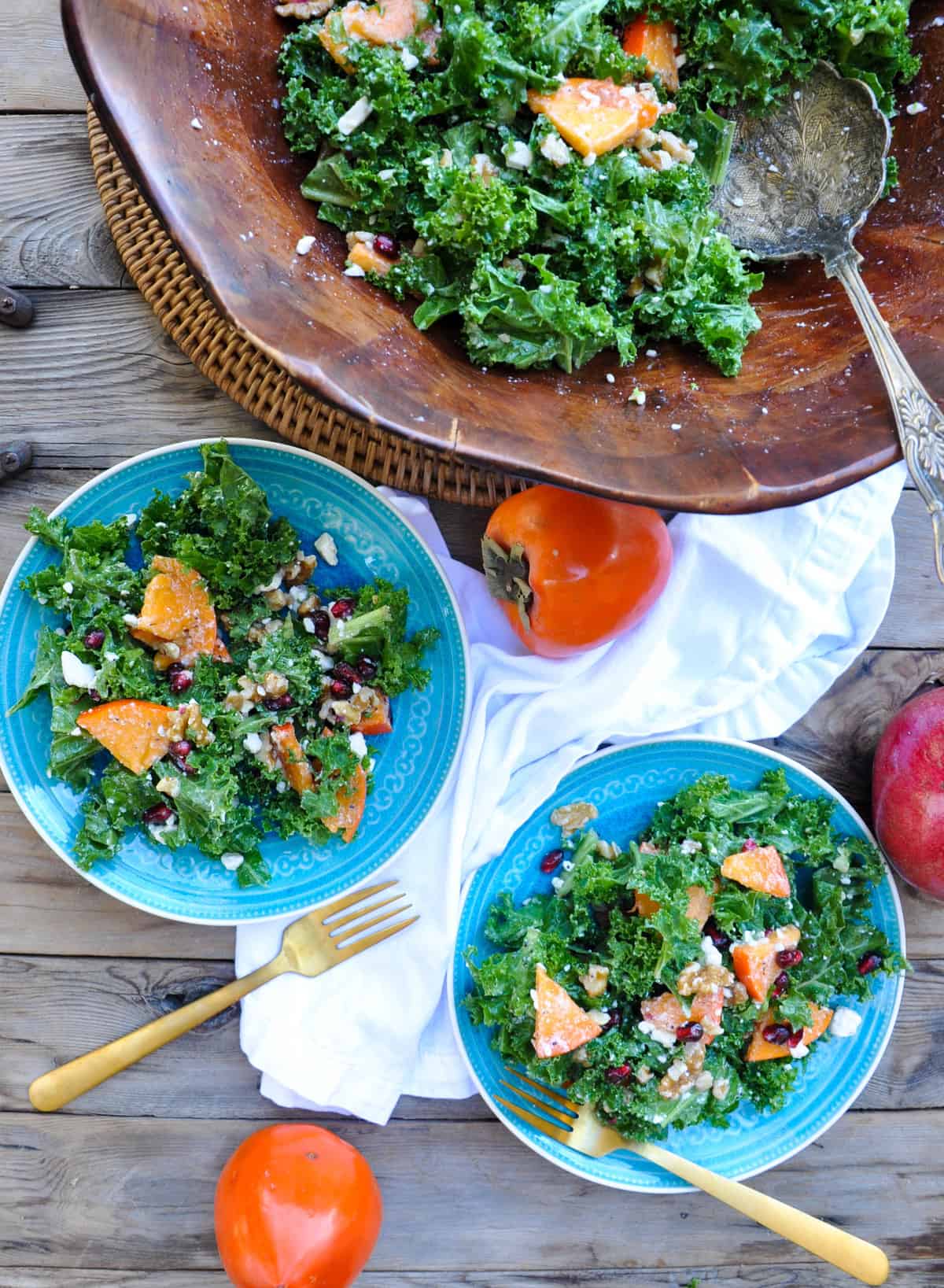 Persimmon Kale Salad with Walnuts and Pomegranate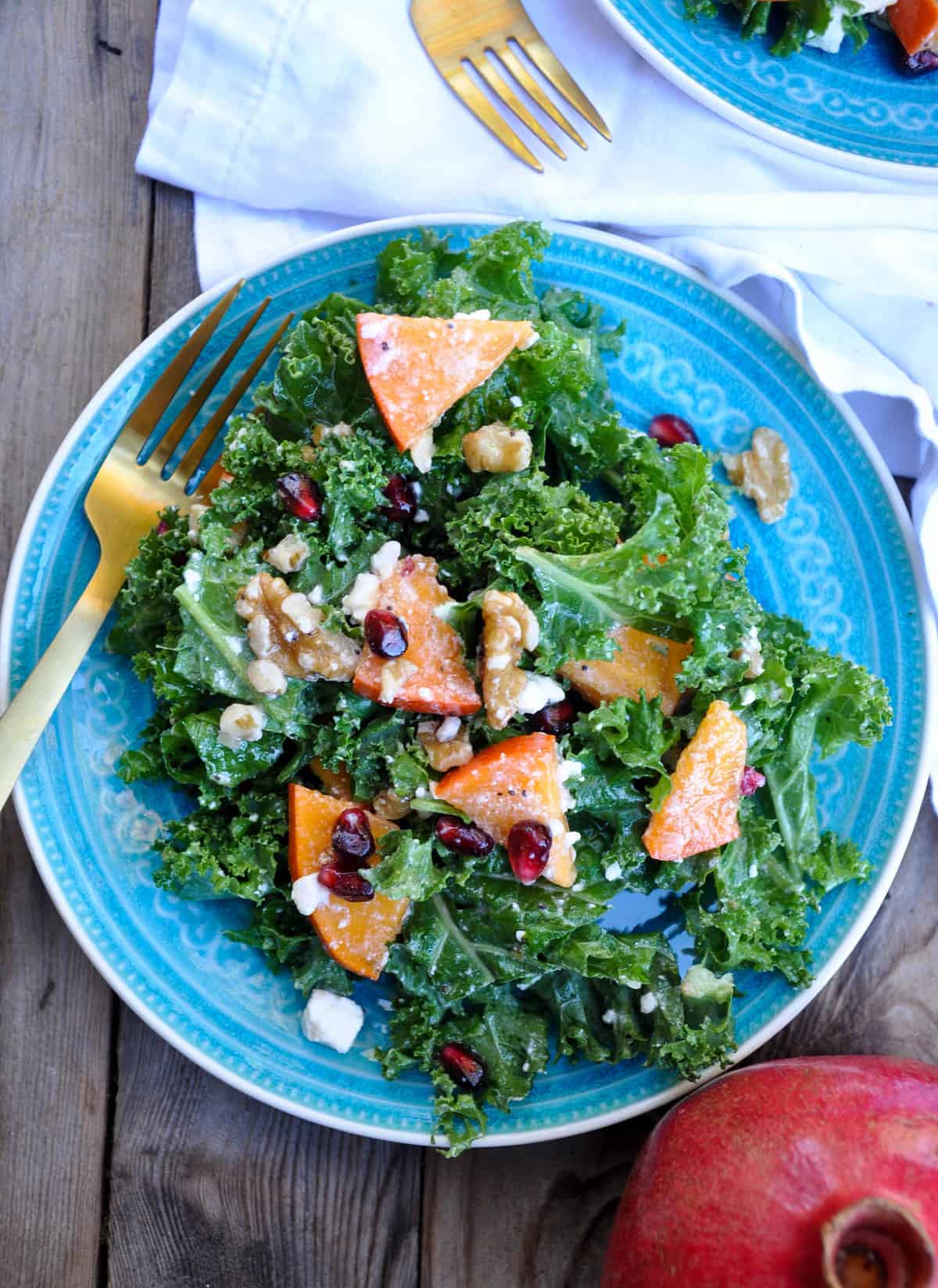 Yay, persimmons are here!
This particular winter fruit has made its way into my little heart a little bit more every year, and this year they've made a big bang!
Let's talk persimmon varieties. It's important to note that the round, tomato-shaped persimmon, like the Fuyu variety can be eaten firm or soft. While the more angular, acorn shaped persimmon like the Hachiya variety should be completely soft if you're going to eat it raw, but is fabulous for baking anytime. No matter which persimmon you choose to use, this beautiful fall salad will prove persimmons aren't just an ingredient for cookies.
The tartness of the Feta cheese and the crunch of the walnuts help offset the mild sweetness of the persimmon. All of the nooks and crannies of the kale are kissed with a poppyseed vinegarette and sprinkled with pomegranate arils to top it off.
Yes!!!
All those flavors are like a carnival in the mouth!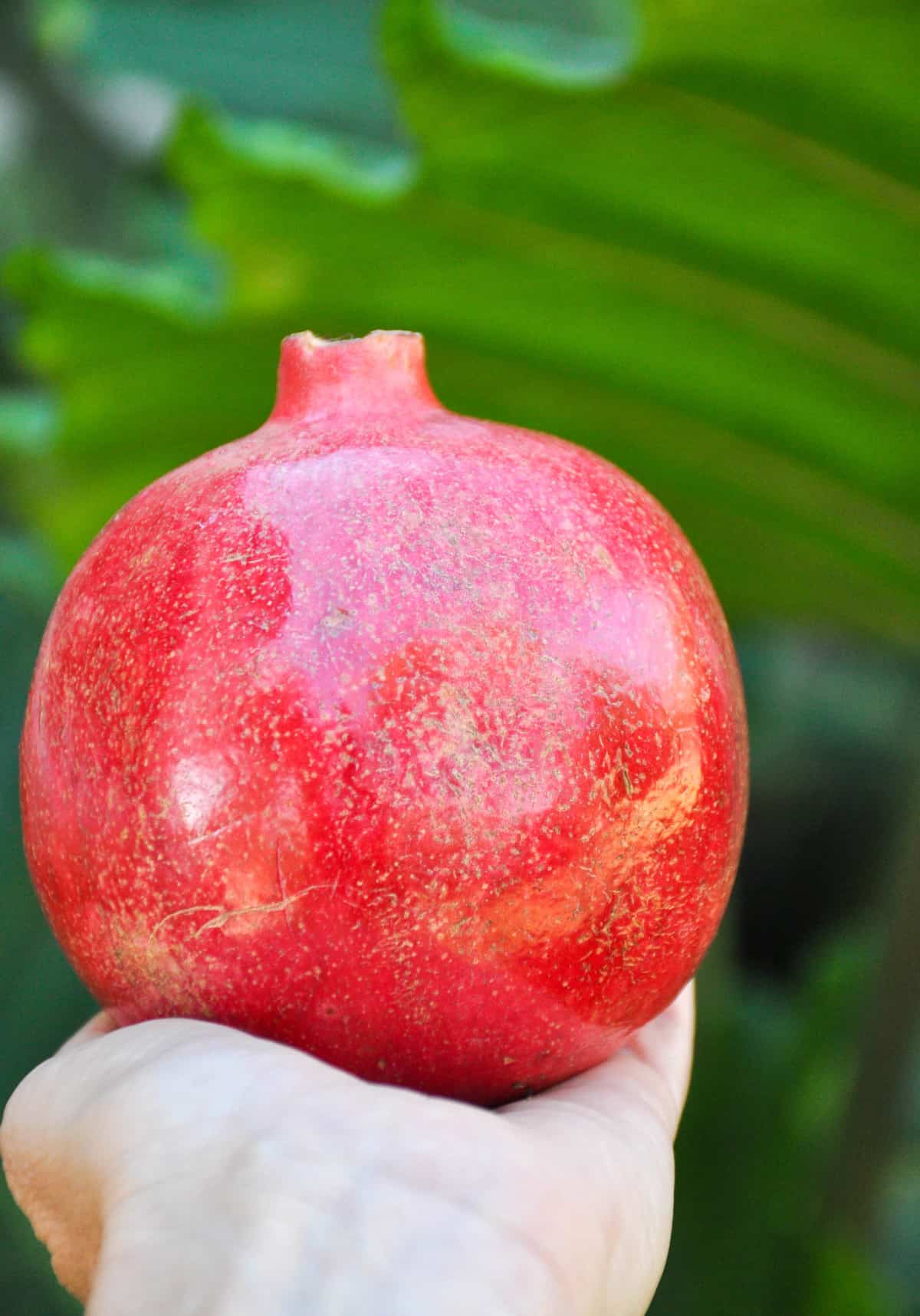 Of course, one of the main players in the salad is the giant, juicy pomegranate. I love it when a fruit is just as beautiful on the outside as it is on the inside!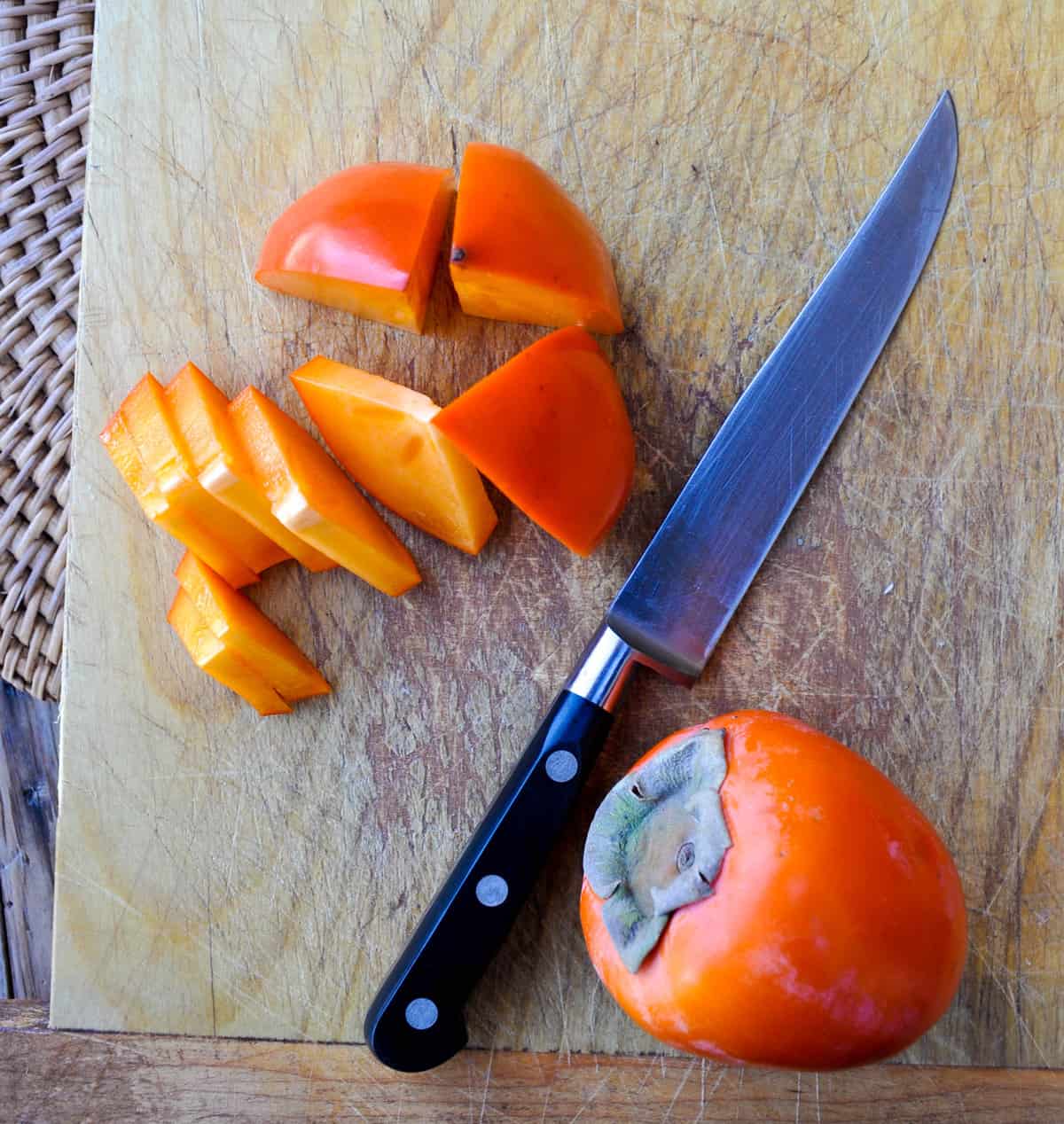 Of course, the star of the show is persimmons. I used two in this recipe, but feel free to use more if you want… I'm not gonna stop ya!
We start with a beautiful bed of fresh kale. Kale is being harvested right now in the state so you should be able to find it in abundance at your local grocery store.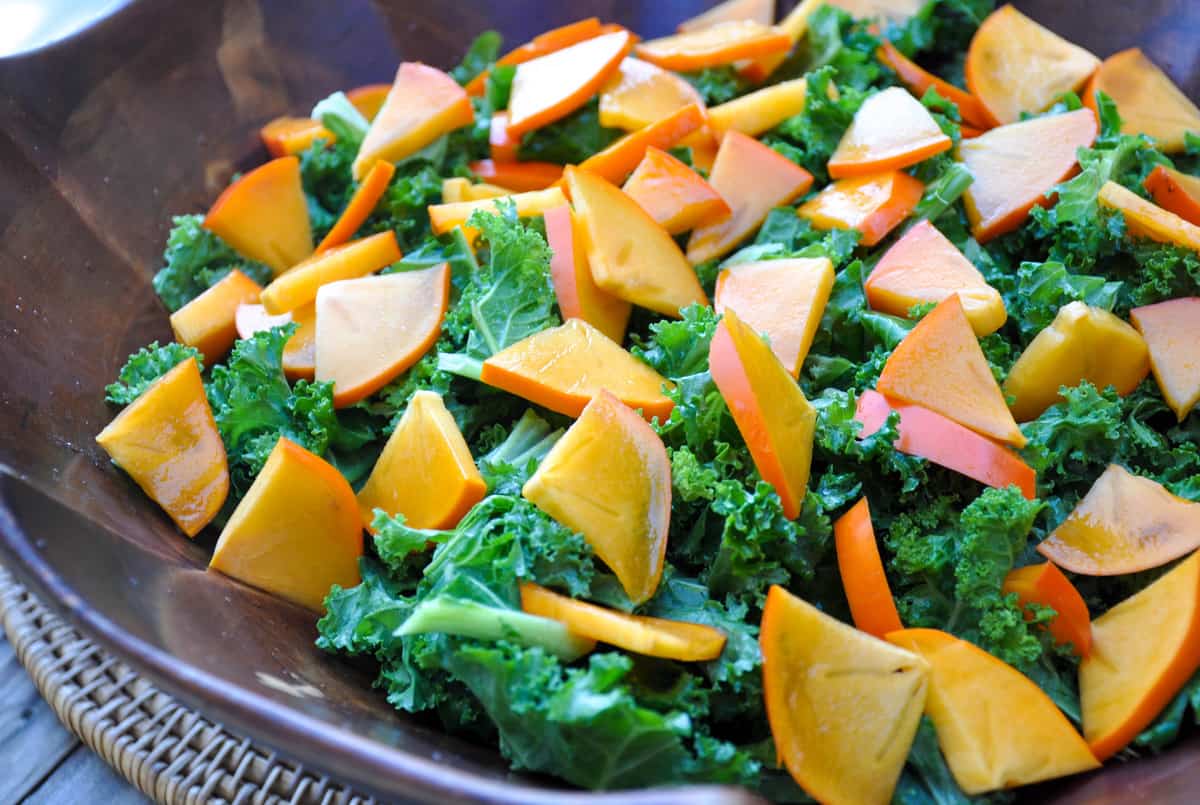 Add a generous layer of sliced persimmons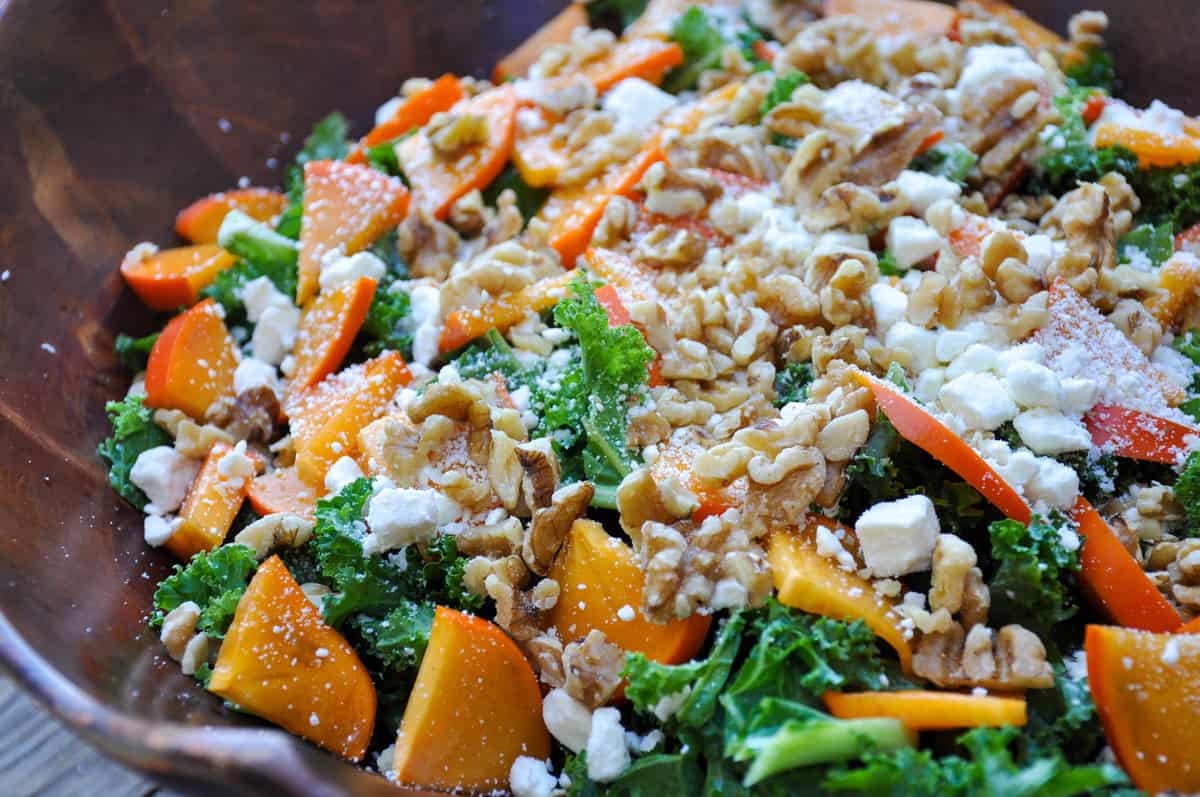 Followed by crumbled feta cheese and chopped walnuts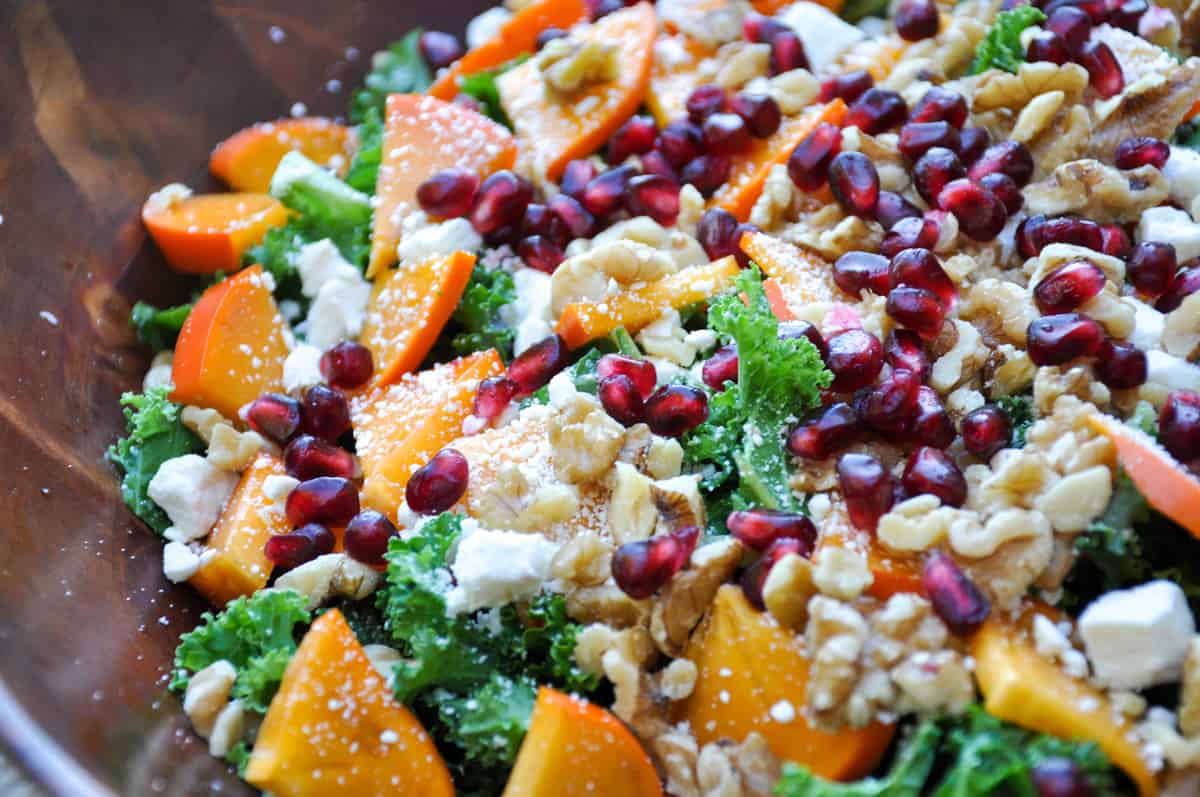 Top the entire salad with fresh pomegranate arils.
I whipped up a 3 minute batch of poppyseed dressing using Olive Oil, golden balsamic, lemon and poppyseed (recipe below)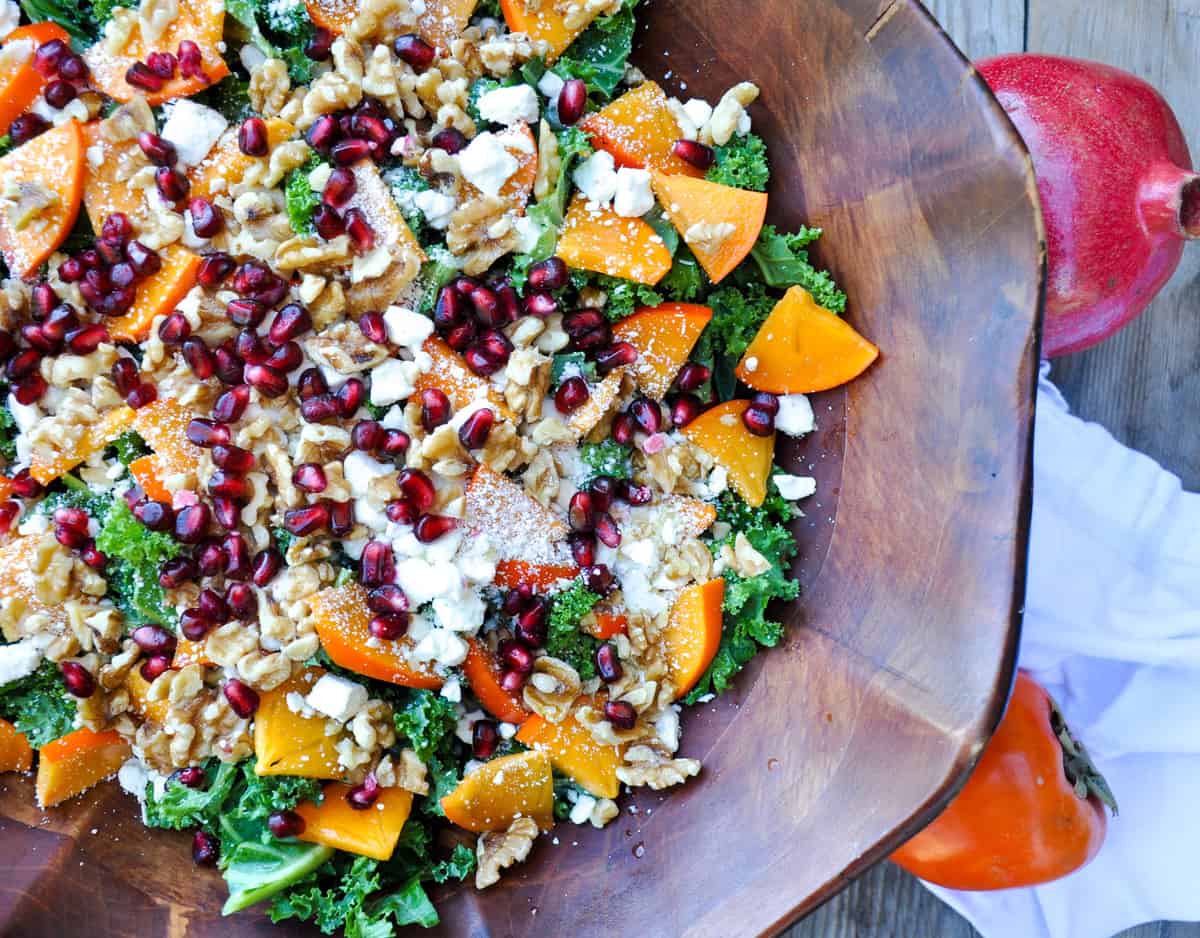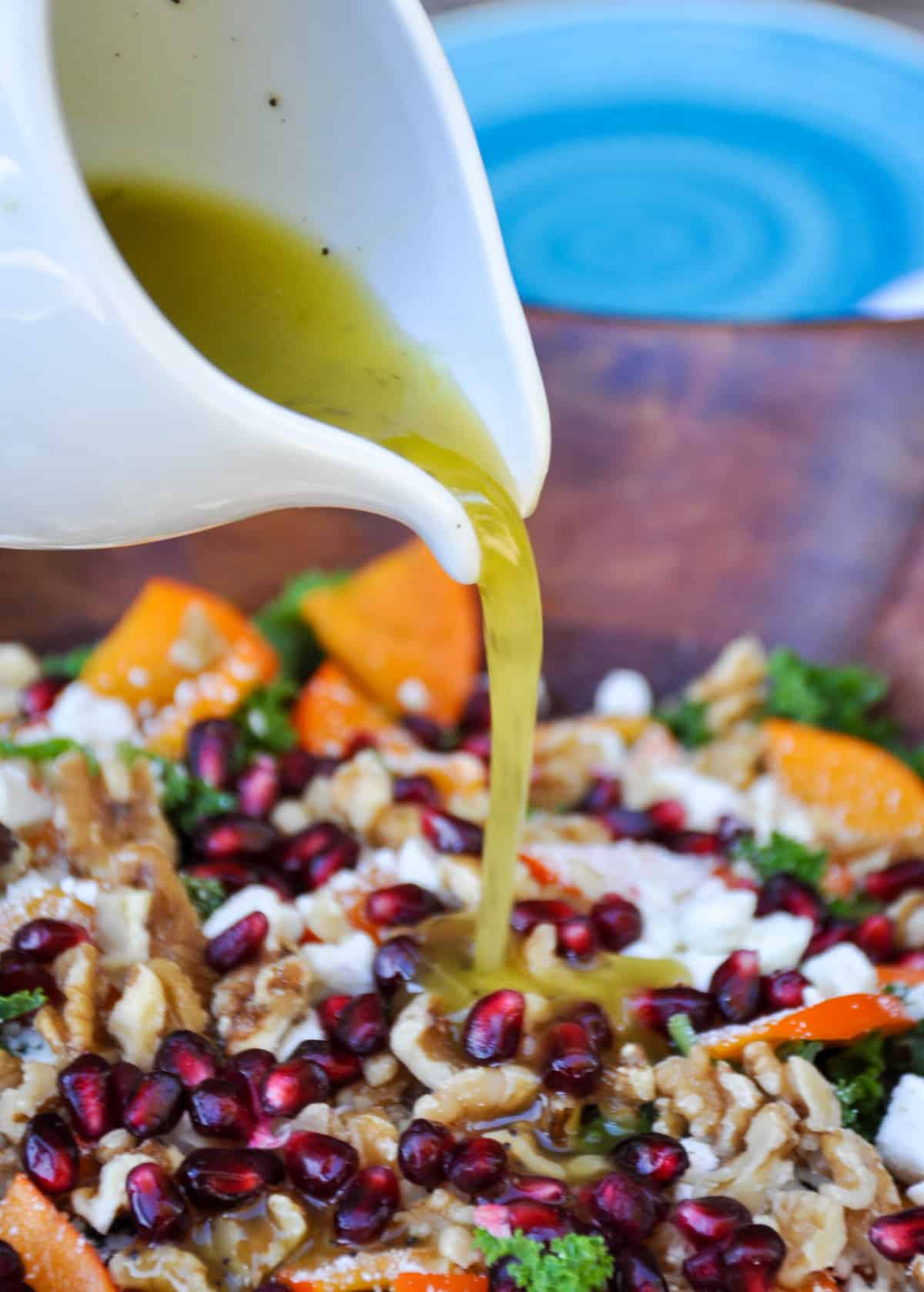 And tossed the entire salad for my guests. I am on the fence about dressing salads or allowing guests to dress, but this particular salad needs time to get into all the nooks and crannies of the kale, so dress away!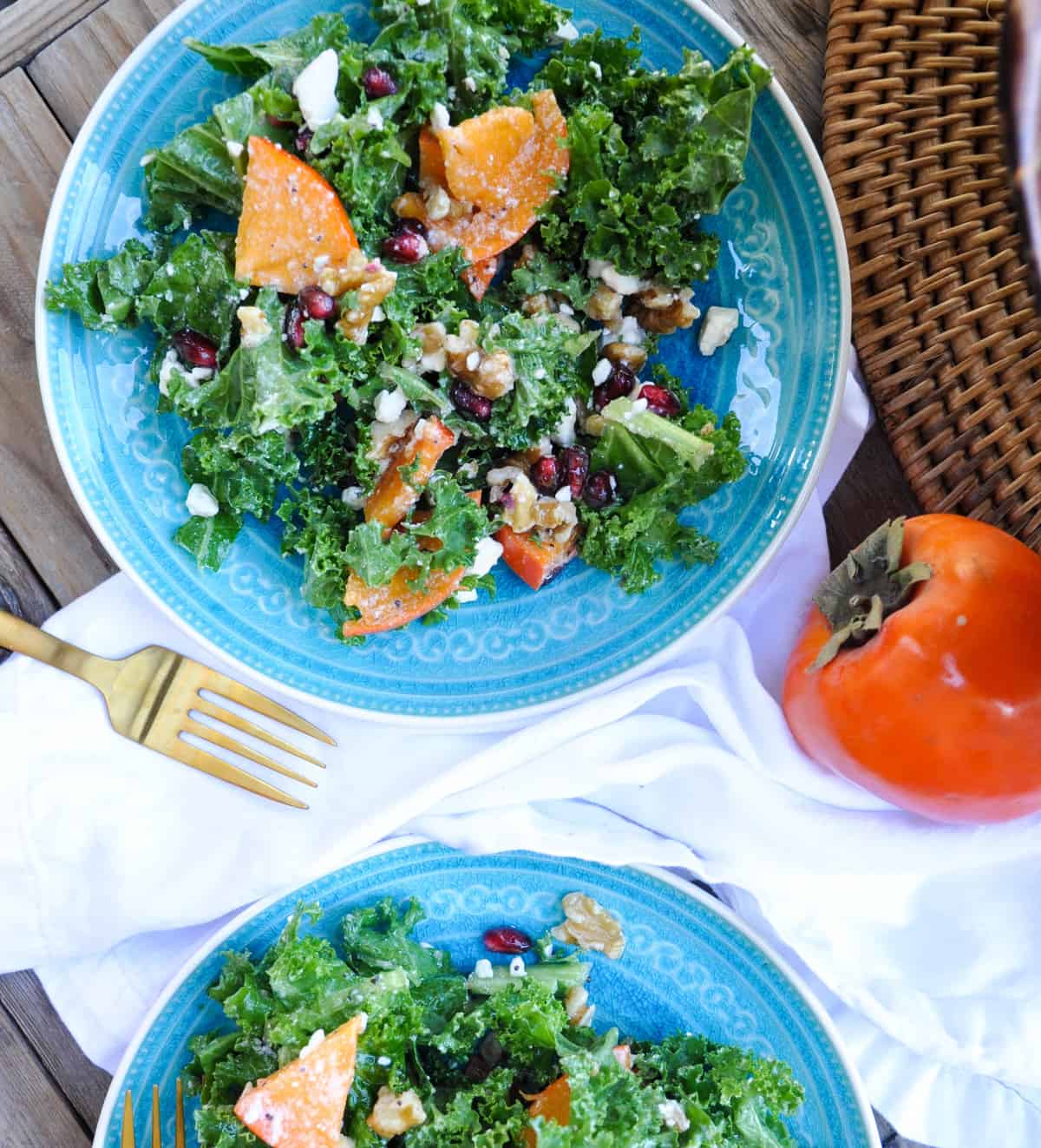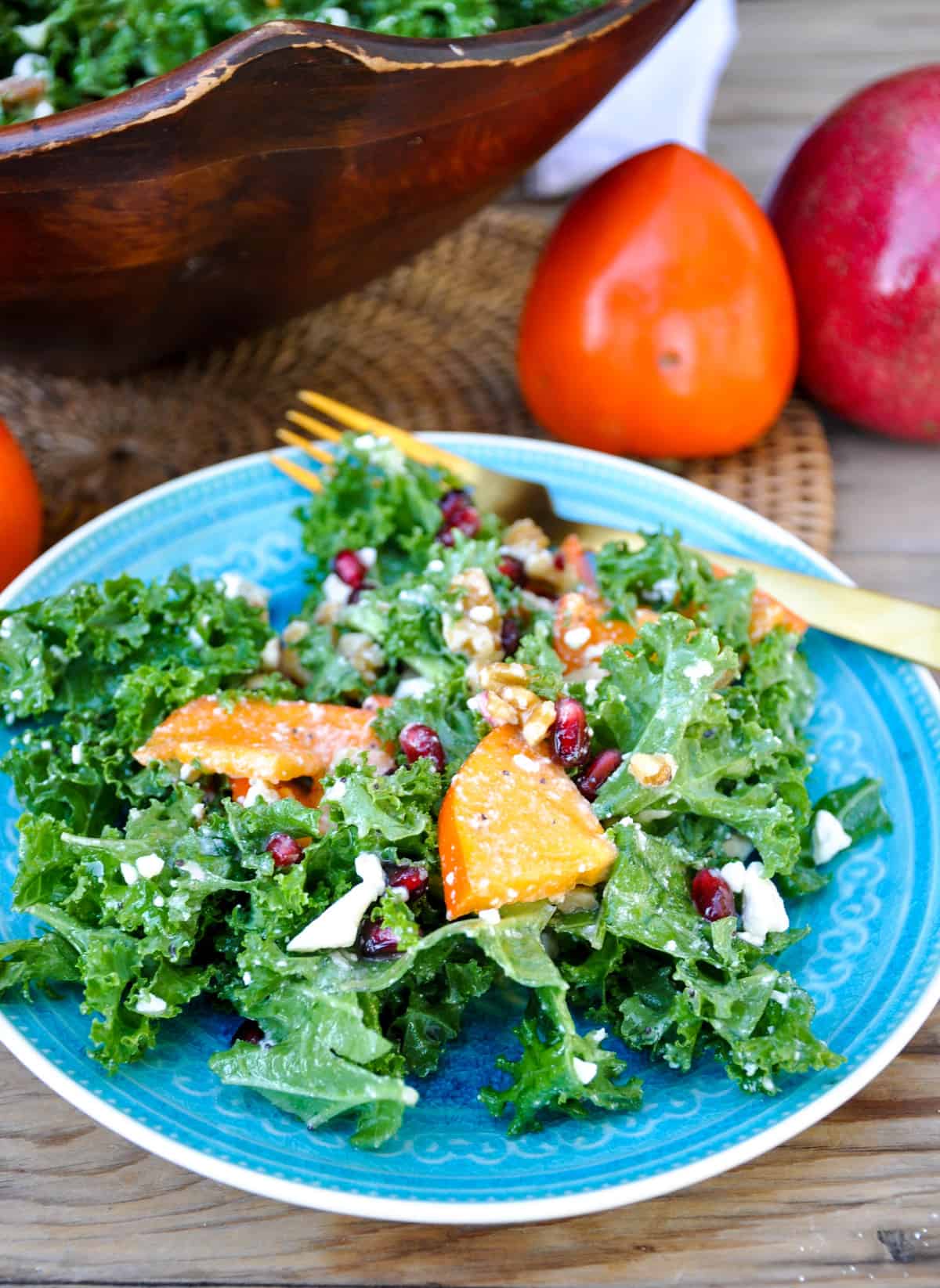 Serve it up and get ready for all the ooohs and ahhhs
Persimmon Kale Salad with Walnuts & Pomegranate
2017-11-28 22:26:01
Serves 6
Ingredients
1 whole bunch of kale, washed and chopped
2 persimmon, quartered lengthwise and sliced thin
1/2 pomegrante, arils removed
6 oz. crumbled feta cheese
1 cup chopped walnuts
FOR DRESSING
1/3 cup Olive Oil
1 T. golden balsamic
Juice of 1/2 lemon
1 t. poppy seed
1/2 t.salt
1.2 t. pepper
Instructions
Combine all the dressing ingredinets and whisk to combine. Set aside while you prepare the rest of the salad.
In a large bowl, add the kale, persimmon, feta, walnut and pomegranate
Pour the dressing over and toss to dress
Serve immediatley and enjoy
California Grown https://californiagrown.org/
If you are on a persimmon kick, check out this recipe too…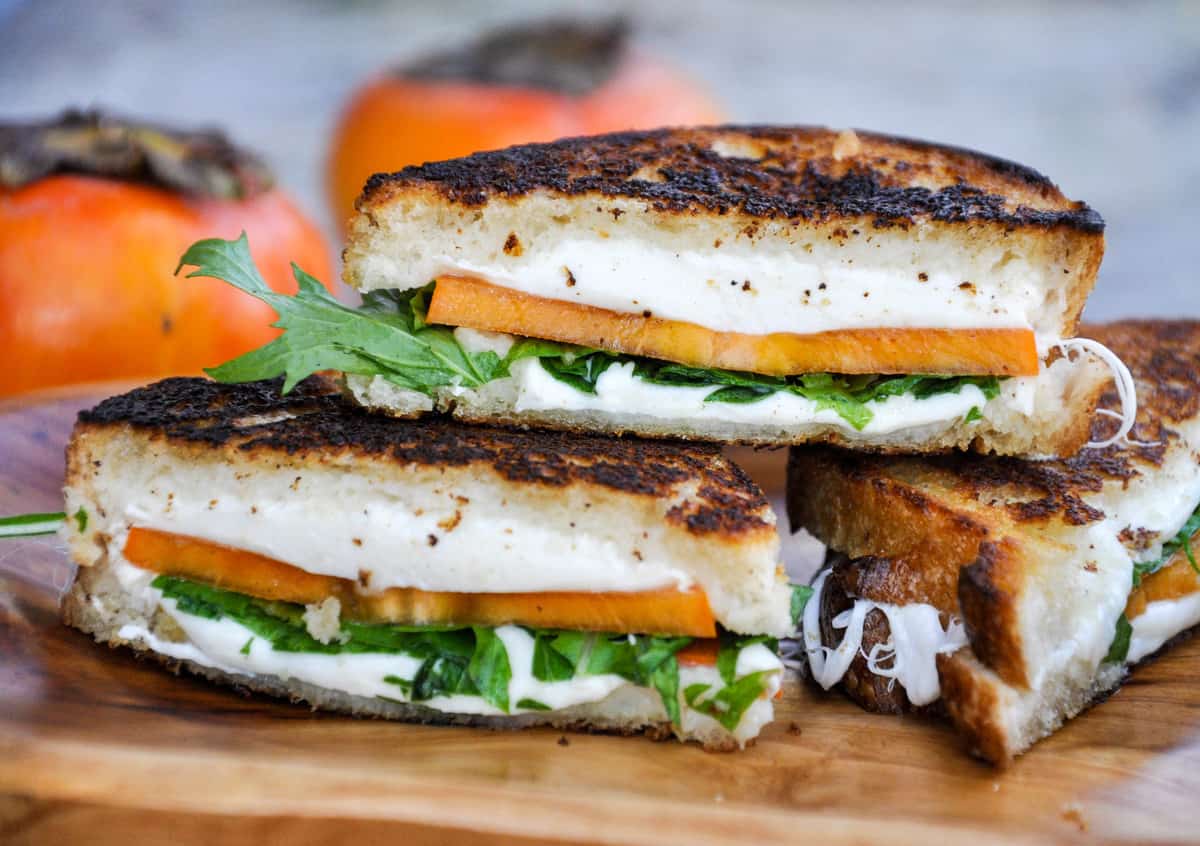 SaveSave
SaveSave