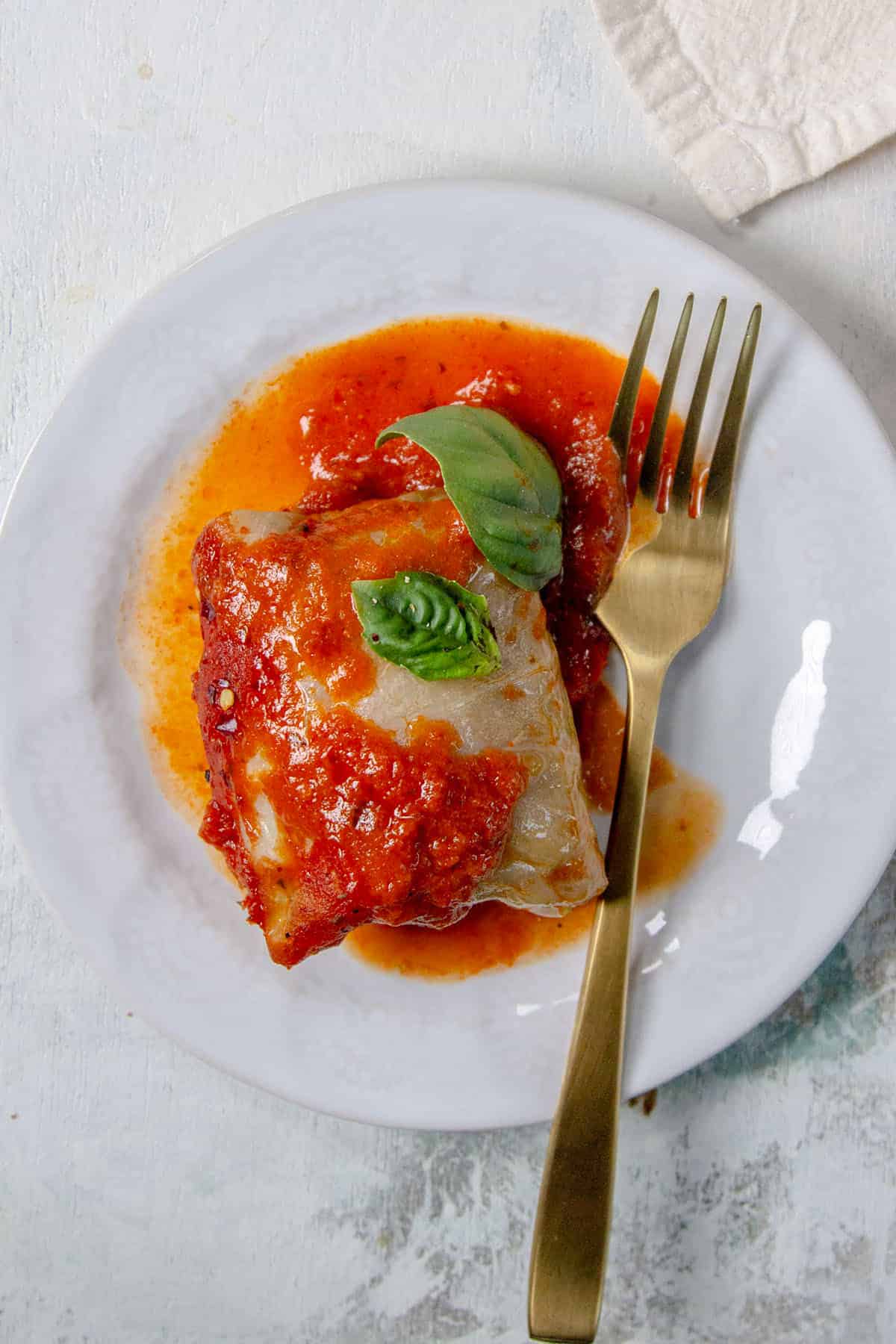 CA GROWN Blog
Discover. Learn. Connect.
The Best Cabbage Roll Recipe With California-Grown Green Cabbage
March 14, 2023
Eat the Season!
Sign Up For Weekly Recipes
« Back to Recipes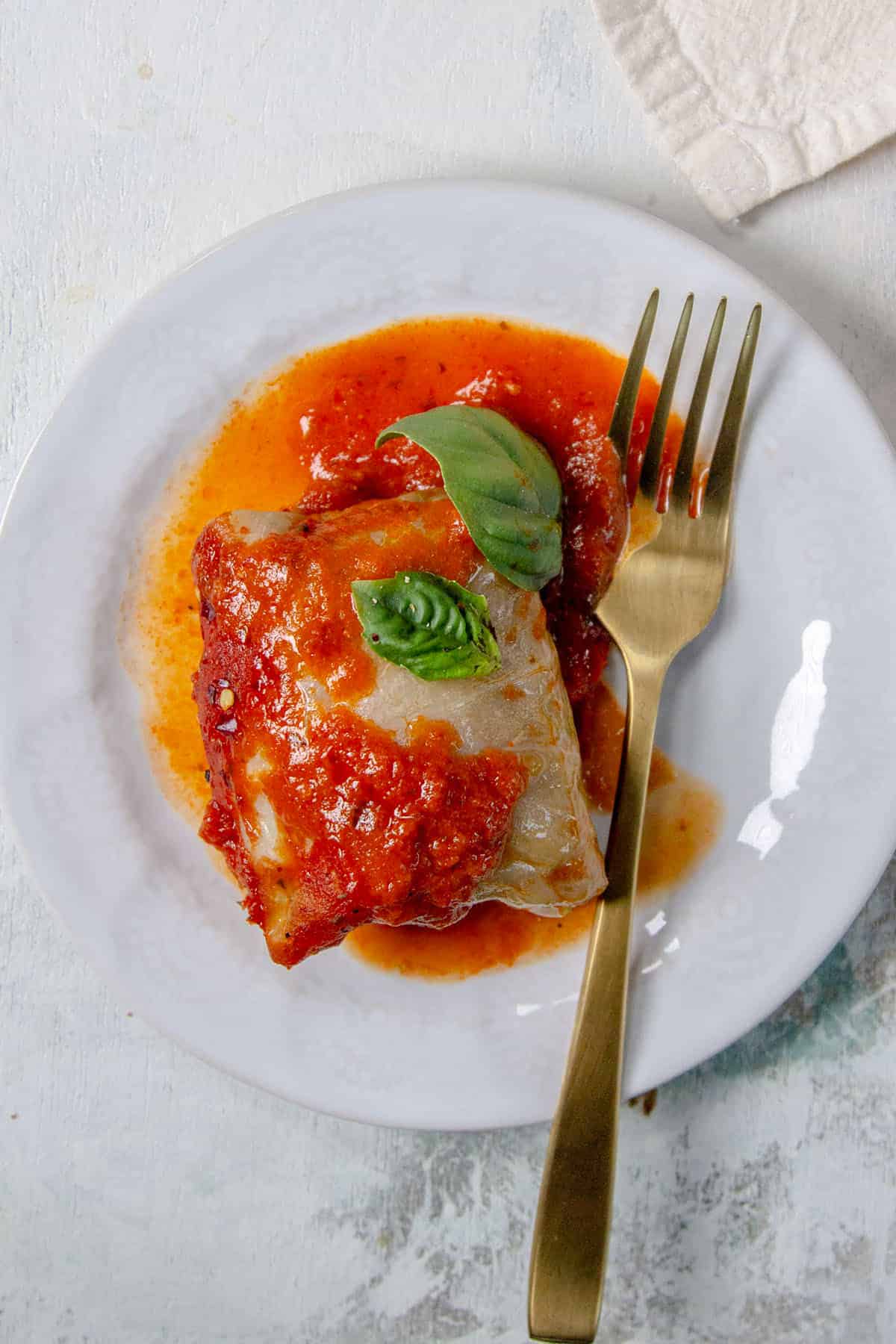 The Best Cabbage Roll Recipe With California-Grown Green Cabbage
If you've been searching for the best cabbage roll recipe online, you've officially found it! We consider this our ultimate guide to making California-grown cabbage rolls. From selecting the perfect ingredients to the easiest way to prep cabbage for making cabbage rolls, we have all the tips and tricks you need to unleash maximum flavor in every roll.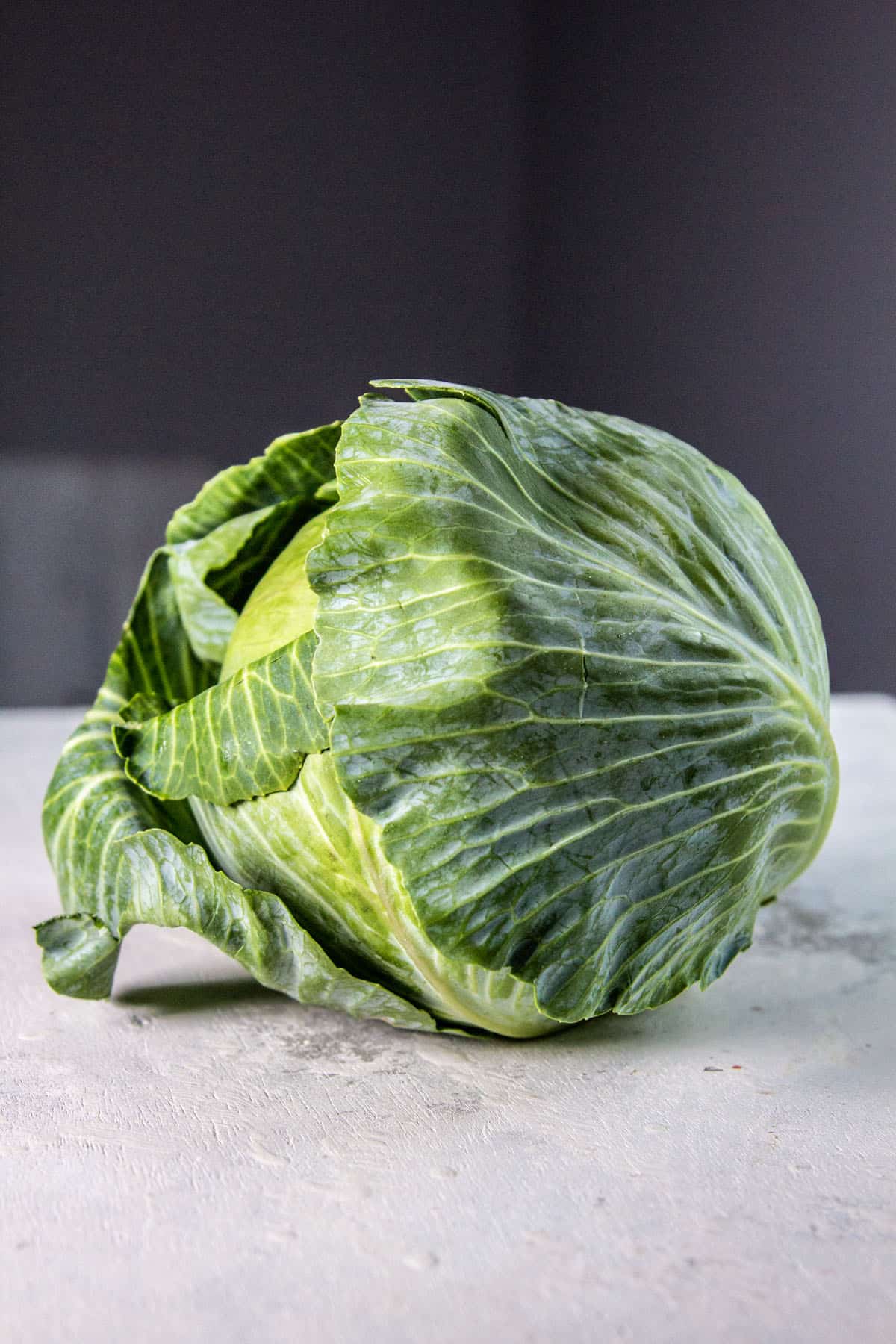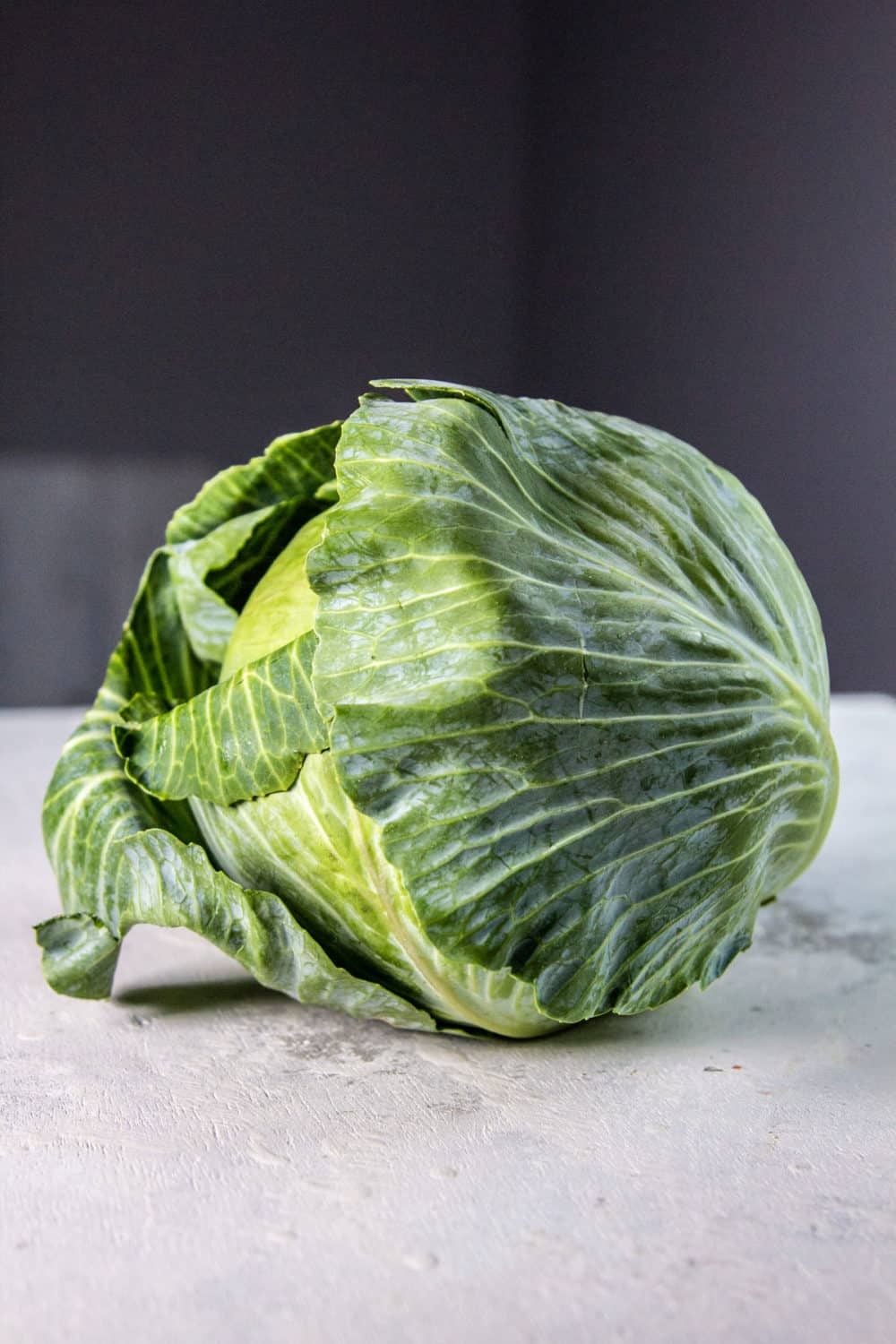 Why California-grown Green Cabbage is the Perfect Pick.
California grows more than 400 different commodities, growing more than a third of the country's vegetables and two-thirds of the country's fruits and nuts​.​
Green cabbage from California is an affordable, versatile, and nutritious ingredient that can be used in all sorts of delicious dishes. Sliced green cabbage is a key ingredient in coleslaw recipes and stir-fries. When tenderized, whole cabbage leaves can be stuffed with various fillings, like ground beef, rice, or vegetables, to make endless variations on cabbage rolls.
How to choose the perfect head of green cabbage at the store.
When shopping for green cabbage you are looking for heads that are firm and heavy for their size. The leaves should be without blemish and should be crisp with a nice luster. The weight of a head of green cabbage, on average, is between 2 and 4 pounds. For this recipe for cabbage rolls, we suggest opting for the largest green cabbage you can find. Ours pictured above weighed over 4 pounds!!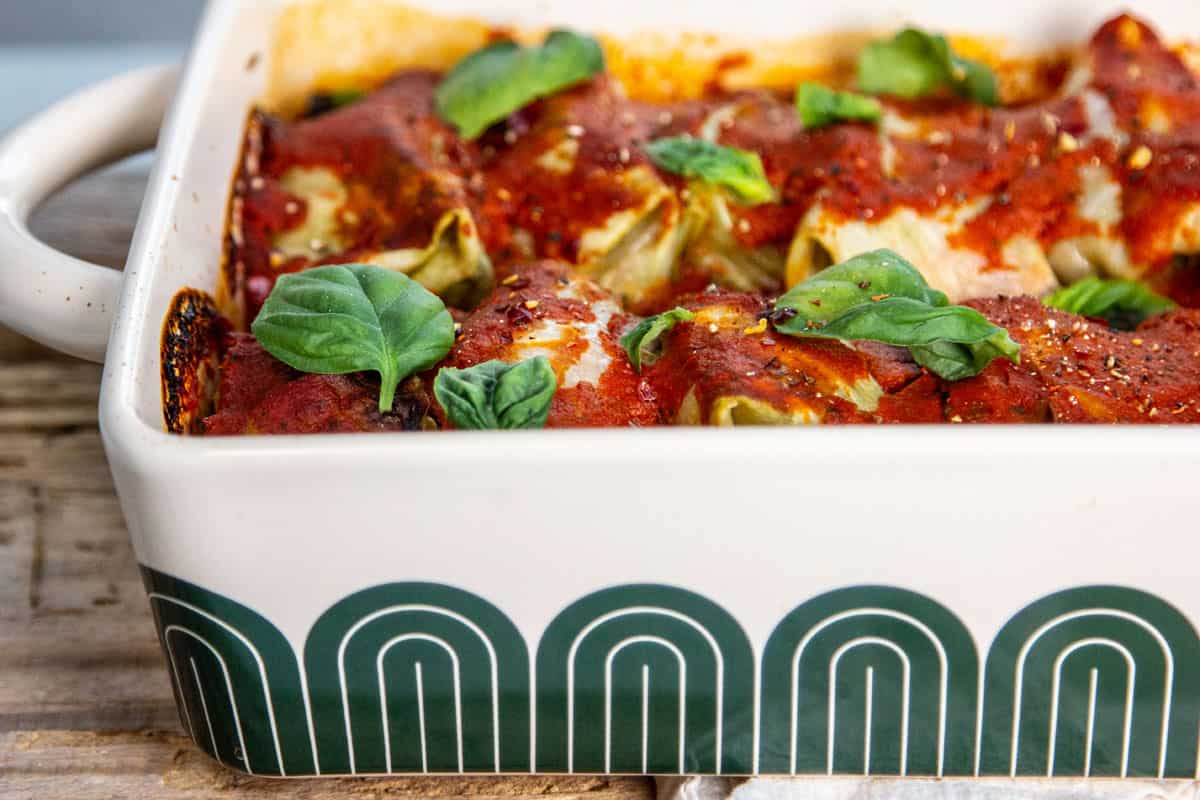 Step-by-Step How to Make this California-grown Cabbage Roll Recipe.
Making any cabbage roll recipe can be intimidating. But I assure you the process of making this recipe for cabbage rolls is super easy and yields delicious results every single time.
Prep ahead to make creating this cabbage roll recipe a cinch.
While making cabbage rolls isn't hard, it is a more intensive process. So, this is a kitchen project that I suggest you prep for in advance. As you will see below, freezing the cabbage is an essential step in this recipe. Freezing a head of green cabbage requires a full 24 hours, this will need an additional 10-12 hours for the cabbage to thaw.
Another part of this recipe that is easy to prepare in advance is the Roasted Red Pepper and Tomato Sauce. It's a super easy recipe that only takes a few minutes, and then you can store it for up to 5 days. Once you've tried this recipe for our garlicky Roasted Red Pepper and Tomato Sauce, you'll love it so much that you will want to toss it with your favorite pasta next.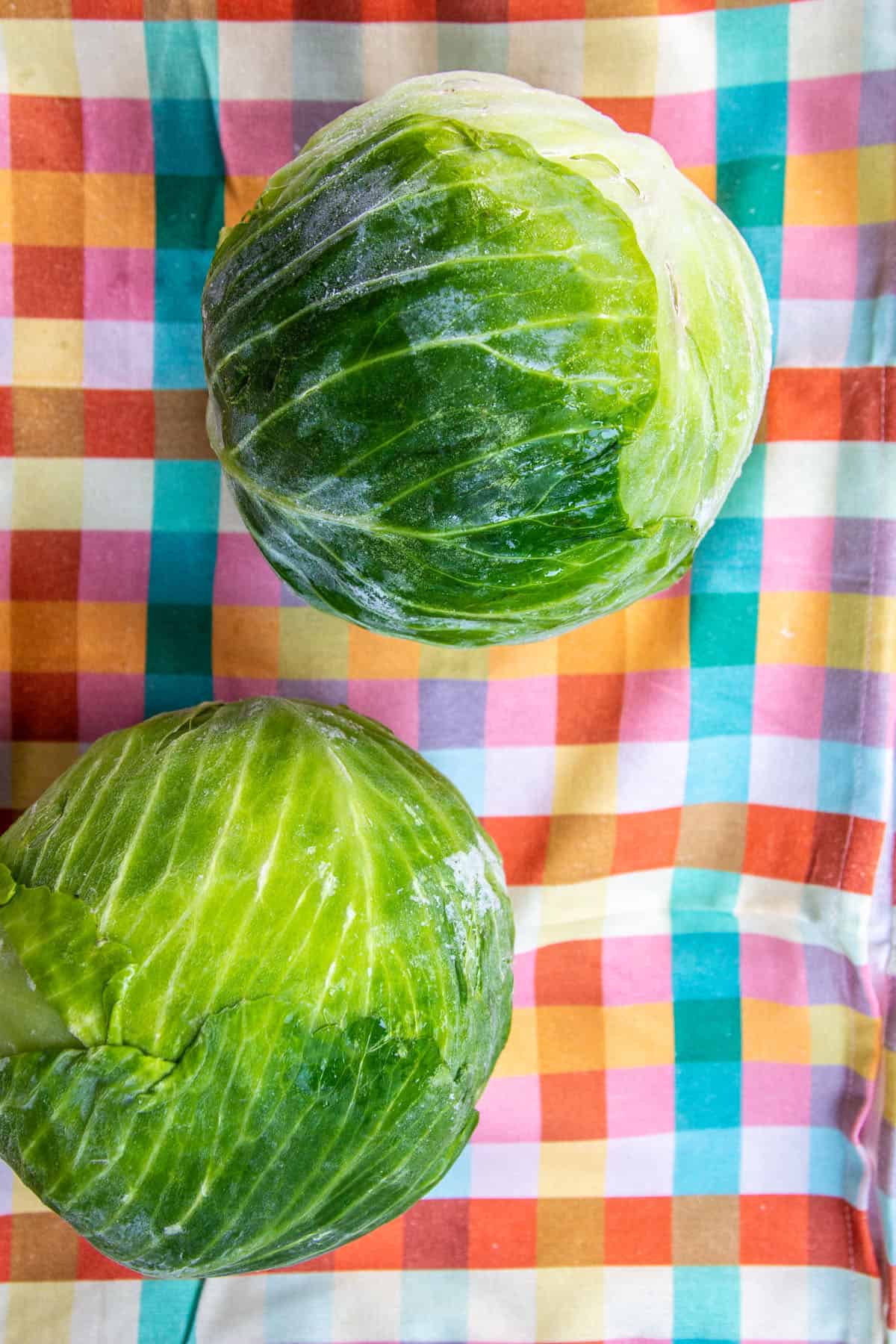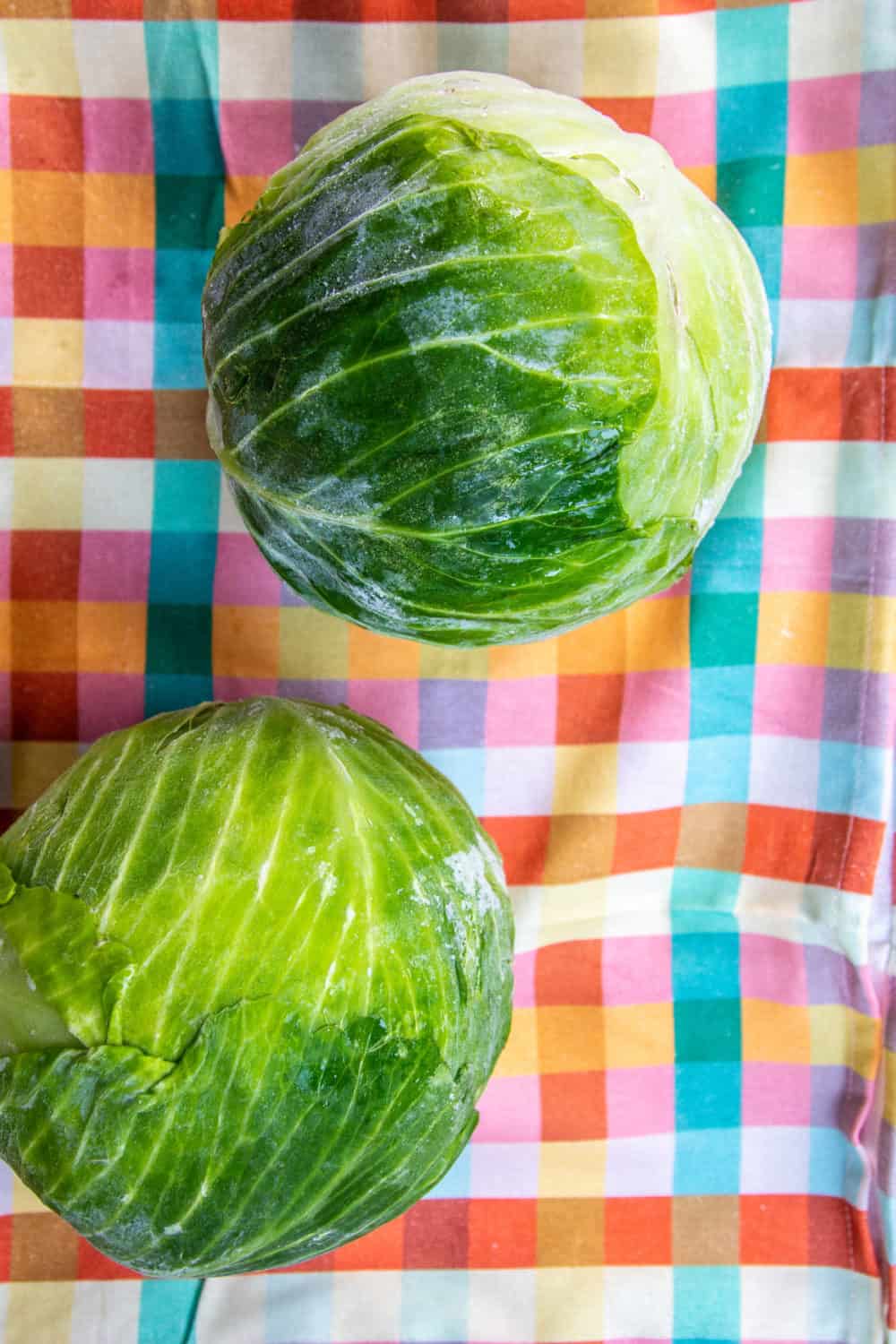 How to safely tenderize cabbage leaves for making any cabbage roll recipe.
While some cabbage roll recipes call for boiling whole heads of green cabbage, we happened upon a genius method that not only cuts down on dishes but it also eliminates the chances of burning your hands on the cabbage.
Simply freeze the whole head of cabbage, defrost, and then peel off the leaves. Yes, it's that simple! This method saves you the trouble of boiling, and the cabbage leaves are just as tender and pliable.
After the head of cabbage defrosts…
The leaves should easily peel from the head of the cabbage without tearing and be pliable and soft.
Then you can use a small pairing knife to remove the tougher ribs from the individual leaves.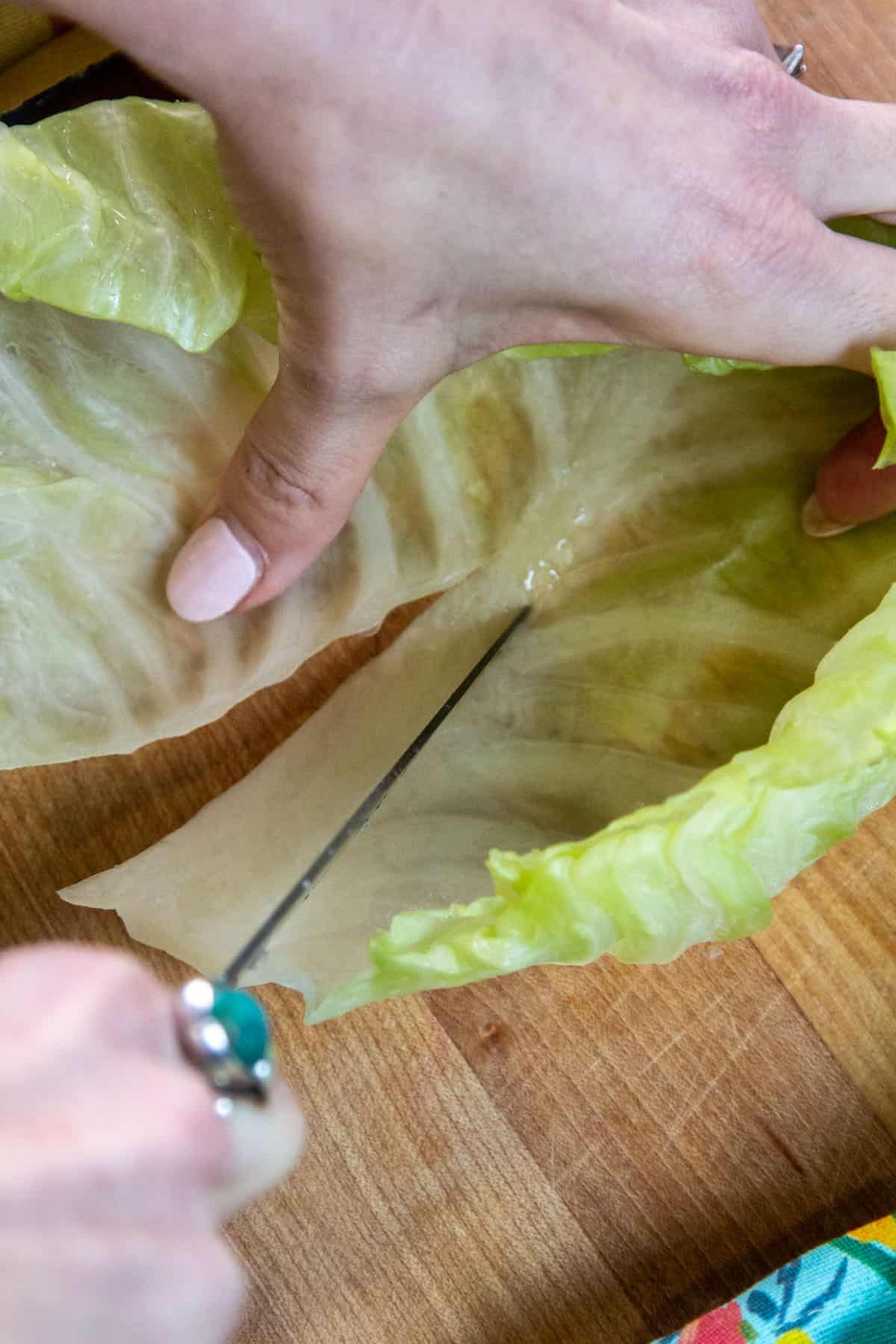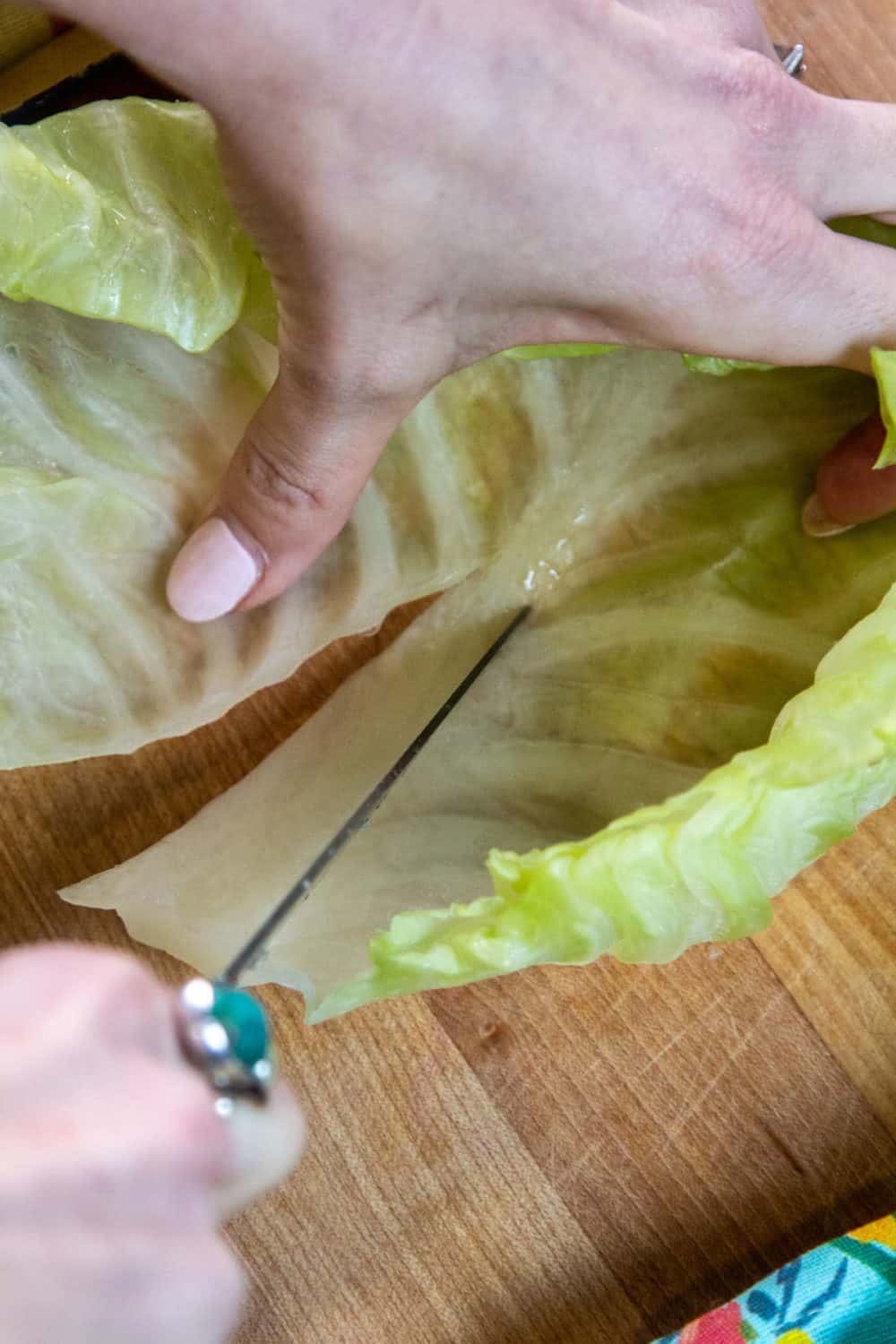 How to prepare the filling for this cabbage roll recipe.
While most cabbage roll recipes call for rice, ours uses cauliflower rice for a delicious grain-free filling. Our blend of meat was a mix of beef and turkey, but you can substitute an equivalent ratio of your meat of choice. This filling also is heavily seasoned with granulated garlic and onion, in addition to almond flour, carrots, fresh basil, and parsley. It's almost too easy to eat!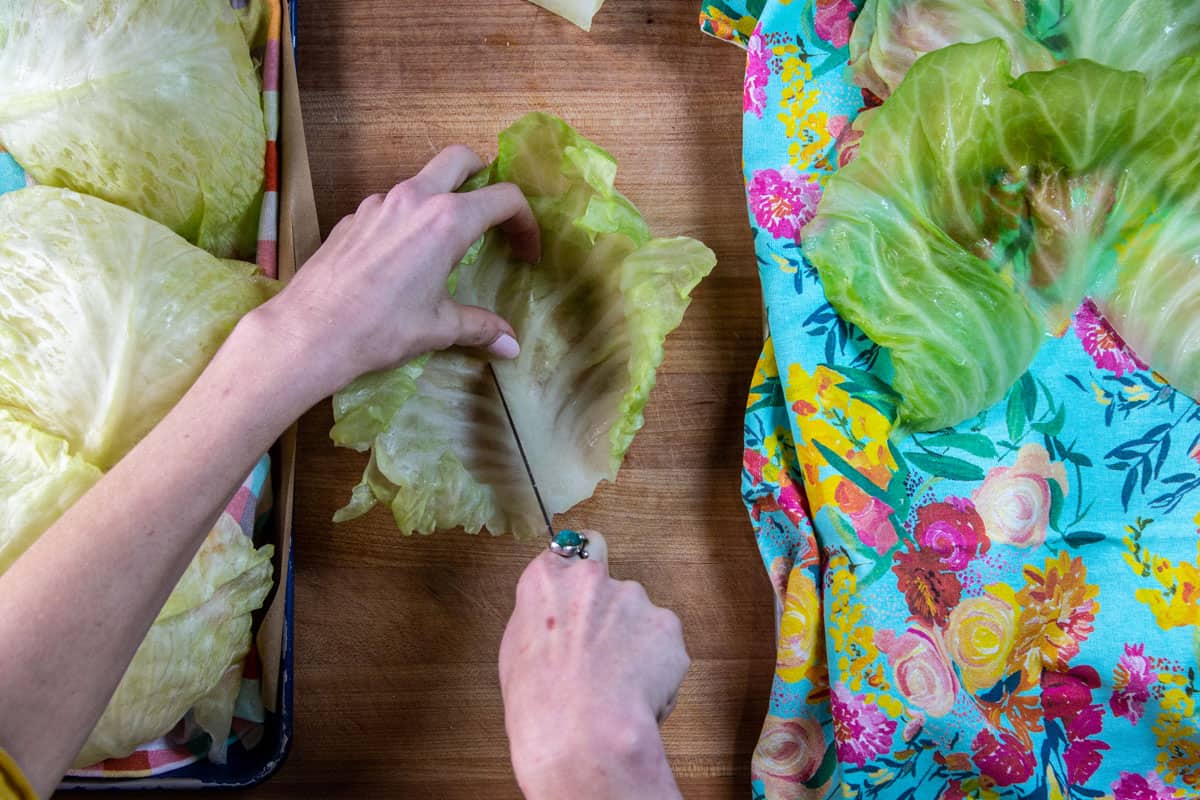 See how easy that is?! Just remove the ribs, add some filling, tuck, fold, and roll.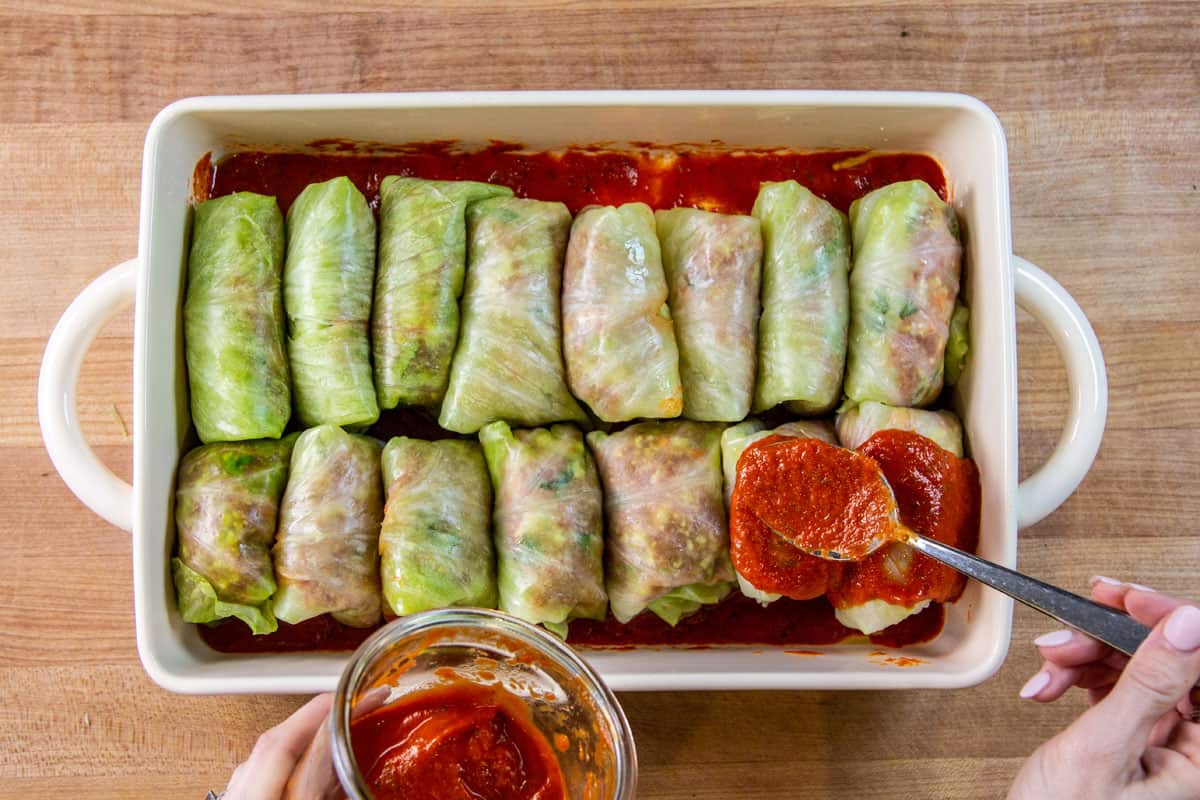 Much like making enchiladas or any other type of recipe that involves repeating the same steps over and over, you will find that you develop a rhythm and a flow as you work your way through stuffing and rolling the cabbage leaves. And by your last roll, you will wonder why you were so intimidated in the first place.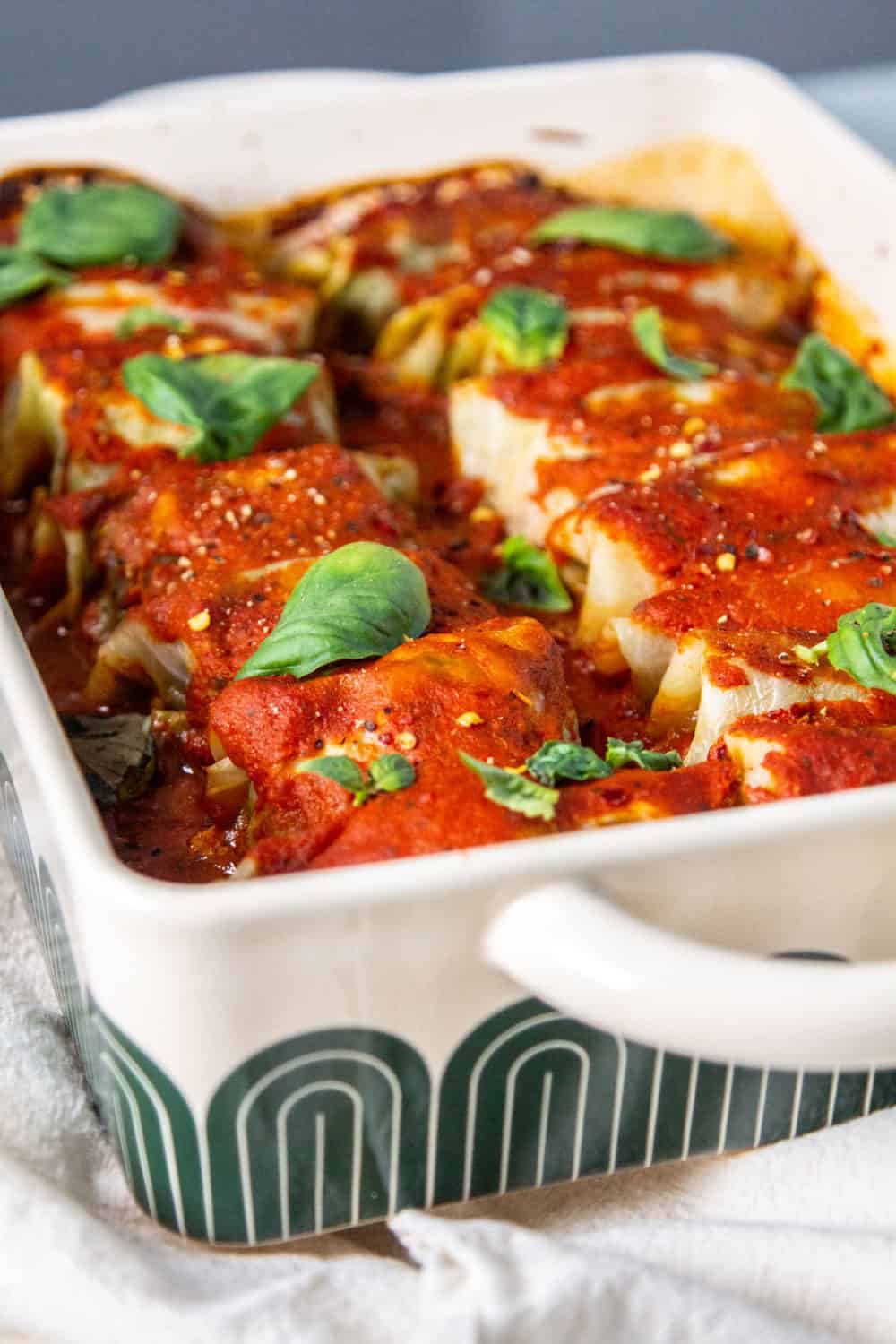 Trust us, making cabbage rolls is a culinary adventure that's worth taking. With this ultimate guide, you'll have all the knowledge and expertise you need to make your cabbage rolls shine. So, roll up your sleeves, get your ingredients ready, and start cooking!
BE SURE TO SHARE YOUR FAVORITE CABBAGE ROLL RECIPE WITH US BY SNAPPING A PIC AND TAGGING US ON SOCIAL USING #CAGROWN.
Craving more CA Grown goodness? Follow us on Pinterest for fresh and fabulous recipe inspiration!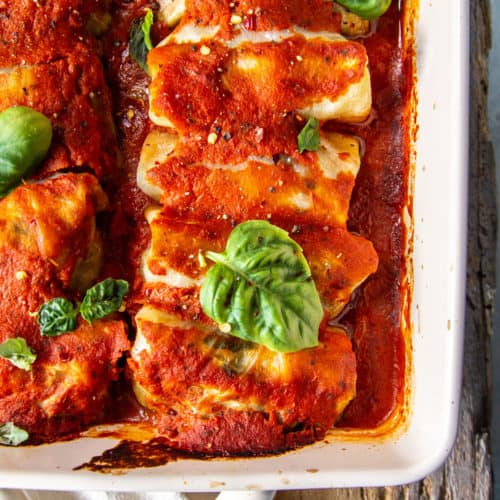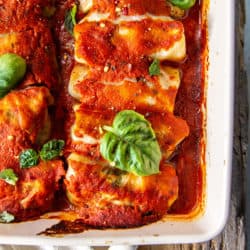 Veggie-Laced Cabbage Rolls with Roasted Red Pepper and Tomato Sauce
While this recipe for cabbage rolls is incredibly easy to make, freezing an entire head of cabbage and allowing it to thaw completely takes about 1 1/2 – 2 days, so be sure to factor that in when planning to make this recipe.
Ingredients
Roasted Red Pepper and Tomato Sauce
2 tablespoons olive oil
4 cloves garlic, minced
28 ounces canned crushed tomatoes
14 ounce jar roasted red peppers drained
2 cups fresh basil
1/2 teaspoon red pepper flakes
coarse salt and black pepper to taste.
Veggie-Laced Cabbage Rolls
1 batch Roasted Red Pepper and Tomato Sauce
1 3.5 – 4 pound green cabbage Prepared per instructions in the notes.
1 cup cauliflower rice See notes on how to prepare cauliflower rice or purchase store-bought cauliflower rice.
1/4 cup California white wine `
1/4 cup vegetable broth
2 large carrots finely diced
1 pound ground beef
1/2 pound ground turkey
2 teaspoons granulated garlic
2 teaspoons granulated onion
1/4 cup chopped basil leaves
1/4 cup almond flour
2 ounces grated Romano cheese `
2 tablespoons olive oil
1 egg lightly beaten
1 teaspoon red pepper flakes
Optional garnish: flaky salt, cracked black pepper, red pepper flakes, and fresh basil leaves.
Instructions
Roasted Red Pepper and Tomato Sauce
Add the olive oil to a large skillet over medium heat. Add in the garlic, stirring quickly to spread it out into the oil. Cook the garlic for about 30 seconds, until fragrant.

Reduce the heat to low and add in the crushed tomatoes. Working quickly, stir the garlic into the tomatoes, until evenly distributed. 

Taste and season with 1 teaspoon of coarse kosher salt, black pepper and crushed red chili flake. Continue to cook for a minute or two, until the tomatoes begin to bubble. 

Carefully transfer the tomato mixture to a food processor or blender. Add in the roasted red bell peppers and the basil. Blend the mixture until pureed.  Use immediatley or transfer to a jar or airtight container. Store in the refrigerator for up to 1 week.
Veggie-Laced Cabbage Rolls
Freeze and completely thaw the head of green cabbage as directed in the notes below. This step takes up to 2 days for the cabbage to freeze and thaw completely, so plan accordingly.Once the cabbage has defrosted, core it, remove the tough stems from the larger leaves, and separate them, drying them on kitchen towels or sheets of parchment. Season the leaves with a sprinkle of fine sea salt.

From the center of the cabbage, chop some of the smaller leaves into very small pieces measuring 1 cup. Reserve this cup of chopped cabbage for the filling. You can save any remaining cabbage for use in another meal.

To make the filling, combine the 1 cup reserved chopped cabbage with the cauliflower rice, white wine, carrots, ground beef, ground turkey, granulated garlic, granulated onion, basil, almond flour, Romano cheese, olive oil, egg, and red pepper flakes in a large mixing bowl. Mix well.

Preheat the oven to 375°F.Lightly grease a 9-inch by 13-inch rectangular casserole dish with olive oil. Spread 1/3 of the Roasted Red Pepper and Tomato Sauce at the bottom of the dish.

Add a handful of the filling to each prepared cabbage leaf, then wrap and roll. Nestle the cabbage parcel into the sauce, seam side down. You should have enough cabbage leaves and filling to make approximately 16-18 rolls. Once you have made all of the cabbage rolls, spoon the remaining sauce over the tops of the cabbage rolls so that they are smothered in sauce.

Bake the cabbage rolls for 60-75 minutes, until the rice is tender, and the rolls are cooked through.

To serve, garnish with flaky salt, cracked black pepper, red pepper flakes, and fresh basil leaves.
Video
Notes
How to prepare the head of green cabbage: Two days before you would like to make cabbage rolls, freeze the whole head of cabbage wrapped in a plastic bag, defrost overnight in the refrigerator or overnight on the kitchen counter, and then peel off the leaves and continue as directed above. How to prepare cauliflower rice: First, wash and dry a head of cauliflower and remove the leaves and stem. Cut the cauliflower into florets and pulse them in a food processor until they are broken down into rice-sized pieces. Be careful not to over-process, or the cauliflower will become too fine.
Nutrition
Calories: 482kcalCarbohydrates: 20gProtein: 31gFat: 32gSaturated Fat: 9gPolyunsaturated Fat: 2gMonounsaturated Fat: 15gTrans Fat: 1gCholesterol: 112mgSodium: 1348mgPotassium: 1045mgFiber: 6gSugar: 8gVitamin A: 5370IUVitamin C: 60mgCalcium: 241mgIron: 5mg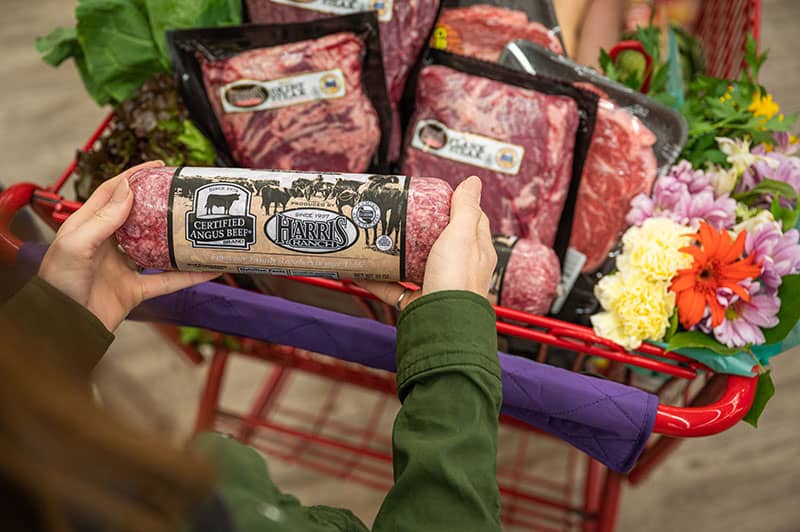 Do you know if the beef at your store is California Grown?
If you aren't 100% sure if the meat you are buying at the store is California Grown, it is easy to find out! All you have to do is look for the California Grown logo on the product packaging!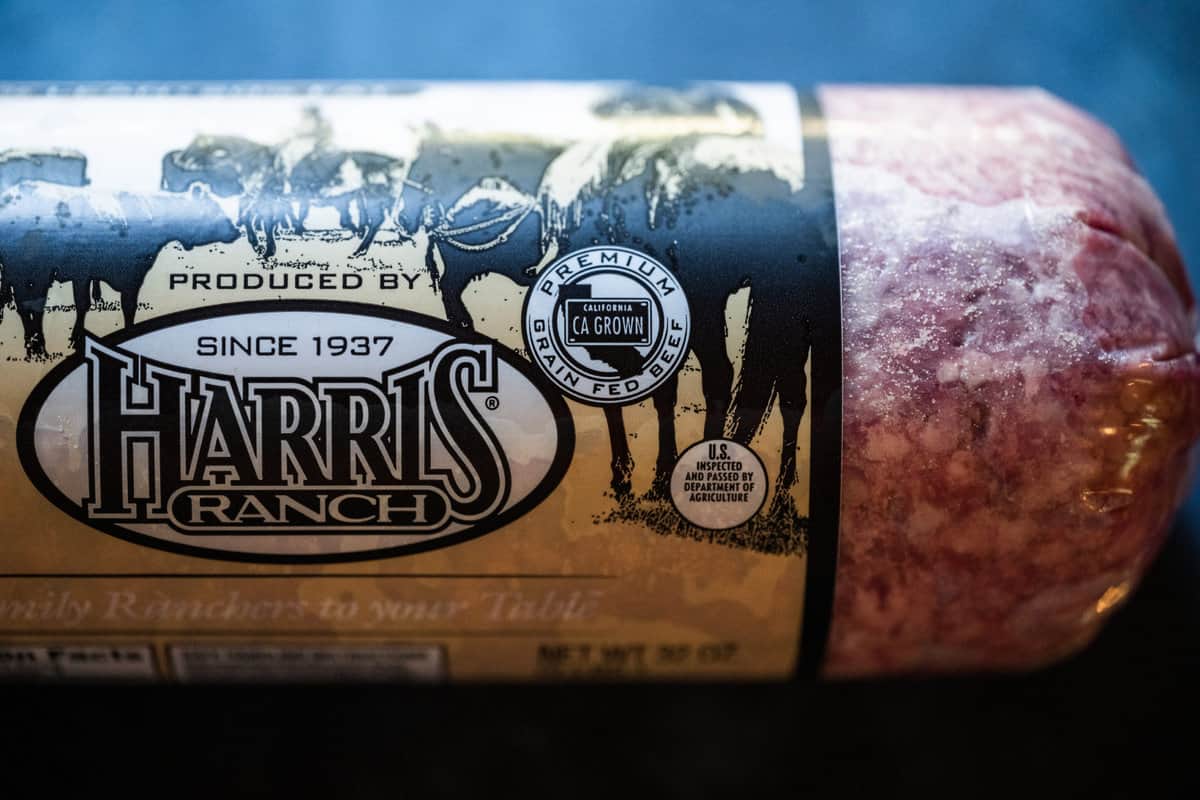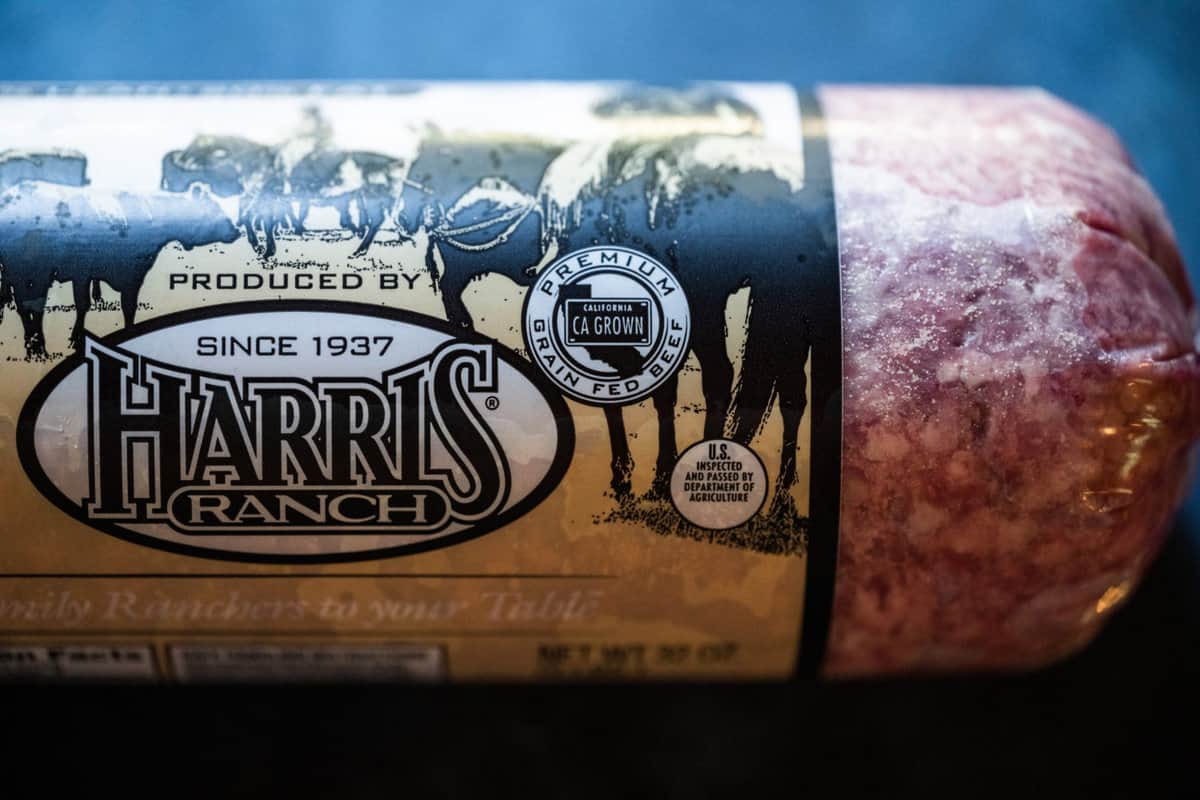 Hungry for more delicious recipes with cabbage? Check out a few more of our favorites below!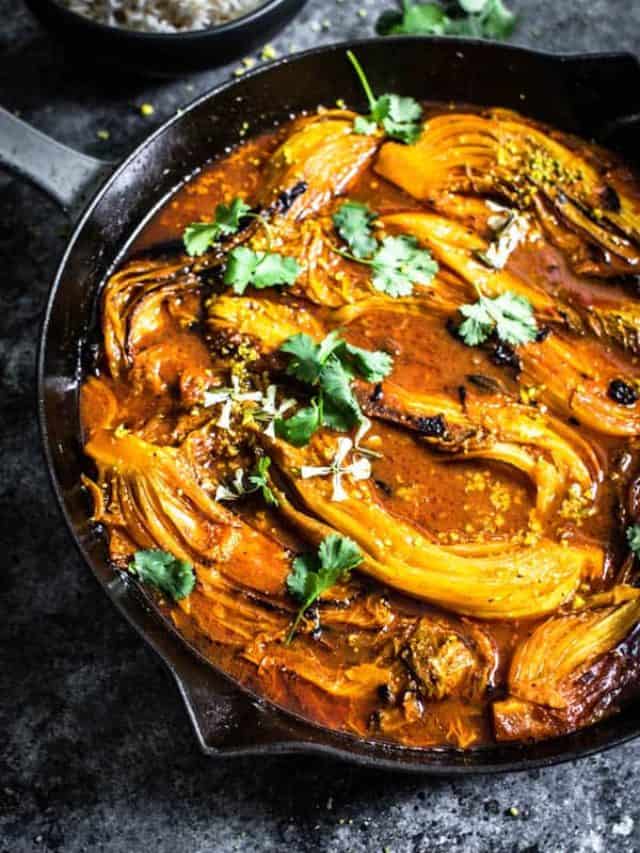 This recipe requires minimal ingredients and prep work, but the final dish tastes like it took hours to create! Rich and garlicky with a sultry, robust flavor and just a hint of spice, this Melting Napa Cabbage recipe is sure to be a hit at your dinner table.
California-grown Napa cabbage is known for its ruffled leaves, succulent stems, and unforgettably delightful crunch. It's safe to say we are BIG fans! We've gathered the best recipes with Napa Cabbage so you can celebrate its crisp tender crunch & delicious mellow flavor all year long.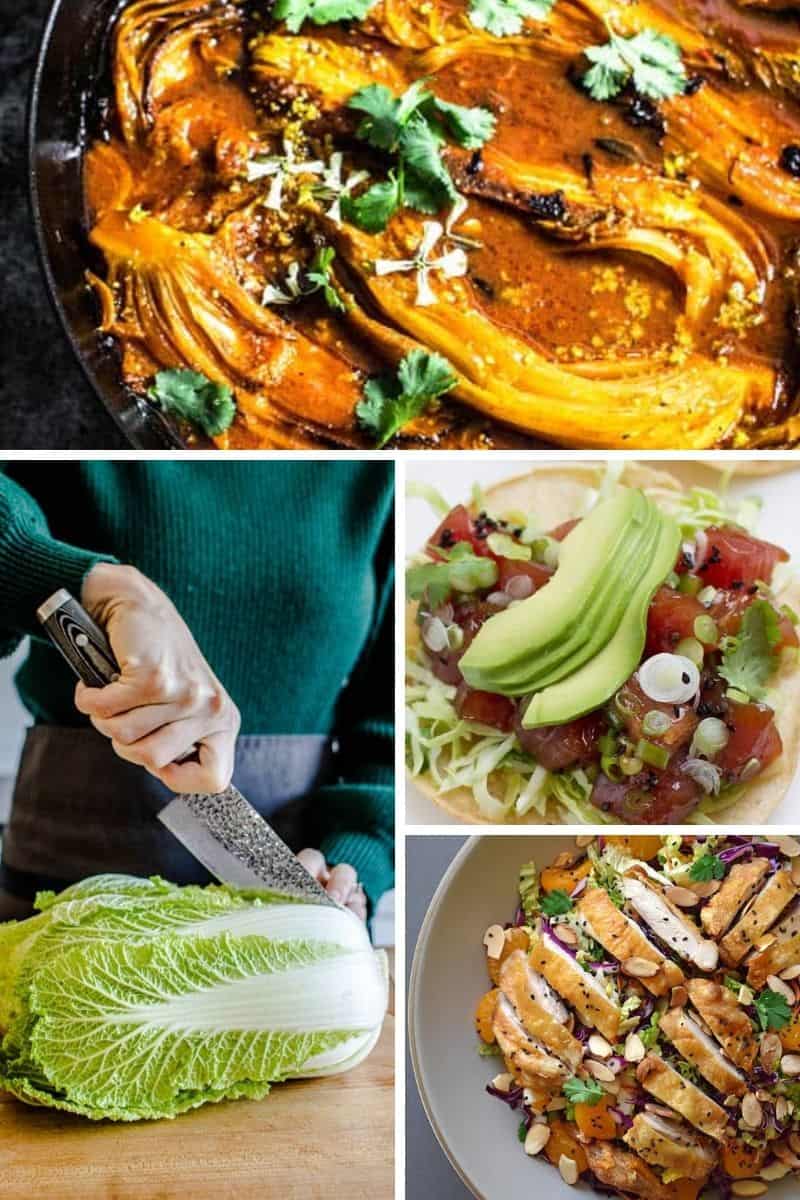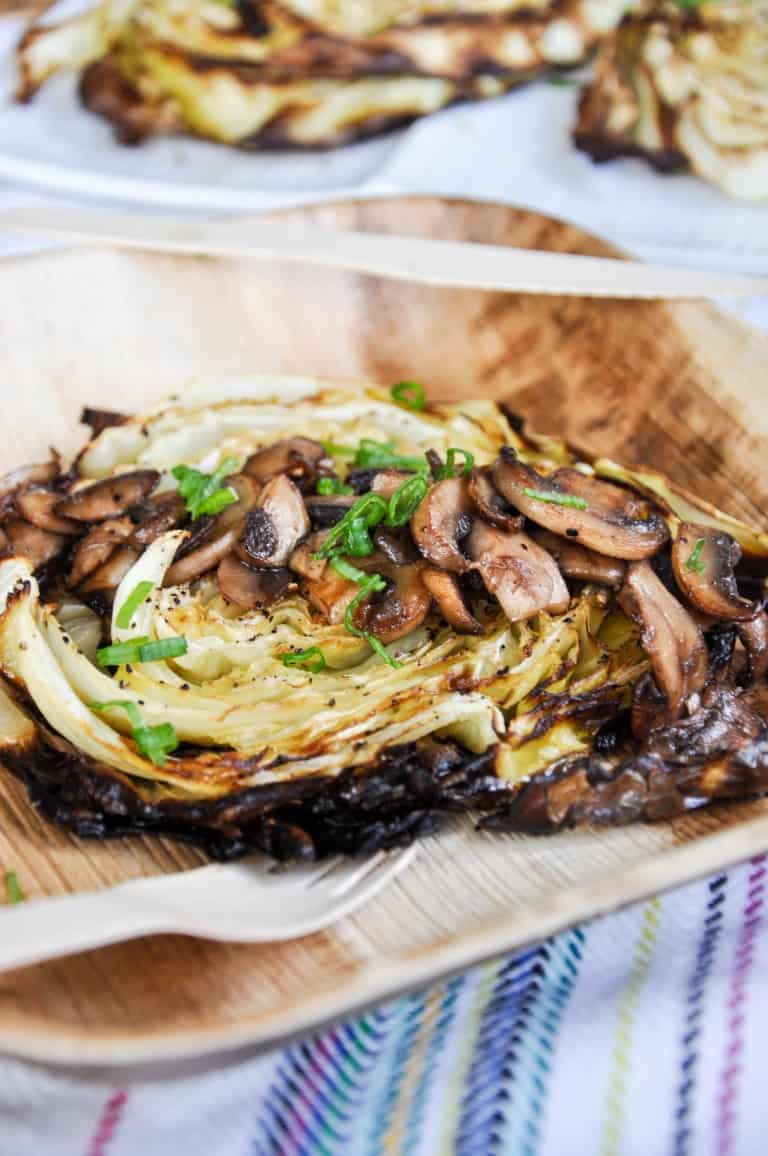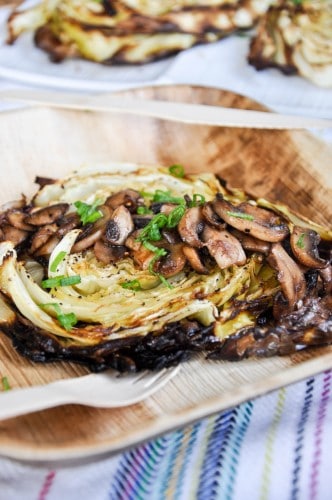 But these Cabbage Steaks really are hearty and juicy! They're the perfect alternative for those trying to get more green vegetables in their diet and actually an excellent side dish to any "real" steak!