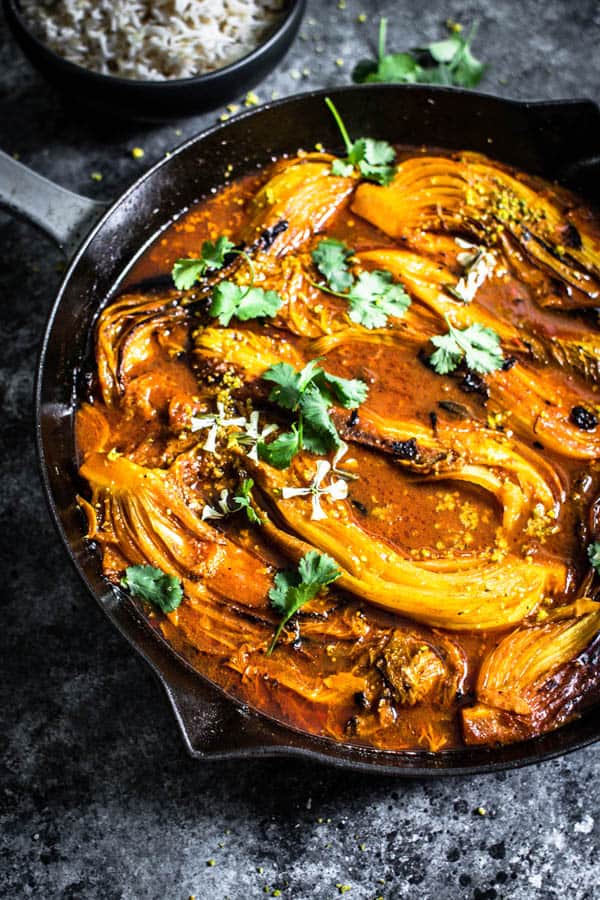 CA GROWN Blog
Discover. Learn. Connect.
A Napa Cabbage Recipe that Will Melt in Your Mouth!
April 9, 2021
Eat the Season!
Sign Up For Weekly Recipes
« Back to Recipes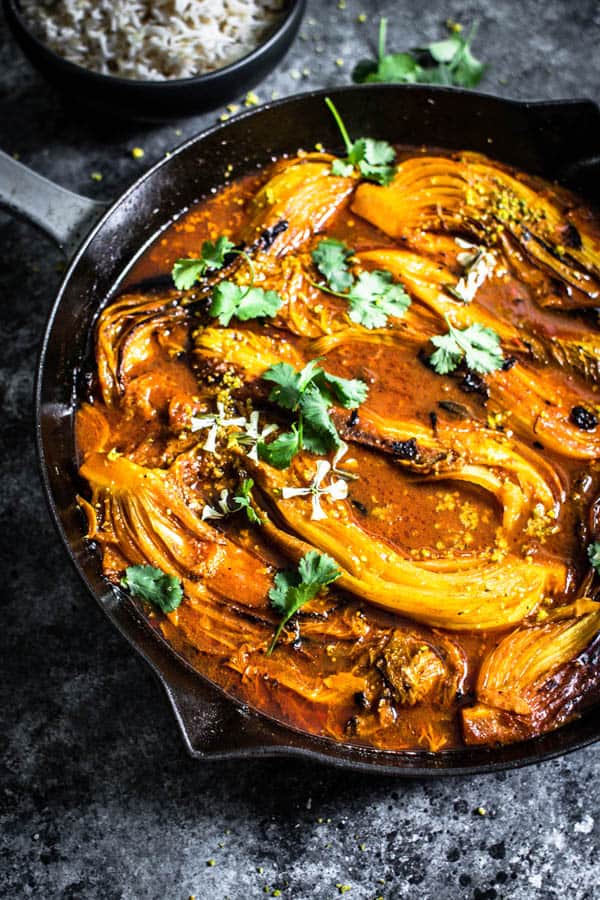 A Napa Cabbage Recipe that Will Melt in Your Mouth!
This Napa cabbage recipe requires minimal ingredients and prep work, but the final dish tastes like it took hours to create! Rich and garlicky with a sultry, robust flavor and just a hint of spice, this Melting Napa Cabbage recipe is sure to be a hit at your dinner table.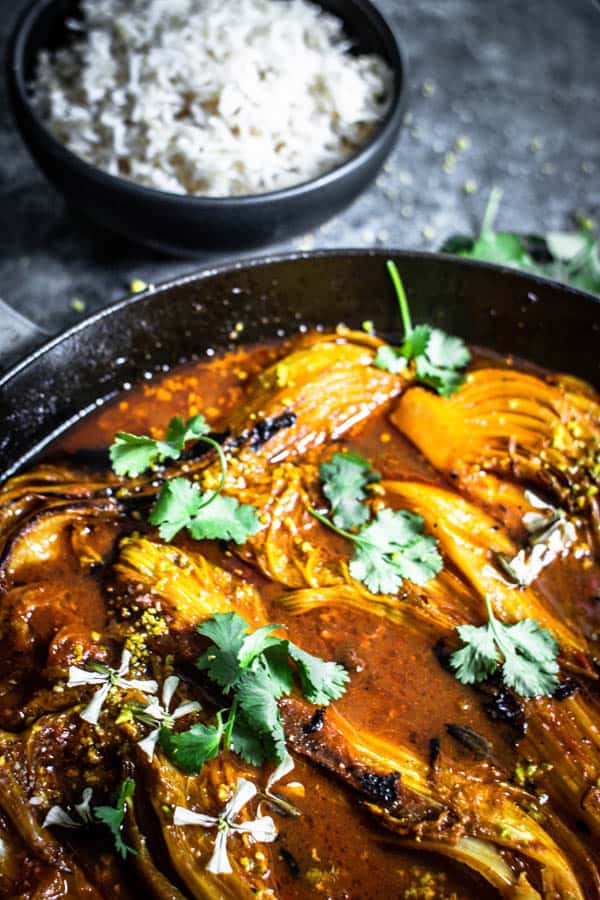 We first learned about the delicacy known as Melted Green Cabbage from Adeena Sussman's cookbook Sababa: Fresh, Sunny Flavors from my Israeli Kitchen, where she shared her interpretation of the braised green cabbage dish found on menus all over Tel Aviv.
Her version calls for searing wedges of green cabbage like vegetable steaks, splashing them with wine and stock, then covering them to cook slow and low until the vegetables soften and deepen in color, at least 2 hours.
Our take substitutes in Napa cabbage, which cooks in about half the time, and a rich turmeric laced tomato broth in place of the wine and stock in her recipe. Both versions are completely delicious and worth a try, if you ask us!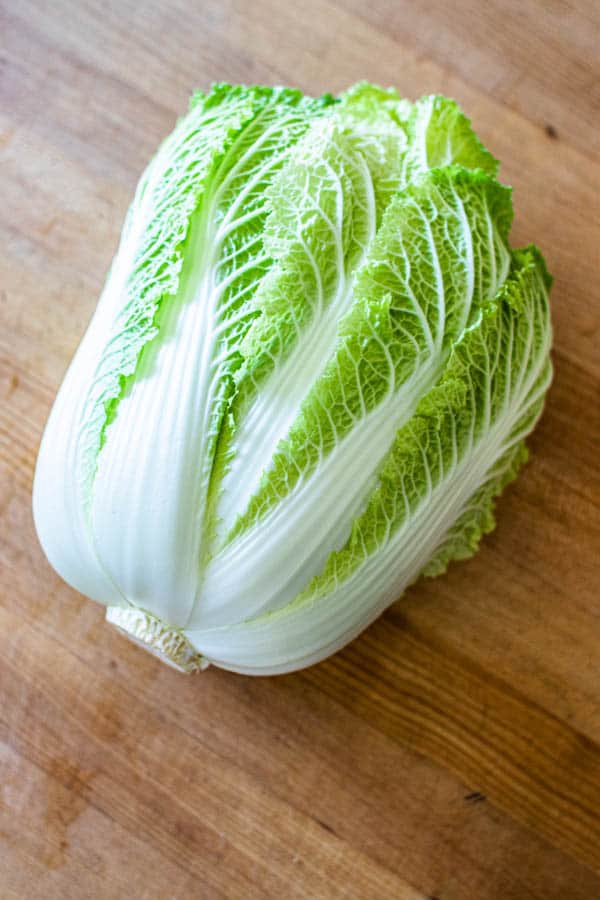 How to select the perfect head of Napa Cabbage.
California grows more than 400 different commodities, growing more than a third of the country's vegetables, like this Napa cabbage, and two-thirds of the country's fruits and nuts​.​
Napa cabbage is known for its ruffled leaves and succulent stems. It is generally less pungent, and has a mild and slightly sweet taste.
When shopping for Napa cabbages look for medium-sized heads of cabbage that are dense with firm stems and fresh light-green leaves. A nice cabbage should feel heavy for its size and be free of any blemishes or black dots.
Let's make Melting Napa Cabbage!!!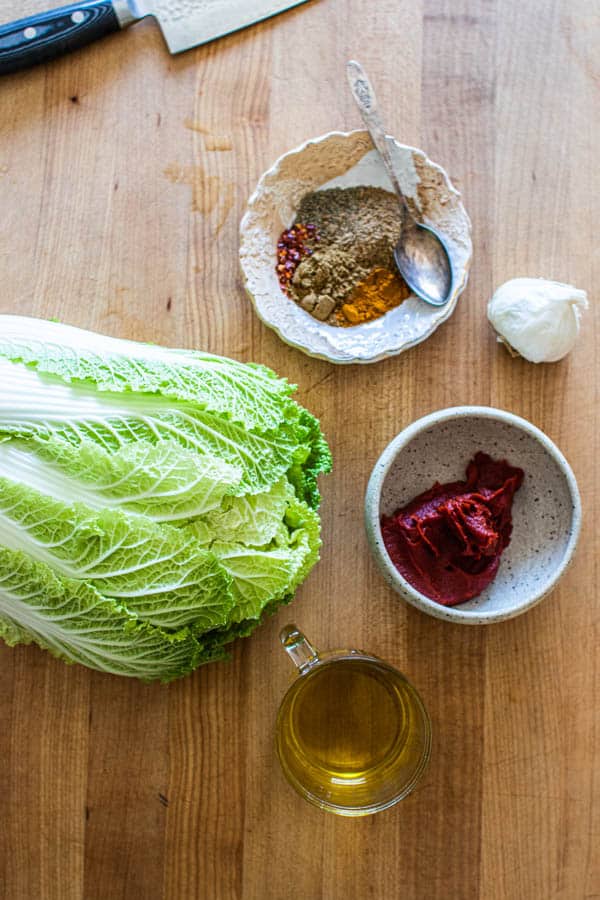 Gather the ingredients.
Not much is required for this Melting Napa Cabbage recipe just the cabbage, olive oil, tomato paste, garlic, and spices.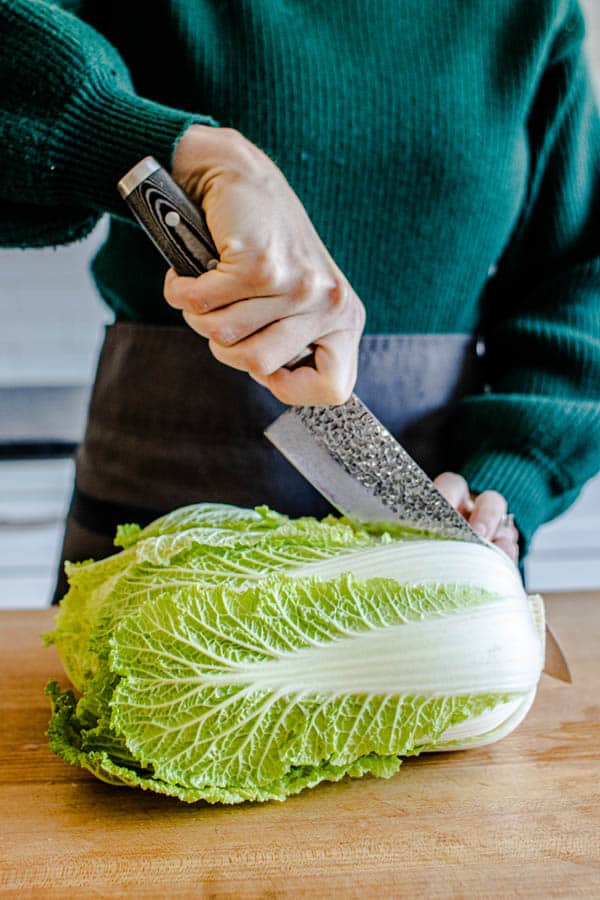 Break down the Napa cabbage.
Use a large knife to slice the Napa cabbage in half starting at the core and working your way through.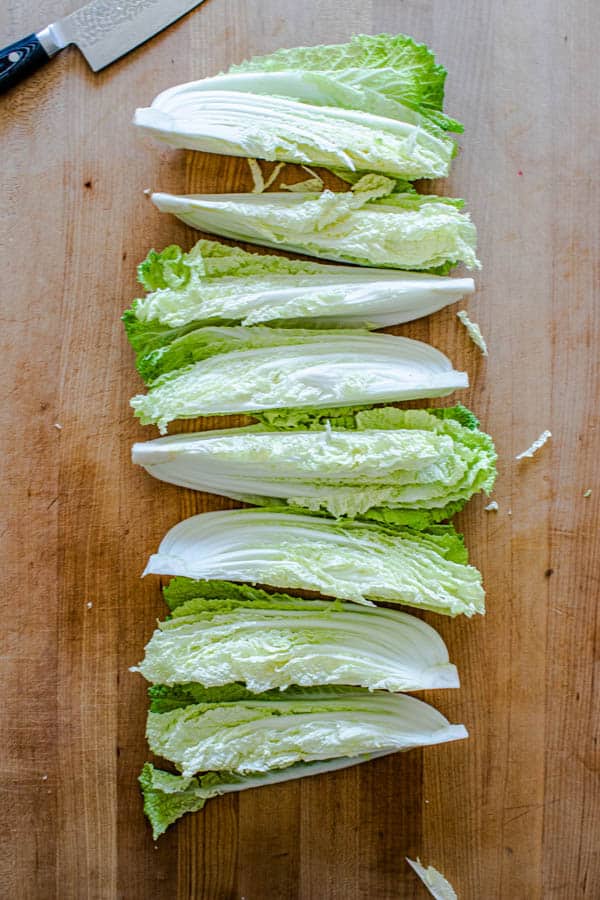 Slice it into quarters.
Again, working from the core towards the end of the leaves and slice each half of the Napa cabbage into quarters.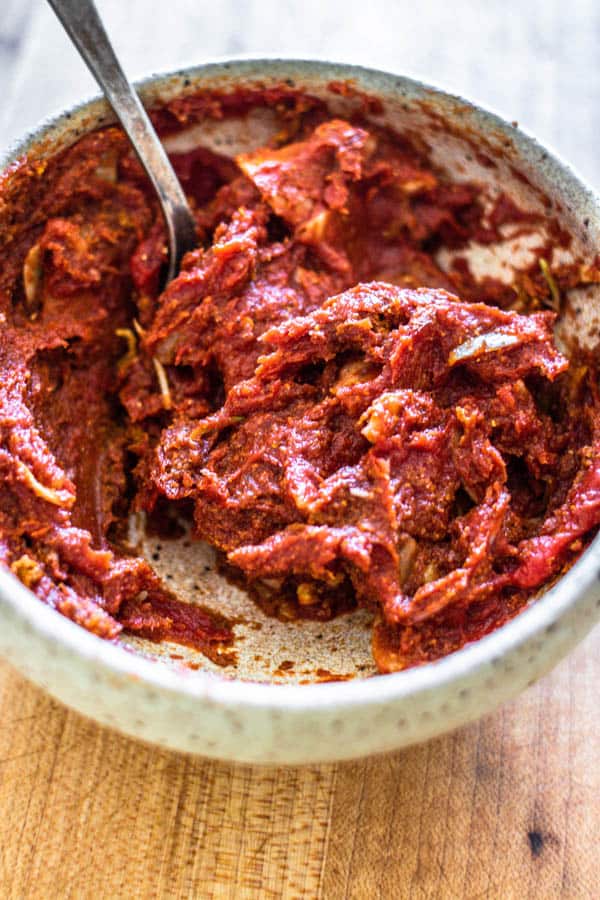 Make a flavor bomb!
Before you go any further combine the tomato paste, garlic, cumin, coriander, turmeric, red pepper flake, and black pepper. Stir well, this is essential to ensure that when you cook down the tomato paste later the spices won't burn.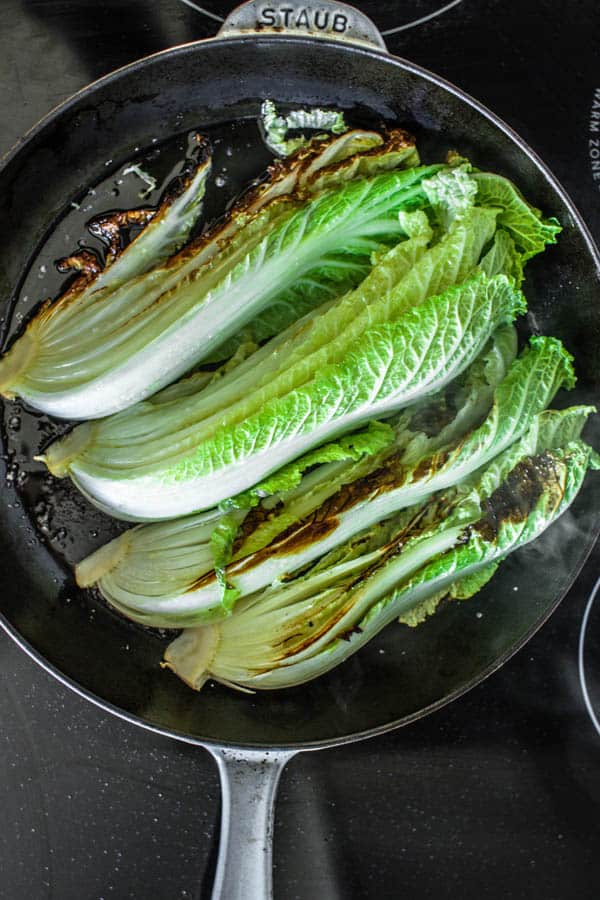 Sear those wedges!
This step is best done in two batches. Heat half of the olive oil in the skillet over med-high heat. Add the Napa cabbage wedges, sprinkle with kosher salt and sear for 2-3 min per side. Remove from the skillet and set aside.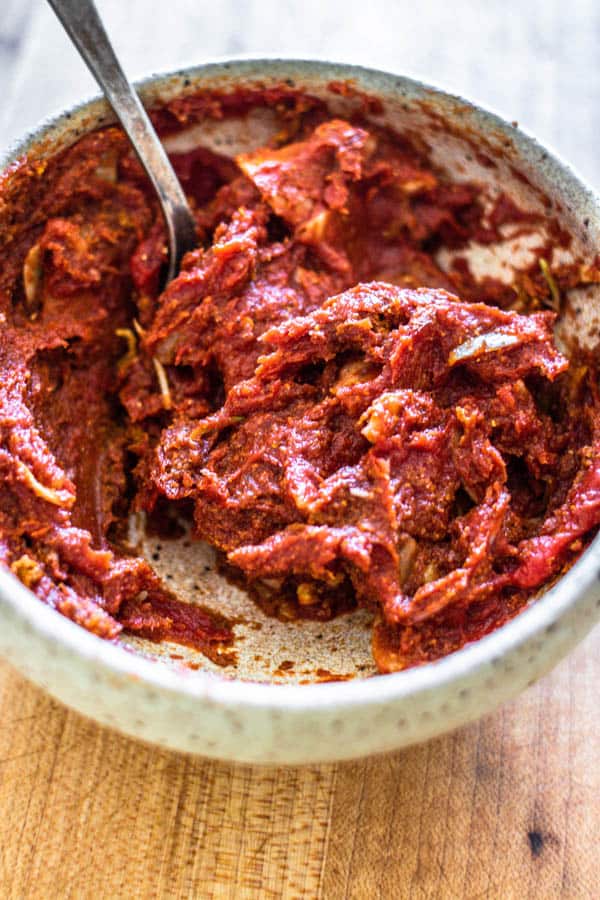 Toast the spice paste.
Add the remaining olive oil to the pan over medium heat. Then add the premixed tomato spice paste. Now stir, stir, stir for about 2-3 minutes!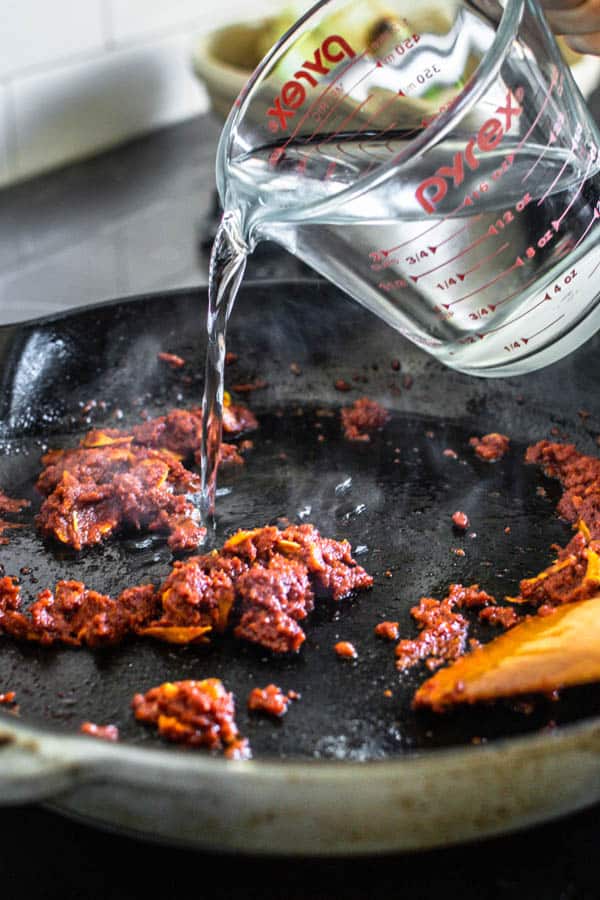 Broken is good. Now make a broth!
By the end of the cook time the tomato paste mixture should have broken like in the picture and become a much darker shade of red.
Now add 1 – 1 1/2 cups water. The liquid should come about halfway up the sides of the skillet. Stir until smooth, season with salt and bring to a simmer.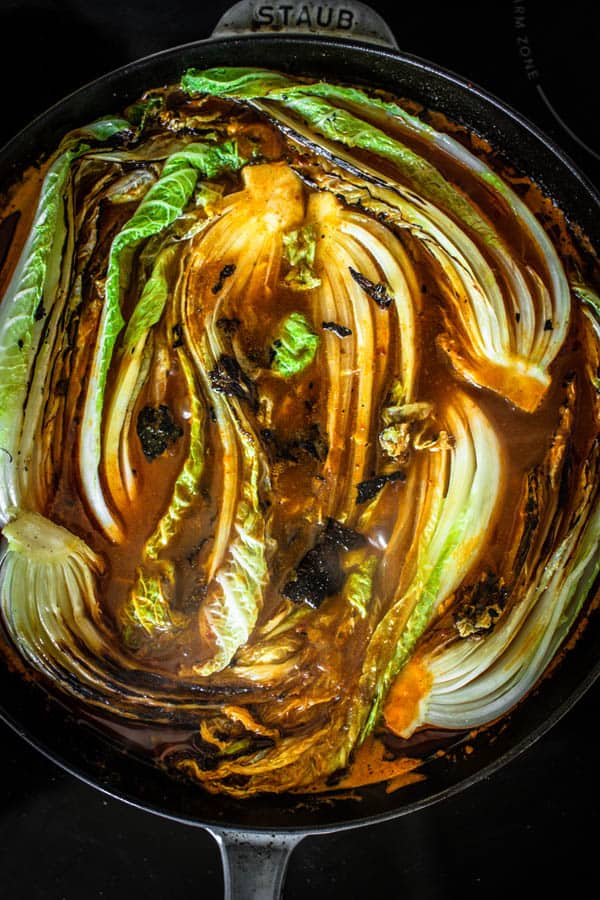 Nestle in the Napa cabbage!
It's time for your pre-seared cabbage to take a trip to flavor town!
Arrange the cabbage, slightly overlapping if necessary, around the skillet and transfer, uncovered to the oven.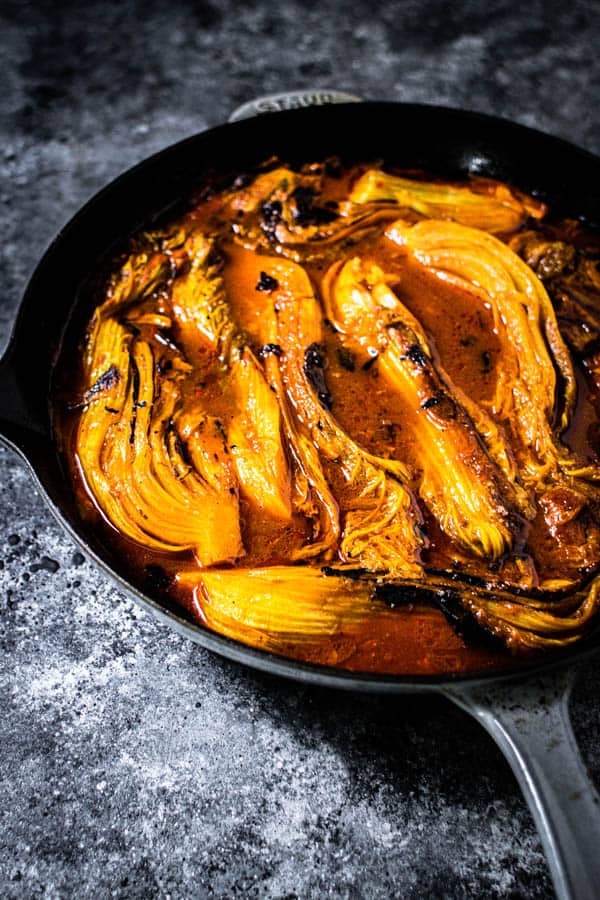 Bake for about an hour
The exact timing will vary slightly based off of how large your Napa cabbage was to begin with, but 40-50 minutes, turning the cabbage once, is the sweet spot.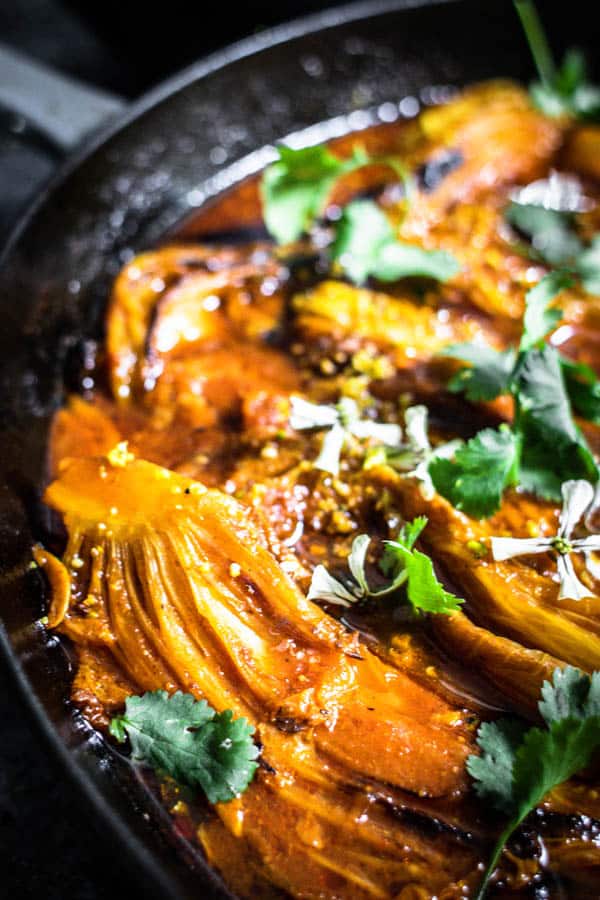 Dress it and serve!
There are a million and one ways to garnish this Melting Cabbage, but we really love cilantro, a few edible flowers like these arugula flowers, and sometimes even a dollop of plain yogurt or sour cream on the side.
We really like a little added crunch, so I also added a savory pistachio crumble on top.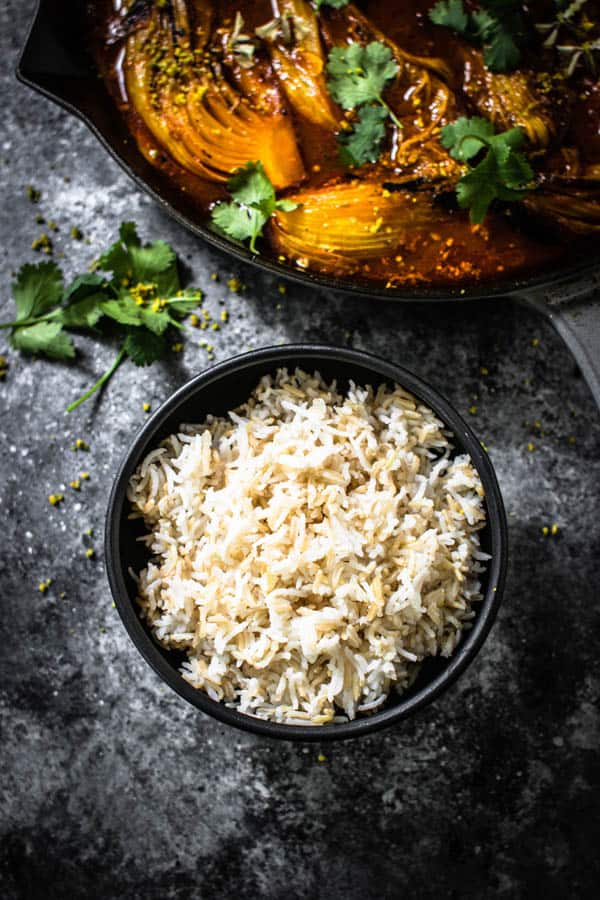 What to serve with this Melting Napa Cabbage recipe.
This Melting Napa Cabbage is wonderful served as a side dish, but it is hearty enough when served with a side like this 50/50 brown and white rice from the G Free Foodie to be a vegetarian main dish too.
More delicious Napa Cabbage recipes you should try!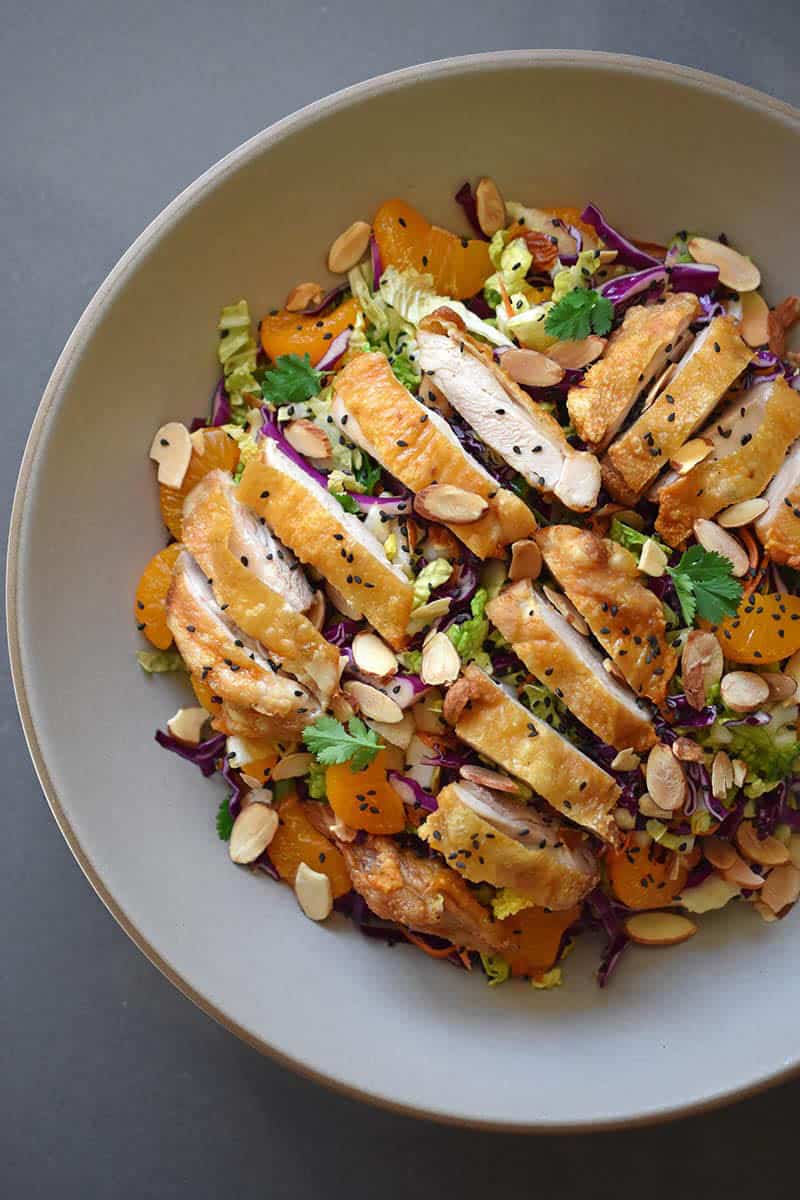 This colorful, tangy, umami-packed Whole 30-friendly Chinese Chicken Salad from Nom Nom Paleo hits the spot every single time!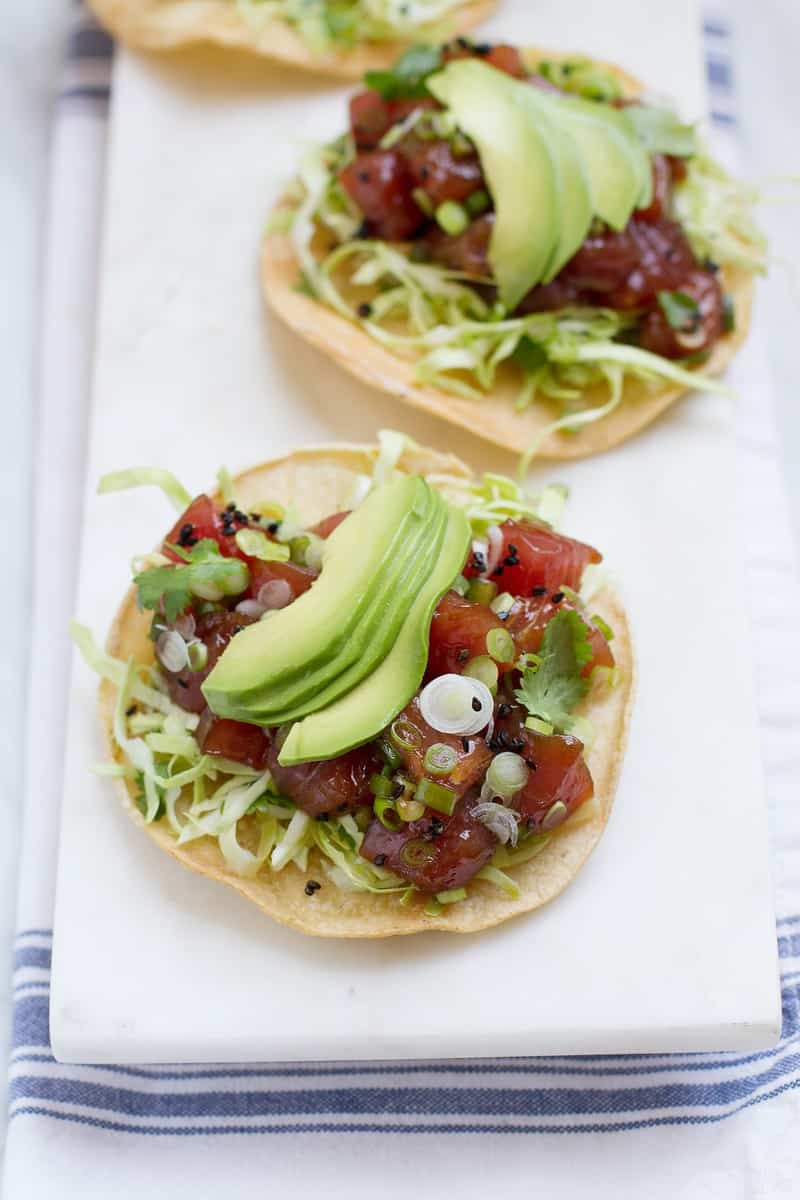 We can't get enough of the Napa Cabbage slaw that is the base for these Hawaiian inspired Ahi Poke Tostadas from Salt and Wind.
Share your creation with us by snapping a pic and tagging us on social using #CAGROWN.
Craving more CA Grown goodness? Follow us on Pinterest for fresh and fabulous recipe inspo!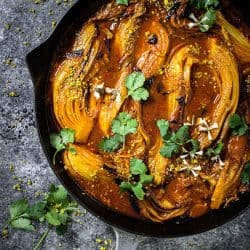 Melting Napa Cabbage recipe
Rich and garlicky with a sultry, robust flavor and just a hint of spice, this Melting Napa Cabbage recipe is easy to make, but it tastes like it slow braised in the oven all day!
Ingredients
For the Melting Napa Cabbage
1 head Napa Cabbage
1/3 cup concentrated tomato paste
4 garlic cloves sliced very thin or grated
1 1/2 teaspoons ground coriander
1 1/2 teaspoons ground cumin
1/2 teaspoon ground turmeric
1/2 teaspoon crushed red pepper flakes
1/2 teaspoon coarsely ground black pepper
1/2 cup extra-virgin olive oil divided
1/2 tablespoon coarse Kosher salt divided
3 tablespoons cilantro leaves for serving
1 tablespoon edible flowers optional, we used arugula flowers
For the optional Pistachio Crumble Topping
1/3 cup raw pistachios
1 small garlic clove
2 tablespoons hemp hearts
1 tablespoon nutritional yeast
1 tablespoon extra-virgin olive oil
1/4 teaspoon garlic powder
1/2 teaspoon coarse kosher salt more or less to taste
Instructions
Prepare the Melting Napa Cabbage
Preheat the oven to 350°F (190°C).

Cut the Napa cabbage in half through the core then cut each half into quarters. You will have 8 Napa cabbage wedges. Set aside.

In a small bowl combine the tomato paste, garlic, coriander, cumin, turmeric, and black pepper. Stir to combine completely. Set aside.

Heat 1/4 cup of the olive oil in a large cast-iron skillet over medium-high heat. Working in batches, if necessary, add as many cabbage wedges into the skillet cut side down as will comfortably fit. Season with the coarse kosher salt. Cook, turning once, until lightly charred, about 2-3 minutes per side. Transfer the seared cabbage to a plate and repeat with any remaining cabbage quarters.

Carefully, wipe out the skillet and reduce the heat to medium. Add the remaining 1/4 cup olive oil to the skillet, once warm and beginning to shimmer add the spiced tomato paste mixture. Heat, stirring constantly, until the tomato paste begins to split and darken in color, 2-3 minutes.

Add enough water to the skillet to come halfway up the sides, about 1 – 1 1/2 cups total. Season the liquid with salt and bring to a simmer.

Nestle all of the seared cabbage wedges into the simmering tomato broth, overlapping if necessary. Transfer the cabbage to the oven and bake, uncovered, turning the cabbage wedges once about half way through, about 40-50 minutes. The cabbage should be falling apart tender when cooked completley.

Serve immediatley garnished with cilantro leaves and pistachio crumble if using.
Prepare the optional Pistachio Crumble Topping
While the cabbage is cooking, combine the raw pistachios and garlic clove in a food processor. Pulse until broken down into similar sized pieces, but don't process so long the pistachios turn into pistachio butter.

Add the remaining ingredients to the food processor and pulse 4-5 times to combine. Store tightly covered. Refrigerate for up to 3 weeks.
Notes
Substitutions:
You can use a head of green cabbage for this recipe as well, but you will need to increase the cooking time by at least 1o minutes probably more.
Glass cooktops:
If you have a glass cook top you will need to reduce the stove top cooking temperatures significantly. Cast iron heats quickly and will retain a lot of heat even when you turn the temperature down because the glass surface remains hot. It is very easy to burn your ingredients on a glass cook top if not tended carefully.
Spiced tomato broth cooking notes:
If the spiced tomato broth reduces to the point where the pan starts getting dry and dark before the cabbage is ready, add a splash of water to loosen it up and keep baking for 5-10 minutes longer.
Click here to view the Google Web Story for this post.
Frequently Asked Questions
How many leafy greens should I eat a day?
The USDA recommends two to three cups of vegetables per day for adults. But because greens aren't very dense, it actually takes about two cups of raw greens to make the nutritional equivalent of a one-cup serving of vegetables. That's also true for sturdier leafy greens such as kale, chard, collards, and bok choy.


Is cabbage good for you?
Cabbage has 1 gram of fiber for every 10 calories. That helps fill you up, so you eat less. It also keeps you regular, and it could help lower your "bad" (LDL) cholesterol and control your blood sugar. Cabbage also has nutrients that keep the lining of your stomach and intestines strong.