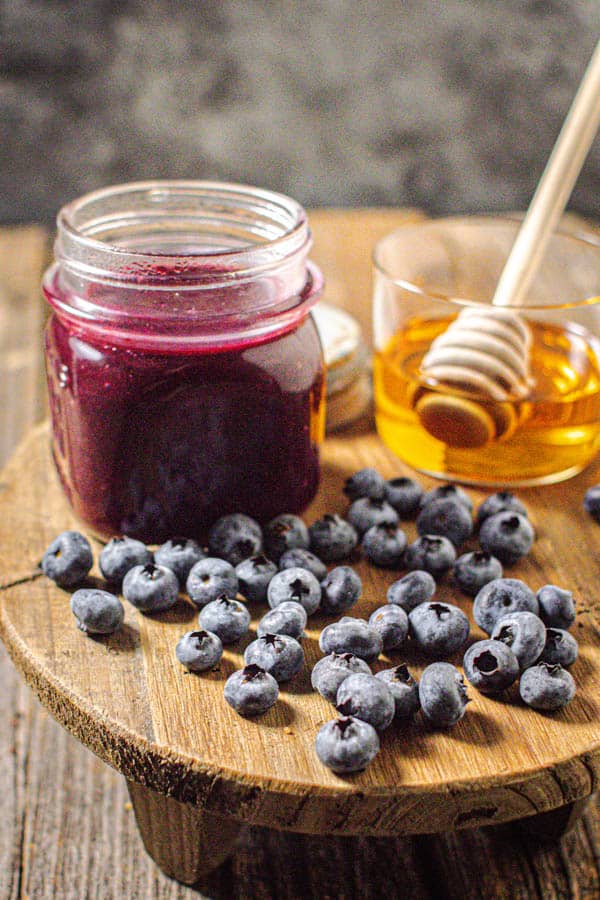 CA GROWN Blog
Discover. Learn. Connect.
Your Soon to be Favorite, Blueberry Jalapeño BBQ Sauce Recipe
March 23, 2021
Eat the Season!
Sign Up For Weekly Recipes
« Back to Recipes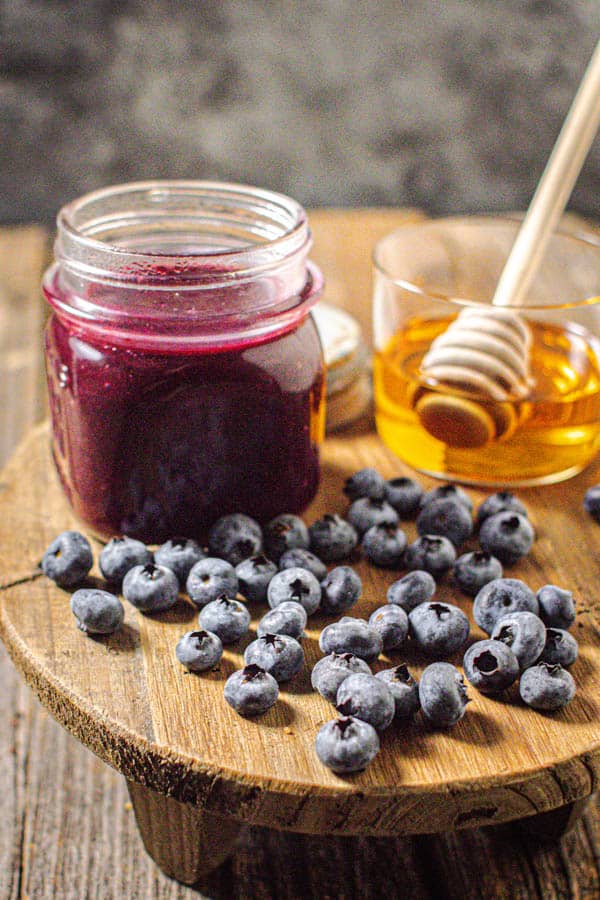 Your Soon to be Favorite, Blueberry Jalapeño BBQ Sauce Recipe
Fresh California blueberries take on a savory role in this simple, 15 minute Blueberry Jalapeño BBQ sauce recipe.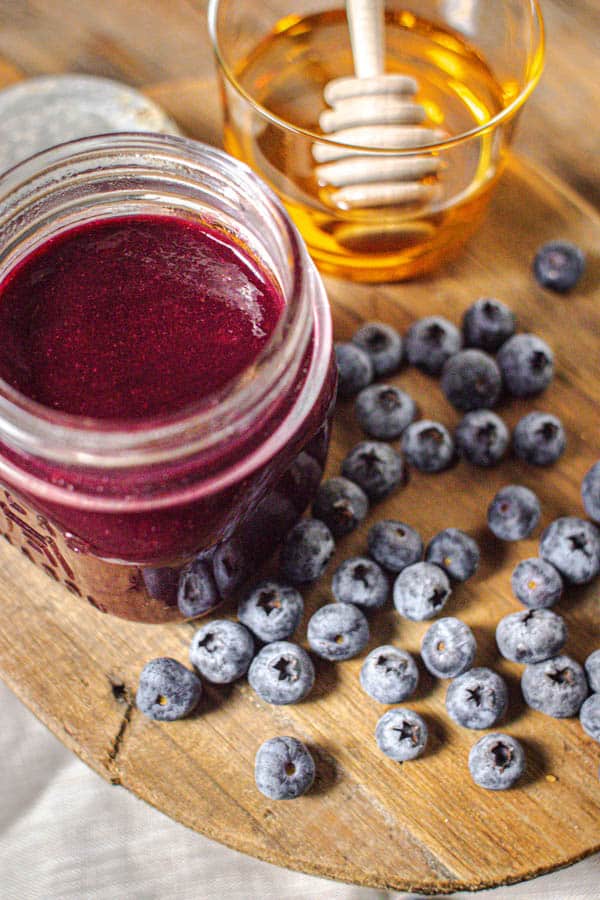 This BBQ sauce recipe is a little bit sweet mixed with just the right amount of heat and a whole lot of twang! You can slather this savory blueberry BBQ sauce in the place of traditional BBQ sauce in any recipe. We particularly love it on our Tailgate Chicken though!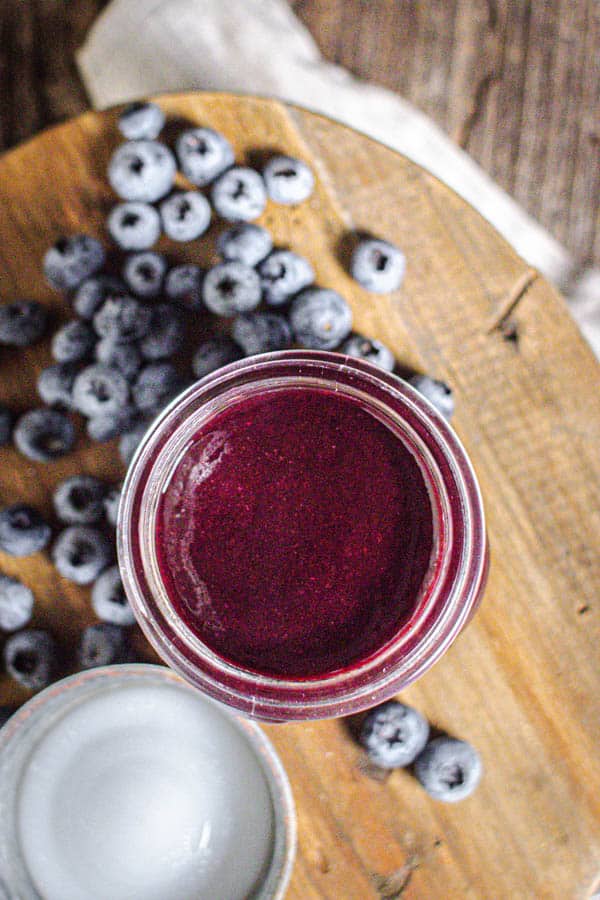 Ever wondered how to make BBQ sauce from scratch? It's actually super easy!
To make this blueberry jalapeño BBQ sauce recipe, you will need the following ingredients (amounts included in the full recipe below):
Fresh California blueberries: ​The blueberry may be small, but it's no youngster. Botanists estimate blueberries burst onto the scene more than 13,000 years ago! Their sweet tart flavor contrasts wonderfully with the twang of white balsamic vinegar in this BBQ sauce recipe.
White Balsamic Vinegar: This vinegar is milder and slightly less sweet than the regular Balsamic vinegar with a little more acidic flavor.
Honey: We opted for honey as the natural sweetener in this BBQ sauce recipe. You could also sub in brown sugar or maple syrup.
Jalapeño: This is where our BBQ sauce gets its kick of heat! Use the whole jalapeño if you like it really hot or remove the seeds and ribs for less heat.
Onion: We used red onion here, but you can use any onion that you have on hand.
Garlic: The pungent flavor notes of garlic meld beautifully with blueberries. As the sauce cooks down, the garlic looses its spicy bite and mellows out lending a more mellow flavor to the finished sauce than one would expect .
Ketchup: Lends a rich tomato flavor to this BBQ sauce.
Worcestershire sauce: If making this sauce vegetarian, be sure to use a vegan brand of Worcestershire.
Chili powder: This spice blend is packed with spices that lend this sauce a smoky flavor profile.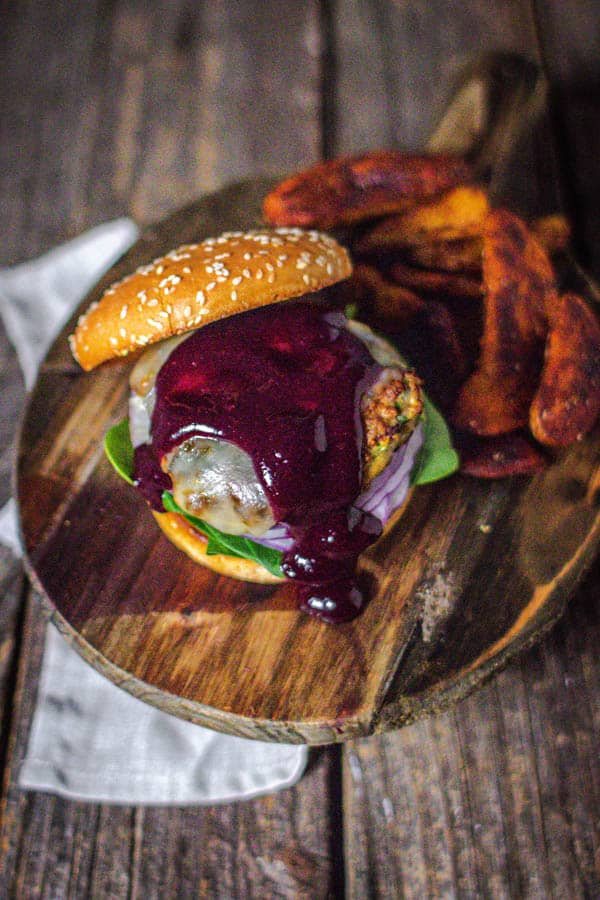 While we are aware that blueberries in BBQ sauce might seem odd, we feel certain that if you give our Blueberry Jalapeño BBQ Sauce recipe a try that you will be hooked!
We love this BBQ sauce slathered on everything from grilled chicken to ribs, but we really love this BBQ sauce recipe when it is smothering a juicy turkey burger like this one from This Mess is Ours!
Looking for more savory ways to savor fresh blueberries?
We all know that blueberries are great for things like muffins and pastries, but don't stop there! Blueberries trademark tart/sweet flavor combo makes them perfect for pairing with savory dishes too!

Our Blueberry California Avocado Salad pairs the sweetness of fresh blueberries with the creaminess of California avocados and a variety of leafy greens!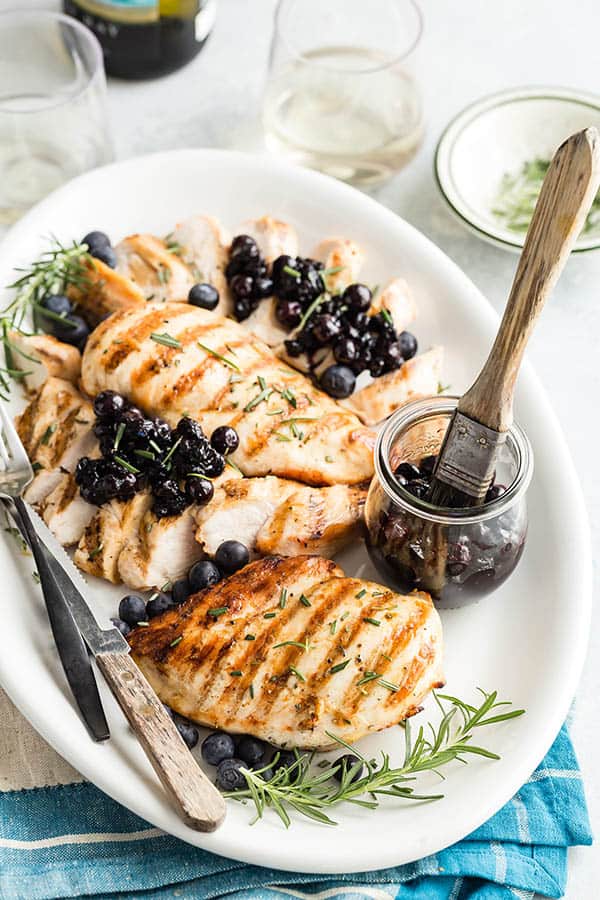 Only 24 minutes to dinner perfection when this grilled chicken topped with a melt-in-your-mouth blueberry relish is on the menu. This Grilled Chicken with Blueberry Relish recipe from the Blueberry Council is sure to be a hit on your dinner table this grilling season! You can also check out another blueberry-based BBQ sauce recipe: these Sheet Pan Chicken Legs with Blueberry Zinfandel Barbeque Sauce from A Girl Defloured look delicious.
Curious what a day in the life of a blueberry farmer is like?

Click here to meet Mark Sorensen of Triple Delight Blueberries! Mark is a fifth generation farmer who knew he wanted to be a farmer since he was seven years old. Mark is also a father of three girls, soon to be a grandfather, past President of the Fresno County Farm Bureau and very active in the Caruthers community.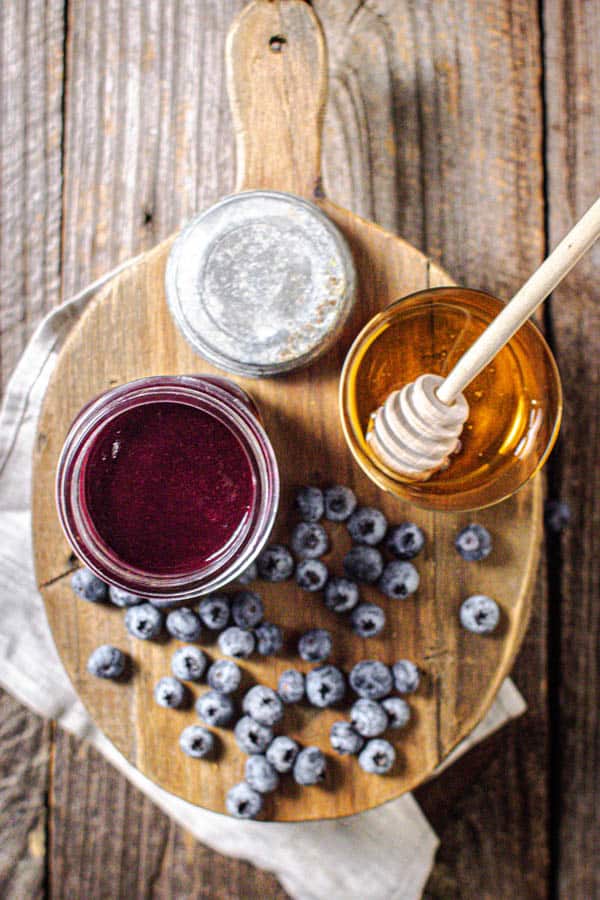 When you make this recipe be sure to snap a pic and tag us on social using #CAGROWN! We just love to see what you are cooking up in your kitchen!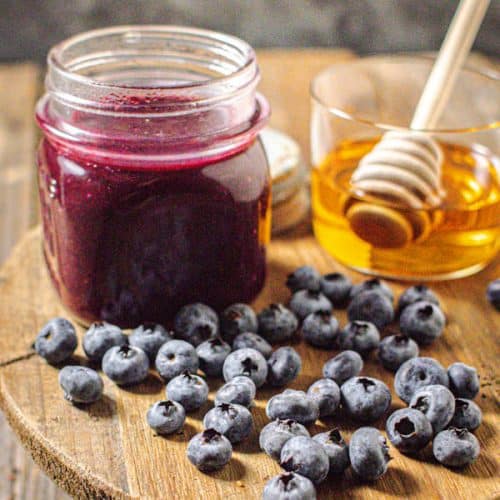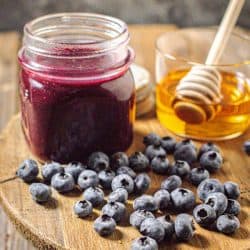 Blueberry Jalapeno BBQ Sauce Recipe
This Blueberry Jalapeño BBQ sauce recipe combines tart fresh blueberries with jalapeño, honey, and a myriad of smoky BBQ inspired spices!
Ingredients
2 1/2 cups fresh blueberries
1/2 cup white balsamic vinegar
1/2 teaspoon kosher salt
1 small jalapeno seeds and ribs removed if desired
2 tablespoons red onion roughly chopped
3 tablespoons honey
3 tablespoons ketchup
2 cloves garlic roughly chopped
1 teaspoon chili powder
1/2 teaspoon Worcestershire sauce
Instructions
Combine all of the ingredients in a medium sized saucepan over medium-high heat.

Bring to a boil, then immediately turn the heat down to a simmer. Cook for 15 minutes, stirring occasionally, as the berries start to break down.

Remove the pan from the heat and cool slightly before blending until smooth.

Store in a tightly sealed container in the refrigerator for up to 1 week.
Notes
Brush this BBQ sauce over grilled chicken, pork chops, turkey burgers, or even ribs! Because of the high sugar content in the berries it is best to slather this sauce on at the end of the cook time or when serving as opposed to earlier in the cooking process. This will prevent the sugars in the sauce from burning.
Click here to view the Web Story
Frequently asked questions about blueberries.
HOW MANY BLUEBERRIES ARE EQUAL TO ONE SERVING SIZE?
Blueberries do come in a variety of size classifications, from small (190-250per cup) to extra large (<90 berries per cup). One serving size of fresh blueberries is equal to one cup, or 140 grams. This contains 80 calories with no fat, cholesterol, or sodium. One serving also contains 5 grams of dietary fiber, 19 grams of total carbohydrates, and 1 gram of protein. ​
IS THERE ANY WAY TO RIPEN BLUEBERRIES YOURSELF?
Place an apple in a bag with your blueberries. The ethylene from the apple will cause the blueberries to ripen faster.
HOW DO YOU PROPERLY FREEZE BLUEBERRIES?
Freezing your blueberries is a great way to enjoy your fruit throughout the year. After you buy fresh blueberries, place them in a single layer on a cookie sheet. Be sure to not wash the blueberries before freezing. After they are frozen, transfer to an air tight plastic bag or freezer container and store. When you are ready to use your blueberries, take them out and wash them prior to using. ​
Craving more CA Grown goodness? Follow us on
Pinterest
for fresh and fabulous recipe inspo!