Meet a Farmer: Mark Sorensen of Triple Delight Blueberries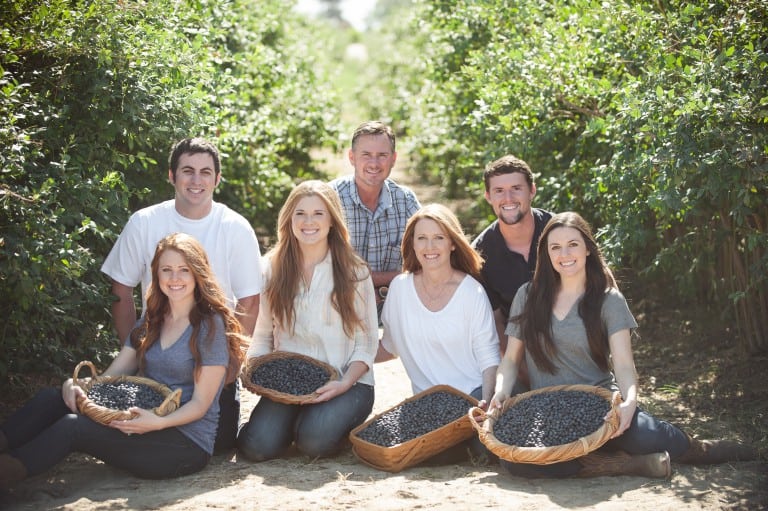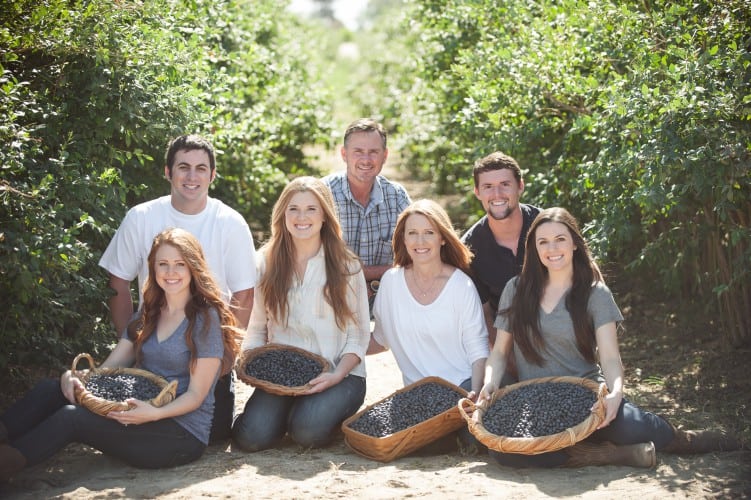 Meet Mark Sorensen, a fifth generation farmer who knew he wanted to be a farmer since he was seven years old. Mark is also a father to three girls, soon to be grandfather, President of the Fresno County Farm Bureau and very active in the Caruthers community. Learn more about Mark below!
CA GROWN: What are you doing today?
Mark: Well right now we're in the middle of a busy blueberry season. For us that means, going to the bay area every week to sell blueberries at farmer's markets. Just this morning I helped my son-in-law get on the road with a load of blueberries to take to the bay area farmer's markets. I also met with our blueberry harvesting crew boss to discuss what varieties we are picking today. I went out and was checking several vineyard pumps to make sure they are right and ready to go for irrigation. I checked on some repairs for our raisin harvesting equipment because we are also in the raisin harvesting business. We're also in the middle of picking grape leaves so I was checking in with that crew. And all of this was before 11:00 this morning. This is definitely the time of year when you can't say let's leave it for tomorrow. I love how everyday is different.
CA GROWN: What is your favorite thing about farming?
Mark: Definitely being outdoors every day and being able to see first hand the fruits of my labor, I mean literally see the fruits of my labor. I love to see the daily changes of the plants during the growing season. And I love that no two days are the same. Tomorrow will be a different day than today.
CA GROWN: How do you give back to the community?
Mark: Well I really believe in volunteerism and serving my community. I've served on many boards throughout my life. One of the things I've done is I've chaired a committee that's called the Caruthers Veteran Memorial. It's kind of like the Vietnam wall and has over a thousand names on it. It's very meaningful to me. I'm on my 29th year serving on the board for the Caruthers District Fair. I served 15 years as president of that board all together. I'm also currently the President of the Fresno County Farm Bureau.
CA GROWN: What drew you into the farming profession?
Mark: Well I'm actually a fifth generation farmer. I knew at the age of 7 that I wanted to be a farmer. As a boy I'd ride around with my dad as we checked irrigation and other stuff. I enjoyed the camaraderie and loved sitting and riding around on the tractor. One of my favorite memories is the sight of freshly turned dirt. I love the smell. It's just a part of me. No one said I had to do this; my dad didn't make me it's just what I wanted to do.
CA GROWN: What are your hobbies or pastimes when you're not farming?
Mark: I would say more importantly than being a farmer to me is that I'm a dad. Over the years my three daughters and their activities took up a lot of my extra time. They've all been involved in sports. I spent much of my time at games and matches. My youngest daughter's final year playing college volleyball is going to be this fall. So I'm looking forward to watching that. I never really had a hobby they were my hobby. This summer I'll be becoming a grandfather for the first time so I'm assuming there will be a lot more of that.
CA GROWN: What advice would you give to someone who wants to become a farmer?
Mark: Well you really have to have the desire deep in your heart to be a farmer. You have to love the land and be passionate about what you're growing. There's going to be many mountains and valleys that you encounter and if you love it you have to find a way to make it work. You also have to be patient about the end result because sometimes the end result doesn't come until years down the road. You have to figure it out by trial and error. If you are willing to work long enough you learn with experience. For example, my first year of farming there was a huge rain event on our raisins on the ground and if I didn't have crop insurance that year I probably wouldn't have survived beyond the first year. When you have it in your heart you're going to continue on and persevere despite the not so good years.