Meet a Farmer: Julia Inestroza of Tenalu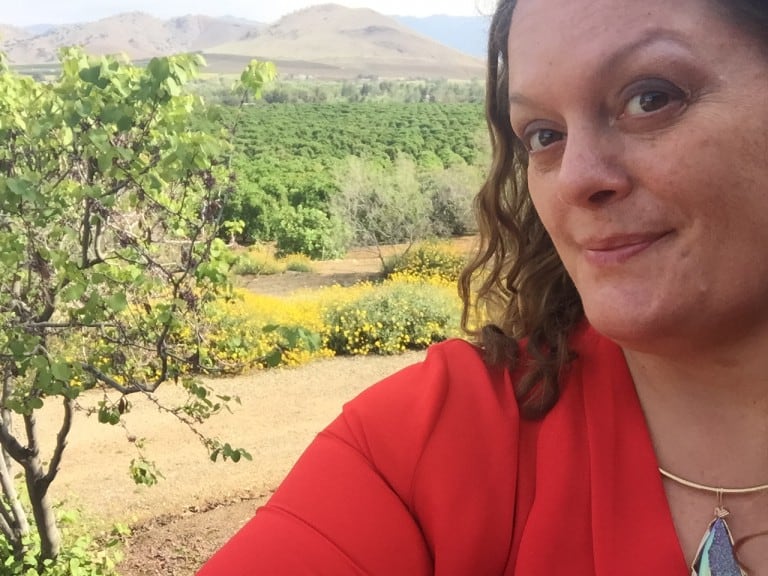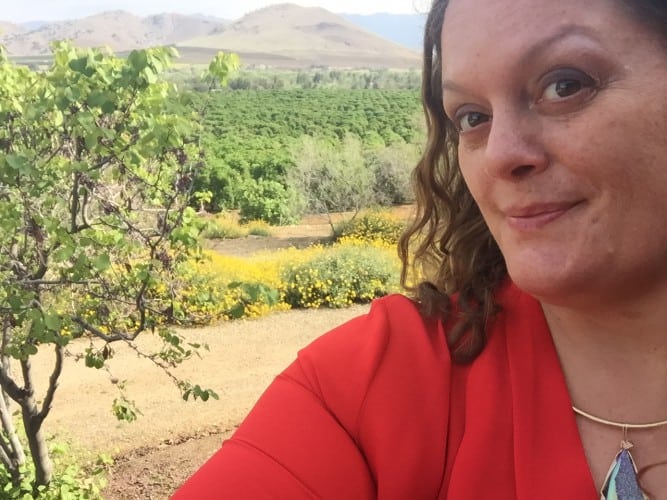 Meet Julia Inestroza, a California Ripe Olive grower whose family has been farming since 1917! After getting a degree in economics and working at a .com and as a marketing director Julia was drawn back home to run the family farm. Learn what Julia is up to on the farm!
CA GROWN: What are you doing today?
Julia: Well today I started off the day by surveying the water situation; we've had a lot of rain lately. So we're trying to see if we need to have some trees removed. We can't get large equipment into the grove right now because it's too wet, which is a good problem to have. We are also in the middle of harvest. On my to-do list is a final prep for our organic audit that's coming next week. We had decided to transition one hundred acres to organic about three years ago. Next week is our audit and official certification comes mid-April.
CA GROWN: What is your favorite thing about farming?
Julia: My favorite thing about farming is being able to grow a product that is healthy and nutritious and that people absolutely love. It's really rewarding to search online, on Facebook and Instagram and search our hashtags and see pictures of people enjoying our fruit. It makes it all worthwhile.
CA GROWN: How do you give back to the community?
Julia: Well there are so many different communities we're a part of. We give back to our employees; we started a communal garden about 4 years ago. We all bring seeds early spring and we plant them all together. It's pretty cool to have them come back to work on Monday and see it all. My husband and I are both actively involved in the community. We are both active on boards for school foundations. I am involved with the Emerging Agriculture Tech Pathway program at a local high school. It's about getting kids interested in agriculture at a high school level. I've also volunteered a lot with the Produce Marketing Association.
CA GROWN: What drew you into the farming profession?
Julia: I grew up on the farm. I worked on the farm every weekend and every free moment I had. I dug ditches and did everything I possibly could. I stated when I was 12 that I didn't want anything to do with the farm or agriculture. I said I was going to be a banker. I got a degree in economics and got a job at a .com, a business-to-business .com in the food industry. I was drawn to the fresh produce side of things. Then I became marketing director for a fresh produce company in LA and realized how much I missed being on the farm and how much I missed farming. And about 4 ½ years ago I decided with my husband and parents to come back to run and manage the farm. I definitely came full circle when we came back. We're really excited because this coming year it is the 100th anniversary of our family's ranch.
CA GROWN: What are your hobbies or pastimes when you're not farming?
Julia: My hobbies are honestly hanging out with family and traveling. My husband is a trained chef in addition to being a farmer. So we love to cook and we love to eat. And we do a lot of creative art projects at my house with my 7 year old. I have a lot of varied interest.
CA GROWN: What advice would you give to someone who wants to become a farmer?
Julia: I would ask them to be really honest with themselves about their risk tolerance because farming is an inherently risky business to be in. But it is a very rewarding business to be in. I'd say to look at the financially sustainable measures out there because it can be really hard to make a living off of farming, so it's good to have a good financial background.