CA GROWN Blog
Discover. Learn. Connect.
A Spectacular Vegetable Enchilada To Make Tonight
January 10, 2023
Eat the Season!
Sign Up For Weekly Recipes
« Back to Recipes
A Spectacular Vegetable Enchilada To Make Tonight
This spectacular vegetable enchilada recipe is a delicious and healthy dinner option you can make any night of the week. Filled to the brim with oven-roasted sweet potatoes, bell peppers, onions, and beans these enchiladas are sure to satisfy.
This is the best homemade enchilada sauce we've ever made!
The real star of the show that sets this enchilada recipe apart from the rest is homemade enchilada sauce from Teri Turner of No Crumb's Left. It has a smoky tomato base and intense flavor from chipotle in adobo and a sultry red wine, balsamic, and prune jam. This enchilada sauce is unlike any you've had before!
Will canned enchilada sauce work in this vegetable enchilada recipe?
You can absolutely use canned enchilada sauce to make this recipe for enchiladas. The final dish won't have the same depth of flavor as one made with Teri's homemade enchilada sauce, but it will still be incredibly delicious.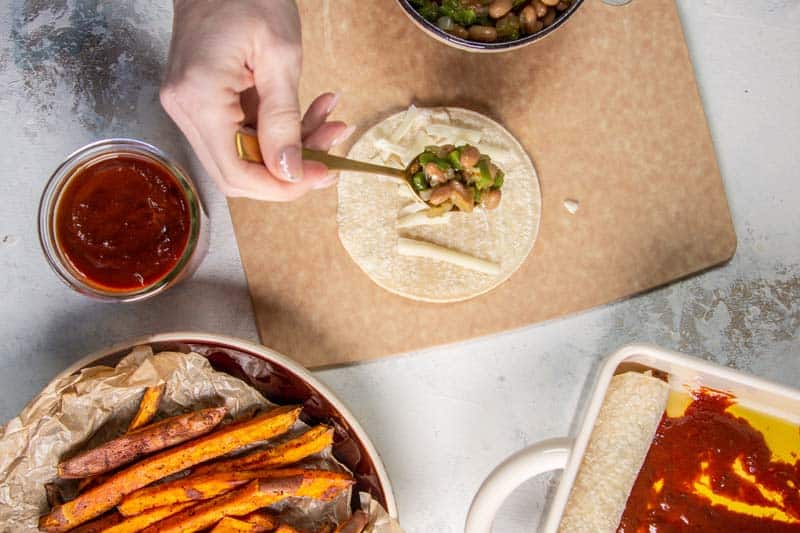 Let's talk about the fillings for this vegetable enchilada recipe.
Now that we've covered Teri's sensational enchilada sauce let's discuss the rest of the components to making this delicious vegetable enchilada recipe.
While you can make this vegetable enchilada recipe with virtually any type of filling your heart desires, we used a combination of California-grown vegetables that are readily available at almost any time of year.
Step-by-step how to assemble a vegetable enchilada.
Assembling enchiladas isn't rocket science, but there are a few things you can do to set yourself up for success.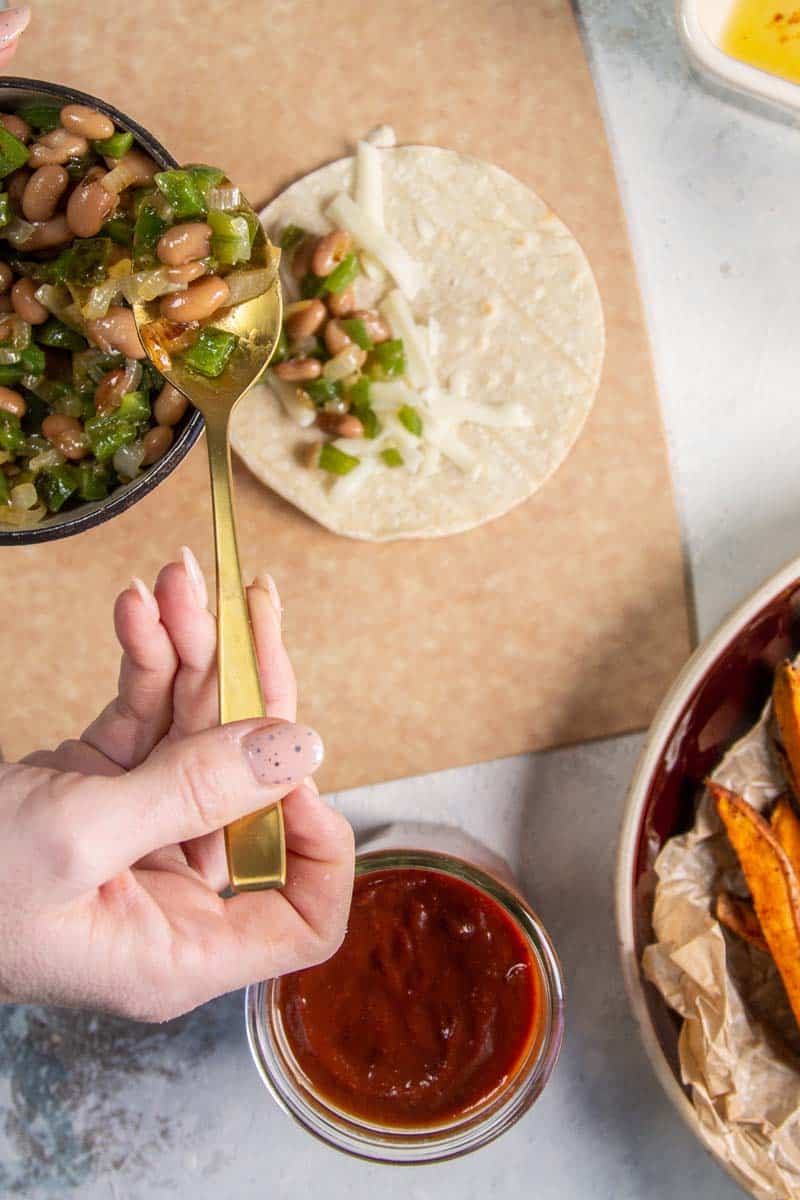 Prep and arrange all of the ingredients in a way that works like an efficient assembly line.
Season each layer individually. No need to go crazy, but make sure each component is set up for success.
Warm those corn tortillas. Please, don't skip this step – it's essential and actually adds to the flavor of the dish in the end. I prefer to warm and slightly toast white corn tortillas on a dry griddle over medium heat, while Teri submerges her tortillas in a warm oil bath to soften.
Don't overstuff – the idea is to swaddle the ingredients snuggly within the tortilla.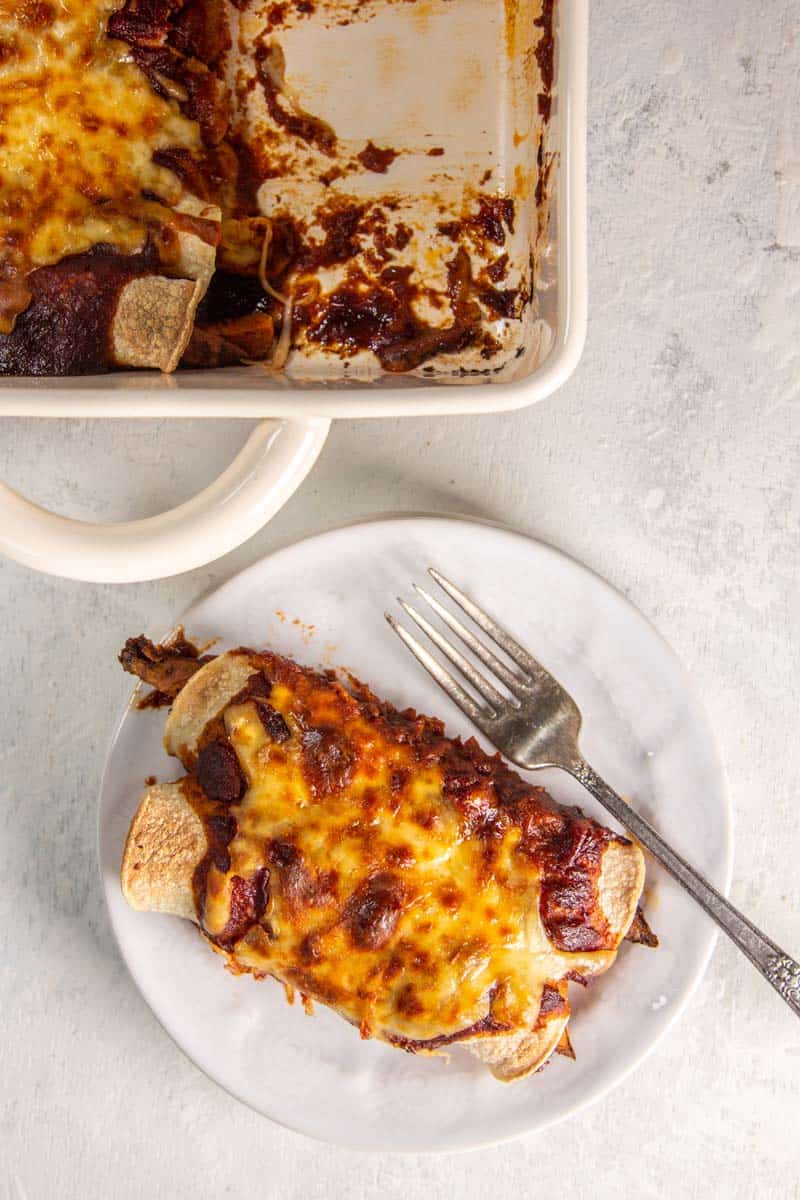 Looking for more enchilada recipes to try? We've got you covered.
Our team of California Grown Creators agrees, we could eat enchiladas every day! There are so many different variations of sauces and fillings that you will never run out of flavor combinations to explore. Here are a few more enchilada recipes that we think you should try soon.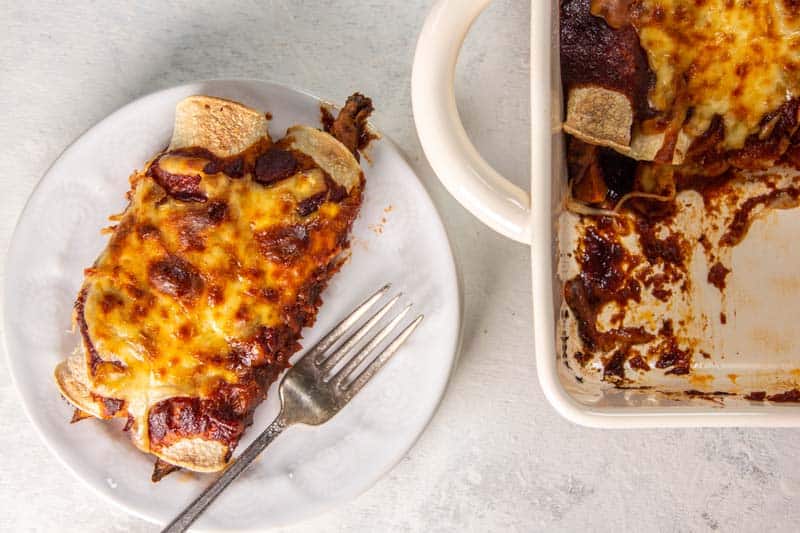 DID YOU TRY THIS VEGETABLE ENCHILADA RECIPE OR CREATE YOUR OWN? SHARE YOURS WITH US BY SNAPPING A PIC AND TAGGING US ON SOCIAL USING #CAGROWN.
Craving more CA Grown goodness? Follow us on Pinterest for fresh and fabulous recipe inspiration!