Meet a Farmer – Krissy Scommegna of Boonville Barn Collective
Meet Krissy Scommegna of Boonville Barn Collective – the largest producer of Espelette Peppers outside of France.
Nestled in the heart of the Anderson Valley, approximately 100 miles north of San Francisco, is the small town of Boonville, CA. While the city is buzzing with urban excitement, walking through downtown Boonville is almost like stepping back in time. Never heard of Boonville? This rural agricultural community, population 960, is possibly best known for having its own dialect, Boontling. If you're a fan of California wines, you may be familiar with the region. Anderson Valley is famous for producing world class sparkling wines and Pinot Noir, but Boonville has an additional claim to fame – it's the number one producer of the coveted Piment d'Espelette pepper outside of France. This pepper may not be a household name (yet!), but it's the not-so-secret ingredient that many chefs use to impart warmth and flavor to some of their signature dishes.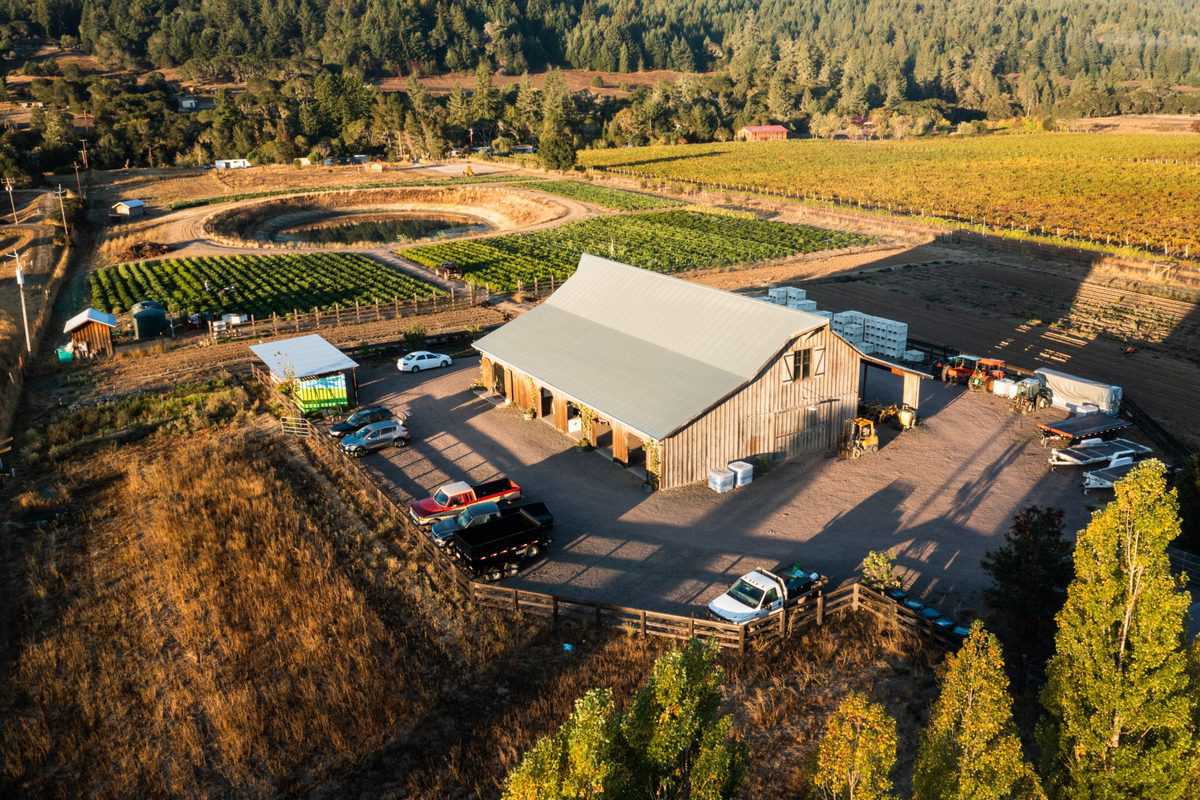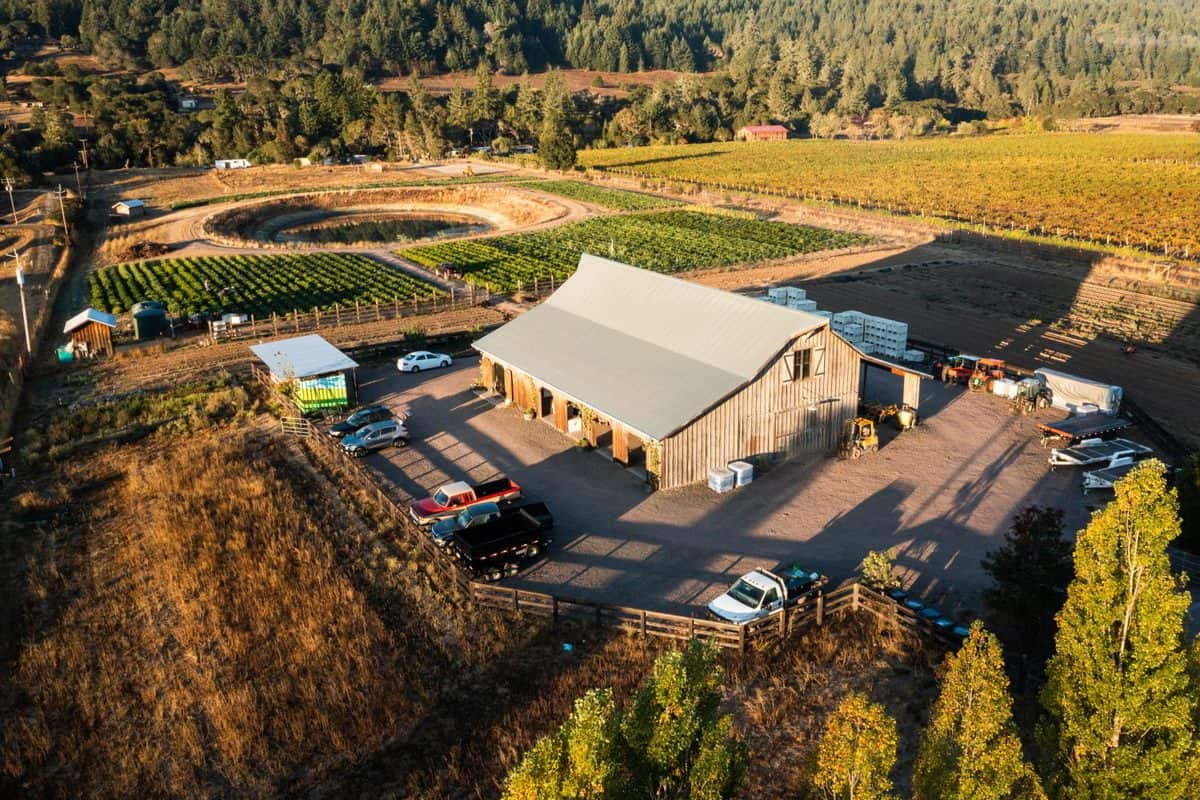 How it all started: Necessity is the mother of invention…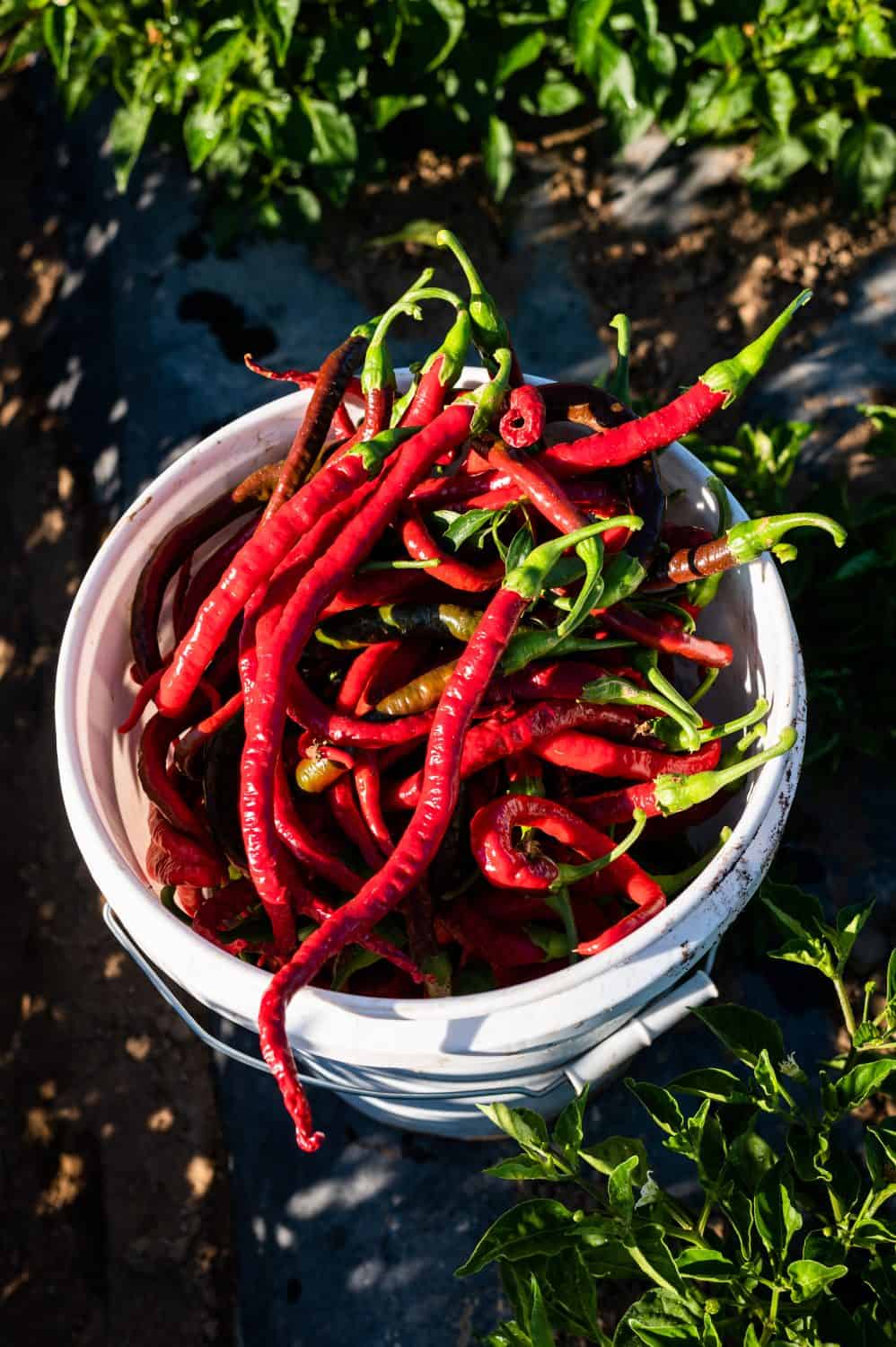 In 2012, Krissy Scommegna was working as a chef at the Boonville Hotel. This farm to table restaurant proudly grows many of their own ingredients in their garden, and sources the rest from local purveyors. One glaring exception was Piment d'Espelette. Piment d'Espelette is a regional designate, meaning true Piment d'Espelette is only grown in the Espelette region of France. The fact that this pepper was expensive to import and not locally sourced led Krissy and the hotel's chef-proprietor, Johnny Schmitt, to wonder, "Could we grow our own?" The odds were in their favor, as Anderson Valley has a similar climate to the Basque region of France where Espelette peppers are grown.
They just needed to figure out where to conduct their "experiment" and who could handle the farming side of things. In a stroke of luck, things just started falling into place. Krissy's father had some unused acreage near the hotel that he allowed them to use. Krissy didn't have to look far to find someone with farming expertise, as her father's vineyard foreman, Nacho Flores, had decades of experience farming everything from corn and tomatillos to- you guessed it- peppers.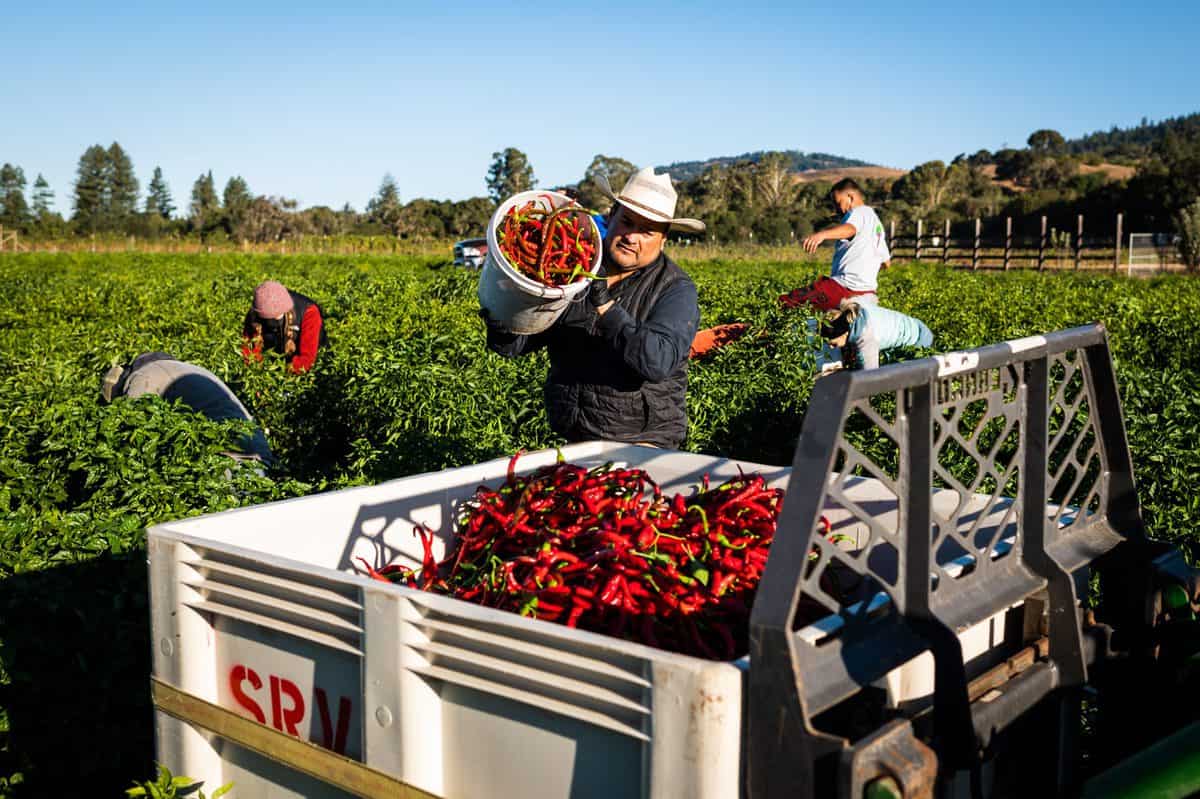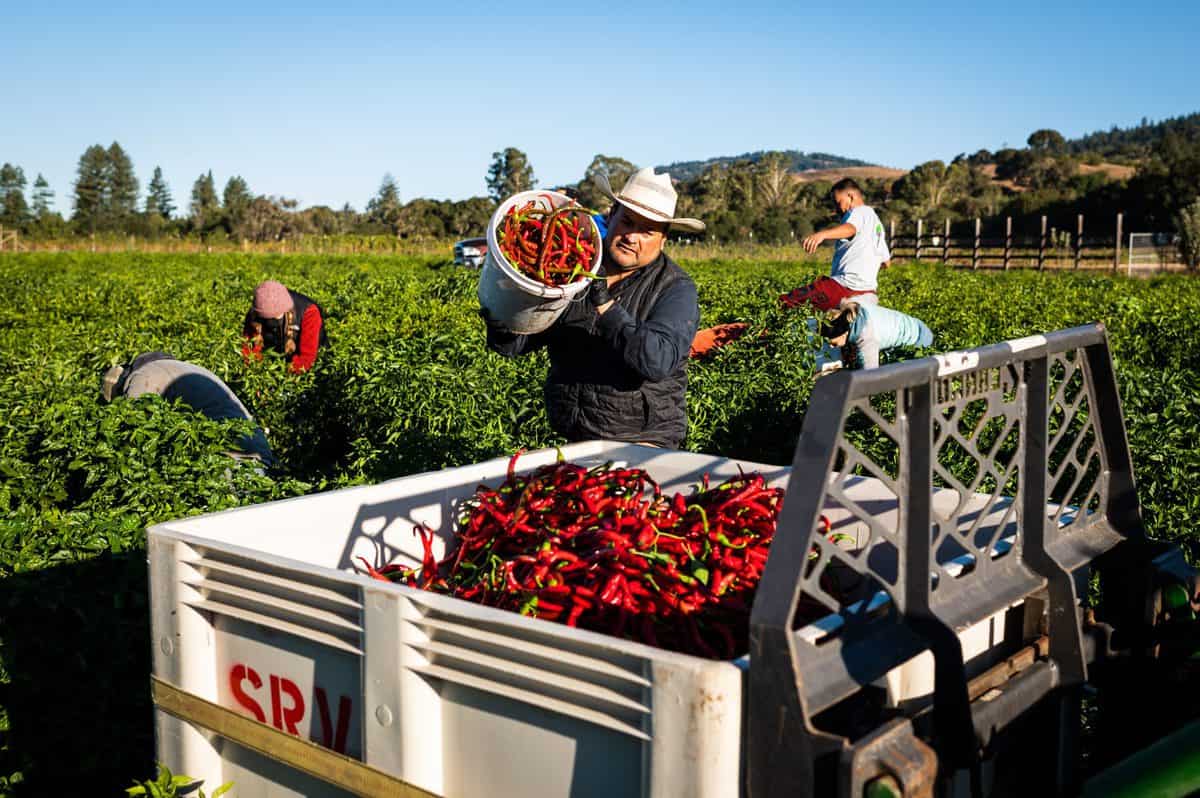 With Krissy working full time as a chef and Nacho working full time at her father's property, the prep for her new project was what Krissy describes as "quick and dirty". She explains, "We've grown this business by trying things and seeing what works rather than backend research, checking for markets or public opinion. We just decide what we want to grow and get people on board with it." In June of 2012, they planted their first fifty plants. A few months later, Nacho walked into the hotel kitchen with his hands overflowing with peppers. He asked Krissy, "I grew them….what do we do next?" Another burning question? – what to call them. In a nod towards the pepper's French origins, the team settled on Piment d'Ville. The name translates to "pepper of Ville" – Boonville, that is.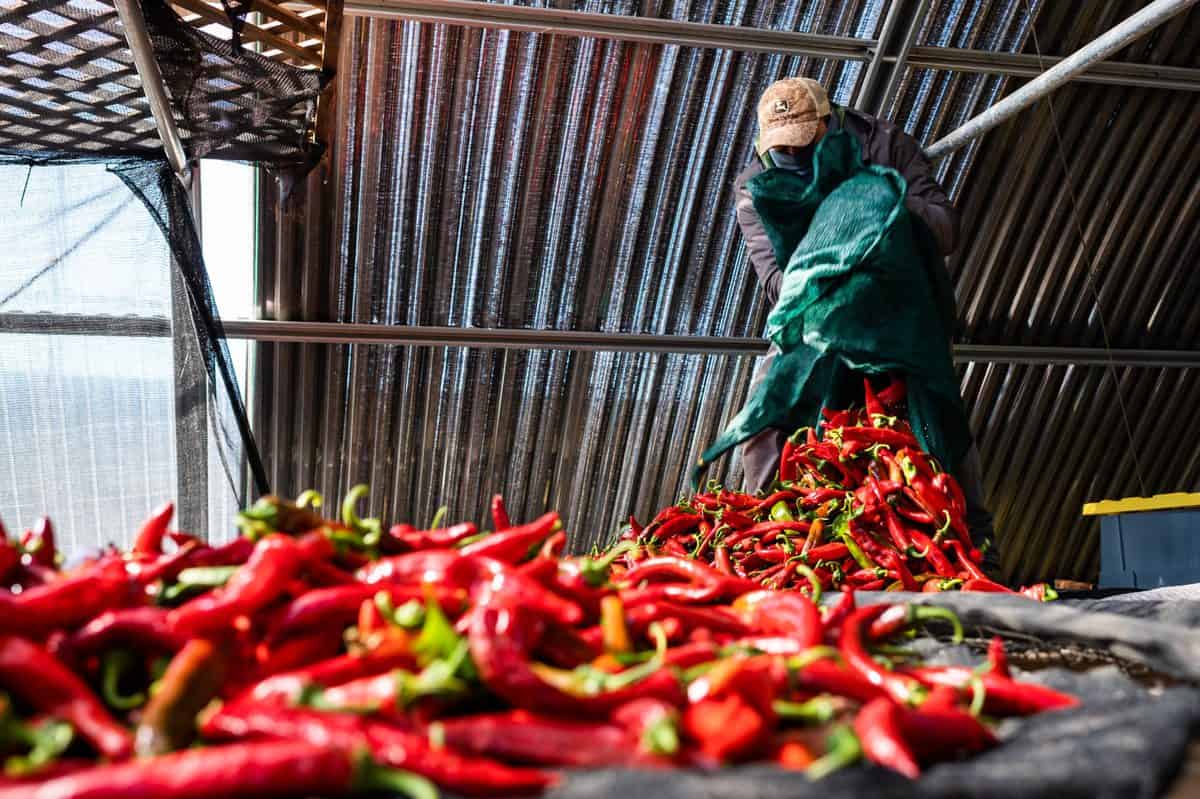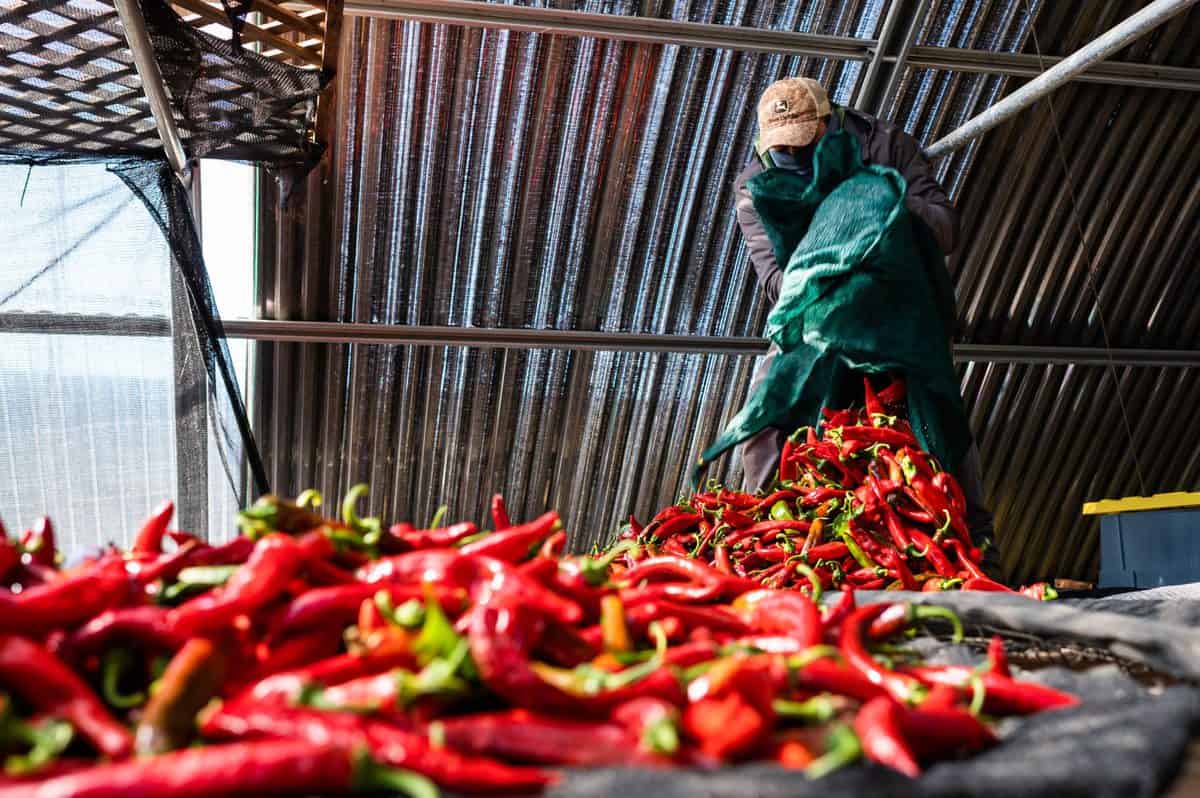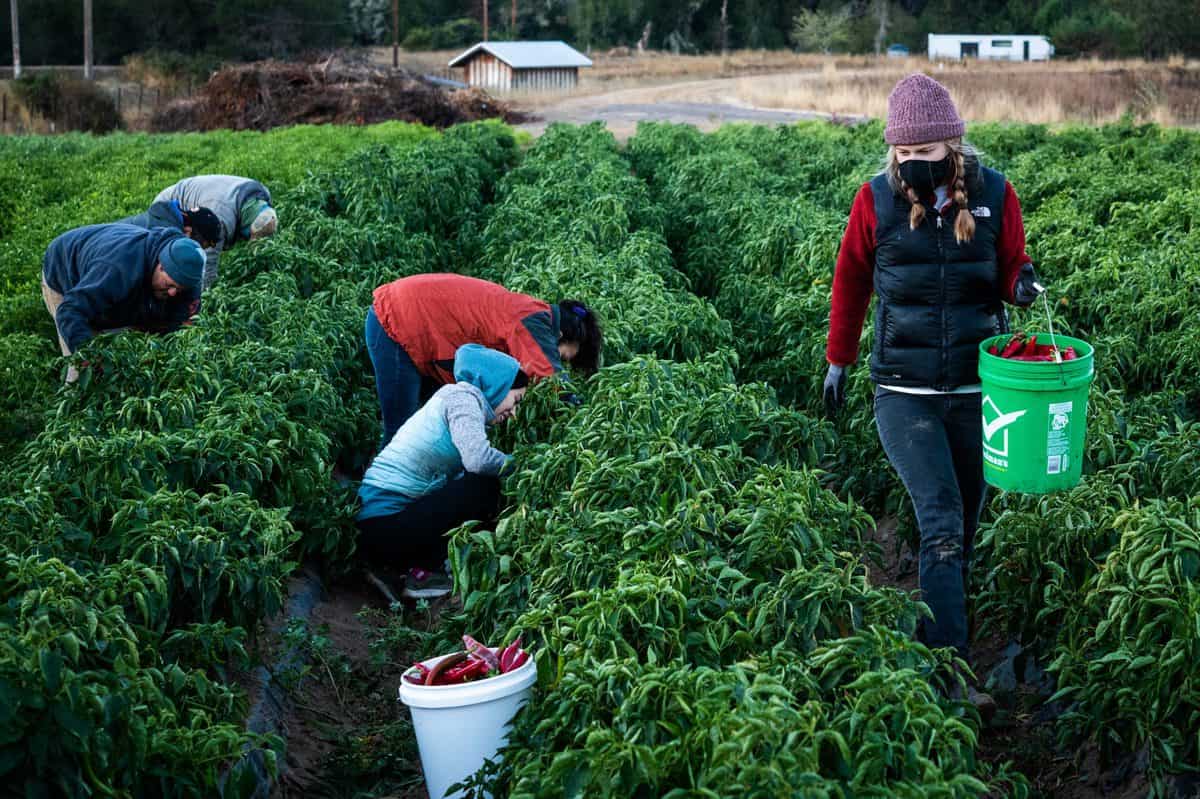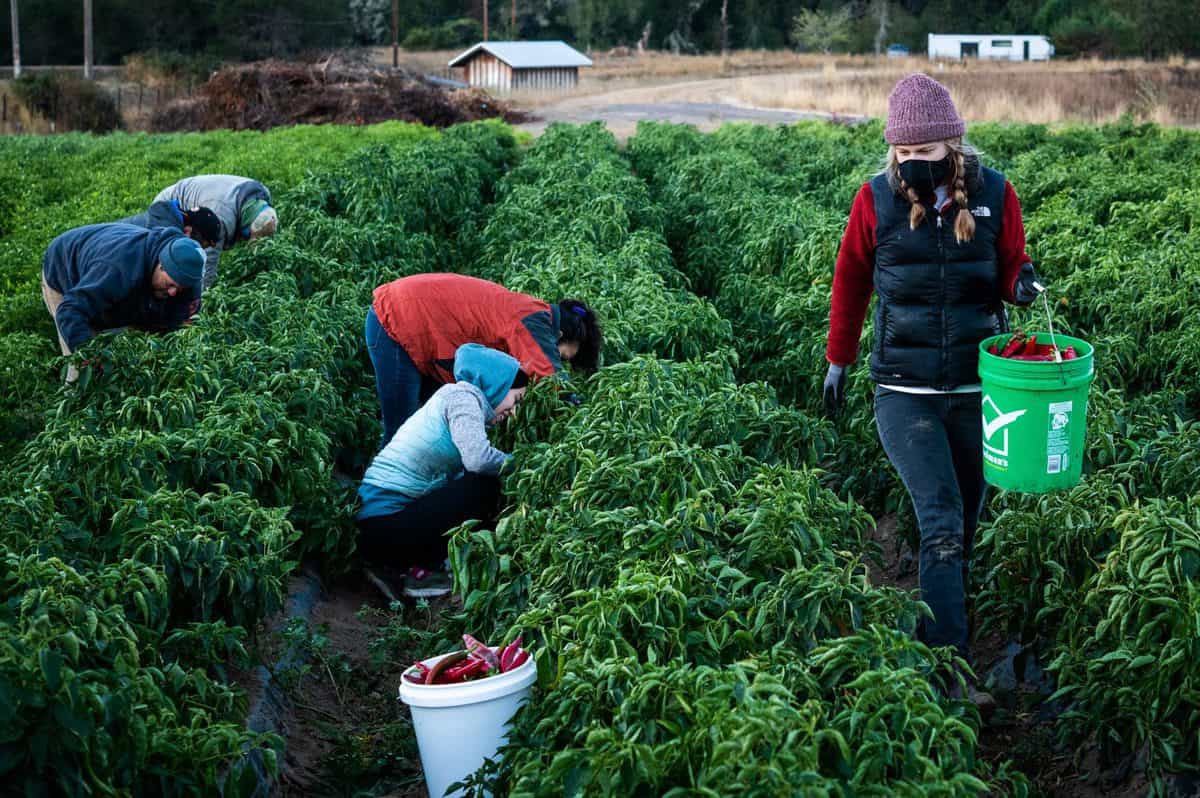 Thanks to Nacho's expertise, growing the peppers was relatively easy. Figuring out the best way to dry the chiles was a little more challenging. That first year, they tried to dry them using an oven, a dehydrator, a custom dehydrator- pretty much anything they could think of to get the appropriate results.
The first five years were spent trying to figure out the right equipment for the current size of the operation, all while continually upgrading and building bigger.
In 2014, Krissy moved to Boston to pursue her master's degree. Though Krissy was no longer working as a chef, she still found ways to make sure people were well fed. In her spare time, she worked for anti-hunger organizations and taught friends to cook. Then one of her friends mentioned a fellow foodie, Gideon Burdick, who was curing prosciutto in his basement. That certainly peaked Krissy's interest! Gideon and Krissy met through mutual friends, sparks flew and the rest is history. In 2019, the pair moved back to Boonville to run Boonville Barn Collective. Krissy explains, "Food is what brought us together and it is very apt that we run a farm and food business. We both care about cooking and creating a delicious product."
Where they're at: Piment d'Ville Peppers….and more
Ten years in, the team at Boonville Barn Collective seems to have things pretty well figured out. That doesn't mean they're resting on their laurels though. Over 500 restaurants and chefs across the country purchase Piment d'Ville. Expanded offerings include other types of chiles, dried beans, and seasonings. When the pandemic took a toll on the restaurant industry, Krissy and Gideon began looking at ways to diversify their customer base and to reach home chefs. Their products are available at select stores, but unless shoppers are familiar with Piment d'Espelette or with Boonville's story, it's easy for an expensive specialty chile to get overlooked.
So Krissy launched Boon Box, a subscription-based program that offers an assortment of spices and dried goods, along with a zine and recipes. "Boon Box is our way to create a CSA that wasn't fresh or exclusive to local customers," Krissy states. She sees Boon Box as a way to create a sense of community while setting Boonville Barn apart from other farms, spice producers and bean growers. Customers can give feedback on which specialty items should become permanent fixtures in the Boonville line up. In addition to fostering name recognition and a sense of community, addition of the curated box makes good financial sense. Proceeds from the sale of Boon Boxes provide capital for farm improvements and winter seed purchases.
Future plans: New adventures in the works…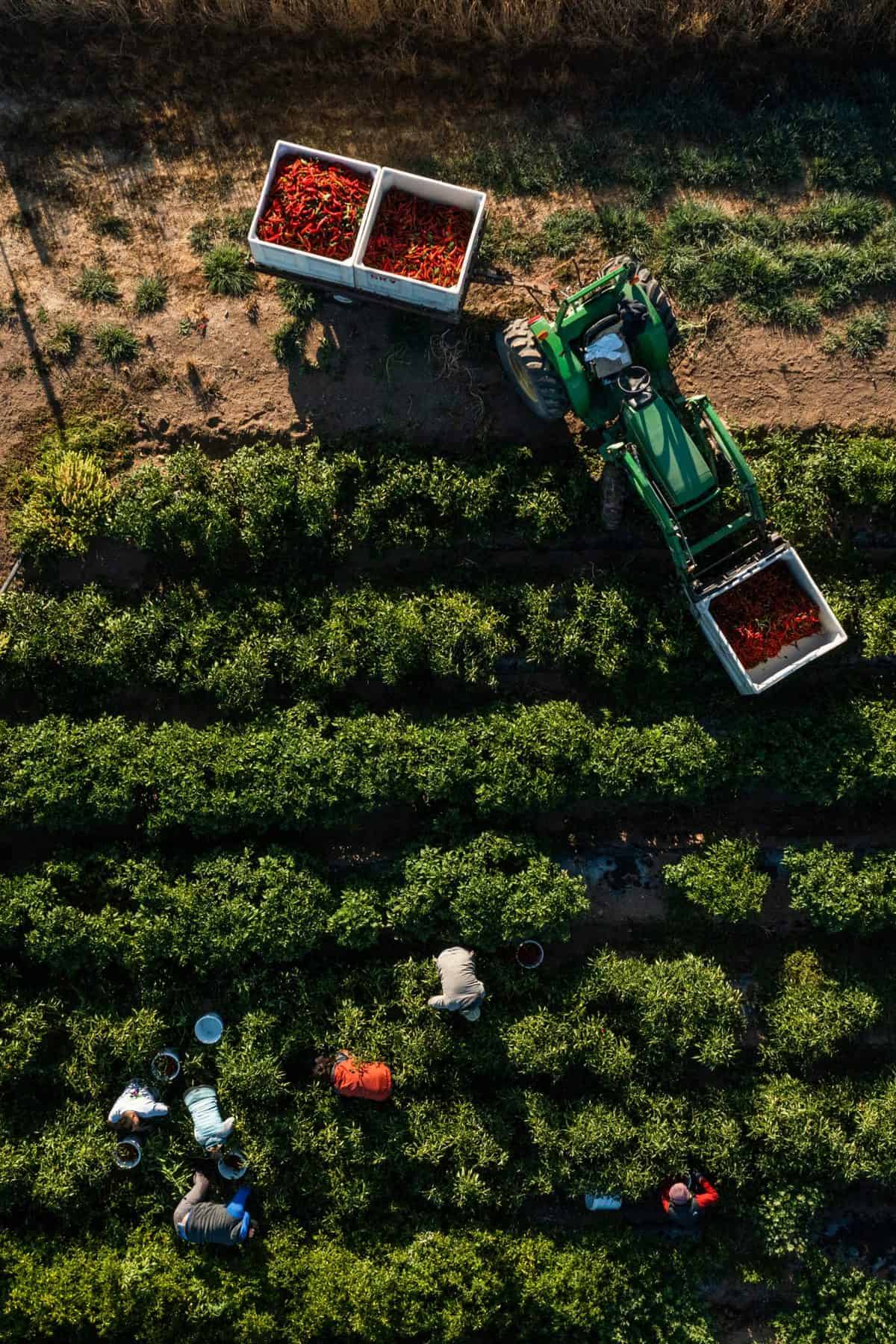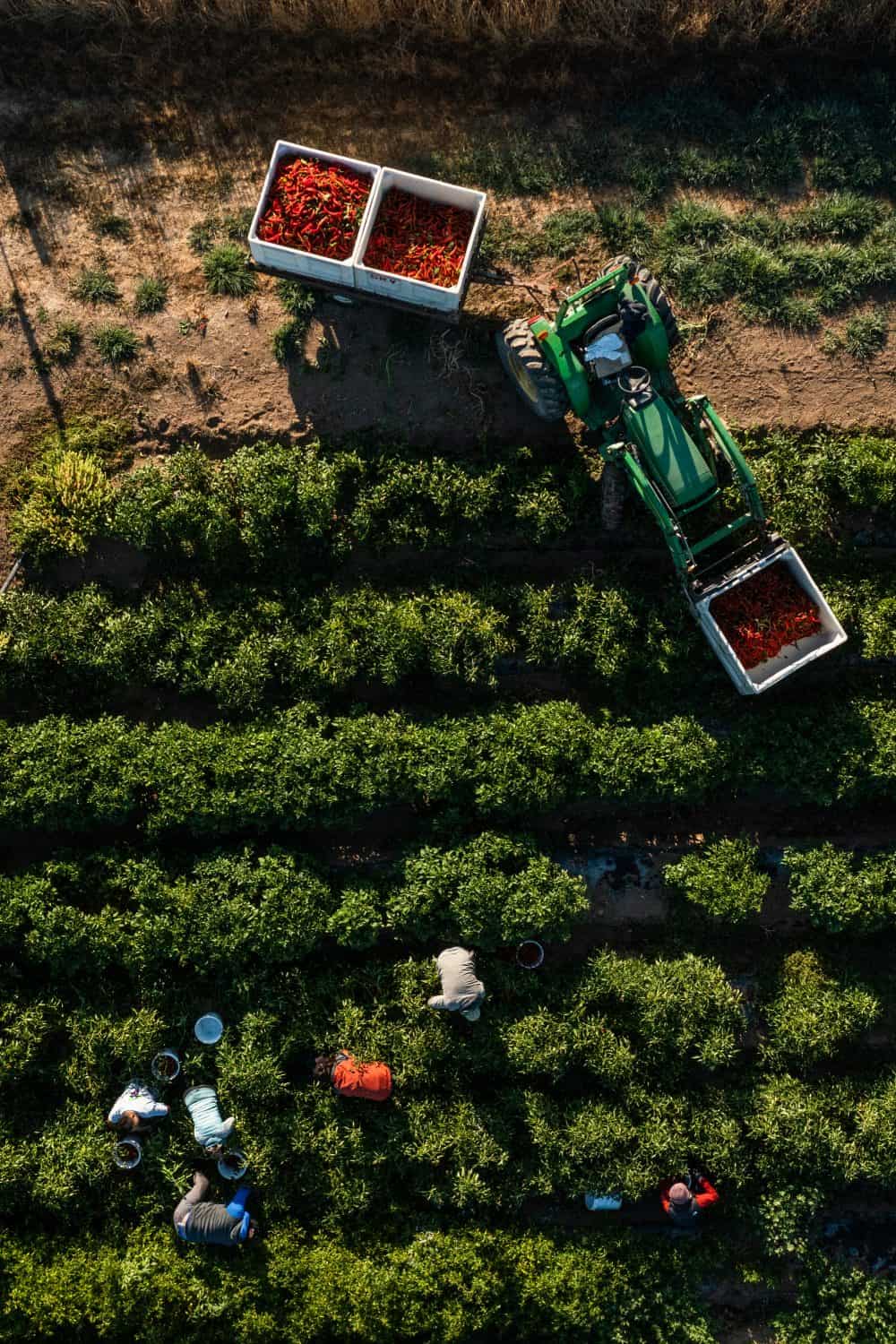 Looking to the future, Krissy and Gideon are exploring sustainable options and opportunities. Boonville Barn is already Renegade Certified (an alternative organic certification for local farmers,) however another important part of sustainable farming is always looking for ways to improve the current carbon footprint. They're considering everything from adding solar to the roof of the barn to using compostable eucalyptus based packaging. Boonville Barn recently planted a 1000 foot row of native plants which, as they mature, will serve as a pollinator habitat, allowing Krissy and Gideon to pursue another future goal – beekeeping. They're excited about the potential of adding a hot honey to their repertoire of shelf stable goods.
Now that you're familiar with Boonville Barn Collective's origin story, let's get to the good stuff – how to use Piment d'Ville!
Head to Boonville Barn Collective to order your own jar of California Grown Piment d'Ville and then check out a few of Krissy's favorite recipes!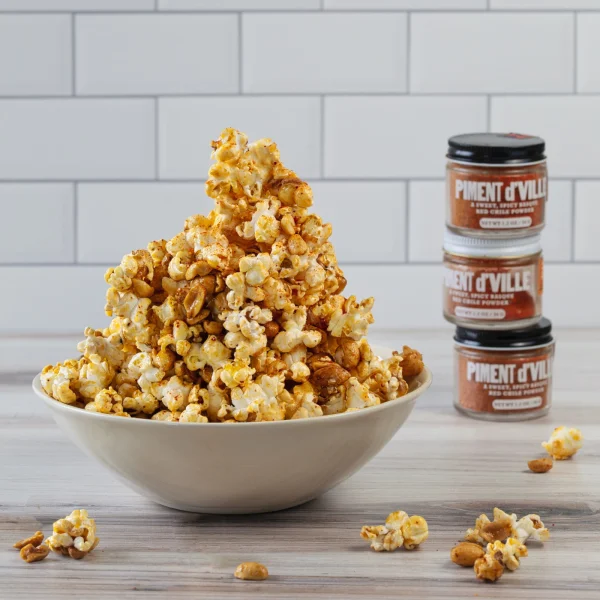 Remember Cracker Jacks? Krissy used one of her favorite childhood snacks as the inspiration for this recipe. Spoiler alert: it's waaaay better than the original…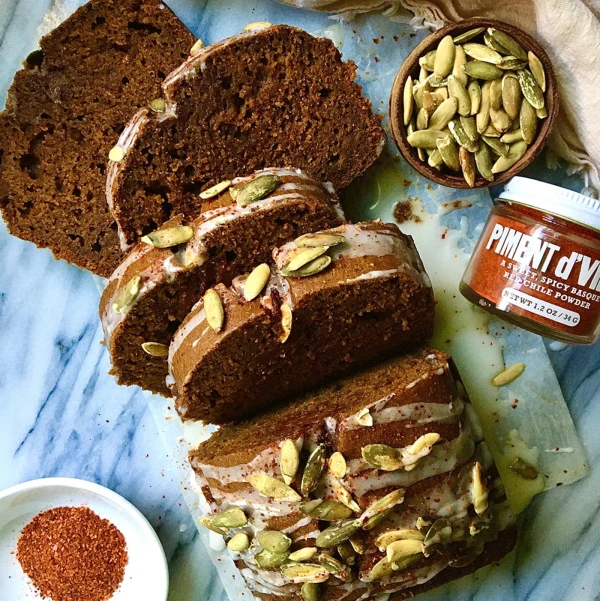 Traditional gingerbread recipes call for black pepper. Using Piment d'Ville instead provides a subtle heat that plays beautifully with hearty pumpkin and warming spices.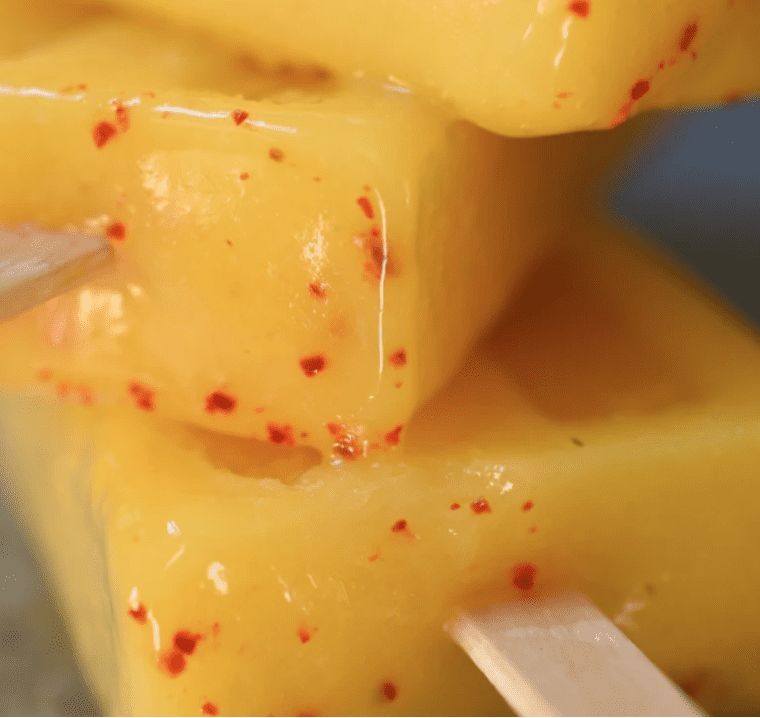 The contrast of sweet frozen mango and slightly spicy Piment d'Ville is absolutely irresistible. These easy (and healthy!) popsicles are sure to be a hit with the whole family!
FAQs About Piment d'Ville
Is Piment d'Ville spicy?
The Espelette pepper used to make Piment d'Ville is slightly spicy, with a touch of sweetness. For all you chile aficionados, Piment d'Ville comes in at a 4 on the Scoville scale. Think hotter than an ancho chile, but not even close to the heat of a jalapeno.
What is the Scoville scale?
Here's our simplest explanation: the Scoville scale is used to rank the spiciness of different chile peppers. Heat is measured in units called Scoville Heat Units. Peppers are given scores from 0 (bell peppers) to 10+++ (Carolina Reaper). For a more technical explanation, head here.
Are Piment d'Ville and Piment d'Espelette the same thing?
Piment d'Ville and Piment d'Espelette and both dried Espelette peppers. Because true Piment d'Espelette is a regional designate, it can only be grown in the Espelette region of France. Piment d'Ville is a California Grown Espelette pepper.
How should I use Piment d'Ville?
You can use Piment d'Ville in place of black pepper or paprika. It's particularly delicious on eggs, avocado toast, roast chicken or in paella!
Like what you see? Follow us on Pinterest for farmer features and fabulous recipe inspiration!