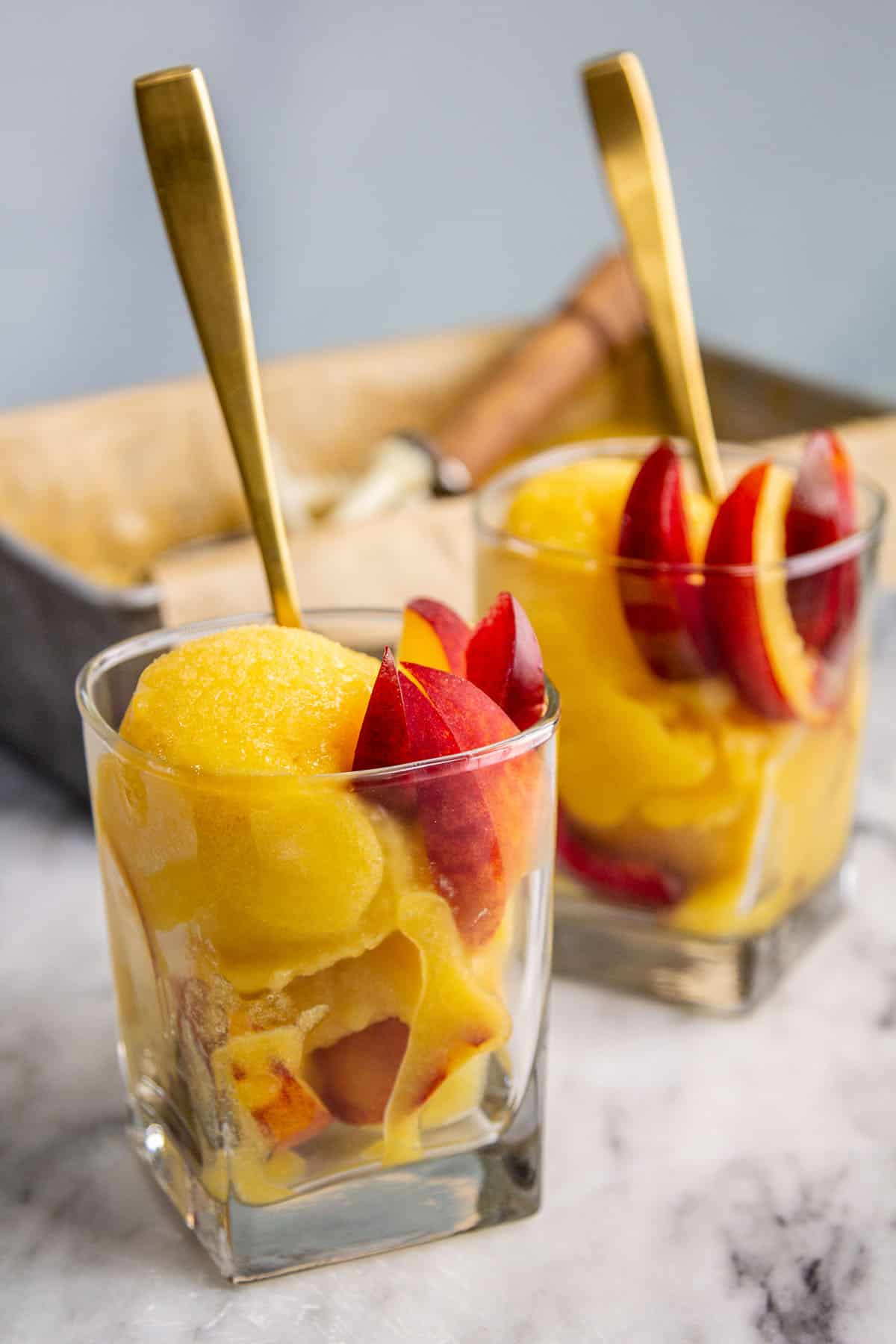 CA GROWN Blog
Discover. Learn. Connect.
The Only 3-Ingredient Peach Sorbet Recipe You'll Ever Need
June 27, 2023
Eat the Season!
Sign Up For Weekly Recipes
« Back to Recipes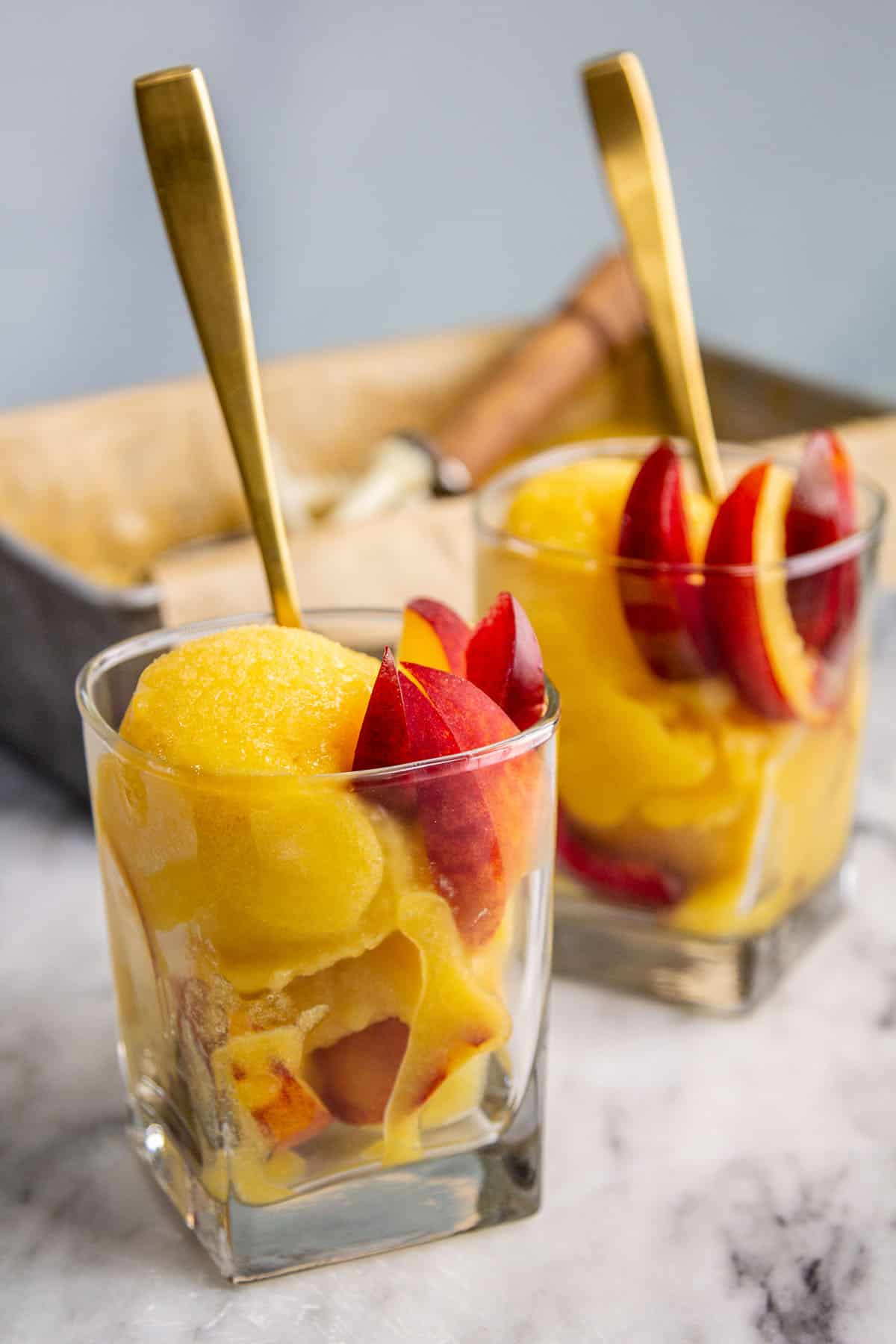 The Only 3-Ingredient Peach Sorbet Recipe You'll Ever Need
Our California-grown Peach Sorbet is a cool, sweet bite of summer that you are going to be making on repeat. Imagine the taste of ripe peaches, sweet and a little tart, in a super creamy frozen dessert, truly summer at its finest. The best thing about this sorbet recipe is that it works great with any fruit that's in season. From tart raspberries to sweet melon, you can make this delicious sorbet with whatever fruit you have on hand.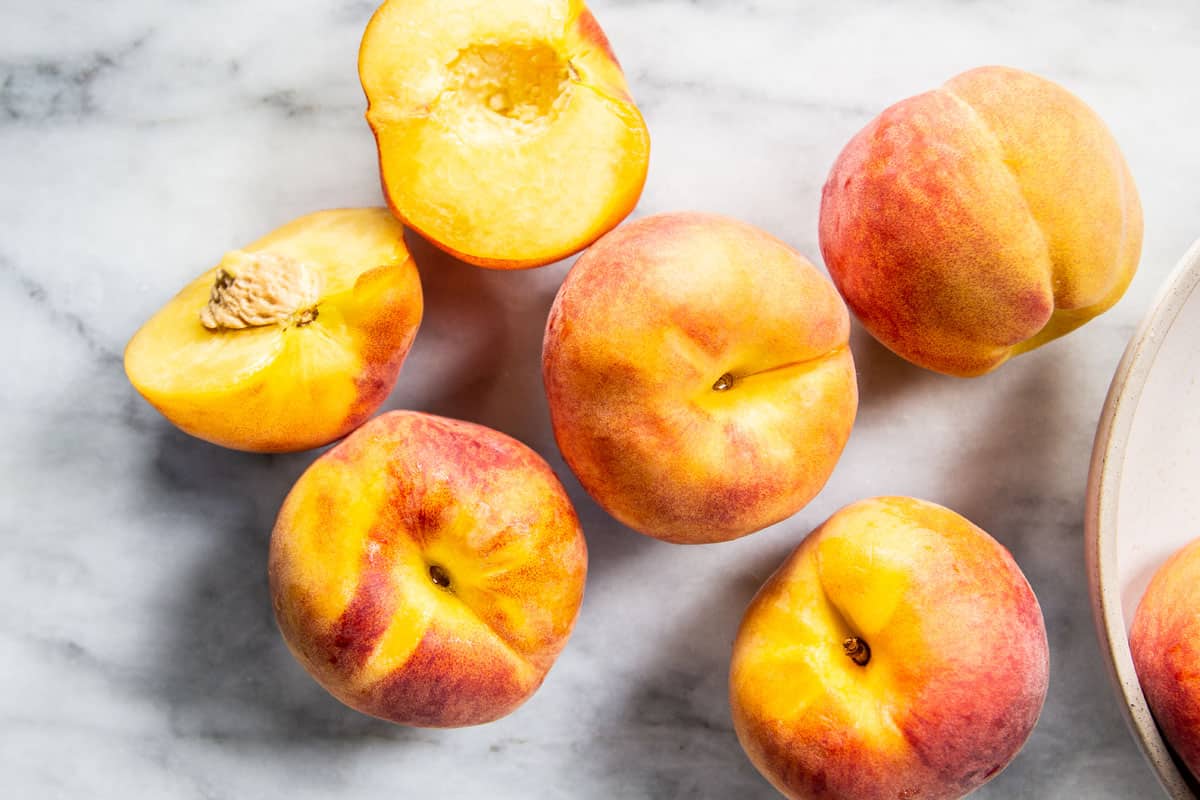 Sorbet: A Perfectly Sweet Summer Delight that Dates Back Centuries.
Believe it or not, sorbet is one of the earliest frozen desserts we know of. Some records suggest that sorbet has a history dating back to 3000 BC, gradually evolving into the delicious treat that we can't get enough of today.
Interestingly, the first recorded sorbet recipe came from a man named Antonio Latini, who lived in the 17th century. He didn't stop there though; he also pioneered the first recognized ice cream by incorporating a milk base into his sorbet.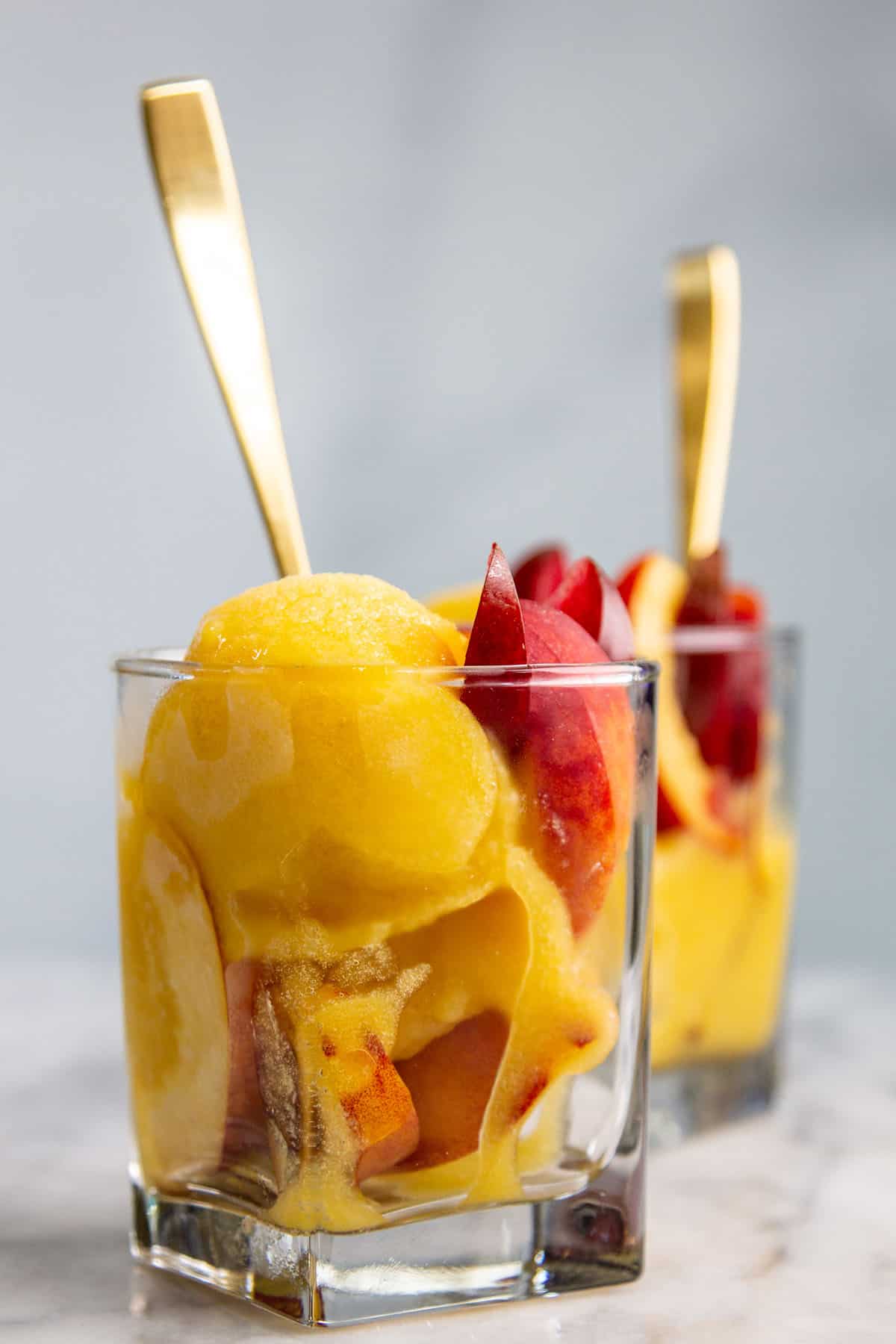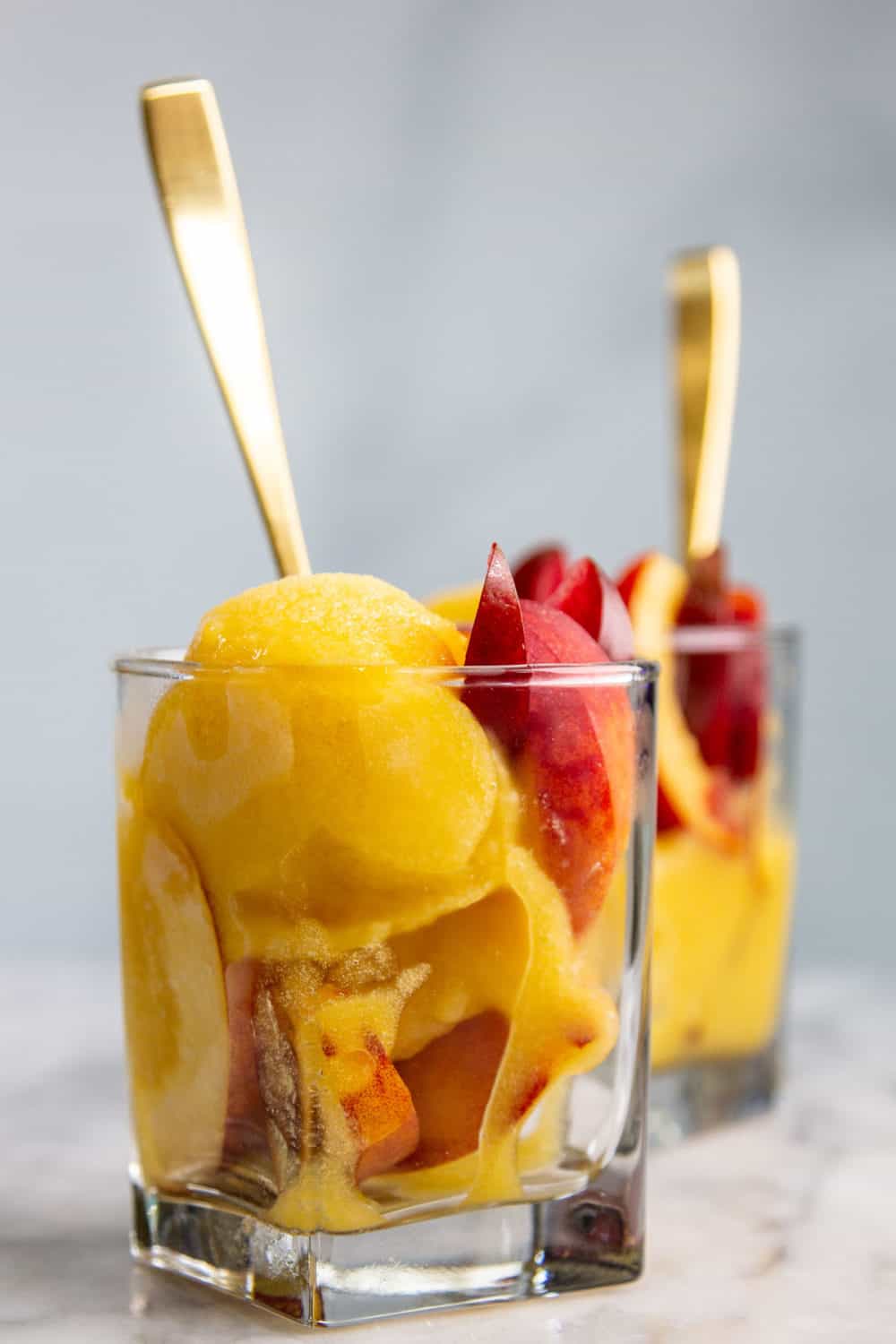 Sorbet soon gained immense popularity, becoming a signature dessert during Renaissance Europe and eventually making a name worldwide.
With the downfall of the Roman Empire, sorbet and ice creams became somewhat elusive in Europe, primarily found in Italy. Things took a turn in 1533 when Catherine de Medici, an Italian aristocrat, married Henry II of France. A passionate sorbet lover, she didn't forget to bring her preferred sorbet chef to France. This move marked a resurgence of sorbet and ice cream in Europe, eventually spreading worldwide.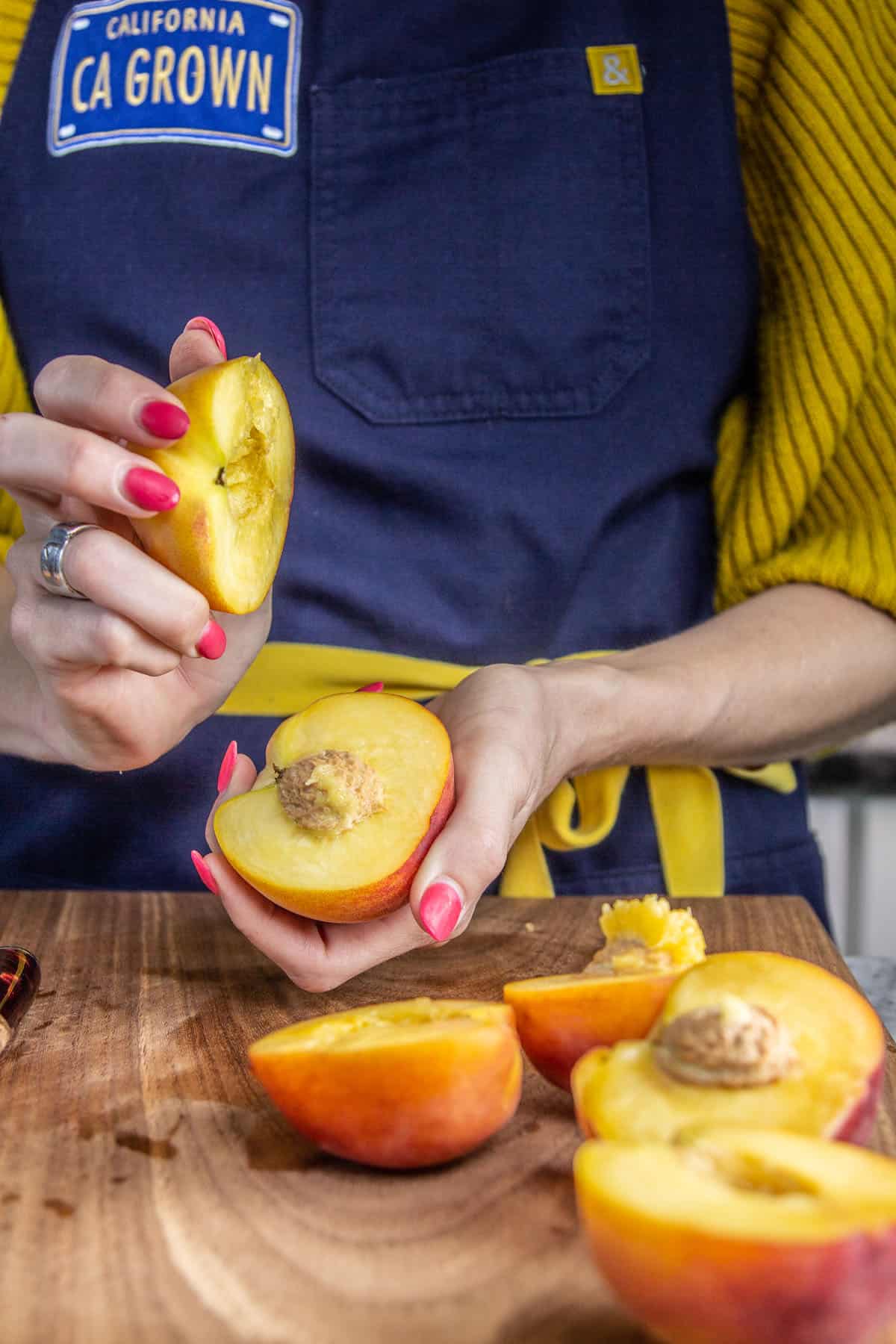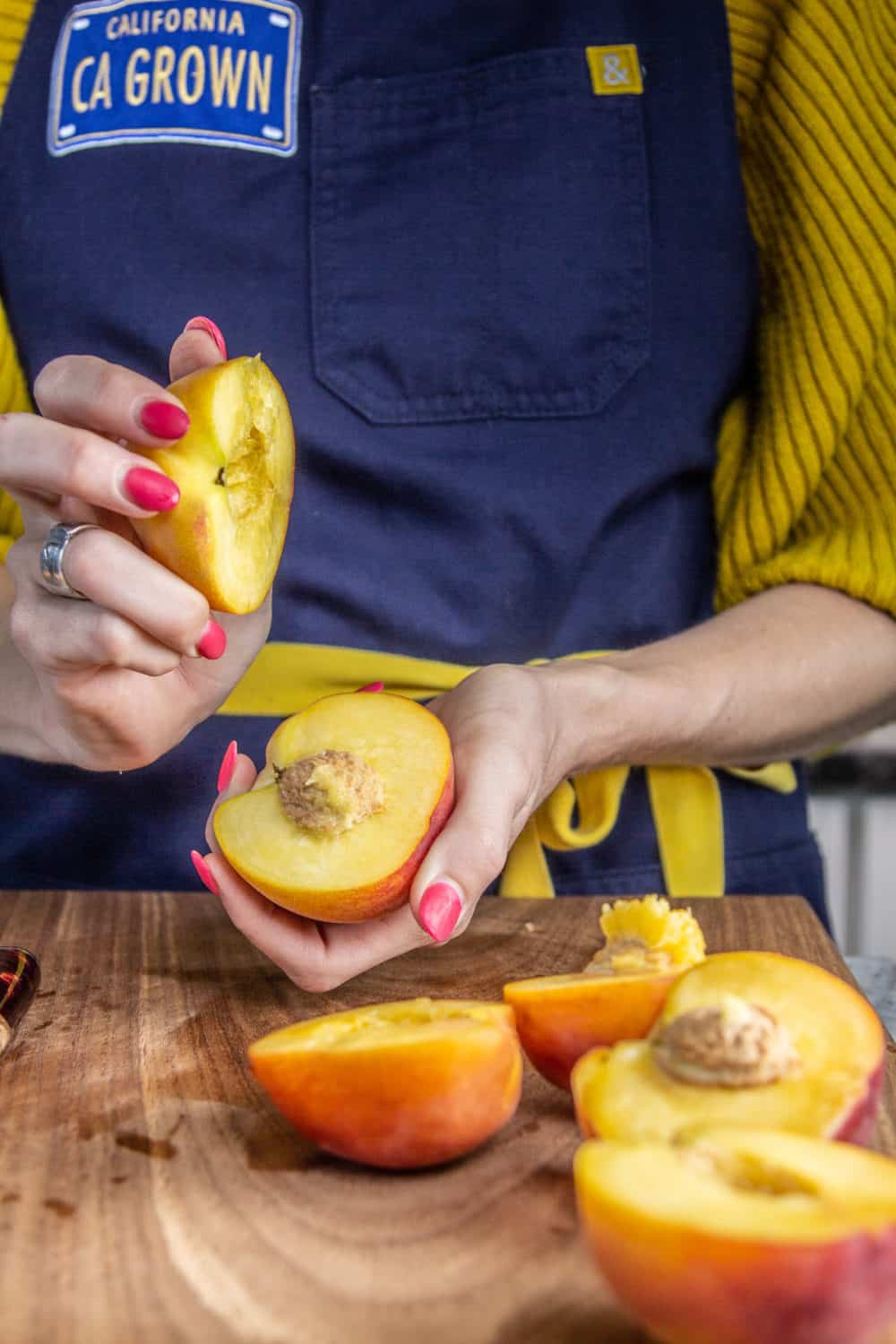 What Makes This Peach Sorbet So Special?
The secret of our sorbet recipe lies in the star of the show – fresh California peaches. Just one bite into a ripe, juicy peach, and your tastebuds are hit with an explosion of flavor. It's a mix of pure, sun-soaked sweetness, highlighted by a hint of invigorating tartness that balances the taste beautifully.
When this peachy goodness is transformed into a sorbet, it's an even more exciting taste experience. The freezing process amplifies the sweetness and tartness of the peach, making every spoonful a refreshing delight. Plus, the smooth texture of ripe peaches gives the sorbet an irresistible creaminess. It's like tasting summer in a scoop – which sets our peach sorbet in a league of its own.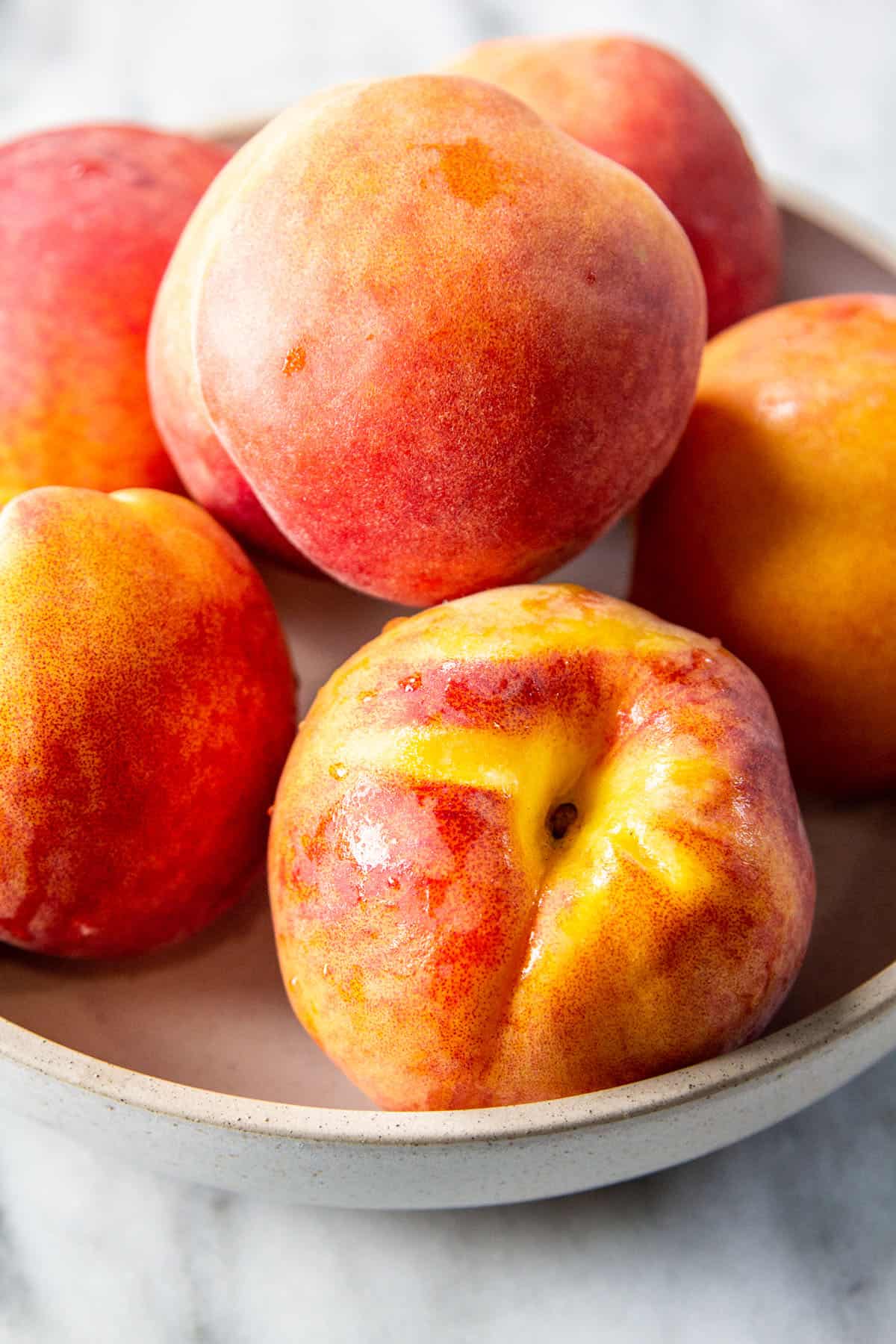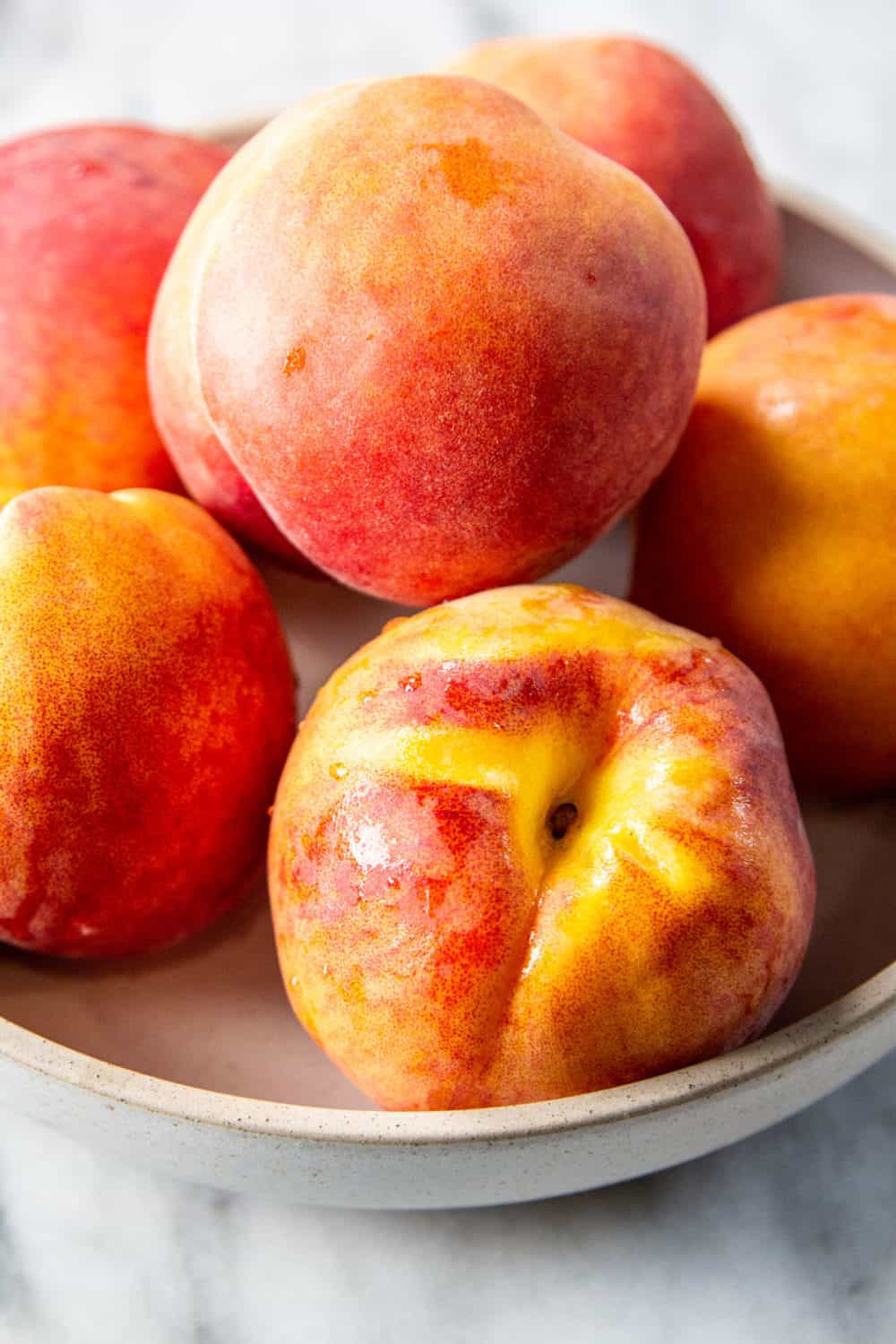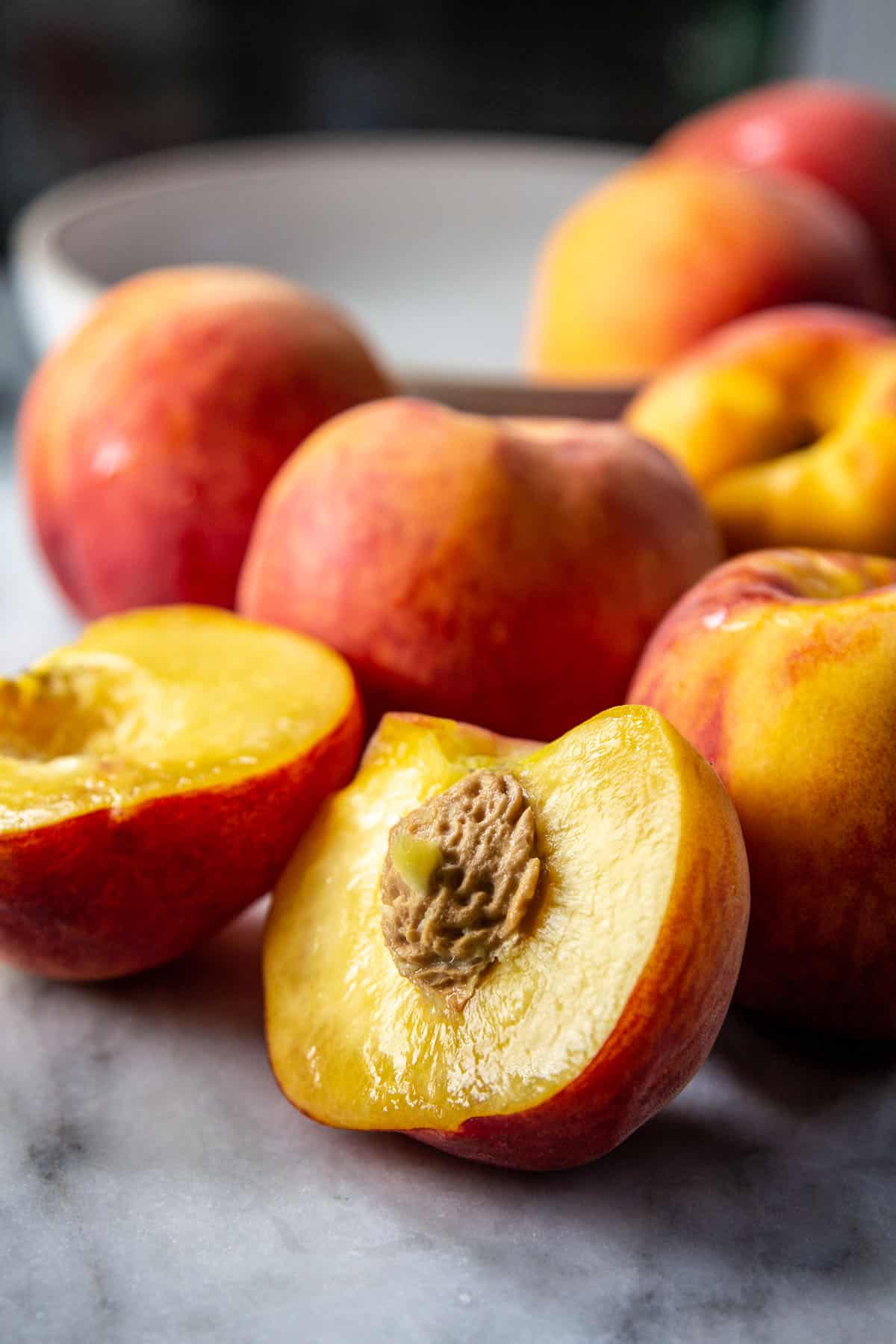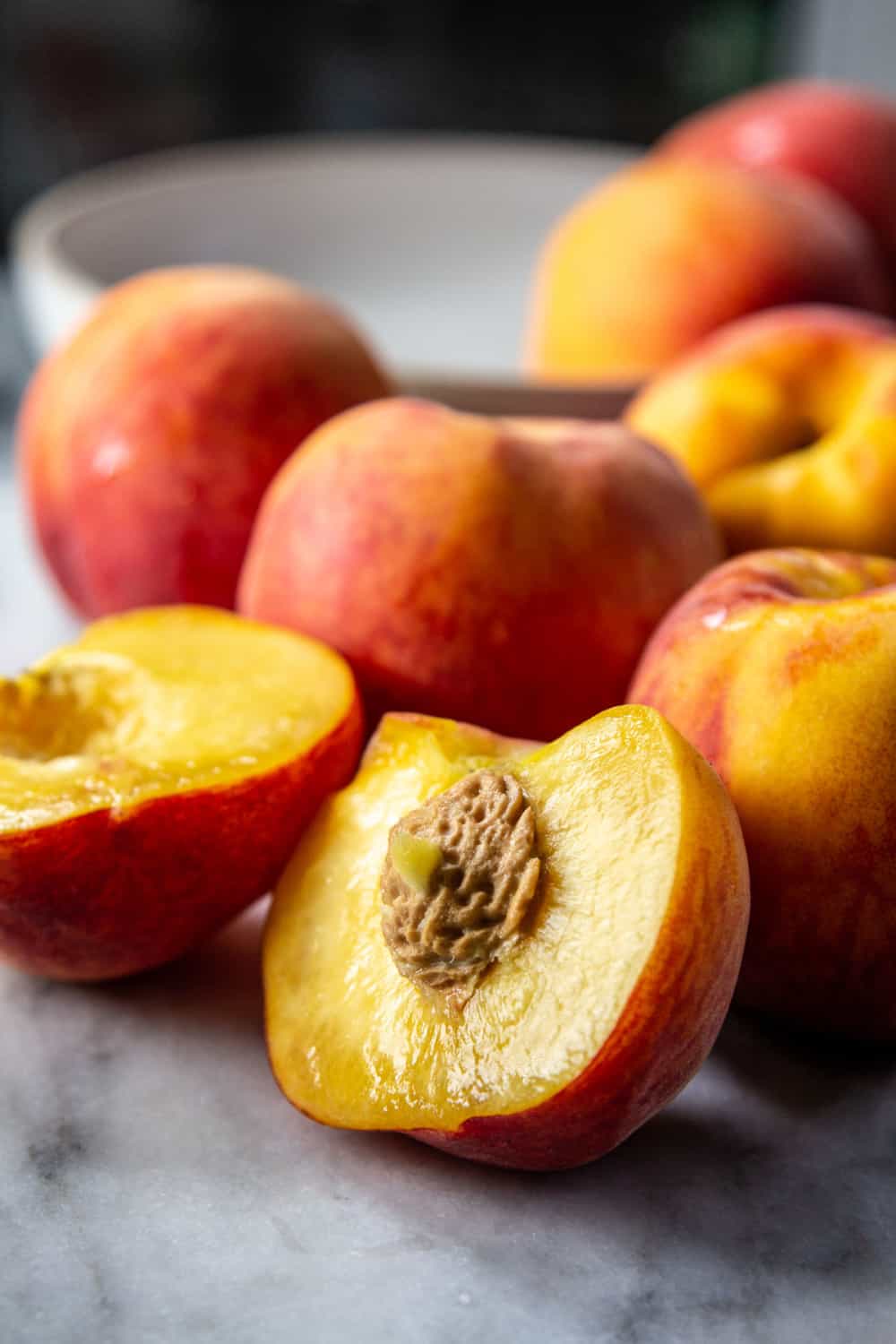 Celebrating California-Grown Peaches.
Now, if you want to elevate your fruit sorbet, you've got to go for fresh California-grown peaches.
Our peaches are special because of the warm California sun that gives them their superior flavor.
A variety of fresh California-grown stone fruits are available from April through October.
Did you know California produces about 70% of all the nation's peaches, 95% of apricots, virtually all fresh plums, 99% of dried plums, and 100% of nectarines?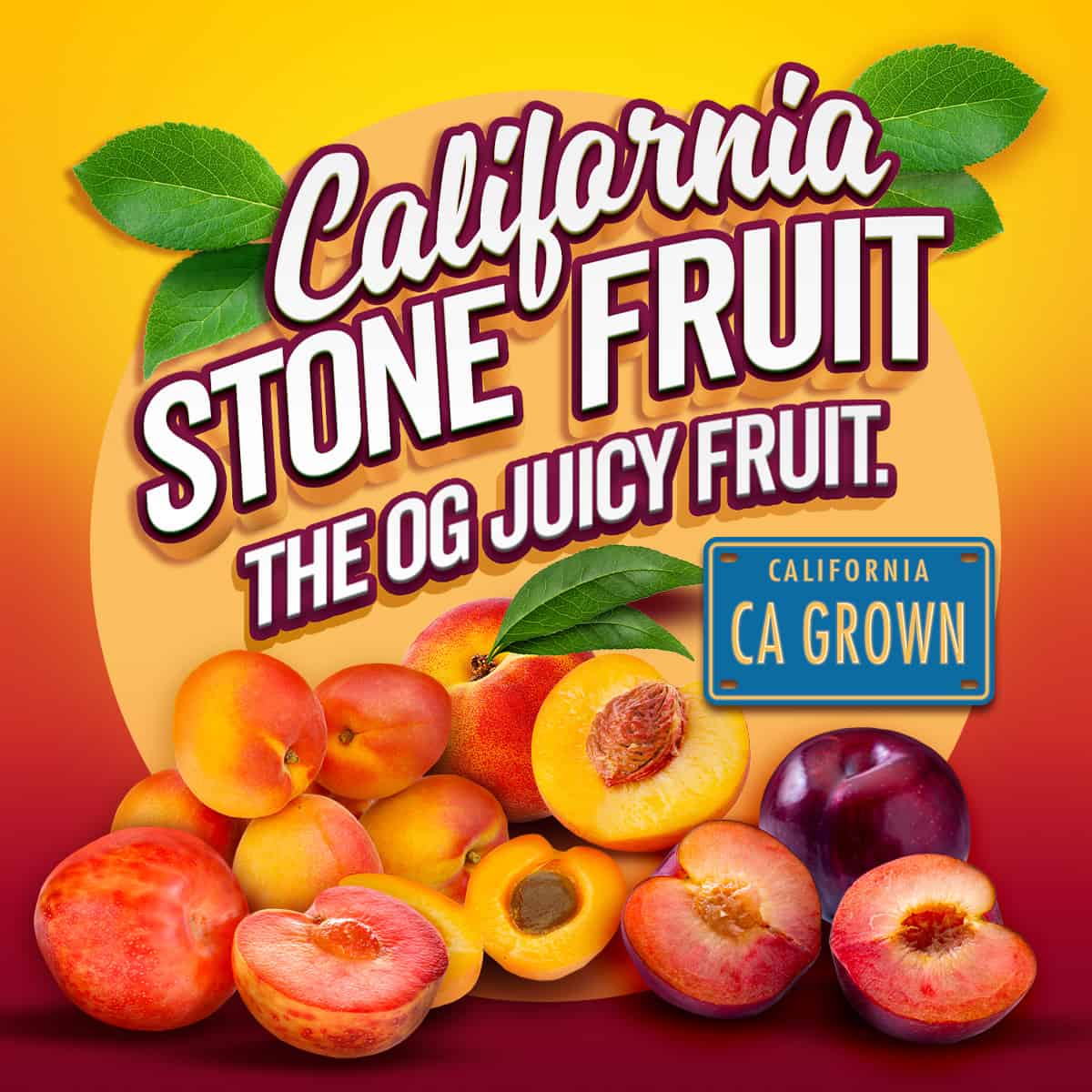 Health Benefits of Peach Sorbet
Do you know what else is great about our peach sorbet? It's a healthier choice for dessert than most! Peaches are packed with nutrients, and this sorbet is a low-fat way to satisfy your sweet tooth. So you can enjoy an extra scoop or two without any guilt.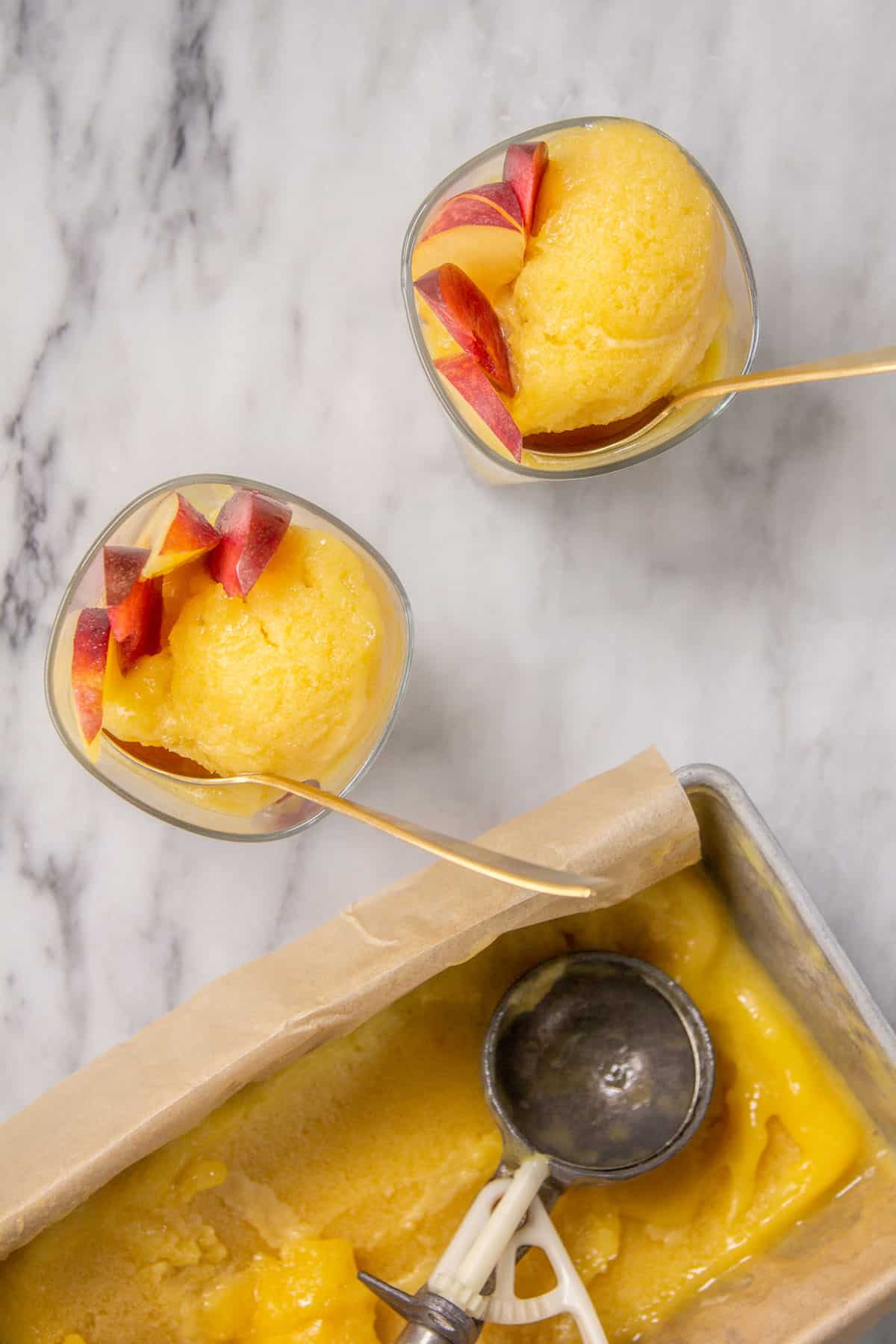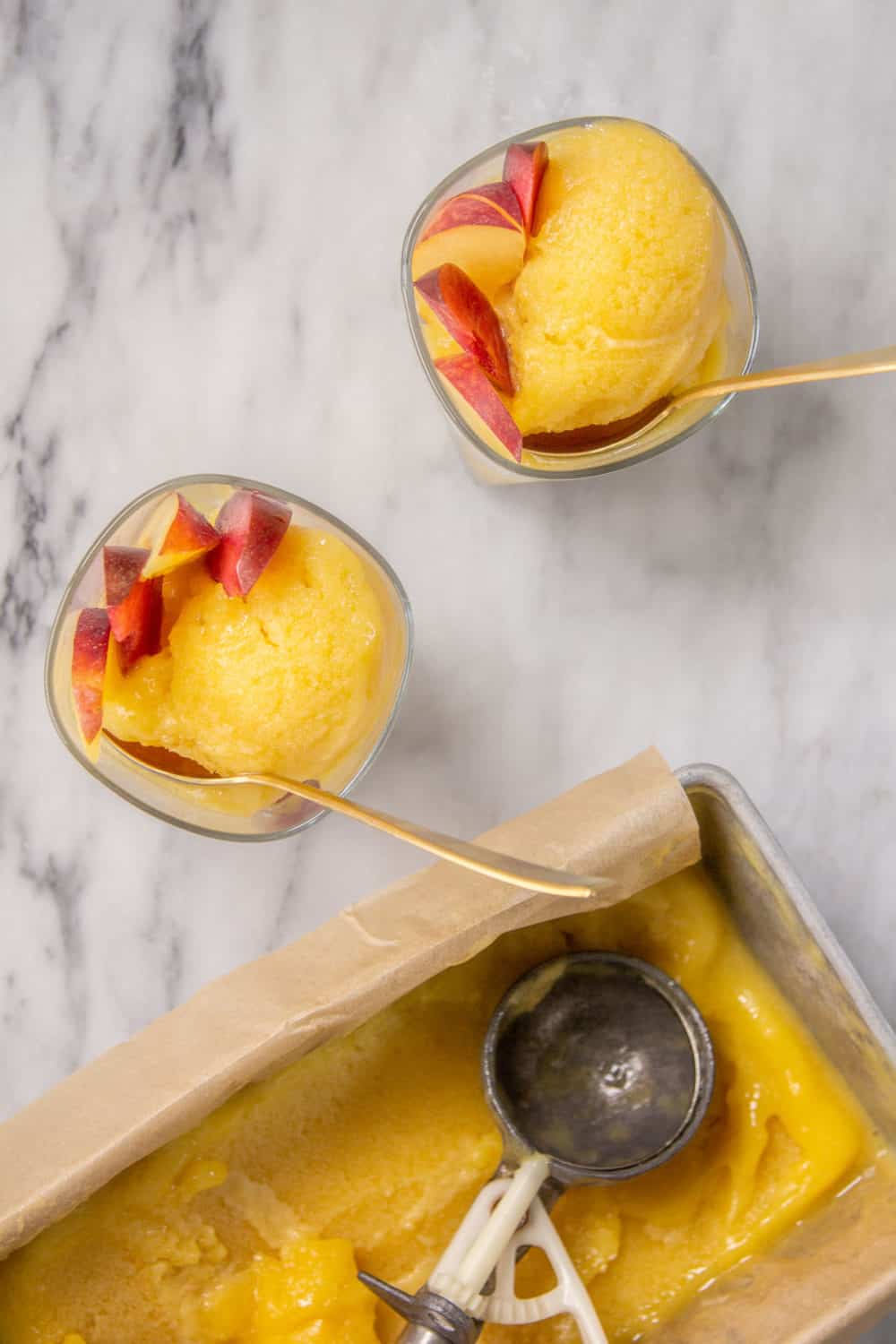 Step-by-Step How to Make Peach Sorbet.
First and foremost quite possibly the coolest thing about this recipe for Peach Sorbet is that you can easily make it with any fruit you happen to have on hand. This recipe is a 4:1 fruit-to-sugar ratio. You can make any fruit sorbet your heart desires by substituting only one ingredient, the fruit.
Ideas for other types of sorbet to make this summer:
Raspberry Sorbet
Strawberry Sorbet
Mixed Berry Sorbet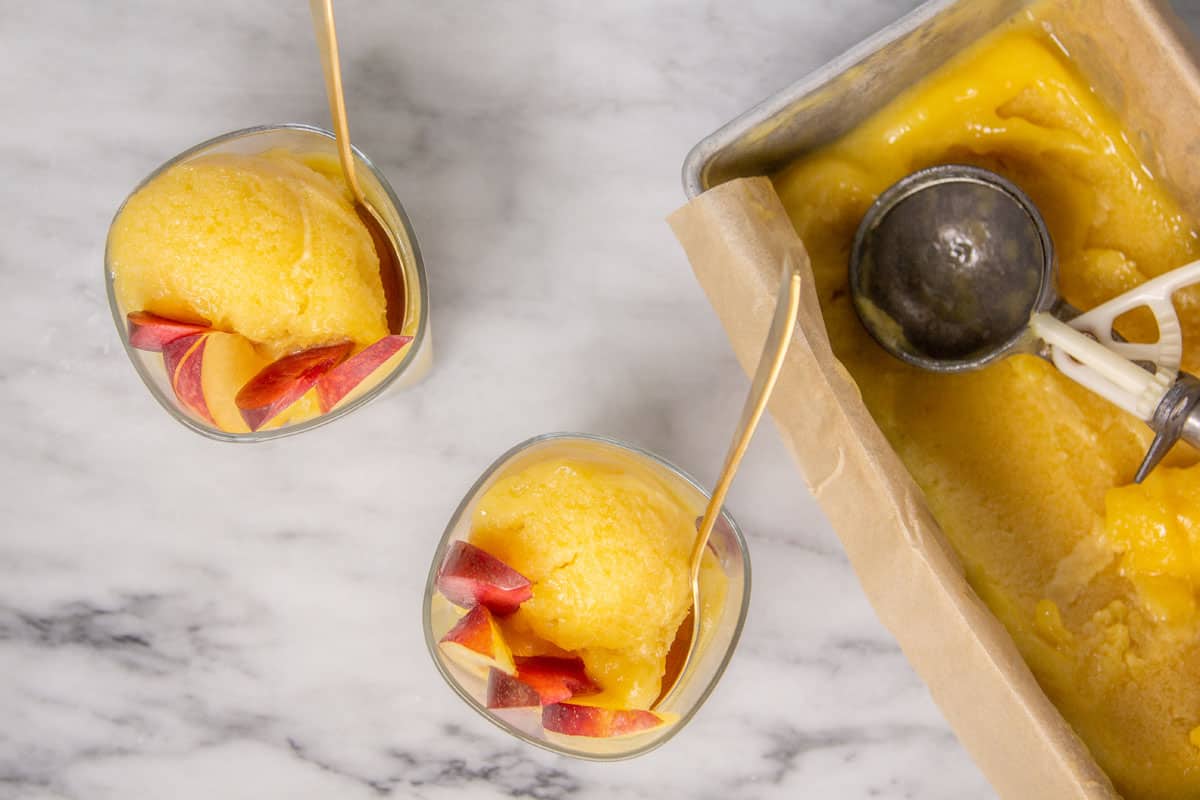 What is caster sugar and why is it important when making this recipe for sorbet?
Caster sugar is a type of sugar that's often called for in baking and frozen dessert recipes. Regular granulated sugar has big, chunky crystals. While caster sugar has much smaller ones. Because of this, it dissolves easily, making it perfect for recipes like this one where you want the sugar to blend in smoothly.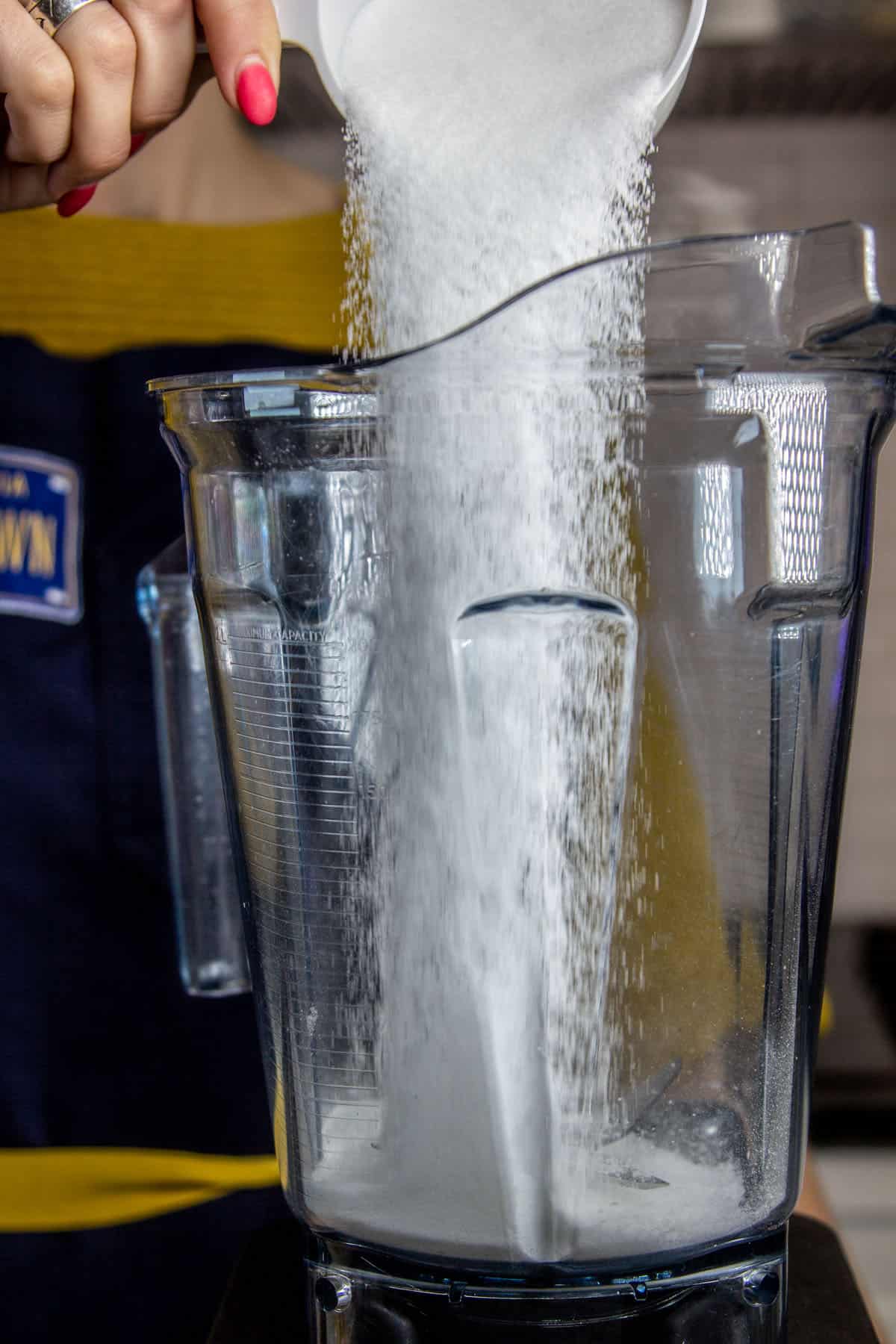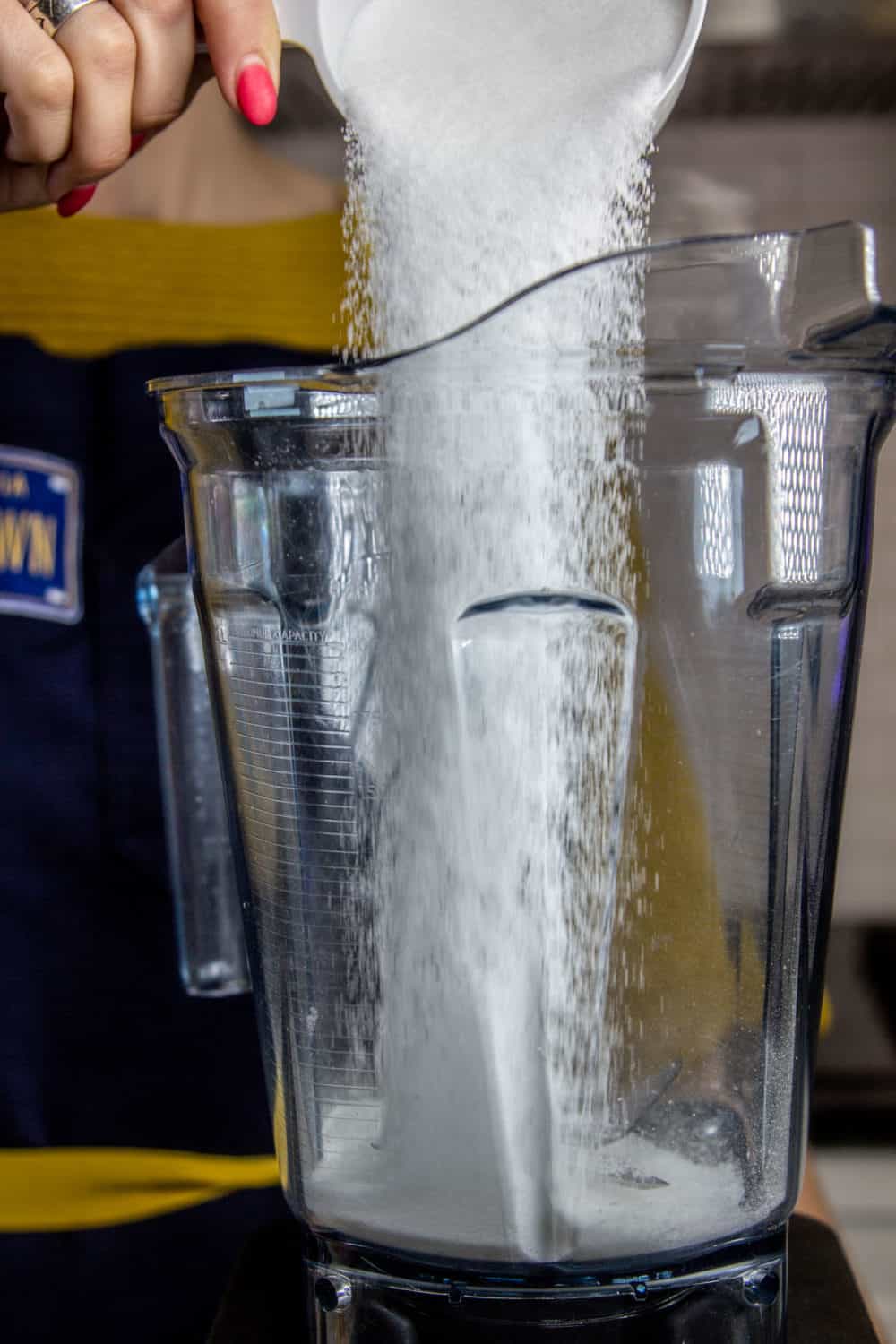 How to make caster sugar:
Caster sugar is an ingredient that can be hard to find in the grocery store, but it's super easy to make and guarantees a smoother texture in your peach sorbet. Plus, it's so satisfying to make your own ingredients, right?
Are caster sugar and powdered sugar the same thing?
Once blended, the granulated sugar will look like powdered sugar, but it isn't the same thing at all. While caster sugar and powdered sugar are both types of granulated sugar, you cannot use them interchangeably. Caster sugar has finer grains than table sugar, but it is not as fine as powdered sugar, which is ground into a fine powder.
Can honey be used to make sorbet instead of sugar?
Here's a sweet tip for your sorbet – try using some honey!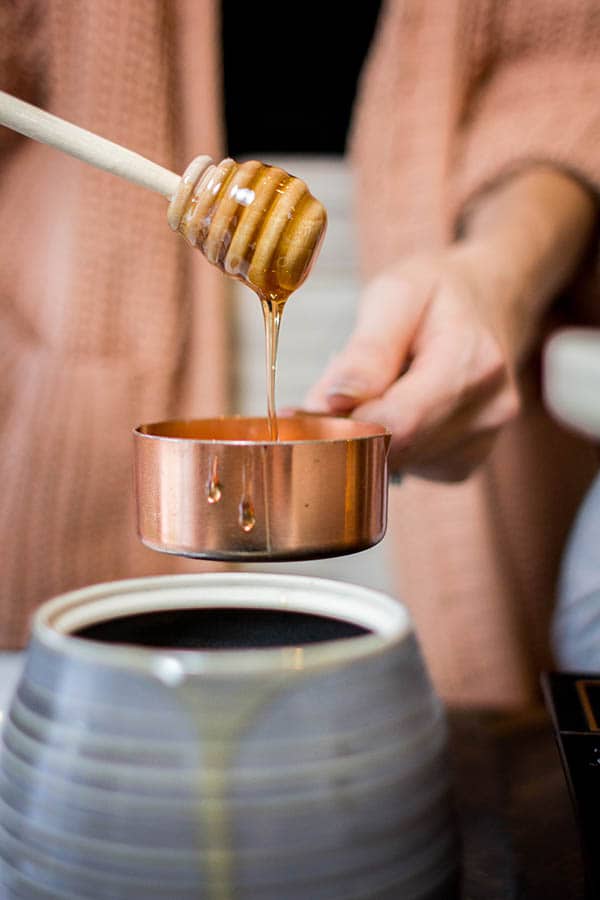 Just remember, honey packs a lot of sweetness, so you don't want to use it as a one-for-one replacement for the sugar.
Start by mixing in a little, like a quarter cup of honey with half a cup of sugar, and then see how you like the taste. You can always add a bit more if your tastebuds feel that it needs it!
The consistency will be slightly different if using honey rather than caster sugar, but it's a delicious flavor twist to try.
Now that we have discussed ways to sweeten your peach sorbet, let's talk about how easy it is to make it!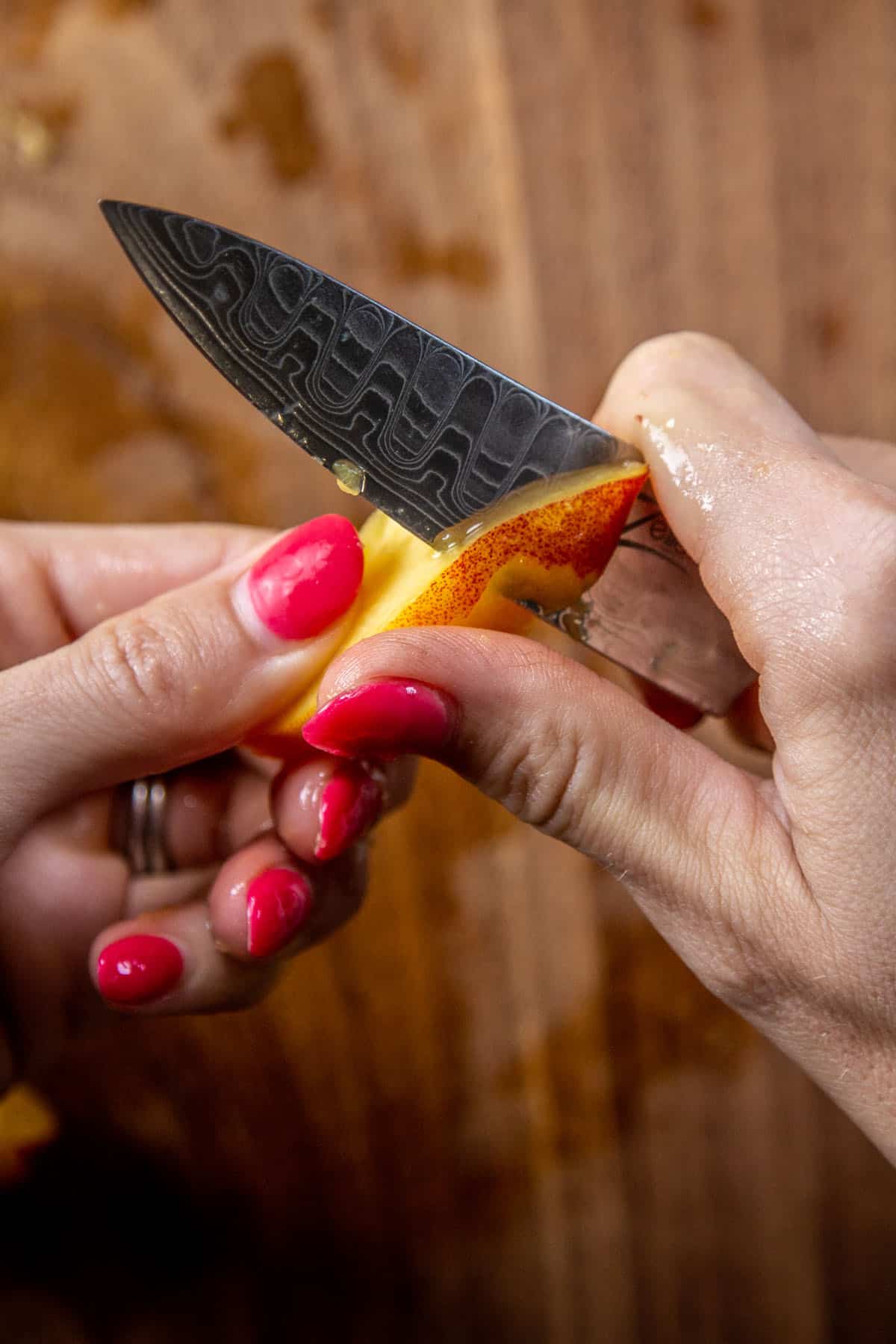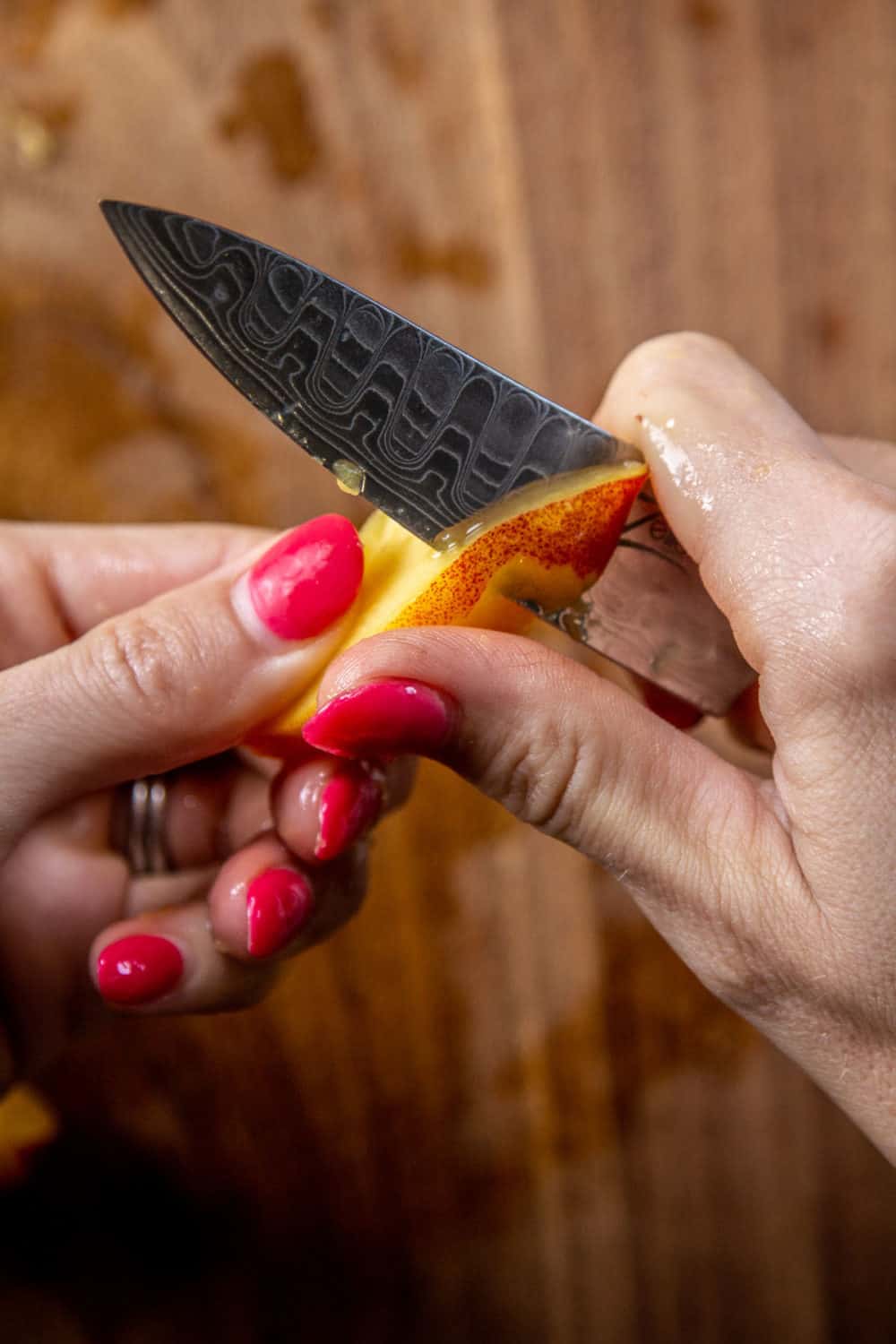 See what I mean? This recipe for peach sorbet is almost effortless! Once it freezes, you will be left with a creamy, scoopable sorbet that is, in our opinion, better than any sorbet you've ever tried before!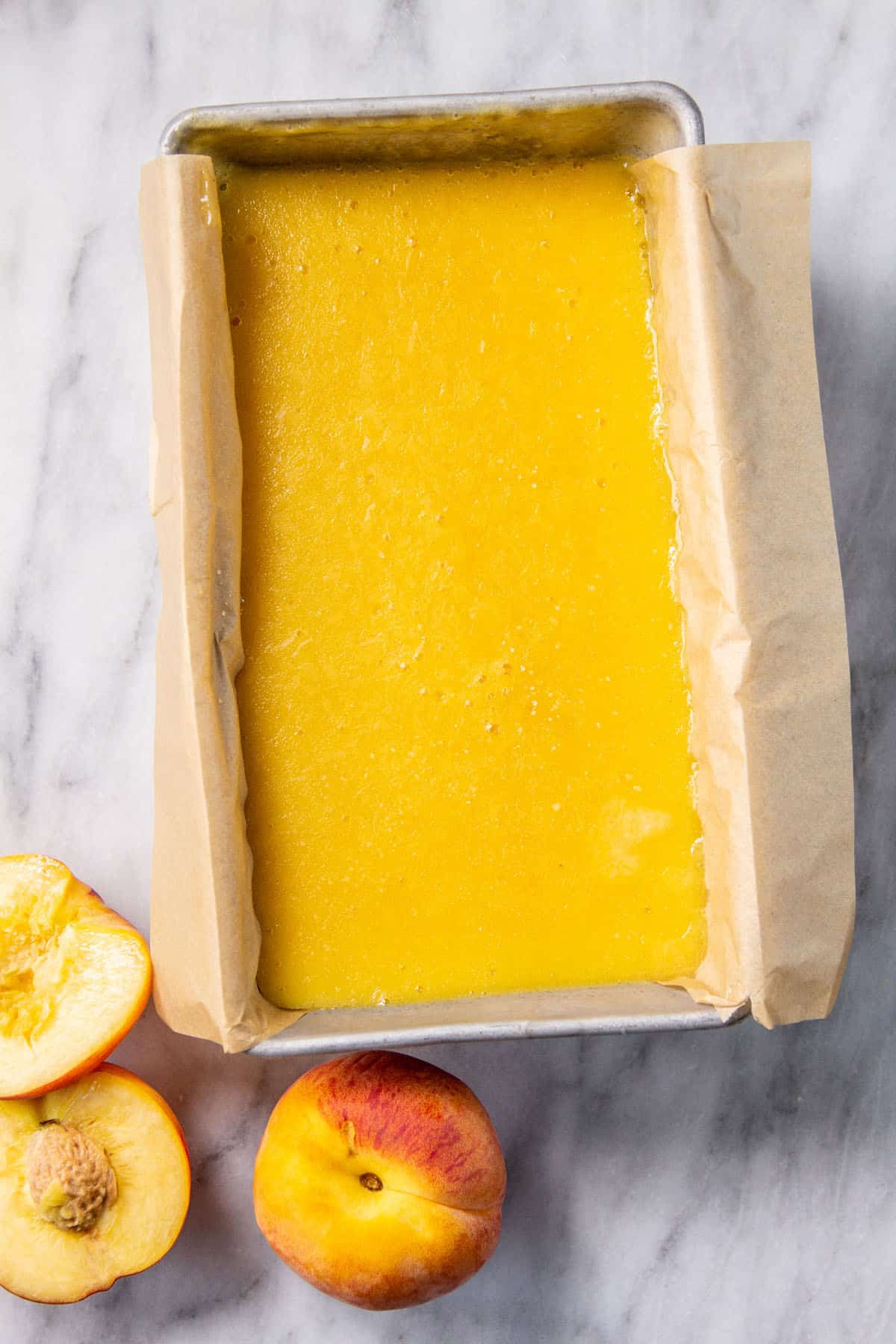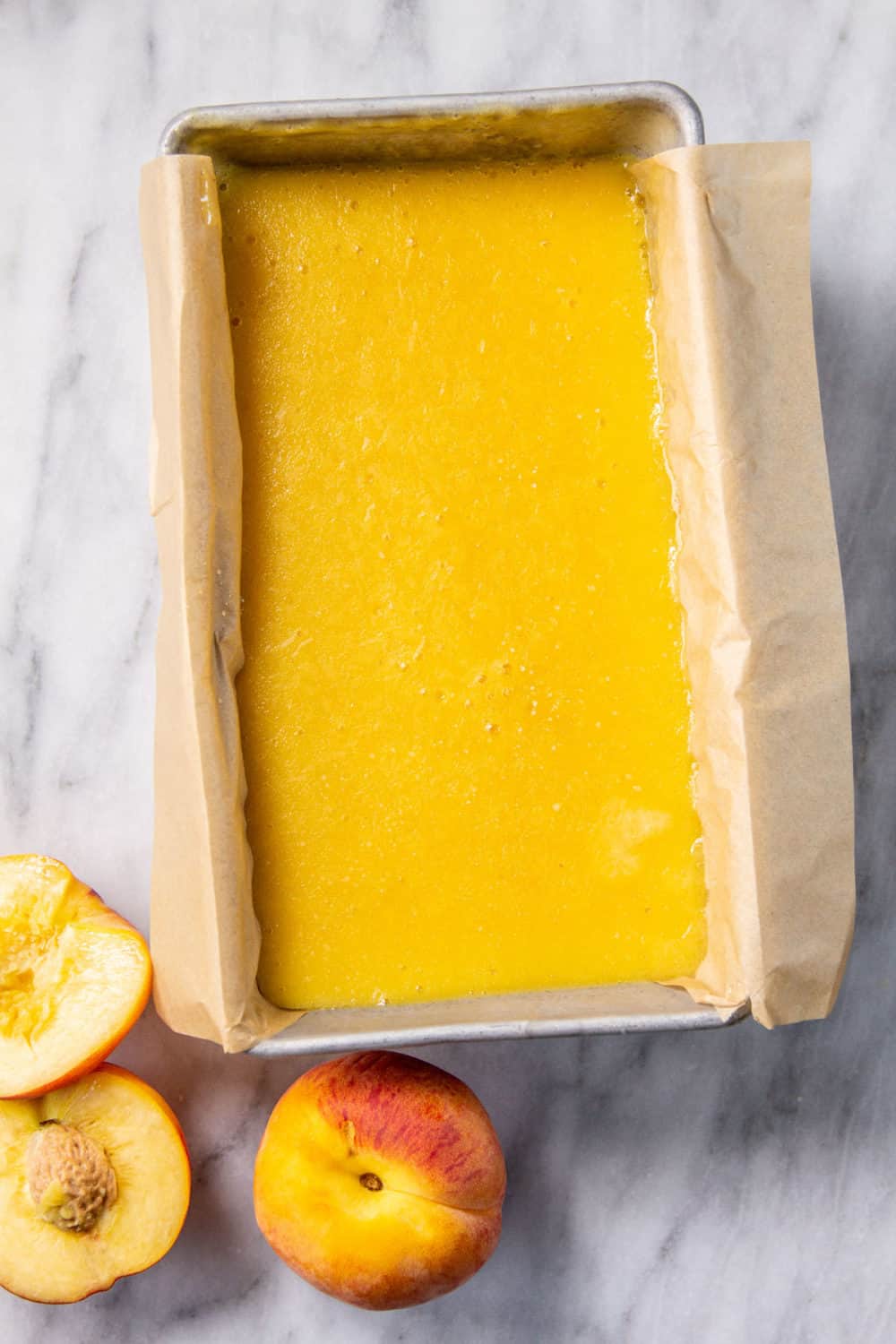 Our Tips for Serving and Enjoying Peach Sorbet
Our California-grown peach sorbet is an incredibly versatile recipe. It's perfect on its own, but you can also pair it with slices of fresh stone fruit, use it as a base for fantastic wine-inspired cocktails, or even serve it as a palate cleanser between the courses of a fancy dinner. The possibilities are only limited by your imagination!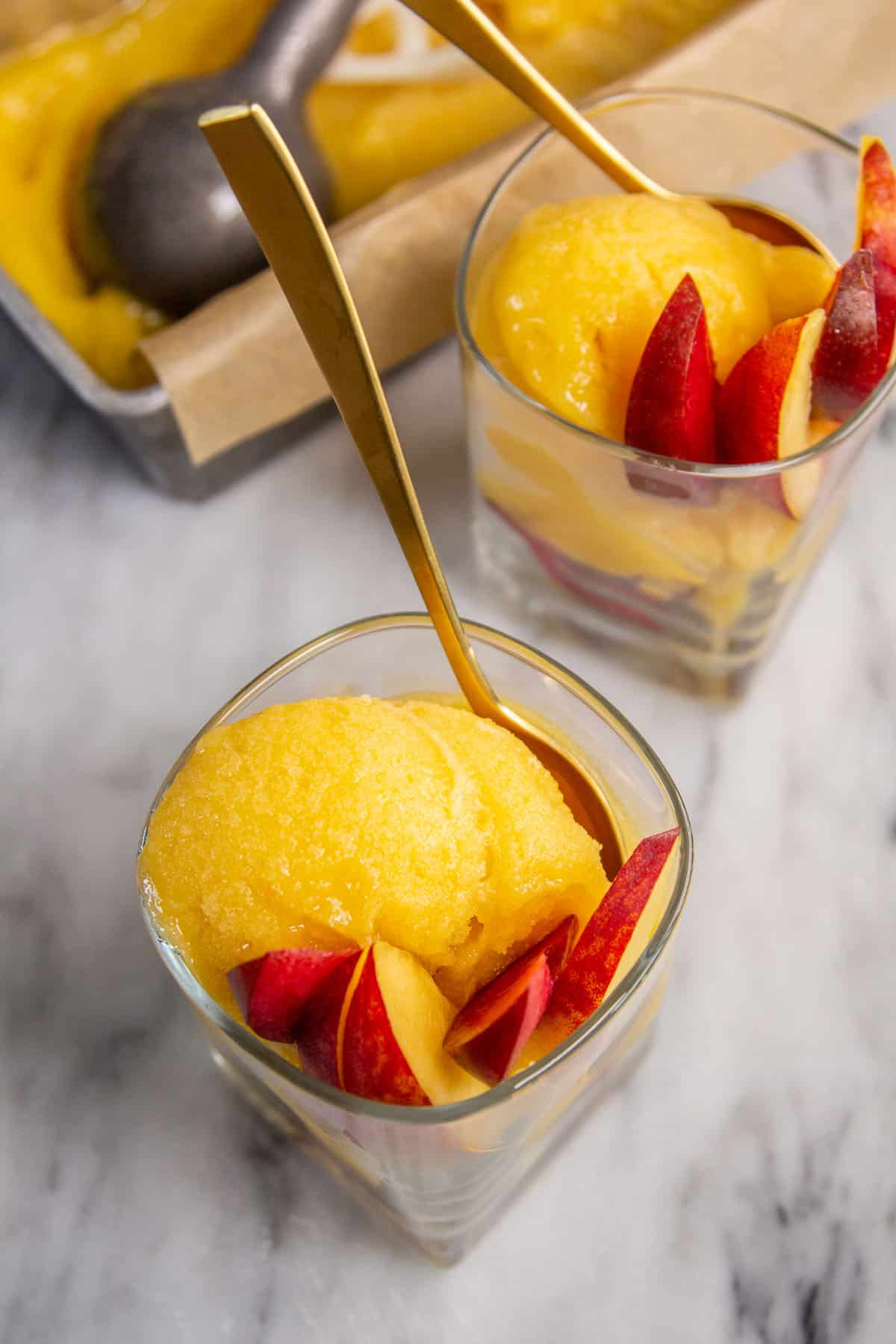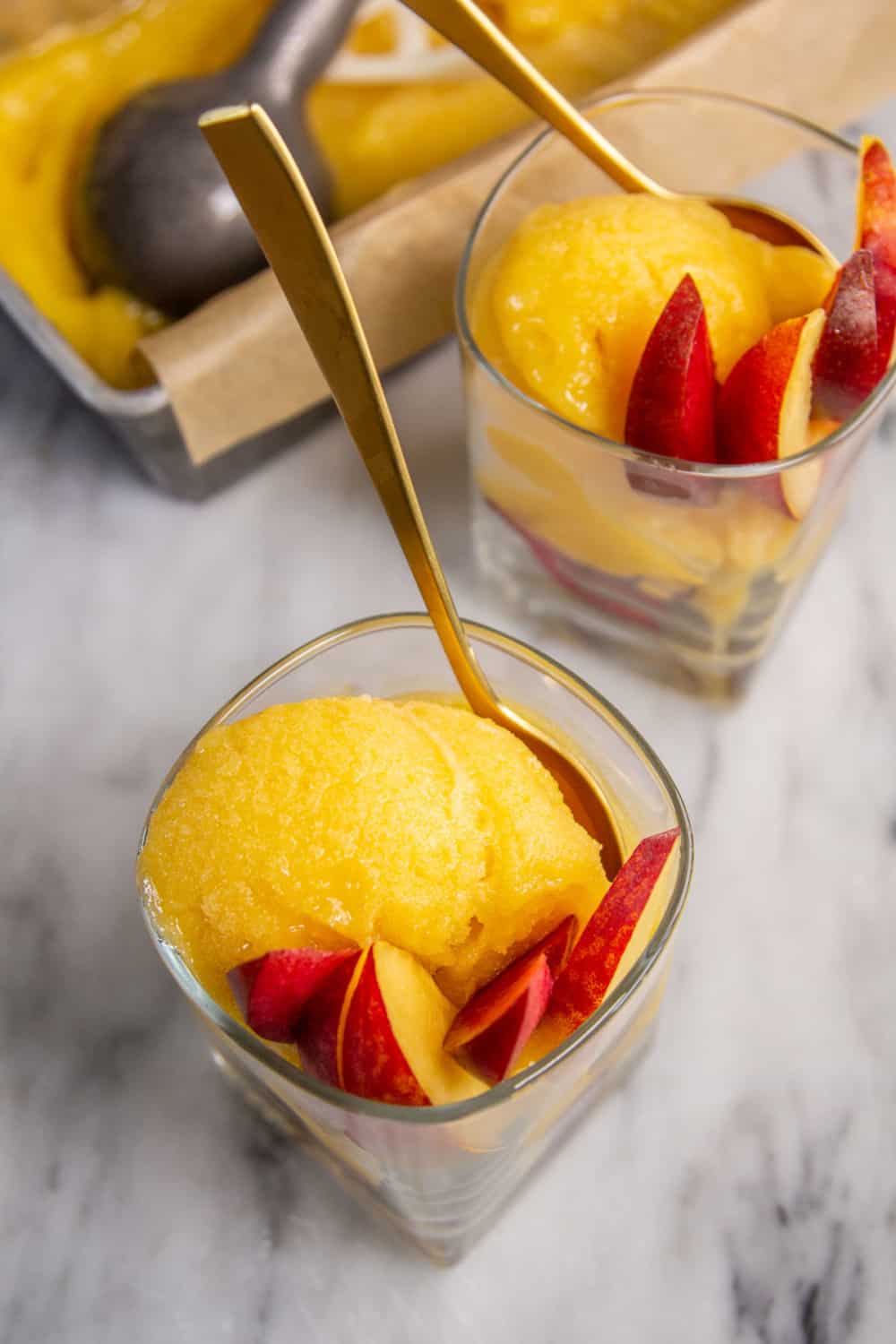 BE SURE TO SHARE YOUR SORBET-INSPIRED CREATIONS WITH US BY SNAPPING A PIC AND TAGGING US ON SOCIAL USING #CAGROWN.
Craving more CA Grown goodness? Follow us on Pinterest for fresh and fabulous recipe inspiration!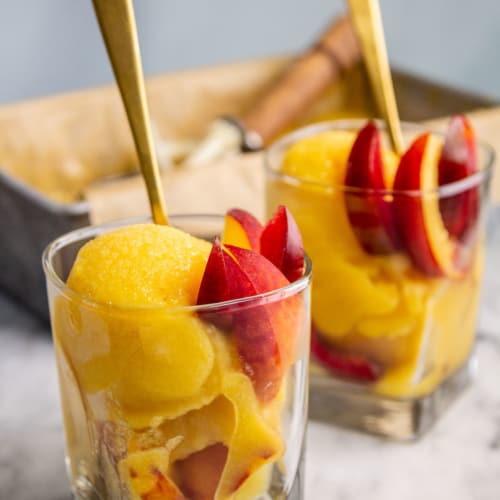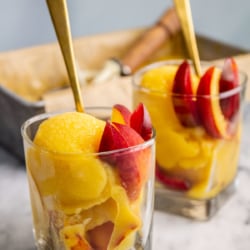 California Grown Peach Sorbet
Our 3-ingredient California-grown Peach Sorbet is a cool, sweet bite of summer that you are going to be making on repeat!
Ingredients
8 ripe California peaches Halved, pits removed, sliced into quarters and peeled.
1 cup granulated sugar If using honey, you will need 1/2 cup granulated sugar and 1/4 cup honey.
1 tablespoon freshly squeezed lemon juice more to taste.
Slices of fresh stone fruit like peaches, plums, apricots, nectarines, or cherries to serve. optional, but recommended.
Instructions
Place the desired amount of sugar into the carafe of a blender and blend for 15-20 seconds until powdery. If using honey as well, add it to the blender once the sugar has been processed.

Add the prepared peaches and lemon juice to the blender with the caster sugar.

Blend until smooth.

Pour into a loaf pan lined with parchment paper. The parchment paper isn't mandatory, but it will ensure easy scooping once frozen.

Freeze for 6-8 hours or until frozen solid.
To serve peach sorbet
Use an ice cream scoop to portion out the desired amount of sorbet. Serve immediately with slices of fresh stone fruit if desired.
Nutrition
Calories: 213kcalCarbohydrates: 54gProtein: 2gFat: 1gSaturated Fat: 0.04gPolyunsaturated Fat: 0.2gMonounsaturated Fat: 0.1gSodium: 26mgPotassium: 247mgFiber: 3gSugar: 50gVitamin A: 652IUVitamin C: 9mgCalcium: 8mgIron: 1mg
Click here to view the Google Web Story for this post!
Hungry for more peach recipes? Us too! Keep scrolling for a few of our favorites.
Ricotta Toast with Warmed Peaches, Honey, Blueberries and Walnuts
Consider this recipe a rough guideline for making a decadent, seasonal toast that pairs ripe fruit with creamy ricotta. Slicing the bread thick and toasting it in a pan gives it a crunchy outer layer, with a tender crumb in the center, and softening the fruit in butter helps to intensify its flavor. Try it with other stone fruit or berries!
Check out this recipe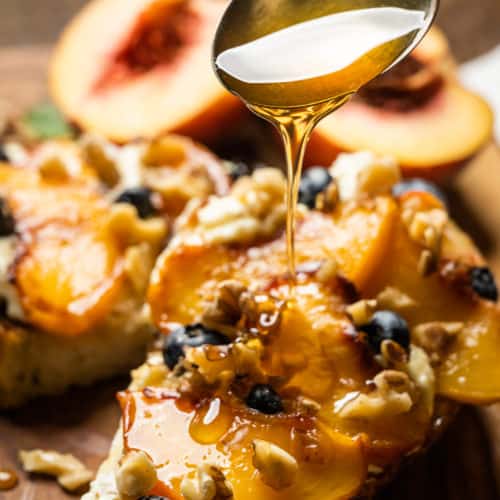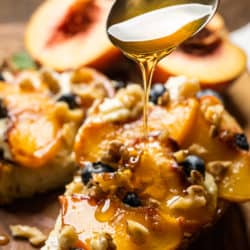 Apricot and Peach Crisp Recipe
A fruit crisp is an easy-to-make dessert that is completely customizable and absolutely irresistible. You are only limited by your imagination!
Check out this recipe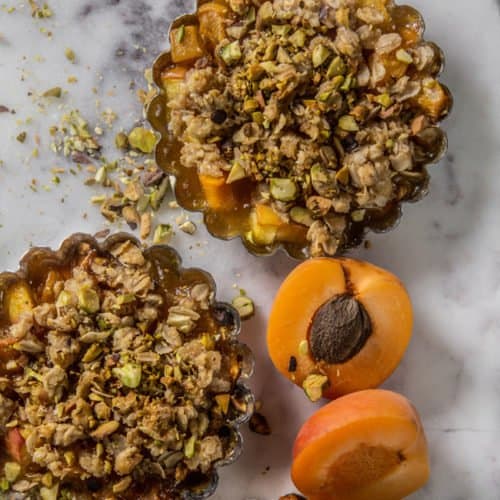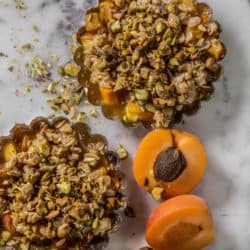 Cling Peach Hand Pies
We're obsessed with our friend Alycia's Cling Peach Hand Pies. It's a good thing cling peaches are always in season, because you'll want to enjoy these beauties all year long!
Check out this recipe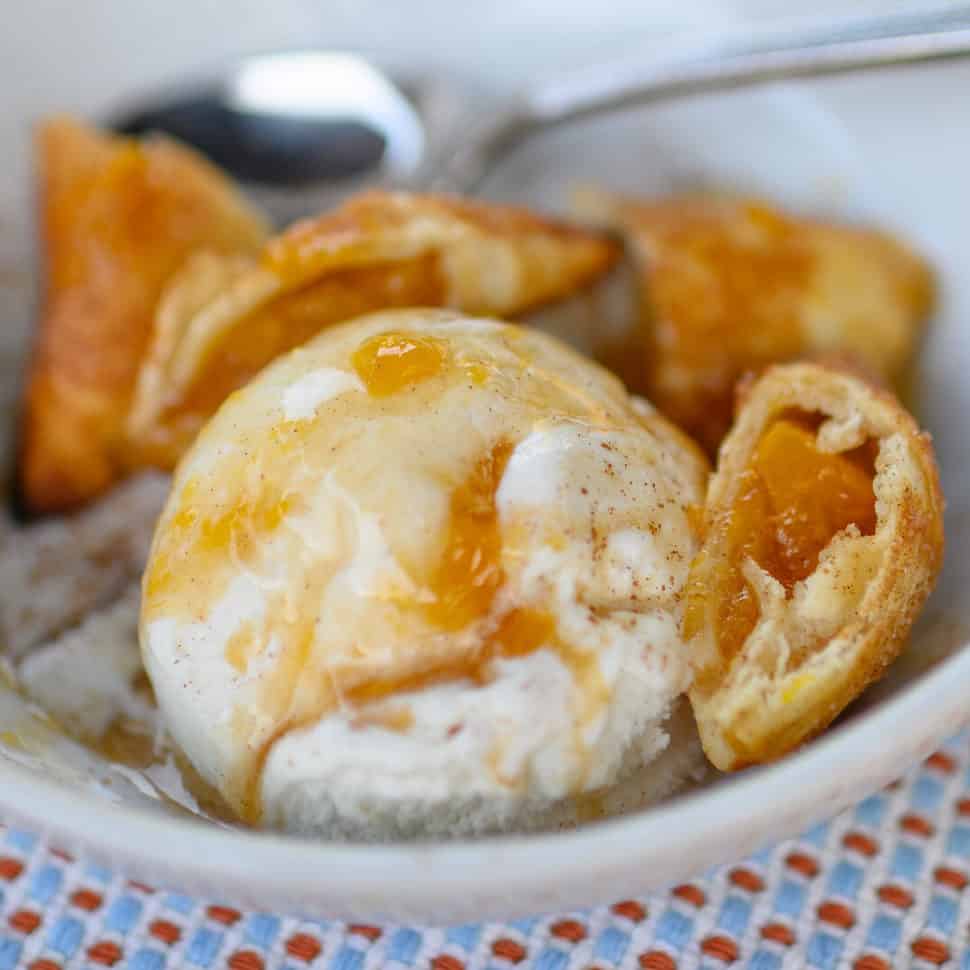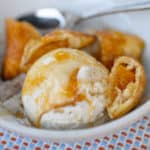 Honey Garlic Chicken with Peach Salsa
This quick and easy Honey Garlic Chicken with Peach Salsa recipe from our friend Britney Breaks Bread is a celebration of summer. Honey and garlic marinated chicken is topped with peaches, herbs, and jalapeños for a little kick!
Check out this recipe