The Penny Ice Creamery: Churning up the most adventurous flavors in California!
Not only is The Penny Ice Creamery in Santa Cruz, California home to the most delightful artisanal ice cream we've ever tried, it is also a full-fledged dairy! Plus, they use produce from local farms to flavor their treats. Follow along as we deliver the fruit for Chef Kendra's famous and super-seasonal green strawberry sorbet!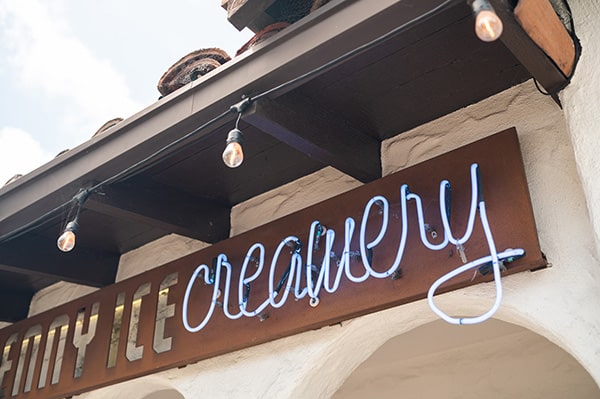 The Penny Ice Creamery is the result of the combined efforts of Chef Kendra L. Baker and business partner Zachary E. Davis' and their passion for food. Together they cultivate a unique opportunity, inviting the community to take a look behind the scenes into their daily production. The open kitchen and showcased production room in The Penny Ice Creamery allow the customers to feel like they are in the kitchen themselves.
The tastemakers at The Penny Ice Creamery have complete control of the ice cream making process from beginning to end. This makes for a superior experience for their devoted local customers and the lucky few of us that happen to indulge when we are visiting.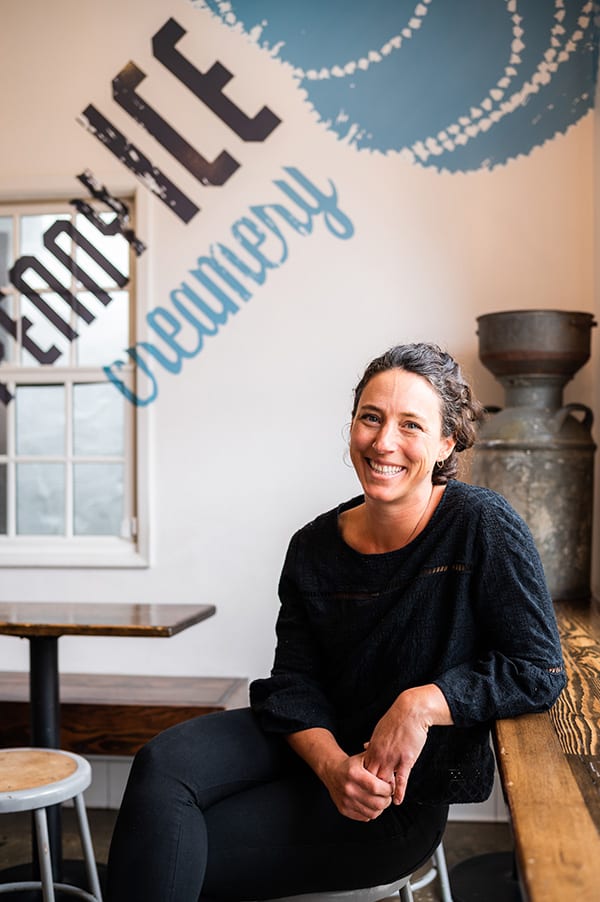 This is Kendra Baker. She is a dessert entrepreneur!
Kendra came to Santa Cruz to attend UCSC as a language studies major and fell in love with the area, organic produce & the farmers.
She then studied abroad in Italy – which is where she developed a love of food & cooking.
After her return to The States, she found work at Gabriella Cafe, which ironically currently sits across the street from what is now the original Penny Ice Creamery location.
She then attended culinary school on the east coast and became a pastry chef.
After school Kendra worked in multiple culinary positions abroad and in the United States.
Somewhere between her travels, working in different roles in restaurants, and her time in culinary school, Kendra discovered that a passion for ice cream had blossomed within her. It was this self-discovery that inspired her to go out on her own.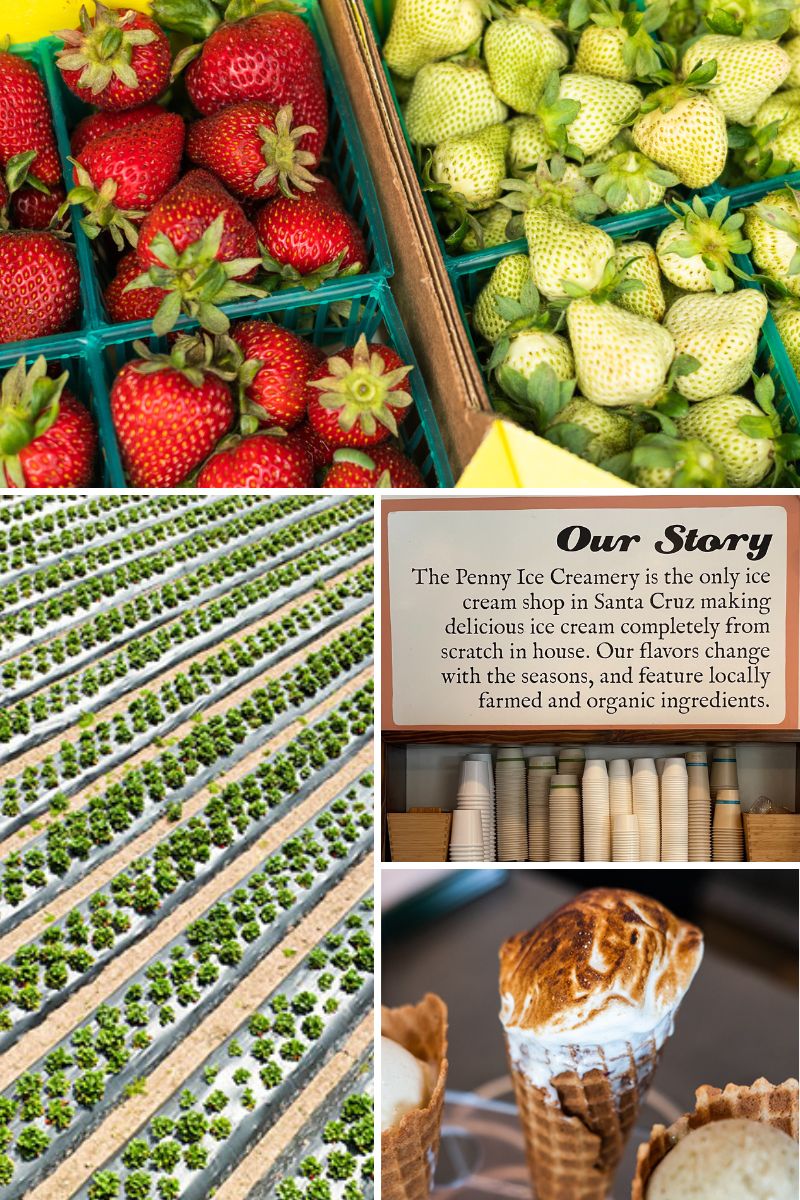 Why open an ice creamery?
When you are a trained pastry chef, you have lots of options for areas in which to focus your life's work. So, why did Kendra choose ice cream as her medium of choice?
Kendra found during her travels and through her work, no matter where she was, that people loved ice cream. It is her travel around the world that allowed her to present new and unique flavor combinations to people who may have not been so willing to try them before. She found that when ice cream was the medium in which she created her flavorful expressions, people were often open to trying something new.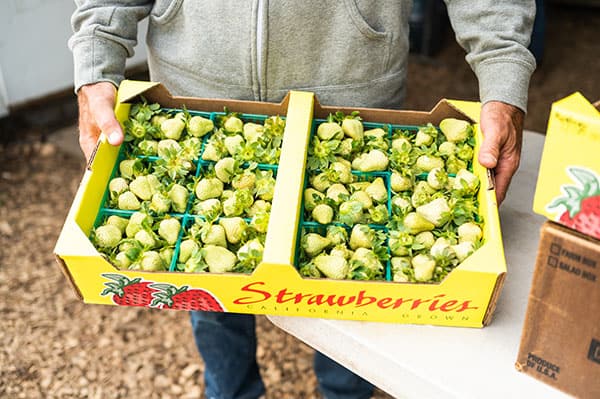 "Because people are adventurous with ice cream, I can play in the creamery with flavors like Green Strawberry Sorbet that I make with the green strawberries from Joe at Dirty Girl Produce. Or candy cap mushrooms which are foraged locally by Freddie. Later in the season we will make a peppercorn strawberry flavor with Joe's ripe strawberries. It's just fun and whimsical – it keeps my brain going and my other cooks inspired to come up with new flavors based off the seasons and what's available here. "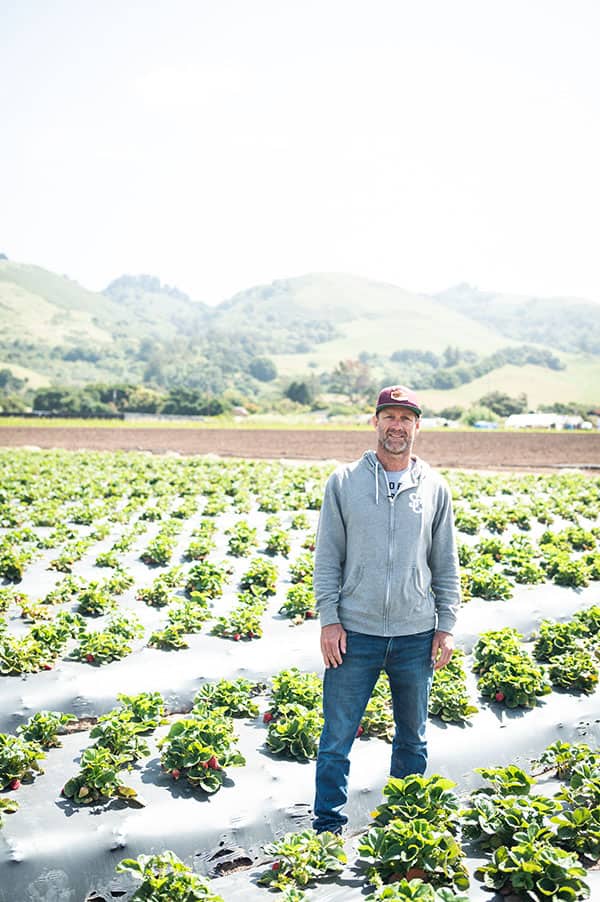 Recently, we had the pleasure of visiting Joe at Dirty Girl Produce , where we learned about how he grows strawberries and how passionate he is about his farmworkers and local community.
Then, we escorted his green strawberries right to The Penny Ice Creamery's front door to be churned into Green Strawberry Sorbet!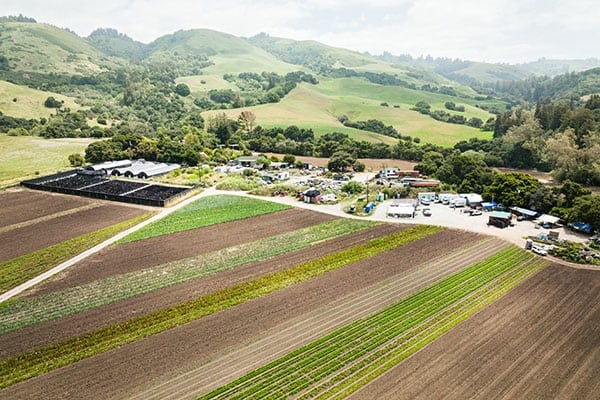 How does The Penny Ice Creamery work with local farms in Santa Cruz and throughout California?
"The Penny is super unique because we are one of the smallest dairy manufacturing plants in the US. That means we are able to get in all of our ingredients raw. We pasteurize all of our own bases and we are able to source all of our fruits, vegetable, herbs, and flowers from our local farms."
"What's really unique is that they're ( the farmers) coming to me and saying, 'I have this! This is what is at its peak season, how many flats do you want? I think you should try this. This is something new I'm working on.' So it's really collaborative in that sense. They know that they always have a place for something they're testing, or if they have a bumper crop of something, or extras from items that didn't sell as well at market. It feels really good to me to be able to provide that space for the farmers and also to have access to all of these unique and new ingredients that may not already be out there." – Kendra Baker, The Penny Ice Creamery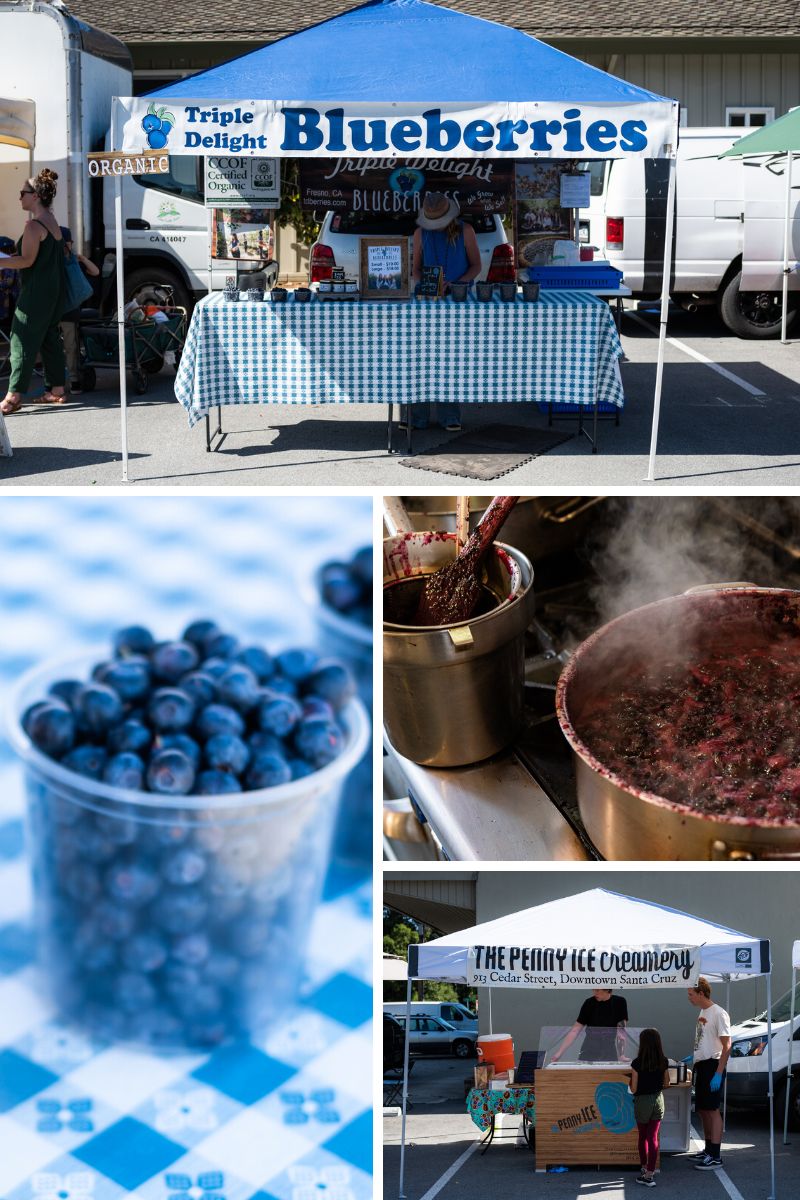 How does sustainability play a role at The Penny Ice Creamery?
We talk a lot on California Grown about how sustainability takes place on a farm, but what about in an ice creamery? Can an ice creamery practice sustainability?
To be honest, before my visit with Kendra I had never really focused on all the ways an ice creamery can be sustainable, but The Penny Ice Creamery is what I would classify as "advanced proficient" on the topic.
They make sustainable choices from the types of cups and spoons they purchase to serve their product, to the flavors themselves like Fresh Fig Leaf which is made with Kendra's from scratch ice cream base infused with aromatic fresh fig leaves from the UCSC Farm.
Speaking of sustainable choices and from-scratch ice cream base, some of The Penny Ice Creamery's ice cream base is made with egg yolks. In an effort not to waste the egg whites, chef Kendra began making homemade marshmallow meringue (AKA: Marshmallow Fluff) on a daily basis.
To experience this delightful side effect of sustainability for yourself, simply add a topping of torched Marshmallow Cream to any scoop or cone.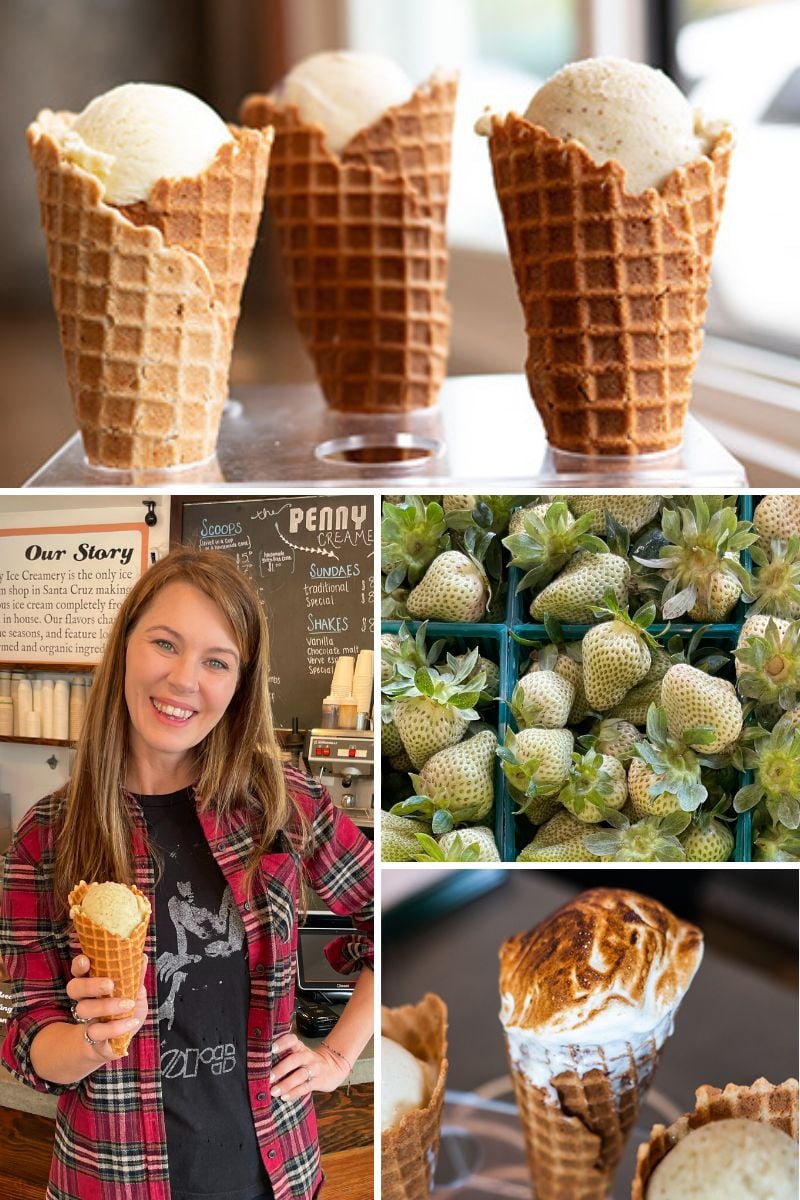 A trip to Santa Cruz isn't complete without indulging your inner child with a trip to The Penny! Whether you visit their brick and mortar location or you find them at one of the many Santa Cruz Farmer's Markets they frequent, do yourself a favor and just find them.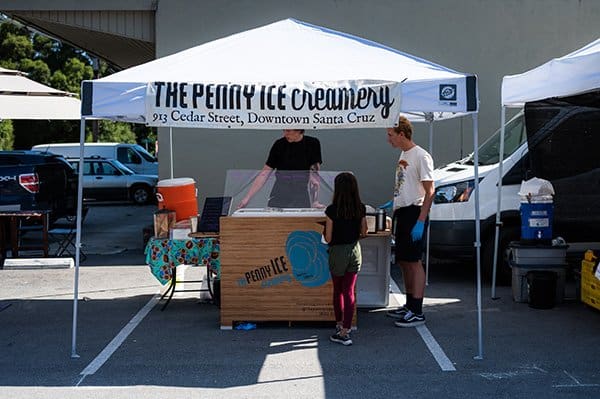 Locations & hours to visit The Penny Ice Creamery
Cedar: (12PM-11PM) 913 Cedar Street, Santa Cruz, CA 95060
Pleasure Point: (Sun-Thu 12PM-10PM, Fri & Sat 12PM-11PM) 820 41st Avenue, Santa Cruz CA, 95062
Aptos Village: (Sun-Thu 12PM-9PM, Fri & Sat 12PM-10PM) 141 Aptos Village Way, C2, Aptos CA, 95003
Scotts Valley: (Sun-Thu 12PM-10PM, Fri & Sat 12PM-11PM) 262 Mount Hermon Rd, Suite 104, Scotts Valley CA, 95066
What to order at the Penny Ice Creamery
It's important to note that first and foremost, The Penny Ice Creamery is the only ice cream shop in Santa Cruz, California that makes their ice cream completely from scratch in house! There are zero wrong decisions when it comes to ordering. Whether your ice cream delivery method of choice is a scoop in a sustainable cup, a homemade waffle cone or made in-house gluten free waffle cone filled with a combination of flavors, it's all a go! It doesn't hurt however, to do a little research.
The Penny Ice Creamery combines traditional culinary methods with modern and whimsical flavors to develop truly unique ice cream creations. Here are a few of our current seasonal favorites and the local farms the ingredients are sourced from.
The Penny Ice Creamery takes great care in sourcing each ingredient that goes into their ice cream, and since they are a licensed pasteurizer, they don't have to use pre-mixed ice cream bases and instead are free craft each recipe to yield the ultimate flavor profile.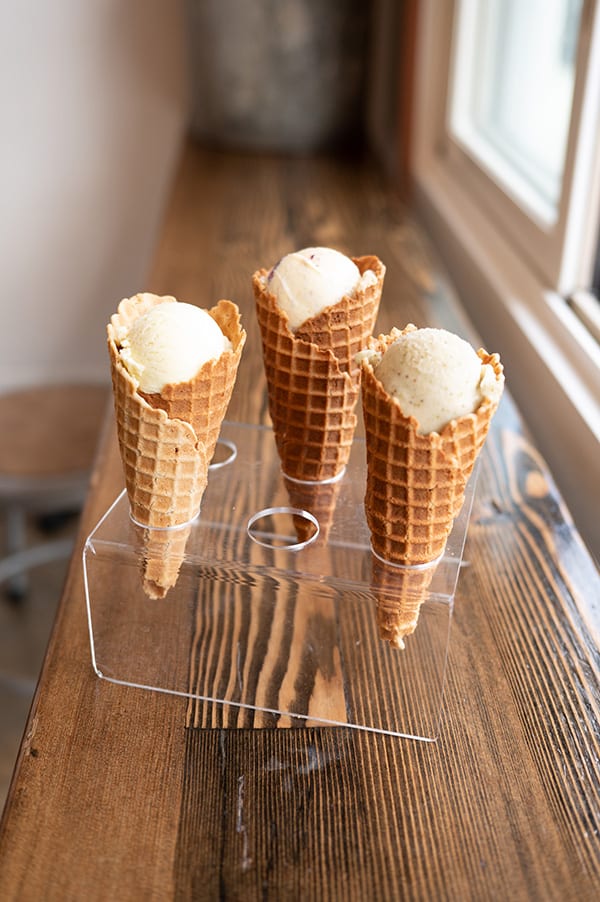 So, what did we order at The Penny Ice Creamery?
Sustainable cup, homemade waffle cone, or made in-house gluten free waffle cone – there are no wrong choices, they are all right when it comes to treating yourself at The Penny Ice Creamery.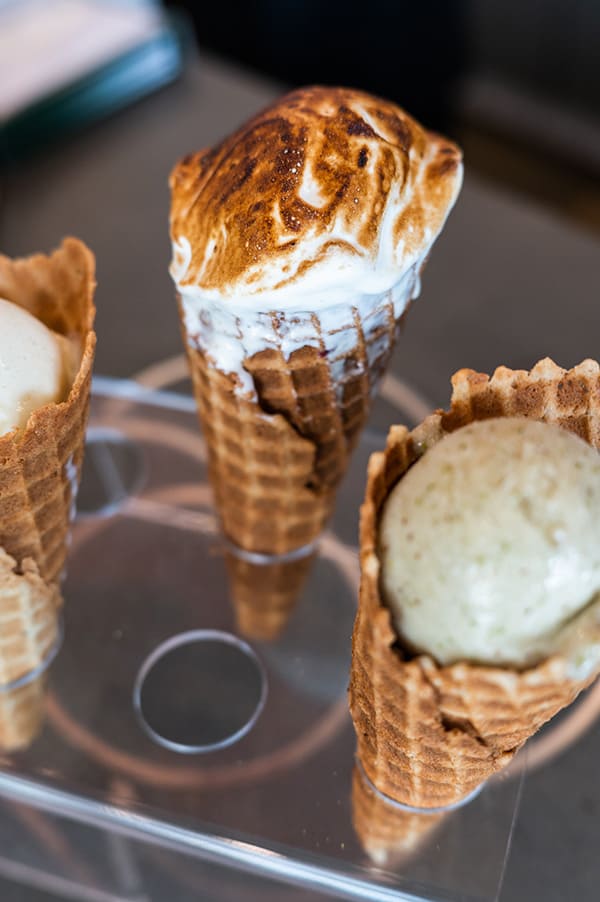 Peep my cone!!
I will forever dream of the flavor pairing suggestion G Free Foodie sold us on, which is her personal favorite! Here's the equation:
Gluten-free waffle cone
one scoop of Dark Chocolate Sorbet
one scoop Green Strawberry Sorbet
Sustainable, housemade Marshmallow Fluff
TORCHED before my eyes!!!
This article was written by Meg van der Kruik. Photo credit James Collier for California Grown.