How are artichokes grown at Ocean Mist Farms?
If you've enjoyed a fresh artichoke recently, chances are it was grown in California. The Golden State is responsible for 99% of the nation's commercially grown artichokes. One family owned farm, Ocean Mist Farms, holds a whopping 65-85 percent of the market share. With almost a hundred years of experience growing California's official state vegetable, it's safe to say Ocean Mist knows a thing or two about growing artichokes!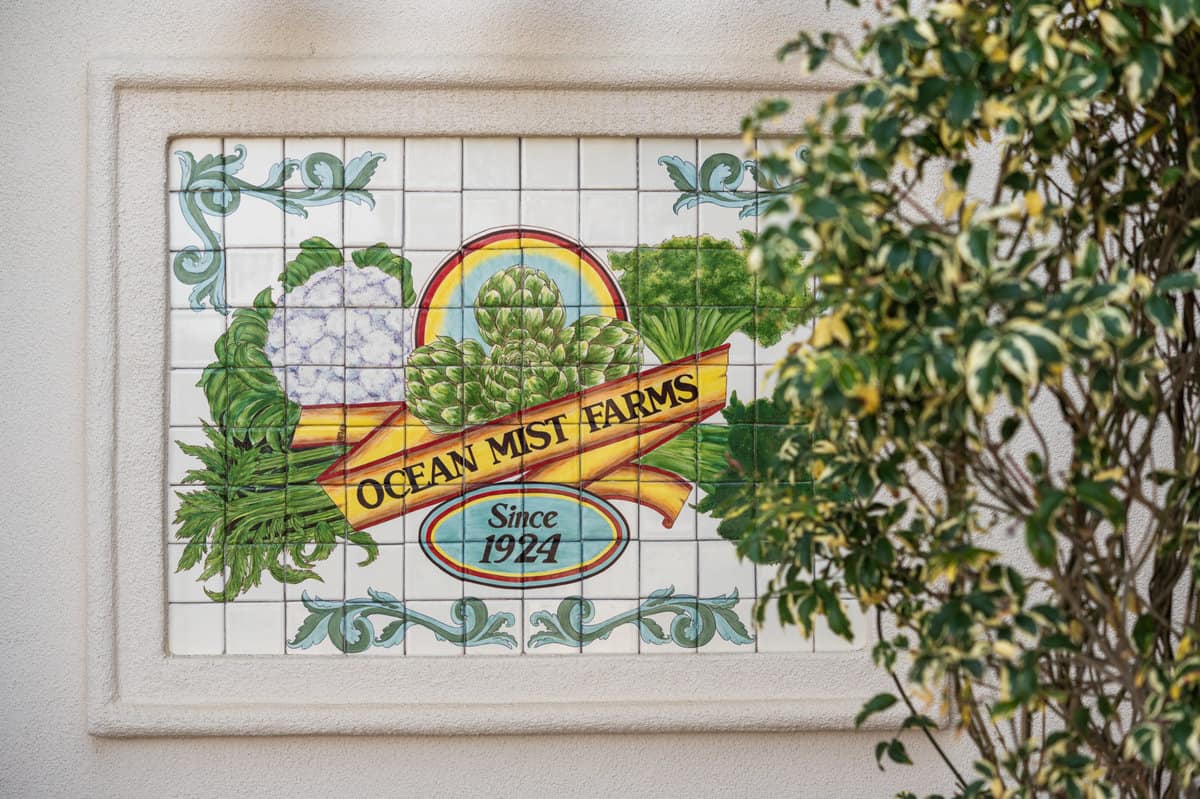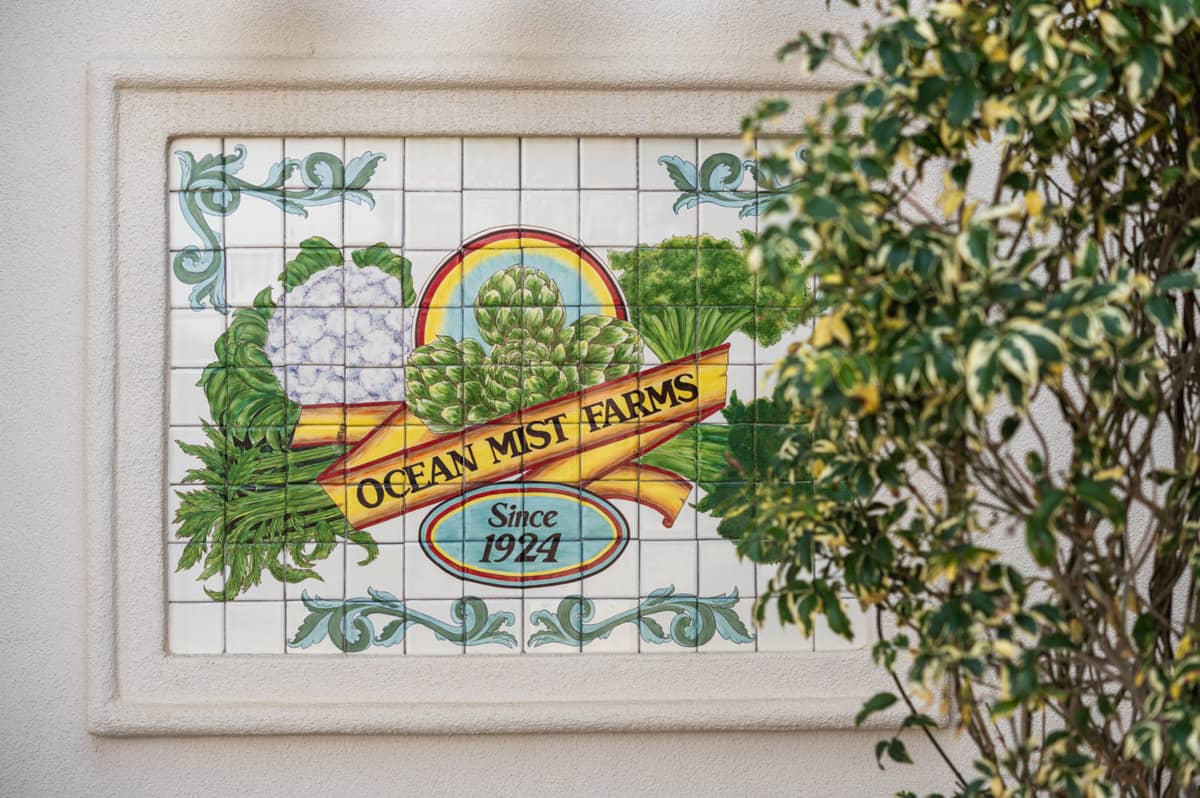 How did Castroville become the Artichoke Capital of the World?
Ocean Mist Farms is headquartered in the tiny town of Castroville, the self-proclaimed "Artichoke Capital of the World". Right in the center of the famed Salinas Valley, this area is one of the state's most productive agricultural regions, and is often referred to as the "Nation's Salad Bowl". If this all sounds a little familiar, it might be because John Steinbeck's iconic novel, "Of Mice and Men" was set here.
In 1920, Andrew Molera planted the first artichokes in Castroville. His family owned sugar beet ranch in Castroville, and when sugar beet prices plummeted, the tenant farmers requested lower rent. Rather than take a loss, Molera decided to go a different route- one that no one would have expected. Being a mountain of a man at 6'2 and four hundred pounds, Andrew Molera's appearance made almost as much of an impression as his interests. He was an avid fan of horse races and, like many in the roaring twenties, loved a good time. He also collected exotic birds, bred fancy dogs, and even owned his own race horses.
Molera was not concerned about "safe" or "average" choices, which is probably what attracted him to artichokes in the first place. After a friend introduced him to the Italian import, he took a gamble and planted an acre of this "exotic" vegetable. Given Castroville's cool climate and fertile soils, which were an ideal environment, his initial acre of artichokes thrived.
One year later, two cousins – Amerigo and Angelo Del Chiarosi- were so impressed by Molera's artichoke fields that they tracked him down and asked if they could lease 150 acres of his family's land to plant to artichokes.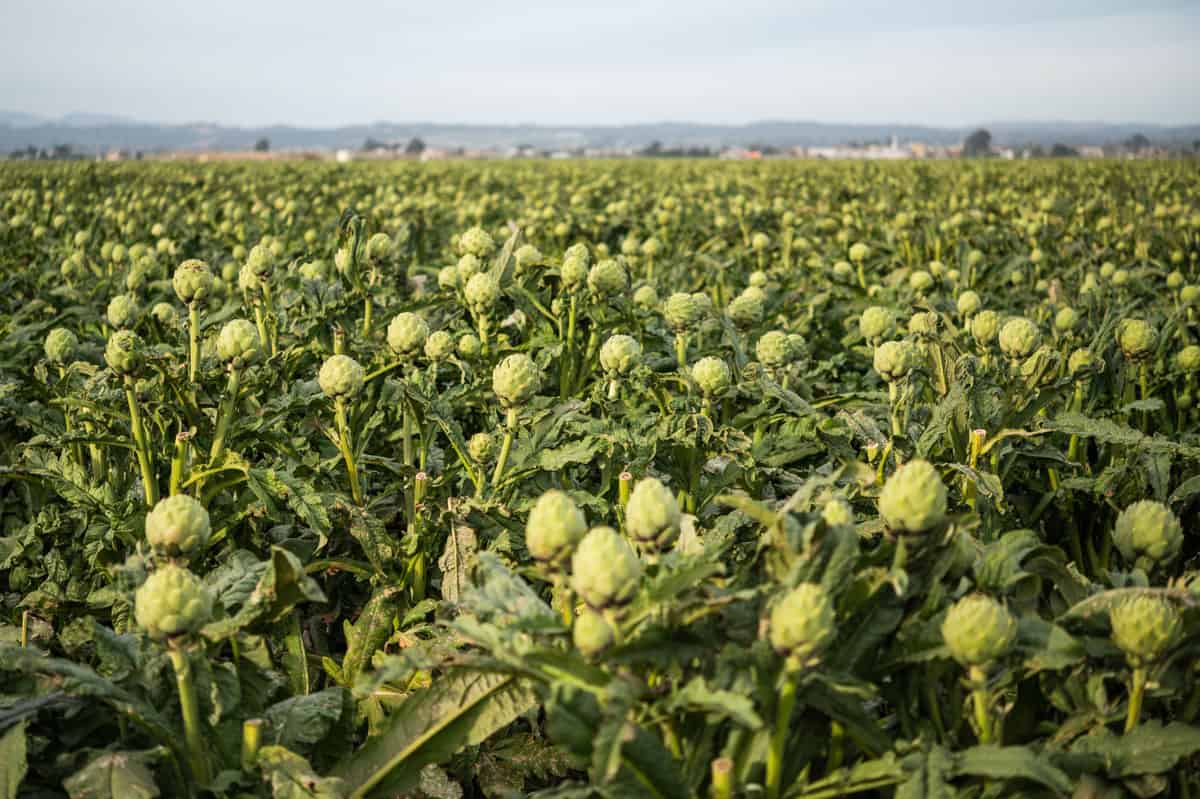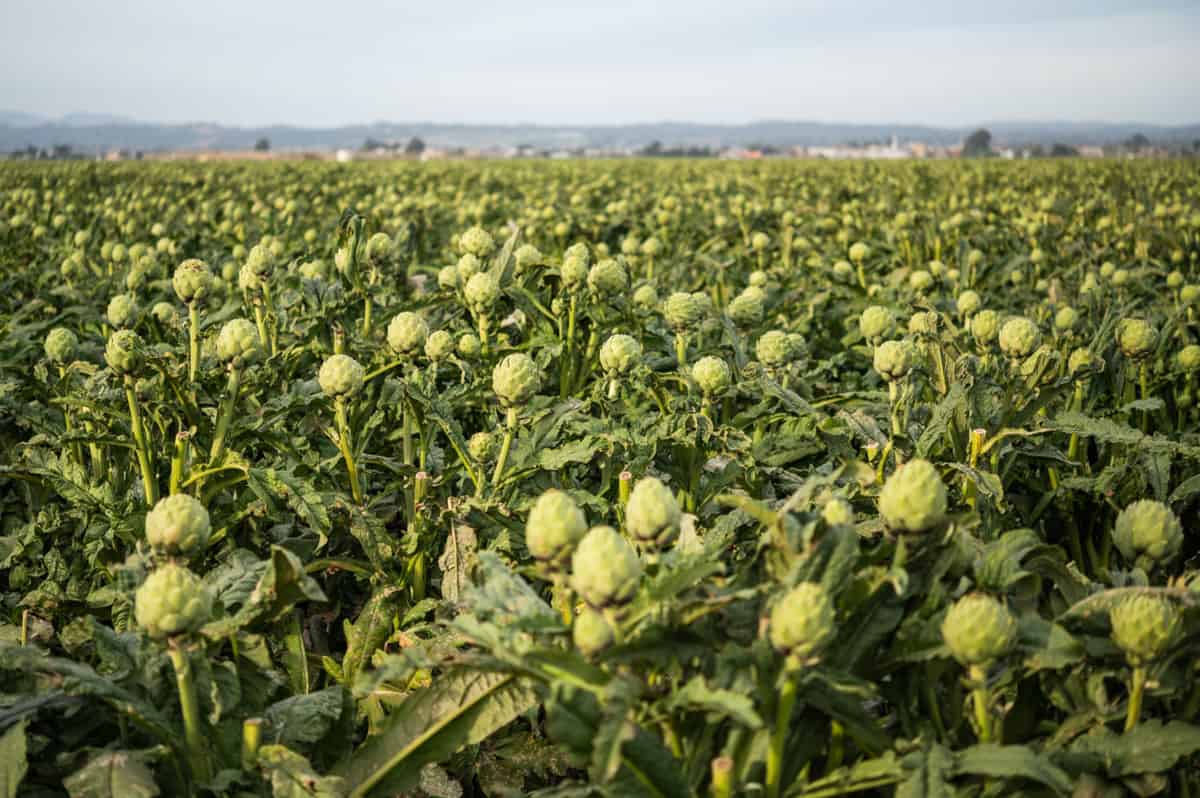 Since those first plantings, the crop continued to thrive and grow in popularity, and Castroville artichoke growers were an ambitious bunch. They wanted to make artichokes a staple in the American diet. Previously, most American artichokes had been imported from France, but when World War I interrupted that supply chain, it created an incredible opportunity for expansion. In 1923, local artichoke growers joined forces and staged a major marketing campaign which included a combination of in-store displays, cooking demonstrations, and recipe distributions, which paid off in spades as recipe sales soared 400 percent in the first year.
In 1924, the Del Chiaros teamed up with Daniel Pieri and formed the California Artichoke Growers Corporation. Together, the three leased additional land just south of Castroville to plant more artichoke fields in order to satiate growing demand from the public. Alfred Tottino, a local grower, joined the fledgling corporation soon after its foundation. Four generations later, the California Artichoke Growers Corporation, now known as Ocean Mist, is responsible for the majority of the nation's fresh artichokes.
What makes Ocean Mist artichokes so special?
Throughout the last one hundred years, Ocean Mist farms has taken great pride in producing a premium artichoke.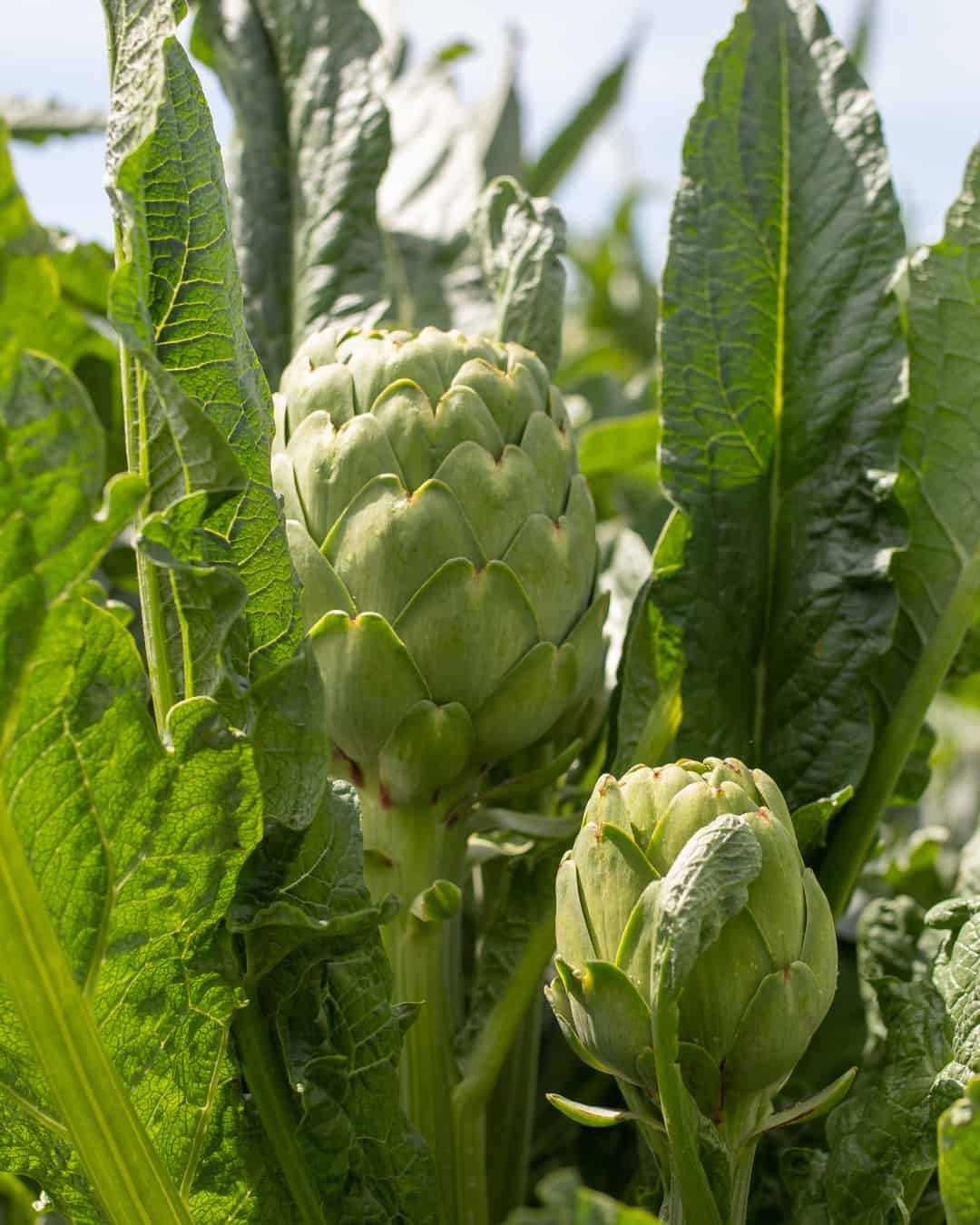 Each year, they trial around 100 proprietary varieties before deciding which 15-20 varieties are best suited to each piece of land. Once a variety has been selected, seeds are planted and seedlings are kept in a super controlled environment for the first forty five days or until they are strong enough to transplant. When the plants are ready to move to the field, they are mechanically transplanted in eighty inch beds. After transplant, Ocean Mist installs sprinklers to keep the seedlings moist. Once seedling roots have set, workers cultivate the surrounding soil to get air to the roots, and then install drip tape- which will deliver water and any necessary fertilizer to the plants.
The artichoke plants are carefully monitored for any signs of pests or disease. Approximately one hundred eighty days after the seedlings are first moved to the field, the artichoke plants will be ready for harvest.
How are artichokes harvested?
While artichokes could technically be grown year-round in Castroville, Ocean Mist has established satellite locations in Coachella and Oxnard- increasing availability of California Grown artichokes during the coldest winter months. As the harvest moves to the north or south, the crews often follow. Artichoke harvesting requires a keen eye and a specialized skill set. Crew members must be able to quickly evaluate artichokes for size, then in one fell swoop, slice the choke from its thick stem, and toss it over their back into a special backpack called a canasta.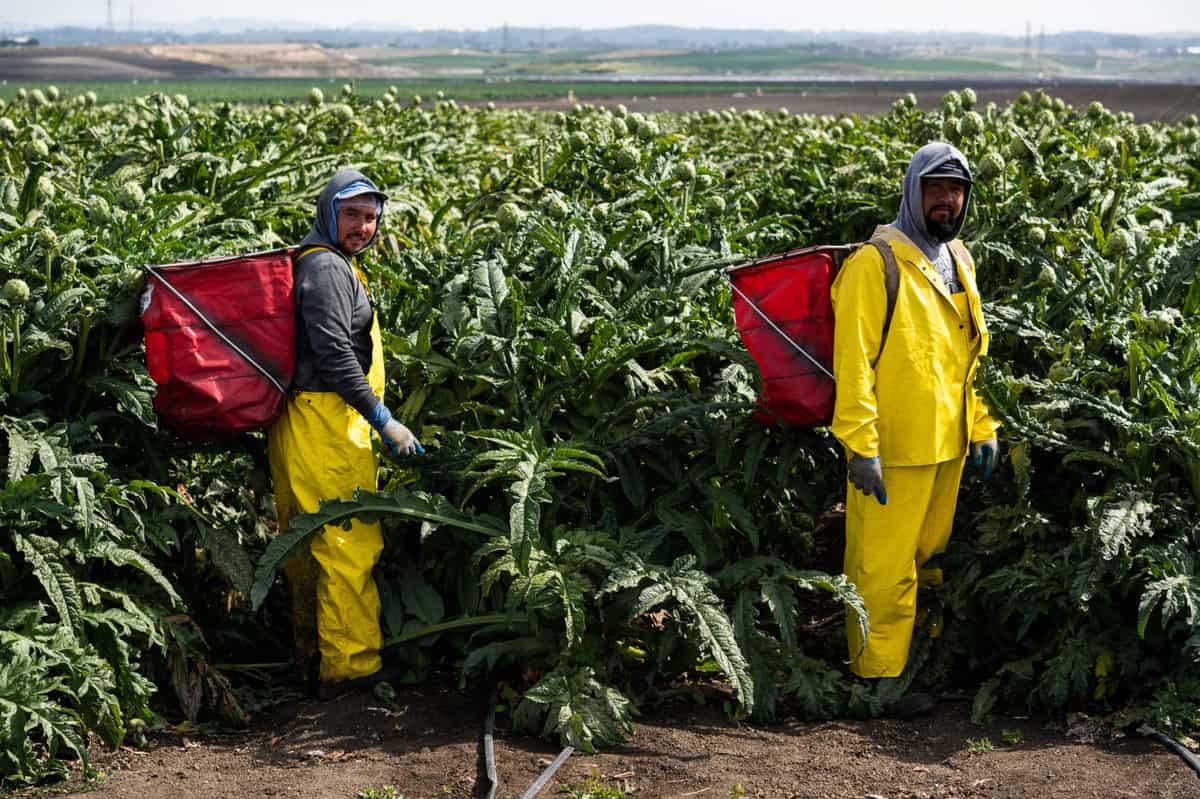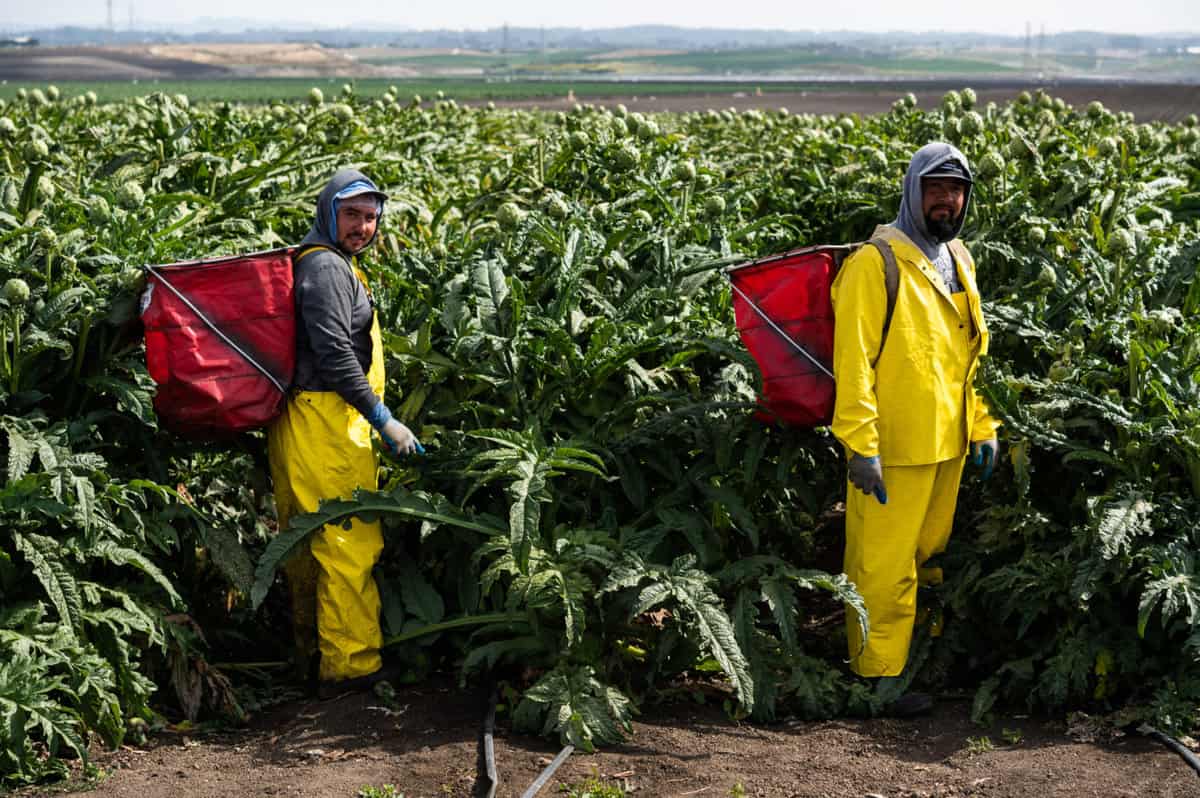 As the farmworkers make their way down the row, the canasta becomes heavier and heavier. A full pack can weigh between 80-100 pounds! In addition to the heavy load, workers often deal with intense heat in the fields. Artichoke fields are dense and humid, and essentially create their own microclimate within the rows. While temperatures outside may seem mild, it is often 15-20 degrees hotter in between the crop rows. Harvest fields with longer rows often have a trailer placed on each end so that farmworkers can unload their pack after picking a row and before they head back down the opposite side to pick again. Immediately after harvest, artichokes are sent to an on-site team that sorts for size, then packages the artichokes and sends them to a cooler where they are ready to be shipped- all in four hours or less.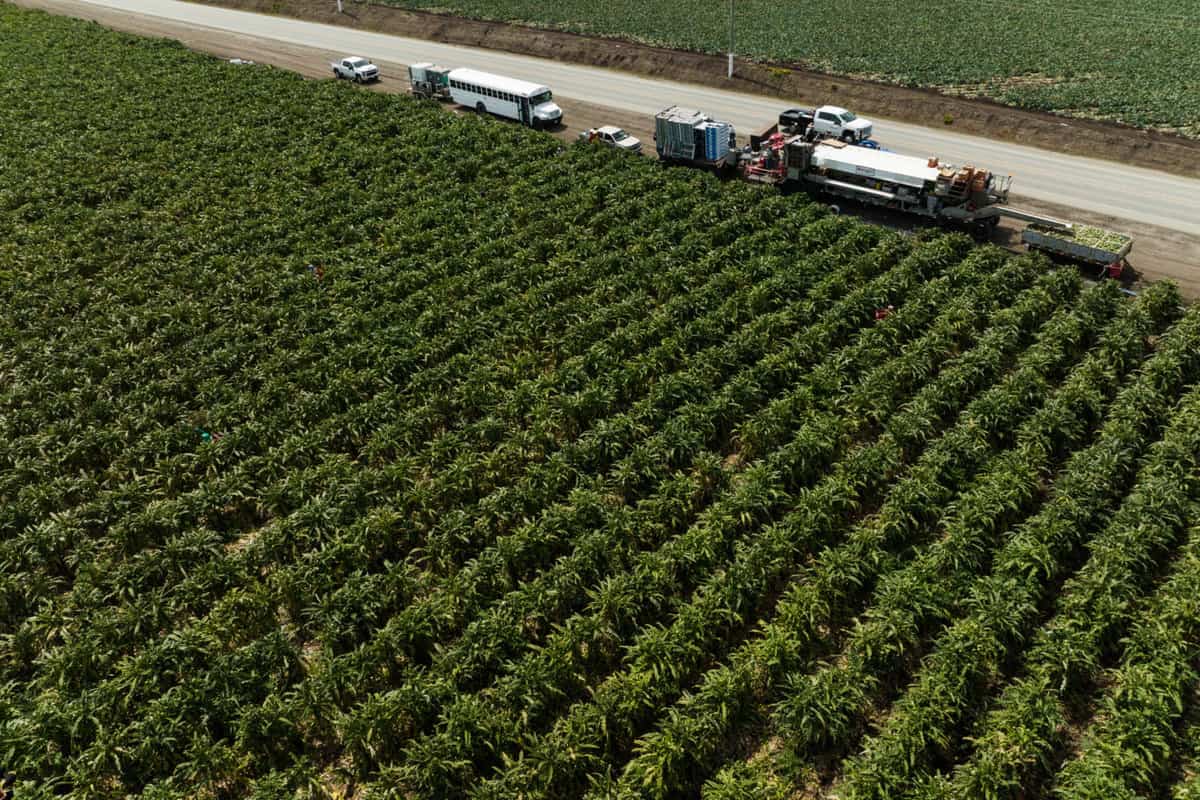 How are artichokes sustainably grown?
Good stewardship of the land is of the utmost importance to Ocean Mist. As a family owned farm with over 250 employees, they understand that sustainable practices will help ensure the future of their operation for years to come.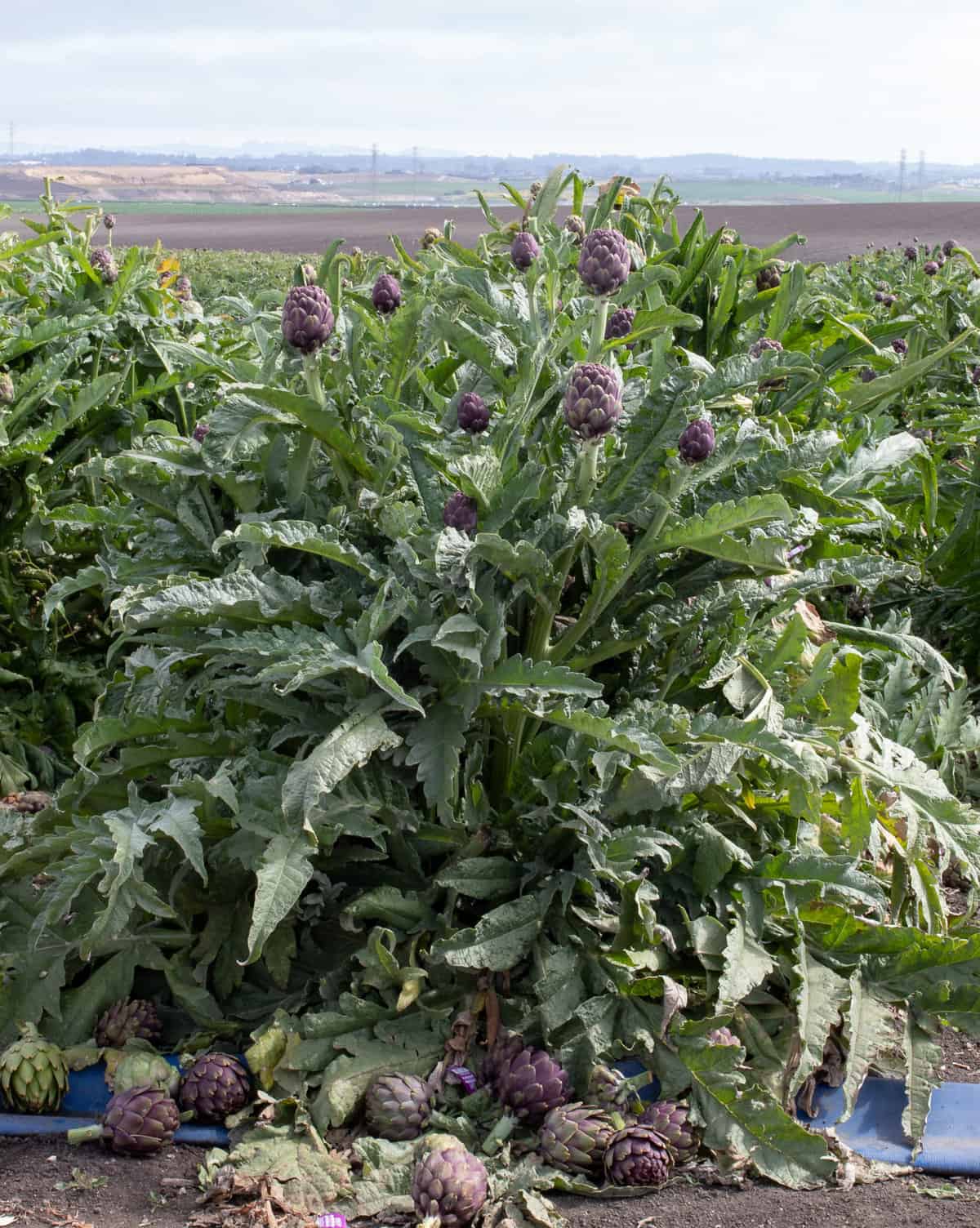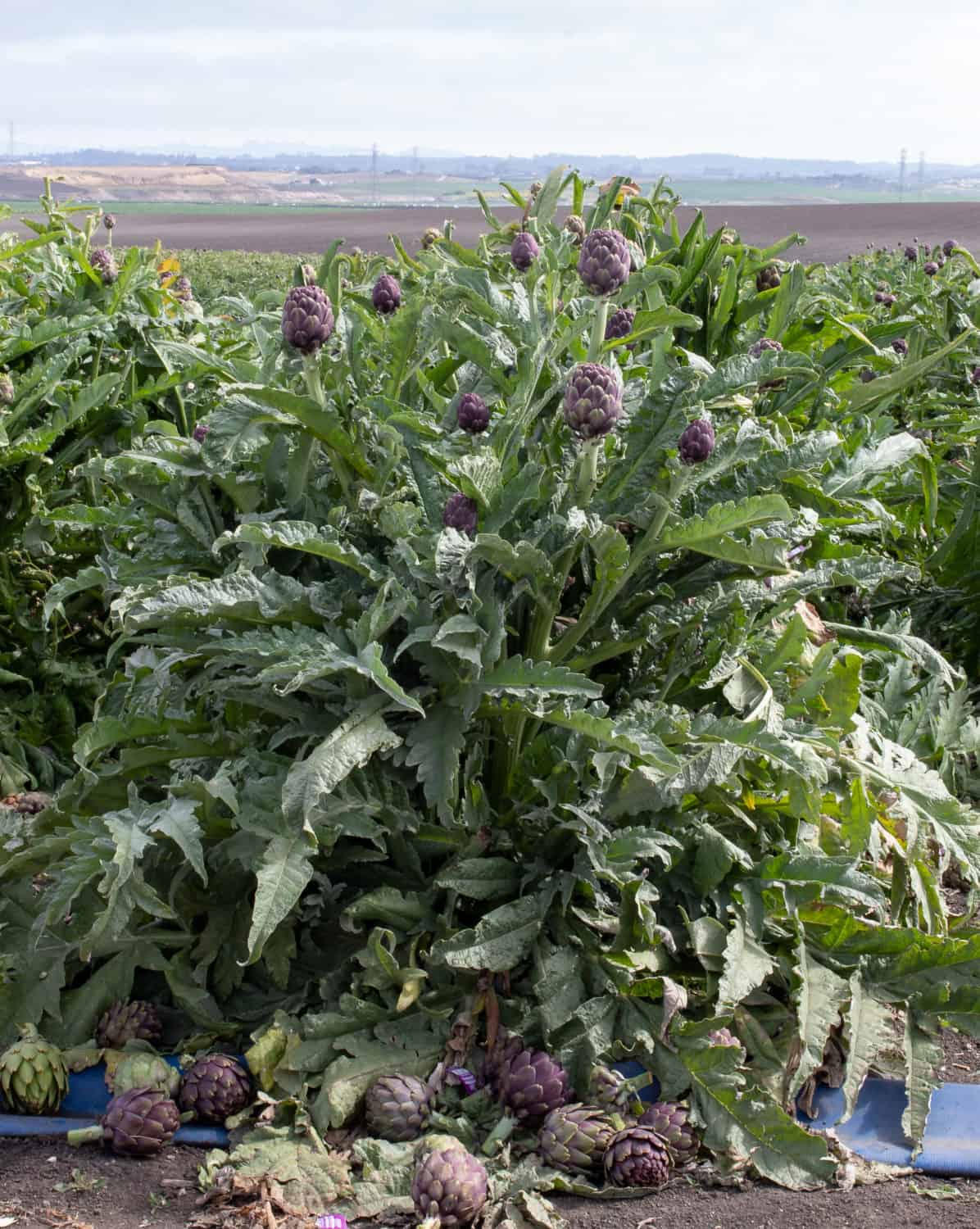 While irrigation accounts for the greatest water consumption (artichokes are over ninety-five percent water), the company has found many opportunities to optimize usage of this precious natural resource. In addition to cultivating proprietary varieties that require less water, Ocean Mist uses drip lines and soil sensors to make sure that each plant receives an optimal amount of water and nutrition with no excess water or water waste. Soil health plays a pivotal role in successful sustainable farming operations, and so after each harvest, Ocean Mist fields are sustainably tilled to improve soil health and increase water retention.
Additionally, they also plant cover crops and use crop rotation to enhance the quality of their soil and use recycled water as an alternative to well water whenever possible.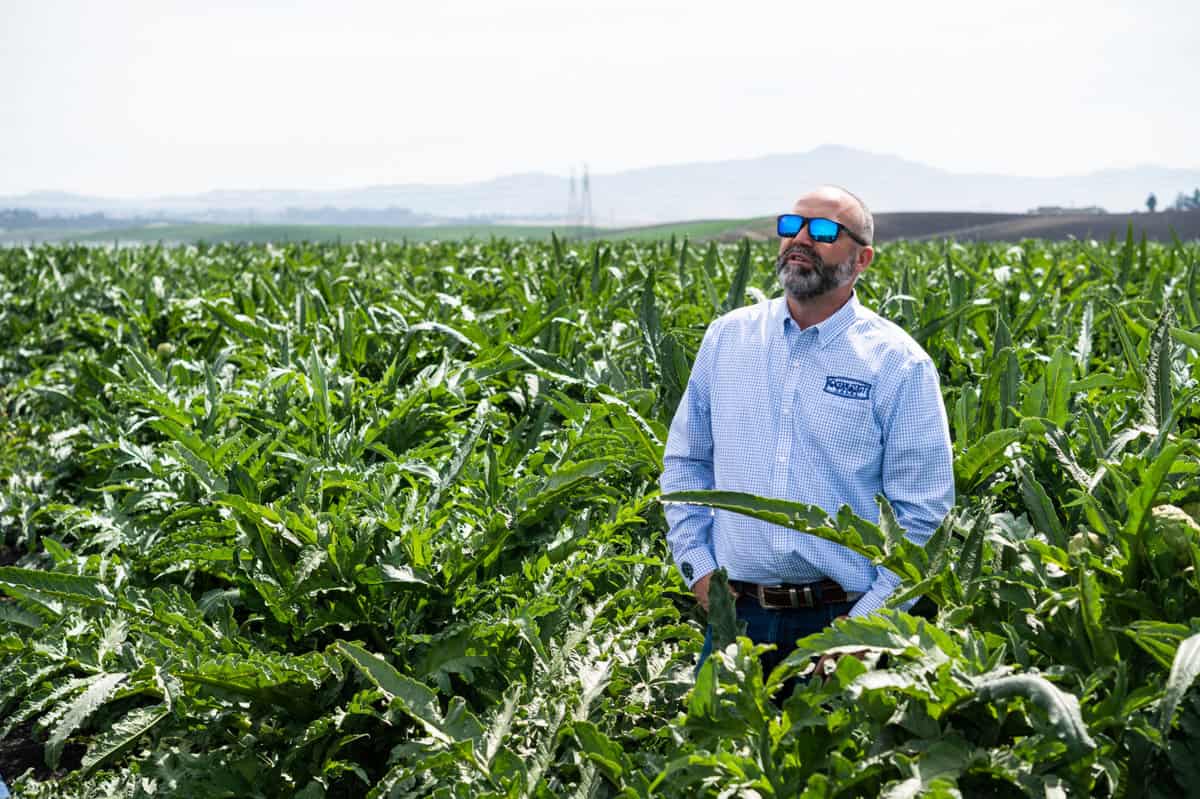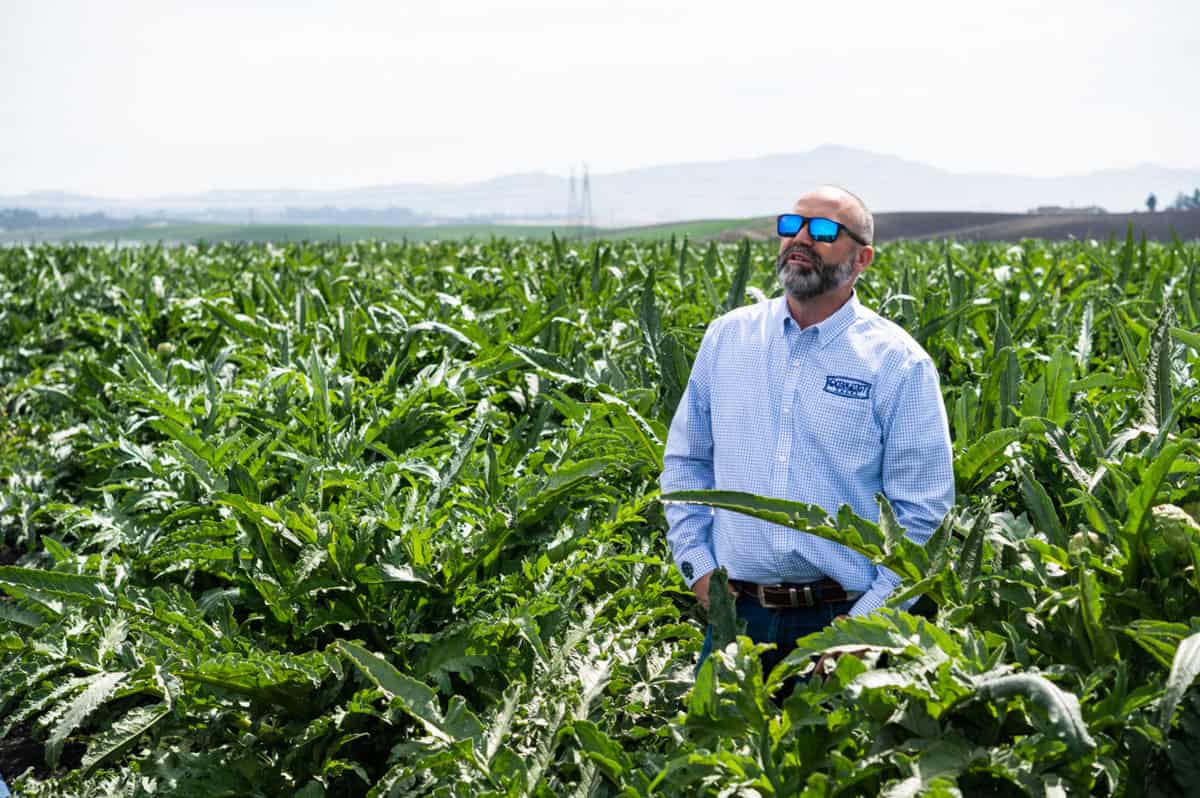 Ocean Mist's Director of Farming, Bobby Bellew, reckons that all of these carefully thought out decisions – from creating proprietary varieties to meticulous maintenance of the soil and plants- result in a marked difference in taste. "If I were to compare an Ocean Mist artichoke to something commercially available, you can definitely tell in the taste and the flavor." Want to see if you really CAN taste a difference? Find Ocean Mist artichokes at a store near you.
Lingering questions? We've got answers…
What is sustainability?
One of the simplest ways to explain sustainability is using the 3 "E"s. The first is "Environment" – practicing good stewardship of the land and protecting our natural resources. The second is "Equity", equitable treatment of employees and the surrounding community. The final "E" stands for "Economy" – a business cannot be sustainable if it can't turn a profit. Learn more about Ocean Mist's sustainable practices here.
Are artichokes a vegetable?
An artichoke is often referred to as a vegetable. The part of the artichoke that you eat, however, is not actually a vegetable, but a flower bud!
What's the best way to cook artichokes?
That's a trick question! There are so many delicious ways to enjoy California artichokes. Whether you prefer them steamed, grilled, or even mixed into a creamy dip, we've got a recipe for you!
What is California's state vegetable?
An artichoke, even though it's technically a thistle!
We hope we covered most of your questions about how artichokes are grown at Ocean Mist farms. If you have any additional questions, share them in the comments section of this post!
Article by Hilary Rance.  Photography courtesy of Hilary Rance and James Collier.