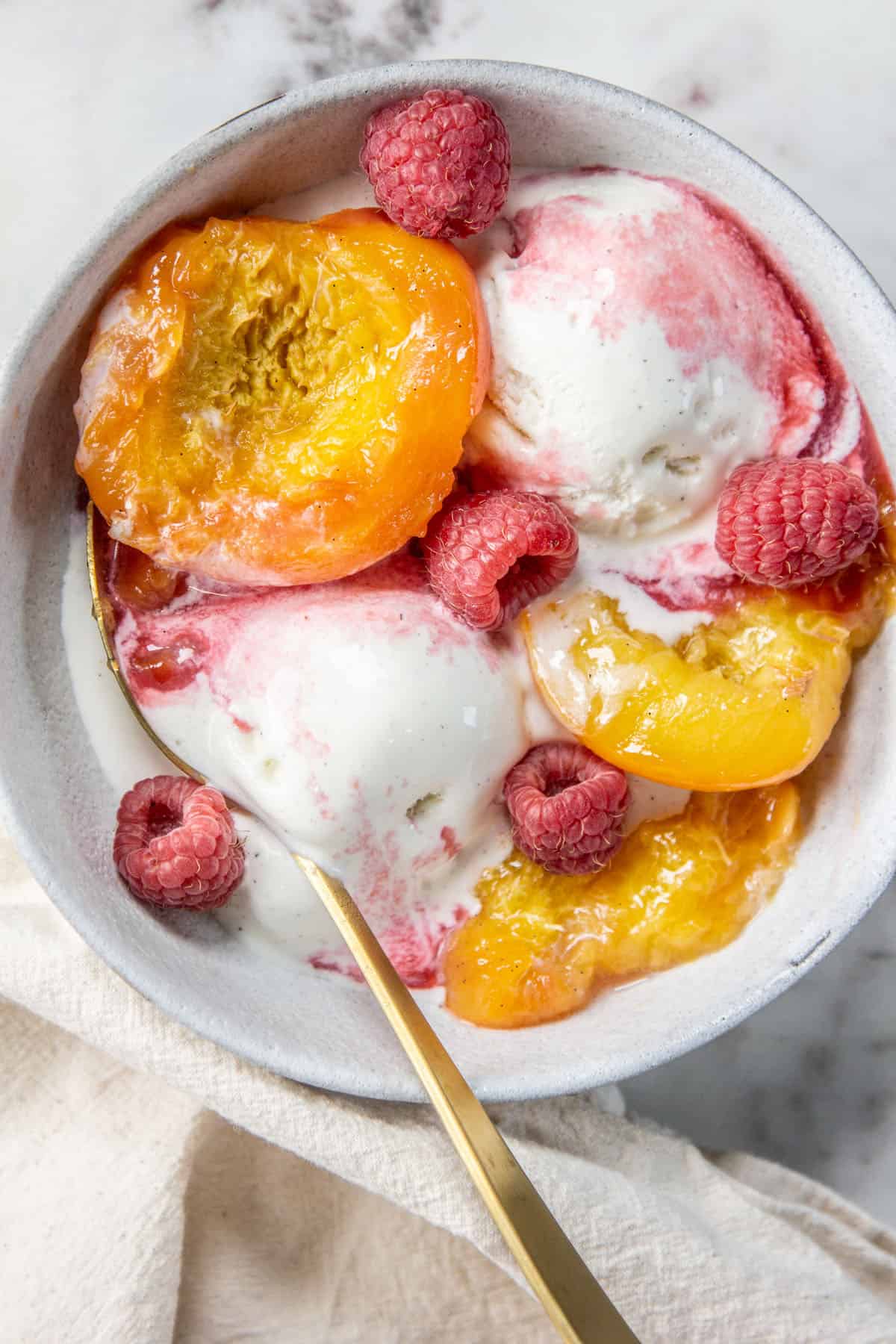 CA GROWN Blog
Discover. Learn. Connect.
Nectarine vs. Peach; How To Use These Sensational Stone Fruits
June 20, 2023
Eat the Season!
Sign Up For Weekly Recipes
« Back to Recipes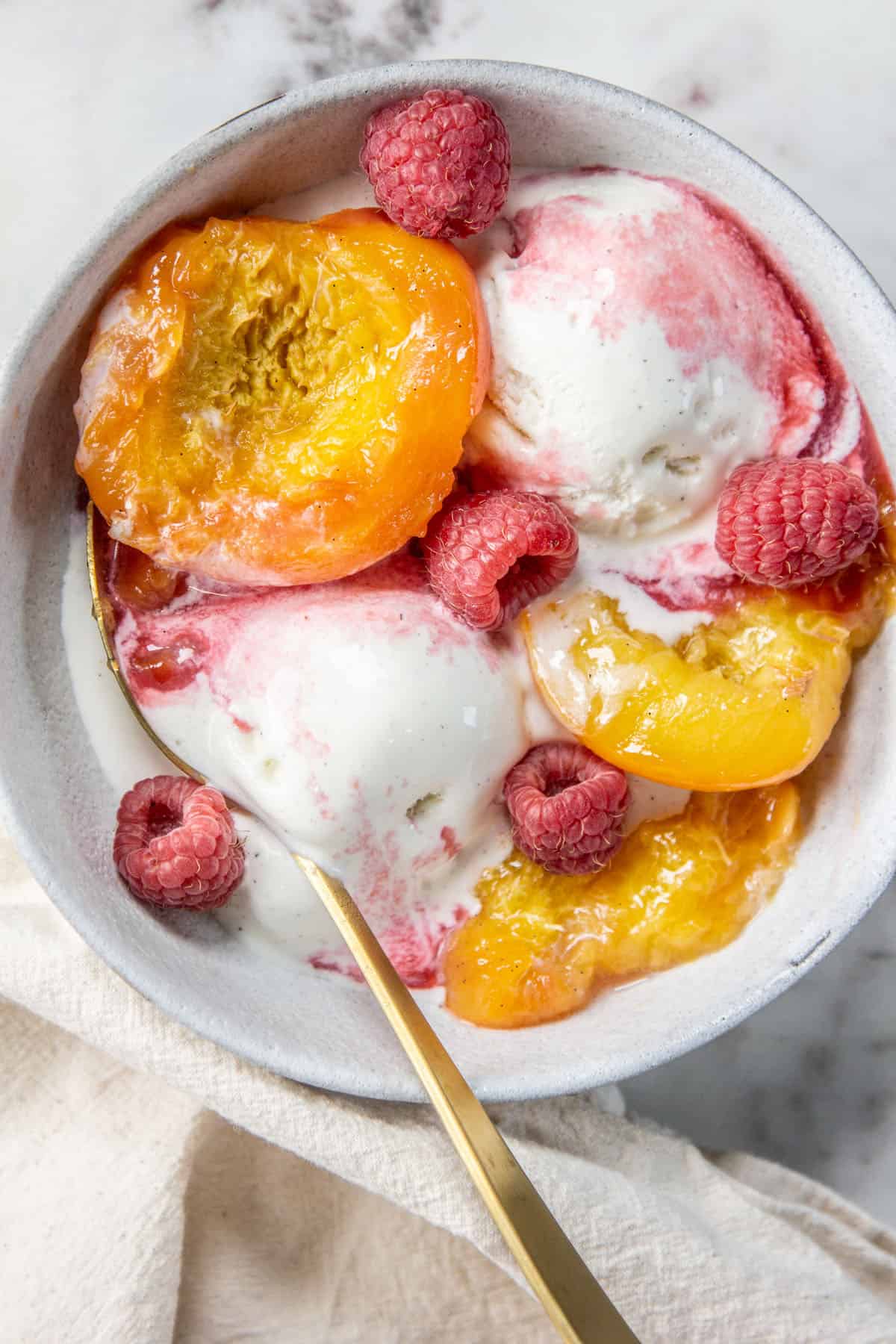 Nectarine vs. Peach; How To Use These Sensational Stone Fruits
Summer is in full swing, meaning it's time to enjoy all the incredible fruits the season has to offer. Two of the most popular summer fruits are nectarines and peaches. Both of these are members of the stone fruit family, and they are closely related. However, there are some noticeable differences between the two. Let's dive into our California-grown taste test of nectarine vs peach; it's bound to be delicious!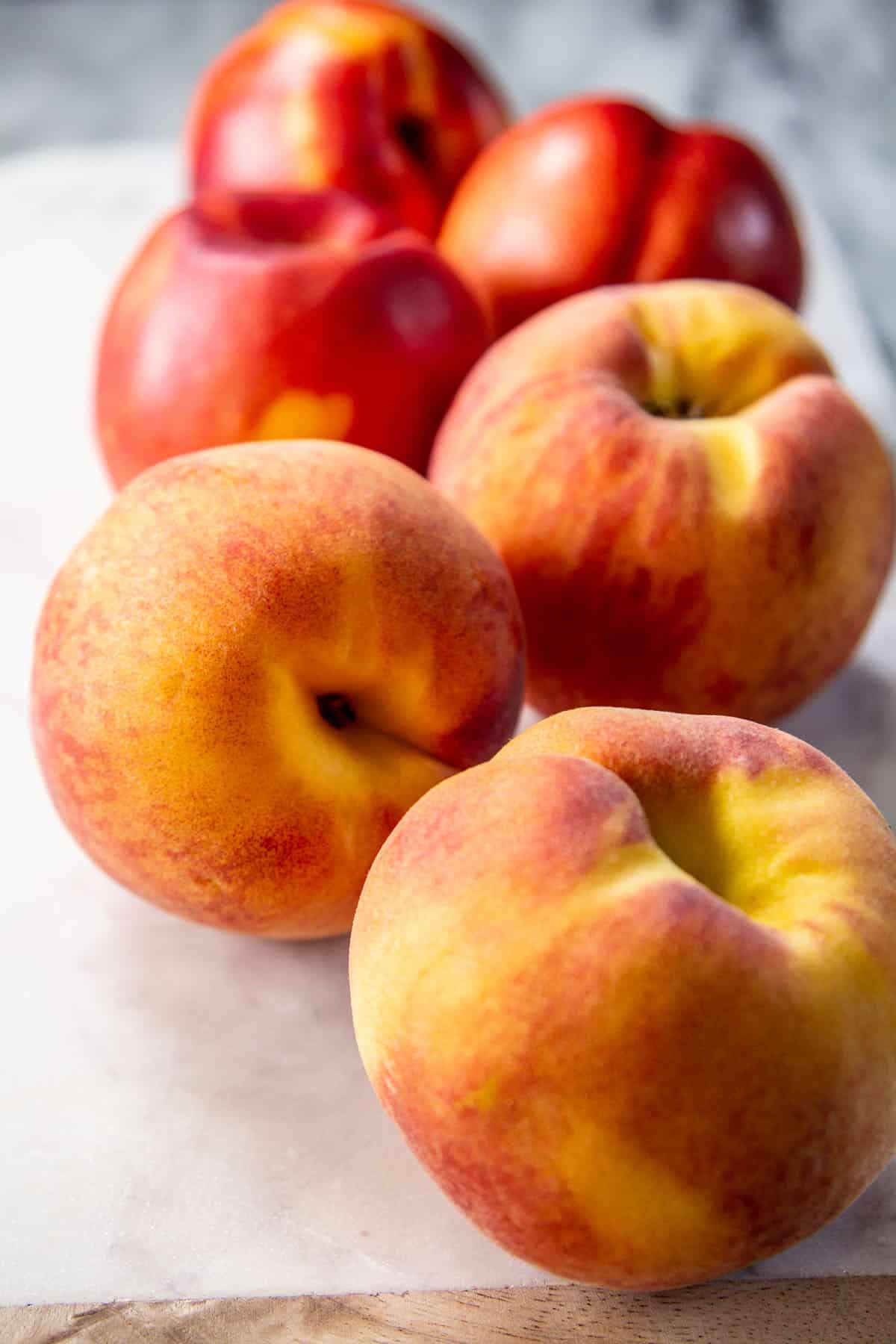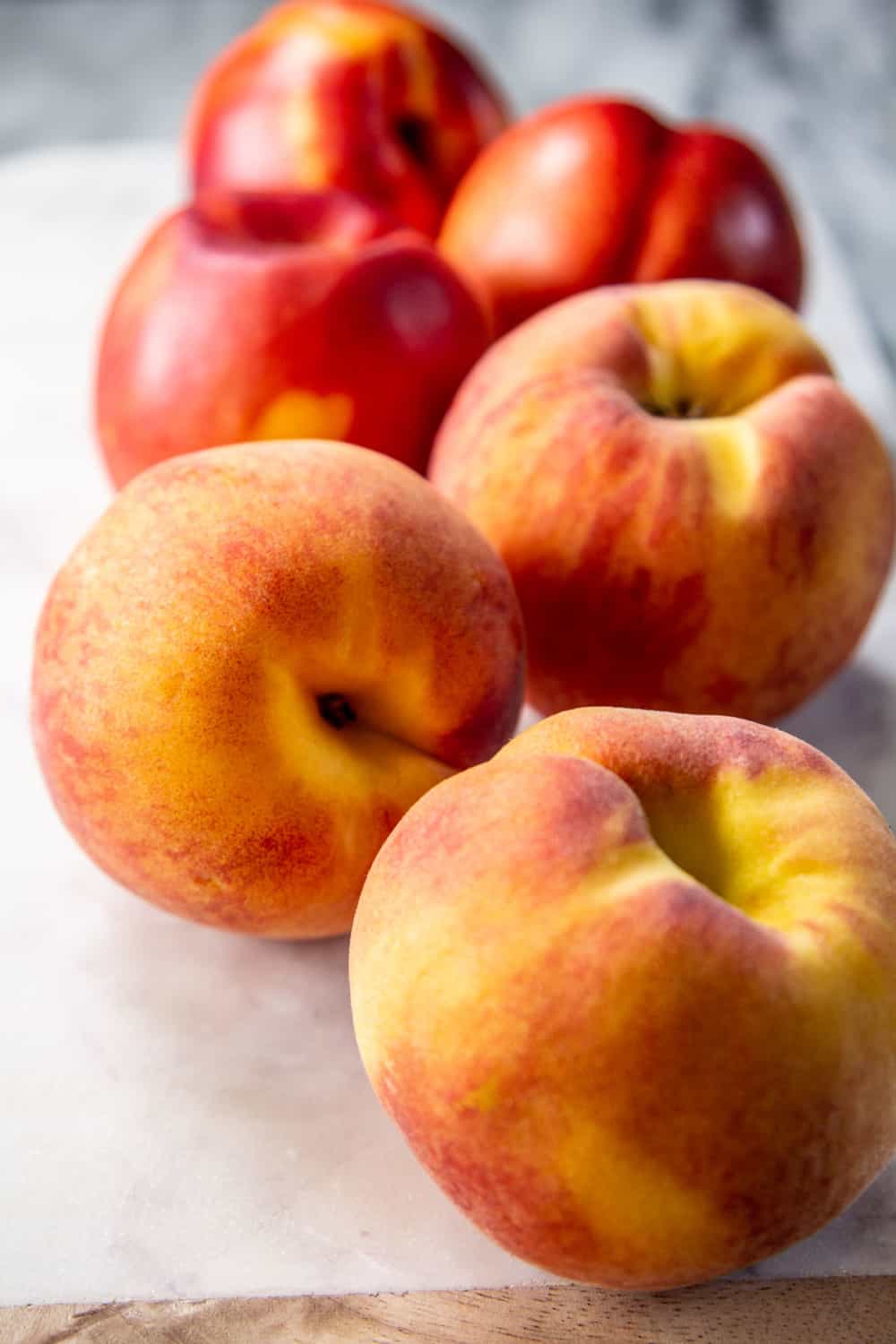 Nectarine vs. Peach: A Fuzzy Skin vs. a Smooth Charm
When it comes to appearances, peaches have a distinctive feature that sets them apart from nectarines – fuzzy skin. The velvety texture of a peach's skin is a delight to touch, while nectarines have smooth and shiny skin dappled with yellow and orange.
Whether you prefer the fuzzy skin of a peach or the smooth skin of a nectarine, you're sure to enjoy the refreshing taste and texture of these delicious stone fruits.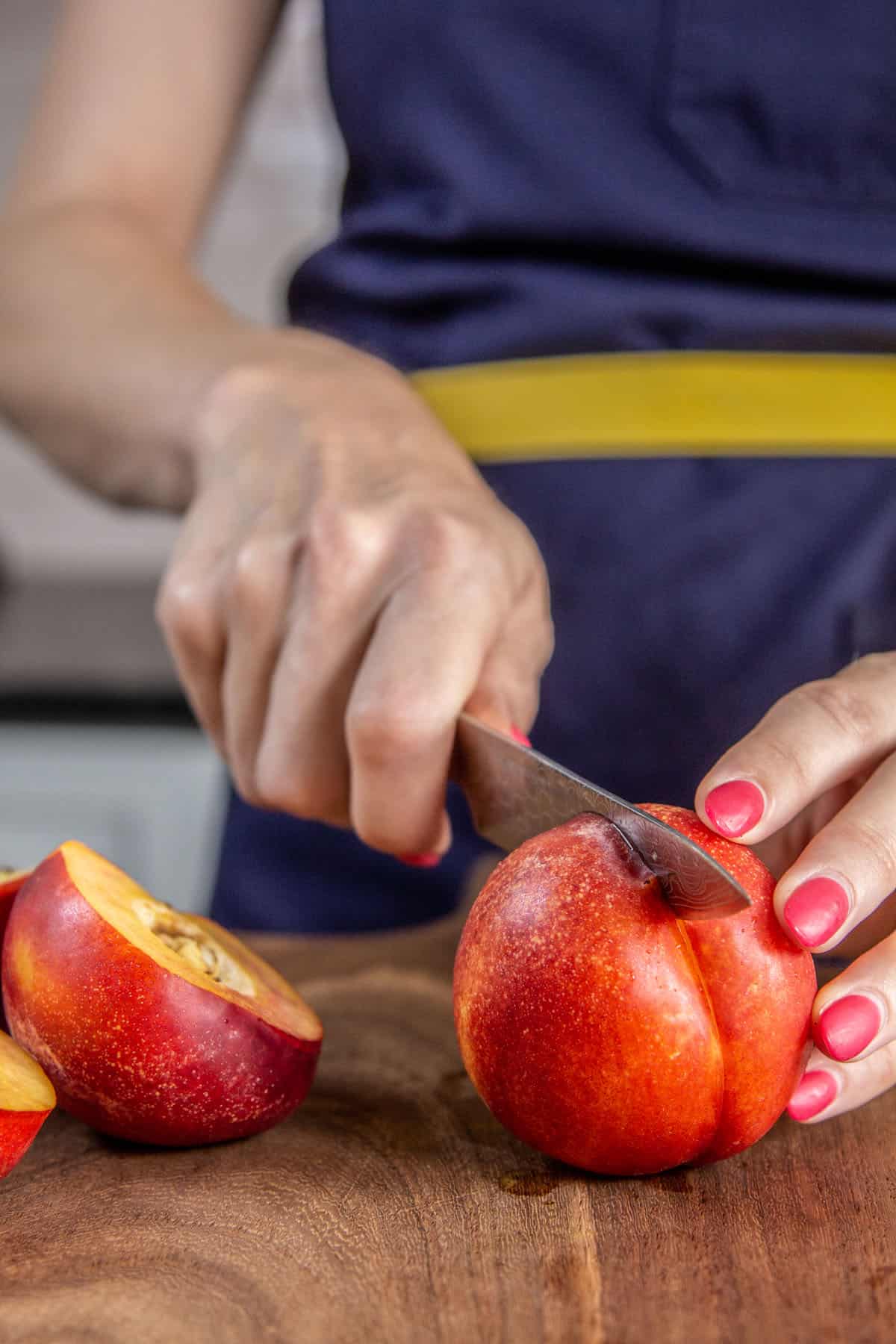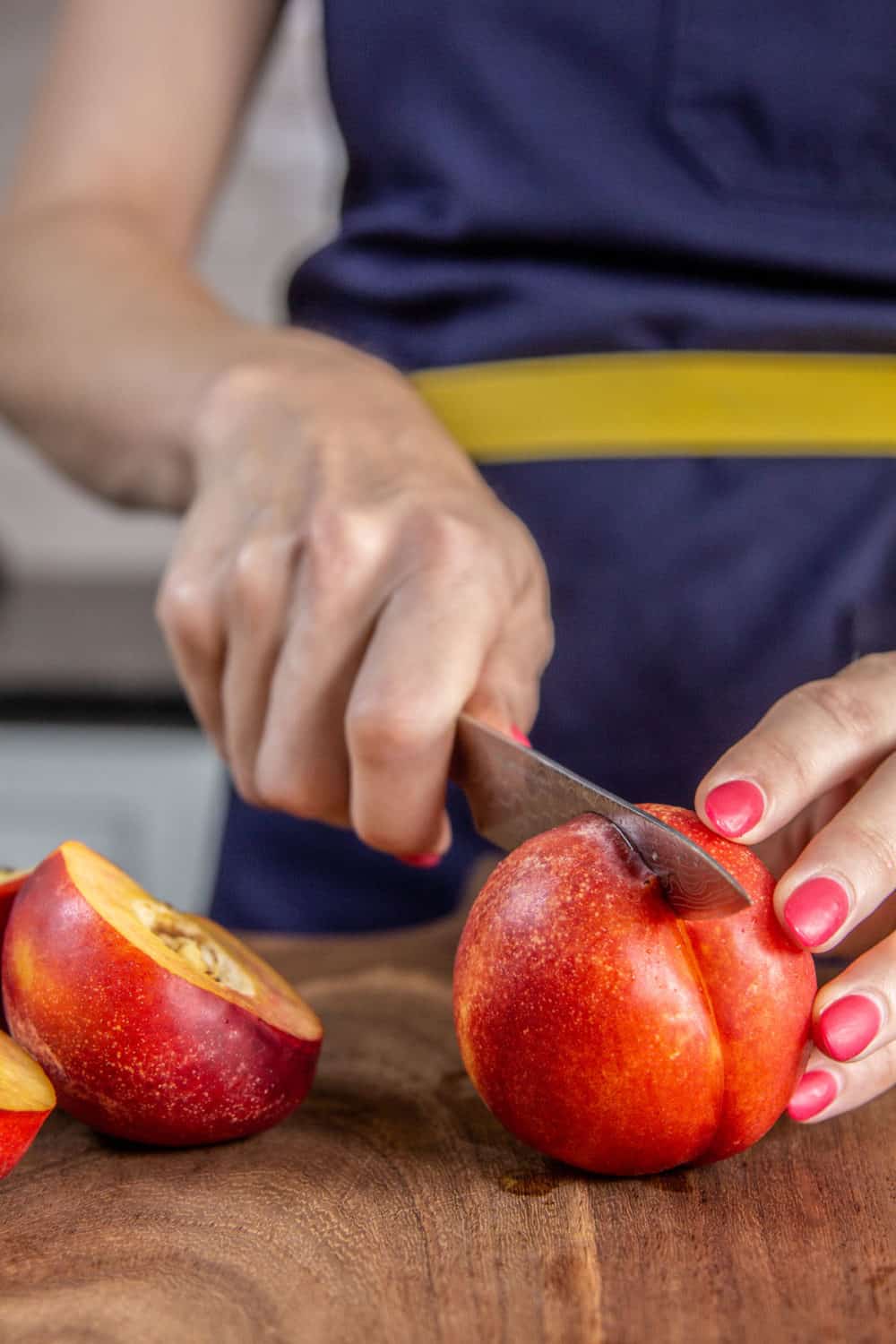 The Flavor Showdown: Nectarine vs. Peach, How Do They Taste?
When it comes to taste, both peaches and nectarines offer a sweet and juicy flavor profile. However, peaches tend to be slightly sweeter, making them the stone fruit with an edge for those of us with a bit of a sweet tooth. Nectarines, on the other hand, possess a tangy undertone that adds a unique twist to their flavor without lending as much sweetness.
We tested the differences between the two of these in our kitchen and when it comes to texture, peaches and nectarines are quite similar. We found that both of these stone fruits have firm, juicy flesh that bursts with flavor and juices that threatened to run messily down our arm when we took a bite. All in all, we decided that the two are interchangeable in many recipes, and while the taste varies slightly, they're far more similar to our tastebuds than different.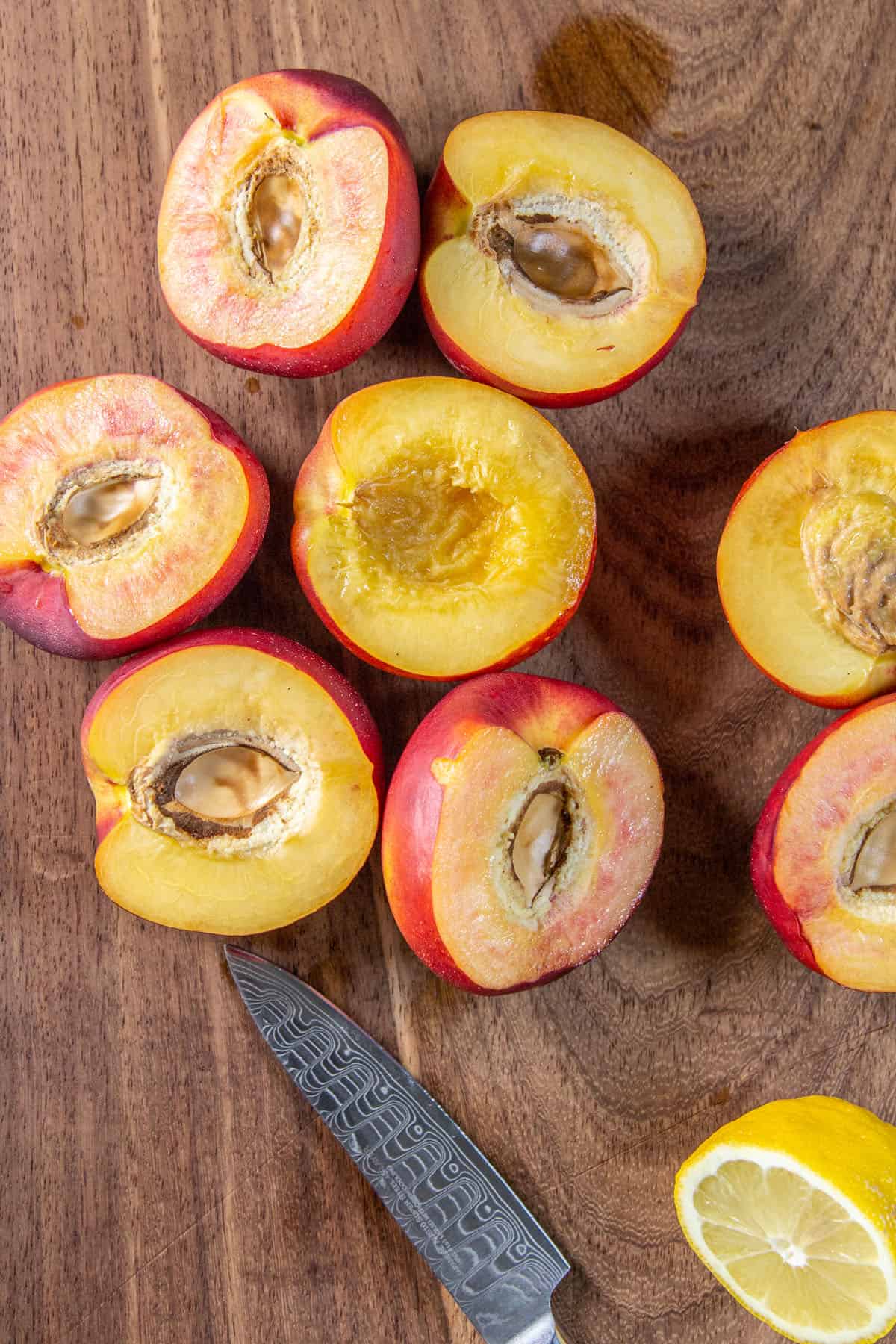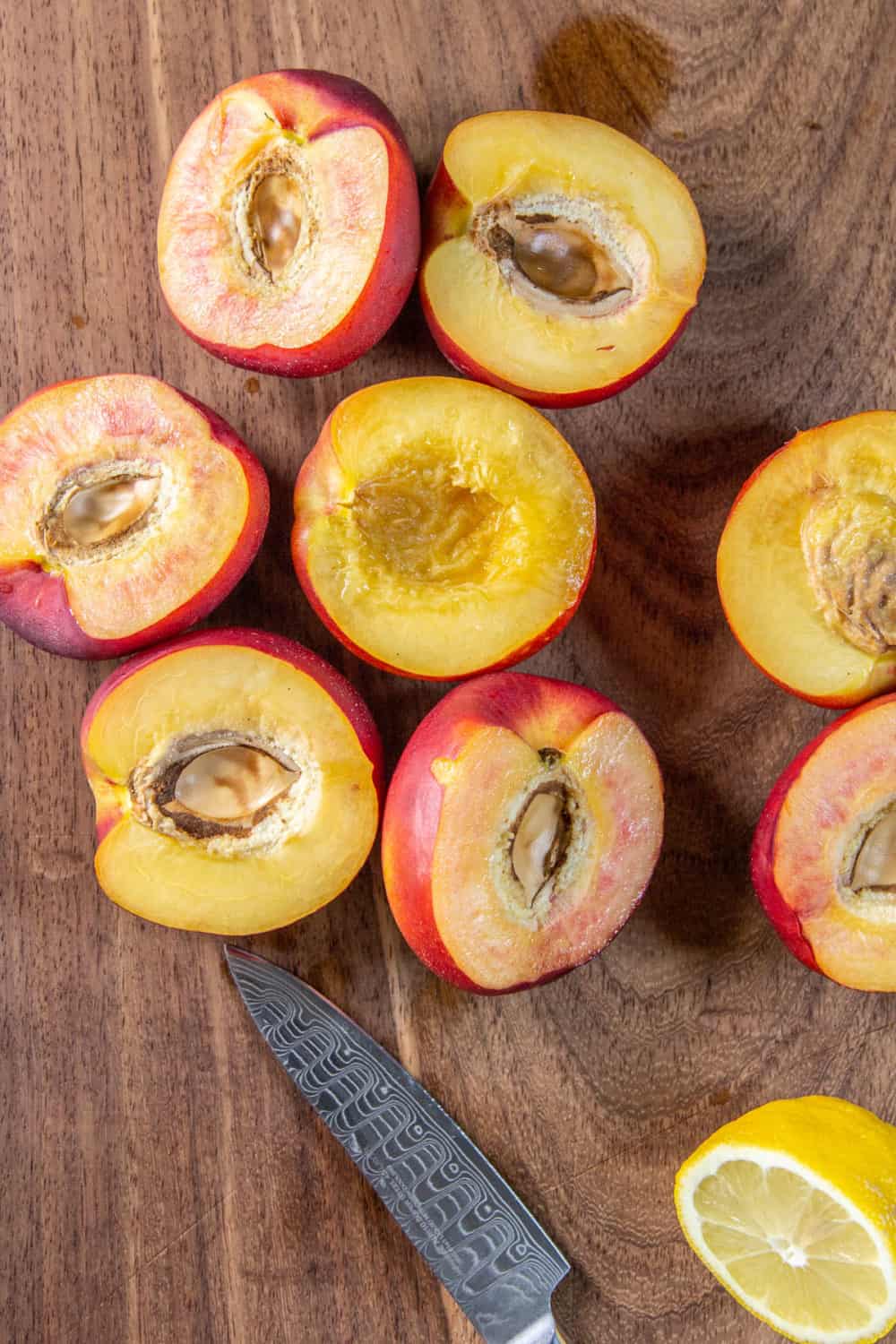 Nutritional Benefits: A Sweet and Healthy Treat.
Peaches and nectarines are not only delicious but they are also packed with health benefits. These stone fruits are low in calories and high in essential vitamins and minerals. They are an excellent source of vitamin C, which supports the immune system and promotes healthy skin. The dietary fiber in peaches and nectarines aids in digestion and helps maintain a healthy weight. Additionally, these fruits are a good source of potassium, which is important for regulating blood pressure and supporting heart health.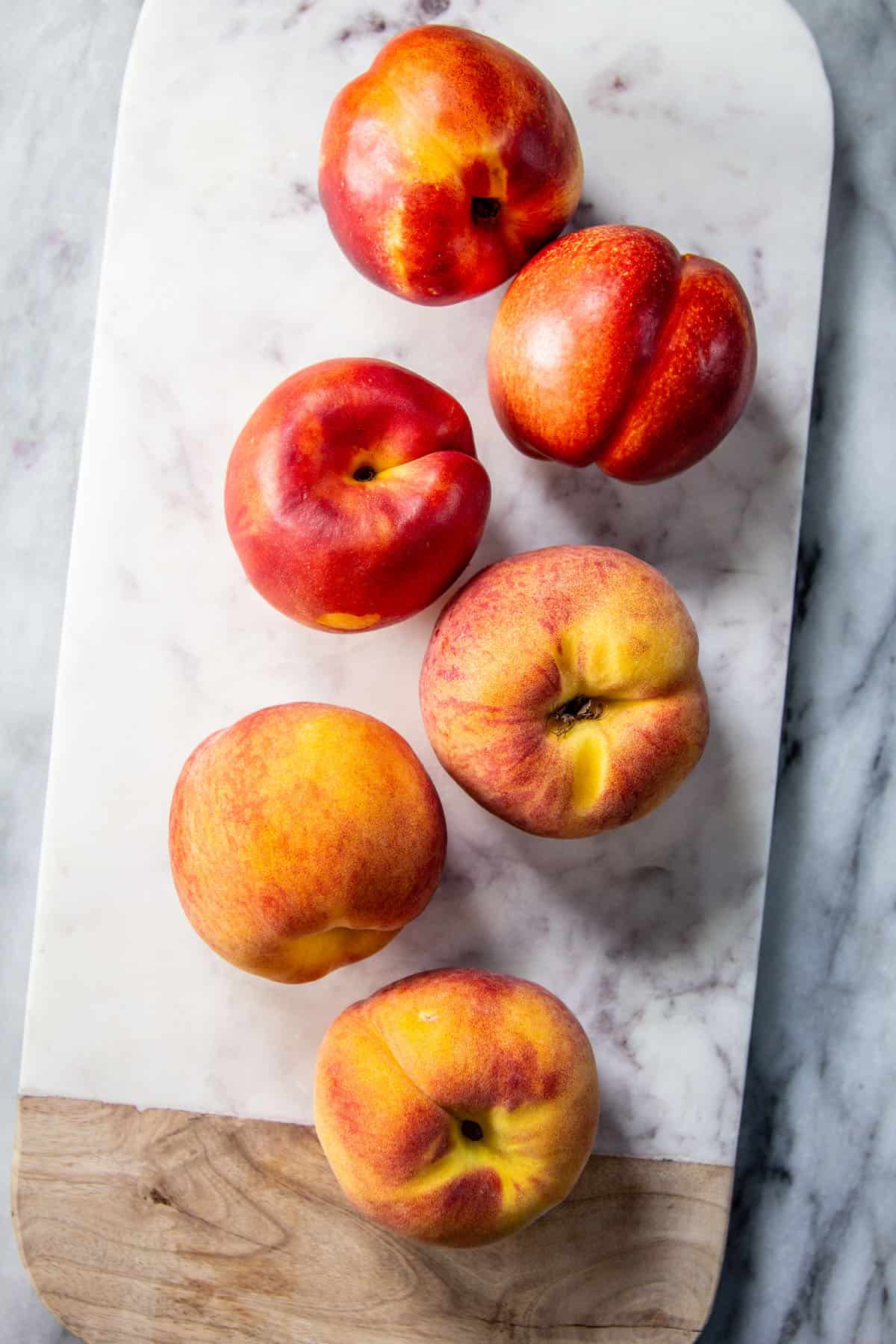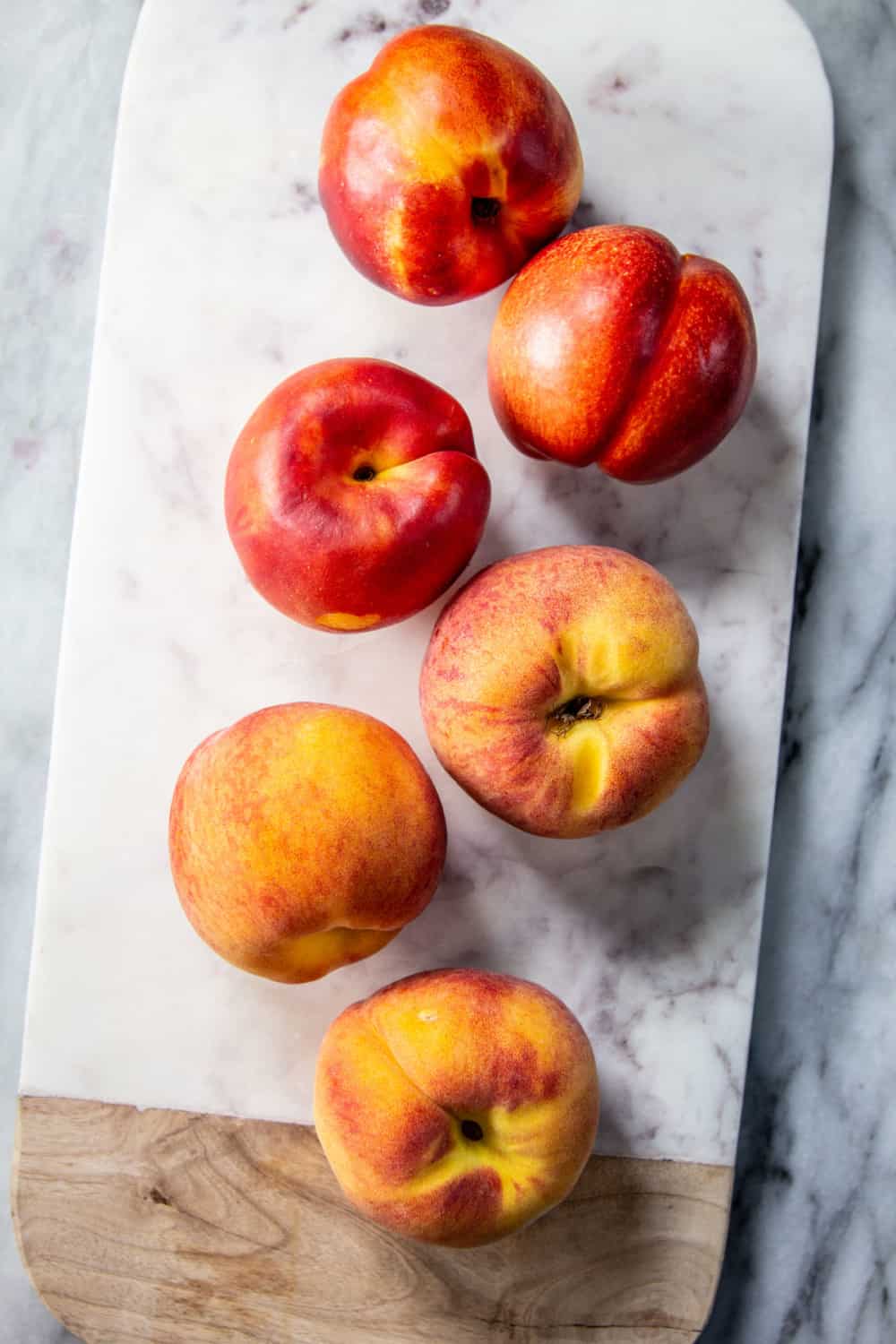 California's Golden Touch: The Superiority of California-grown Stone Fruit
The Golden State's warm climate, fertile soil, and expert farming practices contribute to its peaches and nectarines' superior flavor, texture, and overall quality. Consumers can enjoy the freshest and most flavorful fruits by choosing California-grown peaches and nectarines while knowing they are supporting farmers and sustainable agriculture.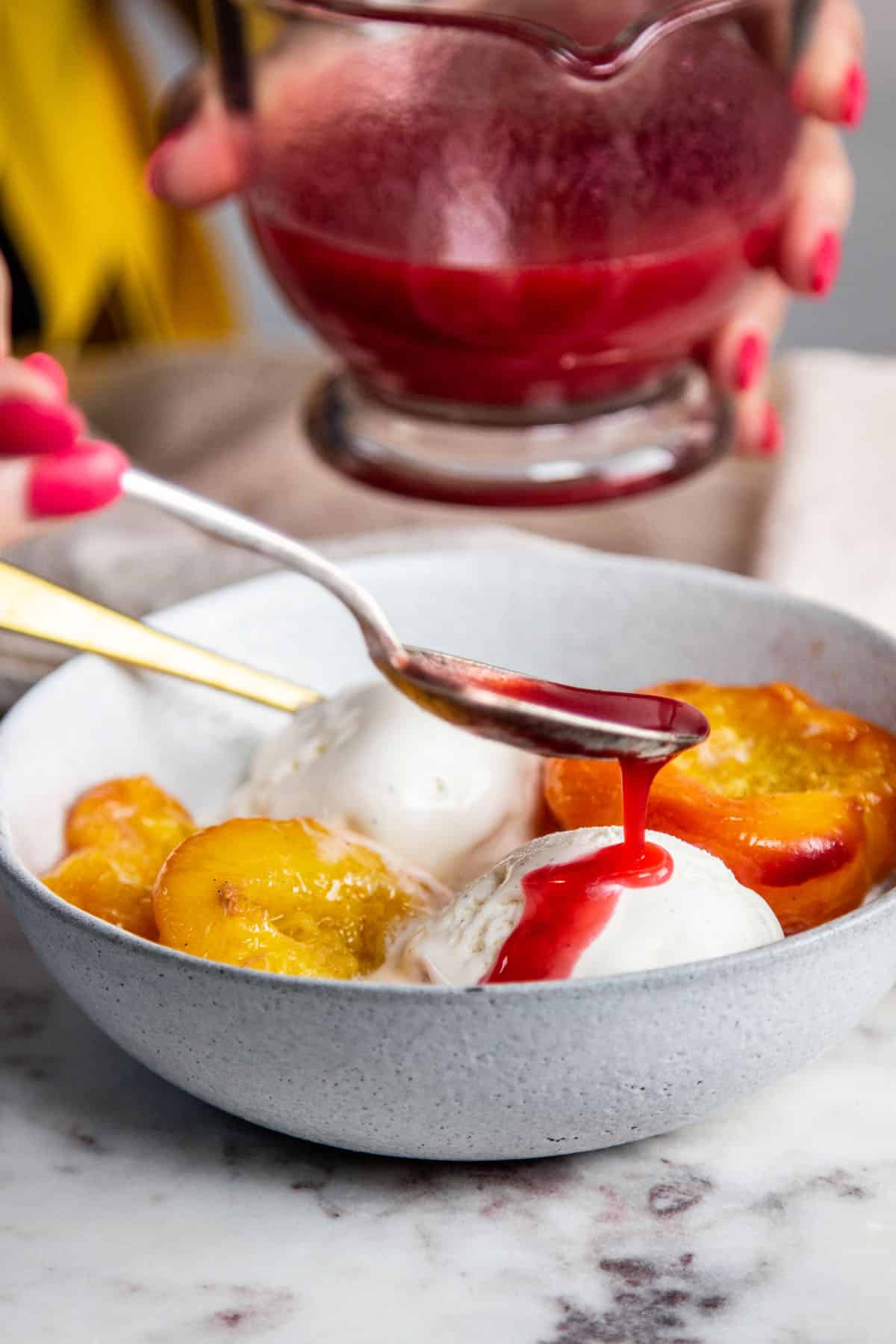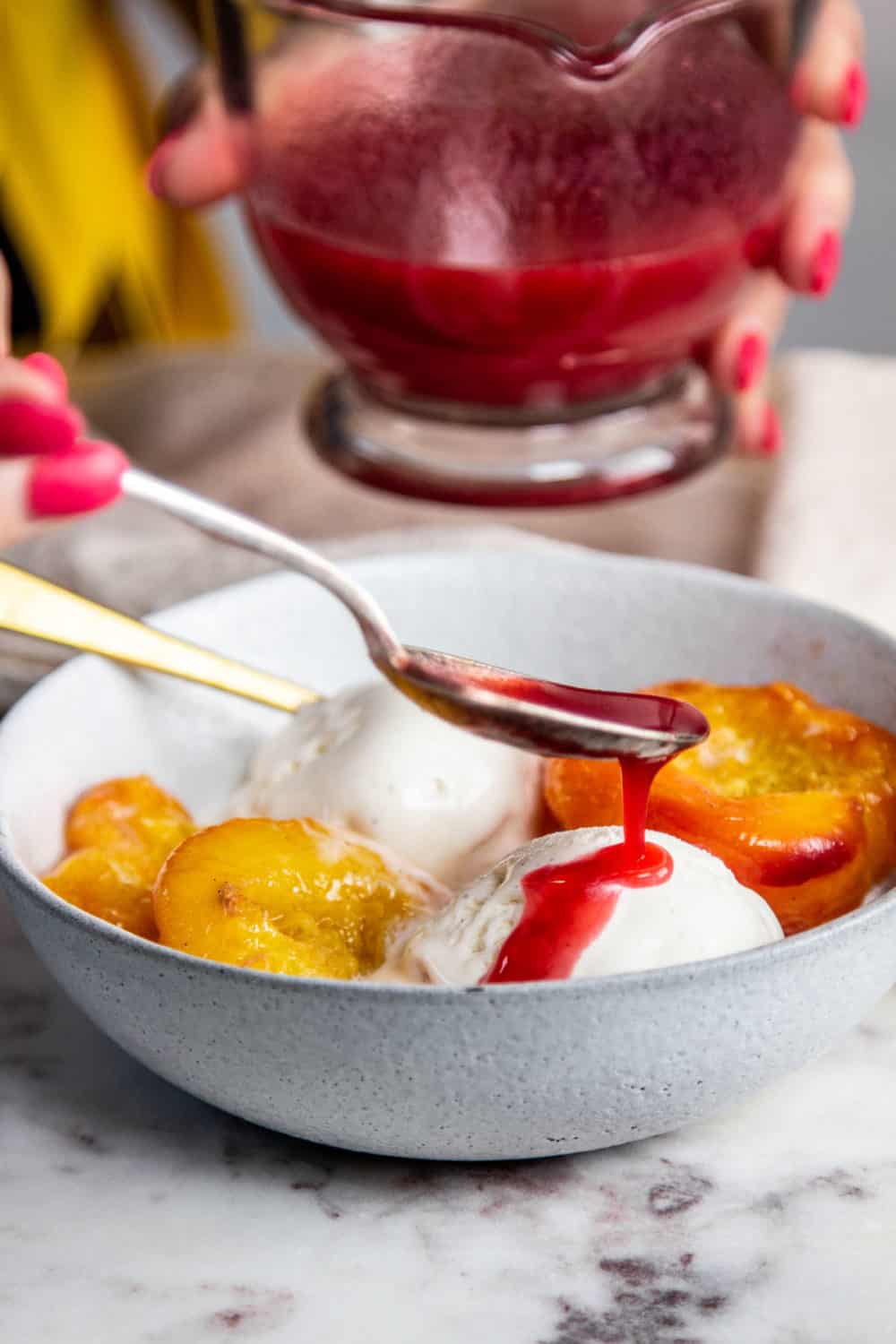 Nectarine Melba: Our California-Grown Twist on A Classic French Dessert
Have you ever heard of the classic dessert the Peach Melba? I hadn't heard of it until recently and let me tell you, I think I've been missing out my whole life! This iconic summer dessert is made by assembling poached peaches, vanilla ice cream, and raspberry sauce. French chef Auguste Escoffier created this classic sometime between 1892 – 1893 to honor the Australian soprano Nellie Melba. Who also coincidentally has another classic dish named after her created by Escoffier, Melba Toast!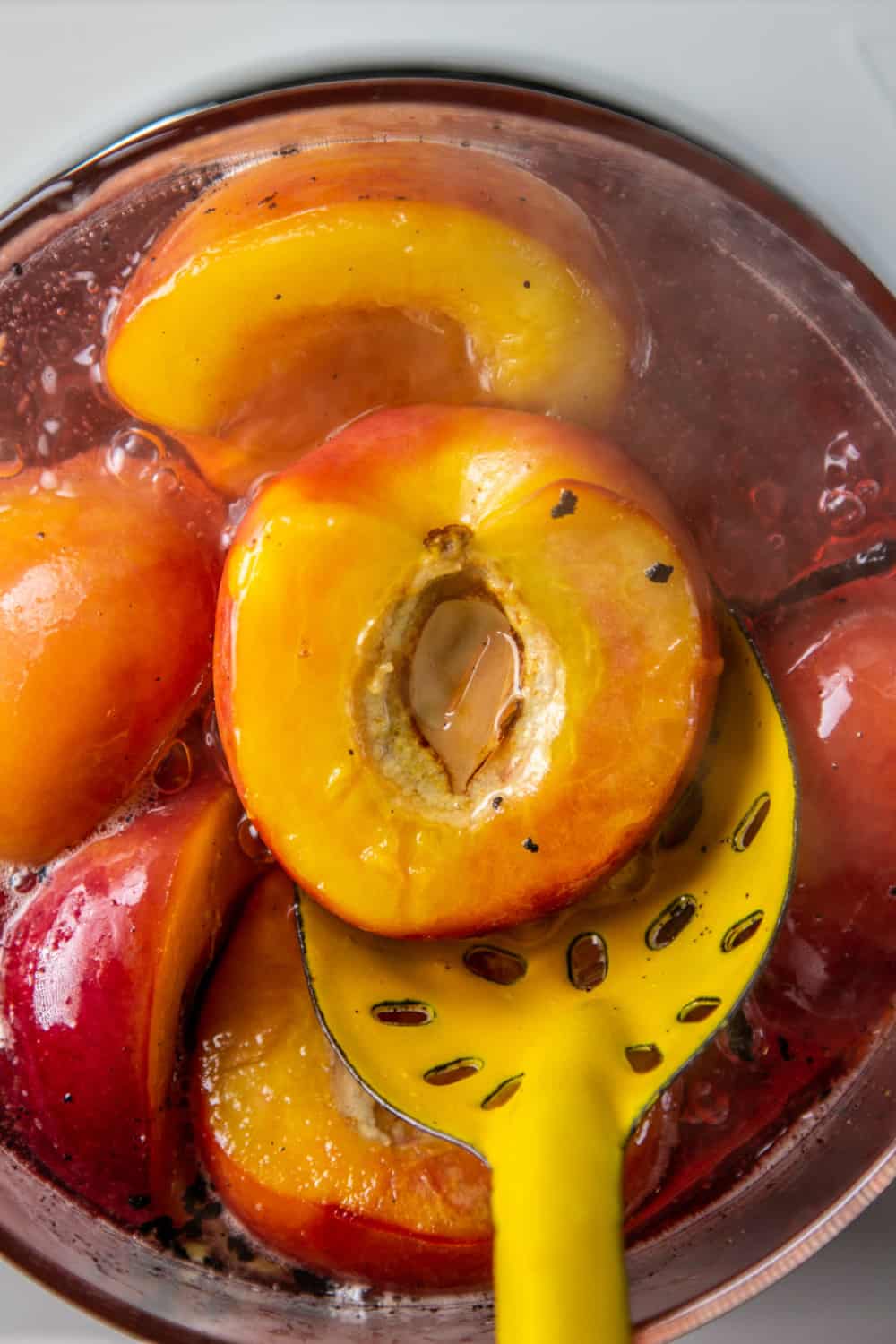 In our version of this iconic dessert, California nectarines replace the peaches for a twist that has a subtle tartness mixed with the sweet poaching liquid that we cannot get enough of.
How to Make This California-Grown Nectarine Melba Step-by-Step.
First things first, we need to assemble our poaching liquid. You can keep it pretty basic, as we did here just water, sugar, vanilla bean, and lemon juice. Or you can replace the water with white wine from California for even more depth of flavor to this dish.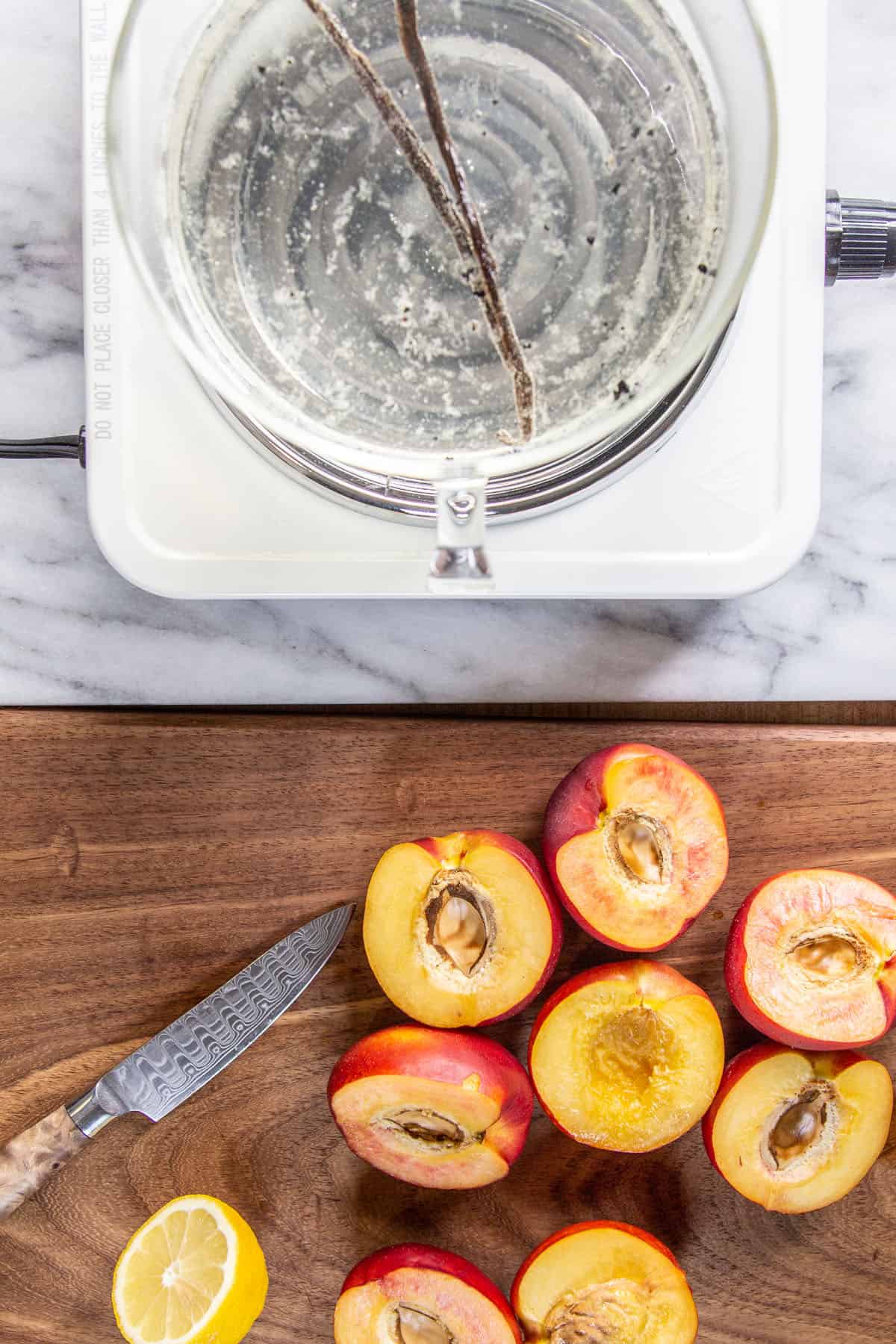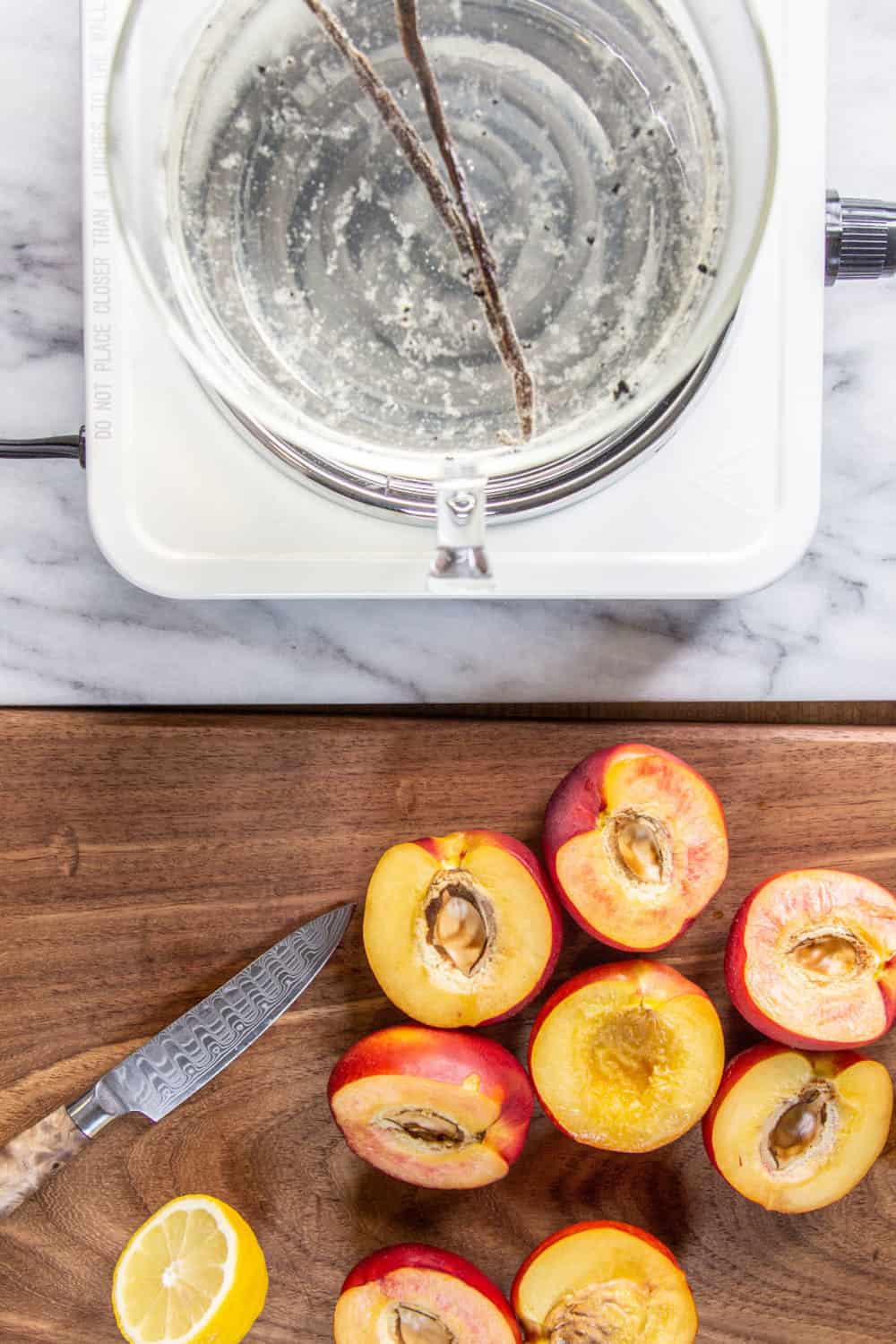 We poached halved nectarines in a simple syrup made of sugar, water, vanilla bean, and freshly squeezed lemon juice. While it may look a bit involved, I assure you, this method of cooking fruit is quite easy.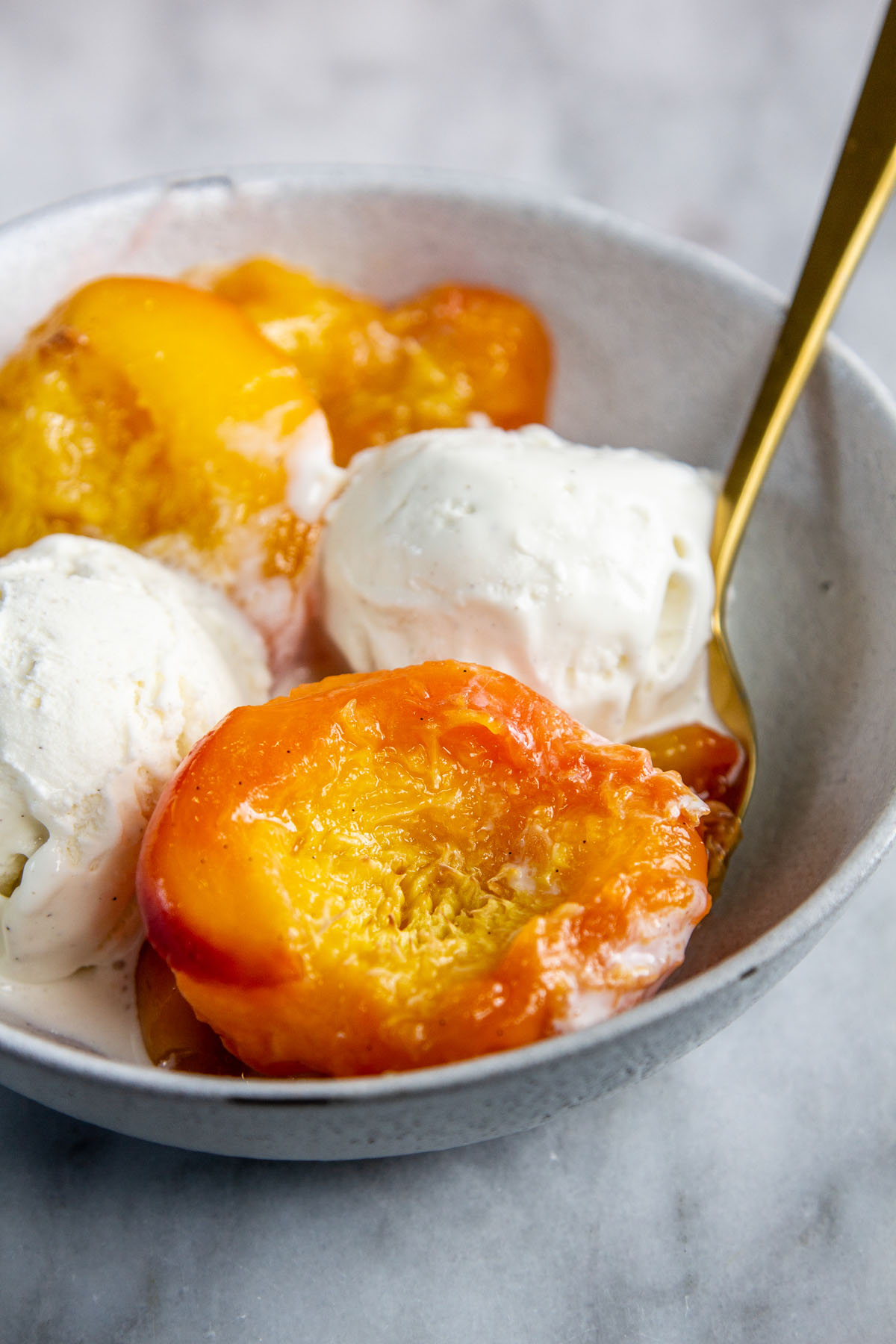 The raspberry sauce is made by puréeing fresh raspberries with sugar and a little bit of water. The peaches are then served with scoops of vanilla ice cream and topped with fresh raspberry sauce.
How to Make Fresh Raspberry Sauce.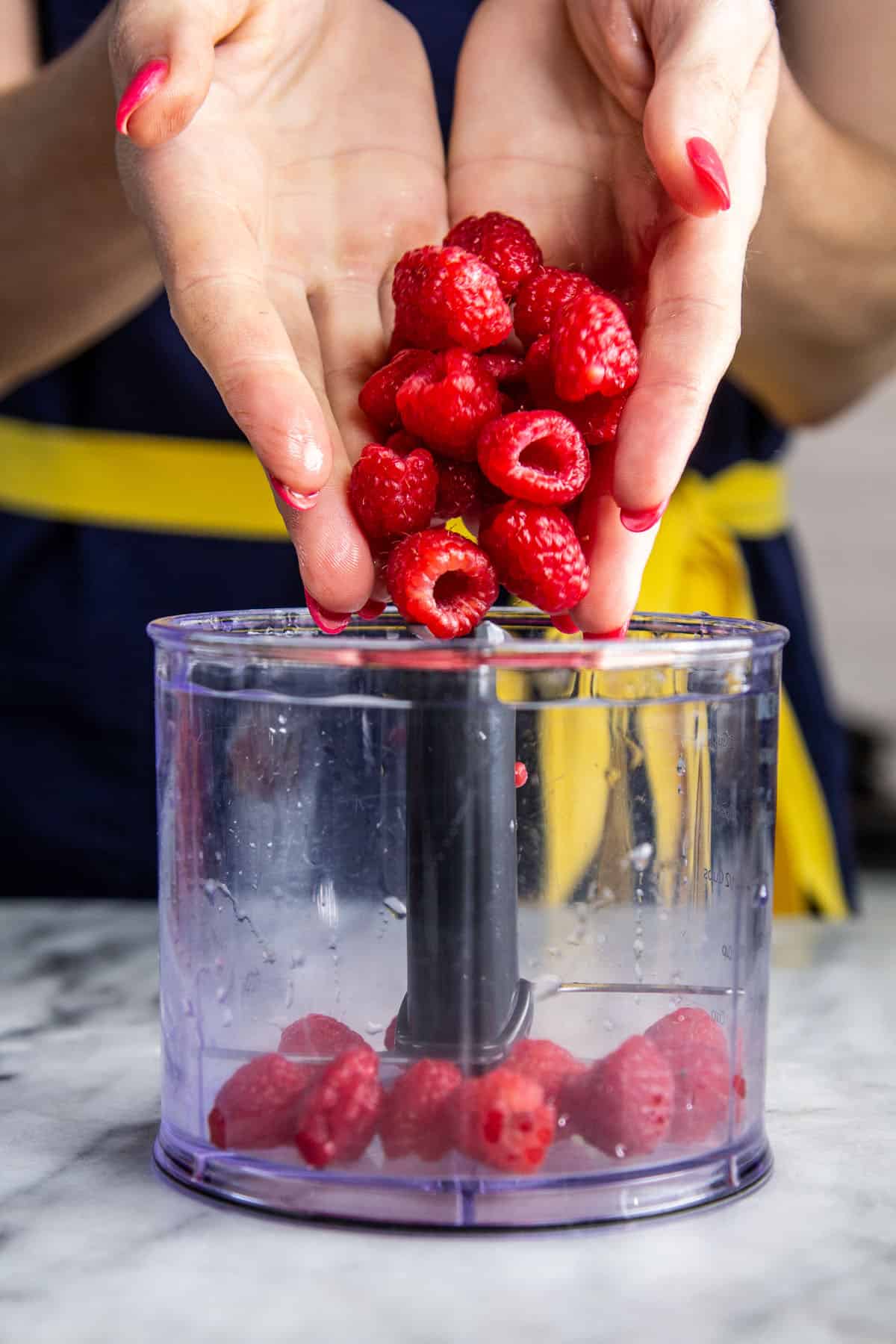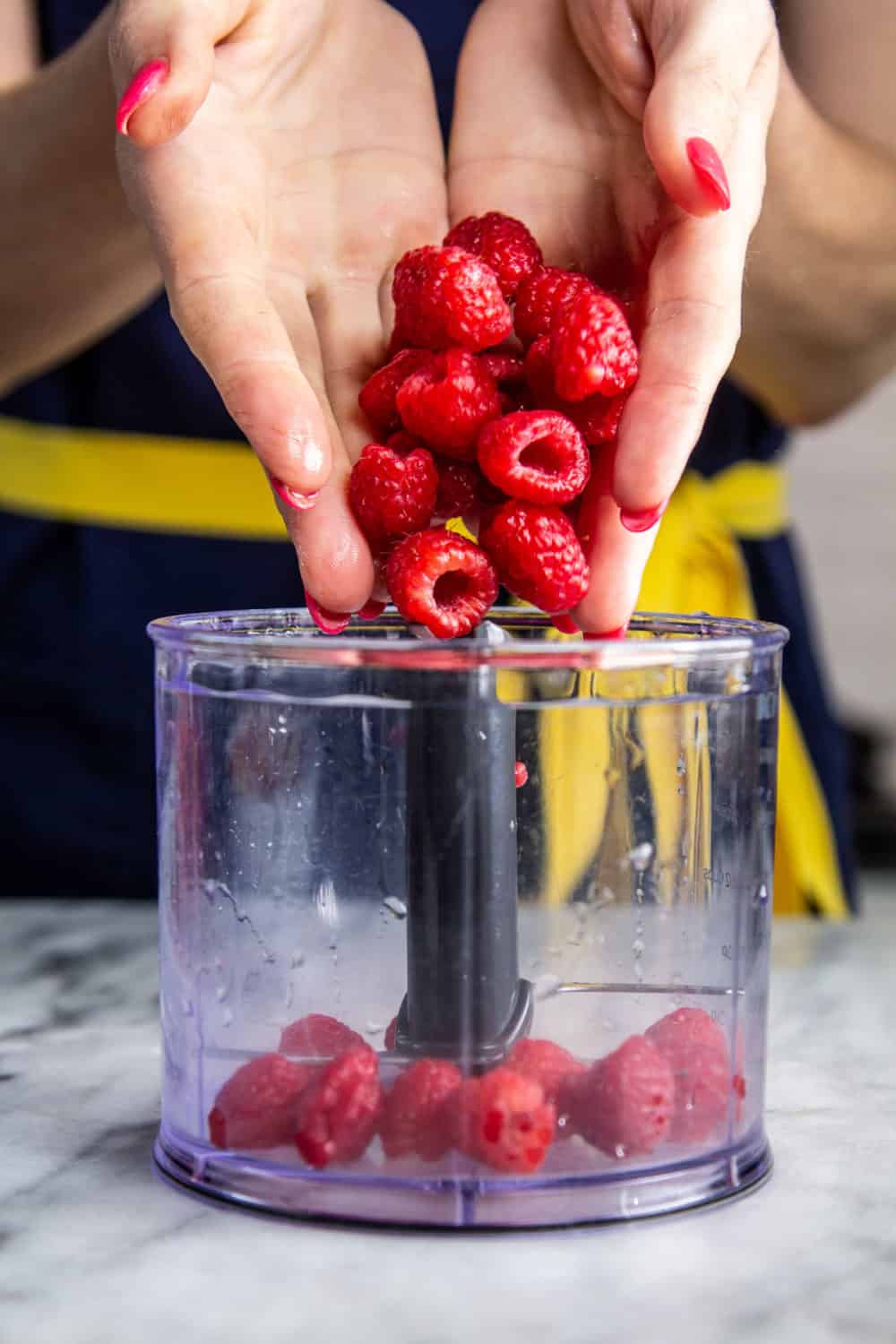 Our California-grown Nectarine Melba is a light, refreshing dessert that is the perfect treat for a hot summer day!
Looking for more recipes that would be great with nectarines or peaches? Keep scrolling!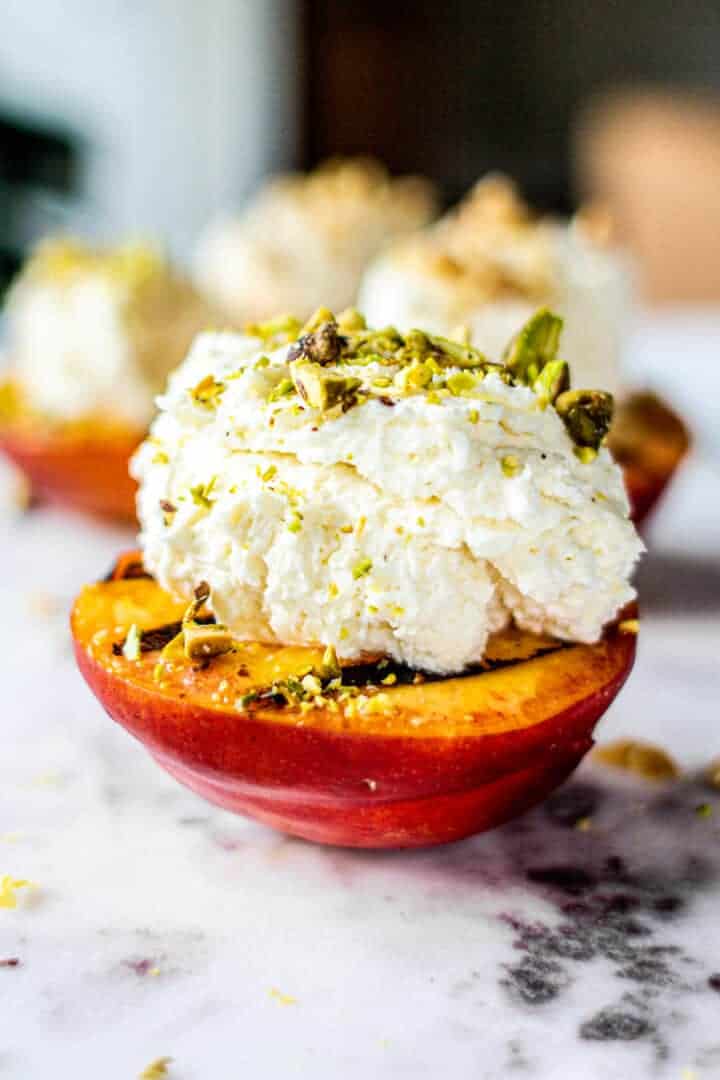 This grilled nectarines recipe from G Free Foodie is easily one of our favorite ways to prepare nectarines and peaches.
The sweet, tart, creamy, crunchy combination and the juicy grilled fruit is truly delicious. While the mascarpone filling gives the tangy nectarines a slightly sweet kick that is to die for!
Our update of the classic Ambrosia salad is perfect with peaches or nectarines! You simply can't go wrong.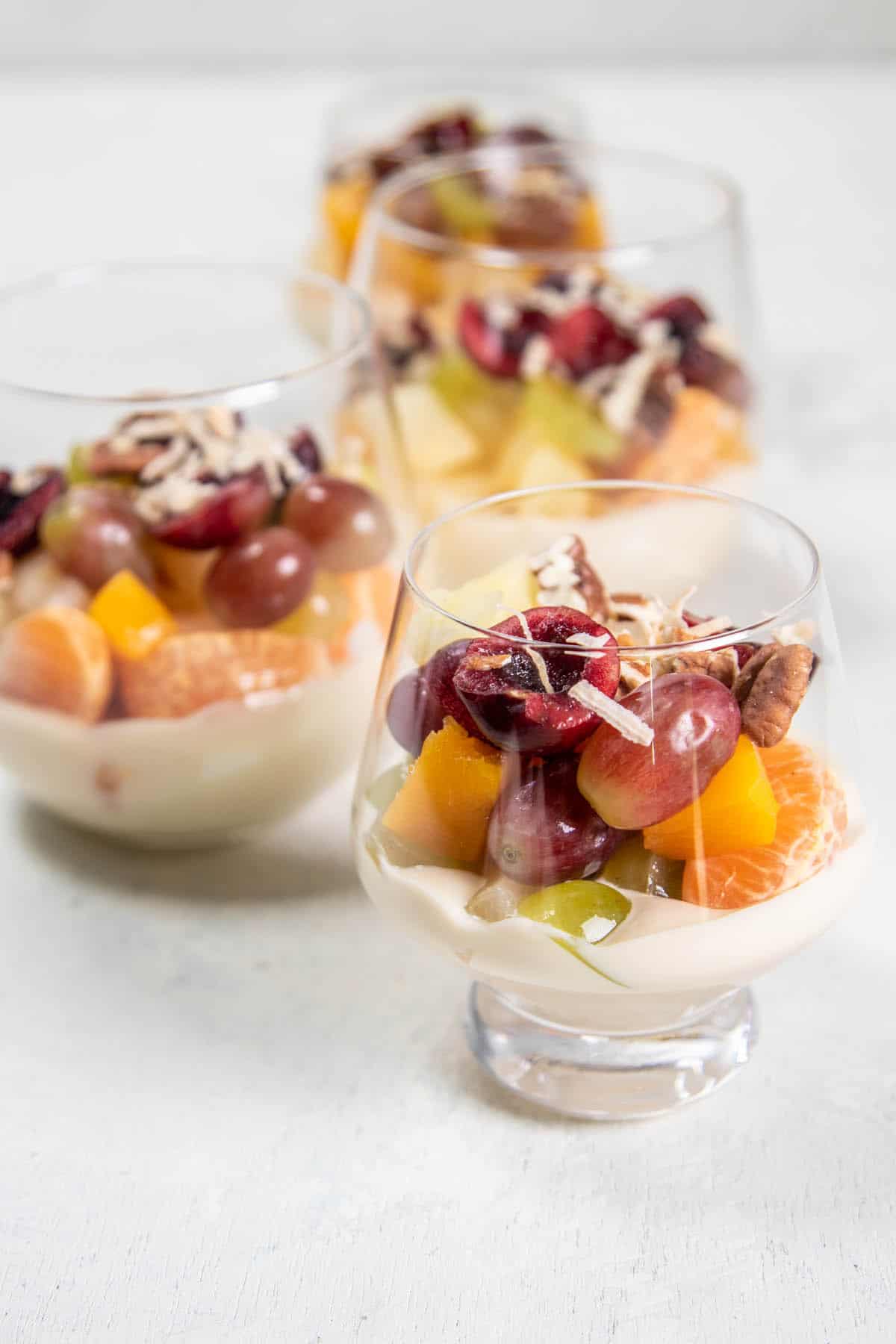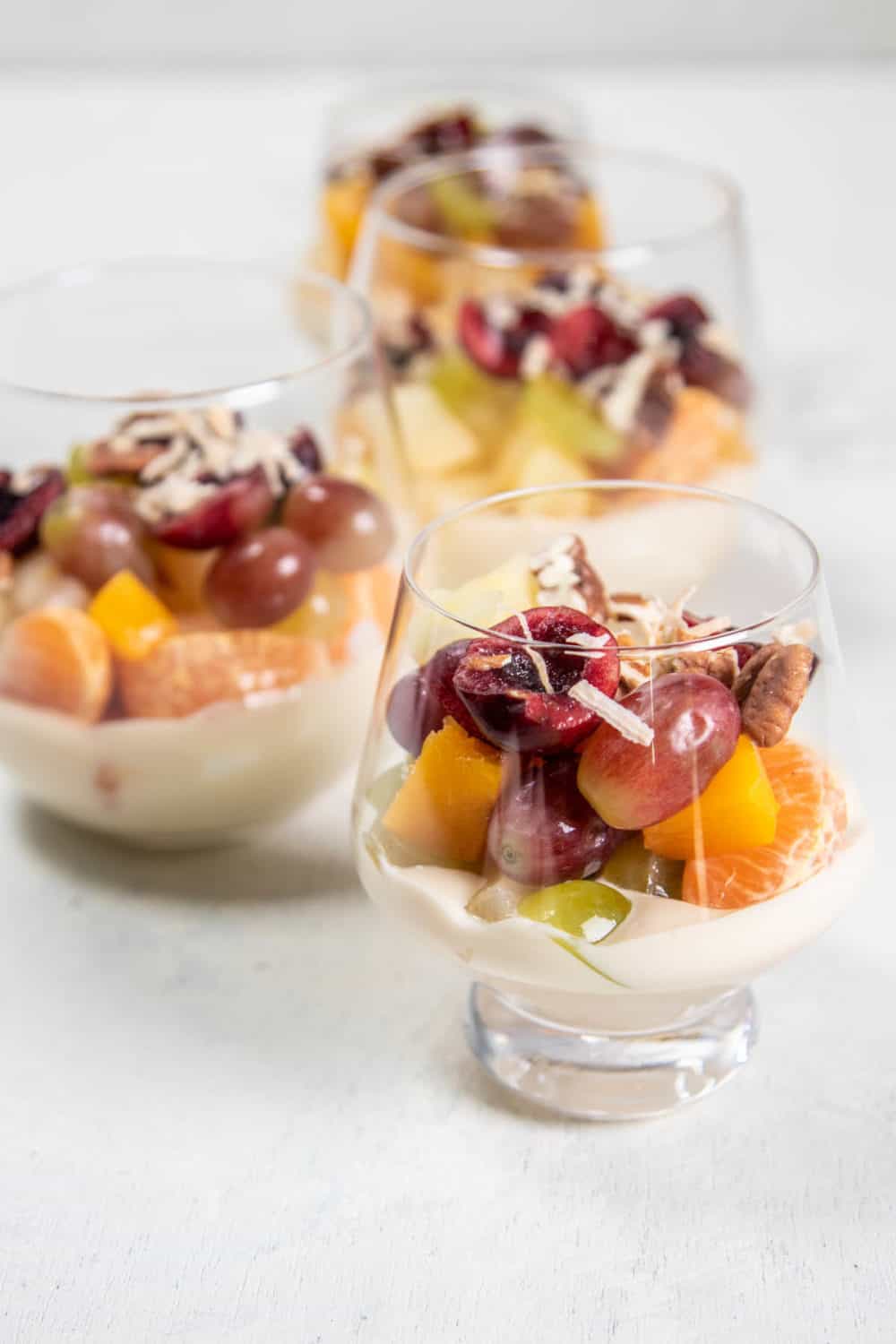 Be sure to share your thoughts about our nectarine vs. peach taste test and your Nectarine Melba creations with us by snapping a pic and tagging us on social using #CAGROWN.
Craving more CA Grown goodness? Follow us on Pinterest for fresh and fabulous recipe inspiration!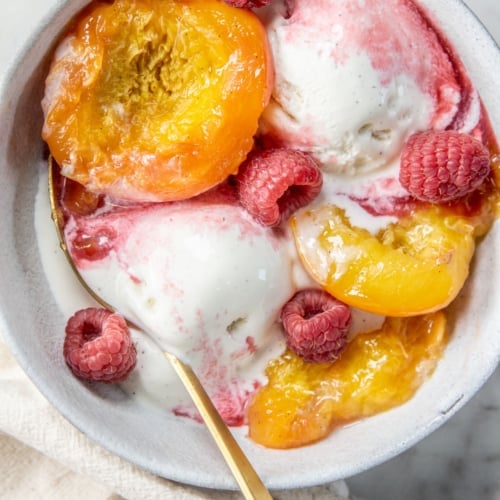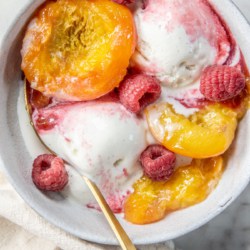 Nectarine Melba with Fresh Raspberry Sauce
A simple California-Grown riff on a classic French dessert, the Peach Melba with nectarines and fresh raspberry sauce.
Ingredients
For the nectarines
1 1/2 cups water
1 1/2 cups sugar or honey
1 vanilla bean pod split lengthwise
2 tablespoons freshly squeezed lemon juice
4 California nectarines or peaches, halved, pits removed if possible.
For the fresh raspberry sauce
1 1/2 cups raspberries
2 tablespoons nectarine poaching liquid
1/2 tablespoon freshly squeezed lemon juice
Instructions
To poach the nectarines
Put the water, sugar, lemon juice, and vanilla pod into a wide saucepan and heat gently to dissolve the sugar. Bring the pan to a boil and let it cook for about 5 minutes, then turn the heat down to a fast simmer.

Cut the nectarines in half, and if the stones come out easily, then remove them; if not you can take them out later. Poach the nectarine halves in the sugar syrup for about 2 to 3 minutes on each side, depending on the ripeness of the fruit. Test the cut side with the sharp point of a knife to see if they are soft, and then remove them to a plate with a slotted spoon.

When all the nectarines are poached, peel off their skins and let them cool (then you can remove any remaining stones). If you are making them a day in advance then let the poaching syrup cool and then pour into a dish with the peaches. Otherwise, just store the syrup in a jar for fun cocktails or freeze it for the next time you poach nectarines.
To make the fresh raspberry sauce
To make the raspberry sauce, process the raspberries, poaching liquid, and lemon juice in a blender or a food processor. Pour through a sieve to remove the seeds.
To serve
To assemble the Nectarine Melba, place 2 nectarine halves per person in a bowl and add a scoop or two of ice cream. Spoon the raspberry sauce over each. Serve immediately.
Nutrition
Calories: 373kcalCarbohydrates: 94gProtein: 2gFat: 1gSaturated Fat: 0.01gPolyunsaturated Fat: 0.2gMonounsaturated Fat: 0.03gSodium: 24mgPotassium: 265mgFiber: 5gSugar: 88gVitamin A: 487IUVitamin C: 20mgCalcium: 18mgIron: 1mg
Click here to check out the Google Web Story for How To Use These Sensational Stone Fruit!