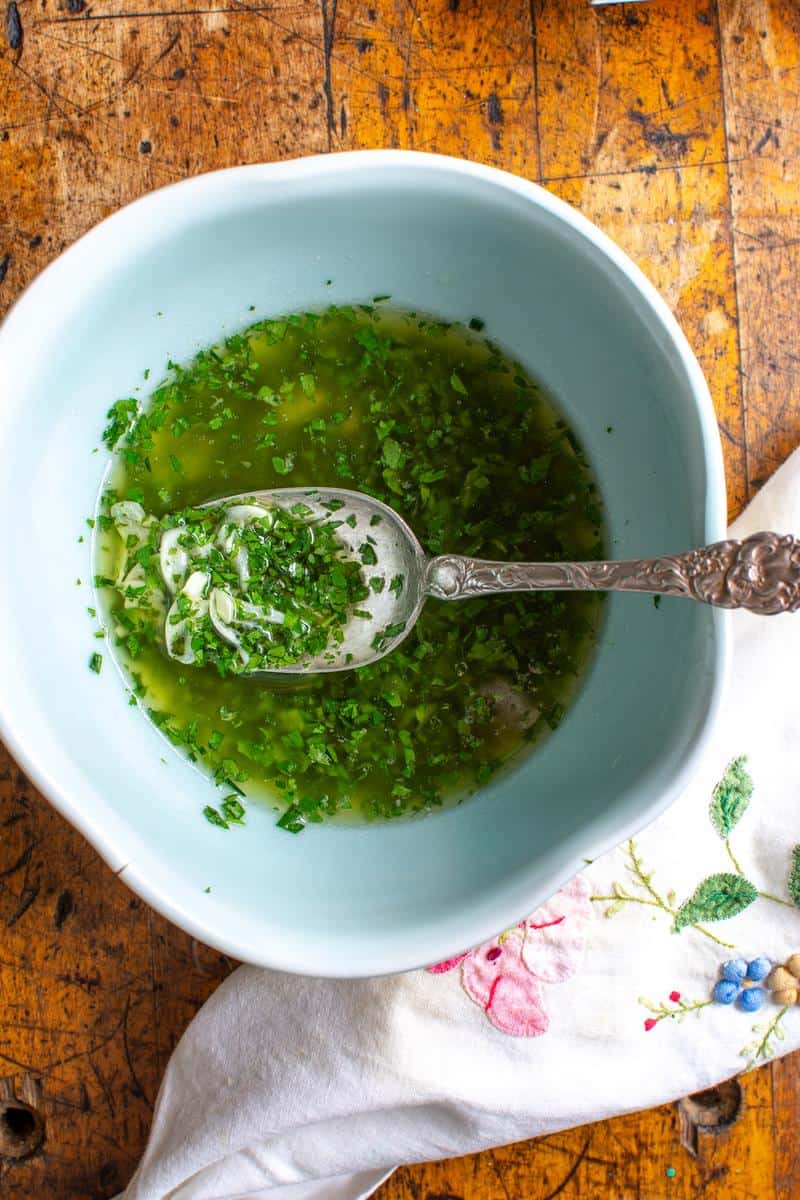 CA GROWN Blog
Discover. Learn. Connect.
Quick and Easy Garlic Butter Sauce
June 23, 2023
Eat the Season!
Sign Up For Weekly Recipes
« Back to Recipes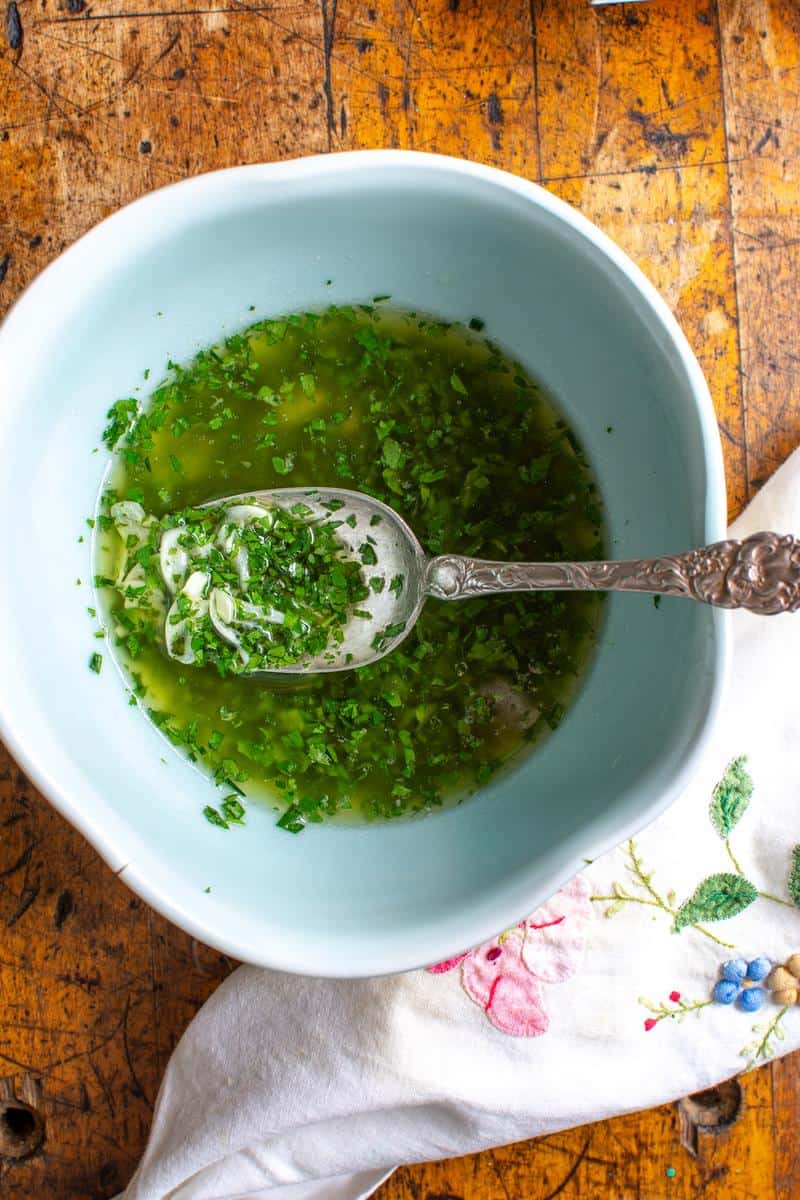 Quick and Easy Garlic Butter Sauce
This super simple Garlic Butter Sauce from California Grown Creator Kate Ramos will transform everything from pasta to vegetables into a drool-worthy dish. Made with vibrant California-grown garlic, lots of fresh herbs, and sweet butter made with real California dairy!
Garlic butter sauce is one of those things that makes everything better. Drizzle it over steamed vegetables, toss it with pasta, or swirl a tender artichoke leaf in it. Really, add it to anything you want to give a punch of flavor.
It is super easy to make. The prep time is very minimal, just chop some garlic and herbs, melt some butter, and stir it all together. Ready in about 10 minutes!
The key to making this delicious and easy sauce recipe is to use fresh garlic and not the minced garlic in the jar. Fresh heads of garlic are sweeter and more mellow with long-lasting flavor. When buying heads of garlic in the store, look for California-grown garlic. Not sure if your store carries California-grown garlic? Just ask the grocer, but more than likely it probably is. California grows nearly all the commercially grown garlic in the United States.
California: The Garlic Capital Of The World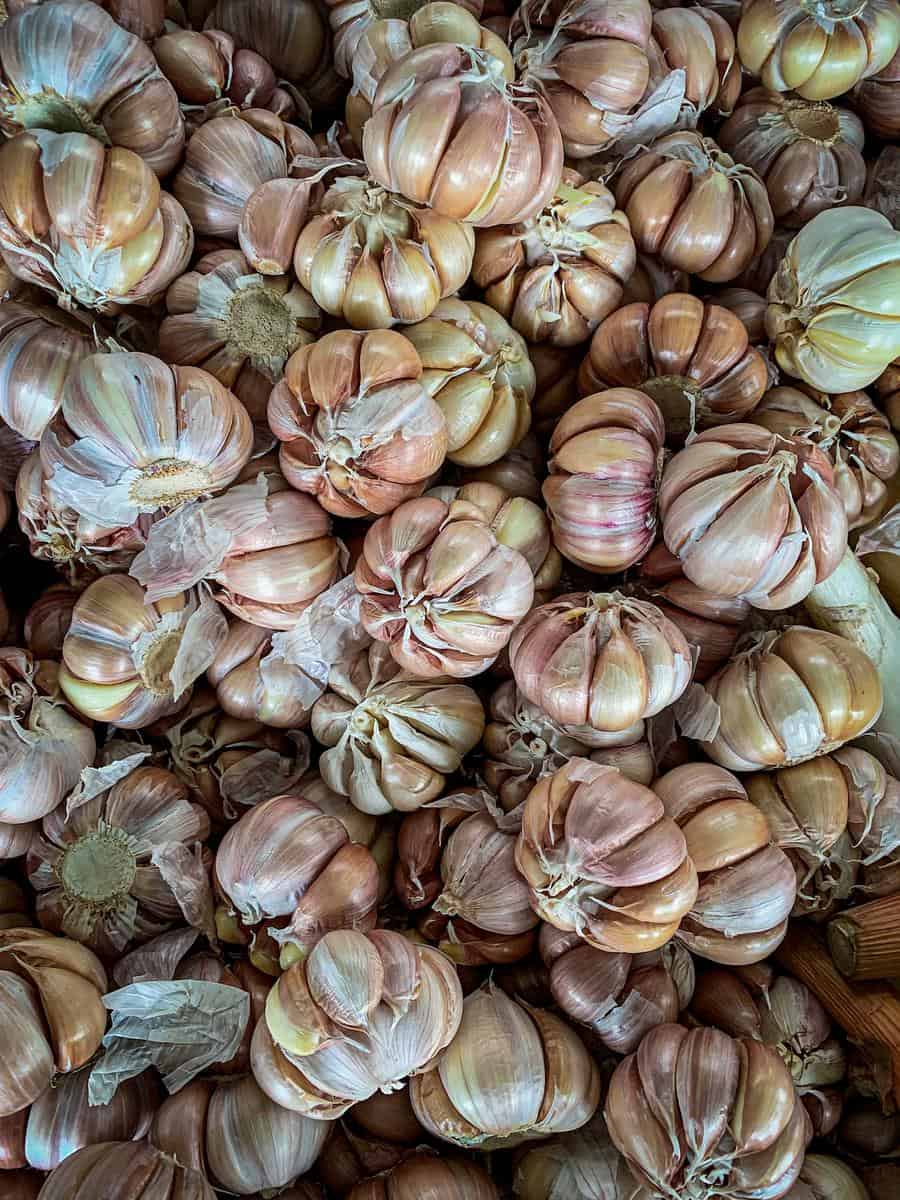 Garlic is one of 19 crops that are only grown in California and if you are a garlic-lover, then the town of Gilroy, California is sure to ring a bell.
Gilroy has been coined "The Garlic Capital of the World" because 90% of the garlic harvested in the US is processed in Gilroy. It hosts an annual Garlic Festival that draws hundreds of thousands of people each year to enjoy everything from garlic fries to garlic ice cream.
California garlic not only has a superior, fresh taste but is traceable and meets the highest safety standards in the world.
Ingredients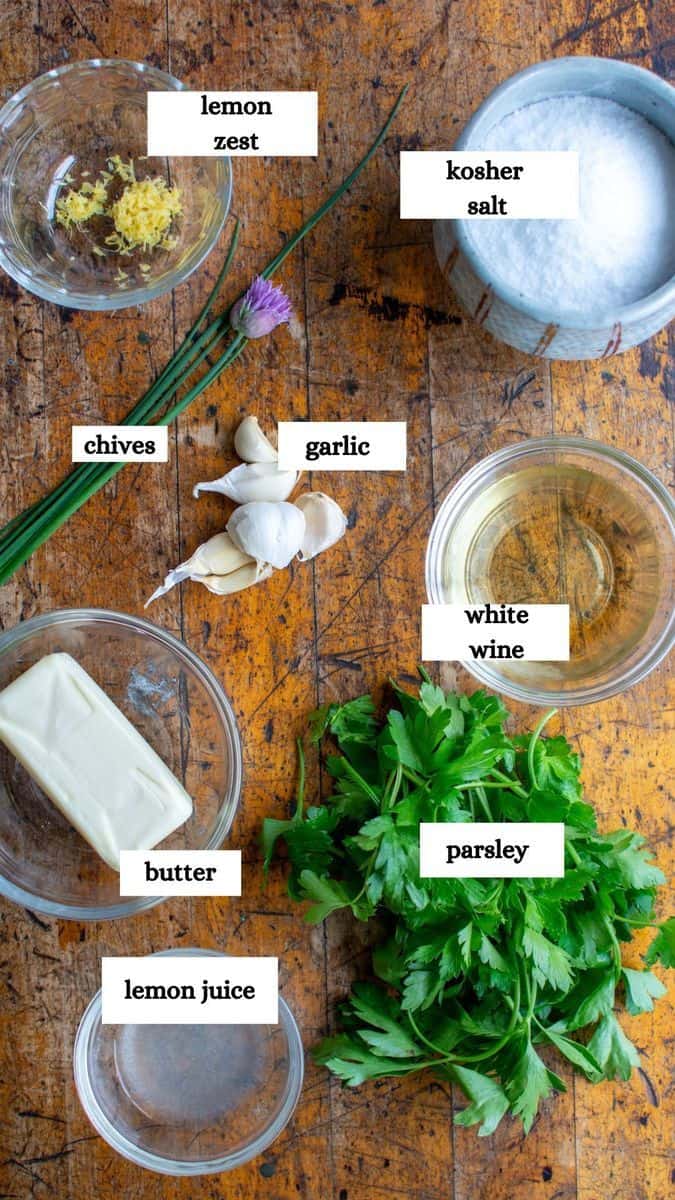 Fresh garlic cloves — grown in California, of course.
Unsalted butter — look for butter with the real California milk seal.
Fresh lemon juice — just a tablespoon to brighten up the sauce.
Lemon zest — zest your lemon first before juicing it. The lemon zest lifts the flavor of the sauce.
Dry white wine — a California varietal like Sauvignon Blanc or Pinot Blanc would be great in this sauce.
Italian parsley — use fresh parsley grown in California!
Chives — or tarragon or chervil for a more anise-like flavor
Kosher salt — the recipe calls for 1 teaspoon of salt which may seem like a lot but once you add the sauce to something like pasta or vegetables you will need that extra boost of flavor.
How To Make It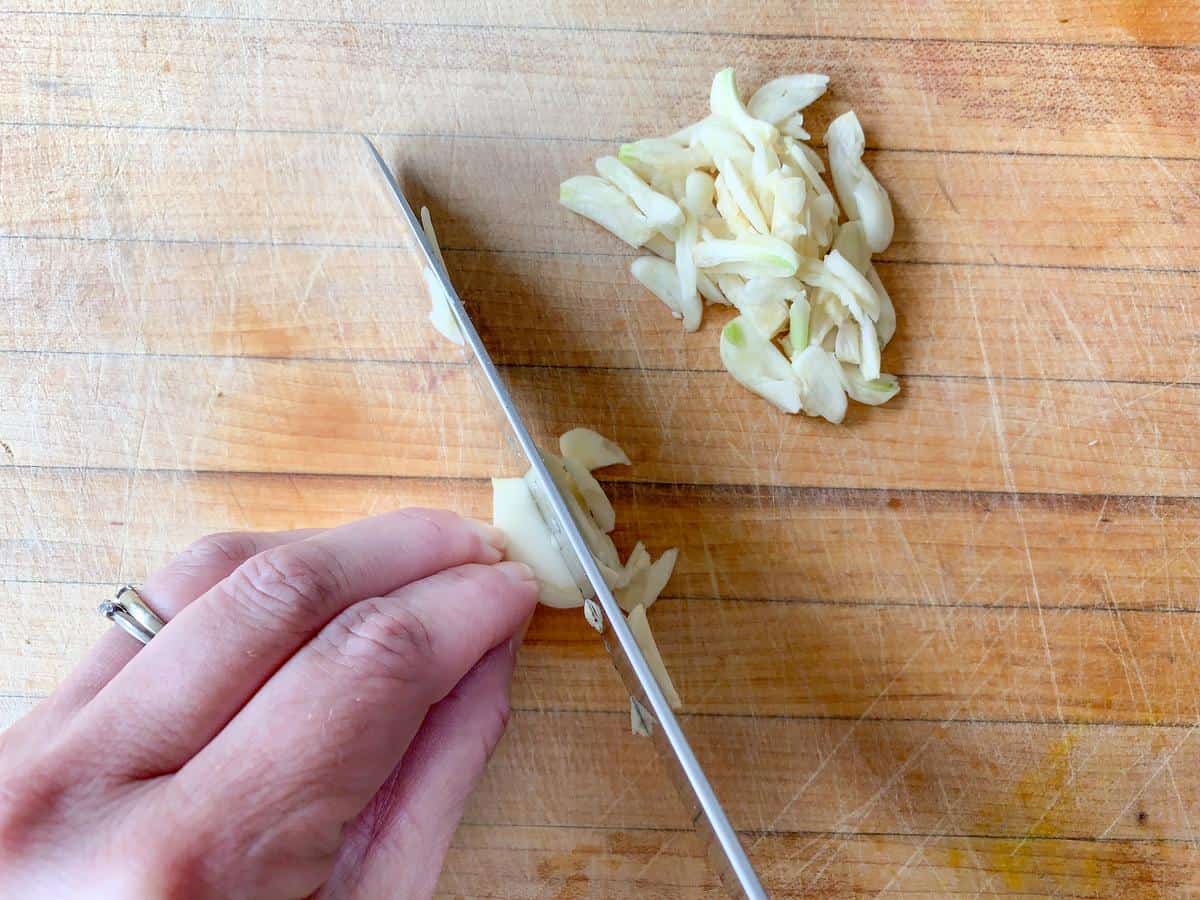 Step one
Slice the garlic. I like to cut the garlic cloves into thin slices instead of mince them. The more you cut garlic the stronger the flavor will be. The thin slices give the butter a mellow, sweet garlic flavor, plus they look pretty.
Step two
Melt the butter. Place the butter in a medium frying pan and set over medium heat. Swirl the butter until it is melted.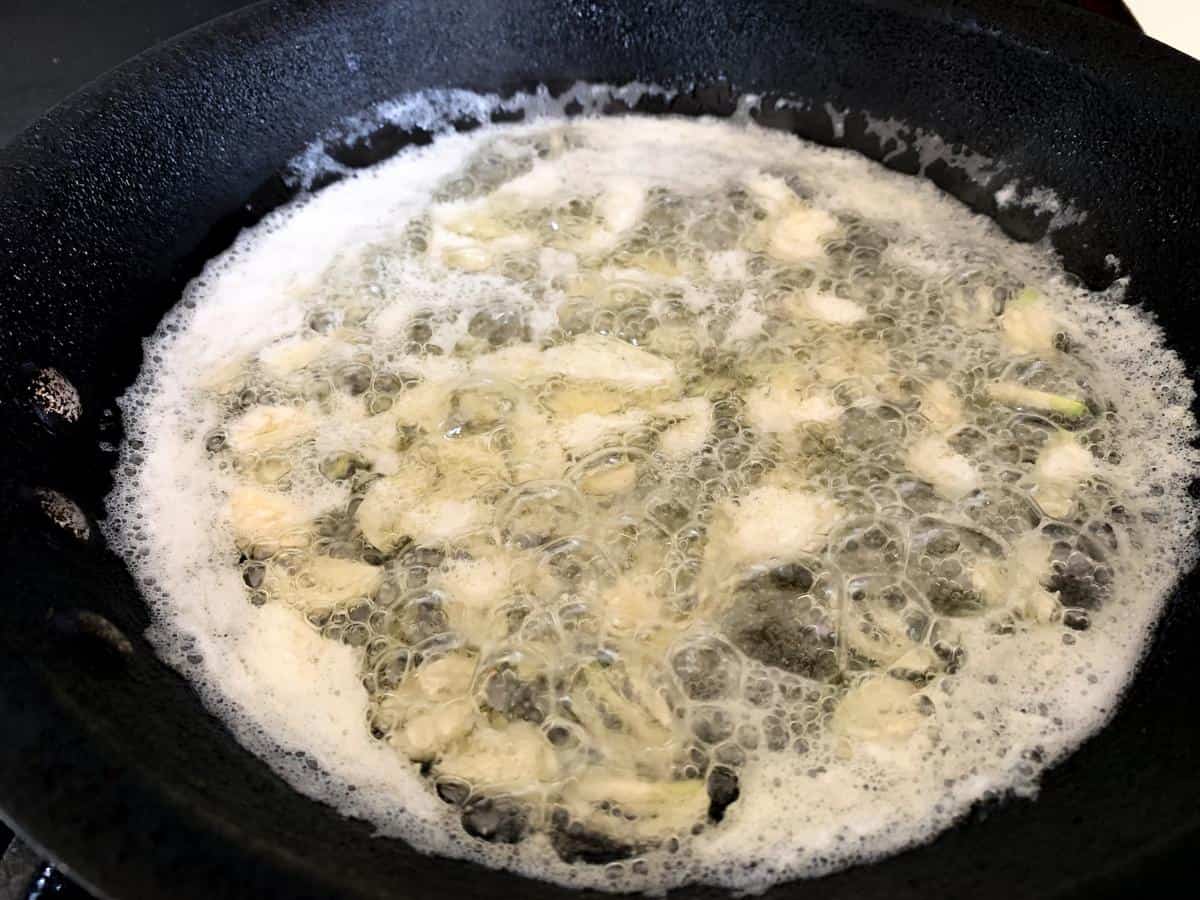 Step three
Cook the garlic. Add the garlic slices to the melted butter and cook until they become really fragrant and softened slightly, but not brown. This only takes a minute or two.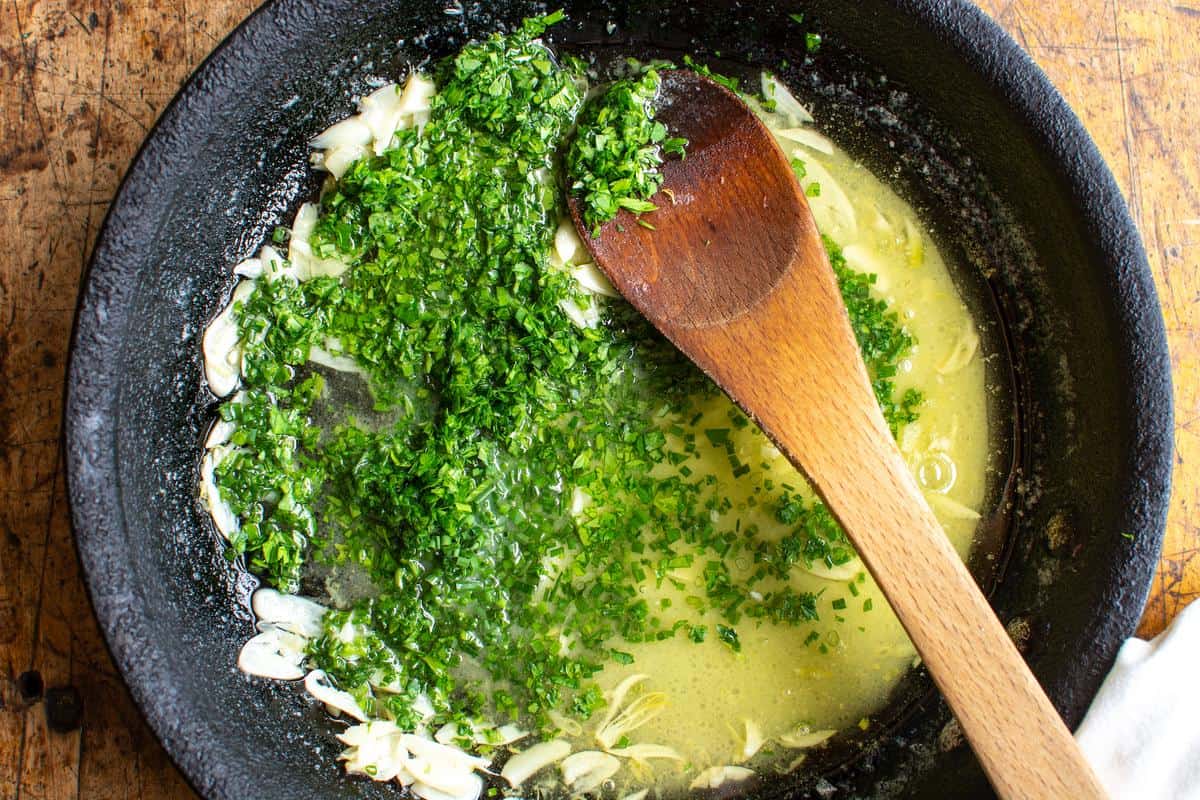 Step four
Add remaining ingredients. Stir in everything else, remove from heat and serve! This makes enough sauce to coat a pound of pasta or steamed vegetables. See below for what to do with leftovers.
Ways To Use This Garlic Butter Sauce Recipe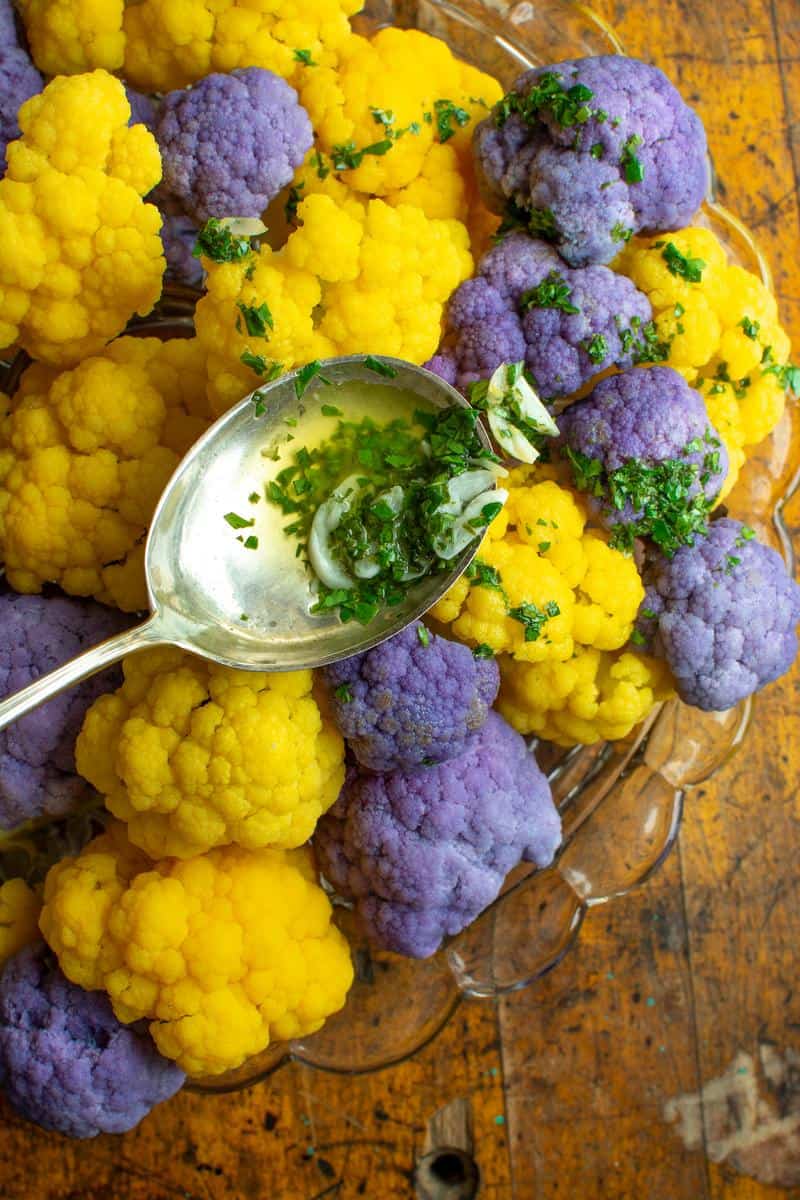 Use as a dipping sauce for seafood like lobster, shrimp, or my favorite, crabs—especially crab legs.
Spoon over grilled steak or chicken
Brush over pizza crust or corn on the cob
Use as a pasta sauce
Toss with steamed vegetables
Drizzle over popcorn
Pour over baked potatoes
Butter Garlic Sauce FAQ's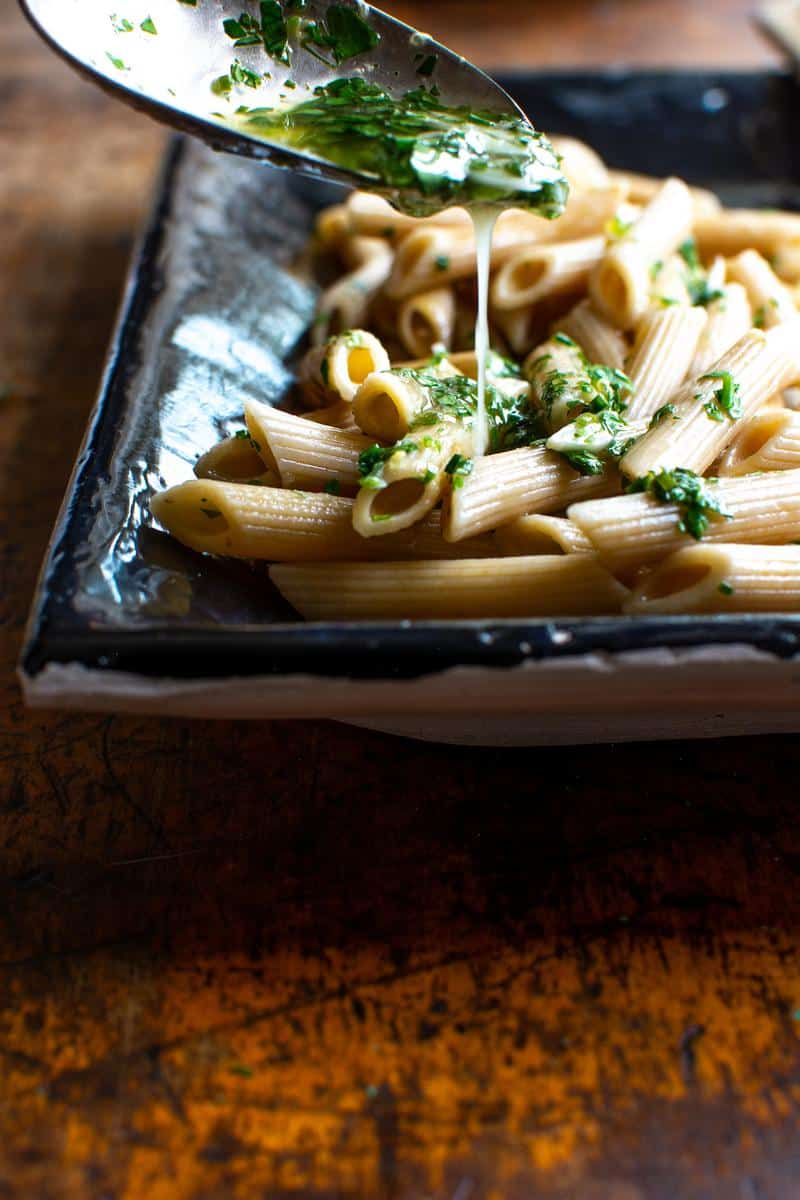 How to reheat homemade garlic butter sauce? If the sauce has a chance to cool, it will harden. You can easily reheat the sauce in the microwave (for 10 seconds at a time) or in a small saucepan on the stove over low heat, stirring until it becomes spoonable and drippy again.
What to do with leftover sauce? Store in an airtight container in the refrigerator for up to 5 days or pour cooled sauce into ice cube trays and freeze to make individual portions. The butter will keep in the freezer for up to 3 months. No need to thaw first, just rewarm as instructed above.
Are there other flavors I can add in to switch it up? Yes, of course! Some optional variations could be freshly ground black pepper, red pepper flakes, or other herbs like thyme or oregano.
Can I use this to make garlic bread? Well, yes and no. The wine makes this more of a sauce than a spread for garlic bread. If you wanted to omit the wine it would make a great garlic bread topper. Just liberally brush on French bread or a baguette and bake.
Be sure to share your favorite creations with Garlic Butter Sauce with us by snapping a pic and tagging us on social using #CAGROWN.
Craving more CA Grown goodness? Follow us on Pinterest for fresh and fabulous recipe inspiration!
Quick and Easy Garlic Butter Sauce Recipe
This super simple Garlic Butter Sauce will transform everything from pasta to vegetables into a drool-worthy dish. Made with vibrant California-grown garlic, lots of fresh herbs, and sweet butter made with real California dairy!
Ingredients
1 stick 4 ounces unsalted butter
8 cloves garlic thinly sliced
1 tablespoon fresh lemon juice
1 teaspoon fresh lemon zest
¼ cup dry white wine
¼ cup minced Italian parsley
1 ½ tablespoons minced chives
1 teaspoon kosher salt
Instructions
Melt butter in a medium frying pan. Add garlic and cook until fragrant but not browned, 1 minute.

Stir in remaining ingredients, remove from heat and serve.
Notes
Garlic bread: To use this as a spread for garlic bread, omit wine then brush liberally on French bread or a baguette and bake.
2. Salt: It may seem like a lot of salt when you taste it on its own, but it won't be when you add it to something else like pasta, baked potato, vegetables, etc.
3. Wine: I use California Sauvignon Blanc or Pinot Gris (because they're my drinking wines!). Anything that is dry and not overly fruity or woody will be fine.
4. Storage and leftovers: Store the cooled sauce in an airtight container for up to 5 days in the refrigerator. Warm over low heat on the stove or for 10 second increments in the microwave until runny and smooth.
Nutrition
Serving: 1portionCalories: 24kcalCarbohydrates: 3gProtein: 0.4gFat: 0.2gSaturated Fat: 0.1gPolyunsaturated Fat: 0.1gMonounsaturated Fat: 0.1gSodium: 586mgPotassium: 39mgFiber: 0.1gSugar: 0.3gVitamin A: 10IUVitamin C: 3mgCalcium: 13mgIron: 0.1mg