Celebrate The Best Of Artichoke Season At Pezzini Farms!
Fresh artichoke season is upon us which means it's time for a field trip to Pezzini Farms! Sure you can find canned and jarred California artichokes year-round, but when it comes to perennial heirloom artichokes nothing, and I mean nothing, beats Pezzini Farms.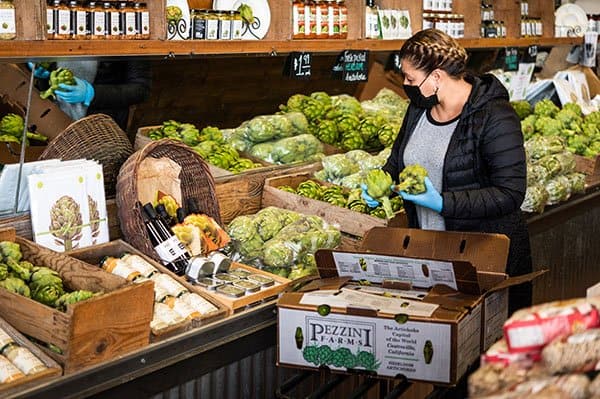 A typical visit to Monterey, CA tends to be hyper-focused on the beach front and the ocean, which is all beautiful. But right off the coast, just inland a bit, is the most beautiful farmland you've ever seen. Monterey county greets you with the freshest seafood from the ocean and pairs it with the freshest produce from the land, and right smack in the middle of it all is Pezzini Farms -a food lover's roadside attraction that is not to be missed!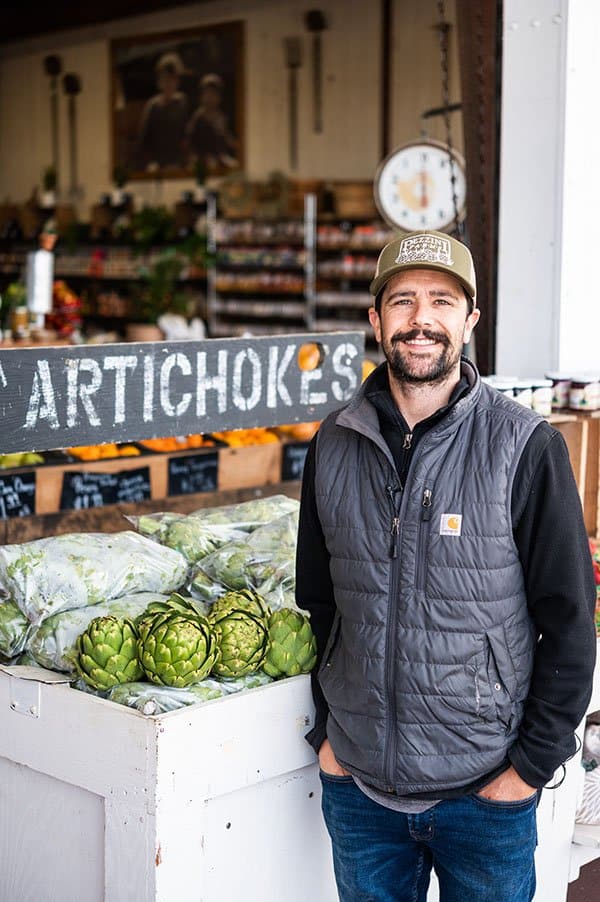 This is Sean, he is a 4th generation artichoke farmer.
Recently, we had the pleasure of meeting Sean Pezzini, 4th generation artichoke farmer at Pezzini Farms in Castroville, California.
He shared with us the story of how their family's heirloom artichokes were brought here from Italy by his great grandfather.
Will the tradition continue with his 1 1/2 year old son Luca? Only time will tell, but our bets are that all signs point to yes!
It's true what they say, even artichokes have hearts and at the very heart of Pezzini Farms there is a love story….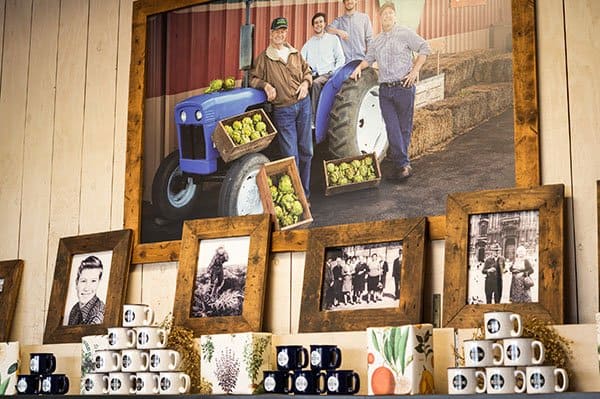 A brief history of Pezzini Farms and their heirloom artichokes.
Almost 100 years ago, Sean Pezzini's great grandfather, Valentino, came to the United States from Italy with his family's beloved artichoke root stalk and a dream. Together with his wife, Lucia, their children and the generations that have followed, that dream has culminated over almost a century into what we know today as Pezzini Farms.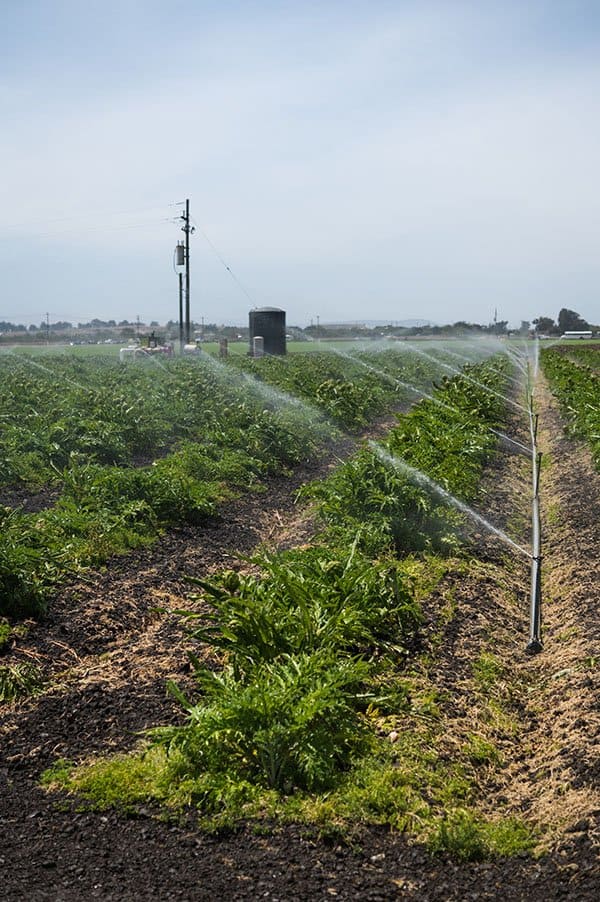 How artichokes are grown at Pezzini Farms.
Let's talk about the lifecycle of an artichoke and why the process of growing artichokes at Pezzini farms is so unique, shall we?
Pezzini artichoke plants aren't like most artichokes you find in the produce department. Most artichokes you buy from the store are grown from a new seed every year. These artichoke plants are classified as annual plants. This means that from season-to-season new artichoke plants start from seed, grow through their lifecycle, and are then harvested. Leftover plant material (including the root stalk) is turned back to the earth to decompose which adds nutrients to the soil. Then the process begins again the next year with new artichoke plants.
Pezzini Farms' artichokes are unique because they are heirloom artichokes. These artichokes are perennial plants, which means that the root stalk stays in the ground year after year and artichokes are grown each year from the same root stalk. In the case of Pezzini's perennial heirloom artichokes, their root stalk is almost 100 years old!!!!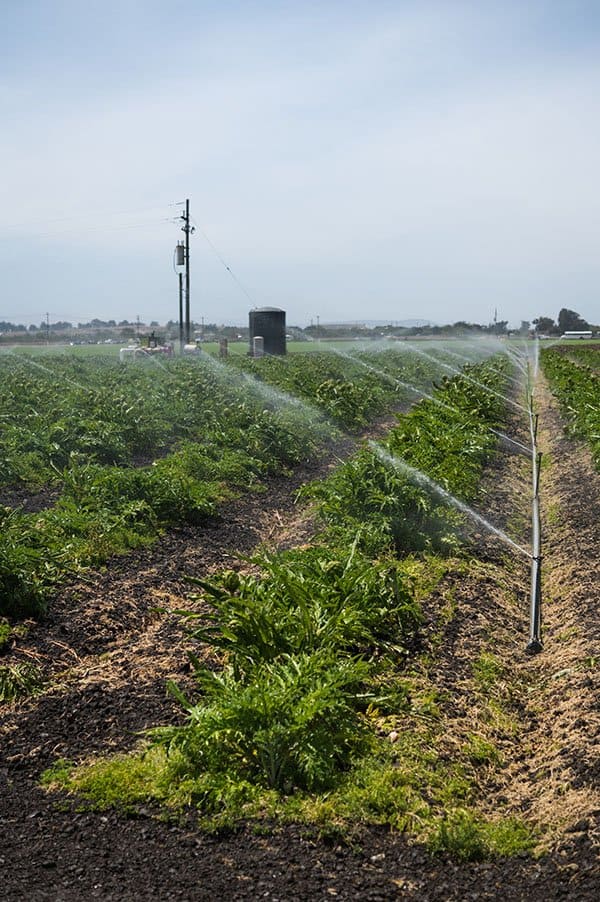 The lifecycle of an artichoke at Pezzini Farms
Right after spring at the beginning of summer, the farmworkers at Pezzini Farms cut their perennial artichoke plants all the way back to the soil line leaving the root of the plant in the soil and intact.
Over the summer, the heirloom artichoke plants will grow.
In fall, a small artichoke harvest will take place for some of their heirloom varieties that grow a little quicker than others.
Pezzini's then allows their heirloom artichoke plants to grow all winter.
In spring the heirloom artichoke plants will be ready for a large harvest.
Here is a fun fact for ya! Artichoke plants are harvested multiple times each growing season instead of just once like some other vegetables. Plants may be harvested up to 9 different times! In the case of Pezzini Farms, their artichoke harvest season is about 3 months long.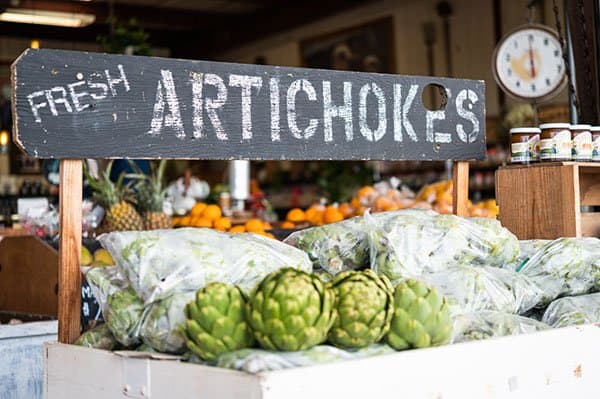 When is artichoke season?
Canned, jarred, and frozen California artichokes are available year round, but if you are looking for fresh heirloom globe artichokes you will want to visit or place an order in the fall (during their small artichoke harvest) or the spring through the Pezzini Farms website.
Artichokes from Pezzini Farms are hand-picked, packed, and shipped from their warehouse every Tuesday during the growing season.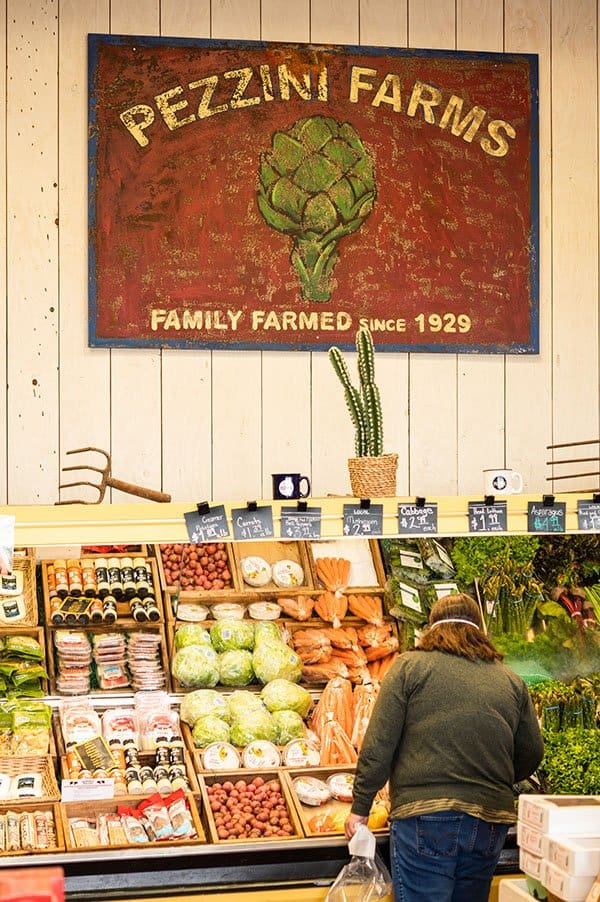 Planning a visit to Pezzini Farms? Here is what you need to know.
Want to plan a trip to Pezzini Farms? We highly suggest the trek!
Firmly rooted in California for almost a century now, Pezzini Farms is a historic landmark in Monterey county. It is located in the "Artichoke Capital of the World!", in Castroville, California. Which is known for its artichoke crop and for the annual Castroville Artichoke Festival.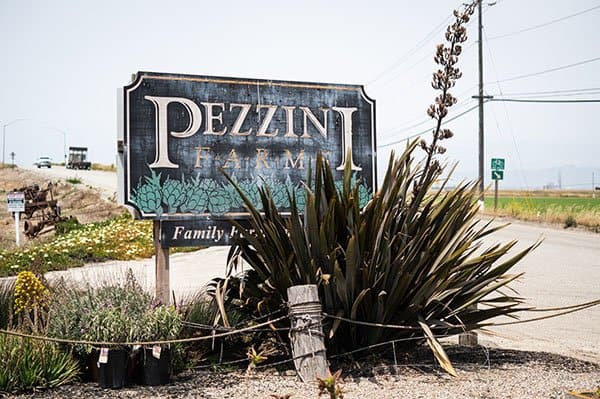 Where is Pezzini Farms located?
Pezzini Farms roadside market and farm is located at 460 Nashua Road (Just off HWY 1), Castroville, CA 95012.
Pezzini's is open Sunday through Saturday from 8:00 AM – 5:00 PM.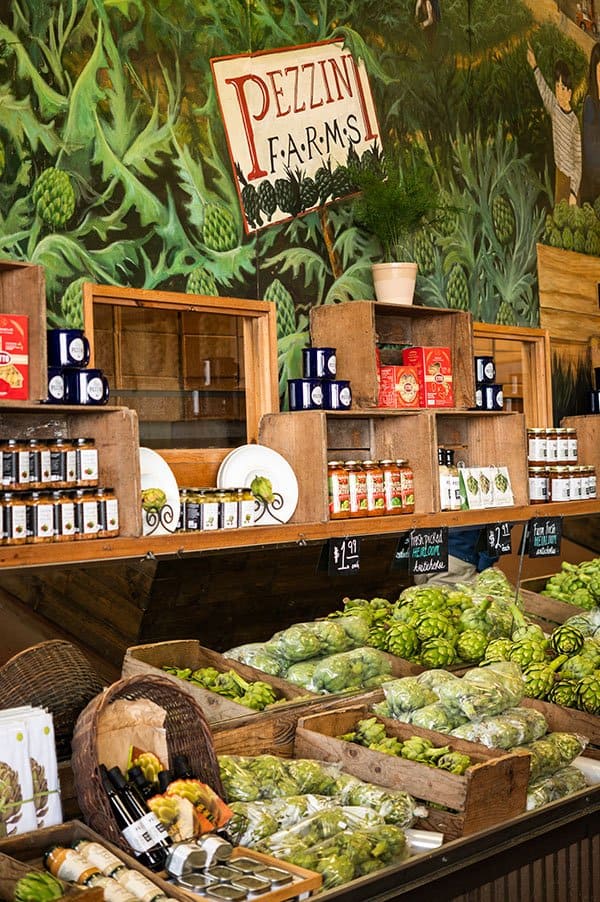 Can you eat at Pezzini Farms?
Why yes, yes you can eat at Pezzini Farms! Artichokes treats abound year-round at the farm stand, and there are lots more California-inspired treats to indulge in too!
Sean and his family personally curate the farm stand's hyper local, California-centric products sold at Pezzini's. Sean Pezzini likes to say their family farm stand showcases "the very best of California" and I can assure you he is correct.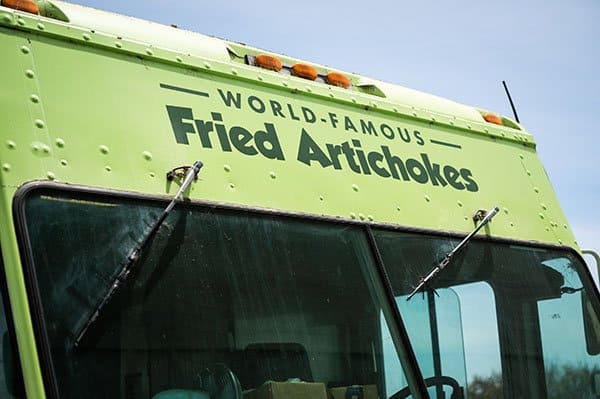 What to eat when you visit Pezzini Farms:
When you visit in person, the deep-fried artichoke hearts from "The Choke Coach" are a delicacy you must experience! This bright green food truck sits right off the side of the market and has a nice little sitting area where you can enjoy your tasty chokes while they are smokin' hot and crispy.
For dessert, grab yourself a freshly baked artichoke cupcake with cream cheese icing at the farm stand register. This cupcake flavor may sound out of the box, but if you are a fan of the texture and flavor of zucchini bread like we are, you will love the texture and flavor of artichoke cupcakes! The artichoke flavor in this epic cupcake is mellow and playful, just like we like it!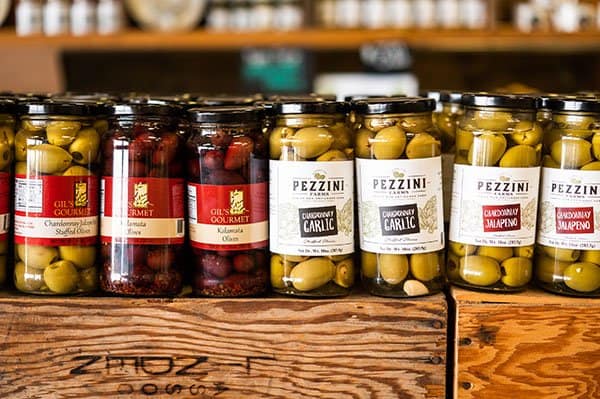 What to order for your pantry from Pezzini Farms:
Can't stop by the farm stand in person? You are in luck. You can stock your pantry with Pezzini's private label artichoke-laced pantry products when you order online from the comfort of your own home.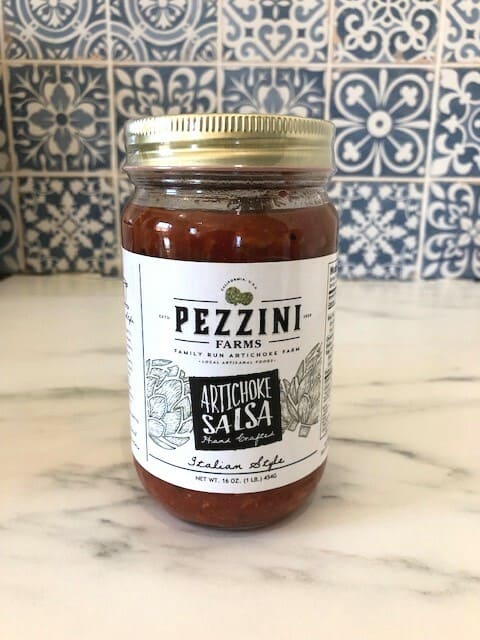 Pezzini Farms Artichoke Salsa combines a generous amount of marinated artichoke hearts and carrots with a special blend of herbs and spices topped off with a splash of Chardonnay wine.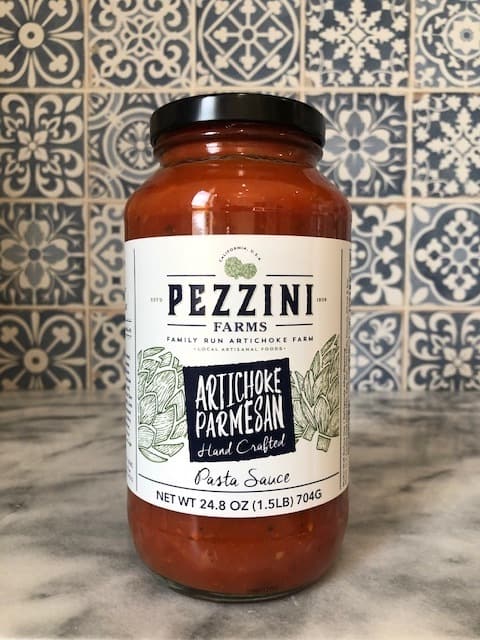 This delicious hand-crafted pasta sauce is all-natural with no preservatives and is loaded with BIG flavor from hearty artichokes, tomato, garlic, and Parmesan.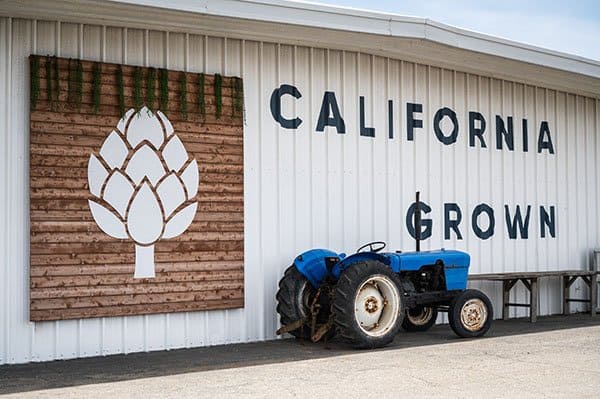 Celebrate artichoke season with these delicious artichoke recipes!
Prepping a fresh artichoke can seem intimidating, but I assure you it's fun and easy. Oh, and maybe a bit messy, but in the best way possible!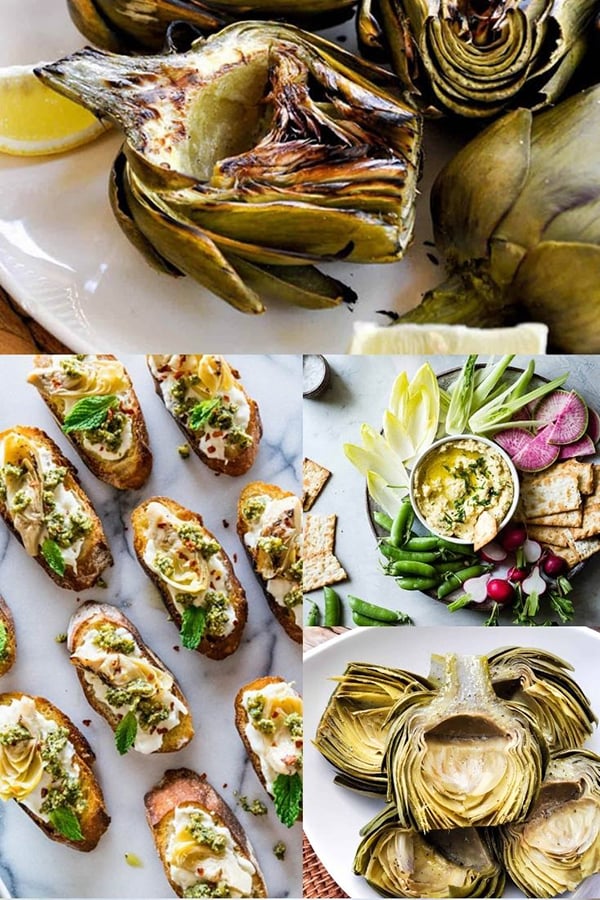 Have you ever Googled, " How to cook artichokes?" Artichokes are one of those vegetables that eludes a lot of home cooks, but today we are seeking to change that as we share 20 recipes that will teach you how to cook artichokes like a pro!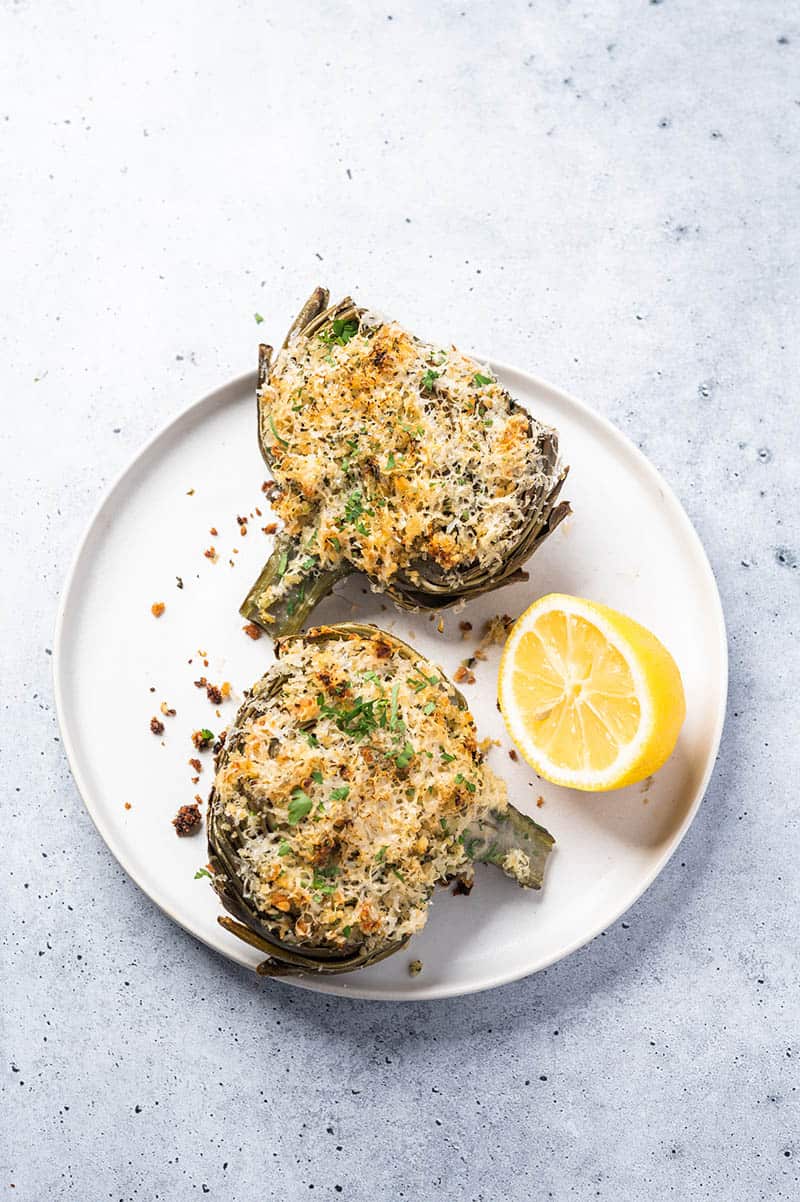 This California-inspired Stuffed Artichoke recipe is the perfect way to celebrate the arrival of Spring! This epic artichoke recipe is hearty enough to eat like a meal, but also party-perfect when you are having guests over.
What is your favorite recipe to cook during artichoke season? Share your creation with us by snapping a pic and tagging us on social using #CAGROWN.
Craving more CA Grown goodness? Follow us on Pinterest for fresh and fabulous recipe inspo!
Frequently asked questions about heirloom artichokes.
What does heirloom mean?

The broader sense of what heirloom means is associated with heritage, history, and nostalgia. In short, heirloom is seed saving. Heirloom plants are understood to grow from seeds handed down from one generation to the next.

How experts define heirlooms can vary, but typically they are at least 50 years old. Most heirlooms come from seed that has been handed down for generations in a particular region or area, hand-selected by gardeners for a special trait.

In the case of Pezzini Farms heirloom artichokes, the bare root stalk for the perennial artichokes that grow on their farm was originally brought to the United States almost a century ago.
What is a rootstock?
Rootstock is the base and root portion of a plant.
This article was written by Meg van der Kruik. Photo credit James Collier for California Grown.