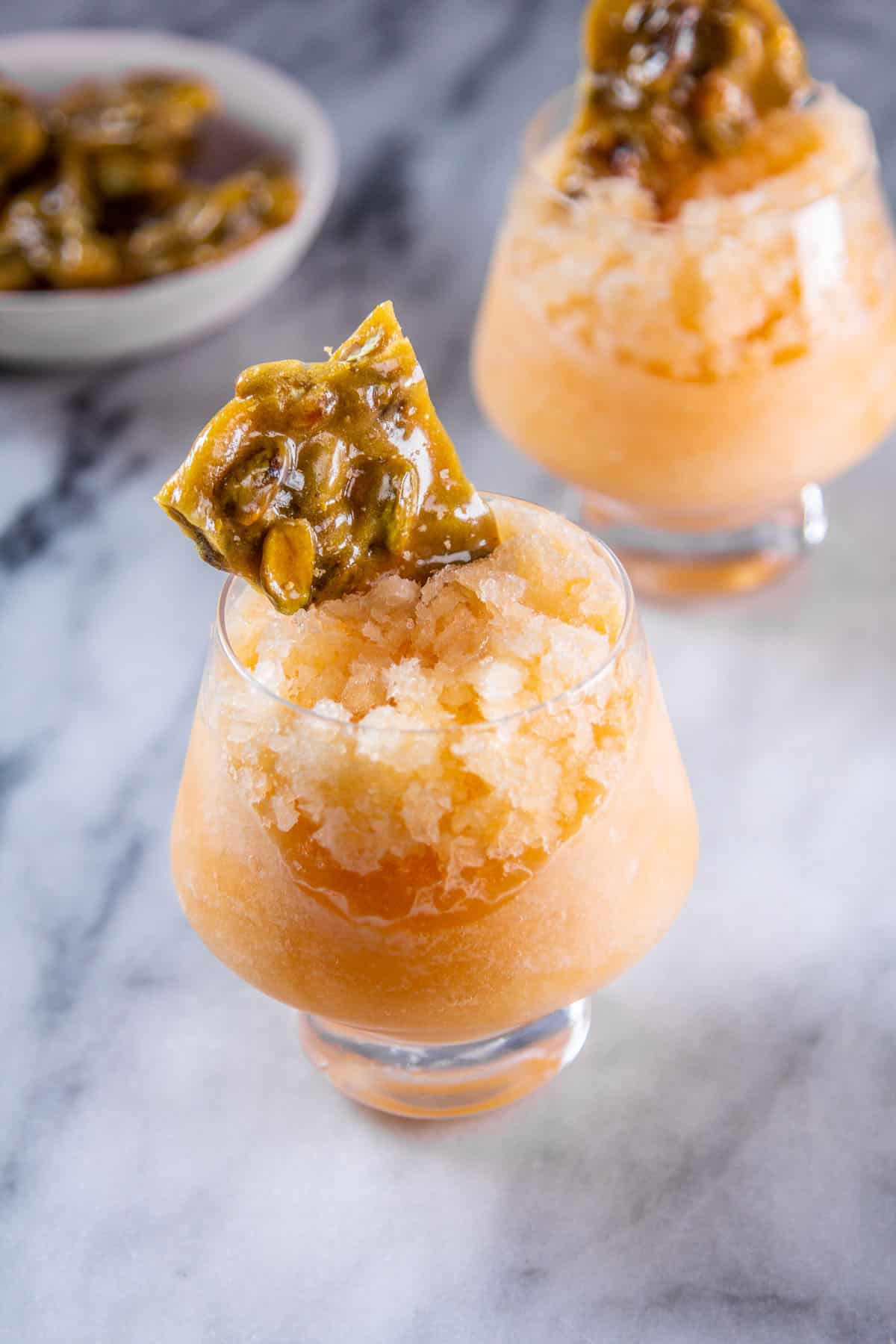 CA GROWN Blog
Discover. Learn. Connect.
An Easy Recipe for Cantaloupe Granita: The Perfect Summer Treat
June 6, 2023
Eat the Season!
Sign Up For Weekly Recipes
« Back to Recipes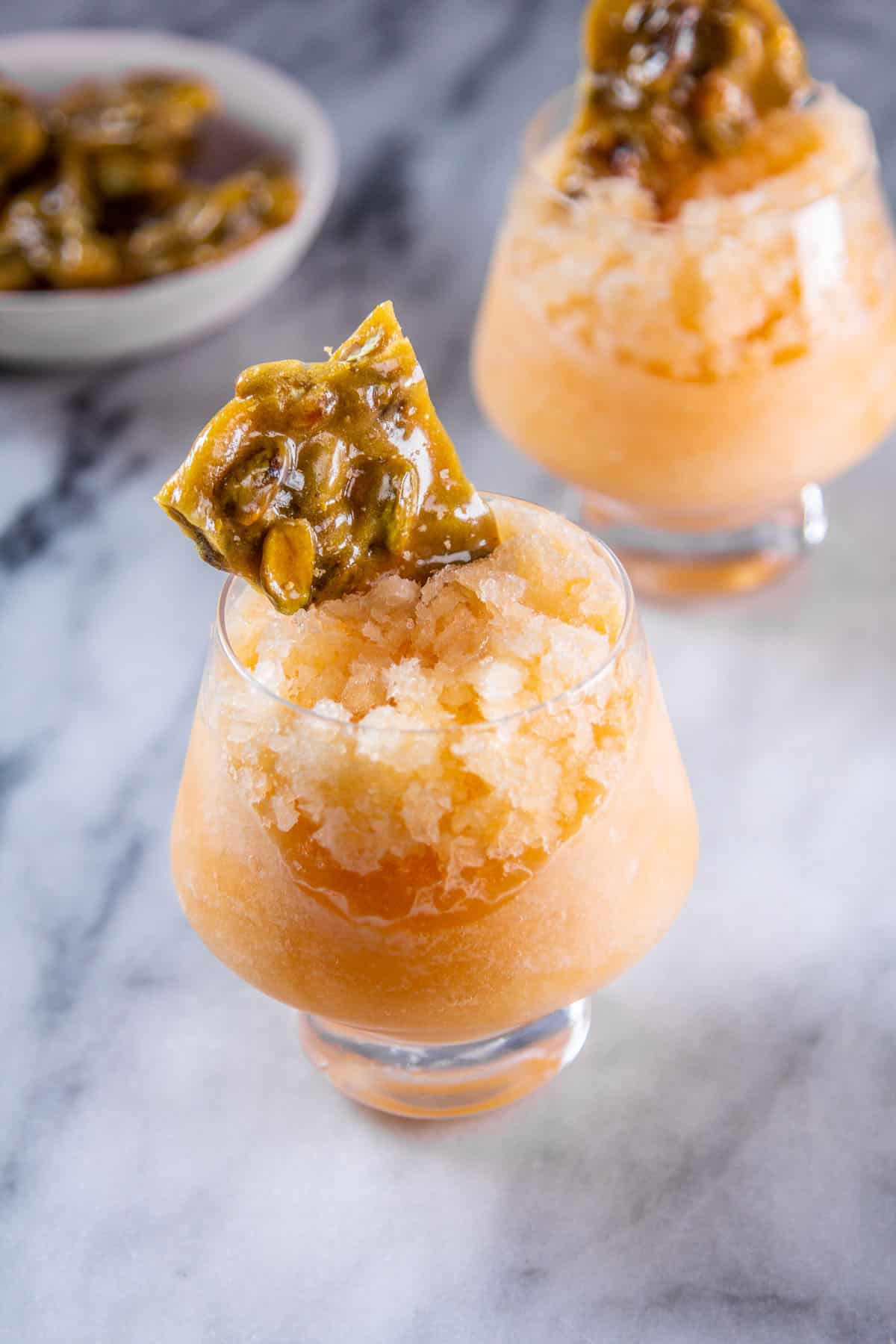 An Easy Recipe for Cantaloupe Granita: The Perfect Summer Treat
Summer – it's a season that evokes visions of vibrant colors, warm sun-filled days, and an array of delicious, refreshing foods. One such quintessential summer treat is our delicious Cantaloupe Granita. Served on its own or complemented with our Sweet and Salty California Pistachio Brittle, this dessert is sure to impress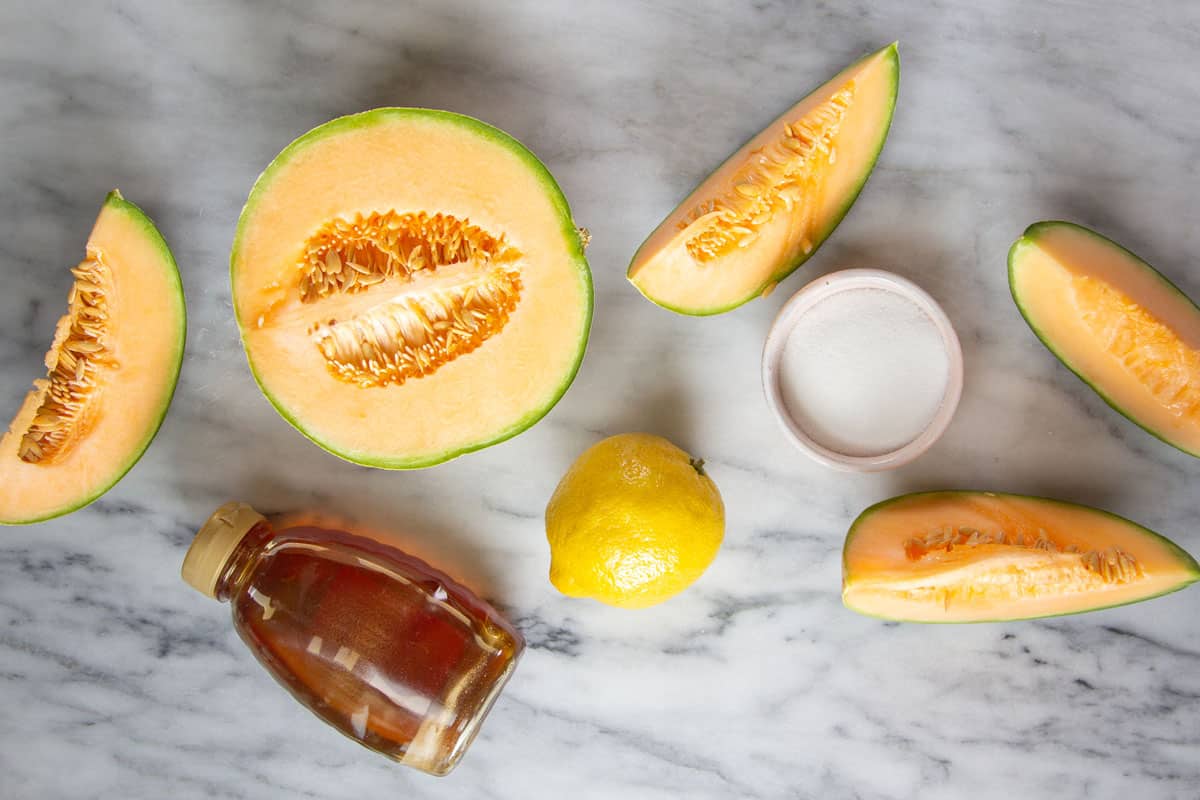 What is a granita?
A granita is a refreshing frozen dessert that originated in Italy. It is made by freezing a mixture of water, sugar, and various flavorings, such as fruit juices, coffee, or even wine. The process of making a granita involves repeatedly scraping the partially frozen mixture with a fork to create a granular texture. This results in a light and icy dessert with a slushy consistency.
Granitas are often served as a palate cleanser between courses in a meal or enjoyed as a cooling treat during hot summer days. This spectacular dessert can be made in a wide range of flavors and customized to suit your liking, making them a truly versatile dessert option for any type of eater.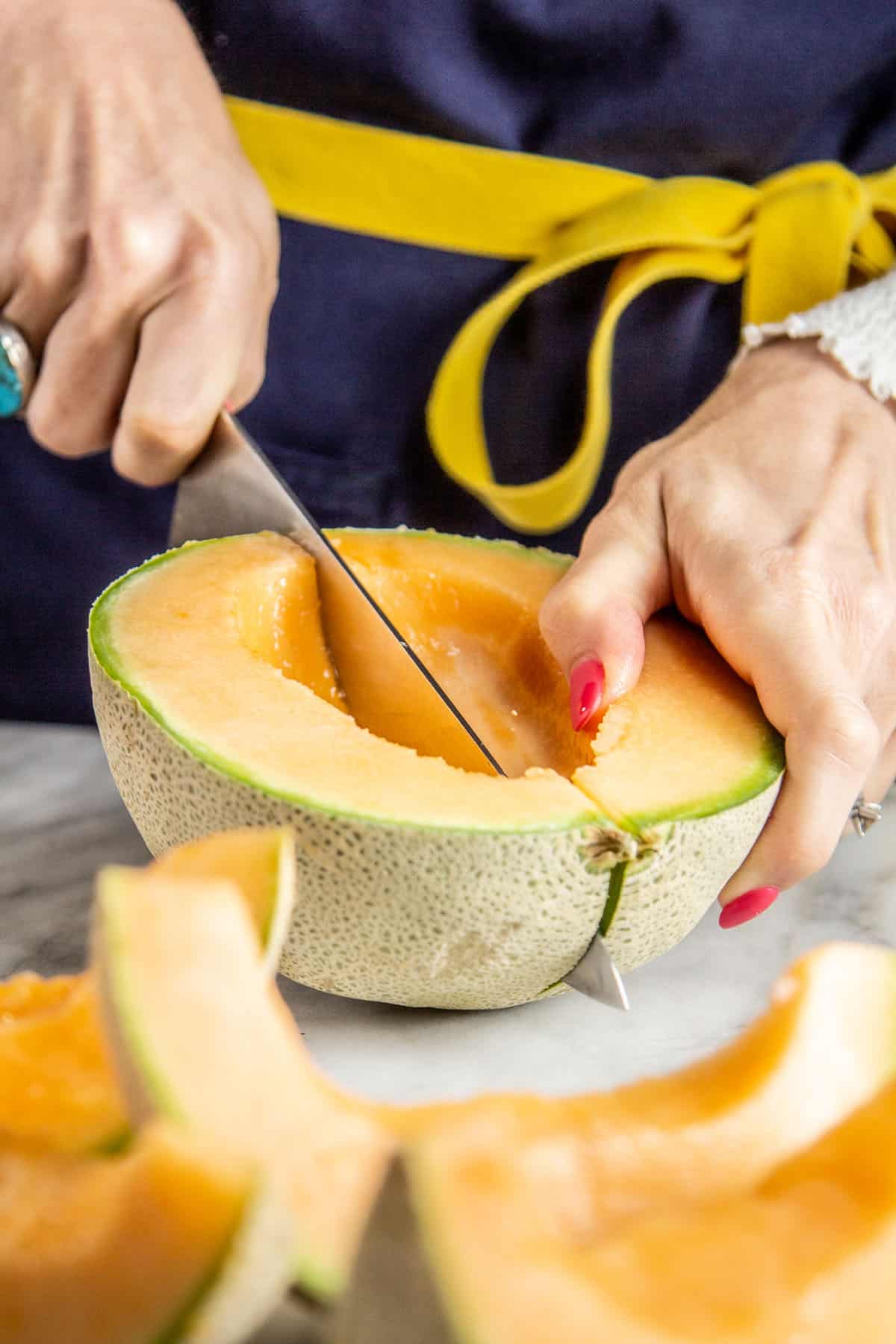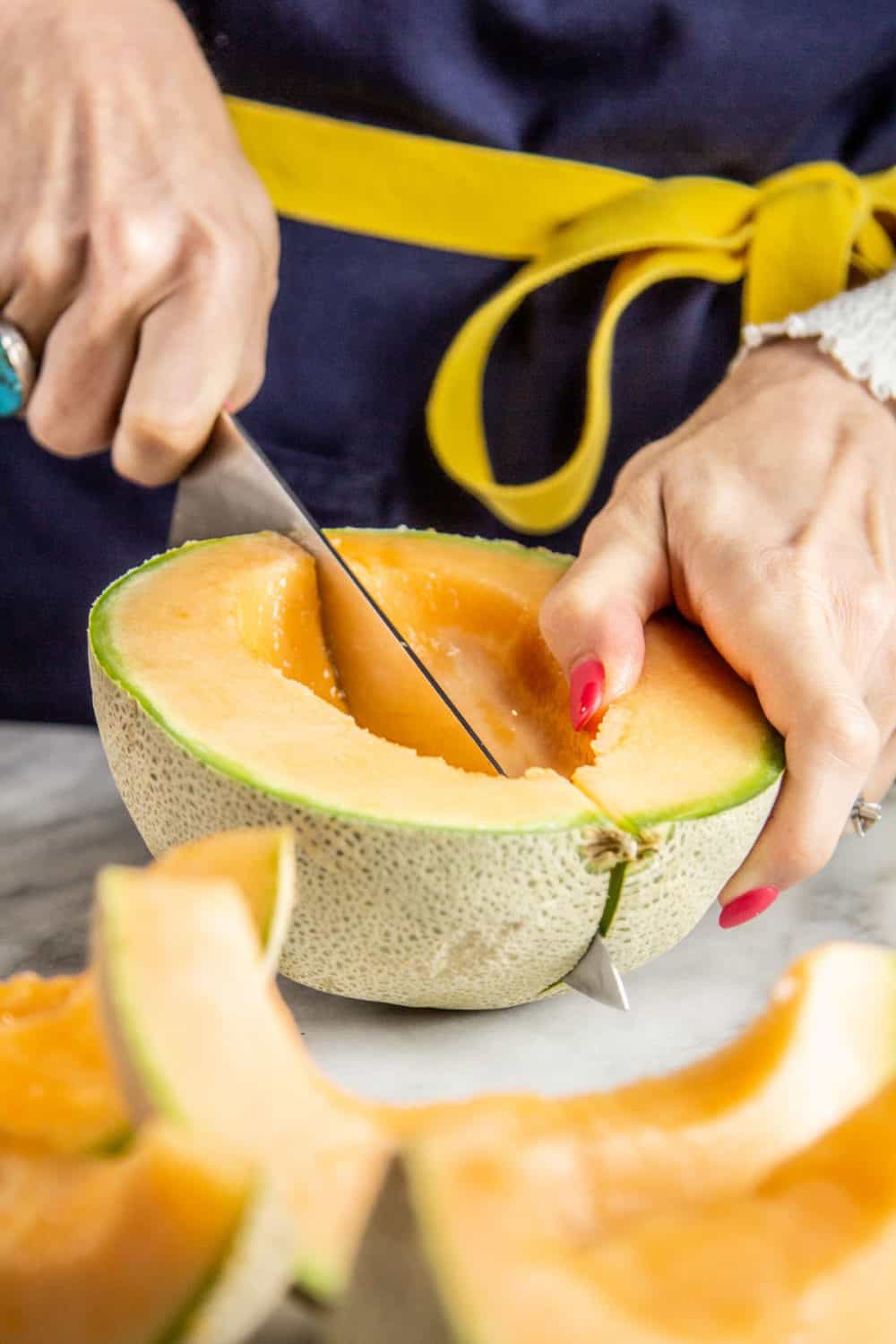 The Star Ingredient: California Cantaloupe
Before deiving into the fine details of making this refreshing treat, let's shine a light on the main component of our dessert – the California Cantaloupe. Here in the Golden State, we're proud to say we're the biggest melon producers in the United States, thanks to our fertile landscapes in the Southern Desert Area and the San Joaquin Valley.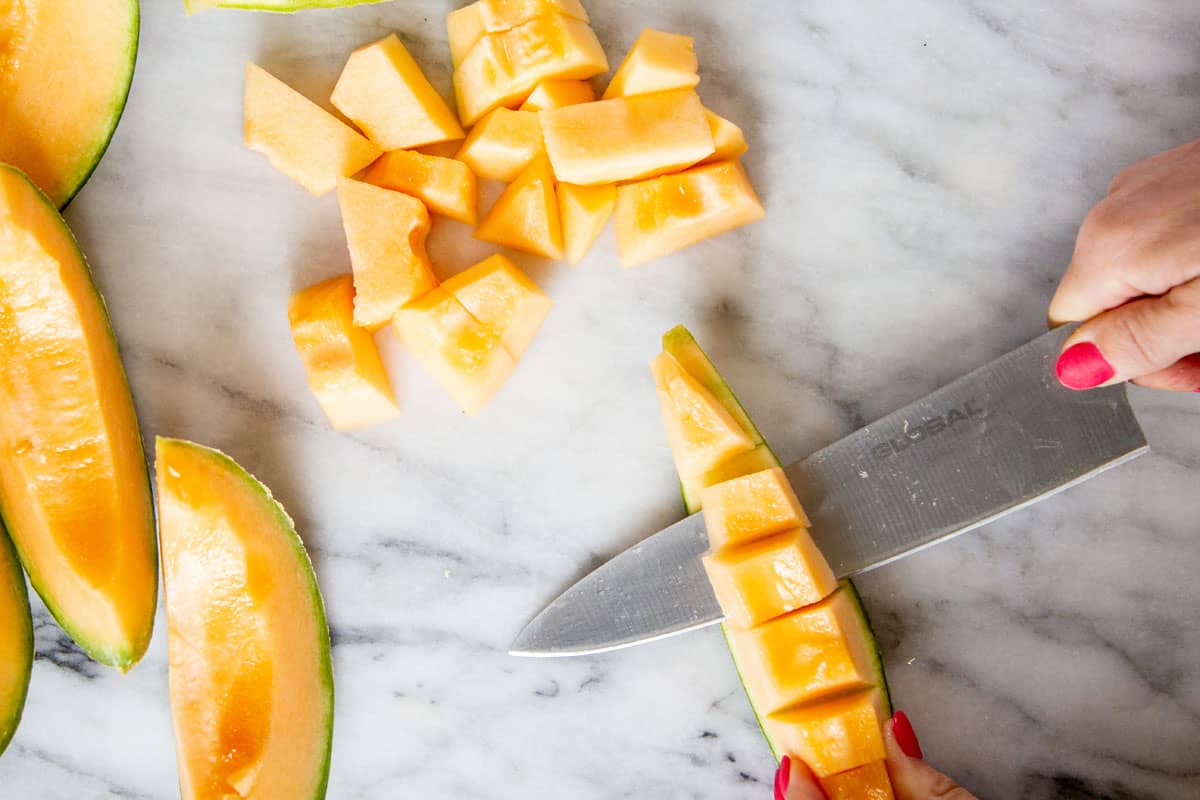 Revered for its juicy flesh, sweet aroma, and vibrant color, this musky melon embodies the spirit of summer in every bite. But the appeal of California-grown Cantaloupes extends beyond just its delicious flavor.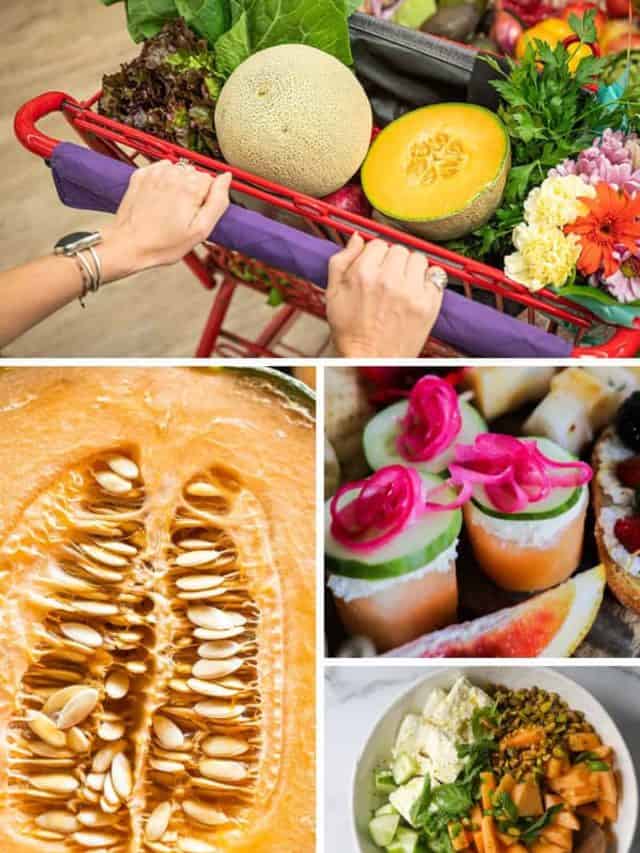 How To Pick A Cantaloupe And A Comprehensive Guide About Cantaloupe Nutrients
Cantaloupes are a nutritional powerhouse, boasting high levels of Vitamin A, Vitamin C, potassium, and fiber.
Click here for our best insider tips on choosing, preparing, and savoring these flavorful melons. And we'll also cover those impressive cantaloupe nutrients that greatly benefit our bodies.
Choosing the right cantaloupe is crucial in making a remarkable granita. When purchasing, opt for those that are symmetrical with a uniform golden hue. Check for a sweet, slightly musky aroma at the stem end, indicating ripeness. For the freshest flavor, it's best to purchase a whole cantaloupe and prepare it at home.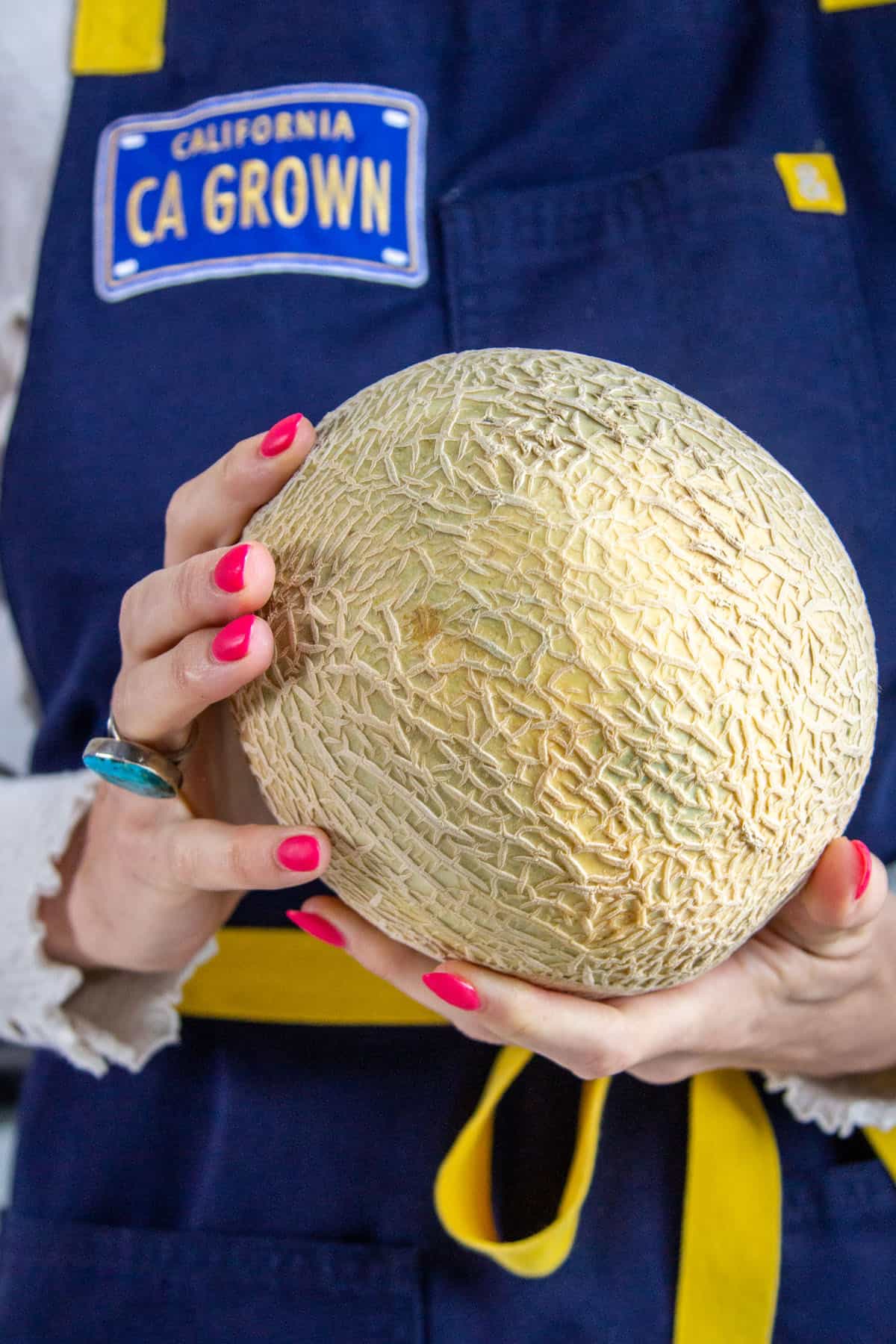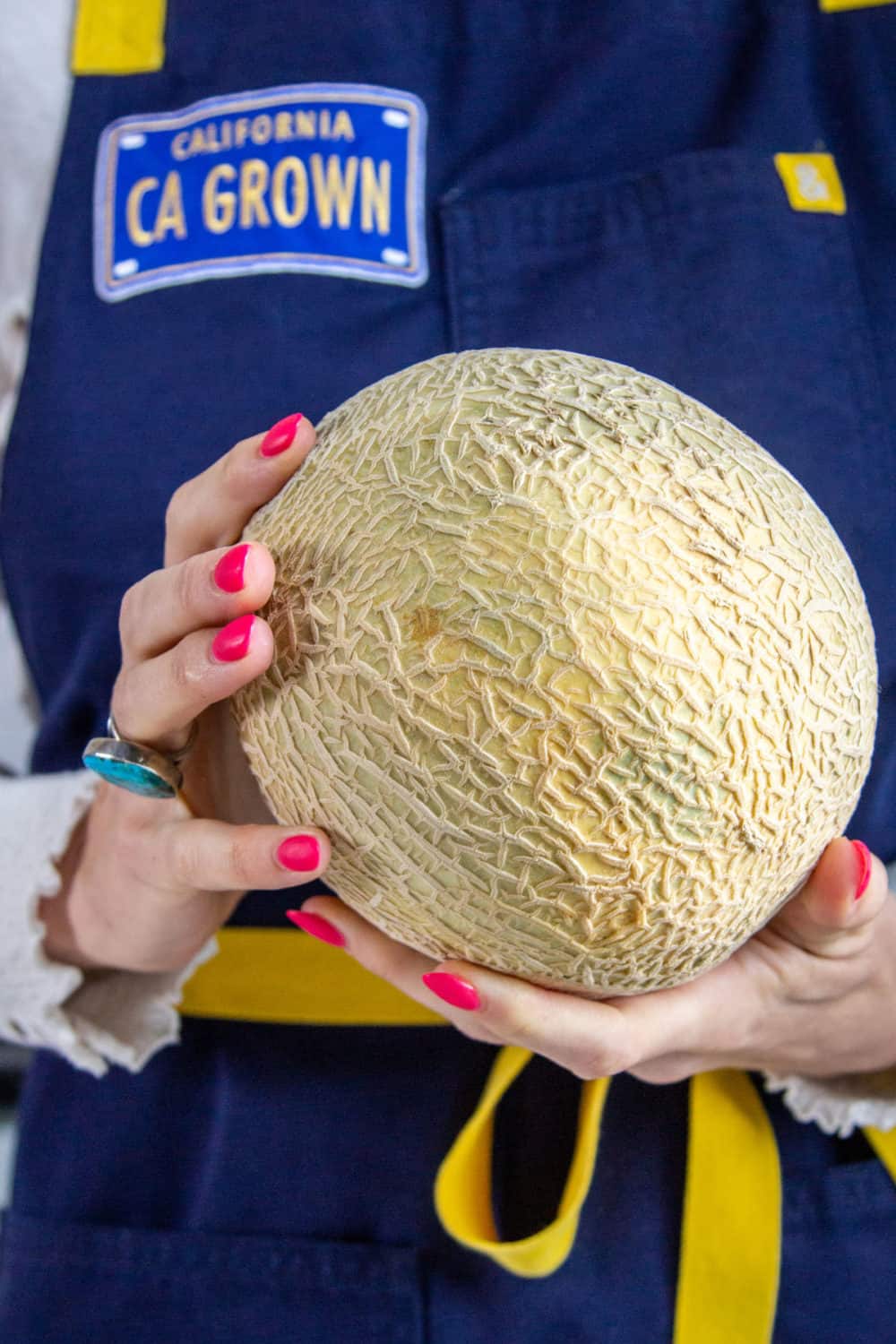 No Hassle Dessert with a Twist
What makes Cantaloupe Granita the perfect summer treat? It only requires 5 ingredients and preparation requires no cooking, just blending. Incorporating only the best California honey, sugar, freshly squeezed lemon juice, and ice, allows the natural sweetness and flavor of the cantaloupe to shine through, creating a refreshing dessert that's perfect for the hot summer days ahead.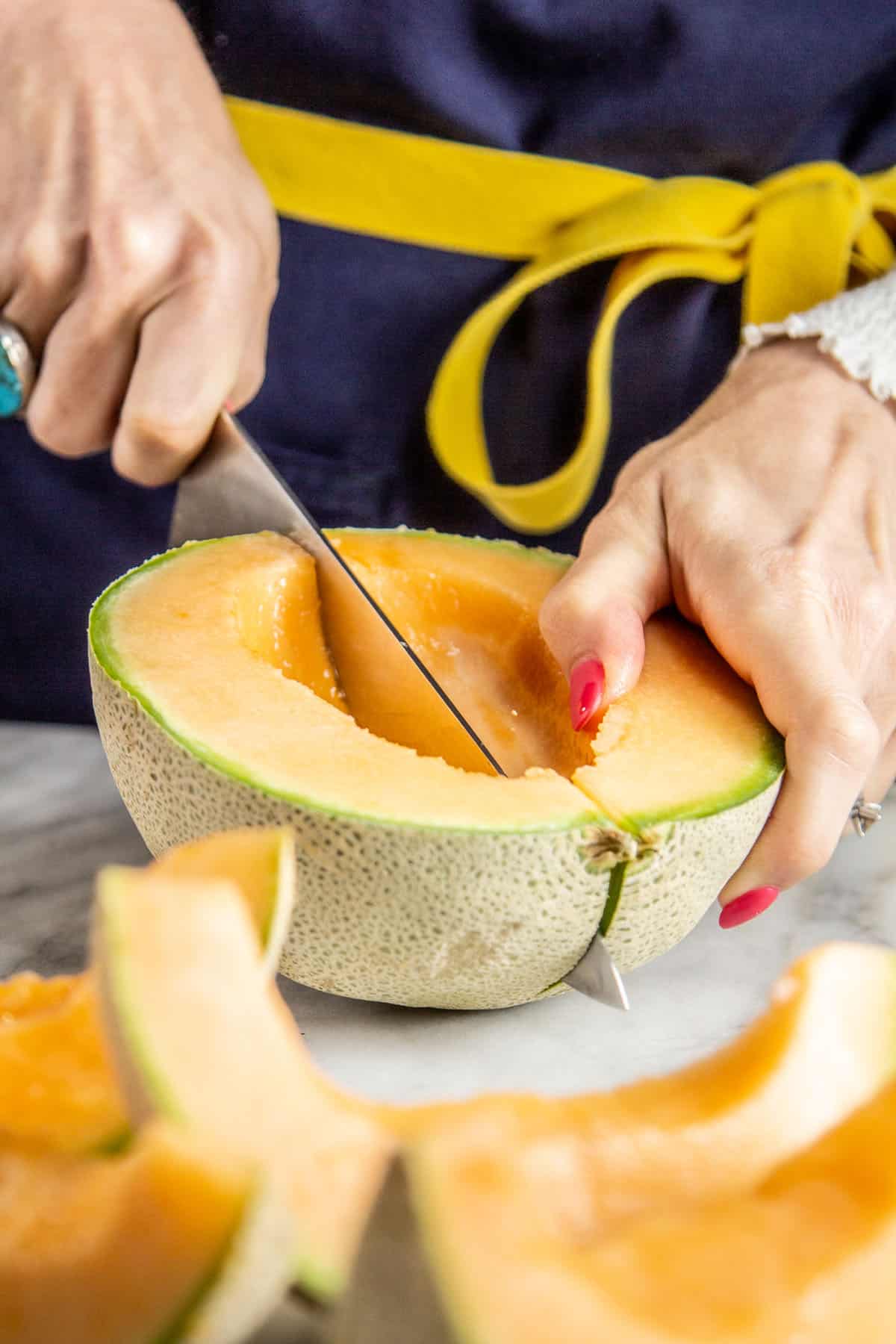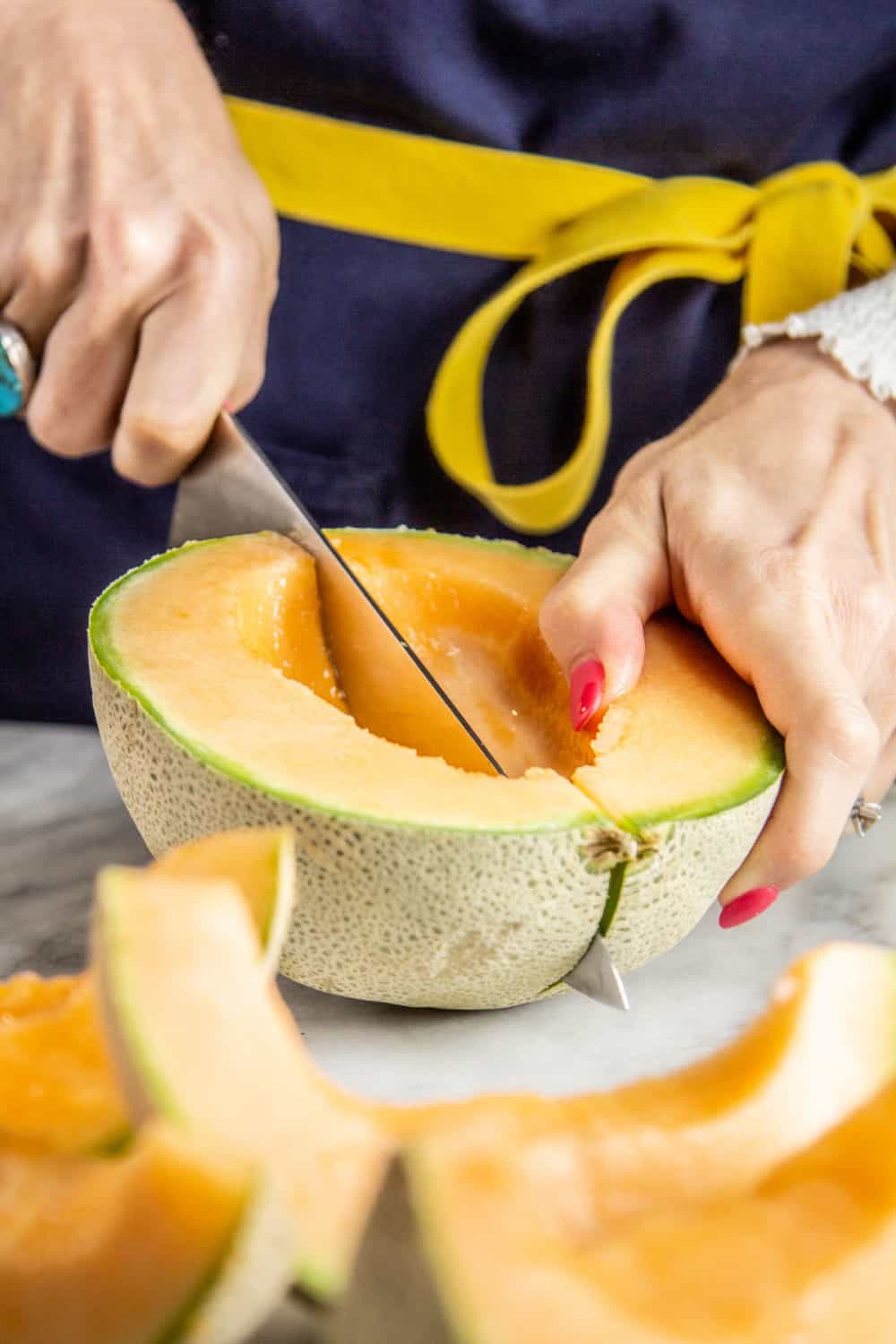 Our California-grown Cantaloupe Granita is nothing short of perfection when served on its own. But when you want to dress up this simple summer dessert with a little extra flare, we suggest pairing it with our delectable Sweet and Salty Pistachio Brittle.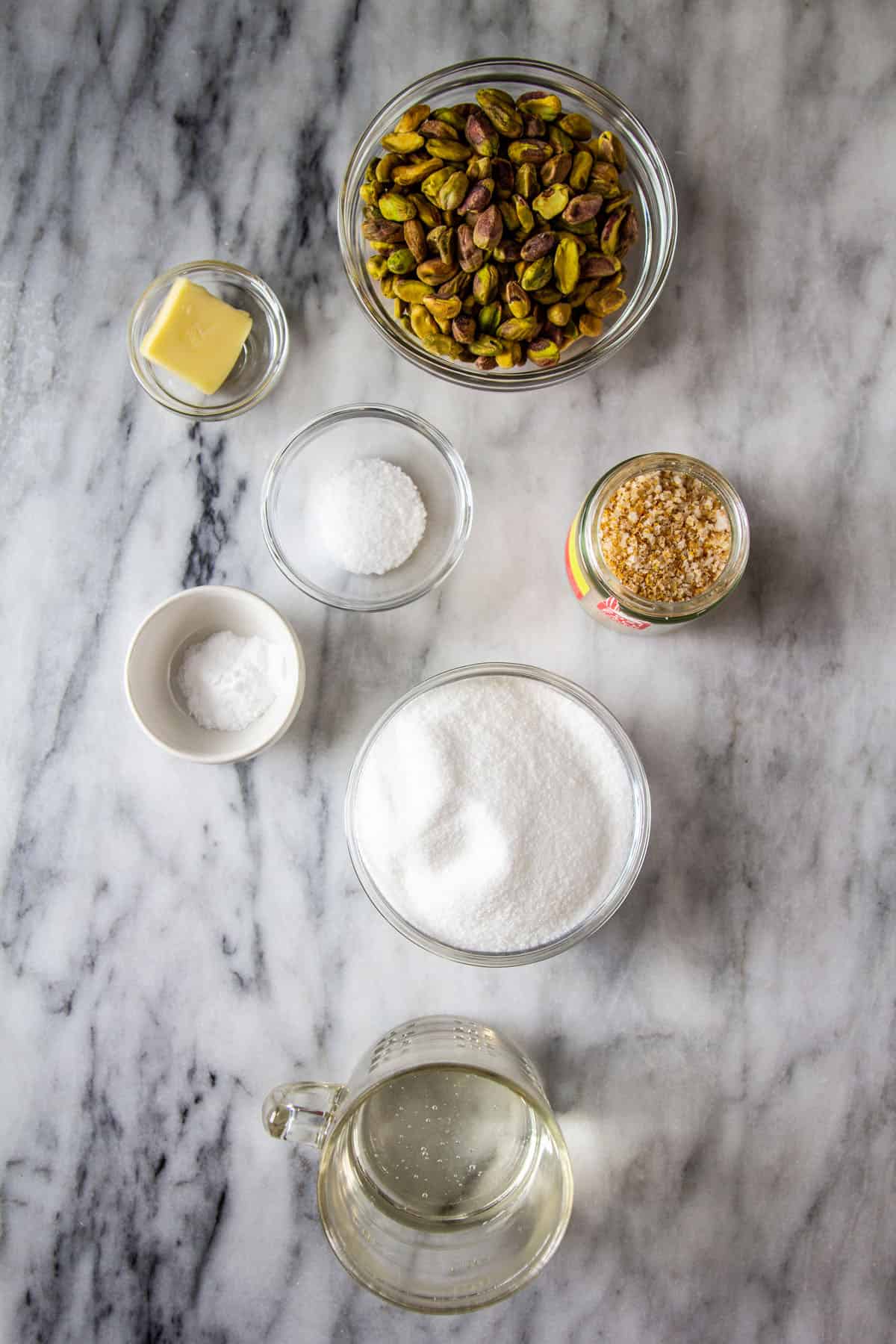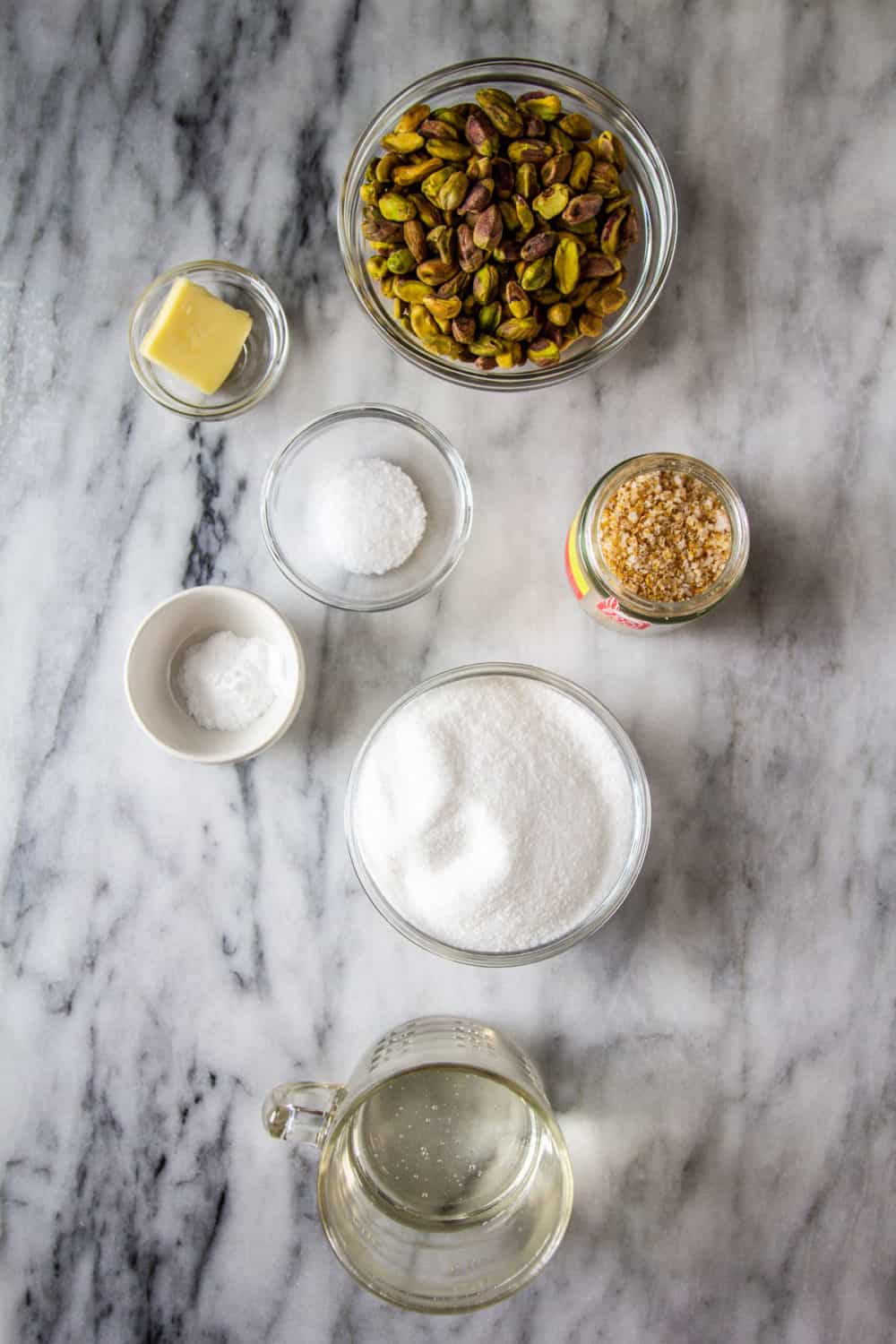 This crunchy brittle beautifully complements the cool granita with the flavor of California pistachios and a hint of heat from chile-flecked finishing salt, offering a delightful contrast in textures and flavors.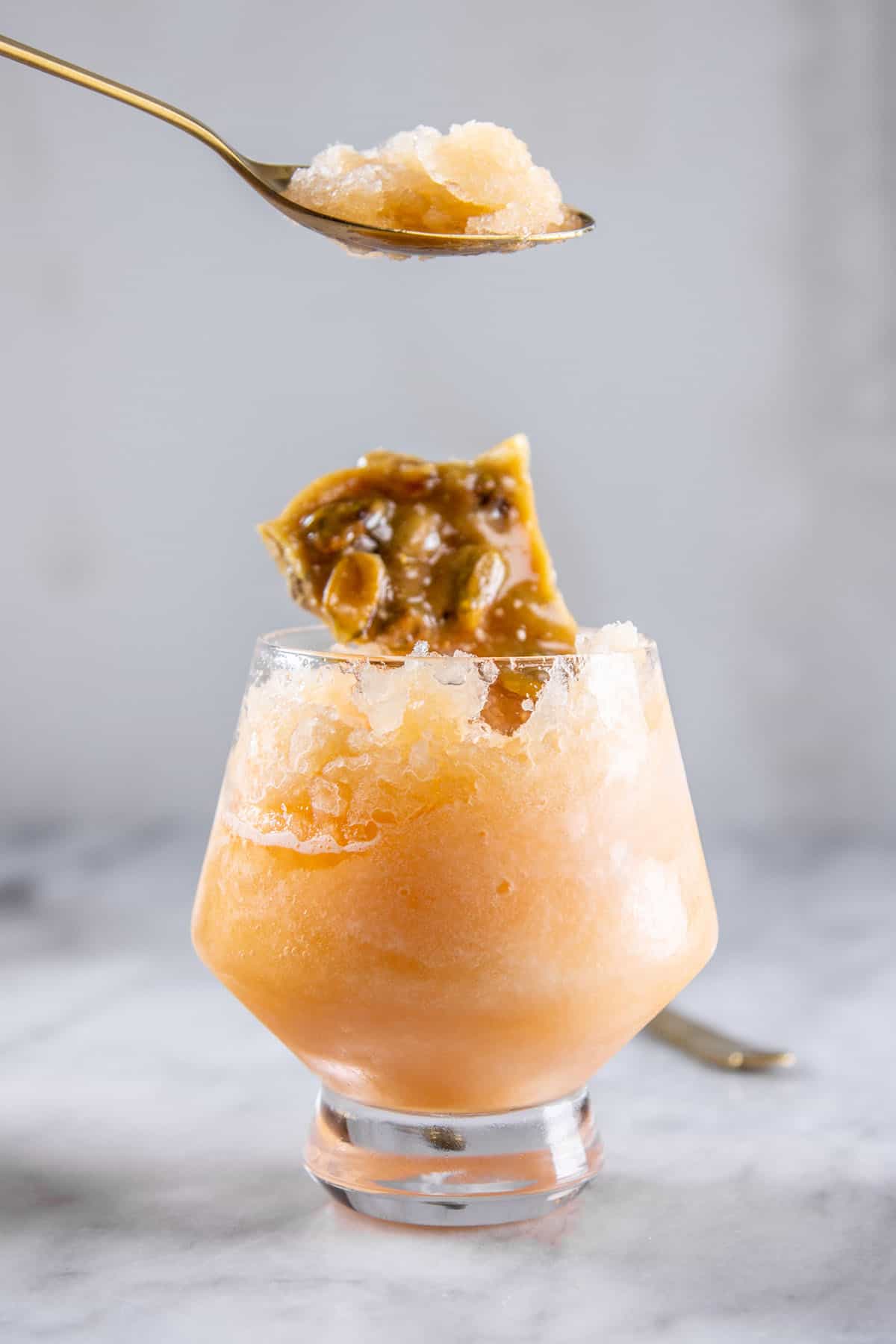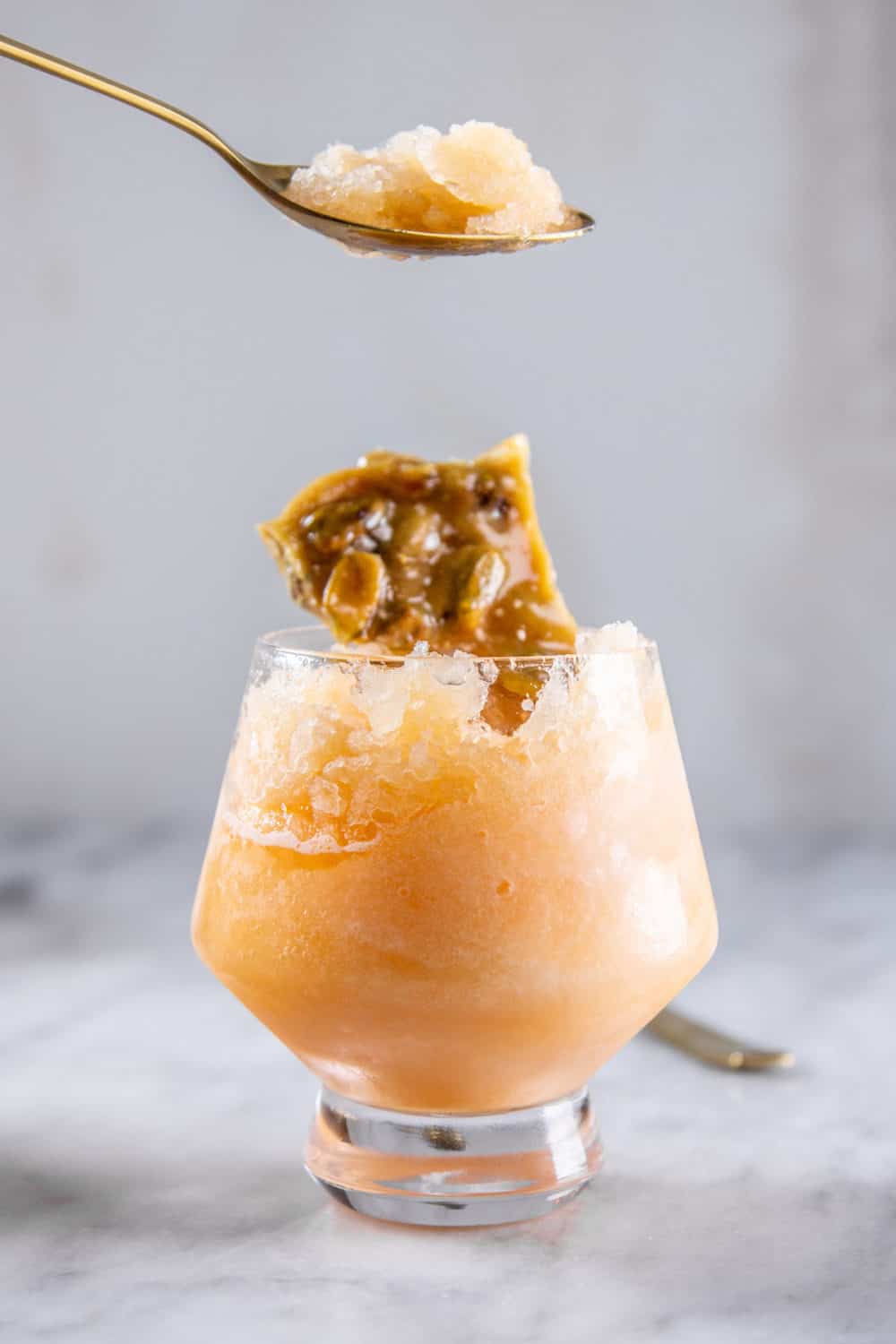 Whether you're looking for an easy dessert to finish a summer barbecue or a cool treat to enjoy by the pool, this Cantaloupe Granita with Pistachio Brittle is a perfect choice.
Share your cantaloupe granita creations with us by snapping a pic and tagging us on social using #CAGROWN.
Craving more CA Grown goodness? Follow us on Pinterest for fresh and fabulous recipe inspiration!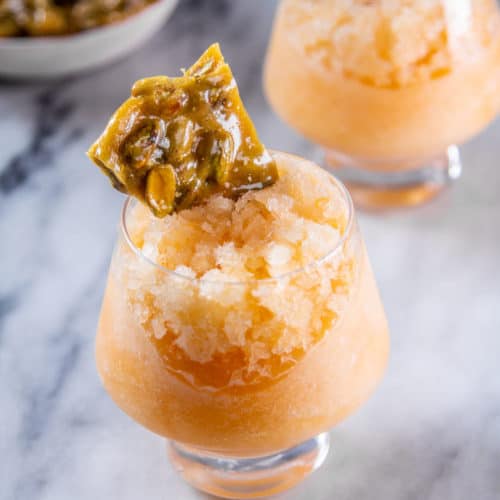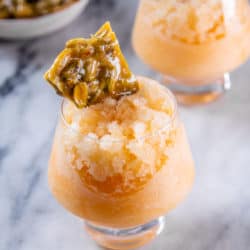 Easy Cantaloupe Granita
This simple 5-ingredient dessert is a cinch to prepare and even easier to devour! It's the perfect way to beat the heat while enjoying California cantaloupes this season. Optional Sweet & Salty Pistachio Brittle recipe in recipe notes.
Equipment
Blender

13-by-9-inch metal pan
Ingredients
4 cups or one small-sized cantaloupe seeds and rind removed, coarsely chopped
1/4 cup honey
1/4 cup granulated sugar
1 tablespoon freshly squeezed lemon juice plus more to taste
2 cups ice cubes
Instructions
Place all of the ingredients into a blender and blend until smooth. Pour the mixture into a 13-by-9-inch metal pan and freeze until the mixture becomes a firm slush. This will take approximately 1- 1 1/2 hours.

Scrape the granita with a fork until the ice crystals are broken up and can be scooped into chilled glasses to serve. Garnish with optional Sweet & Salty Pistachio Brittle. Recipe for brittle in recipe notes.
Notes
Sweet & Salty California Pistachio Brittle
Prep time: 5 minutes || Cook time: 15 minutes || Cool time: 30 minutes
vegetable oil spray
1 cup sugar
½ cup light corn syrup
3 tablespoons water
1 cup California pistachios, raw, shelled, and unsalted
1 tablespoon salted butter
1 teaspoon coarse kosher salt
¾ teaspoon baking soda
Chile-flecked flaky sea salt or another flaky salt for garnishing
Prepare a baking sheet by lining it with parchment paper or a silicone mat. Spray it with non-stick spray or brush it with oil or butter. Set it aside.
In a medium saucepan, combine the sugar, corn syrup, and water. Stir them together over medium heat. Put a candy thermometer into the saucepan. Continue stirring and bring the mixture to a boil. Cook it until it reaches 290°F (140°C).
Add pistachios, butter, and salt to the pan. Stir everything together. At first, the mixture might become stiff, but it will loosen up again. Keep cooking until the caramel turns a pale amber brown (about 300°F/148°C) and the nuts have a toasty smell.
Remove the pan from heat and quickly stir in the baking soda (it will bubble up a bit).
Immediately pour the brittle onto the prepared baking sheet. Use an offset spatula or a heatproof rubber spatula greased with a little cooking spray or butter to spread it out as thinly as possible.
Sprinkle the Chile-flecked flaky sea salt to your liking on top of the caramel. Let it cool completely.
Once cool, break the brittle into pieces. Store the pieces in an airtight container at room temperature.
Brittle recipe slightly adapted from: Cookbooks on Repeat
Nutrition
Calories: 168kcalCarbohydrates: 43gProtein: 1gFat: 0.3gSaturated Fat: 0.1gPolyunsaturated Fat: 0.1gMonounsaturated Fat: 0.01gSodium: 55mgPotassium: 266mgFiber: 1gSugar: 43gVitamin A: 5411IUVitamin C: 19mgCalcium: 20mgIron: 1mg
Click here to check out the Web Story for our cantaloupe granita