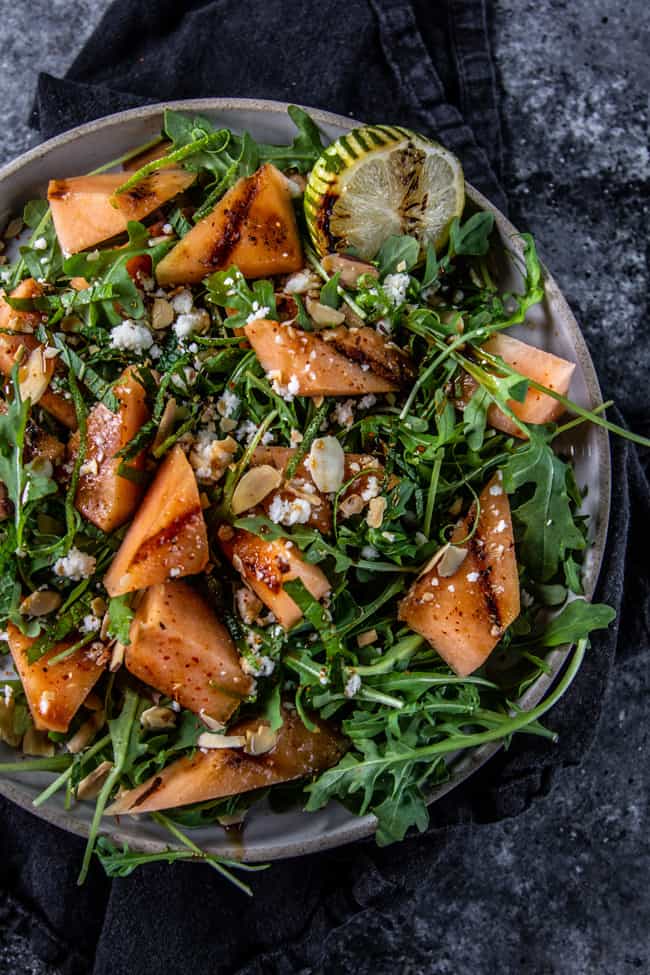 CA GROWN Blog
Discover. Learn. Connect.
Is Cantaloupe Good For You + Easy Grilled Cantaloupe Recipe
May 17, 2022
Eat the Season!
Sign Up For Weekly Recipes
« Back to Recipes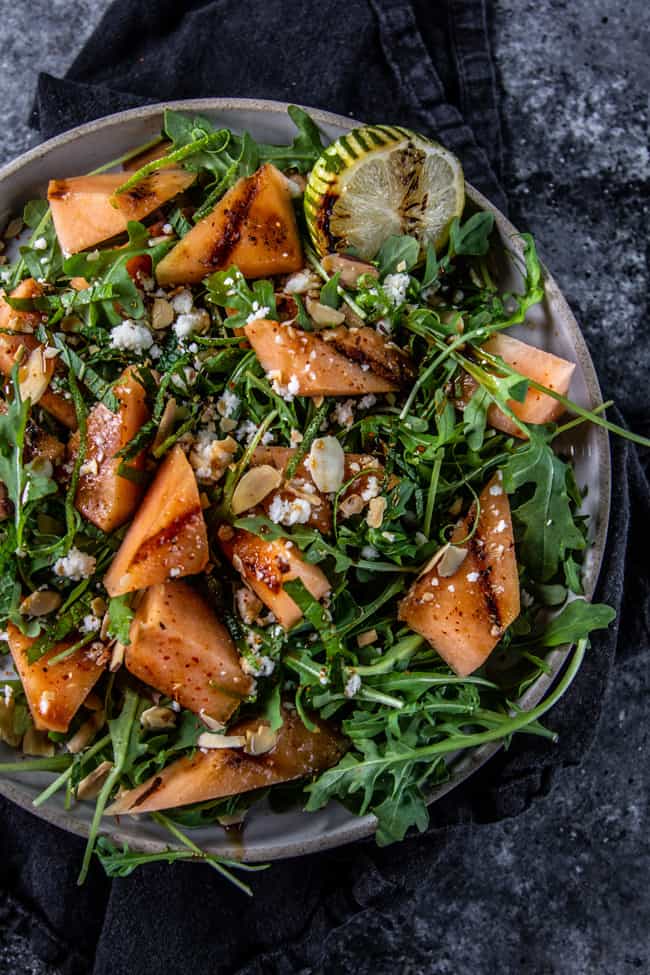 Is Cantaloupe Good For You + Easy Grilled Cantaloupe Recipe
Cantaloupes are synonymous with summer and with warm weather beginning to roll in we are entering peek their peak season. But, is cantaloupe good for you? We are covering all the cantaloupe basics in this post from nutritional benefits to easy tips for storing and prep that will keep you and your family healthy.
Is cantaloupe good for you?
The answer is YES! Cantaloupe is in fact good for you. Below we have listed 4 reasons why this melon should be a regular part of your diet.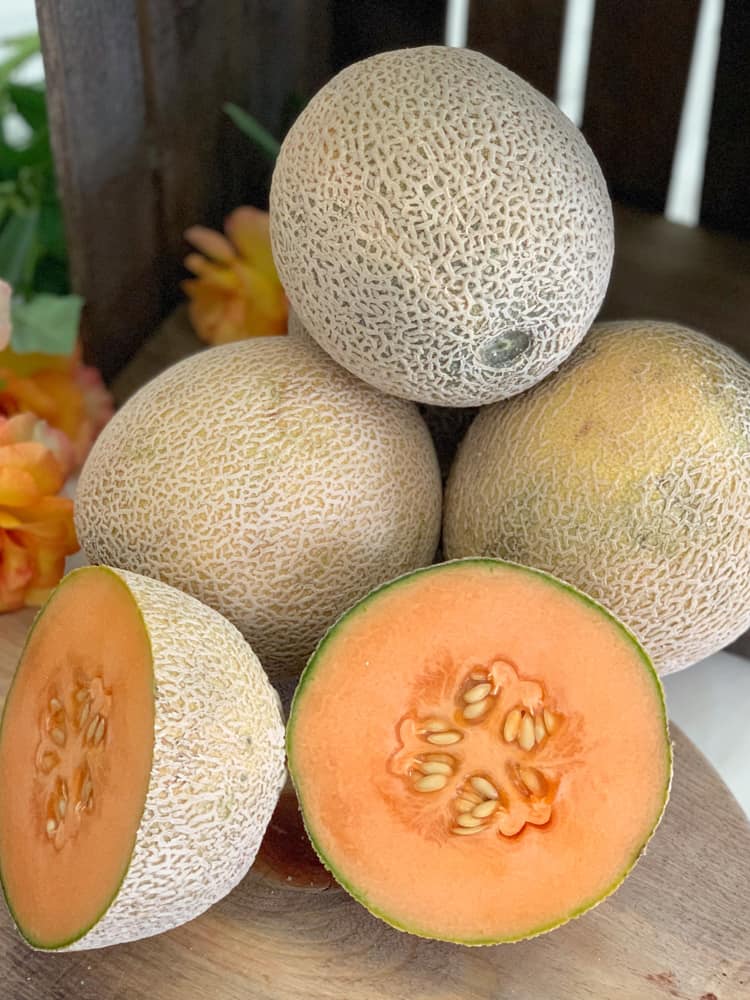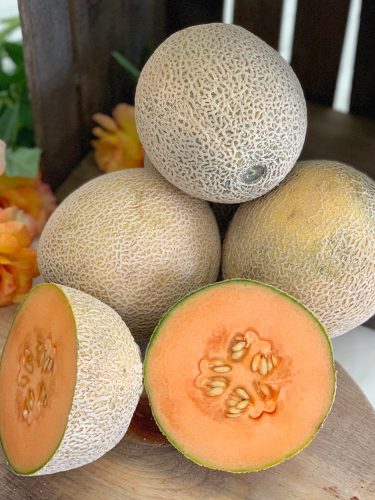 Cantaloupes are an excellent source of both Vitamin A and Vitamin C.
Cantaloupes contain no fat or cholesterol.
A six-ounce serving, or roughly a quarter of a melon, provides 100 percent, or more, of the U.S. recommended daily allowances of each vitamin and is ONLY 60 calories!
Cantaloupes are high in dietary fiber as well as folacin; a nutrient needed for growth and the development of hemoglobin.
Cantaloupe is classified as a superfood and as far as superfoods go it is definitely an affordable one on any budget and it has dozens of health benefits.
Where do cantaloupes grow?
California leads the nation in the production of melons. The Golden State is actually the largest melon producer in the U.S. with most of our melon crops hailing from the Southern Desert Area and the San Joaquin Valley.
All cantaloupes from California are produced in regions with the weather is hot and dry. Rain-free summers in those growing regions along with careful field preparation and irrigation practices by farmers and farm workers keep the cantaloupe dry to ensure that melon rinds develop properly.
When is California cantaloupe season?
Melons are in peak season in California from June to November when the days are long and the weather is hot.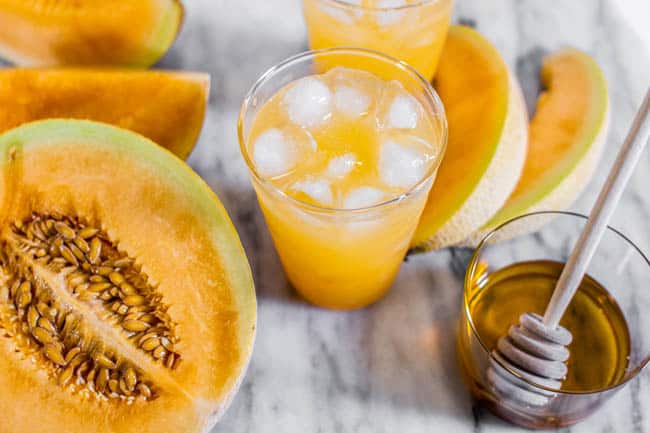 How to properly handle, store, and prepare cantaloupe at home.
Wash cantaloupe with running water before cutting into it. Use a scrub brush to thoroughly clean the rind.
Use a clean knife and cutting board when preparing cantaloupe to prevent contamination from other foods.
After cutting, store cantaloupe in the refrigerator in plastic wrap or a sealed container.
How to sweeten bland cantaloupe.
Sadly, we all pick an underwhelming melon from time to time, but I have some ideas for ways to amp up the flavor if you need them. Of course, I would suggest trying all of these flavor enhancers on a perfectly ripened melon too!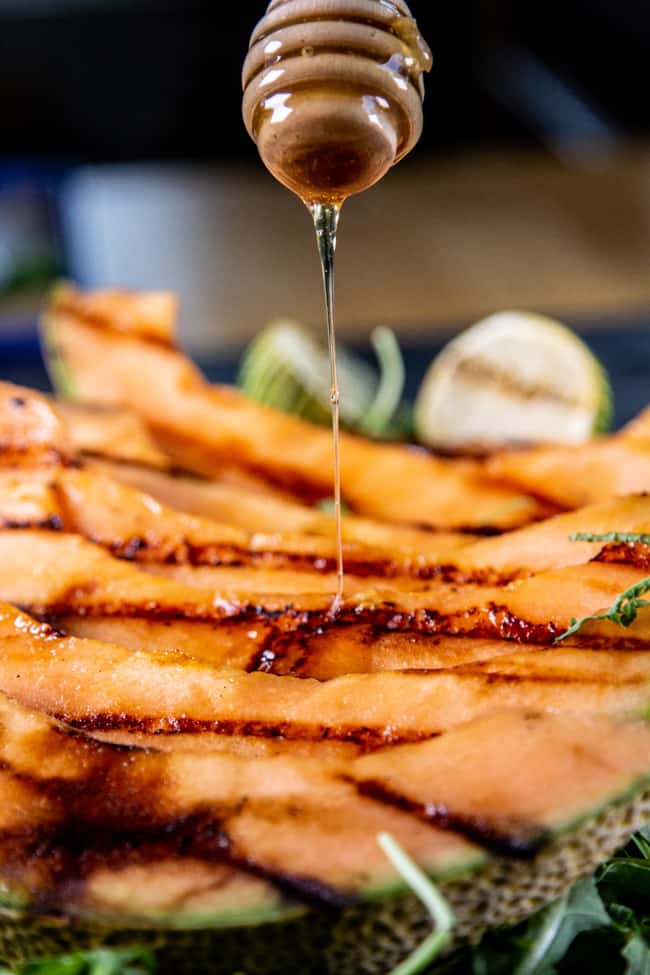 Drizzle on the honey!
If your cantaloupe needs a sweet boost try a simple drizzle of California honey. If you are into spicy kick, our hot honey recipe will knock your melon-lovin' socks off when drizzled over slices of melon.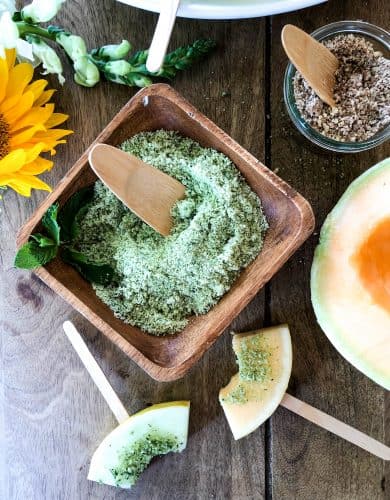 A little sprinkle of salt over the flesh of a melon brings all the liquid to the surface of this water-rich fruit. As a result, every single bite you take is as juicy and sweet as it could ever possibly get!
Melon salt is exactly what it sounds like, salt for melons! You can sprinkle all sorts of salt on watermelon from a pinch of table salt to a hearty dose of herb-infused salts.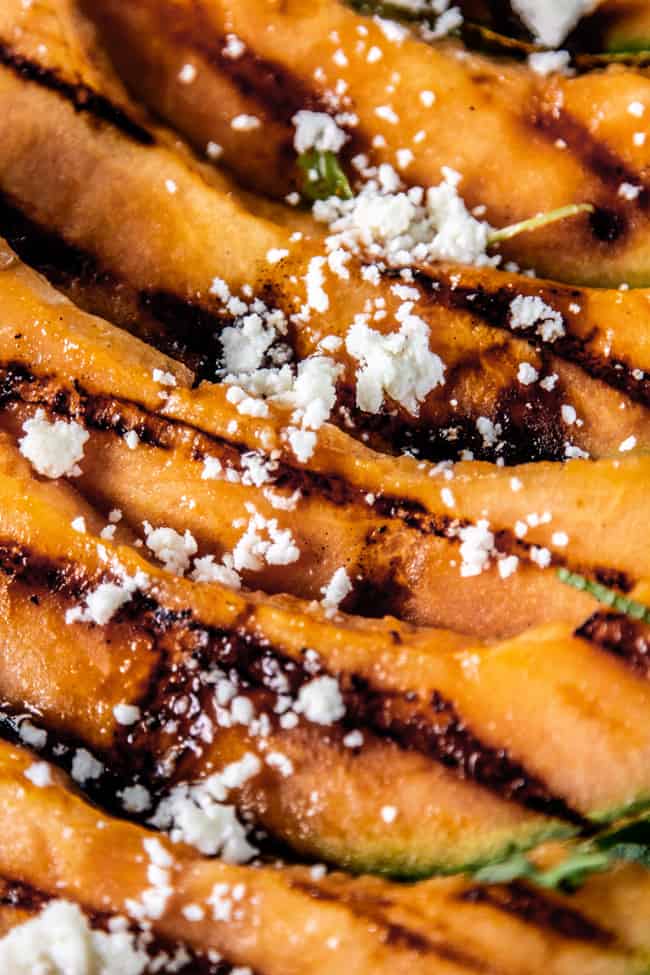 Fire up the grill!
There is just something EXTRA about the sweet, juicy flavor that comes from a charred, slightly smoky cantaloupe.
Do yourself a favor and stick to the real deal grill when making grilled cantaloupe wedges. The smoky flavor boost is what you are looking for to make that melon shine and a grill pan just will not impart that flavor no matter what you do.
Share your cantaloupe creations with us by snapping a pic and tagging us on social using #CAGROWN.
Craving more CA Grown goodness? Follow us on Pinterest for fresh and fabulous recipe inspo!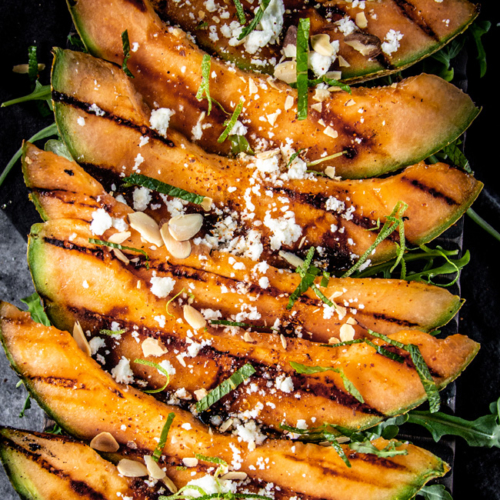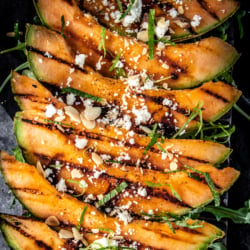 Grilled Cantaloupe with Almonds, Lime, and Cotija
This recipe for grilled cantaloupe is a great appetizer when served as wedges on a platter, but it is also great as a salad when the grilled cantaloupe is chopped up into bite-sized pieces and tossed with the other ingredients.
Equipment
wooden skewers soaked in water for 30 minutes prior to grilling.
Ingredients
Grilled cantaloupe wedges
1 large ripe California cantaloupe cleaned, halved, seeds removed. Sliced into wedges that are approximately 2-inches thick.
1 lime zest removed and st to the side, cut in half
3 tablespoons olive oil
1 teaspoon honey
pinch of fine-grain sea salt
To serve
3-5 ounces arugula if serving on a platter as an appetizer of grilled wedges you will need less arugula. If serving as salads you will need more.
1/4 cup toasted slivered almonds
2 ounces Cotija or Queso Fresco crumbled
1 tablespoon chiffonade mint
3/4 teaspoon Tajin
1 tablespoon honey or hot honey for a spicy kick
Instructions
To grill cantaloupe wedges.
Preheat the grill to medium-high heat. Around 500°F will be perfect.

Prepare the cantaloupe as instructed above. Carefully, thread a soaked, wooden skewer through the rind into the thick end of each thickly cut cantaloupe wedge. Place the prepared wedges on a sheet pan with the lime halves and set them aside.

In a small bowl, whisk the olive oil, honey, and a pinch of salt together until combined.

Use a basting brush to spread the olive oil mixture all over the orange flesh of the cantaloupe and the cut sides of the lime halves.

Once the grill is preheated add the prepared cantaloupe wedges onto the grates then add the lime halves, cut side down onto the grates as well. Grill for 4 minutes, then remove the lime halves. Flip the cantaloupe wedges and grill another 4 minutes. Remove from the grill and allow to cool slightly.
To serve
To serve as an appetizer: arrange 3 ounces of arugula on a serving platter. Once the grilled cantaloupe wedges have cooled, slice them in half lengthwise to achieve a more manageable size for eating. Arrange the spears on the platter, grilled side up. Squeeze the grilled lime halves over the cantaloupe. Then drizzle honey or hot honey and sprinkle the toasted almonds, crumbled Cotija, chiffonade mint, reserved lime zest, and Tajin. Serve immediately.

To serve as a salad: Once grilled cantaloupe has cooled, slice off any rind, and chop into bite-sized pieces. Add to a large salad bowl with 5 ounces of arugula. Squeeze the grilled lime halves and drizzle the honey, or hot honey, directly over the salad. Toss to coat. Add the toasted almonds, crumbled Cotija, chiffonade mint, reserved lime zest, and Tajin. Serve immediately.
Notes
To toast almonds:
Preheat the oven to 300°F and spread slivered almonds onto a baking sheet in an even layer. Bake for 6 minutes, stirring once. If not golden enough for your liking toast in additional 1-minute increments, stirring in between each cook time until completely toasted.
Nutrition
Calories: 83kcalCarbohydrates: 6gProtein: 1gFat: 7gSaturated Fat: 1gPolyunsaturated Fat: 1gMonounsaturated Fat: 5gSodium: 4mgPotassium: 66mgFiber: 1gSugar: 4gVitamin A: 342IUVitamin C: 5mgCalcium: 27mgIron: 1mg
Keep scrolling for more cantaloupe recipes!
Clearly you are considering the fact that your diet could use a daily dose of this sublime melon. We're betting you could use a few suggestion for how to serve it too.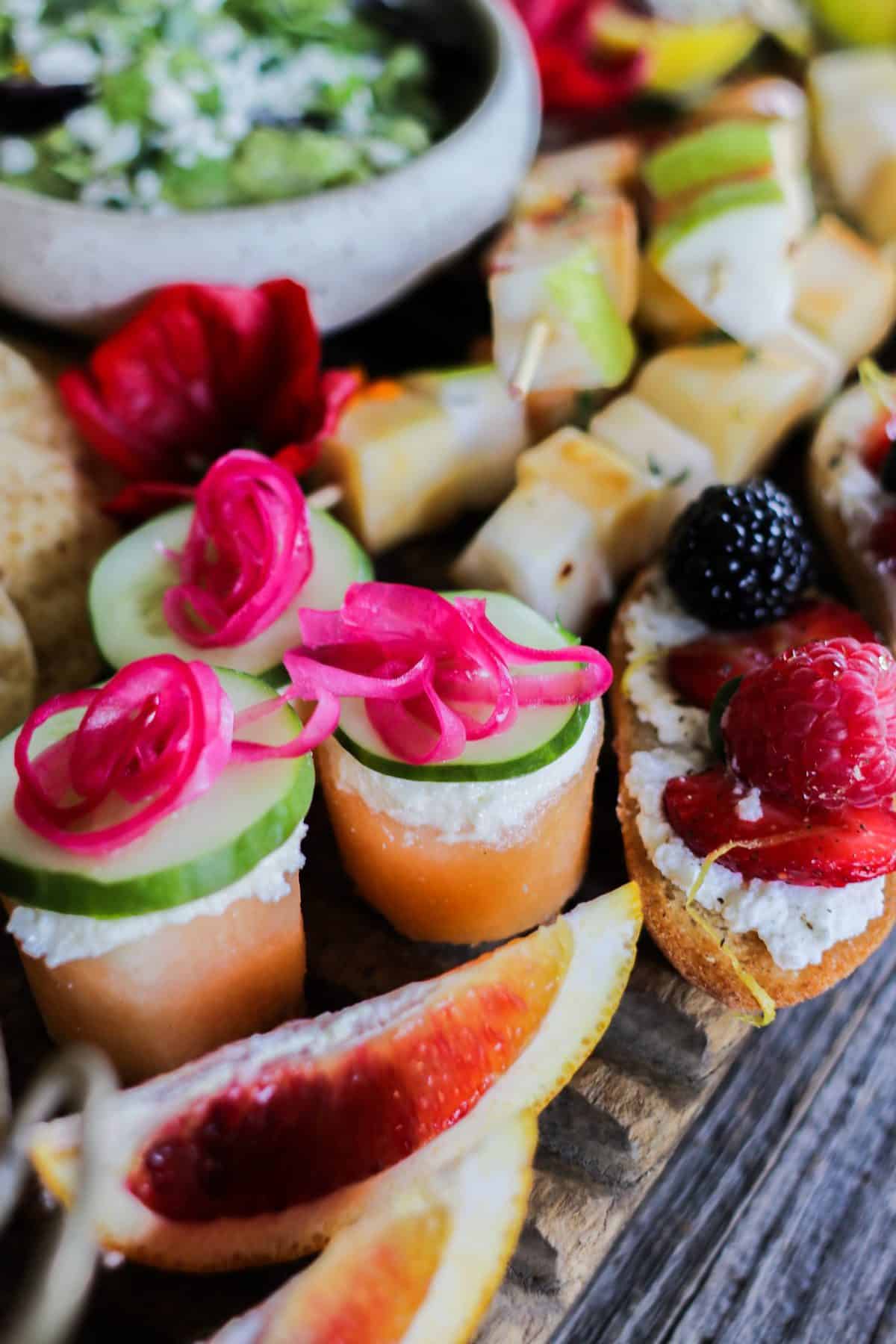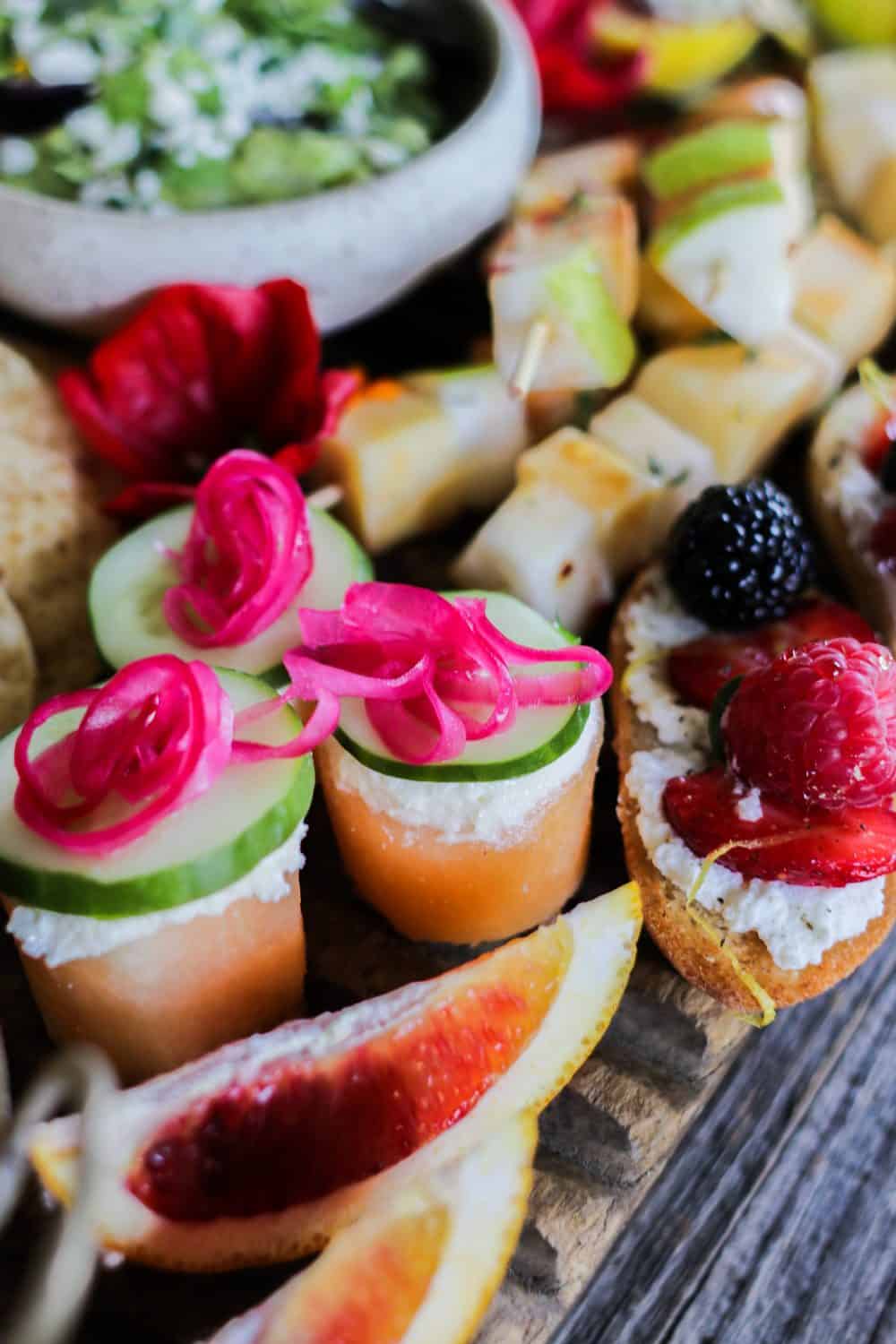 These appetizers are elegant but surprisingly easy to assemble – especially if you do a little advance prep work.
Prepare the whipped feta and pickled onions a day in advance to give all those gorgeous flavors time to fully meld making assembly a snap!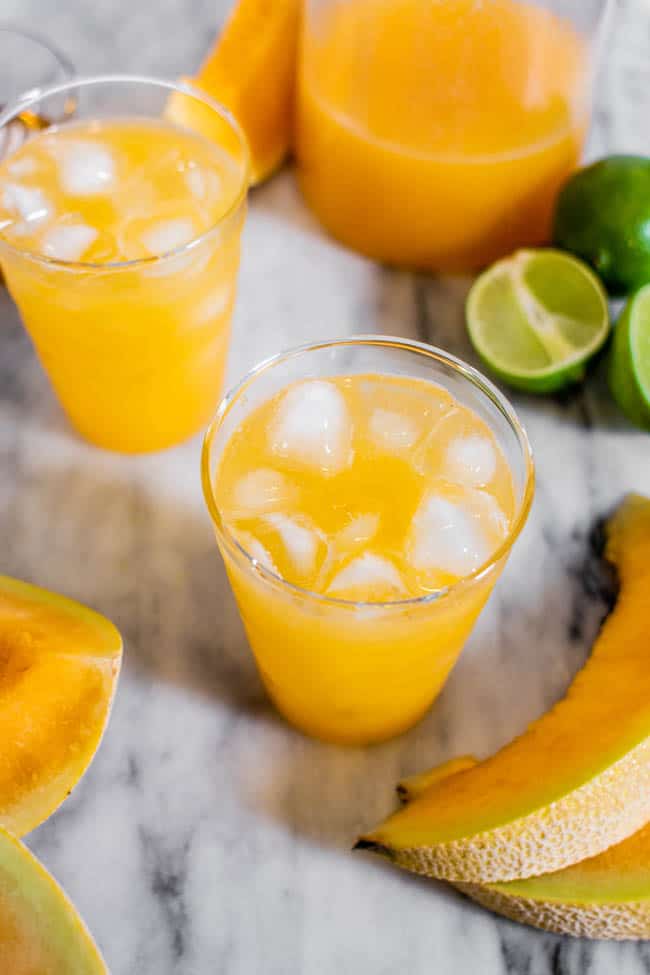 Our homemade agua fresca recipe is easy to make, delicious to sip, and incredibly refreshing! It is perfect for backyard BBQs, beach days, and just about any other instance when you need a thirst-quenching beverage.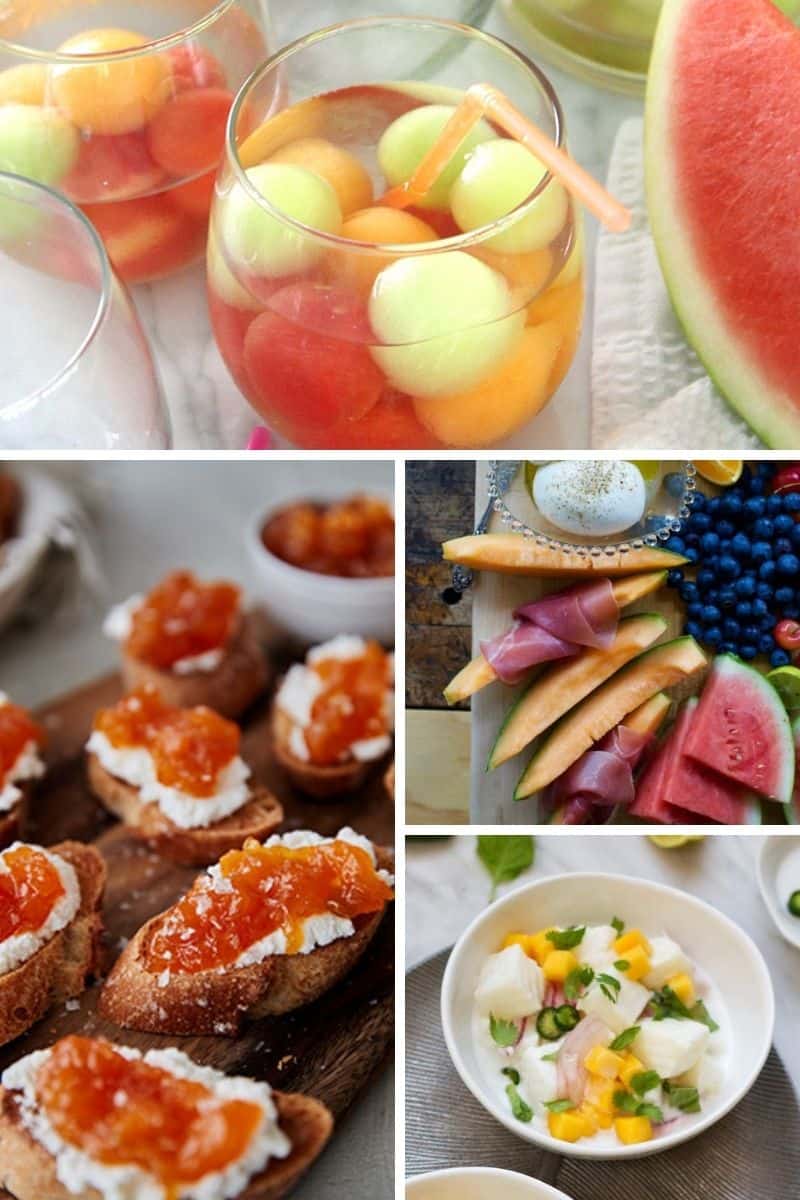 California grows every type of summer melon under the sun and if you love them as much as we do you are going to want to get your Pinterest trigger finger ready because this post is chock-full of the best melon recipes that the internet has to offer.