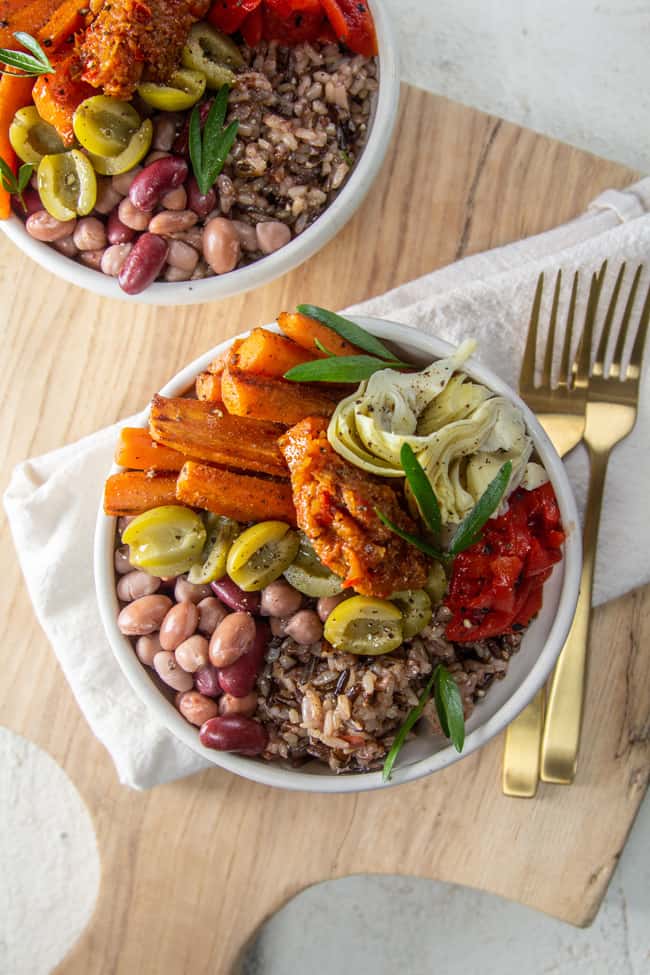 CA GROWN Blog
Discover. Learn. Connect.
An Easy, Veggie Loaded Rice Bowl Recipe With Big Flavor!
May 10, 2022
Eat the Season!
Sign Up For Weekly Recipes
« Back to Recipes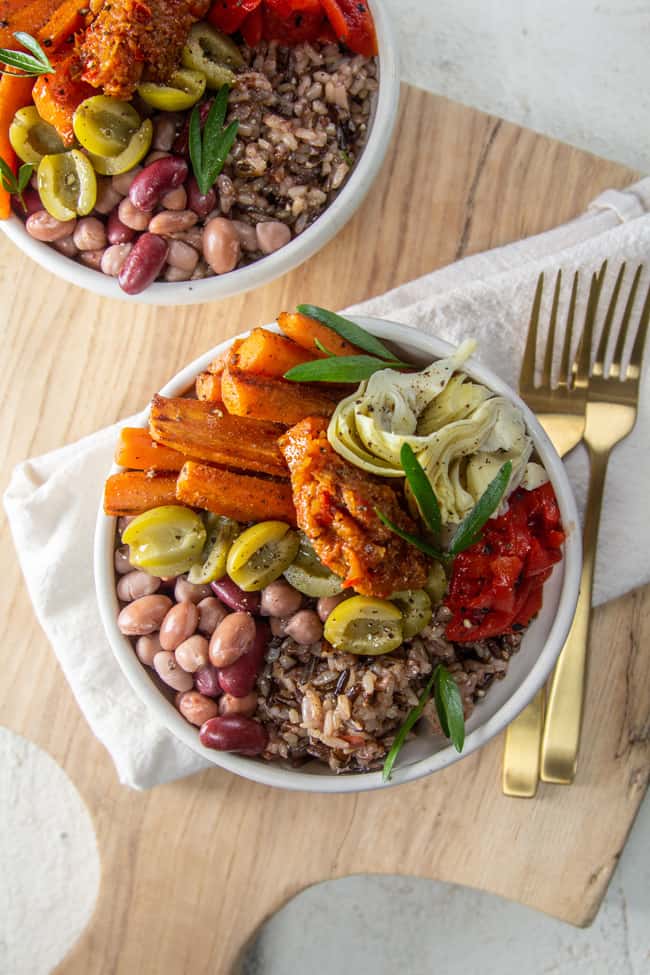 An Easy, Veggie Loaded Rice Bowl Recipe With Big Flavor!
Are you a rice bowl fan? We love them because they are healthy and delicious. But, they're also completely customizable and a super-easy meal to serve when you are feeding multiple types of eaters with different dietary preferences at one meal.
When it comes to meals in bowls you are really only limited by your imagination! You can use a variety of grains, veggies, and proteins all with rave results. Follow our tips below and you can trust that you'll never run out of options or get bored when it comes to mealtime!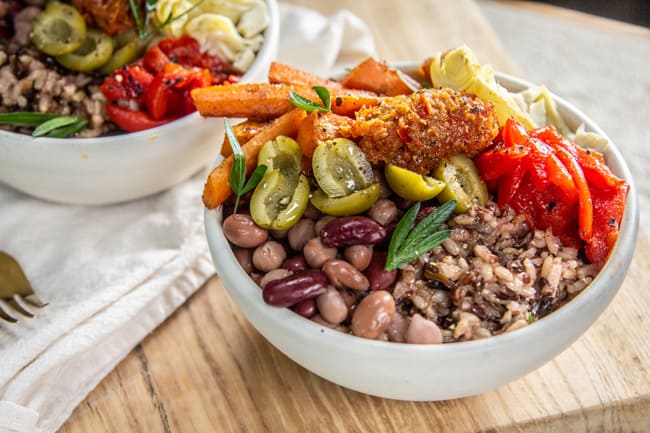 Why are rice bowls so popular?
Rice bowls are healthy, affordable, and literally bursting with both flavor and texture! Just imagine all of your favorite veggies and proteins served in a bowl, on top of rice (or grains), along with an irresistible array of craveable garnishes and sauces.
It's sort of the unicorn of the weeknight meal plan lineup! Endlessly customizable always delicious.
Are rice bowls good for you?
Rice bowls are typically considered to be good for you. They are often packed with nutritious ingredients that won't leave you feeling hungry afterward and they contain all the components of a hearty meal. Including healthy carbs, protein, and vegetables.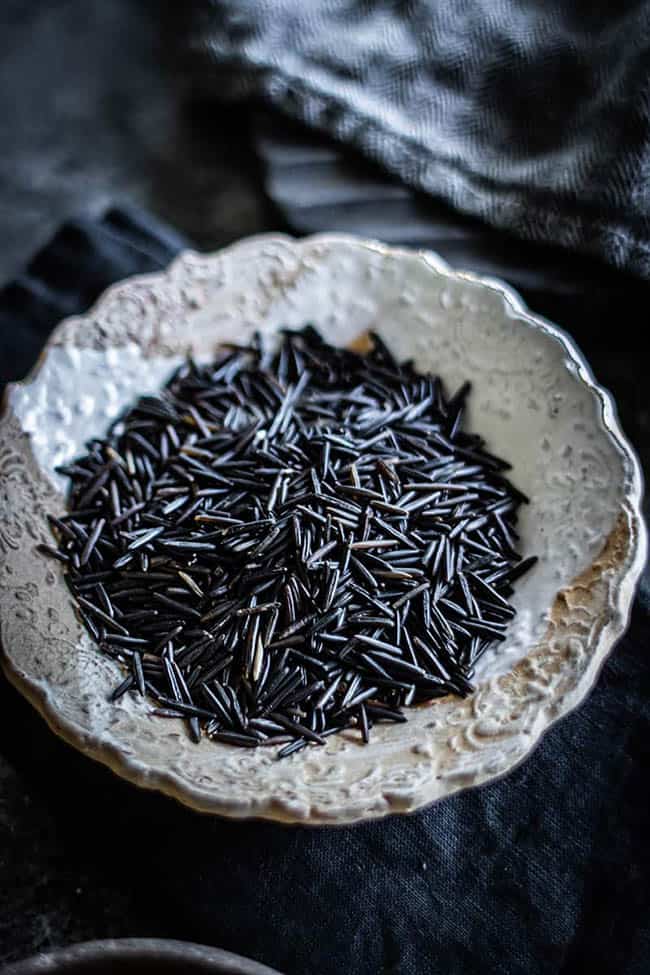 How to cook rice for a rice bowl.
For this particular rice bowl recipe, we opted to use a wild rice blend for our base. Wild rice isn't technically "rice," but actually the seed of a species of aquatic grass. Its nutty, earthy flavor, and distinctly chewy texture make it an excellent
How to cook wild rice for a rice bowl recipe on the stovetop:
Wash wild rice in cold water to remove any dirt or dust before cooking.
Place 1 cup of rice in a saucepan and add 4 cups of water or stock, along with 1/2 teaspoon of salt. Bring to a boil over high heat.
When the water has reached a boil, lower the heat to maintain a slow but steady simmer and cover the pan.
Cook at a simmer for 45 minutes. Check the rice. It should be chewy and some of the grains will have burst open. It may need an additional 10 to 15 minutes — keep checking the rice and stop cooking when the grains are tender.
When the rice is done, pour it into a strainer to drain off any remaining liquid.
Fluff the rice with a fork and serve, or add it to any number of dishes for a delicious, nutty taste and chewy texture.
How to cook wild rice for a rice bowl recipe in the Instant Pot:
Wash wild rice in cold water to remove any dirt or dust before cooking it in your Instant Pot.
Add 1 cup washed wild rice and 1 1/4 cups liquid (broth or water) to the Instant Pot.
Secure the lid and set the steam valve to "sealing".
Select the manual/pressure cook option and cook on high pressure for 22 minutes. When the cooking cycle is complete, let the pressure naturally release for 10 minutes and then move the steam valve to venting, manually releasing any pressure that is left.
More delicious, easy recipes for how to prepare rice:
The great thing about this type of meal is that you can bring all of the components to the table and everyone can serve themselves. I love to include a little "crisper drawer" cleanout on grain bowl night too!
They get exactly the amount of what they want and you don't have to hear any complaining about something being there they aren't a fan of!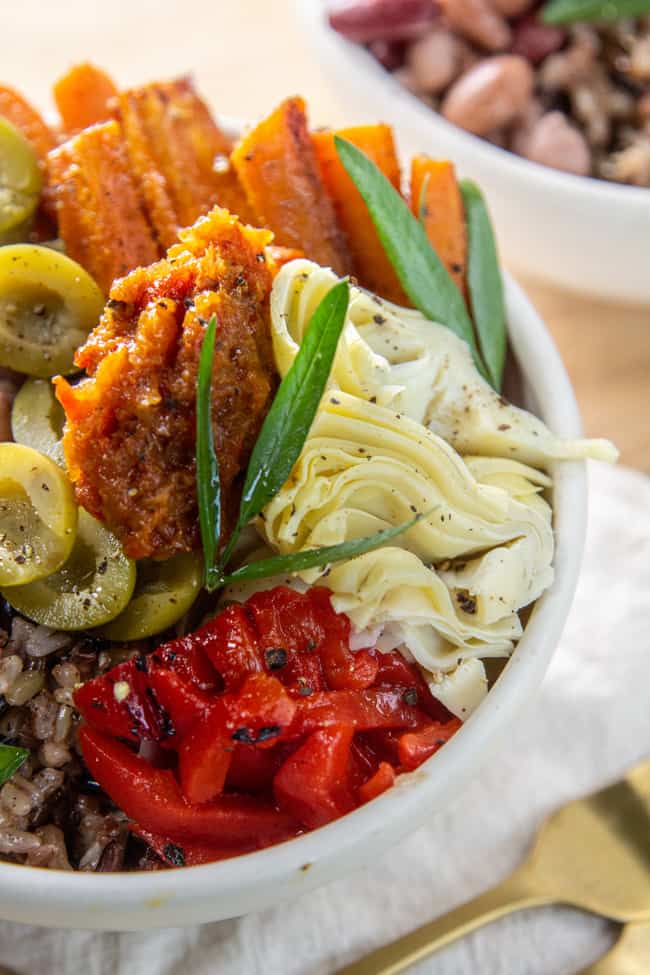 What toppings are best for a rice bowl?
Rice bowls are a blank canvas for BIG flavor! While this particular rice bowl is decked out with pantry staples like canned artichoke hearts, green olives, and roasted carrots, you can use literally anything that you have on hand to make your own custom rice bowl creation. You can even clean out your crisper drawer
Keep scrolling for more delicious ways to build a better-tasting bowl!
Rice bowl recipes for every type of eater.
We are sharing a few recipes below from our trusty California Grown Creators because everybody's take on grain bowls is slightly different, yet uniquely delicious!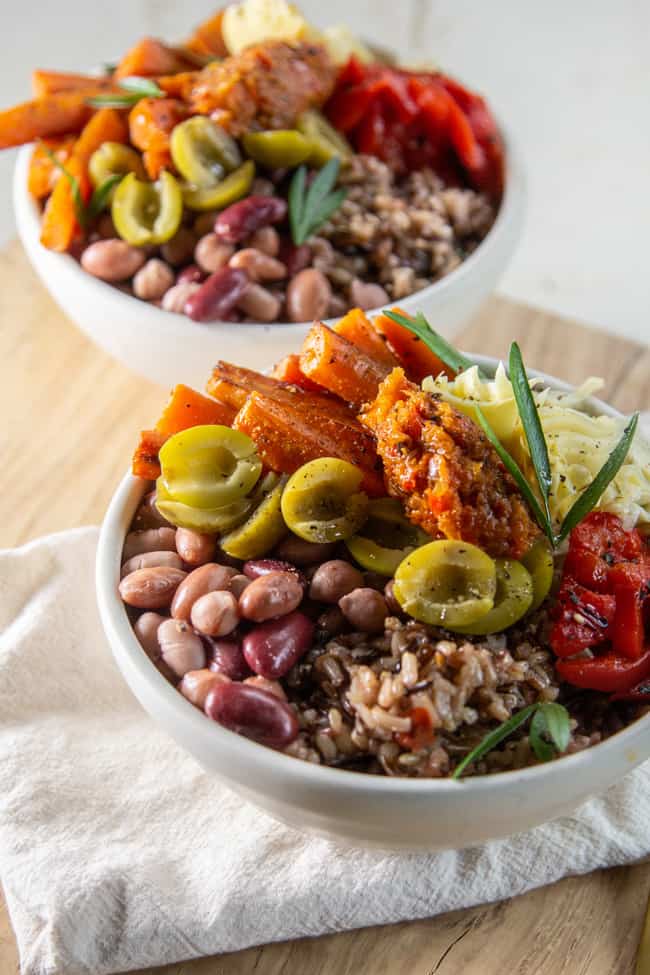 Share your rice bowl creations with us by snapping a pic and tagging us on social using #CAGROWN.
Craving more CA Grown goodness? Follow us on Pinterest for fresh and fabulous recipe inspo!
Frequently asked questions about wild rice
More California-Grown recipes featuring wild rice.
if you are a super fan of wild rice, you should keep scrolling for even more delicious recipes that showcase this aquatic rice.