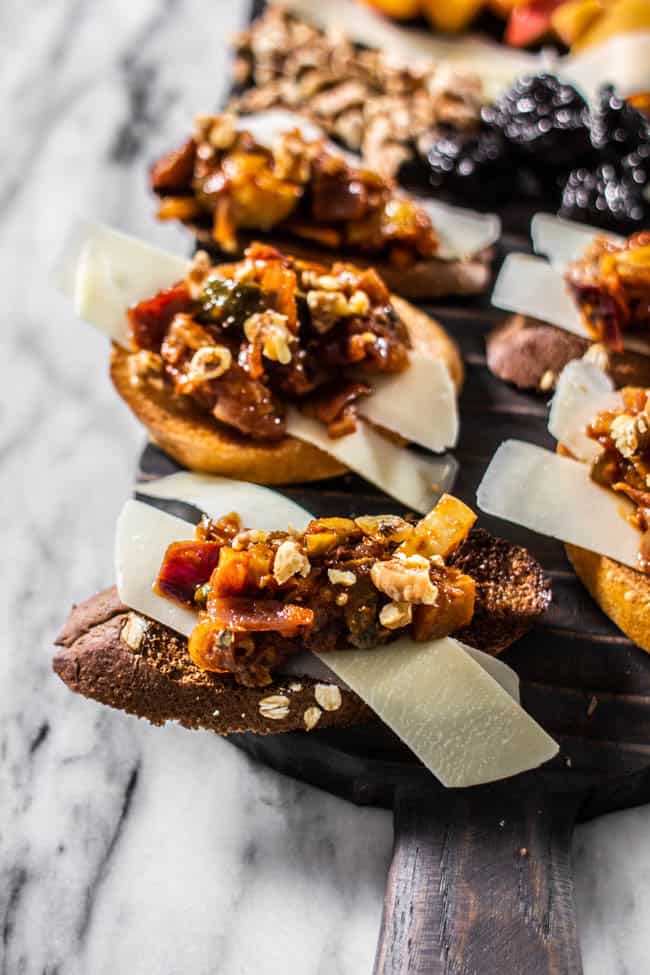 CA GROWN Blog
Discover. Learn. Connect.
The Best Savory Summer Spread, Caponata of Eggplant
July 20, 2021
Eat the Season!
Sign Up For Weekly Recipes
« Back to Recipes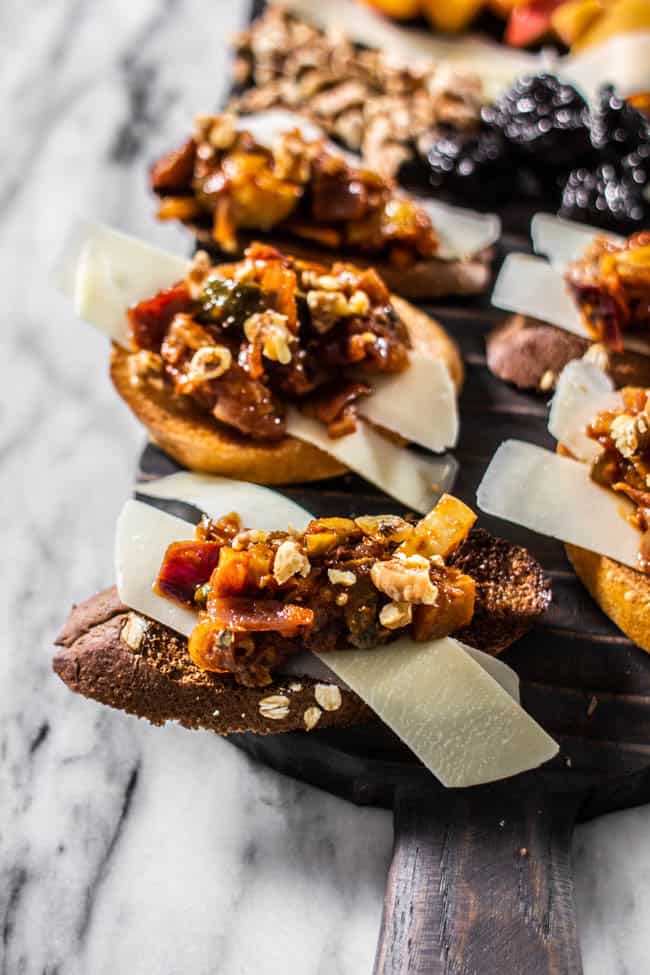 The Best Savory Summer Spread, Caponata of Eggplant
Looking for a simpler way to preserve the bounty of fresh eggplants, peppers, and zucchini coming out of your garden just a little while longer? Try making Caponata of Eggplant! This sour meets sweet oven roasted relish is perfect on crostini, cheeseboards, or as a side dish on its own.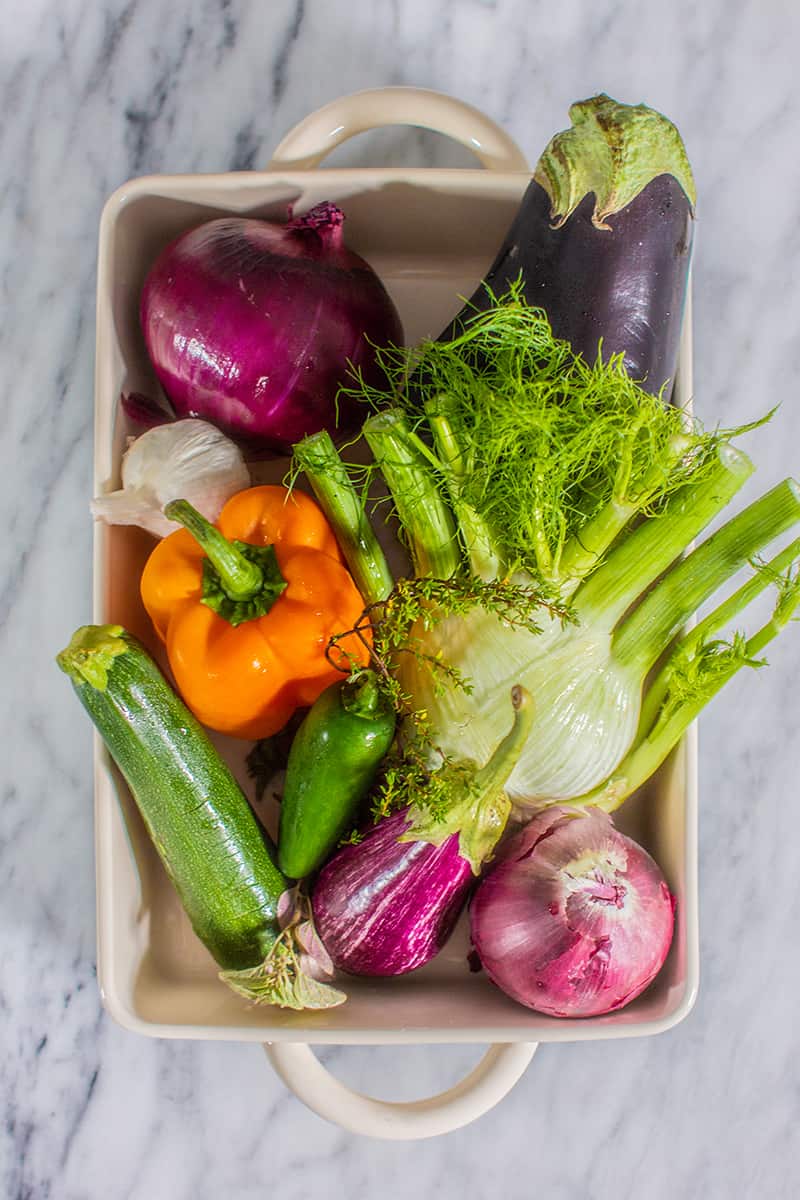 What is Caponata of Eggplant?
Caponata is a Sicilian version of ratatouille, it is sweet and sour and pleasantly pungent. Since eggplant is absorbent and takes on flavors like a sponge, it is a superstar in this recipe. This Caponata of Eggplant gets better overnight and is meant to be served at room temperature, although we love it as a side dish straight from the oven and even cold as well.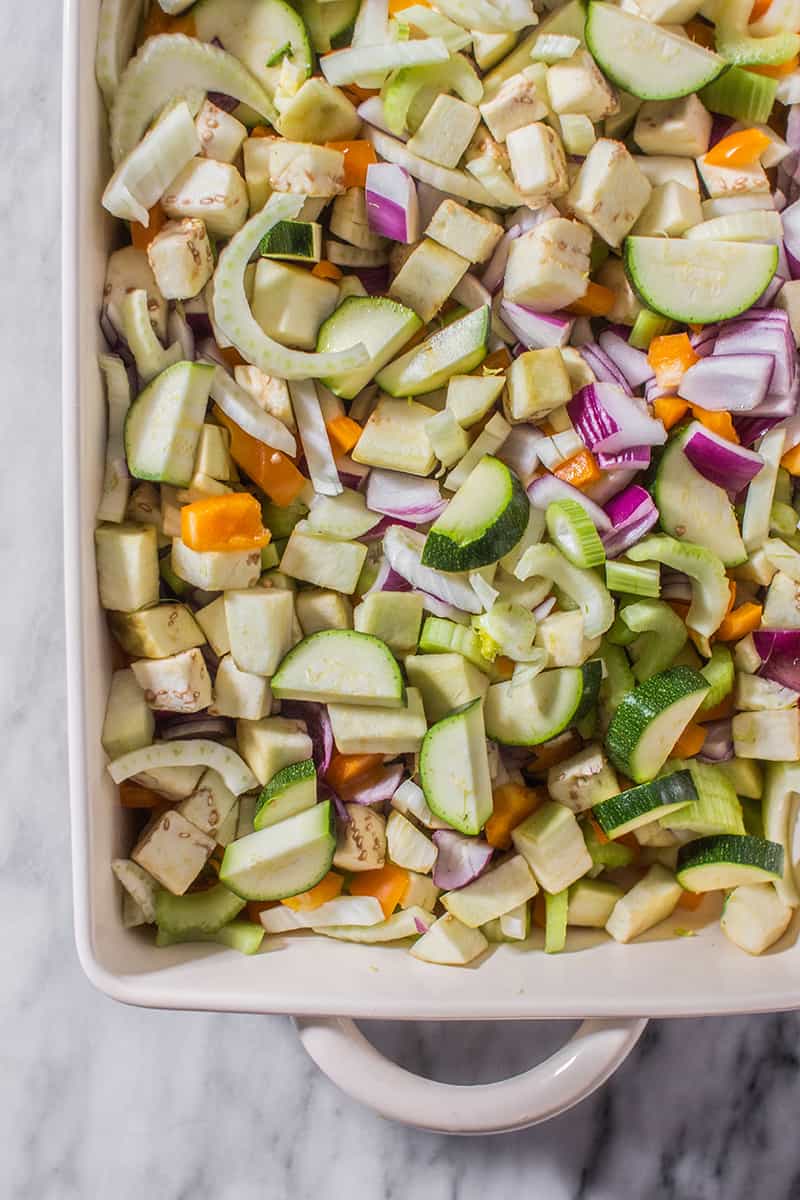 What ingredients are in Caponata of Eggplant?
You can find everything you need to make Caponata of Eggplant at your local farmer's market or grocery store. Heck, you may even have them growing in your backyard!
California farmers, ranchers, farmworkers, and fisher people work 24/7/365 to provide food, fiber, and foliage for the world​ including all of the ingredients listed above!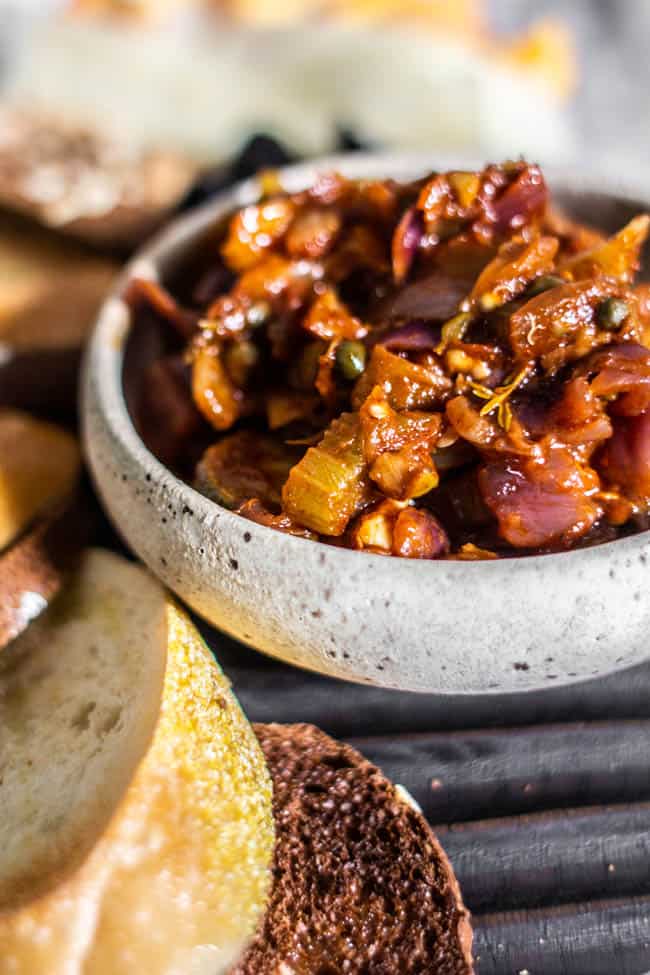 Caponata of eggplant is delicious served on its own as a side dish straight from the oven although it's traditionally served at room temperature on cheeseboards or alongside toasted bread.
Looking for more delicious ways to savor eggplant?! Keep scrolling!
Try this beautiful and delicious gluten-free recipe for Baked Eggplant with California Figs and Leeks from KC the G-Free Foodie – it's easy to make, healthy, tasty and impressive. What's not to love?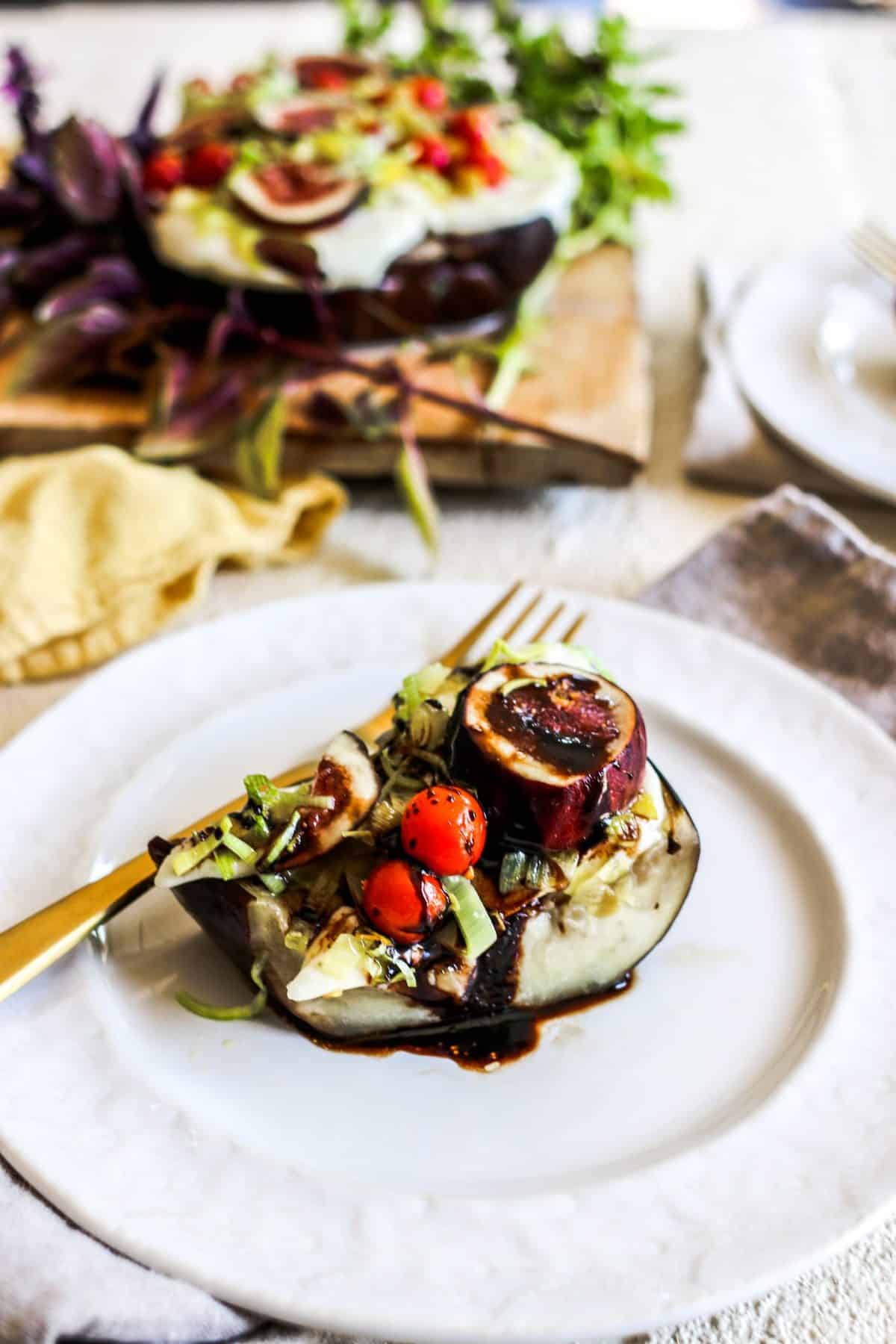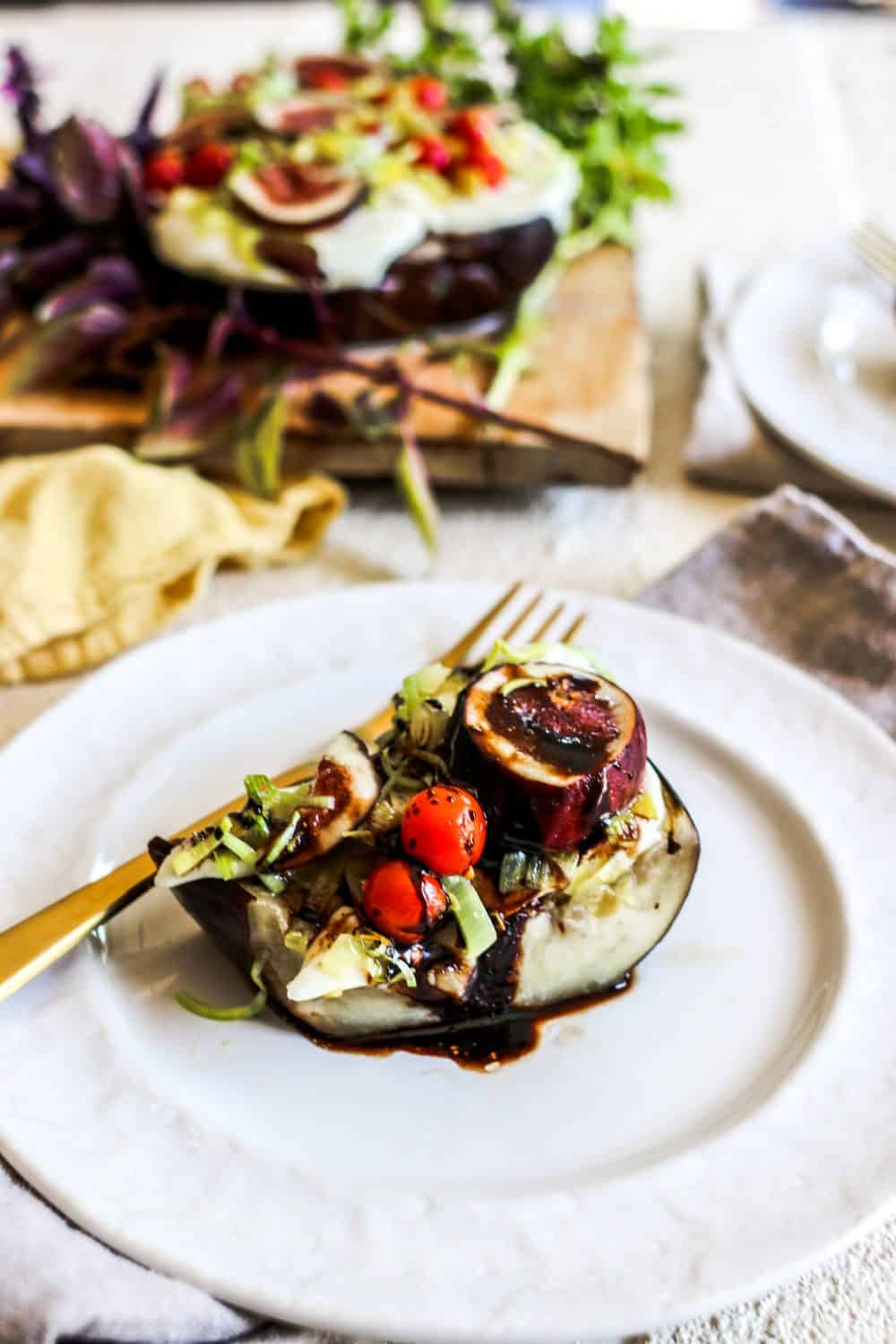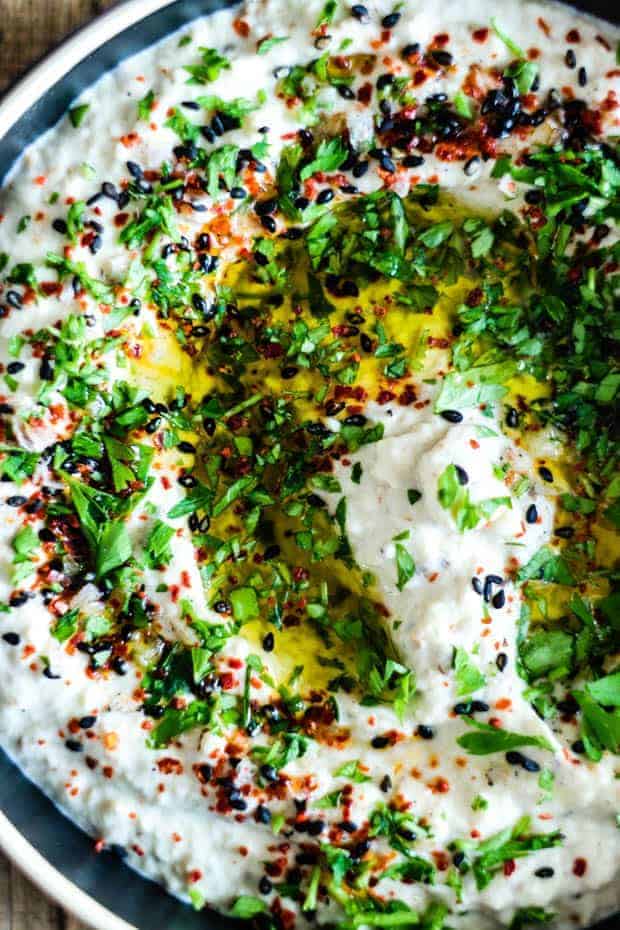 This creamy dip from This Mess is Ours combines perfectly roasted eggplant with creamy yogurt, olive oil, and loads of garlic!
From its luscious eggplant bacon weave to its grilled asparagus and pistachio pesto this BLT will have you declaring love at first bite!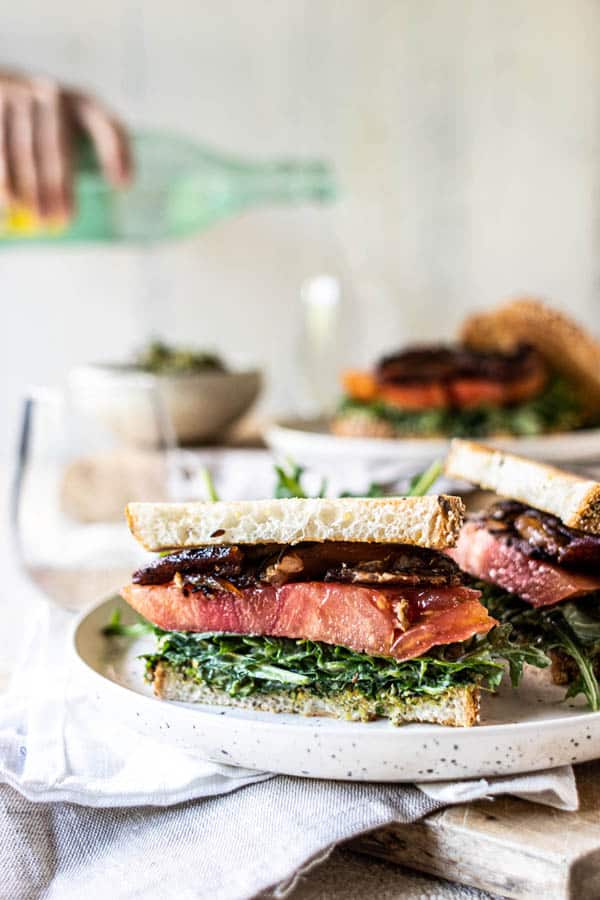 Share your eggplant creations with us by snapping a pic and tagging us on social using #CAGROWN.
Craving more CA Grown goodness? Follow us on Pinterest for fresh and fabulous recipe inspo!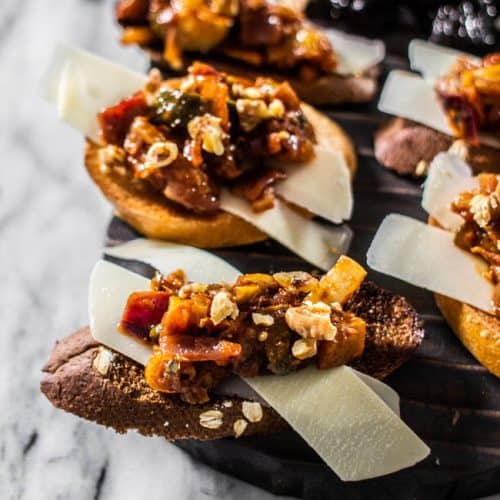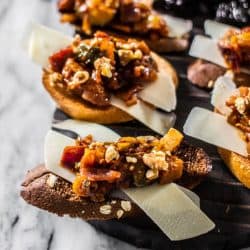 Caponata of Eggplant
Ingredients
½ cup olive oil plus more for oiling pan
1 large red onion diced
1 medium-sized eggplant peeled and diced
1 medium-sized zucchini sliced into ¼-inch thick rounds
1 large bulb fennel sliced
2 celery stalks sliced
1 large bell pepper diced
3 garlic cloves crushed
1 ¼ teaspoon coarse kosher salt
½ teaspoon ground black pepper
½ cup balsamic vinegar
¼ cup chopped California green olives
1 (6-ounce) can tomato paste
2 tablespoons capers
1 sprig fresh oregano leaves removed, finely chopped
3-4 sprigs of fresh thyme leaves removed, tough stems discarded.
Instructions
Preheat the oven to 400°F.

Lightly grease a large roasting pan with olive oil and add the onions, eggplant, zucchini, fennel, celery, and bell pepper. Mix the ½ cup olive oil and the crushed garlic together then pour over the vegetables, season with salt and pepper, then toss to coat. Roast for 30 minutes, stirring twice until the vegetables are barely tender.

Meanwhile, whisk together the vinegar and tomato paste. Stir in the olives, capers, oregano, and thyme. After the initial cook time pour the vinegar mixture over the vegetables and gently stir to combine.

Continue to roast, stirring 2-3 times more, for an additional 30 minutes, until the vegetables are soft and tender.

Remove from the oven and allow the vegetables to cool in the pan to room temperature. Taste and season generously with more salt and pepper.

Serve on toasted bread as an appetizer or as part of a classic cheeseboard.

Stores in fridge for up to 10 days.
Click here to view the Google Web Story for this post.
Frequently asked questions about eggplant.
What is the best way to store eggplant?
Our friend Jerry James Stone created the video below that covers how to store eggplant for weeks! it is a must watch for anyone trying to store eggplant. Spoiler alert: Do not store eggplant in the fridge.