CA GROWN Blog
Discover. Learn. Connect.
Berry Fig Tart Recipe – Irvin Lin of Eat the Love
July 27, 2021
Eat the Season!
Sign Up For Weekly Recipes
« Back to Recipes
Berry Fig Tart Recipe – Irvin Lin of Eat the Love
This Berry Fig Tart recipe is from our friend Irvin Lin of Eat the Love. Irvin is a genius in the baking department and one of our go-to influencers for trusty recipes. This tart recipe is made with a California walnut studded crust that is baked to perfection, then filled with honey-spiked goat cheese, and topped with peak season blackberries and sultry fresh figs. Get ready to indulge all of your senses with a slice!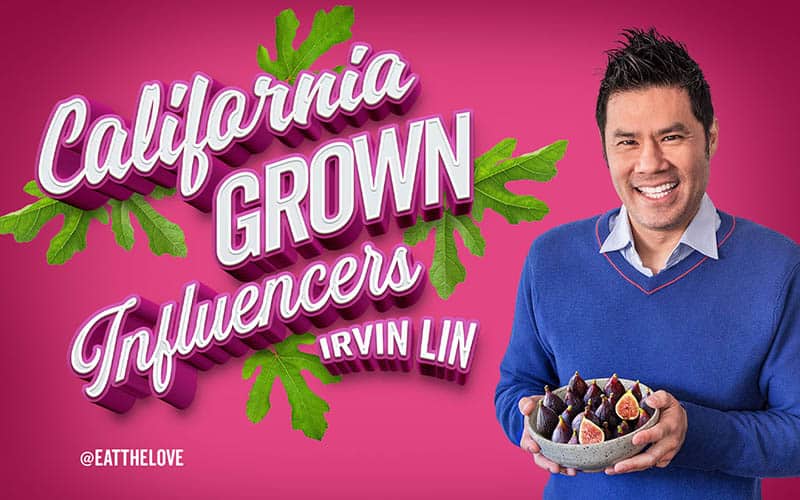 from Irvin:
I moved to California over two decades ago. I've slowly evolved into being a Californian: things I mocked when I initially moved here (meditation, the obsession with locally grown produce, wearing a sweater if the temperature dips under 65°F) are all things I've come to embrace. Nothing more so than the seasonal and local food though. Honestly, if there is ANYTHING that would peg me as an insufferable Californian, it would be the fact that I'm a spoiled brat when it comes to produce.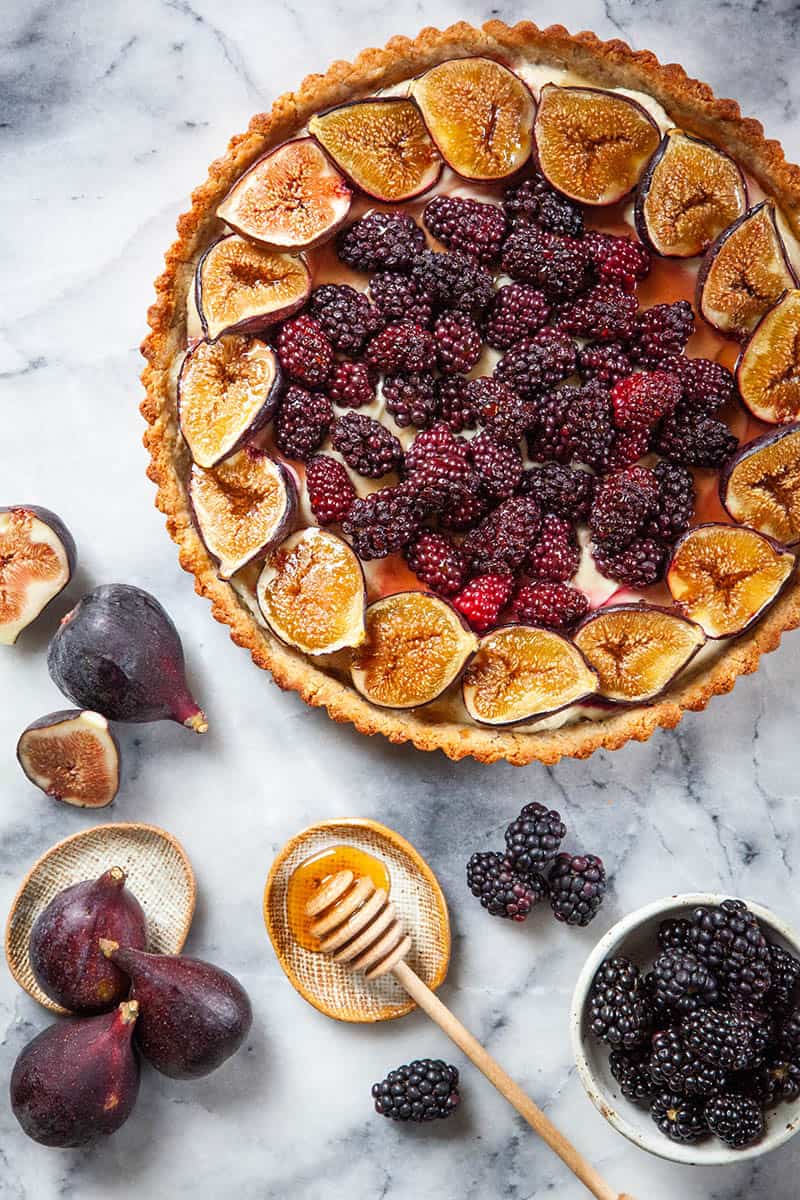 California, as most folks know, has an ideal climate for growing fruit and vegetables. We grow a third of the vegetables for the entire nation and two-thirds of the fruits and nuts! Local berries and stone fruit at the store means summertime in San Francisco, my adopted hometown. Citrus means wintertime. But as the days go by and figs start to appear, I know late summer and early fall are creeping up.
I love adding dried figs to baked goods like my fig and hazelnut scones. When California Grown asked for a recipe featuring fresh figs, I knew it needed to be a celebration of summertime sweetness.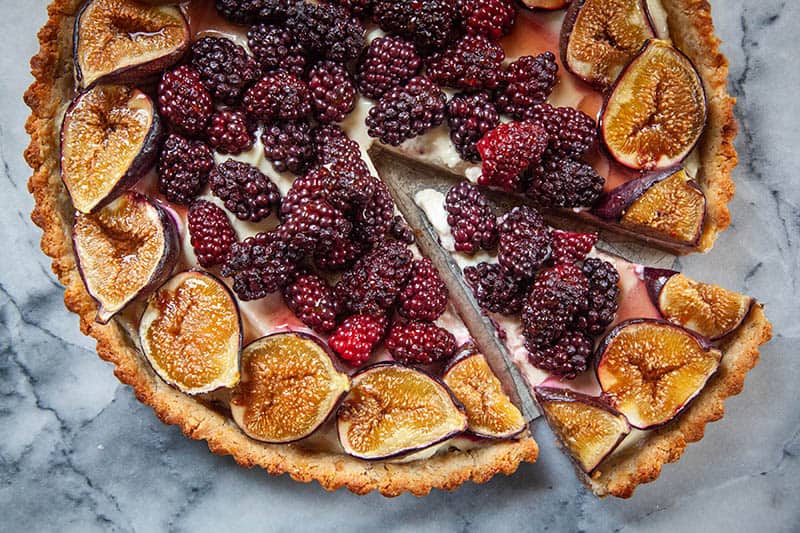 Love this tart recipe from Irvin? You will love his other recipes too!
Check out some of Irvin's other delicious recipes made with beautiful California Grown produce. Scroll all the way down for his Berry Fig Tart recipe.
This focaccia recipe walks the line between savory and sweet, making it great for dessert or perfect to serve with coffee or tea!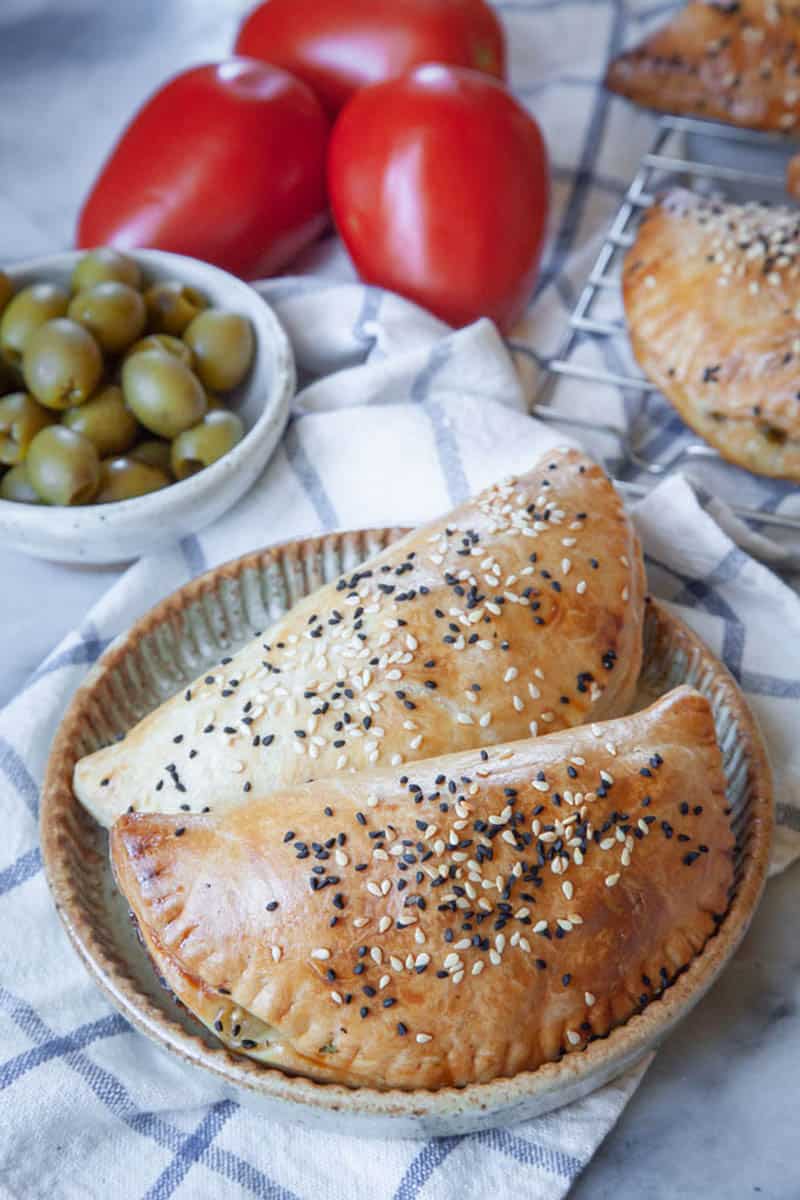 These savory and satisfying hand pies are packed with California Grown green olives, tomatoes, roasted onions, fresh thyme, and feta cheese.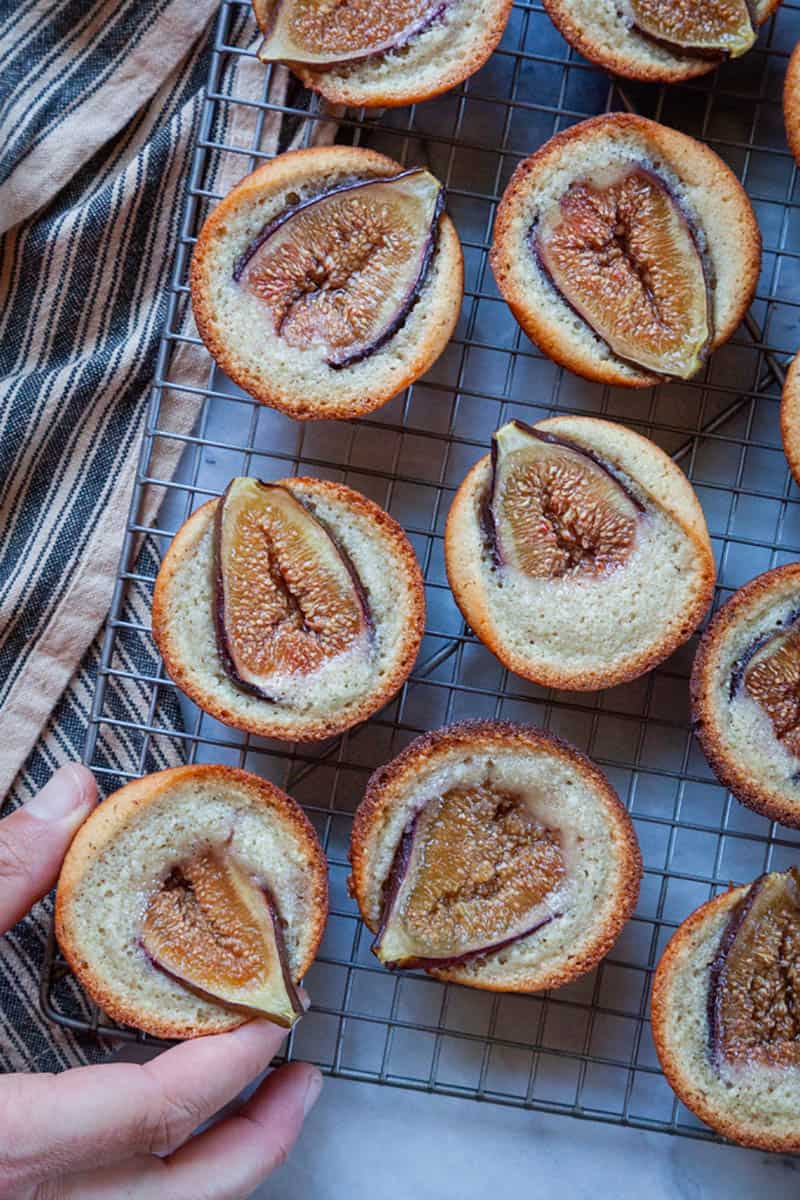 These fig financiers are a version of French almond tea cakes but made with brown butter, bay leaf, extra vanilla, and a fresh fig nestled in it!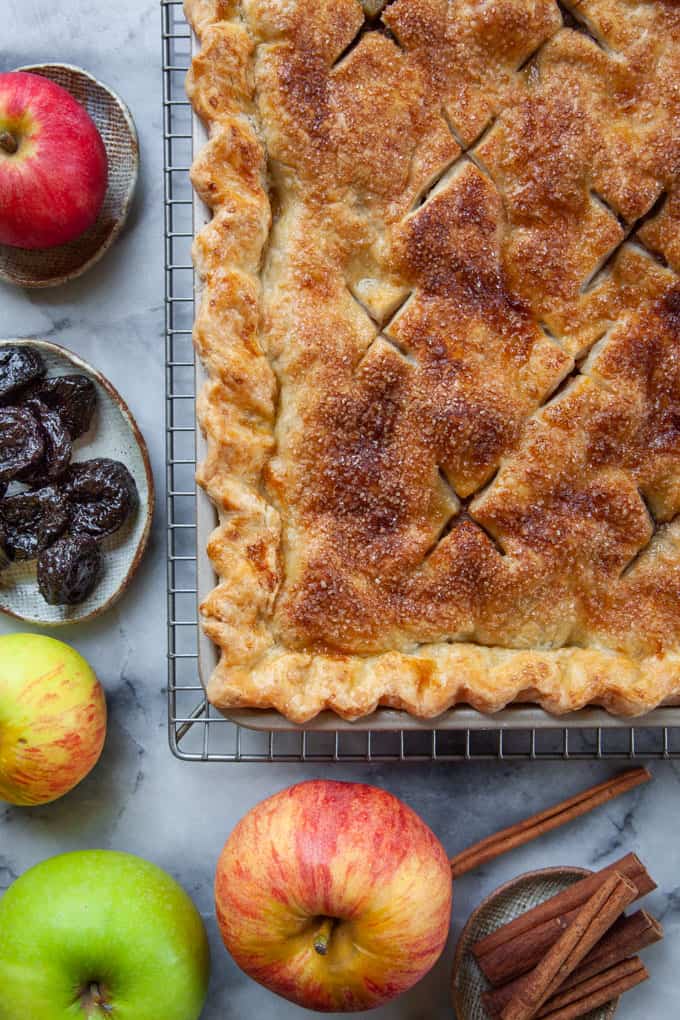 This apple and prunes slab pie with a dash of brandy and wintery warm spices like cinnamon, cloves, and nutmeg can be made ahead of time and sliced into easy-to-serve portions for a larger holiday crowd!
If you LOVE slab pies like this one you should try Irvin's Rhubarb Berry Slab Pie too!
Irvin Lin is a critically acclaimed cookbook author, IACP award-winning photographer, IACP-nominated blogger, award-winning baker, award-winning former graphic designer, storyteller, recipe developer, and writer residing in San Francisco. His cookbook: Marbled, Swirled and, Layered: 150 Recipes for Artful Bars, Cookies, Pies, Cakes and More is a baking must-have.
We know you'll love Irvin's Berry Fig Tart recipe! If you love figs as much as we do, check out our favorite recipes using figs next!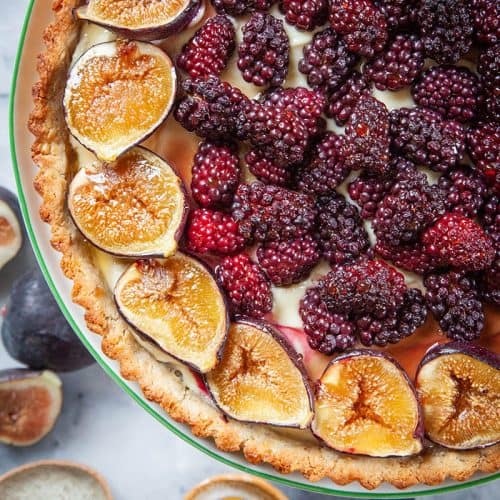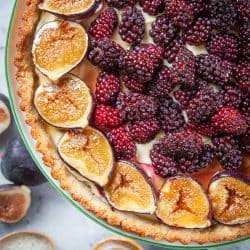 Berry Fig Tart recipe
This tart recipe is made with a California Grown walnut studded crust that is baked to perfection then filled with honey-spiked goat cheese and topped with peak season blackberries and sultry fresh figs. 
Ingredients
Walnut Crust
3/4 cup (100 g) walnut pieces
2 cups (280 g) all-purpose flour
1/4 cup powdered sugar
2 tablespoons white sugar
1/2 teaspoon salt
3/4 cup (170 g) or 1 1/2 sticks unsalted butter, cold
1 large egg separated
4 to 7 tablespoon cold water
Filling
8 ounces plain goat cheese softened
3 tablespoons honey
10 to 12 fresh figs
1 cup (170 g) blackberries
Instructions
Preheat the oven to 425°F.

Place the walnut pieces in a food processor and pulse the walnuts until they are broken down into crumbs. Add the flour, powdered sugar, white sugar, and salt to the processor bowl. Pulse a few times to combine.

Cut the butter into 1/2-inch chunks and add them to the processor. Pulse again, until the butter is broken down.

The whole mixture should be fairly uniform with tiny pebble sized pieces of walnuts and butter.

Separate the egg and set aside the egg white in a small bowl. Place the egg yolk in a small bowl and beat in 4 tablespoons of water. Drizzle the liquid into the bowl.

Pulse until a dough forms. If the dough seems too crumbly and dry, add 1 tablespoon of water at a time, until a dough forms.

Carefully remove the blade from the processor. Grab chunks of the dough from the processor and press them into the bottom and sides of a 10-inch tart pan with a removable bottom.

Continue to do this with all the dough, until the pan is evenly lined with the dough.

Place a piece of parchment paper over the top of the dough and fill with pie weights or dried beans. Place the pan on a rimmed baking sheet or pizza pan and bake in the oven for 12 minutes. While the crust is baking, beat the egg white with 1 tablespoon of water.

Remove the pie weights by carefully lifting the parchment paper up and moving it with the weights inside to a heatproof bowl. Brush the egg white wash over the sides and bottom of the tart crust. This will help seal the crust and prevent it from becoming soggy. Move the pan back to the oven and bake an additional 5 to 7 minutes, or until the edges of the pan start to brown and the top of the dough looks dry.

While the dough is baking, make the filling by combining the goat cheese with the honey. Cut the figs in half lengthwise.

When the tart dough is done baking, spread the honey goat cheese over the still warm crust.

Then place the fig halves around the edge of the tart, overlapping the fig stems over the body of the figs, in a shingle pattern. Sprinkle the blackberries over the center area of the tart. Place back in the oven for an additional 20 minutes.

Let the tart cool on a wire rack for 15 minutes, then drizzle an additional 1 to 2 tablespoons of honey over the tart and serve.
Frequently asked questions about figs.
When are figs in season?
Fresh figs are in peak season mid to late summer, and dried figs are delicious all year round!
Where can I find California Figs?
California Figs are available at most major grocery retailers. Fresh figs are available May – November and can be found in the produce section. Dried figs are available year-round and can be found in the produce section or snacking aisle with other dried fruits.
I've heard that there are wasps in figs. Is this true?
Did you know figs are technically an inverted flower, not a fruit? That means pollination is needed for figs to survive and thrive. However, 99% of California Grown Figs are self-pollinating. The one variety of fig tree still remaining in California that is pollinated by wasps is being replaced by a new fig tree variety with the goal of 100% self-pollinating fig trees in California. Another reason to look for the CA Grown seal!
How can I tell if my figs are California Figs?
Look for California Grown or Product of USA. 100% of dried figs and 98% of fresh figs grown commercially in the U.S. are from California.