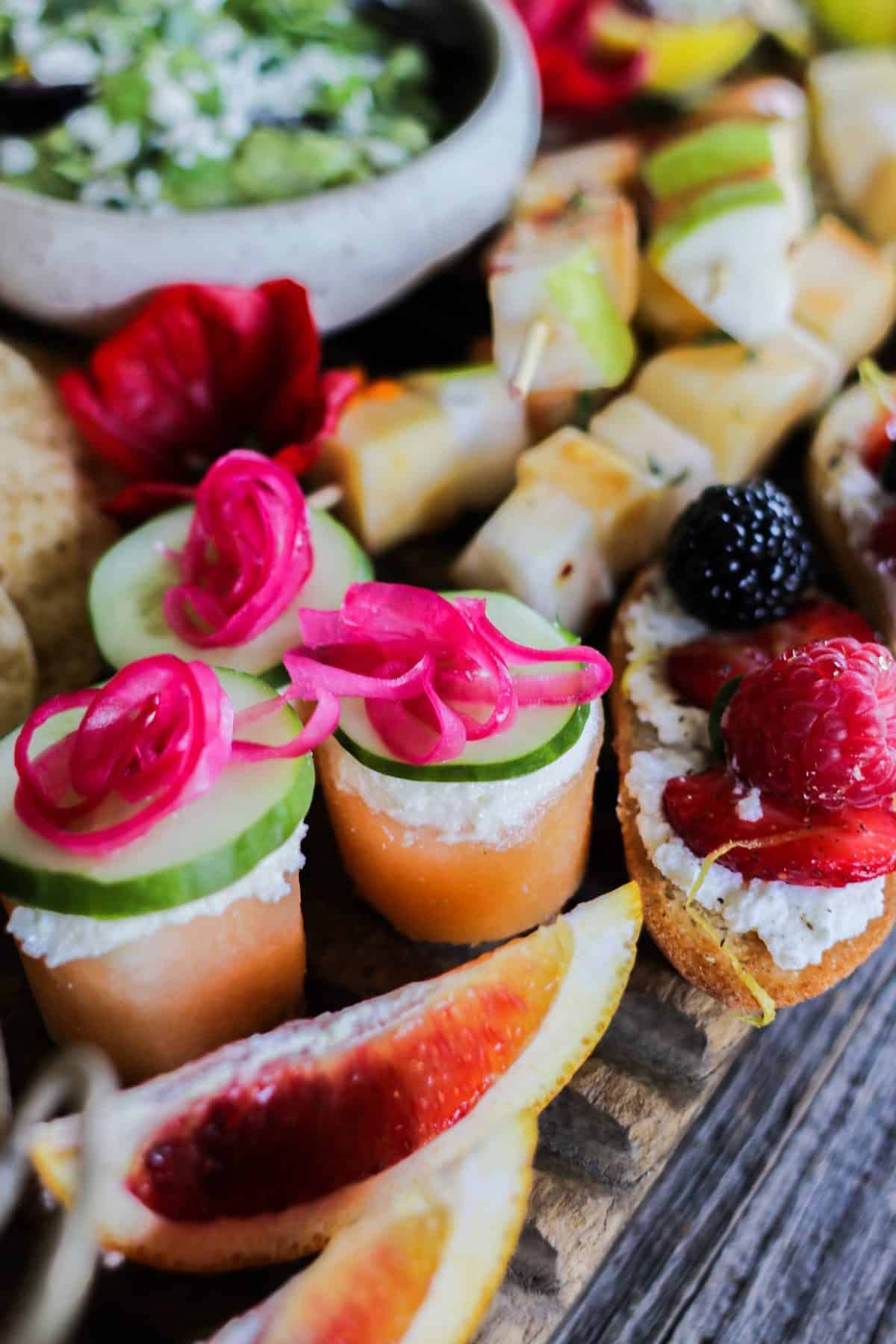 CA GROWN Blog
Discover. Learn. Connect.
Cantaloupe Canapés: Our Favorite Easy Cantaloupe Recipe!
March 8, 2021
Eat the Season!
Sign Up For Weekly Recipes
« Back to Recipes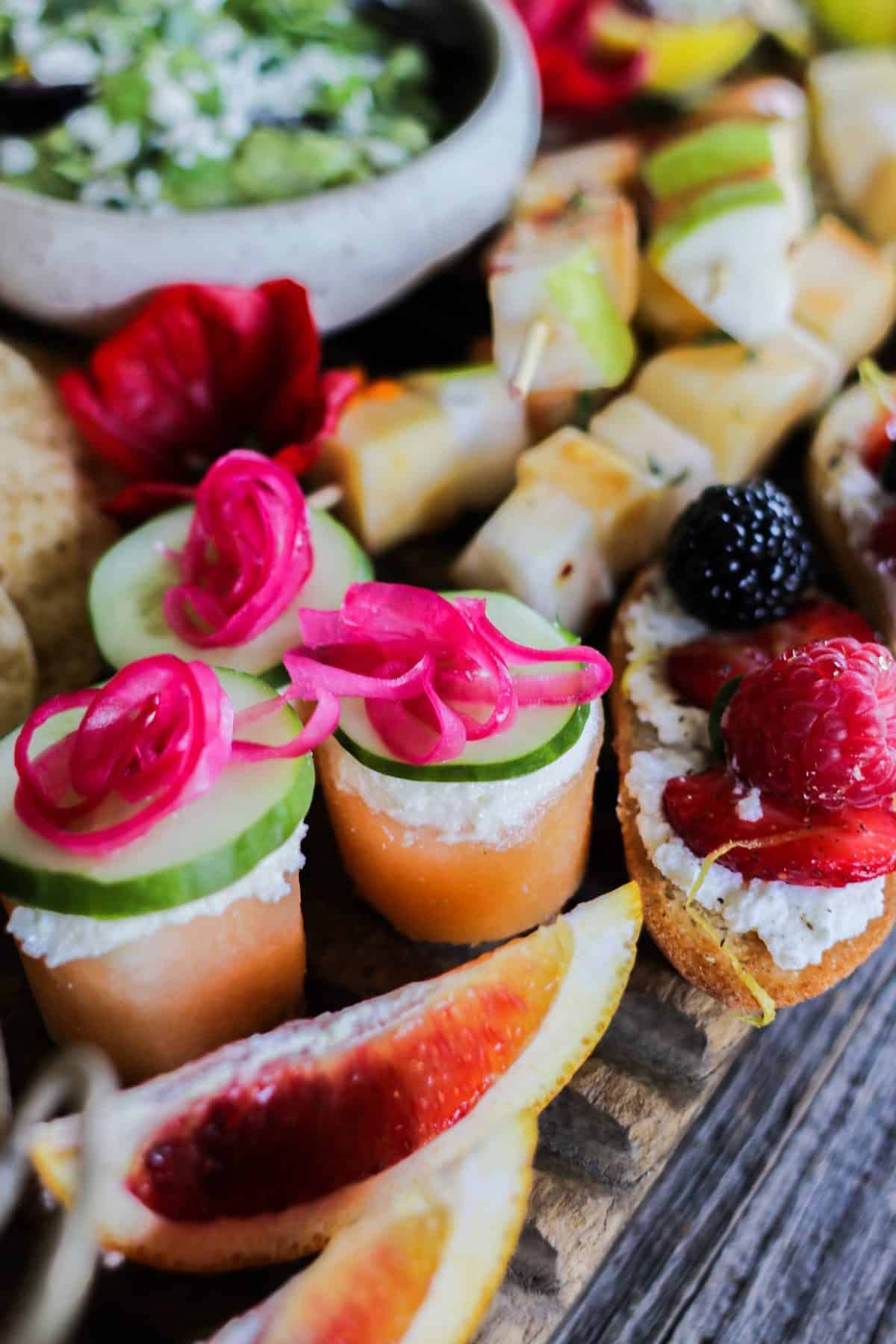 Cantaloupe Canapés: Our Favorite Easy Cantaloupe Recipe!
Celebrate fresh summer flavor with Cantaloupe Canapés, an easy and delicious cantaloupe recipe.
What's your favorite part of summer? Weekends spent by the lake or the pool? Sunsets at the beach? If you ask us, the answer is simple – seasonal produce! There's something magical about produce that's been kissed by the warm California summer sun. Nothing beats a juicy, fresh from the vine cantaloupe or a sun-ripened tomato plucked from your own backyard. Cantaloupe Canapés are a simple appetizer made with in-season produce, letting bright summer flavors take center stage!
California's cantaloupes are typically available from April – December, with peak season occurring from May-August. California's varied climate allows for early spring harvests in the Southern Desert regions. As the weather warms up, production moves north.
Cantaloupe farmers in Central California plant every 5-10 days from March through June to provide a steady supply of your favorite summer melon!
Check out this easy cantaloupe recipe, perfect for a grazing board, charcuterie tray or brunch buffet!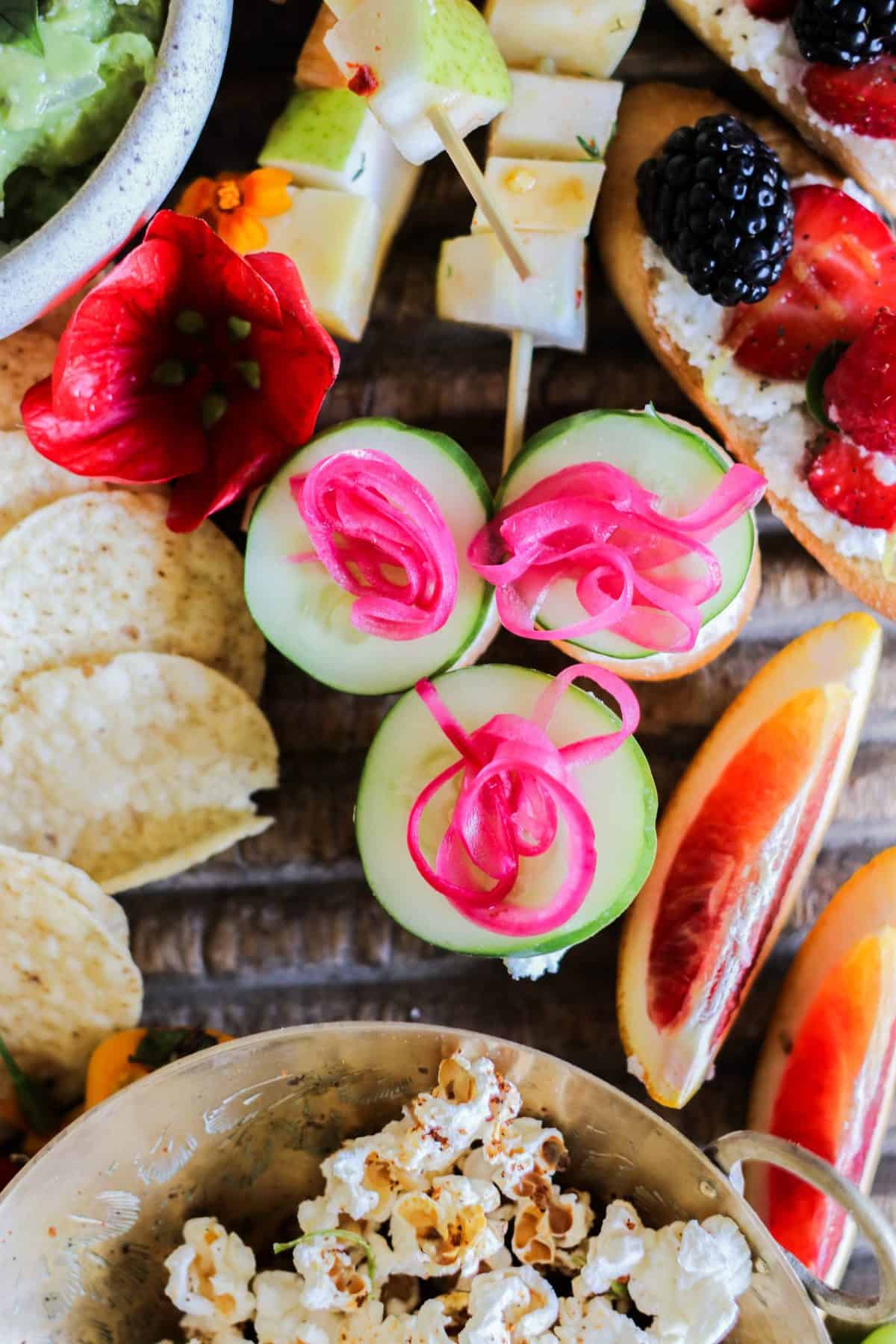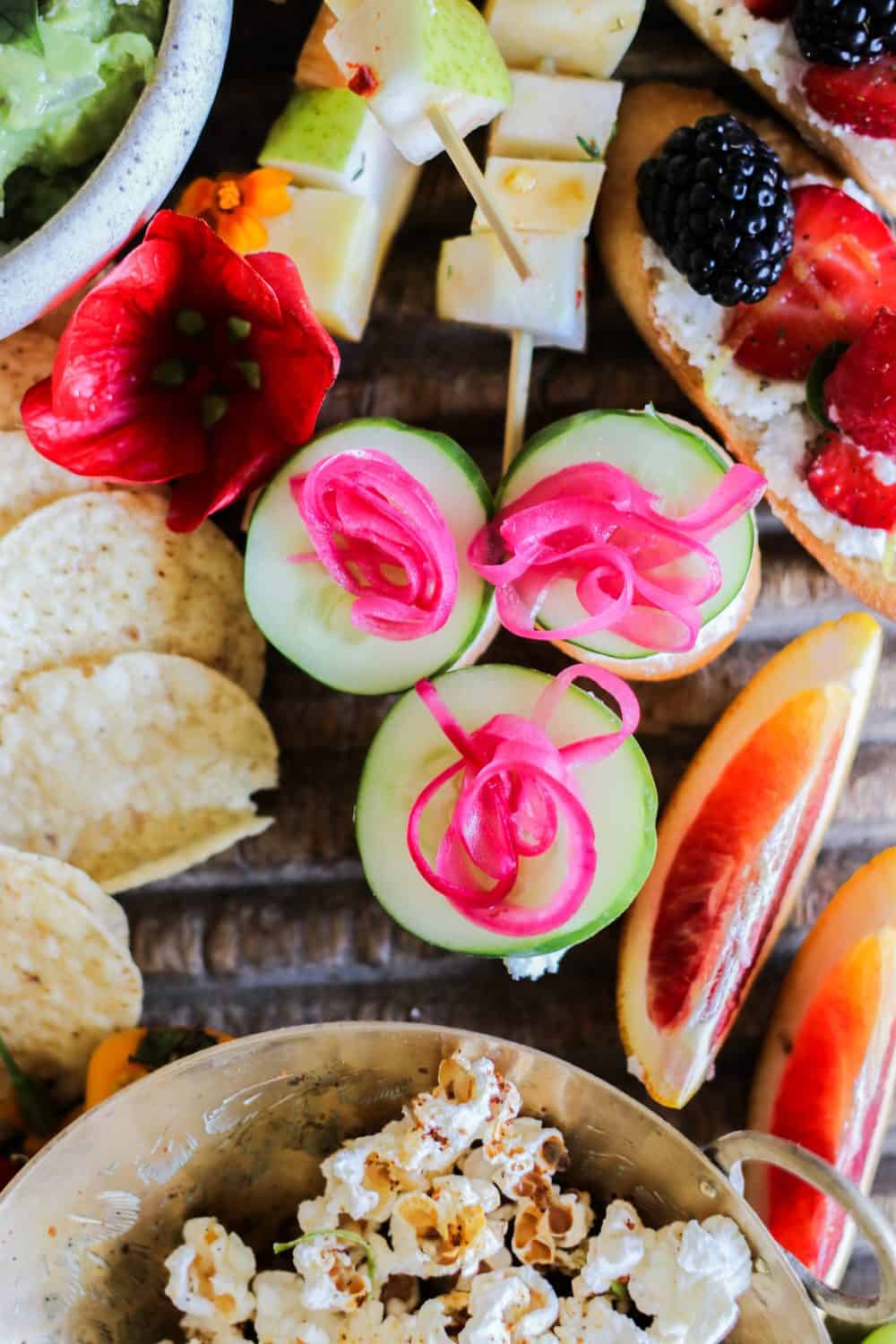 This refreshing appetizer is a welcome addition to a family cookout or brunch. Cantaloupe Canapés are elegant but surprisingly easy to assemble – espcially if you do a little advance prep work. Prepare the whipped feta and pickled onions a day in advance to give all those gorgeous flavors time to fully meld. That makes assembly a snap!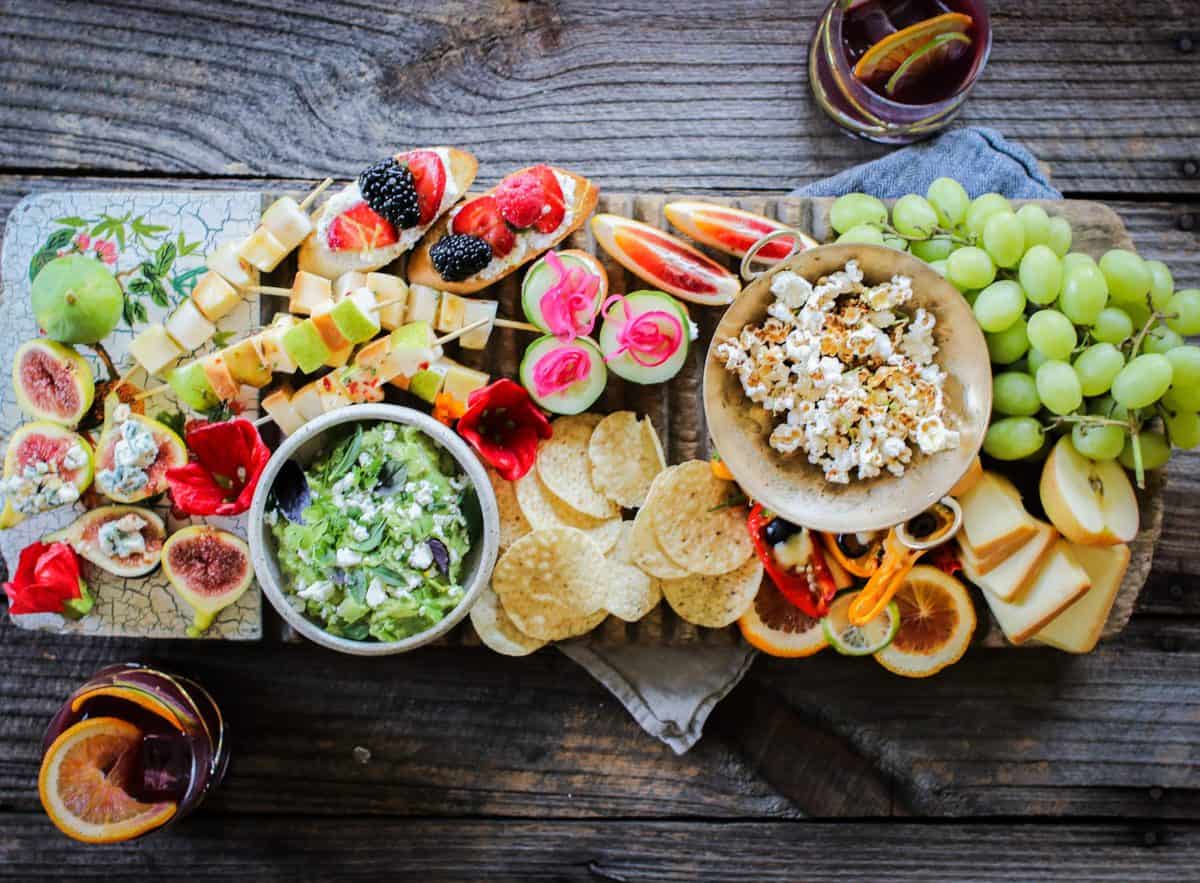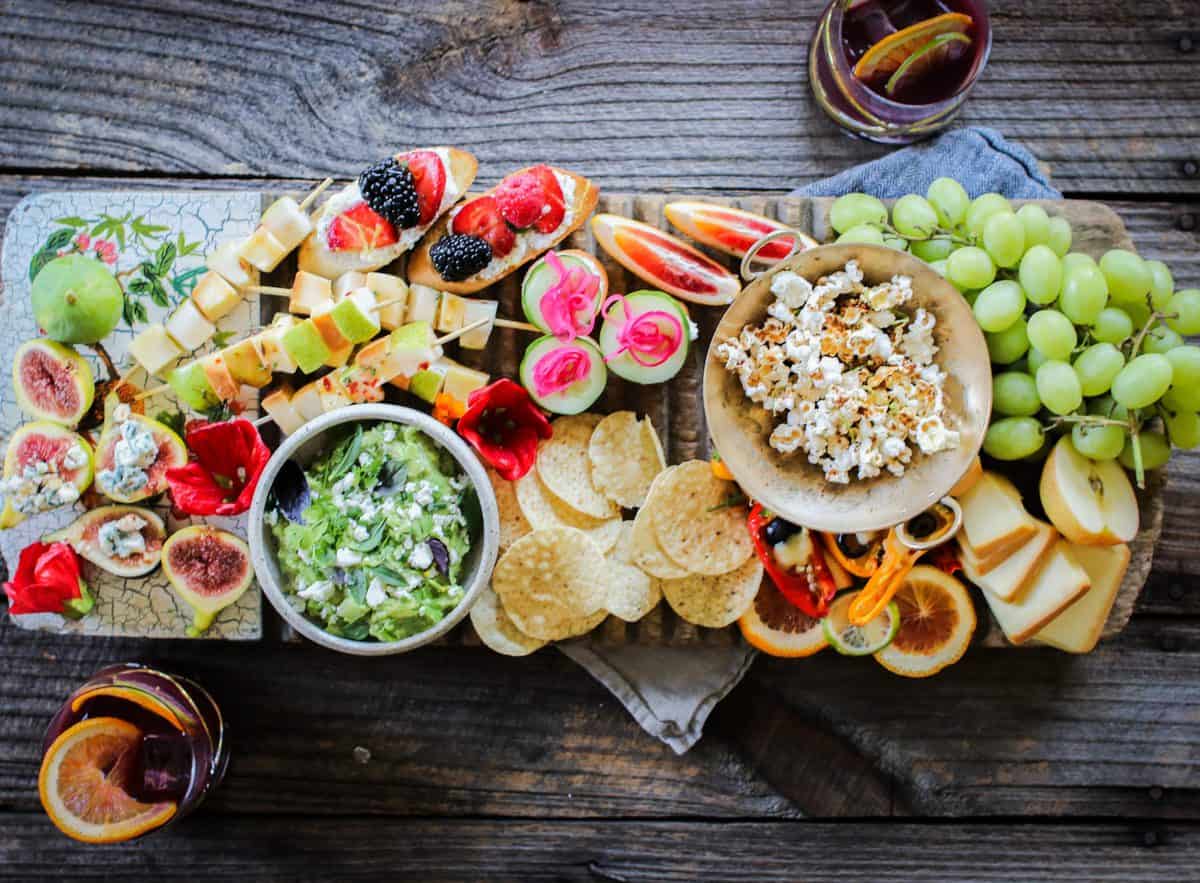 As far as we're concerned, a bottle of bubbly turns any day into a special occasion (and practically mandatory at brunch). Cantaloupe Canapés pair perfectly your favorite California sparkling wine. Want to mix things up a bit? Try a summer Golden State Sangria or a Strawberry Lemon Smash Cocktail!
You can make this delicious cantaloupe recipe with watermelon too, like our friend Meg did! We got the recipe inspo from her. Slices of fresh cantaloupe are also incredible topped with a swoosh of Baked Sweet Ricotta – try that too.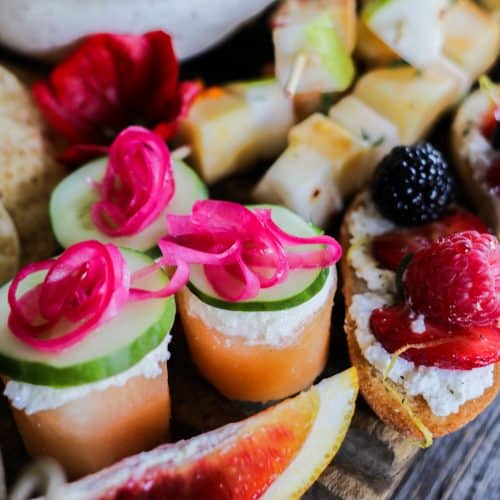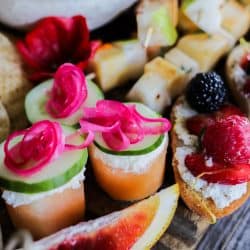 Cantaloupe Canapés
Cantaloupe Canapés are a simple appetizer made with in-season produce, letting bright summer flavors take center stage!
Ingredients
For the whipped feta
1/2 pound block feta, soaked in water for 30 minutes (8 ounces)
1/4 cup cream cheese softened
1/2 tablespoon heavy cream
1/8 cup extra virgin olive oil
1 tablespoon freshly squeezed lime juice
For the citrus pickled onions
1 cup paper thin sliced onions I use a mandolin for this
3/4 cup freshly squeezed lime juice
For the canapés
1 cantaloupe sliced into 1-inch thick slabs then cut into 2 dozen 1-1/2 inch rounds. You will have extra cantaloupe leftover.
1 batch whipped feta
24 small basil leaves
1 English cucumber sliced into thin rounds or two Persian cucumbers
1 batch citrus-pickled onions
3 tbsp Maldon sea salt
Instructions
Make the whipped feta
Remove the feta from the water and discard the soaking liquid.

Place the feta, cream cheese, heavy cream, olive oil, and lime juice in a food processor fitted with the " S" blade. Process until smooth. Transfer to a pastry bag fitted with a star tip then transfer to the refrigerator for 20-30 minutes to firm up a bit.
Make the citrus pickled onions.
Place the onion slices in a glass or nonreactive container with a lid that fits very well. Add the sliced onions to the container then pour the lime juice over the onions. Place the lid on the container and shake well to make sure that the onions are completely covered by the lime juice. Allow the onions to soak in the lime juice until they are bright pink and pliable, at least 20-30 minutes.The pickles can be made up to 2 days in advance and stored in the refrigerator.
Build the canapés.
Line a baking sheet with paper towels, place 2 dozen cantaloupe rounds on the paper towels. The towels will help to soak up any extra juice from the melon. Pipe the whipped feta onto the rounds and top with a basil leaf and a cucumber round. Set aside.

Using a fork like you would with spaghetti noodles, twirl the onions around the tines of the fork to make little nests. Place an onion nest on top of each cantaloupe canapé. Sprinkle a little Maldon salt on each one. Serve immediately.
Notes
Prep the pickled onions and whipped feta the night before to allow flavors to fully meld.
Nutrition
Calories: 57kcalCarbohydrates: 3gProtein: 2gFat: 4gSaturated Fat: 2gCholesterol: 11mgSodium: 117mgPotassium: 100mgFiber: 1gSugar: 3gVitamin A: 868IUVitamin C: 9mgCalcium: 55mgIron: 1mg
We want to see your creations! Snap a pic and post on social using #CAGROWN.
Craving more California Grown goodness? Follow us on Pinterest for fresh and delicious seasonal recipe inspo!
This recipe was inspired by our friend Meg's Watermelon Canapé.