CA GROWN Blog
Discover. Learn. Connect.
Fresh Veggie Lasagna using Zucchini and Mushrooms
July 12, 2017
Eat the Season!
Sign Up For Weekly Recipes
« Back to Recipes
Fresh Veggie Lasagna using Zucchini and Mushrooms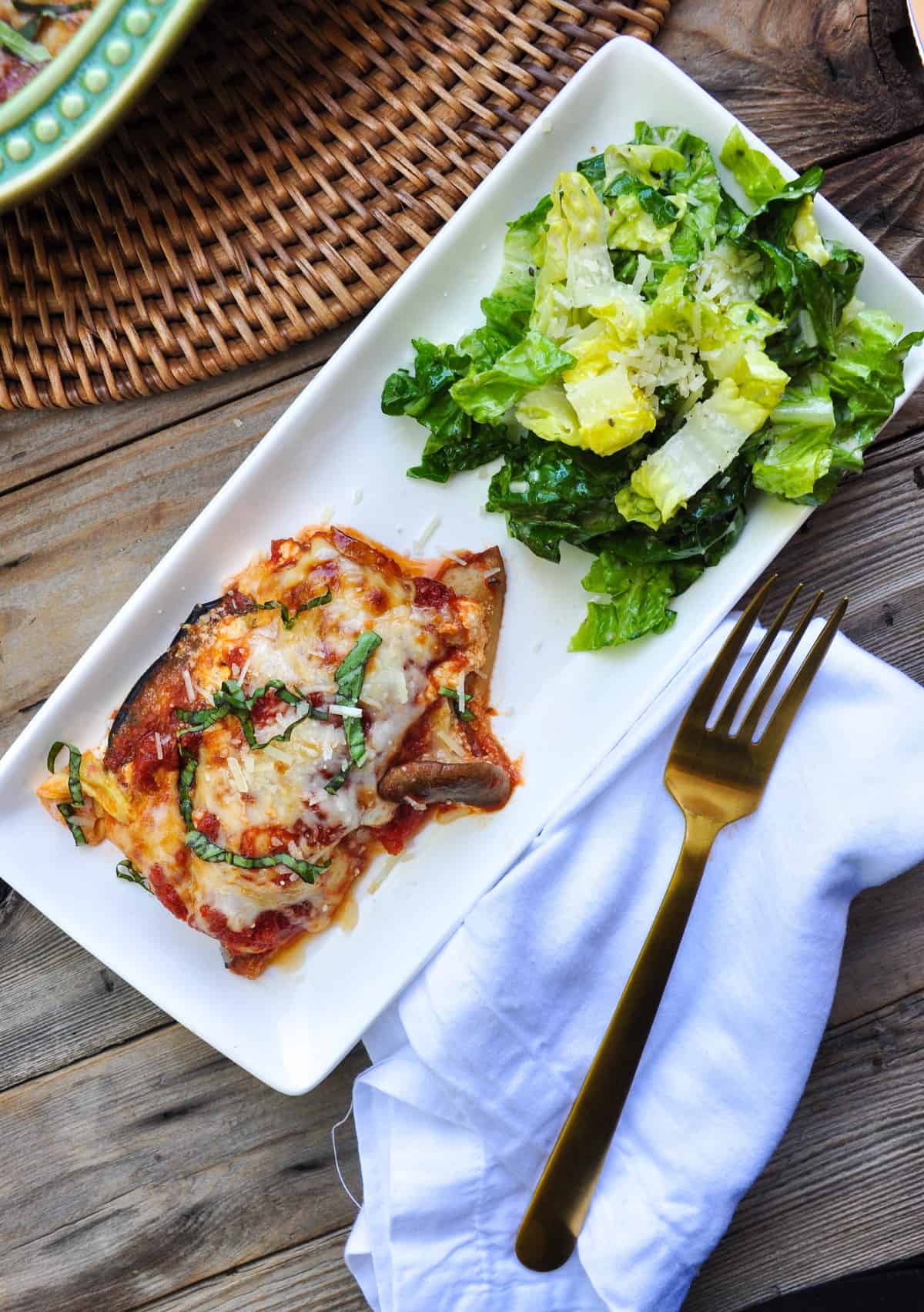 Boom…
That just happened.
And I'm just putting this out there; this is quite possibly the best thing I've eaten in a loooong time.
No joke!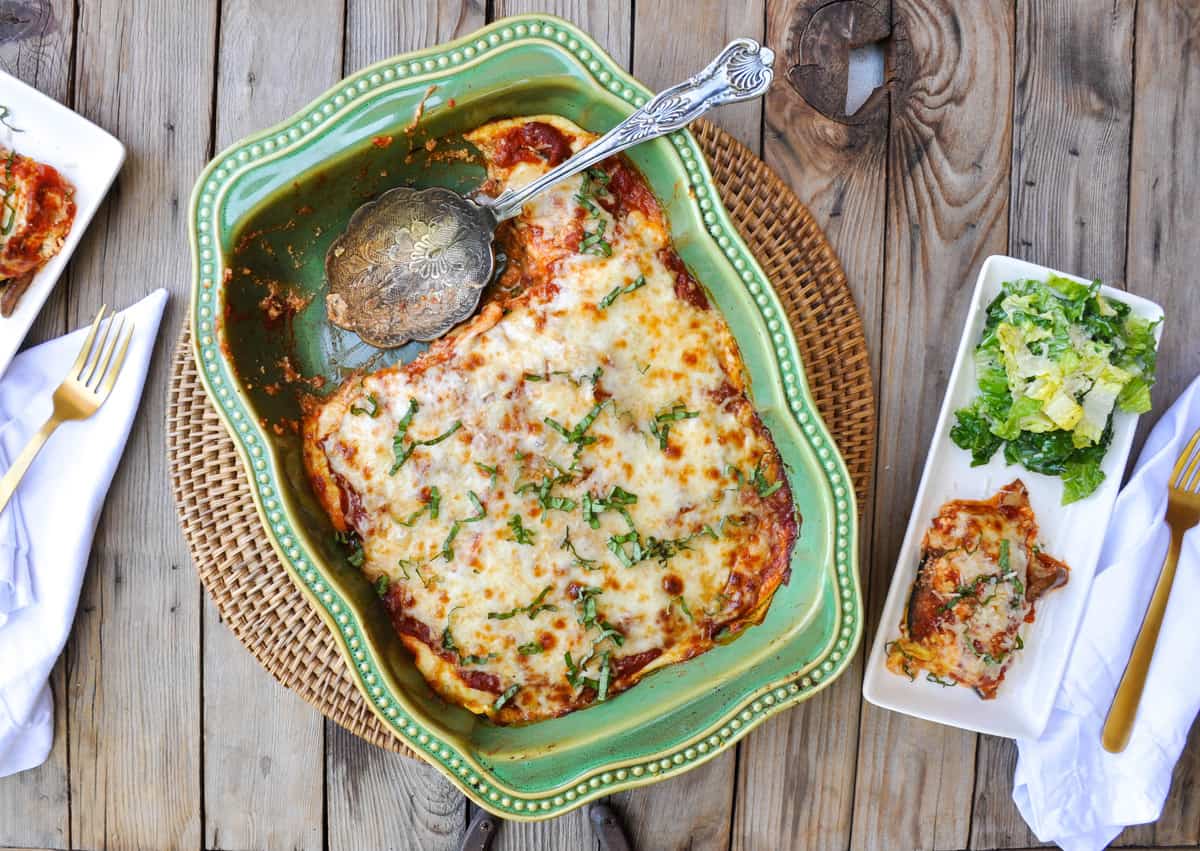 And I have to attribute it's deliciousness to the fresh local produce I used. It was pretty simple to find all these California beauties in my local grocery store; green and yellow squash, meaty trumpet mushrooms and beautiful eggplant.
This lasagna is not only meat free, but it's also completely pasta free because I made my own lasagna noodles using the squash!
I used the trumpet mushrooms and eggplant as a meat substitute (trust me, you won't miss the meat).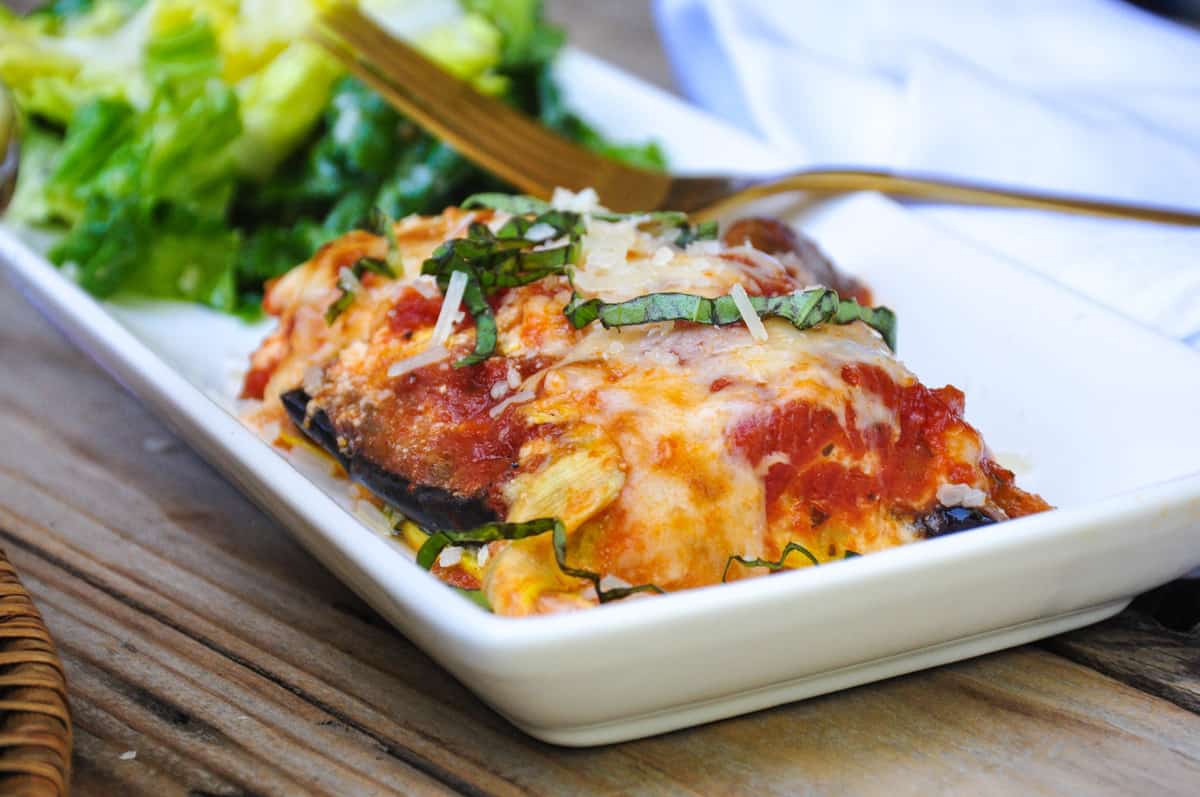 Serve it with a fresh Caesar Salad on the side and enjoy on a cool (or warm…no thermometer needed for this beauty) summer night.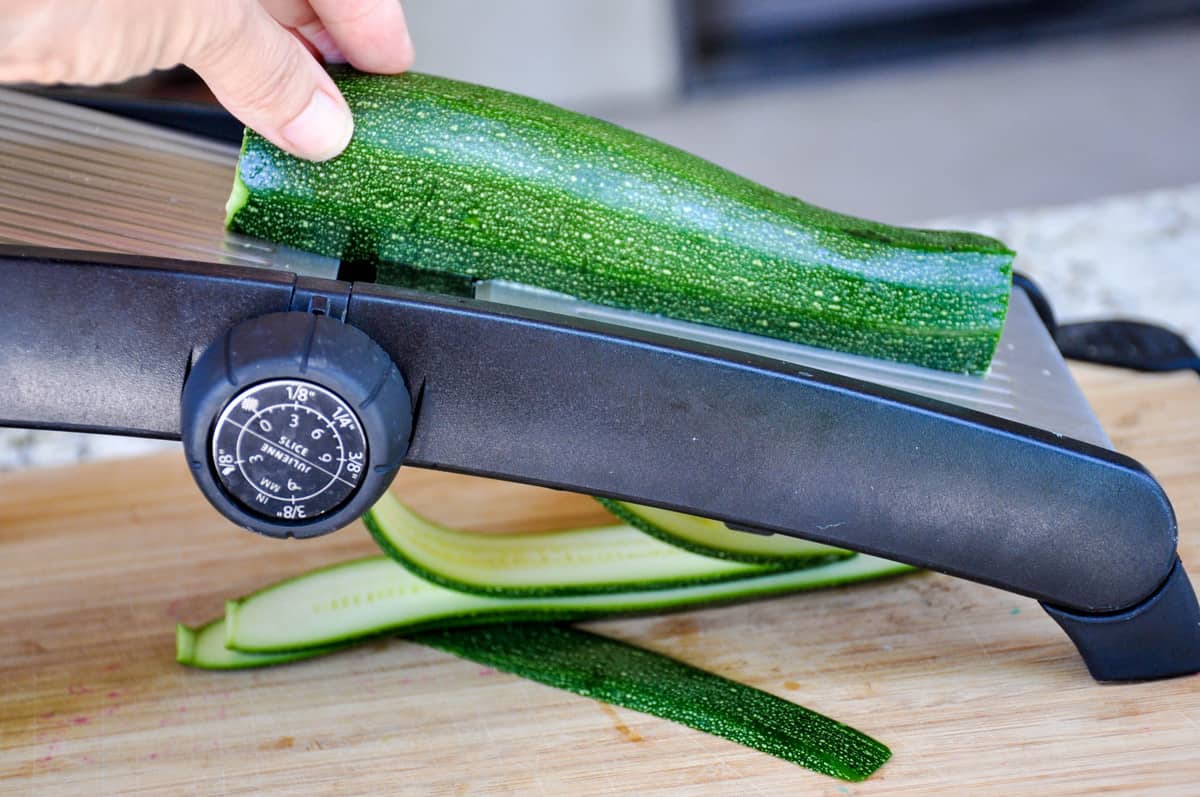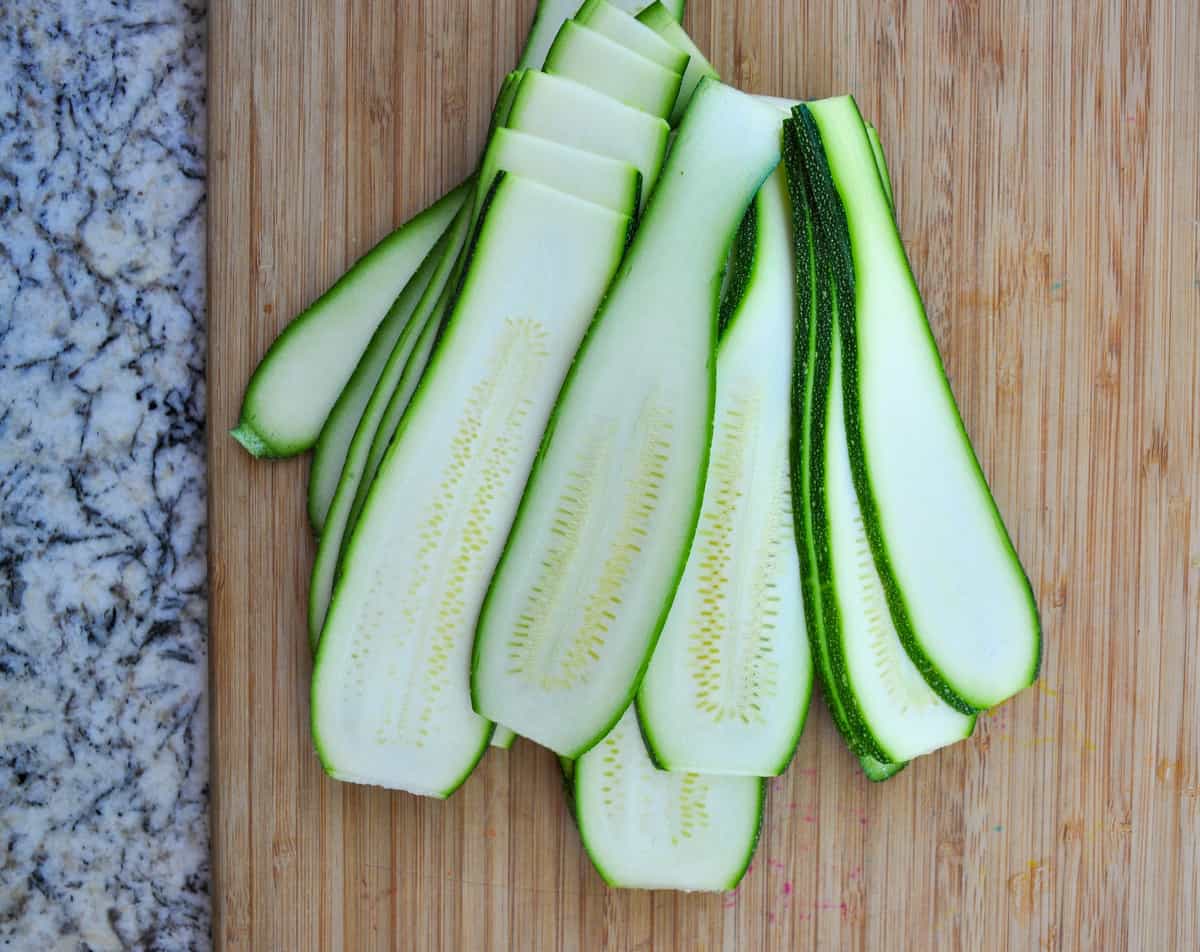 It's pretty easy to make the veggie "lasagna noodles" when you use a mandoline. I set mine to 1/8″ and they turned out perfect!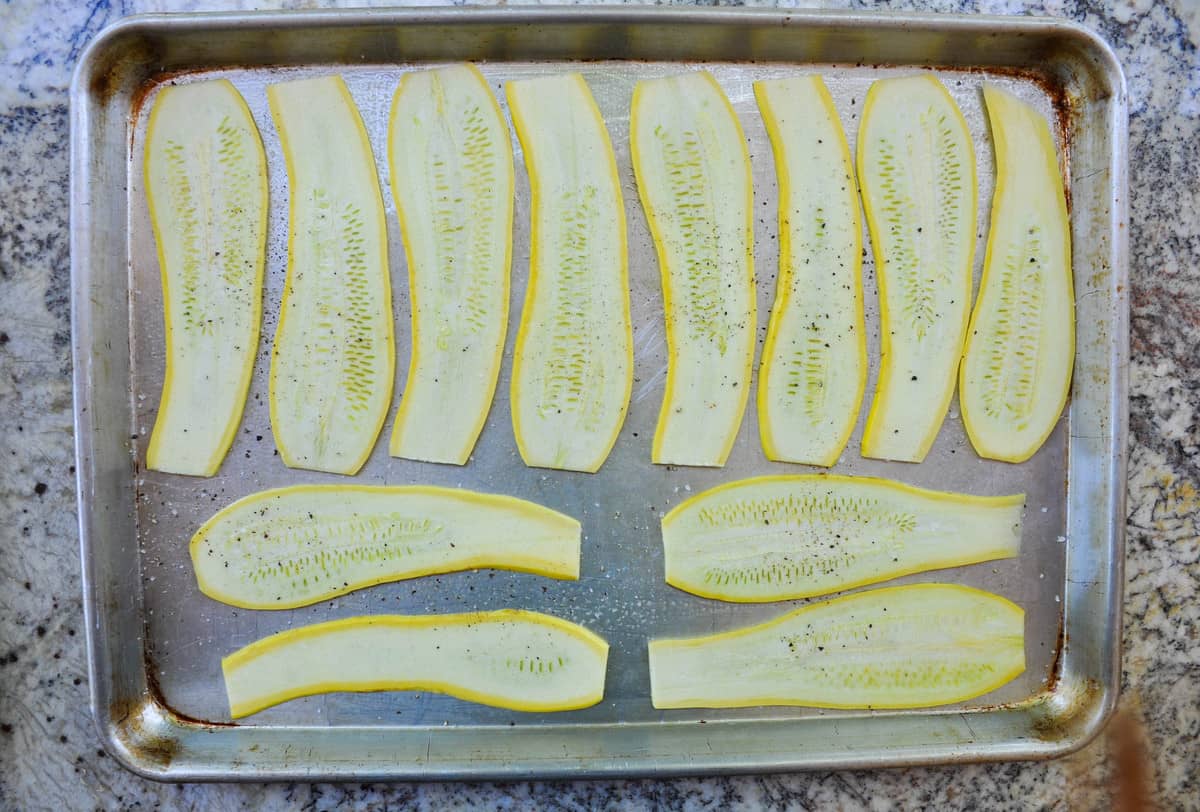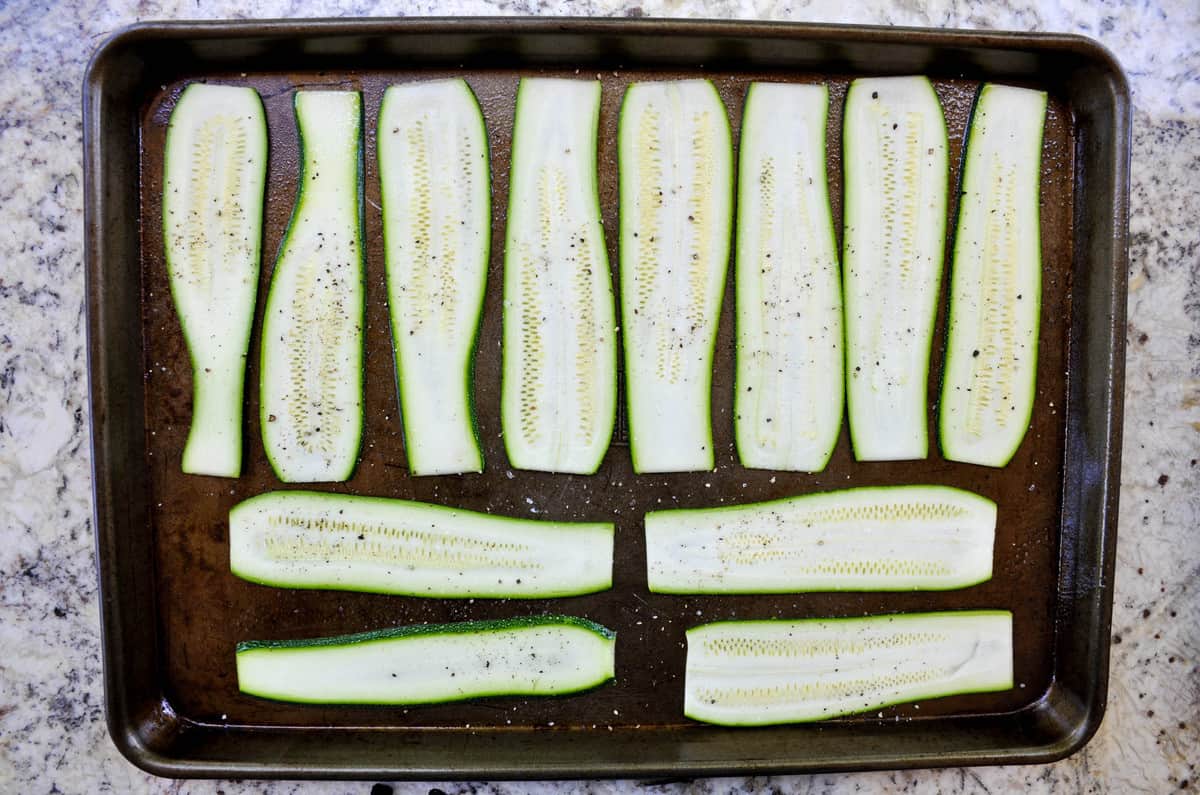 Slice two green zucchini and two yellow squash, then place on a greased cookie sheet. Dust with salt and pepper and cook in a 400-degree oven until slightly browned. This process helps remove as much moisture from the zucchini as possible. If you skip this step, your lasagna will be very watery! I liken this step to the same as having to boil lasagna noodles; necessary and accomplished early on in the process.
Water = no bueno!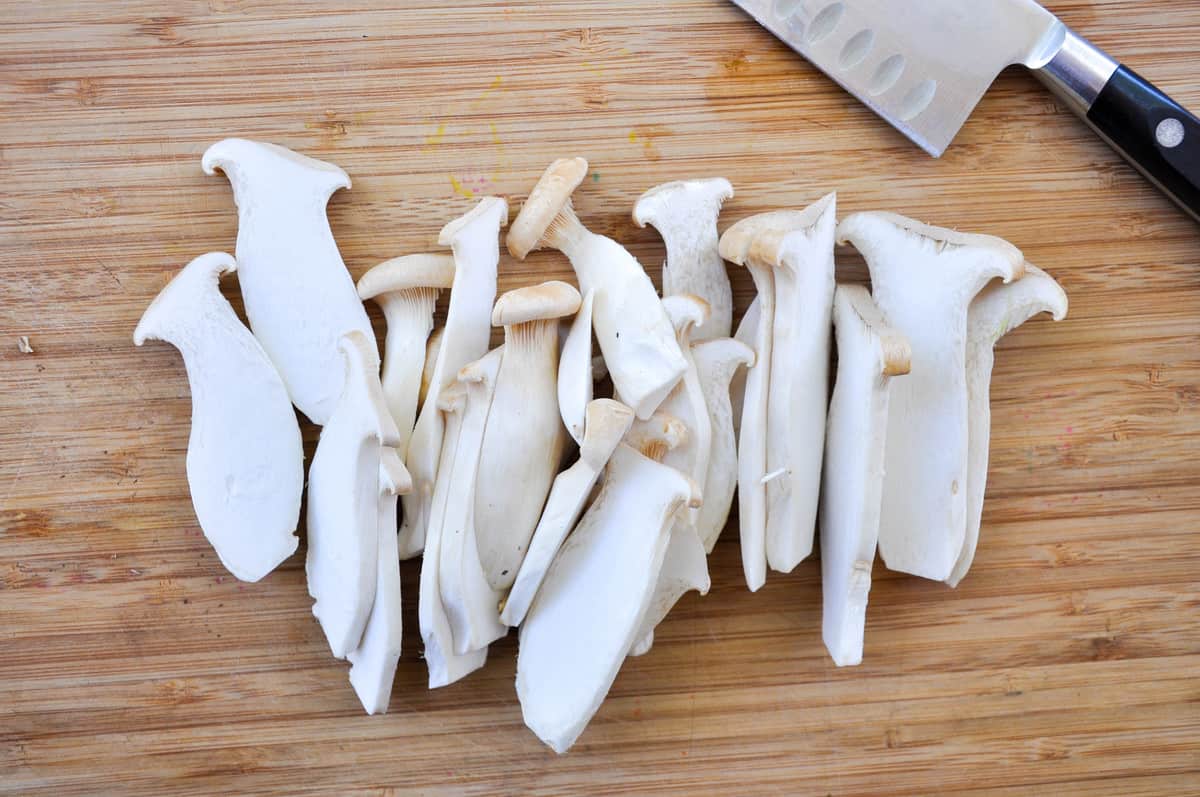 Slice your trumpet mushrooms into thick slices. If you don't have access to this particular variety, you can use whatever type of mushroom you like. I chose this one because of its dense, meaty qualities!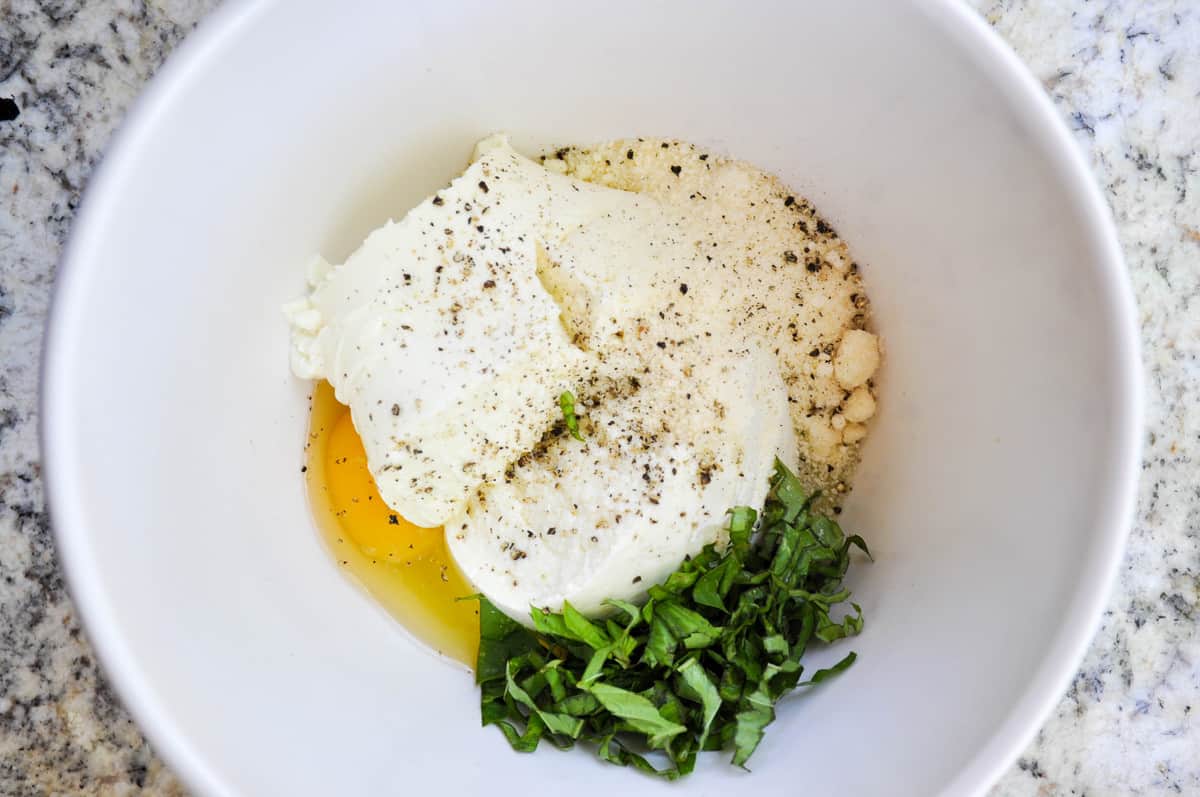 Our cheese filling mixture is comprised of ricotta, parmesan, eggs, fresh chopped basil, salt and pepper.
Let's start the layering process…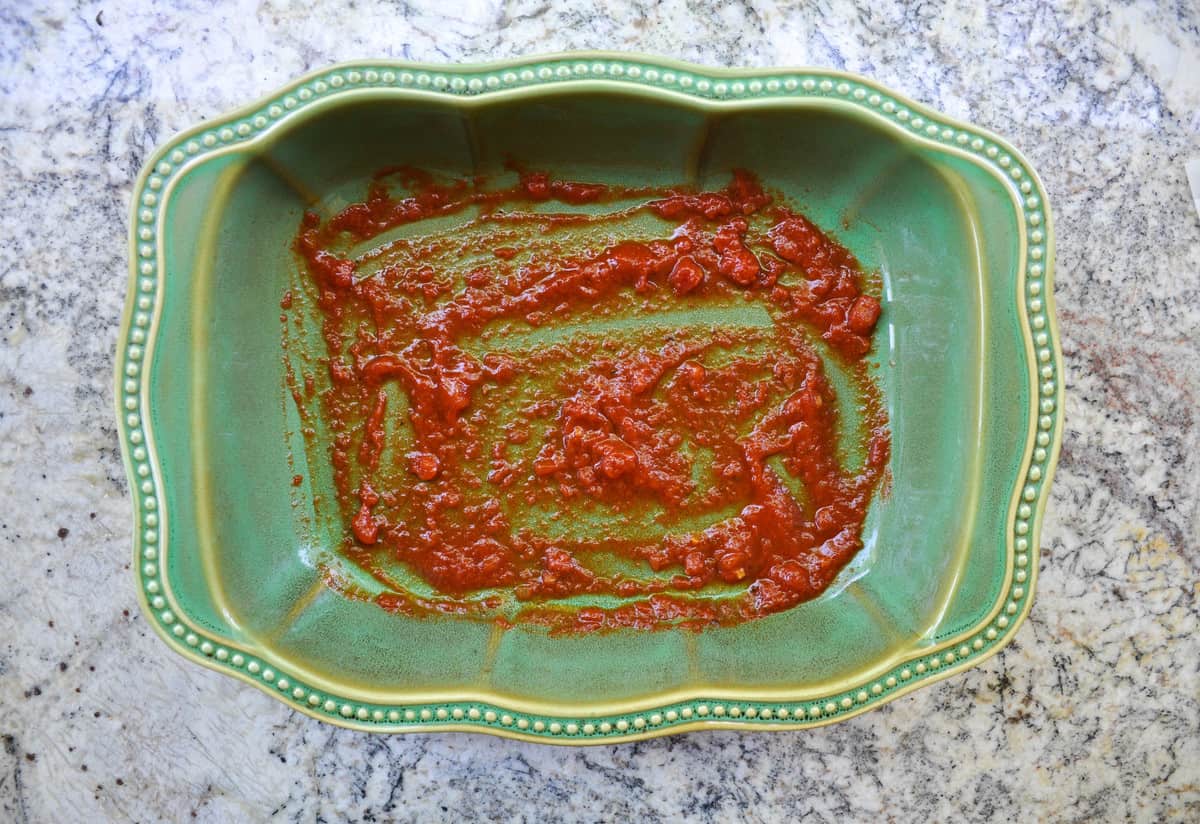 Start by adding a little sauce to the bottom of the baking dish.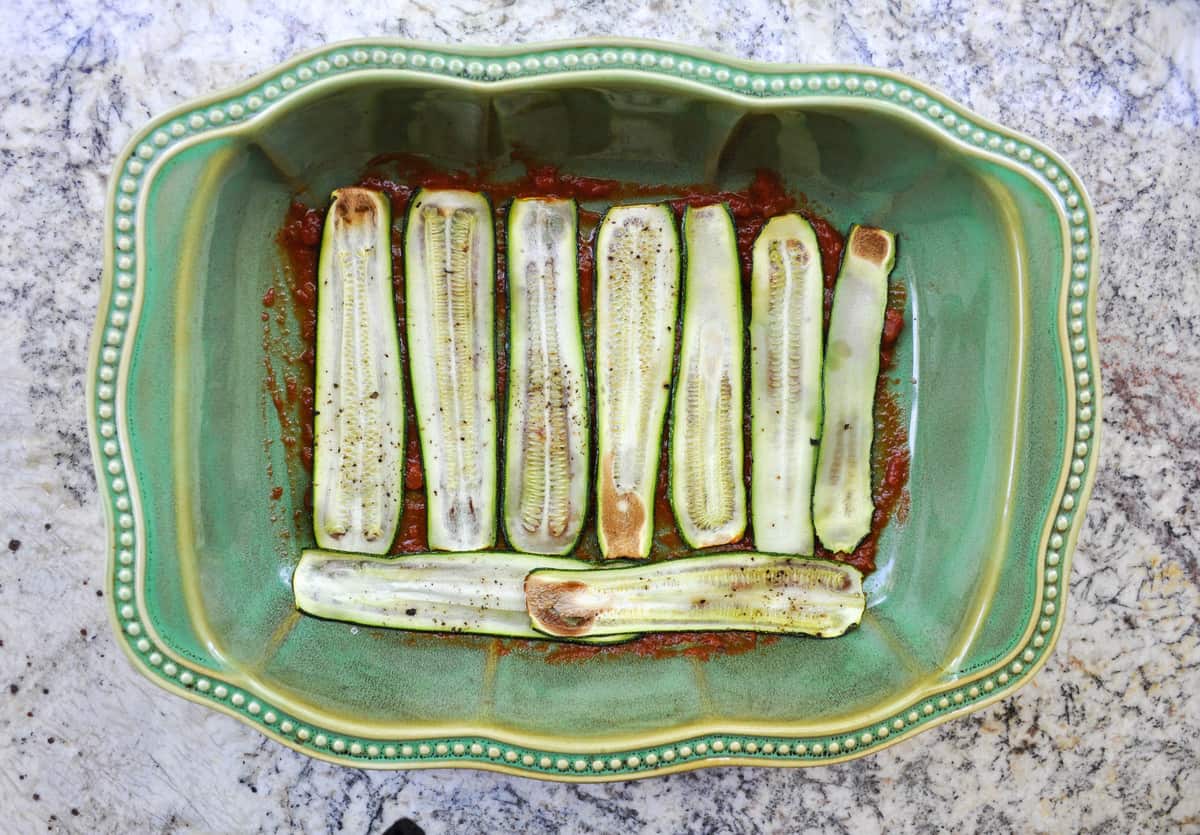 Add the first layer of green zucchini.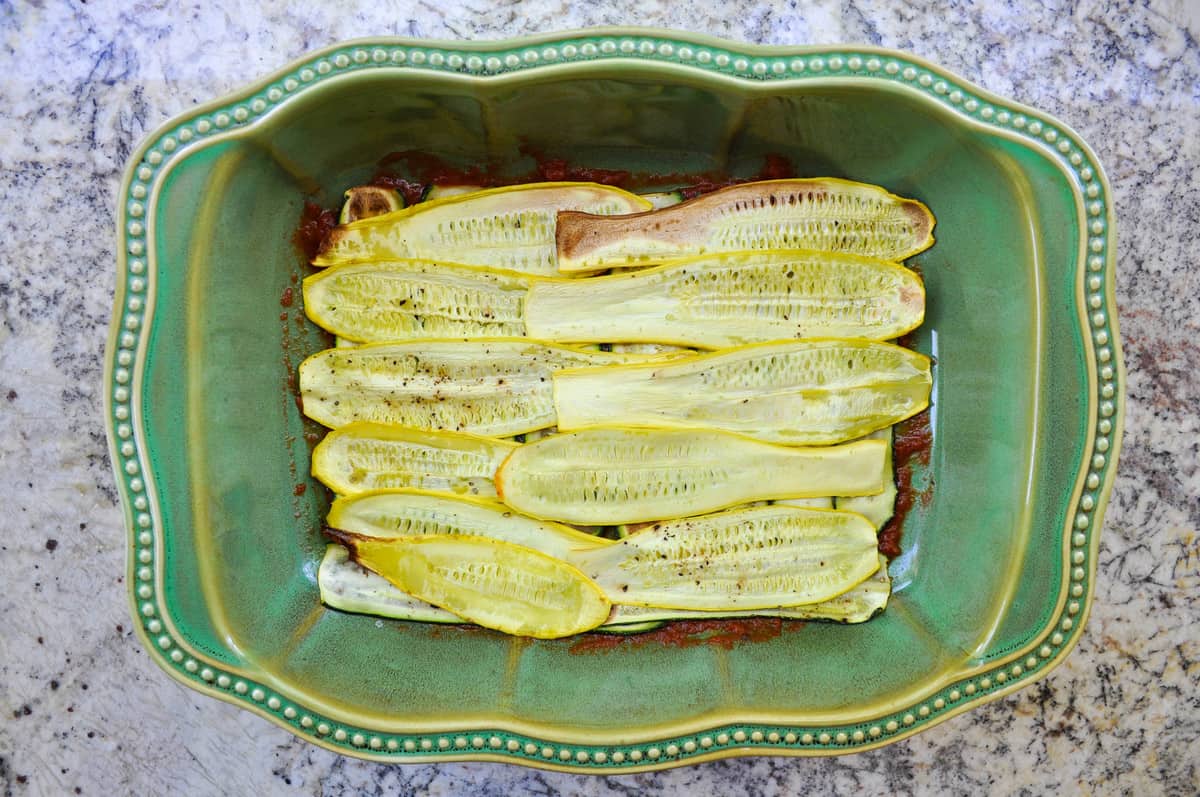 Top with a layer of yellow squash.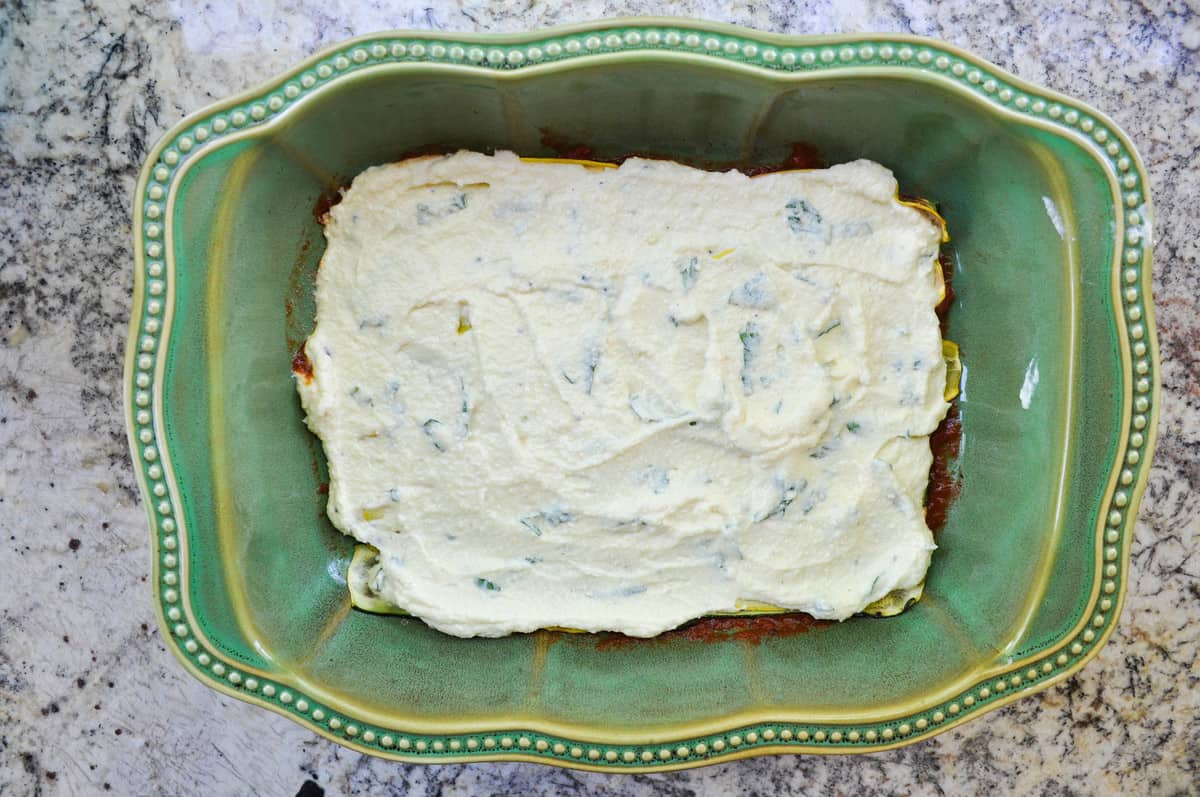 Cover with half the cheese mixture.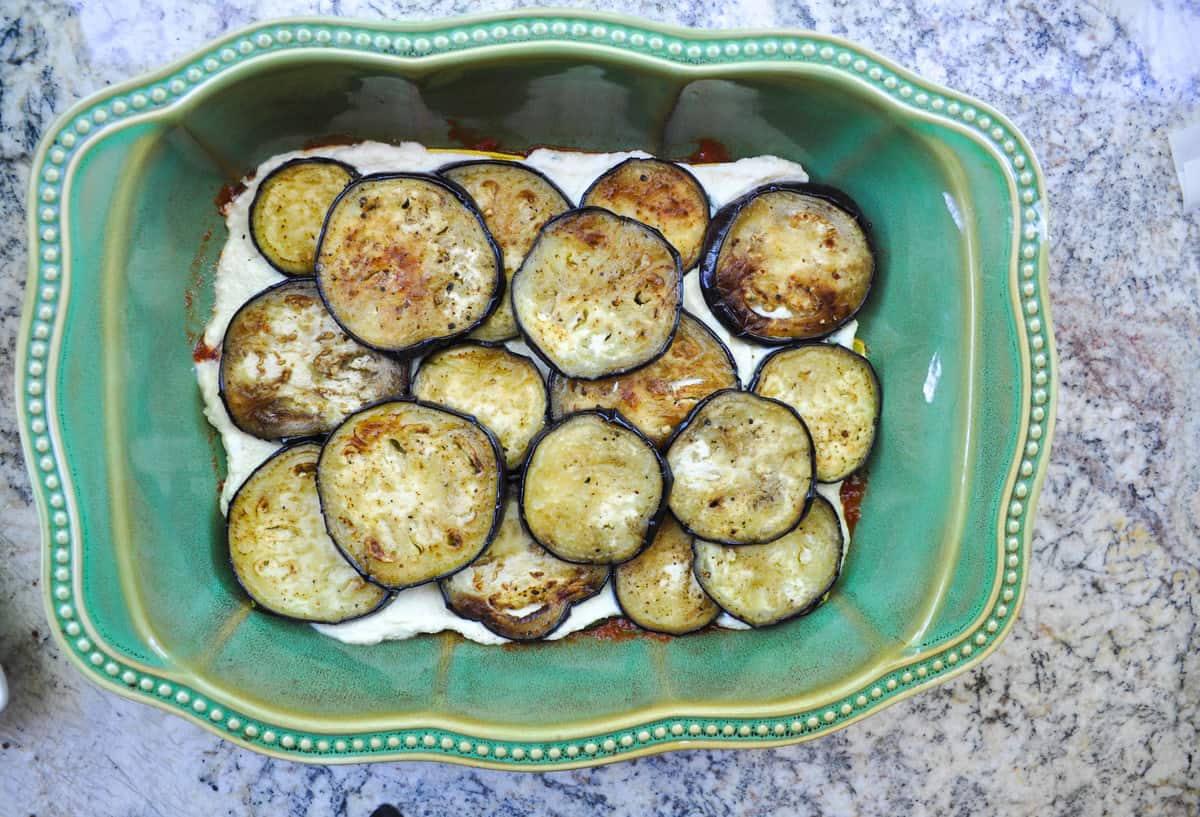 Sautéed eggplant.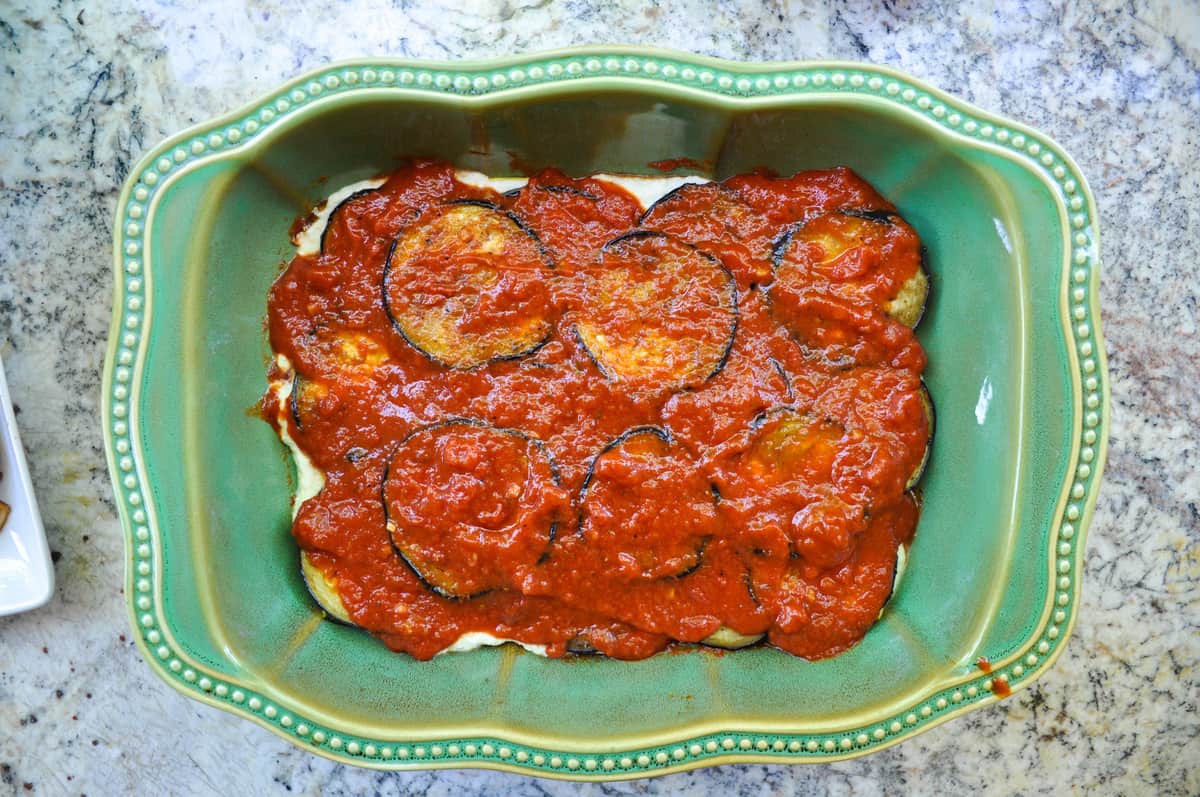 A layer of sauce.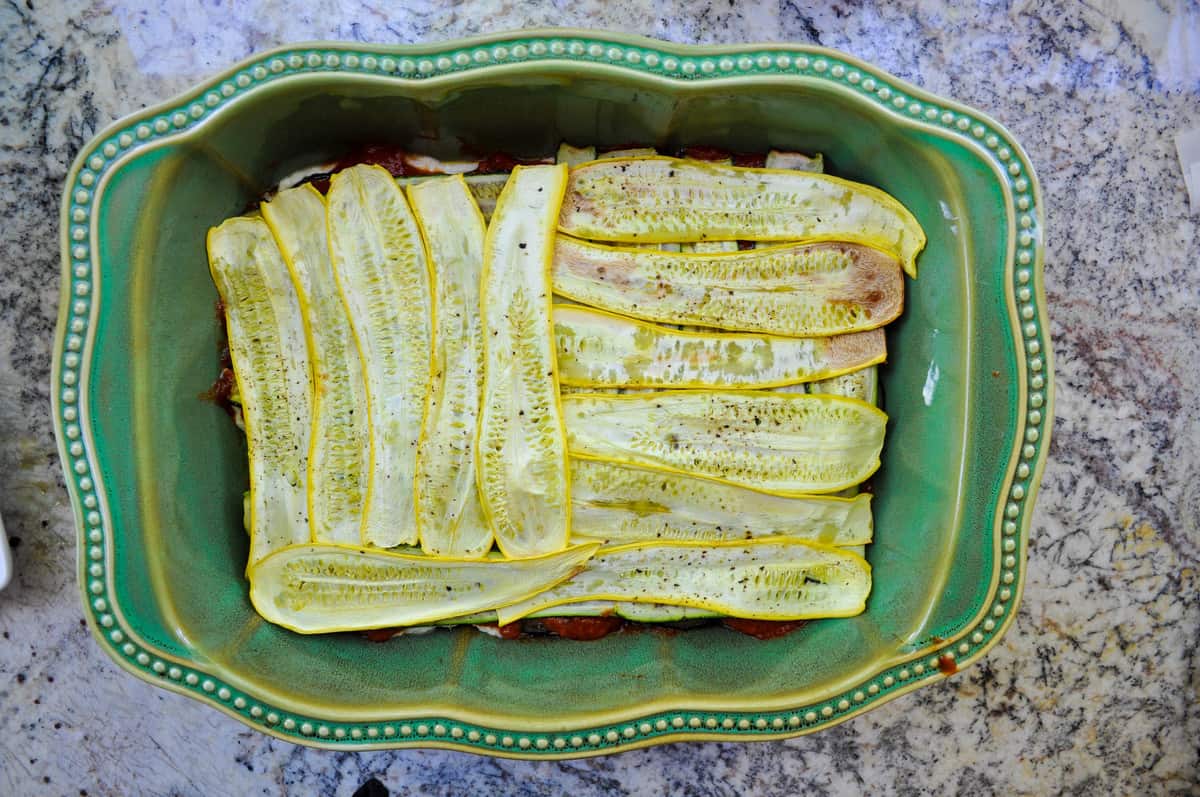 And repeat! Another layer of both colored zucchinis.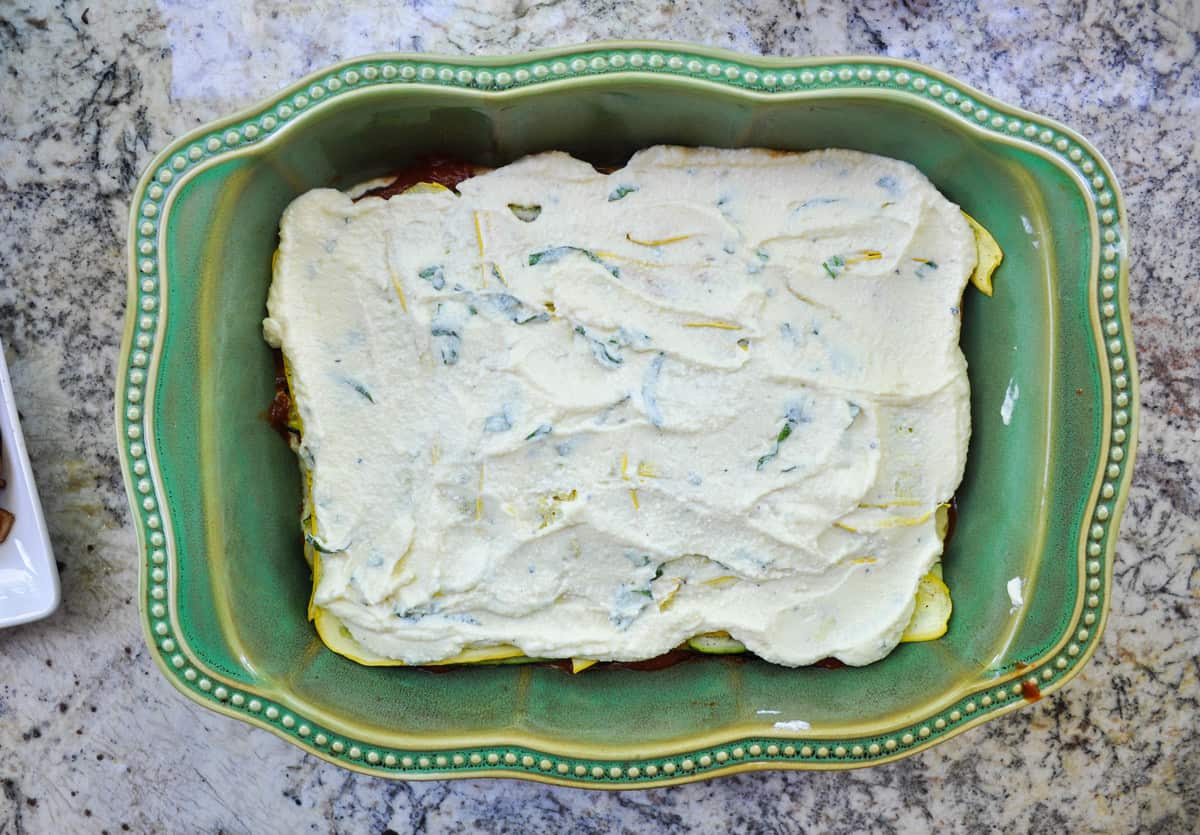 Cheese mixture.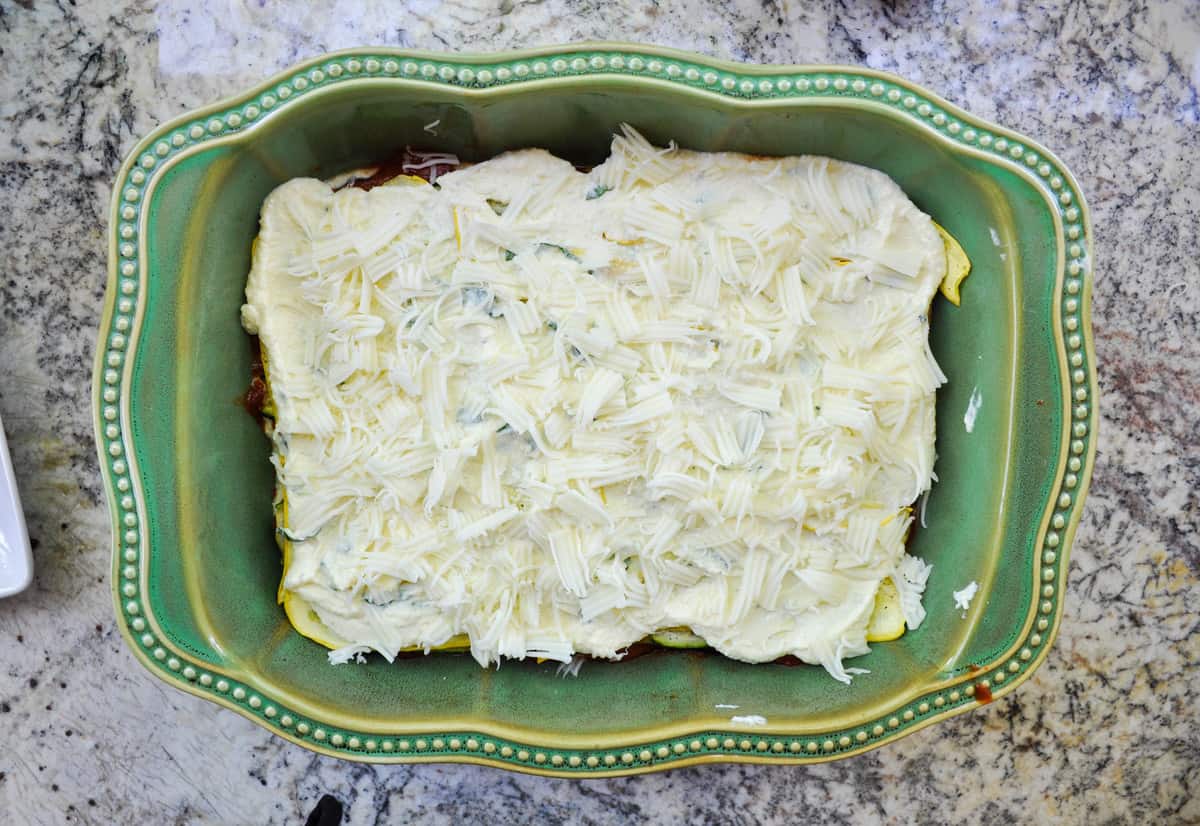 This time I added a layer of shredded mozzarella.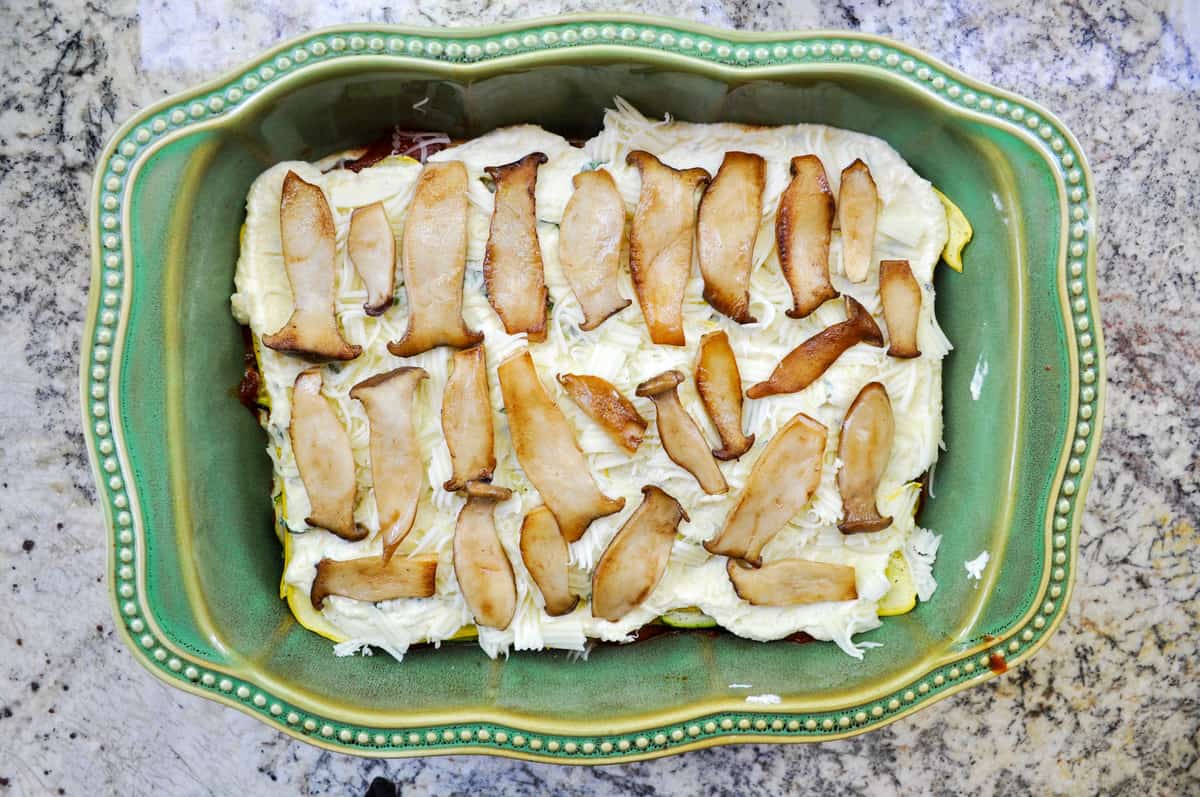 Then those fabulous trumpet mushrooms.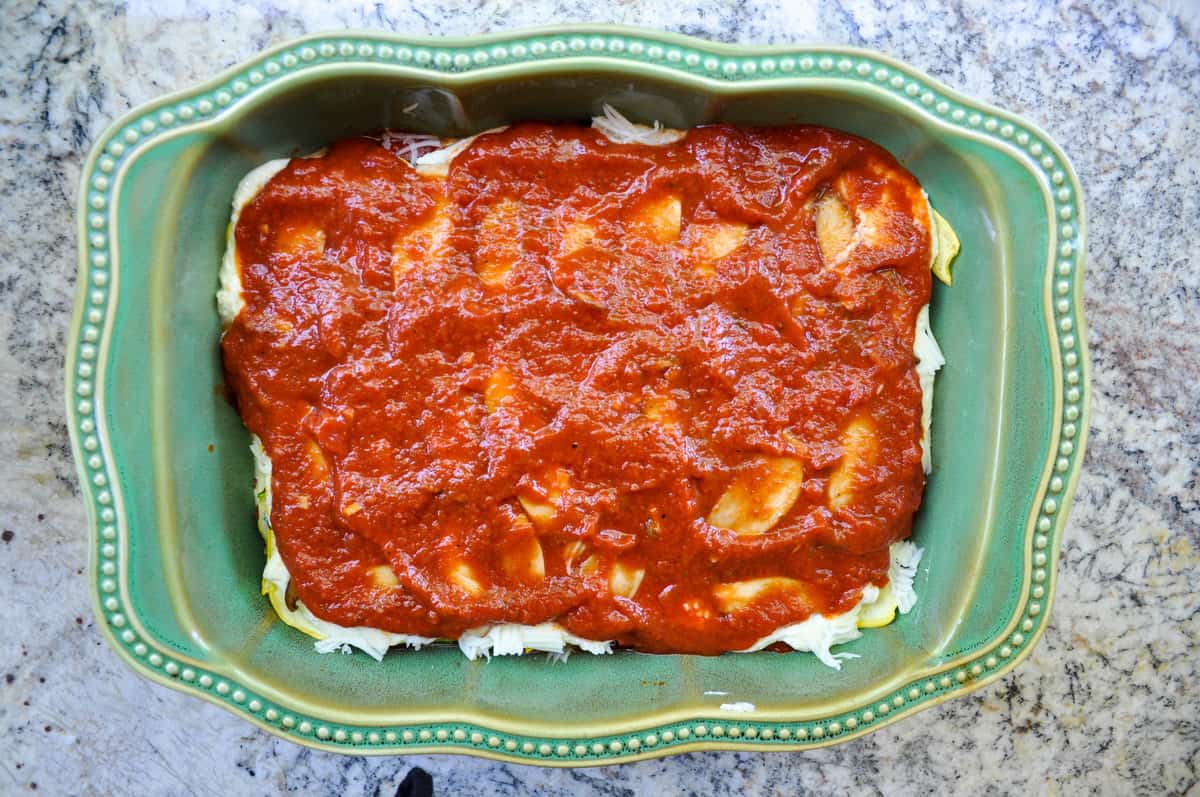 Last layer of sauce.
And top it all off with another layer of shredded mozzarella and a bit of parmesan.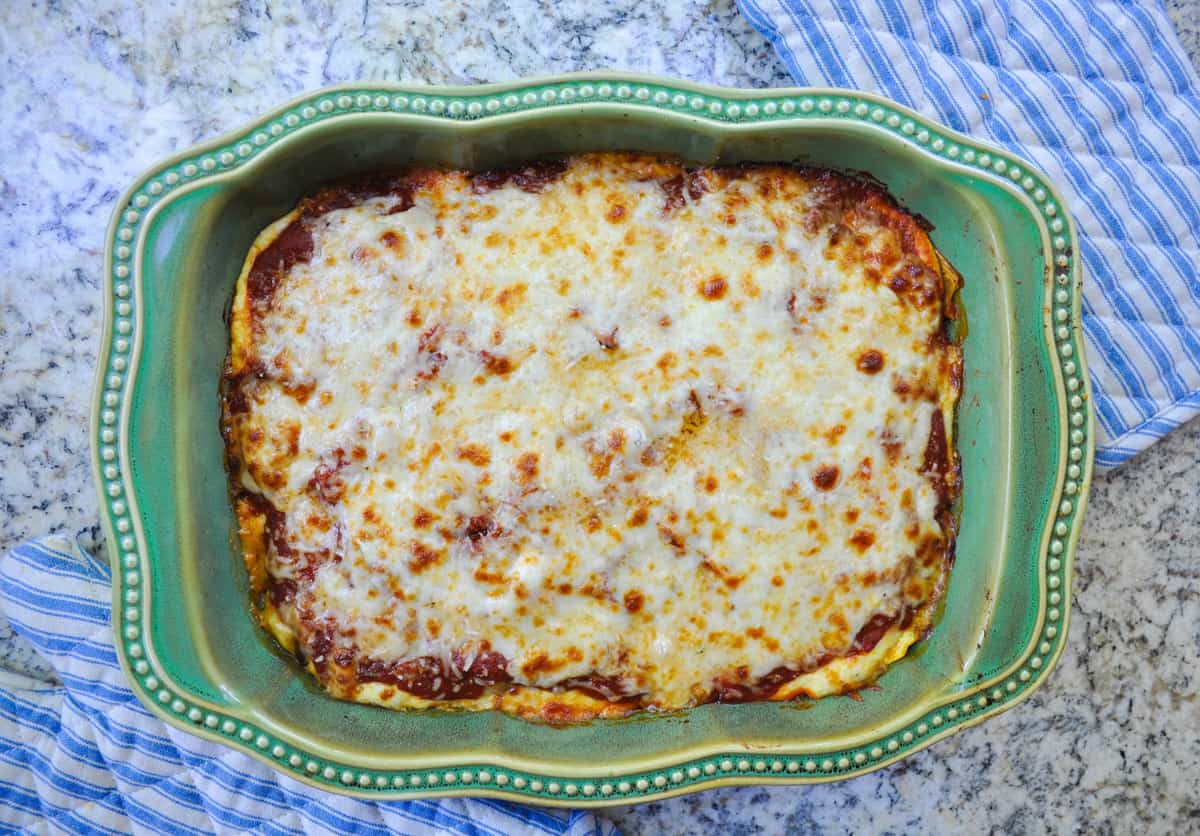 Bake at 350 for 30 minutes. Allow to cool for 10 minutes and serve…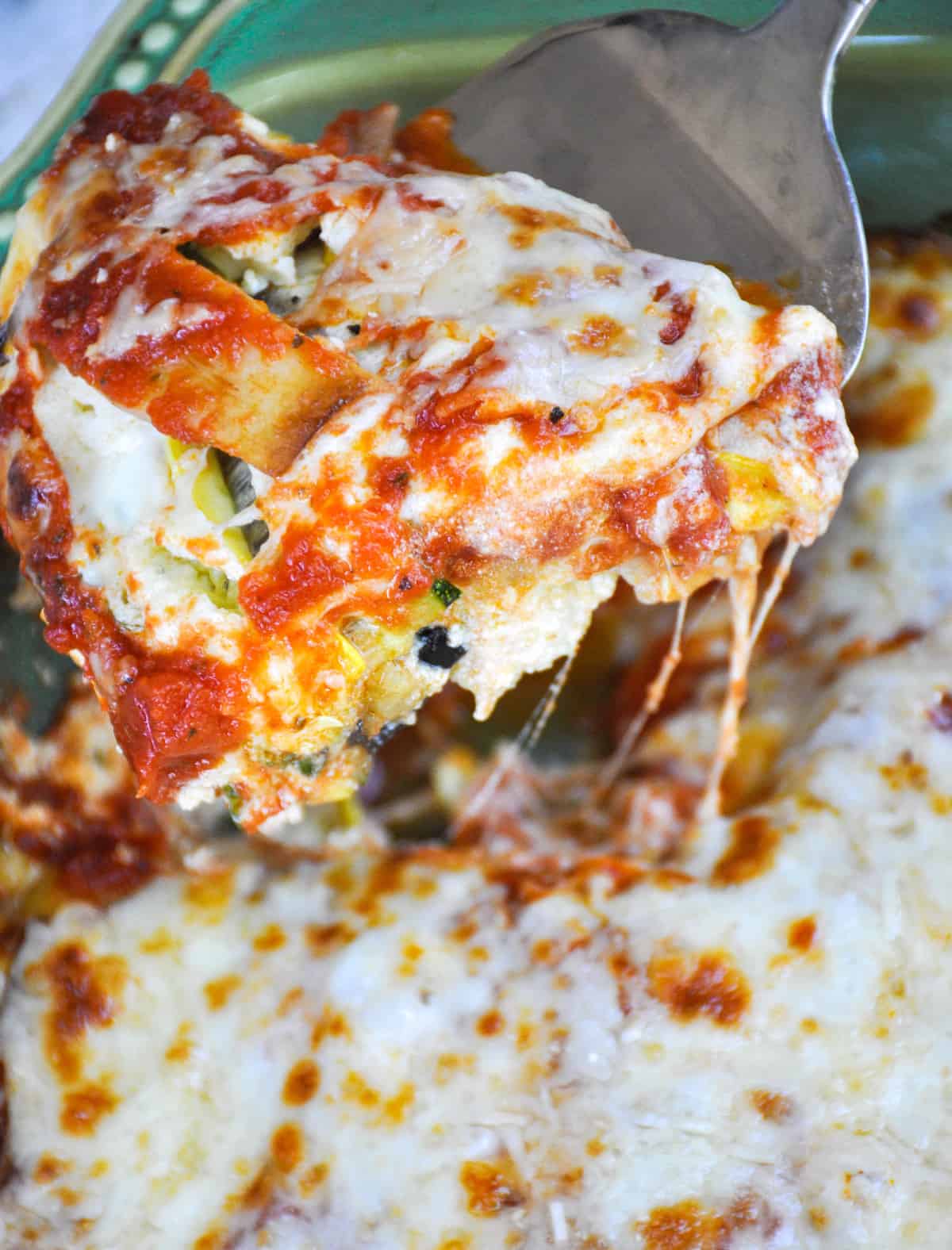 Just look at that veggie cheesy goodness…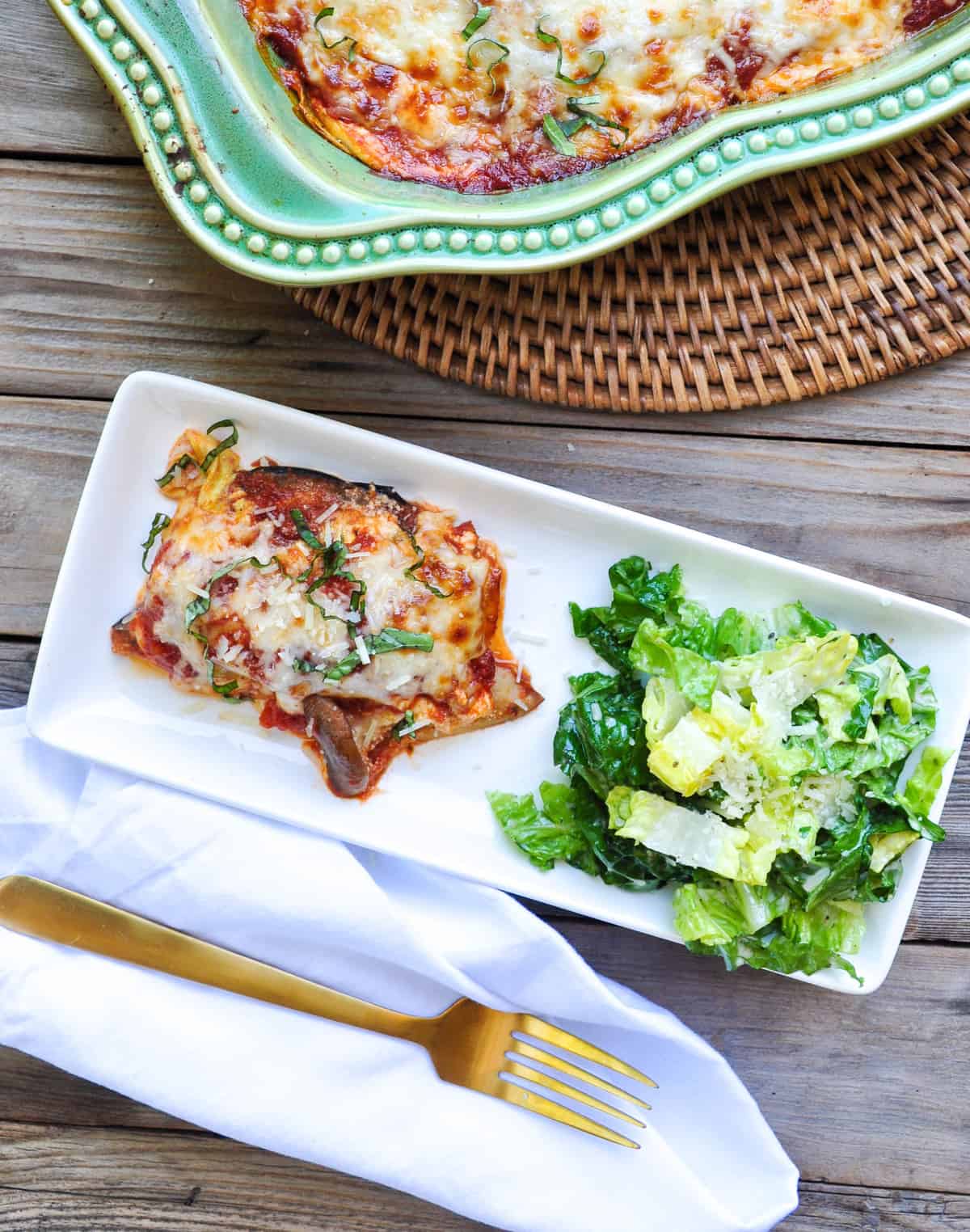 It really can't be beaten…and what a way to use a load of fresh, local, in-season veggies.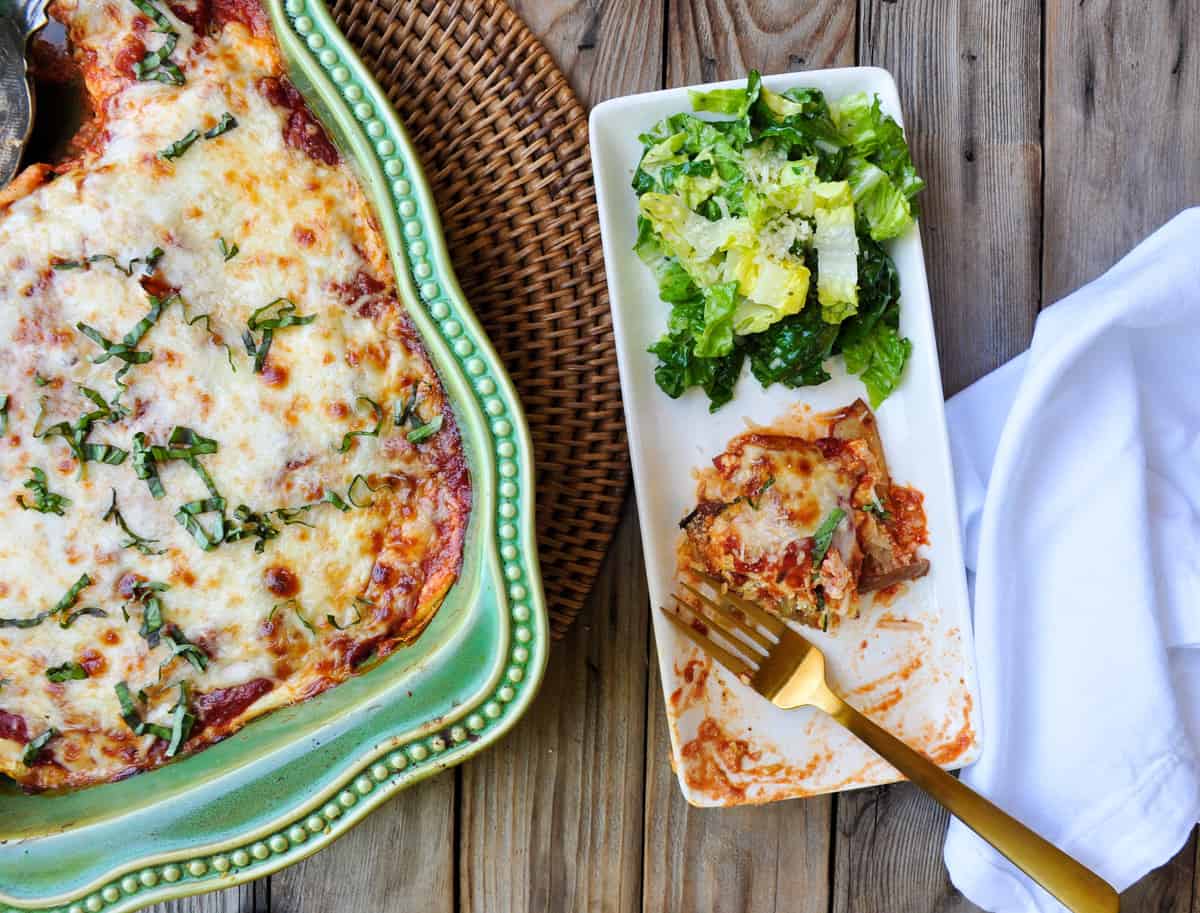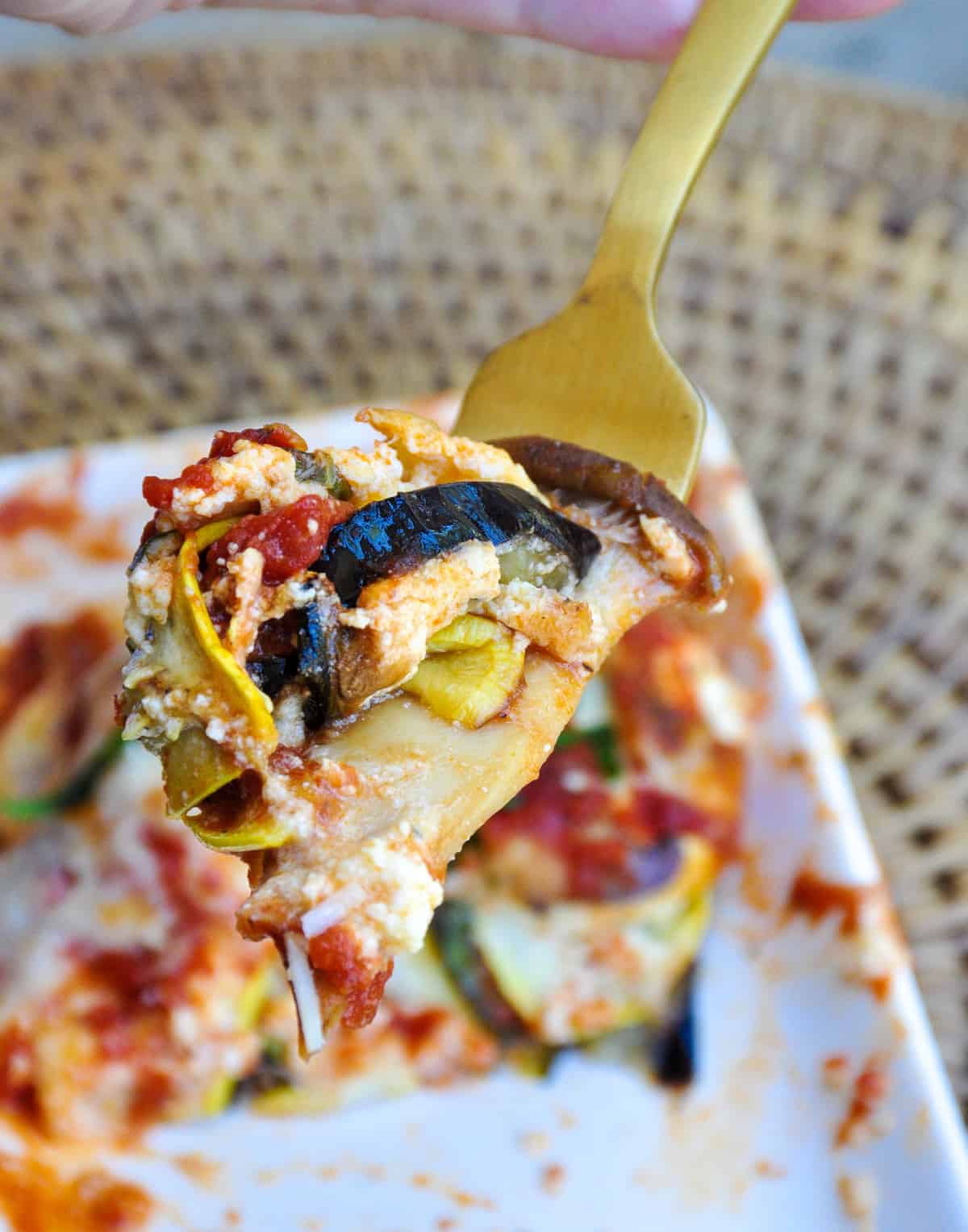 Eat up!
Here is the recipe for ya…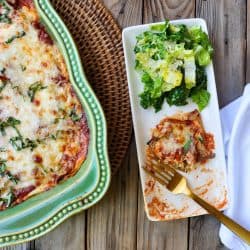 Fresh Veggie Lasagna using Zucchini and Mushrooms
Ingredients
2 Green Zucchini, sliced 1/8" thin, lengthwise
2 Yellow Squash, sliced 1/8" thin, lengthwise
1 Eggplant, sliced crosswise into 1/4" rounds
8 oz. Trumpet Mushrooms (about 6-7), sliced lengthwise
1 15 oz. Ricotta Cheese Container
1 cup Parmesan Cheese, divided
2 Eggs
10-20 Fresh Basil Leaves, chopped
1 jar Spaghetti Sauce (I used half of the jar)
12 oz. Mozzarella Cheese, shredded
Salt and Pepper
Olive Oil
Instructions
Preheat oven to 400 degrees.

Place the sliced squash onto cookie sheets and dust with salt and pepper. Cook in the oven until edges start to brown and moisture looks evaporated, about 10 minutes.

Sauté the mushrooms in a bit of olive oil until slightly browned.  

Sauté the eggplant in olive oil until browned but still firm.

In a bowl, combine the ricotta, 1/2 cup parmesan, the eggs, 1/2 the basil (about 1/4 cup packed) and a bit of salt and pepper. Stir until well combined.

Place a small amount of jarred sauce on the bottom of a baking dish.

Layer in this order; green zucchini, yellow squash, 1/2 ricotta mixture, eggplant, sauce, green zucchini, yellow squash, 1/2 ricotta, 4 oz. shredded mozzarella, mushrooms, sauce, 8 oz. mozzarella and the last 1/2 cup of parmesan.

Place in a decreased temperature 350 oven for 30 minutes.

Allow to cool for 10 minutes. Slice and serve up with a side salad.
SaveSaveSaveSave
SaveSave
SaveSave
SaveSave
SaveSave
SaveSave
SaveSave