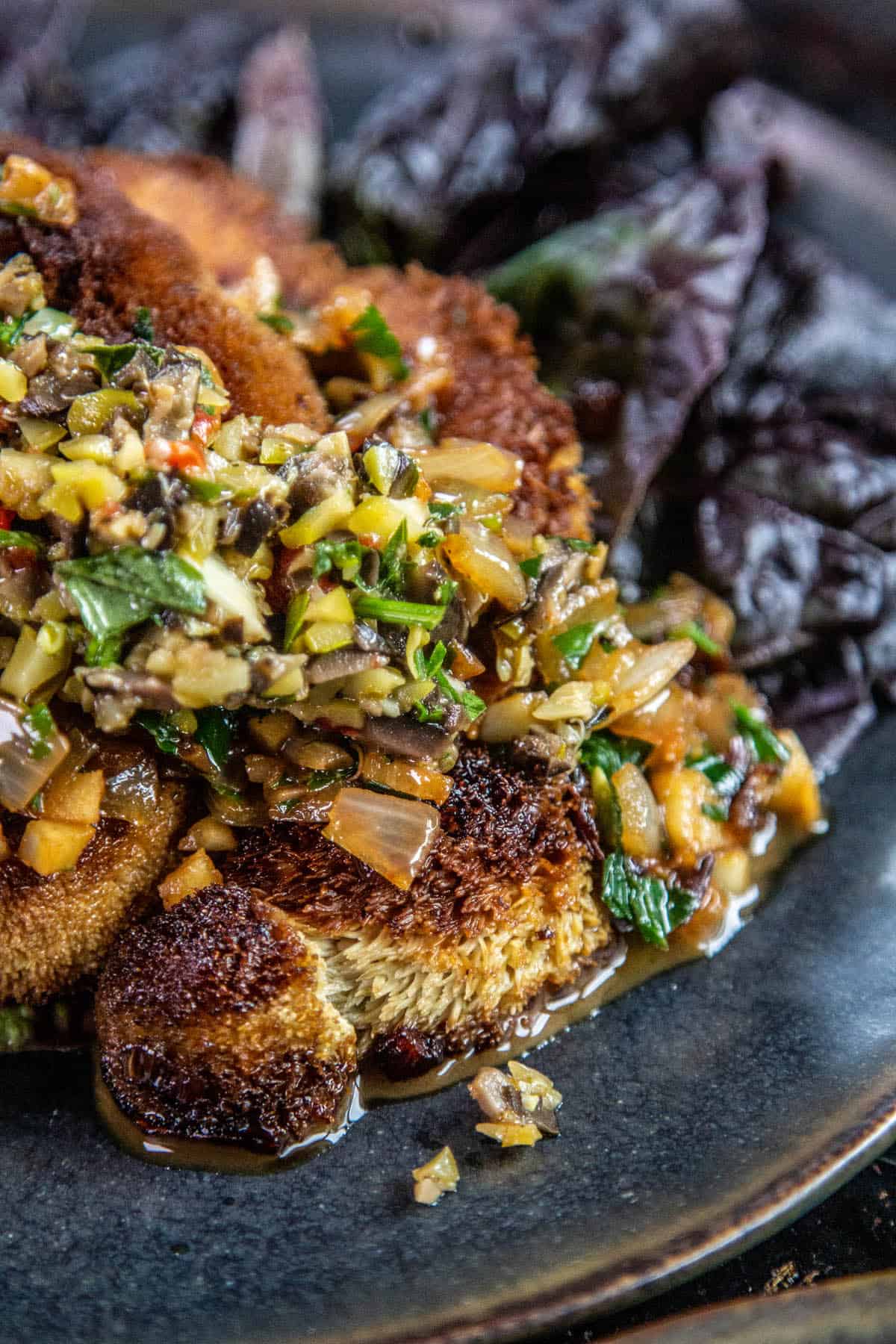 CA GROWN Blog
Discover. Learn. Connect.
The Best Mushroom Steak You Will Ever Make!
August 16, 2022
Eat the Season!
Sign Up For Weekly Recipes
« Back to Recipes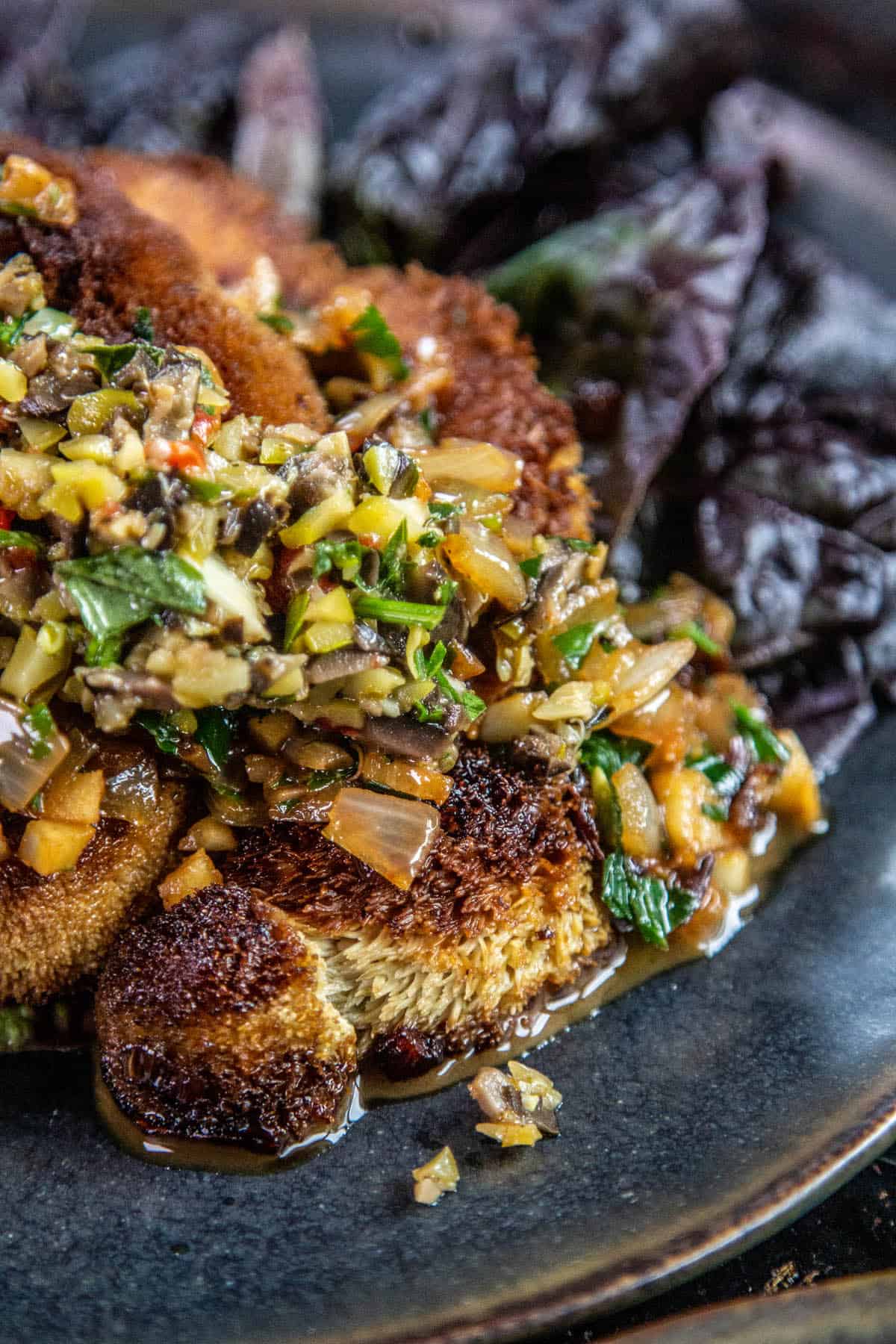 The Best Mushroom Steak You Will Ever Make!
This Lion's Mane Mushroom Steak is the vegetarian equivalent of a juicy Filet Mignon. Meticulously seasoned and cooked to perfection, this recipe for mushroom steak requires a steak knife and a hearty appetite. Consider yourself hungry!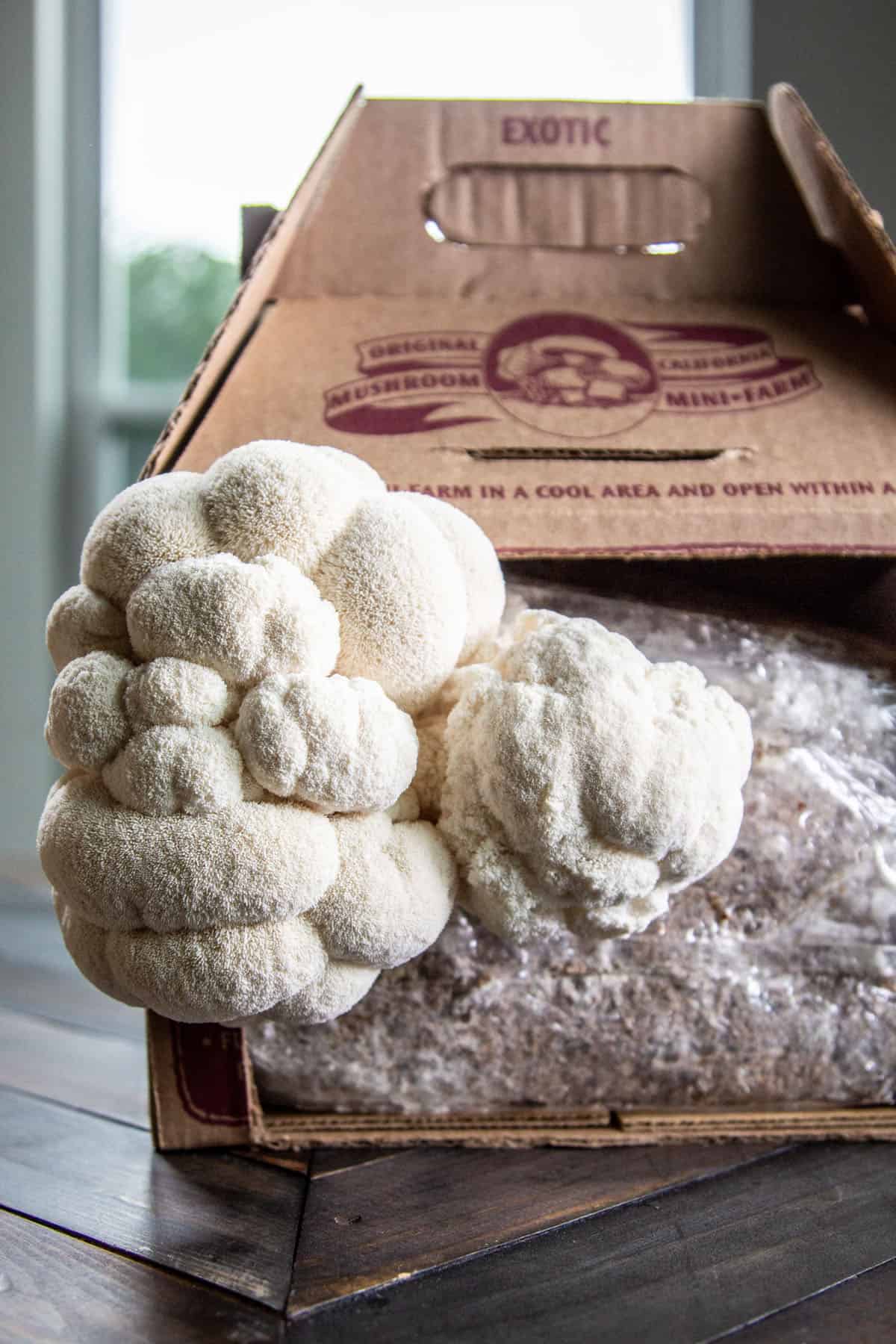 Before we get too far into explaining the steps to take that transform a Lion's Mane mushroom into a delicious mushroom steak, it is important to know how mushrooms grow.
How are mushrooms grown commercially in California?
Far West Fungi is located in Moss Landing, California on a bluff above the Pajaro River. The cool, moist seaside climate is perfect for growing mushrooms. They grow about 52 different varieties of exotic mushrooms which are offered throughout the year.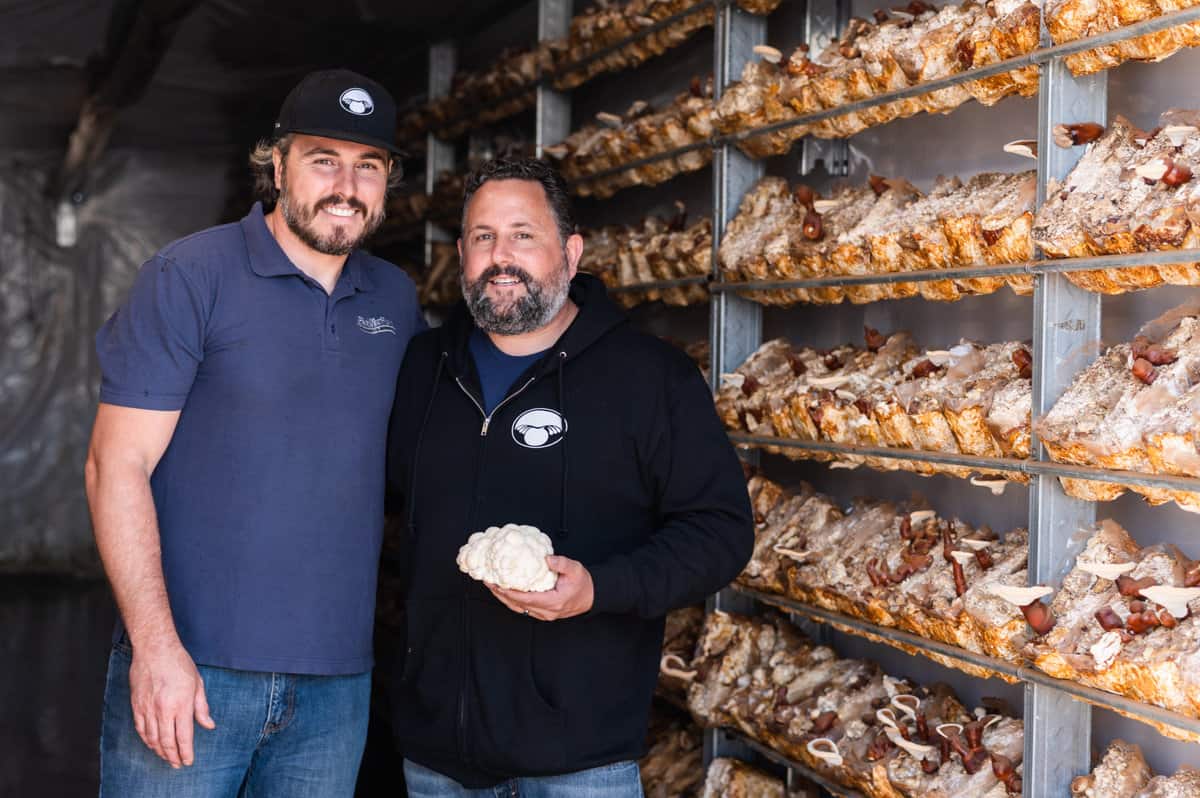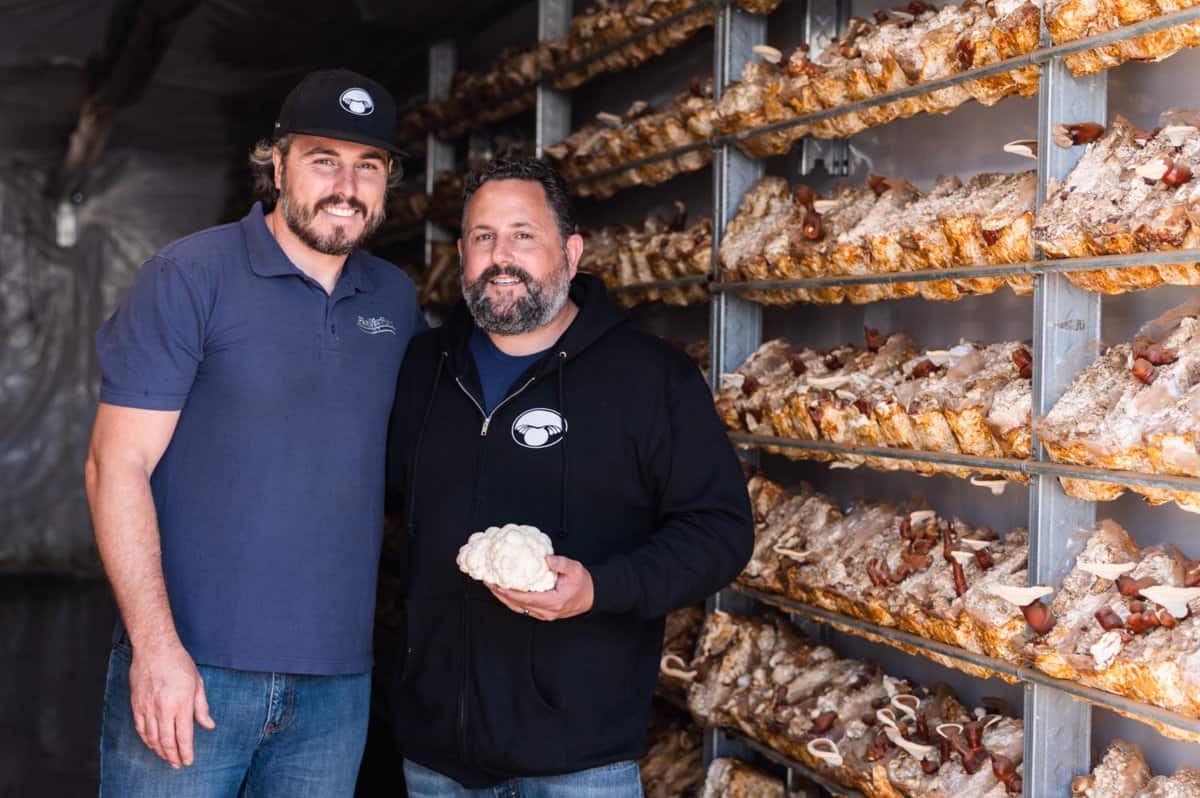 Learn How Mushrooms Are Grown at Far West Fungi
"Now is an exciting time, because it seems like more people are interested in eating mushrooms, using mushrooms for medicine, and definitely we're seeing a mushroom boom going on in the industry. It's very exciting to be part of that right now," Kyle Garrone.
Far West Fungi's largest production is shiitake and oyster mushrooms. They also grow king trumpet, lion's mane, maitake, reishi, and pink and yellow oyster mushrooms.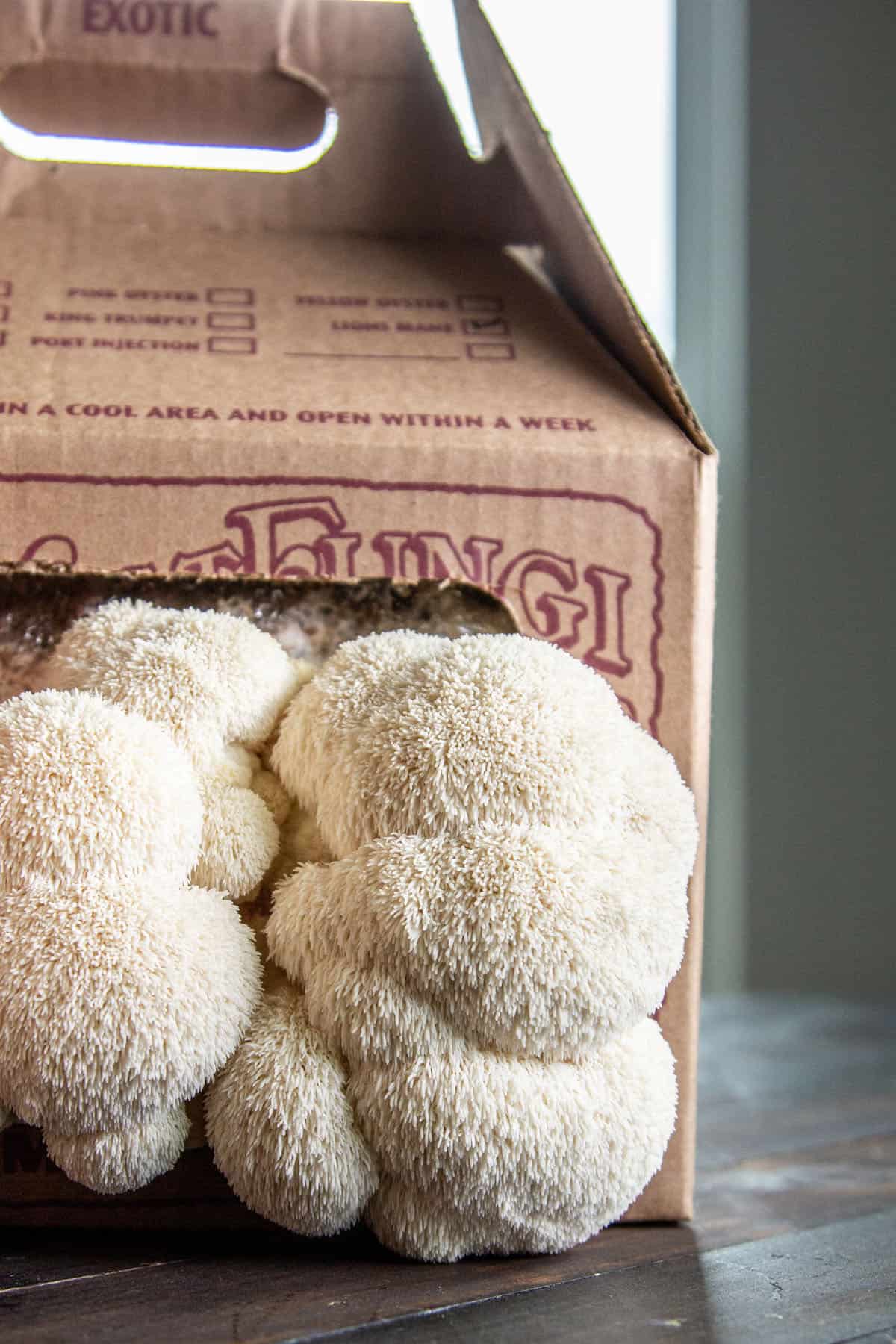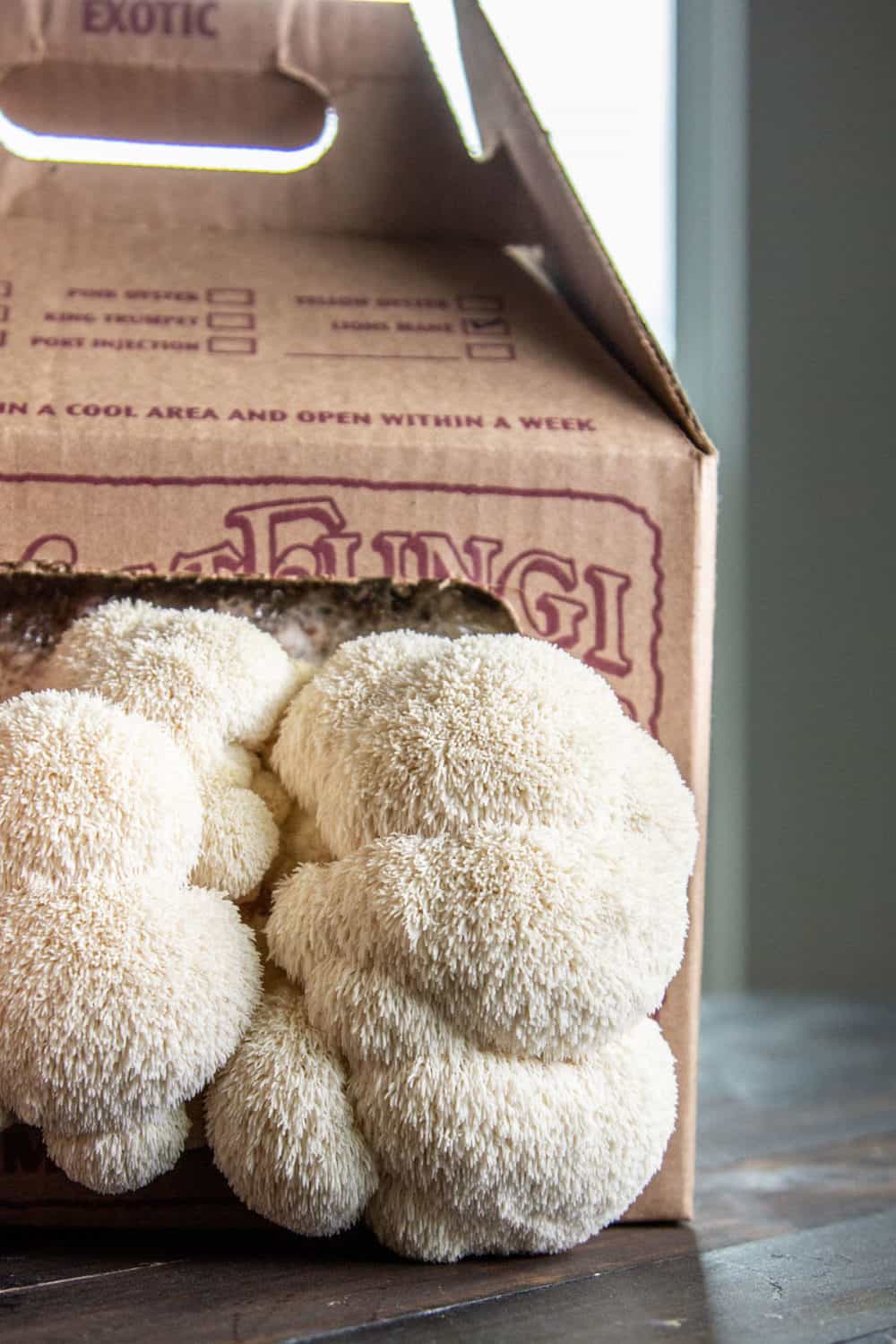 What is a Lion's Mane Mushroom?
One of the medicinal mushroom powerhouses, Lion's Mane mushrooms is often mistaken for cauliflower, as it grows in fuzzy, fractal white puff balls.
Lion's Mane mushrooms contain bioactive substances that have beneficial effects on the body, especially the brain, heart, and gut.
Right now research is being conducted into the possible medicinal effects of Lion's Mane mushrooms against dementia and Alzheimer's disease, neurological disorders, and even how they can help with depression and anxiety.
Where to buy Lion's Mane Mushrooms
You can buy Lion's Mane mushrooms in grocery stores along with other fresh specialty mushrooms and often you can find them at farmers' markets. You can also forage for wild Lion's Mane, or grow them at home like we did for this Lion's Mane Mushroom Steak recipe!
Far West Fungi grows specialty mushrooms and forages for other types of mushrooms. If you're in the San Francisco Bay Area, you can find them in the Ferry Plaza Market or at other farmers' markets in the surrounding area.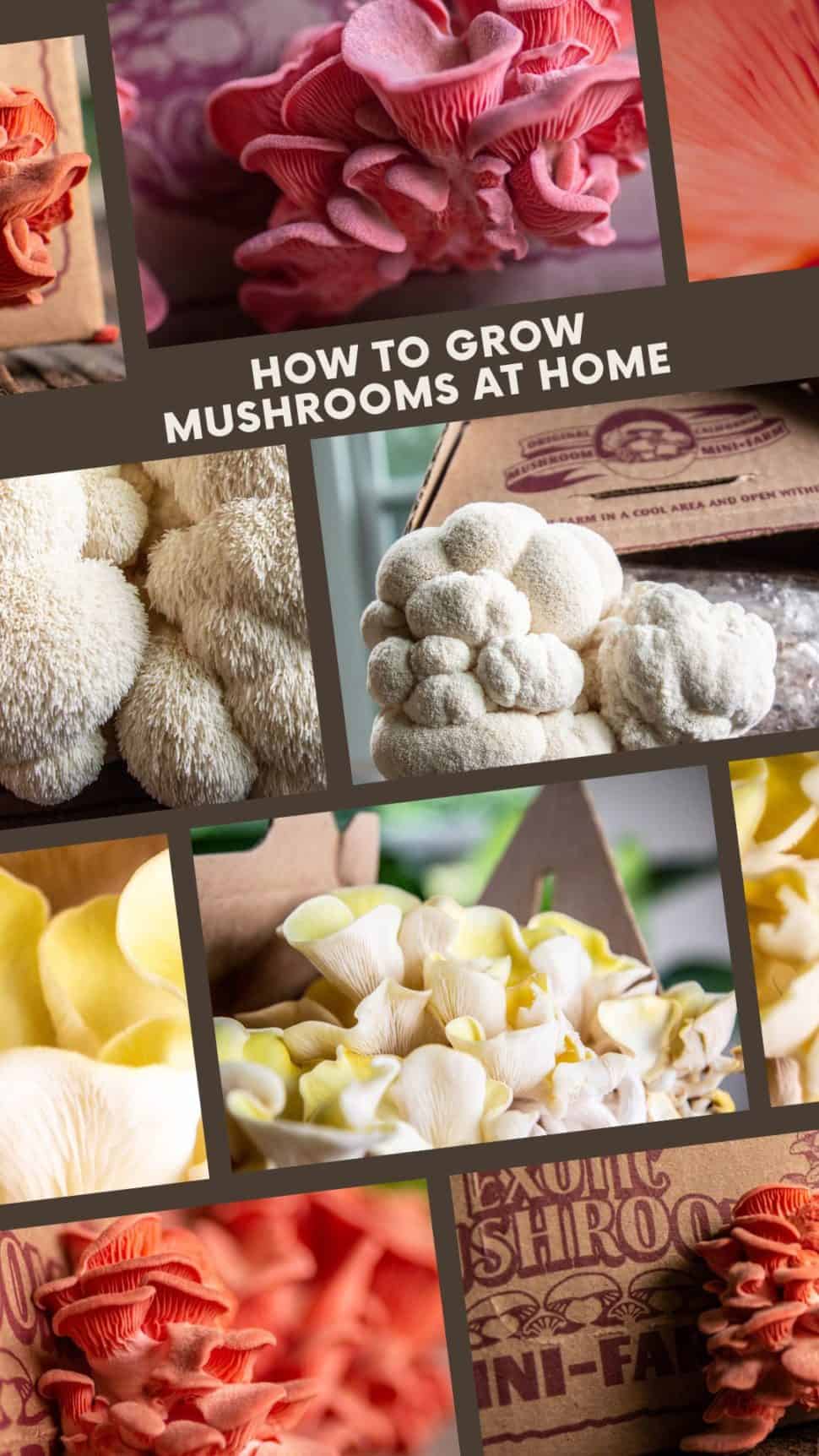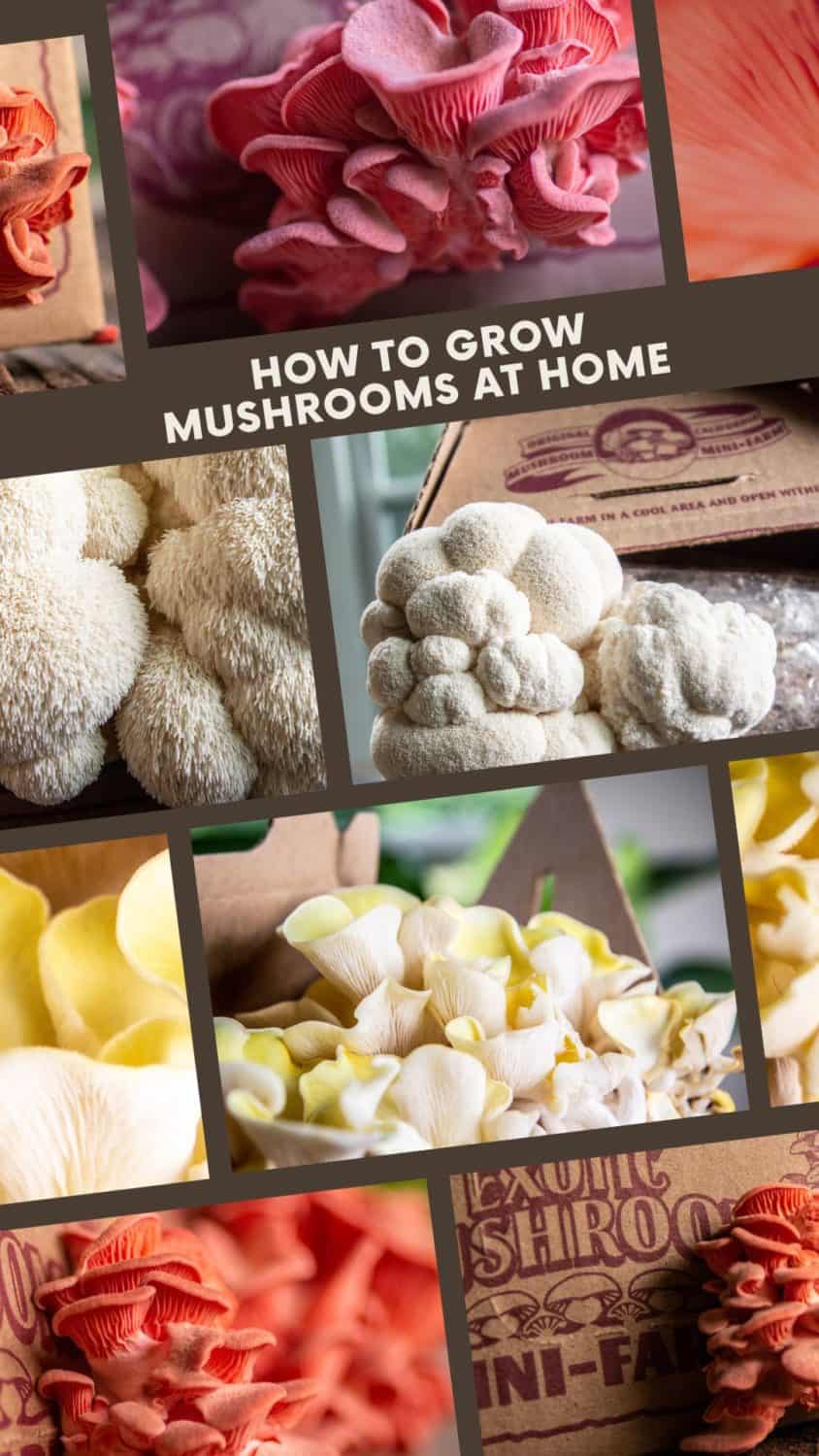 Growing mushrooms at home is far easier than you think.
This Mess is Ours grew 3 types of mushrooms at home Pink & Yellow Oyster Mushrooms, and the Lion's Mane mushrooms you see pictured throughout this post and used in the recipe.
She shared all the ins and outs of growing mushrooms at home in her latest blog post.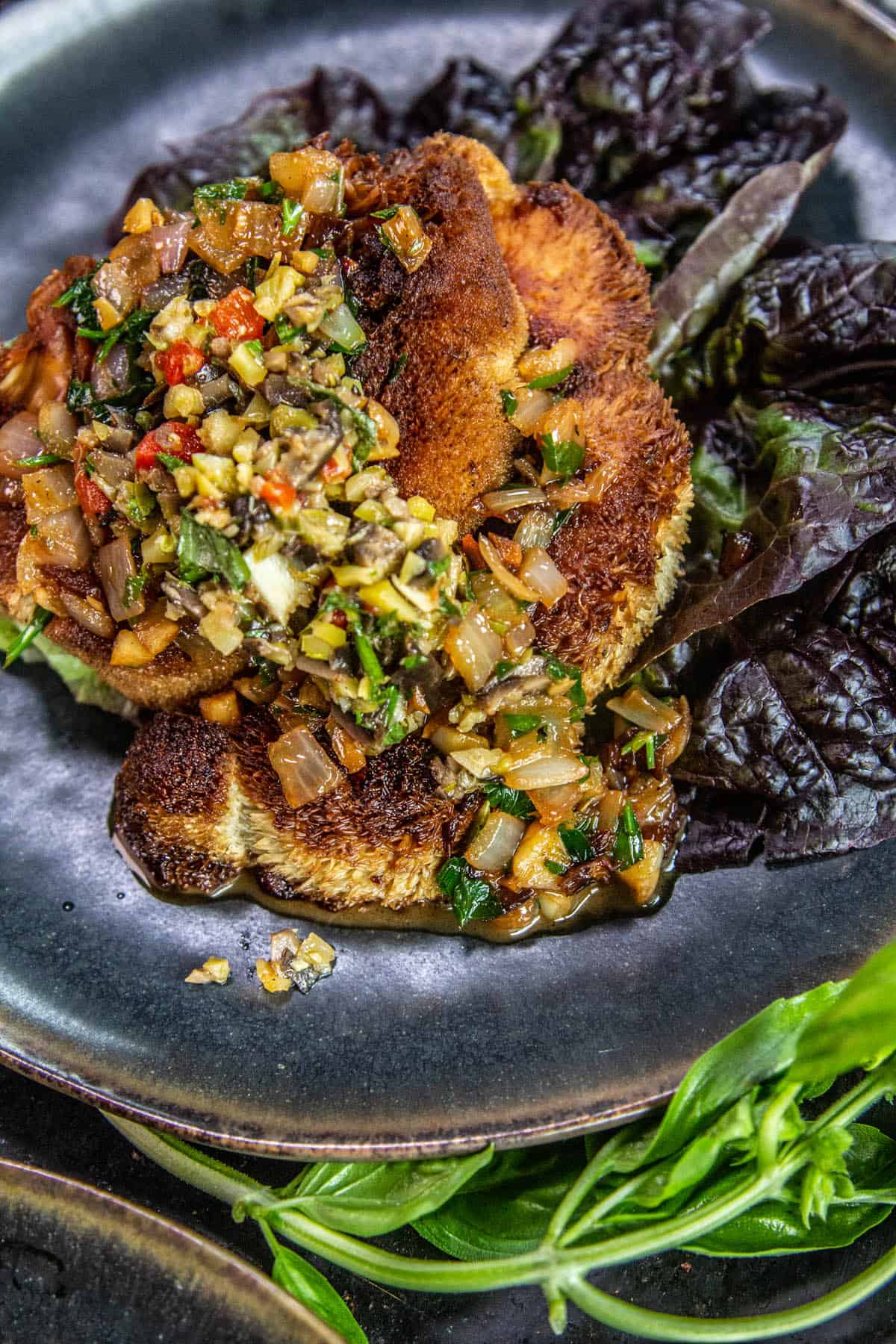 How to eat a Lion's Mane mushroom.
You can eat lion's mane mushrooms both raw and cooked or you can rehydrate dried lion's mane mushrooms to use in your favorite recipes.
What is the easiest way to cook a Lion's Mane mushroom?
Lion's Mane mushrooms lend themselves to all sorts of applications, but quite possibly the easiest preparation of them all is the most delicious.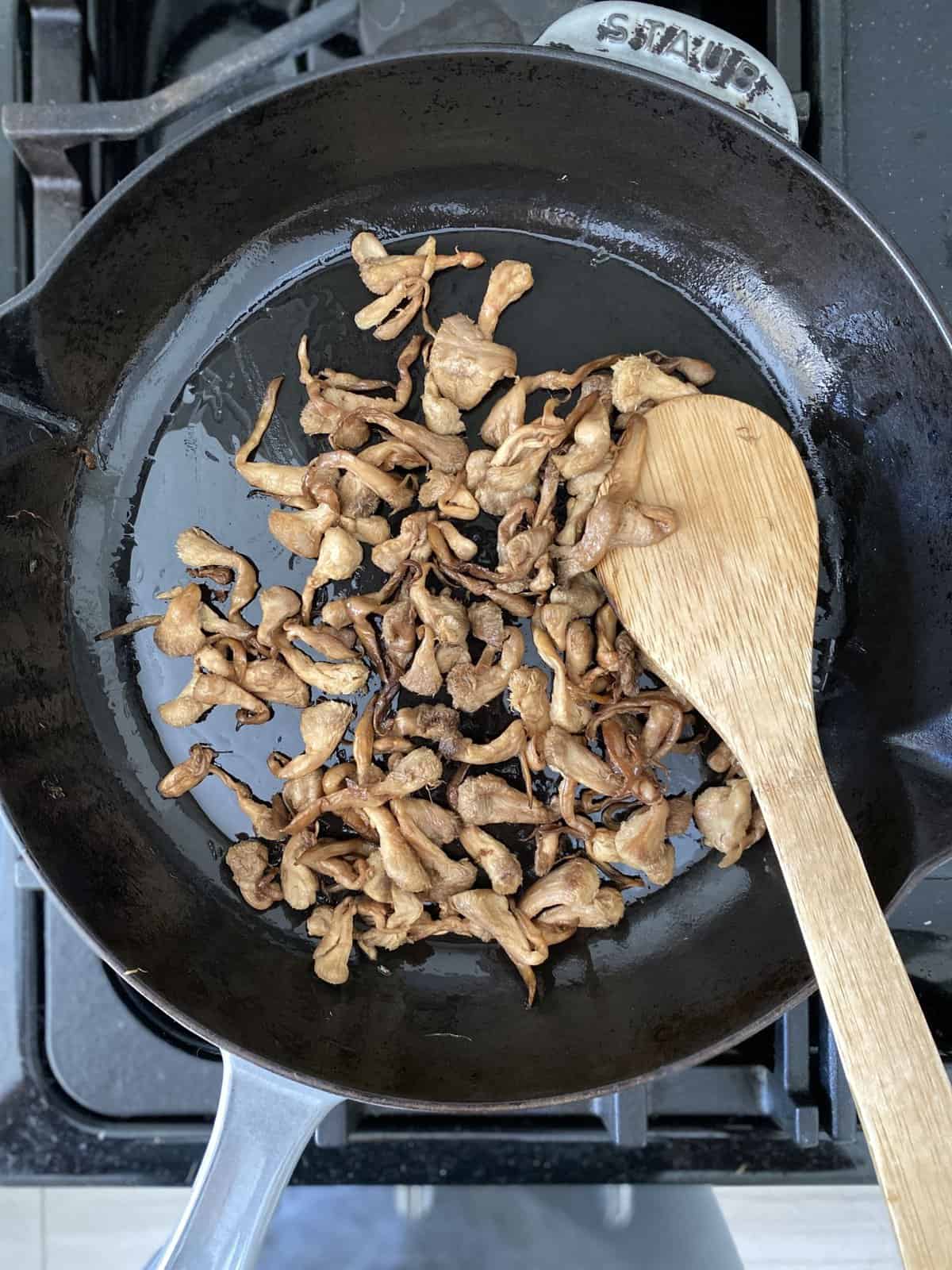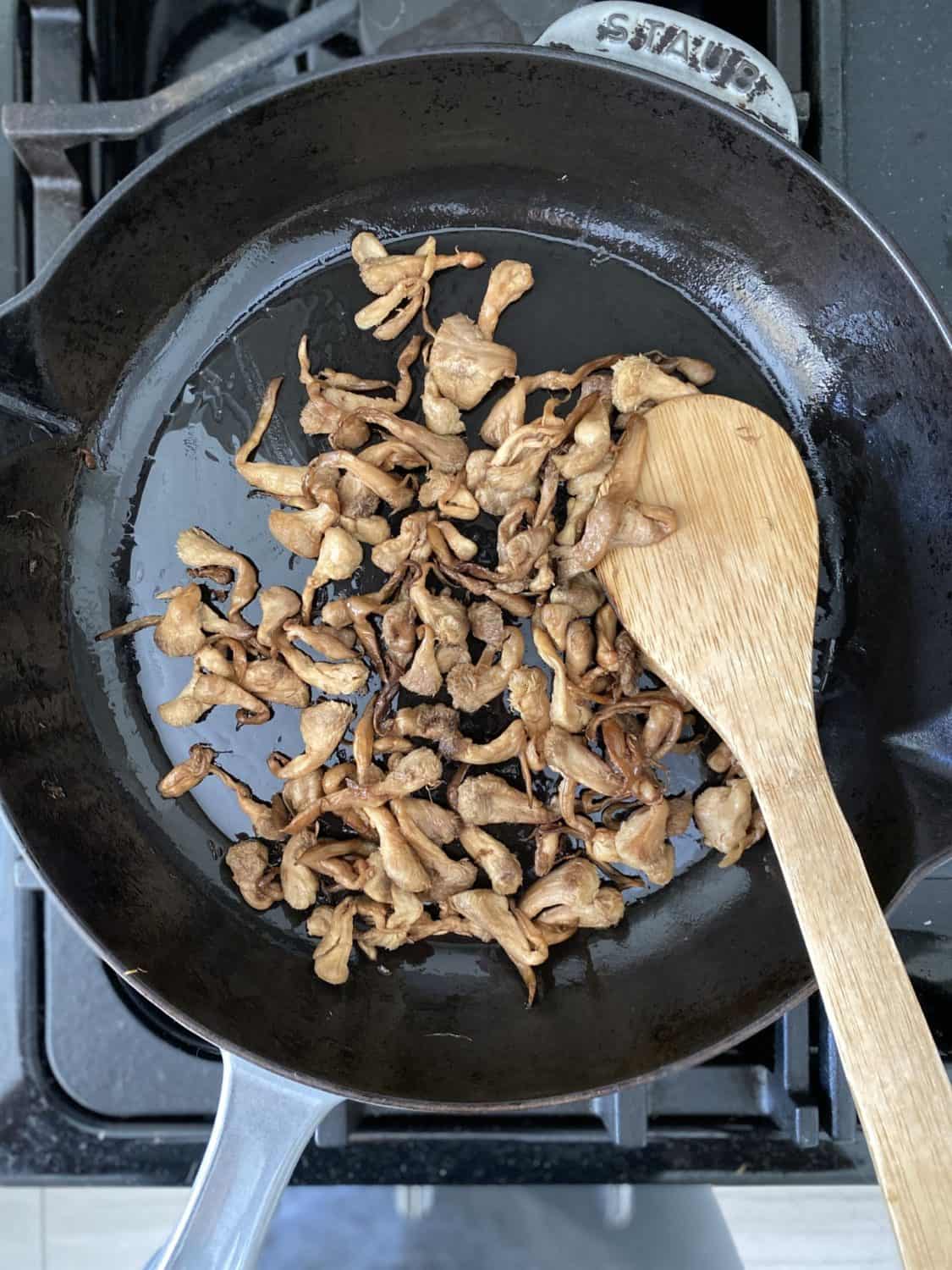 According to The Delicious Life, the best way to cook Lion's Mane mushrooms is actually the simplest.
Here's her lion's mane mushroom recipe for quick sautéing on the stovetop.
The mushrooms will be delicious to eat straight out of the frying pan, or you can use the golden caramelized pieces of lion's mane in other recipes.
We grew our Lion's Mane mushroom kits specifically with harvesting mushroom steak-sized Lion's Mane mushrooms in mind. We are all BIG fans of cauliflower steaks around here and couldn't stop thinking about how that Lion's Mane mushrooms would be delicious cooked in the same way.
Looking for more mushroom recipes to try?
You can never have too many mushroom recipes, so we perused our California Grown Creators recipe boxes for mushroom recipes and this is what we found! A virtual treasure trove of mushroom recipes – simply click on any of the images below to learn more about that delicious recipe with mushrooms.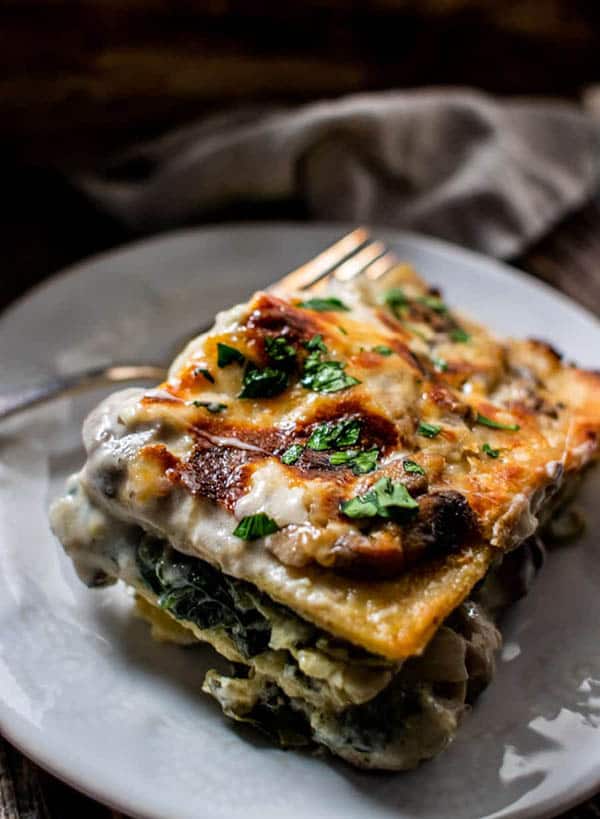 Have you tried our Lion's Mane Mushroom Steak recipe, or any of these mushroom recipes for yourself?
Share your favorite mushroom recipes with us on social by posting a picture and tagging it #CAGROWN. Craving even more CA Grown goodness? Follow us on Pinterest for fresh and fabulous recipe inspiration!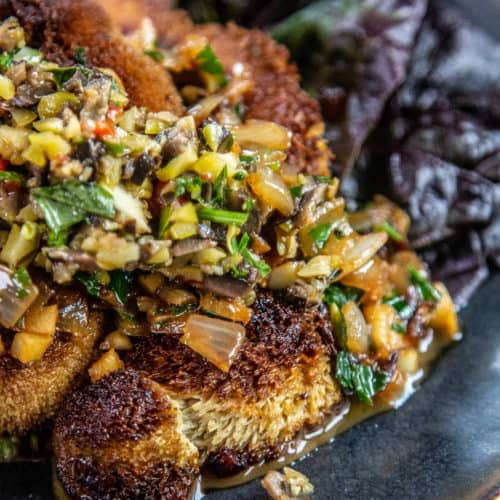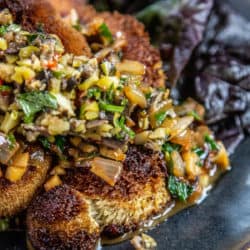 Lion's Mane Mushroom Steak
Our Lion's Mane Mushroom steak recipe is the vegetarian equivalent of a juicy Filet Mignon. Meticulously seasoned and cooked to perfection.
Ingredients
2 tablespoons California olive oil
2 shallots minced
2 cloves garlic minced
2 large Lion's Mane mushrooms or 4 small, sliced into 1-inch thick steak-like slabs
1 tablespoon soy sauce or Tamari if gluten free
3/4 cup white wine from California such as Sauvignon Blanc or Chardonnay. More if needed for deglazing the pan.
3 tablespoons butter
3 tablespoons minced flat-leaf parsley
To serve
2 heaped tablespoons tapenade per mushroom steak if desired. You can use our homemade tapenade recipe or grab one from the store.
leafy greens optional for color
1 teaspoon minced flat-leaf parsley
Instructions
To cook the Lion's Mane Mushroom Steak
Gently heat the olive oil over medium to med-low heat in a large skillet with a tight-fitting lid.

Saute the shallots and garlic in the oil until translucent but not browning. About 3 minutes. Remove the shallots and onion to a small bowl and return the pan to the heat.

Increase the heat to medium-high.To the pan add 1-2 tablespoons of the white wine and 1/2 tablespoon of soy sauce or Tamari to deglaze the pan. Quickly, use a wooden spoon to scrape up any browned bits from the onion and shallots on the bottom of the pan.

Add the mushrooms to the pan, cut side down, and cook as you would a steak. Brown on the first side, for about 1-2 minutes, until golden brown, flip and brown on the other side for about 1.5 – 2 minutes until a golden sear is developing. Now, dollop in the 2 tablespoons of butter, cut into small pieces, all around the pan. Pour in another 2 splashes of wine, about 2 tablespoons, cover with a tight-fitting lid and cook for 2-5 minutes or until the mushroom steak is cooked through to your liking. See note.Remove the cooked mushroom steaks to a serving platter and cover with foil to keep warm.
For the pan sauce that accompanies the mushroom steak
Add the onions and shallots back into the skillet over medium heat. To that, add 1 tablespoon butter, 1 tablespoon of soy sauce or Tamari, and any remaining white wine. Bring to a simmer and cook, occasionally stirring, until the sauce has reduced down by 1/3 and the alcohol from the wine has had a chance to cook out about 2-4 minutes. Remove from the heat.
To serve Lion's Mane Mushroom Steaks
Arrange your favorite leafy greens on serving plates if desired for a pop of color. Add 1-2 pieces of mushroom steak on top. Spoon some of the warm pan sauce over each mushroom steak. Top with 2 tablespoons prepared tapenade per plate if using. Sprinkle with minced parsley. Serve immediately while warm.
Notes
The cook time for your mushroom steaks will depend on how large the Lion's Mane mushrooms were that you started with and will also depend on how thick you sliced the slabs.
Nutrition
Calories: 121kcalCarbohydrates: 5gProtein: 1gFat: 7gSaturated Fat: 1gPolyunsaturated Fat: 1gMonounsaturated Fat: 5gCholesterol: 1mgSodium: 269mgPotassium: 123mgFiber: 1gSugar: 2gVitamin A: 274IUVitamin C: 5mgCalcium: 29mgIron: 1mg
Here are a few more FAQs about mushrooms that you might find handy!
People have lots of questions about mushrooms and for the answers to our most pressing veggie-based questions, we turn to vegetable guru, Jerry James Stone.