Learn How Mushrooms Are Grown at Far West Fungi
A Mushroom Farm with an Ocean View
Mushrooms haven't always been the culinary equivalent of the "It Girl". Even though the New York Times called them the "Ingredient of the Year," mushrooms have been a divisive ingredient that people either love or love to hate. But over the past several years, perhaps in part because pandemic-related food shortages got more people growing their own food or because word is getting out that mushrooms are a healthy powerhouse, mushrooms are big, and exotic mushrooms are even bigger. Do you want to learn how mushrooms are grown? The Garrone family of Far West Fungi has always been passionate about mushrooms; they've been growing and distributing edible fungi for the past 35 years! We recently had a chance to visit their seaside farm in Moss Landing, California.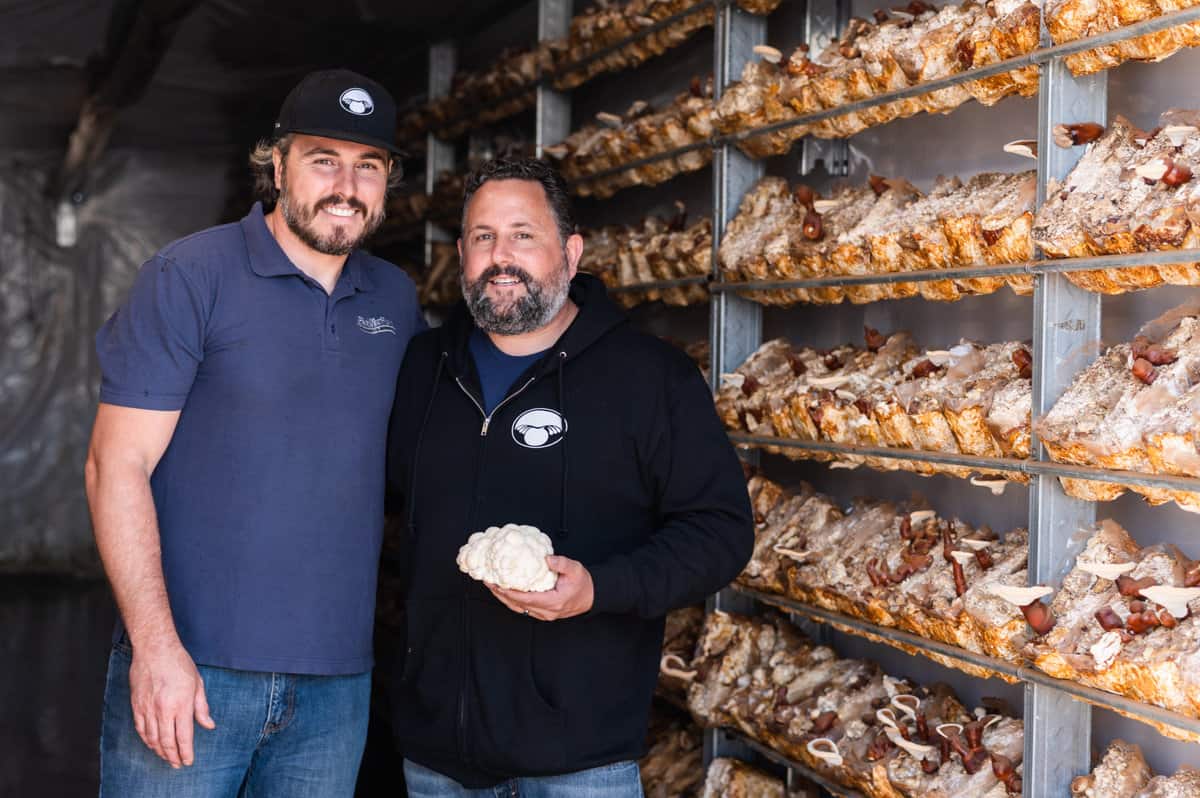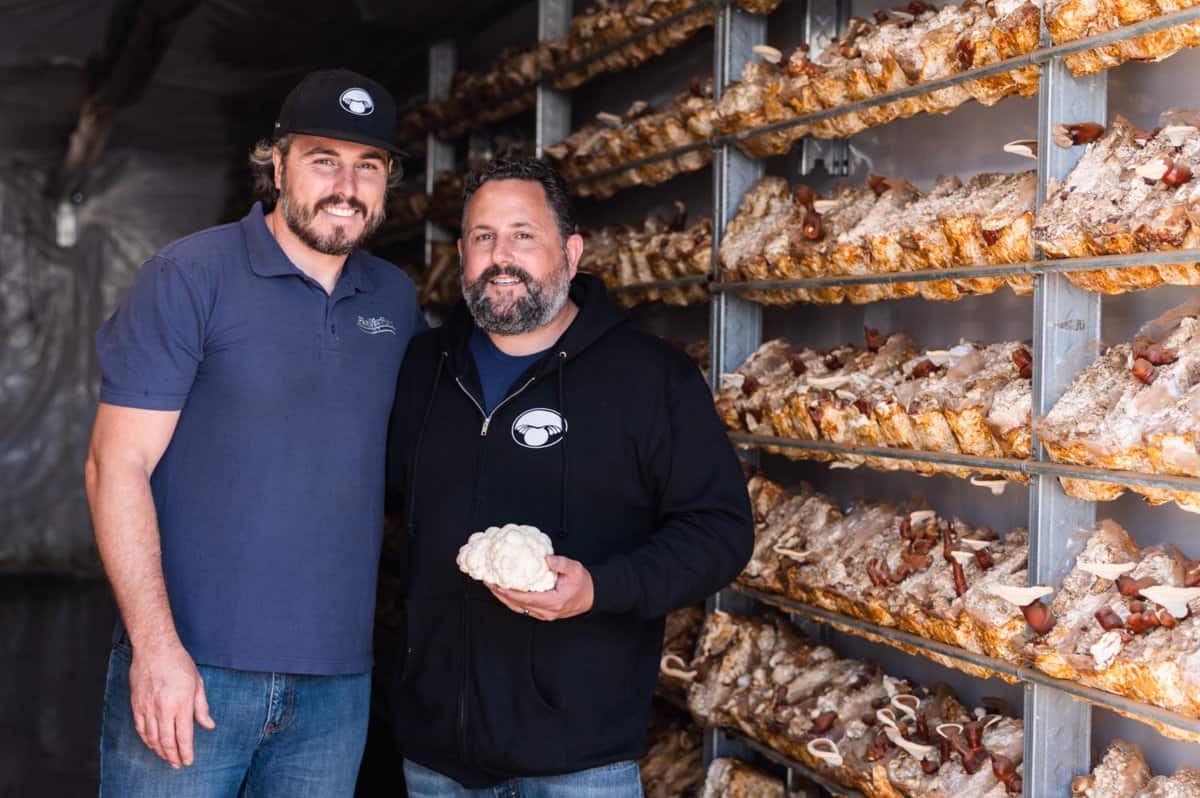 Meet a Mushroom Farmer
When Toby and John Garrone started selling mushrooms out of their Volkswagen camper in the early 80s, they only offered three kinds of mushrooms: button, portabella, and creminis. Back then, there wasn't much of a market for exotic mushrooms.
Over time, as people realized the health benefits of mushrooms and folks have gotten more creative in the kitchen, the demand for more exotic mushrooms has exploded. What once was a small operation run out of their garage, has expanded to an 8-acre farm with 60,000 feet of growing space. Today, their four sons Kyle, Ian, Loren, and Sean also help run the operation.
Even as their operation now includes two retail locations – a brick-and-mortar in Santa Cruz and a shop inside the San Francisco Ferry Building – farmers' markets remain the backbone of their business. The Garrones have always been committed to both mushrooms and organic farming long before it was a popular thing to do. Since the start, they've relied on farmers' markets as a way to introduce their product to the public, get face-to-face interactions with their customers, and give cooking tips. Today, you can find Far West Fungi at about 16 farmers' markets throughout the Bay Area.
At their shop in San Francisco Ferry Building, they offer the full line of exotic mushrooms grown at Far West Fungi. There you can find everything they sell at the farmers market, plus other mushroom products. They sell both farmed and wild mushrooms, tinctures, pickled mushrooms, and dried mushrooms to name a few.
At the Santa Cruz store, people can not only learn about mushrooms and purchase them, but they can also get a quick bite at their cafe, along with recipe and preparation suggestions.
"People don't realize how many flavors and textural properties are in all these different mushrooms, and you can come into our shop and discover that," said Ian Garrone.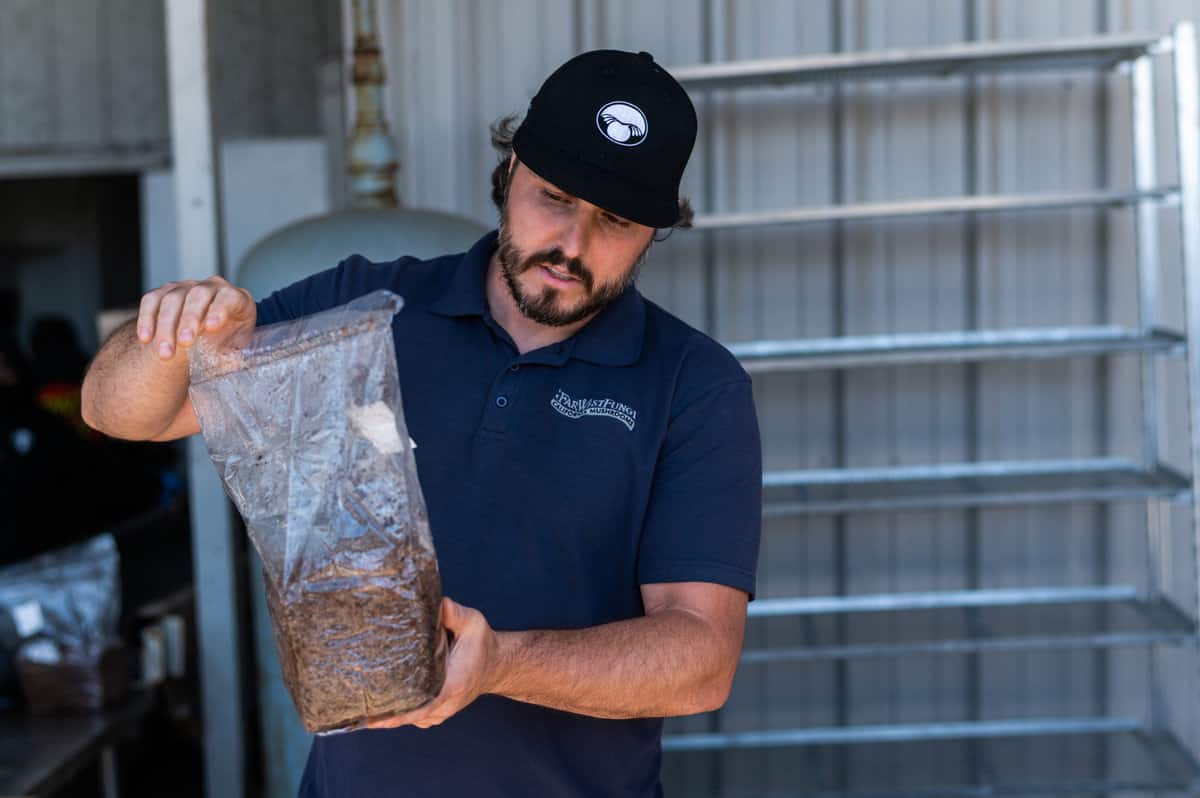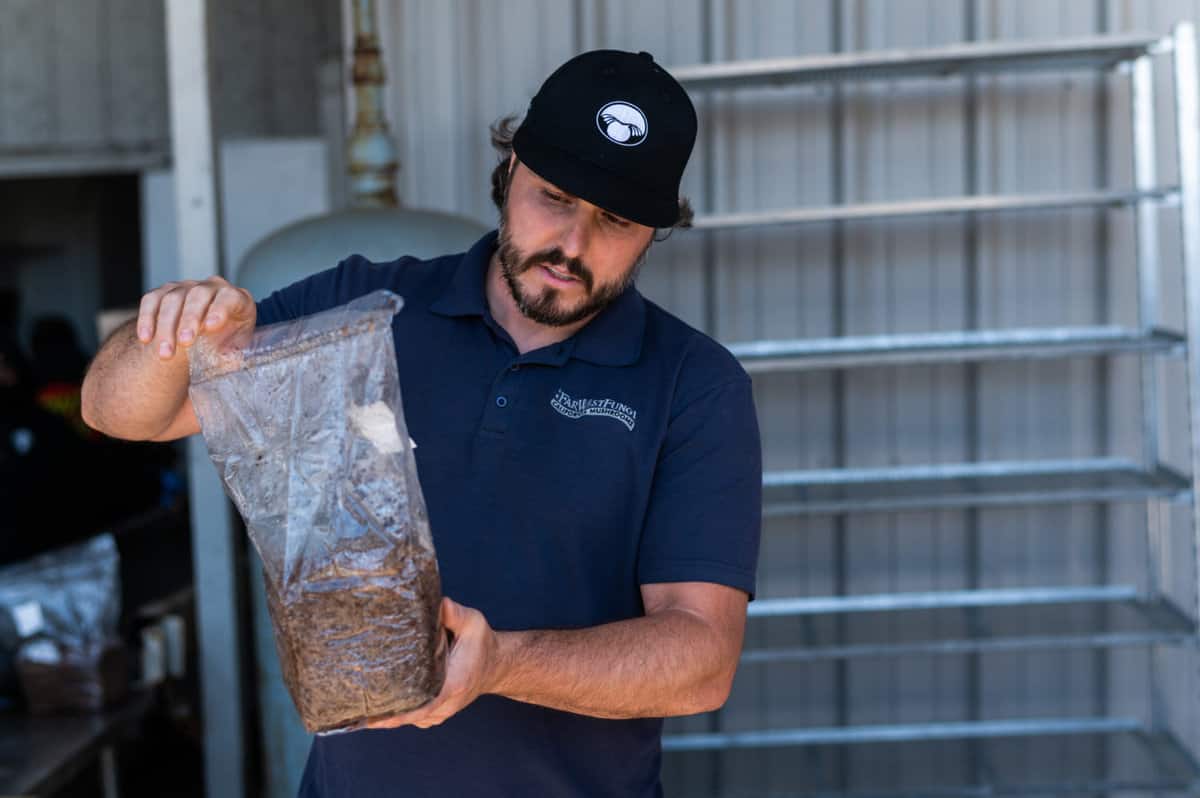 How Do Mushrooms Grow?
Far West Fungi is located in Moss Landing, California on a bluff above the Pajaro River. The cool, moist seaside climate is perfect for growing mushrooms. They grow about 52 different varieties of exotic mushrooms which are offered throughout the year. Their largest production is shiitake and oyster mushrooms. They also grow king trumpet, lion's mane, maitake, reishi, and pink and yellow oyster mushrooms.
The first stage of growing mushrooms is preparing the substrate, or medium, in which the mushrooms are grown. At Far West Fungi, they start with a sawdust-like, hardwood medium with some added bran. It gets mixed and hydrated, packed into cubes wrapped in a plastic bag, then sterilized in autoclaves. After sterilization, the substrate cubes are placed in a clean room to cool. Once the cubes reach the appropriate temperature, they open the bag and inoculate each cube with the mycelium, or "spawn". The bags are then sealed and placed on racks in warehouses. At that time, the mushroom spawn begins to incubate and soon after, fruit. When the mushrooms are the right size, they are harvested, packed, and distributed, all from the Far West Fungi Moss Landing facility. At Far West Fungi, they fill 20 thousand bags of substrate a week, 4,200 a day, and their operation runs five days a week.
"Now is an exciting time, because it seems like more people are interested in eating mushrooms, using mushrooms for medicine, and definitely we're seeing a mushroom boom going on in the industry. It's very exciting to be part of that right now," enthused Kyle Garrone.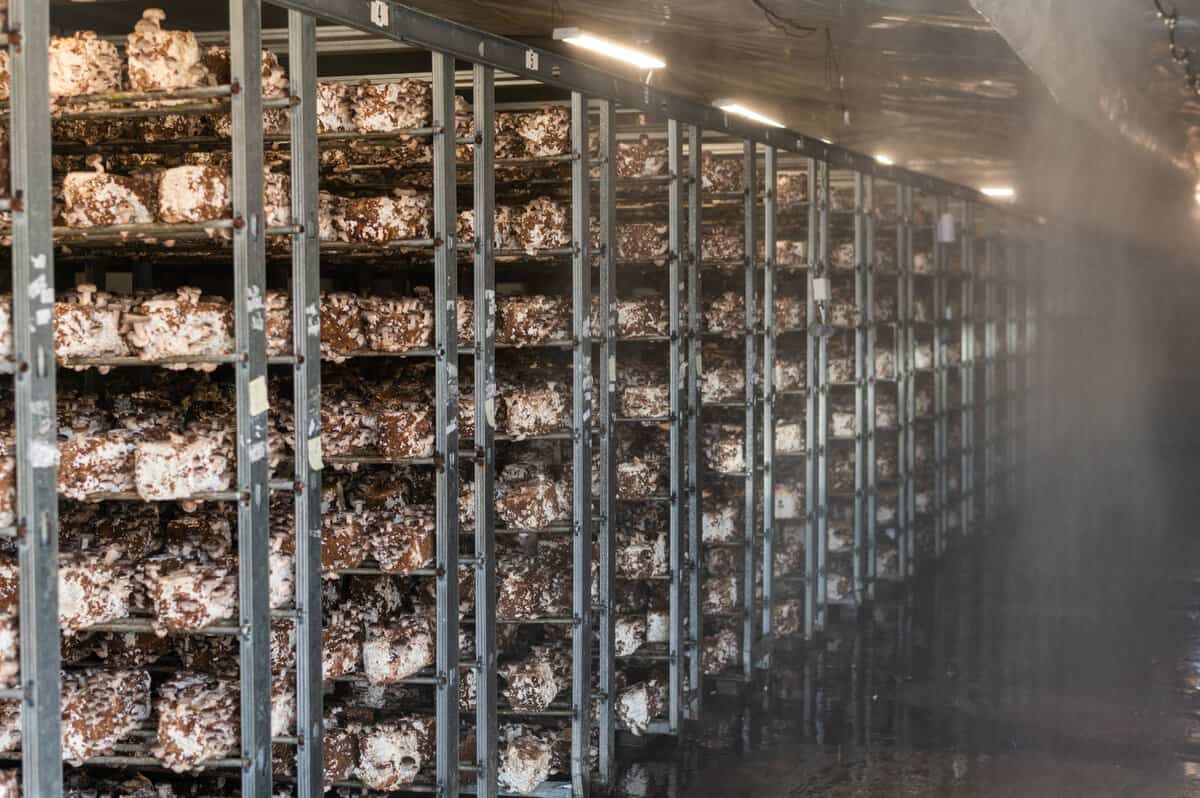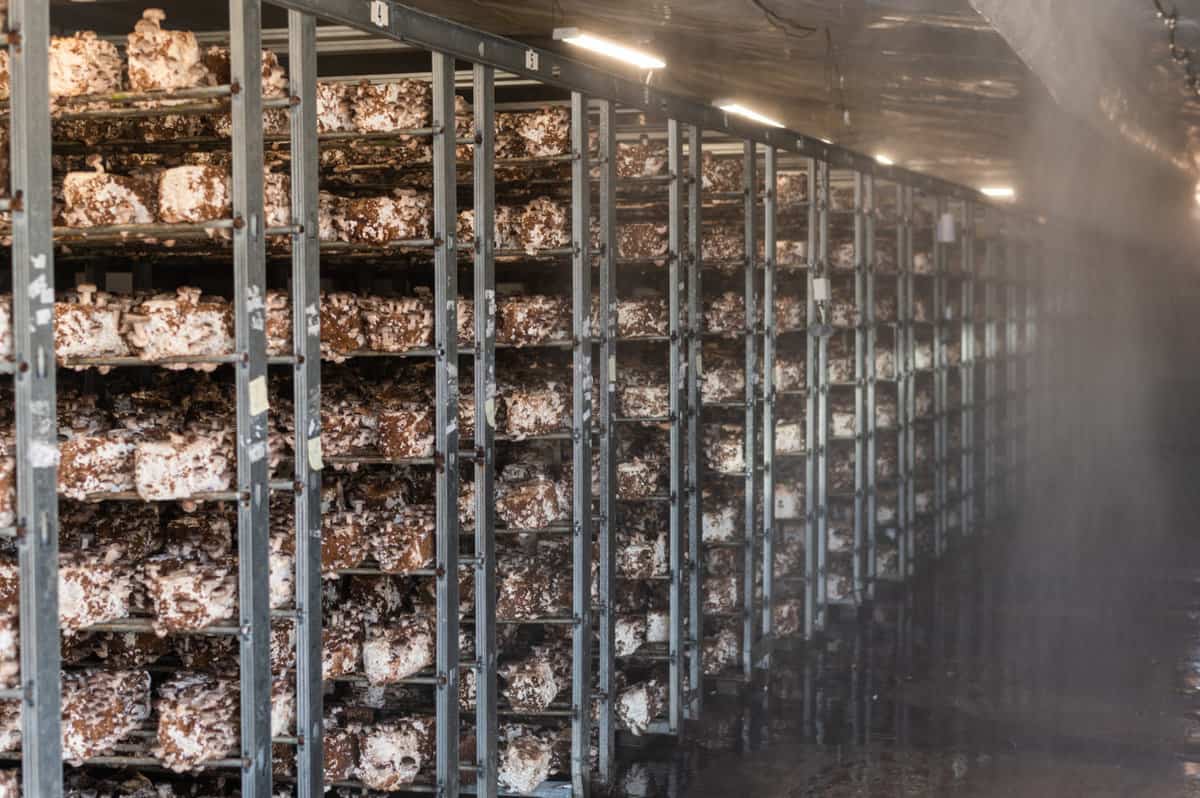 Are Mushrooms Vegetables?
Many people wonder if mushrooms are vegetables. Mushrooms are not vegetables, they are living organisms in the Fungi Kingdom. Mushrooms are the fruit of the fungus, and their "seeds" are thousands of spores that are located in the frilly undersides of mushroom caps. When those spores germinate, they become a network of microscopic threads called mycelium. It is those mycelia that Far West Fungi uses to inoculate the substrate so they can grow new mushrooms.
You Can Grow Mushrooms at Home
If you don't live in the Bay Area but want to try some of Far West Fungi's delicious mushrooms, they offer a variety of mushroom growing kits so you can have your own mini-mushroom farm at home. If you've never grown mushrooms at home and think it might be too difficult, don't worry! You'll find that it's super easy to grow them. When you order the kit online, you will receive an inoculated, plastic-wrapped substrate cube that is ready to fruit into delicious exotic mushrooms. Each kit comes with detailed instructions, can be harvested 3-5 times, and yields about 1 ½ pounds of mushrooms!
Are Mushrooms Good For You?
Yes! Mushrooms have many health benefits and research suggests that they can decrease the risk of cancer, promote lower cholesterol, protect brain health, support a healthy immune system, are good for gut health, and are rich in vitamins including vitamin D and vitamin B6.
How to Cook Mushrooms
Did you know that according to the USDA, the average American eats three pounds of mushrooms per year? Mushrooms pack a savory, umami punch to many dishes, are high in protein, and are naturally low in calories, sodium, and fat. If you're looking for delicious ways to incorporate them into your diet and want some ideas on how to cook mushrooms, here are some great recipes by our California Grown Creators: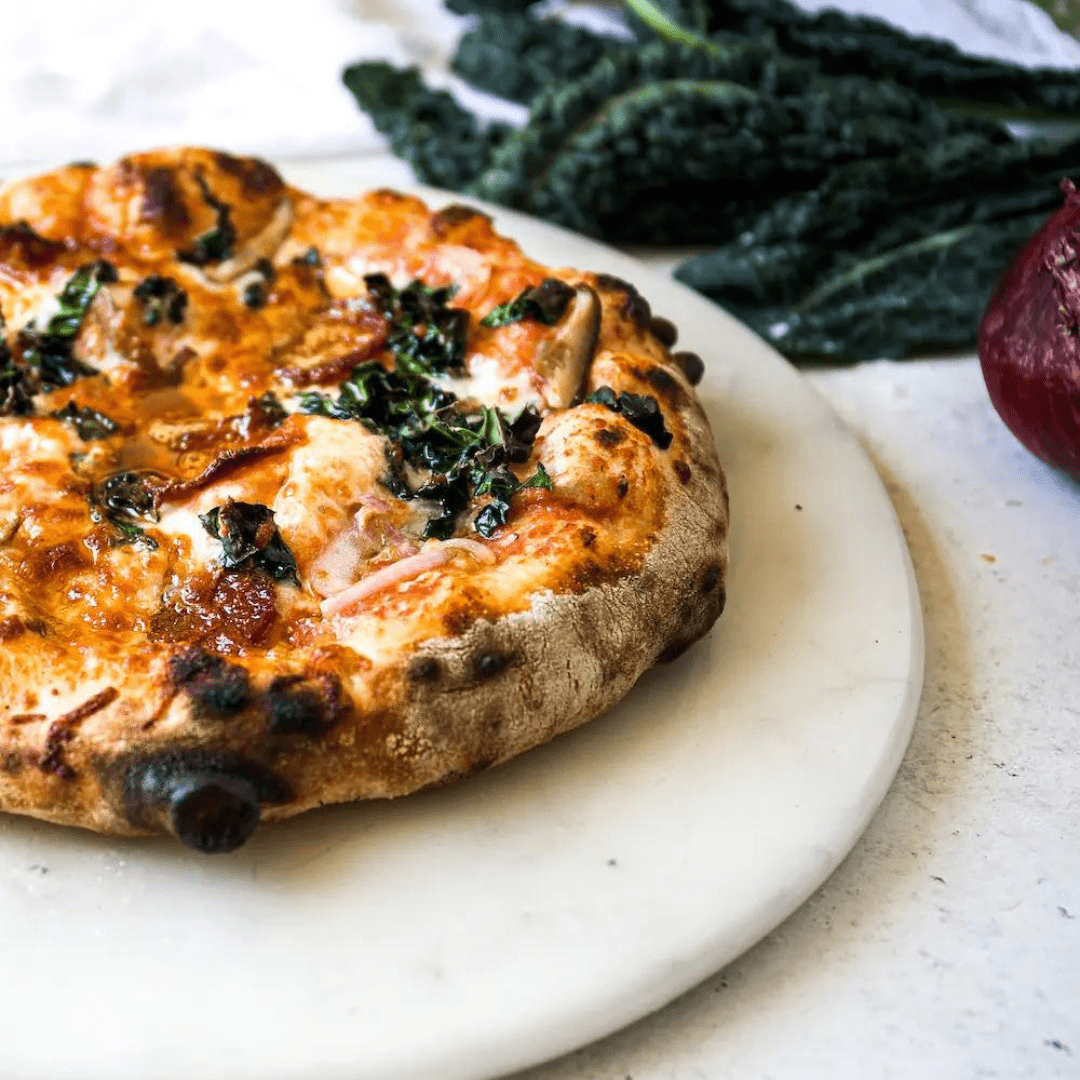 This article was written by Alison Needham, photos by James Collier.