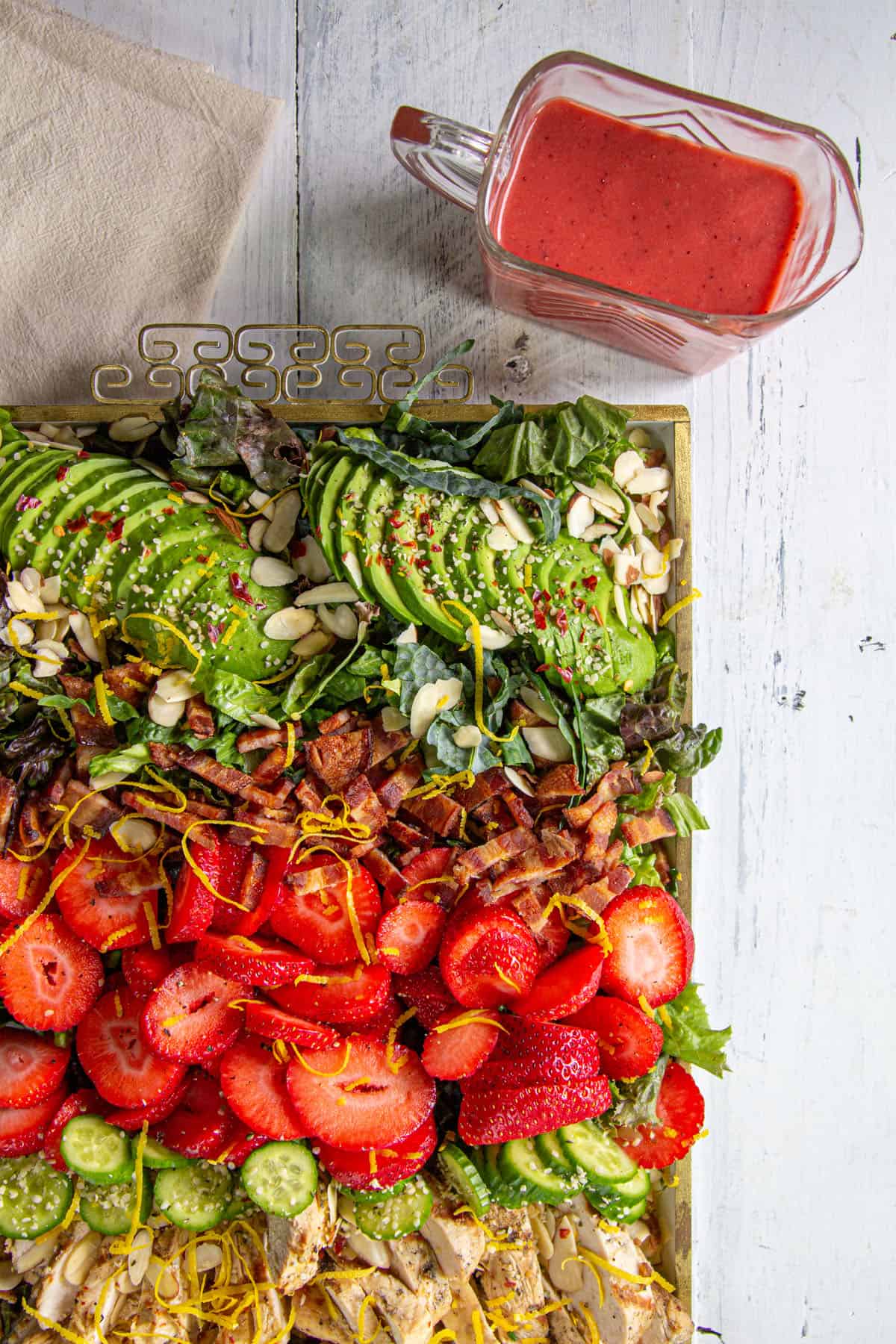 CA GROWN Blog
Discover. Learn. Connect.
An Easy Summer-Inspired Play on Cobb Salad; Strawberry Salad With Chicken
August 9, 2022
Eat the Season!
Sign Up For Weekly Recipes
« Back to Recipes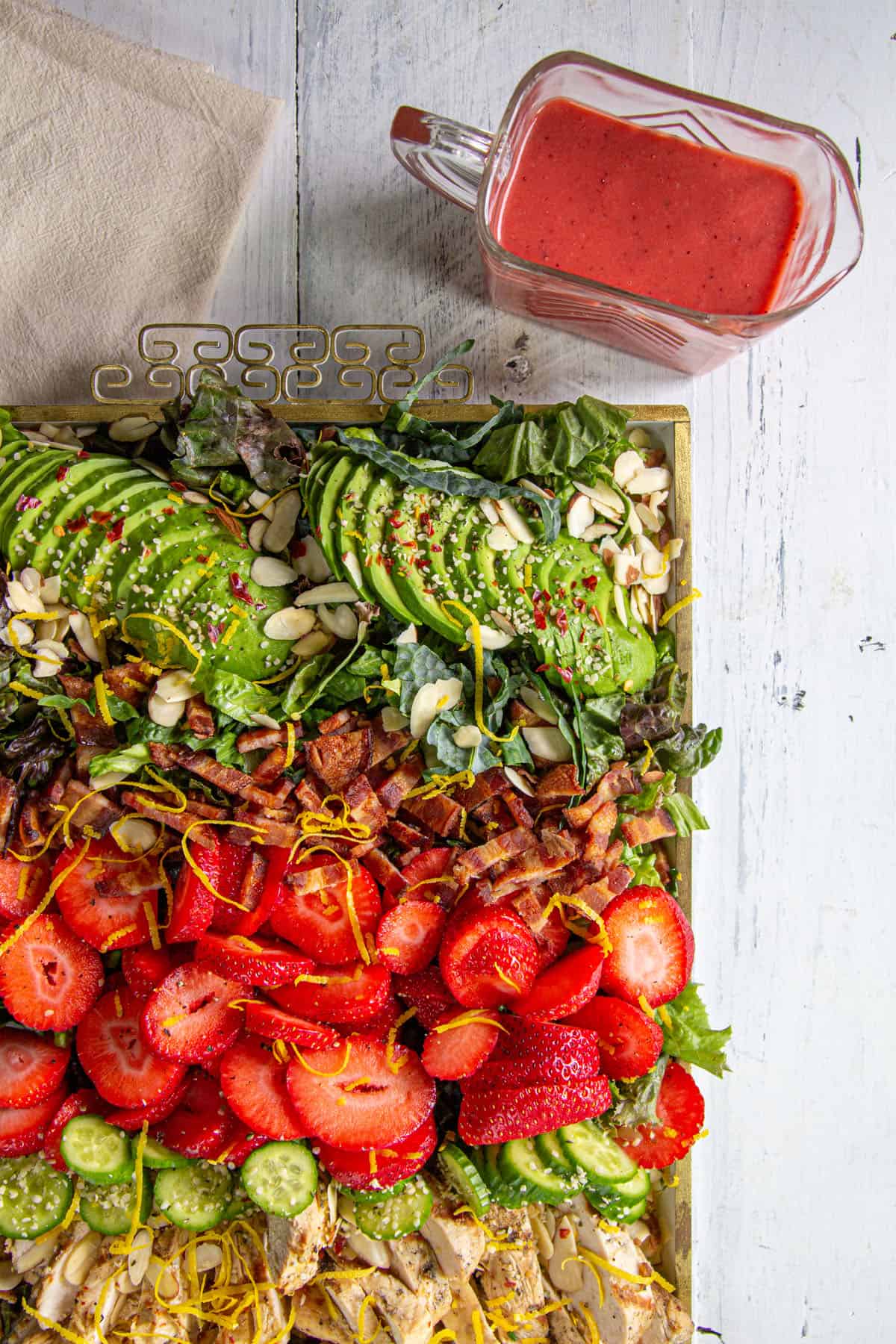 An Easy Summer-Inspired Play on Cobb Salad; Strawberry Salad With Chicken
Did you know that the Cobb salad was invented in California? It's true! The Golden State has inspired all sorts of delicious food trends over the years, but the Cobb Salad is one that has reached Super Star status. Our latest version of the classic Cobb is this Strawberry Salad with Chicken. We think it's delicious enough to become a California icon on its own!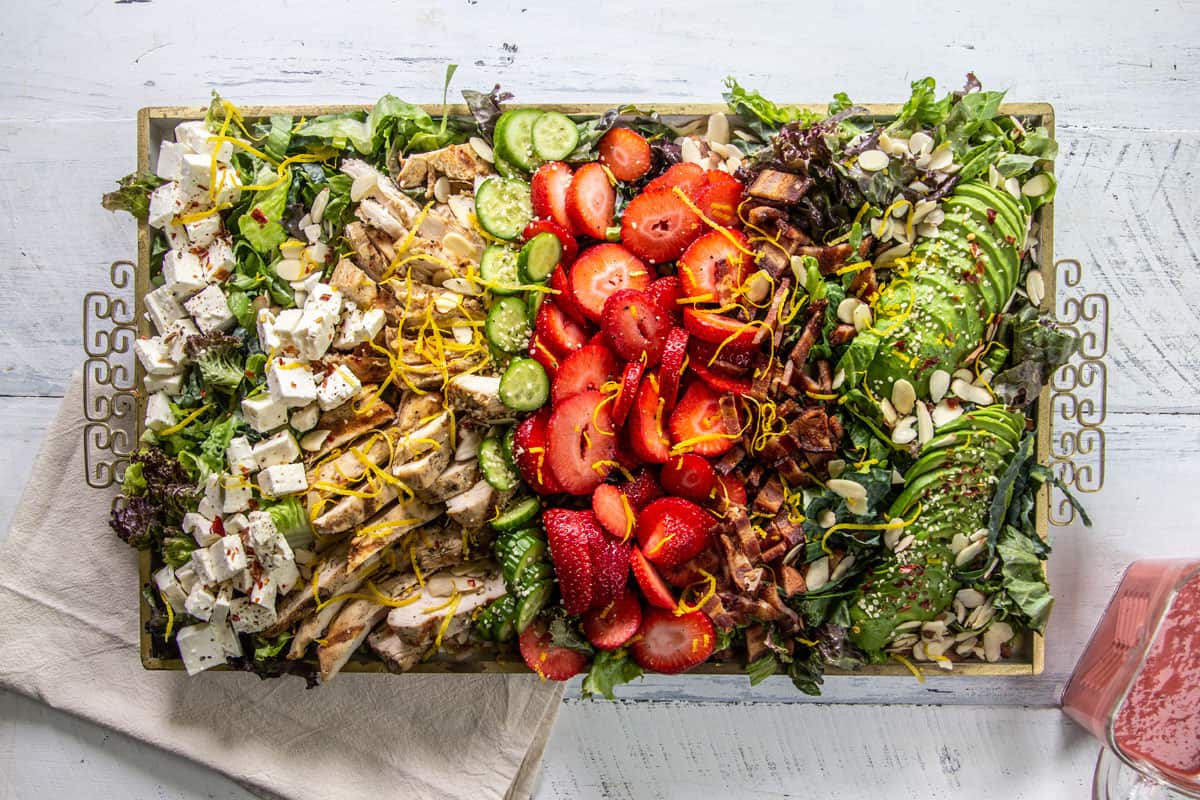 Where did the Cobb salad originate?
The first Cobb salad was served in 1937 at the Brown Derby restaurant in Hollywood, California by Bob Cobb. Legend has it that late one night Bob whipped up a salad with ingredients he had on hand for his friend, and restaurant regular, Sid Grauman of Grauman's Chinese Theatre.
This salad was so delicious that the next night Mr. Grauman asked for a "Cobb salad" again when he visited the Brown Derby and just like that a culinary icon was born.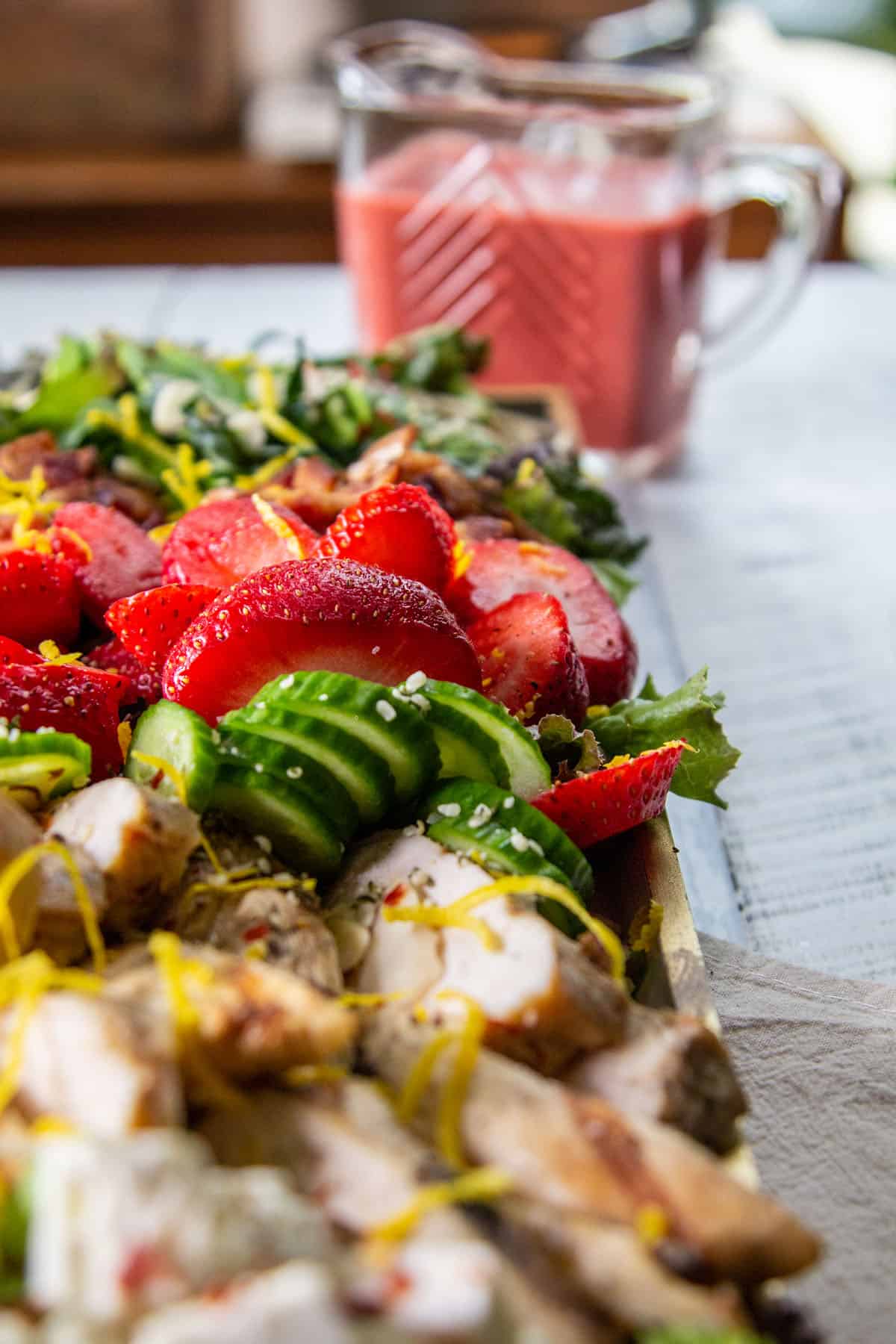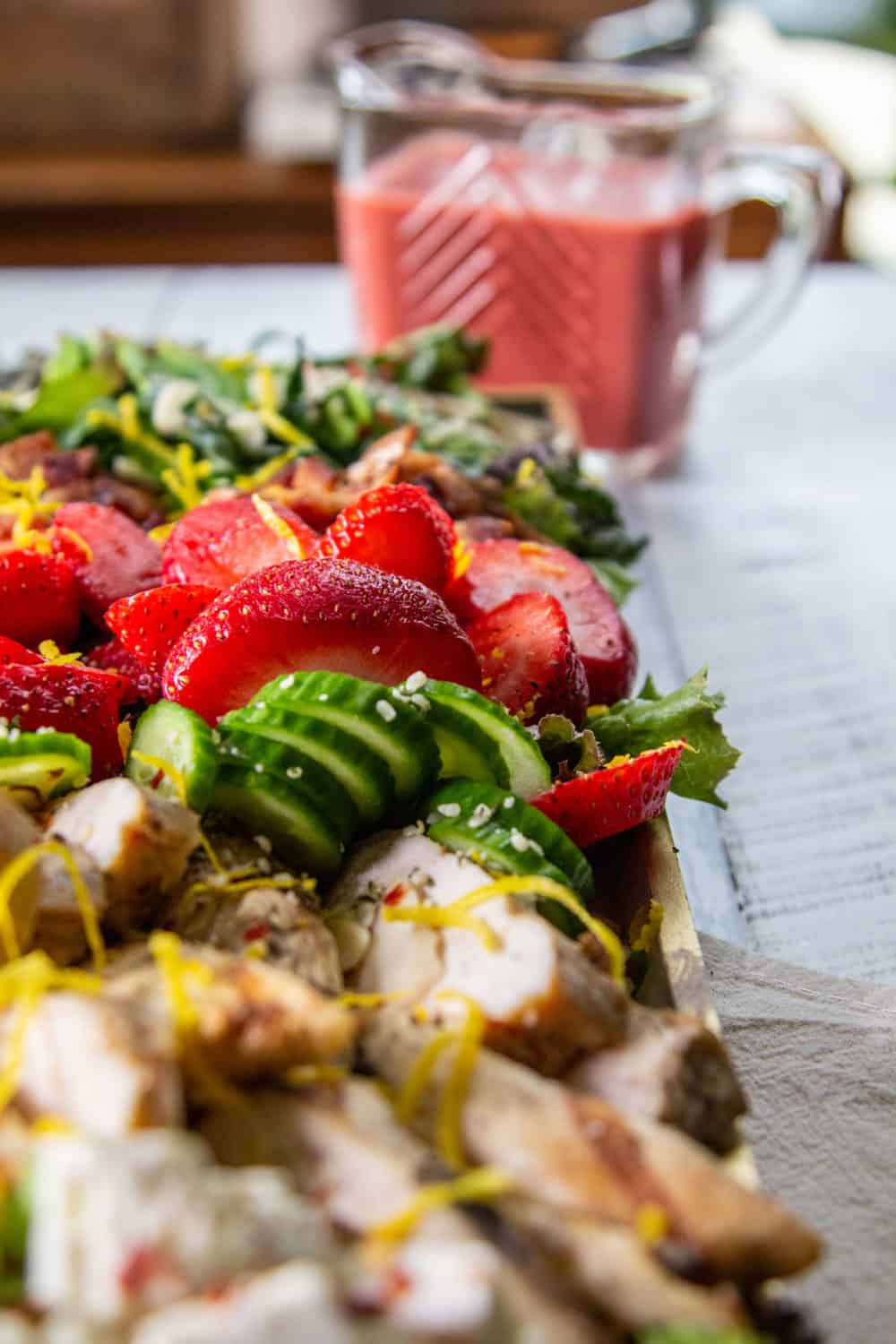 Ingredients for Cobb salad: traditional versus our Strawberry Salad with Chicken variation.
Now that you know a bit about the Cobb salad's history, let's discuss the ingredients for Cobb salad. A traditional Cobb salad tops leafy greens with ingredients like hard-boiled eggs, cheese, tomatoes, chives, avocado, onion, and bacon. All simple ingredients on their own, but when tossed together they become a phenomenal powerhouse of flavor.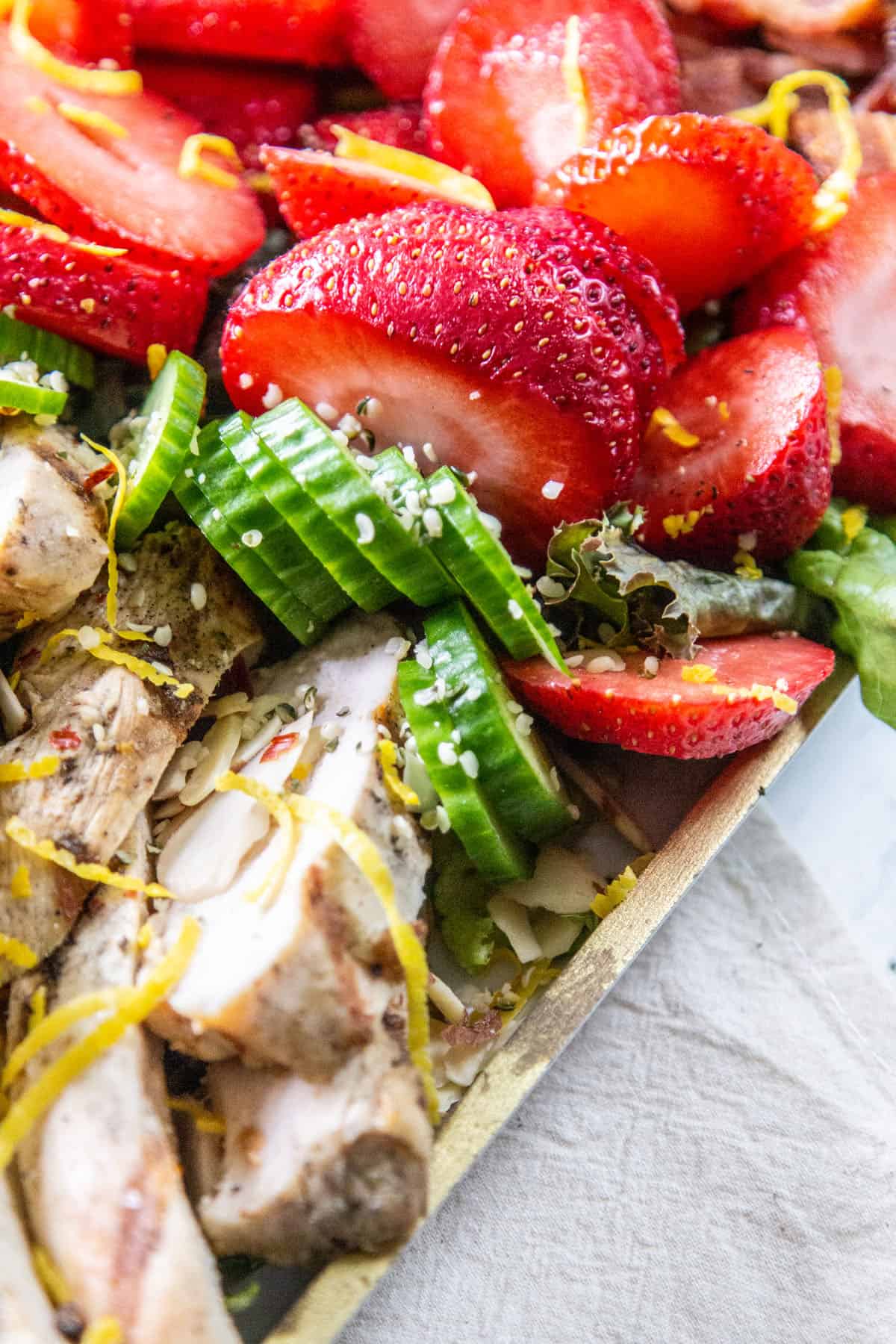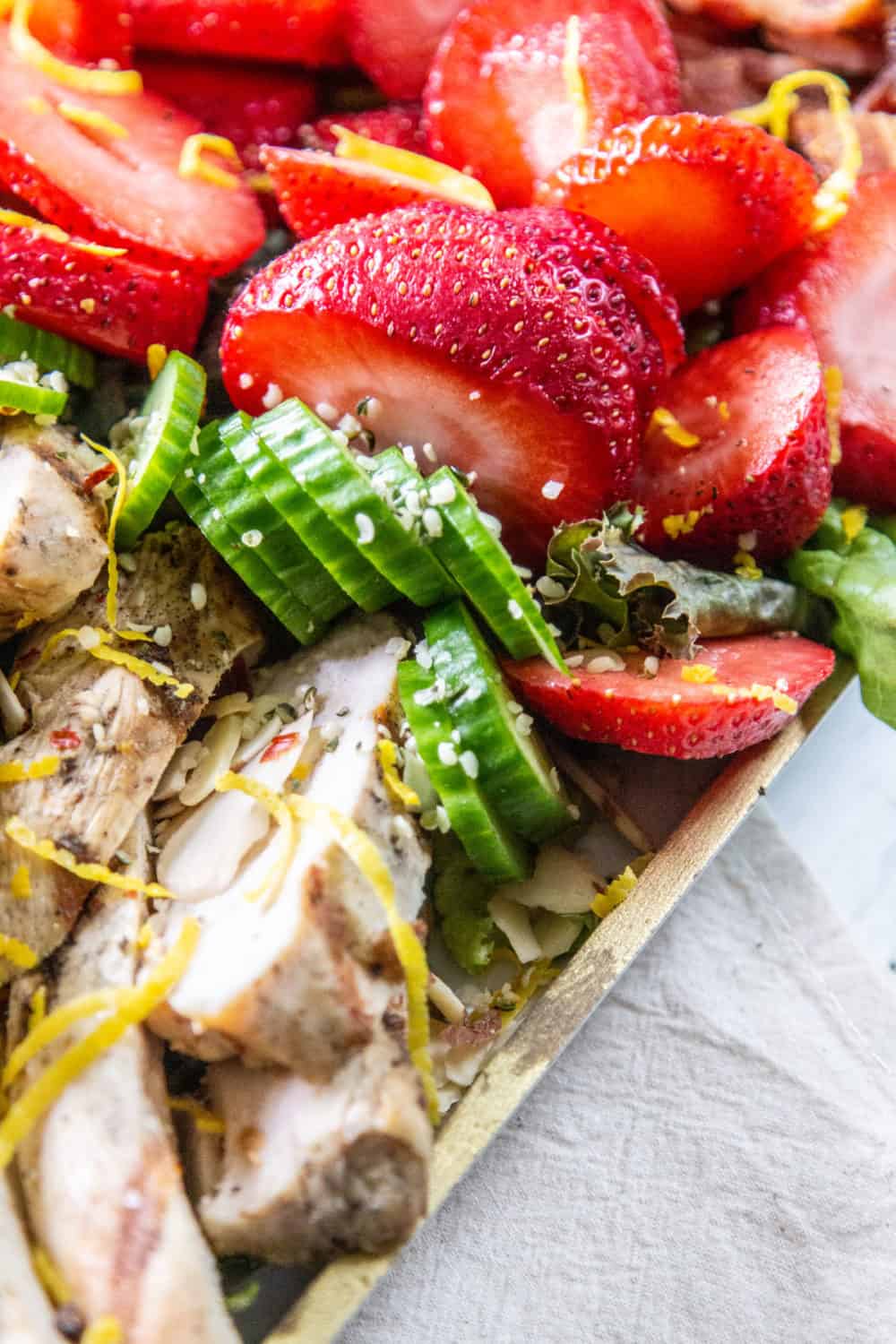 Our Strawberry Salad with Chicken is Cobb-salad-inspired which means it is built like a Cobb and sort of looks like a Cobb, but it has its own vibe going on altogether. Allow me to break it down…
Here are the stand-out, must-have, core ingredients for this Strawberry Salad with Chicken.
Leafy greens: We combined crisp romaine, thinly sliced Lacinato kale, and torn basil leaves for our very own DIY salad blend. Each bite was a wonderful contrast of mellow Romaine and sharp kale with notes of basil that linger on the palette. The perfect accompaniment to sweet strawberries.
California strawberries: Did you know that 90% of the strawberries grown in the U.S. originate in California? More organic strawberries are grown in California than anywhere in the world! Cool huh?
California avocados: Avocados are a super unique fruit that can act as a "nutrient booster" by helping increase the absorption of fat-soluble nutrients such as vitamins A, D, K, and E.
Cucumber: The flavor of crisp, clean cucumber is the perfect contrast to the juicy berries and briny cheese in this salad.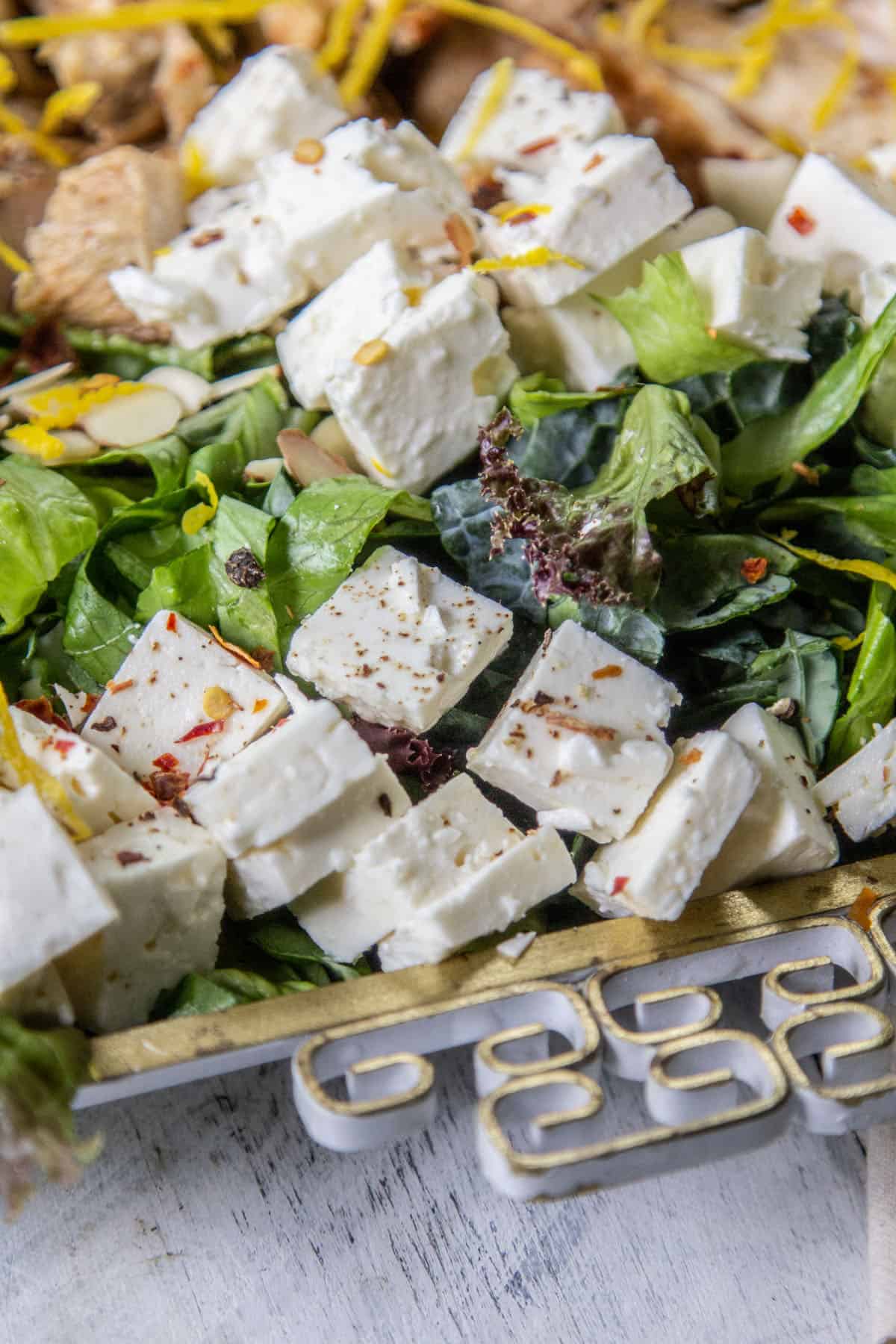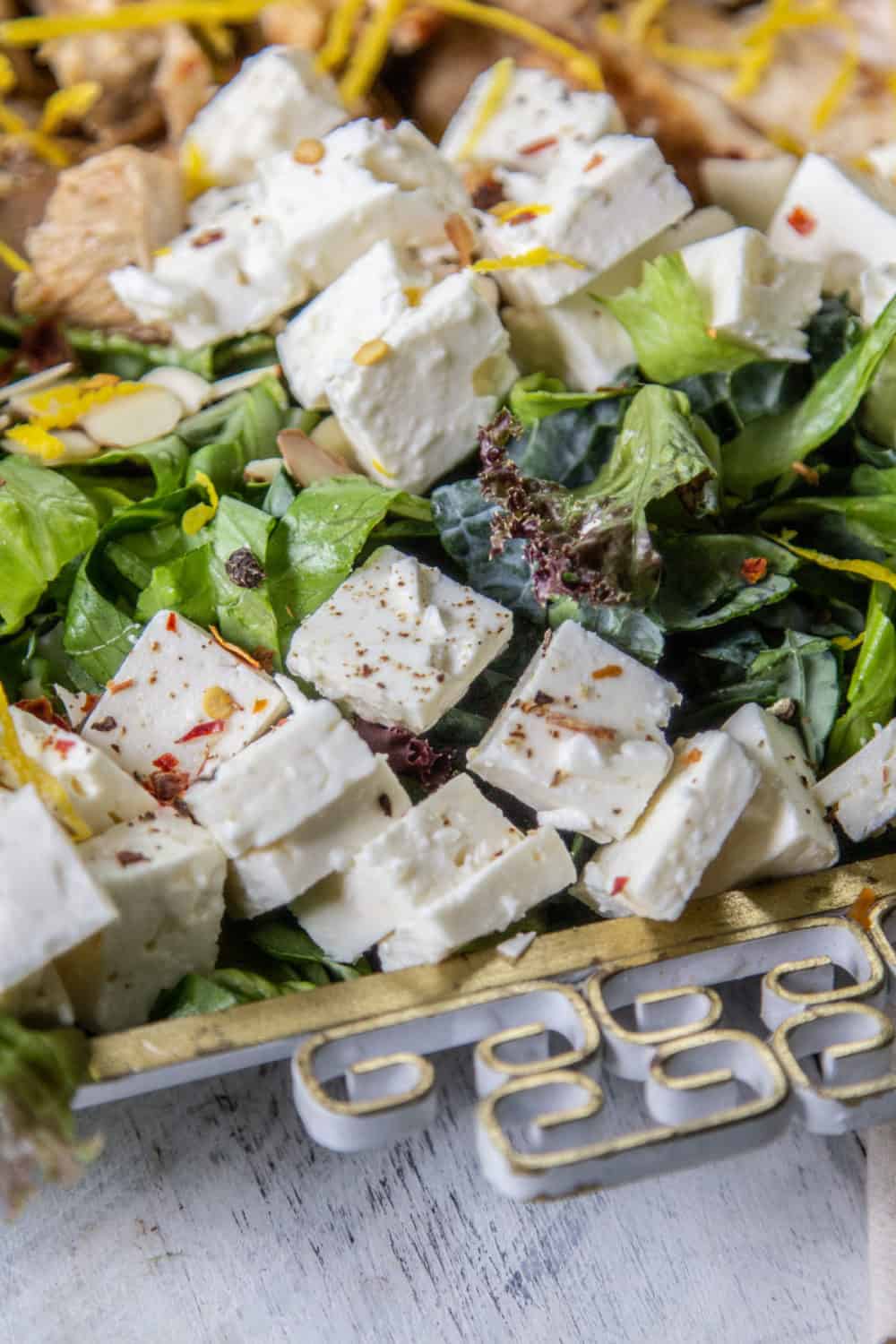 Flavor and texture enhancers in this Strawberry Salad with Chicken.
Flavoring salads is an art form that starts with a simple showering of salt and cracked pepper. Every layer you add on after that is another burst of excitement for your tastebuds.
Our Strawberry Salad with Chicken has two types of protein- grilled chicken and crumbled bacon.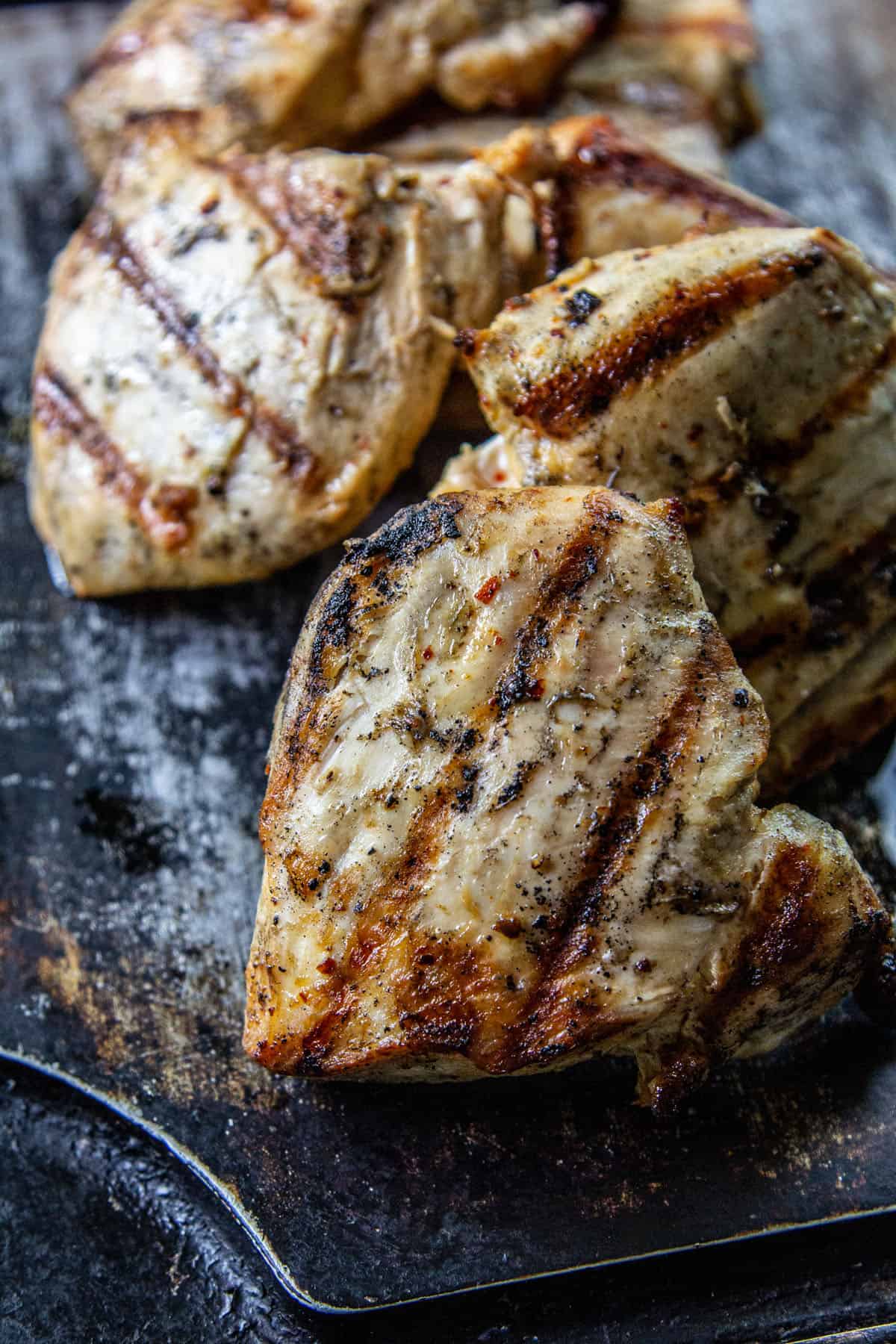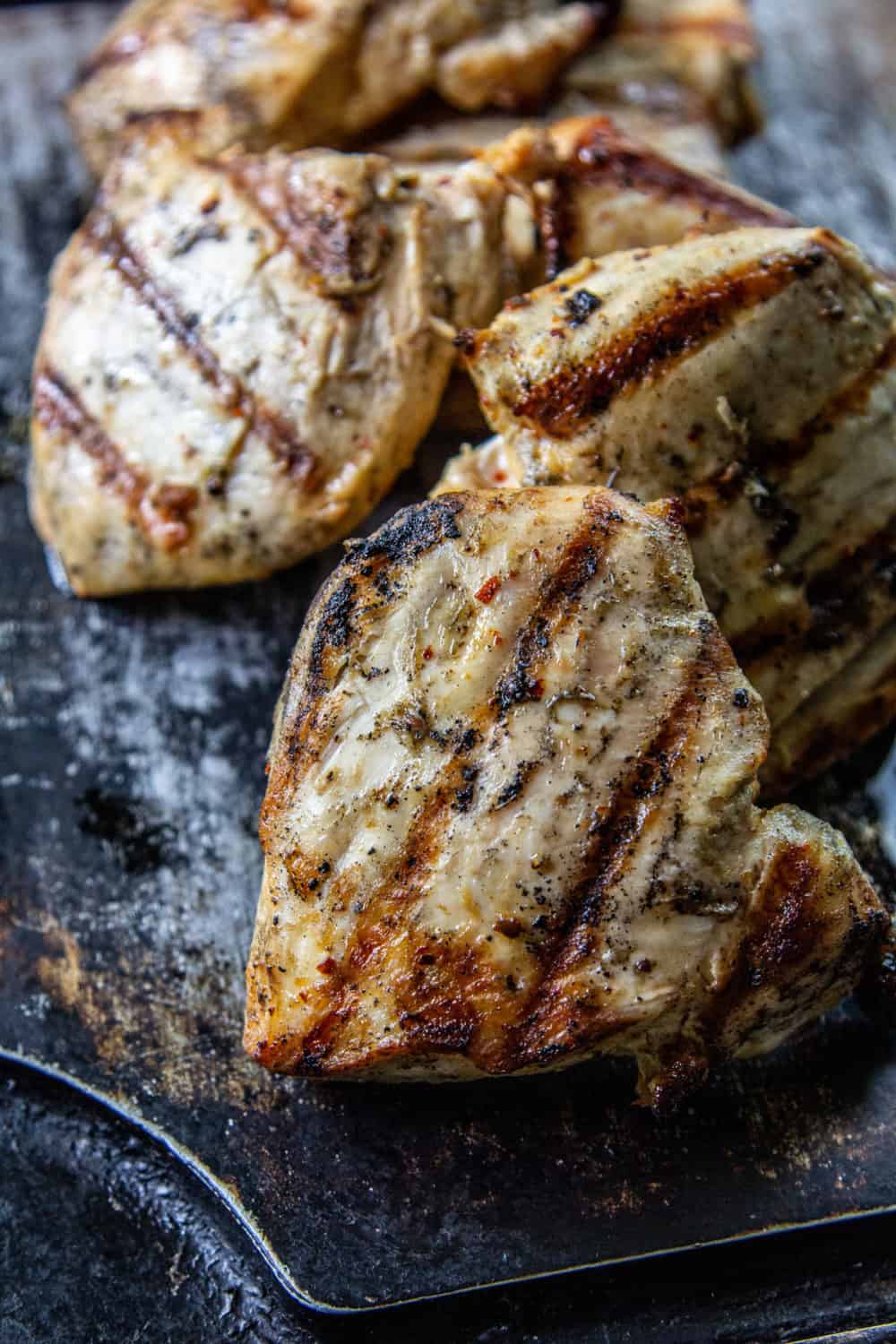 We opted for a simple grilled chicken from California. California Grown chickens are known for being "fresh and natural," which is why consumers look to locally grown birds first when shopping.
You could also use shredded rotisserie chicken, roasted chicken, fried chicken, or poached chicken if you'd like in this salad. All of them would be delicious and each variation would make this salad taste slightly different.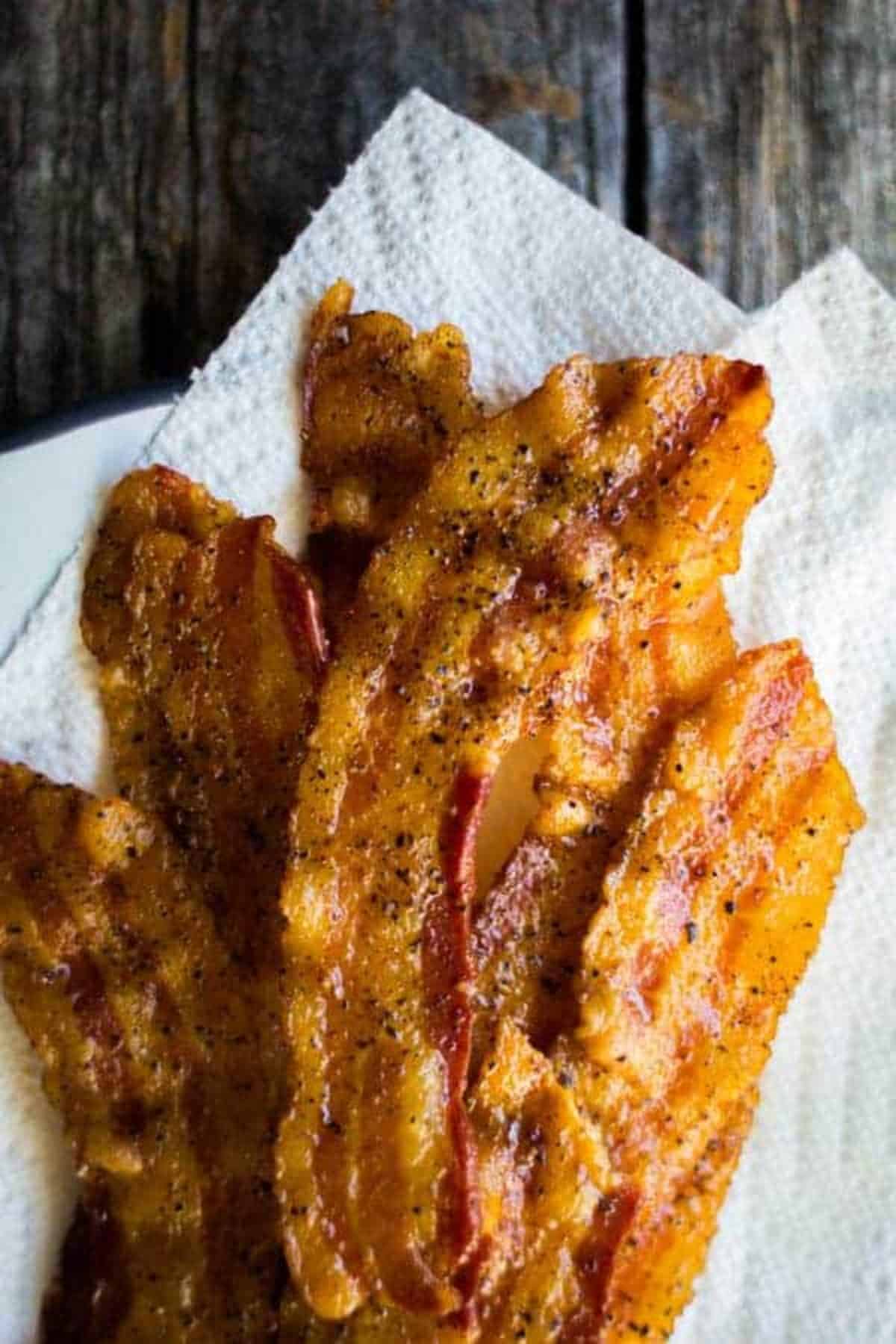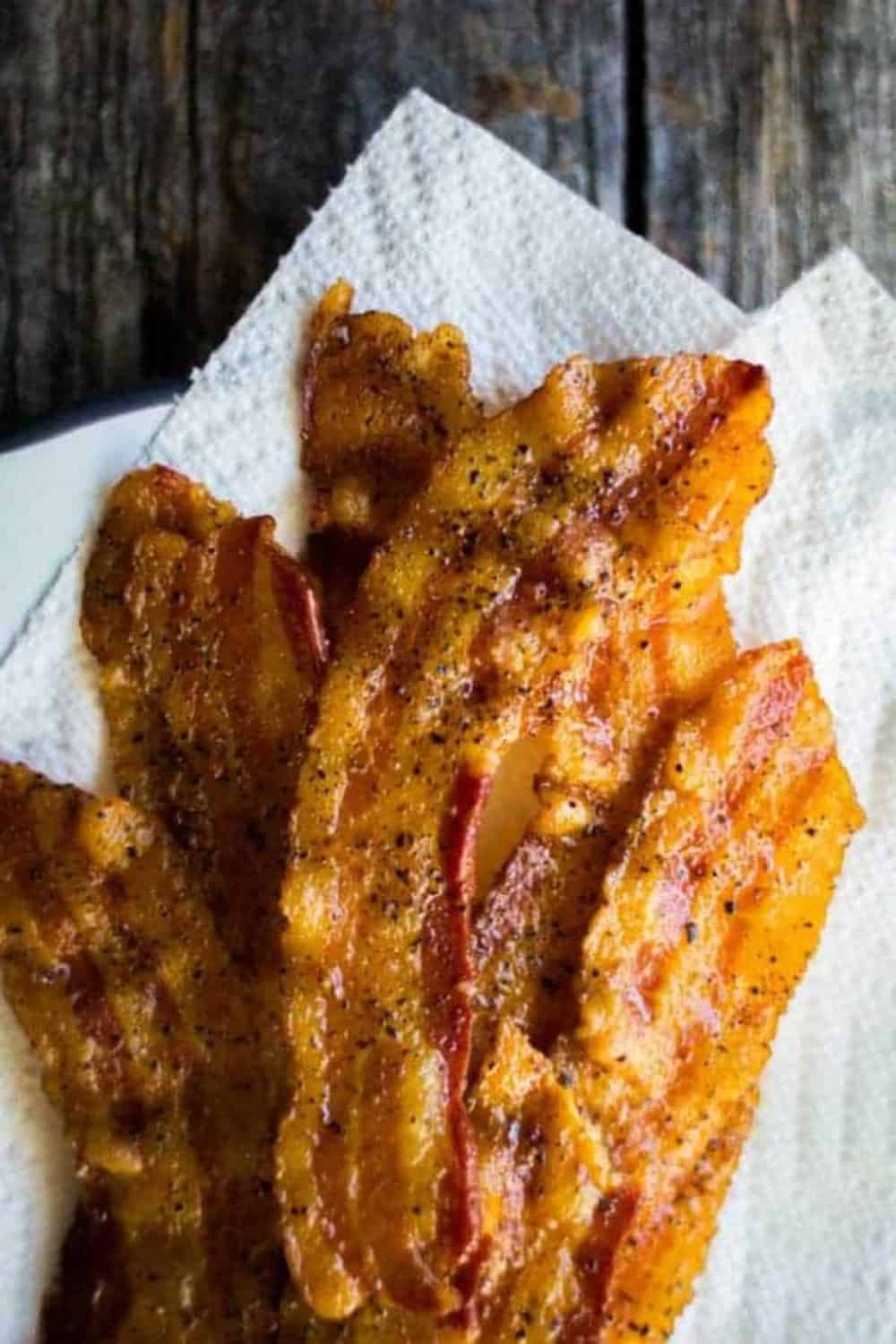 Perhaps you've heard tales of delicious, crispy oven-baked bacon that doesn't cover your stove in grease splatter?
This Mess is Ours' go-to oven-baked bacon recipe is the perfect way to prepare bacon for salads. You can make a big batch at once for topping all sorts of salads with no fuss and hardly any mess.
What dressing is best to serve with Cobb salad?
As far as we are concerned, you can serve any type of homemade or store-bought dressing that you want with your Cobb salad. For our Strawberry Salad with Chicken, we decided to go all in on the strawberry flavor and serve it with our Strawberry Vinaigrette.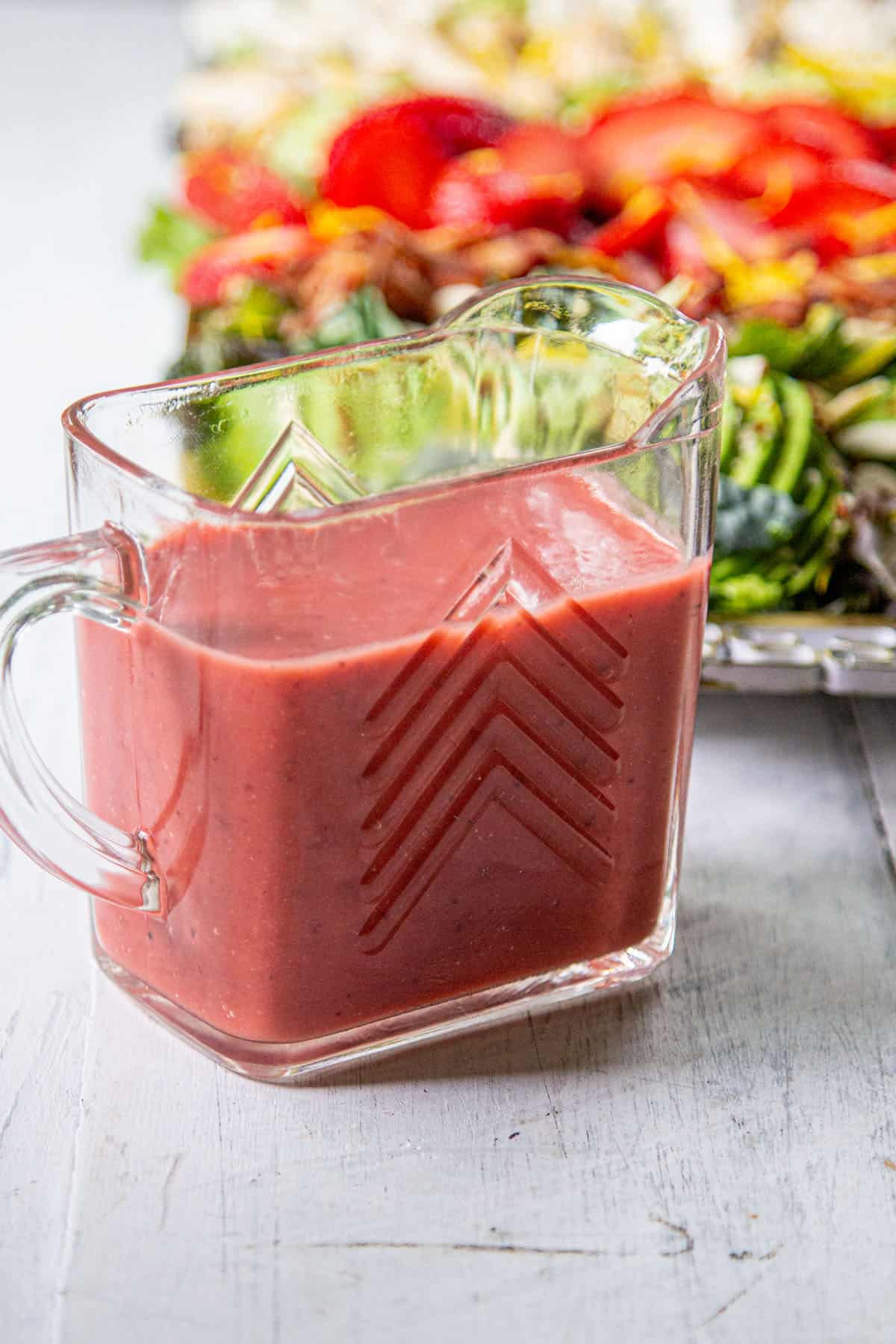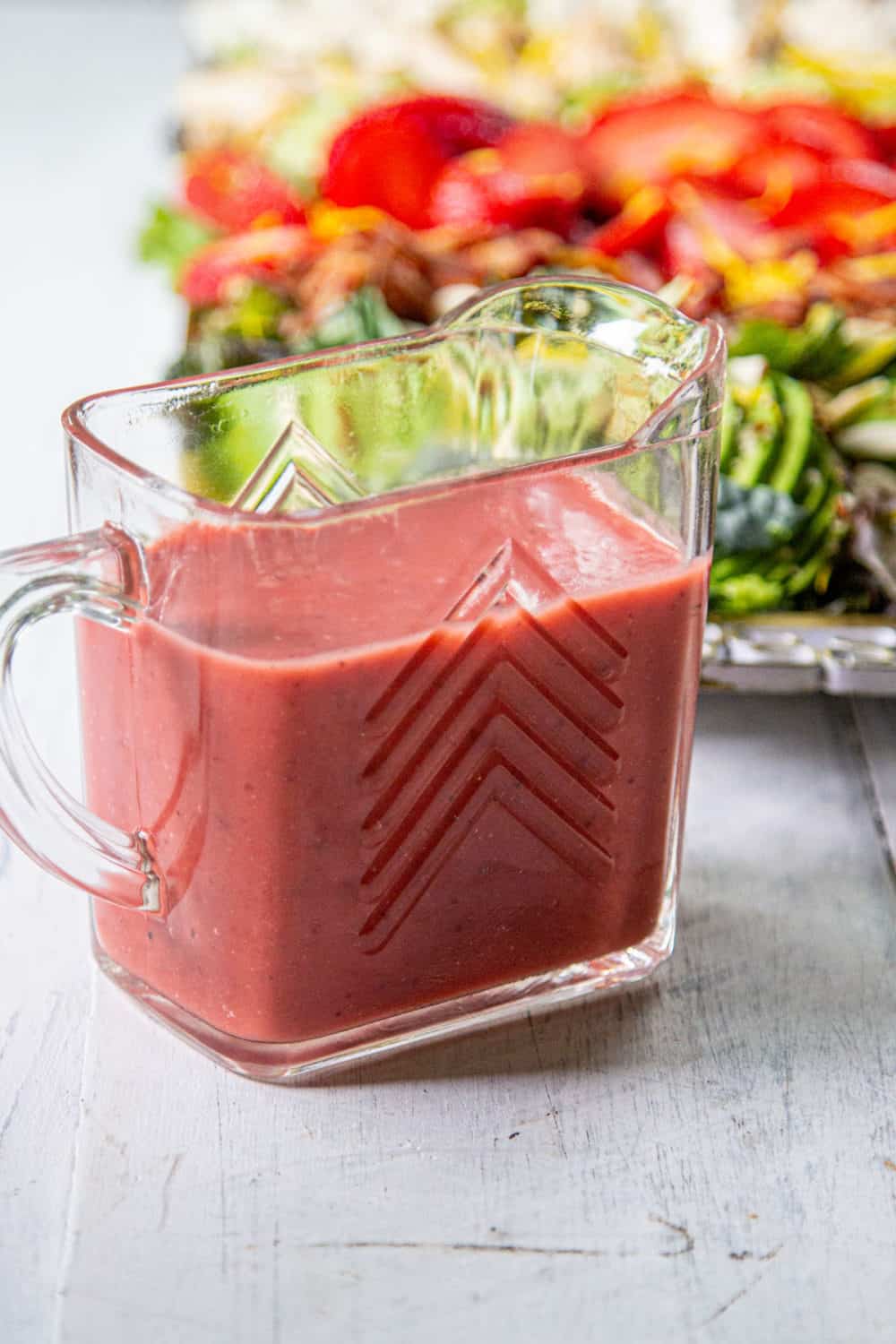 This big-batch-dressing recipe is the epitome of smooth California flavor! It's clean and not overly sweet, all while being possibly the easiest thing to make on the planet.
You can serve this dressing with virtually any salad combination your heart desires or even with a bowl full of berries. You may even be tempted to eat it by the spoonful!
More delicious Cobb salad recipes you should try!
You can never have too many Cobb-inspired variations at the ready. NEVER! So, here are a few of our favorites we think you should try next.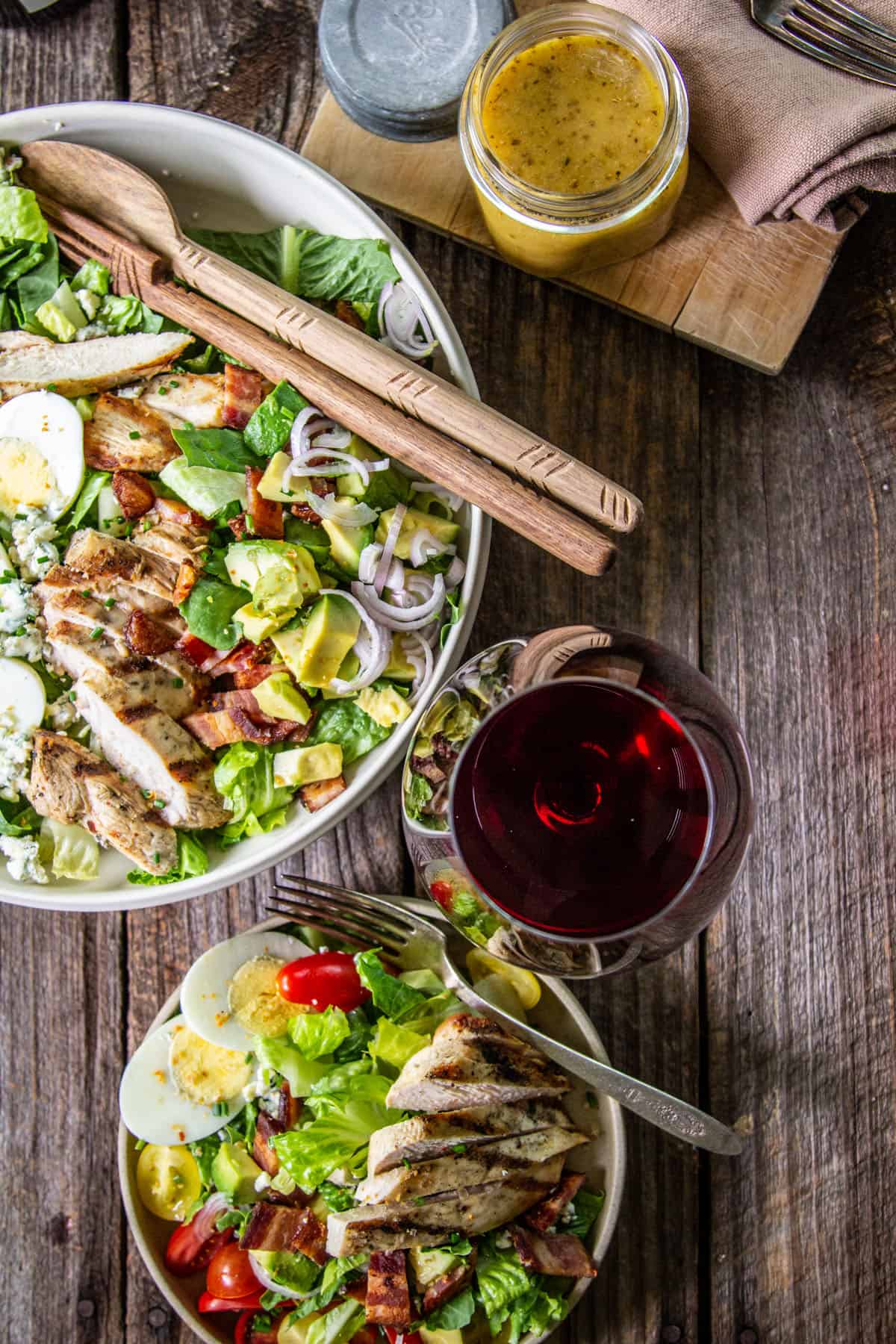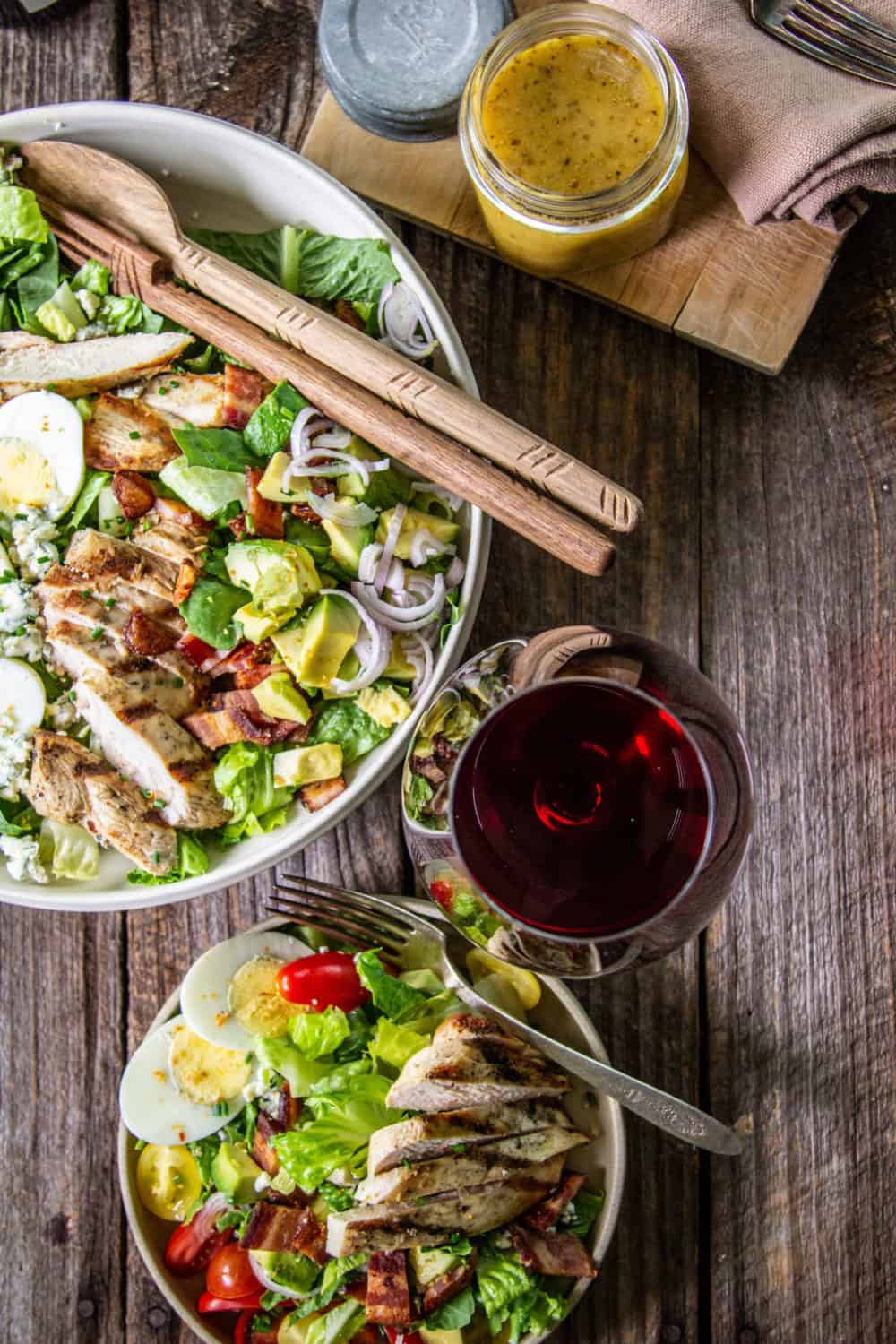 This variation of the classic Cobb salad recipe is made with juicy grilled chicken, tangy blue cheese from California, crisp bacon, and ripe tomatoes.
Our friends at Discover California Wines suggest pairing this salad with California Pinot Noir or Sauvignon Blanc for the ultimate flavor experience.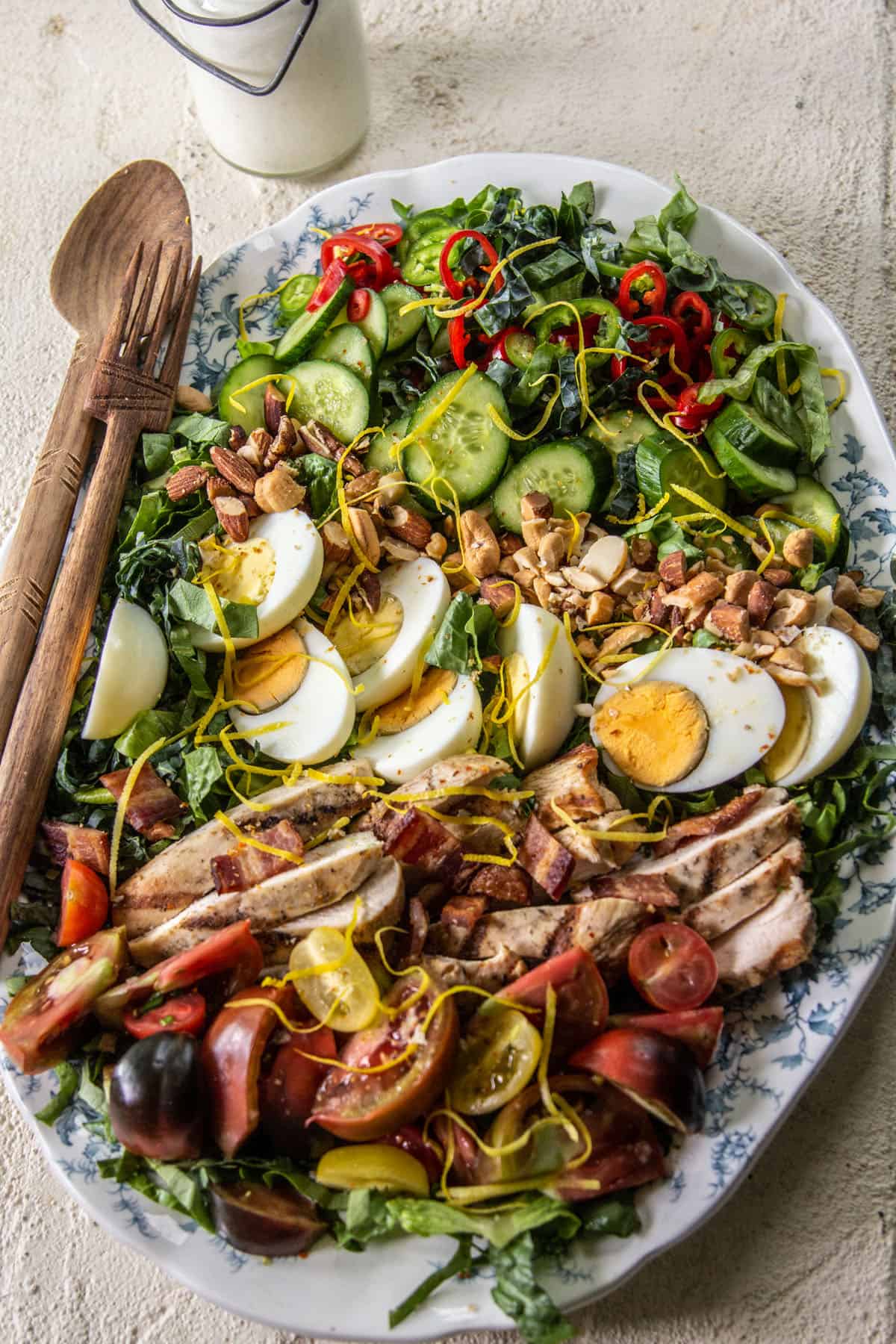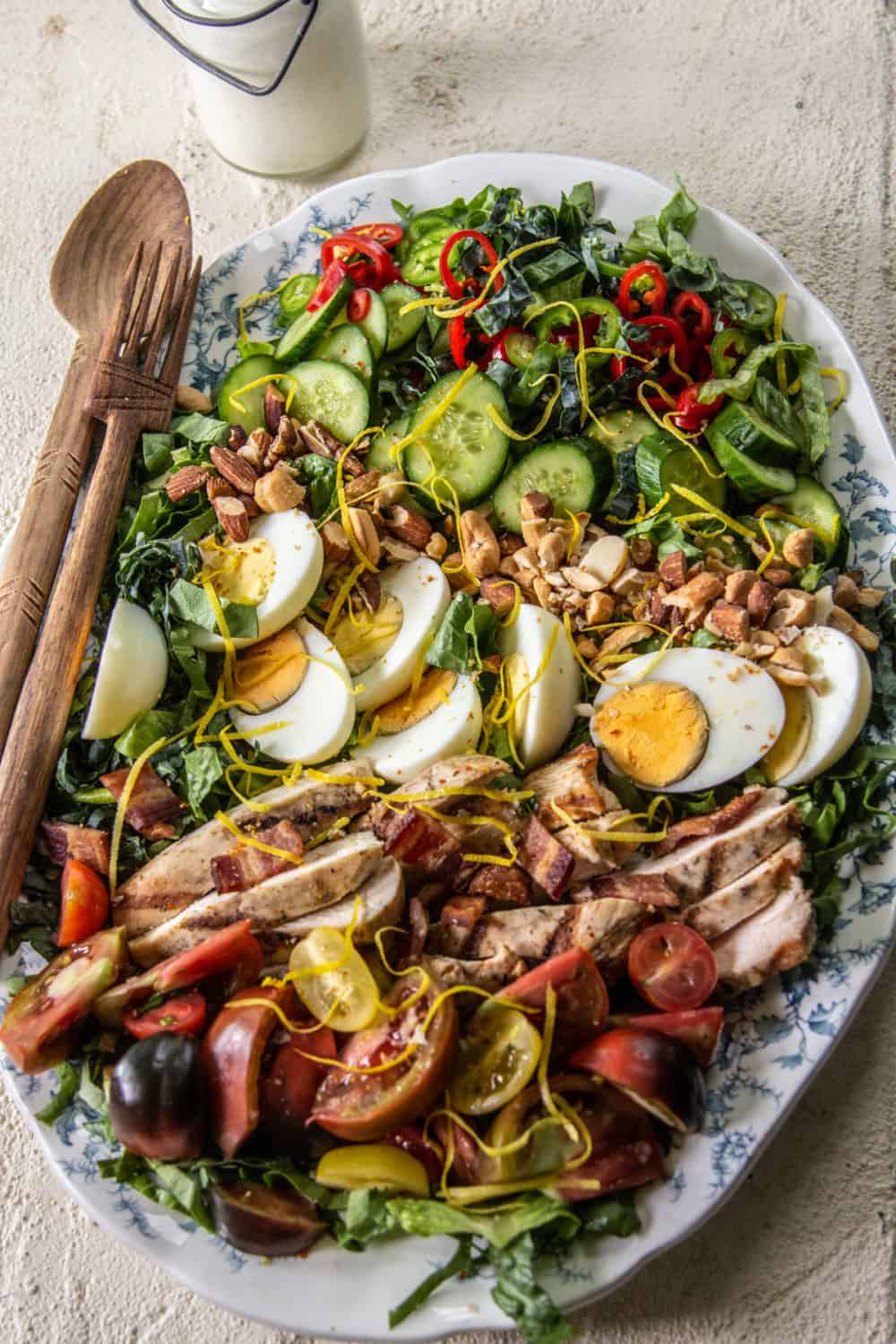 This Mess is Ours raided her garden beds for this homegrown Cobb salad recipe. Her Creamy Romano and Peppercorn dressing is a must-have addition to any salad she makes and is equally delicious drizzled over dishes like crispy French fries or roasted broccoli.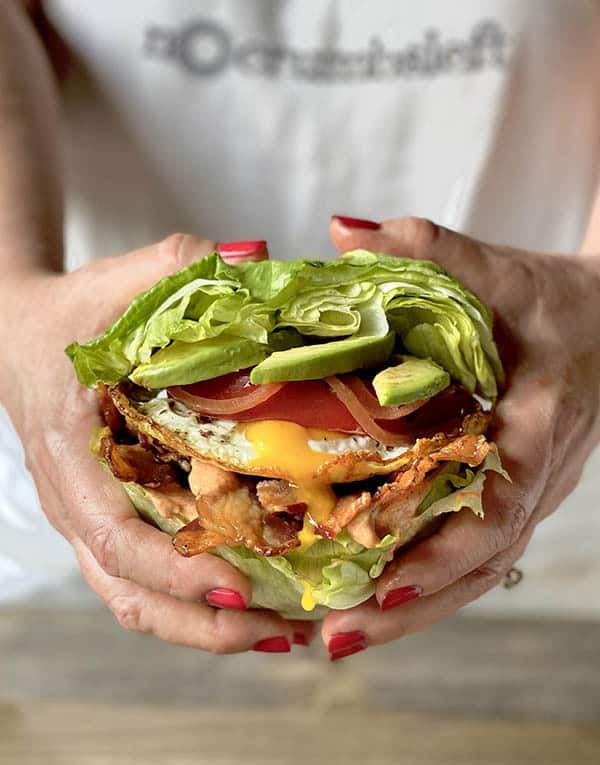 Here's a really fun double twist on a Cobb Salad from No Crumbs Left! First, Teri turned it into a sandwich, and for the second twist, she used a fried egg instead of a hard-boiled one. The best part? This sandwich is deliciously Whole30!!
Do you make a stellar Cobb salad? Share your favorite Cobb salad recipe with us on social by posting a picture and tagging it #CAGROWN.
Craving more CA Grown goodness? Follow us on Pinterest for fresh and fabulous recipe inspiration!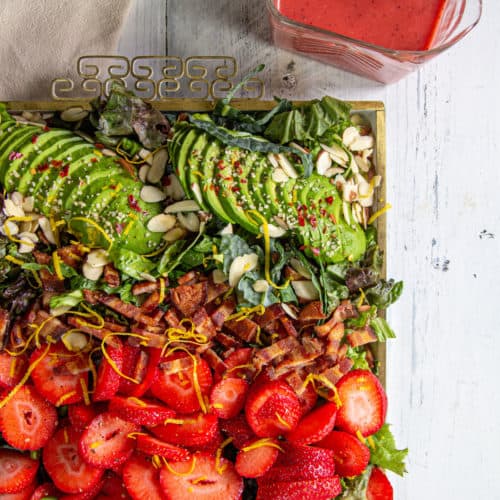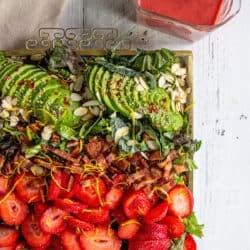 Cobb-Inspired Strawberry Salad with Chicken
This fruit-filled nod to the classic Cobb salad recipe is bursting with California Grown ingredients like leafy greens, juicy berries, ripe avocado, and grilled chicken.
Ingredients
4 cups chopped Romaine lettuce
1 cup finely chopped kale we used Tuscan or Lacinato kale, but you can also use curly kale.
1 cup tightly packed basil leaves torn into small pieces
2 grilled chicken breasts sliced thin
8 slices cooked bacon chopped
1/2 pound strawberries tops and core removed, sliced
1 large shallot sliced very thin
2 medium-sized avocados pit removed, sliced thin
6 ounces feta cheese cubed or crumbled
1/4 cup toasted slivered almonds
zest of 1 lemon
coarse kosher salt and freshly ctracked black pepper to taste
1 batch Strawberry Vinaigrette this recipe will make more than you need.
Instructions
Combine the lettuce, kale, and basil on a large platter then toss them together to combine.

Season with salt and pepper.

Arrange the chicken, bacon, strawberries, shallot, avocados, feta, and almonds on top of the mixed greens.

Season with salt and pepper.

Top with thin strips of lemon zest, red pepper flakes, and any other savory sprinkles you like.
Nutrition
Calories: 375kcalCarbohydrates: 13gProtein: 29gFat: 24gSaturated Fat: 7gPolyunsaturated Fat: 3gMonounsaturated Fat: 12gTrans Fat: 0.01gCholesterol: 85mgSodium: 555mgPotassium: 749mgFiber: 7gSugar: 3gVitamin A: 3528IUVitamin C: 35mgCalcium: 204mgIron: 2mg
Frequently asked questions about California strawberries.
How are strawberries grown?
Joe Schirmer, of Dirty Girl Produce in Watsonville, California (Santa Cruz County), recently toured us through his rows of organic strawberries to talk about life and sustainability on the farm. We also learned a few things about how he grows those luscious strawberries!
Click here to learn how strawberries are grown in California!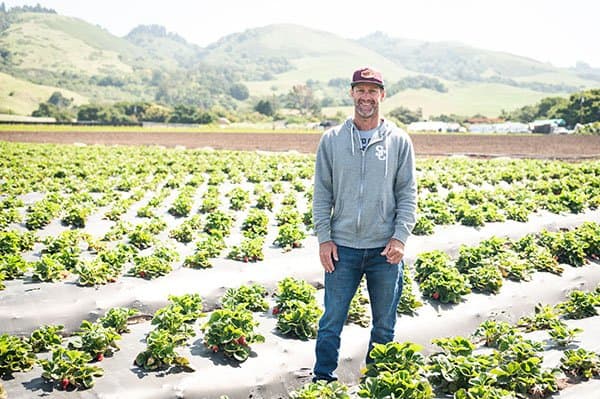 How to select the best strawberries when shopping.
California strawberries are fully ripe at the time they are picked and do not continue to ripen after harvesting. Choose berries with bright red color and fresh, green caps (aka calyxes). Be sure to inspect the package to make sure there are no moldy berries.
Where in California are strawberries grown? 
Strawberries grow along the California coast on about 35,000 acres.  During peak season, strawberries are harvested in Salinas, Watsonville, Santa Maria, Oxnard, and Orange County. During the cooler months, strawberries continue to be harvested in Santa Maria and Oxnard, making California strawberries available year-round.
How much money do strawberry pickers earn?
California berry fields provide some of the best paying jobs and benefits for rural communities. Wages vary seasonally, and harvest workers can earn more than $30 per hour during peak harvest. These wages are higher than entry-level jobs in retail or tourism. Most farm employees receive health insurance: farms with 50 or more employees comply with the Affordable Care Act health insurance coverage options. All farm employees receive medical and disability insurance for work-related injuries. Under California's workers' compensation system, employees are provided prompt medical treatment for on-the-job injuries or illnesses no matter who is at fault.