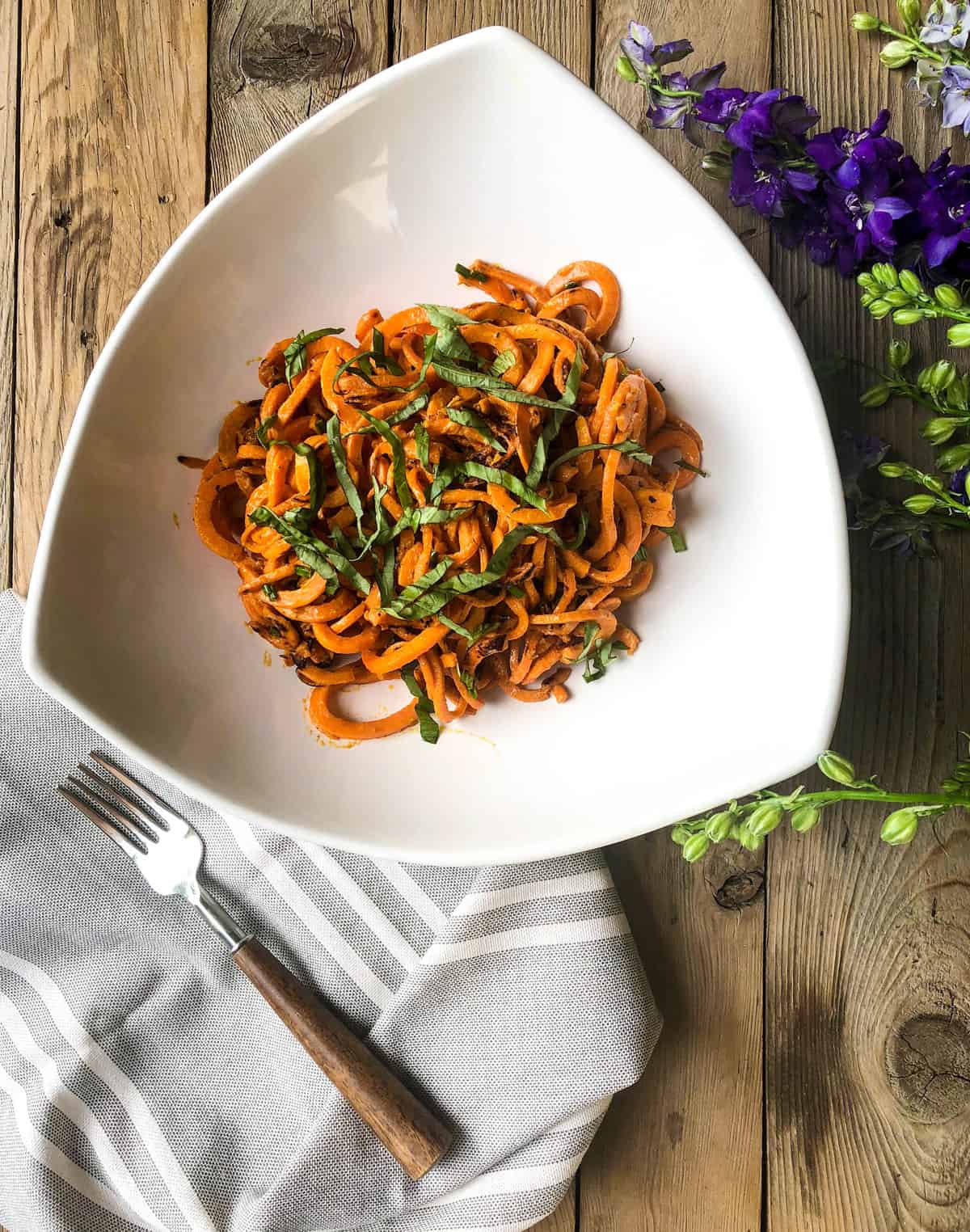 CA GROWN Blog
Discover. Learn. Connect.
Sweetpotato Noodles in Thai Basil Sauce
October 8, 2018
Eat the Season!
Sign Up For Weekly Recipes
« Back to Recipes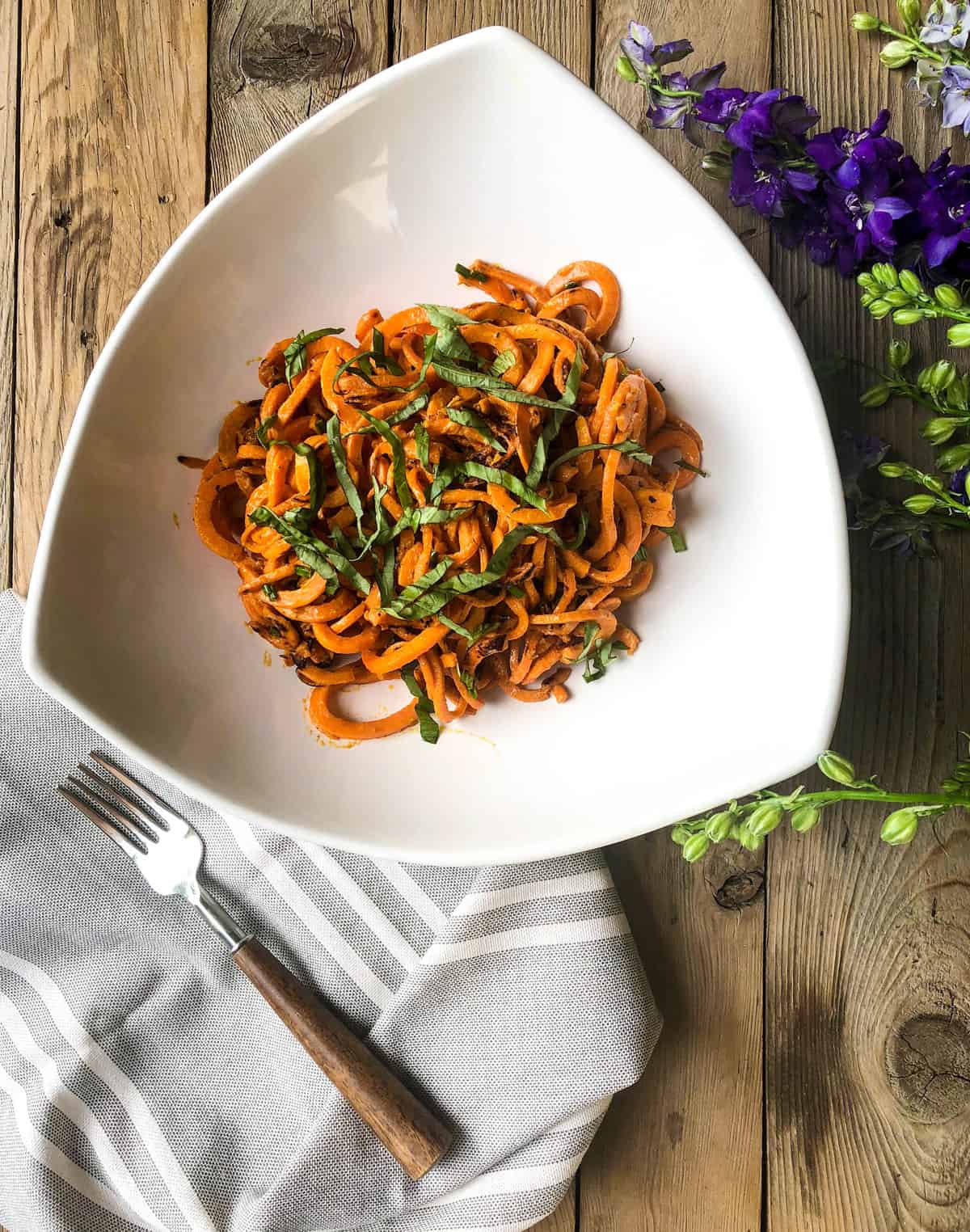 Sweetpotato Noodles in Thai Basil Sauce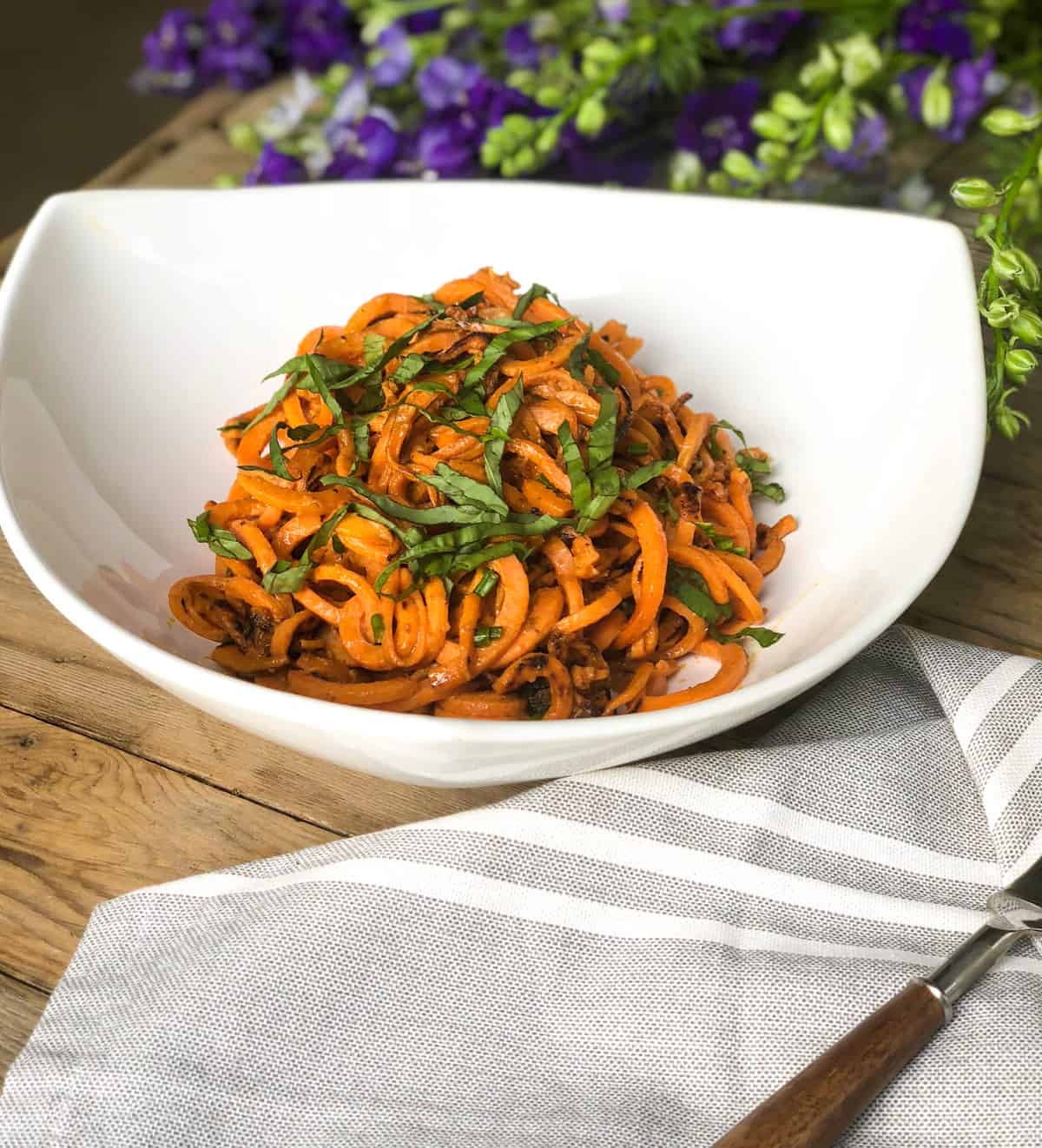 YOU GUYS!
This Sweetpotato Noodle dish is AMAZING!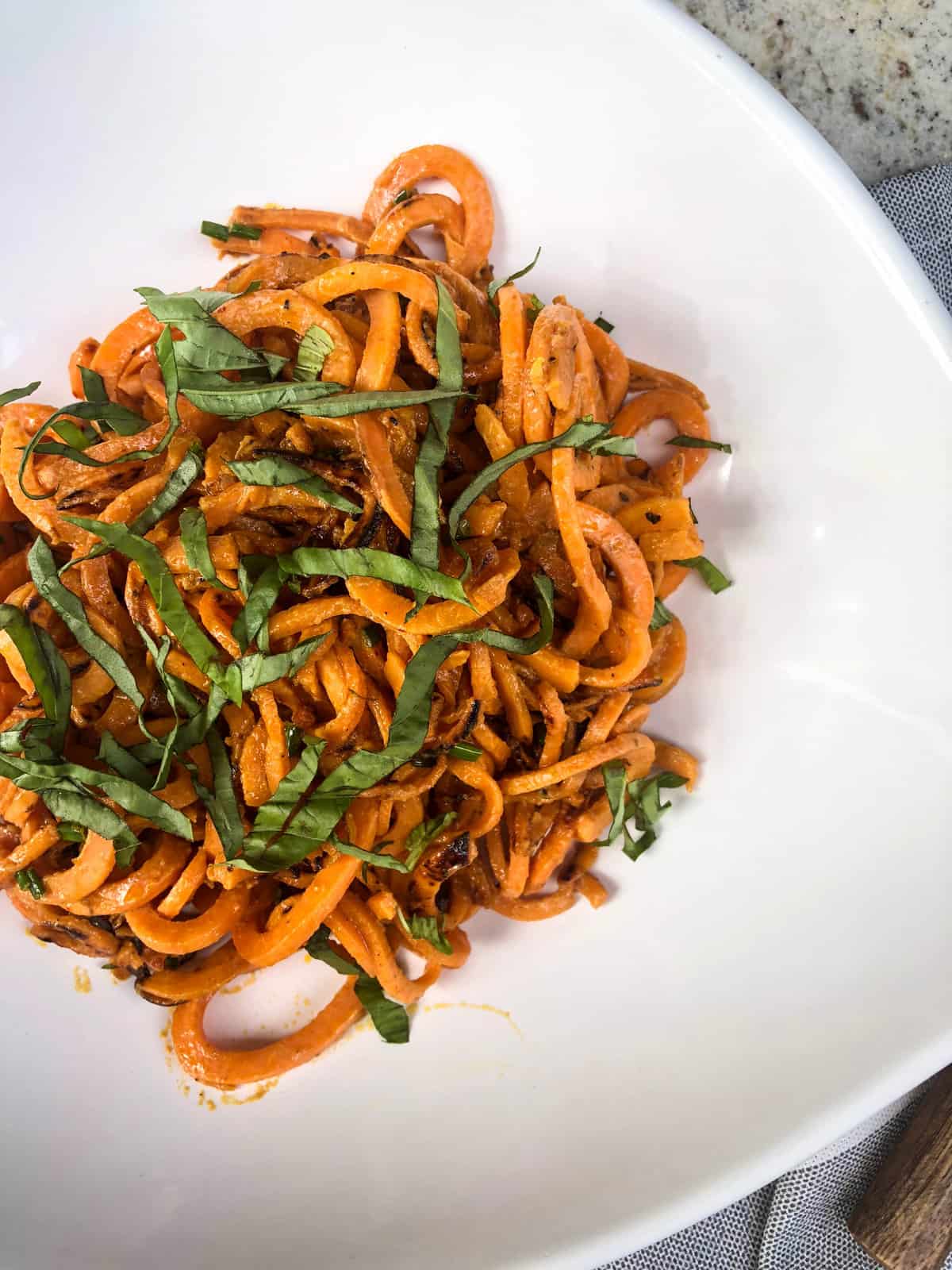 I do have to brag… I think this is better than traditional pasta. The flavors from the sweetpotato are not overwhelming and because they are sautéed in olive oil, a smoky, charred essence is imparted to the entire dish.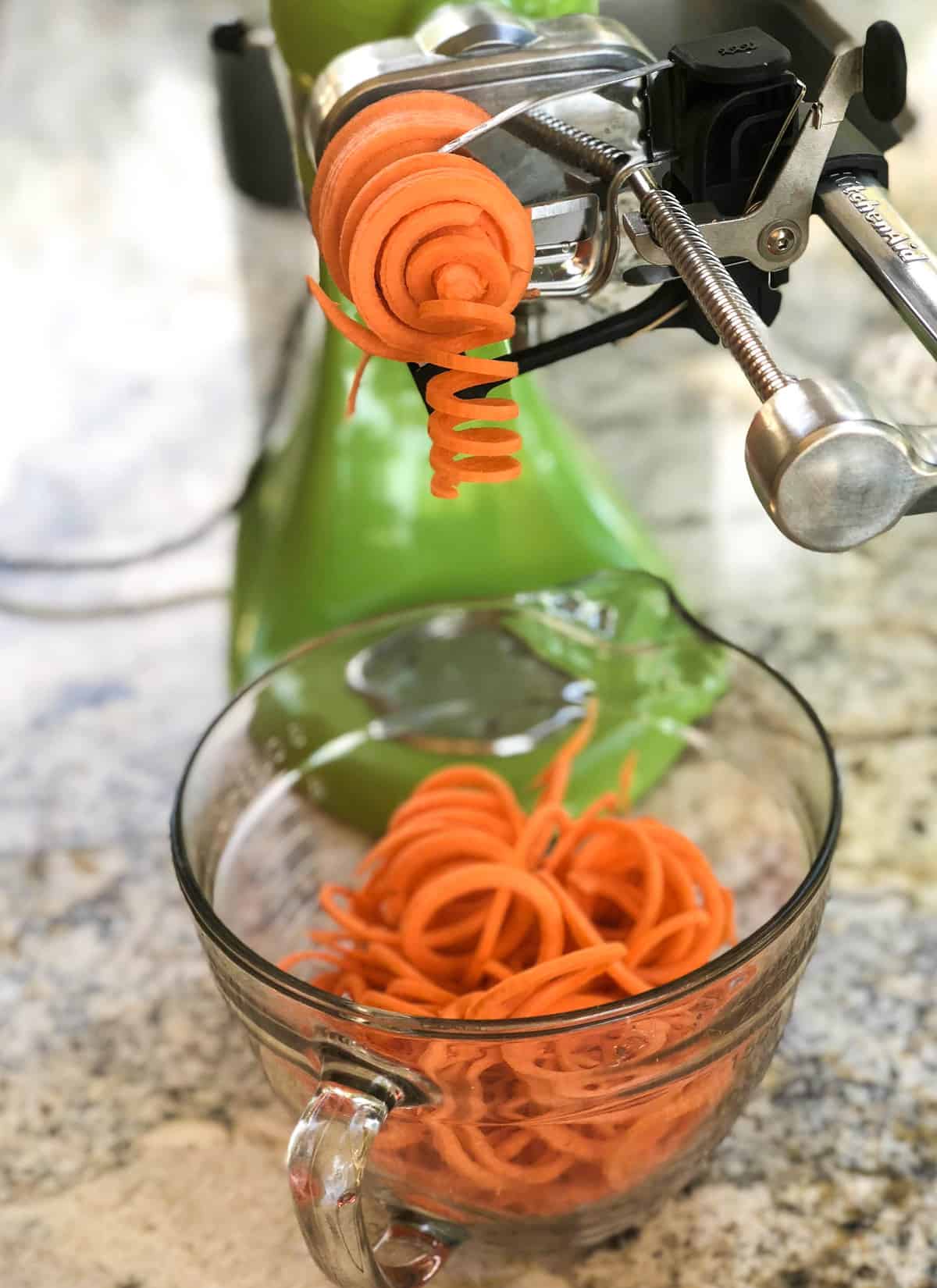 You do have to put some work in, but trust me… it's not that difficult. I have this handy, dandy attachment for my Kitchen-Aid mixer and it does all the work for me! I spiralized 3 sweetpotatoes for this recipe and it would serve 2 for a main dish, 4 as a side.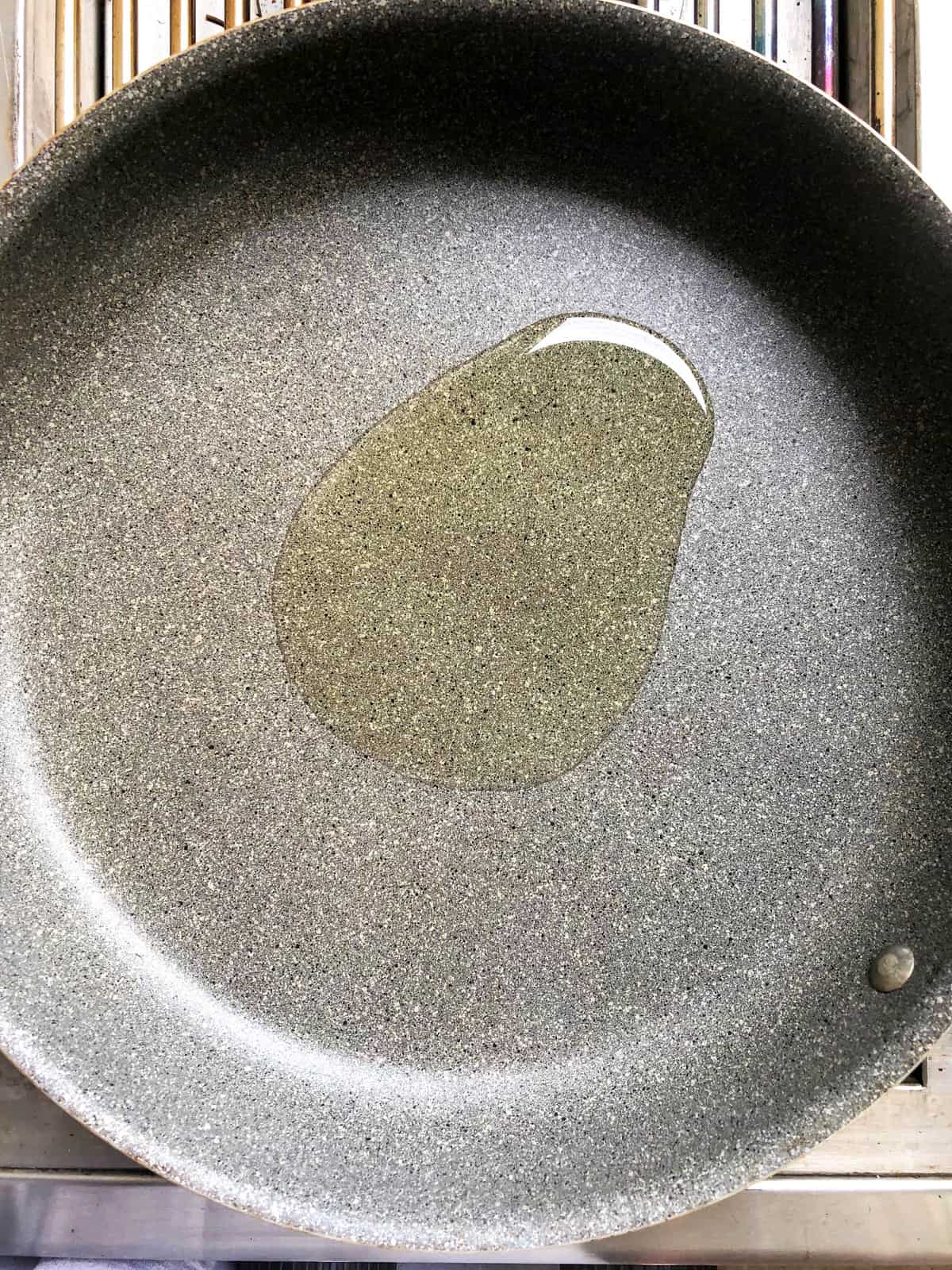 Heat a pan with 1-2 tablespoons of Olive Oil to high heat.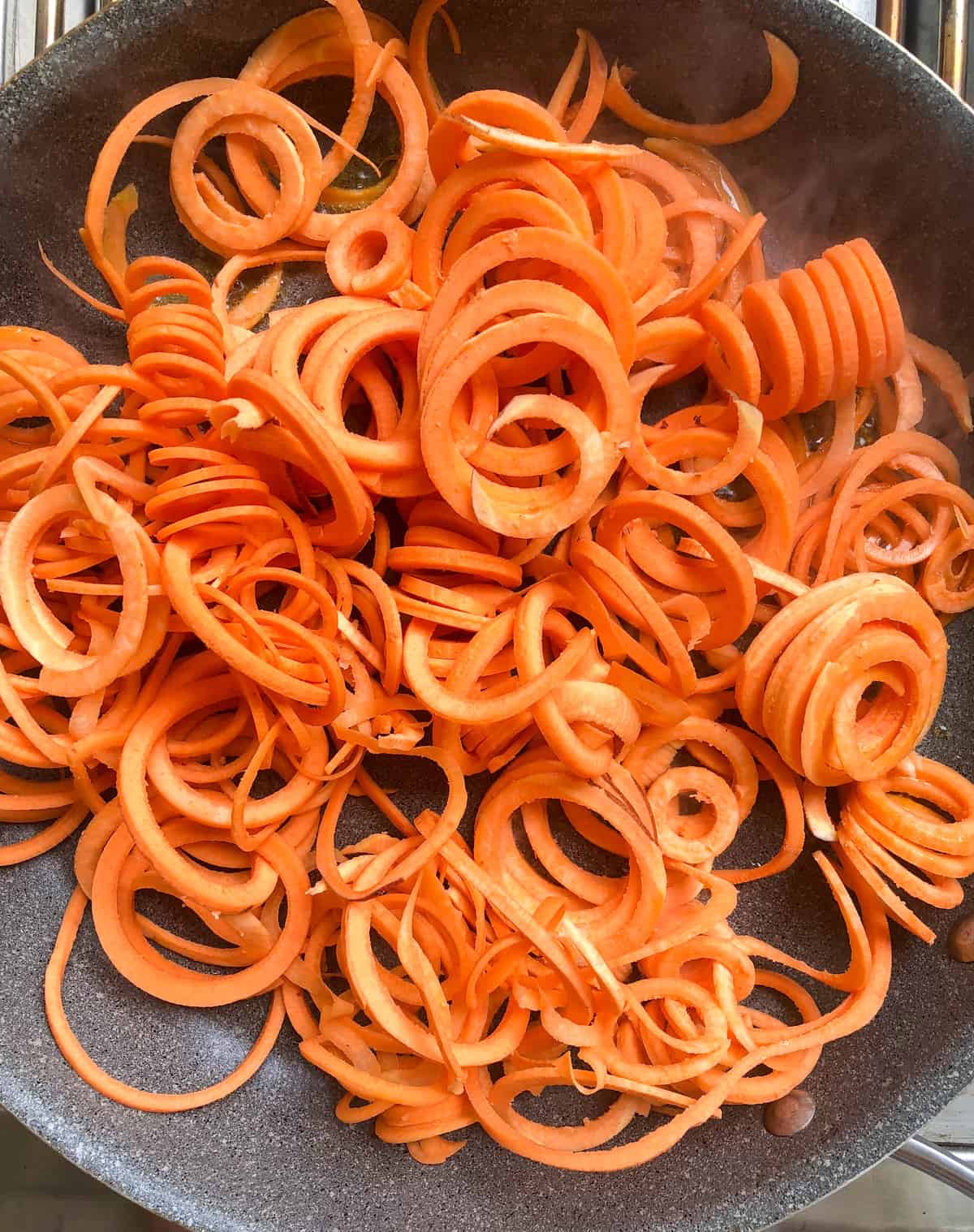 Add the spiralized sweetpotatoes to the pan and sauté for 5-7 minutes. You want the potatoes to still have a little crunch to them, so in the tradition of pasta, let's cook them al dente.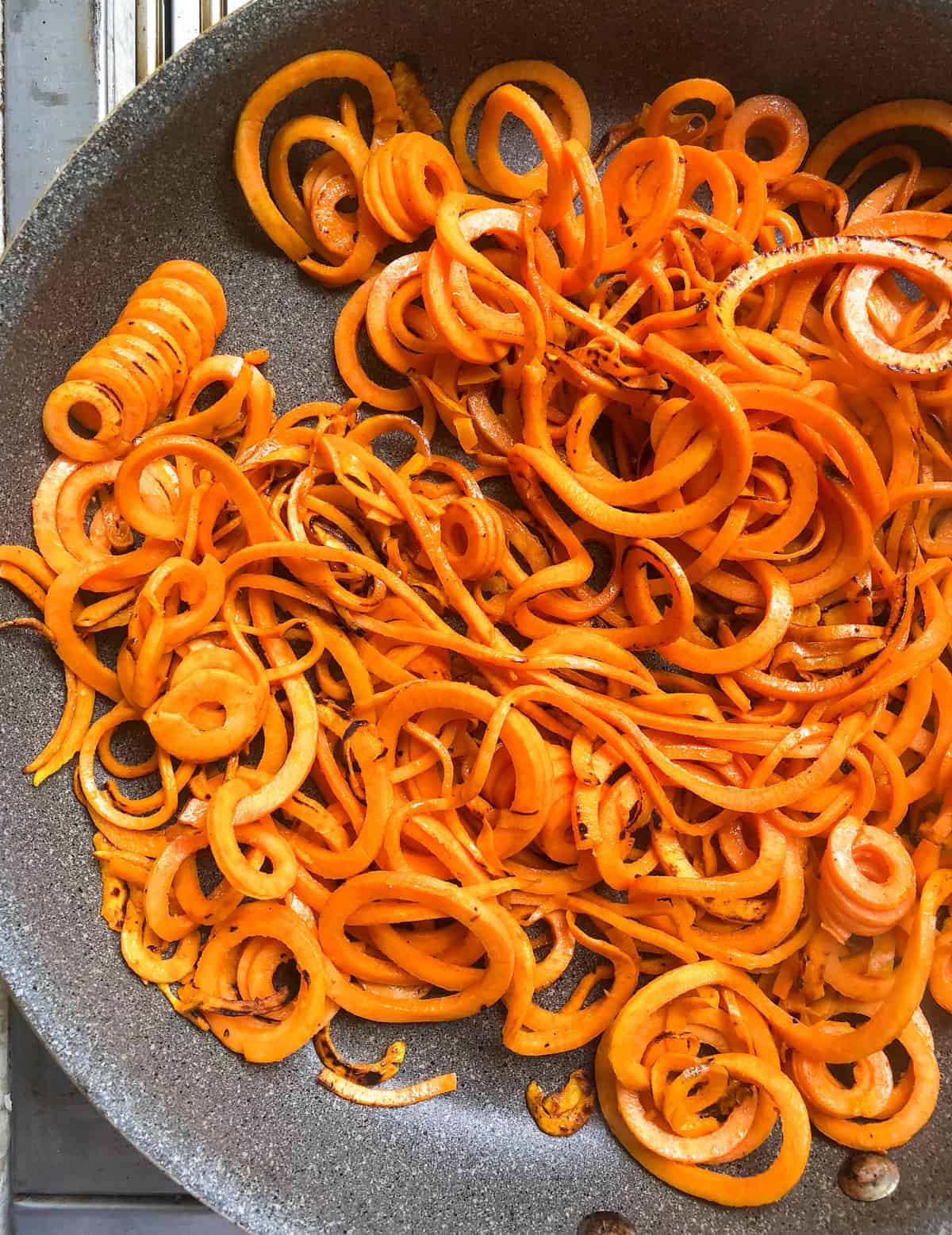 You'll see that the pieces will be charred, imparting a wonderful nutty flavor.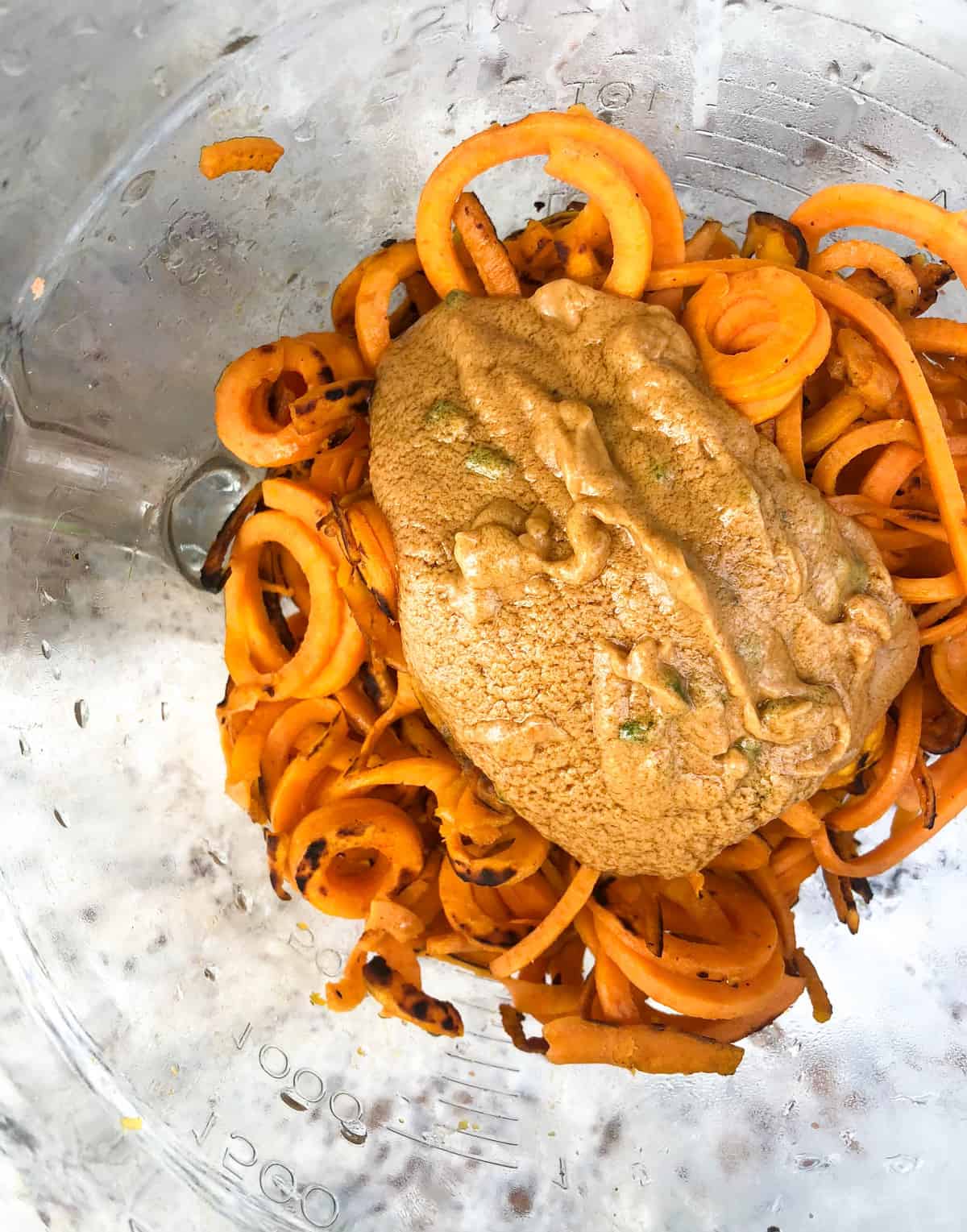 Toss the Thai Basil Sauce with the noodles until coated…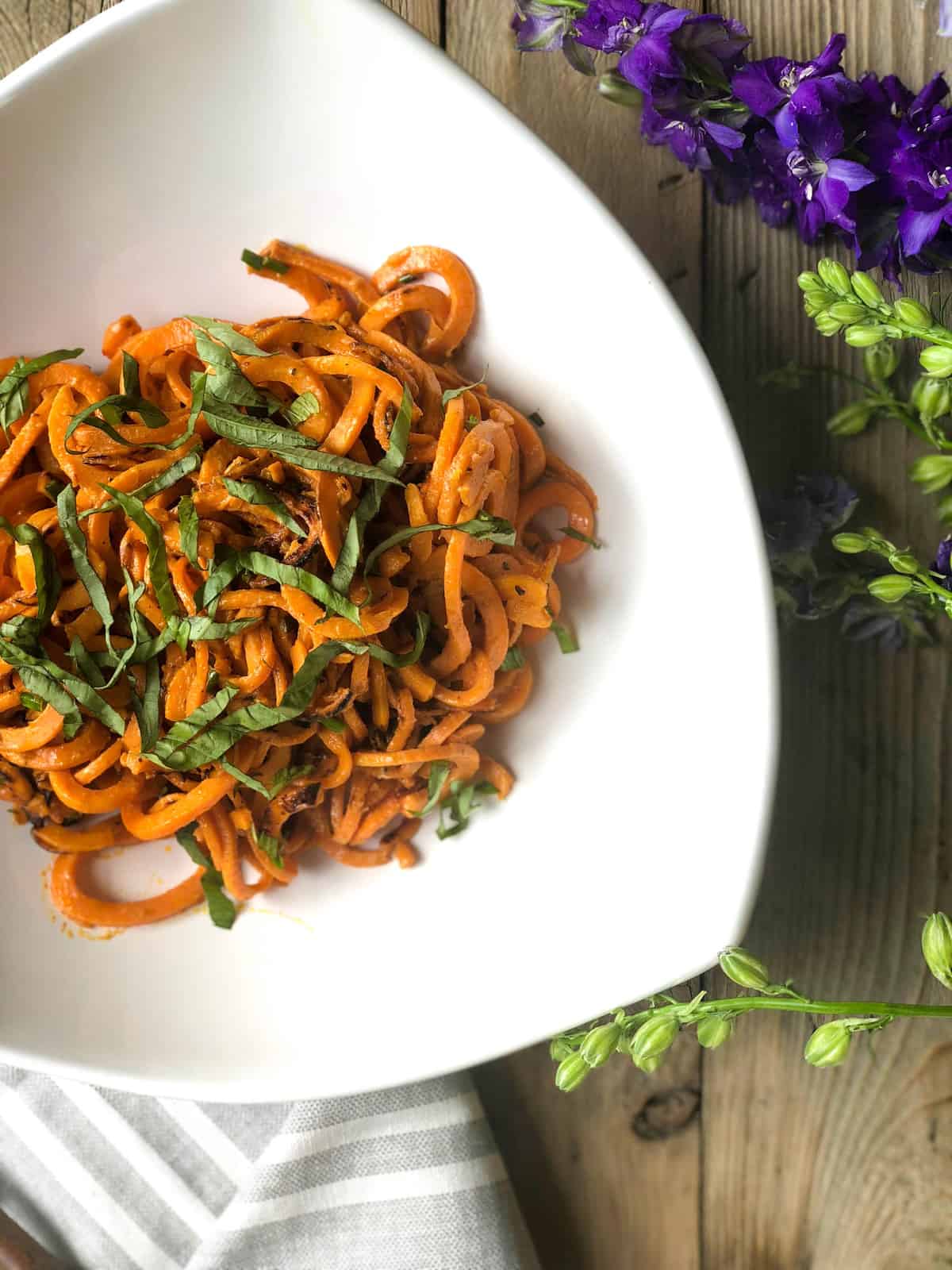 Dish up and eat while warm..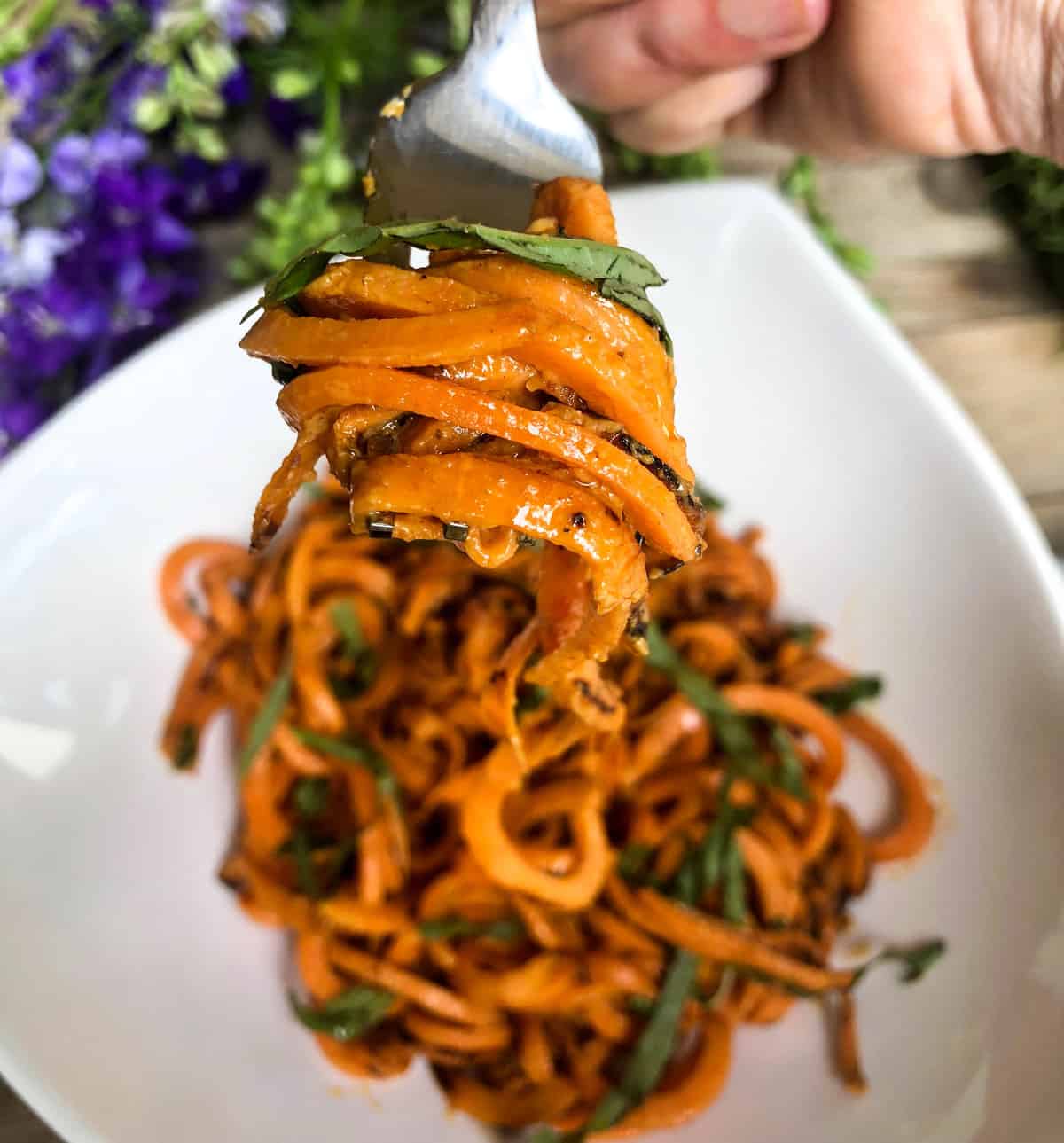 Although I have to admit I ate some a few hours later straight from the fridge and it was amazing!
Sweetpotato Noodles in Thai Basil Sauce
Ingredients
For Sweetpotatoes
3 sweetpotatoes
1-2 tbsp. olive oil
For Sauce
2 tbsp. peanut butter
1/4 tsp. rice vinegar
1/2 tsp. soy sauce
1/2 tsp. honey
1/8 tsp. pepper
1/4 tsp. ginger powder
1/2 tsp. garlic powder
4 tbsp. water
1 tbsp. olive oil
3 tbsp. chives, chopped
Garnish
5-6 large basil leaves, thinly sliced
Instructions
Using a hand held or electric spiralizer, cut the potatoes into noodles.

Heat a pan with olive oil and add the sweetpotatoes. Sauté for about 5-7 minutes until cooked al dente.

Mix the sauce ingredients thoroughly and pour over the zoodles once cooked through.

Garnish with the sliced basil.