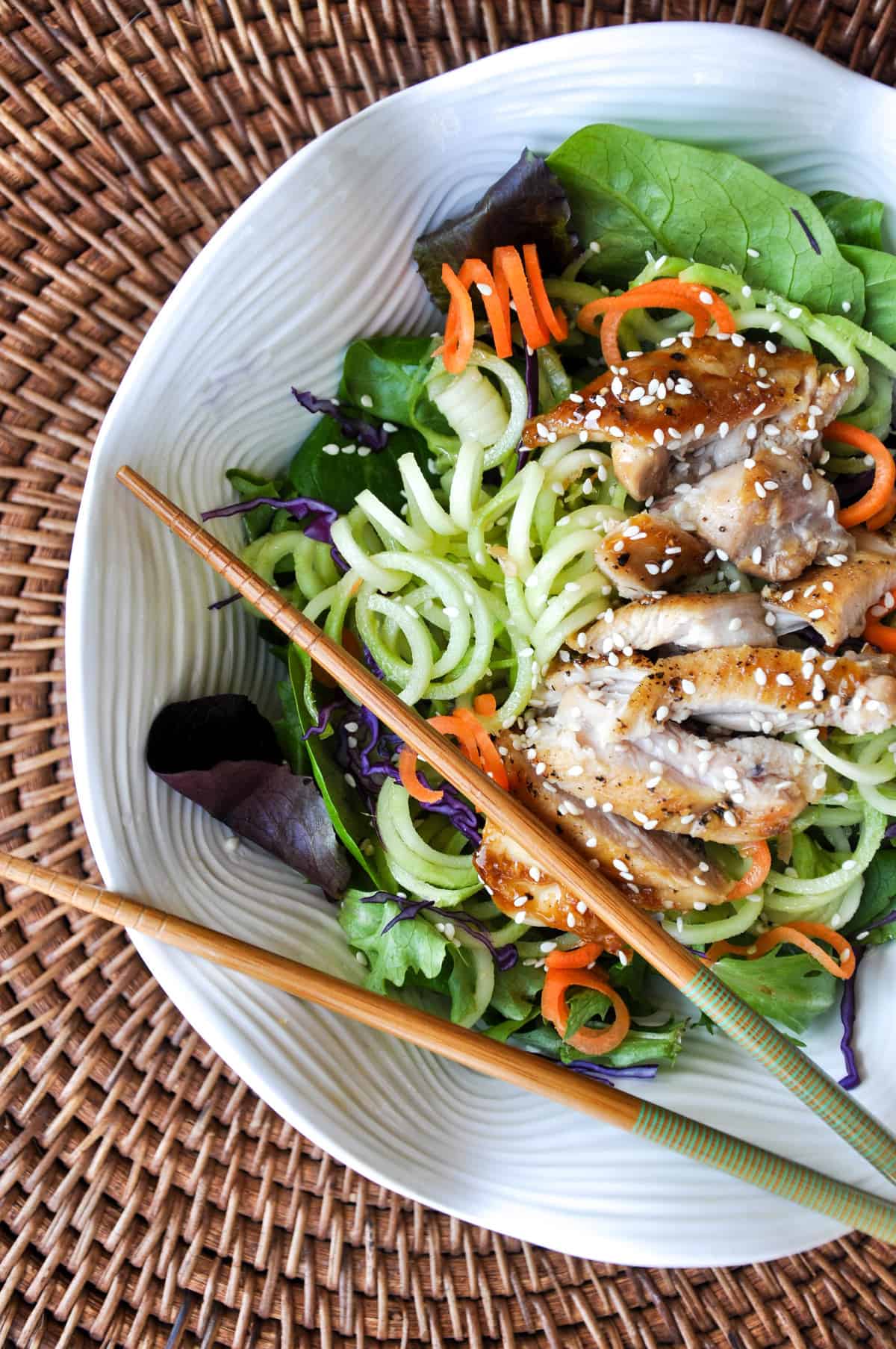 CA GROWN Blog
Discover. Learn. Connect.
How To Turn A Broccoli Stalk Into Noodles & A Spiralized Broccoli Teriyaki Chicken Recipe
February 15, 2017
Eat the Season!
Sign Up For Weekly Recipes
« Back to Recipes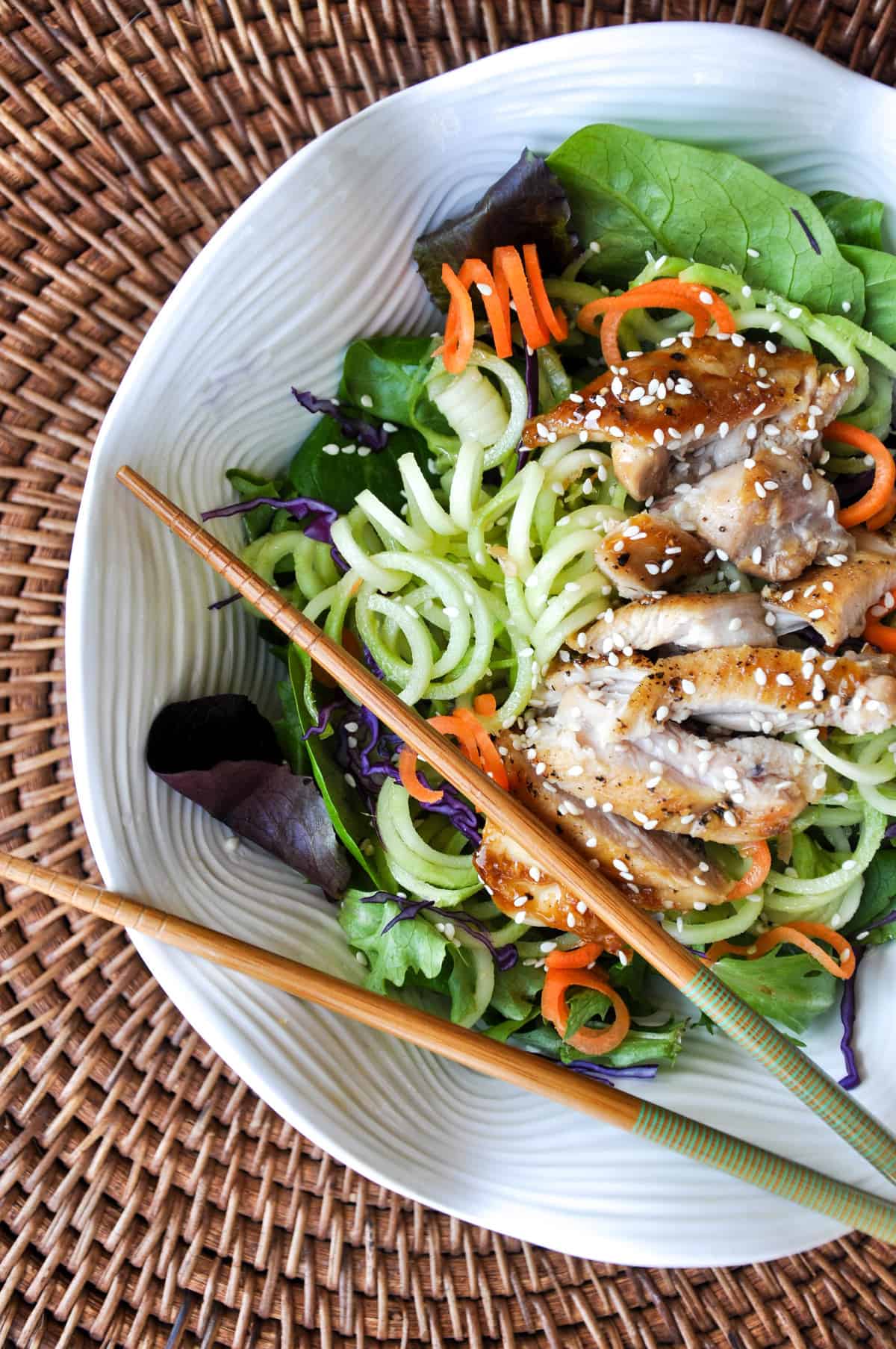 How To Turn A Broccoli Stalk Into Noodles & A Spiralized Broccoli Teriyaki Chicken Recipe
Ever wondered how to prep, cook, and eat a broccoli stalk? Don't toss out that stem, it's a nutritional powerhouse that can serve as an entirely different meal, ultimately stretching your grocery budget even further than you thought possible!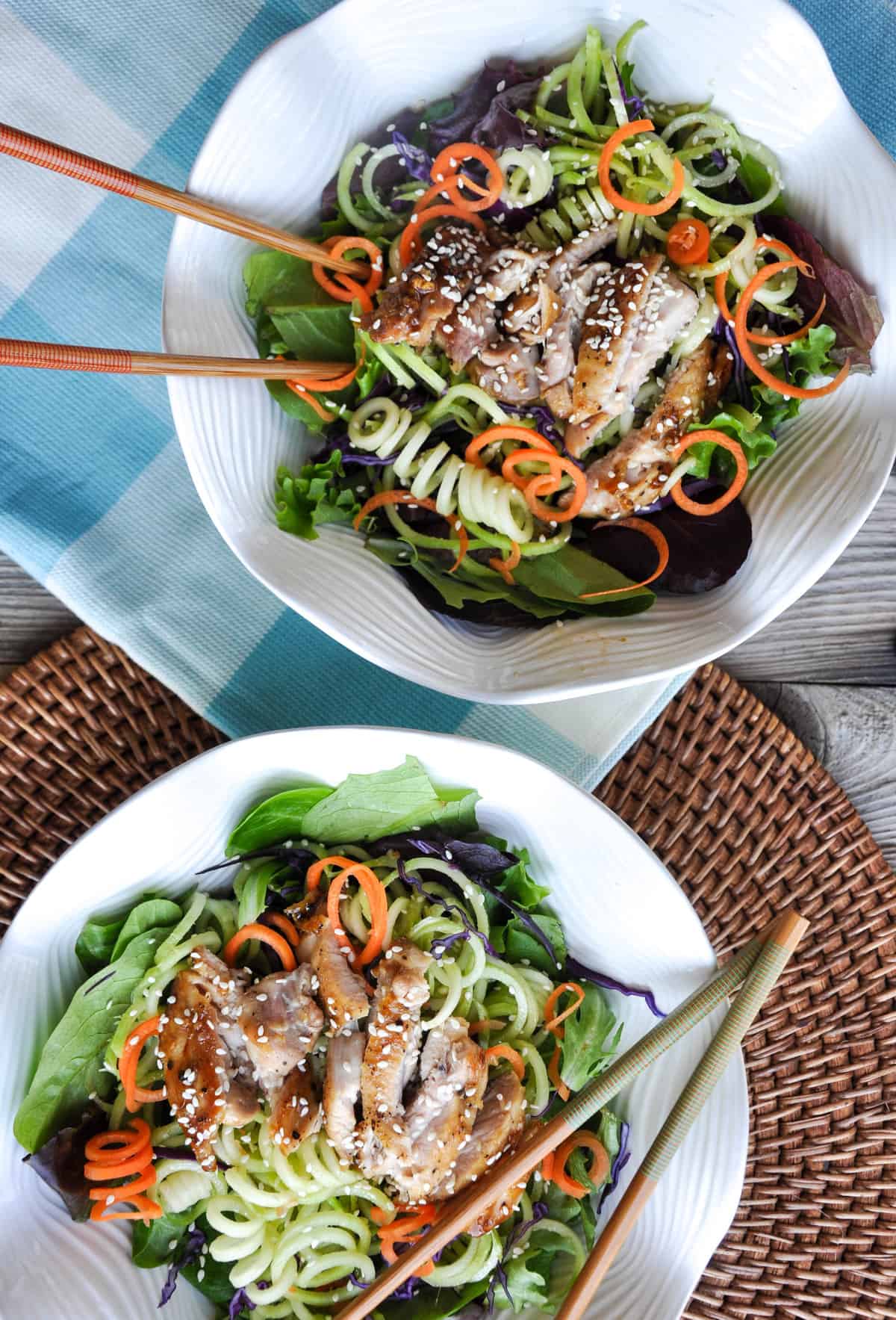 What do broccoli stalks taste like?
Broccoli stems are most often tossed in the garbage without a second glance. But the stems can absolutely be eaten and enjoyed and are completely delicious, they just need a little prep work. Broccoli stalks taste similar to the florets, but more mild and sweet, sort of like kohlrabi.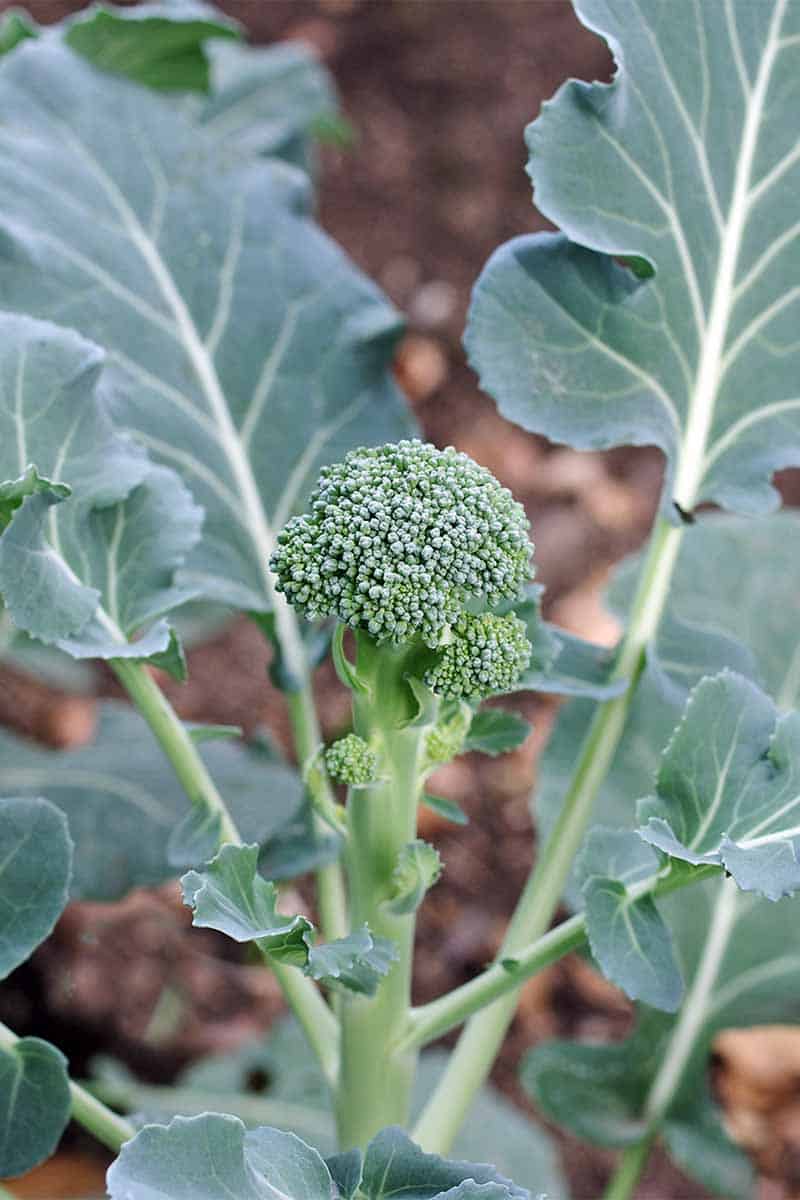 Did you know that more broccoli is grown in California than in any other state?!
It's true, California produces over 90% of the broccoli crop in the United States! The Central Coast of California also has the longest growing season for broccoli in the country. This means broccoli grows almost year-round in California!
Let's make vegetable noodles from broccoli stalks!
This recipe comes together fast and easily, but there are a few things you should know about cooking broccoli stems.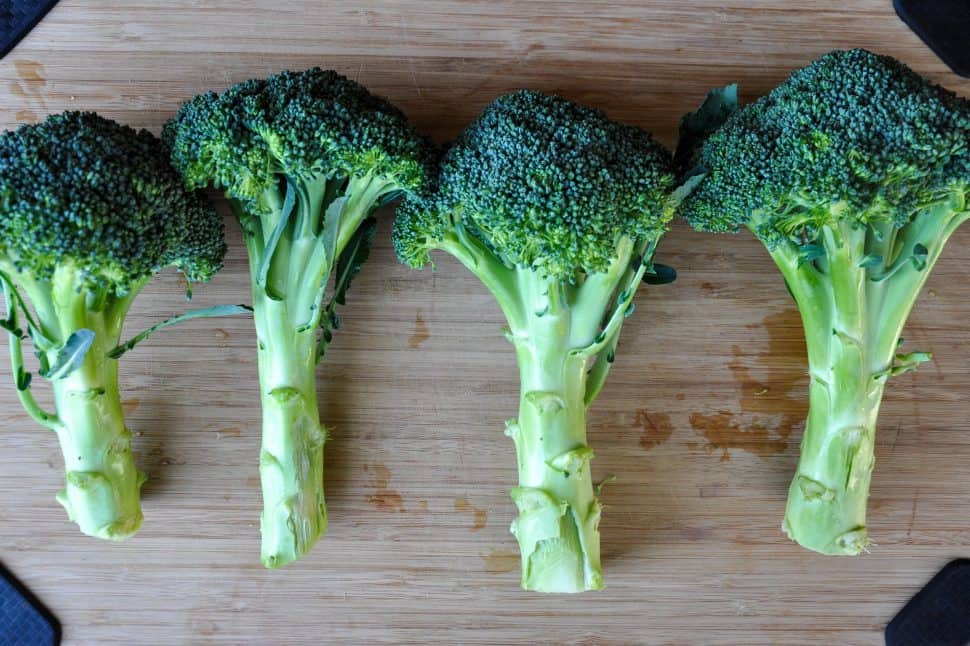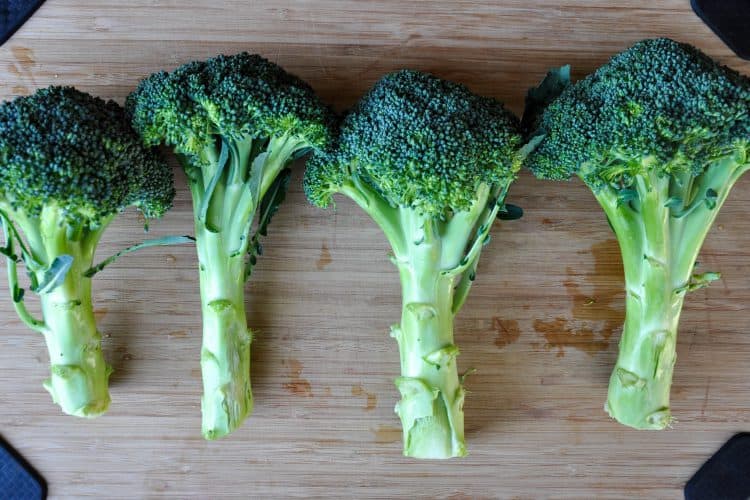 How to pick the best broccoli stalks!
The part of the broccoli that gets spiralized in this dish is the stalk. Make sure you pick out long, thick stalks for best results!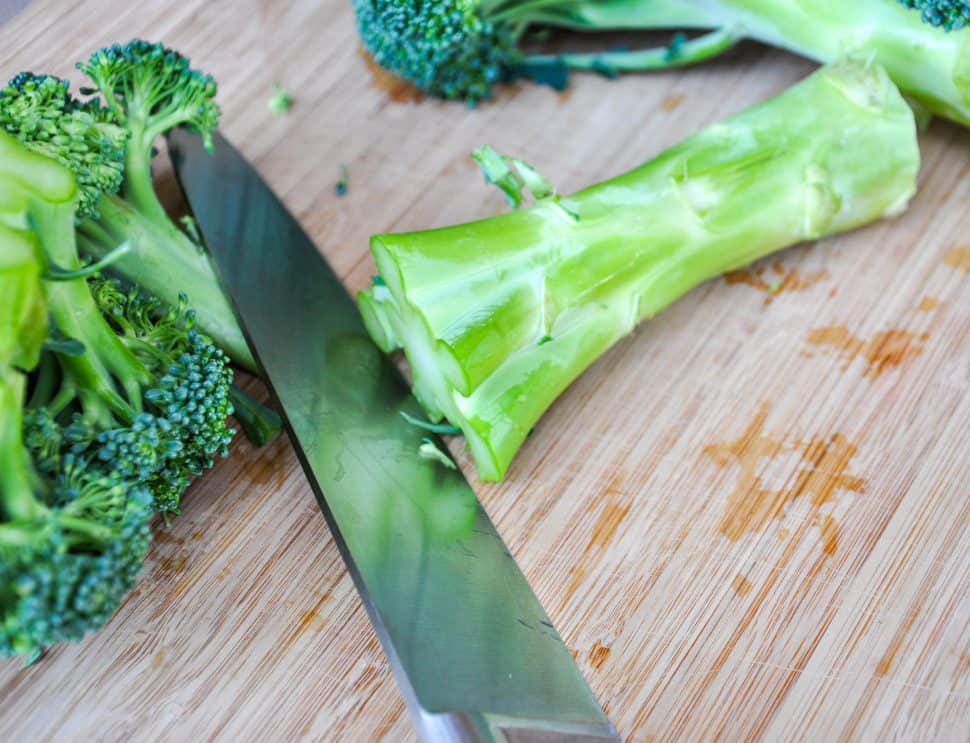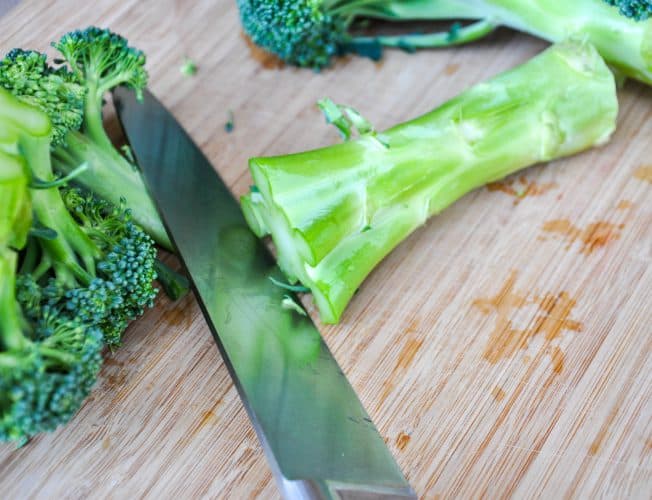 Where to slice the broccoli stalk.
Slice at the base of the stalk near the top where the florets start to branch out.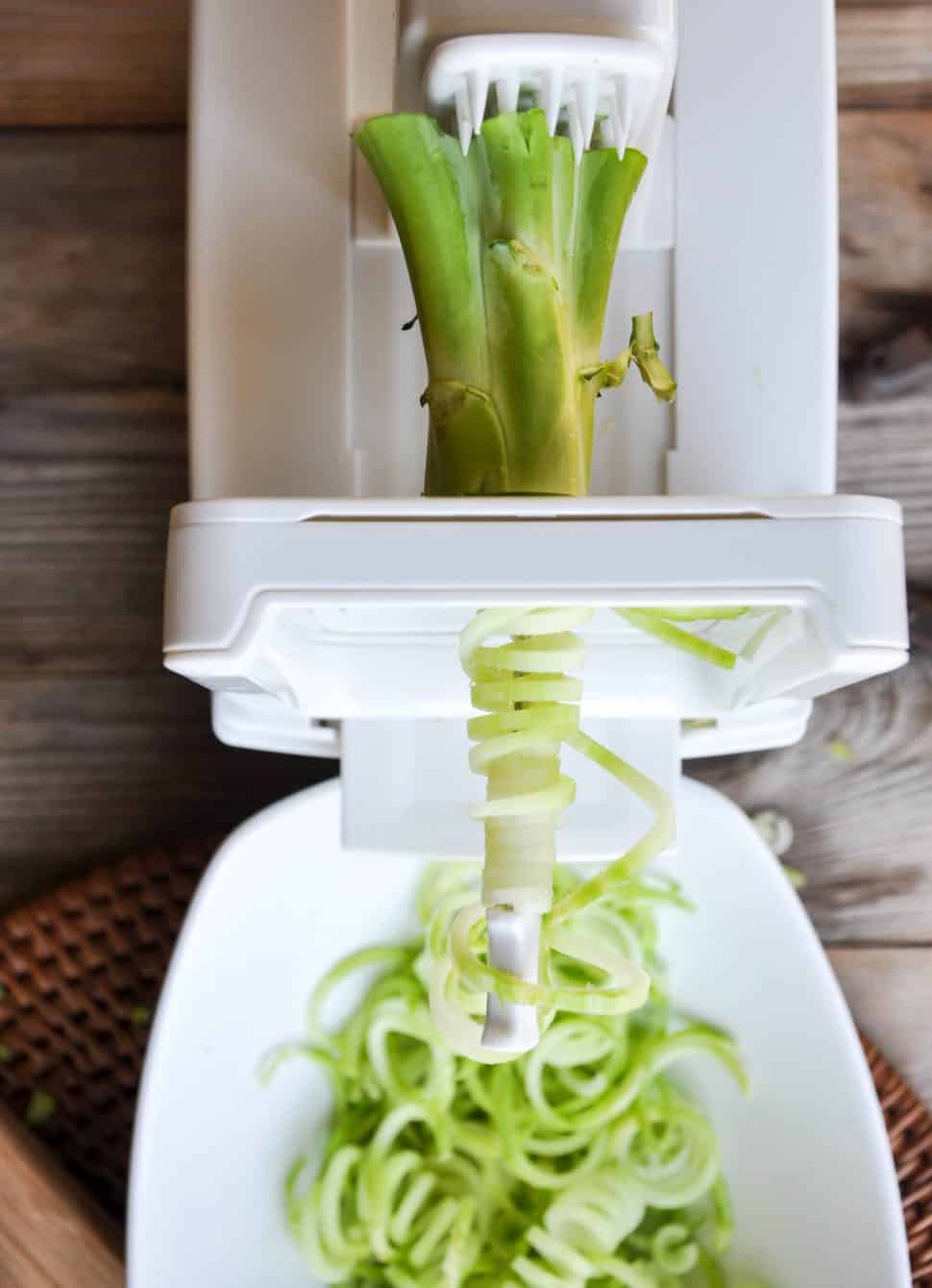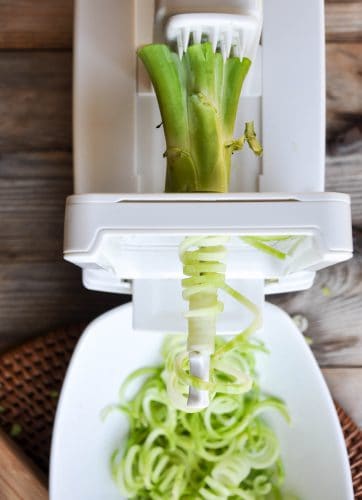 Turn your broccoli stalks into noodles!
Load the broccoli stalk into the spiralizer and gently turn to achieve long, spiraled broccoli "noodles."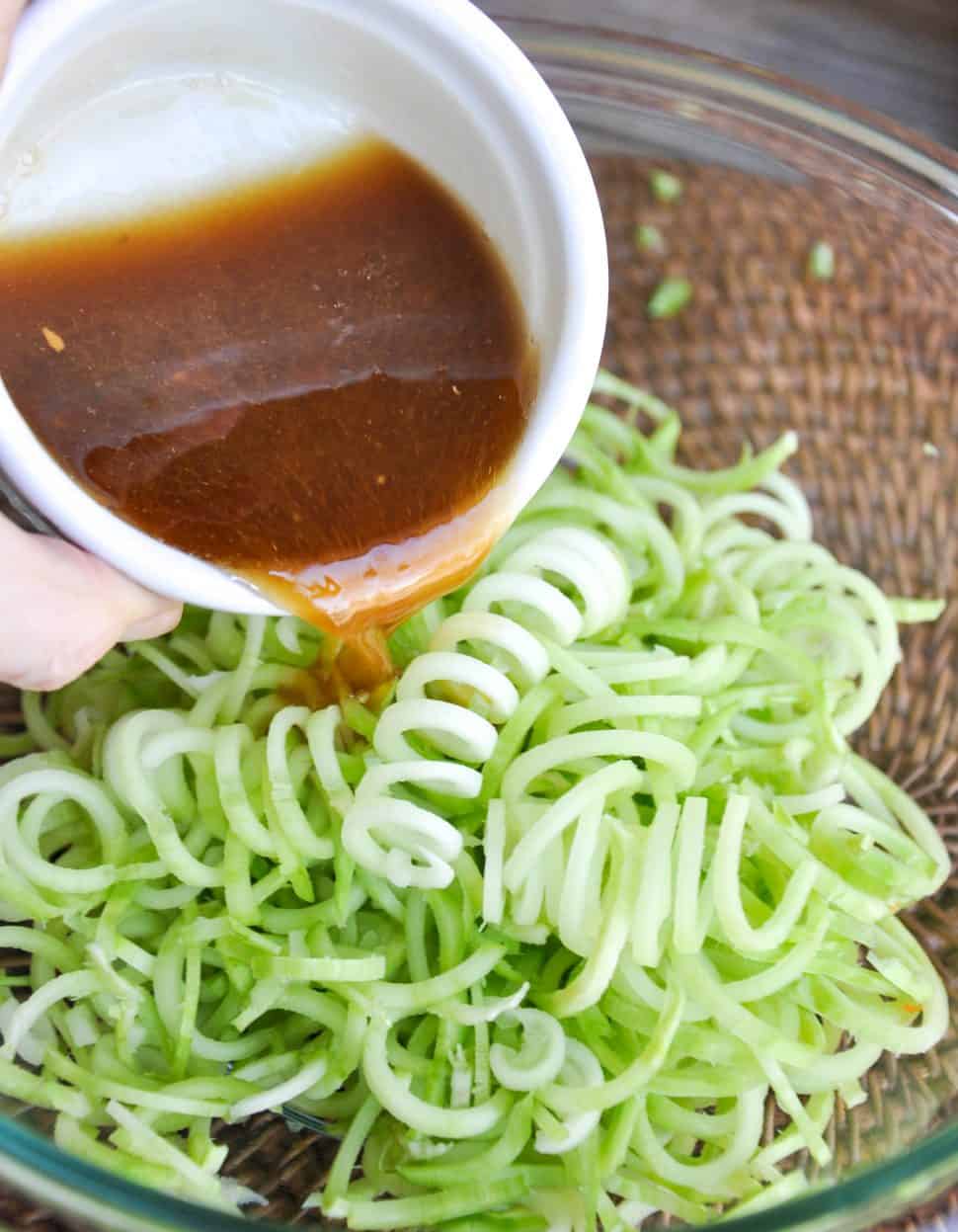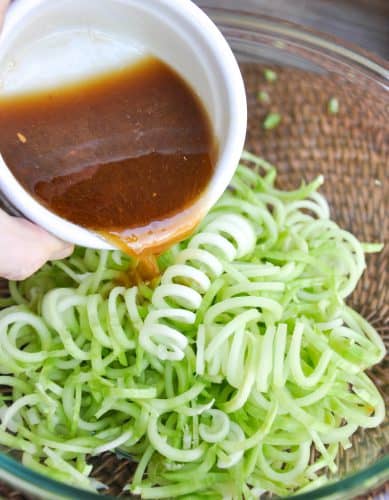 Marinate the broccoli stalks.
Add the simple Asian dressing to the broccoli and toss to coat. While you cook the chicken the broccoli stem will marinate and become more tender and flavorful.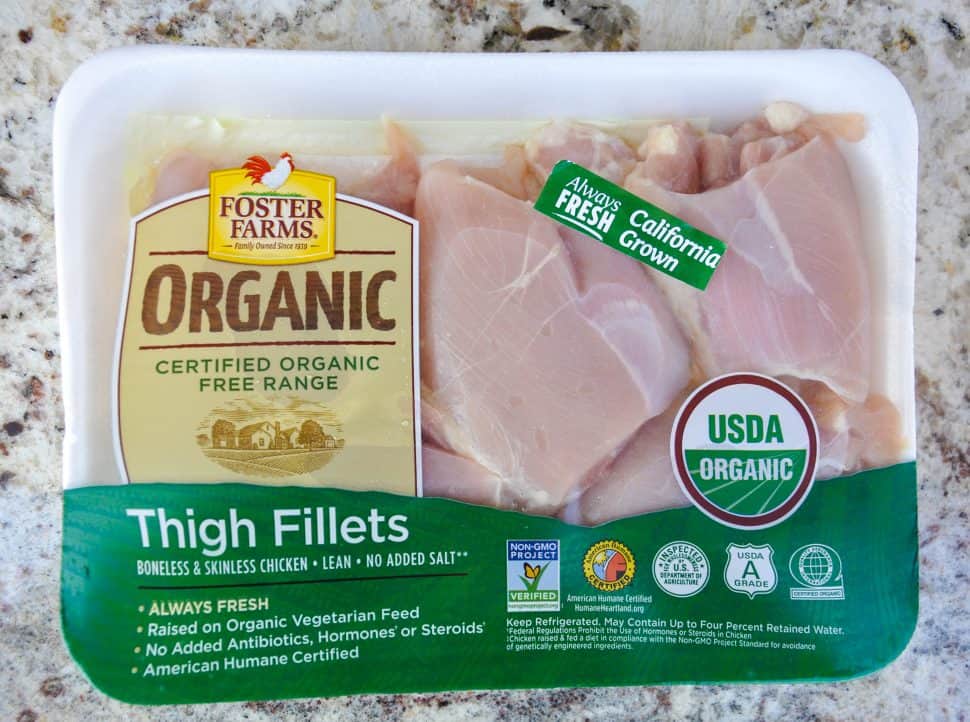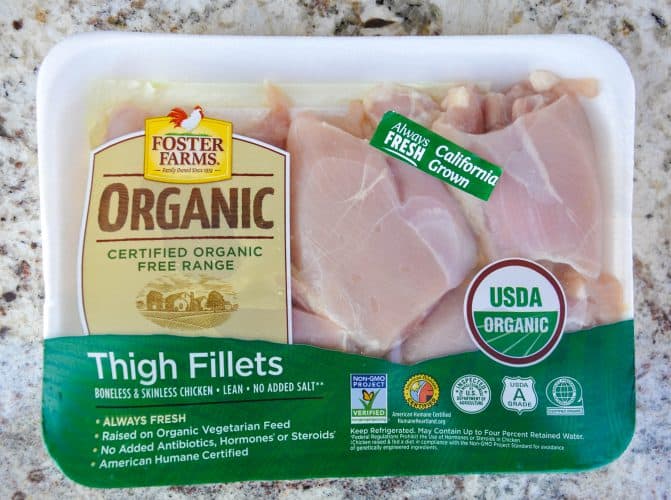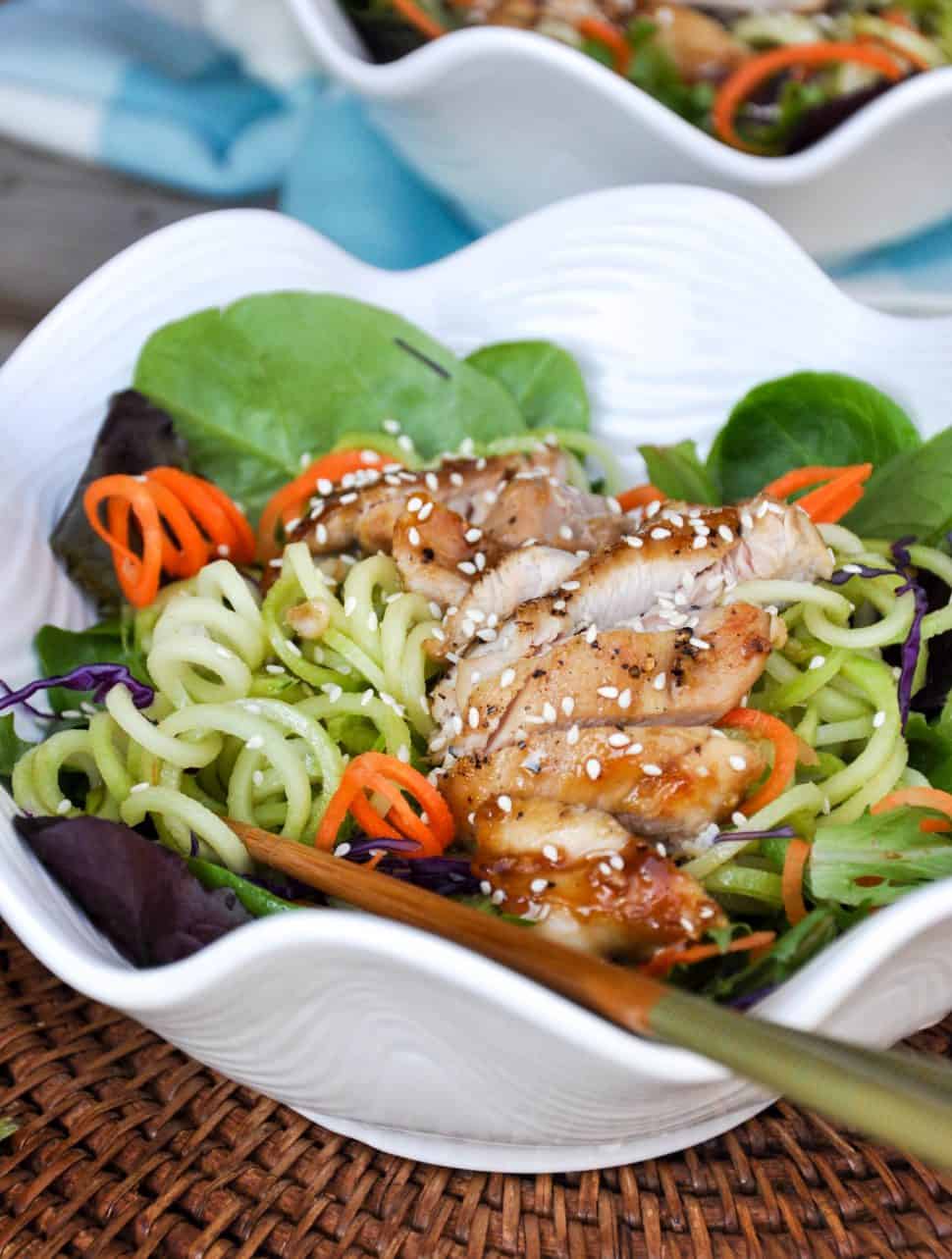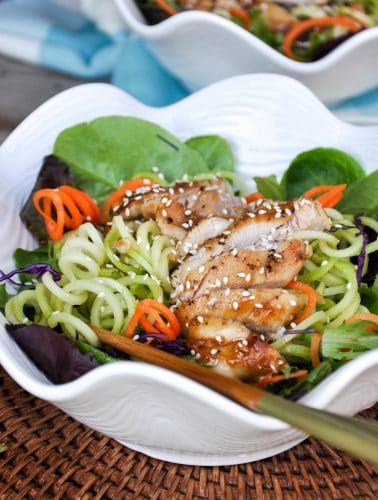 Build your Spiralized Broccoli Teriyaki Chicken Bowl
Layer the spiralized broccoli stalks onto leafy greens with carrots and top with thin slices of the cooked Teriyaki chicken thigh.
This particular version of Spiralized Broccoli Stalk and Teriyaki Chicken Bowl is carb-free but a layer of rice on the bottom of this dish would be extra satisfying!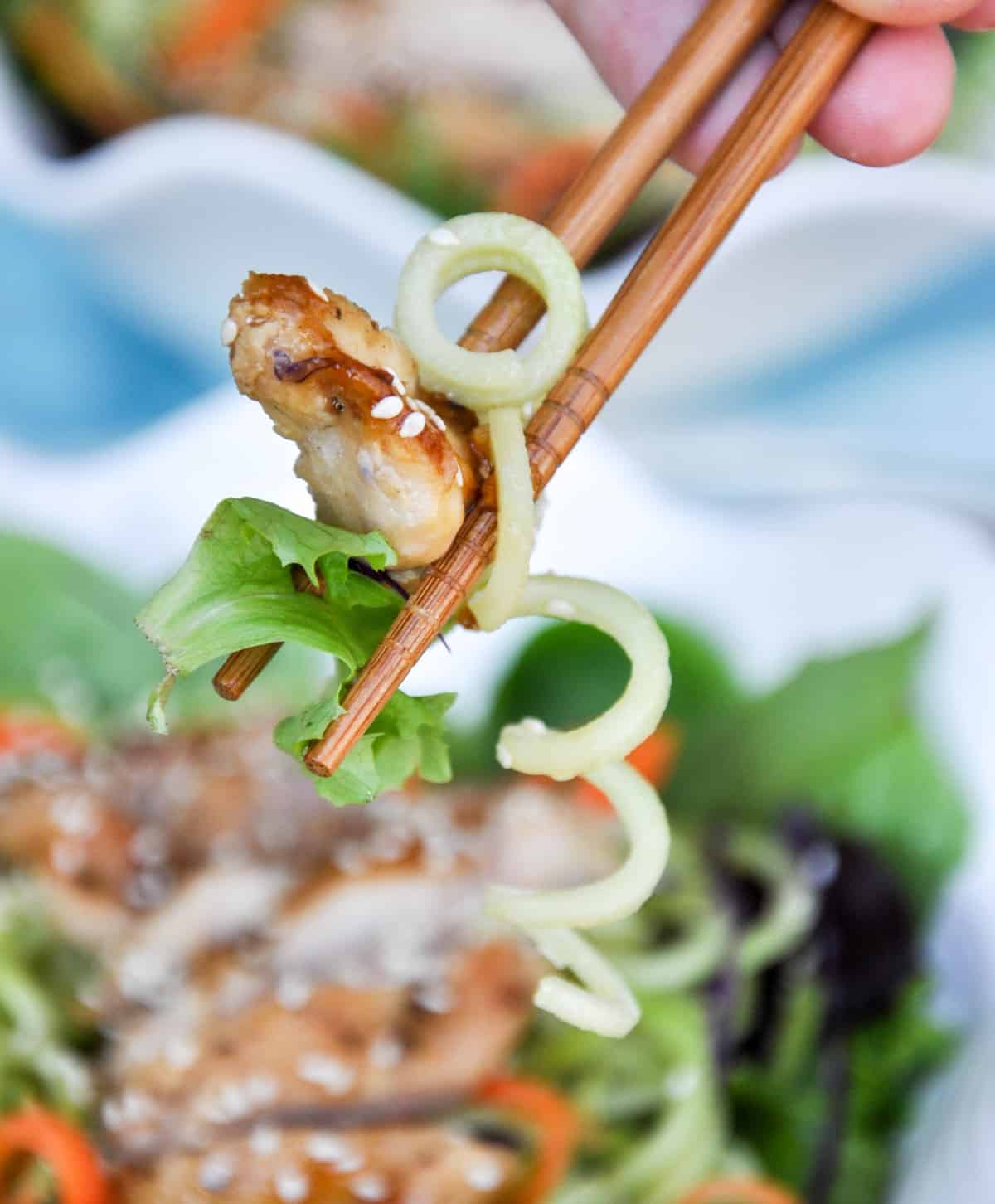 Looking for more ways to cook broccoli stalks?
We aren't the only ones on the internet singing the praises of broccoli stalks!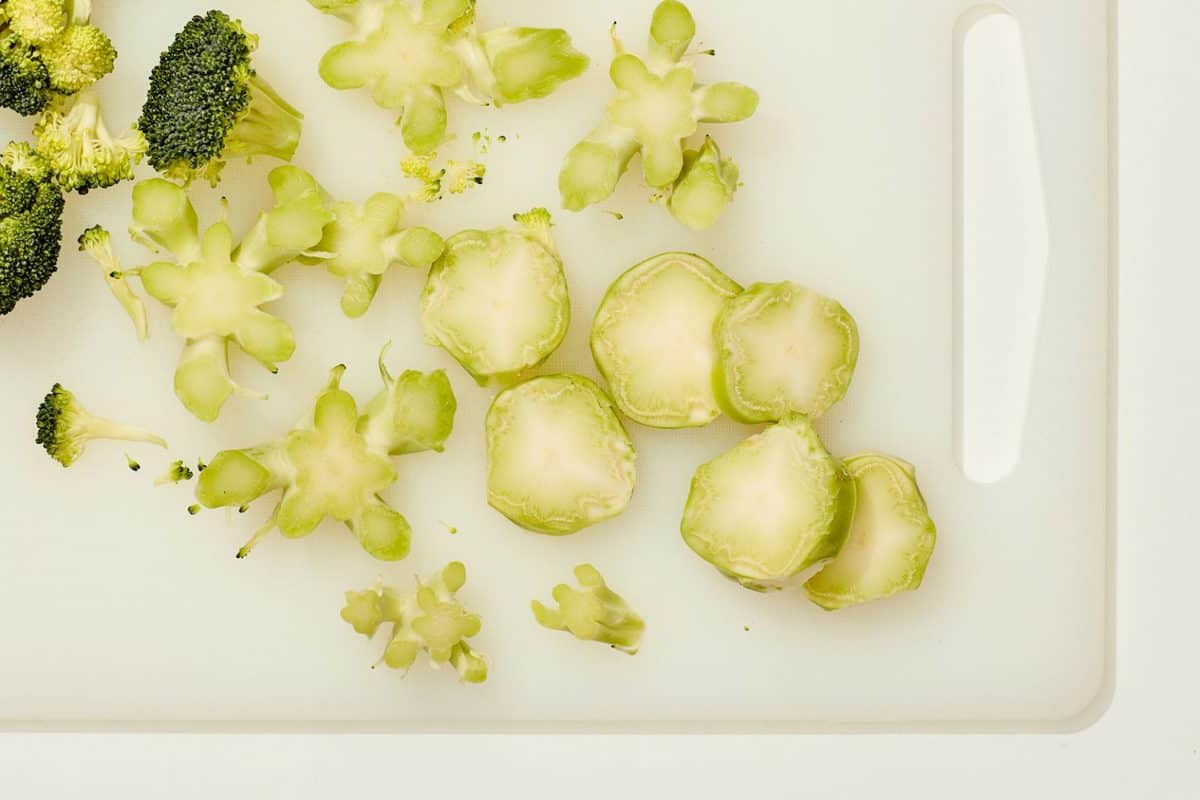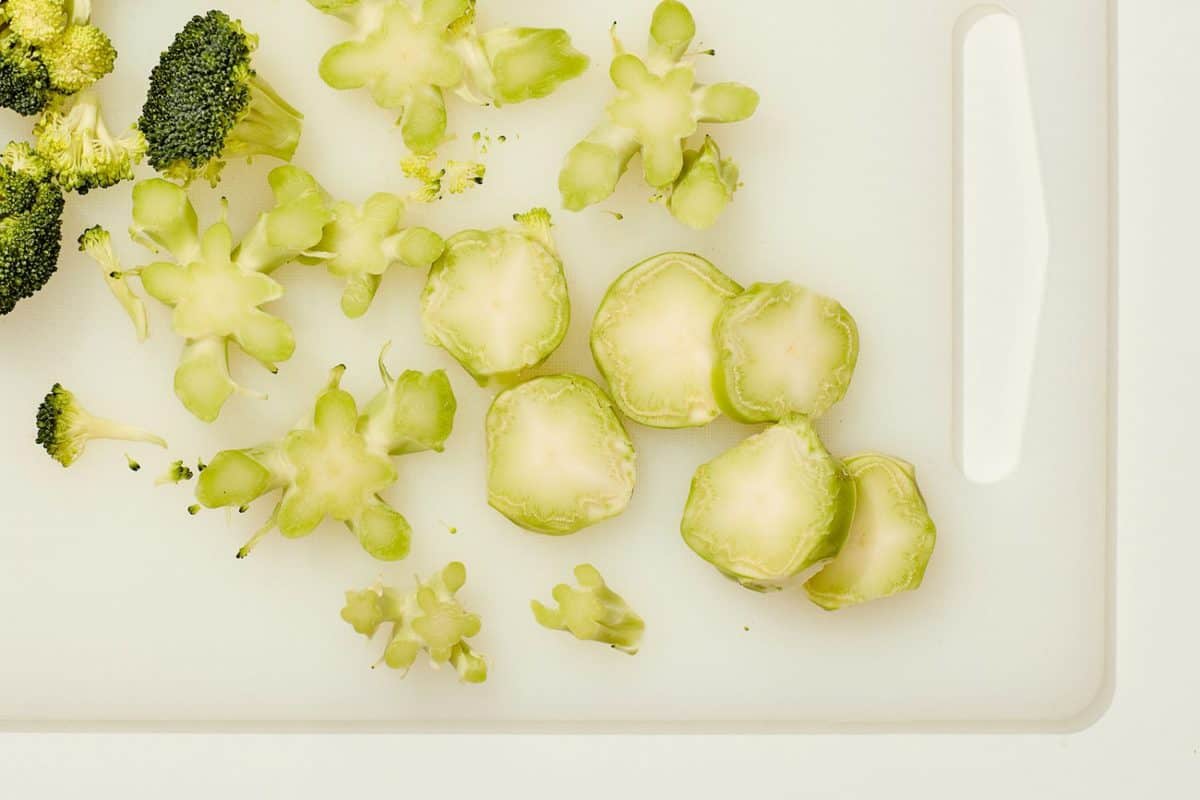 Alex Delaney of Basically by Bon Appetite has a lot to say about broccoli stalks!
"There are certain 2-for-1 deals that people expect and rely on. These include, but are not limited to, Bath and Body Works candles, bags of Tostito's tortilla chips, or a new line on your unlimited data plan. But then there are buy-one-get-one deals that go unrecognized. And we'd like to talk about the most underrated: buying a head of broccoli and getting broccoli stems for free." –Alex Delaney
Searching for more recipes for broccoli? Keep scrolling!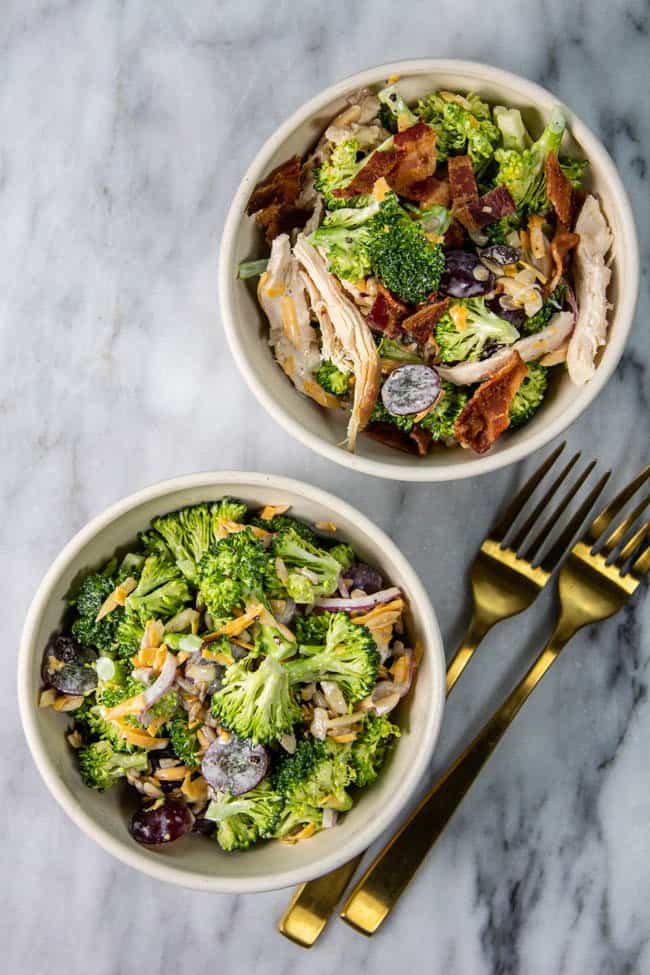 Brace yourself for the creamiest, most flavorful broccoli salad recipe on the internet! Our broccoli salad base recipe is a hearty one-bowl salad situation that is best suited as a side dish, but when you add shredded chicken and chopped bacon to the mix this side salad takes center stage as the easiest supper sized salad on the planet.
This broccoli stirfry from This Mess is Ours is an easy and nutritious weeknight plant-based meal that goes from start to finish faster than you can cook a pot of rice. This recipe is chock-full of crisp, tender broccoli with just the slightest char and a generous helping of our homemade Teriyaki Sauce recipe that is free of refined sugars and loaded with big flavor!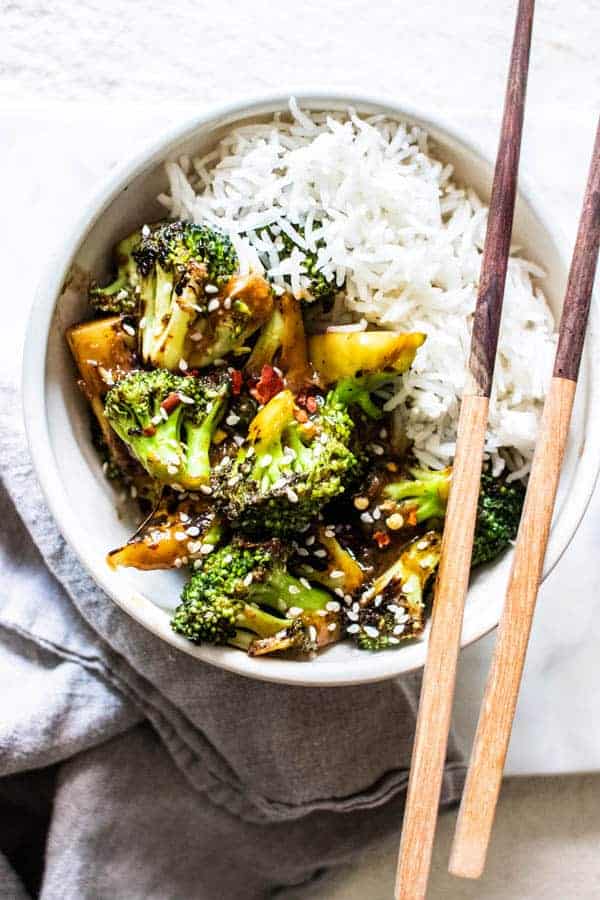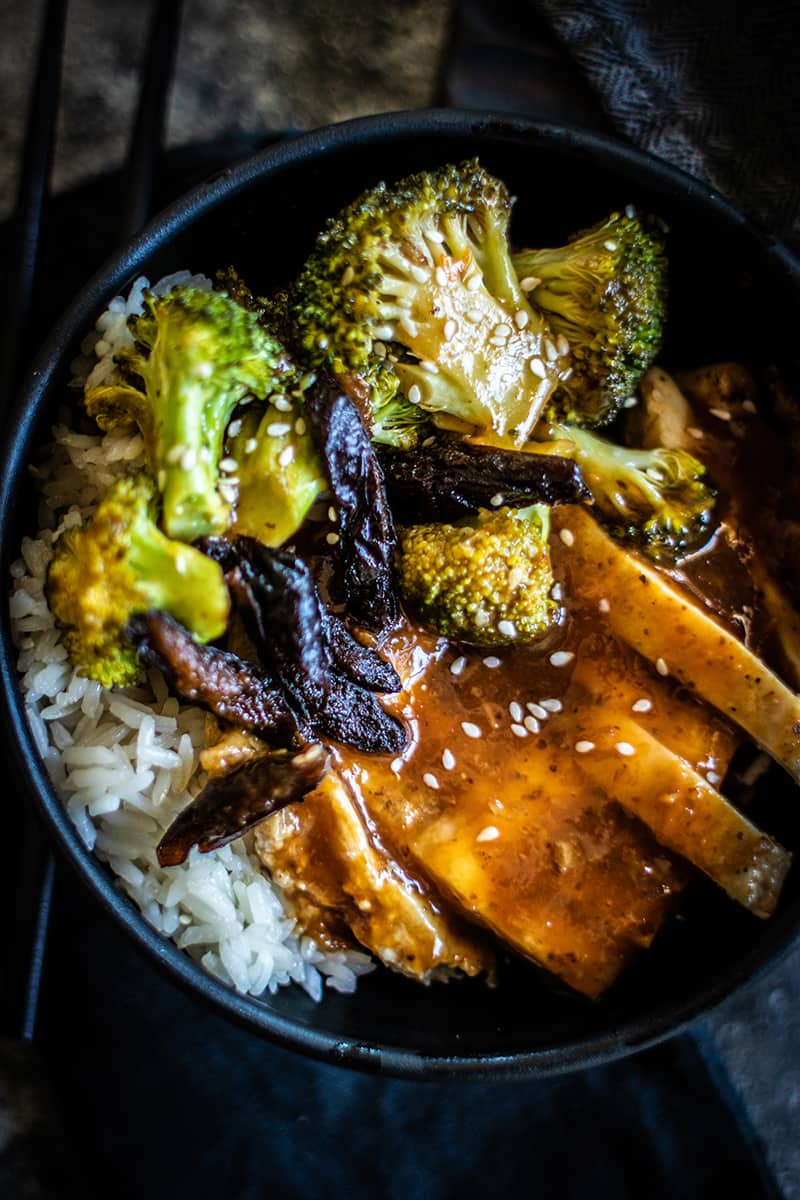 Why order takeout when you can have delicious and healthy Chicken Teriyaki Bowls on the table in under a half-hour?
Since the chicken and broccoli both cook on a sheet pan, there's minimal clean-up, too. What more could you ask for?
Craving more CA Grown goodness? Follow us on Pinterest for fresh and fabulous recipe inspiration!
BE SURE TO SHARE YOUR BROCCOLI STALK RECIPES WITH US BY SNAPPING A PIC AND TAGGING US ON SOCIAL USING #CAGROWN.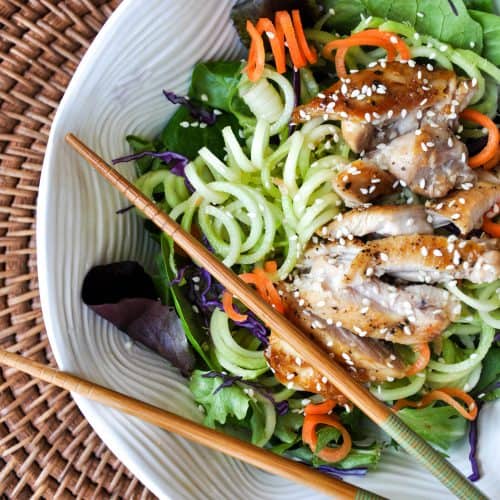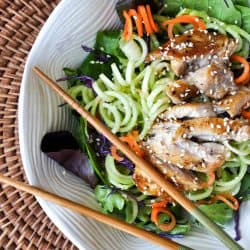 Spiralized Broccoli Stalks and Teriyaki Chicken Bowl
We're subbing broccoli for noodles in this great-for-you Spiralized Broccoli Stalks and Teriyaki Chicken Bowl recipe!
Ingredients
4 heads of broccoli with long thick stalks
1.5 pounds skinless boneless chicken thighs
1 tablespoons olive oil
salt and pepper
For the Teriyaki Sauce
1 tablespoon fresh ginger minced
2 cloves garlic minced
⅓ cup soy sauce
⅓ cup brown sugar
¼ cup water
1 teaspoon corn starch
For the dressing
3 tablespoons toasted sesame oil
1 tablespoon honey
⅓ cup rice vinegar
For the salad
1 package spring mix
1 carrot
Sesame seeds for garnish
Instructions
Cut the broccoli stalks at the top where the florets start to branch out

Spiralize the broccoli stalk according to the instructions (or see above in post)

Combine all the SAUCE ingredients and set aside 2 T. for the dressing

Combine all the dressing ingredients and whisk in the 2 T. of reserved sauce. Toss the broccoli with the dressing

Heat a sauté pan with the olive oil. Dust the chicken with salt and pepper. Add the chicken to hot pan and cook on high heat until no longer pink, turning half way through. Add the remainder of the sauce to the pan and cook a few minutes more, allowing the sauce to thicken. Keep spooning the sauce on top of the thighs. Let rest.

Add the spring mix and spiraled (or grated) carrot to a bowl. Add the seasoned spiraled broccoli on top.

Slice the thigh on the diagonal, add to the top of the bowl and garnish with sesame seeds.
Nutrition
Calories: 553kcalCarbohydrates: 66gProtein: 52gFat: 13gSaturated Fat: 3gPolyunsaturated Fat: 3gMonounsaturated Fat: 5gTrans Fat: 0.03gCholesterol: 162mgSodium: 1450mgPotassium: 2469mgFiber: 16gSugar: 34gVitamin A: 6379IUVitamin C: 544mgCalcium: 330mgIron: 7mg