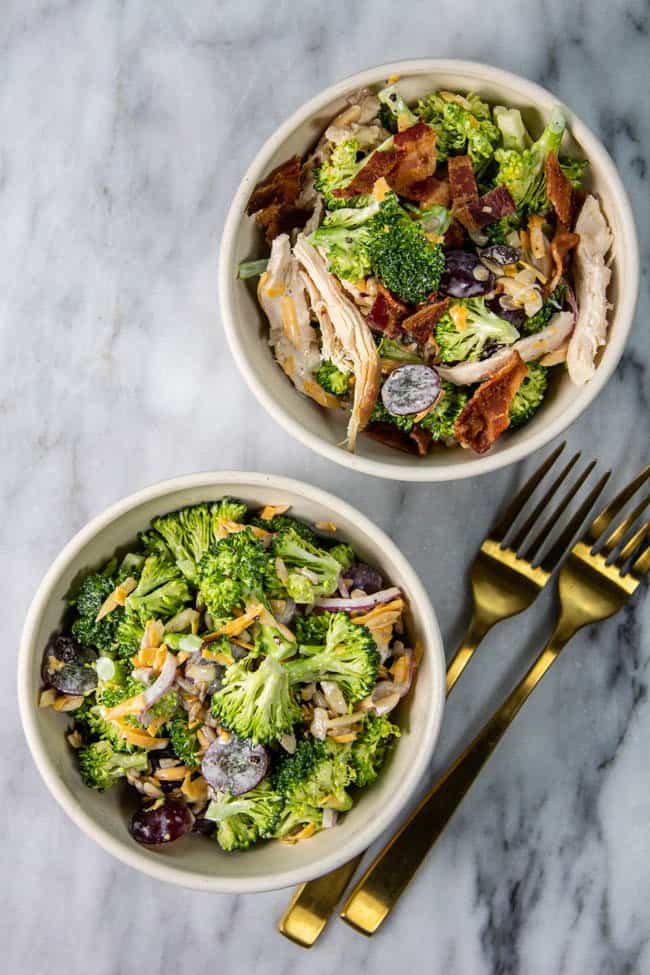 CA GROWN Blog
Discover. Learn. Connect.
An Easy Broccoli Salad Recipe That You Will Actually Crave!
March 1, 2022
Eat the Season!
Sign Up For Weekly Recipes
« Back to Recipes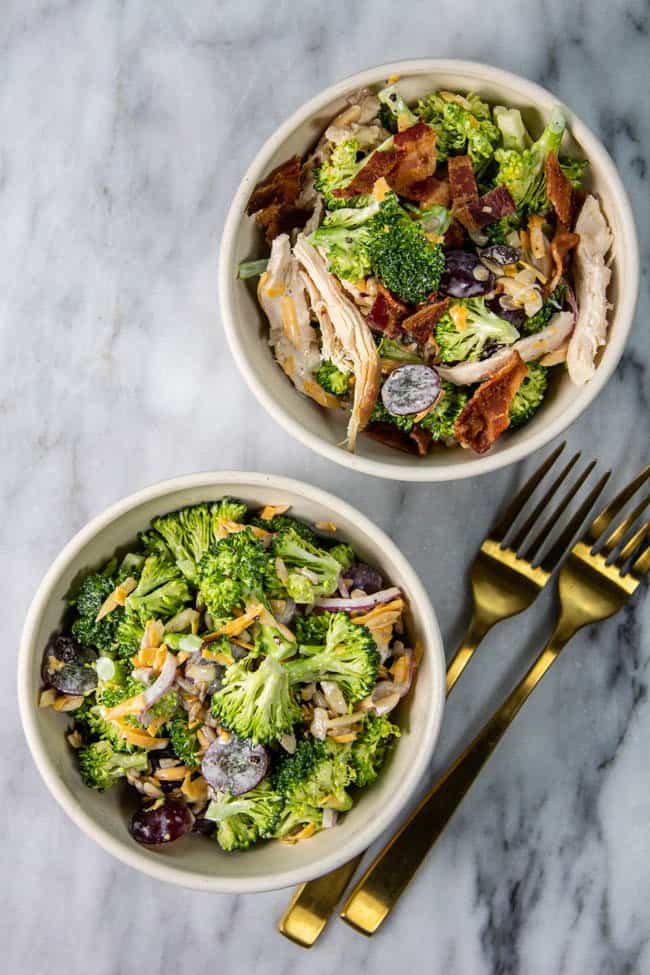 An Easy Broccoli Salad Recipe That You Will Actually Crave!
Brace yourself for the creamiest, most flavorful broccoli salad recipe on the internet! Our broccoli salad base recipe is a hearty one-bowl salad situation that is best suited as a side dish, but when you add shredded chicken and chopped bacon to the mix this side salad takes center stage as the easiest supper sized salad on the planet.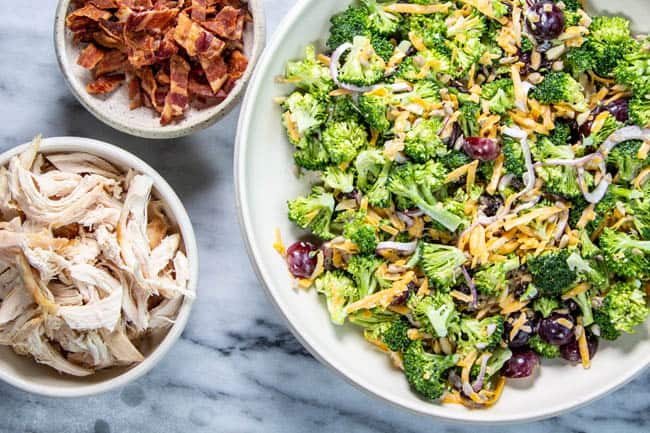 What ingredients are in broccoli salad?
Broccoli salad is a pretty straightforward dish. Its main component is raw broccoli, clearly, but there are other essential ingredients involved that we should cover.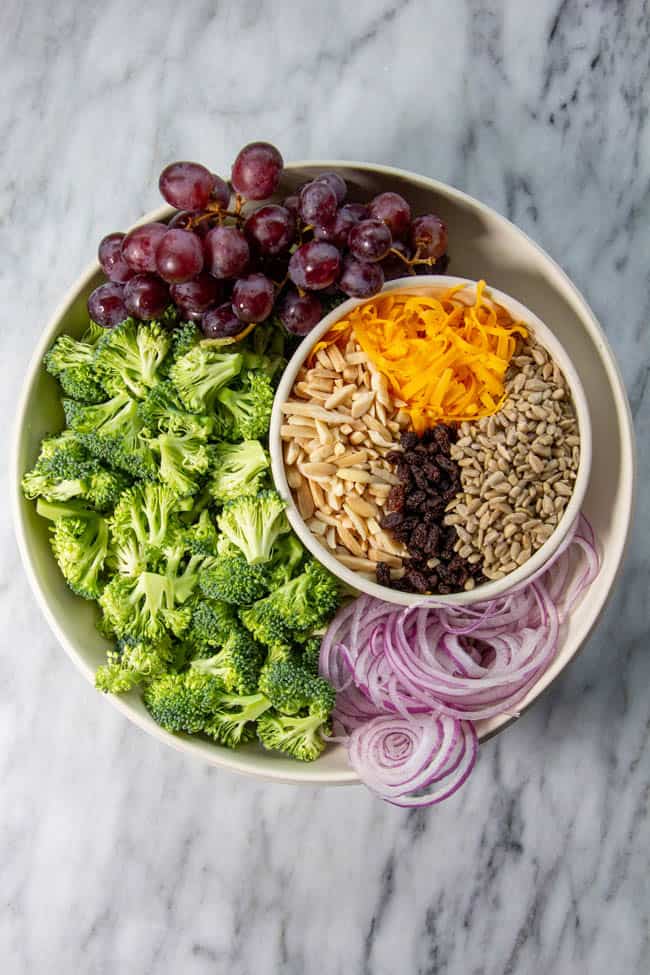 For the broccoli salad:
Raw broccoli.
Thinly sliced red onion.
Toasted nuts and seeds.
Shredded Cheddar cheese.
Dried fruit like DOV raisins or dried cranberries.
For the Buttermilk Peppercorn Dressing:
Buttermilk
Mayonnaise, see our homemade mayo recipe below
Lemon juice
Crushed black peppercorns
Coarse kosher salt
Is the broccoli in broccoli salad cooked?
No, the broccoli in this broccoli salad recipe is raw. What does raw broccoli taste like? Raw broccoli is very crunchy with a grassy flavor that is both slightly sweet, and slightly bitter. It differs greatly in flavor from cooked broccoli, which is often sweeter.
Our easy broccoli salad is FULL of California Grown greatness!
From the fresh vegetables, nuts, and dried fruit to the ingredients in the dressing, this salad captures some of the best ingredients grown under the California sun.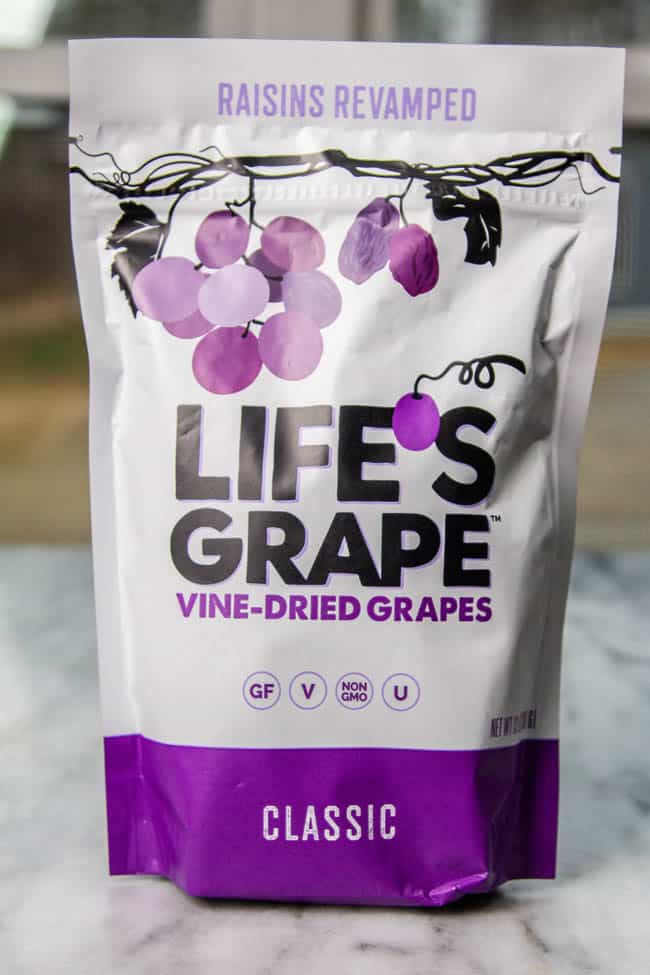 You may be thinking: "But wait, isn't a vine-dried grape just a raisin?" Well, yes, but it's like the difference between your friend's homemade sourdough bread and Wonder Bread.
Traditional raisins are created by drying Thompson Seedless or other grapes on the ground in direct sunlight, which results in the caramelized raisin that you know.
Life's Grape's Selma Pete grapes are gently sun-dried on the vine under the shade of the canopy. This signature, all-natural drying process results in a juicier and sweeter snack. The difference in flavor and quality will surprise and delight you!
Click here to learn more about Life's Grape Vine-Dried Grapes!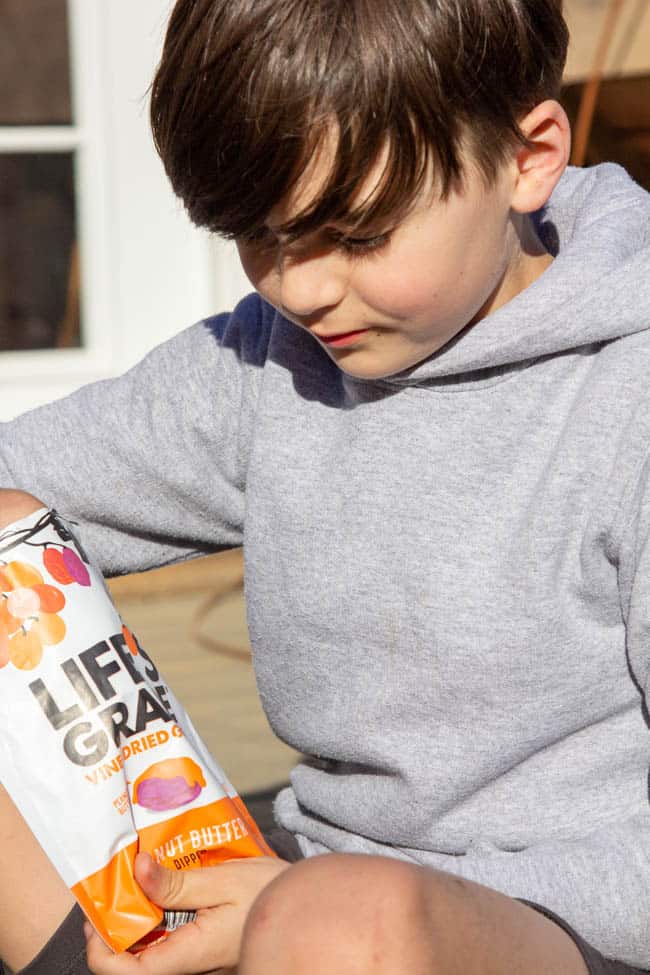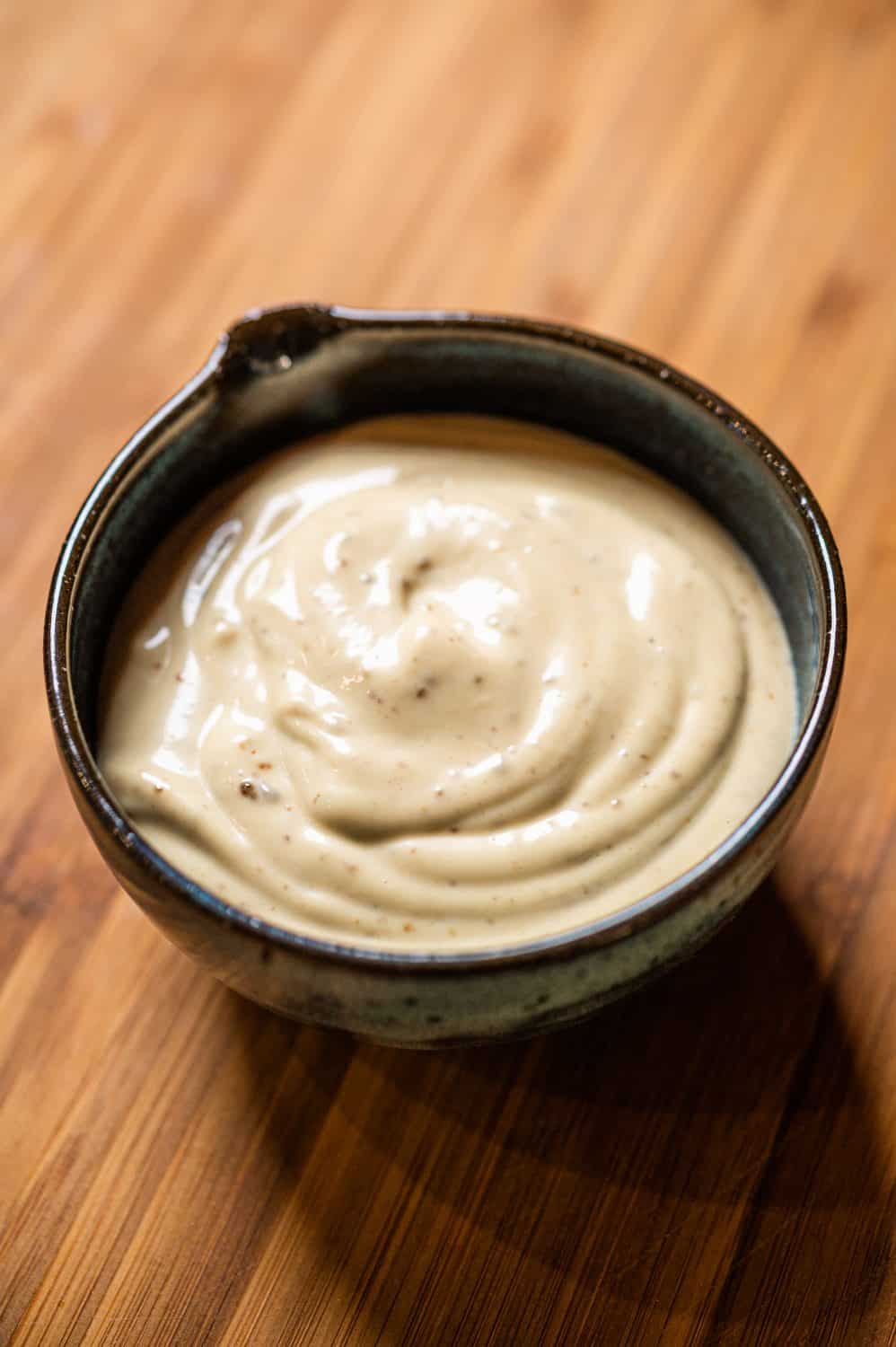 Of course, you can use your favorite store-bought mayo for this recipe, but we sure do love our homemade mayo recipe!
Our homemade mayonnaise is great on its own, but also makes a rich and creamy base for the dressing in our broccoli salad recipe.
Because the mayo is naturally sweetened with California prunes and made with California olive oil, it's Paleo friendly and Whole30 too!
Looking for a Broccoli Salad recipe that is safe for people that have food allergies?
Lots of us are feeding loved ones with food allergies these days and its always helpful to have safe go-to recipes in your back pocket.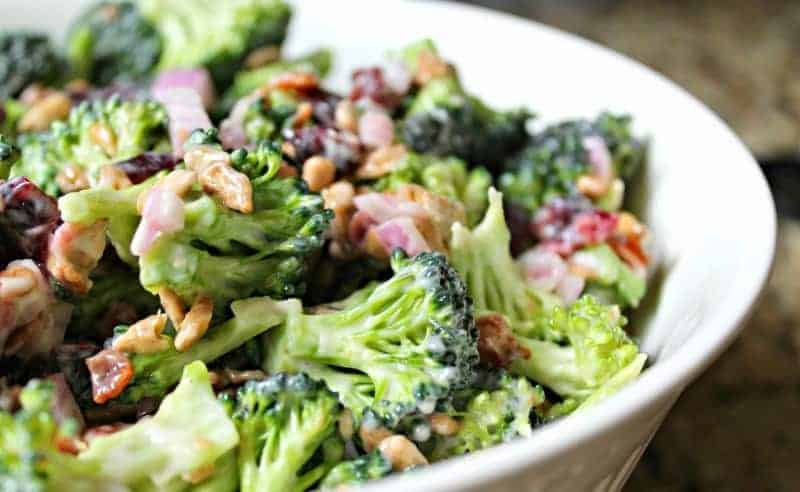 Worried about food allergies? This broccoli salad recipe from the G Free Foodie is free from the top 8 allergens and super delicious too!
What to serve with broccoli salad.
Our broccoli salad base is the perfect hearty vegetarian side dish for barbeque, burgers, and chicken. It also is one of those dishes that just generally keeps well which means you can make it up to a few days in advance of eating it without much texture change at all.
Would you like to make a hearty meal out of this broccoli salad base recipe?
Add shredded roasted or rotiserrie chicken to the mix or even chopped bacon. You can serve these meaty broccoli salad acoutremants on the side for a sort of help yourself DIY Broccoli Salad situation that will feed multiple types of dietary preferences, or you can go ahead and stir it all in together for a one bowl salad that is hearty enough to be called dinner.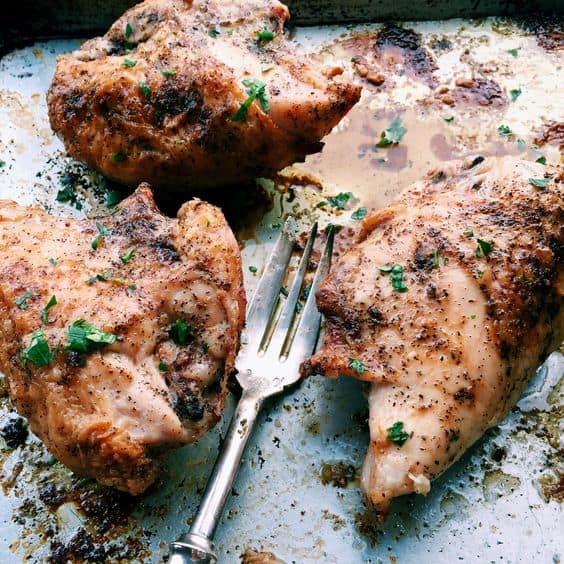 Say hello to the most perfect roasted chicken recipe on the planet from our friend Teri of No Crumbs Left!
Teri's chicken recipe is perfect for just about any night of the week and if you are lucky enough to have any leftovers you can shred them up and toss them into a big bowl of broccoli salad!!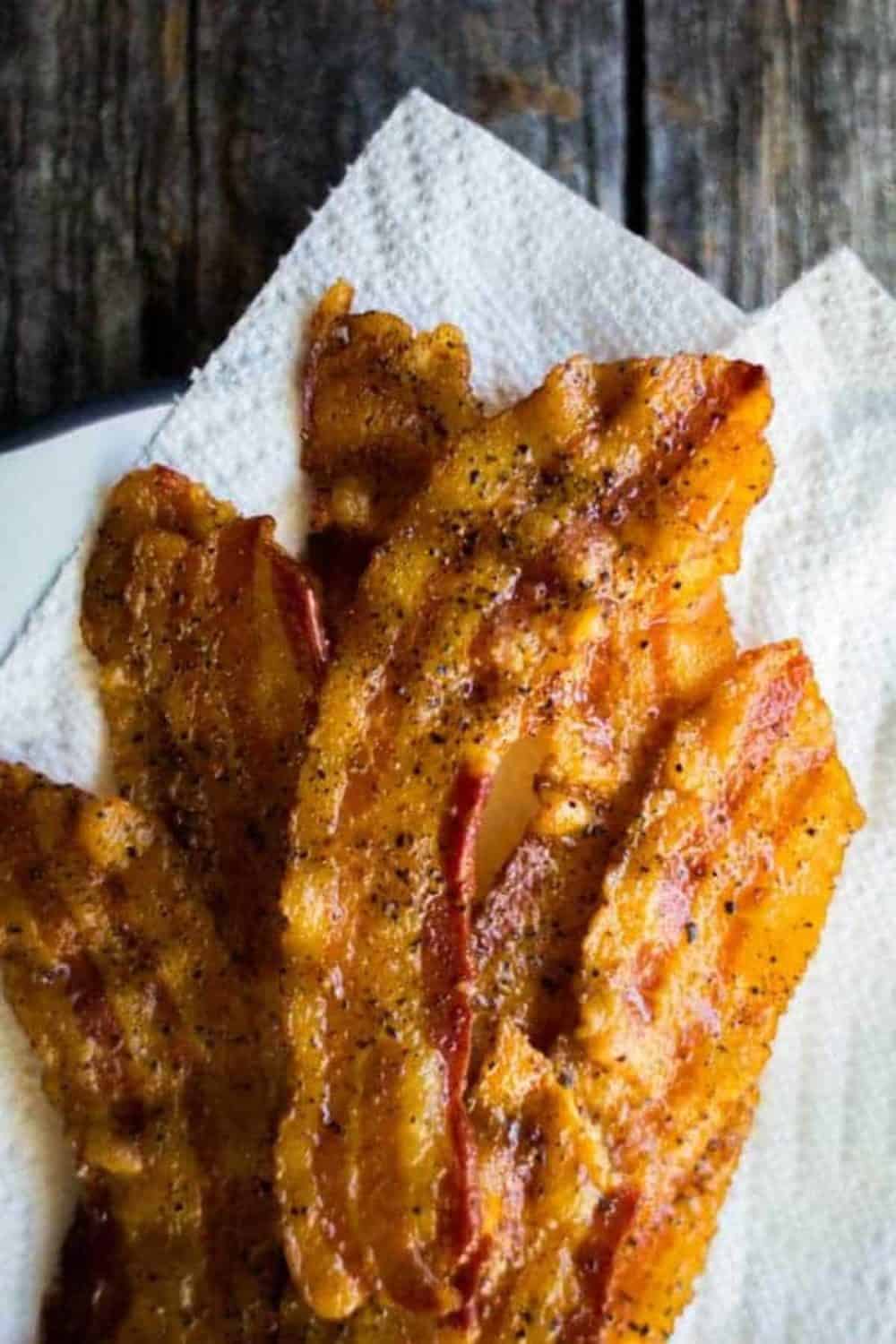 Perhaps you've heard tales of delicious, crispy oven-baked bacon that doesn't cover your stove in grease splatter? Bacon that is not only delicious but is also easy to make? And maybe you've heard that you can do this right in your oven?!
Well, if you've ever wondered how to cook bacon in your oven, This Mess is Ours has all the answers for you!
How to safely store broccoli salad.
Broccoli salad is one of those dishes that needs to be kept at a cooler temperature, so it is best to keep it refrigerated until you are ready to eat.
How to properly store fresh broccoli in the refrigerator.
Love fresh broccoli? Who doesn't! Thanks to our friend Jerry James Stone we have the low down on how to store fresh broccoli correctly. From crisper drawer to freezer – Jerry has tips for everything!
In the video below, Jerry explains exactly what broccoli is, how you should store it, and where and what fruits and vegetables you should not store next to it.
Stored fresh broccoli typically lasts about three to five days in the fridge, but Jerry's tips can help you extend that shelflife exponentially.
How to store broccoli in the freezer.
Need to store your broccoli longer than a few weeks? Jerry shared his how-to freeze broccoli tips too! In this video, find out if and when you need to blanch broccoli before freezing and why. He also covers how long broccoli lasts in the freezer!
How to know when fresh broccoli has gone bad.
Fresh broccoli will have florets that are bright in color and a uniform shade of green across the crown. They will have a lighter stalk that is free of brown or black spots.
If you notice any yellow or brown spots on the broccoli florets, that's a good indicator that your broccoli is starting to spoil.
If you notice fuzzy white or black areas growing on top of the florets or the stem, that tells you that mold is starting to form, and it's time to toss that broccoli to the compost heap in the garden.
Looking for more recipes that make broccoli taste good?
We work with the best content creators in the industry and we love sharing their California Grown-inspired recipes with you. Check out the broccoli recipes below for delicious inspiration!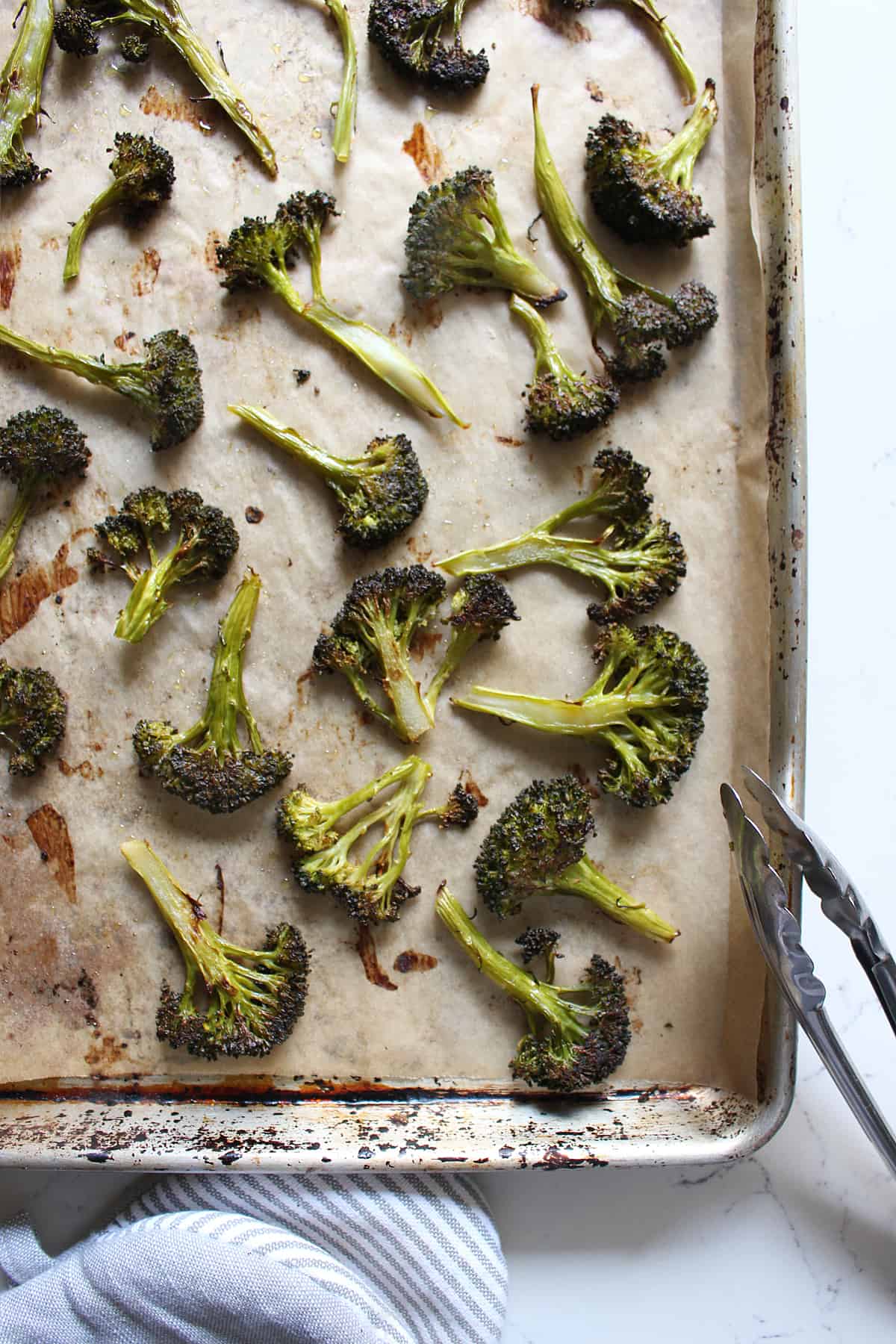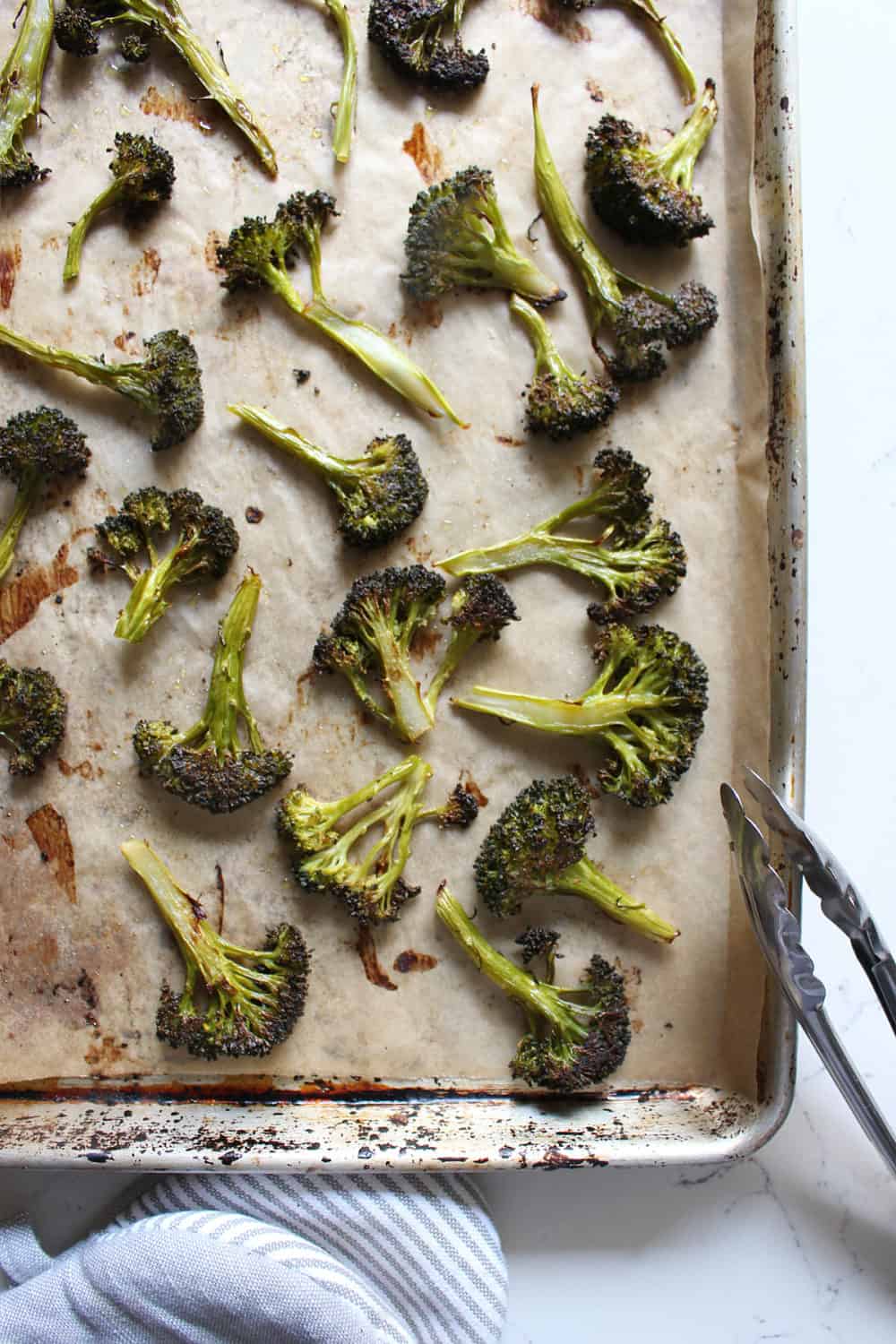 Sarah of the Delicious Life says that just a couple of tweaks to your usual roasted broccoli recipe will give you a broccoli that's crispier, crunchier, and has that "umami" that you only get from a good char.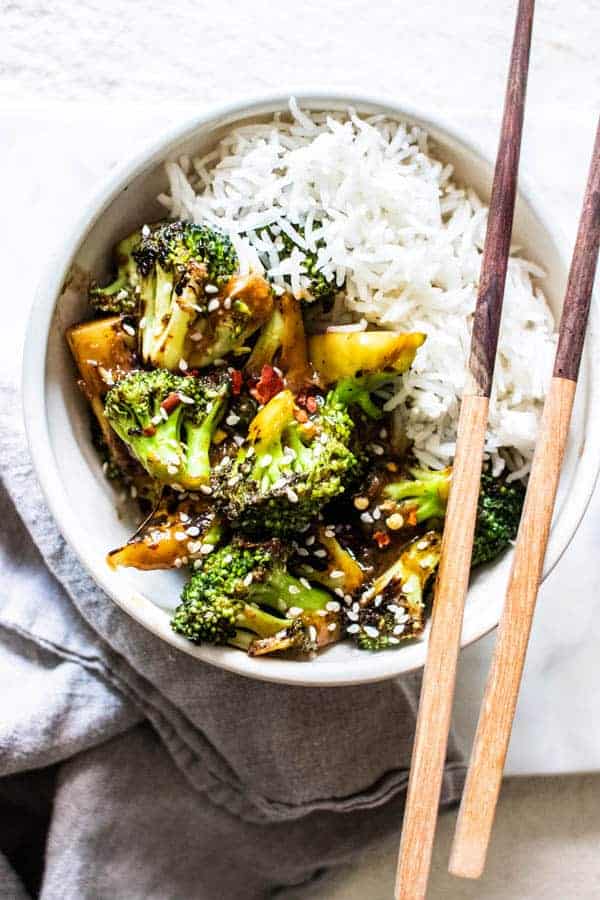 This broccoli stir fry from This Mess is Ours is an easy and nutritious weeknight plant-based meal that goes from start to finish faster than you can cook a pot of rice. This recipe is chock-full of crisp, tender broccoli with just the slightest char and a generous helping of our homemade Teriyaki Sauce recipe that is free of refined sugars and loaded with big flavor!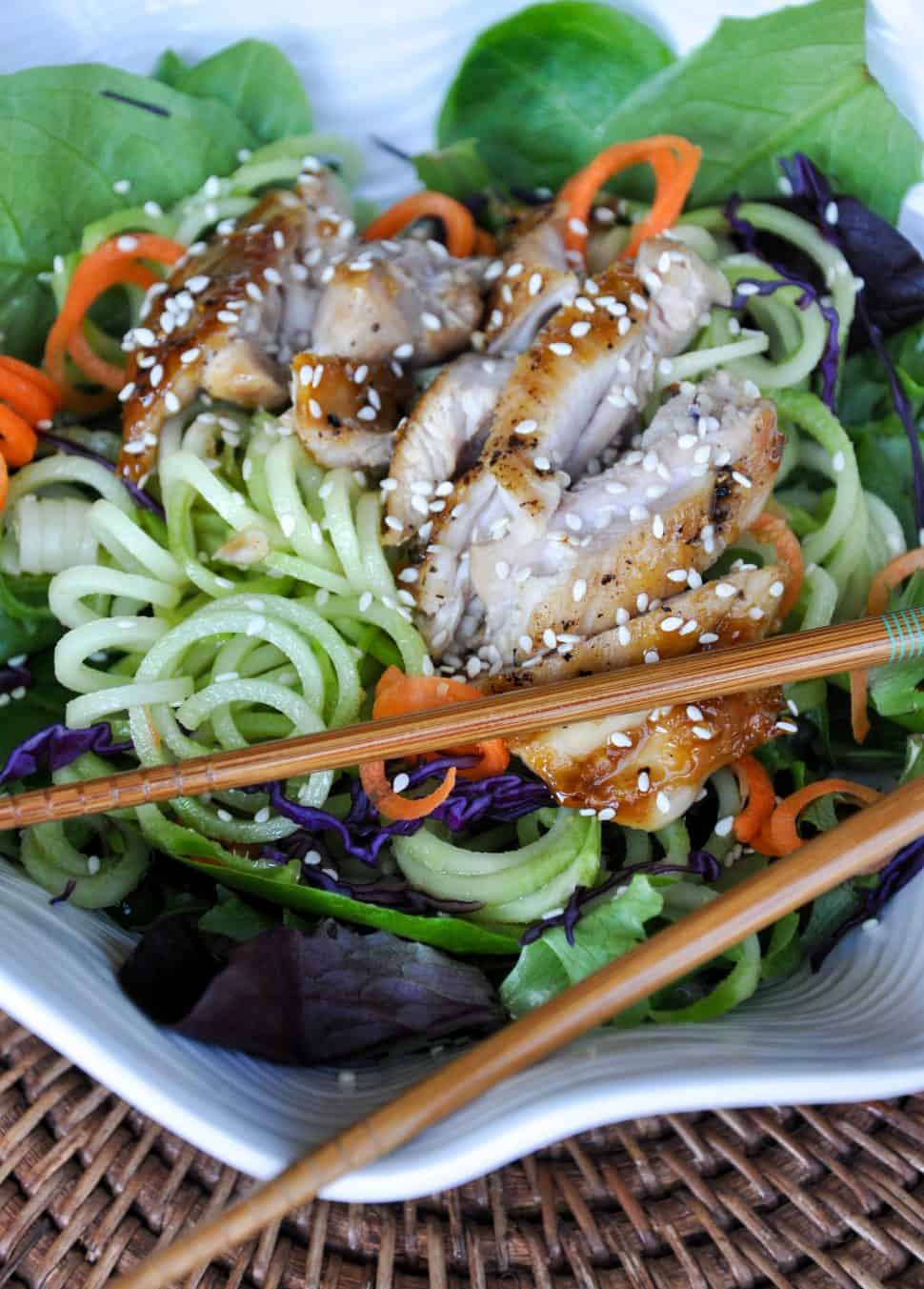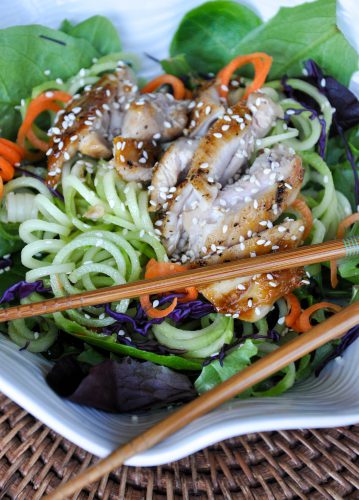 Looking for a creative way to use broccoli stalks? Try our Spiralized Broccoli Teriyaki Chicken Bowl recipe on for size.
Turning tough broccoli stalks into tender veggie noodles is pure magic for the tastebuds that you have got to try!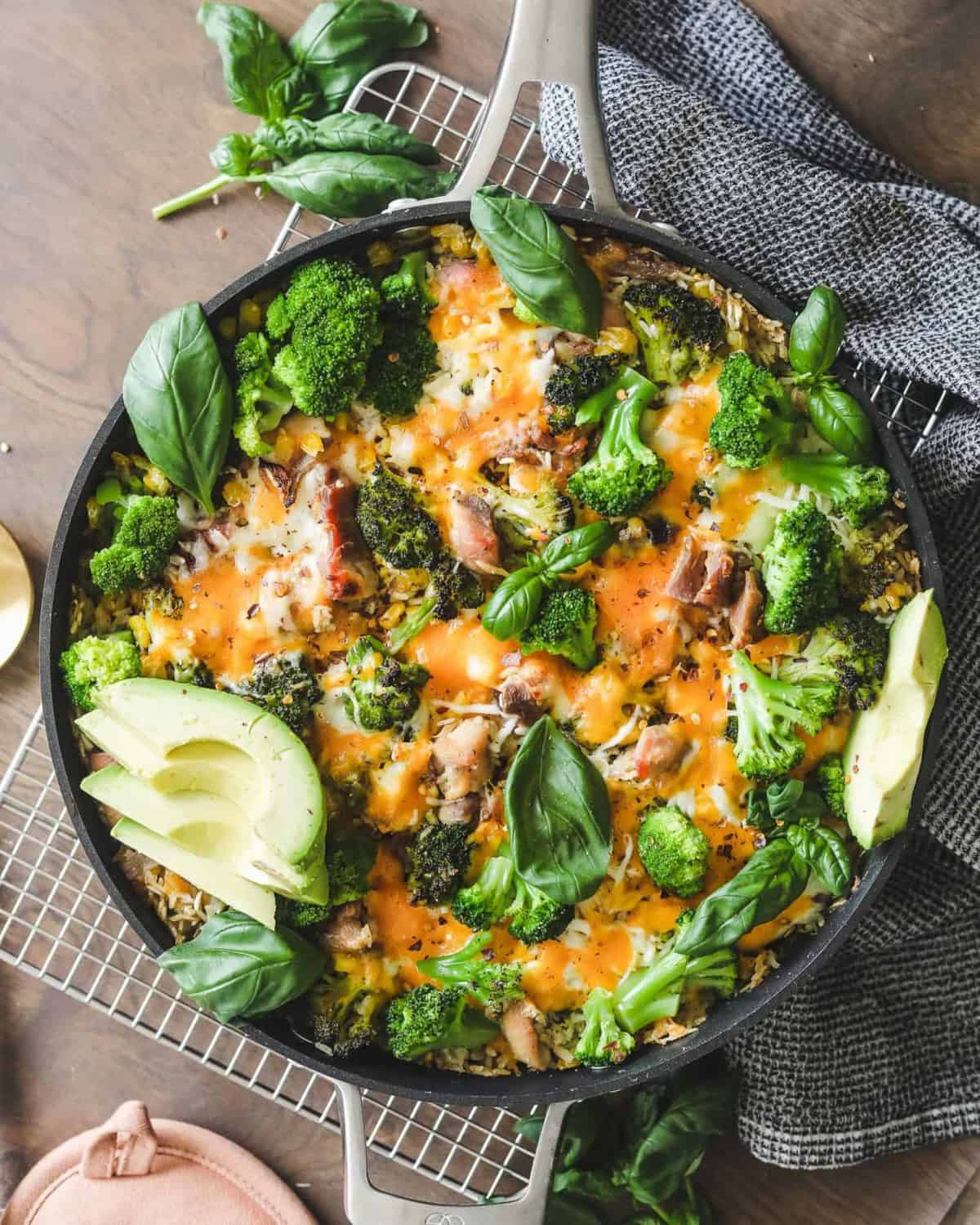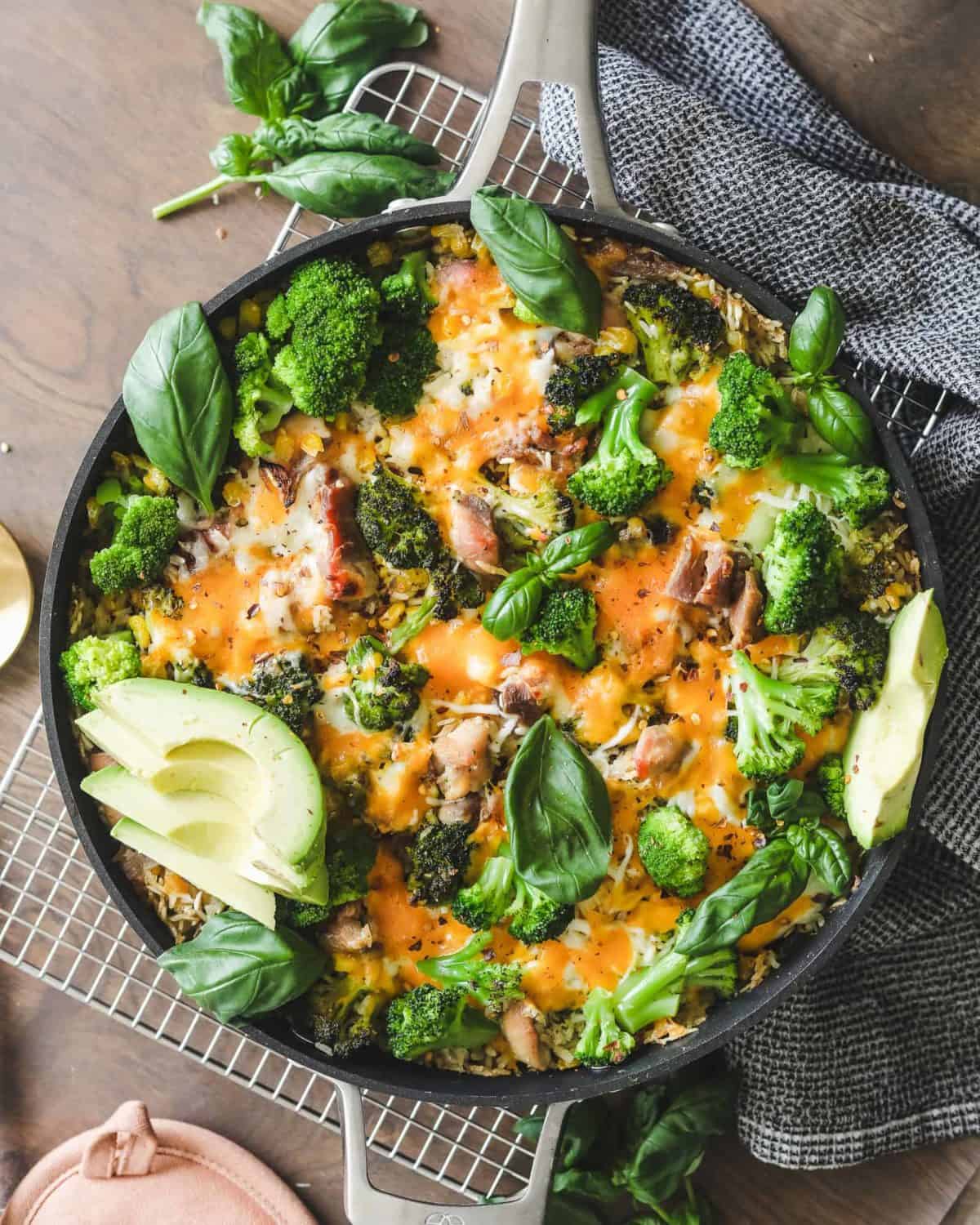 Fresh herbs, broccoli, corn, two kinds of cheese, perfectly seasoned chicken, and rice topped with basil – sounds like perfection to us! This recipe from Britney Breaks Bread has us feeling nostalgic for her revamp of this classic comfort food.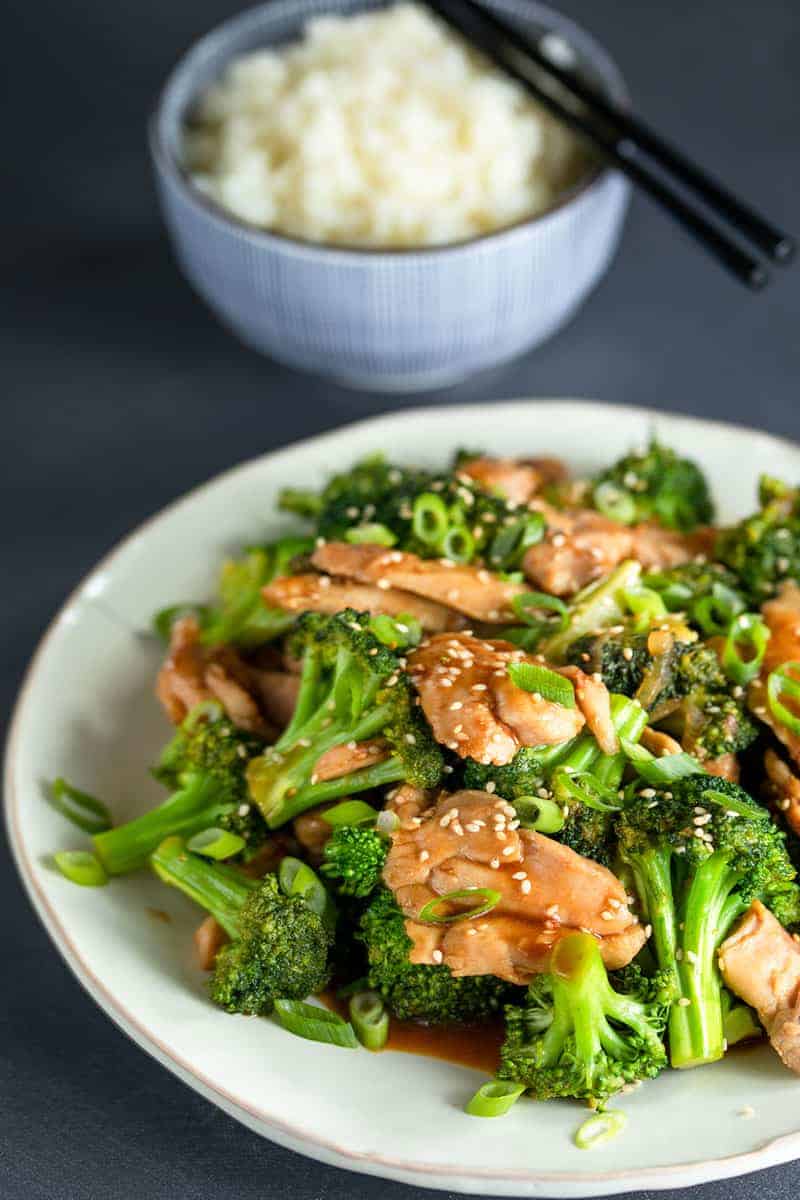 This stir-fry from Nom Nom Paleo is out of this world delicious! This recipe makes for a quick and healthy Whole30 meal that you can easily whip up on a busy weeknight.
Craving more CA Grown goodness? Follow us on Pinterest for fresh and fabulous recipe inspiration!
BE SURE TO SHARE YOUR UNIQUE BROCCOLI SALAD CREATIONS WITH US BY SNAPPING A PIC AND TAGGING US ON SOCIAL USING #CAGROWN.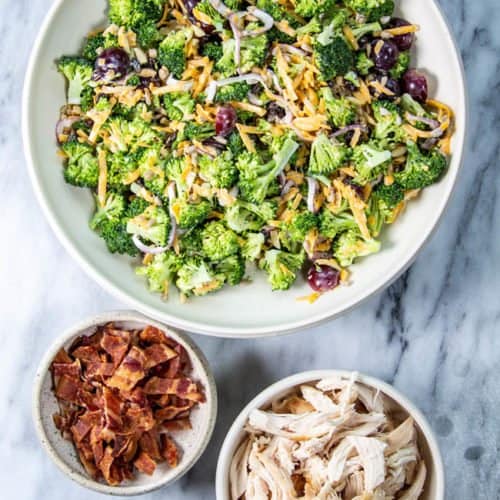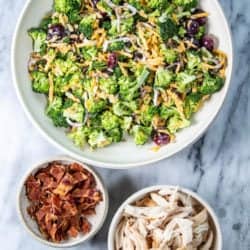 Easy Broccoli Salad Recipe
This broccoli salad recipe is a hearty one-bowl recipe that is a perfect side dish, but with chicken or bacon, this side salad becomes dinner!
Ingredients
For the Easy Broccoli Salad
6 cups broccoli florets about 2 crowns, separated into very small florets.
1 1/2 cups red seedless grapes halved
1/2 cup thinly sliced red onion
1 cup shredded Sharp Cheddar cheese see note
1/2 cup toasted slivered almonds
1/2 cup sunflower seeds
1/4 cup raisins
For the Buttermilk Peppercorn dressing
1/2 cup mayonnaise
1/2 cup buttermilk
1 tablespoon honey
3 tablespoons freshly squeezed lemon juice
1 tablespoon coarsely ground black peppercorns
1 teaspoon coarse kosher salt
To serve on the side for mix-ins
2 cooked chicken breasts, shredded or cubed optional. Chicken can be oven roasted or shredded rotisserie chicken.
1/2 cup chopped bacon optional
Instructions
Make the Buttermilk Peppercorn dressing
Combine all of the ingredients for the dressing in a small bowl and whisk to combine. The dressing will seem thin. Set aside.
Make the Easy Broccoli Salad
In a large bowl combine the broccoli, halved grapes, and onions. Pour the dressing over and toss to coat.

Add the shredded Cheddar, almonds, sunflower seeds, and raisins. Toss to incorporate.

Cover and chill for at least 2 hours or up to overnight. As the salad chills the vegetables will soak up most of the dressing.
To serve Easy Broccoli Salad
After chilling the vegetarian salad base is ready to serve. If adding shredded chicken or chopped bacon mix in right before serving.
Notes
A note about cheese… We noticed in recipe testing that it is best to use the largest size shred of cheddar you can find for both the texture and looks of this salad. If you cannot find large cheese shreds in the store you may want to take the time to shred what you need from a block of Cheddar yourself using the largest shredder on your cheese grater. A note about raisins… While we prefer DOV raisins you can use any type of raisins in this recipe. The raisins will plump as the salad chills. A note about nuts… Toasted walnuts and pecans are both delicious substitutes for the almonds in this recipe. To make nut-free just replace the amount of toasted nuts called for in the recipe with more sunflower seeds.
Frequently asked questions about broccoli.
Which state produces the most broccoli?
More broccoli is grown in California than in any other state! California produces over 90% of the crop in the U.S.! The Central Coast of California also has the longest growing season for broccoli in the country. Broccoli grows almost year-round in California.
What plant family is broccoli a part of?
Brassica oleracea is a plant species that includes many common cultivars such as cabbage, broccoli, cauliflower, kale, Brussels sprouts, collard greens, Savoy cabbage, and kohlrabi.
What is the difference between broccoli and broccolini?
Broccolini was developed as a hybrid of broccoli and Chinese broccoli in Japan. It looks almost identical to broccoli but is much smaller and more delicate. Though broccoli and broccolini have very similar flavors, broccolini is slightly sweeter and could be compared to asparagus.