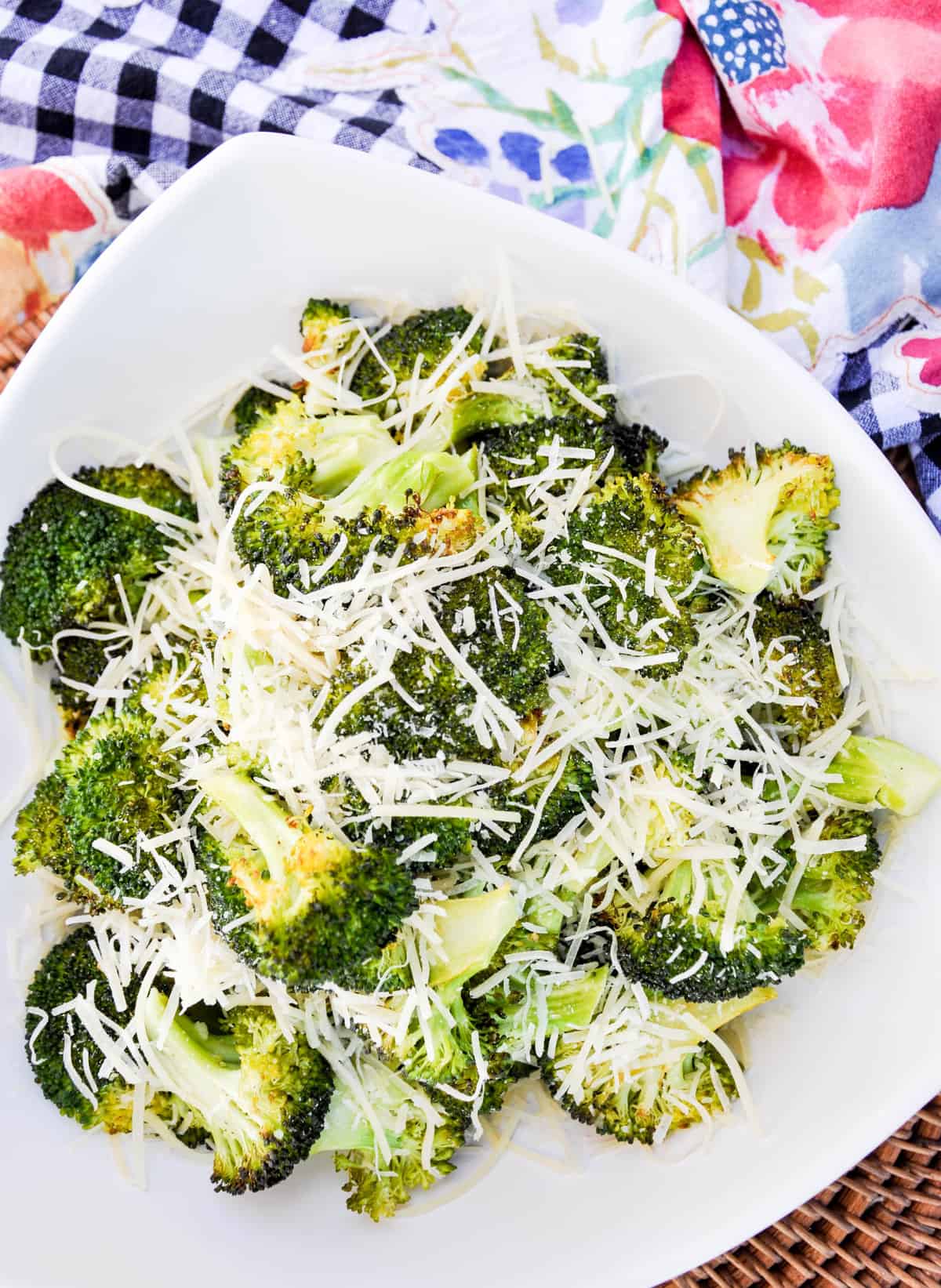 CA GROWN Blog
Discover. Learn. Connect.
Roasted Garlic Broccoli with Parmesan
April 27, 2016
Eat the Season!
Sign Up For Weekly Recipes
« Back to Recipes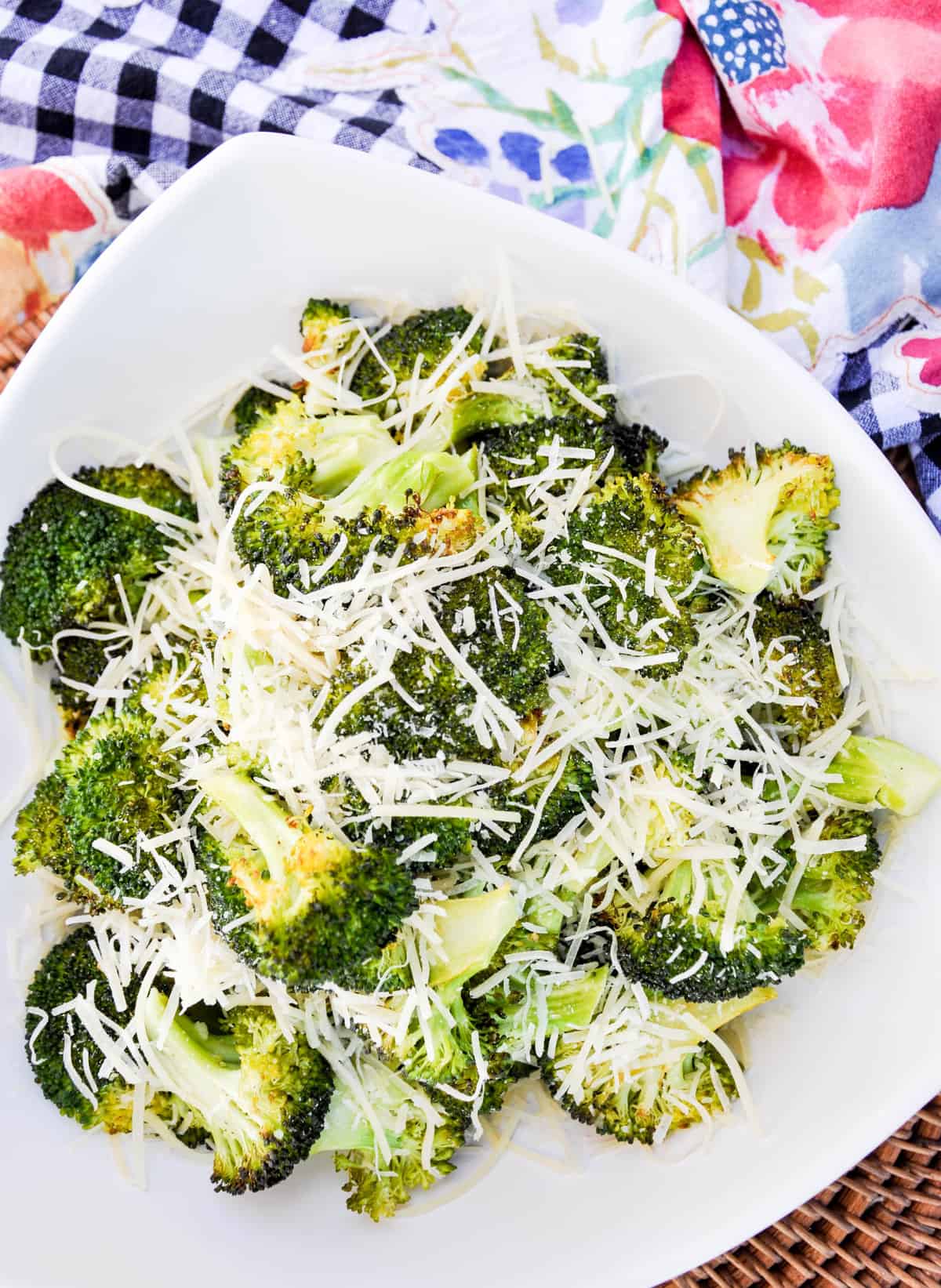 Roasted Garlic Broccoli with Parmesan
This easy recipe for Roasted Garlic Broccoli with Parmesan is next level delicious, and sure to fan a broccoli fan out of everyone!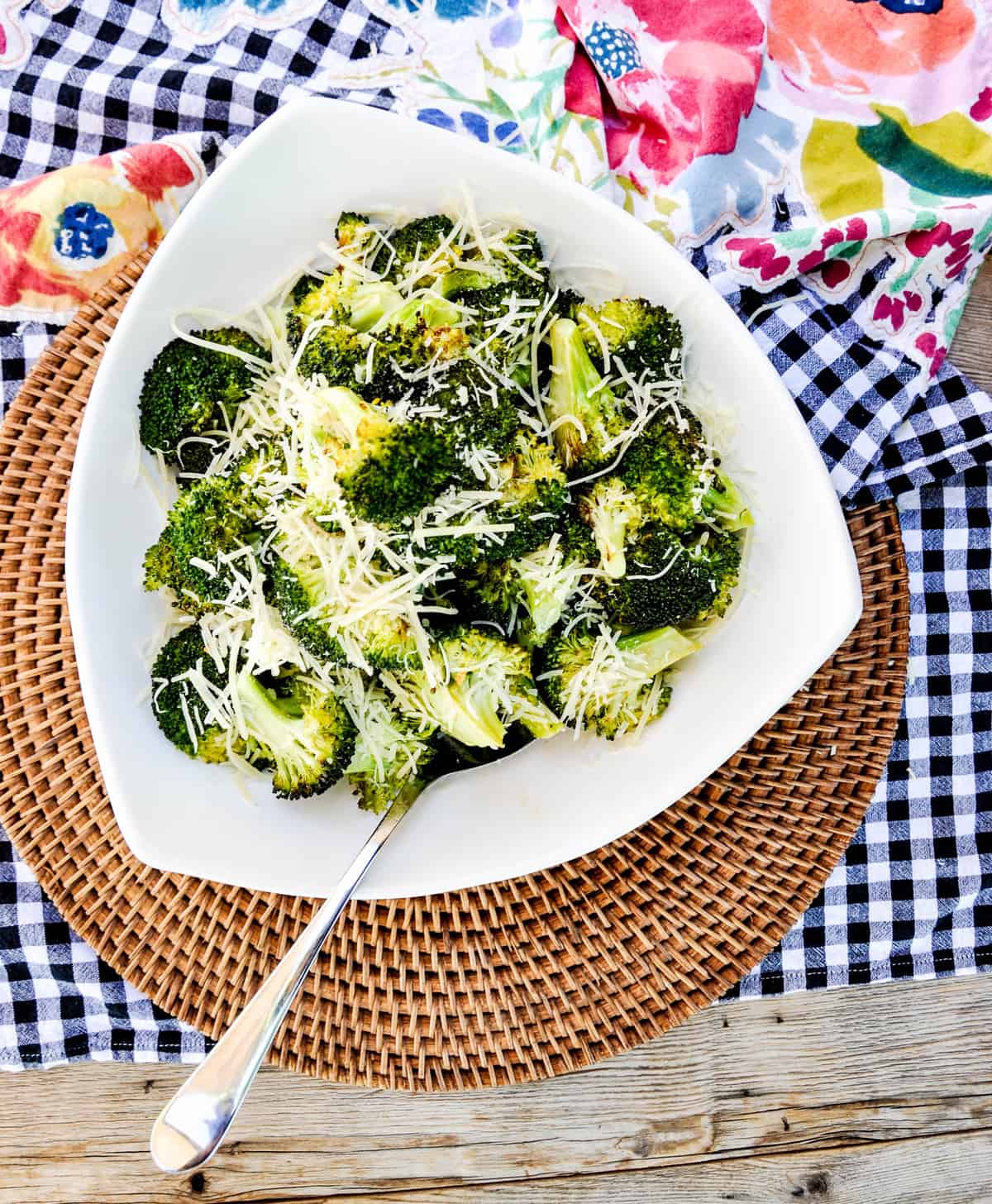 Broccoli is always the go-to veggie for my kiddos.  It's simple to prepare and always entertaining on the plate.  We called ours "little trees" when they were younger to promote eating!  It always worked and the nickname has stuck in our house.
Let me show you how to take those little trees to a whole new level!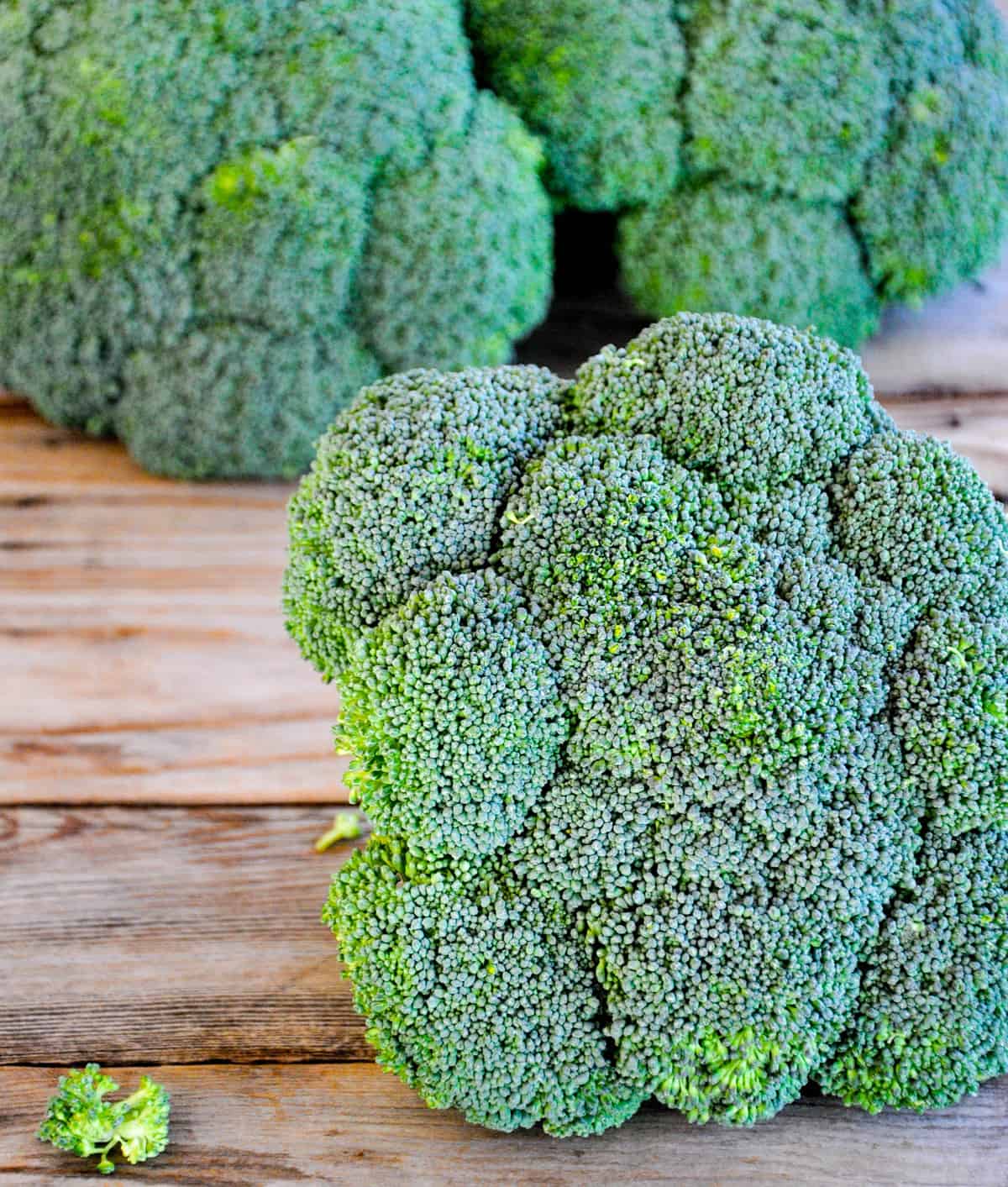 Right now, California is pumping out the fresh, green bunches so you can buy up a truckload for cheap! Steamed, baked in a casserole, or raw, you can't go wrong with broccoli.
But, clearly, I can't leave well enough alone….
Let's Make Roasted Garlic Broccoli: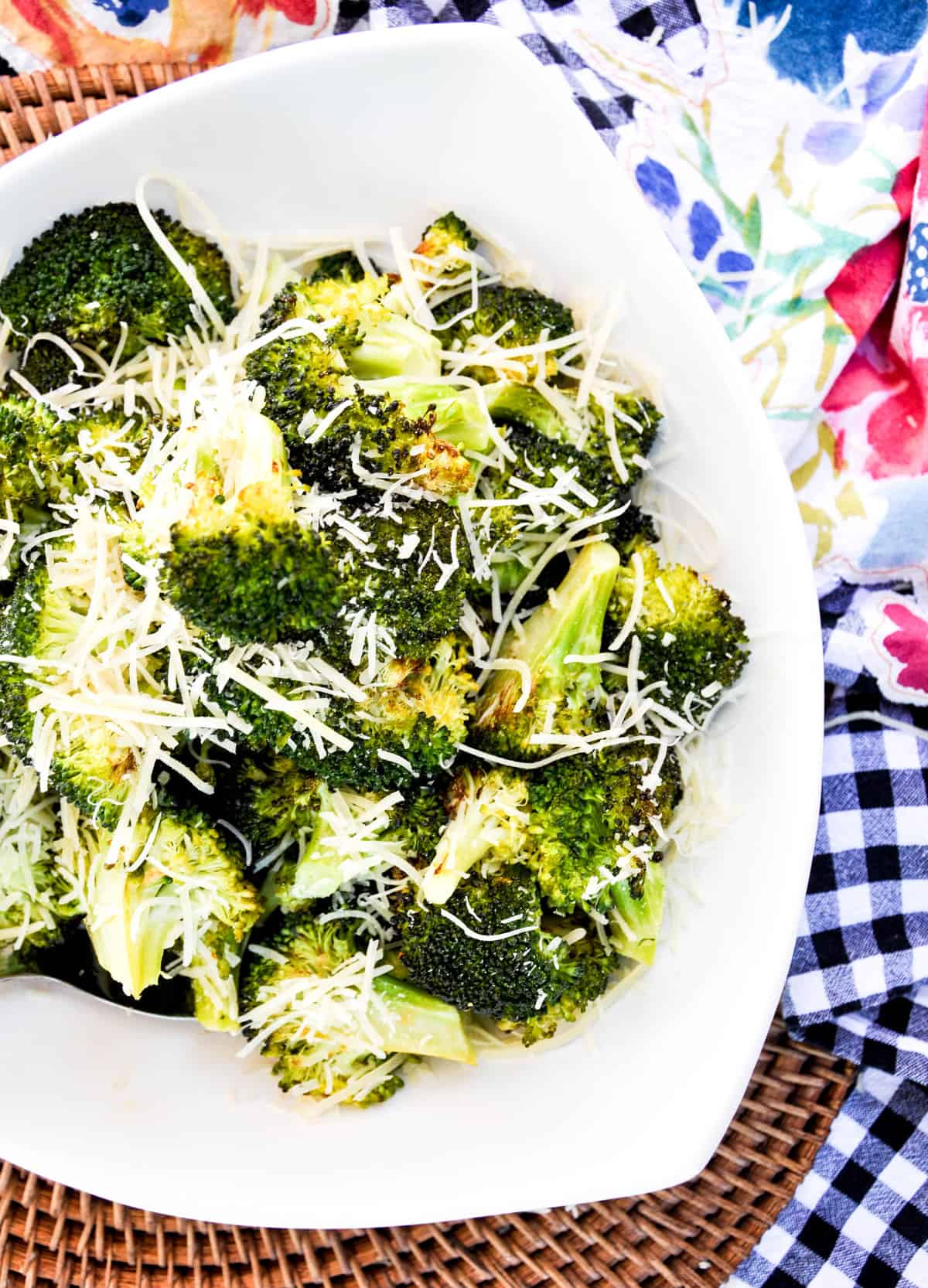 I roasted mine in a scorching hot oven! So hot in fact that you might think I've lost my mind. These high oven temperatures are normally reserved for pizza and chicken. But, hey…. let's live a little dangerously for a second.
Actually, about 12 minutes….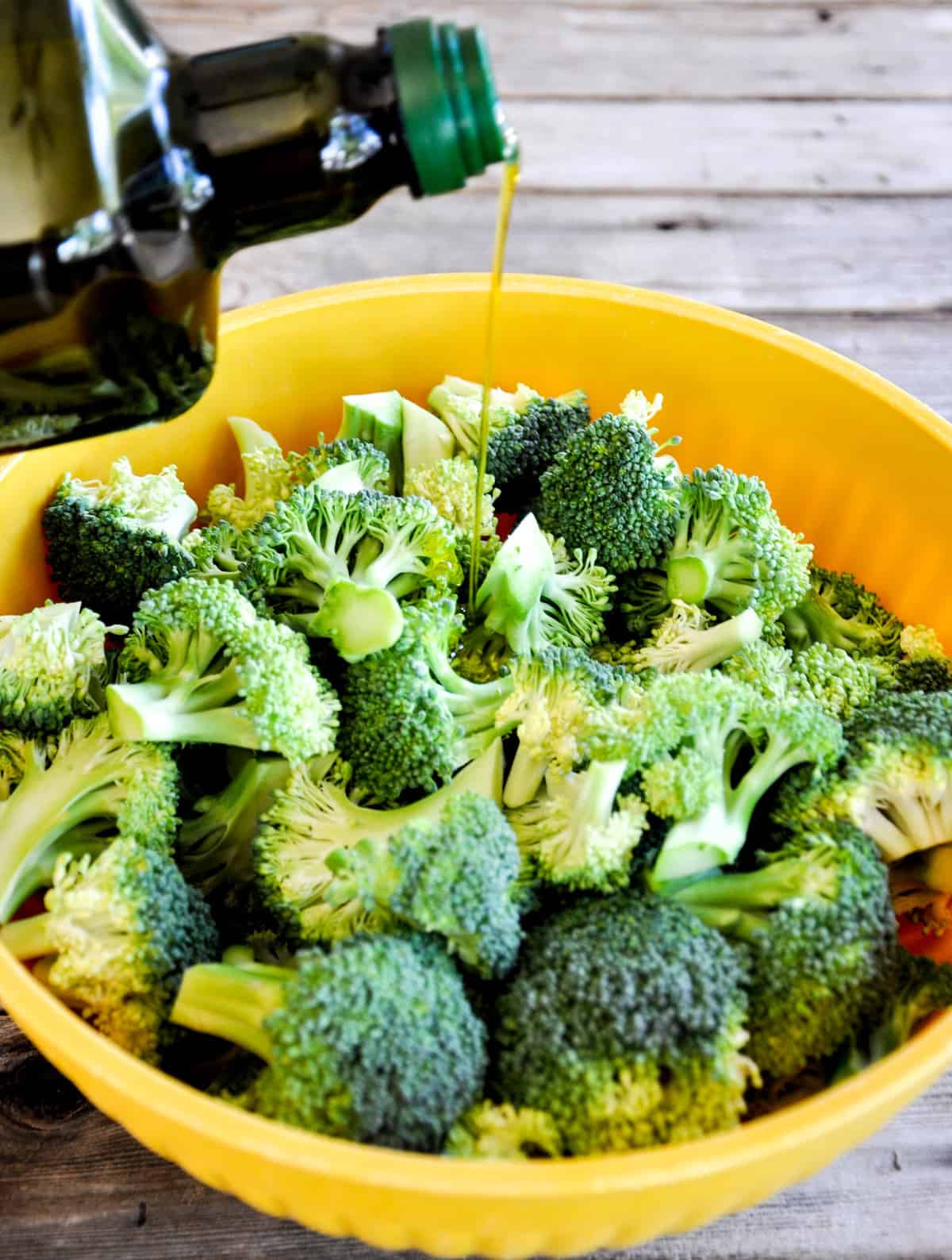 Broccoli's BBF? Garlic. 4 EVA.
First, you toss the broccoli florets with a generous amount good olive oil and minced garlic…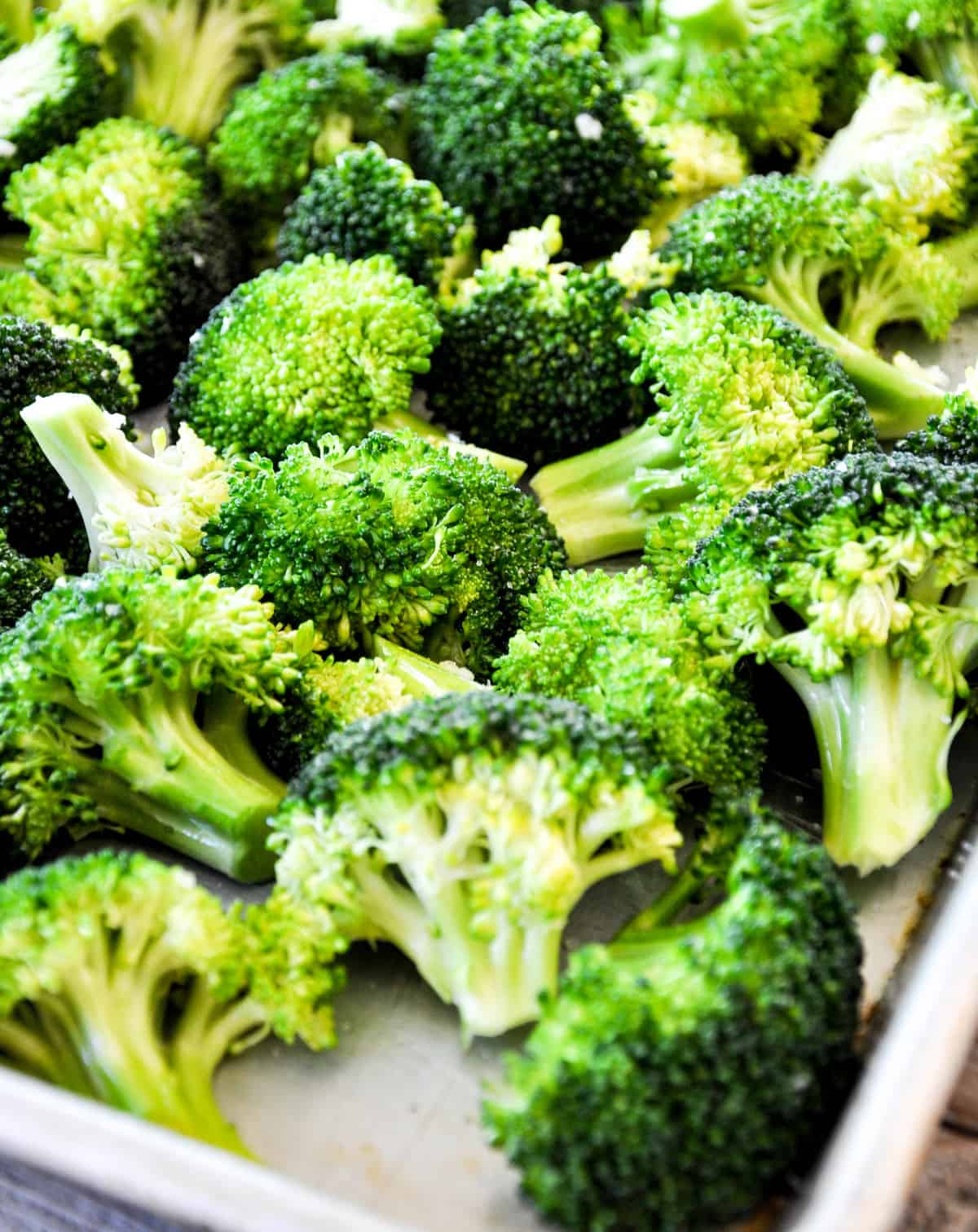 Roasting your broccoli:
Spread the florets all out in an even layer on a baking sheet…
Bake for about 12 minutes until tender and slightly charred.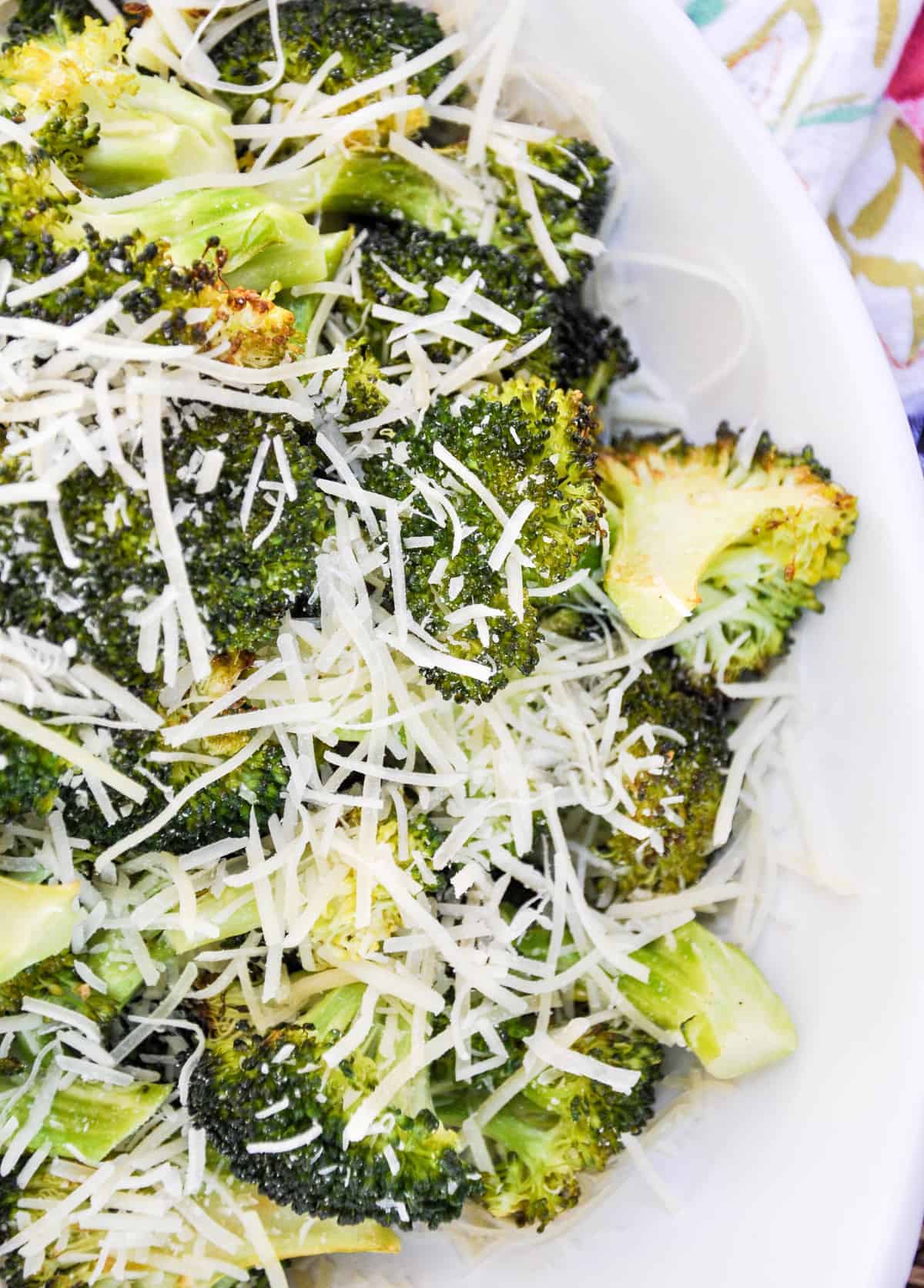 The best topping for garlic broccoli? Cheese, obviously.
But the kicker is to top that goodness with a sprinkling of Parmesan cheese…
Yah, I said it.
Nutty, salty parmesan….
YUM-O!
Want to dig in?
Here is the best Roasted Garlic Broccoli recipe for ya…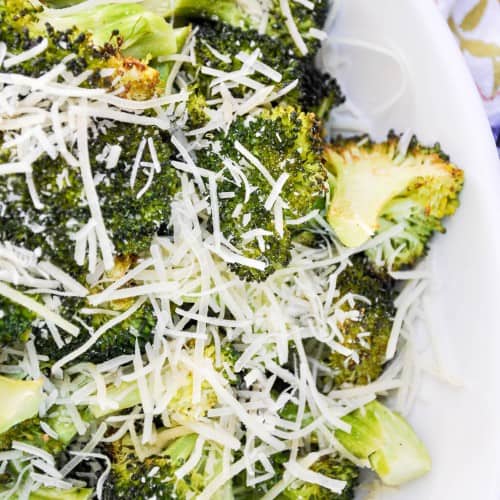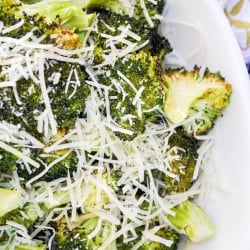 Roasted Garlic Broccoli with Parmesan
This easy recipe for Roasted Garlic Broccoli with Parmesan is next level delicious, and sure to fan a broccoli fan out of everyone!
Ingredients
3 heads broccoli
1/4 cup Extra Virgin Olive Oil
5 large garlic cloves minced
1/3 cup Parmesan cheese shredded
Salt and pepper
Instructions
Preheat oven to 450 F

Cut the broccoli into large florets and add to a large bowl.

Pour the olive oil and minced garlic over the broccoli and mix well, so all ingredients are distributed evenly.

Place on a large baking sheet in a single layer and sprinkle with salt and pepper.

Place the sheet pan on middle rack in oven for 12-15 minutes.

Transfer to a serving bowl and top with the Parmesan cheese.
Notes
Serve with your favorite main dish!
Nutrition
Calories: 156kcalCarbohydrates: 16gProtein: 8gFat: 9gSaturated Fat: 2gPolyunsaturated Fat: 1gMonounsaturated Fat: 5gCholesterol: 3mgSodium: 142mgPotassium: 732mgFiber: 6gSugar: 4gVitamin A: 1453IUVitamin C: 204mgCalcium: 160mgIron: 2mg
Love this Broccoli recipe? We do too. Try this next: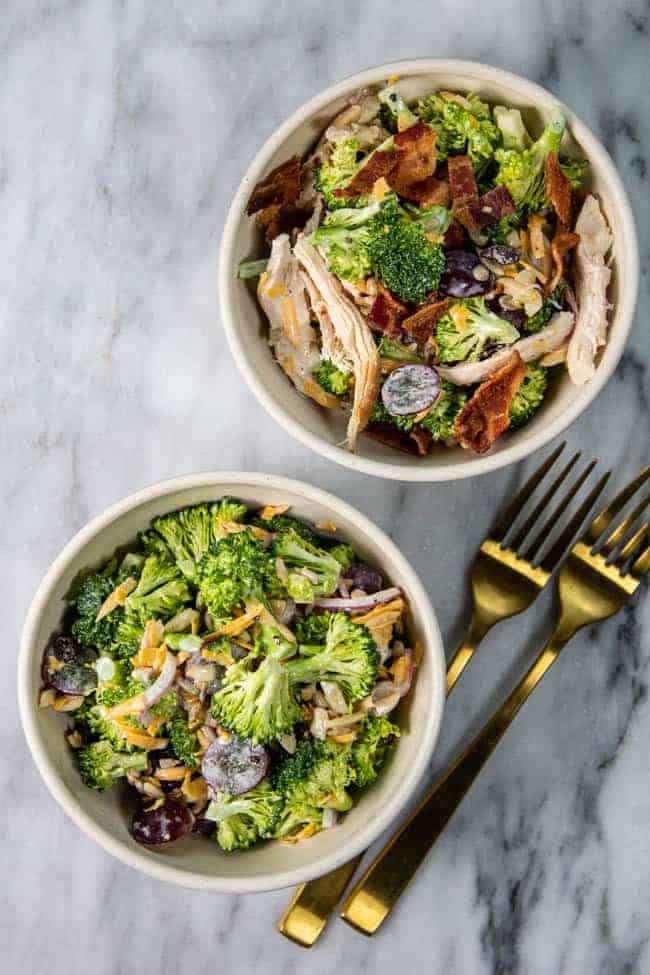 Brace yourself for the creamiest, most flavorful broccoli salad recipe on the internet! Our broccoli salad base recipe is a hearty one-bowl salad situation that is best suited as a side dish, but when you add shredded chicken and chopped bacon to the mix this side salad takes center stage as the easiest supper sized salad on the planet.
These tasty + easy Egg Muffins are loaded with broccoli, bacon & white cheddar from California – a perfectly delicious breakfast!  Plus, a step-by-step guide to making your own riced broccoli.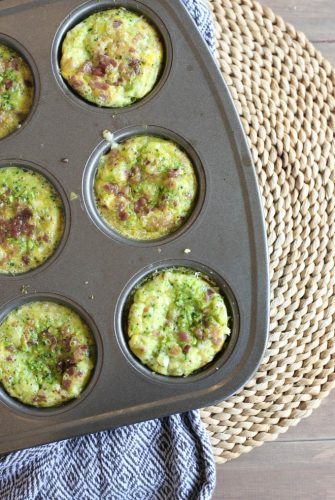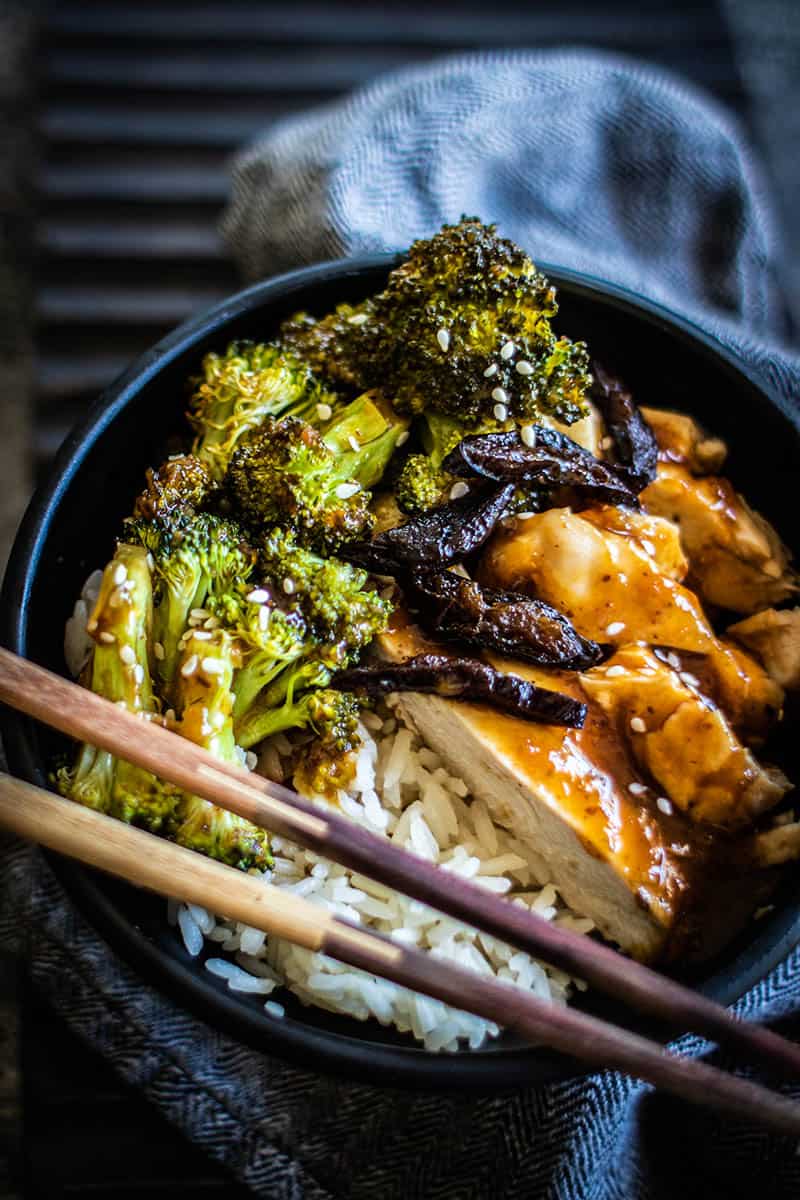 This broccoli stirfry from This Mess is Ours is an easy and nutritious weeknight plant-based meal that goes from start to finish faster than you can cook a pot of rice. This recipe is chock-full of crisp, tender broccoli with just the slightest char and a generous helping of our homemade Teriyaki Sauce recipe that is free of refined sugars and loaded with big flavor!