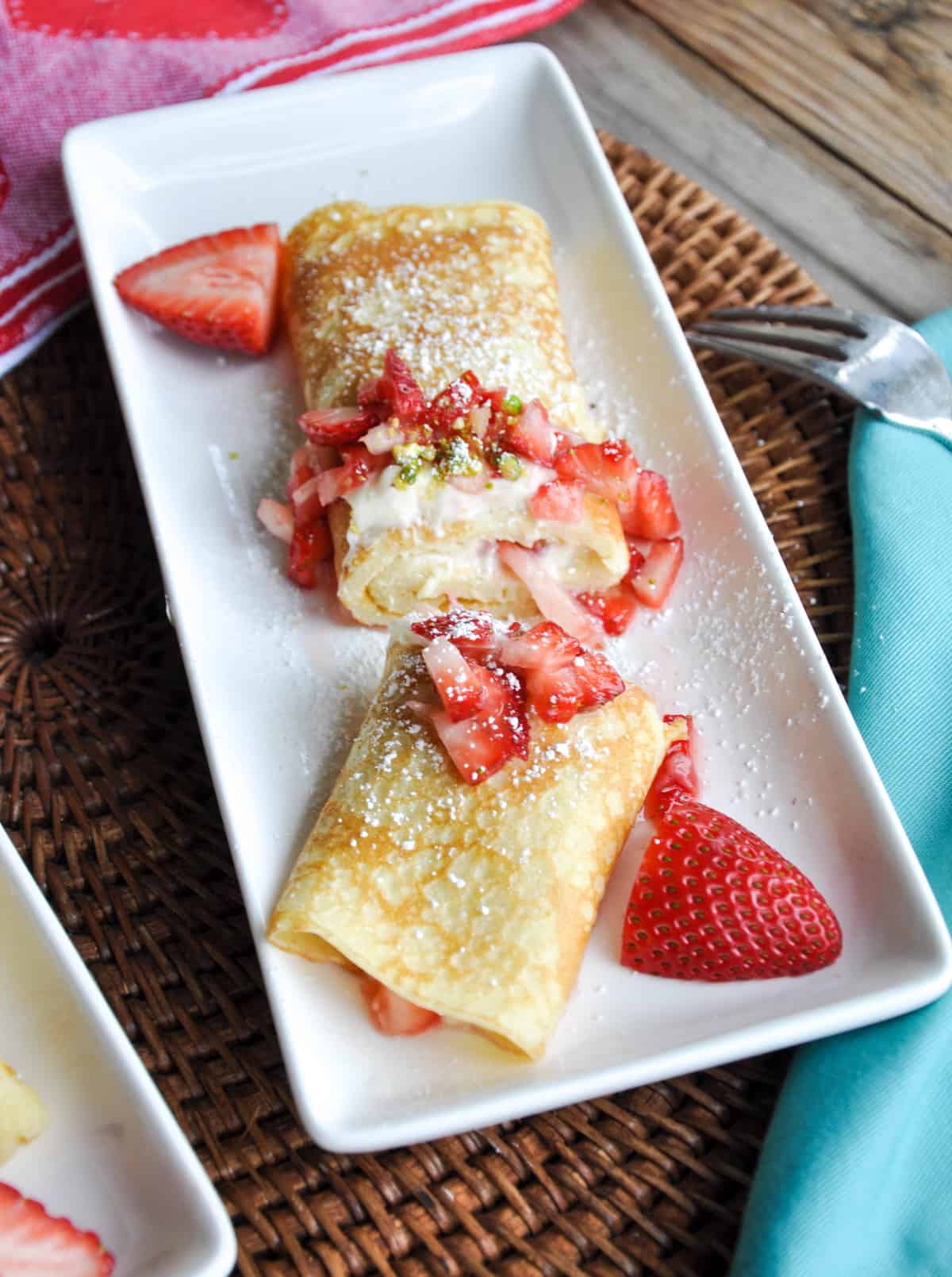 CA GROWN Blog
Discover. Learn. Connect.
Lemon Crepes With Strawberries & Pistachios – The Best Crepe Recipe
February 8, 2017
Eat the Season!
Sign Up For Weekly Recipes
« Back to Recipes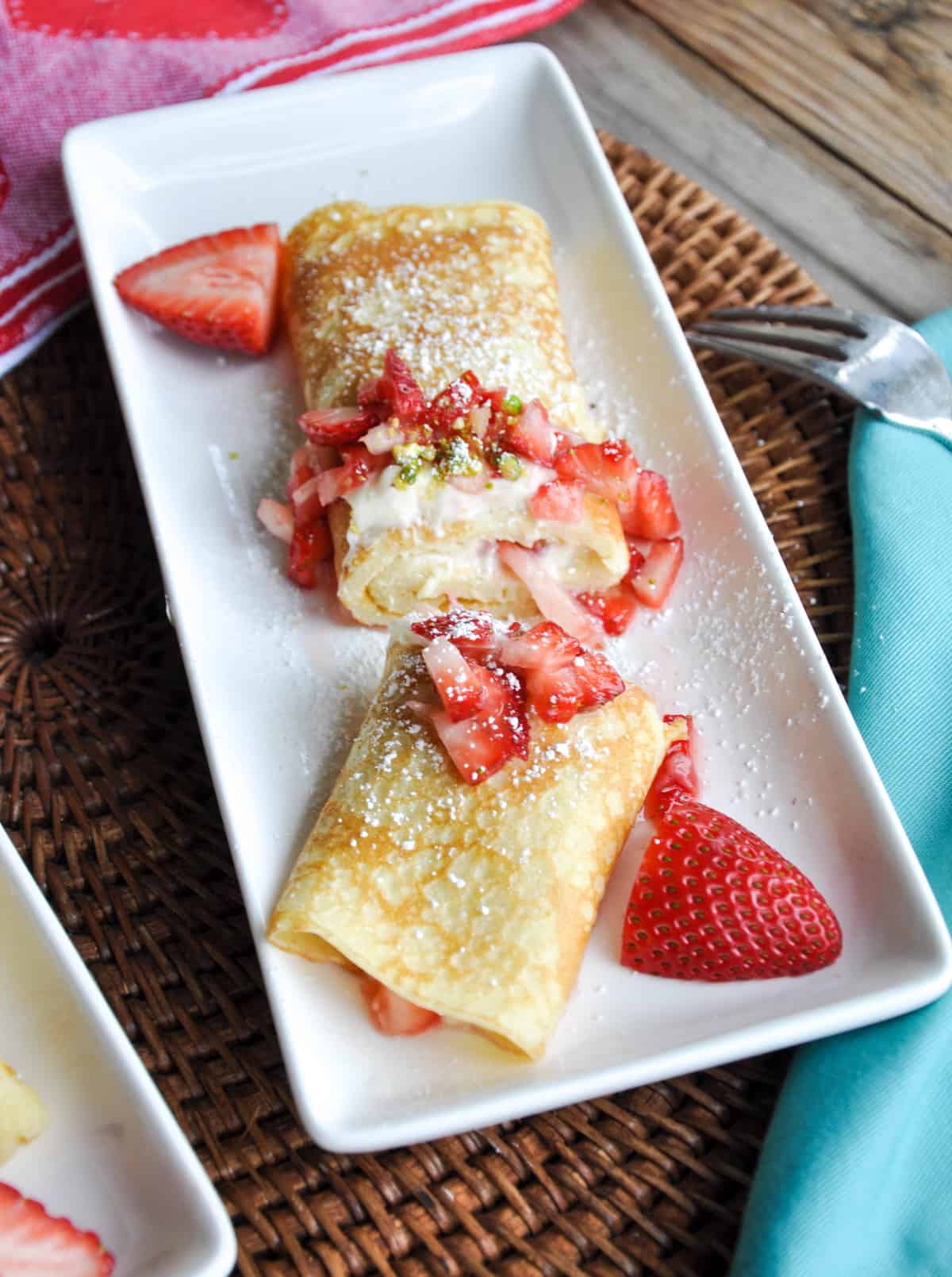 Lemon Crepes With Strawberries & Pistachios – The Best Crepe Recipe
Crepes are super simple to make and so versatile, they're basically a thin pancake that you can roll up delicious fillings in. Our Lemon Crepes with Strawberries and Pistachios is the best crepe recipe we have ever tried and we think you are going to love it too!
Enjoy them for breakfast on a lazy weekend morning, or whip them up for dessert anytime.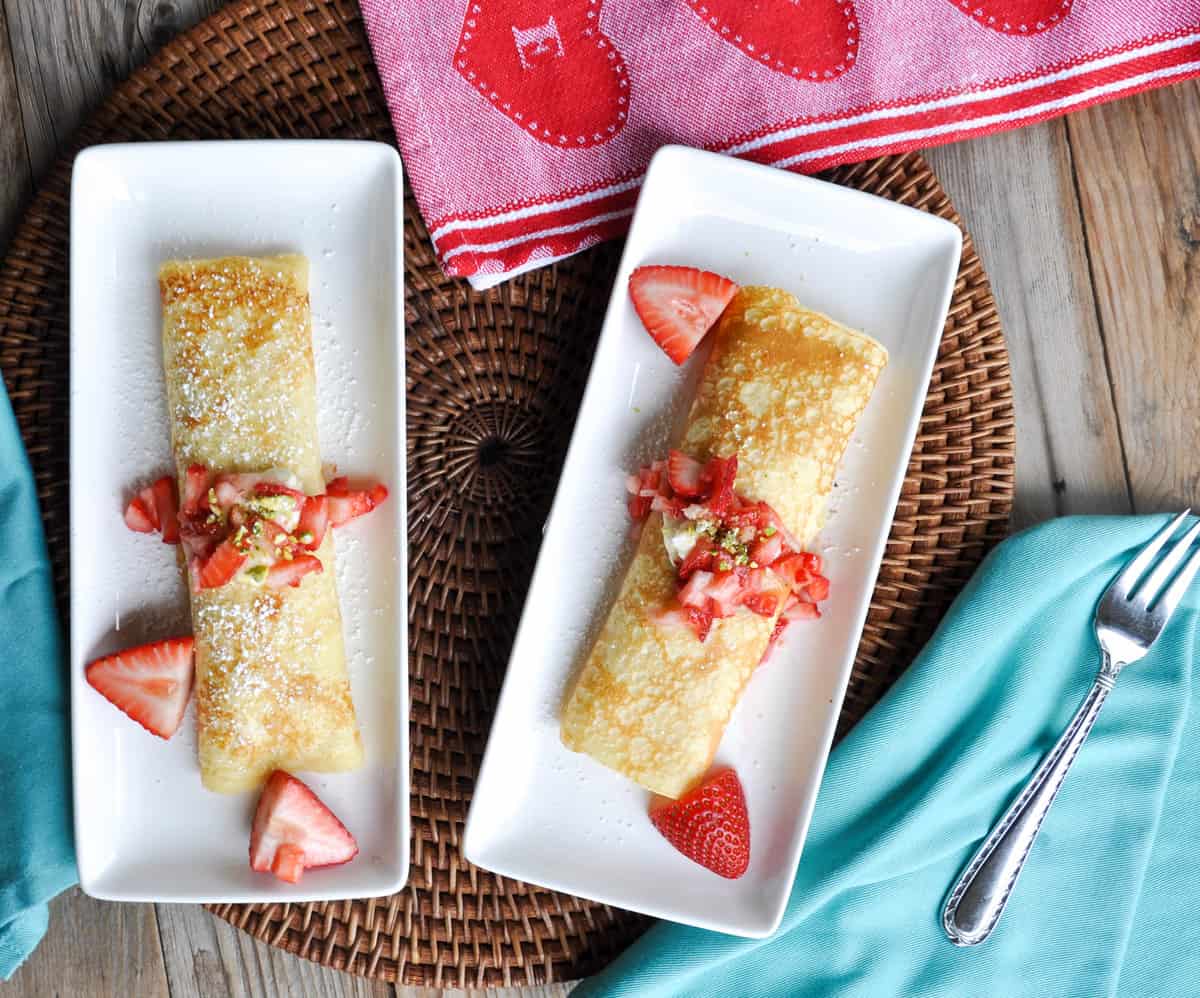 The best crepe recipe requires minimal ingredients.
flour
milk
eggs
sugar
vanilla
cream cheese
strawberries
pistachios
lemon
Is crepe batter the same as pancake batter?
The main difference is that pancake batter has a raising agent in it, such as baking powder or baking soda, and crepe batter does not. This means that pancakes are thicker and fluffy while crepes are thin and flat.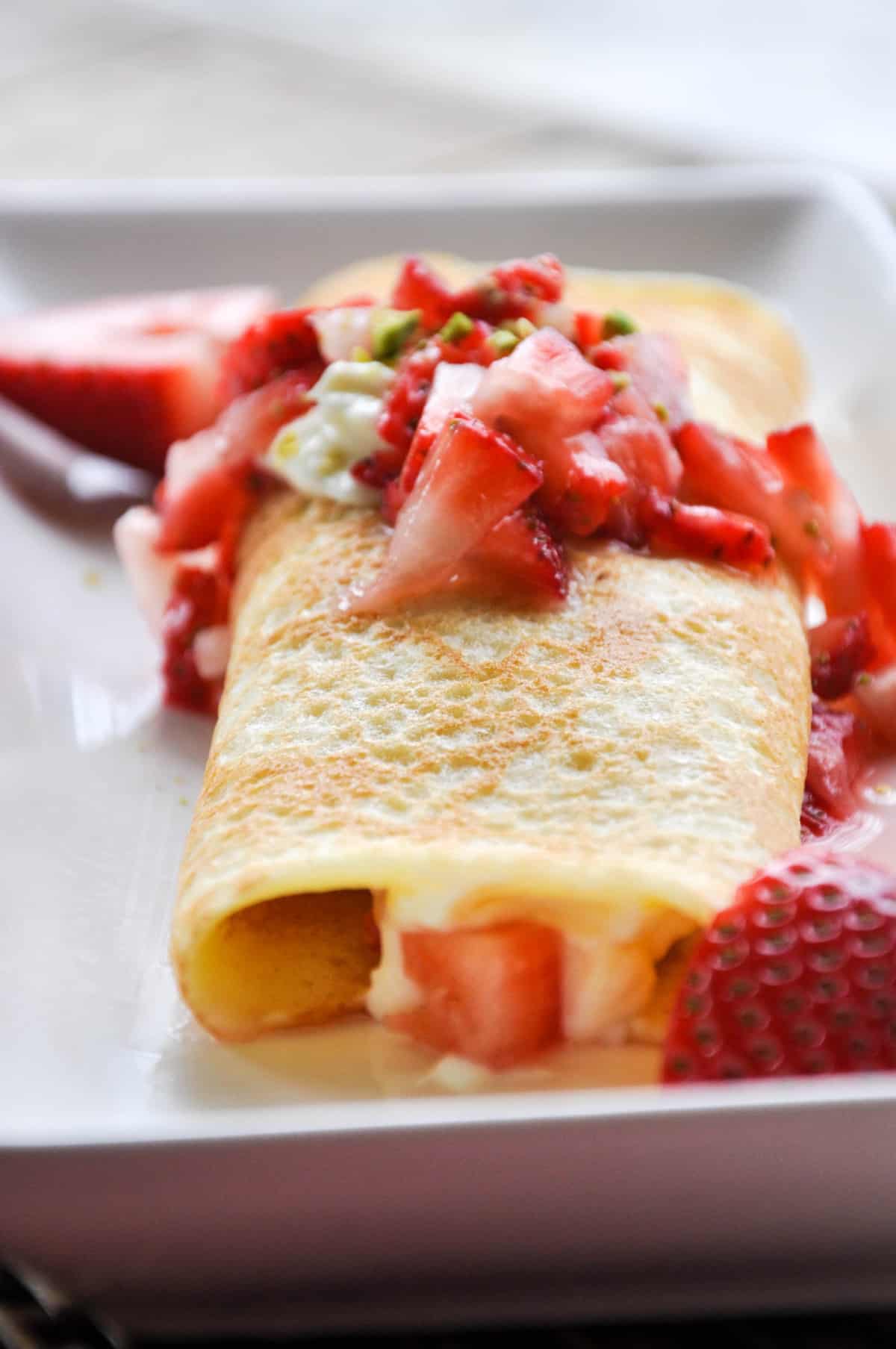 What is the secret to making the best crepe recipe?
Honestly the best crepe recipe doesn't have anything to do with the batter ingredients themselves. It has everything to do with the consistency of the batter. It is crucial! Our crepe batter is blended together in a blender which creates the perfect consistency as long as you give it the proper amount of time to blend, about 5 minutes.
Is a crepe pan necessary when making this crepe recipe?
If you find yourself without a crepe pan you are in luck, you do not need a crepe pan to make crepes! And honestly, any good skillet can turn out a great crepe. To make a crepe, you only need a solid skillet that heats evenly and has a flat base.
How to fill and serve the best crepe recipe we've ever tried!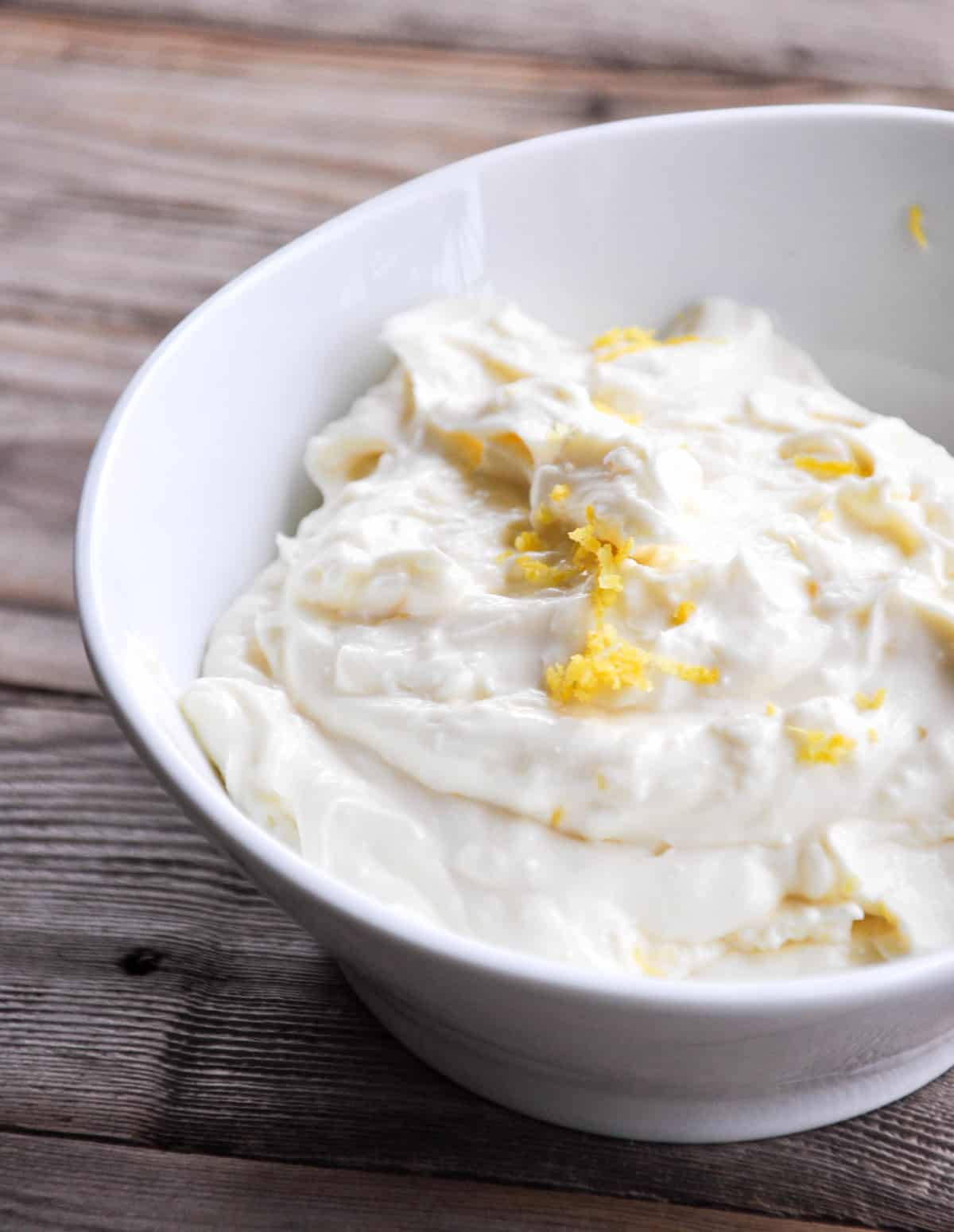 Make the lemon crème filling.
Combine softened cream cheese, powdered sugar, lemon juice, zest, and vanilla. Stir to combine.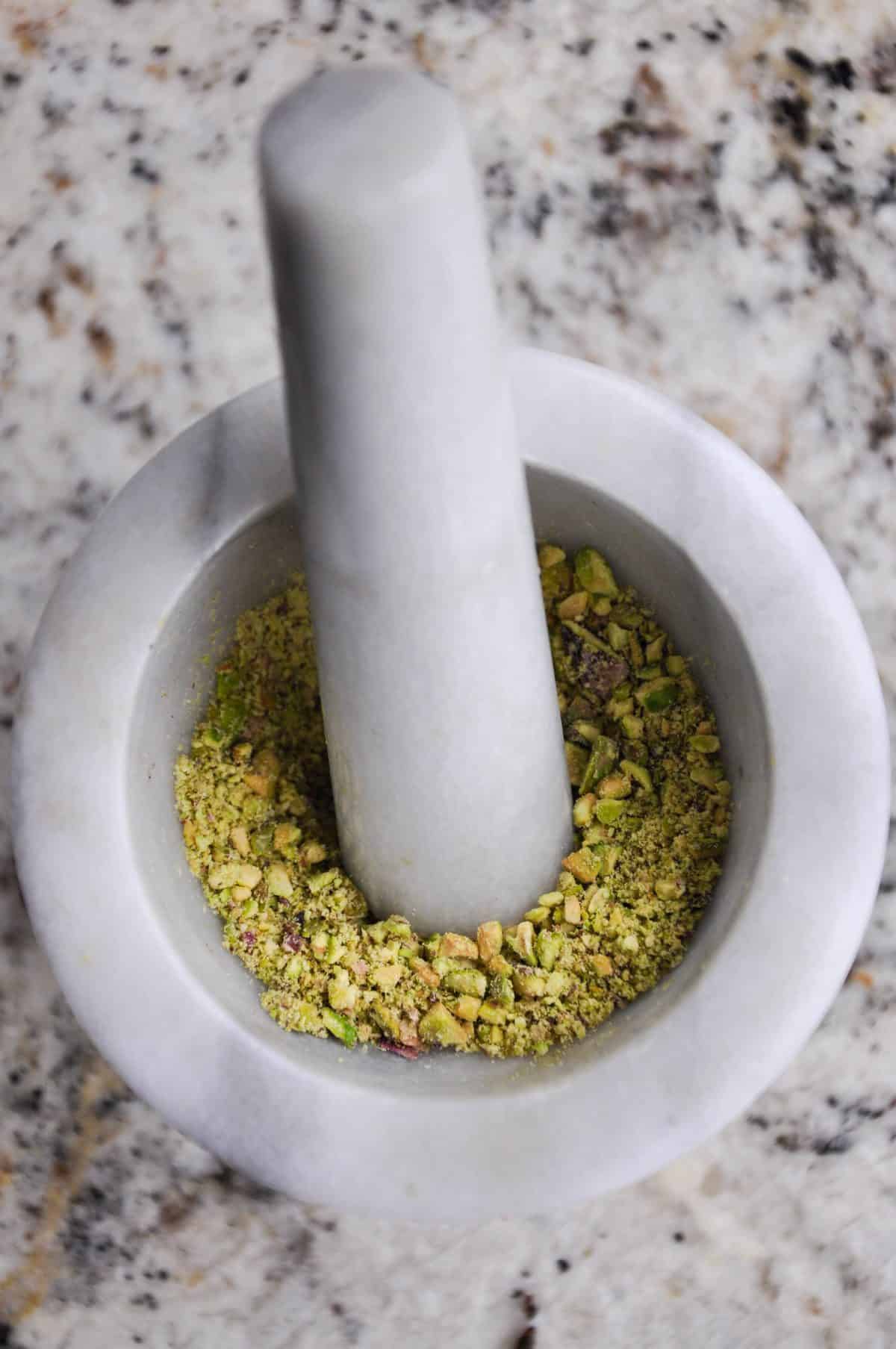 Create pistachio dust.
Crush pistachios with a mortar and pestle, in a food processor, or by placing them in a plastic bag and crushing with a rolling pin.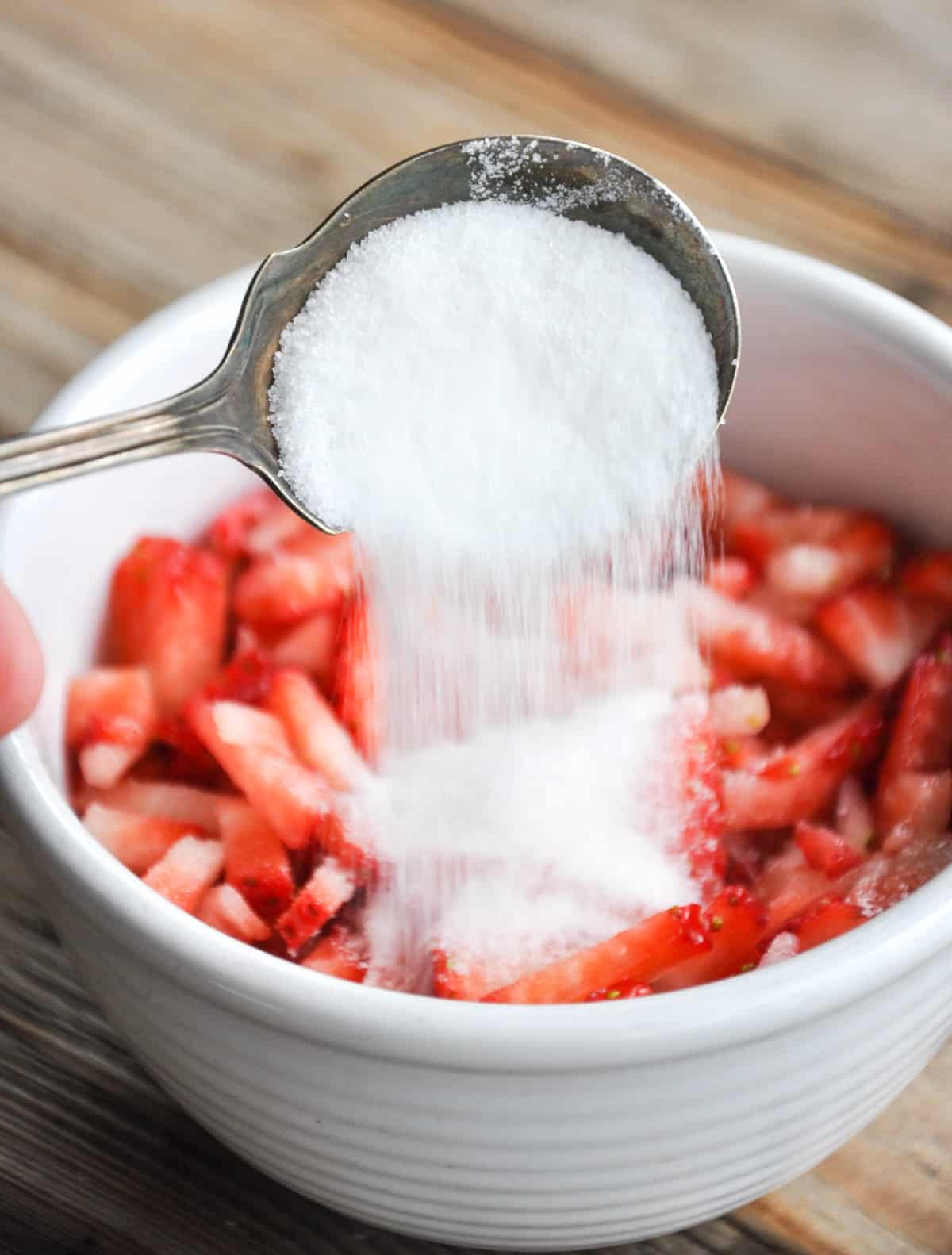 Macerate the strawberries.
When you add sugar to sliced strawberries the sugar will breakdown due to the juices in the berries and cause the berries to become syrupy and super sweet. Perfect for making the best crepe recipe!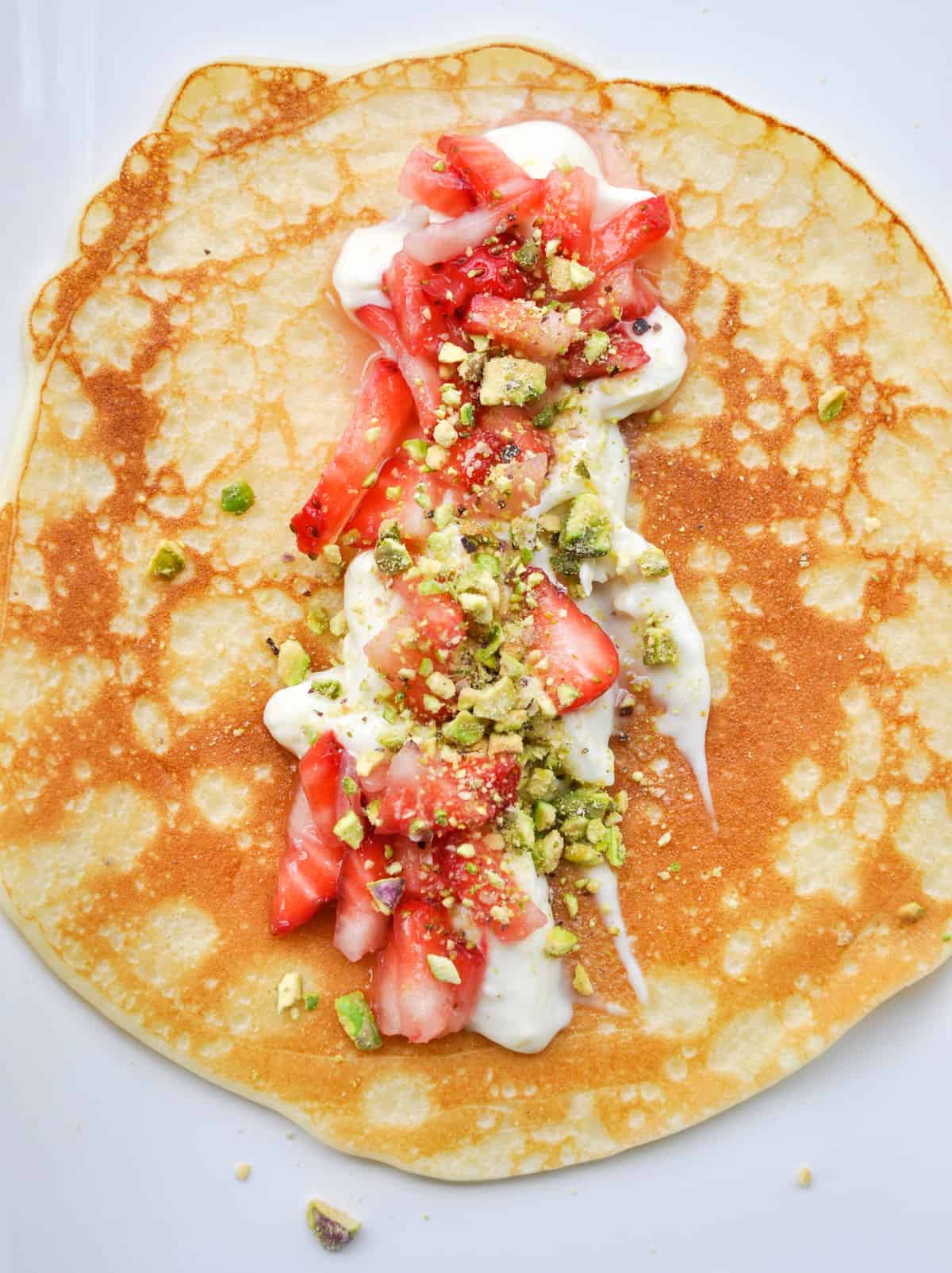 Layer everything onto the crepe.
Once the crepe is cooked, lay on a flat surface and spread with the lemon crème down the center. Top with strawberries, and dust with the pistachios.
Think of it like a sweet burrito!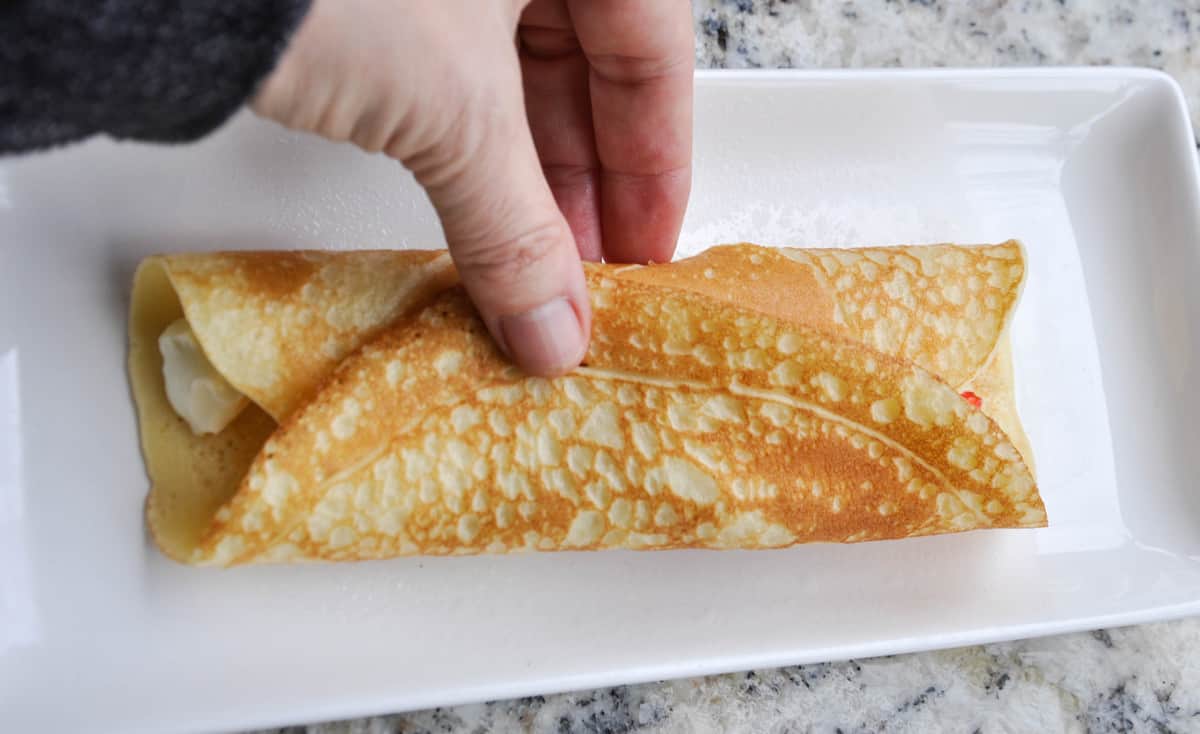 Fold the crepe over the fillings.
Now that the fillings are in the center, fold the crepe in on both sides and turn over so the seam side is down against the plate.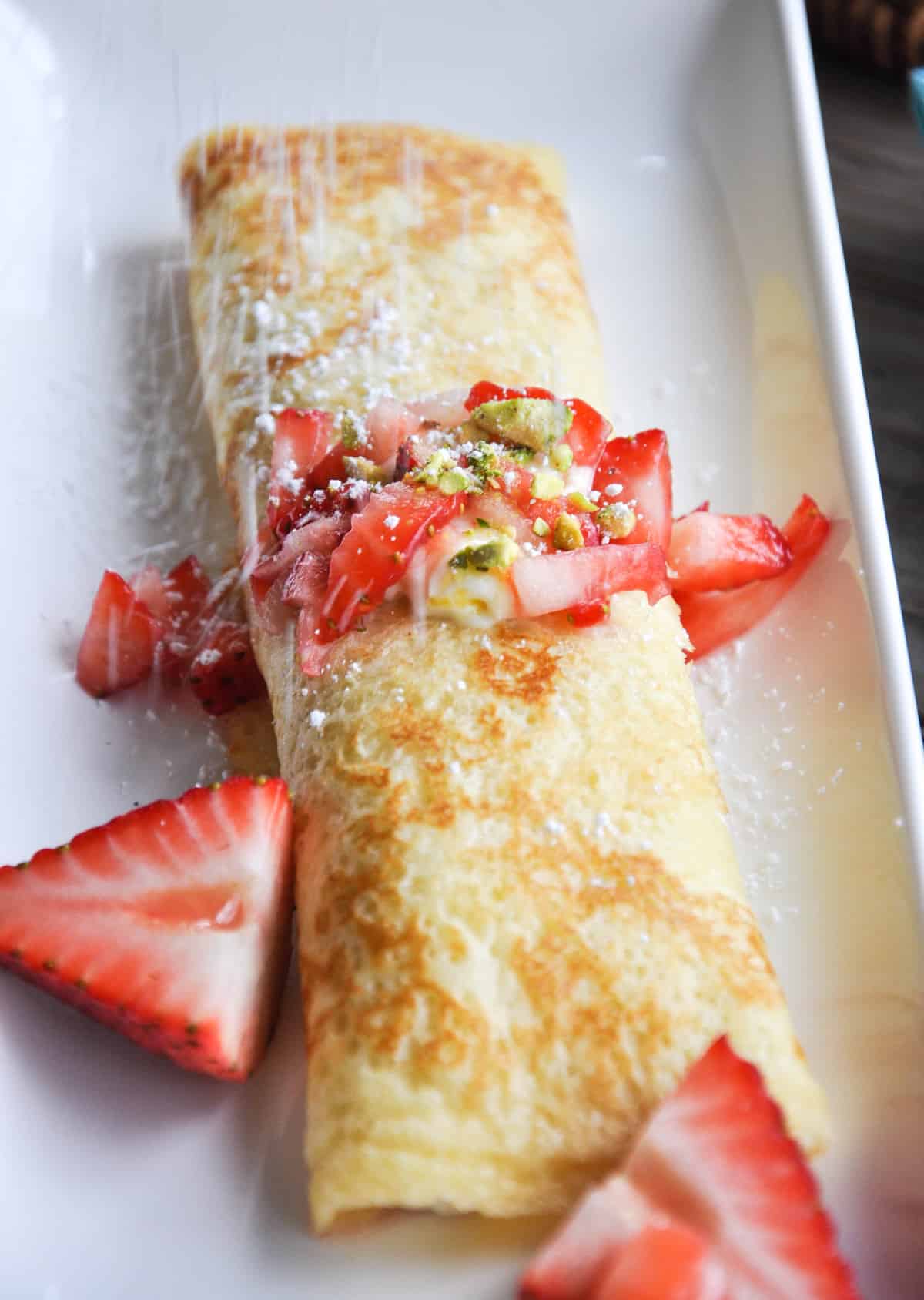 It's all about presentation.
Top with a bit more lemon crème, strawberries, and pistachios.
Finish it all off with a dusting of powdered sugar if you'd like!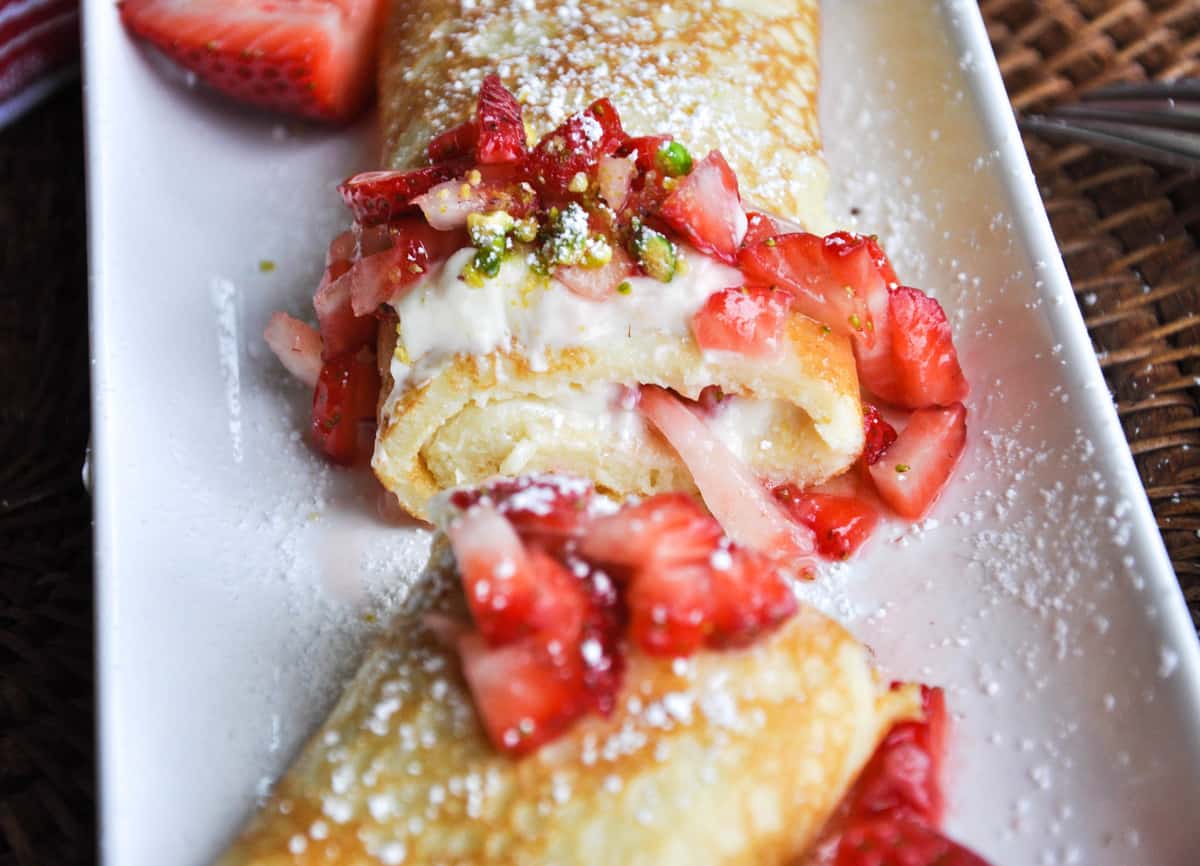 Some of our California Grown Creators say that they have the best crepe recipe you will ever try.
Crepes are super versatile and can be used in both sweet and savory applications. They are a great vehicle for all sorts of toppings and fillings.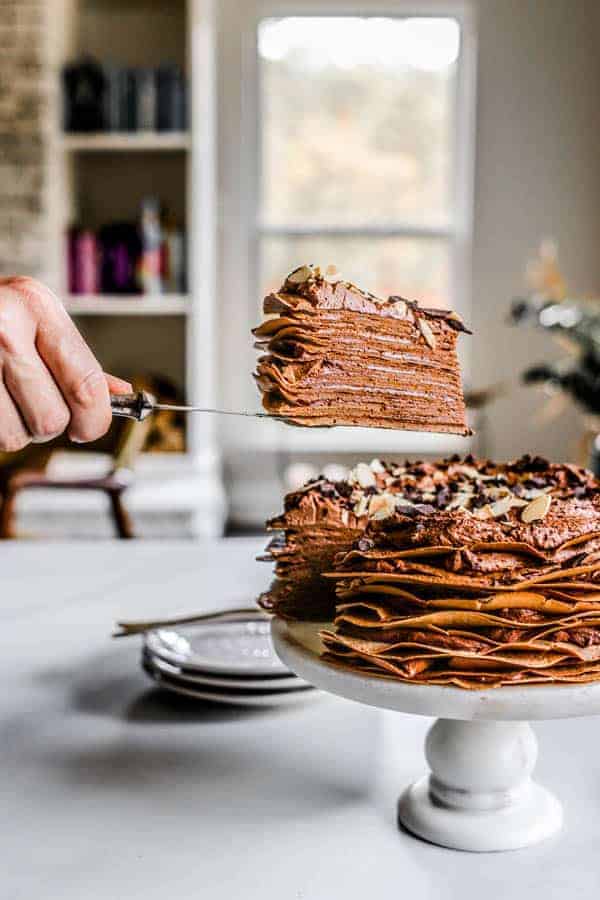 Grab your blender and get ready to impress when you serve up This Mess is Ours' easy to make No Bake Chocolate Crepe Cake!
This crepe cake is a mile-high showstopper with layers of chocolate cream filling sandwiched between thin chocolate crepes.
Plus, these crepes are gluten free and sweetened naturally with California prunes, but no one will even know unless you tell them.
Which means you can feel good about having that second slice.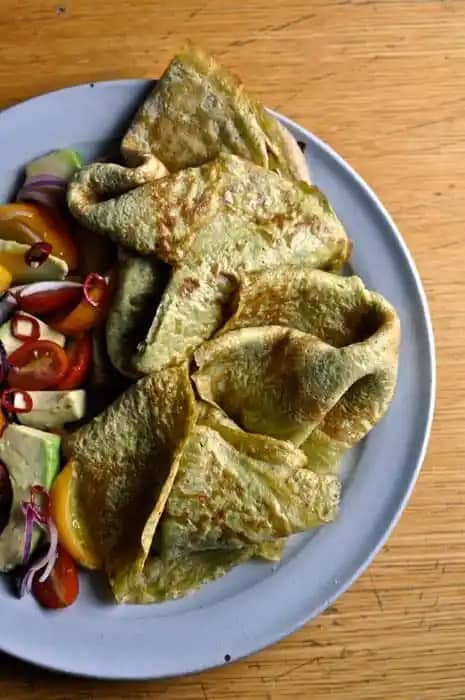 Told you crepes can be savory! Hola Jalapeno swears that this is the best crepe recipe out there as far as savory crepes go and we agree.
Serve these as a light meal with a plate of fresh tomatoes, avocado, and thinly sliced red onion drizzled with olive oil, lime juice, and a generous sprinkling of salt and pepper. It's a light summertime meal that you can really sink your teeth into.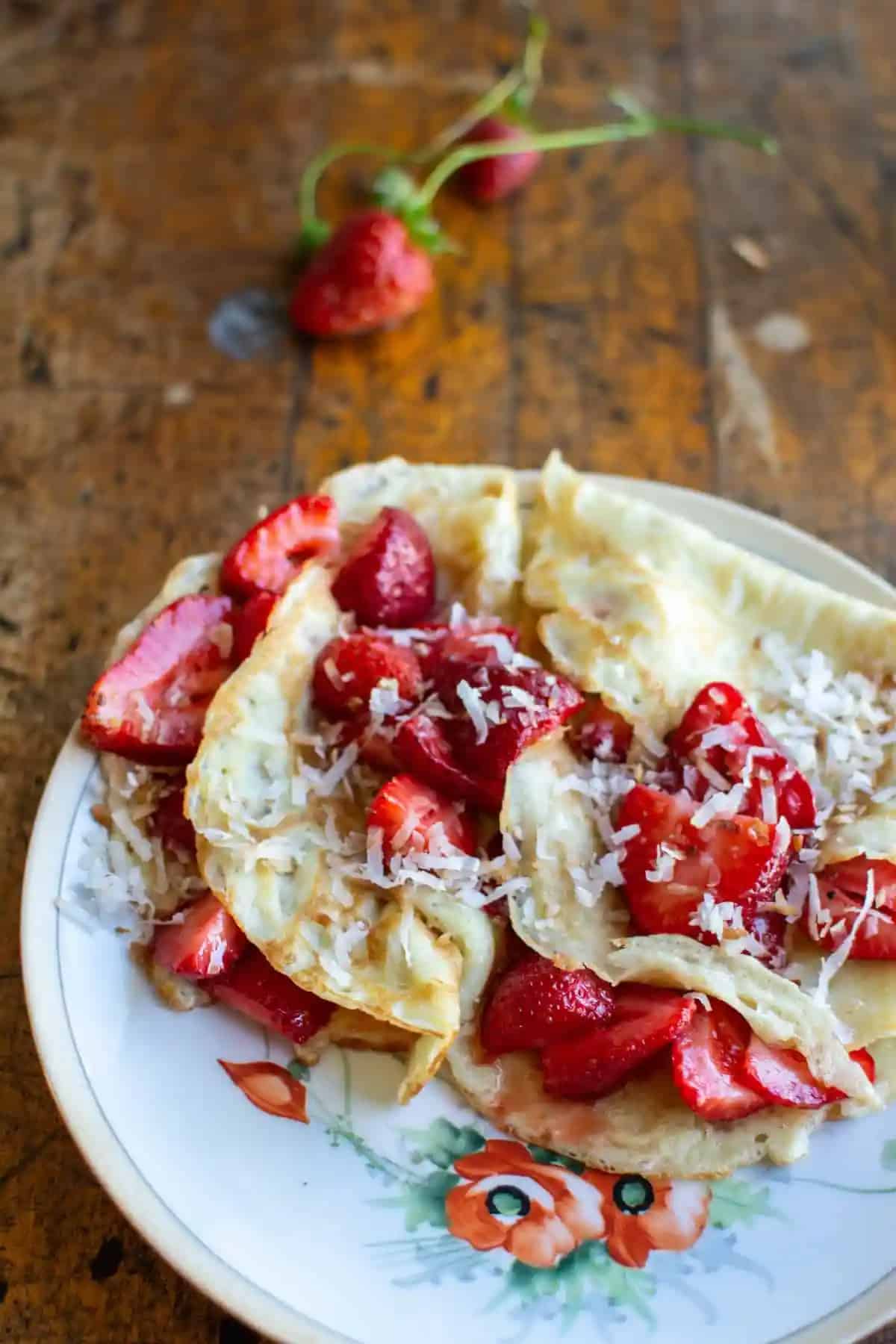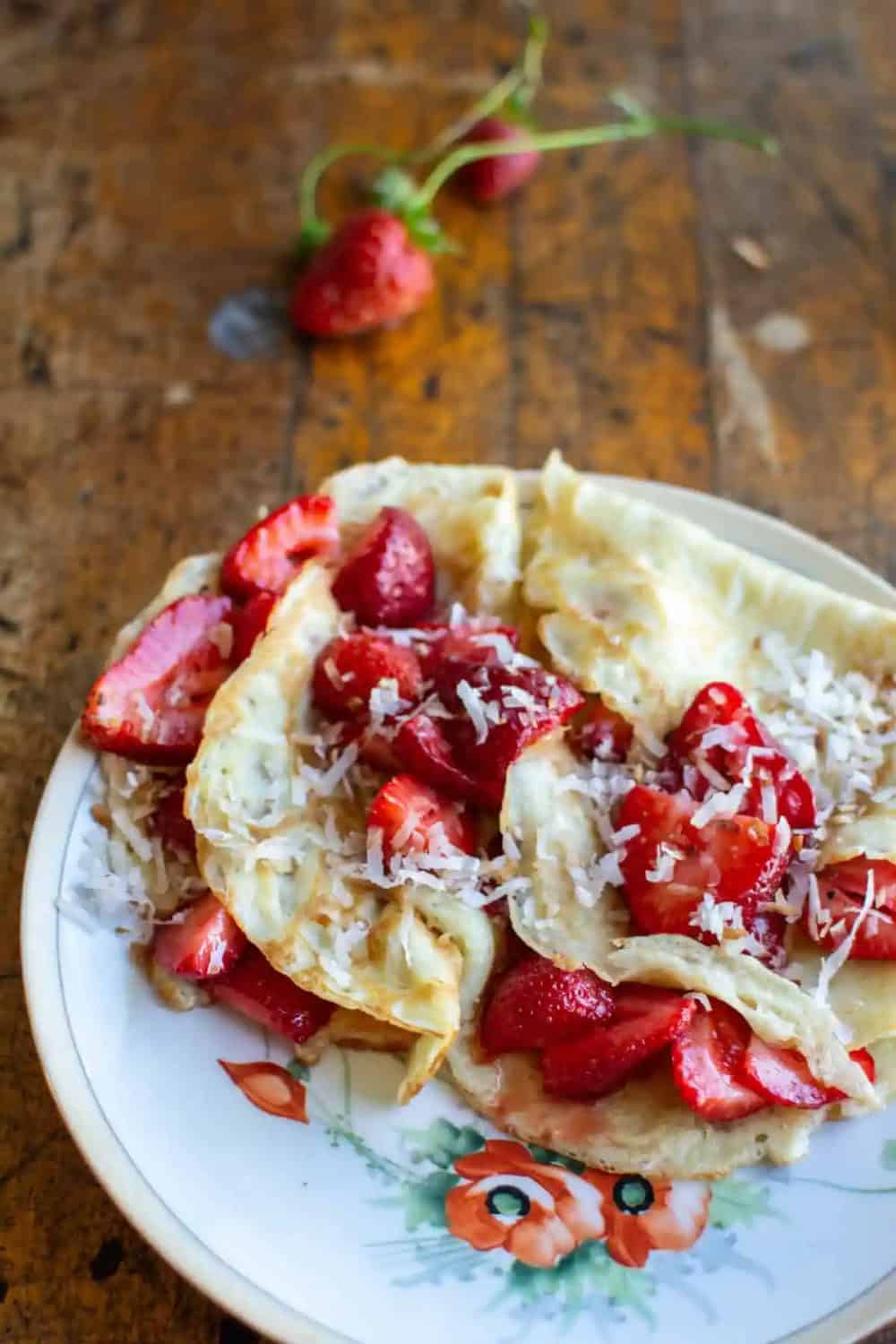 Hola Jalapeno's Coconut Crepes with Lemon Streaked Strawberries are to die for!!!!
This is one of the best crepe recipes we have come across because this recipe is fast, easy, and feeds multiple types of dietary preferences with ease.
Do you have a crepe recipe that you think is the best crepe recipe on the planet? We want to know about it!
Share your best crepe recipe creations with us by snapping a pic and tagging us on social using #CAGROWN. 
Craving more CA Grown goodness? Follow us on Pinterest for fresh and fabulous recipe inspo!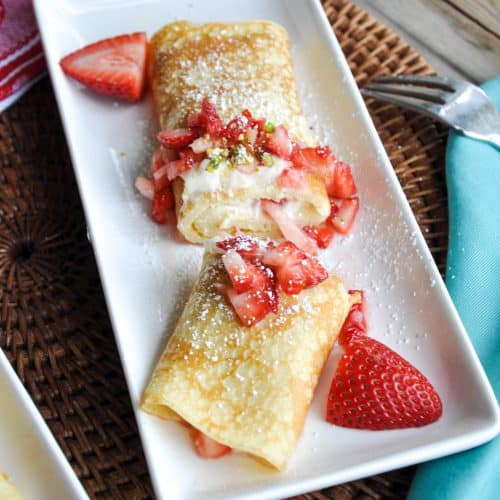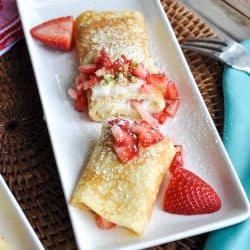 Lemon Creme Crepes with Strawberries + Pistachios
Our Lemon Crepes with Strawberries and Pistachios is the best crepe recipe we have ever tried! Super light crepes filled with a sweet lemon cream, macerated berries, and pistachios.
Ingredients
For the Lemon Crepes
1 ½ cups milk
1 cup flour
2 eggs
1 tablespoon oil
2 tablespoons sugar
1 teaspoon vanilla
For the Creme Filling
8 ounces cream cheese softened
1/2 cup powdered sugar
zest of 1 lemon
1 teaspoon vanilla
For the Strawberry Pistachio Topping
1 cup strawberries chopped small
1 tablespoon sugar
1/8 cup pistachios finely crushed
Instructions
Place all of the crepe ingredients in a medium-sized blender, starting with the flour and sugar, and then adding the wet ingredients. Blend on medium speed about five minutes, or until the top of the batter becomes slightly frothy.

Combine all the filling ingredients in a bowl and set aside.

Add the strawberries and 1 tablespoon of sugar in another bowl and stir to combine.

Heat a small, shallow pan on medium-low and grease with butter. Slowly pour batter into pan until the bottom of the pan is covered in a thin layer of batter. Let cook for two minutes, or until the bottom is a light brown. Flip the crepe and let the other side cook for another two minutes.

Place a crepe on a flat surface and add about a 1/3 cup of filling and spread down the center. Top with strawberries and dust with pistachios. Fold in sides and turn over so the seam is down.

Top with additional creme, strawberries and pistachios. Dust with powdered sugar and serve!
Notes
Feel free to get creative with your seasonal fillings! Strawberries are in season year round in California, but this base recipe lends itself to all sorts of seasonal fillings – think blackberries, peaches, even apples!
Nutrition
Calories: 374kcalCarbohydrates: 40gProtein: 9gFat: 20gSaturated Fat: 10gPolyunsaturated Fat: 2gMonounsaturated Fat: 6gTrans Fat: 1gCholesterol: 100mgSodium: 164mgPotassium: 249mgFiber: 1gSugar: 22gVitamin A: 699IUVitamin C: 14mgCalcium: 130mgIron: 1mg
Hungry for more delicious recipes with California pistachios?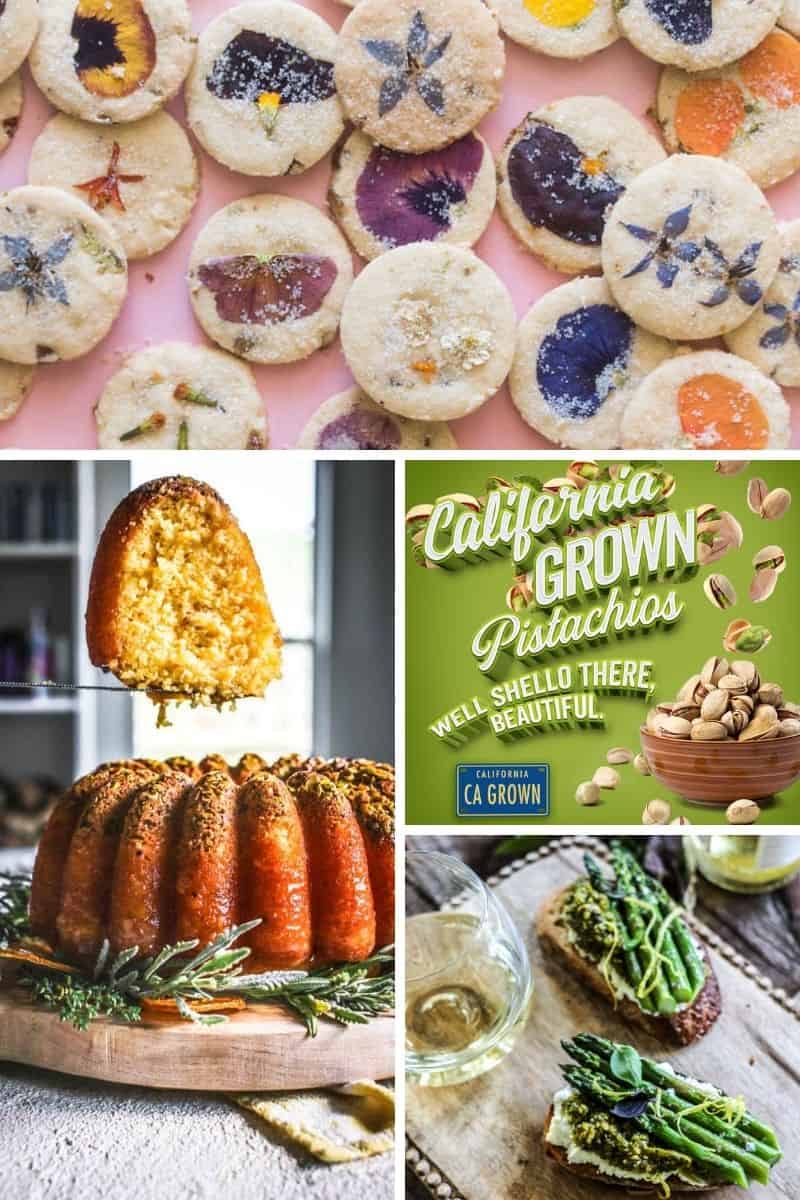 Good things come in small packages and pistachios are no exception! This small but mighty nut adds flavor, texture, a pop of color, and lots of nutritional benefits to whatever dish you add them to. Read on to learn how pistachios are grown and harvested in California and for over 20 of the best recipes with pistachios from our California Grown Creators!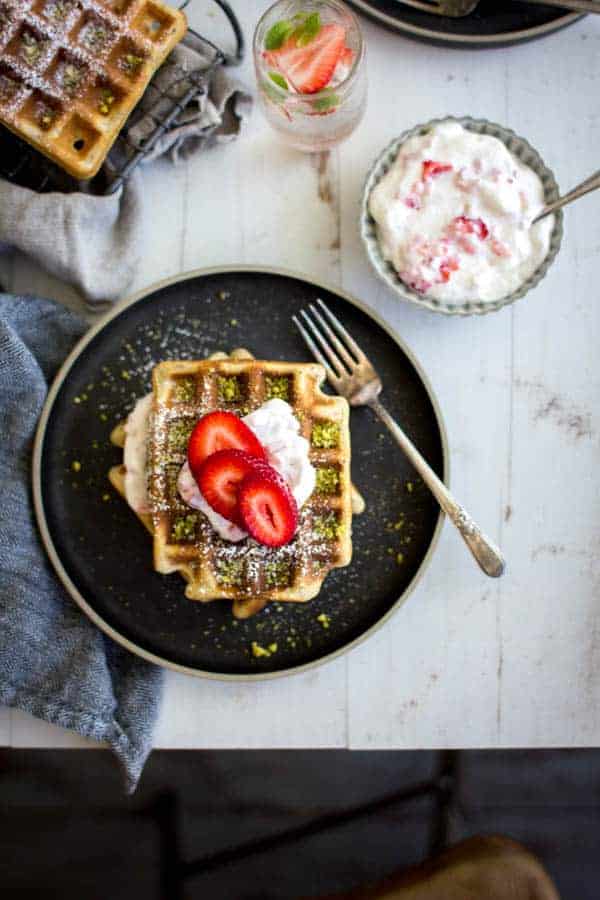 This simple waffle recipe from This Mess is Ours is studded with fresh strawberries and pistachios.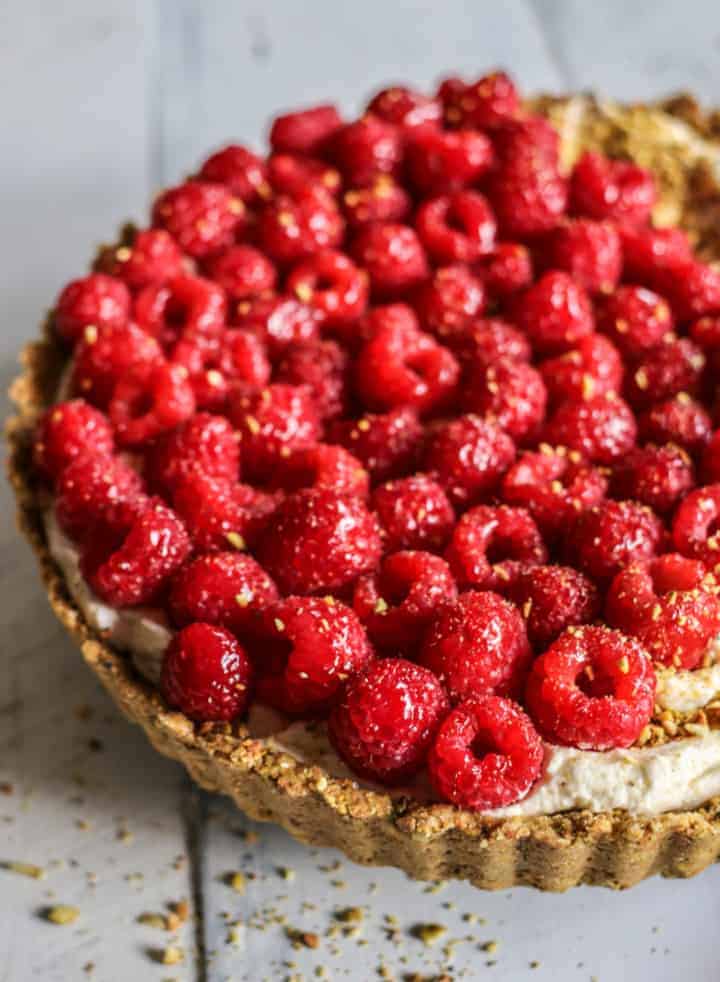 This delicious gluten-free tart from G Free Foodie features a toasted pistachio crust, a creamy mascarpone layer, and gorgeous glazed raspberries. It's the perfect treat! Not only is it delicious, but it's also pretty enough to impress guests.