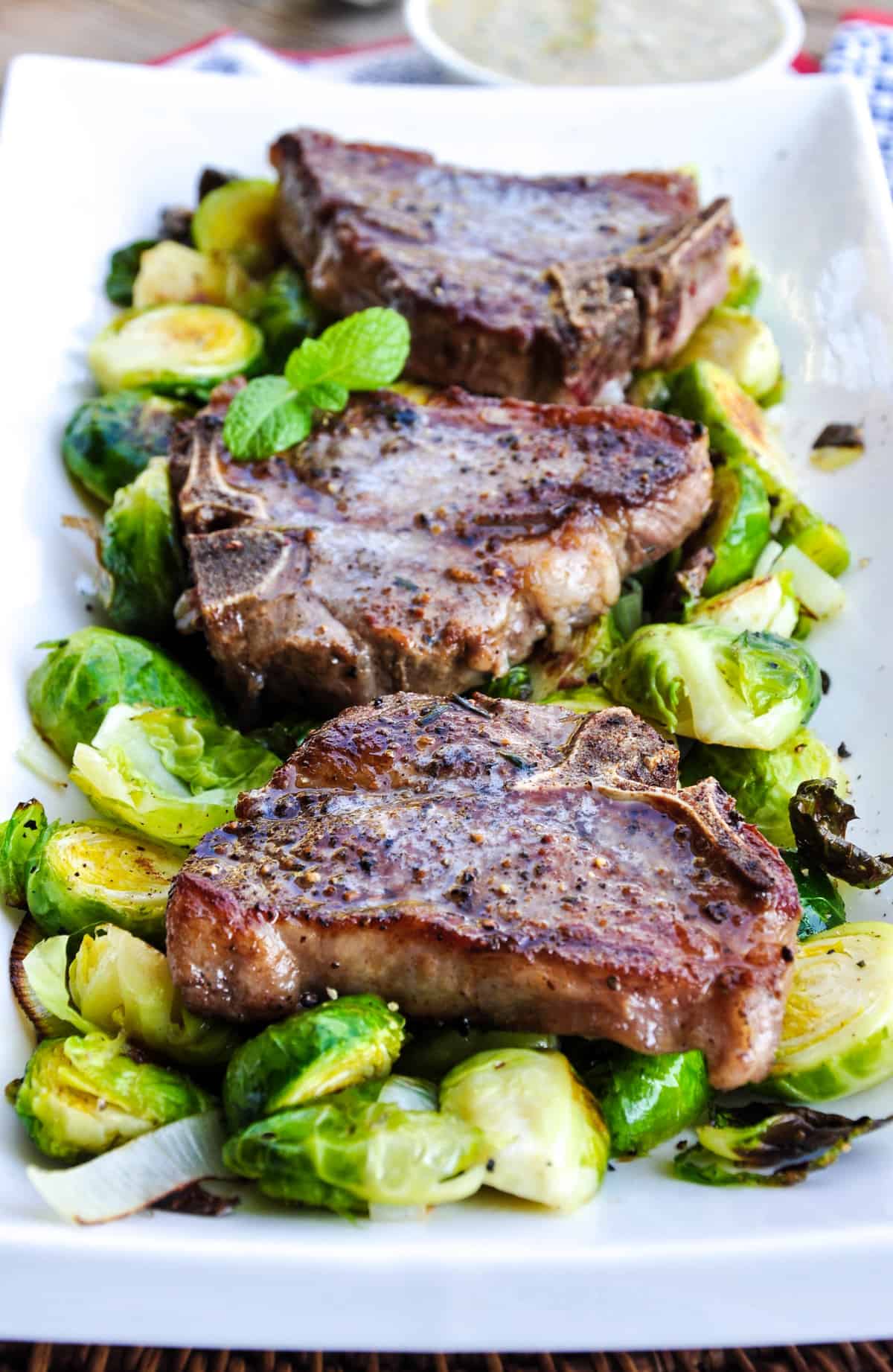 CA GROWN Blog
Discover. Learn. Connect.
Lamb Loin Chops with Roasted Brussels Sprouts and a Mustard Mint Sauce
February 1, 2017
Eat the Season!
Sign Up For Weekly Recipes
« Back to Recipes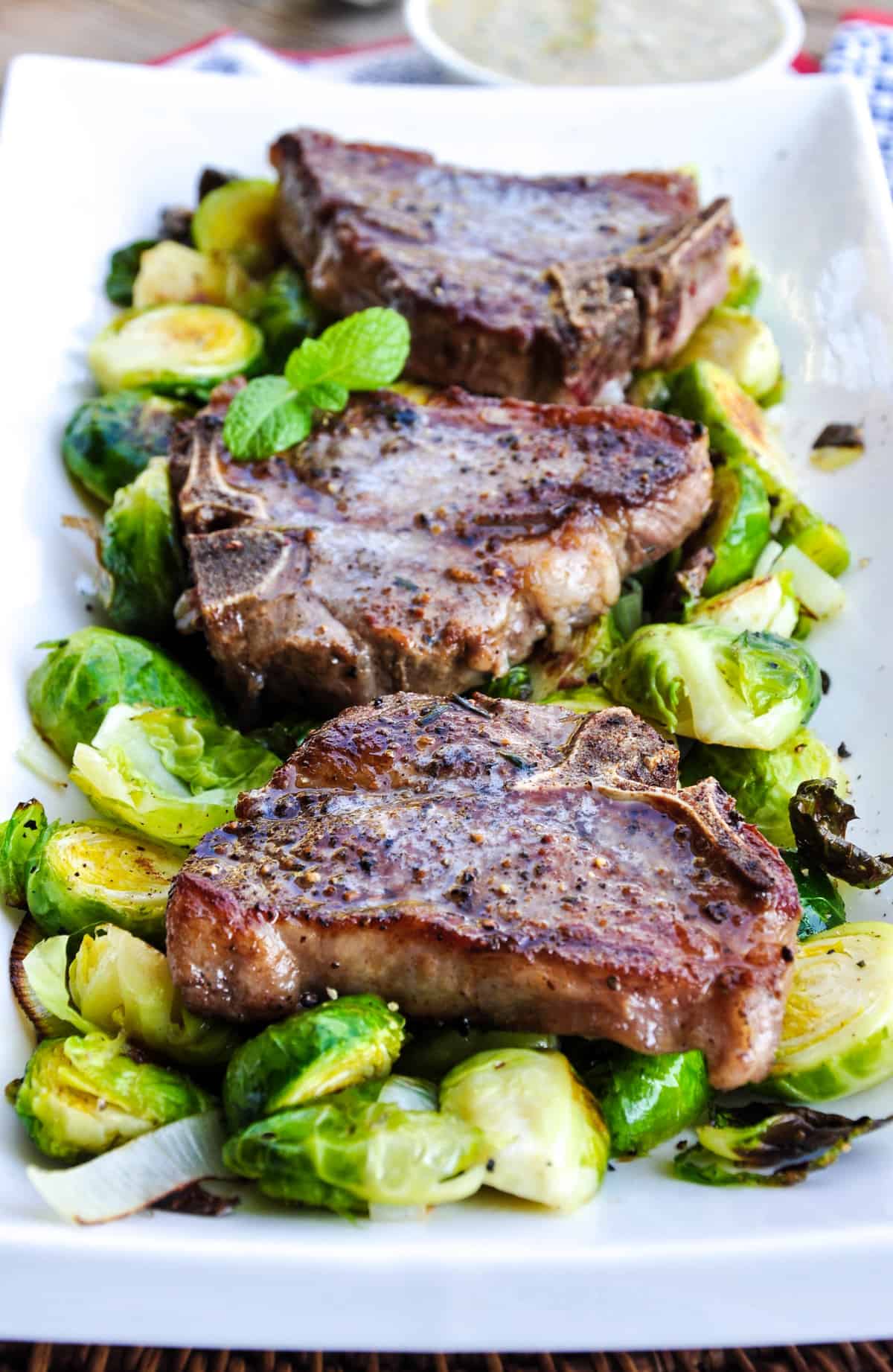 Lamb Loin Chops with Roasted Brussels Sprouts and a Mustard Mint Sauce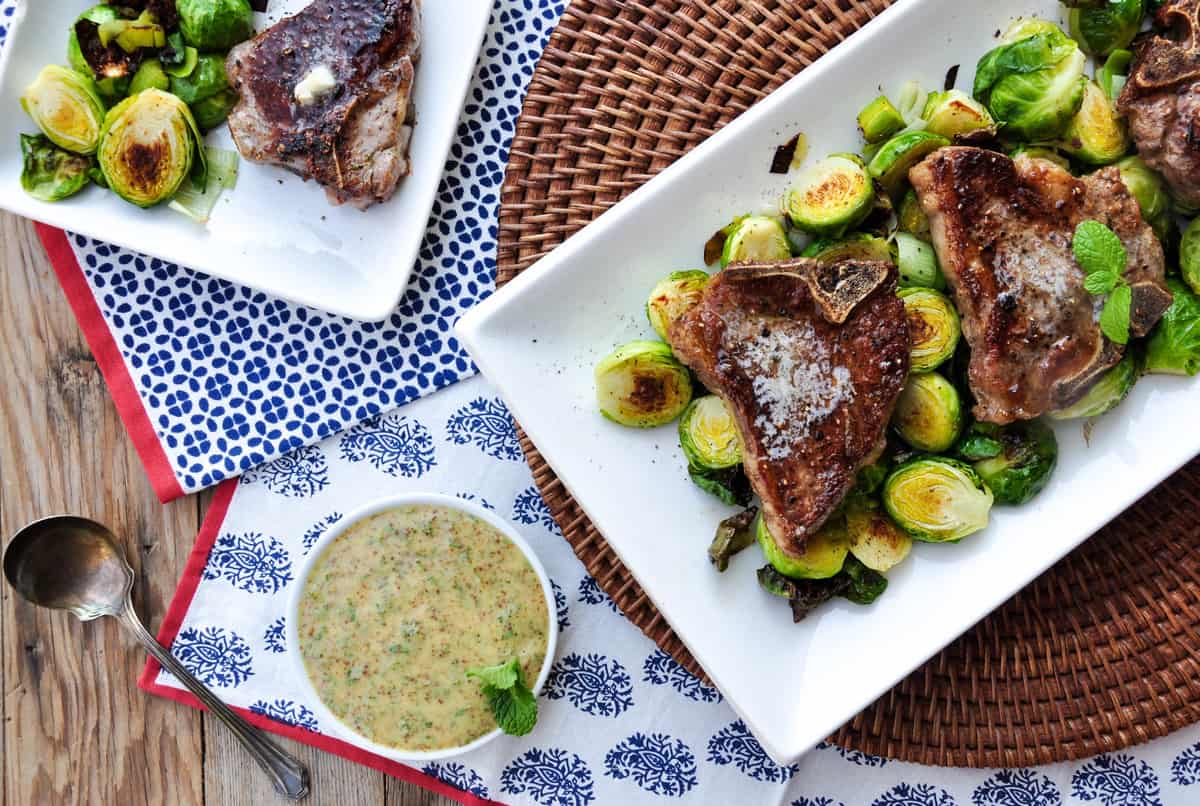 Have I got a recipe for all you lamb lovers!
Beckoning Spring at any cost, I thought a lamb recipe was in order to get us all geared up for birds chirping and tree blossoms blooming.
These tender, juicy lamb loin chops are perfect served alongside oven roasted brussels sprouts and dressed with a tangy mustard mint sauce.
Is your mouth watering yet?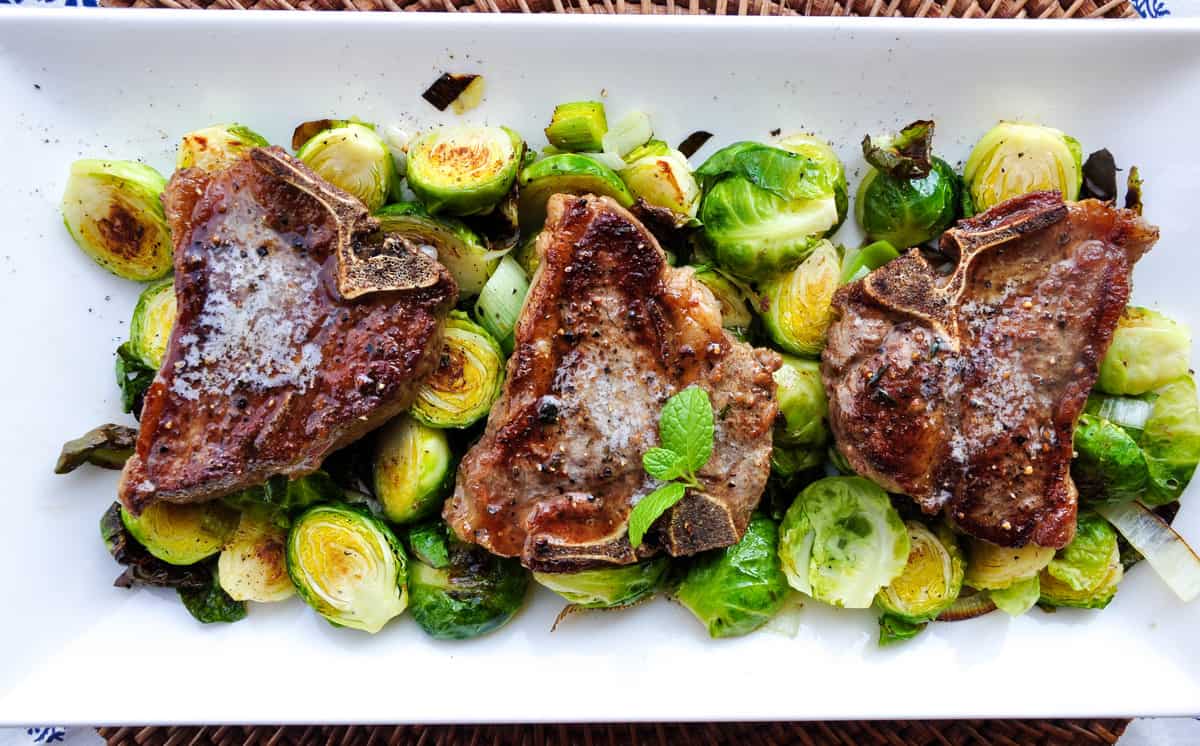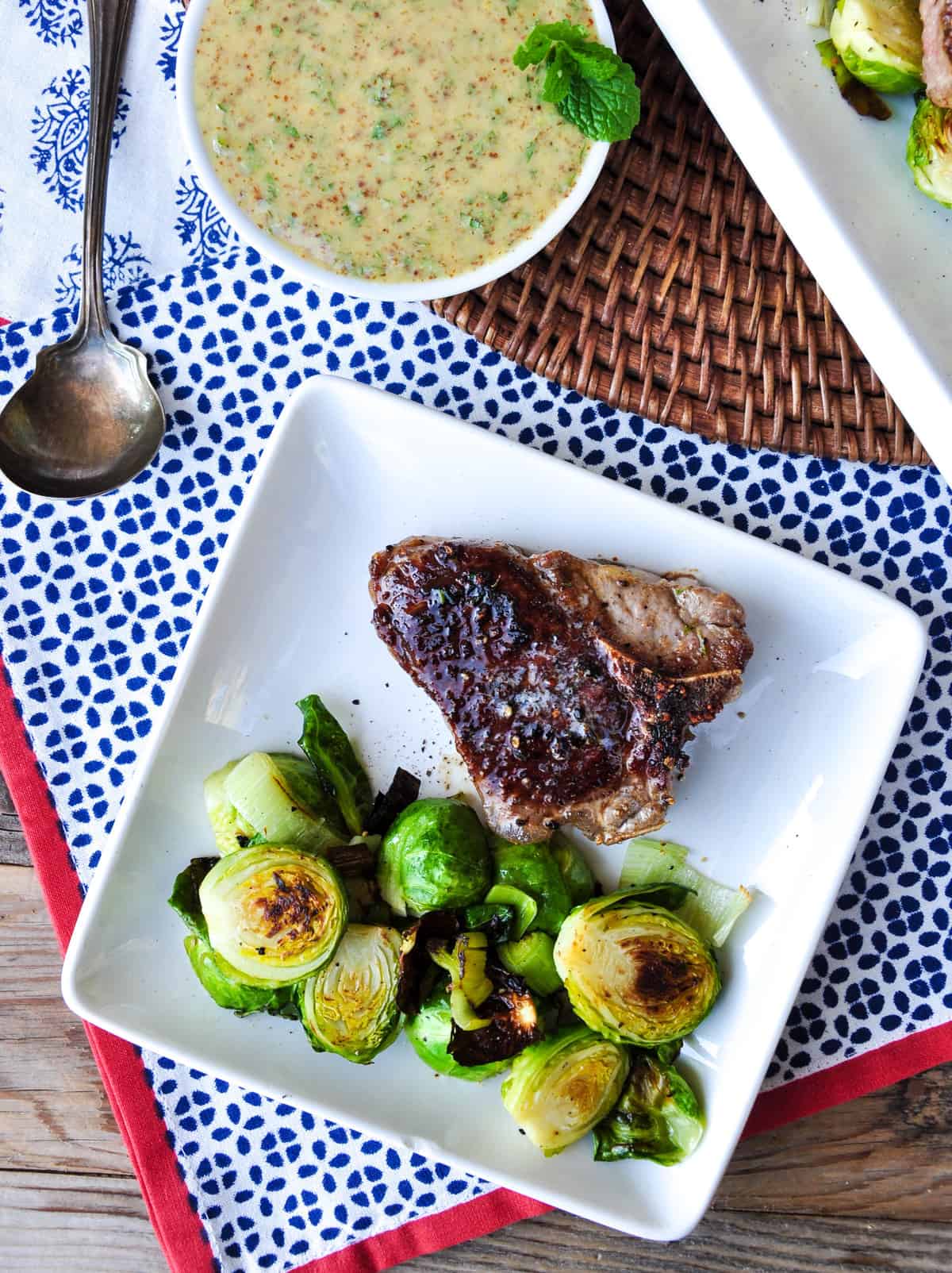 I know, I know! It's hard not to drool.
Seared in a super hot cast iron skillet, this dish only takes about 30 minutes from start to finish. How's that for a quick weeknight meal?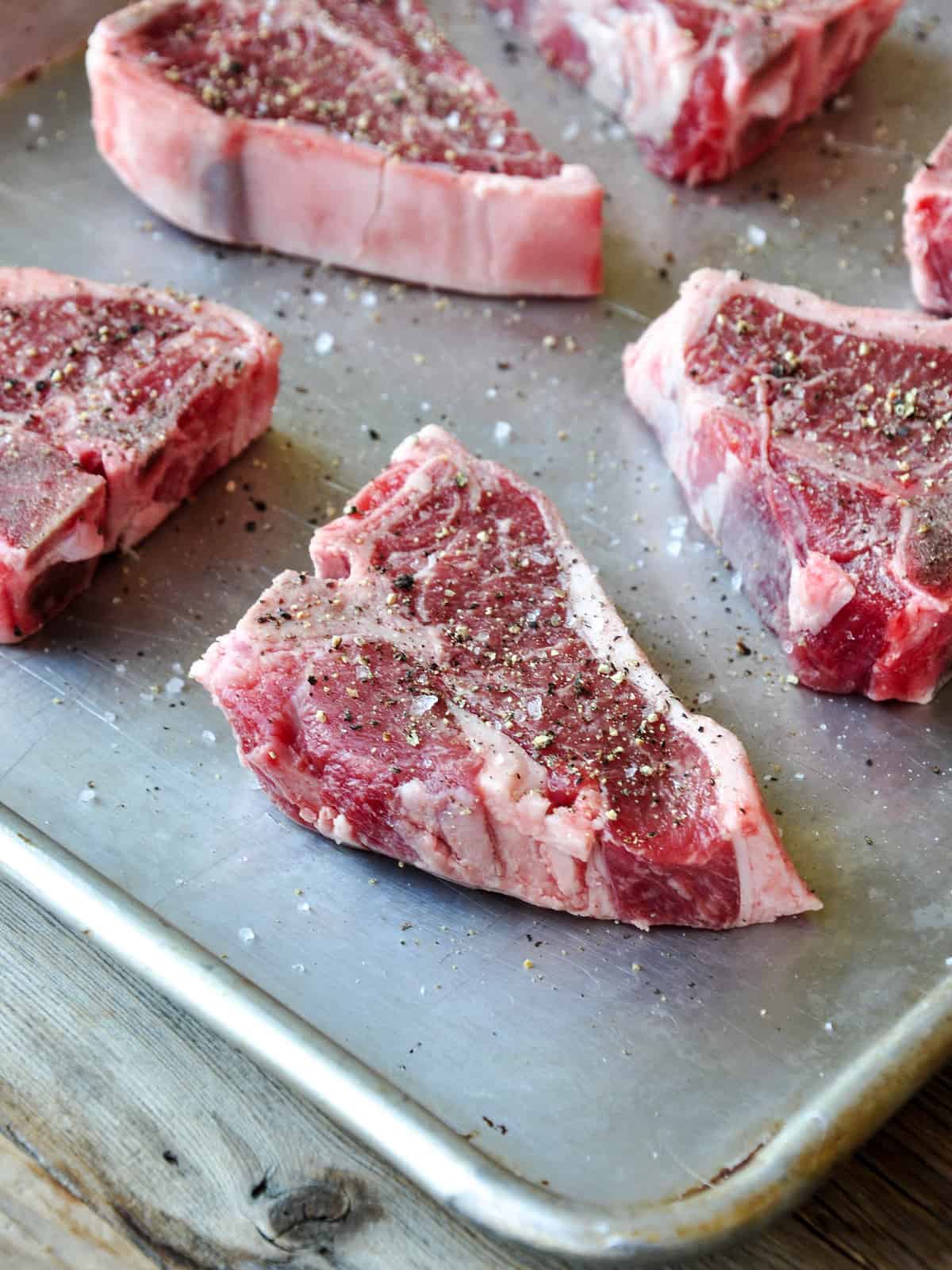 These lamb loin chops were plump, thick and begging for a liberal dusting of salt and pepper.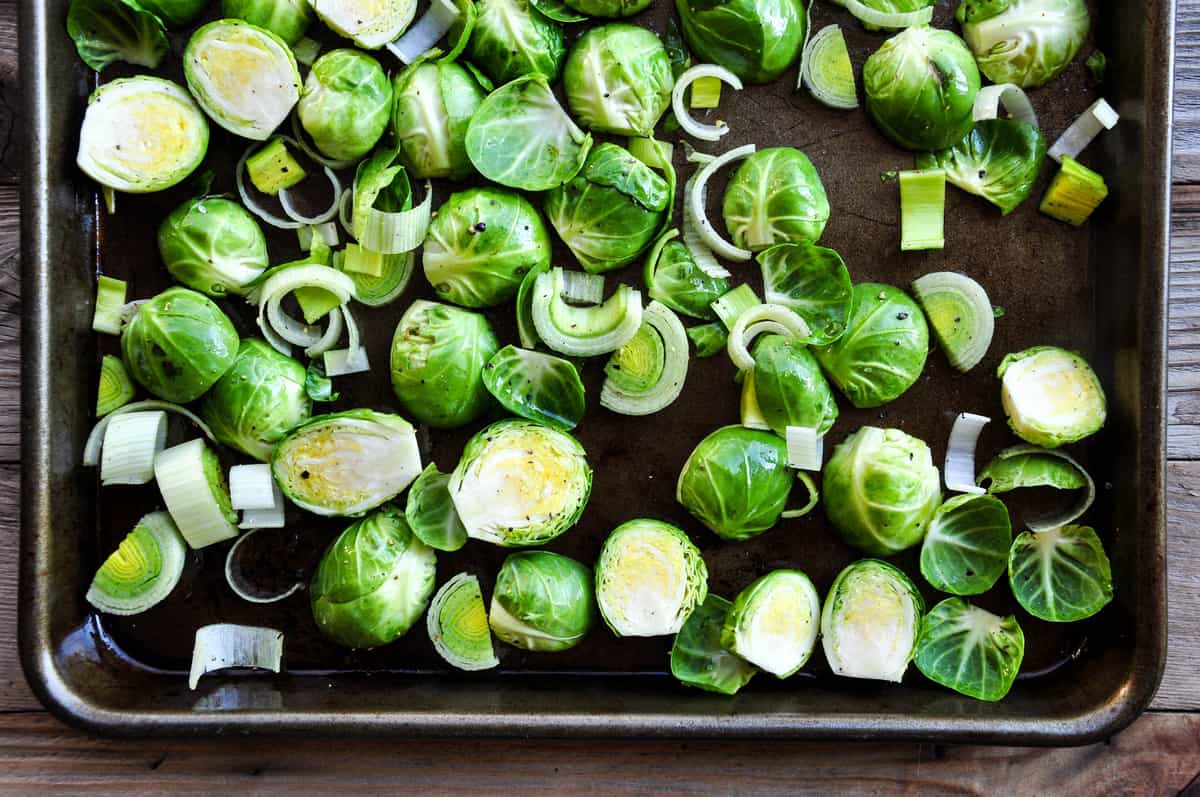 I prepped the brussels sprouts by slicing them in half and adding a 1/2 cup of sliced leeks. Then I tossed it all with olive oil, salt and pepper and put it in a 450 degree oven for about 15 minutes.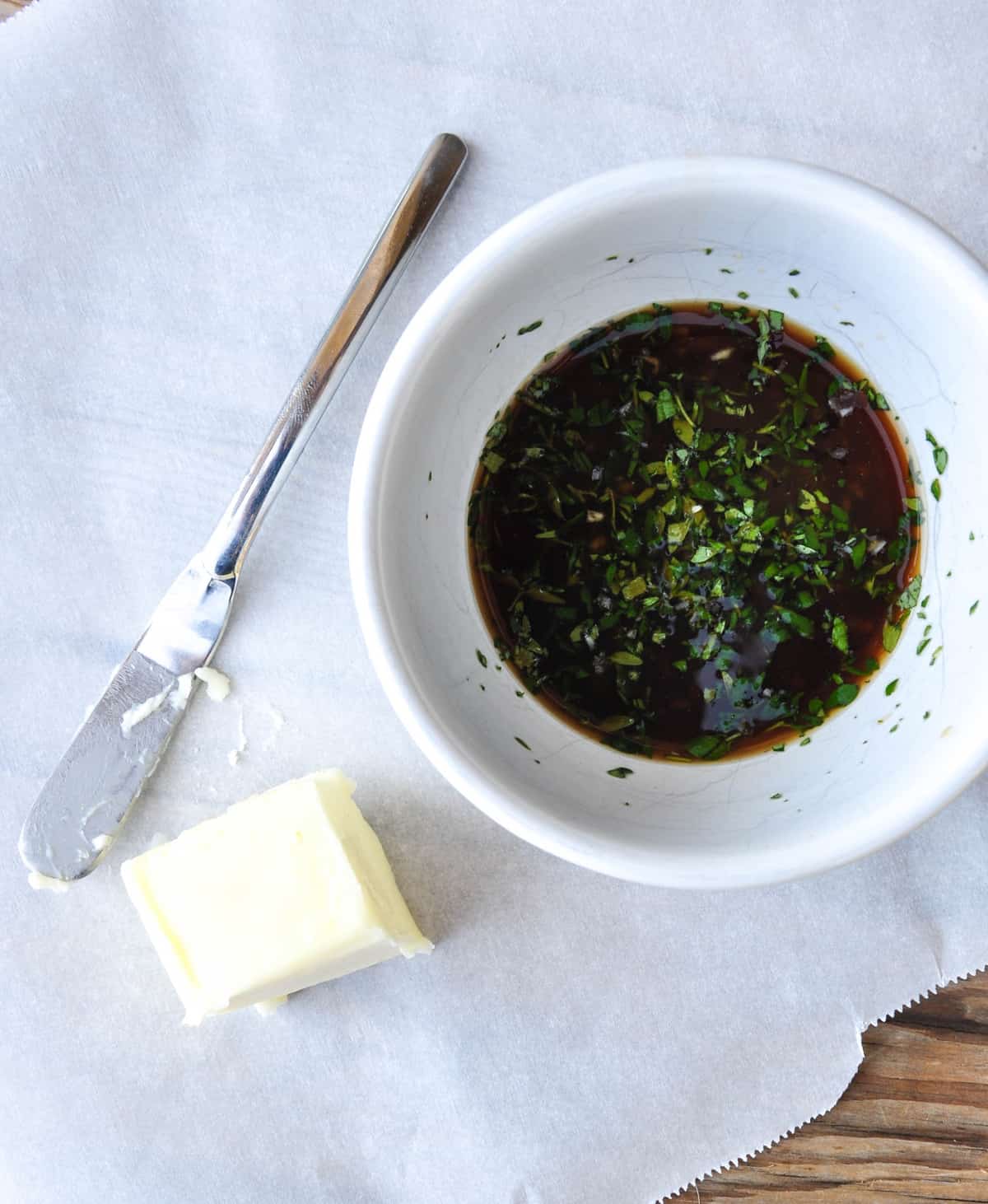 I seared the lamb chops in a super hot cast iron skillet coated in olive oil for about 3 minutes per side. Then, I added butter to the pan and deglazed with a garlicky thyme beef broth and cooked just about one minute more. Allowing the chops to rest will allow them to continue to cook.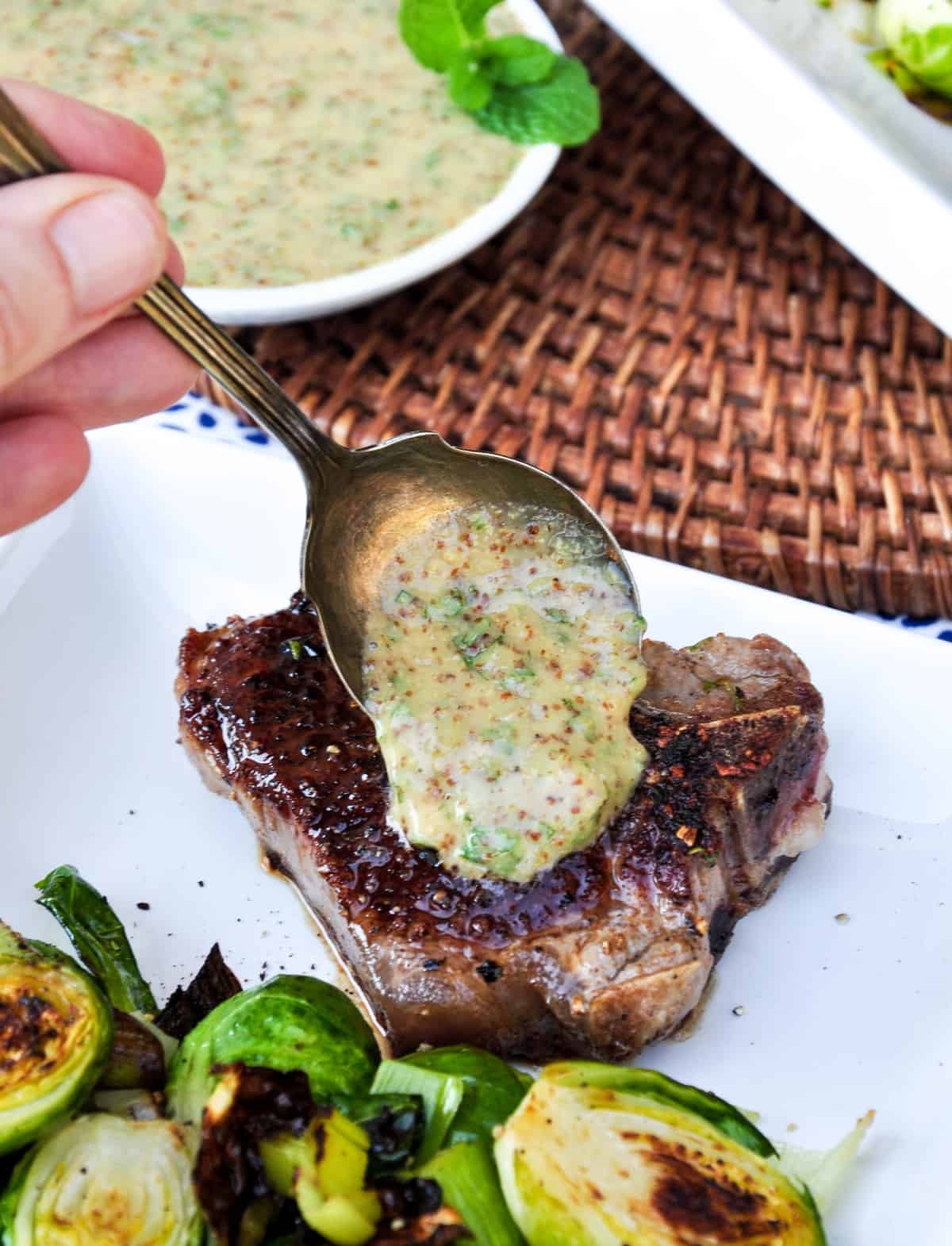 Once I served them up, I topped the chop with a healthy smothering of Mustard Mint Sauce. Somebody help me!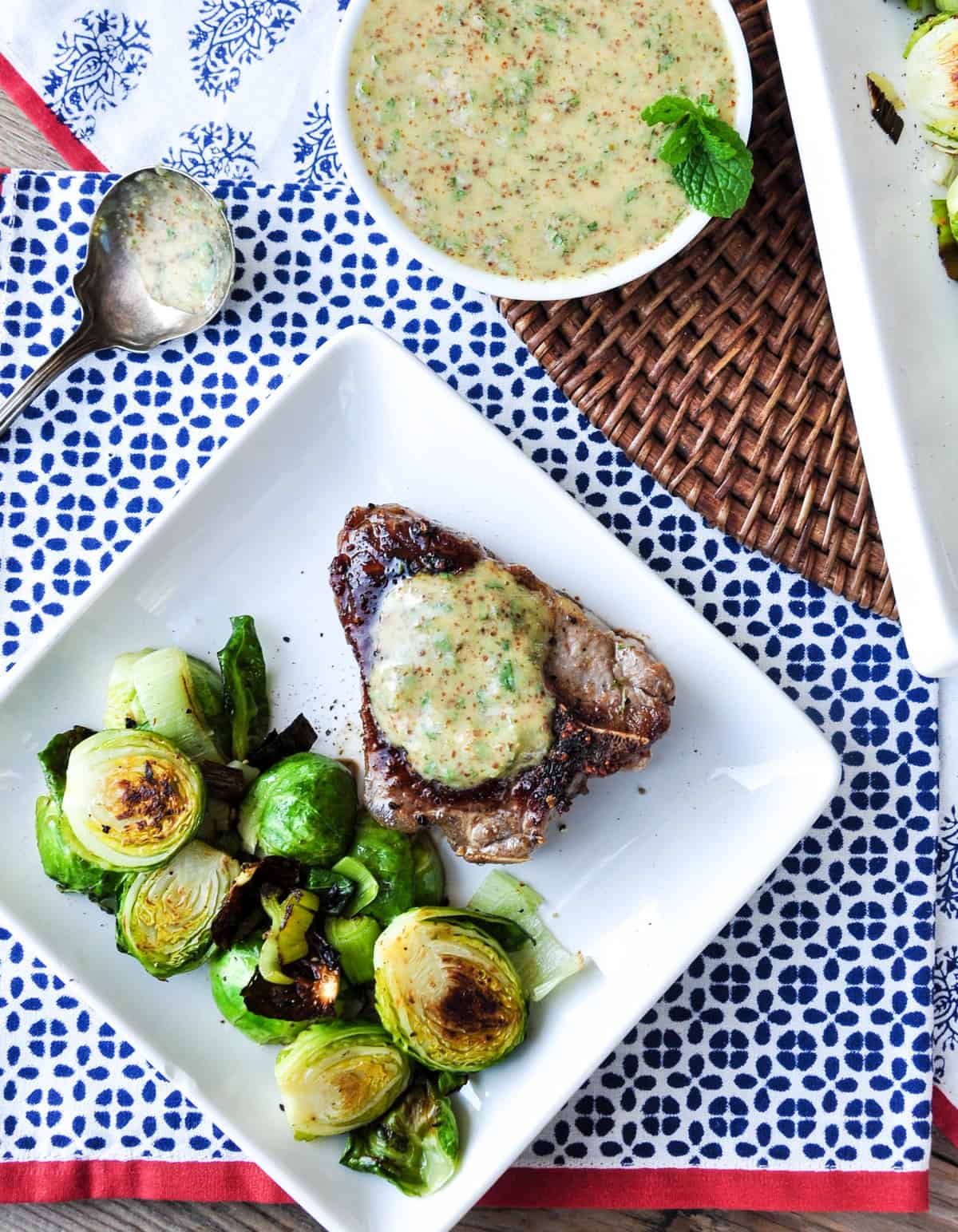 If this dish doesn't make you wish for spring, I don't know what will…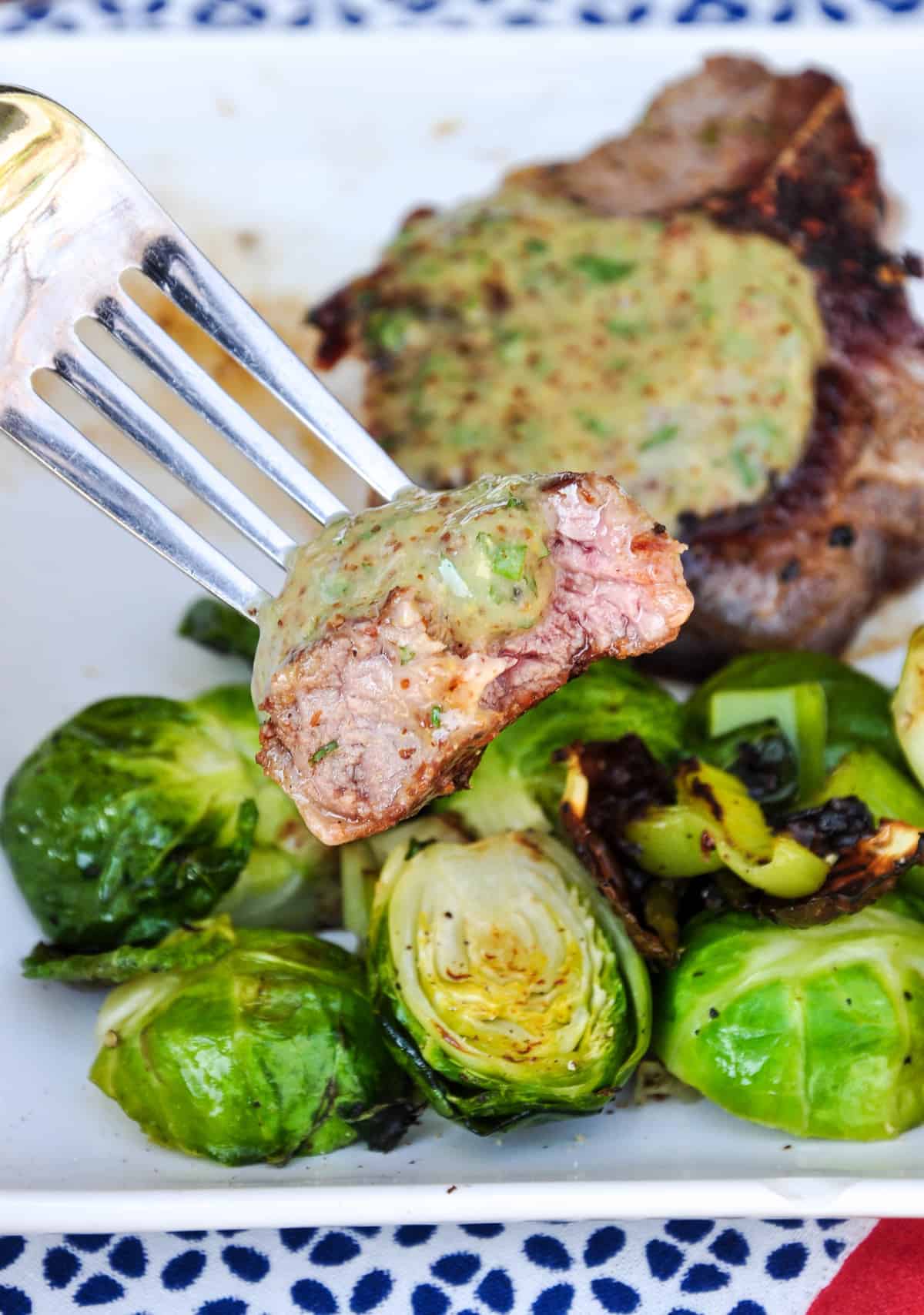 Serve it up this week or keep it in the menu arsenal for Easter! I'm positive it will be a hit!
***** MAKE SURE TO ENTER OUR GIVEAWAY FROM THE SHEEP COMMISSION*****
Lamb Loin Chops with Roasted Brussels Sprouts and Mustard Mint Sauce
2017-01-31 13:56:55
Serves 4
Ingredients
FOR LAMB CHOPS
8 lamb loin chops
1 T. olive oil
1/4 cup beef broth
3 garlic cloves, minced
1 T. fresh chopped thyme
2 T. butter
Salt & pepper
FOR BRUSSELS SPROUTS
4 cups brussels sprouts, sliced in half
1 leek, white portion thickly sliced
olive oil
salt and pepper
FOR SAUCE
3 T. Whole grain mustard
2 T. white wine vinegar
1 T. honey
1/3 c. chopped mint leaves
Instructions
Add the mustard, vinegar, honey and mint leaves and stir with a whisk to combine. Set aside
Preheat oven to 450. Toss the brussels sprouts and leeks with salt and pepper in the olive oil. Roast for 15-20 minutes until crisp and bright green.
Add 1 T. olive oil to a cast iron skillet and heat to super hot.
Add 4 lamb loin chops to the pan. Let it sear for about 3minutes without moving. Turn over and sear for an additional 3 minutes. Add half the butter and half of the broth mixture. Cook about 1 more minute or until desired doneness.
Cook the other batch of lamb loin chops in the same manner.
Place the brussels sprout on a platter, top with the seared lamb loin chops (top with a little butter if desired) and serve alongside the Mustard Mint Sauce.
California Grown https://californiagrown.org/