CA GROWN Blog
Discover. Learn. Connect.
Grilled Zucchini, Corn and Peach Quinoa Salad
July 5, 2018
Eat the Season!
Sign Up For Weekly Recipes
« Back to Recipes
Grilled Zucchini, Corn and Peach Quinoa Salad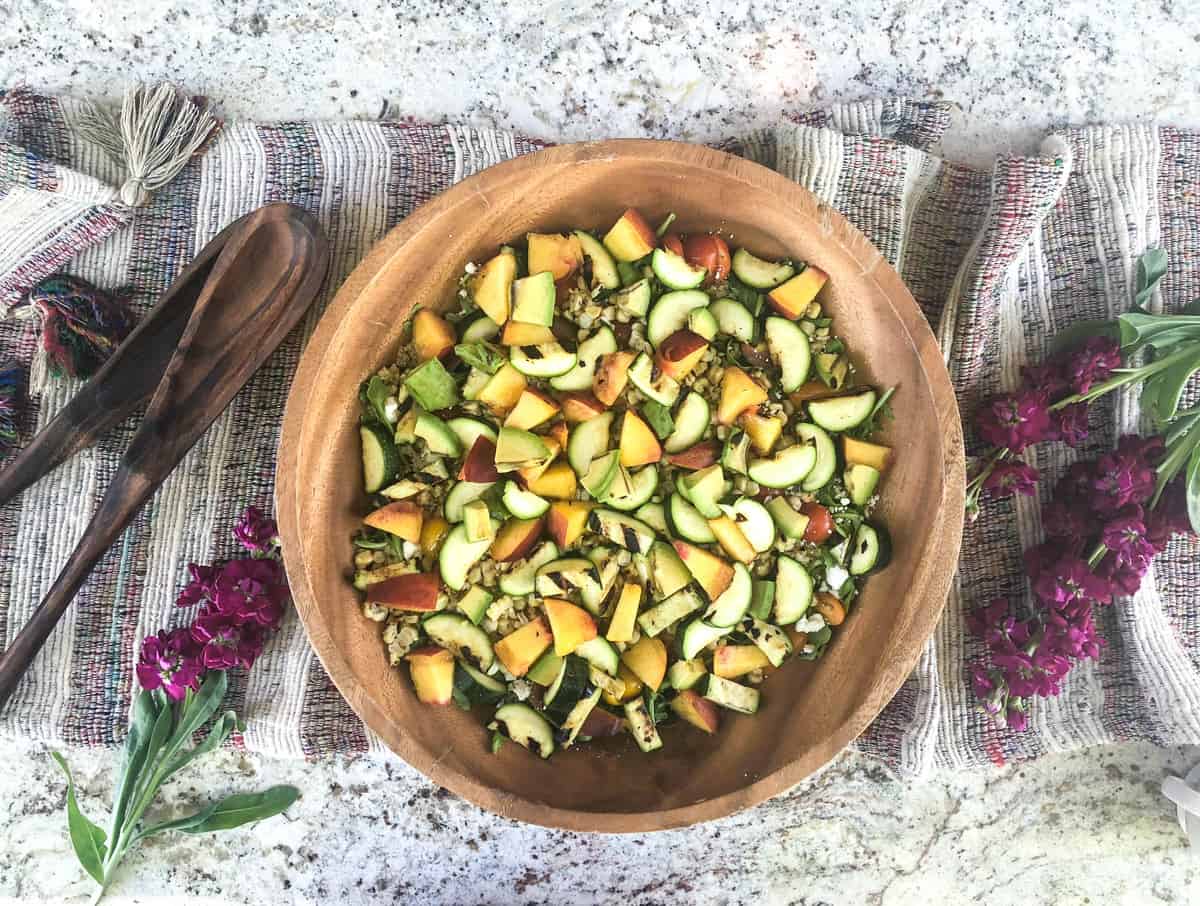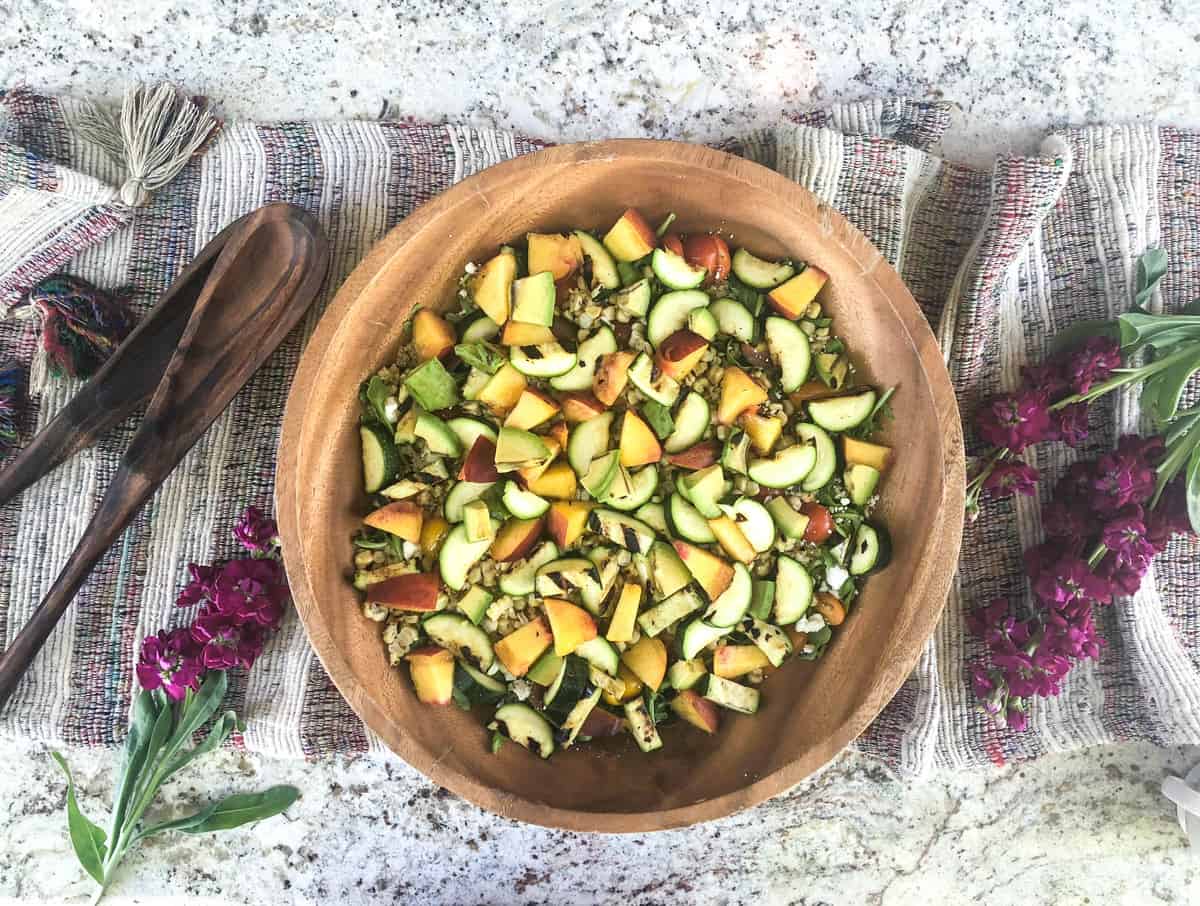 Aw, man…. this salad is soooooo good!
Chock full of all things fresh!
Delicious corn, sweet peaches, nutritious zucchini and creamy avocados.
All grilled to impart a smoky, summertime flavor.
Our tangy dressing is freshly made with basil and lemon perfecting this salad's lovely presentation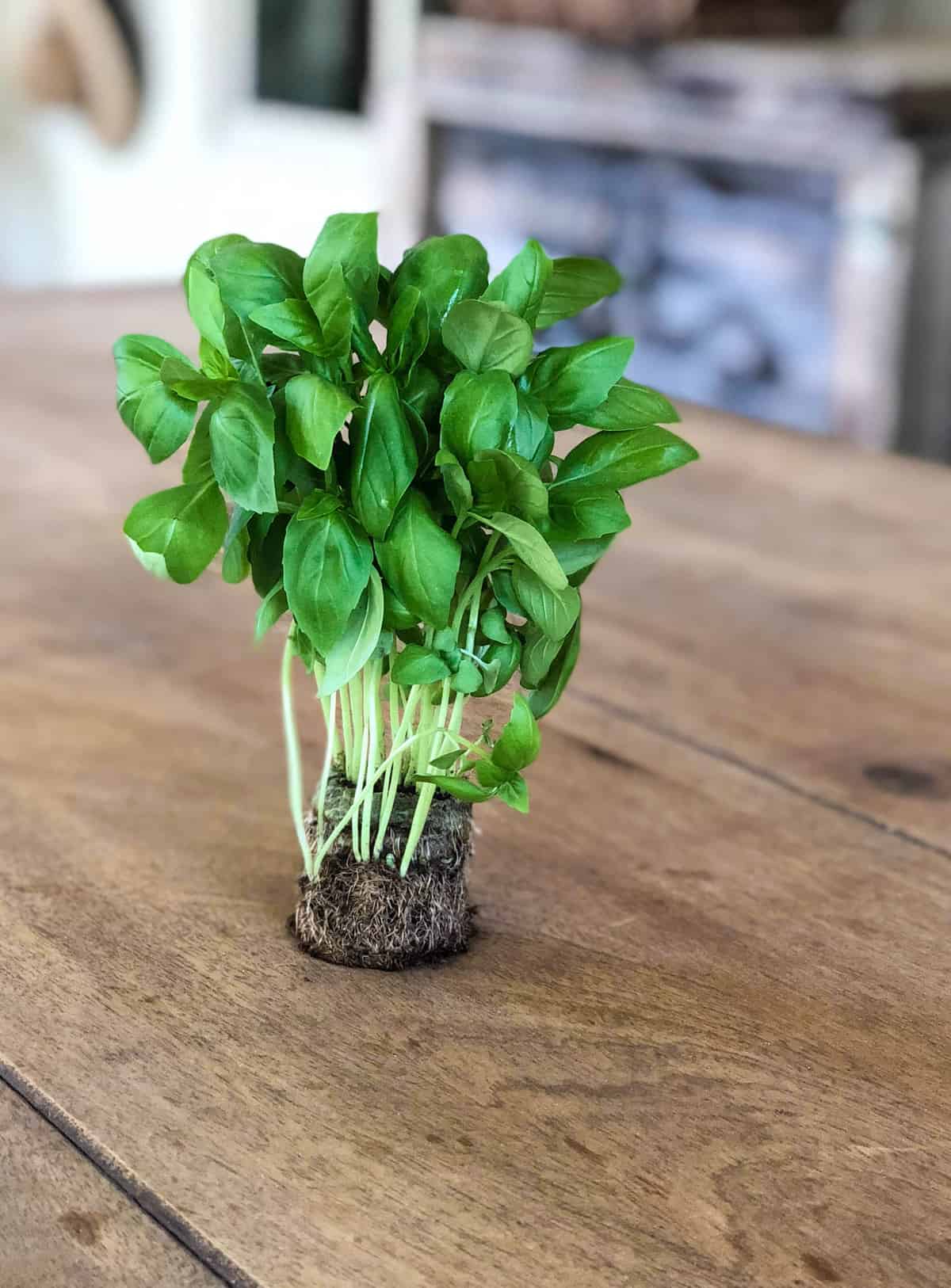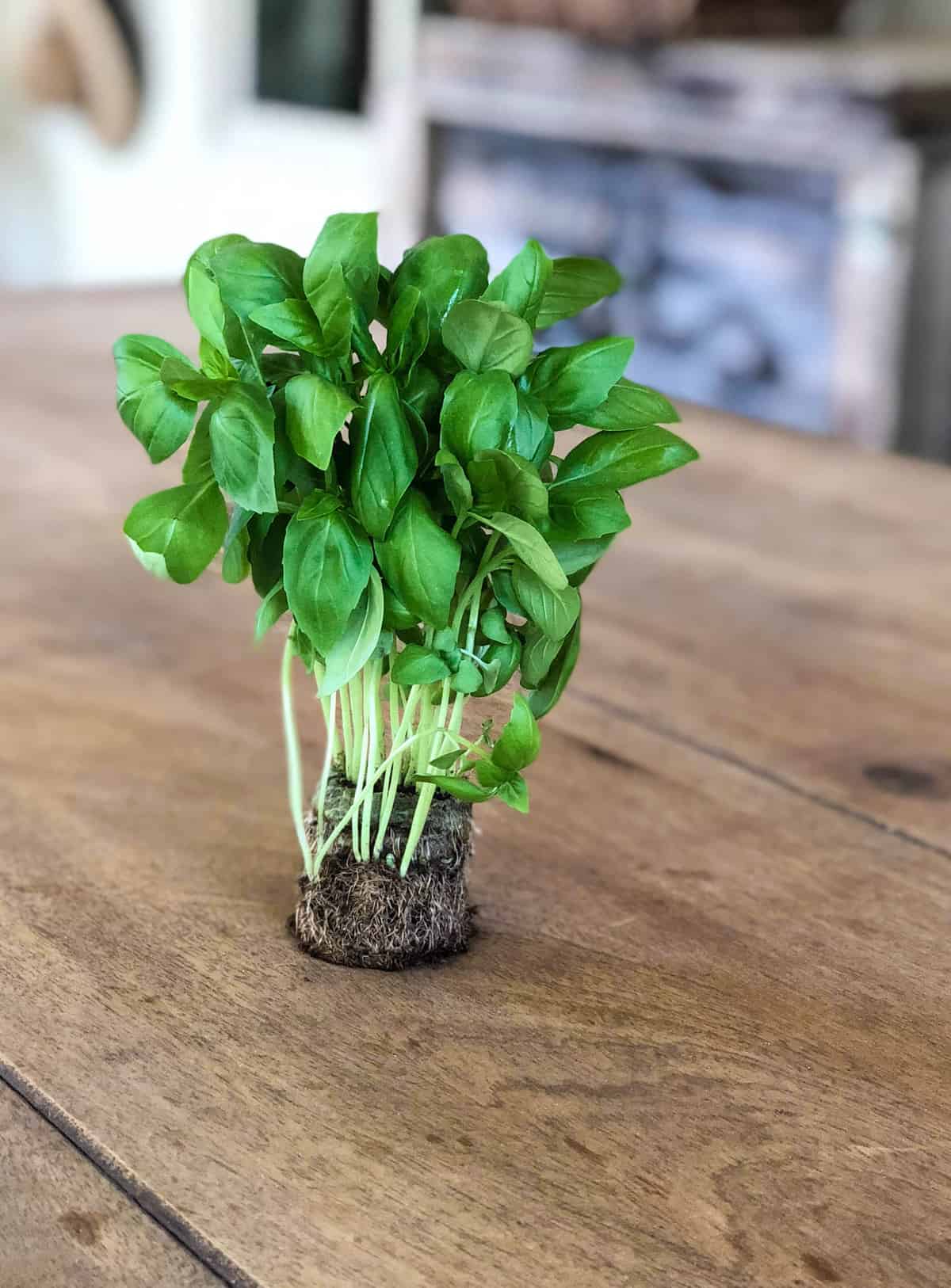 If I'm making my own dressing, I like to do that first. It allows the dressing ingredients to marry and mellow together before using. Of course, we start with fresh California basil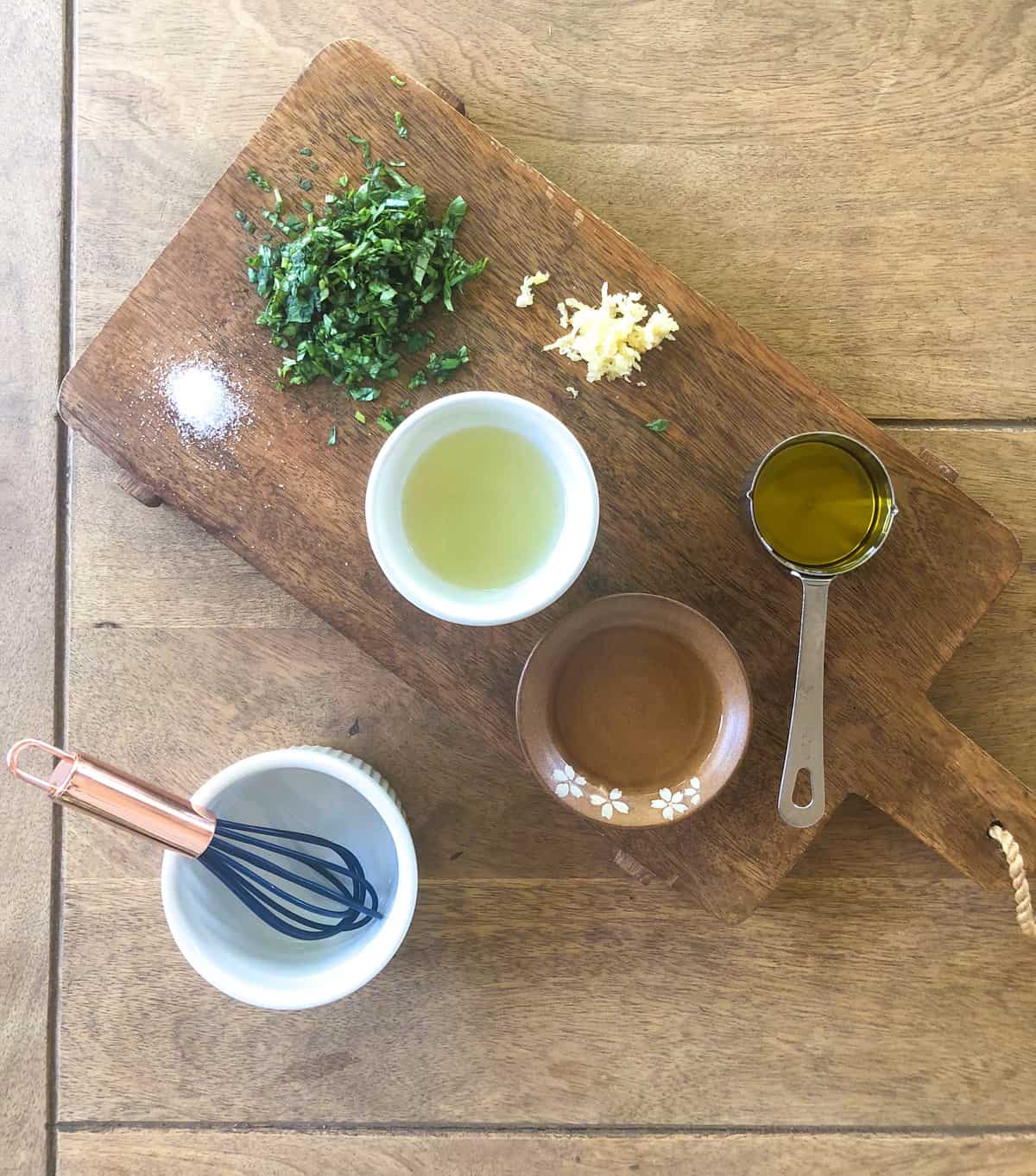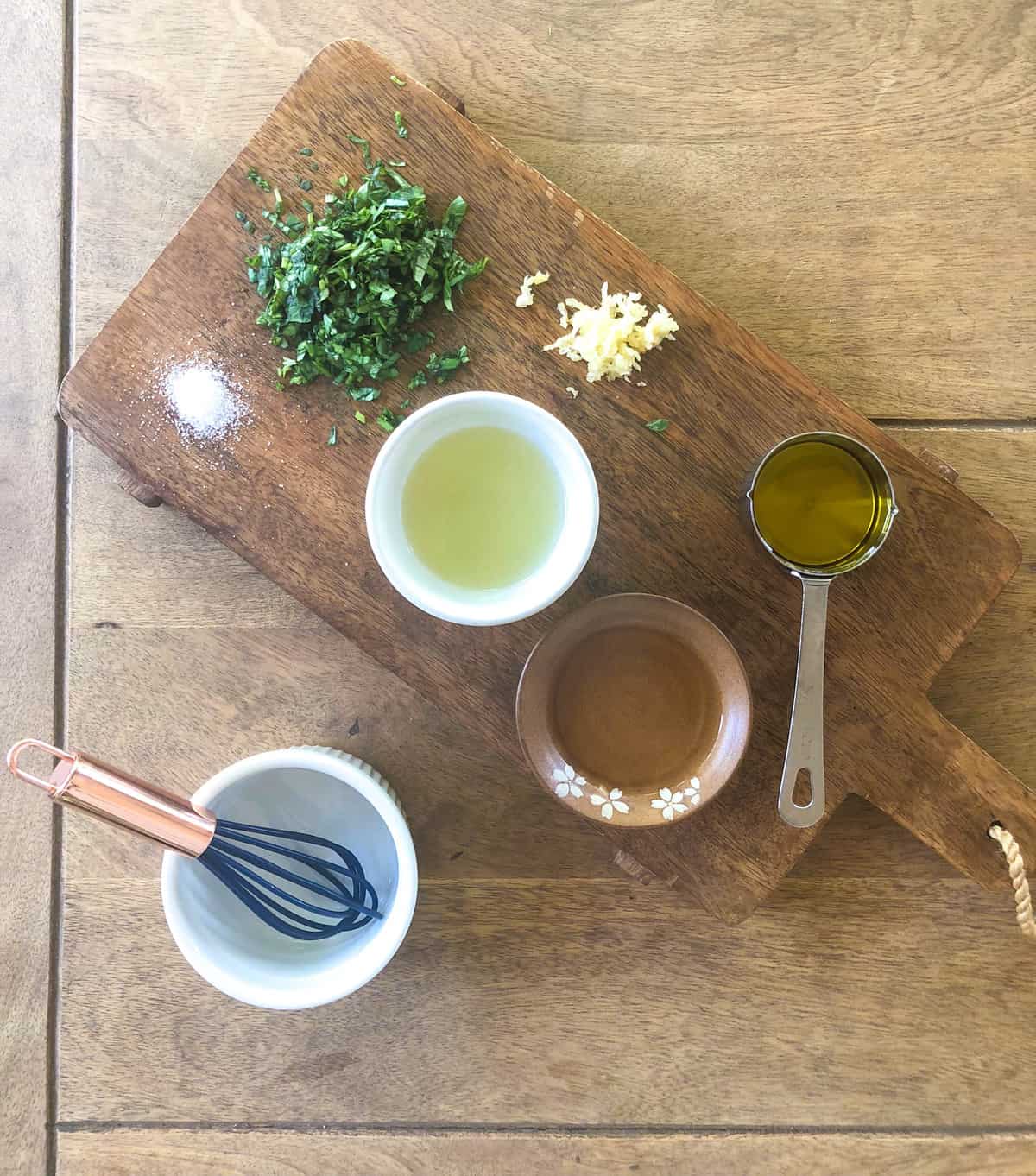 Finely chop the basil and mince the garlic. This dressing is very easy and you probably have all the ingredients already in your pantry. Olive oil, apple cider vinegar, lemon juice and a little salt. Mix together and set aside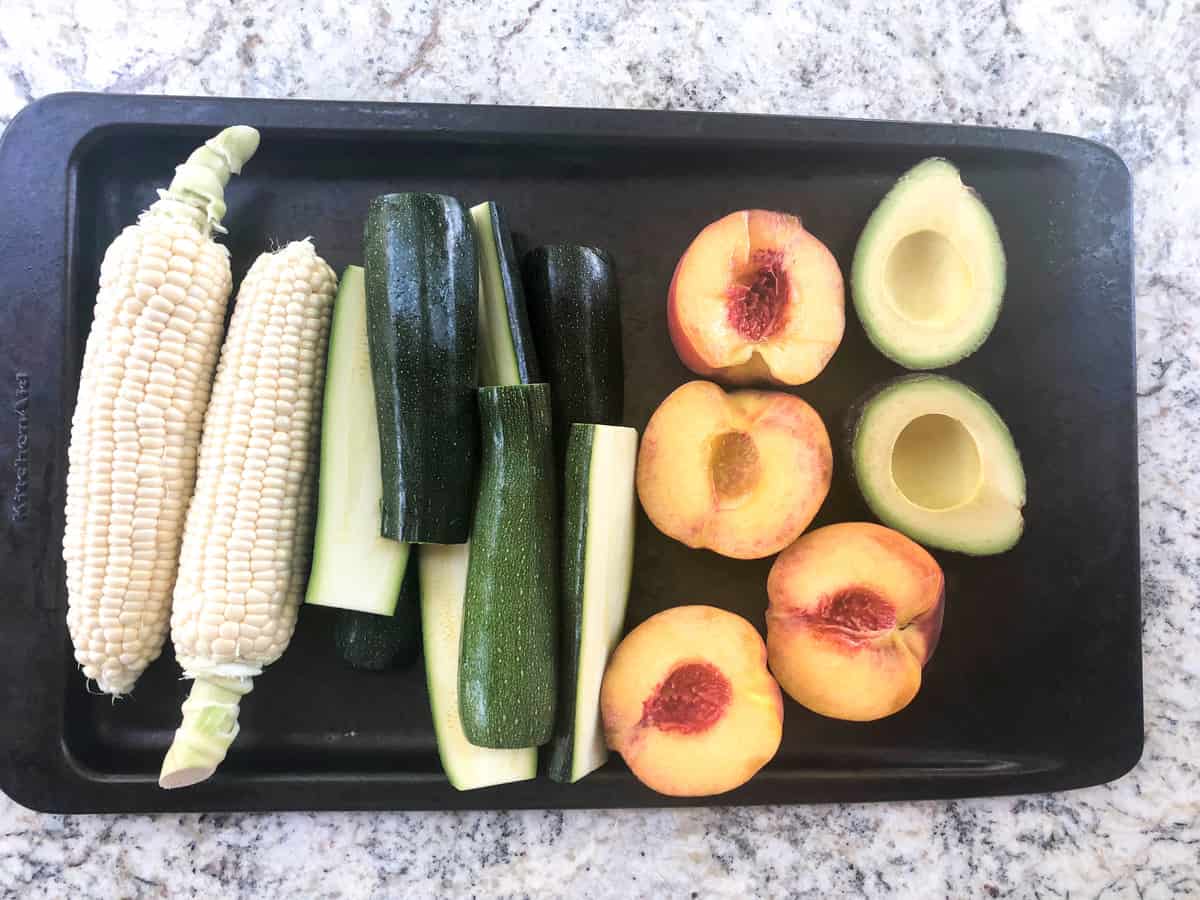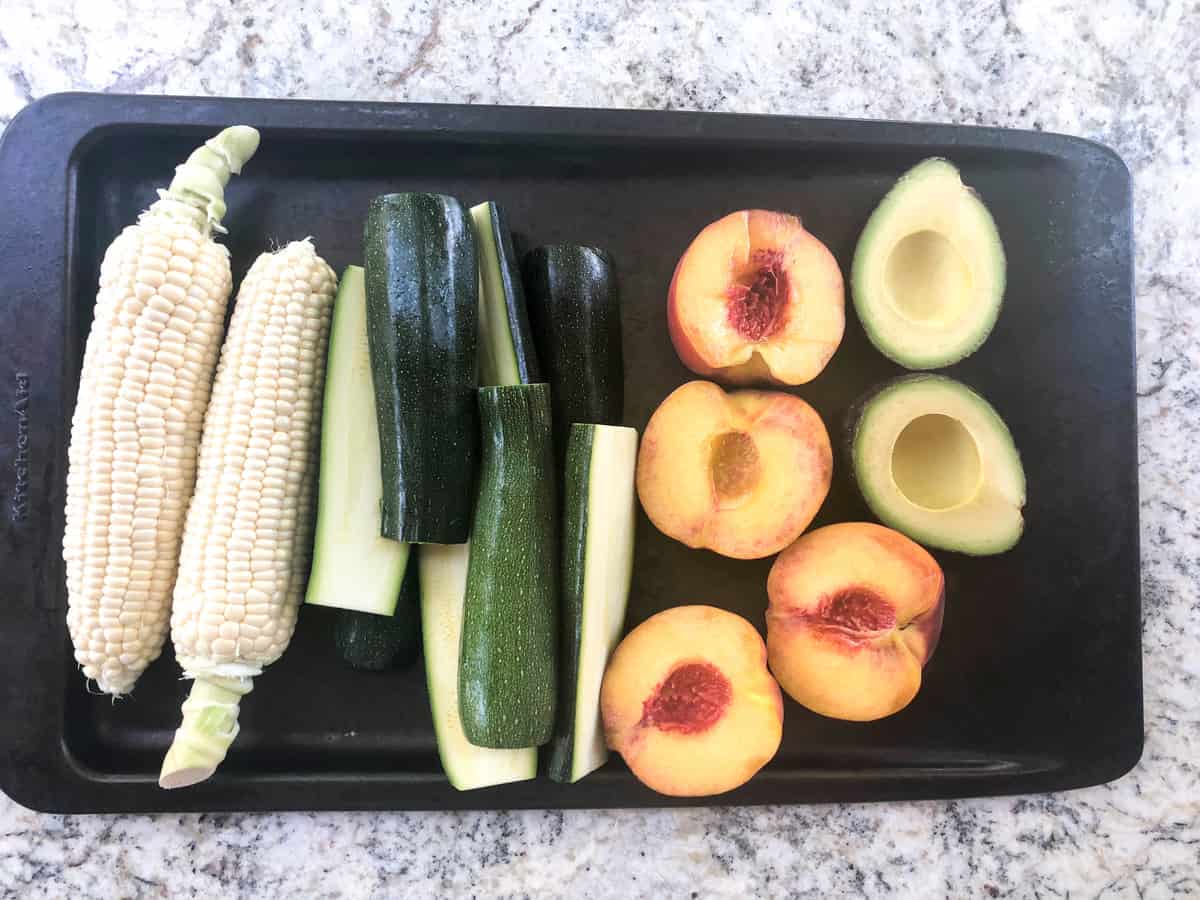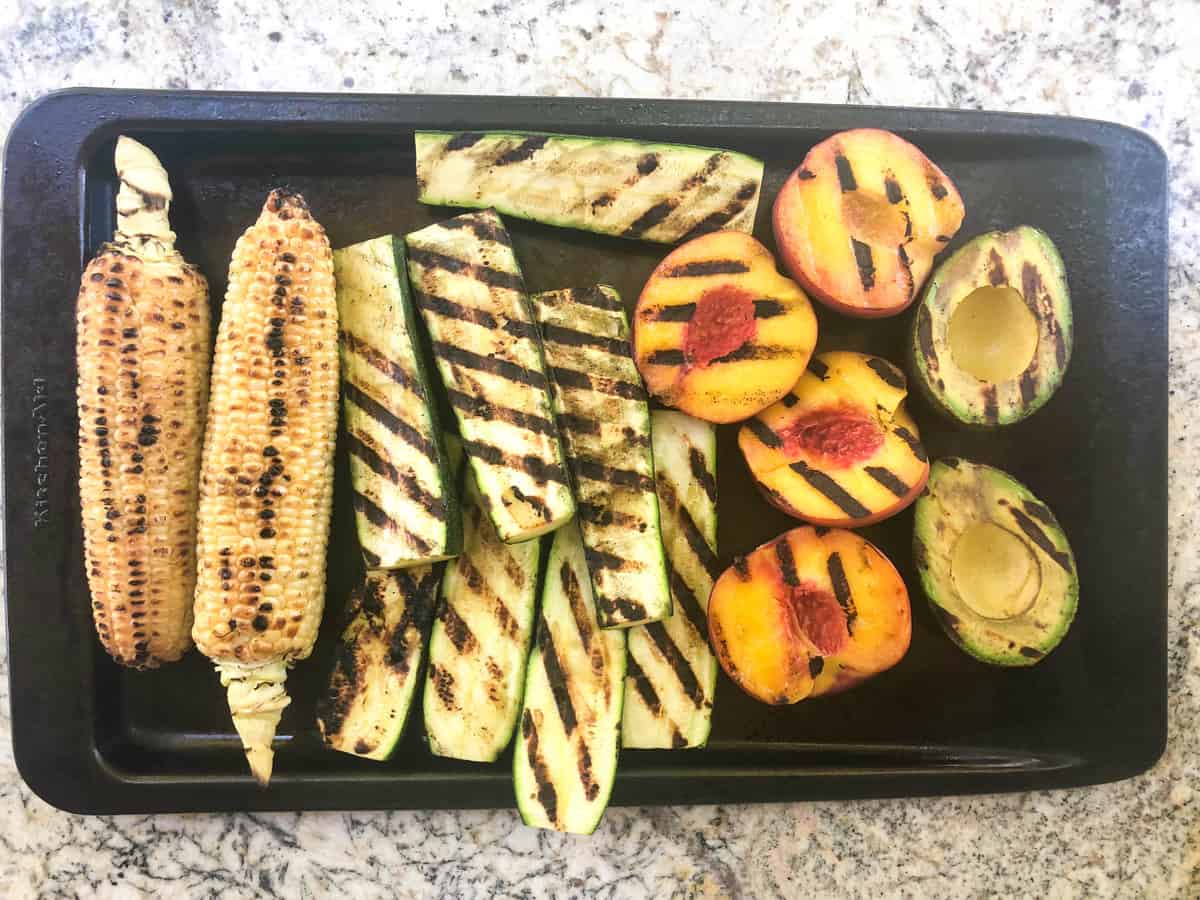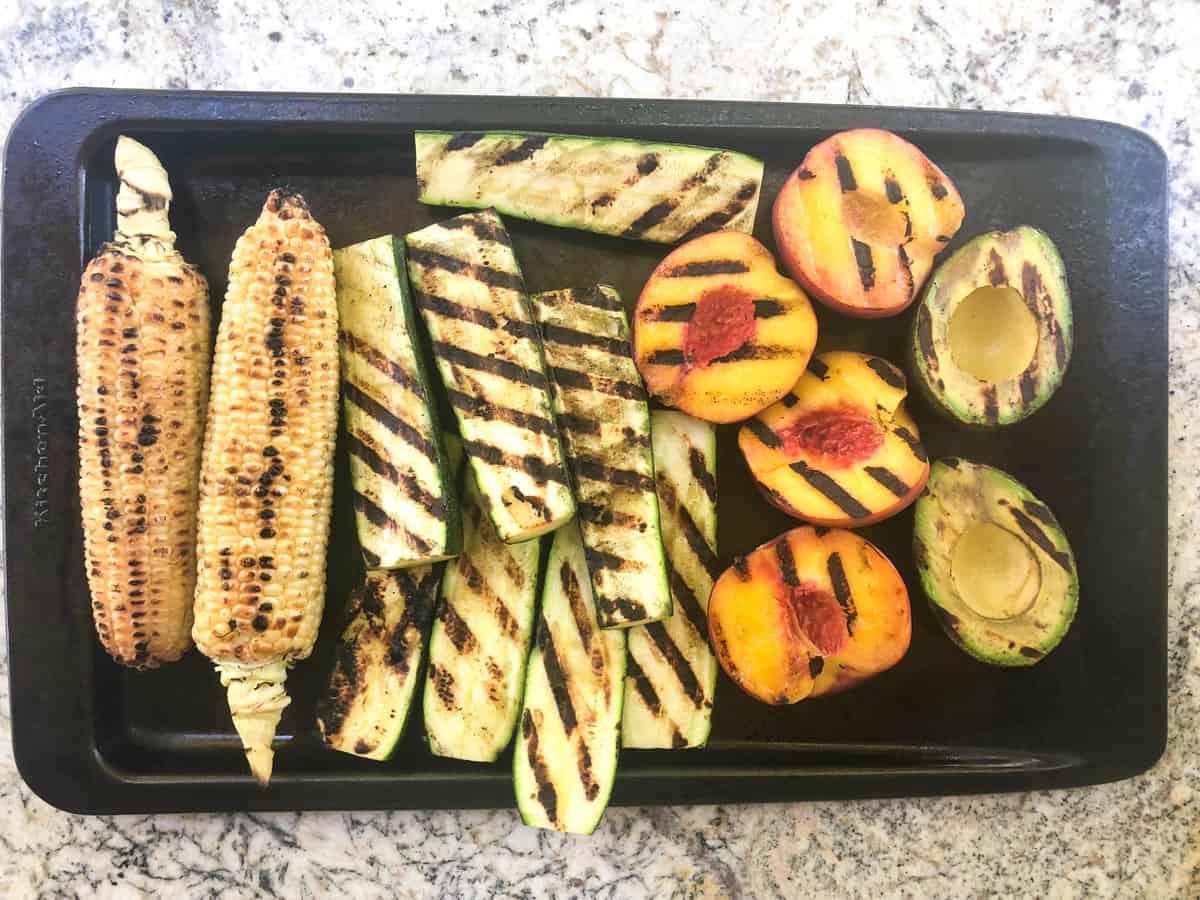 Grill the corn, zucchini, peaches and avocado on a super hot grill. Allow to rest before cutting. This is a cold salad so everything needs to be cooled off before going into the salad anyway. You could even do this grilling a few hours in advance, just make sure to protect the avocado from browning.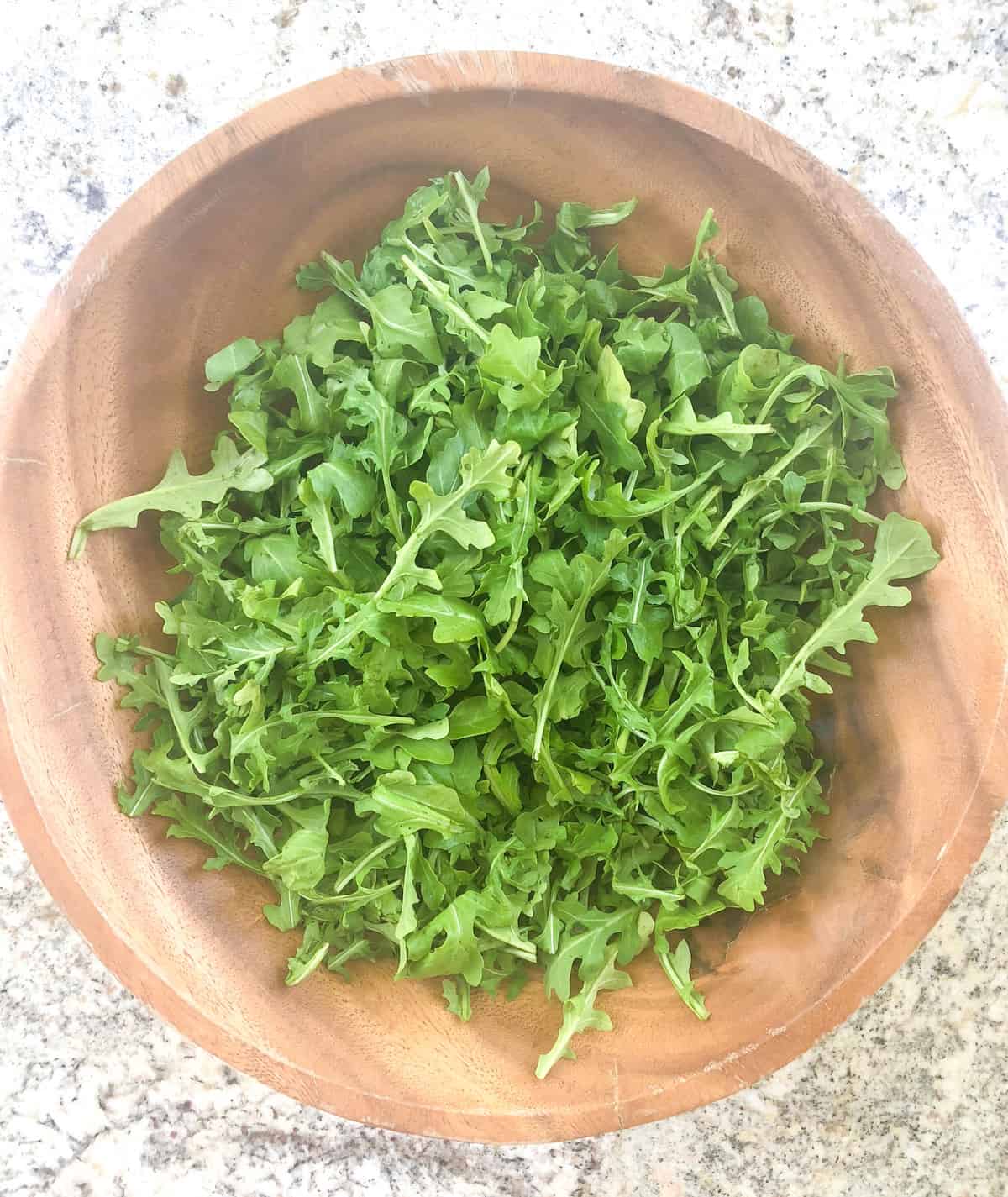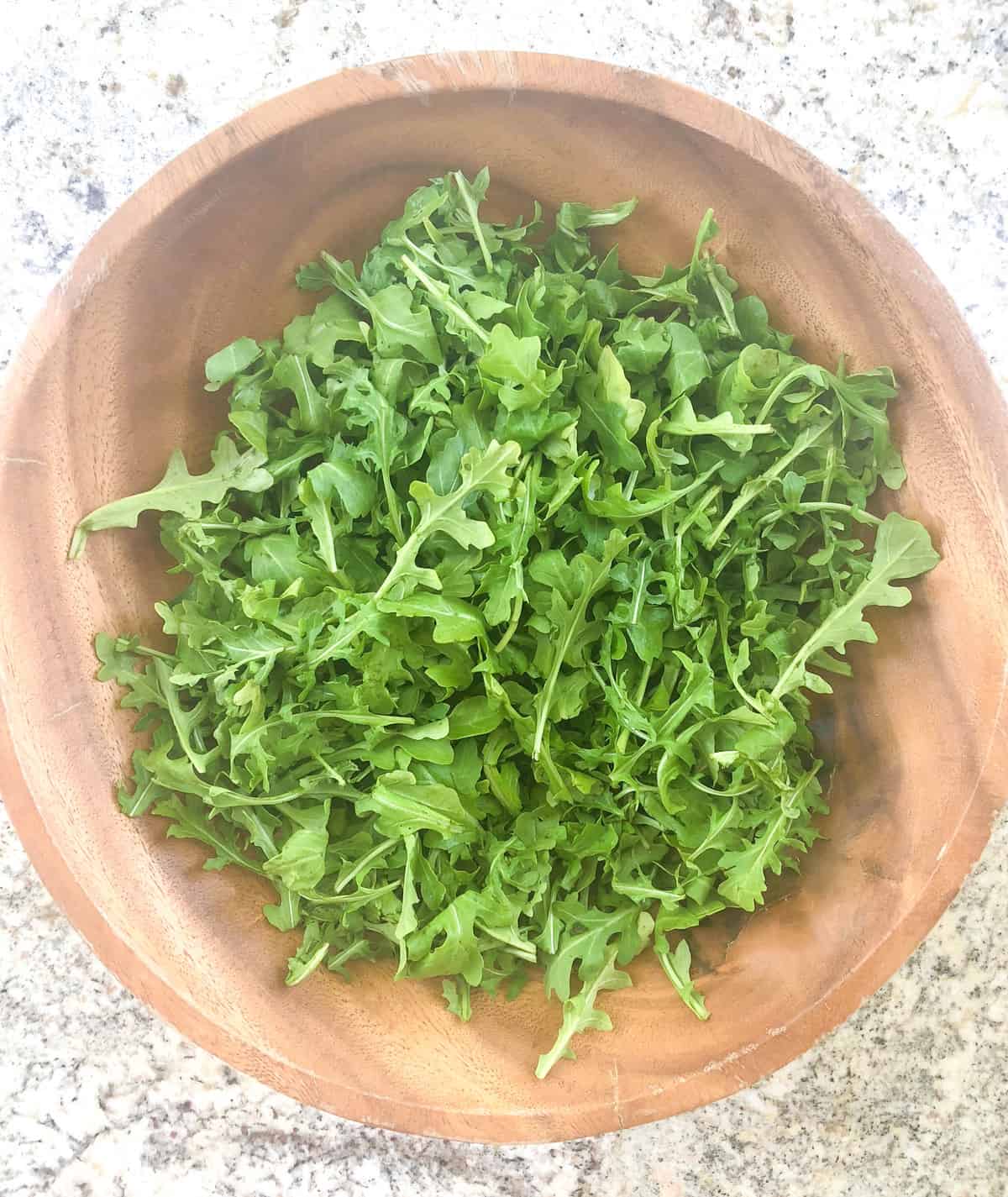 When you are ready to serve, build your base. 8 oz. of fresh arugula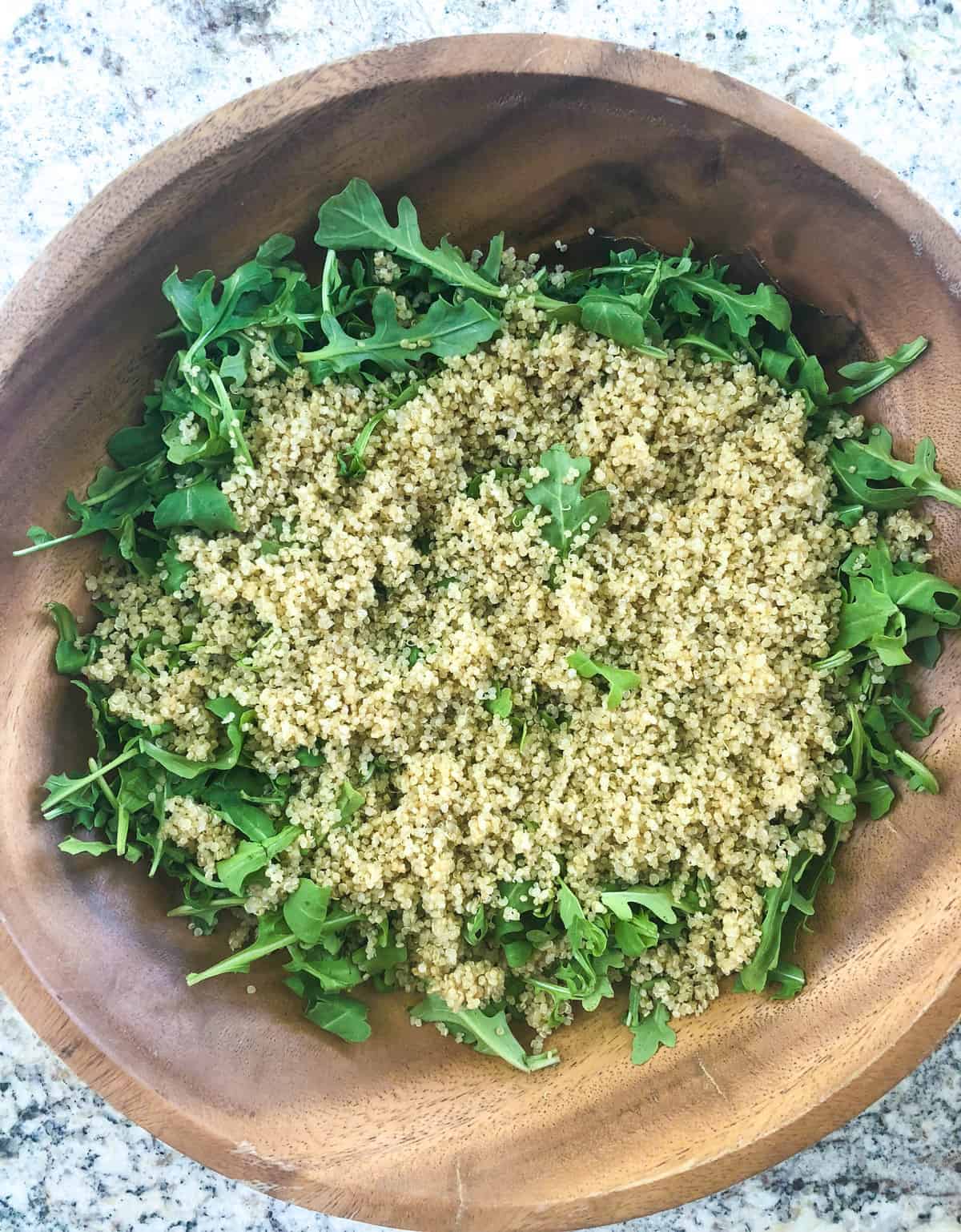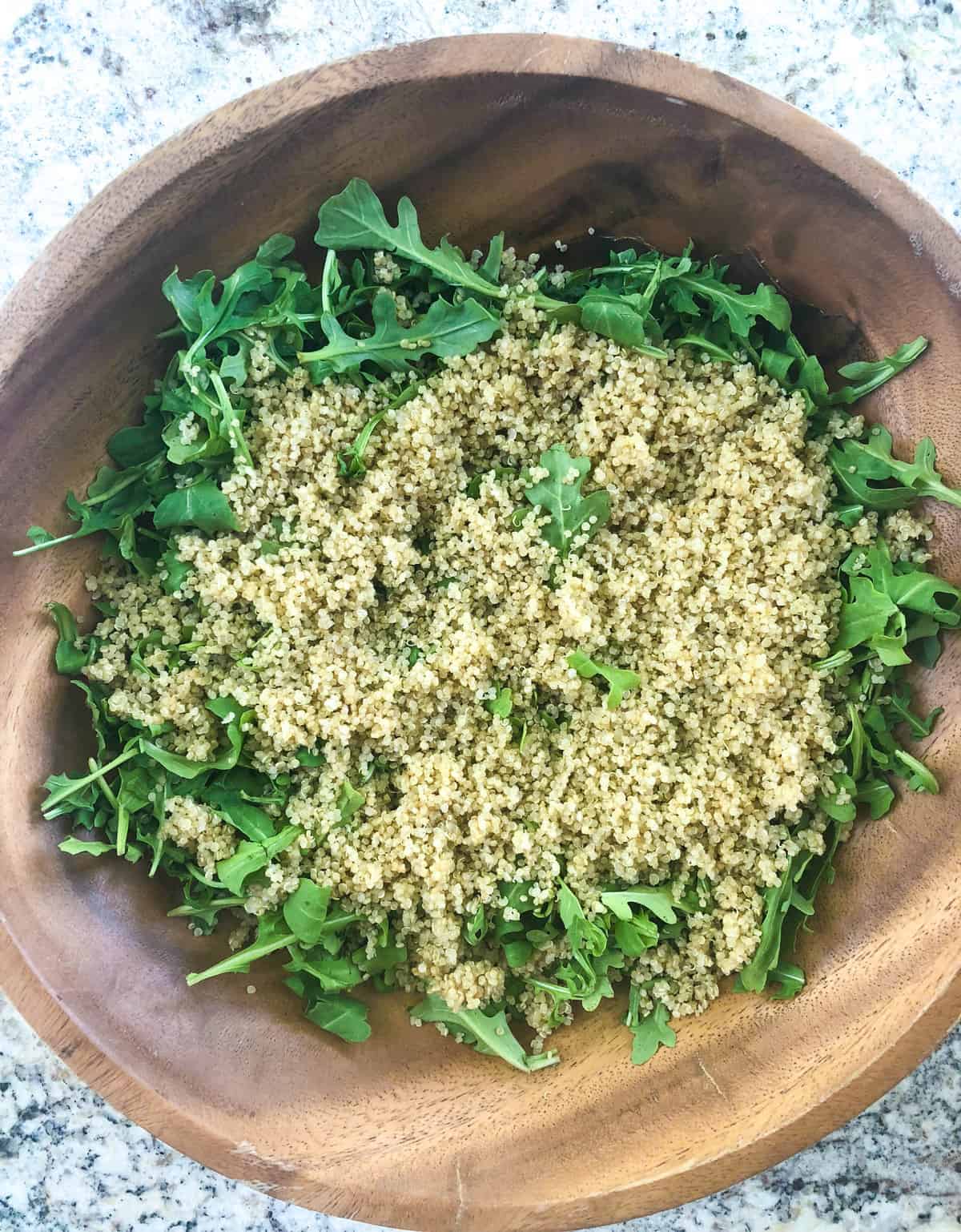 Add 2 cups of cooked, cooled quinoa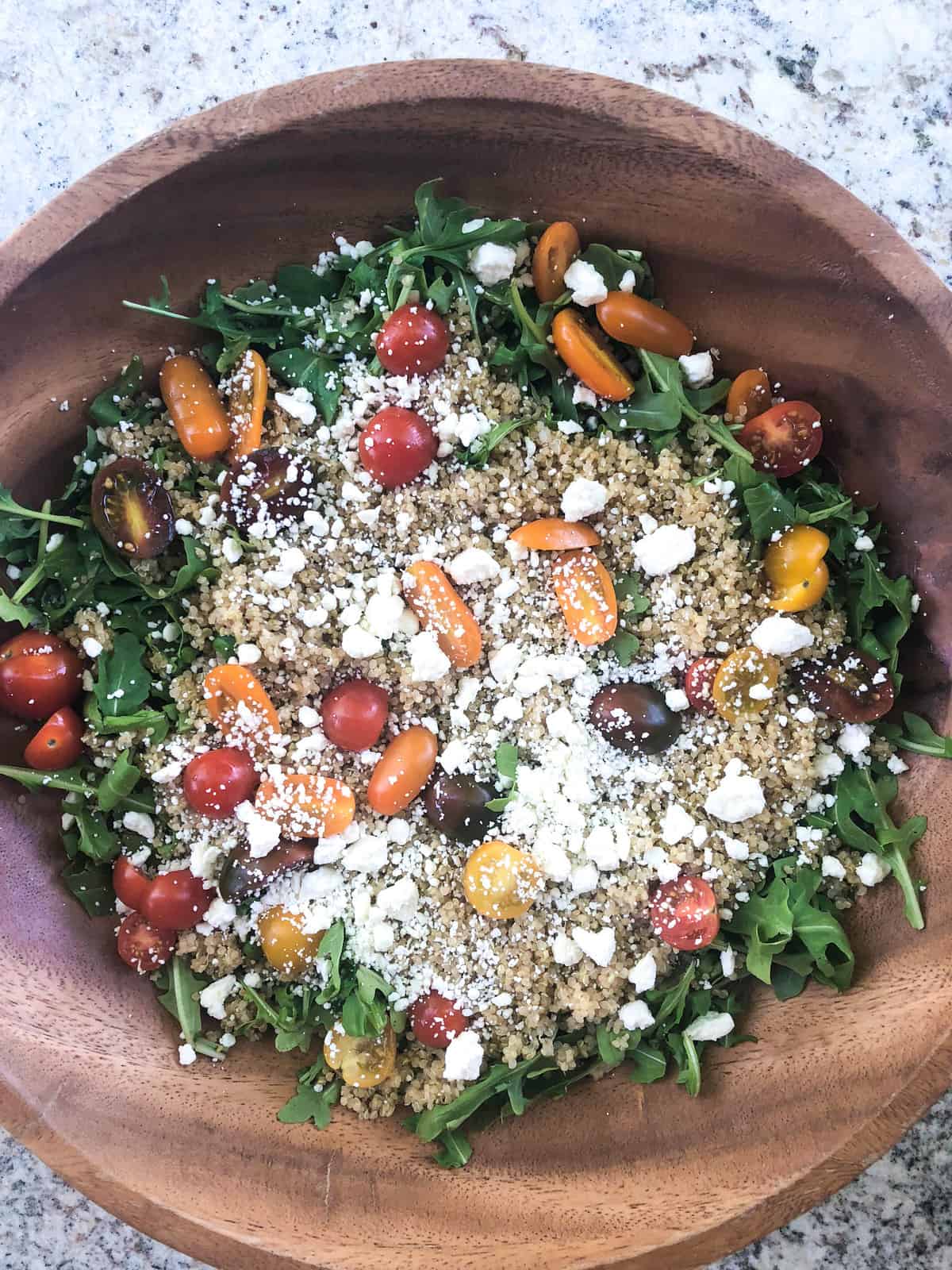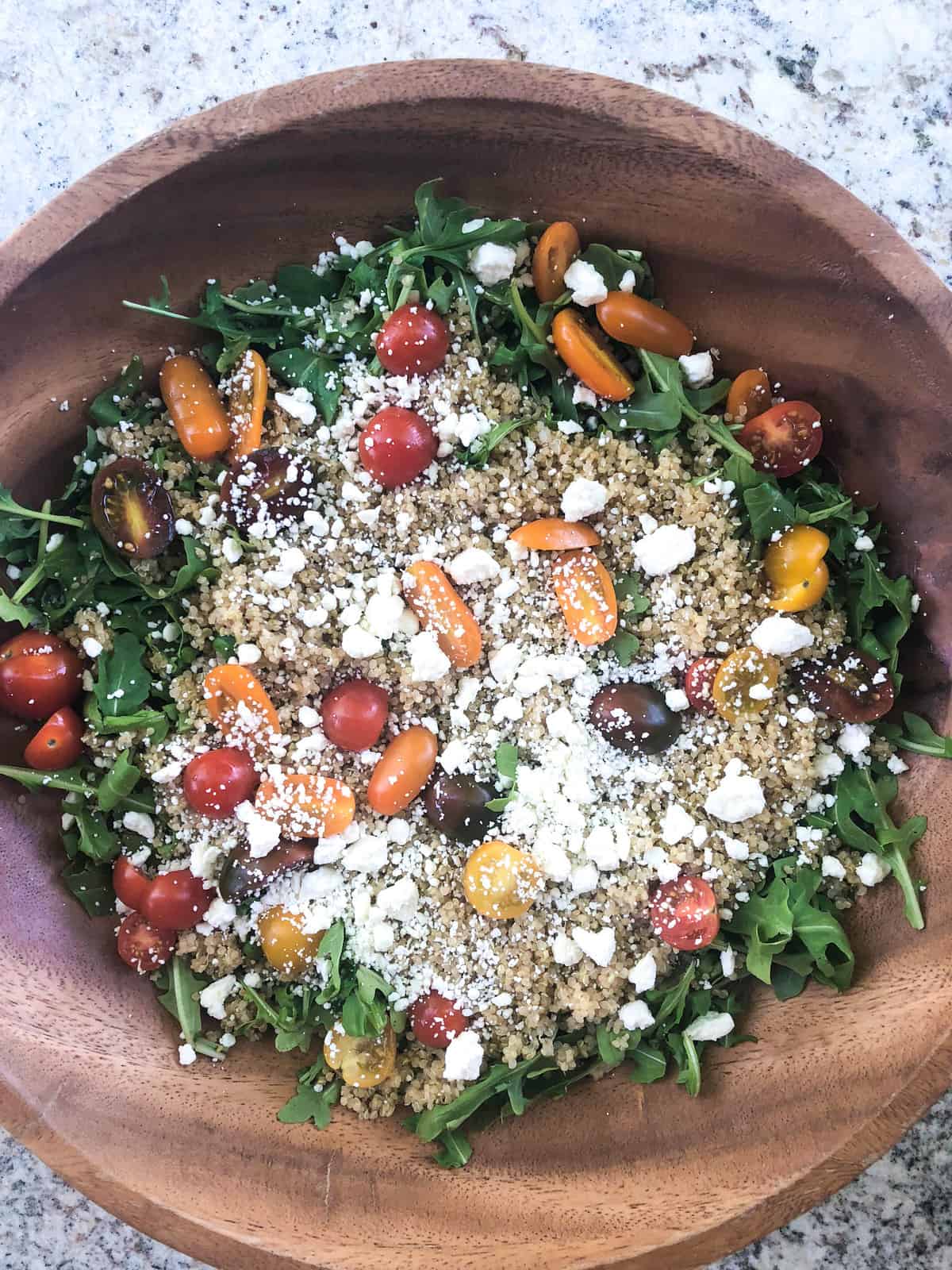 The next layer is feta cheese and halved cherry tomatoes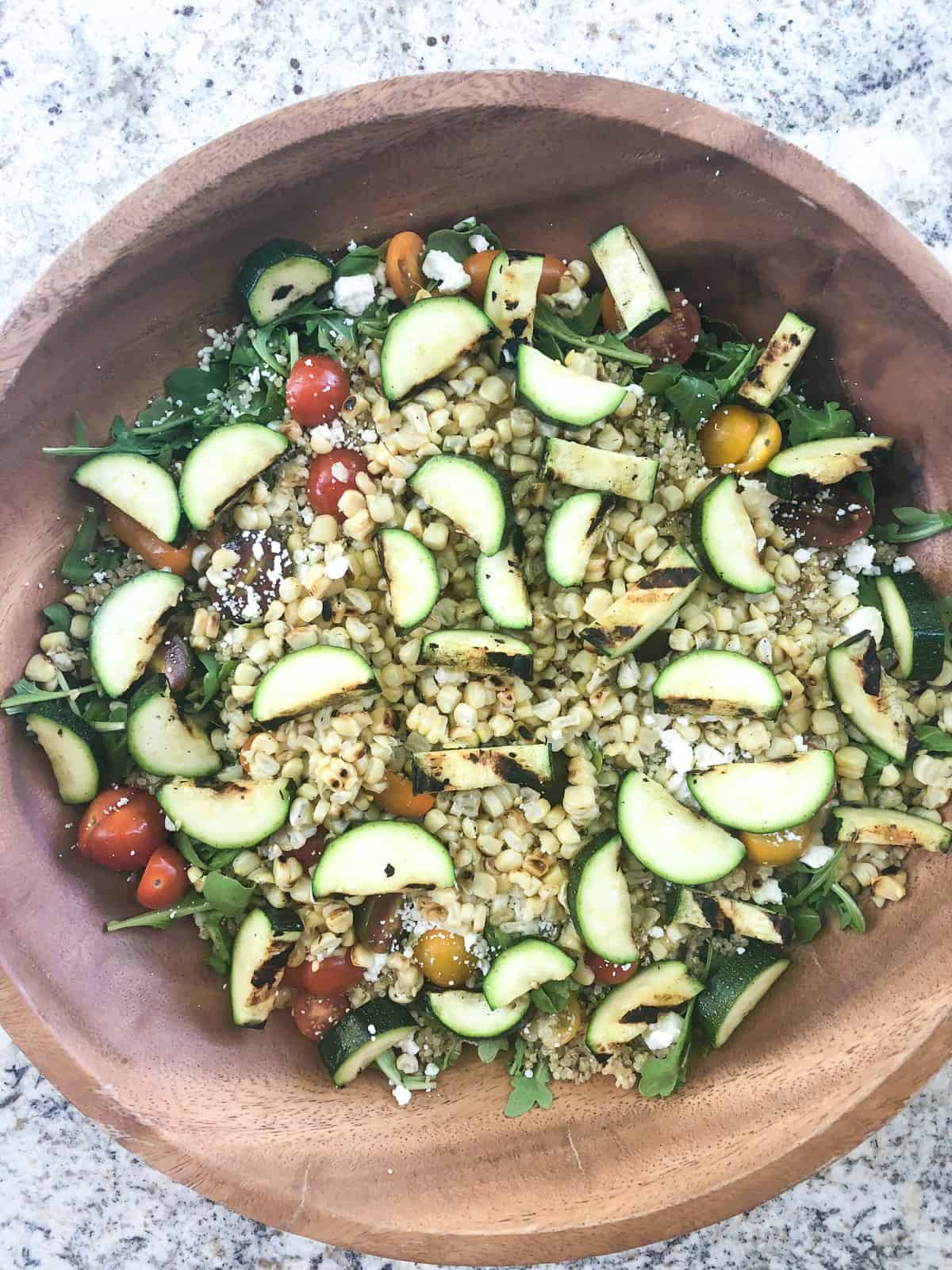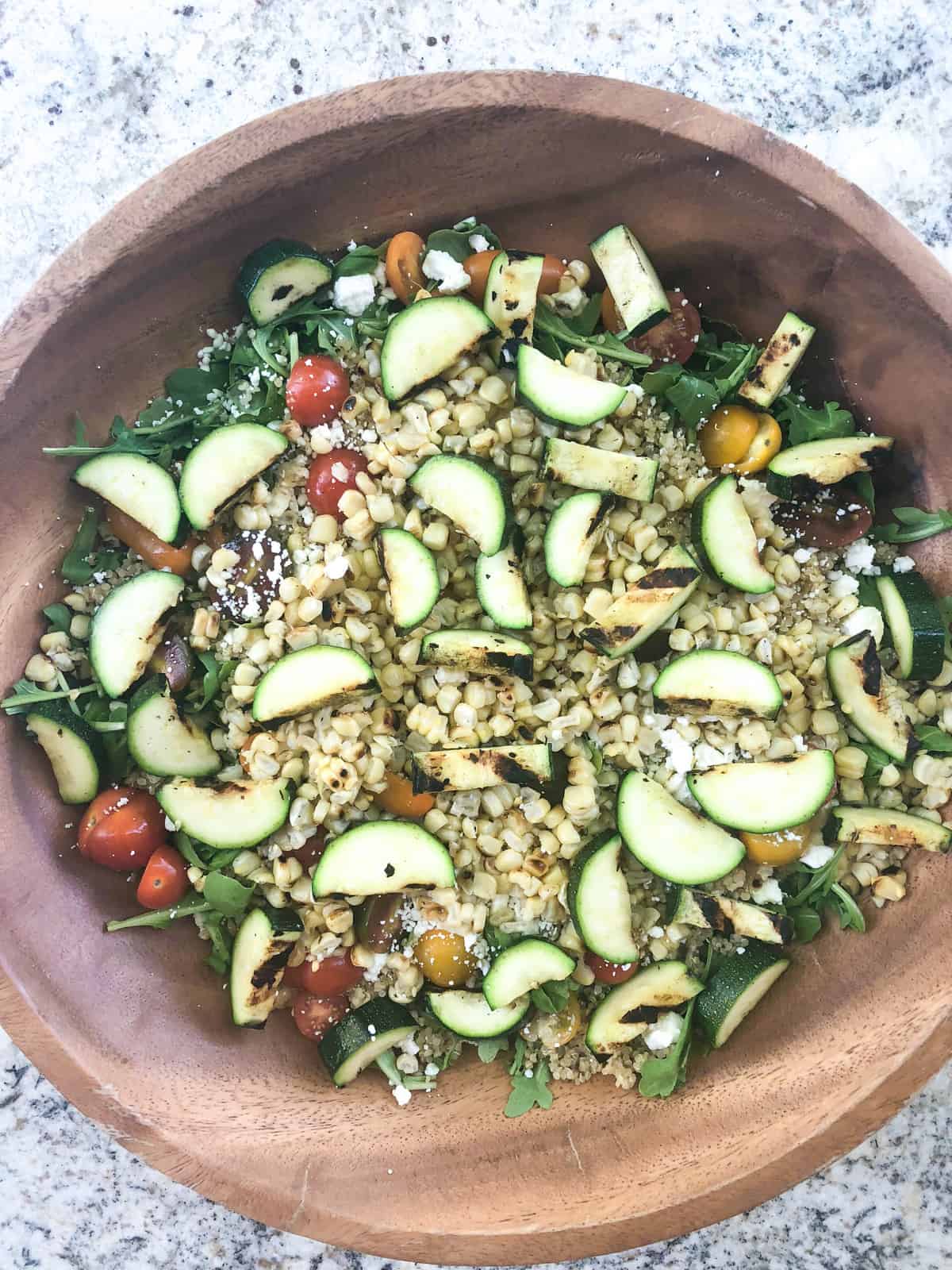 Add the corn and zucchini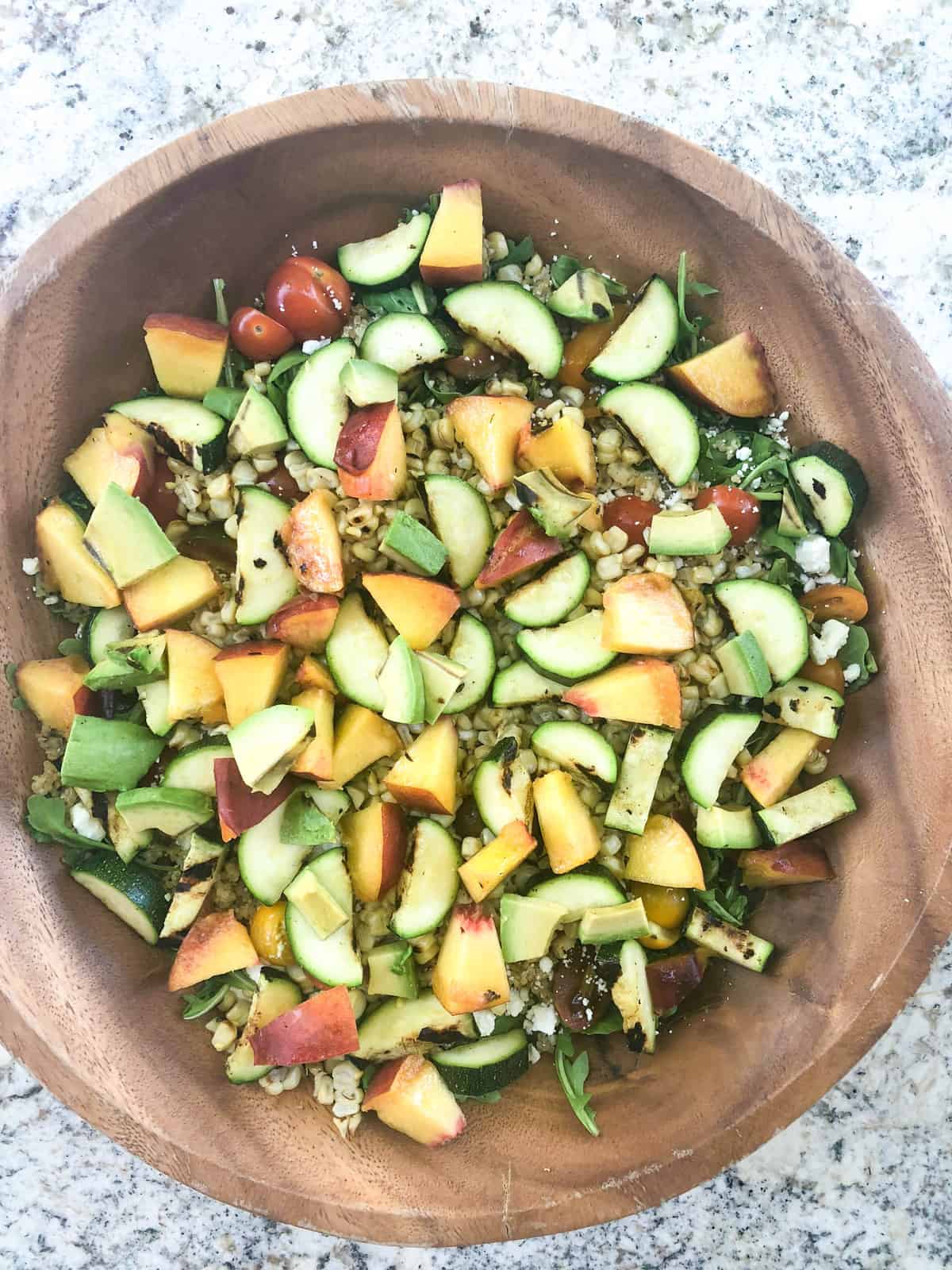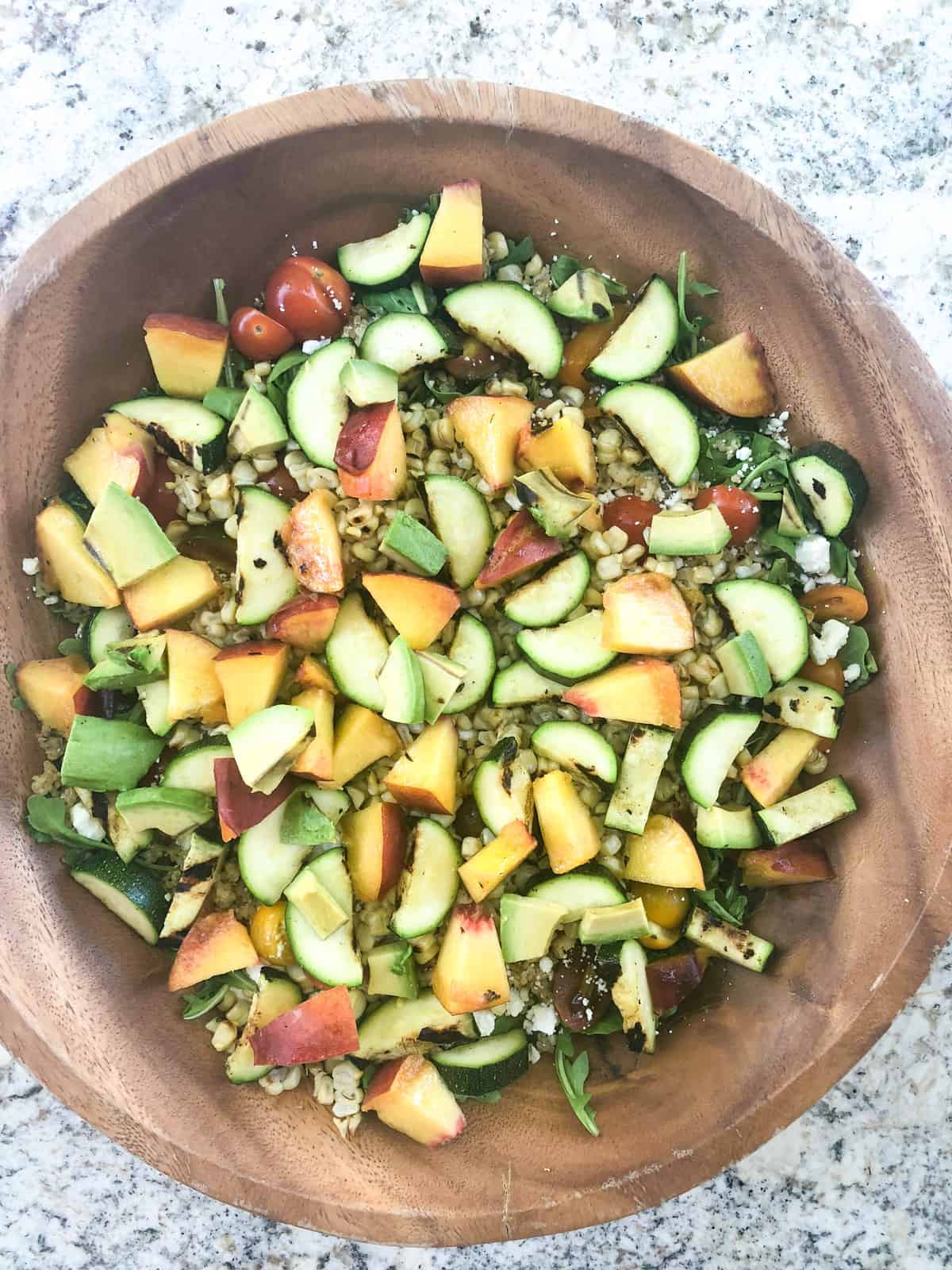 Lastly, add the peaches and avocado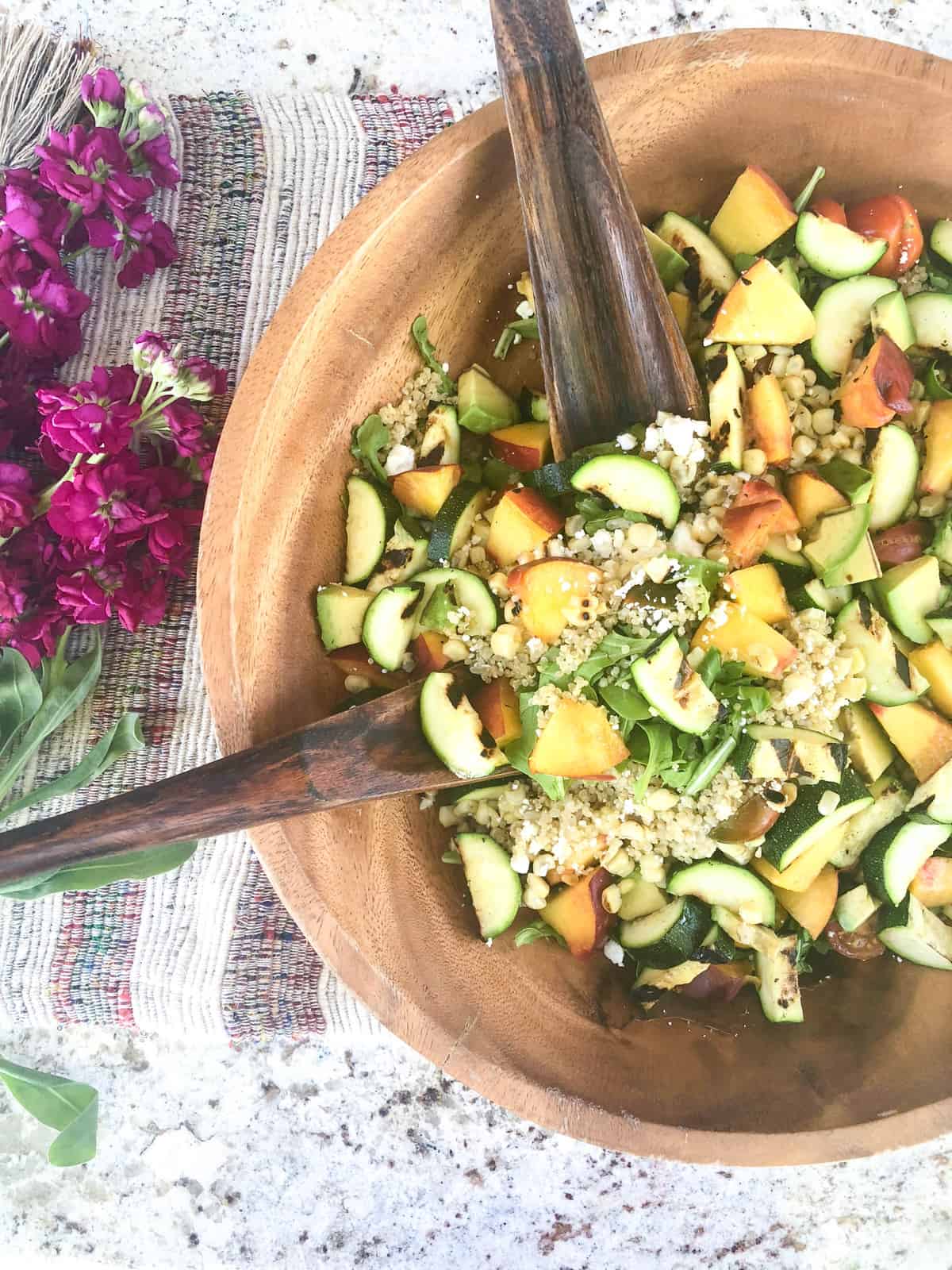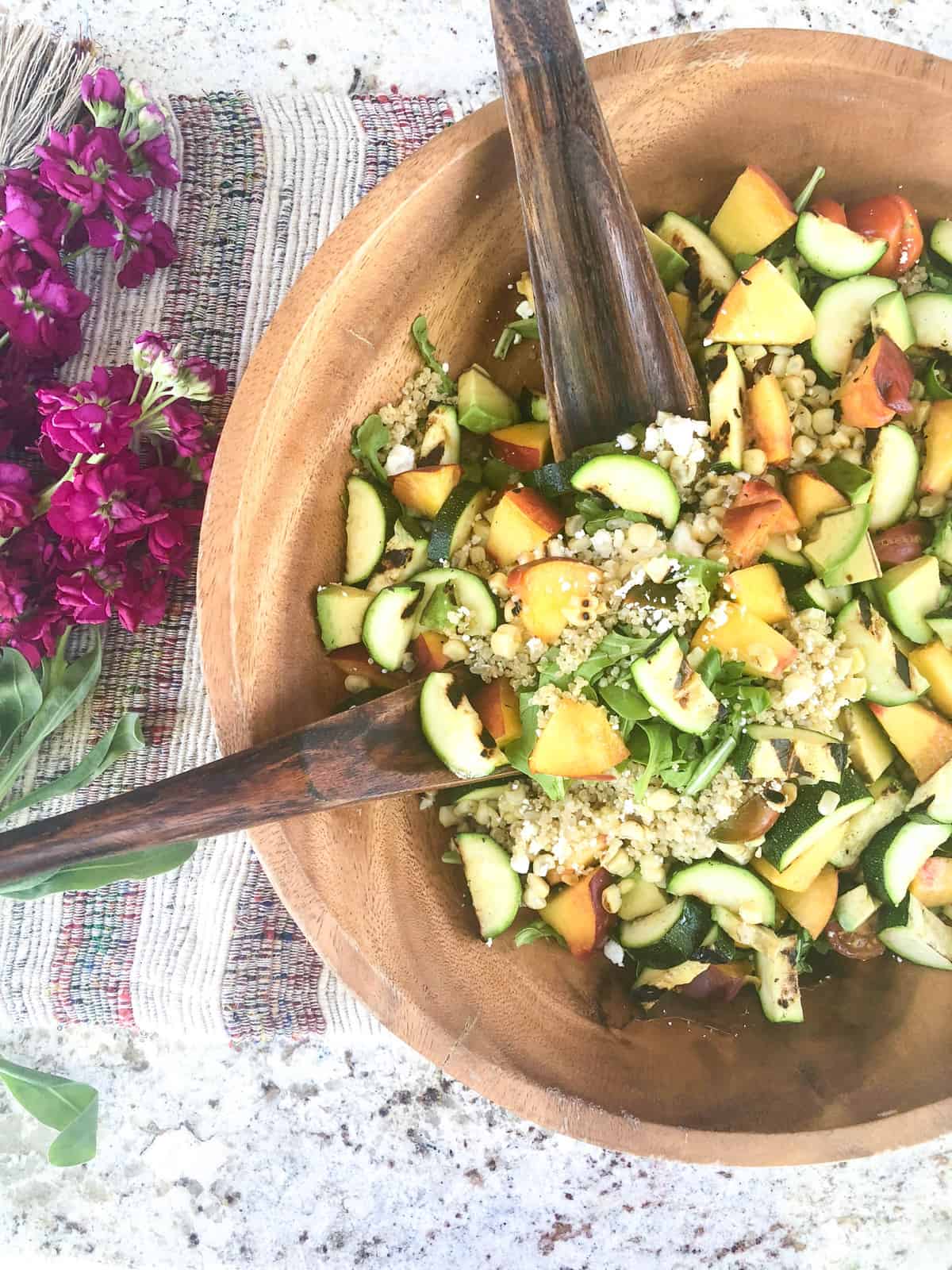 Lovely!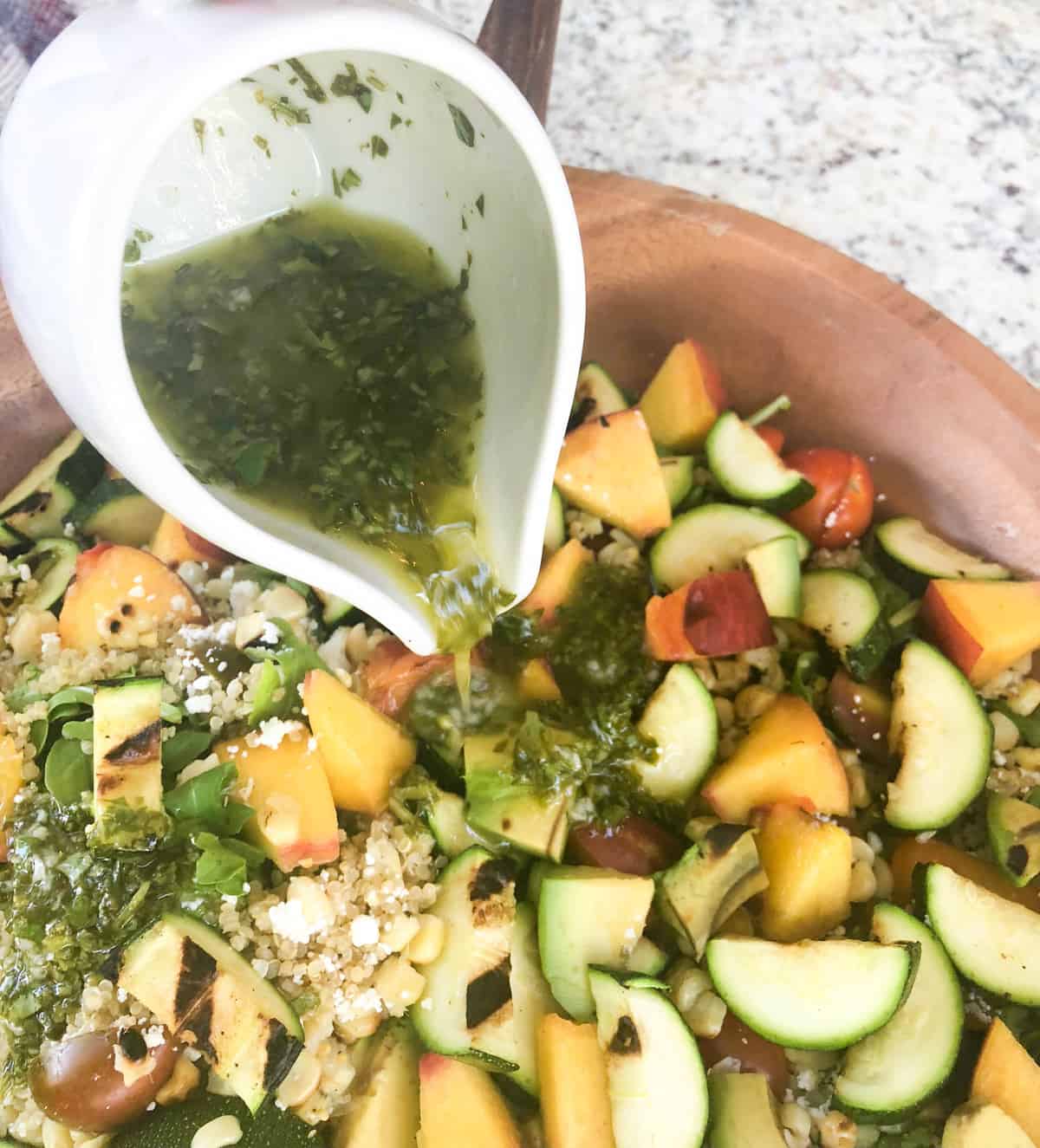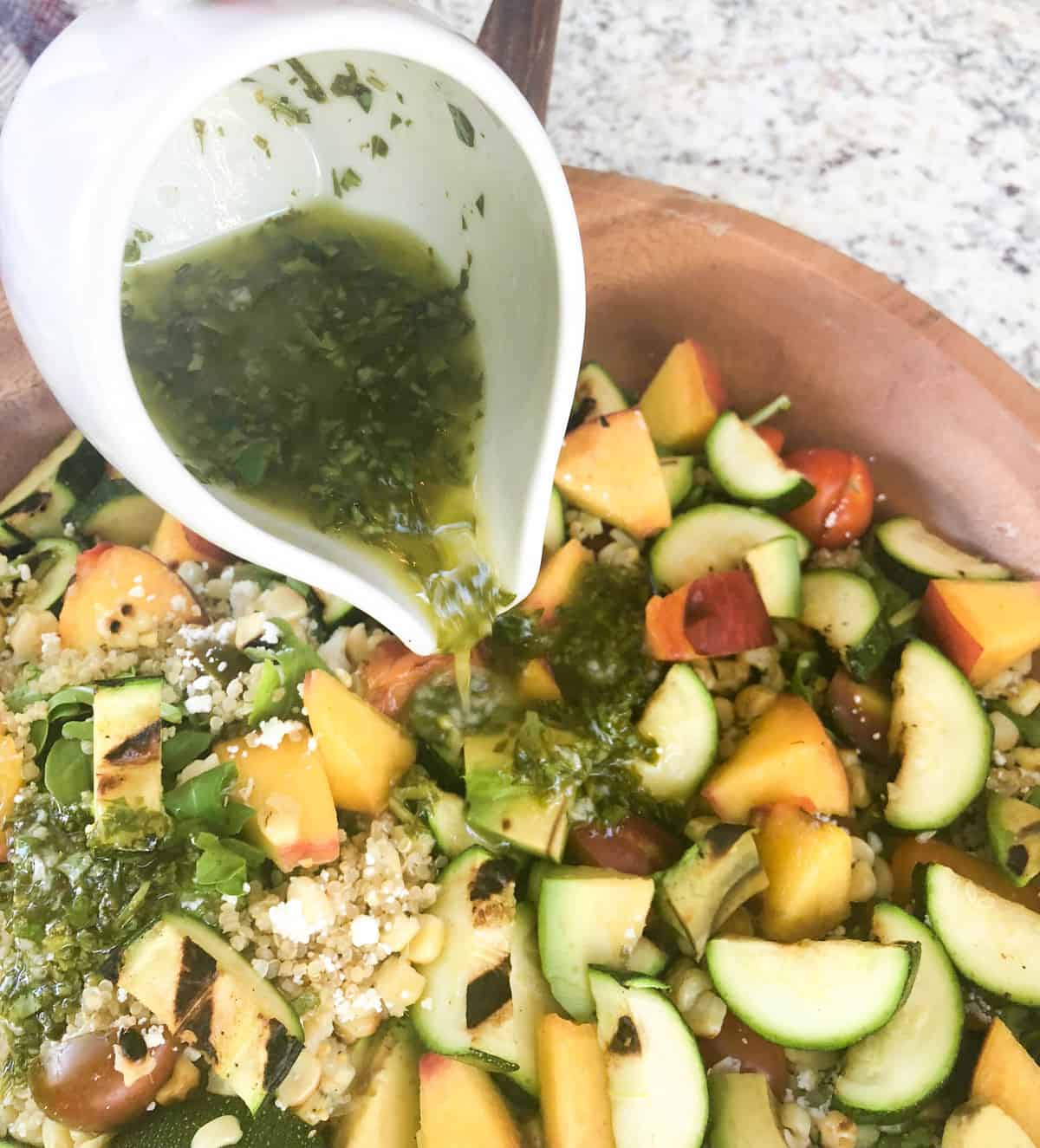 Pour the dressing over the top and toss to combine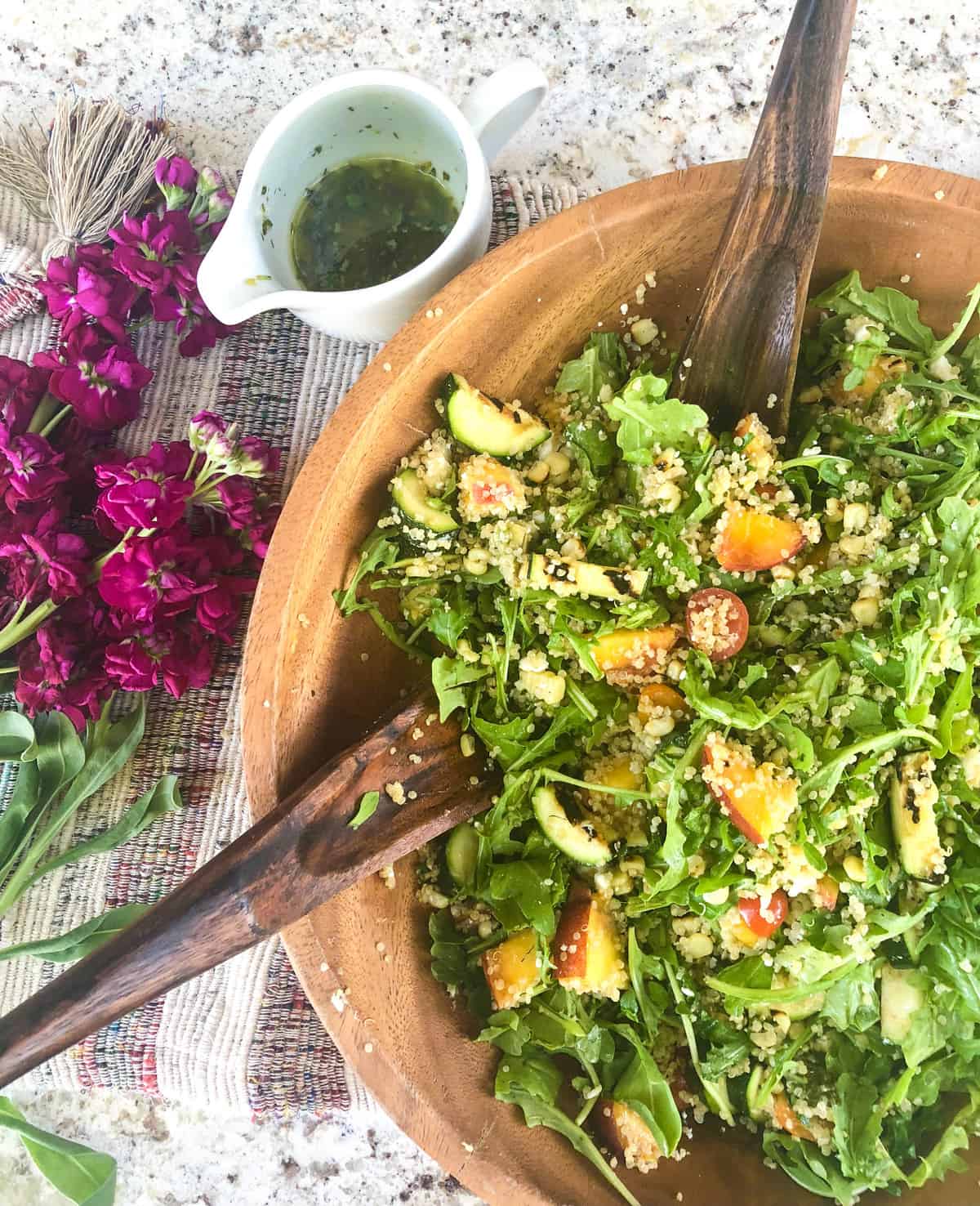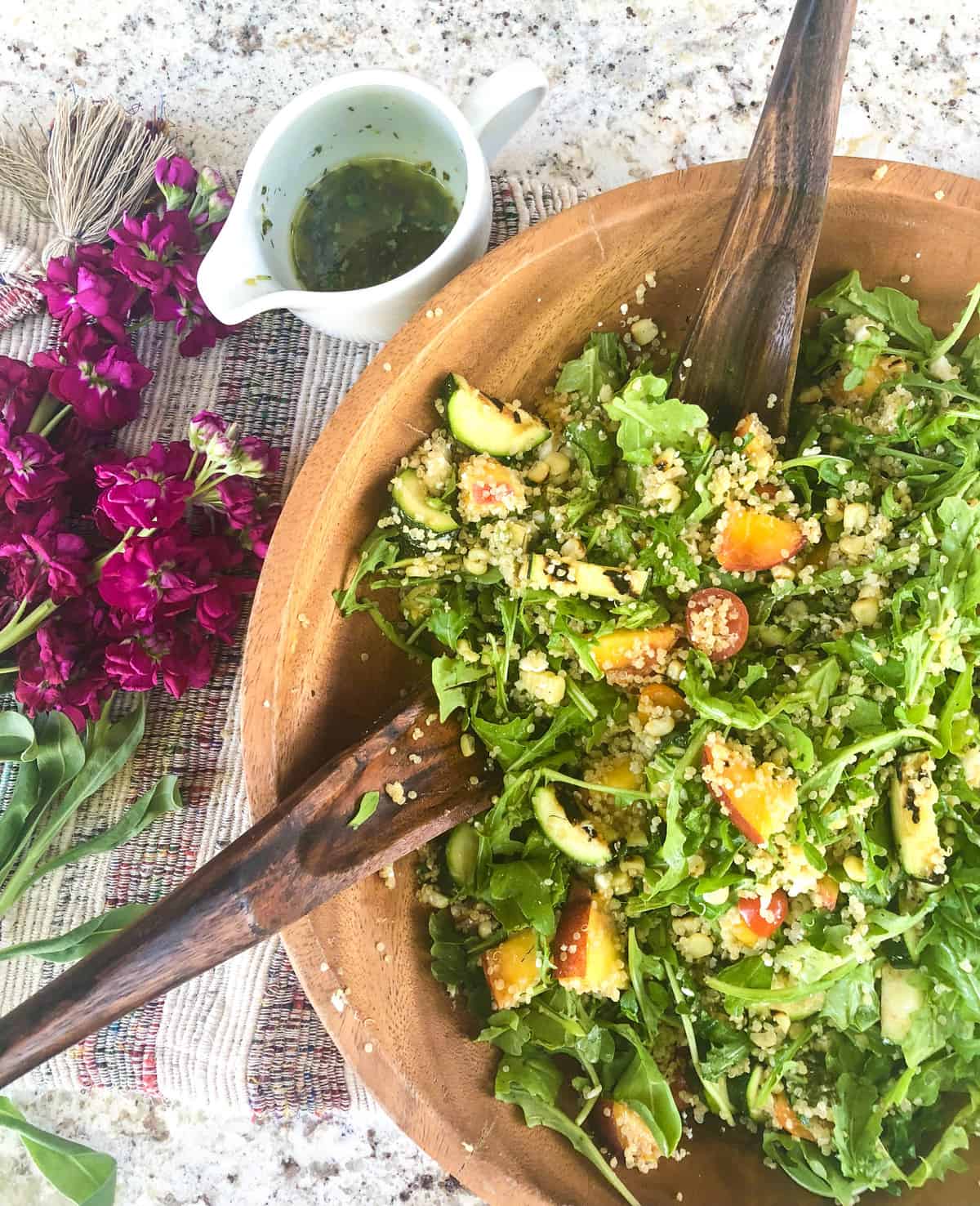 Prepare to hear your friends and family rave and beg for the recipe.
Well, here ya go!
Grilled Zucchini, Peach and Corn Quinoa Salad
2018-07-05 16:29:46
Ingredients
4 zucchini, halved
2 ears corn, shucked
2 peaches, pitted and halved
1 avocado, pitted and halved
1 cup uncooked quinoa, cooked according to package directions
8 oz. Arugula
4 oz. crumbled feta
20 cherry tomatoes, halved
FOR DRESSING
1/4 cup olive oil
1 lemon, juiced
1-2 T. Apple cider vinegar
2 cloves garlic, minced
1/3 cup finely chopped fresh basil
Pinch of salt
Instructions
Combine all the dressing ingredients and set aside
Grill the corn, zucchini, peaches and avocado on a hot grill. Allow to rest
Build the base of the salad by adding the arugula to a shallow bowl. Top with the quinoa
Add the feta and tomatoes
Remove the corn kernals from the cobs and add to the salad along with the sliced zucchini
Top with the sliced peaches and avocado
Add the dressing right before serving
Adapted from Inspiration
California Grown https://californiagrown.org/