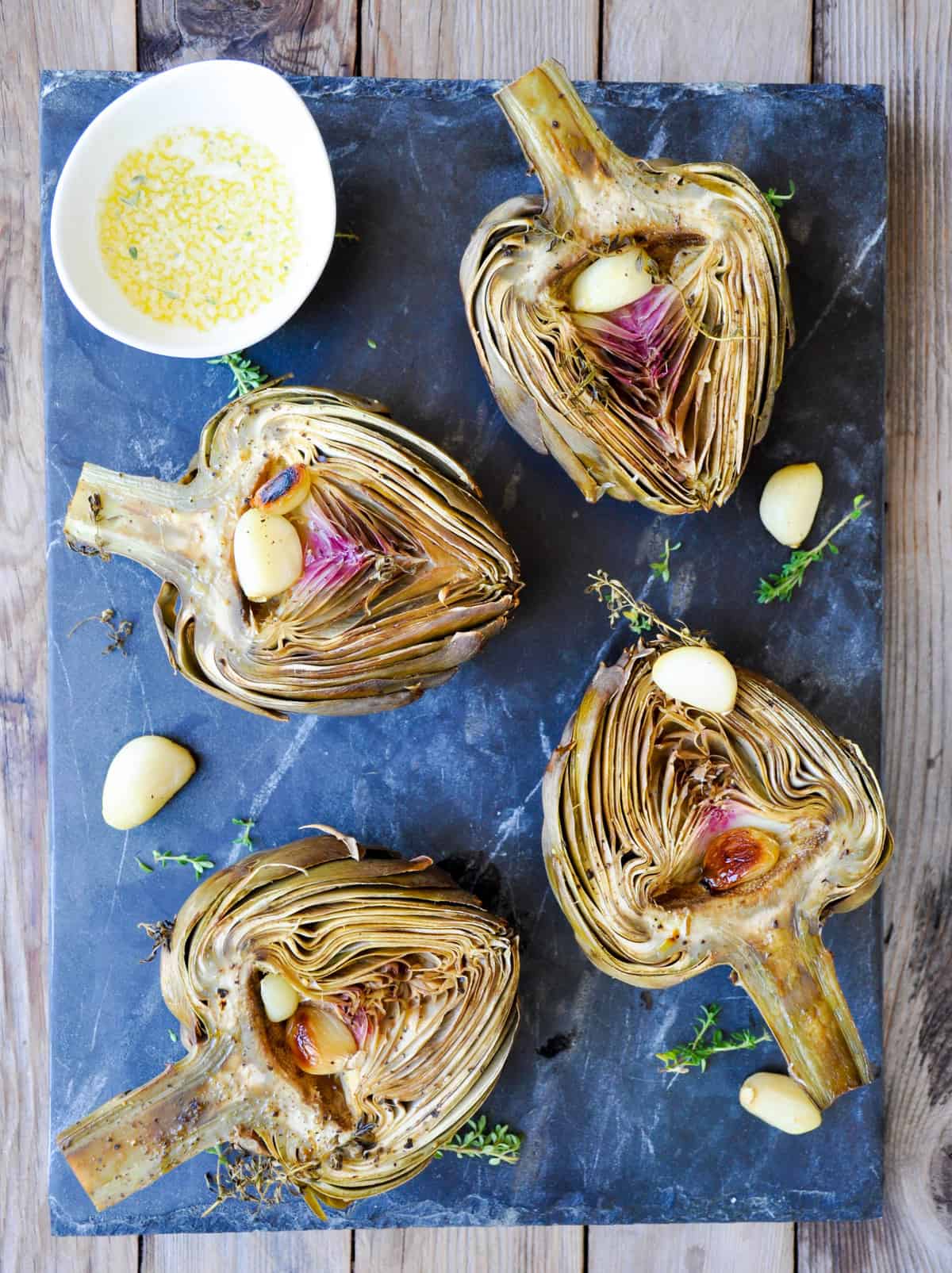 CA GROWN Blog
Discover. Learn. Connect.
Everything You Need To Know About Roasting An Artichoke
May 24, 2017
Eat the Season!
Sign Up For Weekly Recipes
« Back to Recipes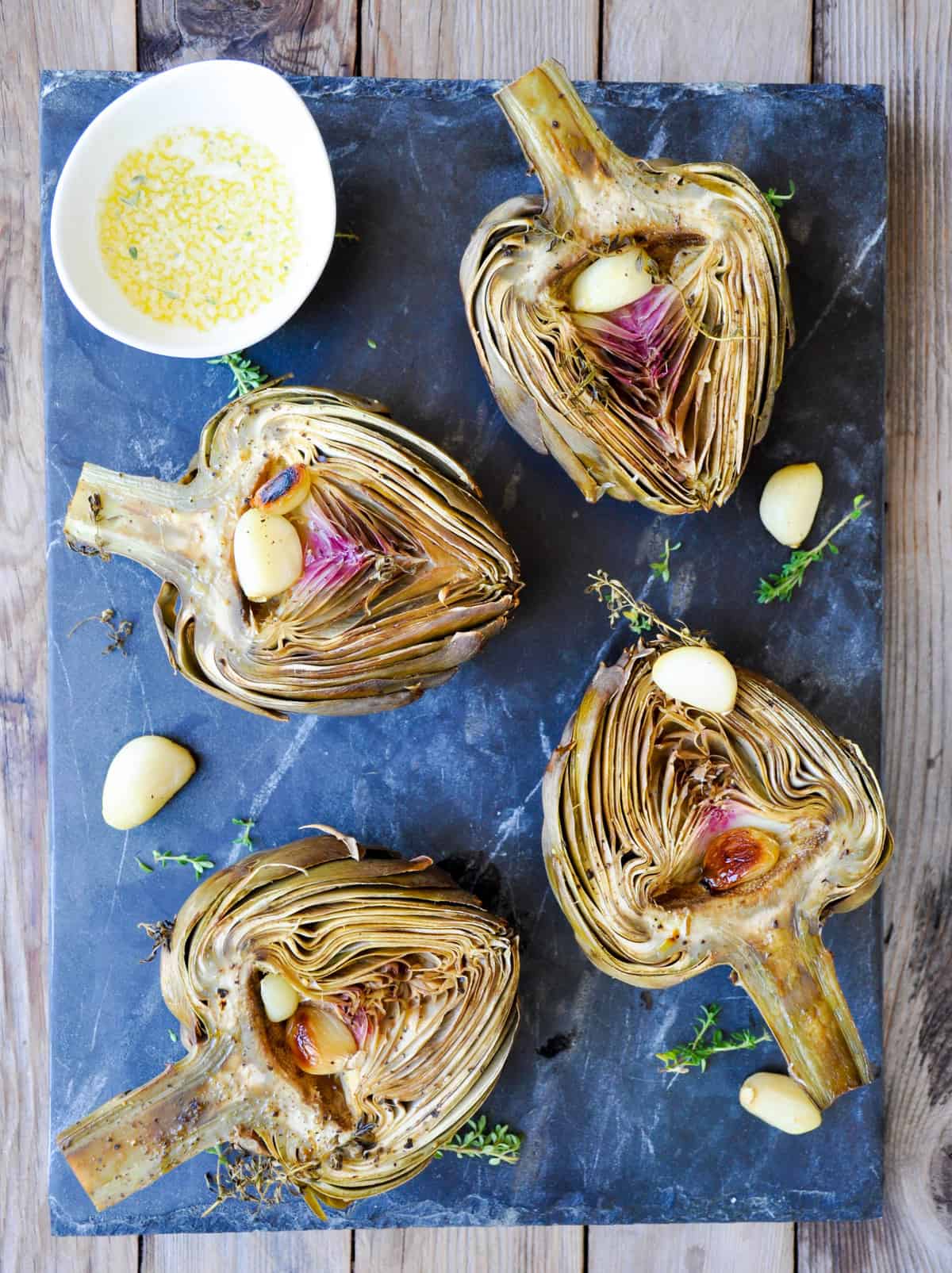 Everything You Need To Know About Roasting An Artichoke
Roasting an artichoke is one of the easiest and most delicious ways to prepare it. These tasty thistles get a bad wrap for being intimidating to cook, but let me assure you this method is easy. Plus, it requires fewer dishes and hands-on prep time than steaming or boiling an artichoke.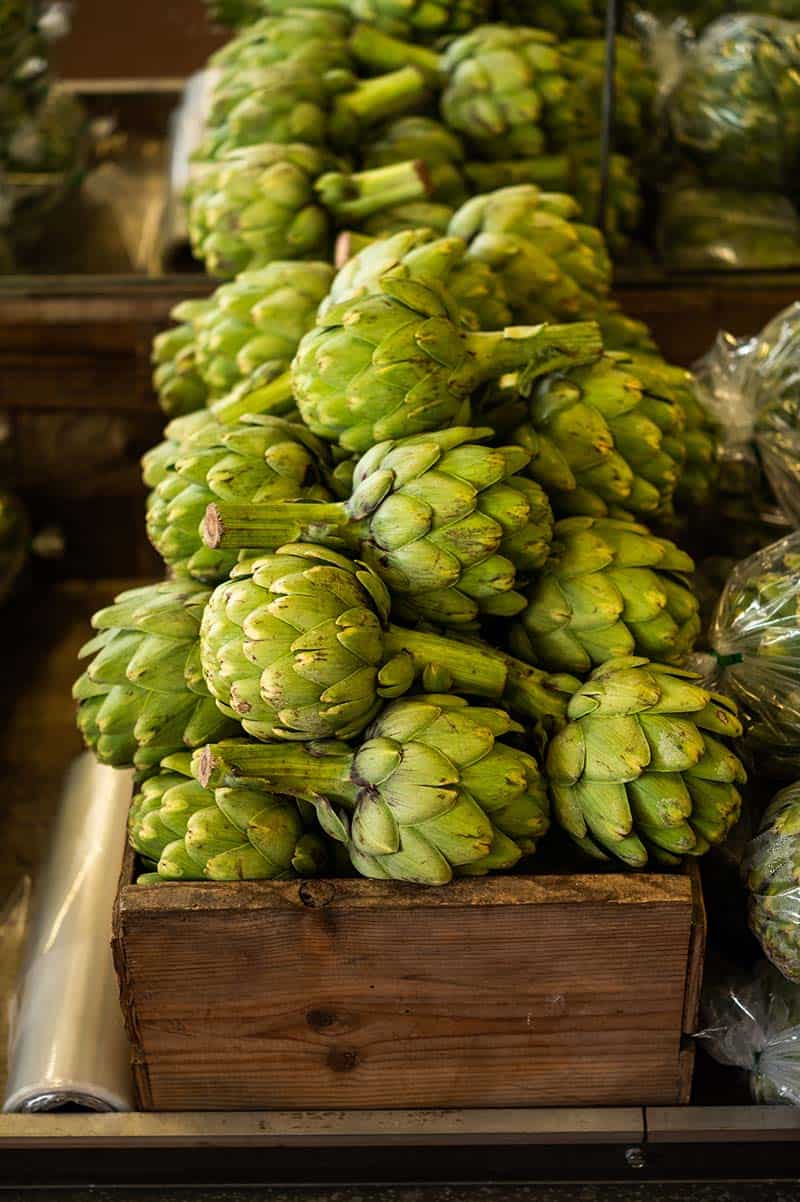 Which variety of artichokes is the best for roasting?
You can certainly roast any variety of artichokes. You may need to increase or decrease the cooking time, but the method will be the same.
The artichokes in these images are the Green Globe variety. They are giants! I always look for the biggest, widest artichokes I can find. I figure the more there is, the more we can eat. Plus, larger artichokes have a larger "heart", which is really the hidden crown jewel of any artichoke.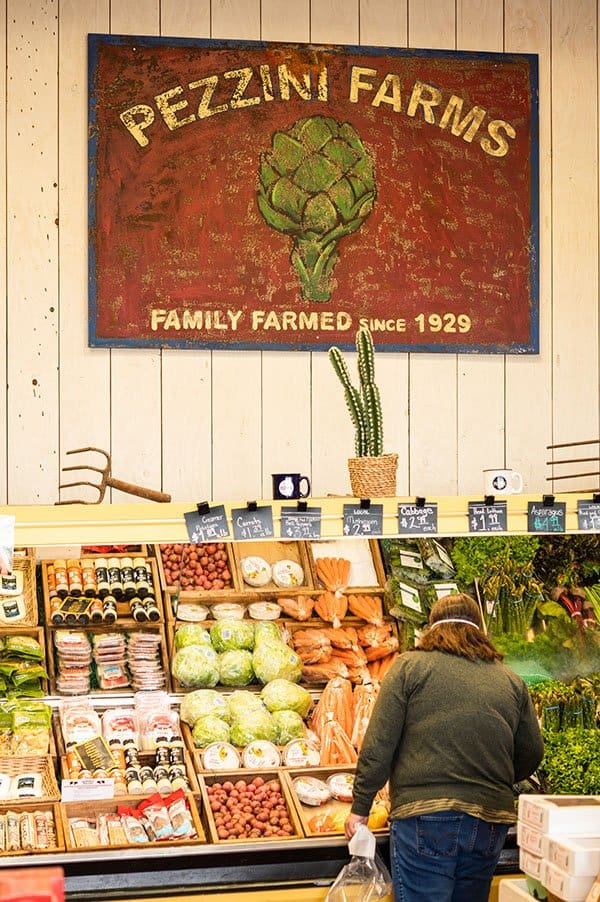 Recently, we had the pleasure of meeting Sean Pezzini, 4th generation artichoke farmer at Pezzini Farms in Castroville, California.
He shared with us the story of how their family's heirloom artichokes were brought here from Italy by his great-grandfather.
It's true what they say, even artichokes have hearts and at the very heart of Pezzini Farms, there is a love story….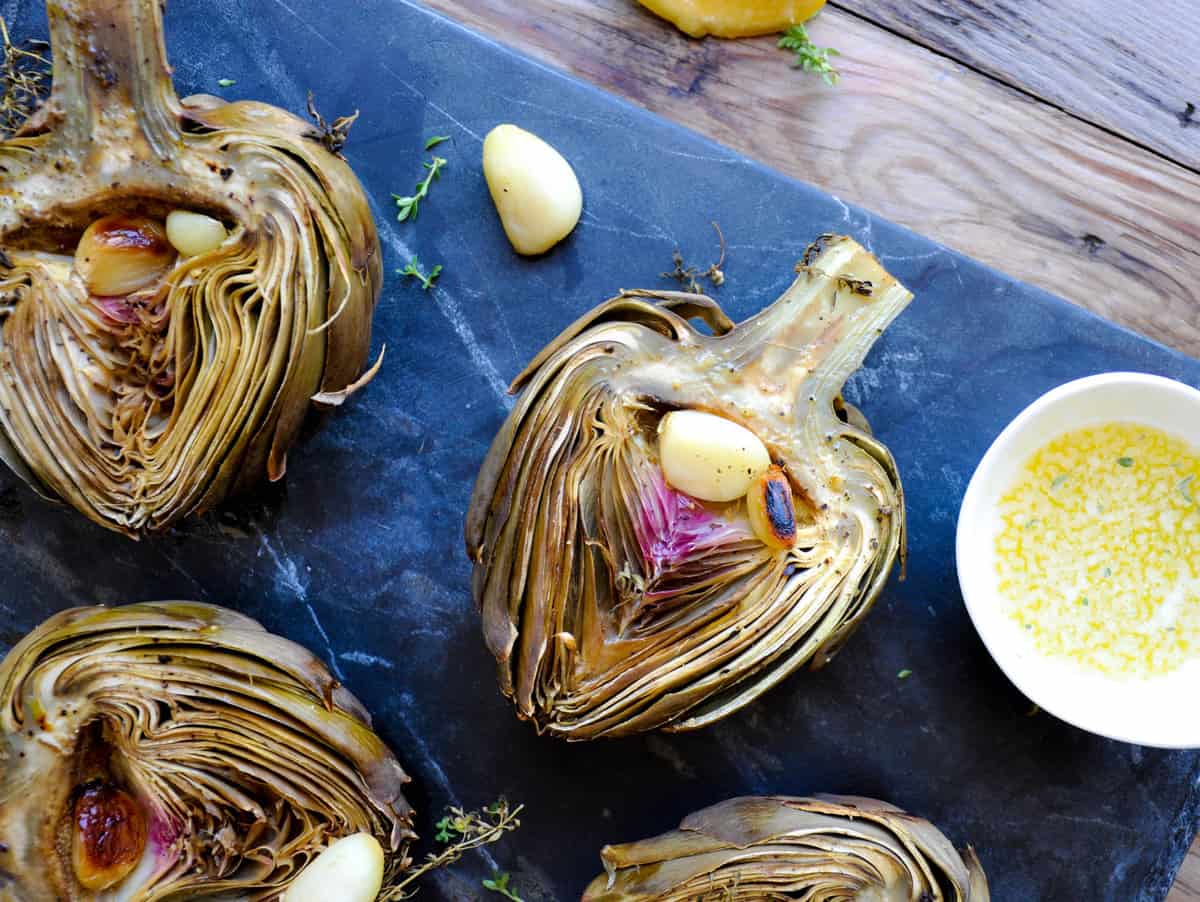 How to roast an artichoke step-by-step.
Roasting an artichoke is one of the easiest ways to prepare it. I personally like to roast artichokes with whole garlic cloves, lemon, and fresh thyme, but you can substitute different spices and herbs.
Also, roasting an artichoke in the oven as opposed to boiling or steaming requires fewer pans which means fewer dishes for me after dinner.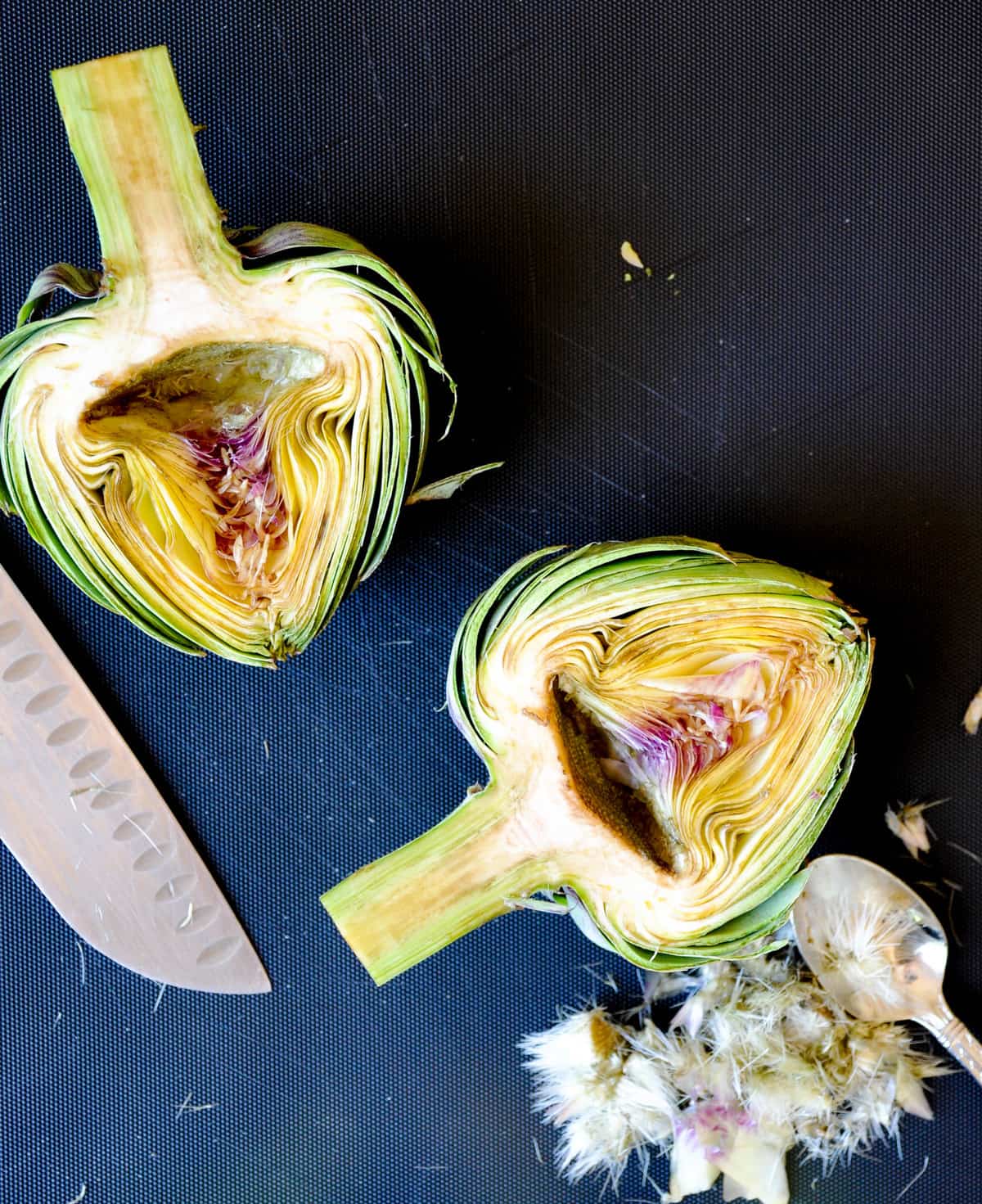 Prep the artichokes.
Take a raw artichoke and cut it in half, exposing the inside leaves and the choke.
Using a spoon, scoop out the hairy "choke" from the middle.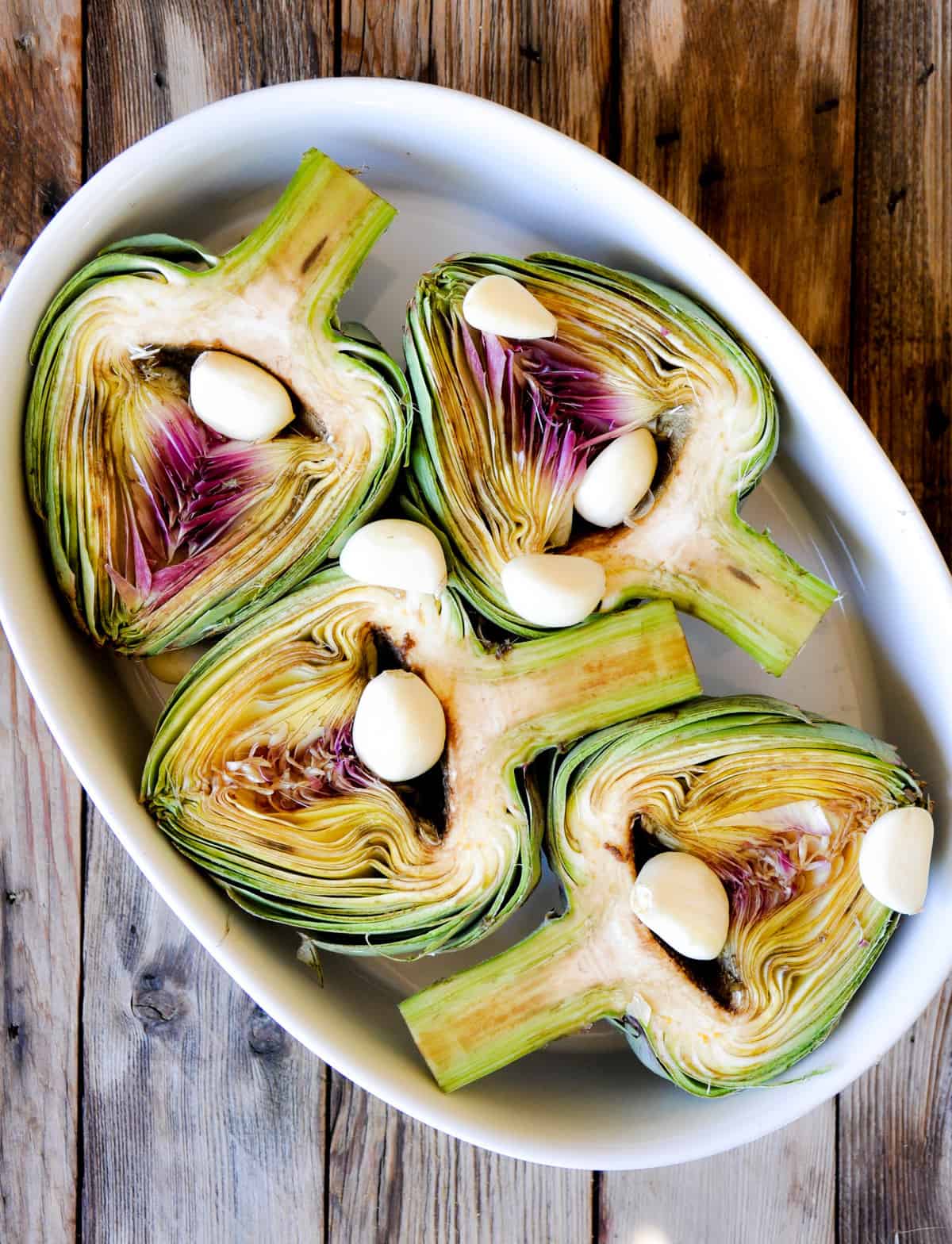 Arrange the artichoke halves in a baking dish.
Place the artichoke halves cut-side up in a baking dish and add several whole cloves of garlic to the pan.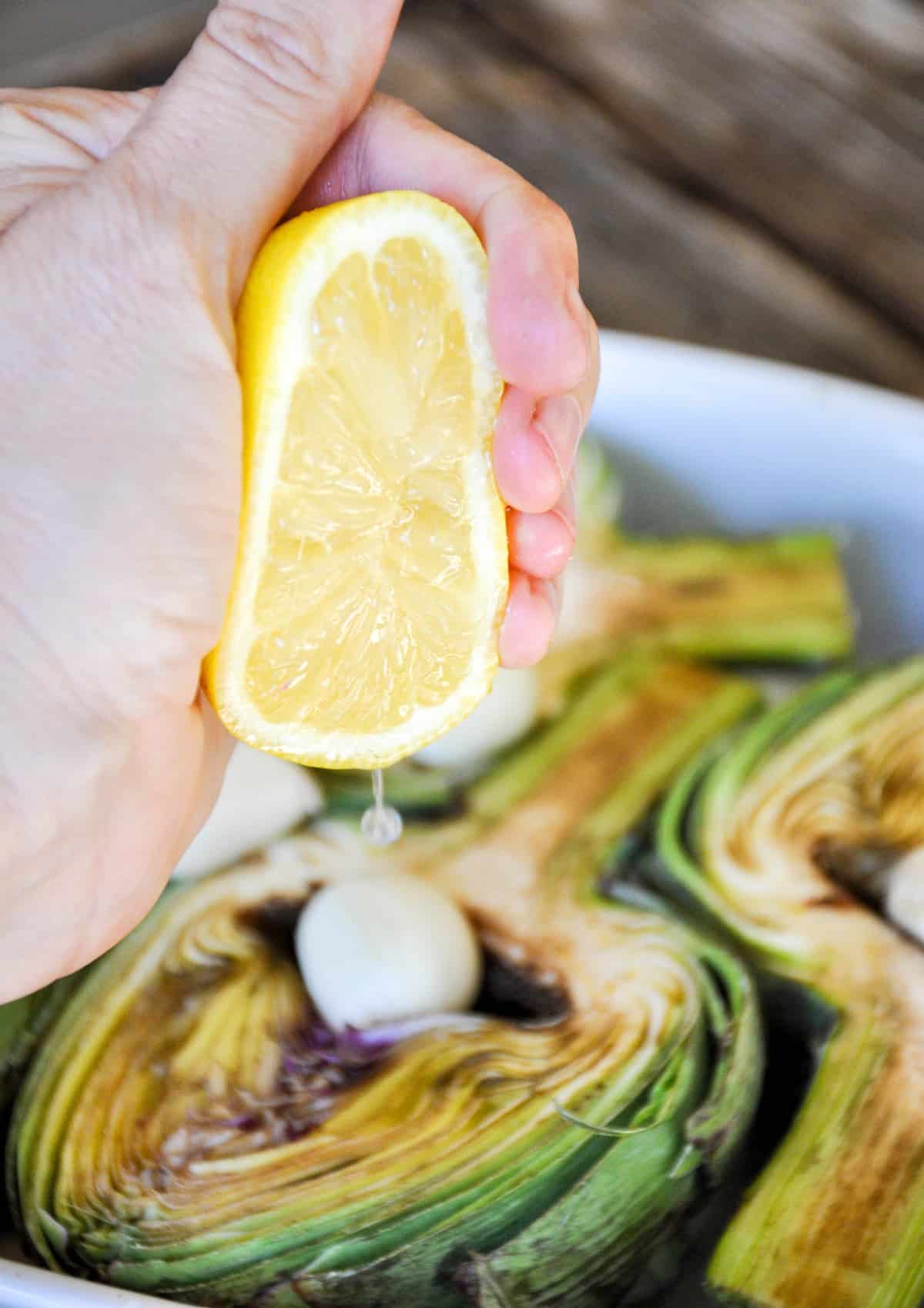 Add some citrus to the mix!
Squeeze an entire lemon over the tops of all the artichoke halves, allowing the juice to run into the leaves and down around the pan.
Now, drizzle the tops of all of the artichoke halves with olive oil.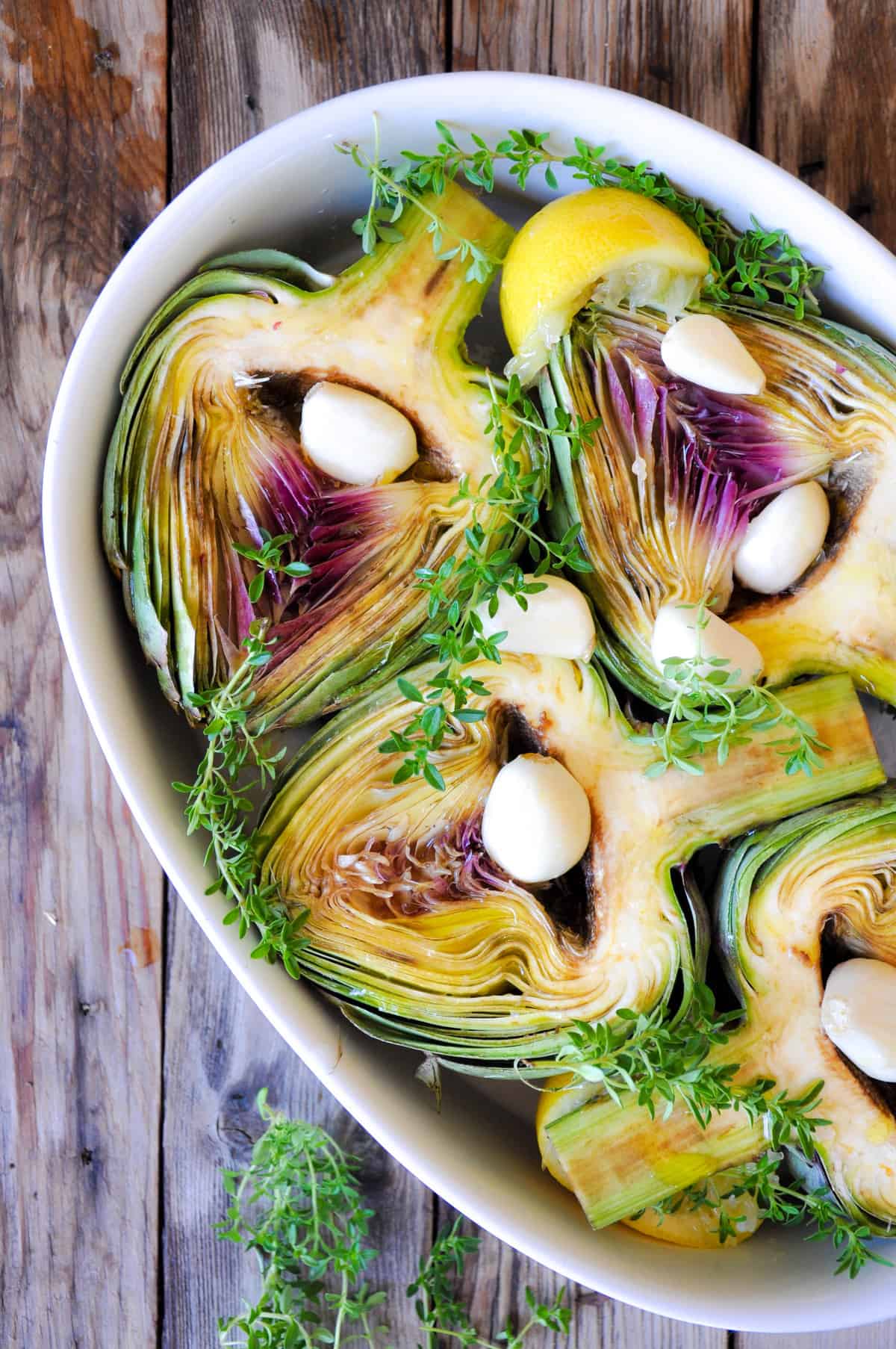 Fresh herbs are a must!
Add several sprigs of fresh thyme to the dish.
Cover with foil and bake for 45 minutes, or until the artichokes are fully cooked.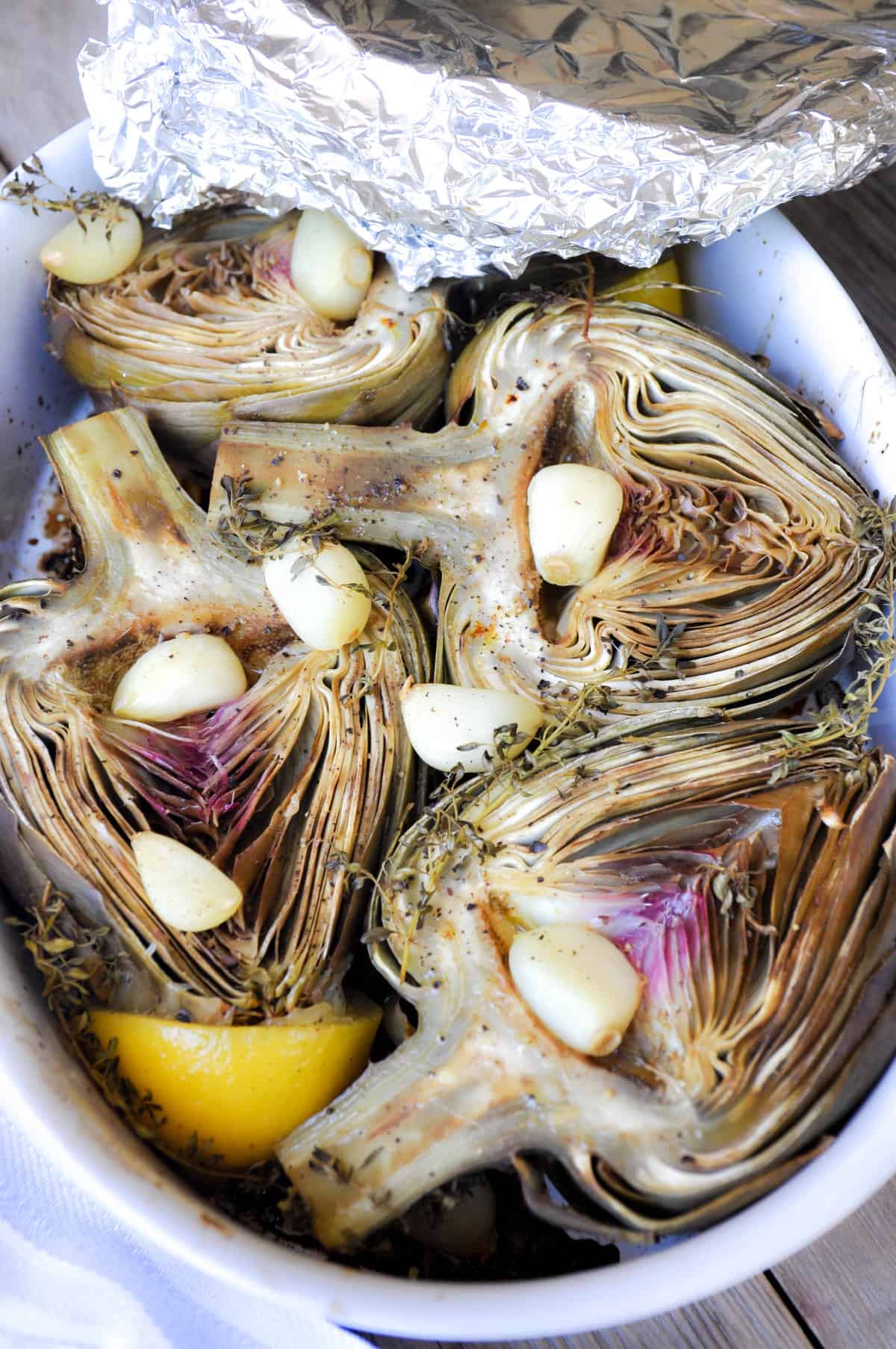 Voila!
Now that you have mastered the art of roasting an artichoke I'm sure you are very excited to taste it, but patience is key. You need to let the artichokes rest for a few minutes.
While the roasted artichokes rest for about 10 minutes, you can occupy yourself by preparing a delicious dipping sauce.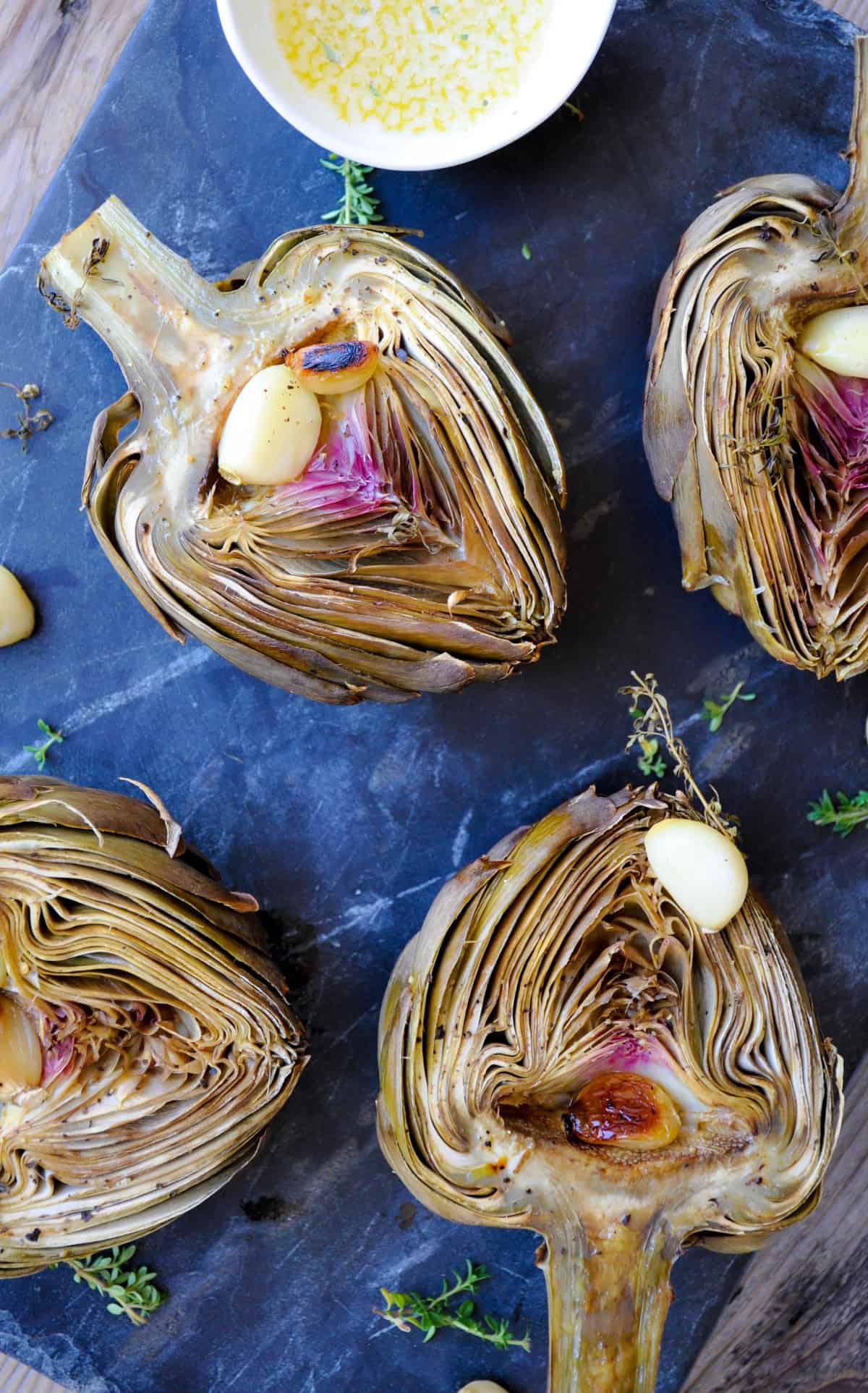 How to make an easy dipping sauce for roasted artichokes.
Artichokes are delicious on their own, but they are even better with a delicious dipping sauce to go with them. The sauce I am sharing here utilizes some of the cloves of roasted garlic that were roasted along with the artichokes. Fast, easy, and most definitely delicious!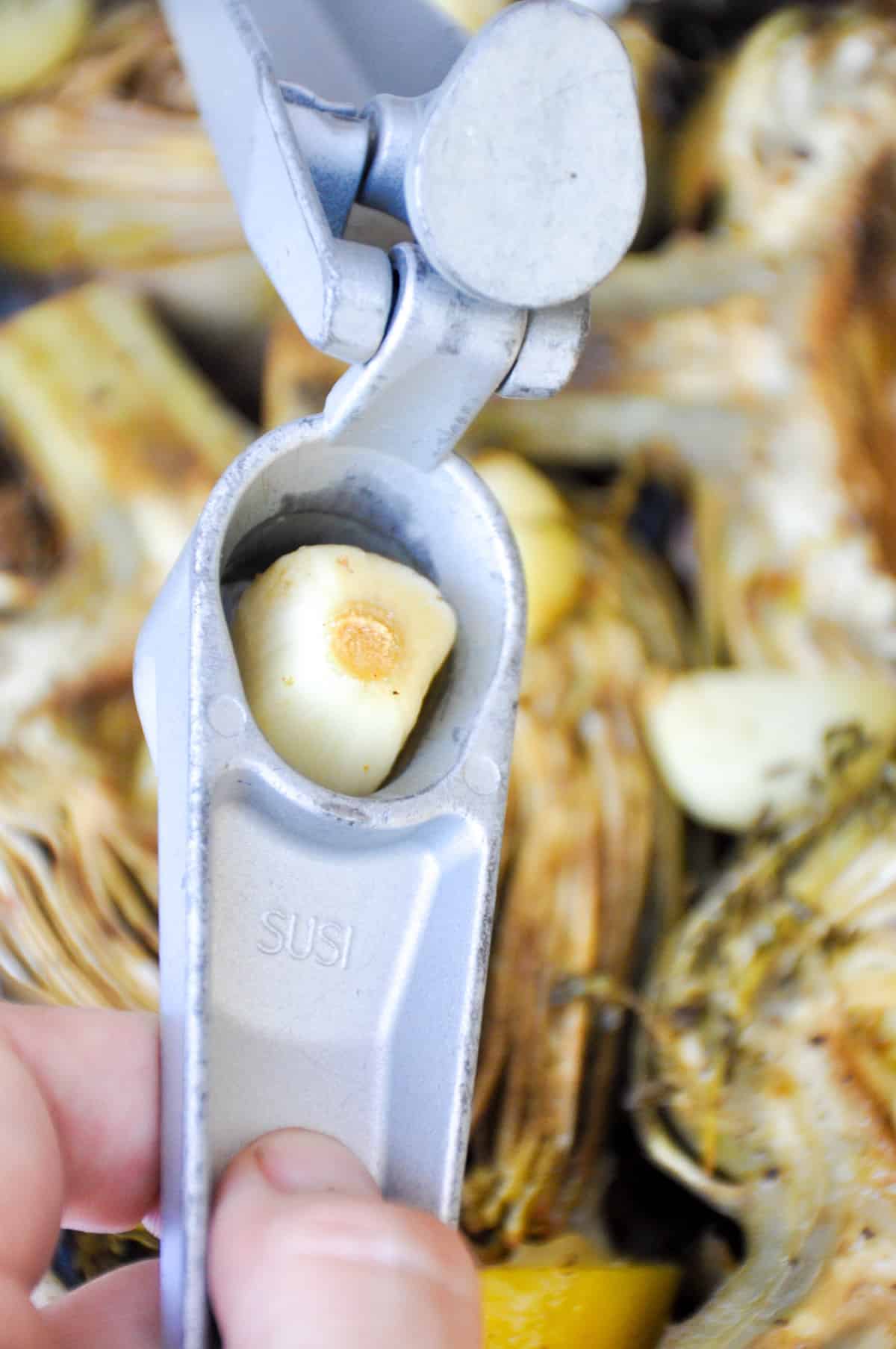 Place 2 or 3 of the roasted garlic cloves into a garlic press.
Press the garlic into a small dish of melted butter
Add fresh chopped thyme and stir to combine.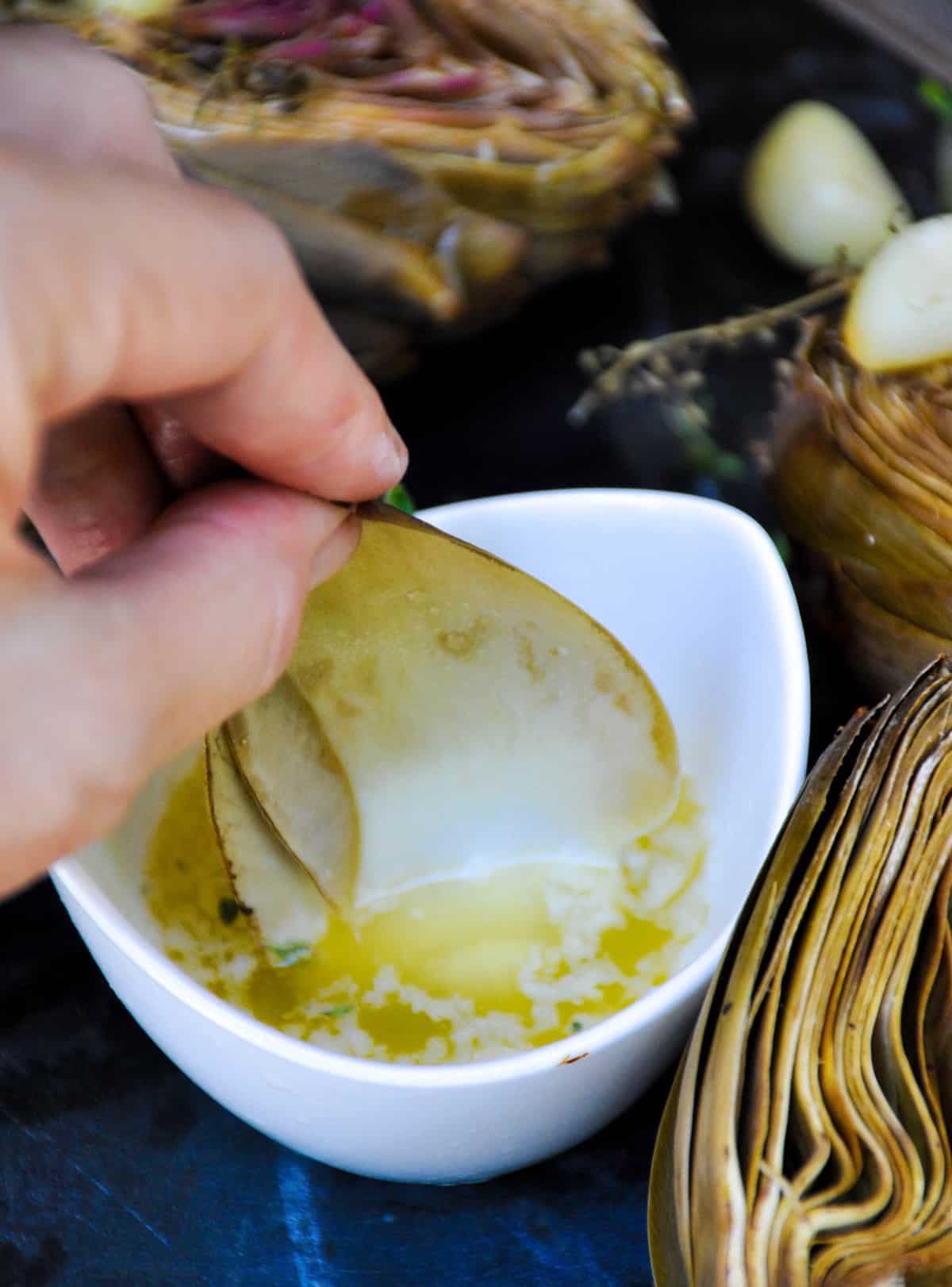 Now that the Roasted Garlic Butter Artichoke Dipping Sauce is prepared it is time to dig in! Simply pull off a tender leaf, dunk, and devour!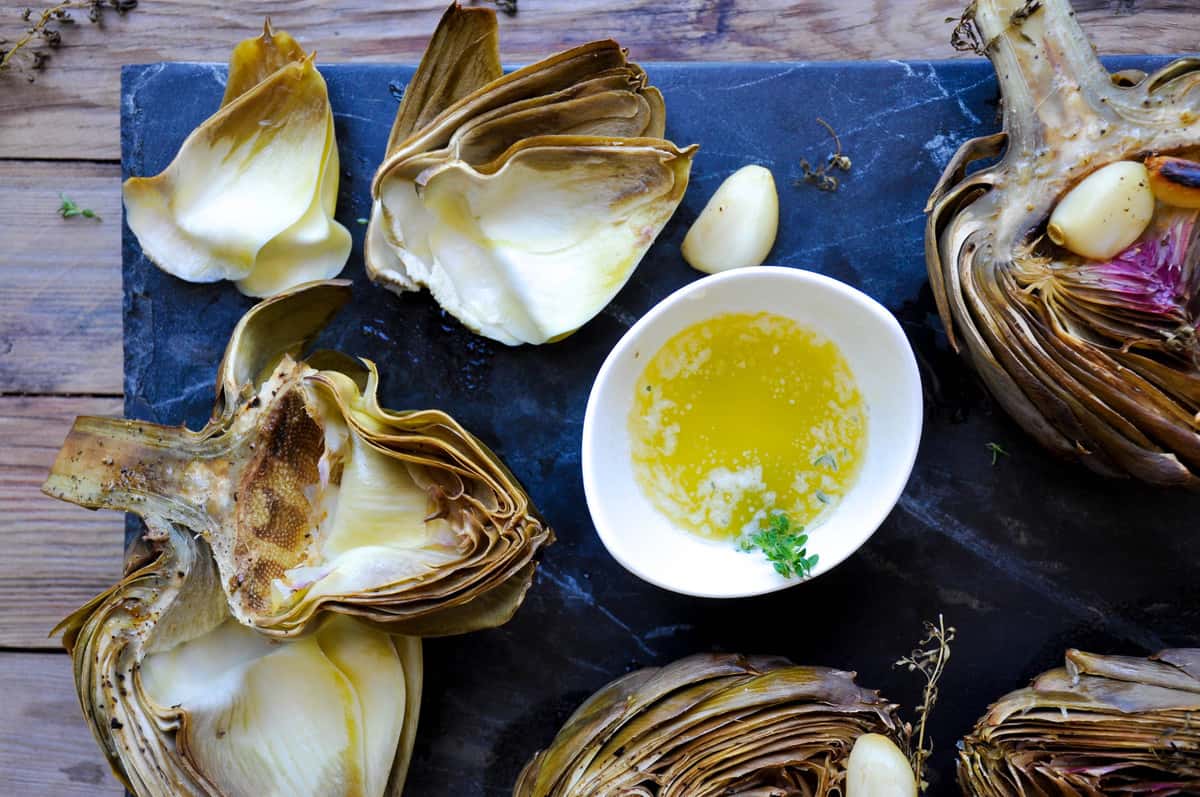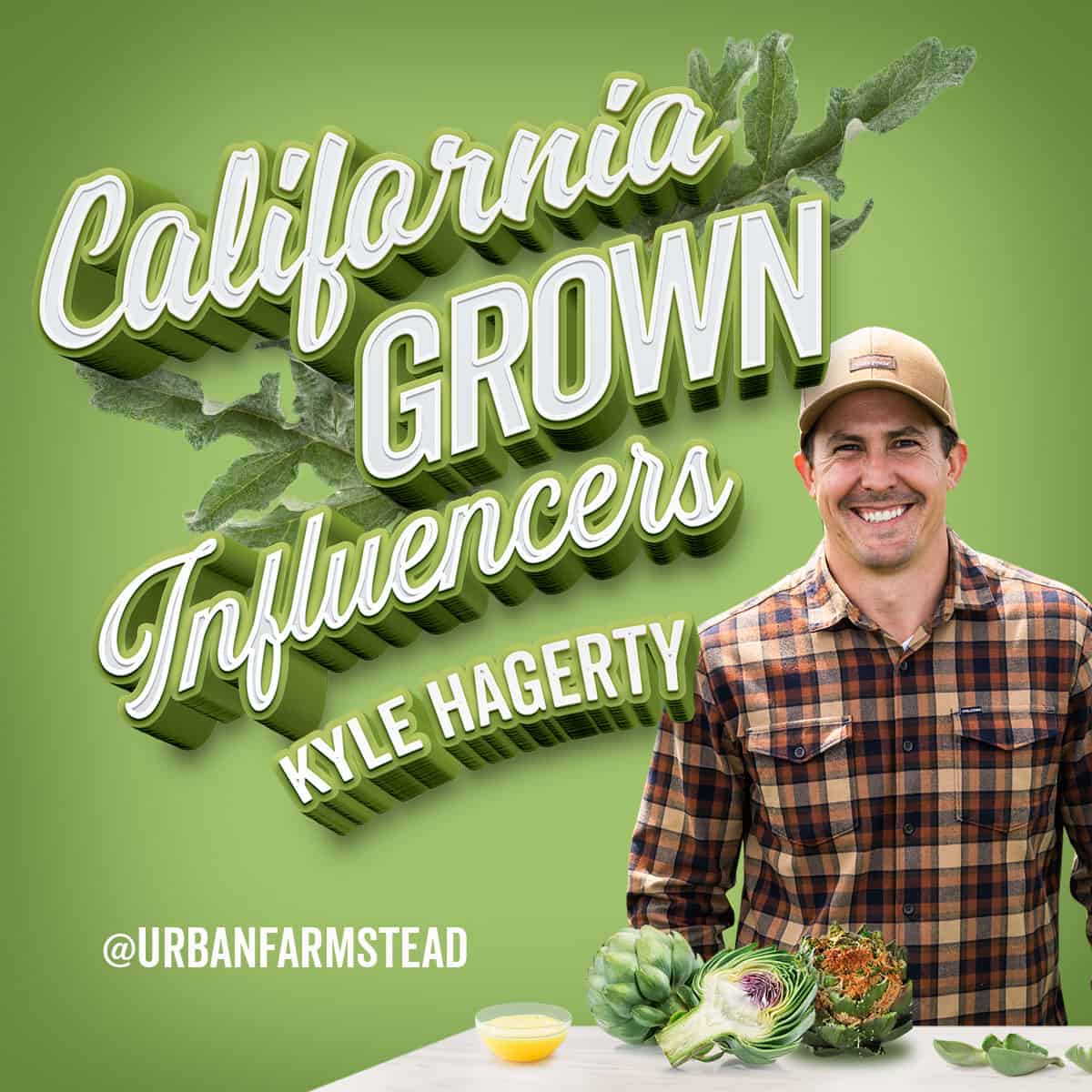 Fun fact! Artichokes are California's State Vegetable.
Did you know that California's state vegetable is also a flower?  
Our friend Kyle Hagerty of Urban Farmstead is especially fond of California Grown artichokes – not just because they're delicious, but also because he grew up on the Central Coast near Castroville, the Artichoke Capital of the World.
BE SURE TO SHARE PICTURES OF YOUR ROASTED ARTICHOKES WITH US BY SNAPPING A PIC AND TAGGING US ON SOCIAL USING #CAGROWN
Craving more CA Grown goodness? Follow us on Pinterest for fresh and fabulous recipe inspiration!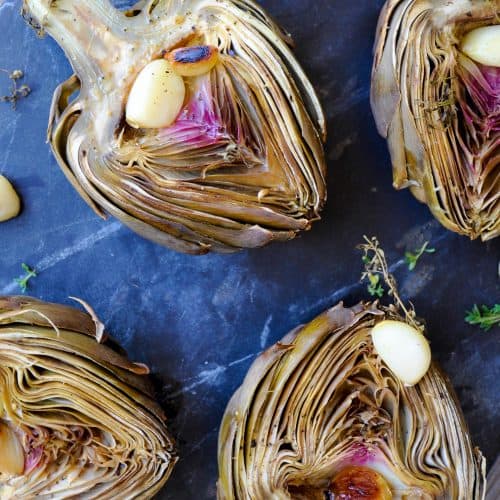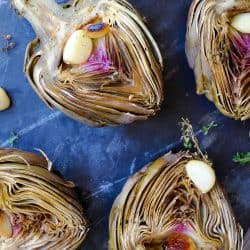 Herbaceous Roasted Artichoke
The sometimes intimidating task of roasting an artichoke is made simple and delicious with this easy recipe for roasted artichokes.
Ingredients
2 large globe artichokes
1 whole bulb of garlic 9-10 cloves, outer skins removed
1 lemon cut in half
Several sprigs of fresh thyme
2 tablespoons olive oil
Salt and Pepper
4 tablespoons butter melted
Instructions
Preheat oven to 400.

Cut the artichokes in half and remove the fuzzy "choke" from the middle of each half. Place in deep baking dish. Add the garlic cloves.

Squeeze the lemons over the entire dish, adding the spent lemons to the bottom of the pan, under the artichokes. Drizzle the tops with the olive oil. Add the sprigs of thyme, reserving a few for the dipping sauce later.

Sprinkle with salt and pepper over the top, cover with heavy foil and place in oven. Roast for 45 minutes.

Remove from oven and allow to rest while you prep the sauce.

Take the melted butter and add finely minced thyme to the dish. Take 2-3 cloves of roasted garlic from the pan and mince into the butter mixture. Stir well and serve with the artichokes.
Nutrition
Calories: 110kcalCarbohydrates: 10gProtein: 3gFat: 8gSaturated Fat: 1gPolyunsaturated Fat: 1gMonounsaturated Fat: 5gCholesterol: 2mgSodium: 77mgPotassium: 297mgFiber: 4gSugar: 2gVitamin A: 39IUVitamin C: 22mgCalcium: 54mgIron: 1mg
Hungry to learn more about how to cook artichokes?
The artichoke really is a fascinating thistle that has completely enamored us and our team of California Grown Creators! Whether you are curious to learn how artichokes grow or you are looking for a new delicious way to use the can of artichoke hearts in your pantry there is something below for you!
Click or tap any of the images below to read that article about artichokes or to print the recipe.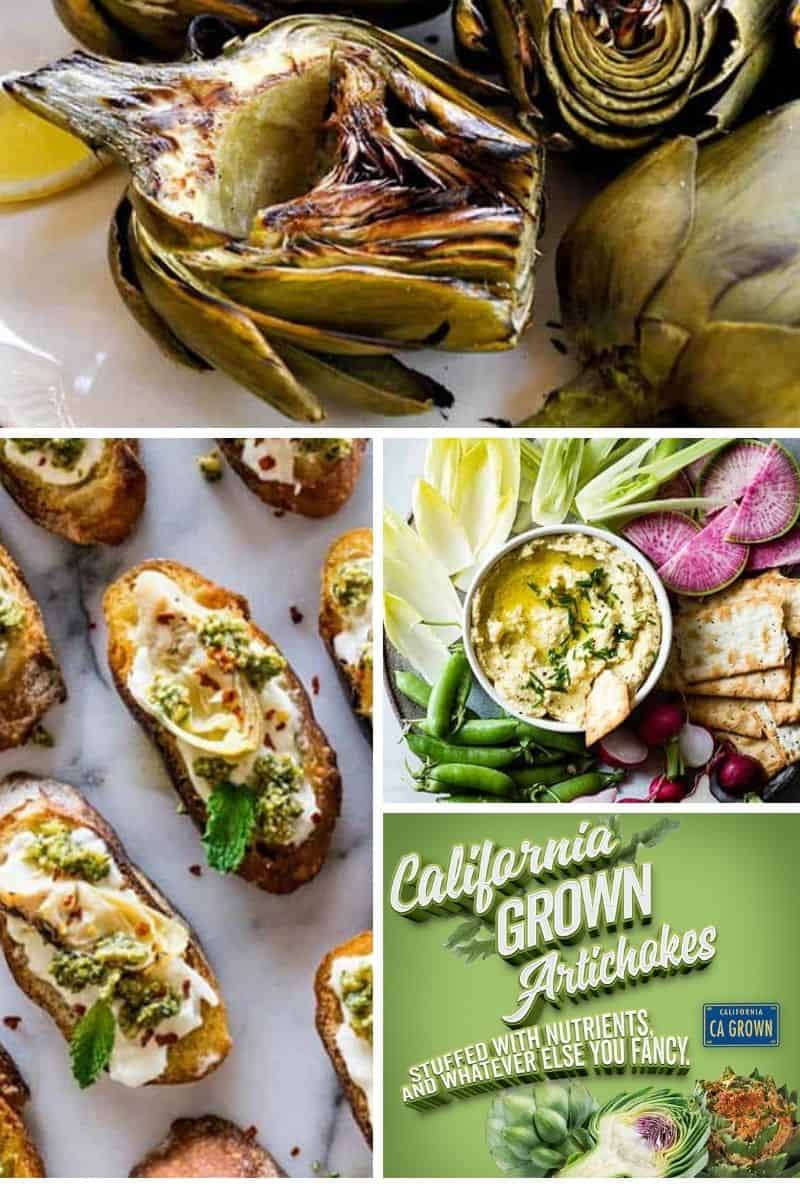 SaveSave