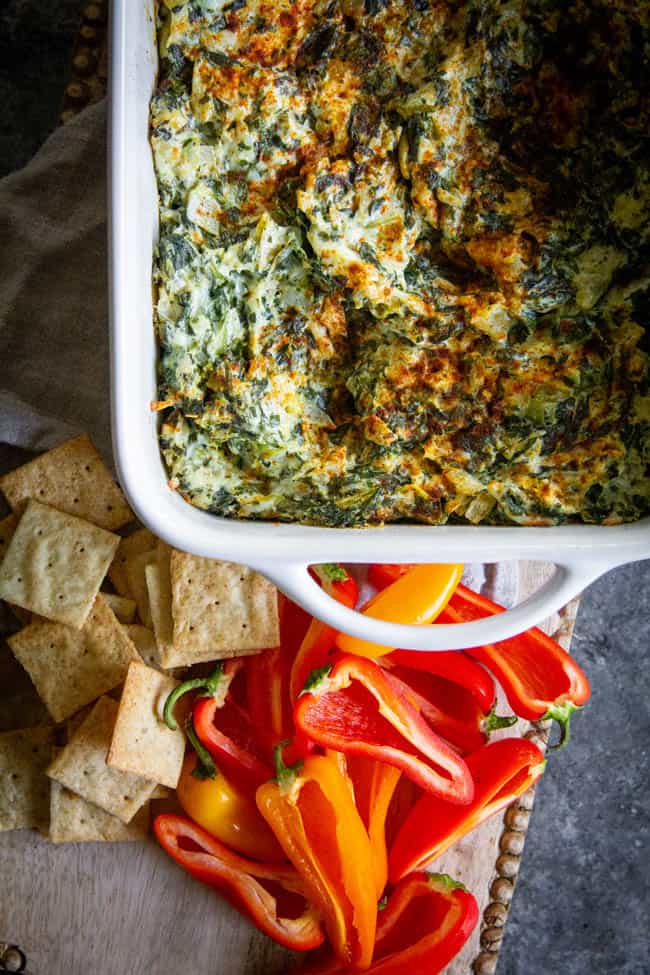 CA GROWN Blog
Discover. Learn. Connect.
A Classic Artichoke and Spinach Dip Recipe Plus A Delicious New Way to Use It!
August 24, 2021
Eat the Season!
Sign Up For Weekly Recipes
« Back to Recipes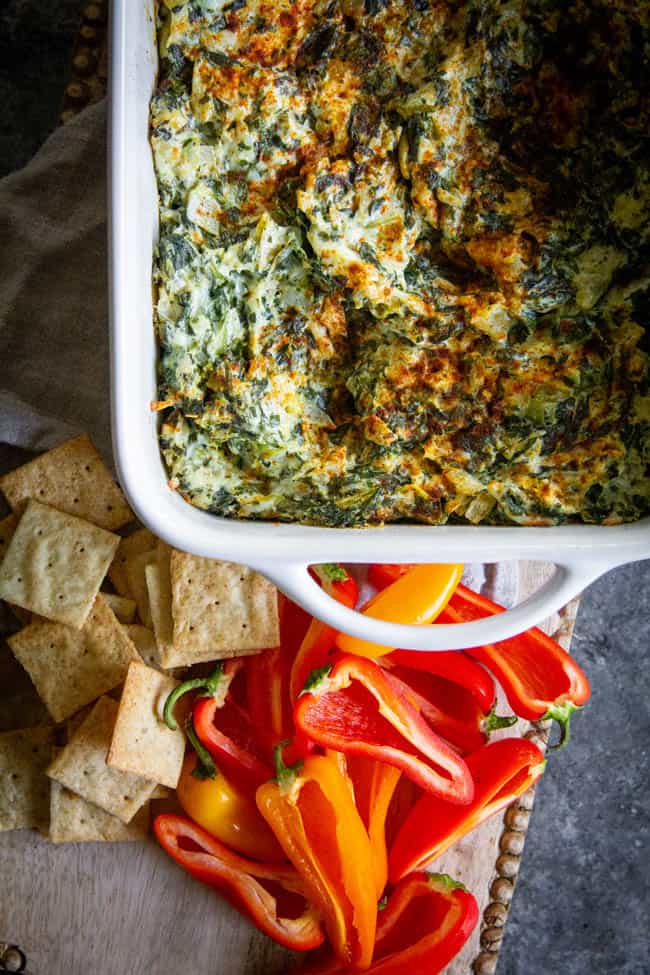 A Classic Artichoke and Spinach Dip Recipe Plus A Delicious New Way to Use It!
There is nothing that hits the spot quite like this EASY Artichoke and Spinach Dip recipe! This classic, creamy comfort food is loaded with spinach, artichokes, sauteed onion, garlic, and a mix of creamy cheesy ingredients that will make you weak in the knees.
*** Recipe updates 2/2/2022 with new related recipe links that feature spinach and artichoke together.***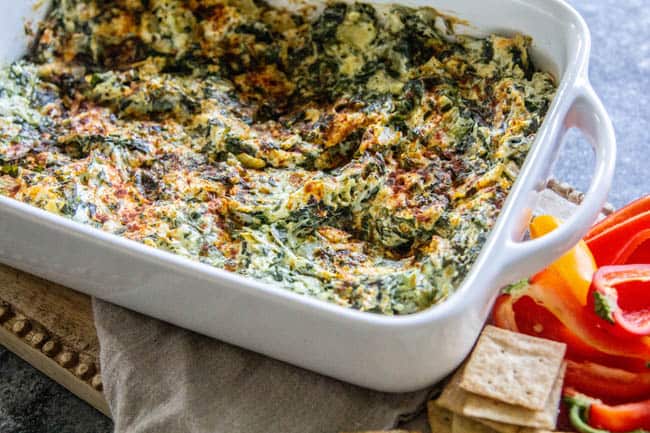 Ingredients needed to make this Artichoke and Spinach Dip recipe
Canned artichoke hearts: Look for canned artichoke hearts packed in water, not oil, for this recipe. We prefer artichokes that have already been quartered, but you could use canned whole or baby artichokes as well.
Frozen spinach: Be sure to allow time for the spinach to thaw when making this dip. Squeezing out most of the liquid is vital to this dip baking up to the proper consistency.
Yellow onion
Fresh or confit garlic: We can't decide which we like better, grating in a fresh clove or smashing in 3 or 4 confit cloves. The latter has a deeply robust, almost buttery garlic flavor that we are sort of suckers for around here.
Olive oil: Always purchase olive oils with the COOC Seal of Certification, your assurance it is real California extra virgin olive oil and a fresh, quality product.
Cream cheese: This recipe requires that the cream cheese be softened; if you are like us and tend to forget that sort of thing, you can speed up the process. Microwave 8 ounces of cream cheese on high for 15-20 seconds straight out of the fridge, and it will be just about the right consistency to get started.
Sour cream
Mayonnaise
Parmesan or Romano cheese: Freshly grated has the best flavor, in our opinion.
Mozzarella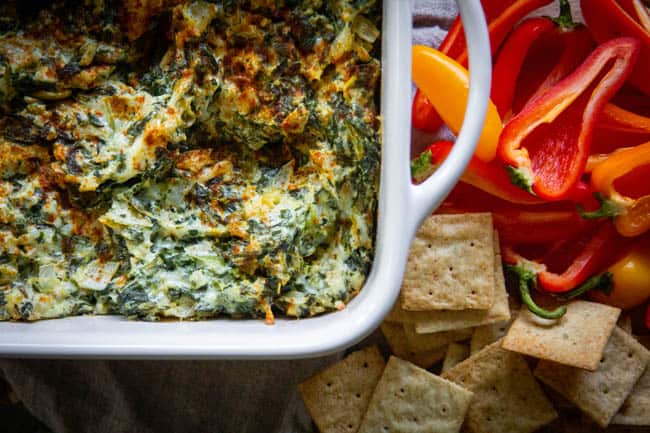 Check out one of our favorite ways to dish up this dip!
Cook once and eat twice, that is a motto we can stand behind! Sure this dip is great for dipping, but it is also great for lots of other preparations too.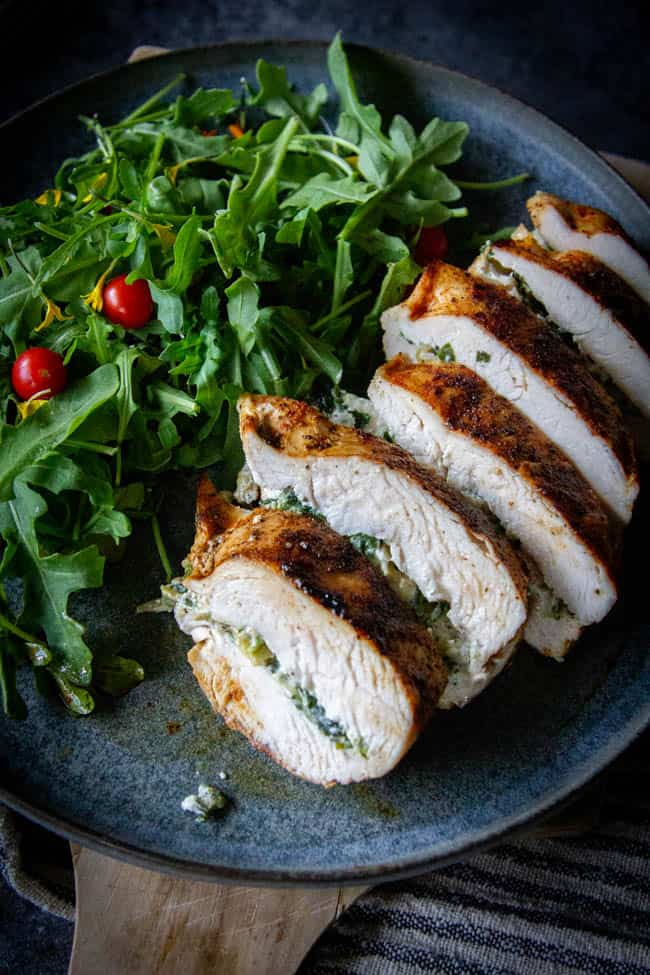 Artichoke and Spinach Dip Stuffed Chicken Breasts
On the day you make the dip, set aside 2 tablespoons of the unbaked Artichoke and Spinach Dip mixture per chicken breast that you plan to cook later in the week. Store the uncooked dip in an airtight container in the fridge for up to 3 days.
When ready to prepare the Artichoke and Spinach Dip Stuffed Chicken Breasts:
Slice boneless skinless chicken breasts through the middle, horizontally without slicing all the way through.
Carefully, pound the chicken out so that it is even in thickness.
Spread 2 tablespoons of the dip inside each chicken breast. Fold the halves over and seal the chicken breast along the outer edge with a few toothpicks to secure the dip inside the chicken while cooking.
Season the outside with salt, pepper, and paprika.
Sear until golden and cooked through to 165°F in a nonstick skillet over medium high heat, about 6 to 7 minutes per side depending on thickness.
More recipes that pair the flavors of artichoke and spinach together.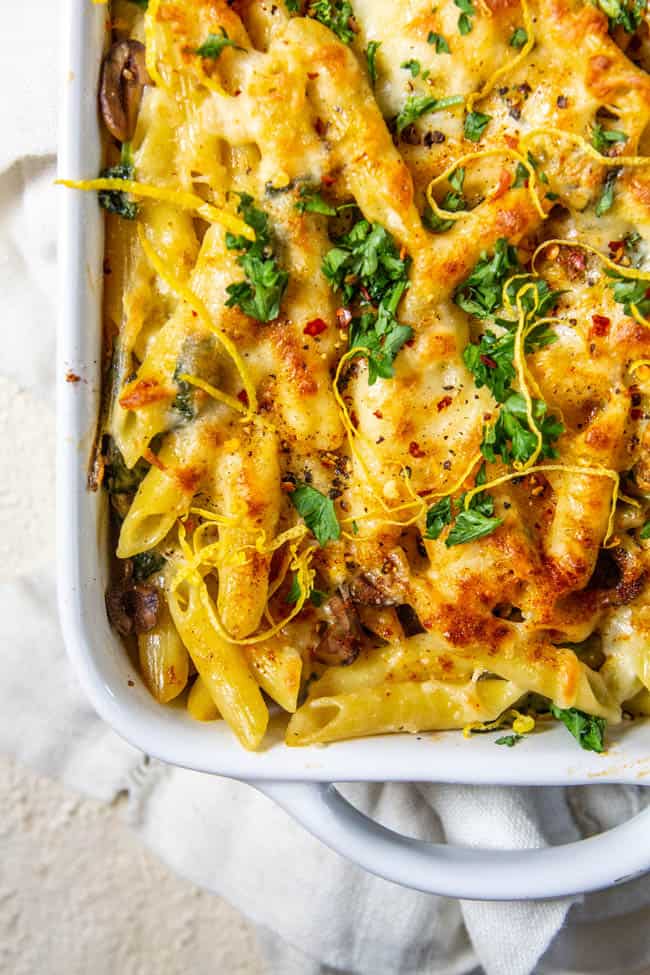 This pasta bake is filled to the brim with vibrant California Grown produce like garlic, onions, leafy greens, artichokes, green olives, and white wine! It's easy to make, and it effortlessly feeds a crowd. What more could you want from a pasta dish?!
This artichoke and spinach-inspired appetizer from Husbands that Cook is addictive to eat and dangerously easy to make too! It bakes in just 30 minutes, talk about a winner of a recipe.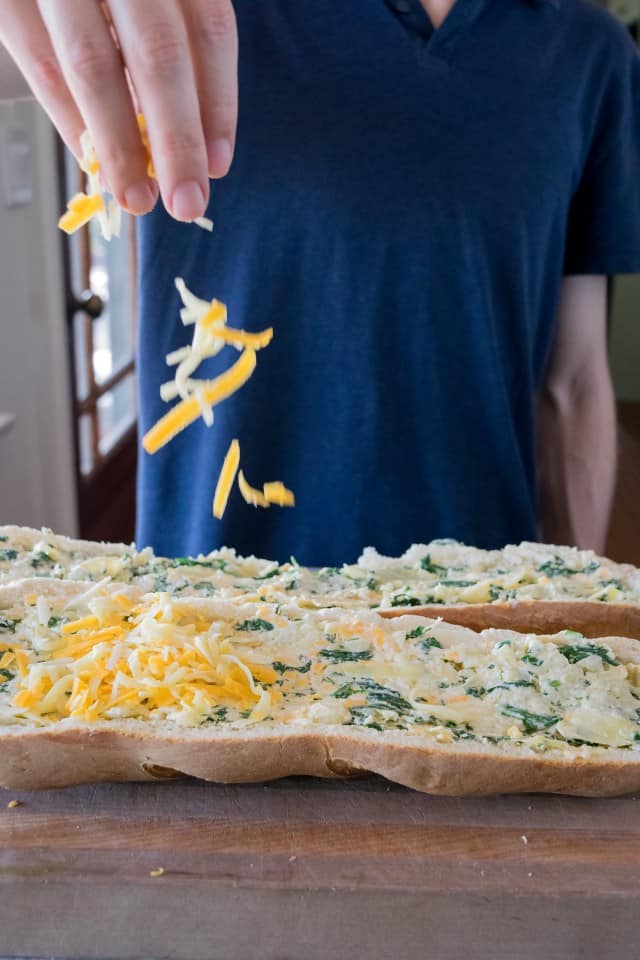 Share your Artichoke and Spinach Dip creations with us by snapping a pic and tagging us on social using #CAGROWN.
Craving more CA Grown goodness? Follow us on Pinterest for fresh and fabulous recipe inspiration!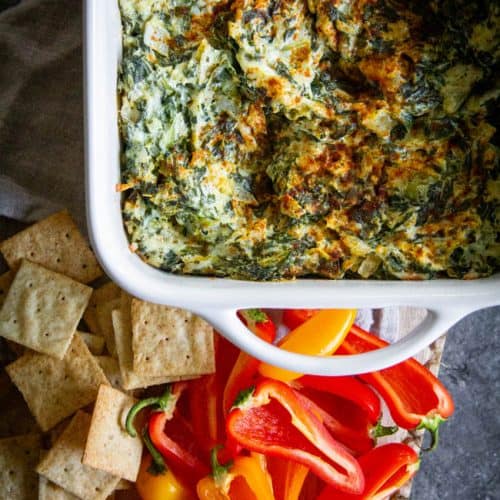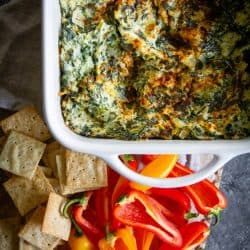 Artichoke and Spinach Dip recipe
This classic, creamy dip recipe is loaded with spinach, artichokes, sauteed onion, garlic and a mix of creamy cheesy ingredients that will make you weak in the knees.
Ingredients
2 tablespoons olive oil divided
1/2 yellow onion minced
1 (15-ounce) package frozen chopped spinach thawed, excess liquid squeezed out, see note
1 (14-ounce) can quartered artichoke hearts drained (see note), chopped
1 clove garlic or 2-3 cloves garlic confit grated if raw, smashed with a fork if confit
8 ounces cream cheese softened
1/4 cup sour cream
1/4 cup mayonnaise
2/3 cup finely shredded Parmesan or Romano cheese
1/2 cup finely shredded Mozzarella cheese
1 teaspoon coarse kosher salt divided
1/2 teaspoon coarsley ground black pepper more or less depending on taste
1/2 teaspoon paprika
Instructions
Preheat the oven to 350°F and grease a small 1 quart baking dish with 1 tablespoon of the olive oil set aside.

Heat the remaining tablespoon of olive oil in a non-stick skillet over medium heat. Add the minced onions and a small pinch of salt. Cook until softened and translucent, but do not brown. This will take about 3-5 minutes. Remove from the heat.

In a large mixing bowl, combine the cooked onions with the spinach and artichokes that have been squeezed dry. Set aside.

In a seperate bowl, combine the garlic, cream cheese, sour cream, mayonnaise, and cheeses. Season with the salt and black pepper and stir to combine completley.

Mix the prepared vegetables with the cheese mixture until incorportaed then spread the mixture into the prepared baking dish. Sprinkle paprika across the top.

Bake for 25-30 minutes until heated through.

Serve with chips, crackers, or your favorite veggie dippers.
Notes
To easily squeeze the liquid from frozen spinach and artichokes: Place the ingredients in the center of a clean tea towel or something similar. Gather the edges to close the ingredients inside and then begin to twist the ends together so that the liquid from the spinach and artichoke are forced through the tea towel as you tighten. Squeeze until little to no liquid comes through.
Click here to view the Google Web Story for this post.
Frequently asked questions about leafy greens.
What leafy greens are grown in California?
Collard greens, kale, arugula, spinach, mustard, and Swiss chard are just a few of the leafy greens that are grown in California. California produces approximately 90% of the leafy greens grown in the United States.