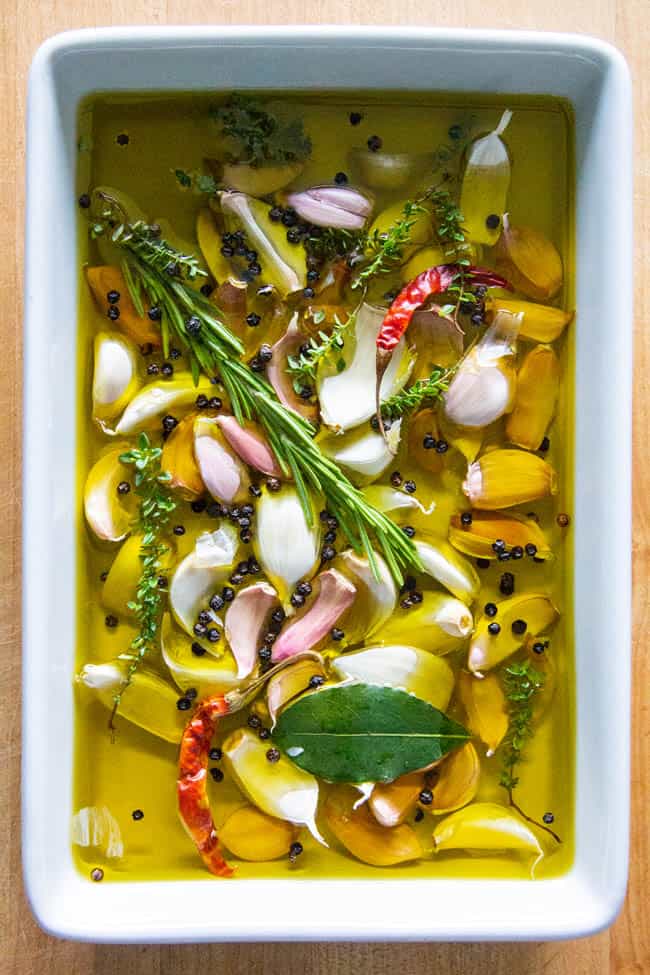 CA GROWN Blog
Discover. Learn. Connect.
How to Make and Use Garlic Confit
August 17, 2021
Eat the Season!
Sign Up For Weekly Recipes
« Back to Recipes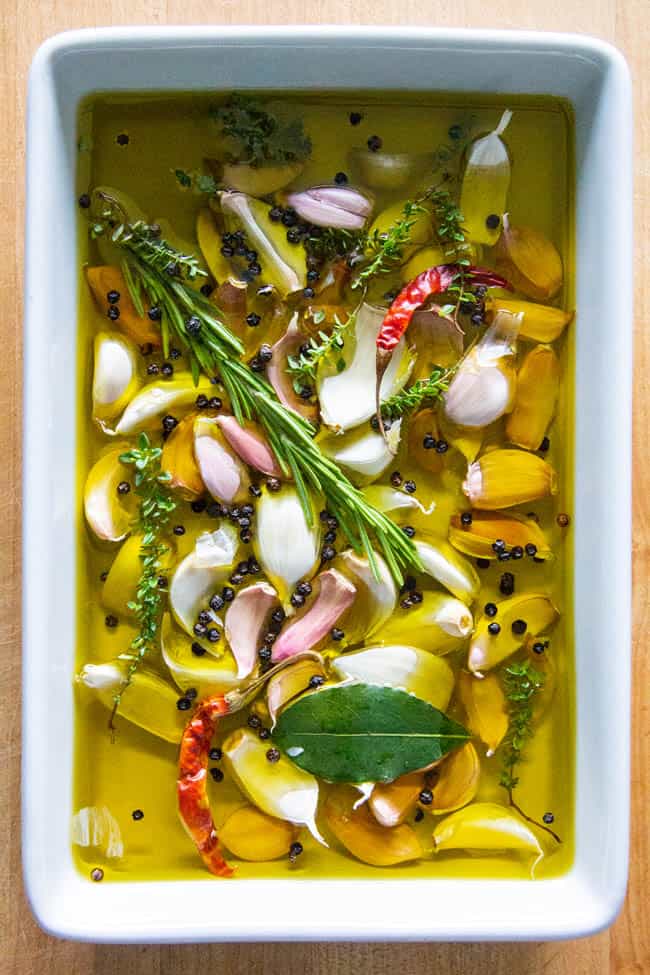 How to Make and Use Garlic Confit
Have you ever found yourself with a surplus of fresh garlic? Make garlic confit! After a slow cook in olive oil at low heat, fresh garlic cloves transform and become as soft and spreadable as warm butter with a mellow garlicky flavor that is good on practically anything!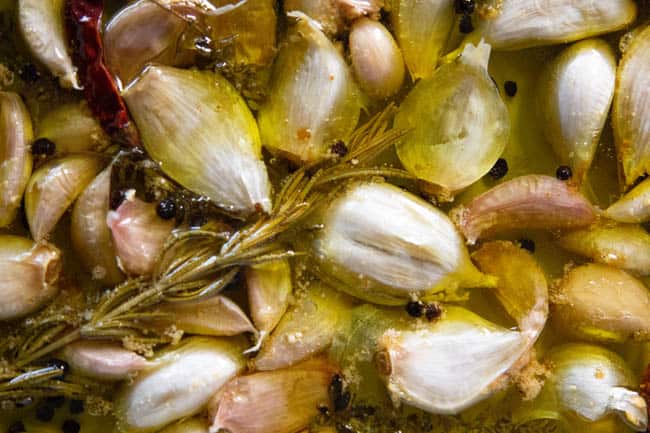 Garlic is always in season in California which means it's always a good time to make garlic confit!
What is garlic confit?
To confit is a French cooking technique that involves submerging and cooking food, whether it be garlic cloves or duck legs, in fat, over low heat, for a long period of time. While you could use a variety of different fats for this purpose we are partial to olive oil from California!
How to make garlic confit in 3 simple steps.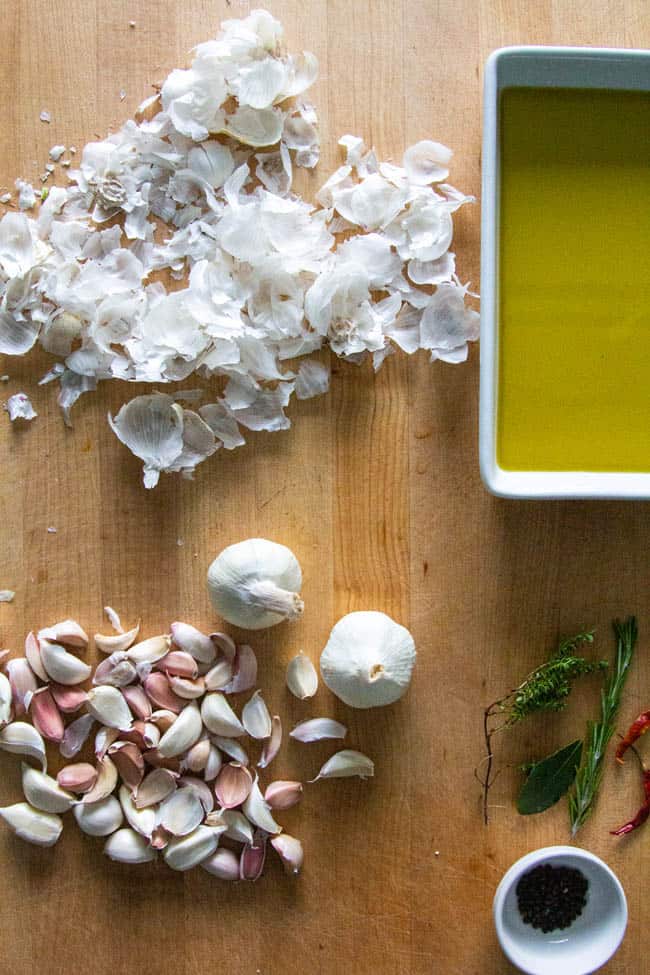 Break down the heads!
Save your fingertips and whack the top of the entire bulb of garlic with the flat side of a Chef's knife. With just a little bit of force, the bulb will fall apart and reveal its treasure trove of cloves to you.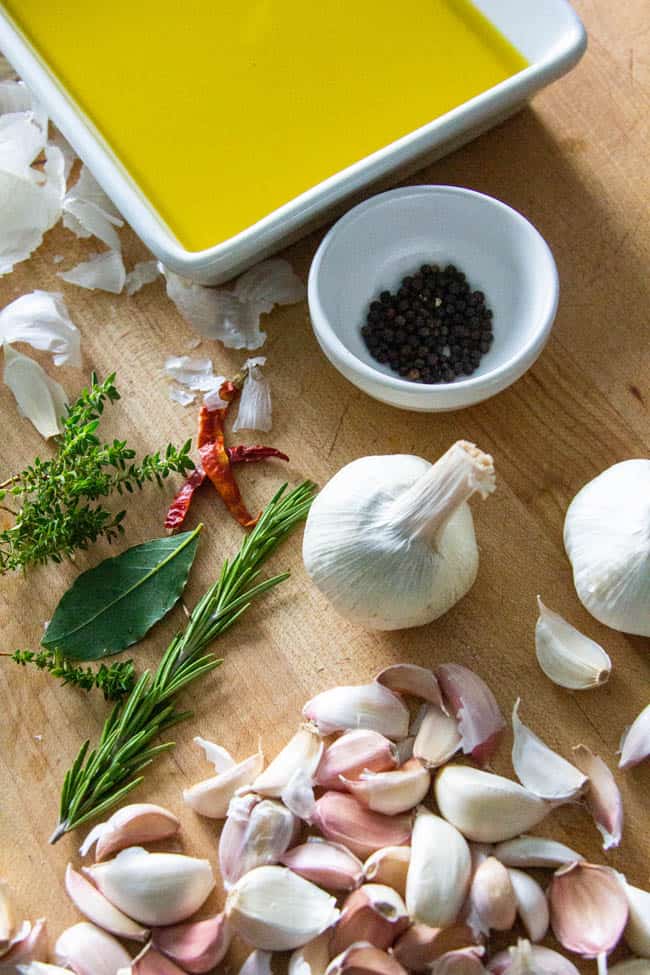 Assemble the ingredients.
A small ceramic or glass baking dish is perfect for this purpose. You want the cloves of garlic to remain submerged in oil throughout the cooking process.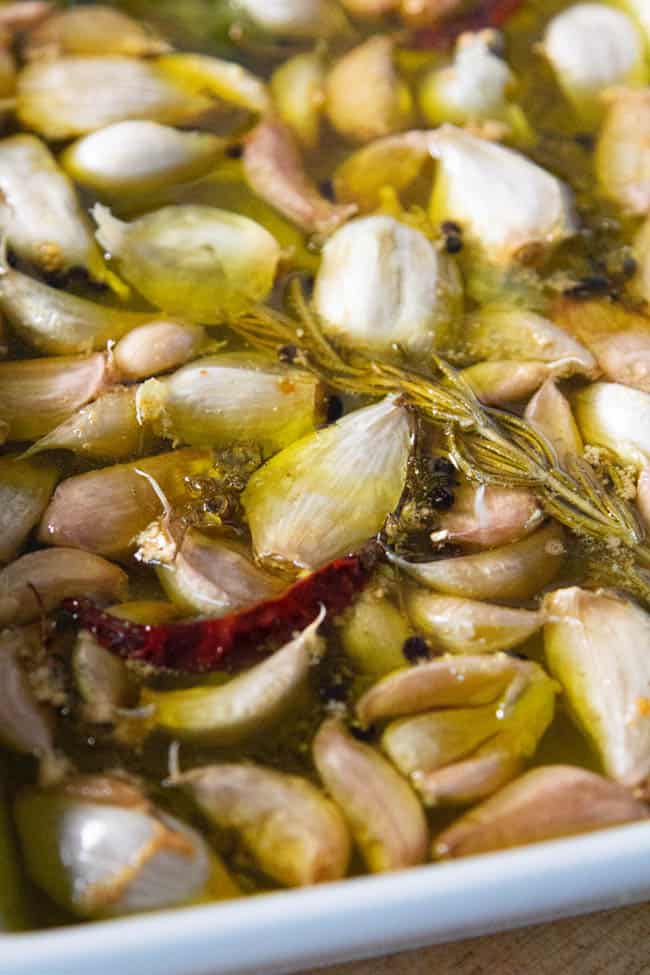 Bake to perfection!
It takes about 60-75 minutes at 250°F for garlic cloves to become cooked through and softened. Once cooked through they can easily be slipped or squeezed out of their peels whenever you need one for a recipe or a snack.
No muss, no fuss.
What is the safest way to store garlic confit?
Is garlic confit safe to eat? Well, yes! But, then I guess it could be a no if it was stored improperly.
It is safe as long as you handle it properly and consume it within a reasonable timeframe. Never, under any circumstances, should it be stored at room temperature. Garlic in oil mixtures stored at room temperature provide an ideal environment for botulism to grow and produce toxins that can make you very ill.
Chilling the confit quickly after cooking and storing it in the refrigerator is the safest way we know: at temps under 38°F (3°C), the dangerous toxins form much more slowly, which will give the confit a longer shelf life. You should be able to keep your garlic confit for up to a week or two in the fridge with no trouble.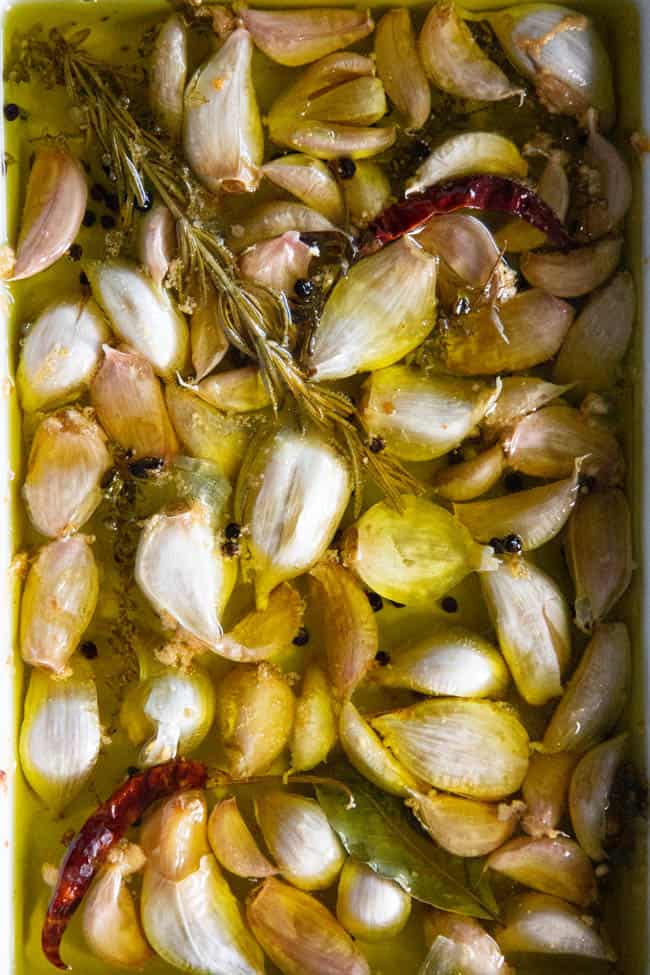 Now that you have a big, lovely jar of those jammy cloves you need ideas for using them and boy do we have a few!
A spread on toast
Mixed into ricotta with fresh herbs for lasagna or stuffing shells.
Tossed with garlic oil and Romano cheese.
Blended into salad dresing with some of the infused garlic oil.
Mixed into softened, salted butter
See where we are going here? There are a bazillion uses and reasons for keeping an ingredient like garlic confit on hand at all times!
Want to confit more vegetables? Give tomatoes a try!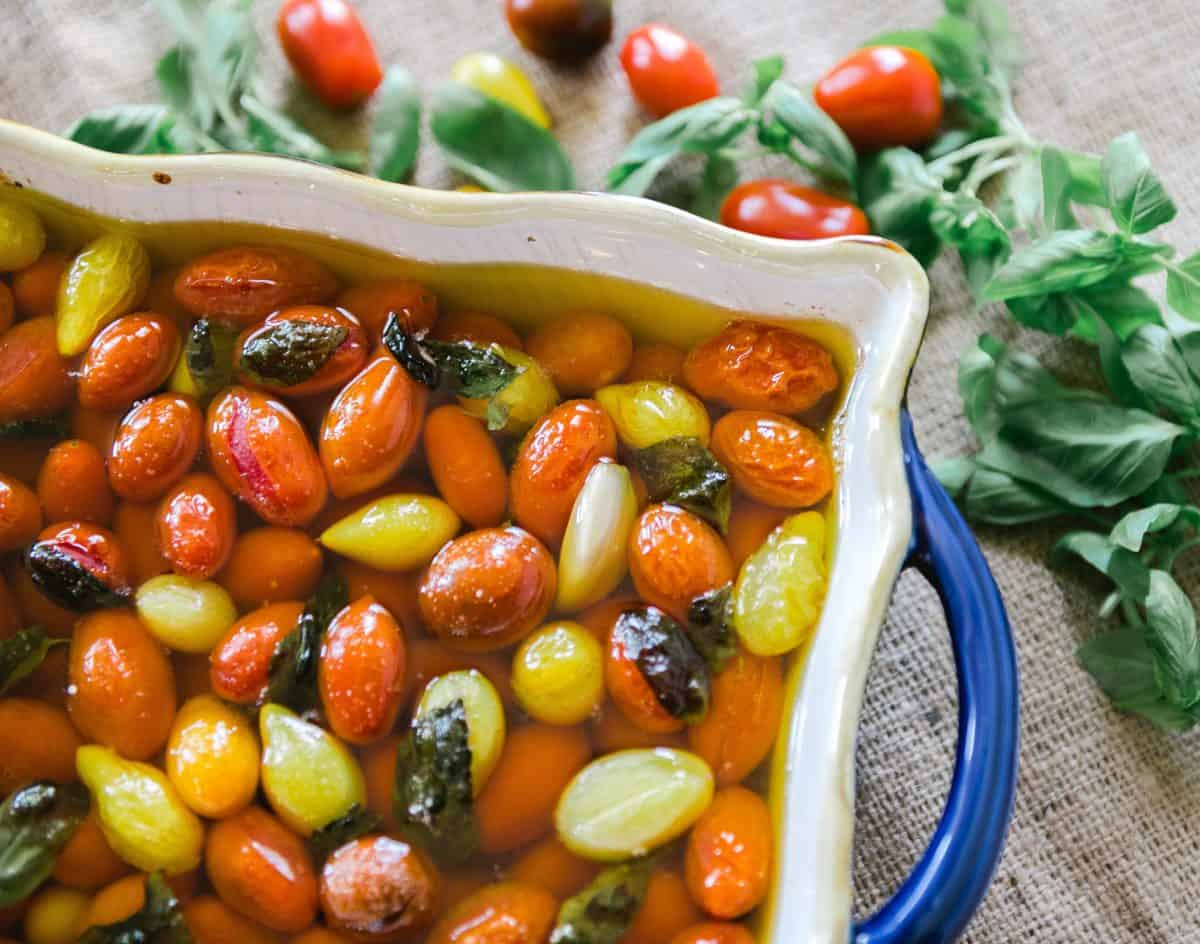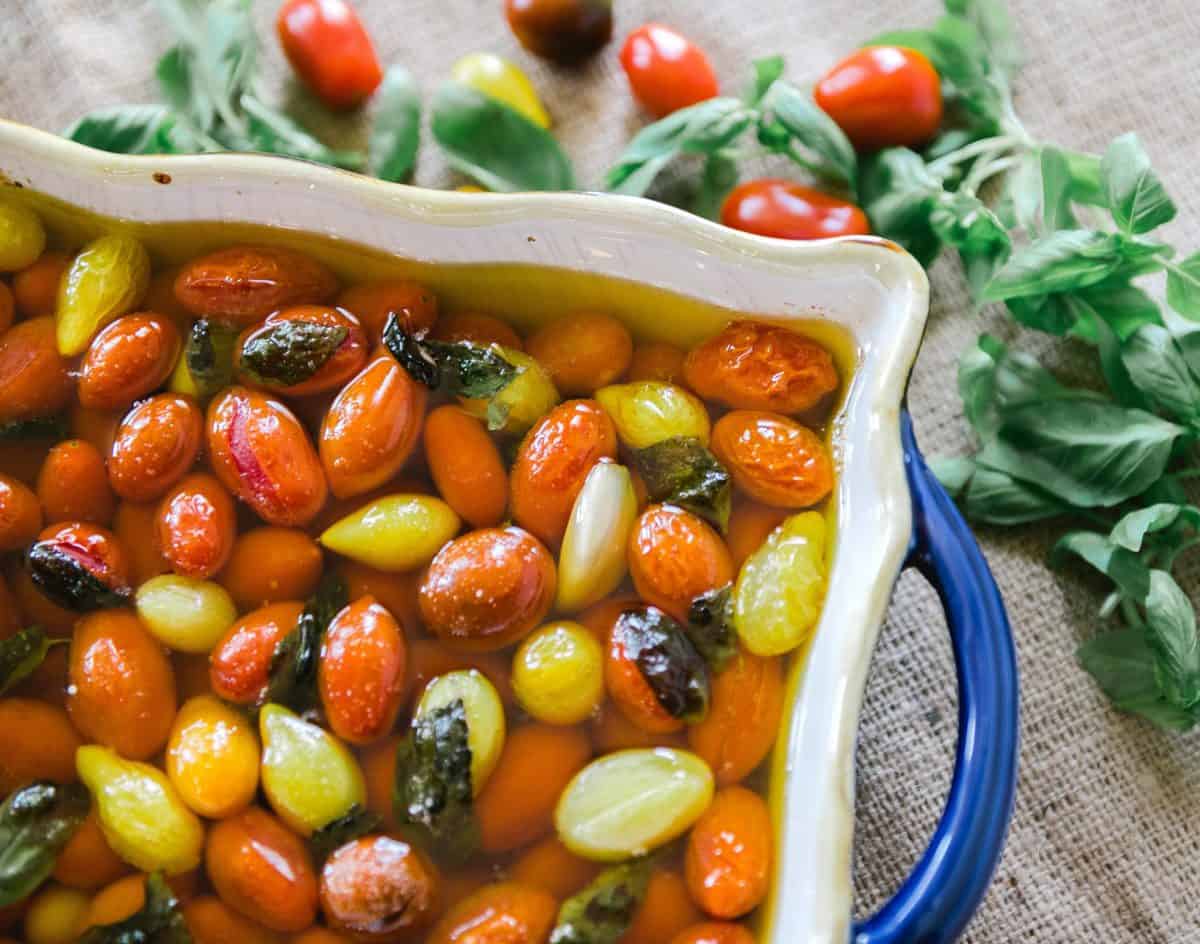 If you like this recipe just wait until you try this cooking technique with tomatoes! This recipe was shared with us by Teri of No Crumbs Left and it has quickly become a summertime classic.
Did you make this recipe? Show us your creations by snapping a pic and tagging us on social using #CAGROWN.
Craving more CA Grown goodness? Follow us on Pinterest for fresh and fabulous recipe inspiration!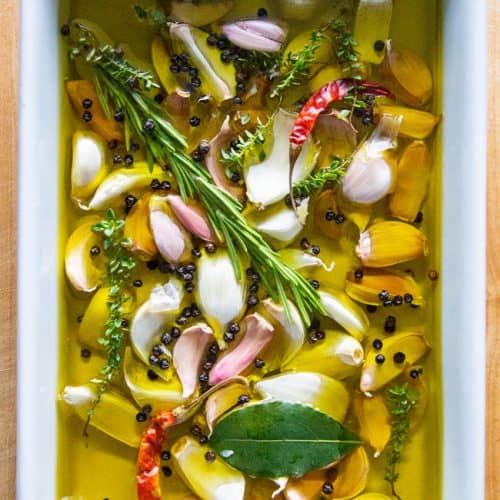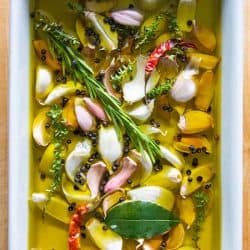 Garlic Confit
A slow cook in olive oil at low heat with herbs and spices transforms fresh garlic cloves into soft and spreadable cloves of garlic confit!
Ingredients
Instructions
Prehehat the oven to 250°.

In a small baking dish combine the garlic cloves with the oil, herbs, dried chiles if using, and spices.

Cover with foil and bake until garlic is tender, 60–75 minutes. The garlic is done when the cloves easily pop out of the cloves when squeezed and are soft and jammy.
Frequently asked questions about garlic.