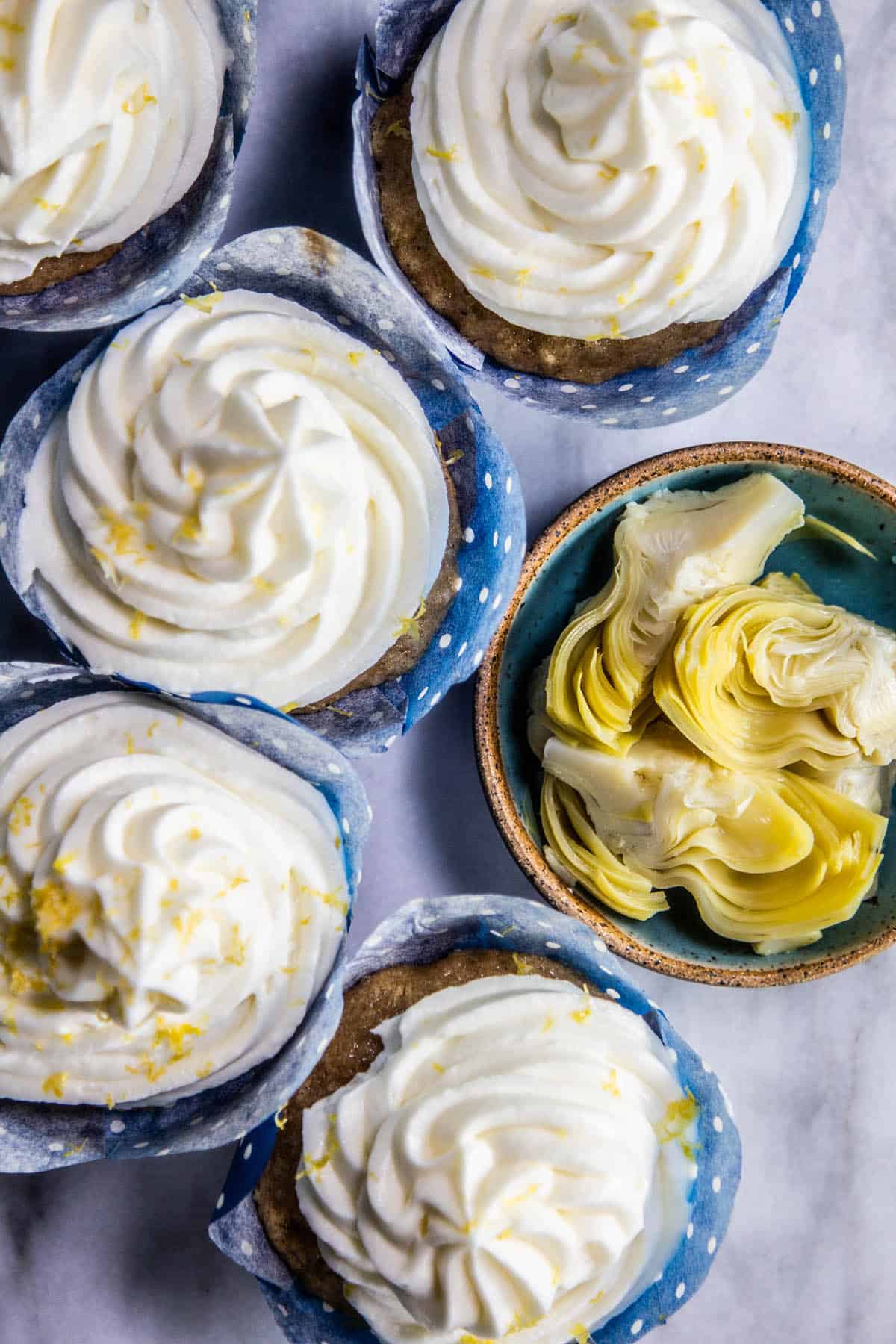 CA GROWN Blog
Discover. Learn. Connect.
An Easy Canned Artichoke Recipe; Lemon-Laced Artichoke Cupcakes
September 13, 2022
Eat the Season!
Sign Up For Weekly Recipes
« Back to Recipes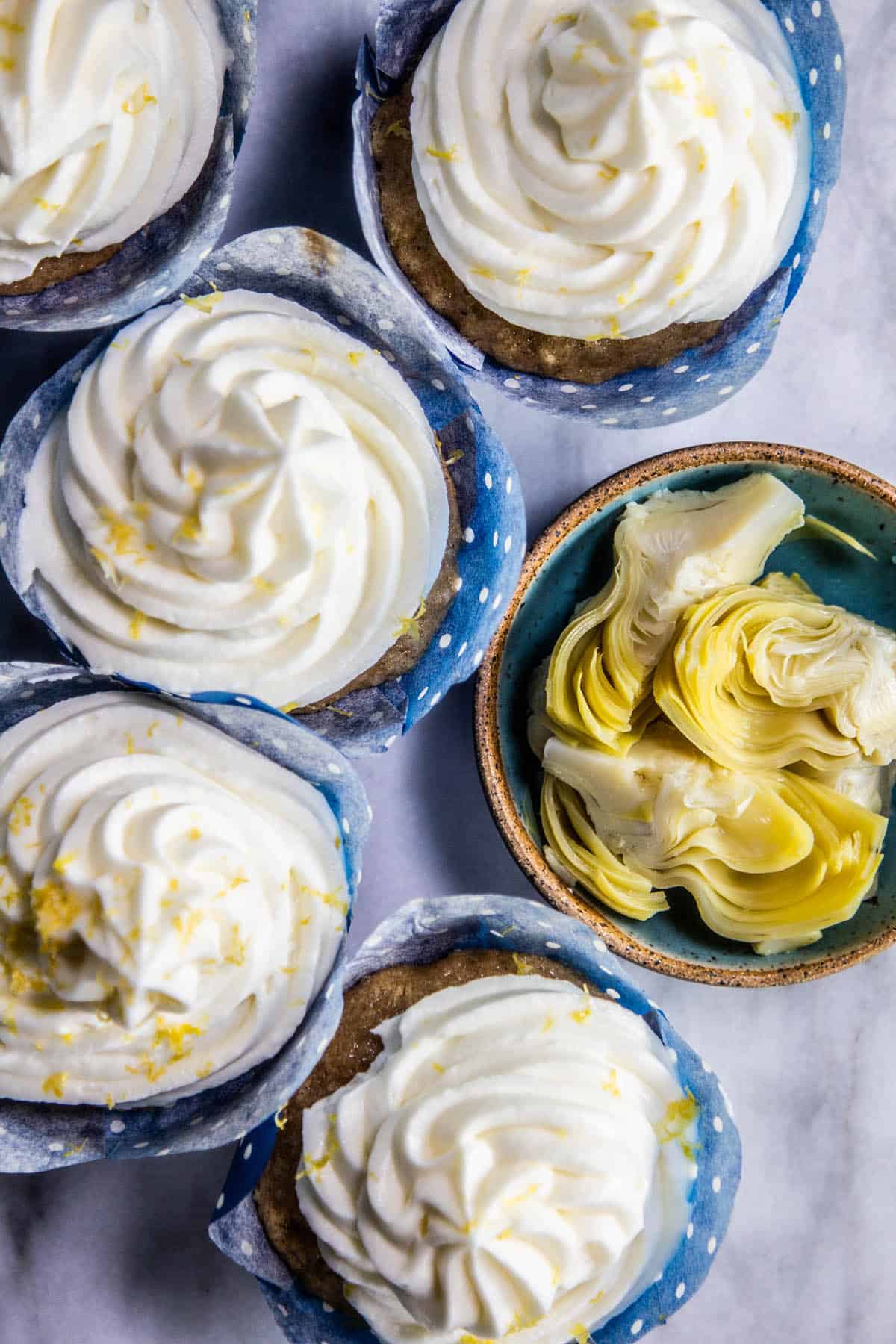 An Easy Canned Artichoke Recipe; Lemon-Laced Artichoke Cupcakes
I bet when you have searched for a canned artichoke recipe in the past you weren't necessarily thinking about dessert. But, it turns out canned artichoke hearts that are packed in water are the perfect, unexpected ingredient in our latest cupcake recipe. Be prepared to be wowed again by California artichokes!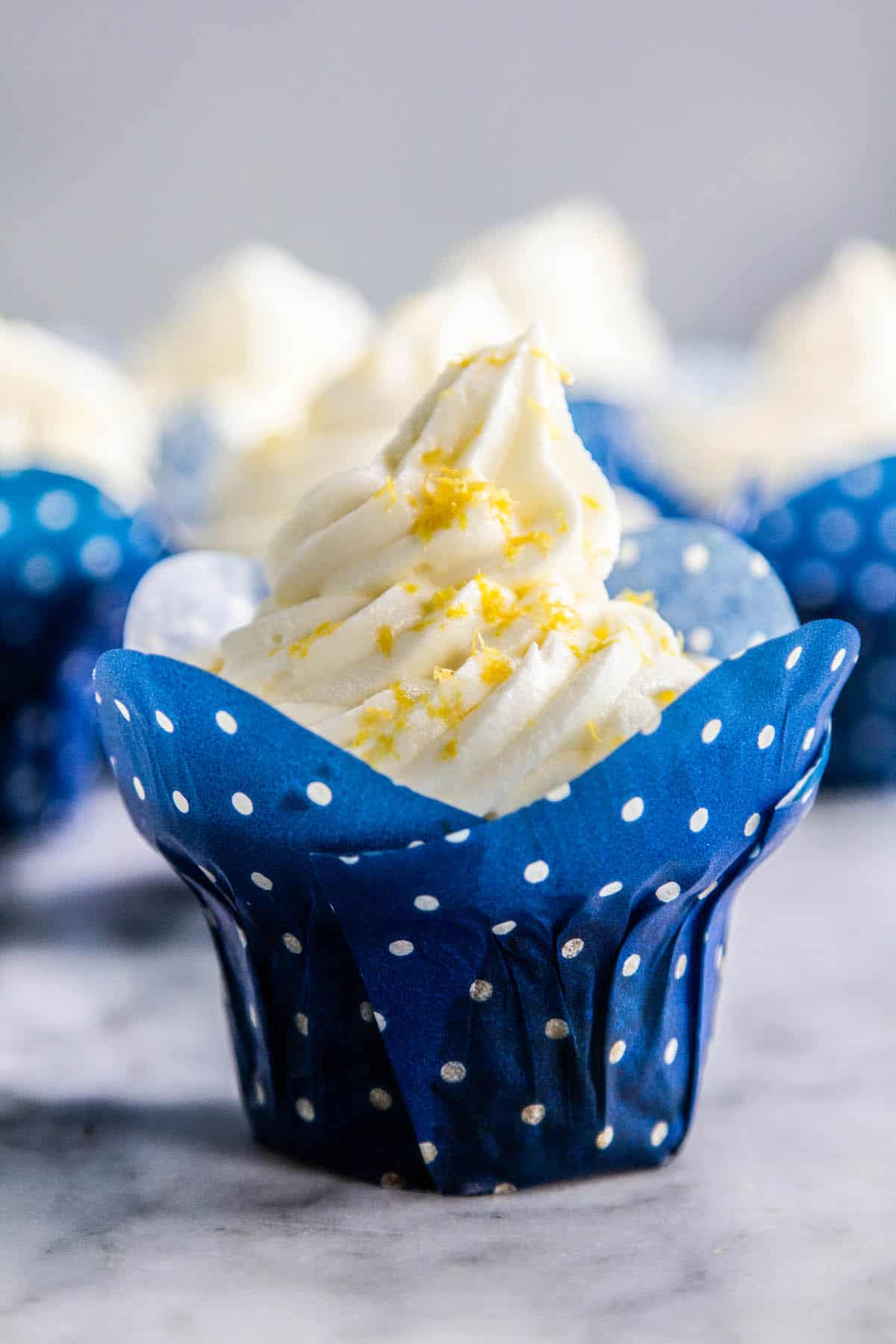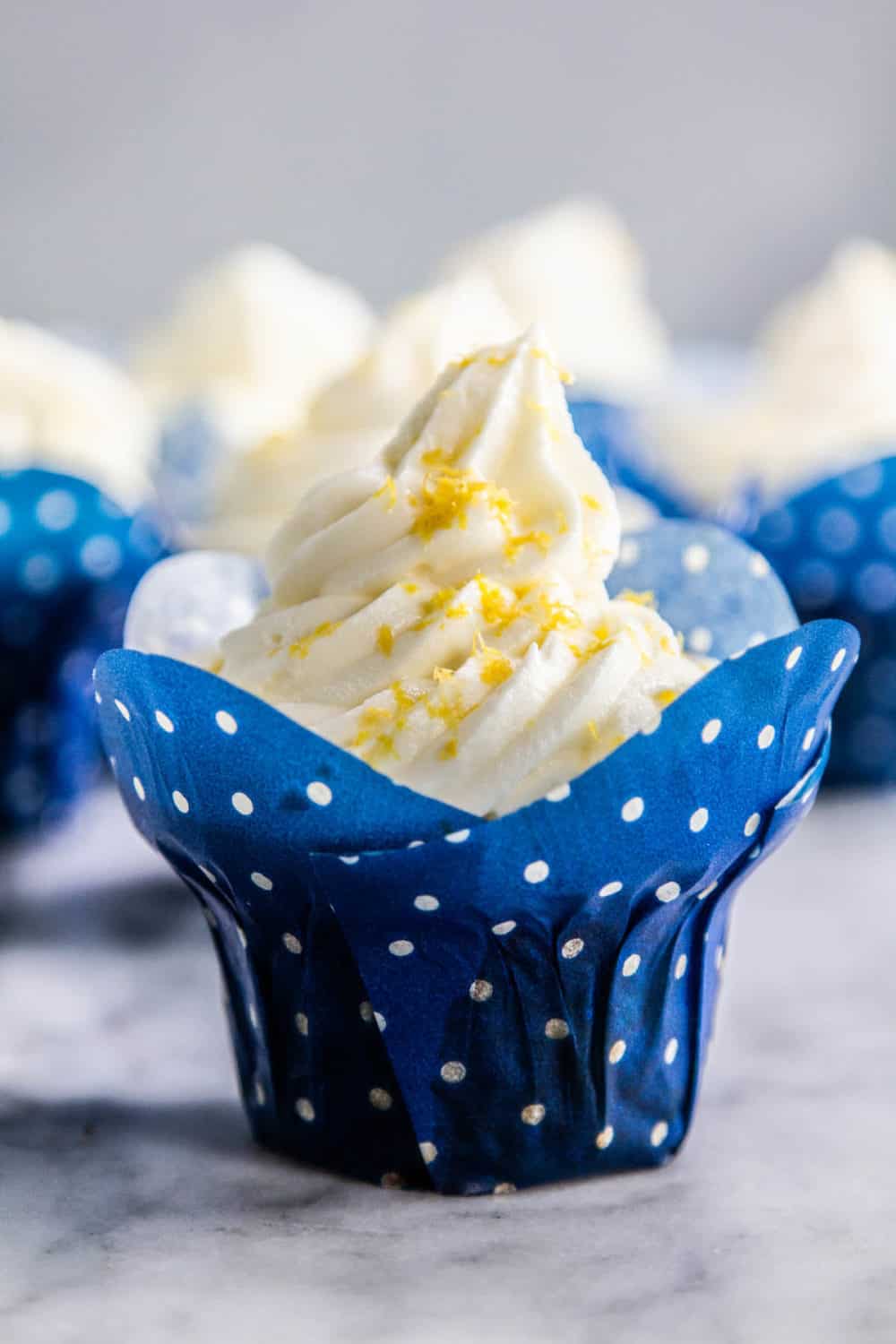 Think about it, lots of unexpected vegetables have had their time in the dessert spotlight. The internet is packed with recipes for Zucchini Bread and Carrot Cake. Why not artichokes?
Where did artichoke cupcakes originate?
Believe it or not, artichoke cupcakes are an iconic California recipe that was first popularized by the roadside farm stand at Pezzini Farms in Castroville, California just off of Highway 1. You can learn all about Pezzini's by reading our article below.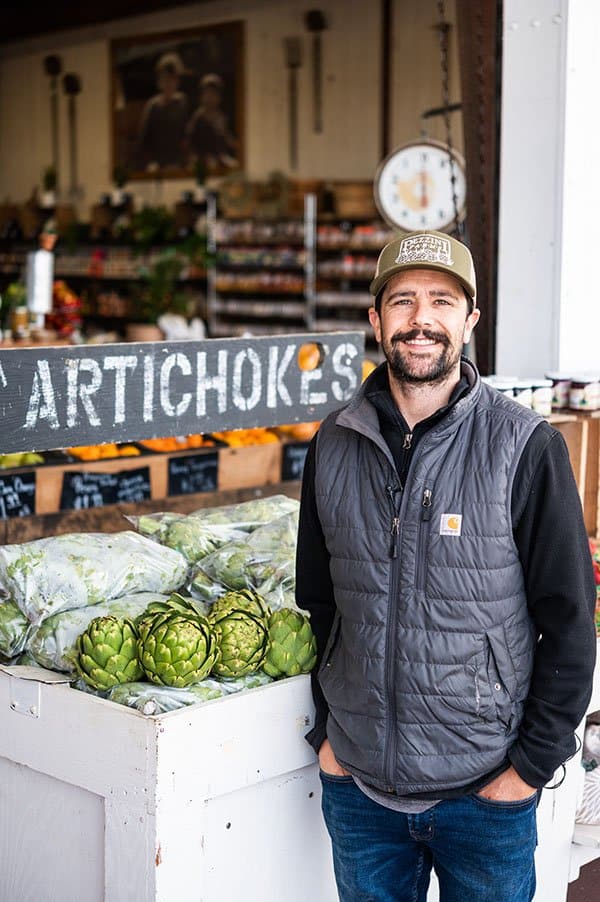 Recently, we had the pleasure of meeting Sean Pezzini, 4th generation artichoke farmer at Pezzini Farms in Castroville, California.
He shared with us the story of how their family's heirloom artichokes were brought here from Italy by his great-grandfather.
Will the tradition continue with his 1 1/2 -year-old son Luca? Only time will tell, but our bets are that all signs point to yes!
After visiting Pezzini's and scoring a few artichoke cupcakes for ourselves we were hooked! I shared one of their artichoke cupcakes with our friend Becky Sue of Baking the Goods and she too was in awe of how delicious they were. They were moist and delicate with a subtle spice – darn near cupcake perfection!
Those cupcakes were so perfect in fact that Becky was inspired to make her own version of this dessert which you can see below! We just LOVE how she designed the pattern in the icing to look like an artichoke flower.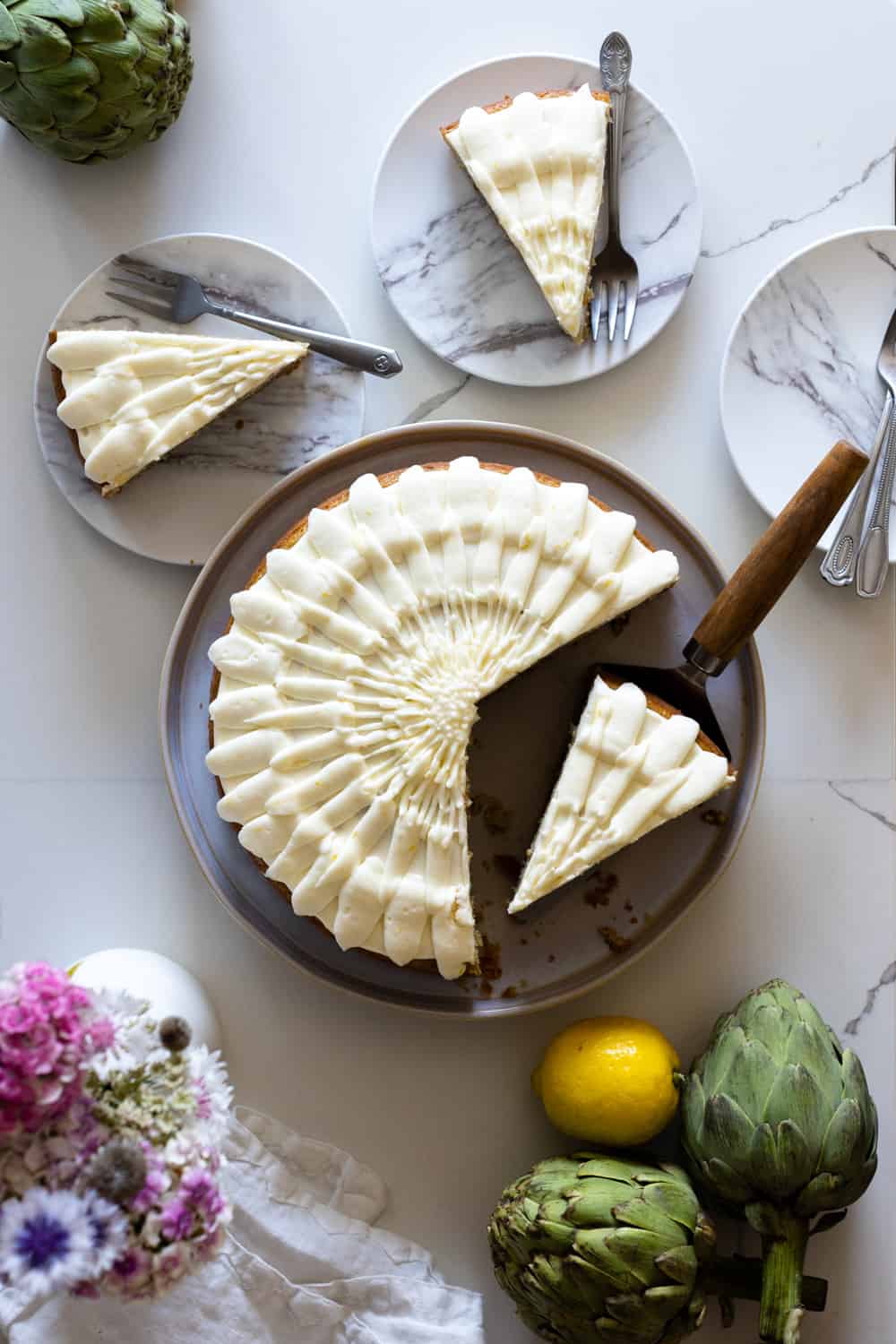 This cake from Baking the Goods is a trifecta of California-grown flavors that work so well together.
Becky's cake has a hint of warm ginger, a bit of sweetness, and the creamiest, dreamiest lemon cream cheese frosting adorning the top in a beautiful blooming artichoke design.
How do you eat canned artichokes?
There are lots of ways to eat canned artichokes! You can chop them up and add them to salads, toss them with pasta, or bake them in cupcakes all with great success.
A quick Google search will reveal that there are far more savory canned artichoke recipes out there than sweet. Here are a few savory canned artichoke recipes we think you should try.
Savory recipes with canned artichoke hearts.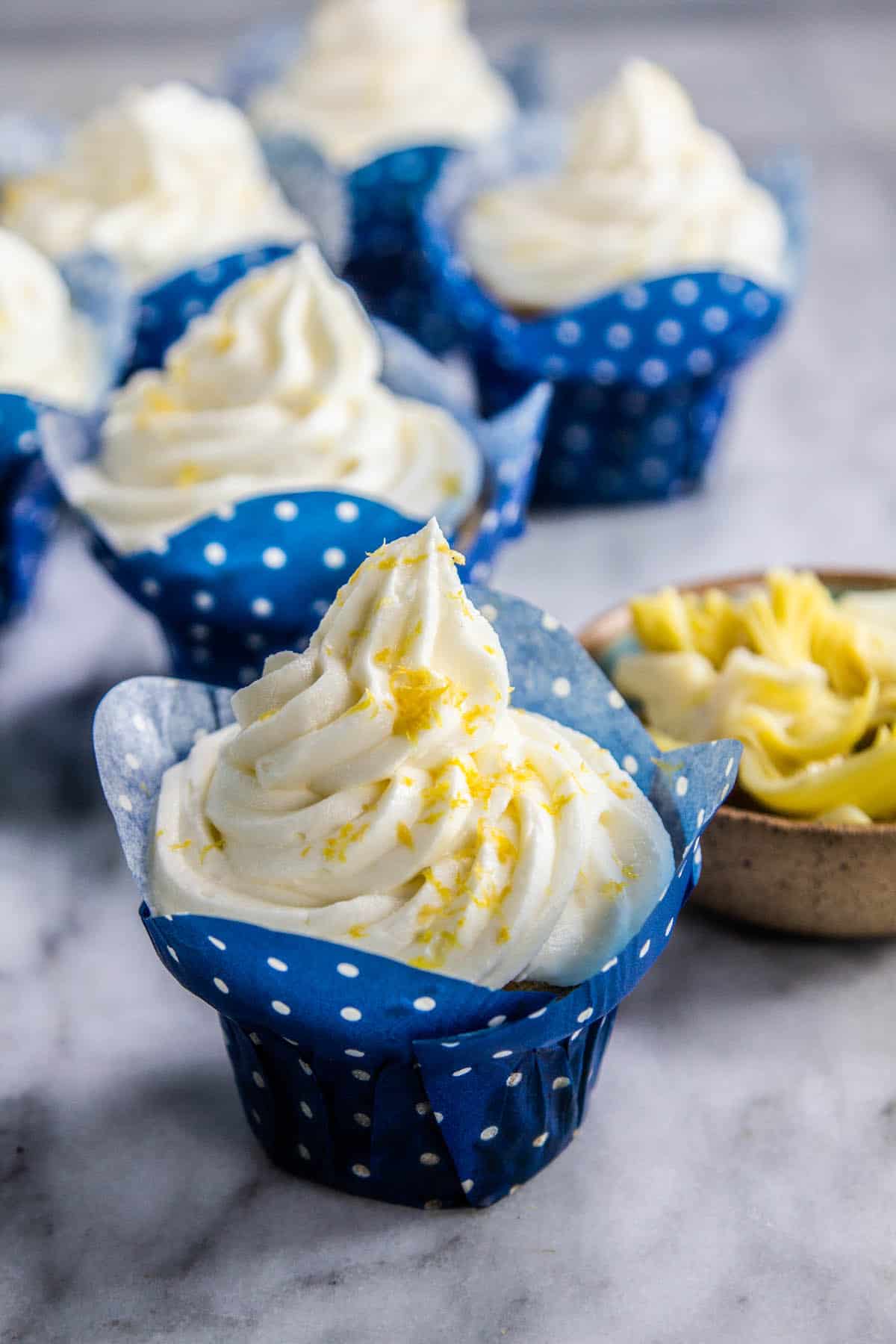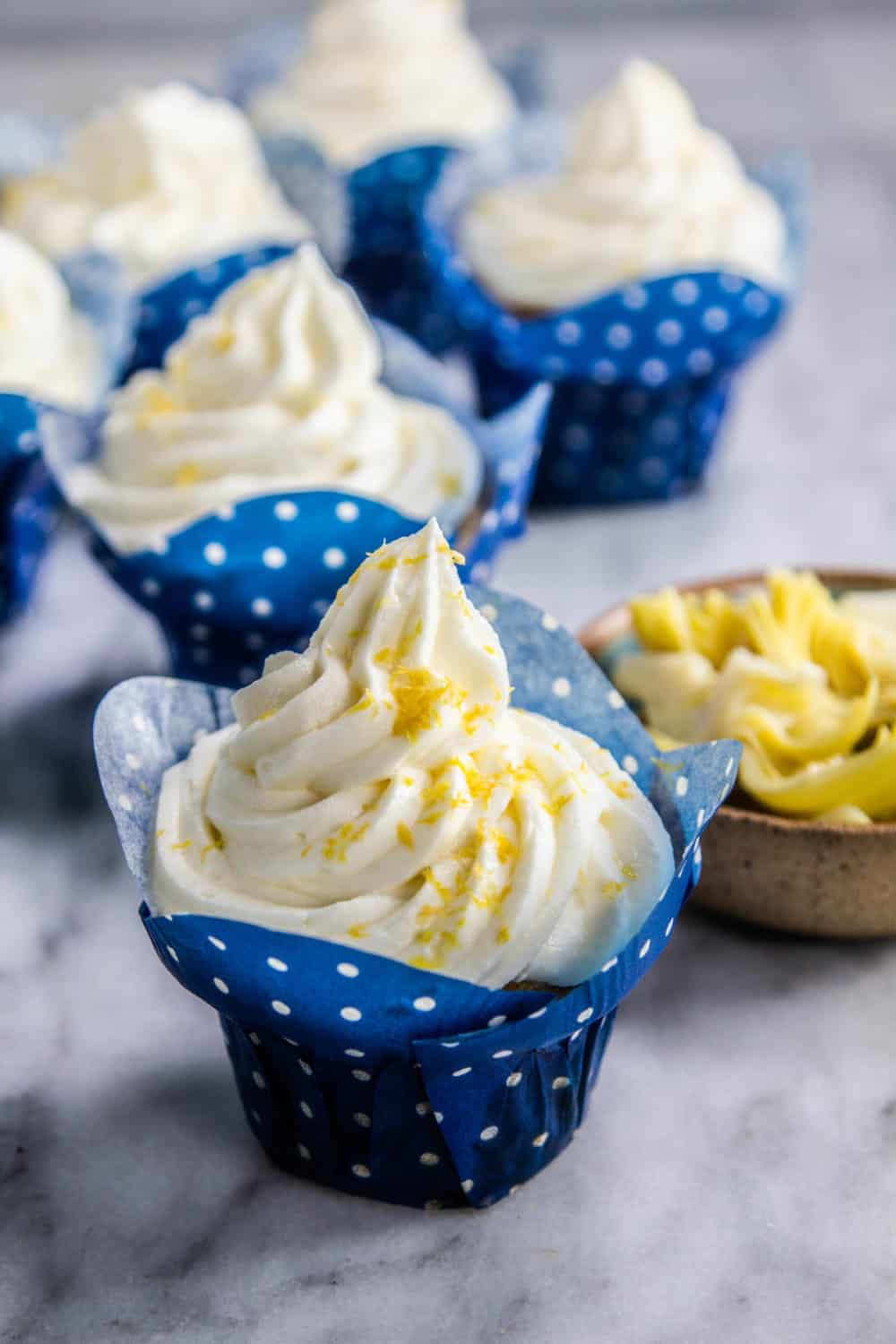 What ingredients are needed to make this canned artichoke recipe?
This California canned artichoke recipe may be unexpected, but man are they addictive once you take that first bite! Our artichoke cupcakes are easy to make and taste light, lemony, & delicious.
Since canned artichokes from California are available year-round, you can make these cupcakes any time your heart desires no matter the season.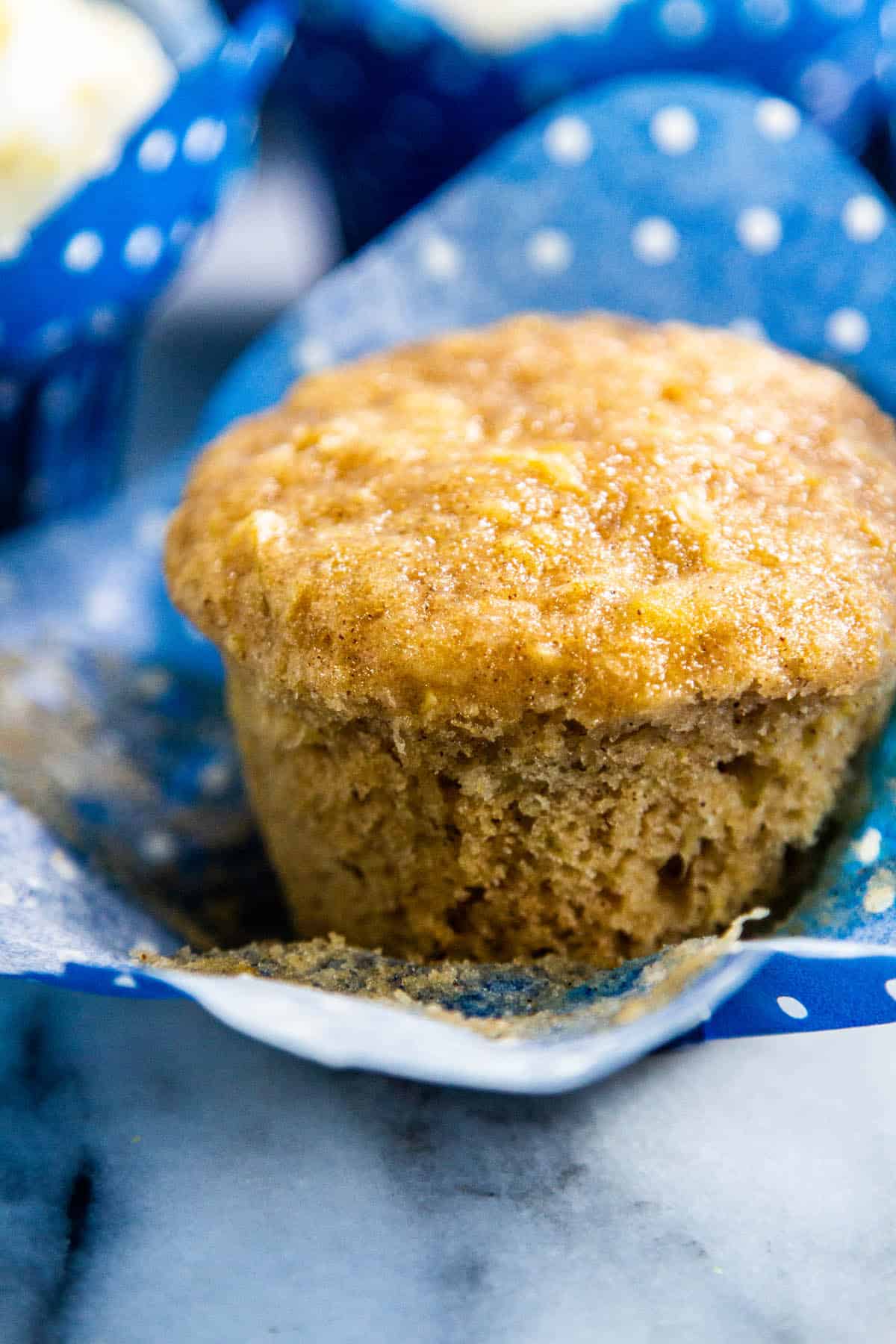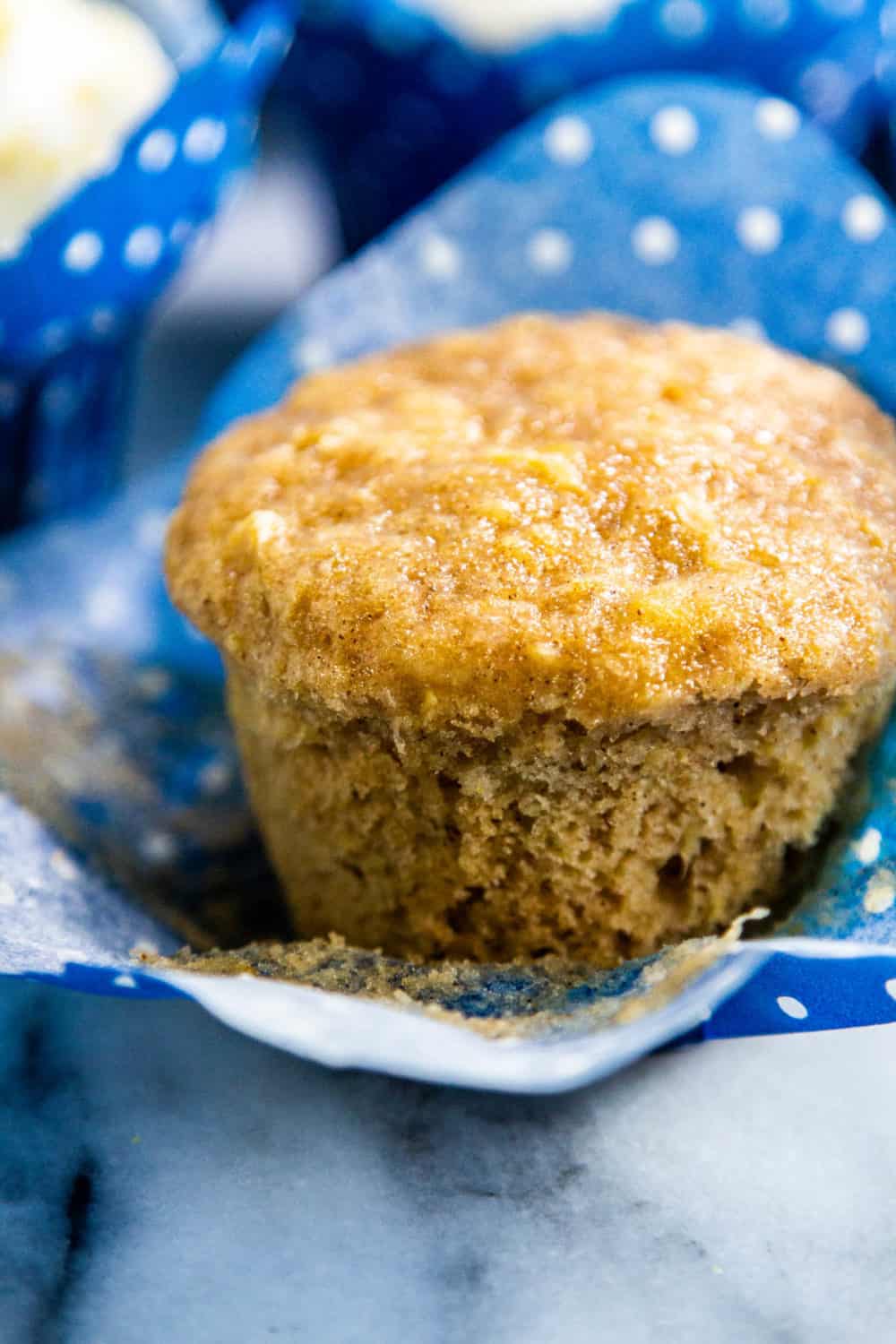 The ingredient list for Lemon-Laced Artichoke Cupcakes
Canned artichoke hearts packed in water
eggs
vanilla
oil
lemon zest & juice
granulated & brown sugar
baking powder
baking soda
salt
cinnamon
cardamom
Hungry for more iconic California recipes? Download our FREE e-book!
We teamed up with California Wines and Visit California to celebrate California Wine Month. We created a free e-book titled Iconic California Dishes to Celebrate California Wine Month and we can't wait for you to download your copy!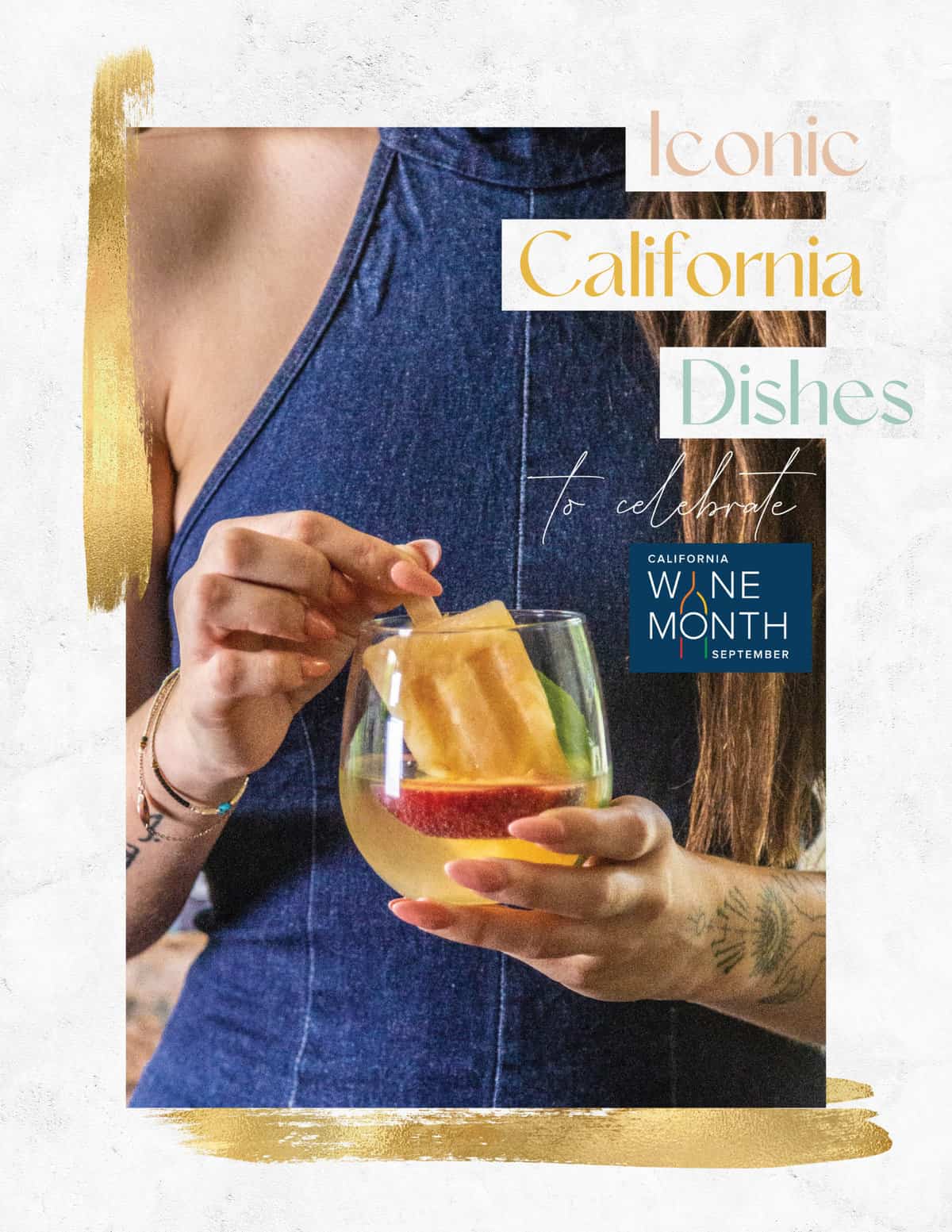 This e-book features recipes for dishes that evoke the state's sunny and relaxed vibe—all paired with California wine and creative, wine-based cocktails.
Bring harvest home with recipes like Avocado Salad with Hidden Valley Ranch-Style Dressing; Wine Country Chicken Salad; and the California 75, our classic wine-based lemon cocktail with a literal and figurative twist.
Check out some of the delicious iconic California dishes featured in our e-book below!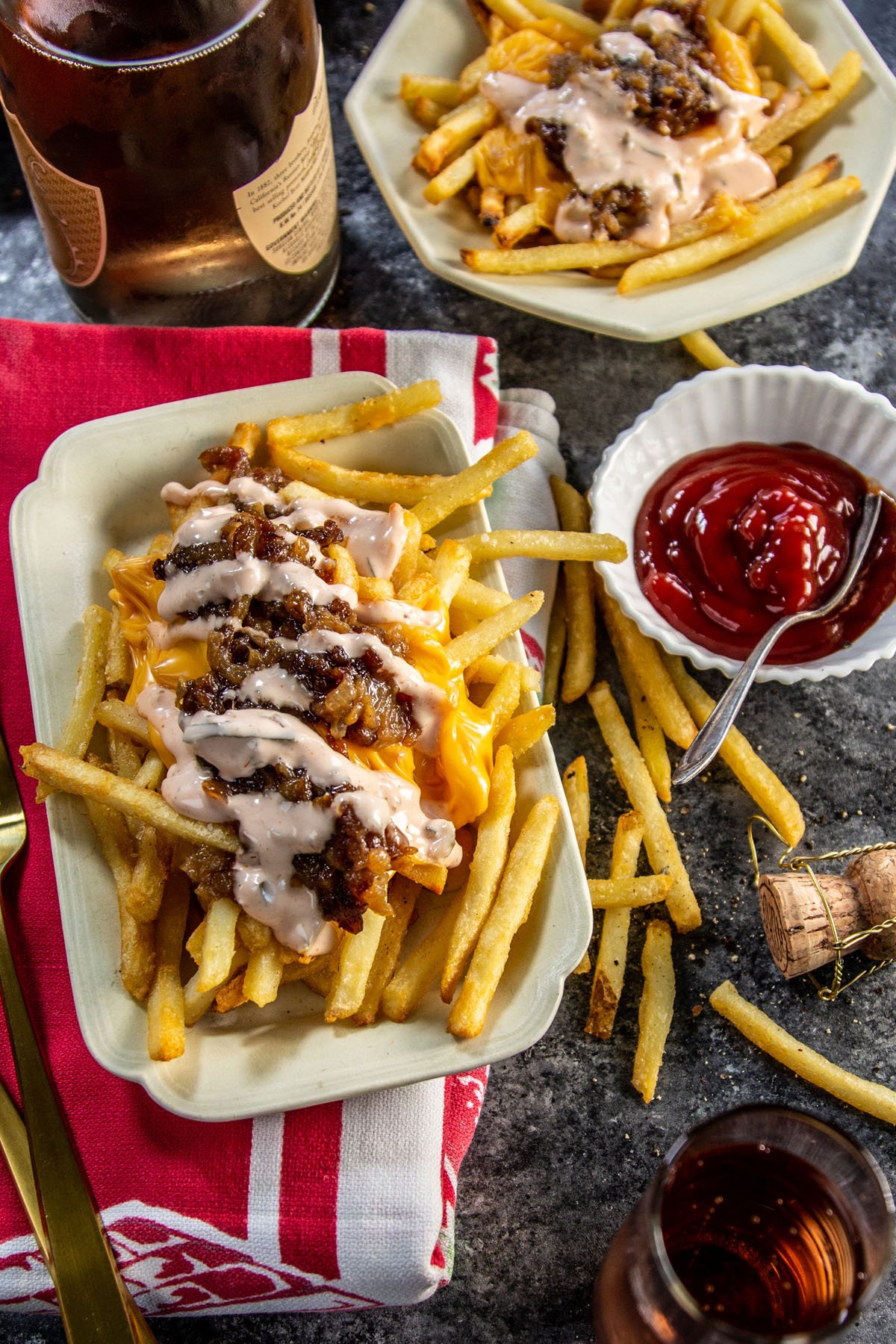 BE SURE TO SHARE YOUR CANNED ARTICHOKE RECIPE CREATIONS WITH US BY SNAPPING A PIC AND TAGGING US ON SOCIAL USING #CAGROWN.
Craving more CA Grown goodness? Follow us on Pinterest for fresh and fabulous recipe inspiration!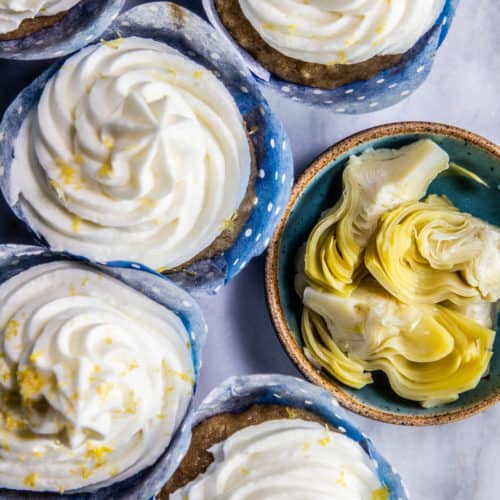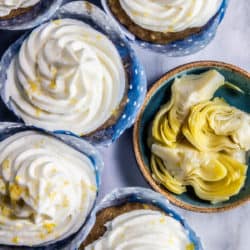 Lemon-Laced Artichoke Cupcakes
Our artichoke cupcakes are quick and easy to make with no special equipment needed! Canned artichokes really shine in these subtly spiced cupcakes with cream cheese frosting. If you prefer more of a muffin-style treat, simply omit the cream cheese icing. The spiced artichoke cupcake is equally as delicious on its own as breakfast as it is iced as dessert.
Ingredients
For the Lemon-Laced Artichoke Cupcake Batter
1 cup canned California artichokes packed in water, drained and rinsed, patted dry.
2 eggs
1 teaspoon vanilla extract
1 lemon, zested, and juiced
2 tablespoons water
1/4 cup canola oil
1/2 cup granulated sugar
1/2 cup light brown sugar
1 1/3 cup all-purpose flour, sifted or gluten free all-purpose flour, sifted
1/2 teaspoon baking powder
1/2 teaspoon baking soda
3/4 teaspoon coarse kosher salt
3/4 teaspoon ground cinnamon
1/4 teaspoon ground cardamom
For the optional Cream Cheese Icing
1/2 cup salted butter, softened
8 ounces cream cheese brick-style, not spreadable, softened
1 teaspoon vanilla extract
1/4 teaspoon coarse kosher salt
3 1/2 cups powdered sugar
lemon zest for garnish
Instructions
To make the Lemon-Laced Artichoke Cupcake
Preheat the oven to 350°F and line a muffin with liners. This recipe will make 1 dozen standard cupcakes or 10 large cupcakes

Finely mince the canned artichoke hearts into very small uniform pieces. Set aside.If desired, you can do this in a food processor fitted with the 'S' blade.

In a large bowl whisk together the eggs, vanilla extract, lemon zest, lemon juice, water, and oil.

In another bowl whisk together the flour, granulated sugar, brown sugar, baking powder, baking soda, salt, cinnamon, and cardamom.

Mix the wet ingredients into the dry ingredients, whisking to combine. Then gently fold in the minced artichokes with a spatula until they are completely incorporated into the batter.

Fill the prepared muffin tins with the batter then transfer to the preheated oven to bake for 20-25 minutes.

Once the muffins are baked through, transfer them to a wire rack to cool completely.
To make the optional Cream Cheese Icing
In the bowl of a stand mixer fitted with the paddle combine the softened butter and cream cheese. Beat until creamy, well-combined, and lump-free.

Add vanilla extract and salt, mix to combine.

With the mixer on low, gradually add the powdered sugar until completely combined.

Frost cupcakes as desired.
Nutrition
Calories: 543kcalCarbohydrates: 79gProtein: 5gFat: 24gSaturated Fat: 11gPolyunsaturated Fat: 2gMonounsaturated Fat: 8gTrans Fat: 0.4gCholesterol: 80mgSodium: 665mgPotassium: 84mgFiber: 1gSugar: 63gVitamin A: 637IUVitamin C: 1mgCalcium: 56mgIron: 1mg