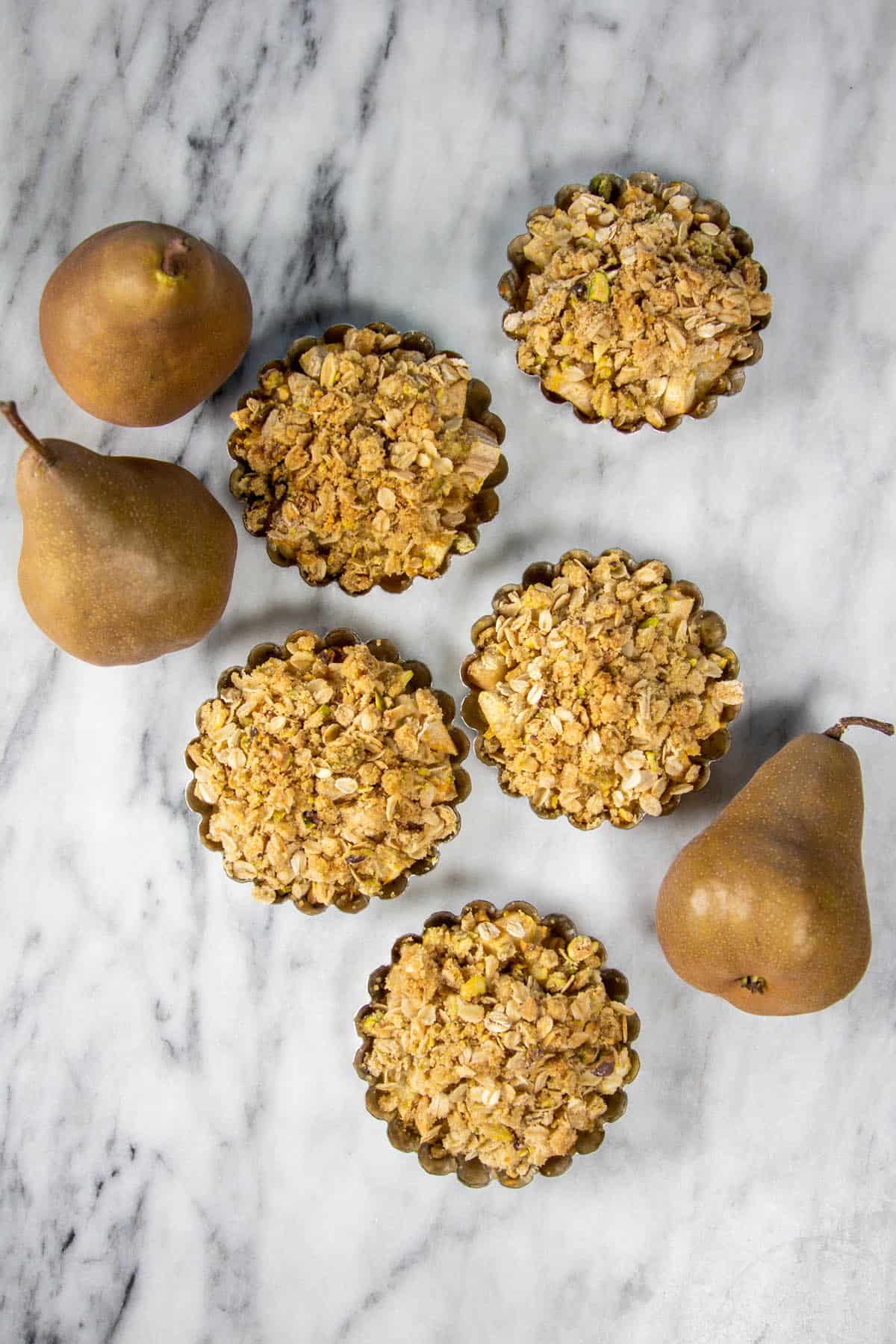 CA GROWN Blog
Discover. Learn. Connect.
The Best Recipe for Pear Crisp with Pistachio
September 20, 2022
Eat the Season!
Sign Up For Weekly Recipes
« Back to Recipes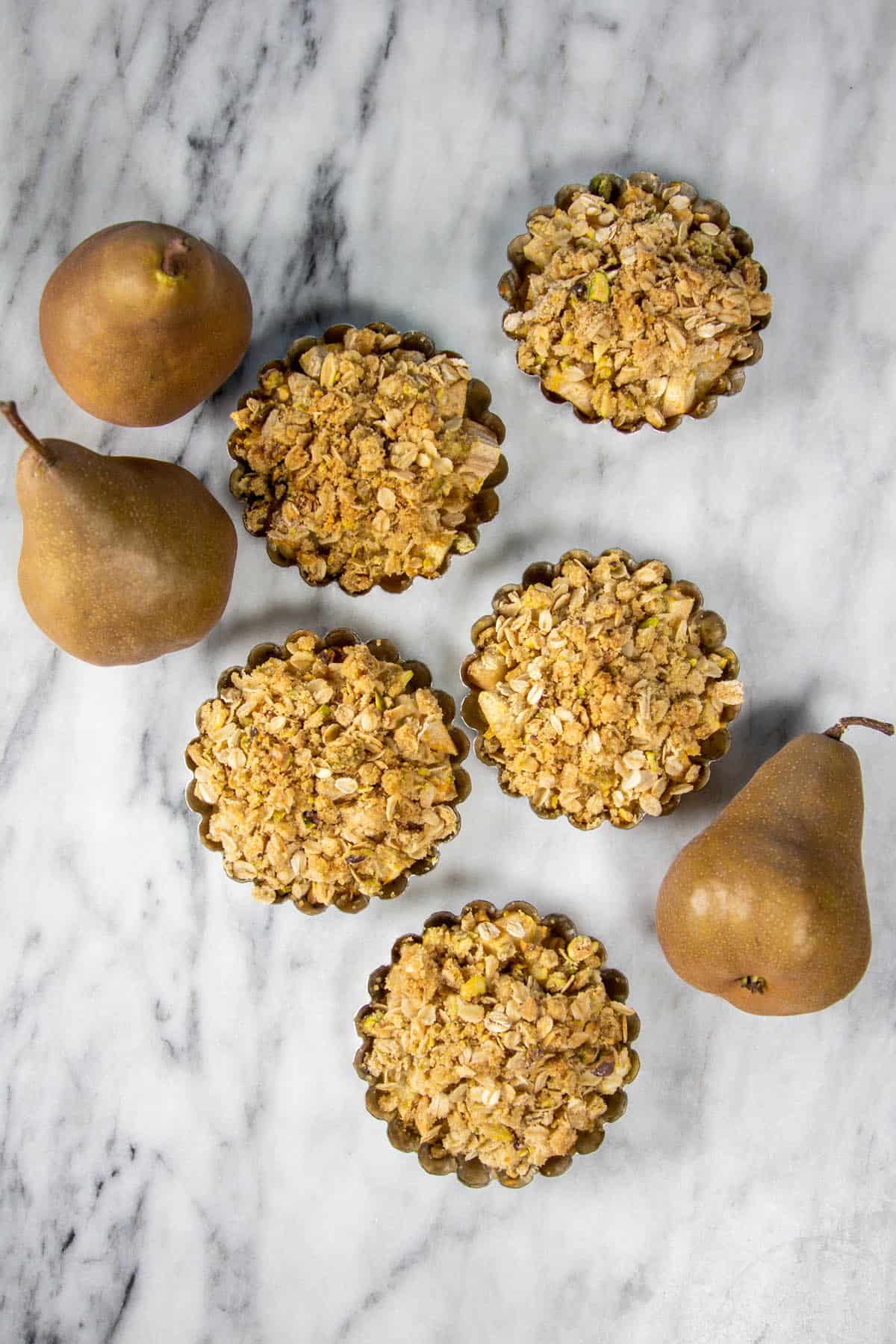 The Best Recipe for Pear Crisp with Pistachio
We know a thing or two about fruit crisps around here and we happen to think that our version is the best! Our easy recipe for Pear Crisp combines perfectly ripened Bosc pears with California olive oil, ginger, and pistachios for an easy, delicious dessert that requires very little effort to make.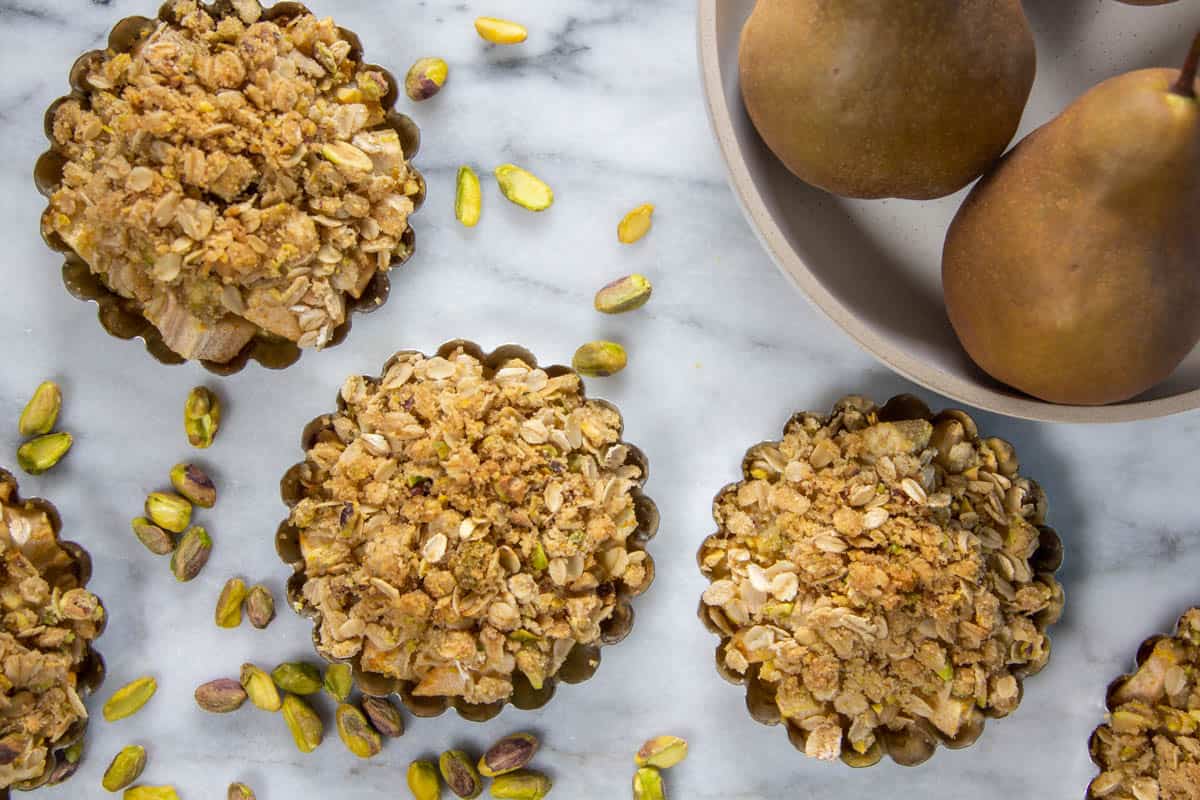 What to do with lots of fresh pears?
Fresh California pears are in season from July to November, which means you have plenty of time to try lots of different pear recipes. We like to use fresh pears in all sorts of ways from pear sauce to dessert!
What kind of pears are good for baking?
There are a lot of different varieties of fresh pear available on the market, but which pears work best for baking? Bartlett, Bosc, and Anjou varieties of pear are great varieties for baking that are readily available.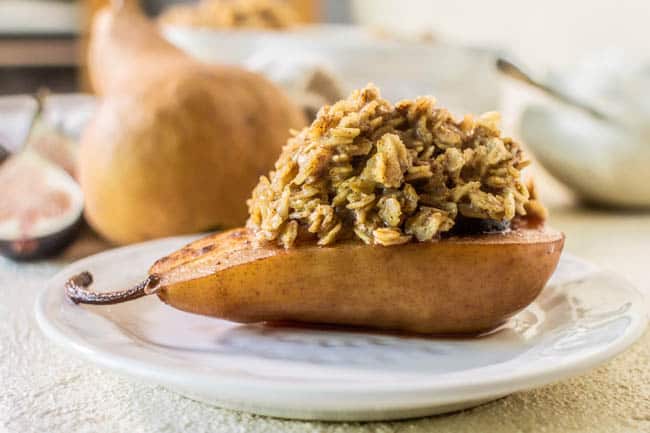 Do fresh pears need to be ripe when used in baked recipes?
If you're using pears for cooking in any way, slightly underripe pears are actually what you need. They will hold their shape better poached or baked. If the pears you have are soft and almost mushy, don't discard them! They are best for cooking in recipes like pear sauce.
How long does it take to soften pears?
Pears will happily ripen on your kitchen counter in 4-7 days. Place them in a bowl and check on them regularly to see when they're ready to eat.
To ripen quicker, place the pears in a paper bag and leave on the counter to ripen. This method should take about 2-4 days to ripen the pears.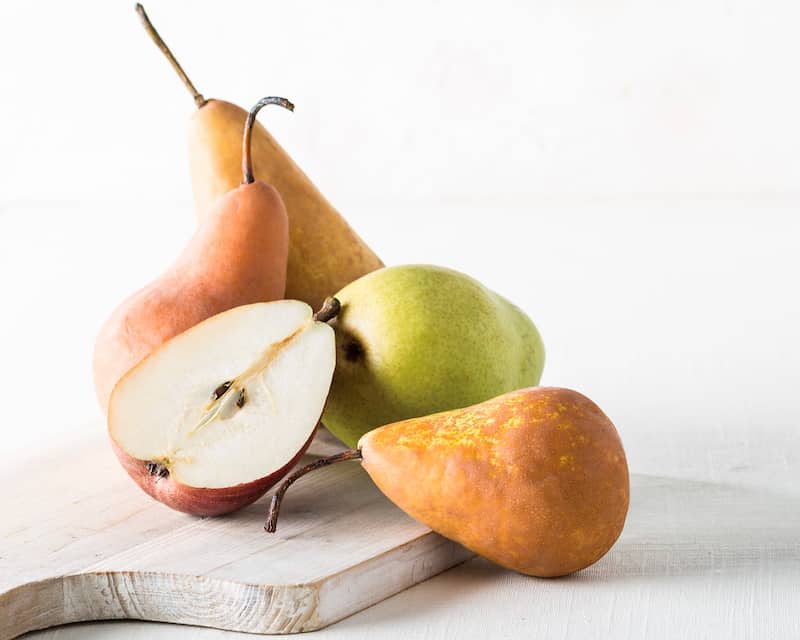 With so many varieties available on the market, it can be tough to choose which pears work best for baking. Our friends at Bake from Scratch did a lot of research on the topic so you don't have to.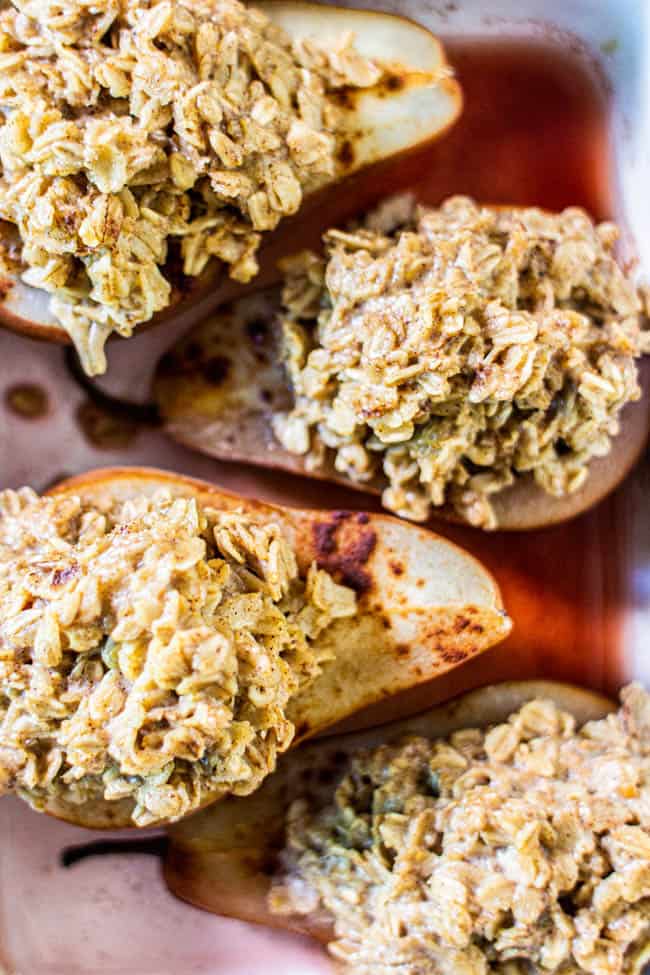 These tender baked pears have a surprise hidden underneath the baked oatmeal top, a perfectly roasted fig half!
The sweet aromatic flavors of pear and fig are a perfect complement for each other in this new take on a recipe for baked oatmeal.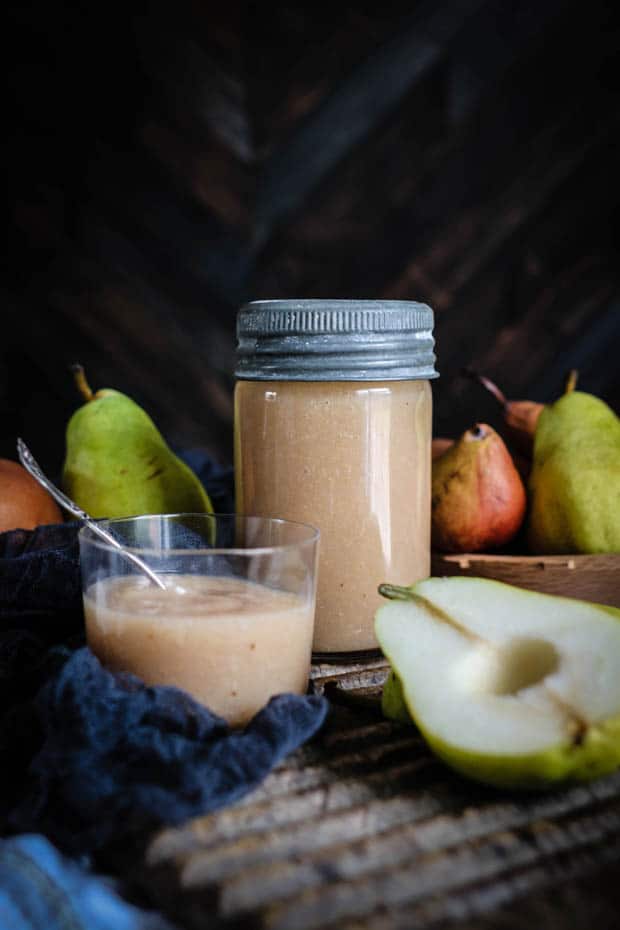 This Mess is Ours knows that busy cooks want recipes that S-T-R-E-T-C-H and this Easy Roasted Pear Sauce does just that! From a healthy treat for the kids to marinades, baked goods, and cocktails this roasted pear sauce pretty much does it all.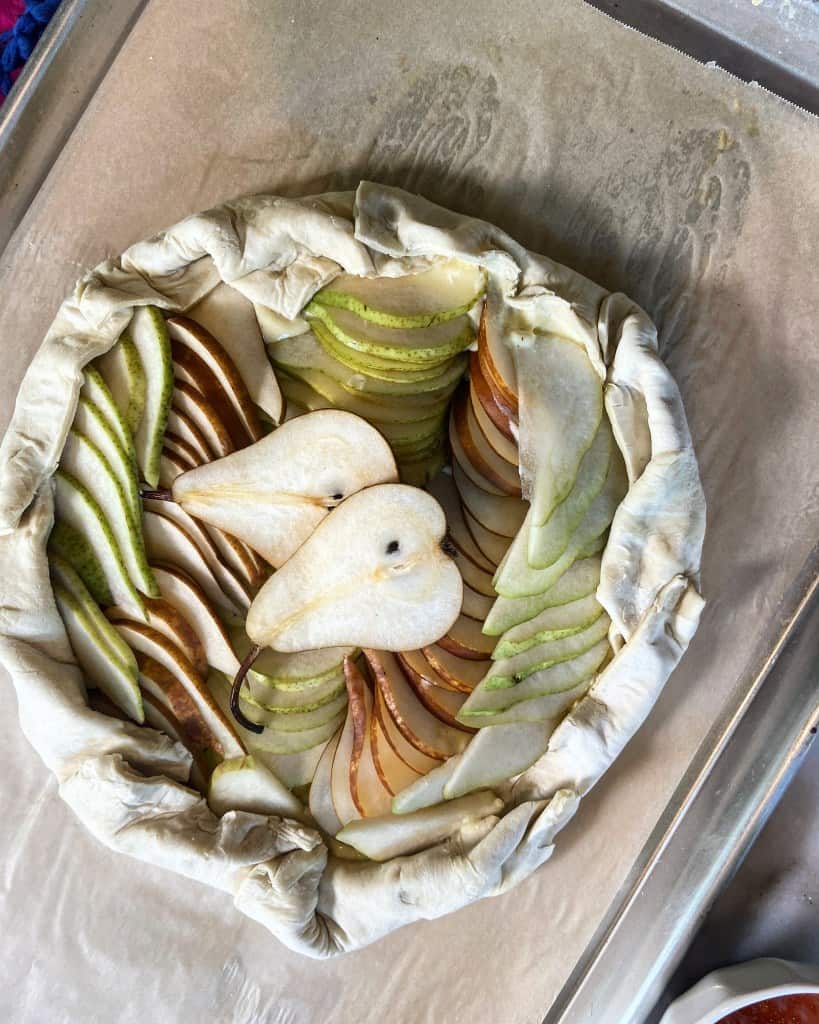 This gorgeous Galette recipe with pears from Rachel Makes It is quick, easy, and can be baked in the morning and served warm at breakfast. Or you can serve it cool in the evening.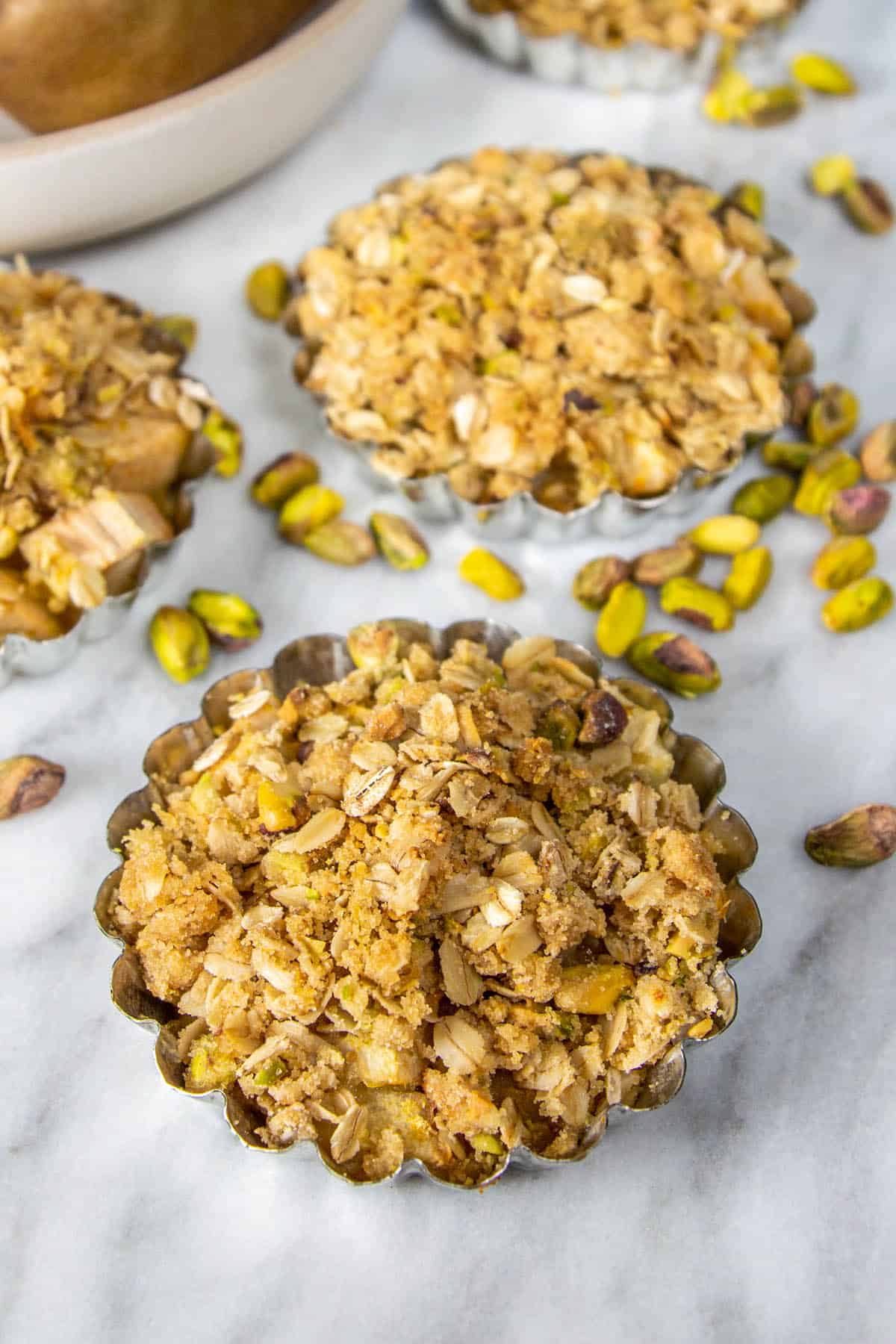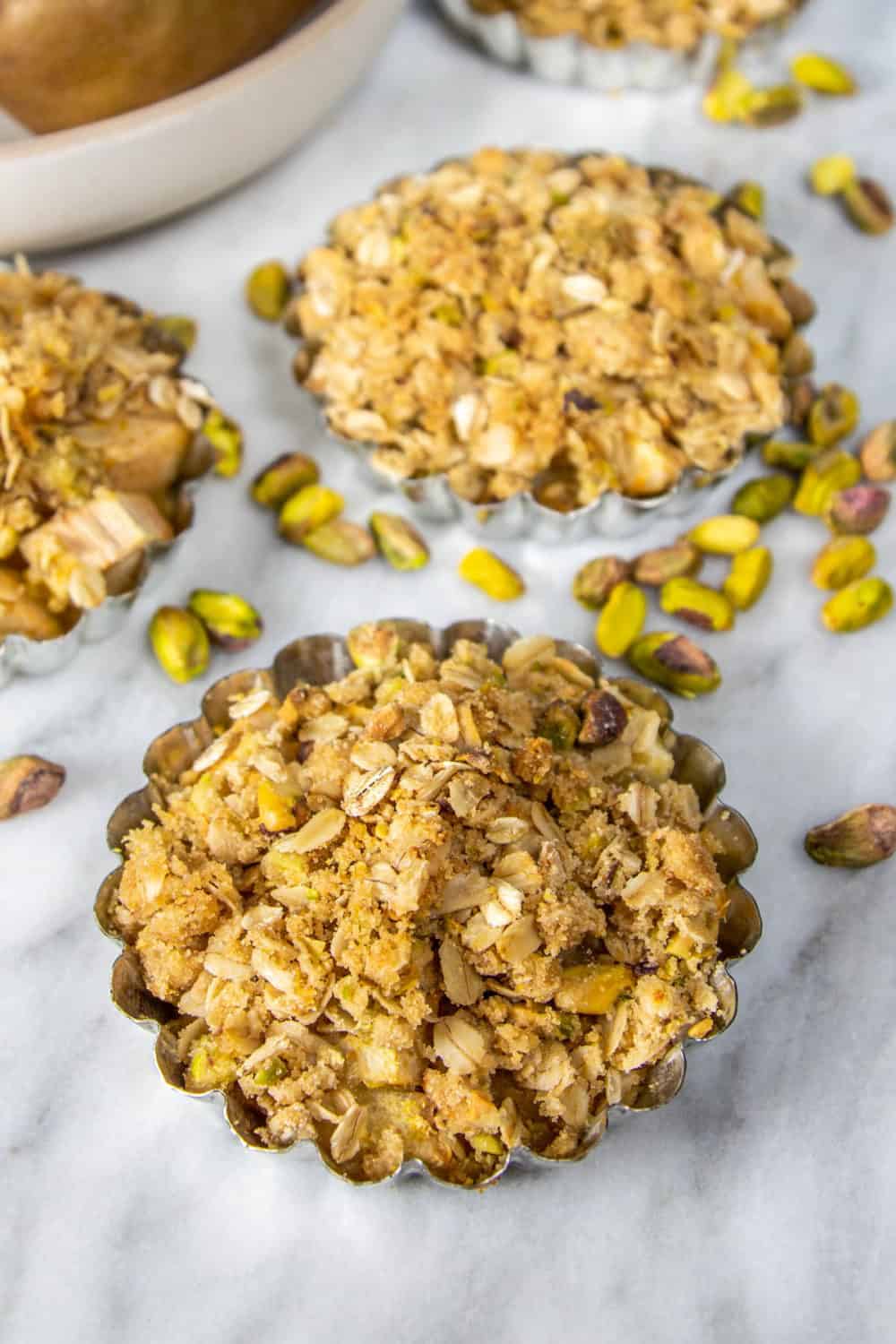 What types of fruit are best for fruit crisp recipes?
You can use virtually any type of fruit in a fruit crisp recipe. You can even combine multiple types of fruit to create your own unique flavor combinations.
For this particular recipe for pear crisp we used fresh pears, ginger, and citrus. But this recipe is actually just a new riff on a crisp recipe that our friend the G Free Foodie developed.
K.C.'s recipe for crisp first captured our attention when we saw she replaced the butter that is typically used in crisp toppings with California Olive Oil. This recipe has kept us coming back time and time again because of its versatility and how delicious it is.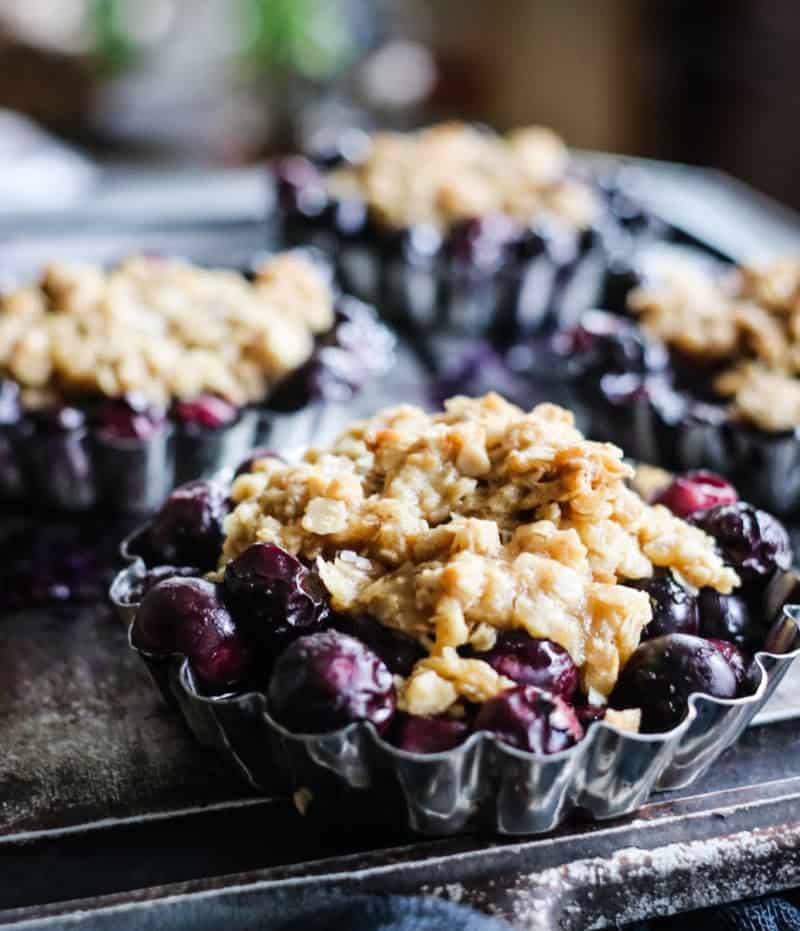 Try this recipe for G Free Foodie's super-simple Individual Blueberry Crisps, and we promise you'll be hooked. They are so easy and full of bright, delicious flavor!
These succulent crisps inspired all of the crisp recipes that follow in this round-up. Suffice it to say, you should give it a try for yourself!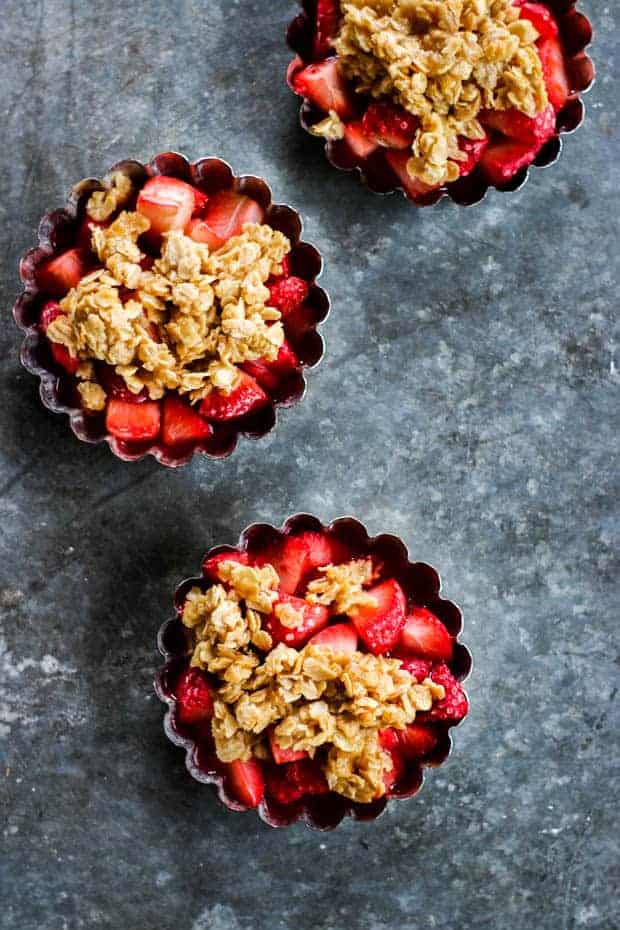 This Mess is Ours created a decadent strawberry version inspired by G Free Foodie's original recipe.
They are super easy to make, aren't overly sweet, and require very few pantry ingredients besides the berries to whip them up.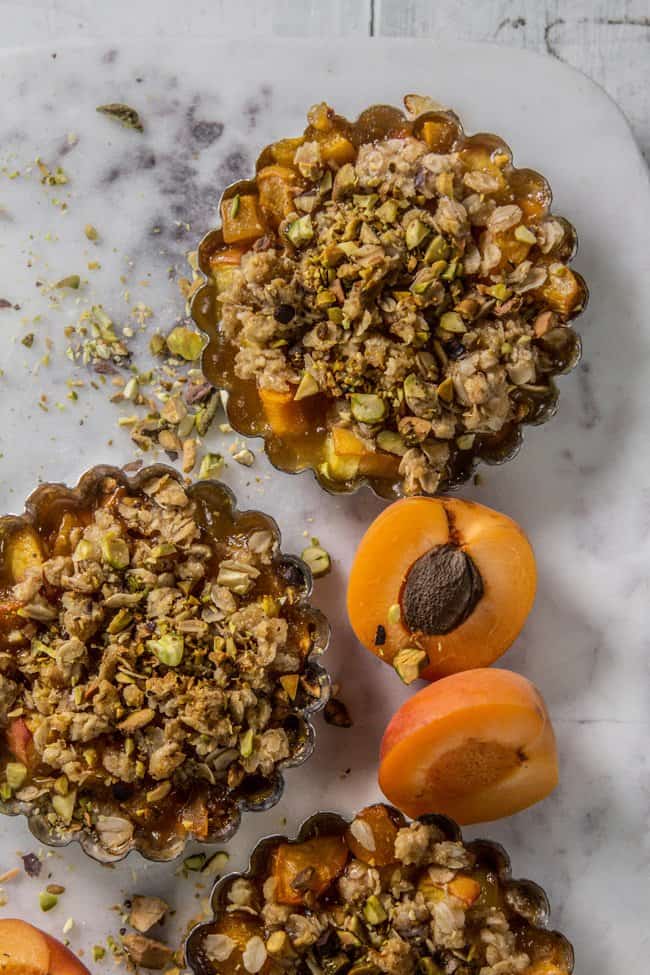 We recently shared a stone fruit crisp inspired by G Free Foodie's original as well.
The combination of stone fruit and citrus in this crisp is out of this world delicious!
You can make any of the individual crisp recipes above in a large baking dish. You may have to increase the baking time though.
Looking for a full-sized crisp recipe to feed a crowd? Here are a few of our favorites!
Apple Pistachio Crisp – Cheryl of Bakes by Brown Sugar
This Apple Pistachio Crisp by our friend Chery Norris from Bakes by Brown Sugar is everything you want in a fall dessert – sweet/tart California apples, warm spices, and a buttery, crunchy pistachio topping. It's special enough to serve at a holiday meal, but easy enough to throw together on a weeknight (why not?). Serve it warm or at room temperature. Either way top it with vanilla ice cream or freshly whipped cream. If you're lucky enough to have any leftover, we wouldn't judge you if you had it for breakfast
Click here for this apple crisp recipe!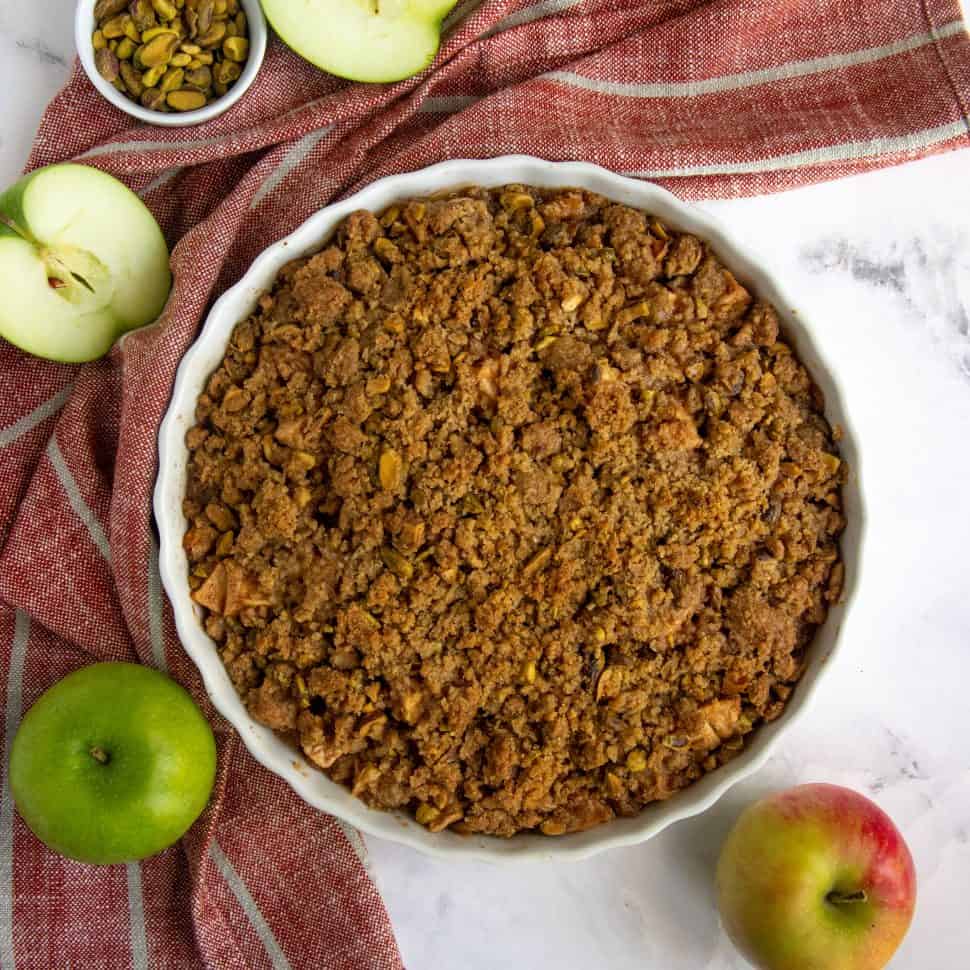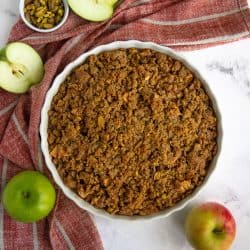 Apple, Fig & Walnut Crisp – Becky of Baking the Goods
Seasonal crisp apples and decadent, honey-sweet figs bake together with cinnamon and ginger spiced sweetness under a textural crumble topping. Toasty walnuts combine with hearty oats, brown sugar, and cinnamon in a craggy crumble topping that adds a welcome crispy texture atop the soft and syrupy fruit. This Apple Fig & Walnut Crisp from our friend Becky Sue at Baking the Goods features some of California's best produce in a simple dessert that satisfies all of the fall cravings with comforting ease.
Click here for this apple crisp recipe!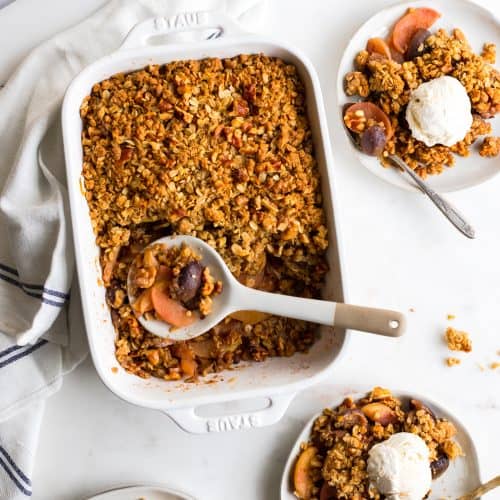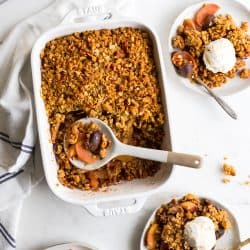 Can I make this fruit crisp ahead of time?
Yes, you can make this recipe for pear crisp ahead of time! If desired, prep the fruit filling the night before and let it hang out in the fridge. Then add the topping the next morning before baking. Or you can bake the entire crisp ahead of time and reheat it in a 350° oven for 15-20 minutes before serving.
What is the difference between a cobbler and a crisp?
Cobblers are denser due to the biscuit dough topping and base, while crisps use oats and a streusel topping, making them lighter.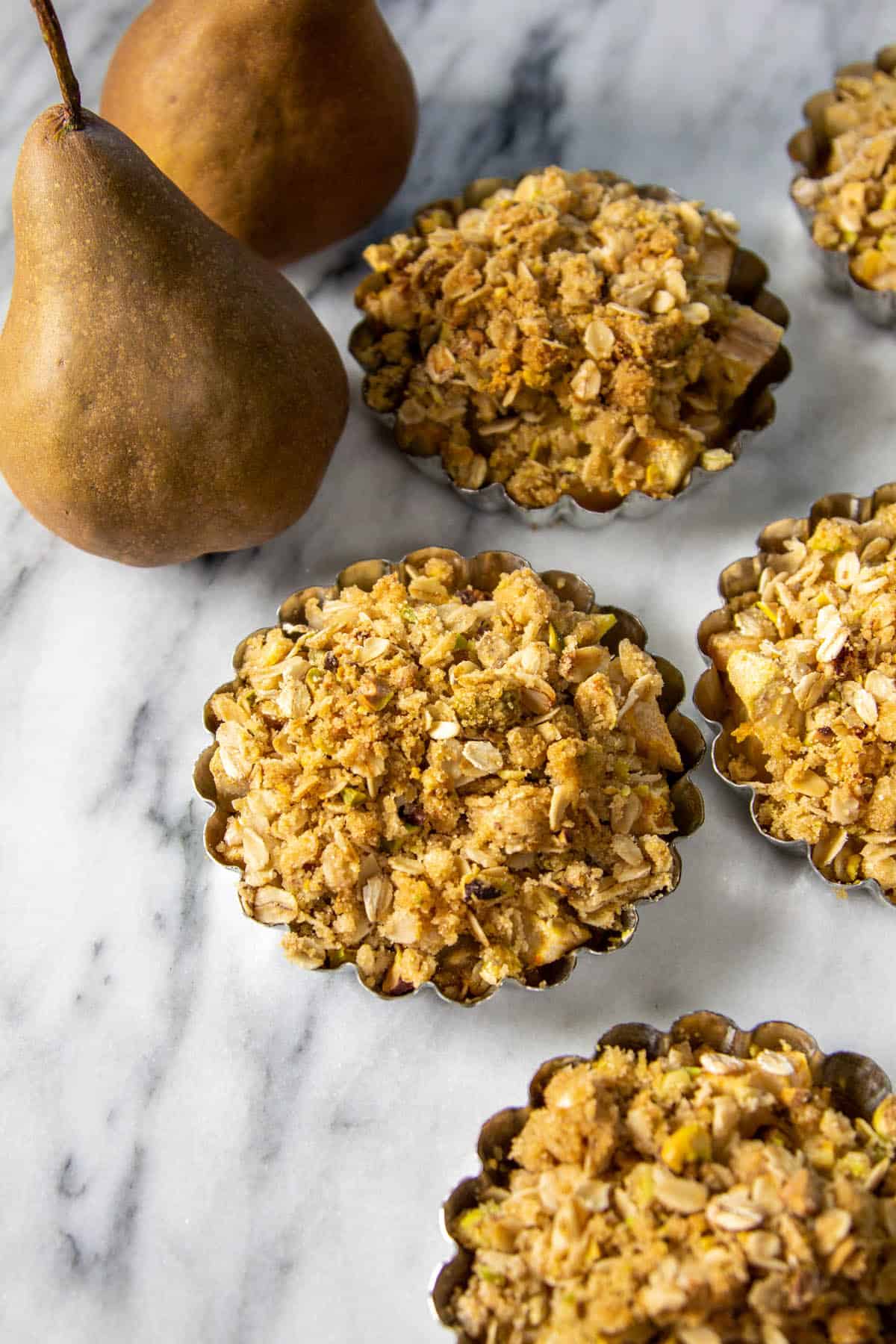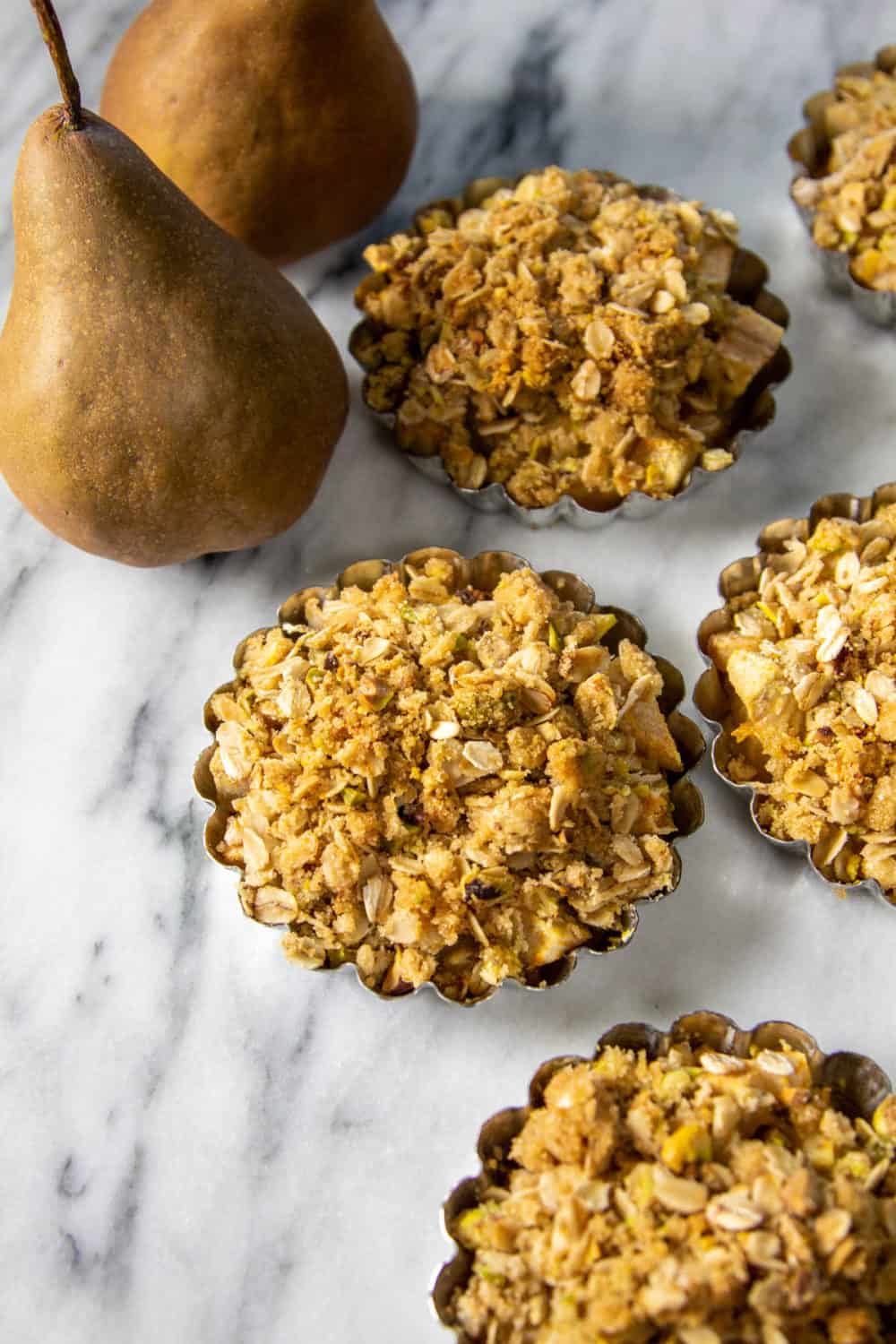 BE SURE TO SHARE YOUR FRUIT-FILLED CRISP CREATIONS WITH US BY SNAPPING A PIC AND TAGGING US ON SOCIAL USING #CAGROWN.
Craving more CA Grown goodness? Follow us on Pinterest for fresh and fabulous recipe inspiration!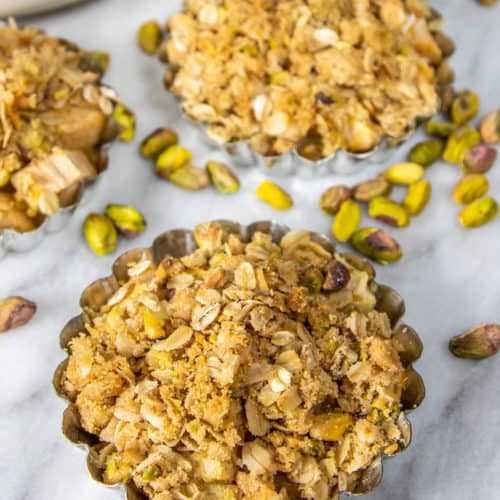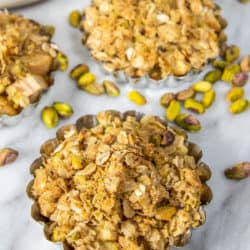 Pear Crisp with Pistachio
Our easy recipe for Pear Crisp combines perfectly ripened Bosc pears with California olive oil, ginger, and pistachios for an easy, delicious dessert that requires very little effort to make.
Ingredients
For the pear filling
1/2 pound approximately 2 pears Bosc pears, peeled, cored, and diced small
2 tablespoons raw sugar or light brown sugar
1 teaspoon vanilla extract
1 teaspoon freshly grated ginger
2 teaspoons cornstarch or tapioca starch
1 large orange zested and juiced divided
pinch of coarse kosher salt
For the topping
1/2 cup rolled oats gluten free if desired
1/4 cup light brown sugar
2 tablespoons all-purpose flour gluten free if desired
2 tablespoons California Extra Virgin Olive Oil
3 tablespoons chopped pistachios
Instructions
Preheat the oven to 350°F. Lightly grease 6 individual baking pans, or 1 large baking dish, with olive oil. If using individual pans place them on a baking sheet to make transferring to and from the oven easier. Set aside.

In a large bowl, toss the diced pear with the sugar, extract, ginger, cornstarch, zest, and half of the orange juice. Stir until the pear pieces are completely coated with the cornstarch and all of the dry ingredients have moistened. Divide the filling between the individual baking pans. Set aside.

Using the same mixing bowl, no need to wipe it out, toss the oats, sugar, flour, remaining orange juice, chopped pistachios, and olive oil until incorporated. Top each baking pan or the larger baking dish with some of the prepared topping spreading to cover as much of the fruit filling as possible.

Bake for 40-45 minutes, until the filling, is bubbling, the pears are tender, and the topping is golden brown. Rest at least 5-10 minutes before serving.
Notes
If fresh pears aren't in season you can use all canned or jarred pears for this recipe.
All of the ingredients can be combined into one larger baking dish, you may need to increase cooking time slightly.
Nutrition
Calories: 183kcalCarbohydrates: 29gProtein: 2gFat: 7gSaturated Fat: 1gPolyunsaturated Fat: 1gMonounsaturated Fat: 4gSodium: 4mgPotassium: 162mgFiber: 3gSugar: 19gVitamin A: 74IUVitamin C: 13mgCalcium: 29mgIron: 1mg