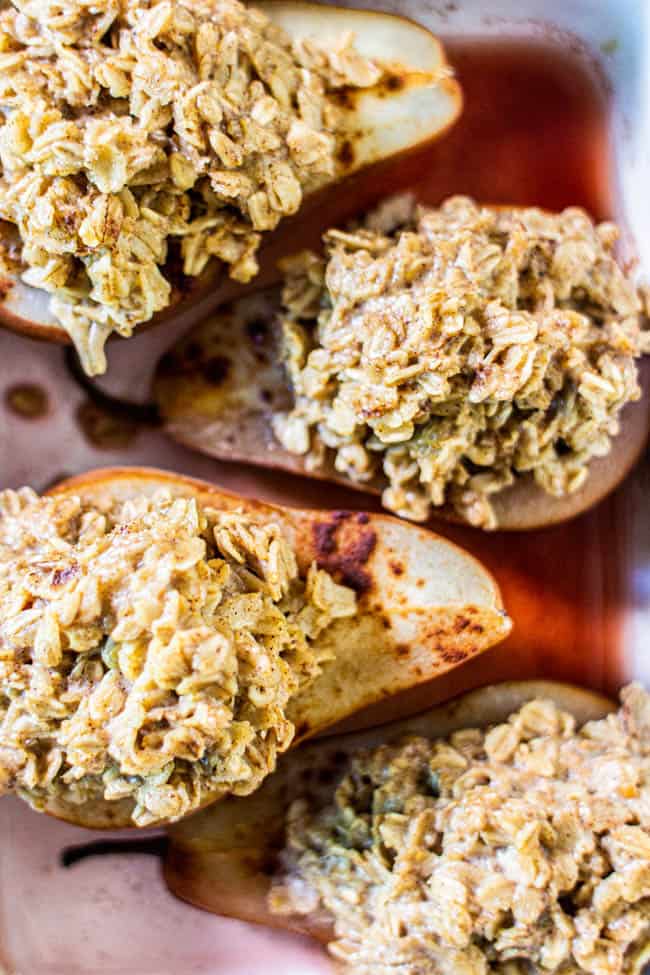 CA GROWN Blog
Discover. Learn. Connect.
An Unexpected Recipe for Baked Oatmeal and Fig Stuffed Pears
September 7, 2021
Eat the Season!
Sign Up For Weekly Recipes
« Back to Recipes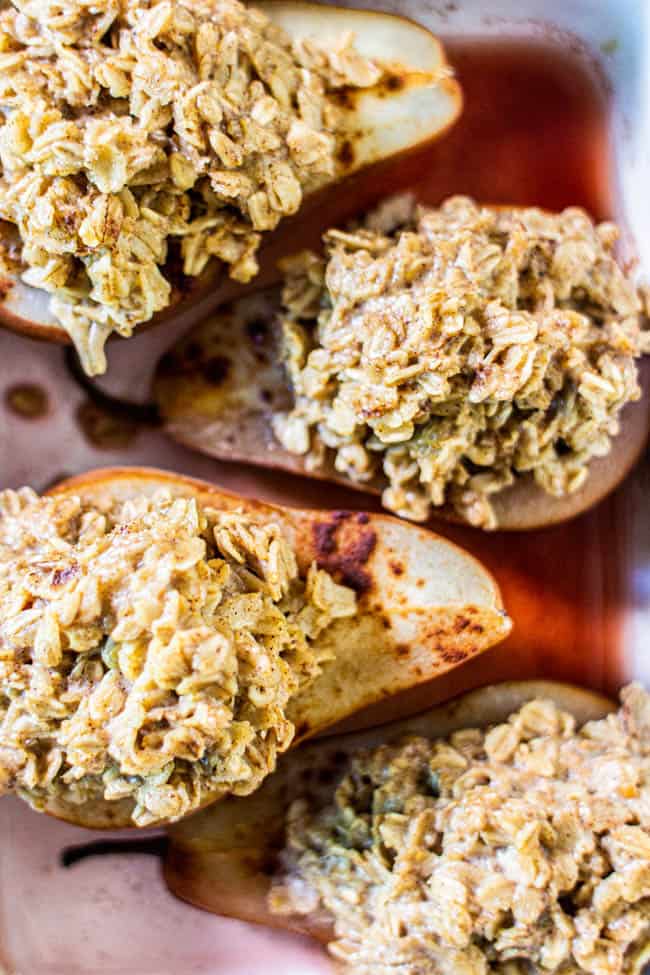 An Unexpected Recipe for Baked Oatmeal and Fig Stuffed Pears
Get ready to really wow your family with this recipe for Baked Oatmeal and Fig Stuffed Pears. These tender baked pears have a surprise hidden underneath the baked oatmeal top, a perfectly roasted fig half! The sweet aromatic flavors of pear and fig are a perfect compliment for each other in this new take on a recipe for baked oatmeal.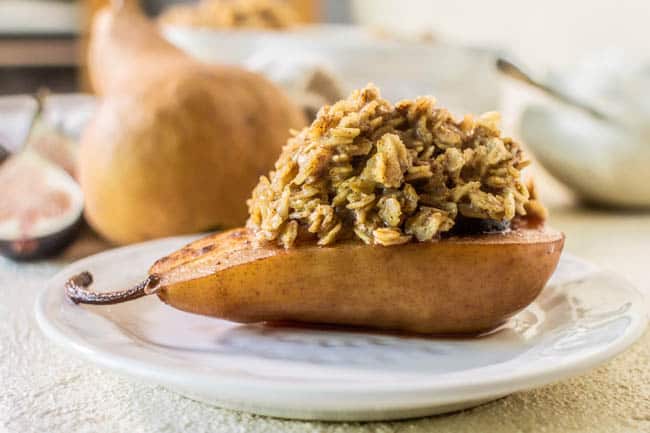 What are Baked Oatmeal and Fig Stuffed Pears?
The inspiration behind this dish, much like the Orange Julius recipe I shared recently, comes from my childhood. One Thanksgiving in the '80s my dad brought home a Turducken for the family.
This Thanksgiving main course was literally a turkey stuffed with a duck stuffed with a chicken. It was roasted and carved and served just like a traditional turkey, but there was nothing traditional about it at all.
That one meal woke a desire to explore different flavors and textures in unconventional ways. Take this recipe for Baked Oatmeal and Fig Stuffed Pears for example, which I affectionately call "PearFigen".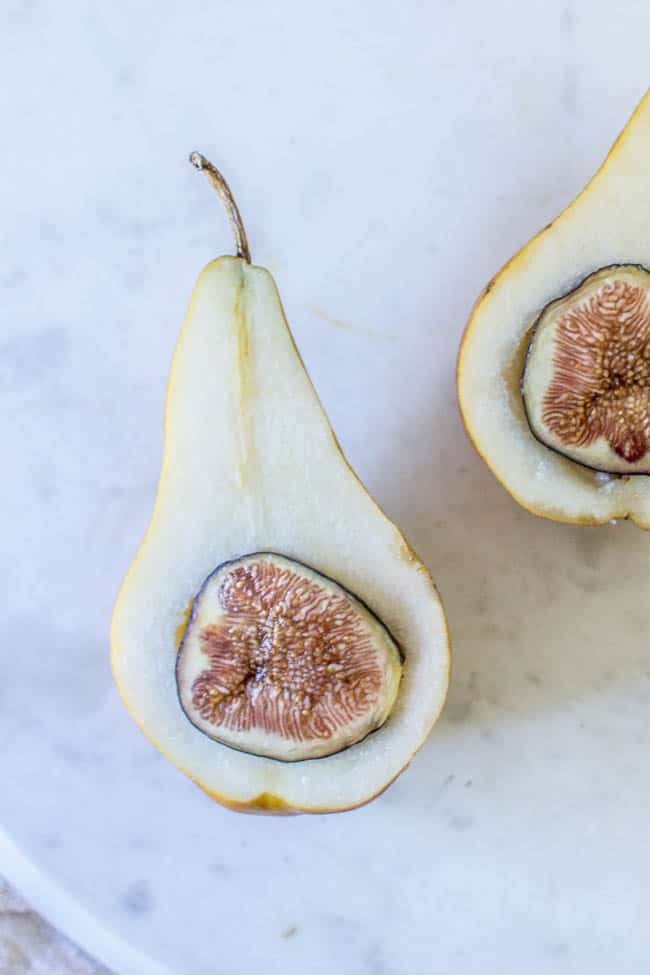 These California pears have a surprise hidden inside!
Much like that T-day special from the '80's, this pear is stuffed with something unexpected, but delightful – a fresh California fig!
These beauties roast together in the oven for a bit so that their flavors mingle and marinate.
There are also pink-hued, cider flavored, pan-roasting juices that form which I didn't realize would happen, but is absolutely delightful!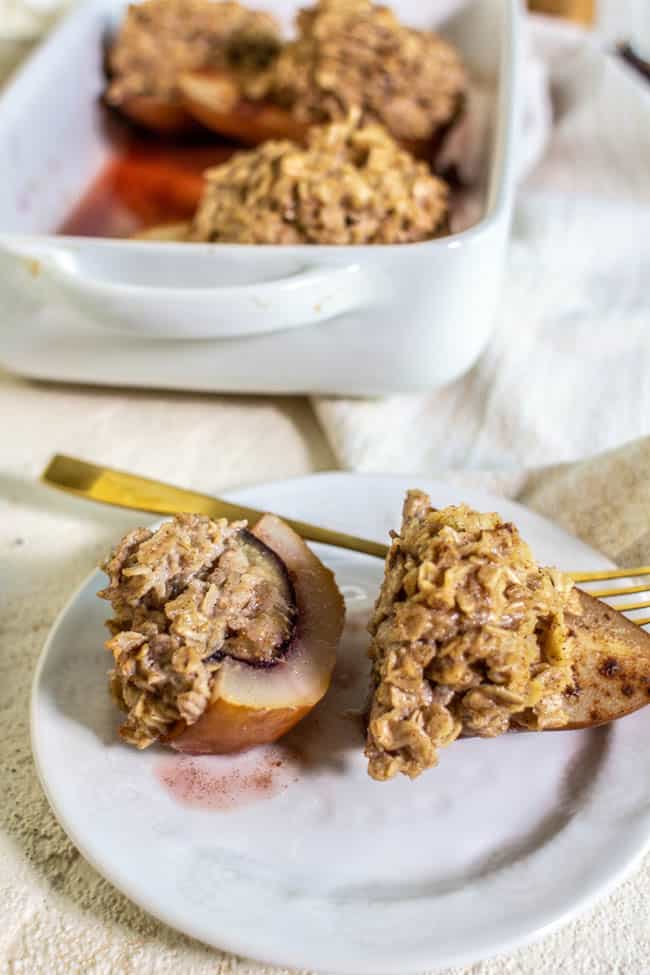 Layer on the baked oatmeal topping.
Towards the end of the bake time, the tender pear fig combo is piled high with an oatmeal topping that is seasoned with cinnamon, pumpkin pie spice, maple, and vanilla.
This fruit-forward recipe has all the flavors you expect in a traditional baked oatmeal recipe, but you never run the risk of the finished dish being dry and bland.
The juicy California grown pears and figs in this recipe pack tons of moisture and most importantly, flavor, into each bite.
What are the essential ingredients in this recipe for Baked Oatmeal and Fig Stuffed Pears?
California pears
There are about 60 pear farmers who grow pears in California. Many are still farming on the same land their forefathers planted decades ago.
California figs
Did you know figs are technically an inverted flower, not a fruit? That means pollination is needed for figs to survive and thrive. However, 99% of California Grown Figs are self-pollinating. The one variety of fig tree still remaining in California that is pollinated by wasps is being replaced by a new fig tree variety, with the goal of 100% self-pollinating fig trees in California – another reason to look for the CA Grown seal!
Oatmeal
The oatmeal based topping that smothers the baked pears really sticks with you throughout the day, which makes this recipe great for breakfast. But we aren't gonna hold it against you if you serve it for dessert too!
Looking for more pear or fig inspired recipes? Keep scrolling for a few of our favorites!
This tart recipe is made with a California walnut studded crust that is baked to perfection, then filled with honey-spiked goat cheese, and topped with peak season blackberries and sultry fresh figs.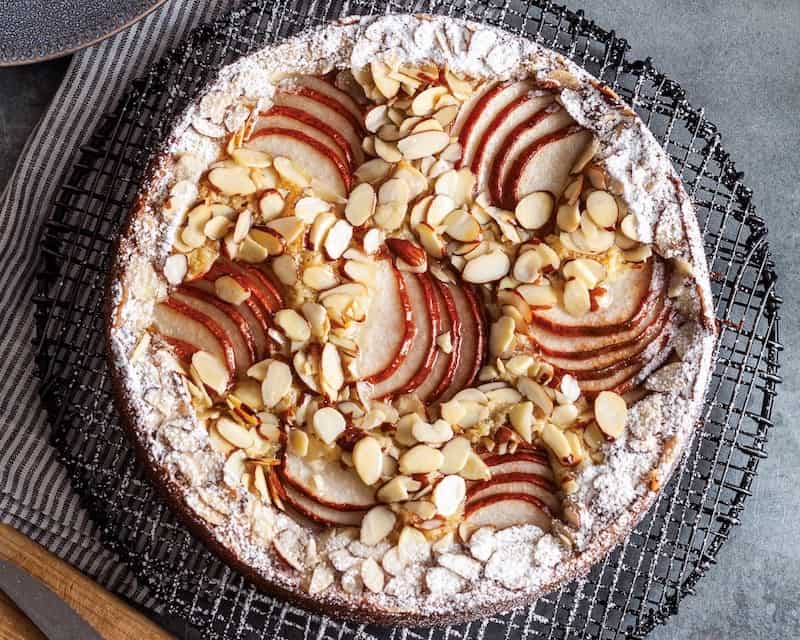 This cake from Bake from Scratch is a real showstopper!
All you need is a single pear to create the beautiful fanned design on top – and it's so easy to do. You'll love the extra punch of almond flavor from the almond flour and sliced almonds on top.
Share your California Grown, fruit filled creations with us by snapping a pic and tagging us on social using #CAGROWN.
Craving more CA Grown goodness? Follow us on Pinterest for fresh and fabulous recipe inspo!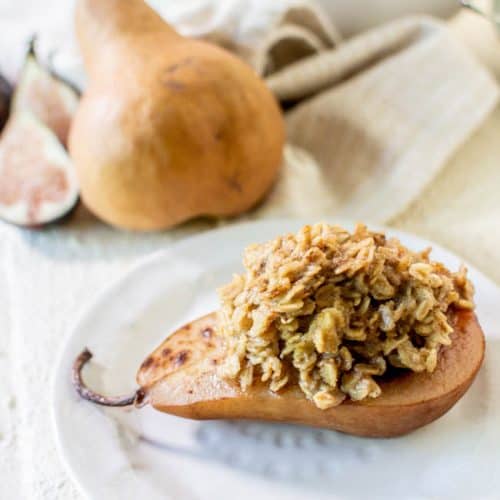 Baked Oatmeal and Fig Stuffed Pears
These tender baked pears have a surprise hidden underneath their baked oatmeal top, a perfectly roasted fig half! On its own, this dish isn't super sweet, it's more savory with a hint of maple or honey. If you prefer a sweeter final product, drizzle with maple or honey at the table.
Ingredients
For the fig stuffed pears
2 large California pears , halved lengthwise, seeds and core removed with a spoon or melon baller.
2 fresh California figs halved, stem removed
1/3 cup apple cider
1 teaspoon maple syrup
1/4 teaspoon cinnamon
For the baked oatmeal topping
1 1/2 cups whole milk
1 cup old fashioned oats gluten-free if necessary
pinch of coarse kosher salt
4 teaspoons maple syrup or honey
1/2 teaspoon ground cinnamon
1/2 teaspoon pumpkin pie spice
1/4 teaspoon vanilla extract
Instructions
For the roasted fig stuffed pears
Preheat the oven to 375°F.

Shave a small slice off of the bottom of the pear halves so that they have a flat surface to rest on in the pan.

Enlarge the hole by removing the seeds and core just enough so that a fresh fig half can nestle down inside and be flush with the top of the pear. If needed you can also shave a small slice off of the outside edge of the figs if it helps to nestle them down into the pear.

Pour the apple cider into the bottom of the pan so that the bottom of the pears are submerged. Brush the cut-side of the pears with the maple syrup and sprinkle with cinnamon.

Cover the baking dish with foil and bake in the oven for 25 minutes or until the pears are tender.
While the fig stuffed pears bake, make the oatmeal topping.
Bring the milk to a boil in a small saucepan. Add in the oats and salt. Reduce the heat and simmer for 5 minutes stirring frequently.

Remove the saucepan from the heat and stir in the cinnamon, ginger, 4 teaspoons maple syrup or honey and the extract. Cover until the pears are tender.

When the pears are ready divide the oatmeal amongst the pears and pile on top. Return to the oven for an additional 5-8 minutes until golden brown and the oatmeal is warmed through.

Serve immediately as-is, with maple or honey on the side, or with whipped cream and ice cream for more of a dessert vibe.
Notes
This recipe stores great in the refrigerator for up to 3 days and can be reheated when ready to eat in a 350°F oven.
Click here to view the Google Web Story for this post.
Frequently asked questions about California pears.
When is pear season?
People think of pears as a fall fruit, but California pear harvest begins in the summer, early to mid-July. They're available through November, weather permitting.