How To Eat Artichokes + Everything About Artichokes!
How to eat artichokes…and everything else you ever wanted to know about California's State Vegetable. Spoiler: it's super scandalous!
Artichokes are incredibly popular throughout the nation, and nowhere more so than in California. In fact, they're our official state vegetable. But did you know that this delicious vegetable has an utterly scandalous origin story? The artichoke's rise to popularity is littered with sordid tales of adultery, racketeering, and even murder.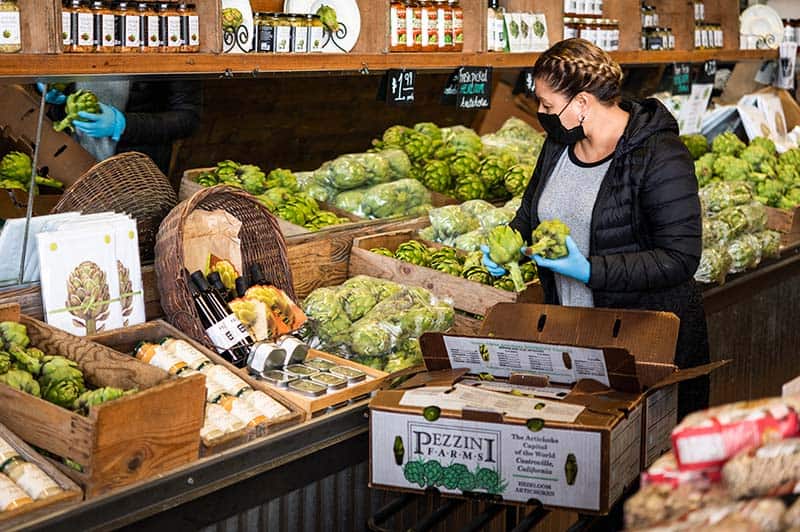 Artichoke 101 – Everything you need to know about California's State Vegetable.
Since the advent of storytelling, artichokes have been intricately woven into stories of powerful men and seductive women. Let's talk about the history of artichokes, how they're grown and harvested, and finally (and arguably most importantly) how to eat artichokes!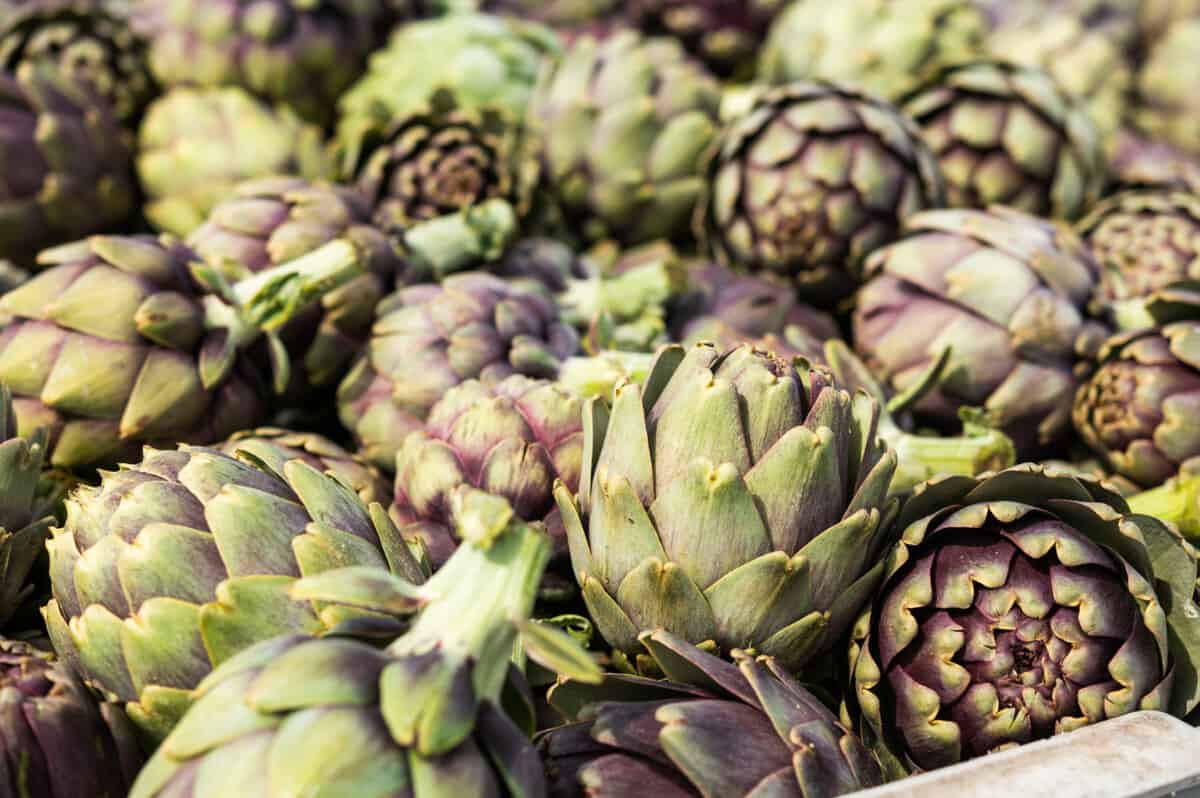 A brief history of artichokes.
Fact: The artichoke's scientific name, Cynara cardunculus, is rooted in Greek mythology.
Artichokes have been prized and revered throughout the world for thousands of years. One of the earliest mentions is found in Greek mythology.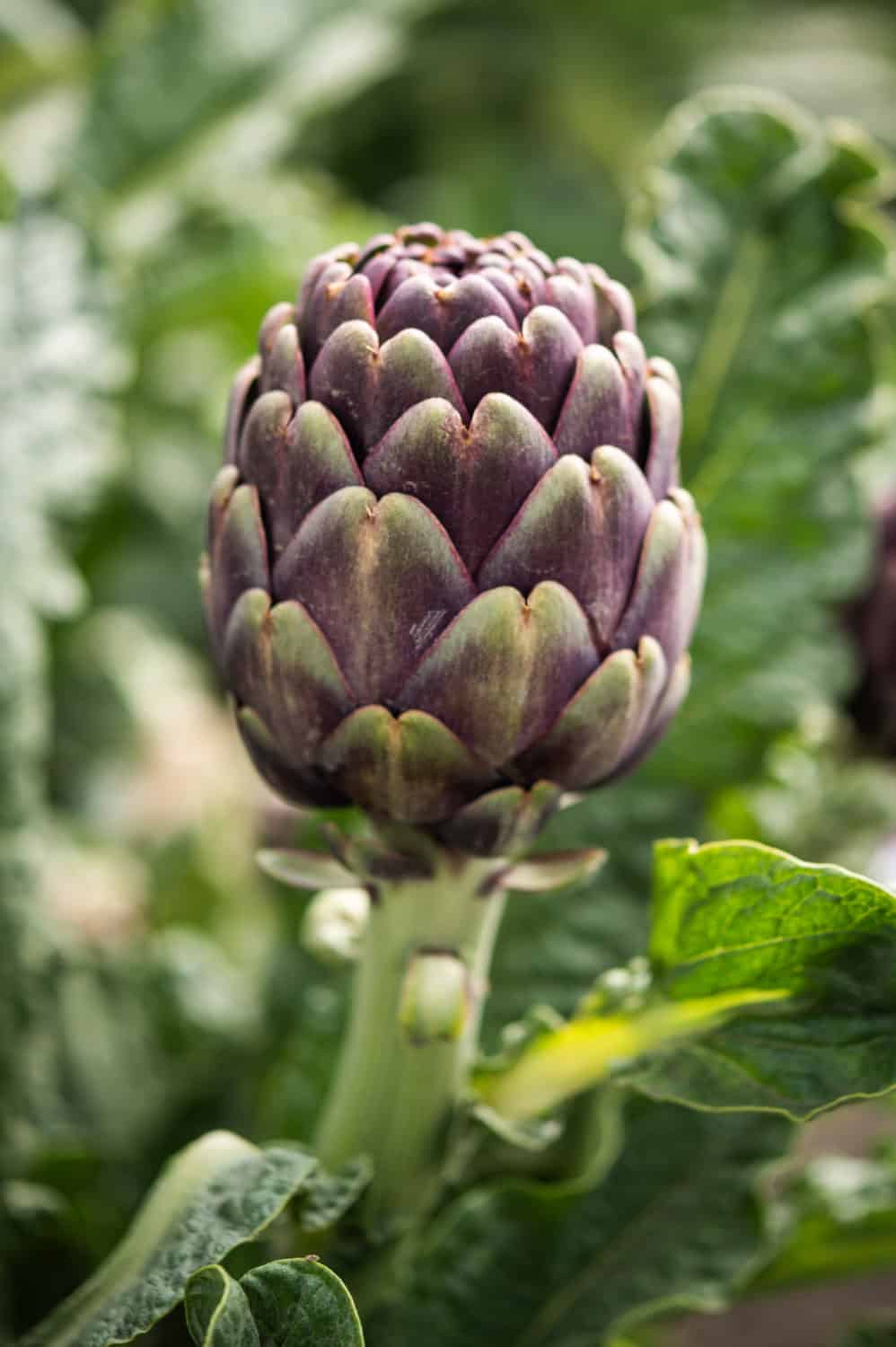 Who did Zeus turn into an artichoke?
Legend says that Zeus, the king of the Greek gods, became enamored with a beautiful young woman named Cynara. He was so obsessed with her that he offered to make her a goddess so that she could live in the heavens.
This close proximity would facilitate their secret trysts when Zeus' wife, Hera, was away. Cynara agreed to move but soon grew to miss her family. So she snuck back to Earth for secret visits with her mother.
Zeus was furious when he found out and cast her back down to earth – not as a human, but in the form of the world's first artichoke.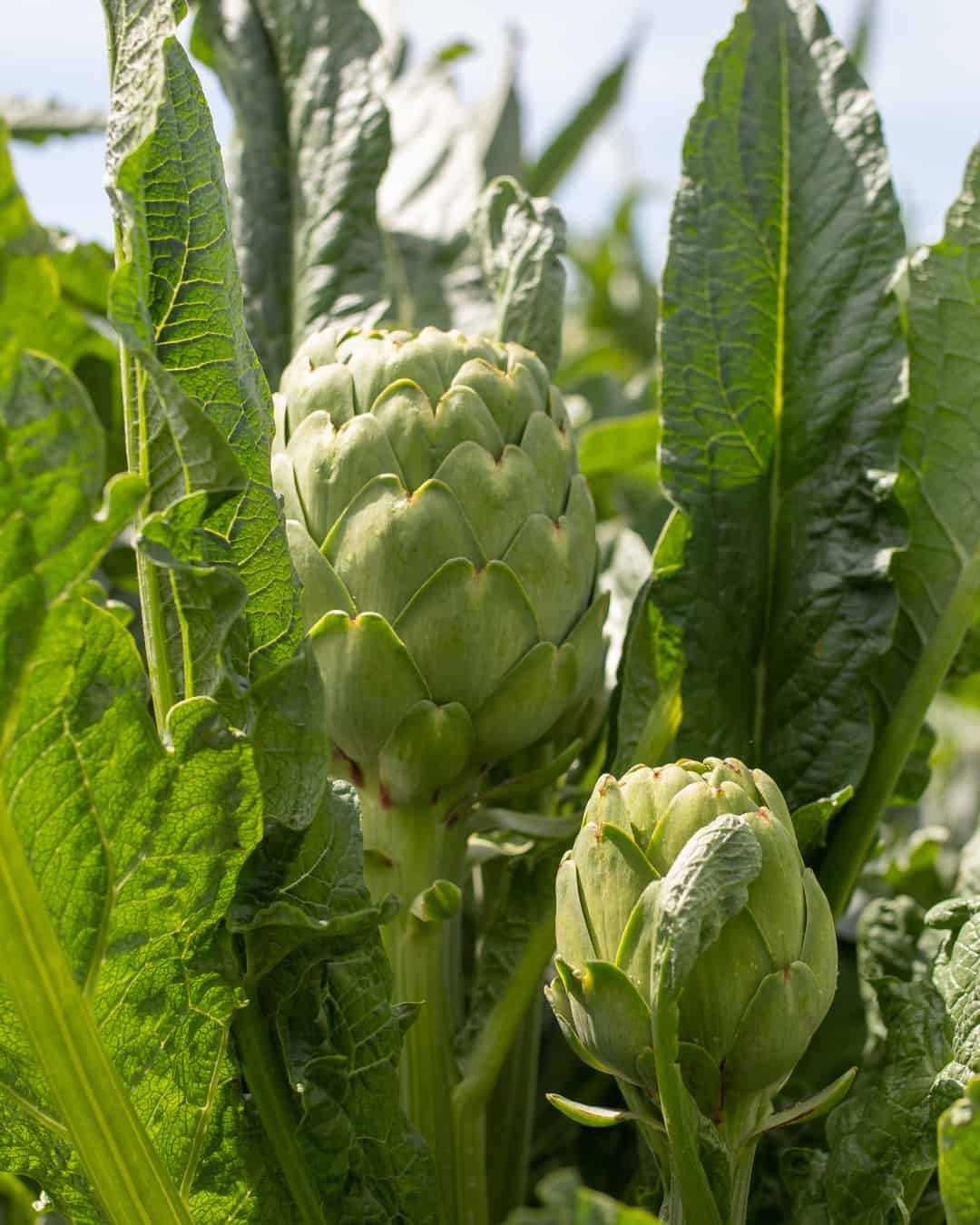 When did artichokes come to the United States?
When European immigrants settled in America, they often brought seeds or starts of their favorite fruits and vegetables with them. Details vary as to whether the Spanish, French, or Italians were the first to plant artichokes in California's fertile soils, but it is generally agreed upon that some of the state's first artichokes were grown near San Francisco in the late 1800s.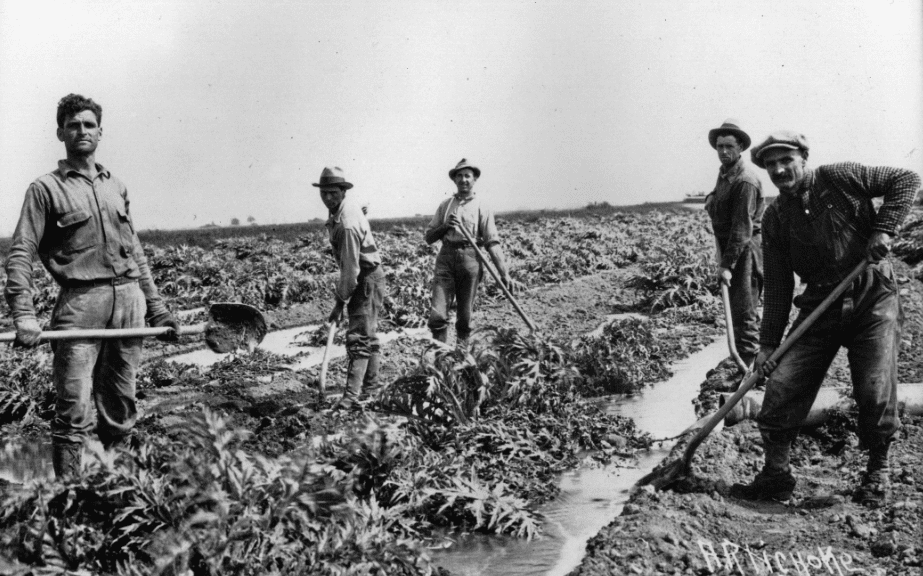 Where are artichokes grown in California?
By 1906, over a thousand acres of land outside of San Francisco in Half Moon Bay were planted to artichokes. While artichokes at that time enjoyed some popularity, specifically in areas with Italian immigrants, they were far from a household staple.
Early artichoke harvest in Castroville, CA – PHOTO COURTESY OF COOPERMOLERA.ORG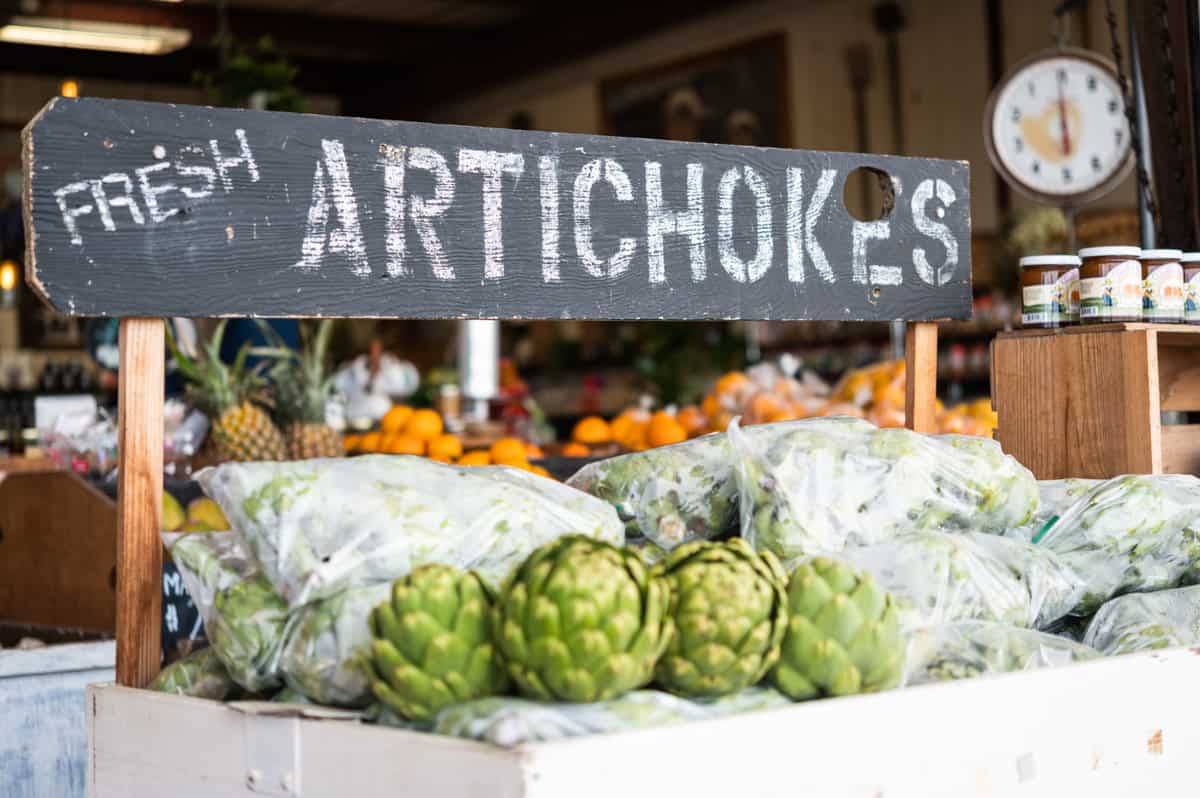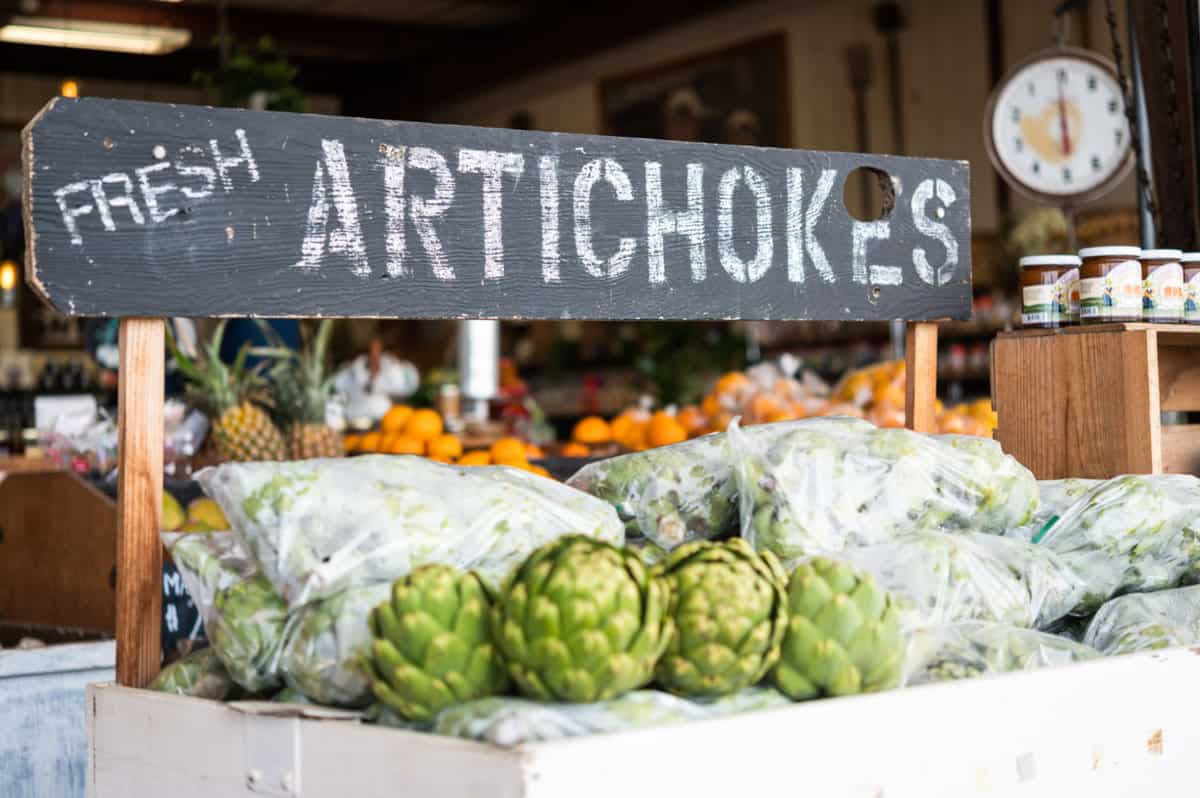 How did artichokes gain popularity with consumers?
John Debenedetti was the first in the state to tackle this issue, quitting his day job as a banker and launching a marketing campaign focused on educating consumers about artichokes' nutritional merits and fabulous flavor.
While Debenedetti's California campaign enjoyed some success, artichokes were still considered an uncommon vegetable in California.
Up until World War I, most of America's artichokes were imported from France. When the war knocked out that supply line, savvy businessmen like John DeBenedetti seized an opportunity to fill the void.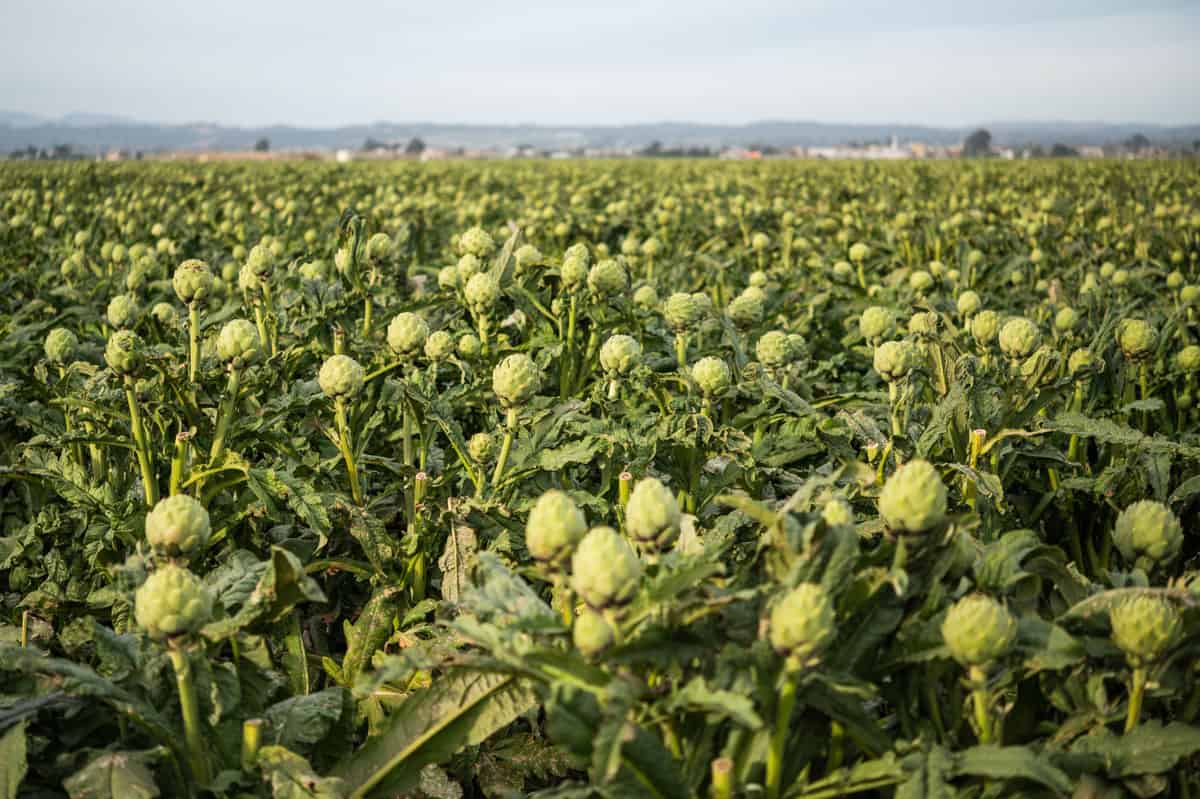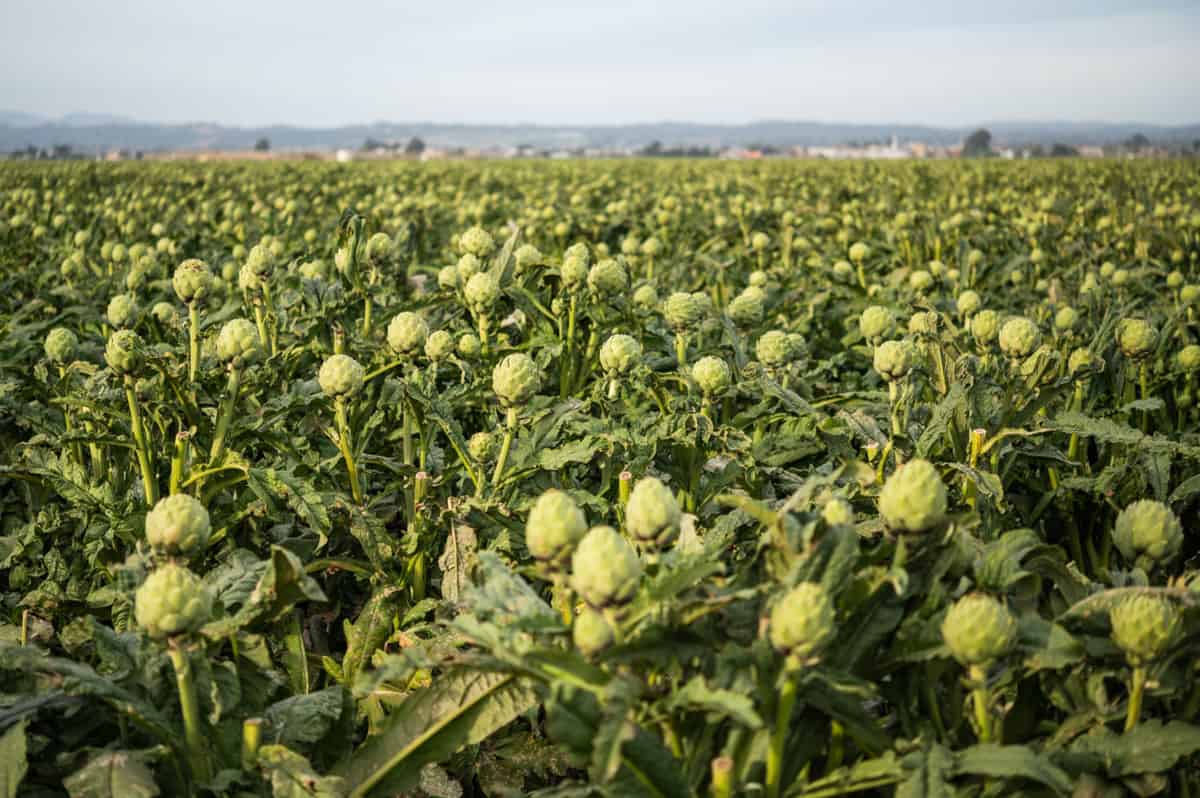 California's first Artichoke Grower's Association
Debenedetti formed California's first Artichoke Grower's Association – and soon, the group and local farmers took advantage of technological advances and had streamlined a system for packing and transporting artichokes across the country, in part made possible by the recent development of refrigerated rail cars, which allowed fresh California artichokes to be transported to the East Coast while still at the peak of freshness.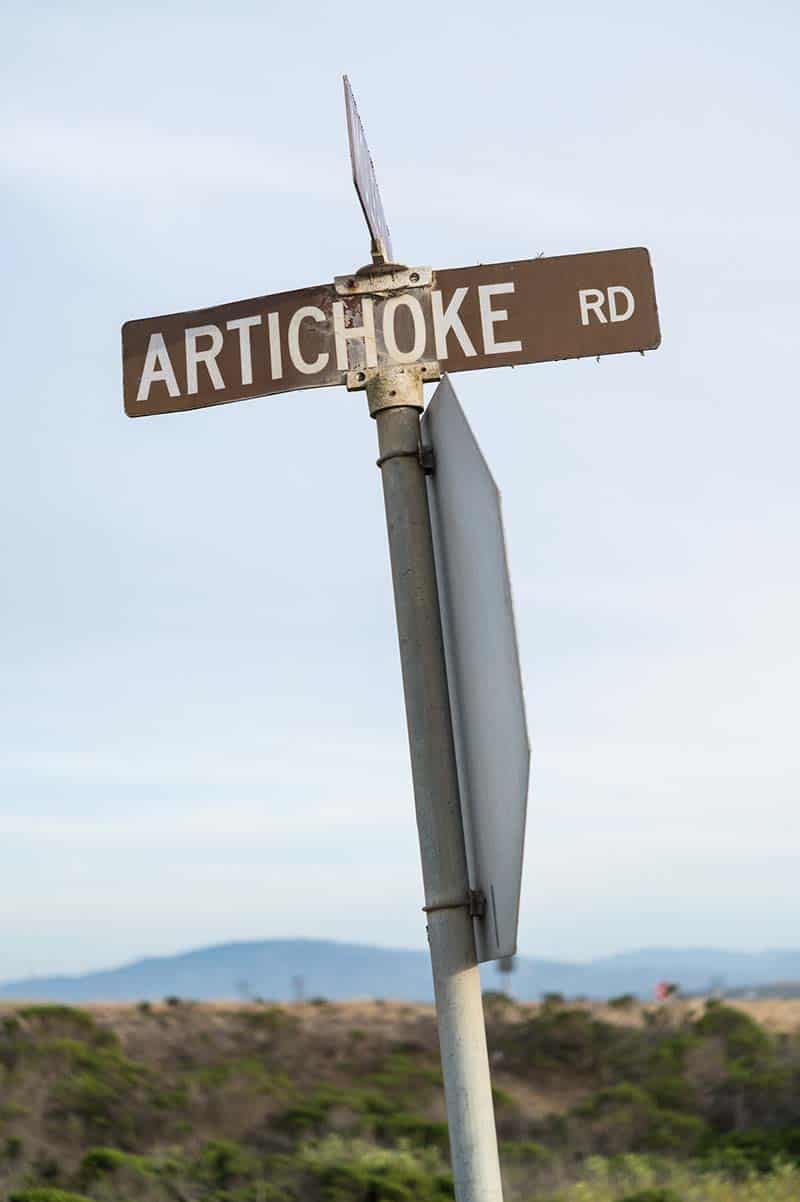 Where is the artichoke capital of California?
Less than an hour down the coast, artichokes were about to explode in popularity and forever change the trajectory of a tiny town named Castroville. In 1920, Andrew Molera planted Castroville's first artichoke field. His family owned a ranch that had previously been planted with sugar beets. When sugar beet prices plummeted, the tenant farmers requested lower rent. Rather than take a loss, Molera decided to go a different route- and it wasn't one that anyone would have expected.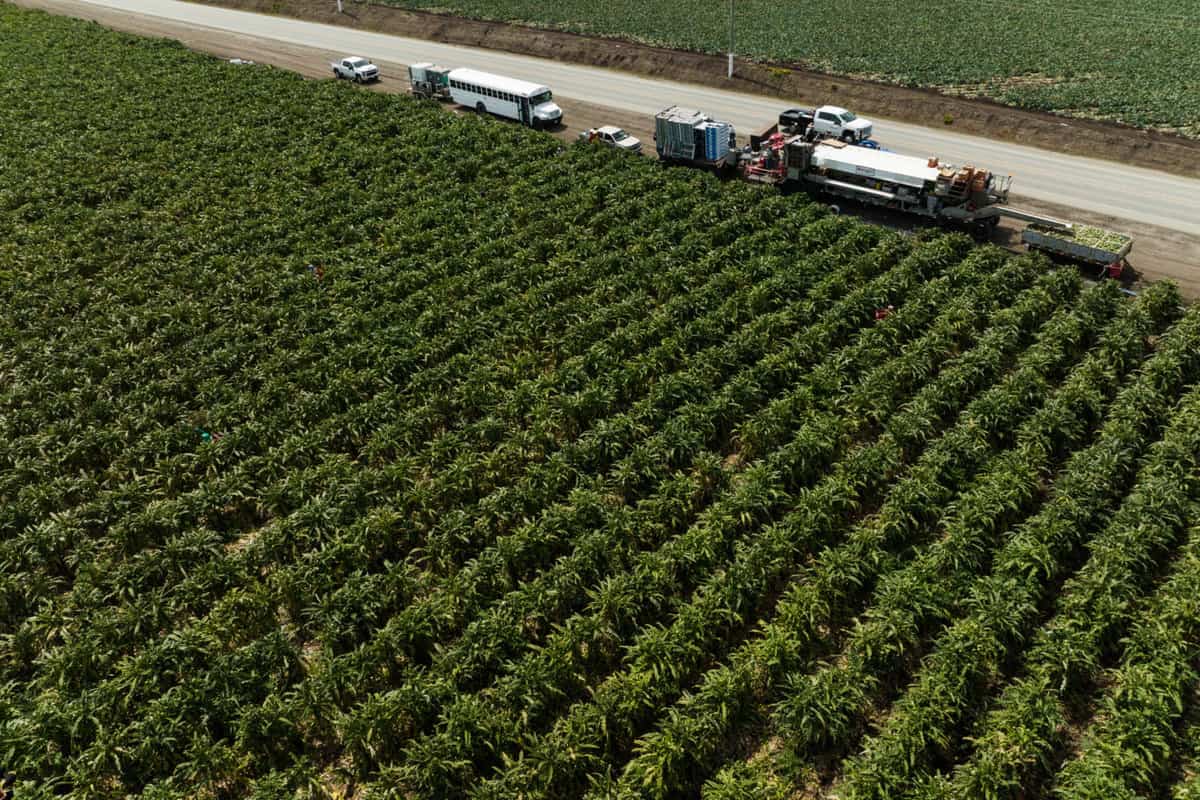 Artichoke acreage increases from 1-acre to over 12,000 in only 5 years!
His initial acre of artichokes thrived, and one year later caught the eye of two cousins – Angelo Del Chiaro and Edigio Maracci. They were so impressed by Molera's artichoke fields that they tracked him down and asked if they could lease 150 acres of his family's land to plant artichokes. Other local growers took note of the success of this up-and-coming crop and began to plant their fields with artichokes as well.
Just five years after Molera's initial one-acre experiment, over 12,000 acres, mainly in Castroville, were dedicated to artichokes.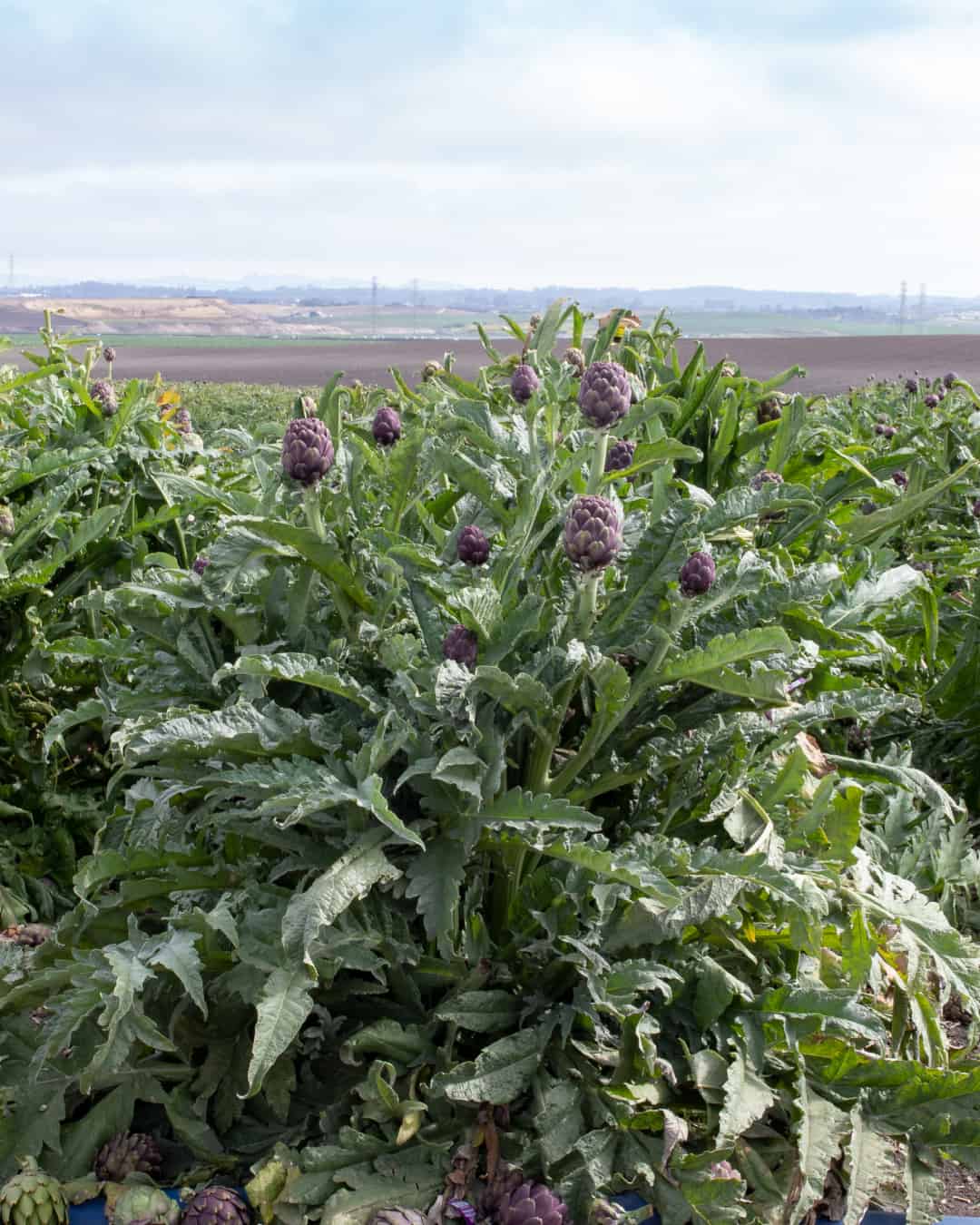 In 1923, Molera formed Monterey Bay Artichoke Growers Incorporated. Following Debenedetti's lead, Molera saw the potential in shipping his product to the East Coast. He procured consignment deals and arranged shipping to the East Coast. This was a start, but Molera was a passionate businessman. He wasn't content with his recent successes. He wanted to make artichokes a household word.
A successful marketing campaign made artichokes a household name!
In 1923, he joined forces with local artichoke growers and staged a major marketing campaign. A combination of in-store displays, cooking demonstrations, teaching consumers how to eat artichokes, and recipe distributions paid off in spades as artichoke recipe sales soared 400 percent in the first year.
By the mid-1920s, artichokes were in the midst of a meteoric rise in popularity, netting 30-40 cents a piece on the East Coast. Artichokes, which had previously been an imported luxury, were now readily available virtually year round throughout the nation. These countries new favorite thistles were featured in popular cookbooks, advertised in stores, and even sold on street carts!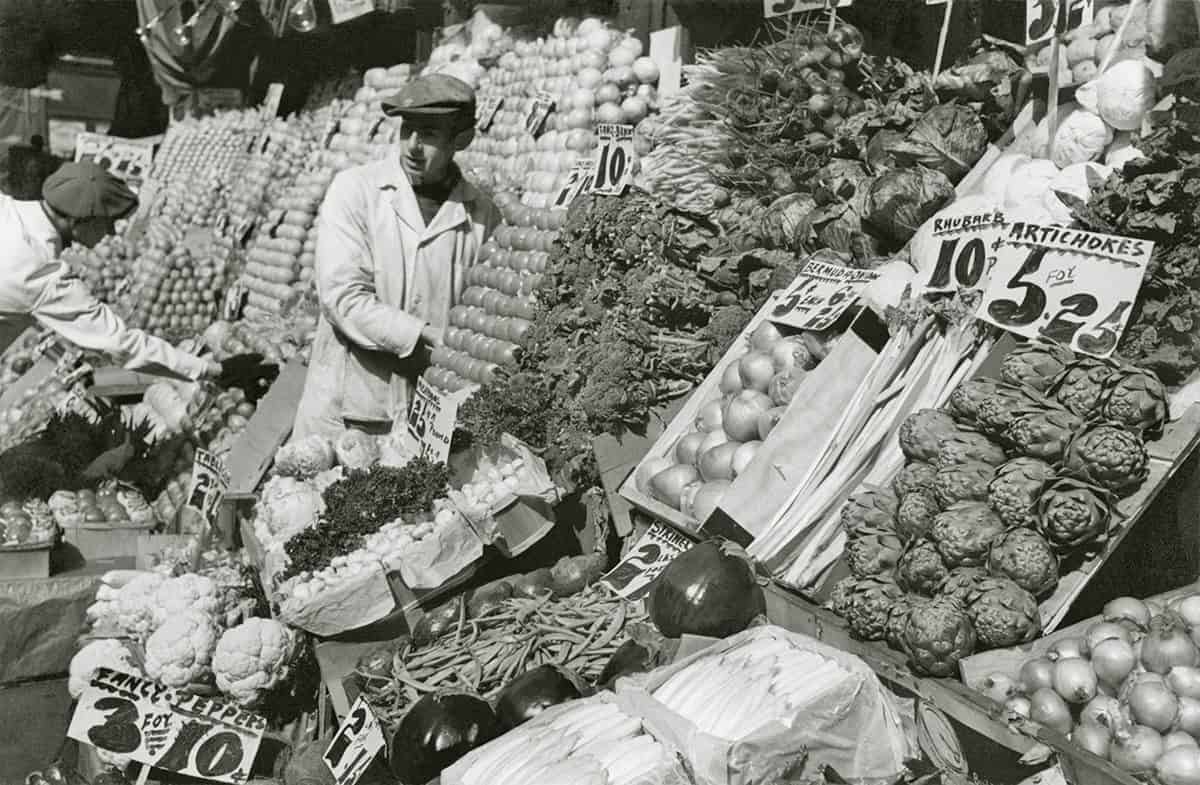 A vegetable seller at Fulton Street market in New York City, 1934. PHOTO COURTESY OF REMIE LOHSE/CONDÉ NAST VIA GETTY IMAGES
How are artichokes and the Mob related?
This caught the attention of Ciro Terranova, an underboss for the Morello Mob Family. At the time, mob activity in New York City was running rampant. Terranova was likely looking for ways to catch the bosses' eye, and he developed a devious, but brilliant, plan – artichoke racketeering.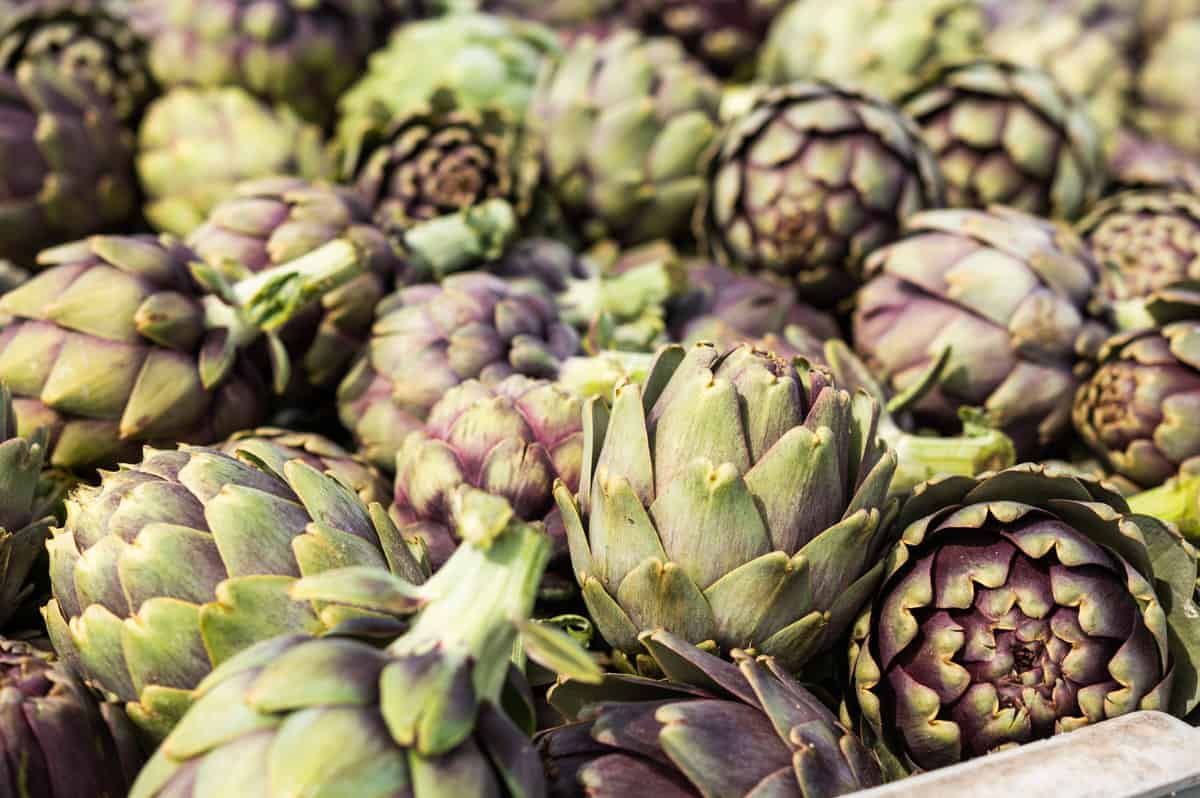 Terranova cruised through the city in his bulletproof limousine and coerced local grocers into selling him artichokes for pennies. He then turned around and resold the artichokes to street vendors at an exorbitant price and pocketed the difference. The scope of Terranova's scheme quickly expanded when he realized that it would be easier to seize the artichokes directly from the source. His lackeys made their way out to the Golden State where they forcefully procured deals with local artichoke growers.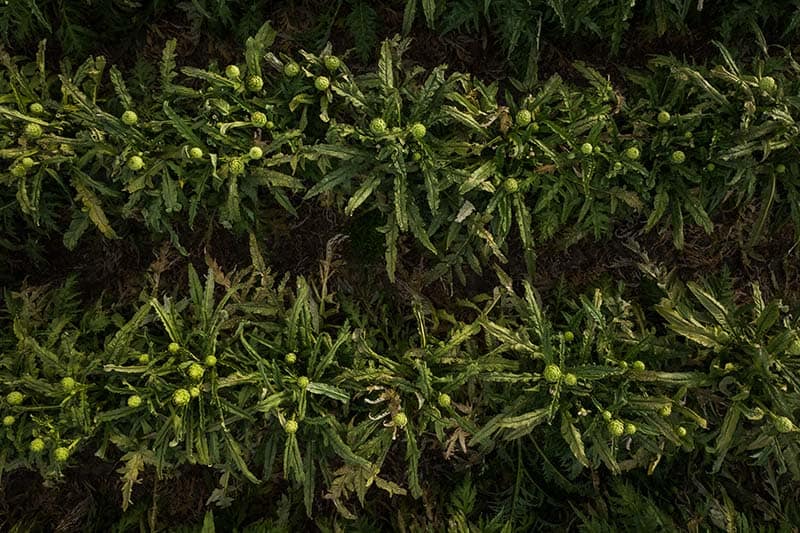 An artichoke ban goes into effect in New York.
Before long, the whole situation was completely out of control. Thefts, kidnapping, and even murders had been linked to Terranova's artichoke hustle. The situation was so dire that in December of 1935, the mayor of New York was forced to temporarily ban the sale of artichokes.
Criminal investigations and arrests were heavily reported in the news, which only piqued the public's interest and increased demand. Due to public outrage, the ban was lifted in just over a week. Luckily for growers and grocers, the ongoing investigations were much more successful. Within a few years, the racketeering ring had been broken up, artichoke prices leveled out, and growers (and grocers) could resume sales without worrying about losing a finger…or worse.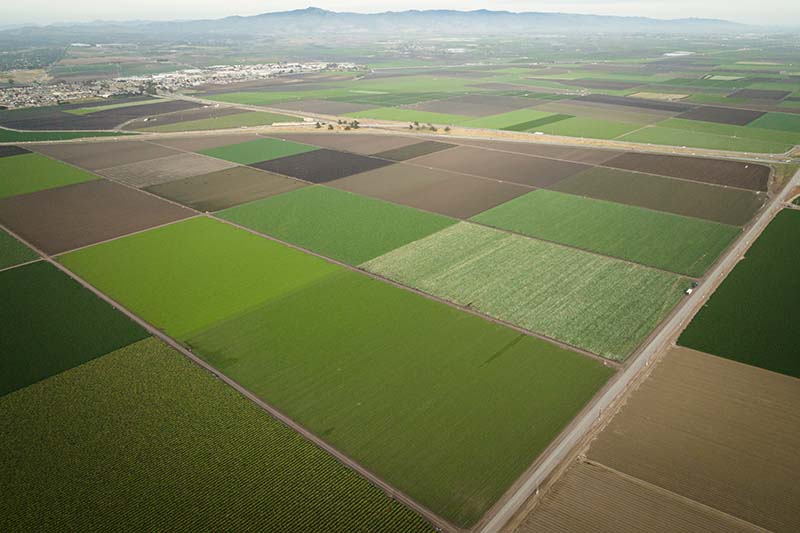 Artichokes are on the move inCalifornia, to Castroville.
Meanwhile, back in California, real estate prices were rapidly rising. The price of land near San Francisco became prohibitive, and the majority of artichoke production from the area moved south to join production already in progress in and around Castroville.
Today, virtually all of the nation's commercially grown artichokes are from California – and a whopping seventy percent of the total crop is grown near Castroville.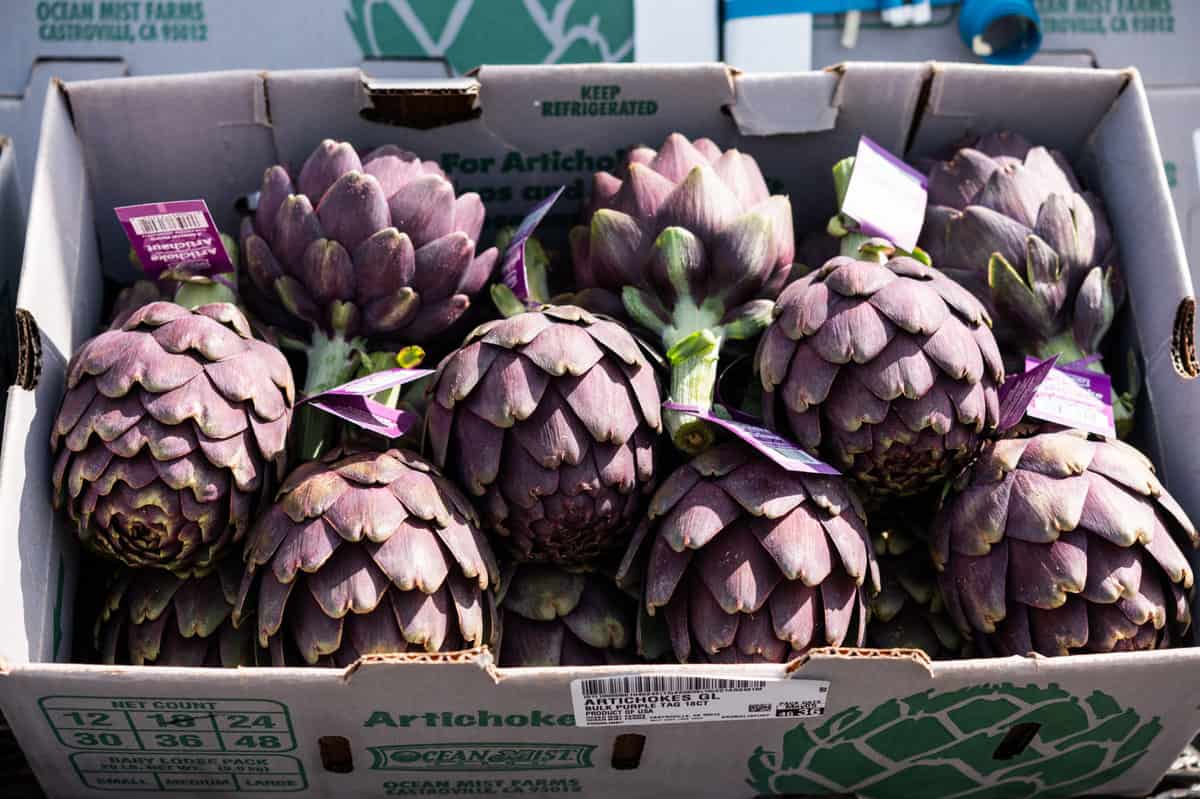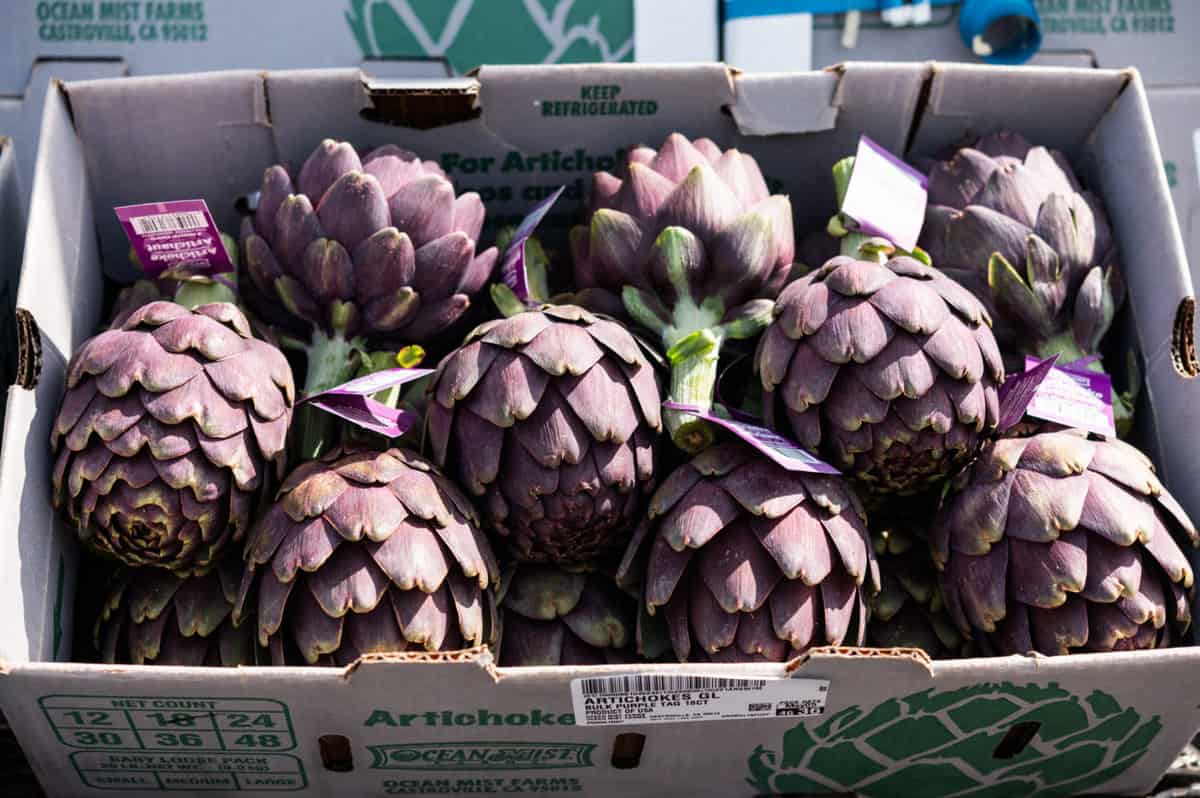 How are artichokes grown?
Artichokes are unique because they are technically perennial plants, which means that when grown in the appropriate climate, they'll come back the next year. There are three ways to grow artichokes: from seed, from rootstock, and by dividing plants.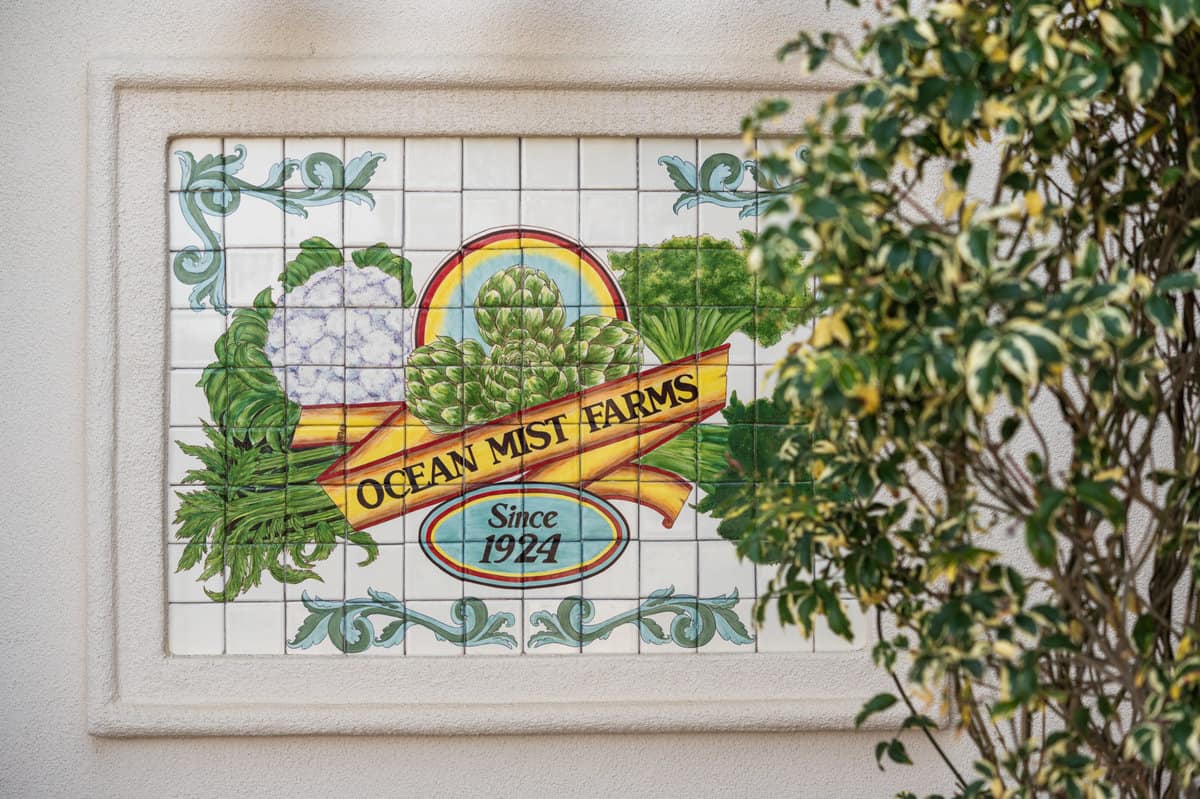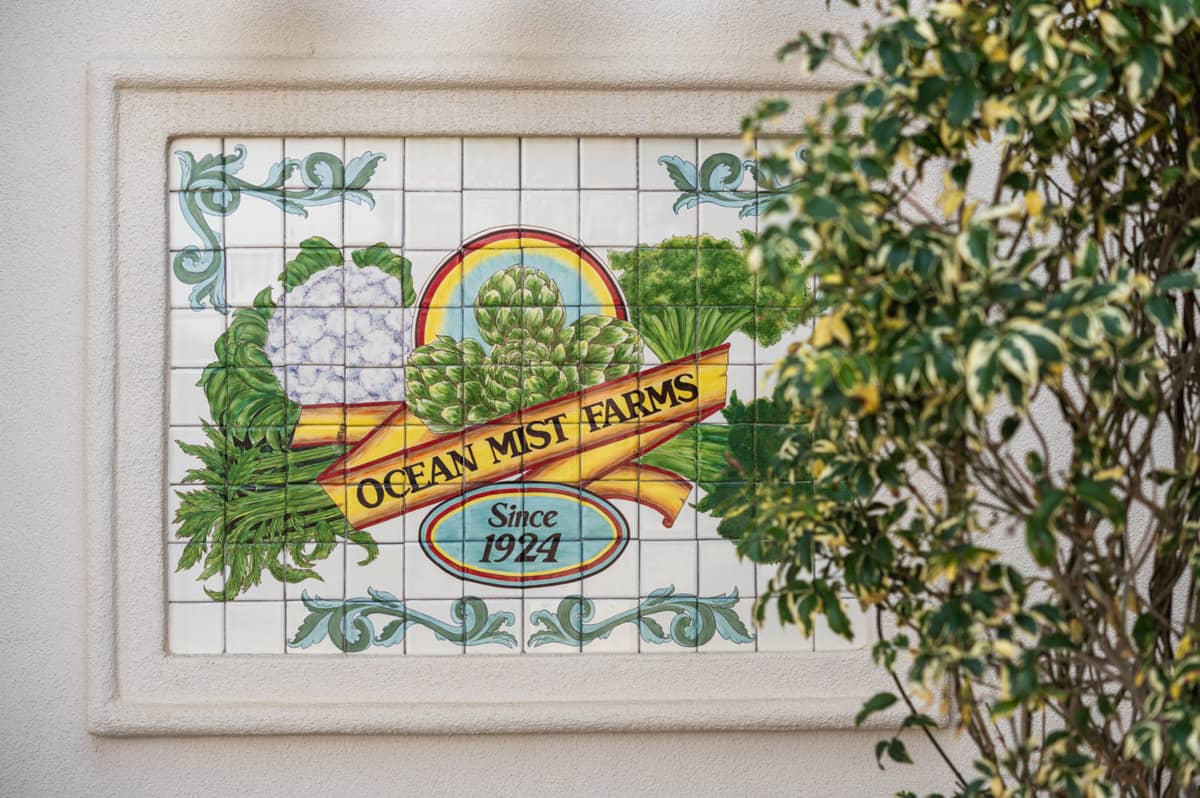 How artichokes are grown at Ocean Mist Farms in Castroville, Ca.
Ocean Mist Farms, the nation's largest producer of artichokes, grows the majority of their crop from seed. Because of the volume of their production, growing from seed is more economically and environmentally sustainable. Each year after harvest, the artichoke plants are tilled back into the ground, then overplanted in the coldest months with complementary crops like lettuce. This helps to improve soil quality – which in turn improves water retention and helps to keep the pest populations under control. These factors contribute to a more uniform crop and higher yields.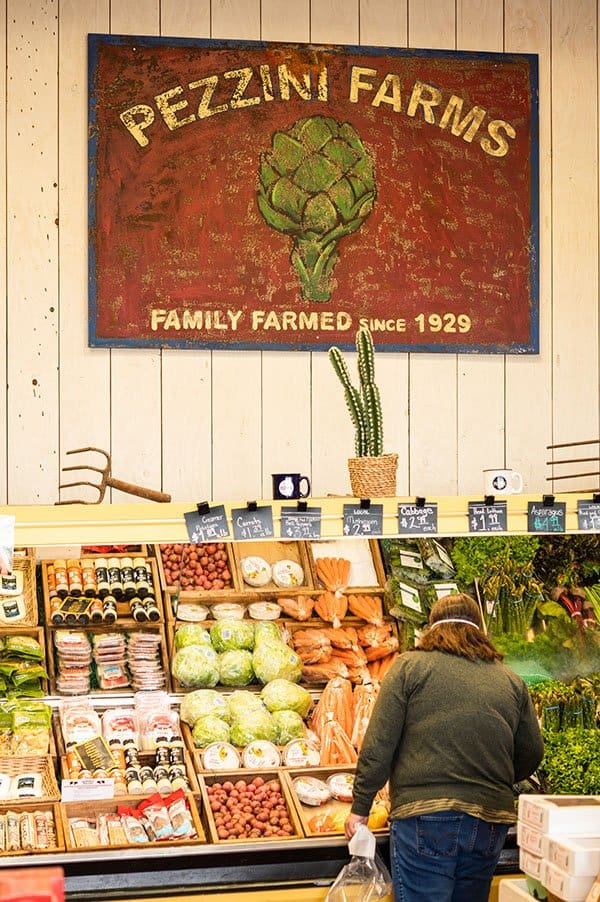 How artichokes are grown at Pezzini Farms in Castroville, Ca.
Some smaller growers, like Pezzini Farms, still grow perennial heirloom varieties. The original rootstock from which Pezzini's artichokes are grown is over one hundred years old! Perennial artichokes are propagated from a root cutting which is nurtured, then planted in the ground. After the final harvest each year, each plant is cut back to the ground, leaving the rootstock and surrounding soil intact so that throughout the remainder of fall and winter, the plant can grow and mature. By the following spring, the artichoke plant is again ready for harvest.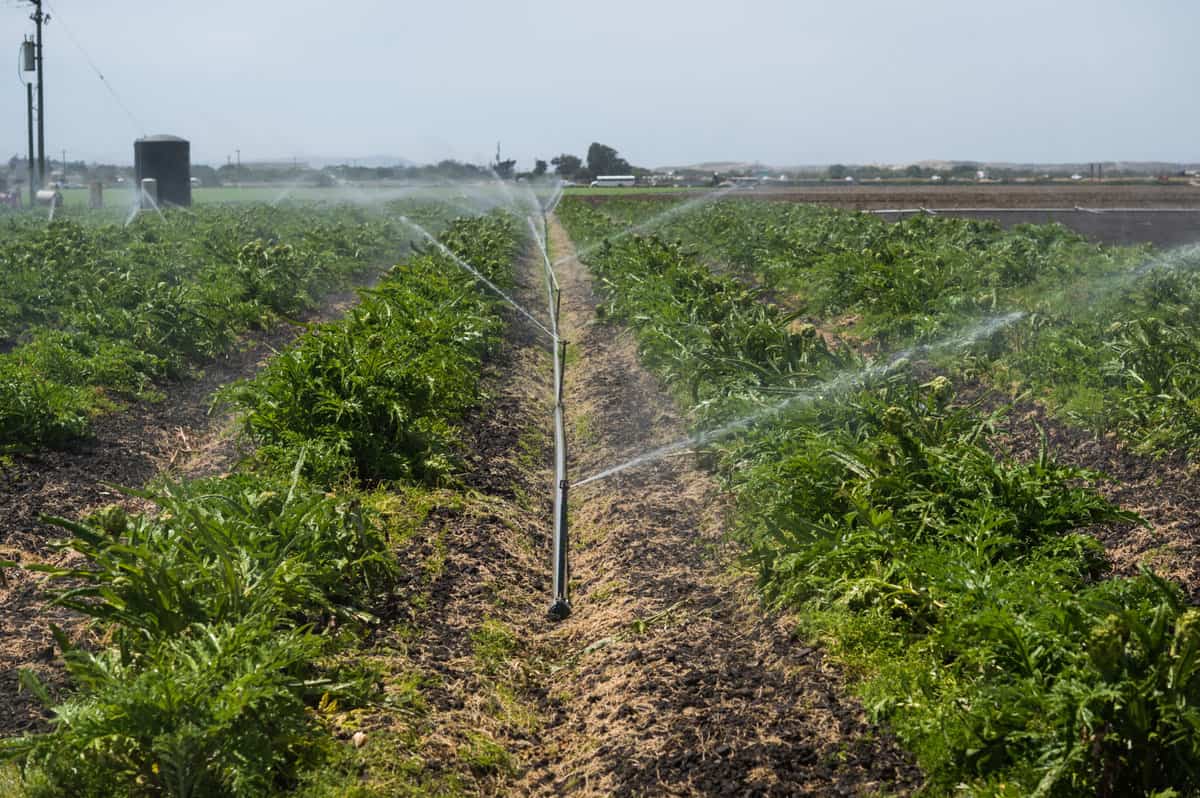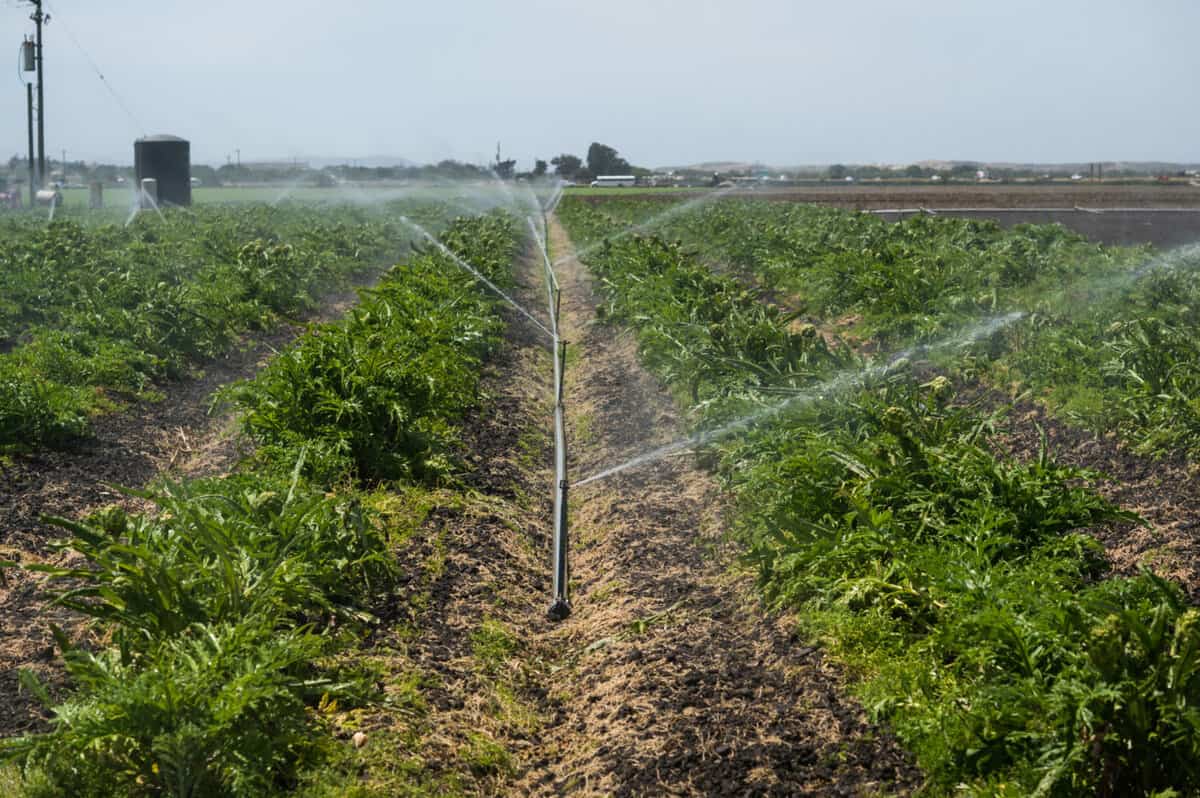 The lifespan of a perennial artichoke plant is determined by multiple variables such as moisture levels, climate, and soil quality, but on average these perennial artichoke plants will thrive for at least five years.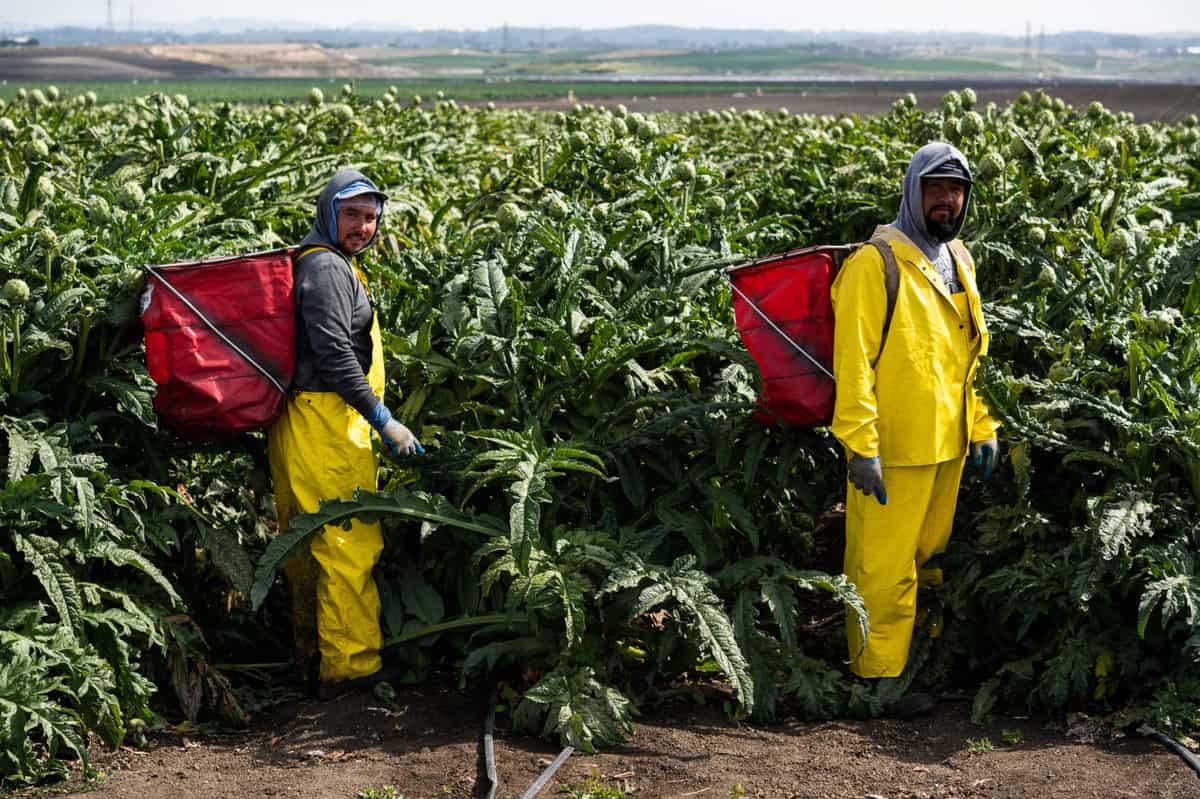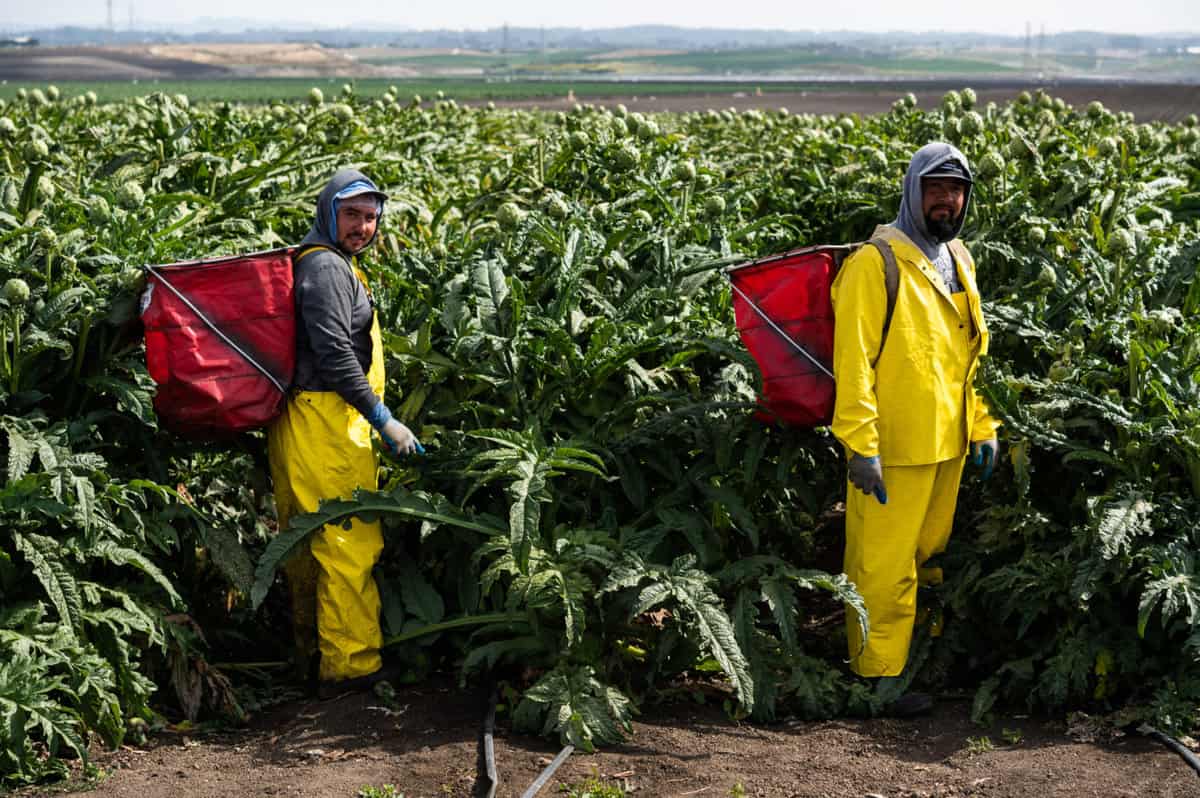 Farmworkers wearing canastas while harvesting artichokes
How are Artichokes Harvested?
While artichokes could technically be grown year-round in temperate areas like Castroville, moving production south during the coldest months of the year allows for a greater yield. As the harvest moves from north to south and vice versa, the crews often follow.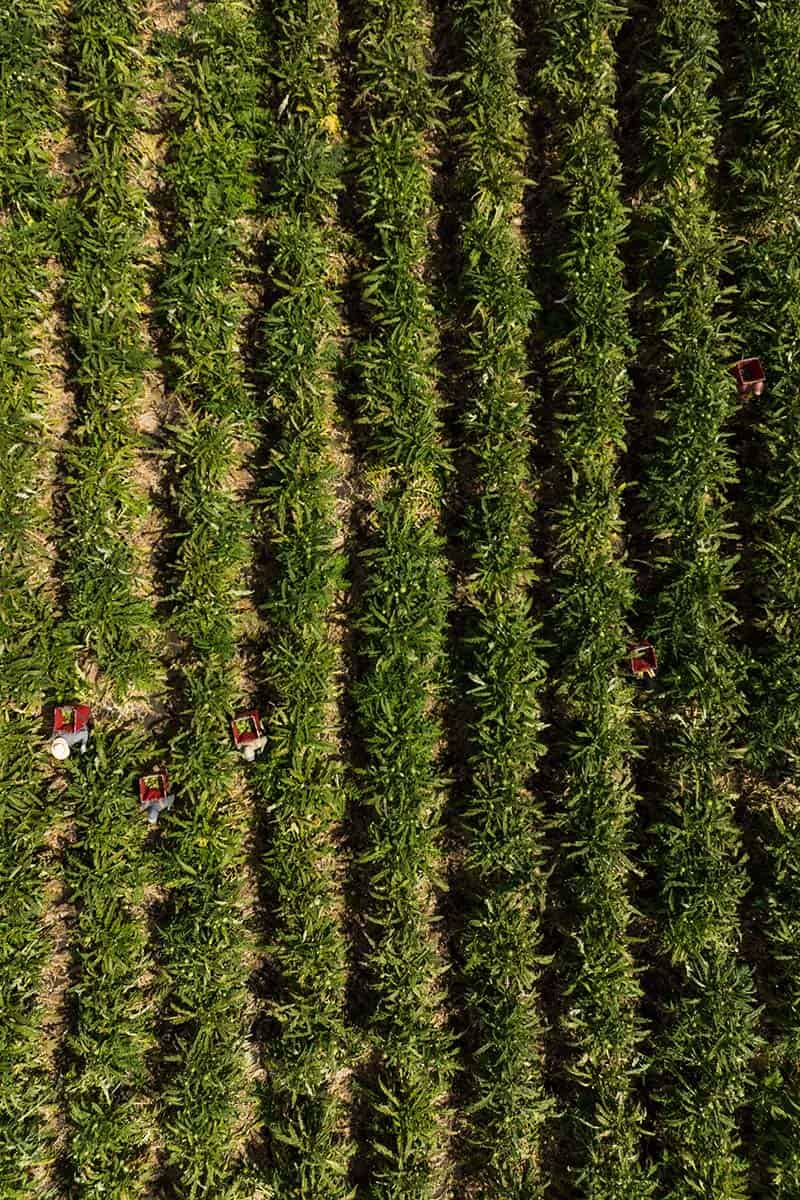 What skills are required to harvest artichokes?
Artichoke harvesting requires a keen eye and a specialized skill set. Crew members must be able to quickly evaluate artichokes for size, then in one fell swoop, slice the choke from its thick stem, and toss it over their back into a special backpack called a canasta.
As the farmworkers make their way down the row, the canasta becomes heavier and heavier. A full pack can weigh between 80-100 pounds. In addition to the heavy load, workers often deal with intense heat in the fields.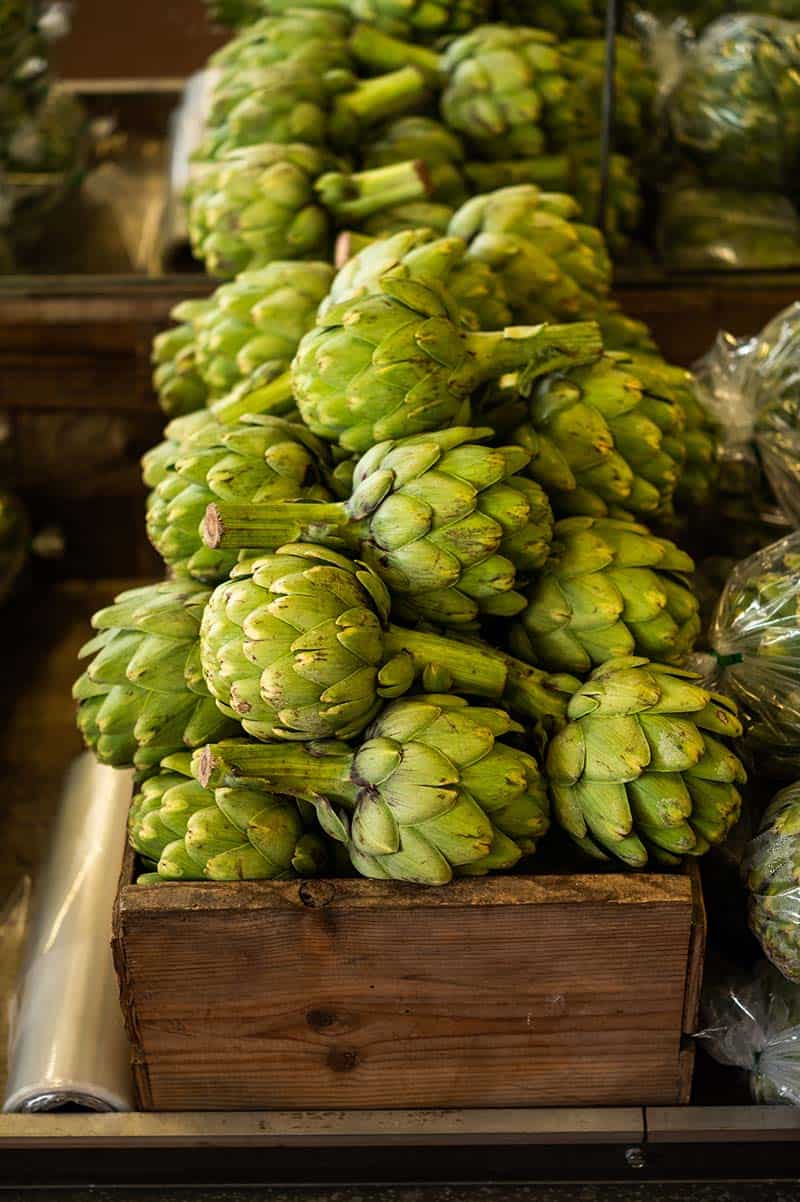 What does it feel like to stand in a field of artichokes?
Artichoke fields are dense and humid, and essentially create their own microclimate within the rows. While temperatures outside may seem mild, it is often between 15-20 degrees hotter in between the crop rows. When harvesting fields with longer rows, growers will often place a trailer on each end of the field so that as farmworkers make their way through a row, they can unload their pack before they head back down the opposite side.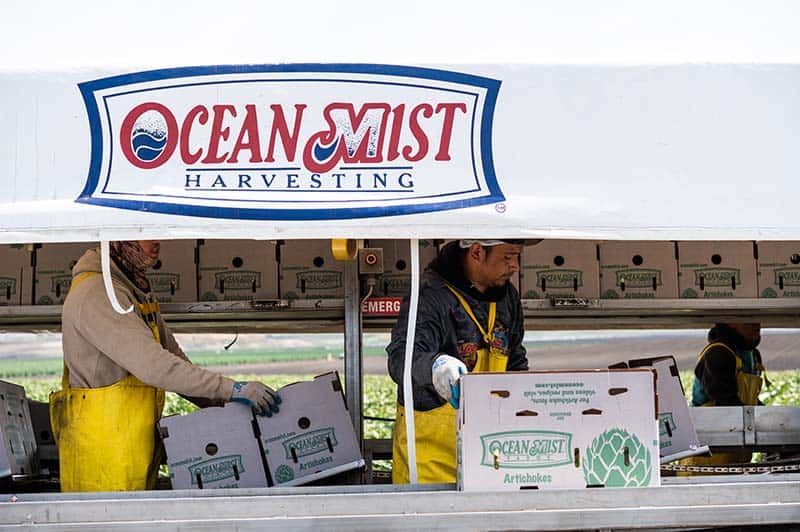 How long after the artichokes are picked before they are packed for consumers?
Immediately after harvest, artichokes are sent to an on-site team that sorts for size, then packages the artichokes and sends them to a cooler until ready to be shipped.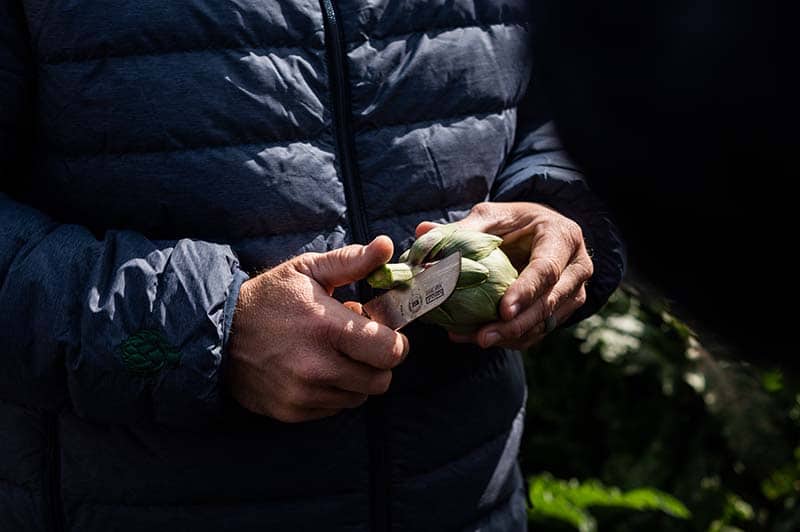 Artichokes are technically a flower bud, so when you cut off a "bloom" it encourages new growth. For this reason, artichoke fields have harvested an average of 7-10 times, or until production dwindles. Each pass typically targets a specific size range. Primary artichokes, the largest of the lot, are found at the center of the plant, while secondary and tertiary artichokes are smaller and grow off to the sides. Perennial artichoke harvest varies slightly, with the main harvest occurring in spring, followed by a second, smaller harvest in the fall.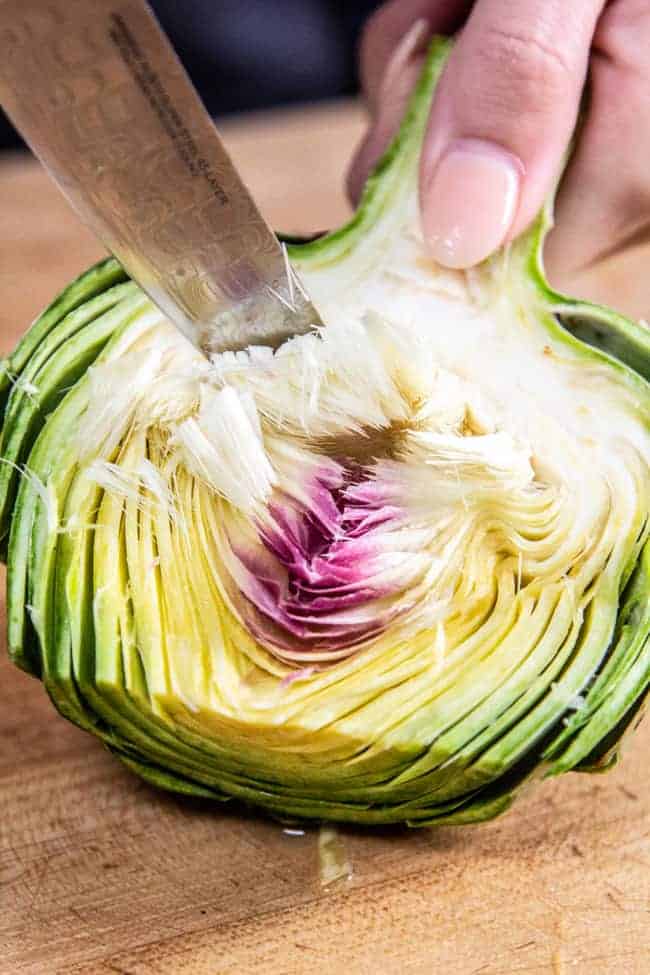 How to eat artichokes, a Master Class in prep work.
Now that you know all about the history of artichokes and how they made their way to California, I can finally fulfill my promise of sharing exactly how to eat artichokes with you too!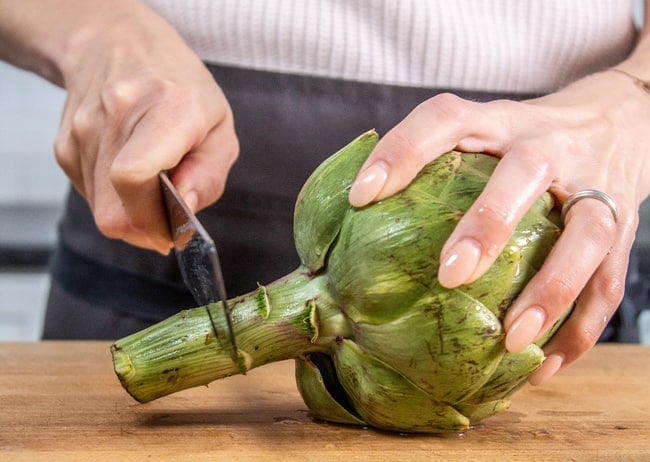 How are Artichokes Prepared?
There are countless ways to cook an artichoke. Regardless of which way you choose, they all require the same initial prep. While no part of the plant is poisonous, the tough outer leaves, stem, and hairy inner choke are inedible
PHOTO COURTESY OF THIS MESS IS OURS
Our friend Meg, from This Mess Is Ours, created an awesome in-depth tutorial on how to prep artichokes. Here's a brief overview.
Remove the bottom leaves and slice off the stem.
Use a sharp knife to cut around half an inch off the top of the artichoke.
Snip the pointy tops of the outer leaves so that they are flush with the rest of the artichoke.
Rub the entire remaining artichoke with a lemon to prevent browning, and then submerge in an ice bath.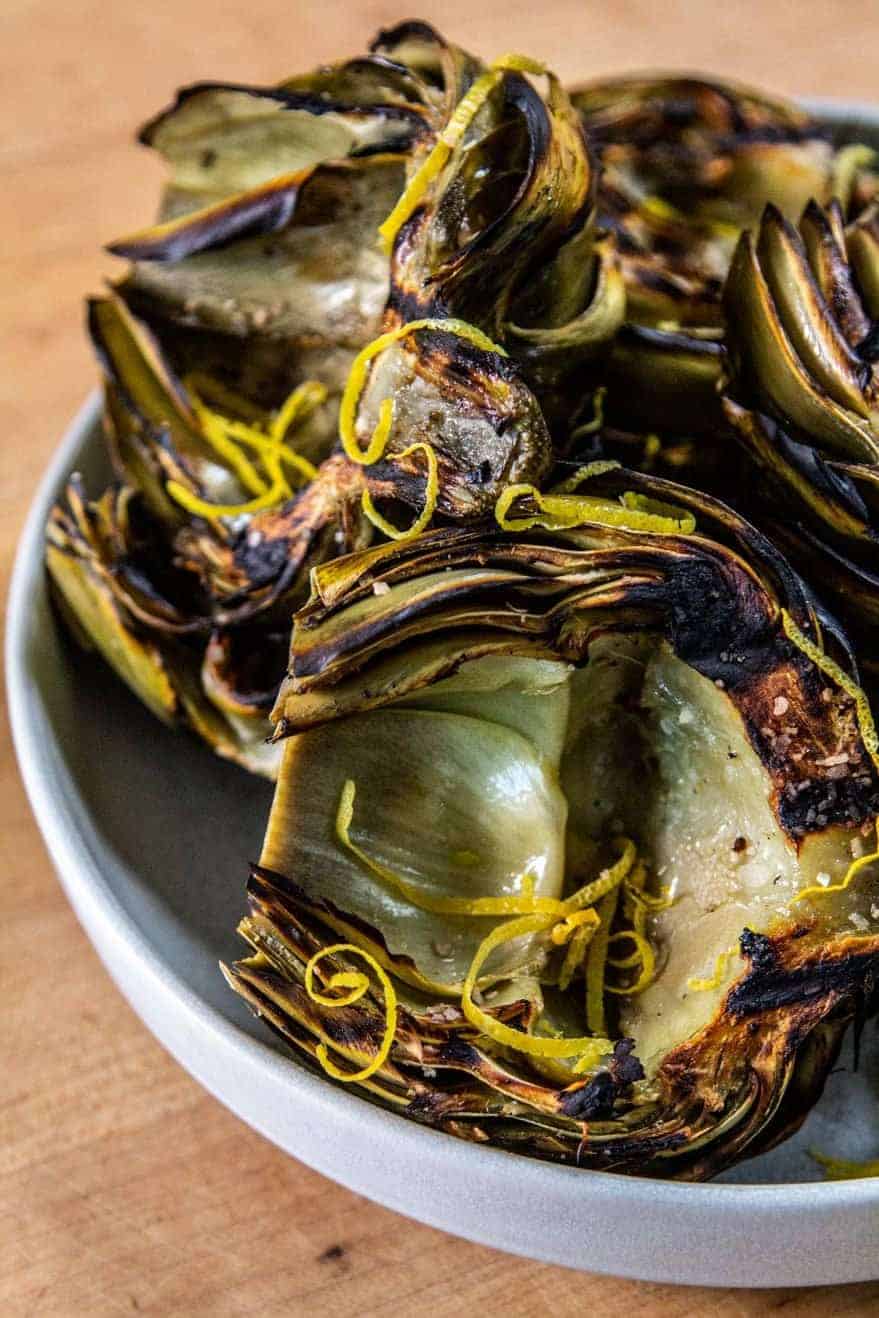 From here, you can cook the artichoke any way you like. The method you choose doesn't change how to eat artichokes. We're big fans of grilling, but you can also boil, steam, oven bake, or even microwave artichokes.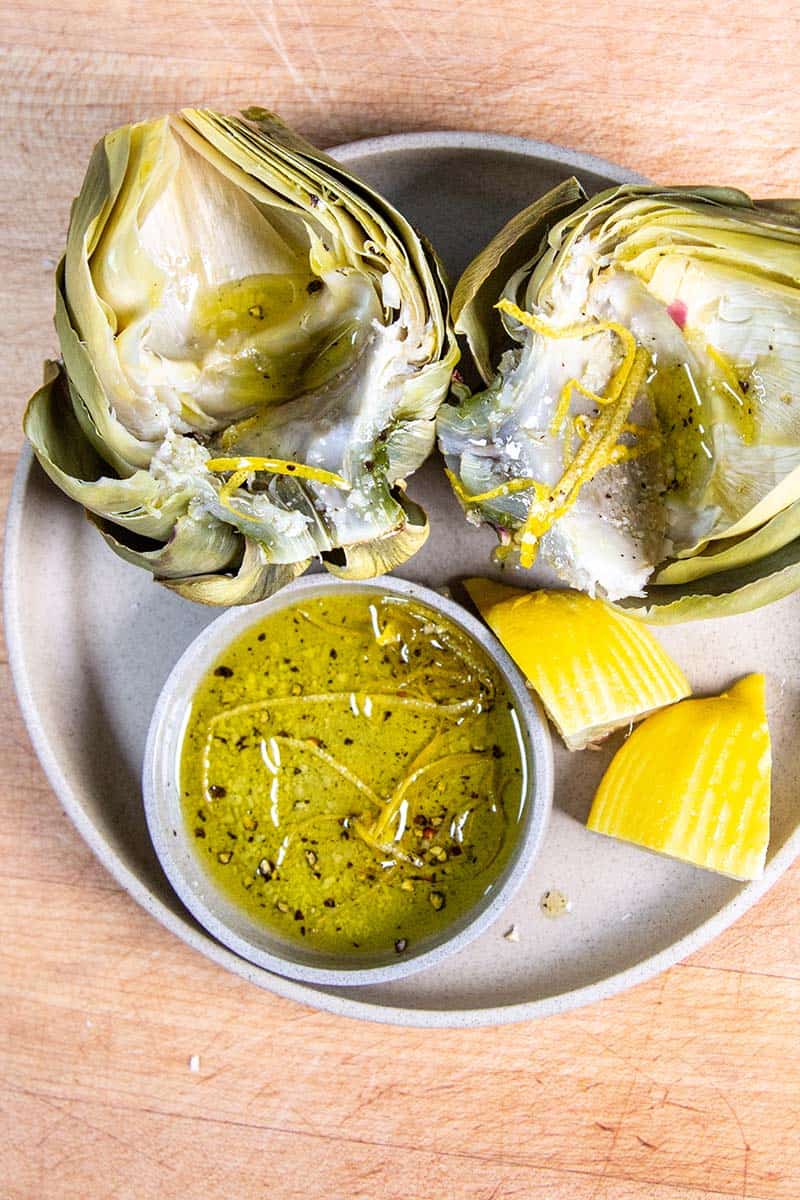 How to eat artichokes.
If you're not accustomed to eating artichokes, it can seem like a daunting task. Once you've figured out how to eat artichokes, it's actually pretty simple (and totally delicious).
The leaves and the heart of the artichoke are edible. To eat artichoke leaves, pull them off individually. Use your fingers to hold the artichoke leaf at the tip where it would have attached to the stem. Then put it in your mouth and scrape the tender flesh off with your teeth. To eat the artichoke heart, simply slice it into pieces and eat with a fork.
Now that you know how to eat artichokes, you'll want to try our favorite recipe for Stuffed Artichokes.
Did you find this article about how to eat artochokes useful? You can share your artichoke creations with us by snapping a pic and tagging us on social using #CAGROWN.
Craving more CA Grown goodness? Follow us on Pinterest for fresh and fabulous recipe inspo!
Freqently asked questions about artichokes.
Are artichokes a vegetable?
Artichokes are a perennial thistle – so while they're widely referred to as a vegetable, they're technically a flower. The part of the artichoke that you eat is actually a flower bud. If artichokes weren't harvested, they would eventually produce a huge purple bloom.
When did artichokes become California's state vegetable?
In 2013, as his first official act as governor, Gavin Newsom declared the artichoke California's state vegetable. A radio station in San Francisco organized the contest to name California's official food and voting was conducted via Facebook. Artichokes came out the clear winner, unseating California's previous state food, the avocado.
Are artichokes poisonous?
No parts of an artichoke are poisonous- but that doesn't mean you should eat the whole thing! When we talked about how to eat artichokes, we mentioned that the leaves and hearts were edible. The hairy inner choke is, however, NOT edible (but is also not poisonous). Most artichoke recipes call for removing the stem, but it is technically edible as long as it has been peeled first.
If you loved learning how to eat artichokes (and all about their scandalous history), read our blog posts about two California artichoke growers – Ocean Mist Farms and Pezzini.
Looking for more delicious ways to enjoy California Grown fruits and veggies? Try our friend Kate's Pozole Blanco!
Article was written by Hilary Rance. Photography by James Collier (unless otherwise specified).