Decorating With Flowers; Beautiful Cakes, Cookies, And Cocktails.
We all know that decorating with flowers can elevate the mood and brighten a home, but have you ever thought about decorating your cakes, cookies, and cocktails with cut flowers too? You can elevate even the simplest of recipes to spectacular results with just the addition of a few strategically placed blooms.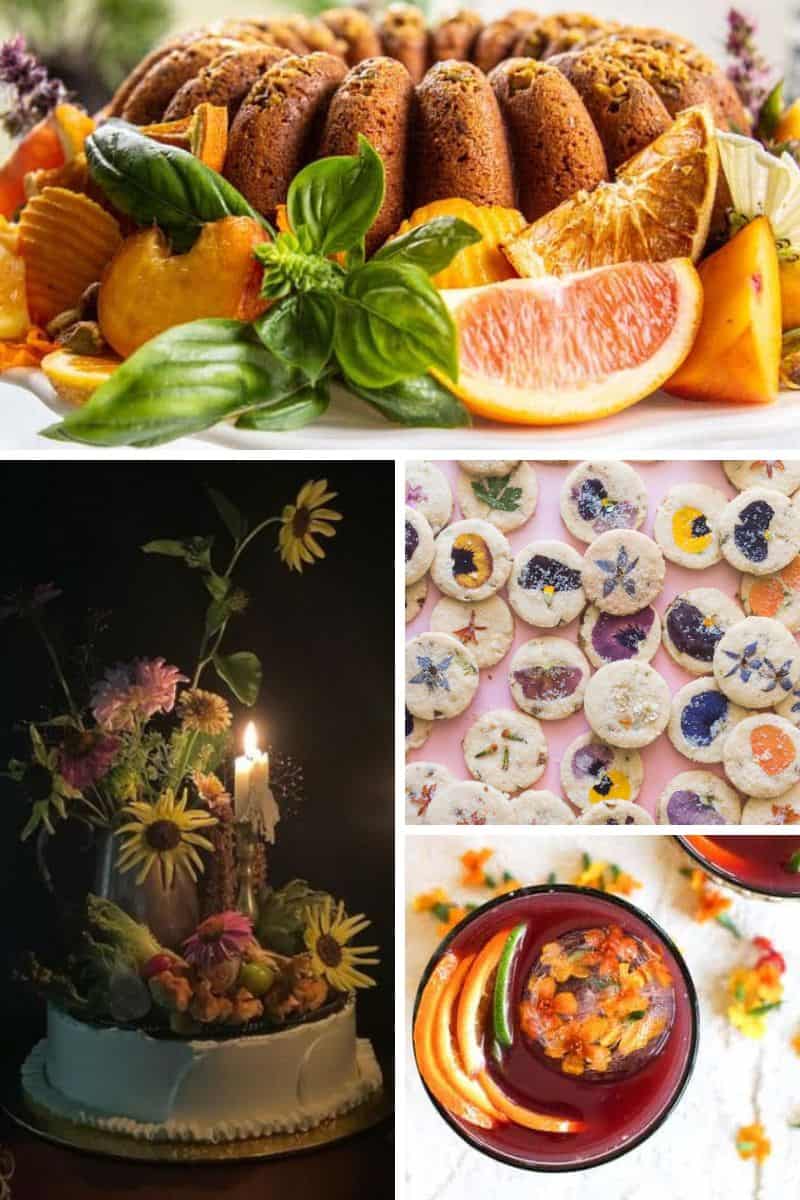 Many varieties of flowers are edible, but you'll want to be certain the ones you're using are culinary-grade. That means they've been grown and packed in conditions that are food-safe. Start your edible flower investigative research by reading the post below.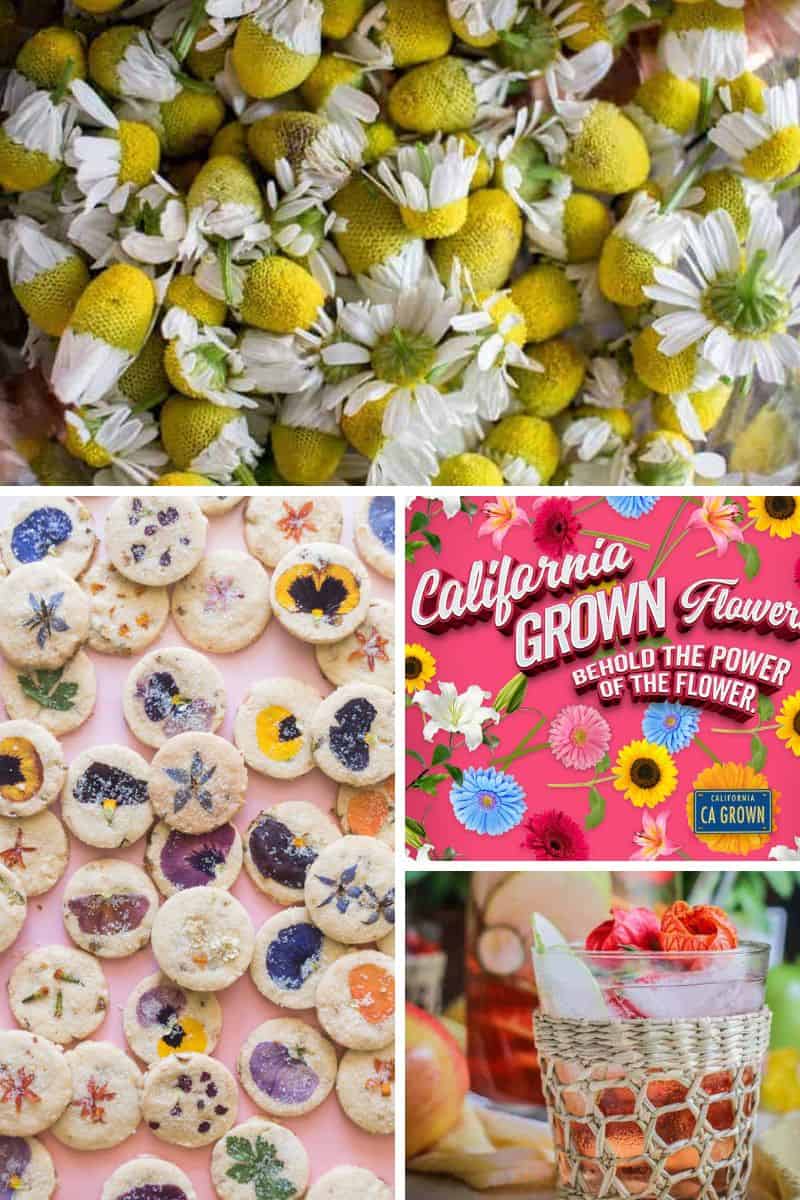 Did you know that California is America's leading producer of high-quality cut flowers and greens? Our state supplies over 75% of all domestically grown cut flowers in the United States. We just happen to know a thing or two about how to cook and decorate with cut flowers too!
Now that you have learned about selecting and purchasing edible and cut flowers from California, it's time to select a recipe and secure some flowers for your cooking projects.
You can order edible flowers online or from some florists or grocery stores. Farmer's markets are also a great source of edible blooms.
Decorating with flowers: cake and cookie recipes.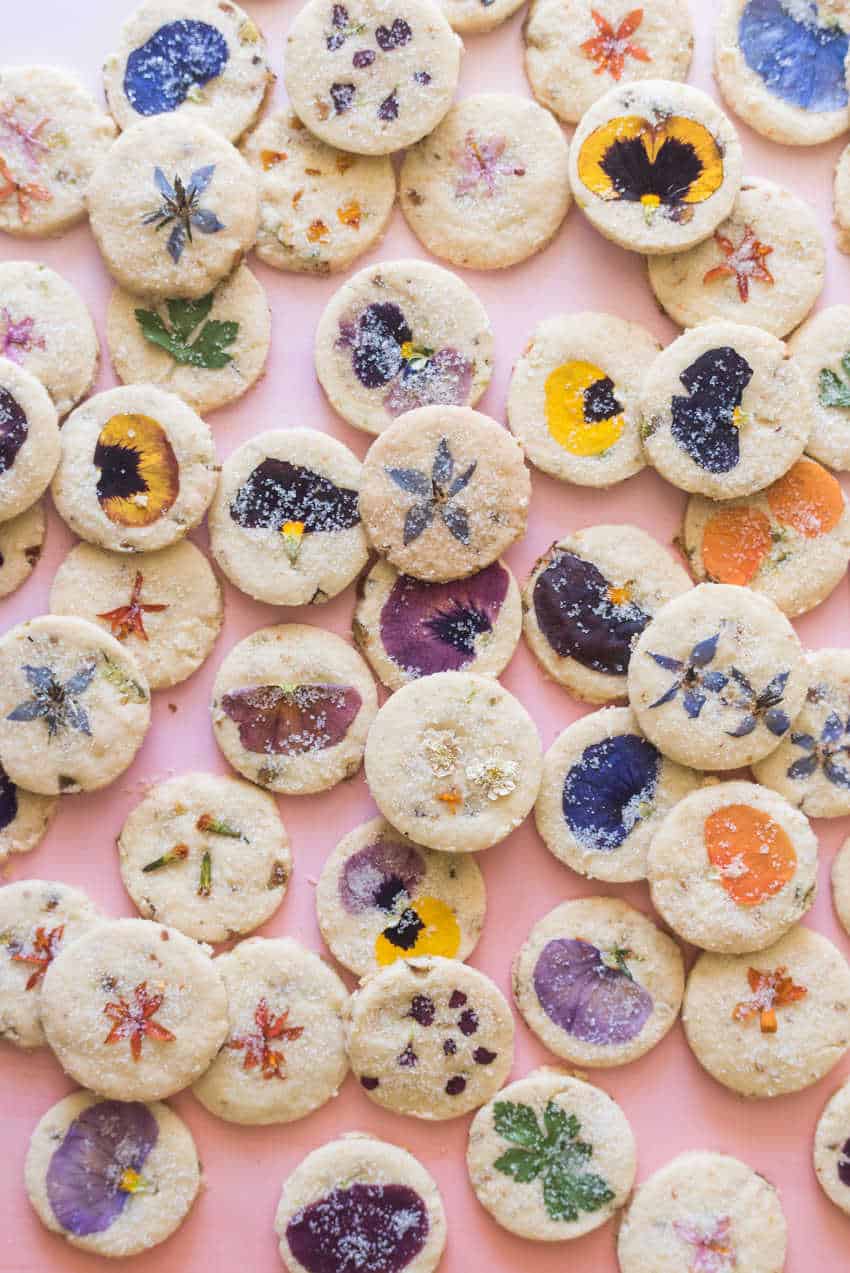 Edible Flower Pistachio Shortbread Cookies
These buttery-crisp shortbread cookies from G Free Foodie feature pretty green flecks and fabulous crunch courtesy of pistachios!
Pansies, violas, nasturtium, dianthus, and borage blossoms all work great on these cookies as do parsley and mint leaves.
Remember that the flowers or herbs may add flavor to the cookies, so you want ones that taste as good as they look.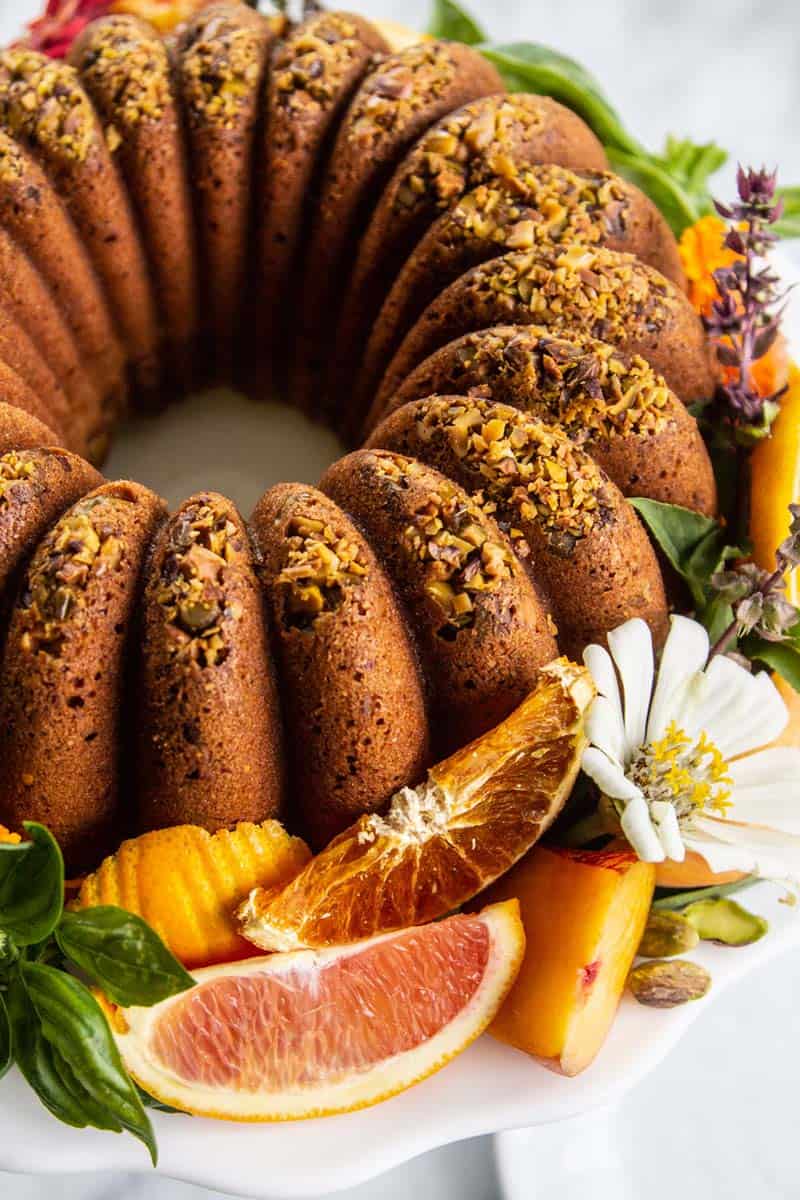 Our newest recipe for bundt cake is unlike any other bundt cake recipe you have ever tried! In fact, this just might be the easiest cake recipe you have ever baked. Just chop, mix, and bake. No need to ice this cake either; you can decorate and serve it with your favorite seasonal fruits and cut flowers.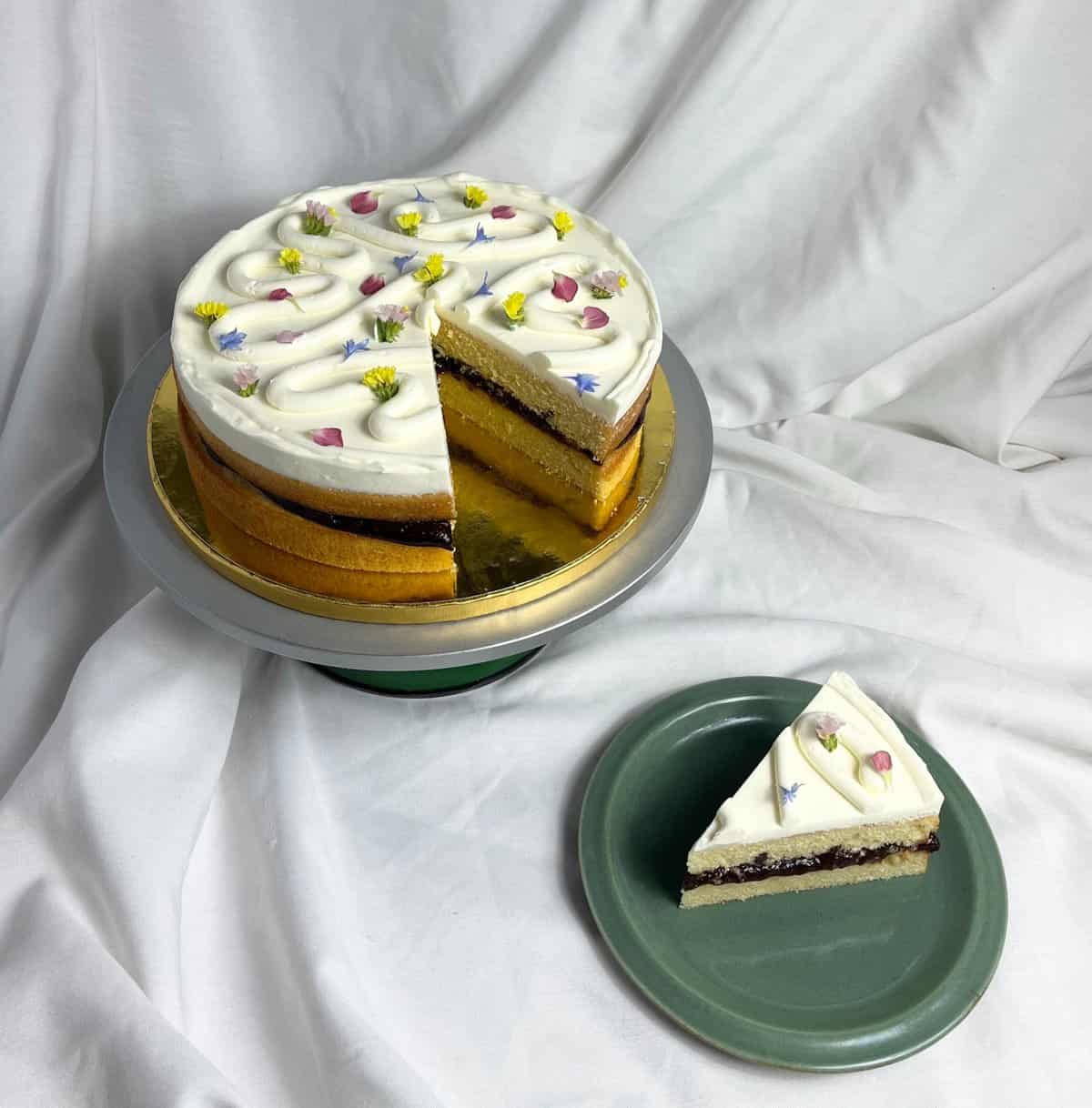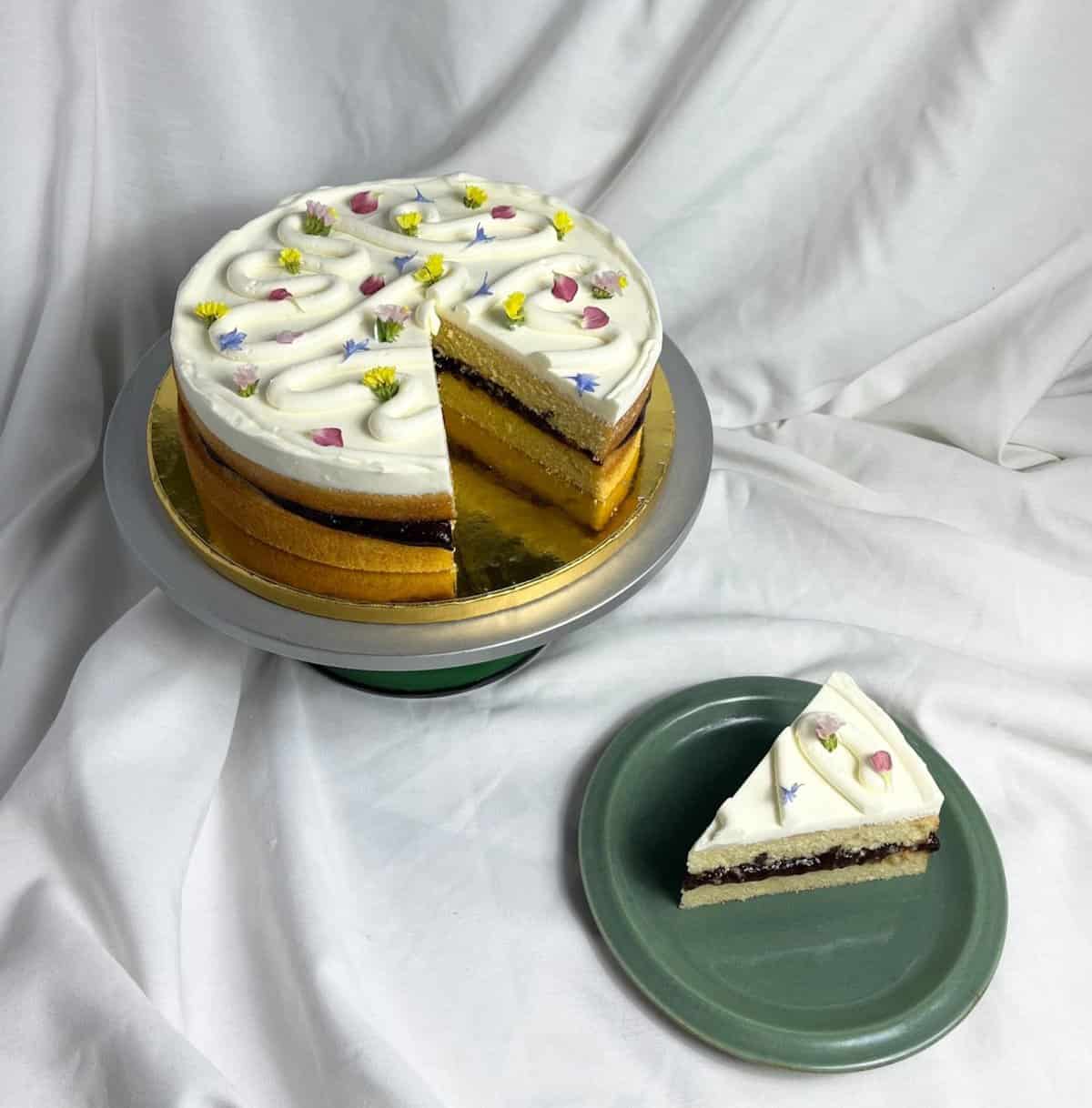 A subtle smattering of edible flower petals is all you need to take your cake to the next level without a ton of hassle.
This cake from Bronwen Wyatt of Bayou Saint Cake featured on Cherry Bombe proves that sometimes it isn't about a lot of decorating fuss, and that simplicity is best.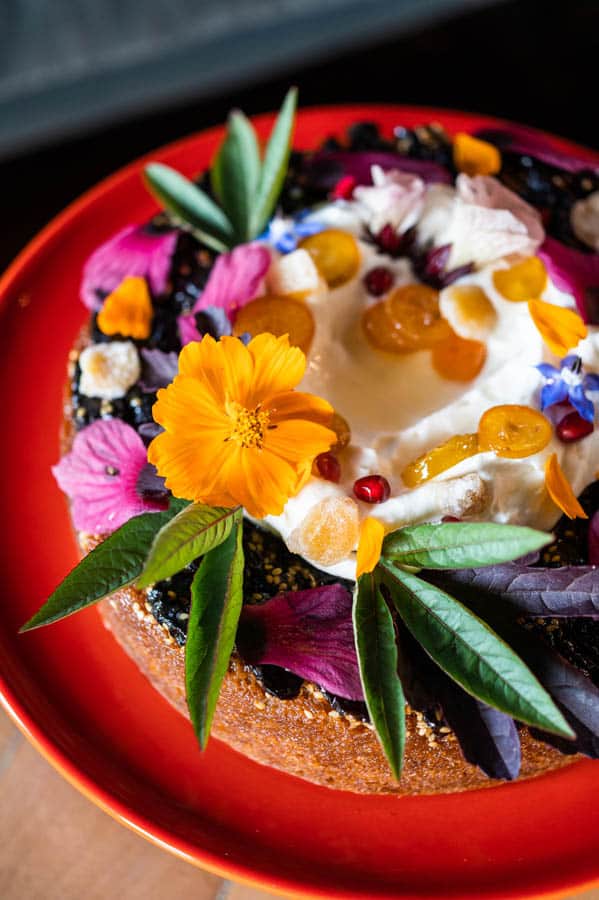 This cake from Bronwen Wyatt of Bayou Saint Cake has a profoundly flavorful prune-toffee-sesame layer on top of a rich and moist brown butter cake.
Bronwen suggests using edible flowers and whipped cream to decorate the cake for a truly decadent dessert!
If you love upside-down cake – or just dessert in general – this recipe featured on the California Prunes website is for you.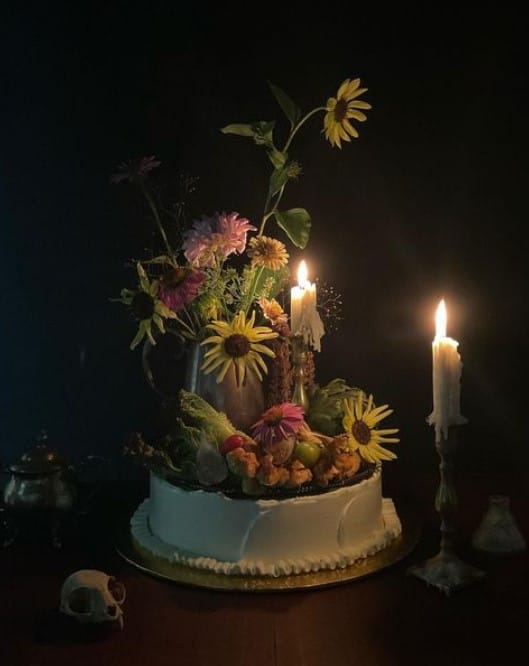 When Bronwen of Bayou Saint Cake said she wanted to play around with new ideas to use vegetables on cakes, she wasn't kidding!
Red leaf lettuce, artichokes, and mushrooms mingle with flowers and mood lighting and in this still life painting come to life.

The base is a 12" carrot and zucchini cake with vanilla Swiss meringue buttercream.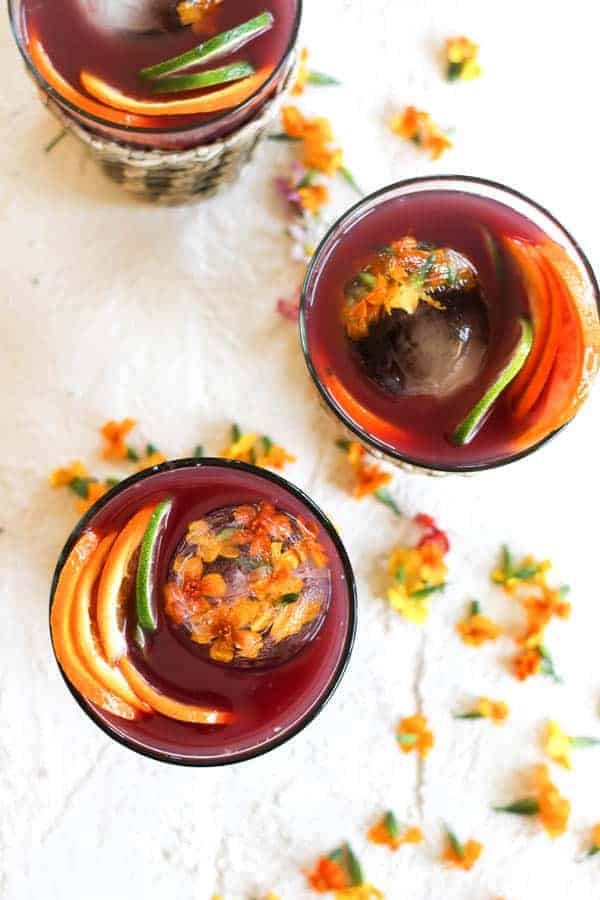 Decorating with flowers; drink recipes.
Decorating with flowers is super easy when it comes to making cocktails and mocktails. You simply add the flowers by freezing them in ice cubes like in the So Cal Sangria from the California Wines Fresh & Delicious California Wine Cocktails ebook, pictured above which you can download for free. You can also simply just float them atop a finished drink before serving.
Edible flowers without a lot of flavor or scent can simply serve as a decoration for your favorite drinks. But, when the blooms are also bursting with flavors and perfumy fragrance as well, they can completely elevate every aspect of the sipping experience.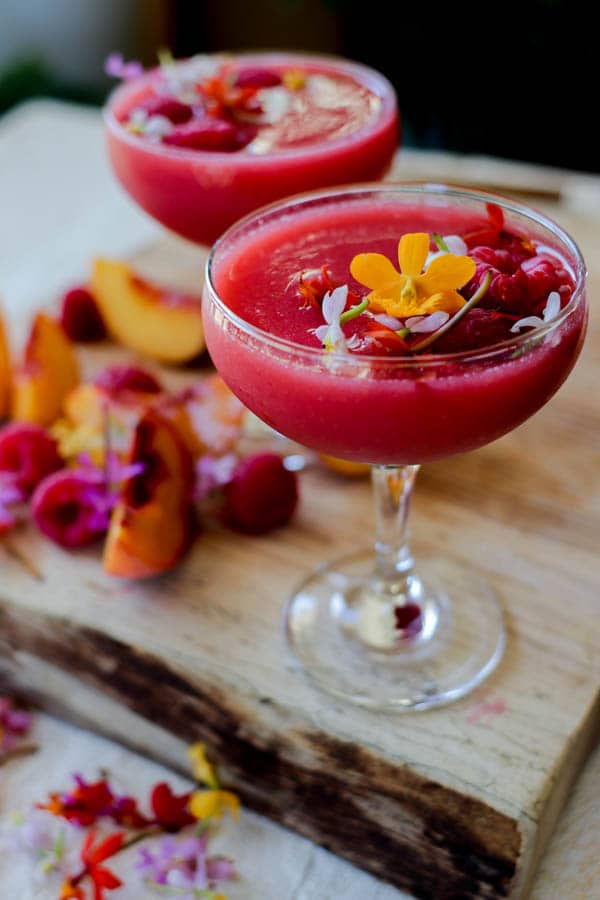 G Free Foodie makes this Frosé recipe with raspberries, California peach, and Rosé wine from California.
You can make this recipe in two different ways: in a blender or in an ice cream machine. While you don't have to include the edible orchid blooms, merely a sprinkle adds intense color and visual appeal without altering flavor or scent.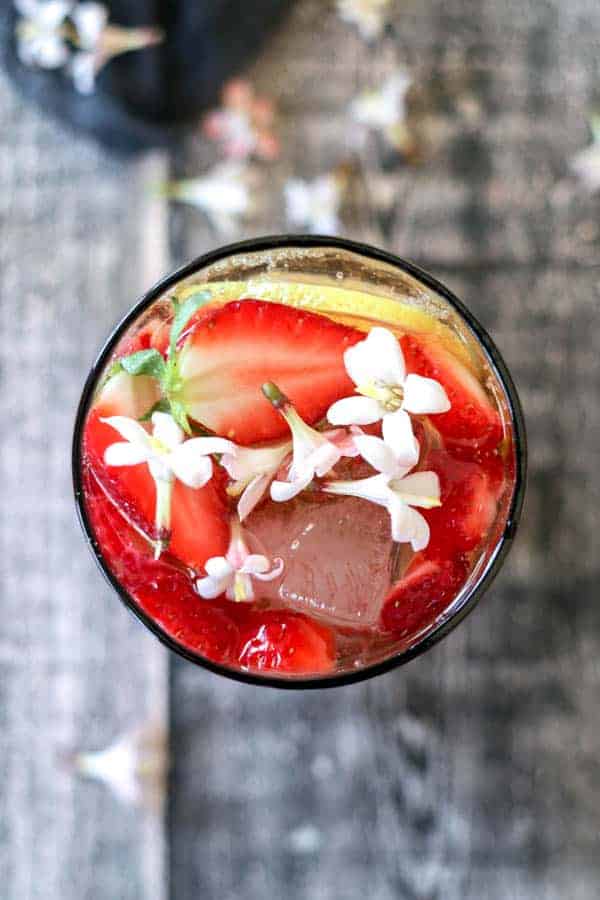 This summer sipper from This Mess is Ours is the perfect ratio of tart and sweet with freshly squeezed lemon juice and luscious berries all topped off with California sparkling wine to give it that irresistible fizz factor!
The jasmine blossoms garnishing this drink are totally optional, but I highly recommend them because the fragrance of the flowers really makes drinking this cocktail a sensational experience for the nose and palate.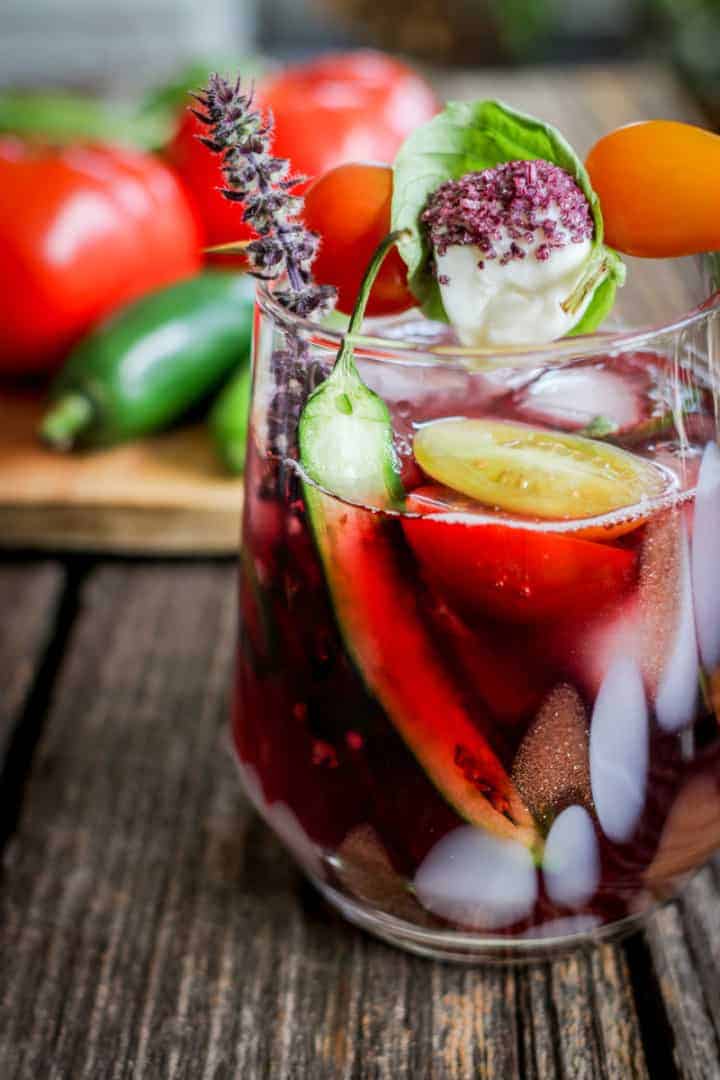 This cocktail from G Free Foodie is essentially a next-level savory sangria.
It's like a combination of the best parts of your summer garden and relaxing on the patio on a warm summer evening but with Pinot Noir.
A fresh basil blossom sprig isn't mandatory for this cocktail, but the aroma it releases every time you take a sip will transport your tastebuds to the next dimension!
Are you looking to learn more about decorating with flowers? From recipes to tutorials, we have you covered!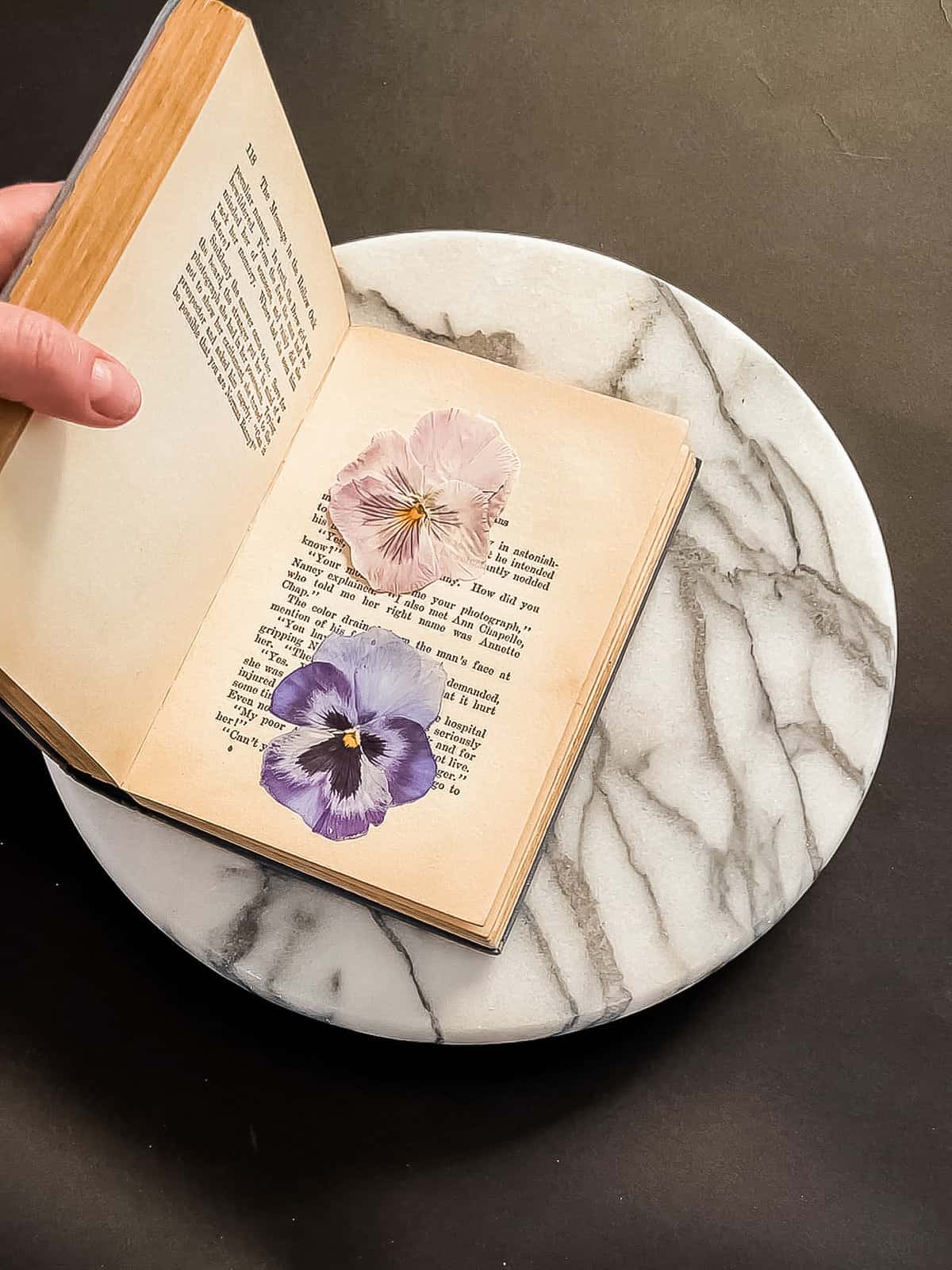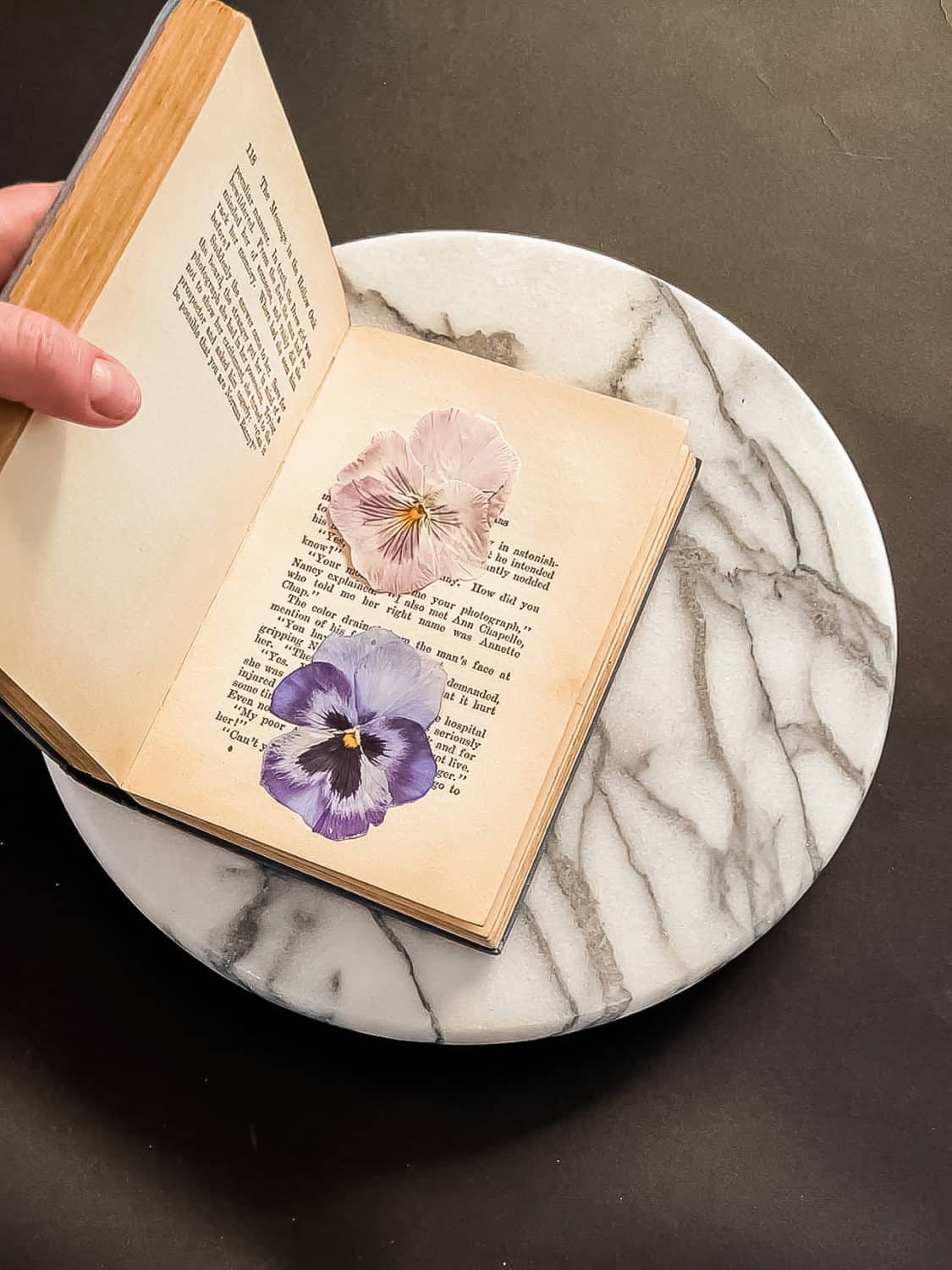 Pressing flowers is an easy way to preserve their beauty so you can enjoy them for a long time to come. Expert floral designer and California Grown Creator, Rochelle Wall, shares how to press flowers at home, the tools you need, and how to store them.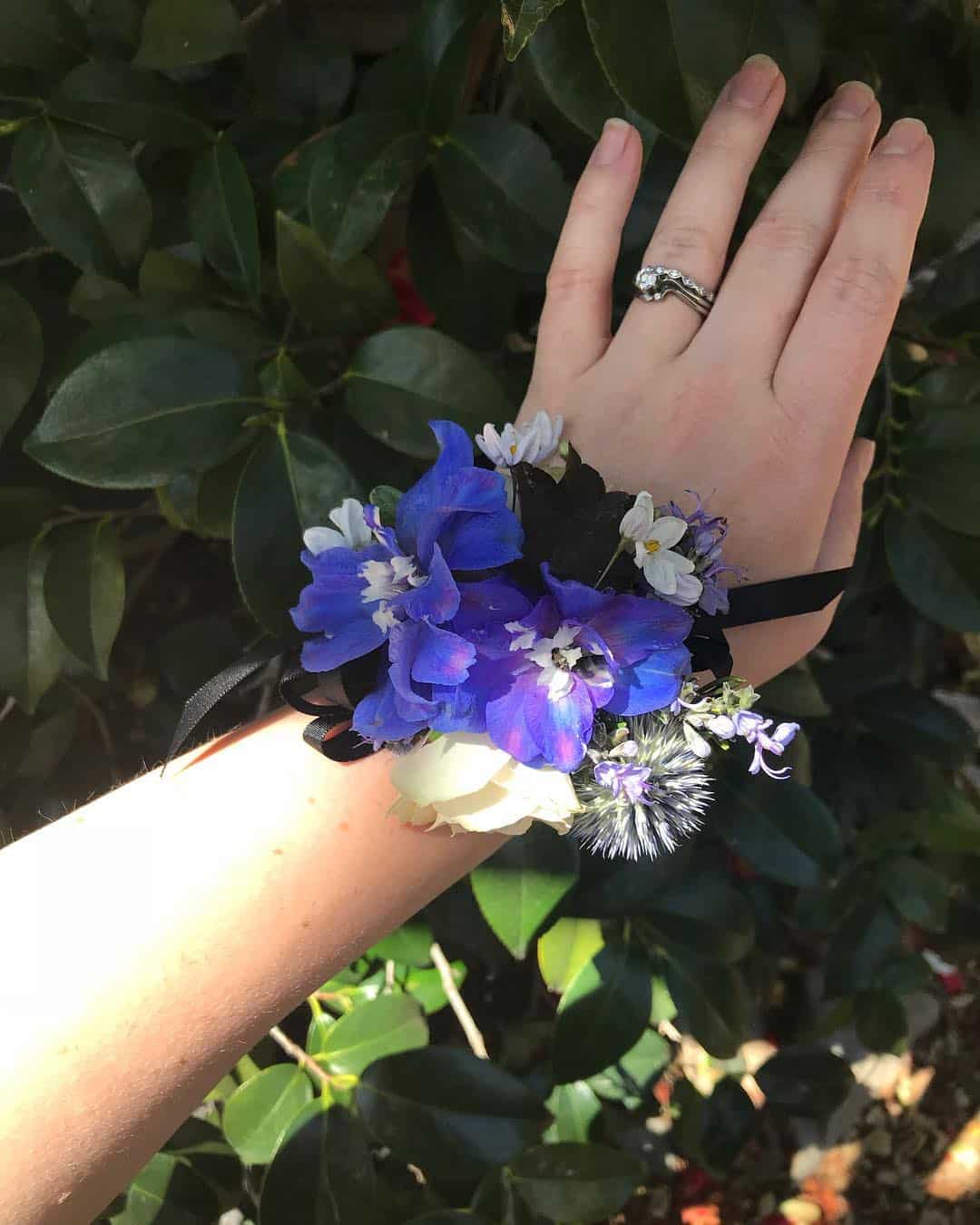 It's easy to make your own corsage and boutonniere for proms, weddings, and other special events. Expert floral designer and California Grown Creator, Rochelle Wall, shares her top tips on how to choose the best flowers, arrange, assemble, and store your beautiful wearable flower design.