Our Top Tips on How to Make a Corsage and Boutonniere
It's easy to make your own corsage and boutonniere for proms, weddings, and other special events. Expert floral designer and California Grown Creator, Rochelle Wall, shares her top tips on how to choose the best flowers, arrange, assemble, and store your beautiful wearable flower design.
Wearable Celebration Flowers
by Rochelle Wall, delightful! by Rochelle Leigh Wall
When I was in high school in Southern California, I was fortunate enough to attend four years of prom. One year I had the idea to lovingly DIY craft and customize a boutonniere for my date to accompany his attire and mine, using roses and greenery plucked from my Californian childhood garden.
Personally, I would wear flowers every day if I could. But, since society in general would likely frown upon me turning into a veritable garden fairy, I'll have to make due as a floral designer, honing my craft and sharing a few key tips to share with you to create your own wearable flowers. Adding wearable flowers to your formal attire for proms, weddings, galas, date nights, and more is such a fun way to highlight your personal style and personality. Can I tag along?
Where did the tradition of wearing flowers originate?
Much to my chagrin, it's rare nowadays to wear flowers every day, but in the 1700's, dapper gentlemen would often wear boutonnieres, or "buttonholes" on the lapel of a jacket, sometimes daily. Flowers chosen for their fragrance and appearance were believed to keep illness and misfortune at bay, and even ward off evil spirits all the while disguising foul odors.
Beginning hundreds of years ago, women too would carry small bundles of flowers. Over time, nosegays pinned to the center of their dress called "bouquet de corsage" (now corsages), these tiny bouquets have migrated from the center of the bodice to be worn on the wrist, at the shoulder, and even in hair. Recipients of these little delights are blessed by their fragrance and beauty, signifying affection, and are now traditionally worn for dances, weddings, Mother's Day and even birthdays.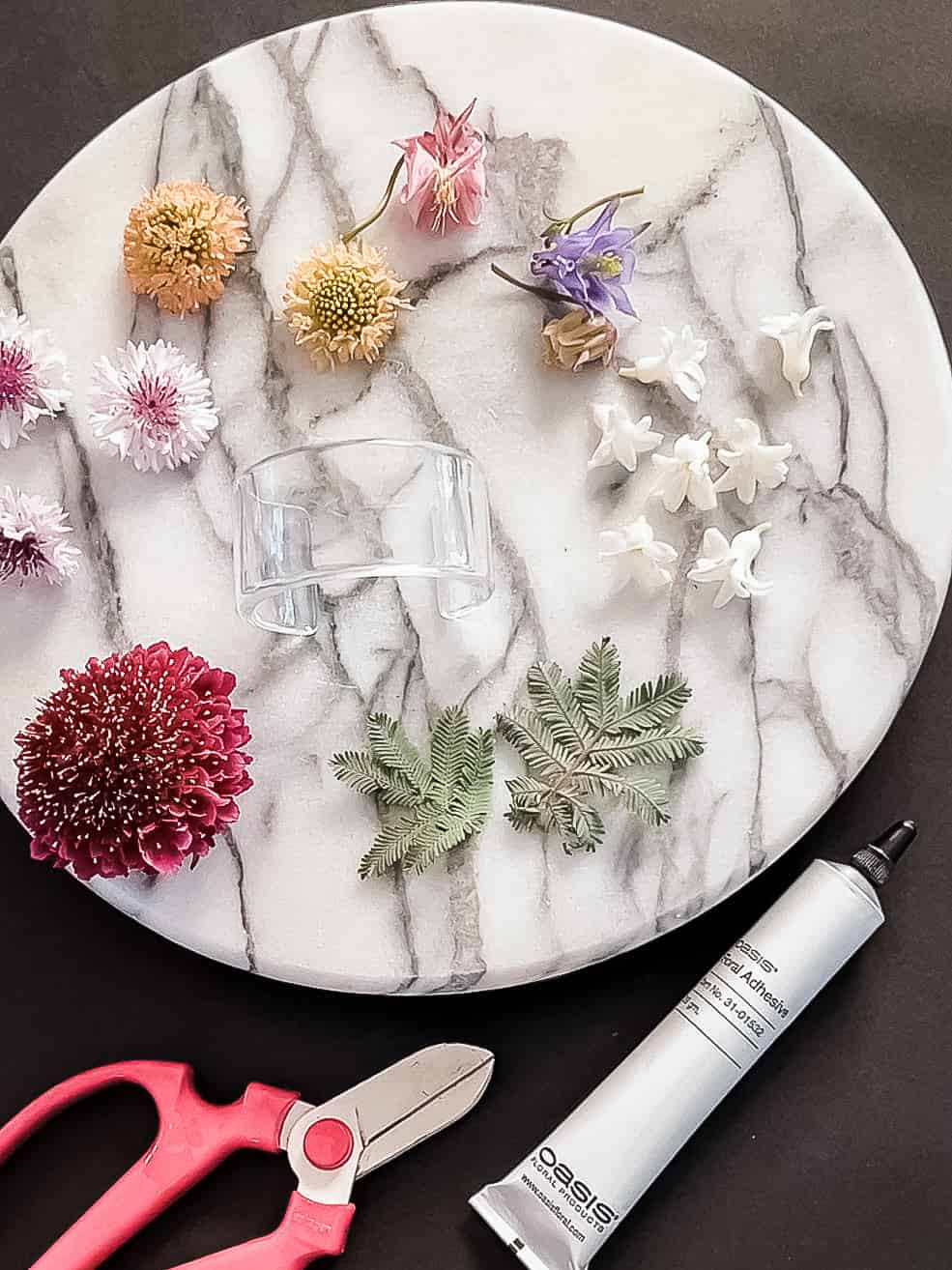 What flowers should I use to make my own corsage or boutonniere?
Selecting the best and freshest flowers for your celebration flowers begins with selecting California Grown flowers. California is America's leading producer of high-quality cut flowers and greens – supplying over 75 percent of all domestically grown cut flowers in the United States, so you can likely find incredibly fresh and beautiful flowers from your local florist or grocer – simply ask for domestic and/or CA Grown flowers.
Selecting flowers doesn't have to be complicated. When I design corsages and boutonnieres for my clients, I like to select a variety of smaller, yet still impactful flowers, a mixture of greenery, and small accent flowers for additional texture. Your choice will certainly depend on the overall look of the design you're looking to achieve, but some reliable options for focal flowers include ranunculus, spray roses, hellebore, and orchids.
When should I make my corsage or boutonniere?
It's a common misconception that wearable flowers must be put together last minute before a wedding or prom to preserve freshness. The best tip on preserving the freshness of wearable flowers comes from published author and expert, Susan McLeary of Passionflower Sue. Hydrating your wearable flowers in an airtight container and covering the arranged flowers with a damp paper towel in a "hydration chamber" prolongs the life of your wearable flowers. Therefore, making your boutonnieres or corsages even a few days in advance of your event is feasible if they are well hydrated.
How do I keep my corsage or boutonniere from wilting?
When you store your wearable flowers, make sure to store them in an airtight container, covered by damp (not wet) paper towels. Leaving flowers in the middle of your fridge without being in an airtight container or a source of moisture can expose them to gases emitted from your produce, mixed with the recirculating air can wilt your blooms.
The supplies you will need to DIY your own flower accessory boutonniere or corsage include:
Focal or statement flowers
Filler flowers
Accent greenery
Floral scissors
Floral tape
Boutonniere pins
Optional:
½" wide satin ribbon
Fine gauge floral wire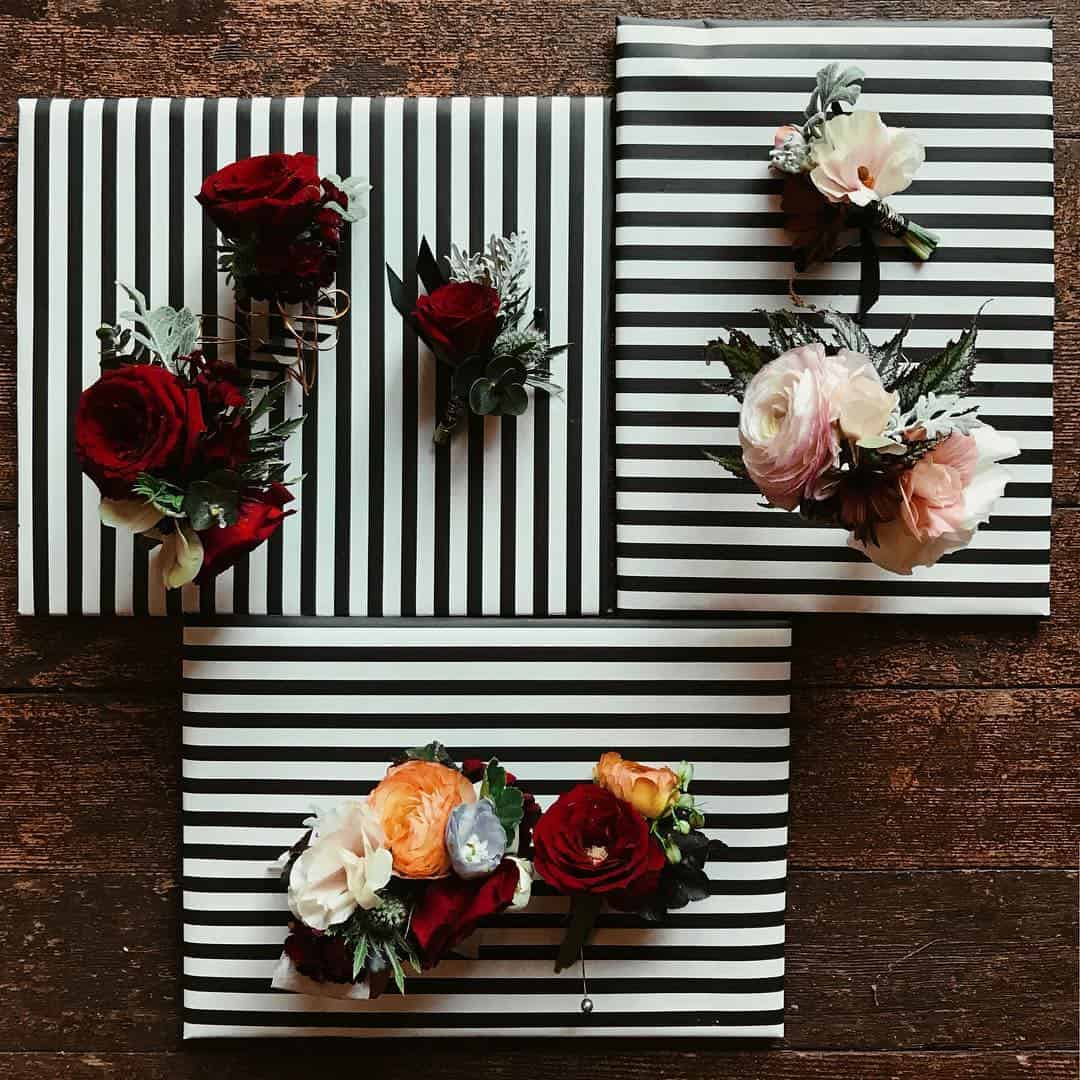 How do I make my wearable flowers?
First, I recommend finding inspiration! You may already know exactly what you want for your flower accessory, but if that's not the case, a little research can help inspire you. I recommend searching on Instagram or Pinterest for floral color palettes that match yours, and finding designs used in real events.
Second, select your flowers. Sustainably and locally sourced flowers are widely available, you only need to ask for them! I recommend grabbing a mixed bouquet of CA Grown flowers from your grocer or florist. The state of California is America's leading producer of high-quality cut flowers and greens – supplying over 75 percent of all domestically grown cut flowers in the United States.
For boutonnieres, I suggest selecting one to two smaller focal flowers such as spray roses or ranunculus, as well as three to four small pieces of greenery, and an accent flower such as wax flower.
For corsages, I recommend doubling the number of flowers you select for a boutonniere, so, three smaller focal flowers, 6-8 pieces of greenery, and at least three stems of accent flowers.
Next, prepare your stems! Carefully and thoroughly remove all extra greenery, thorns, and small branches from the stem of your bloom. If your stem is delicate or damaged, you can wire the stem with floral wire.
For boutonnieres, stems should be approximately three inches long.
For corsages, stems can be very short, even cut directly below the base of the flower.
Arranging Your Wearable Flowers is Fun!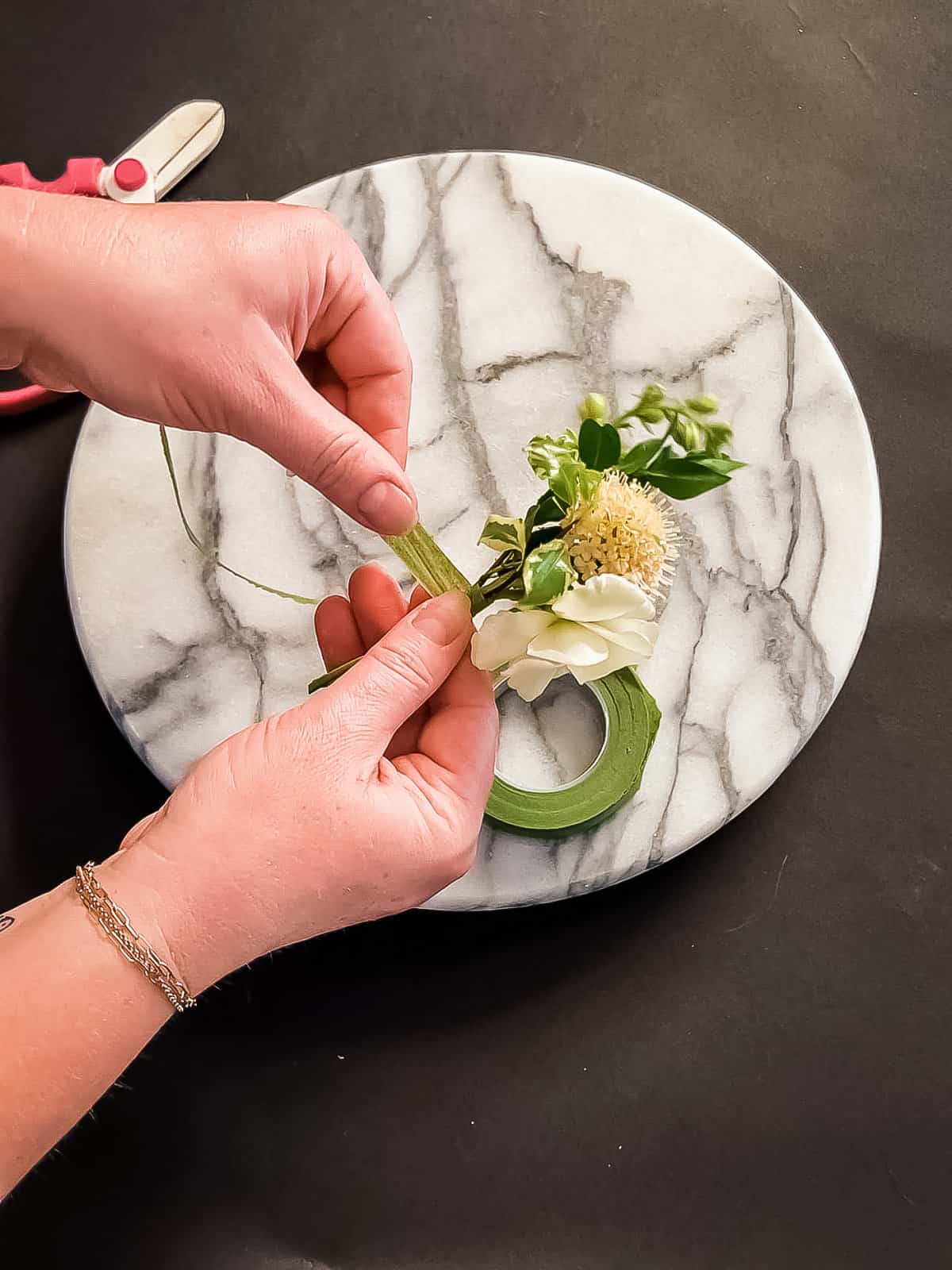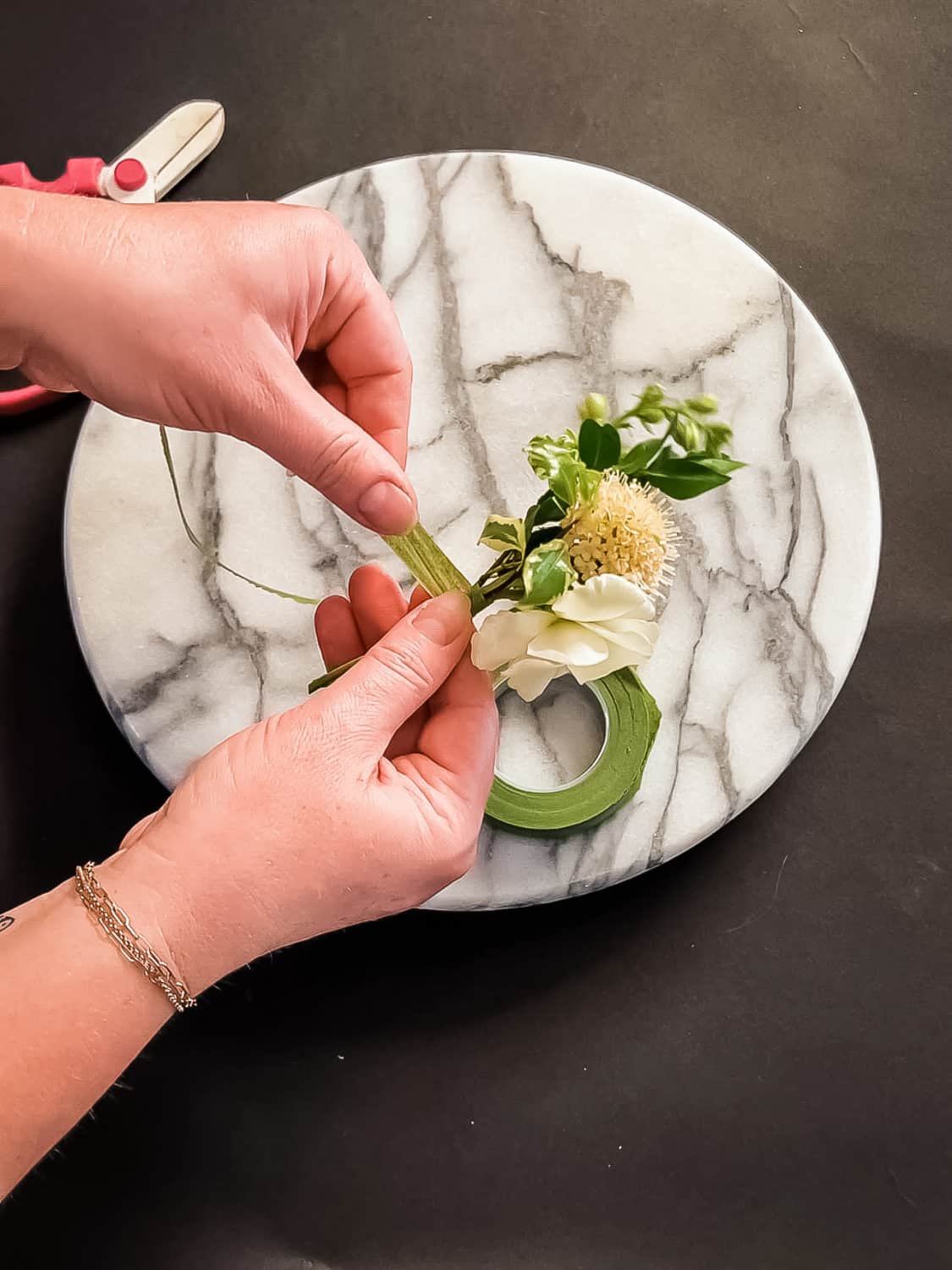 Boutonnieres
Beginning with the focal flower, add greenery, stem by stem behind and around the focal flower, creating support and a layered effect around the featured flower. Add any smaller accent flowers to fit around the structure you've created with the focal flower and greenery.
Once you're happy with your arrangement, secure your stems with floral tape, gently stretching the tape to release the adhesive while wrapping the stems tightly. Trim the stems to approximately an inch of length, then wrap with satin ribbon, if desired.
When you're stressed, your hands can get hot and sweaty which can damage delicate stems. Also, the flowers can easily be taken apart and reworked more than once, until you find the perfect configuration of your flowers. So, try not to stress. This is a fun and easy process that does not require overthinking.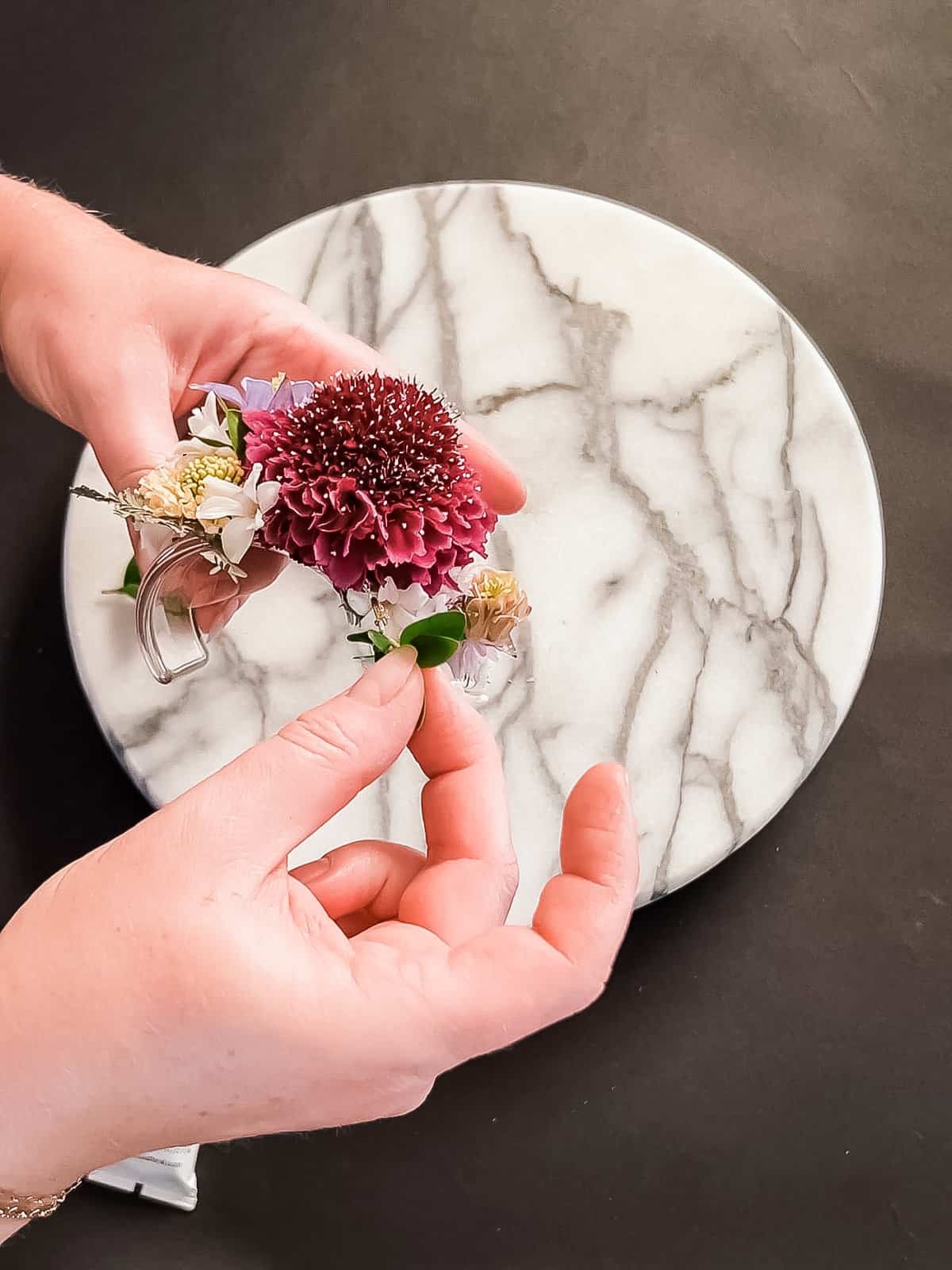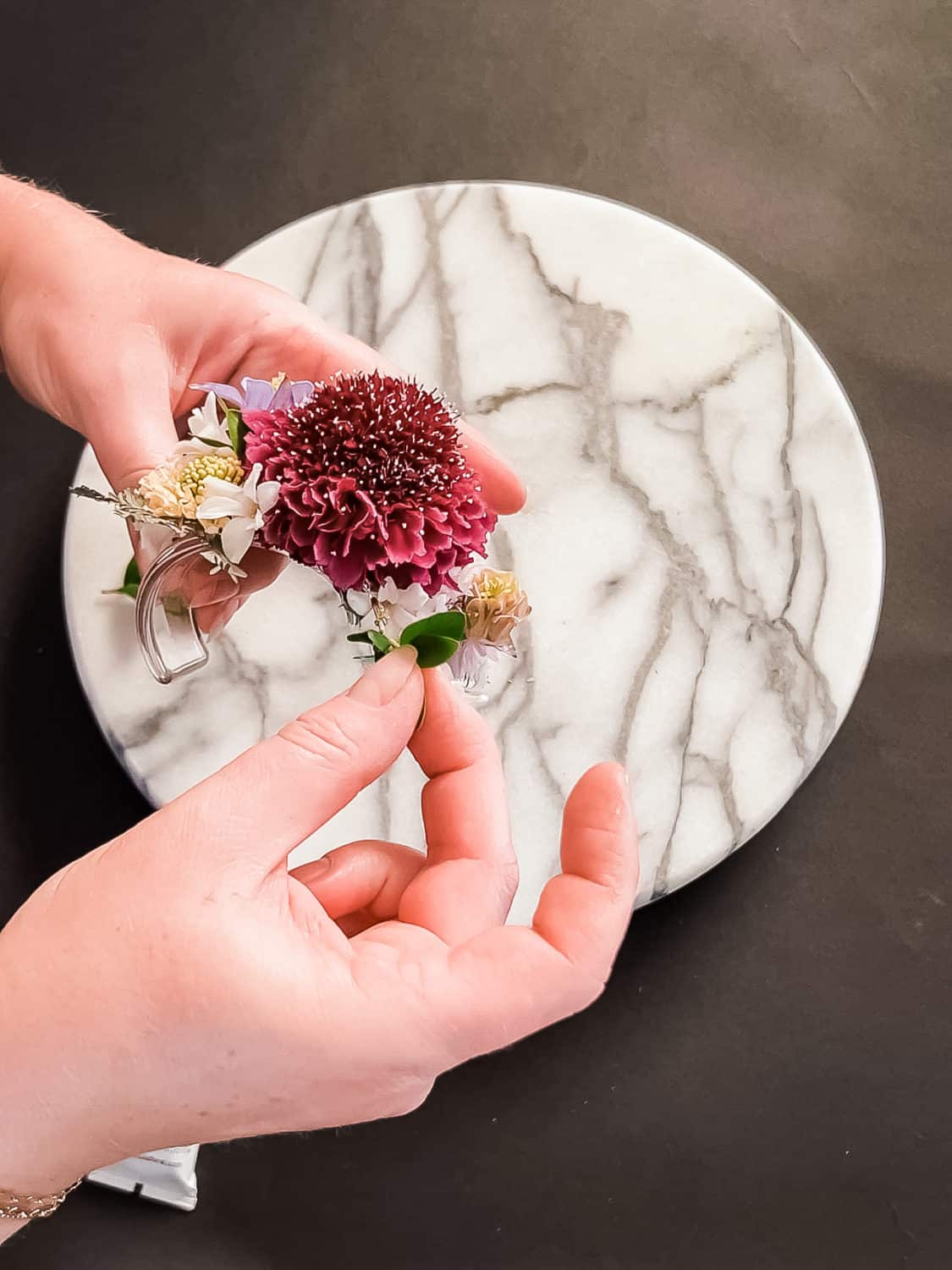 Wrist Corsages
My clients love that I use a cuff style bracelet for corsages, transforming the average corsage into a wearable piece of jewelry. To create your own, use floral adhesive to lightly coat the greenery undersides and place your greenery in an oval shape in the middle of a flat, wide, cuff style bracelet, allowing the tips of the leaves to extend past the width of the bracelet. Each piece of glued greenery or flower should be held in place to allow the glue to set and adhere to the bracelet for about 30 seconds. Glue and place your focal flowers on top of the greenery and fill in any gaps between with your accent flowers. Allow all glue to set for about 30 minutes prior to placing in a hydration chamber and into your fridge for storage.
If you wish to add ribbon to compliment your design, tie your bow and adhere your ribbon to the bracelet prior to placing any greenery or flowers.
Other Wearable Flowers
Using the techniques described in the instructions for both the boutonniere and wrist corsages, you can mix and match these methods to create other wearable flowers, including hair accessories that attach to a hair comb and pin-on corsages, which are larger versions of boutonnieres.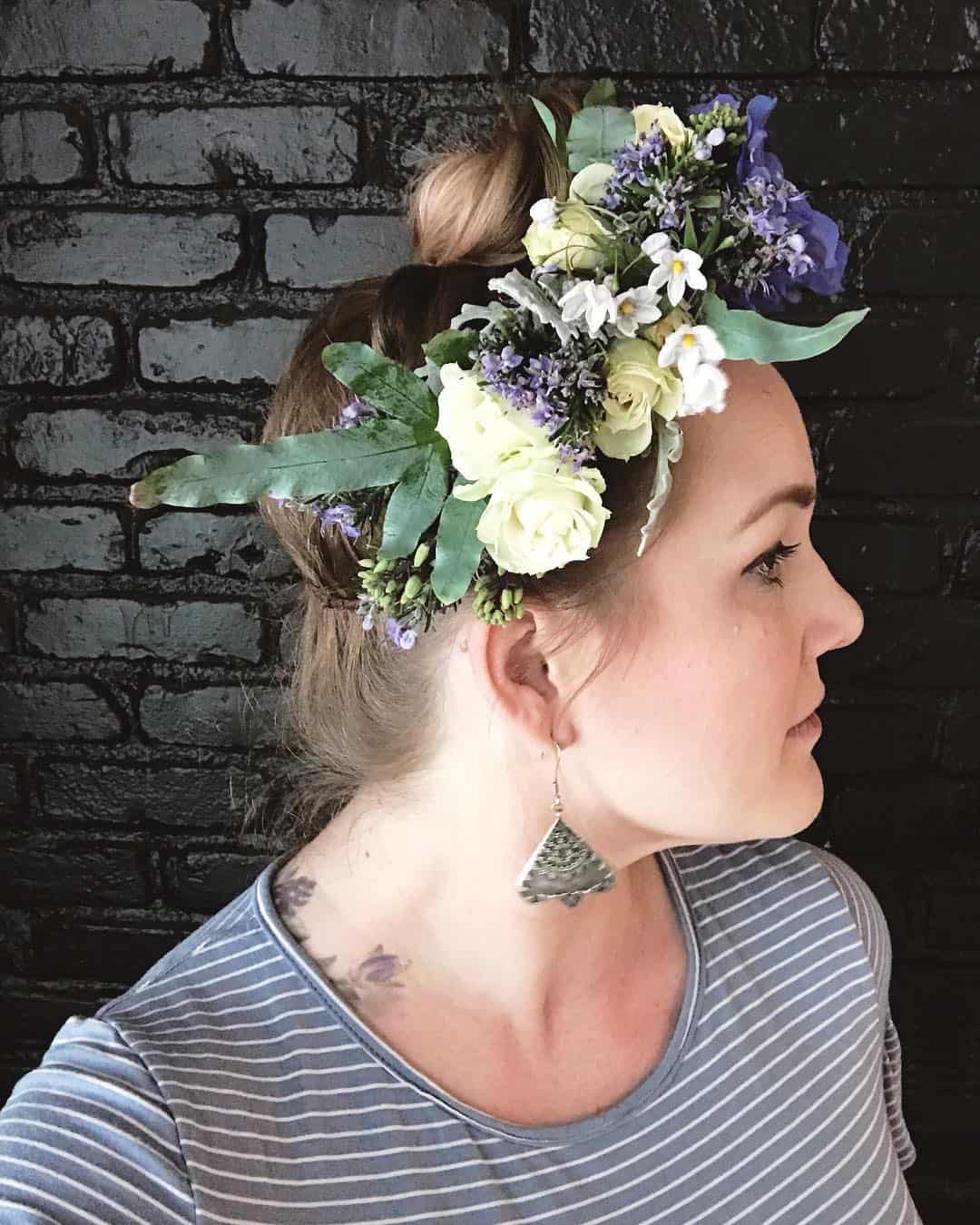 My wearable flowers are ready and hydrated, now what?
After hydrating your wearable flowers either overnight or longer in your fridge, place your crafted flower arrangements on your wrist and pin on your lapel and enjoy their beauty and fragrance. When you make your own boutonniere and corsage using these steps and CA Grown flowers, I'd love to see what you create! Please share on Instagram and tag @delightfulflower.co and use hashtag #CAGROWN.
Rochelle is a Los Angeles-based floral designer who specializes in floral designs that are romantic, modern, and wild. She works with locally grown flowers as often as possible, and in color palettes that create a unique and artful feel. Rochelle has made a personal commitment to work with only the very best purveyors of California Grown flowers, including local flower farmers and flowers sourced from her own farm. She creates unique, unusual, and provocative arrangements and installations for a range of events, small to large, including weddings, birthday parties, showers, dinner parties and more!