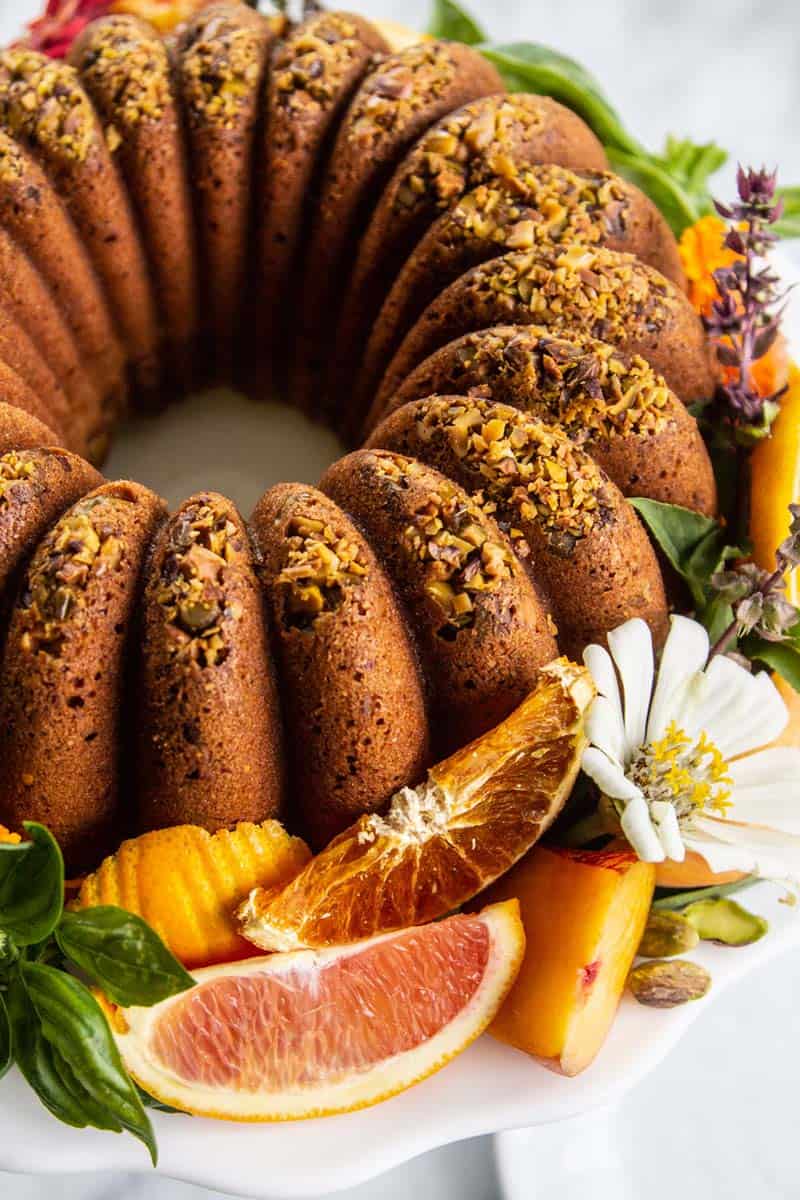 CA GROWN Blog
Discover. Learn. Connect.
A Unique Recipe For Bundt Cake with Pistachio & Moscato To Try Now
July 26, 2022
Eat the Season!
Sign Up For Weekly Recipes
« Back to Recipes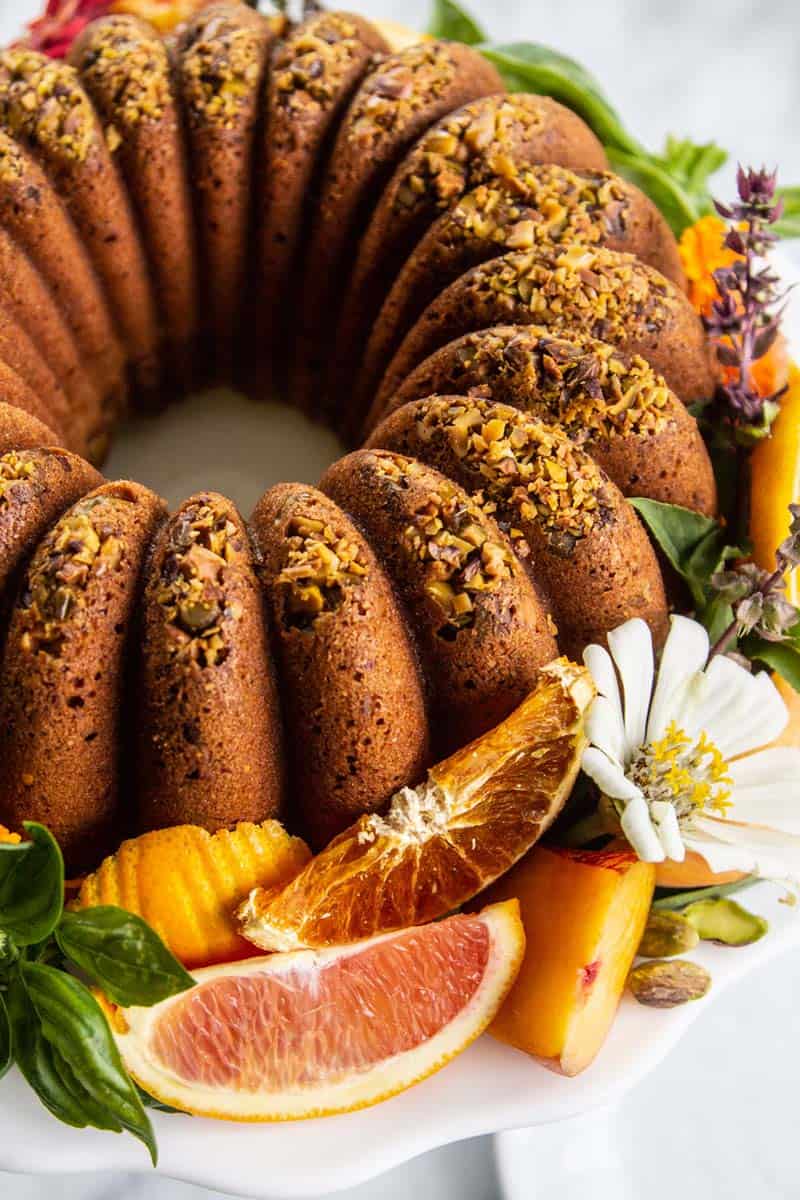 A Unique Recipe For Bundt Cake with Pistachio & Moscato To Try Now
Our newest recipe for bundt cake is unlike any other bundt cake recipe you have ever tried! In fact, this just might be the easiest cake recipe you have ever baked. Just chop, mix, and bake. No need to ice this cake either; you can decorate and serve it with your favorite seasonal fruits and cut flowers.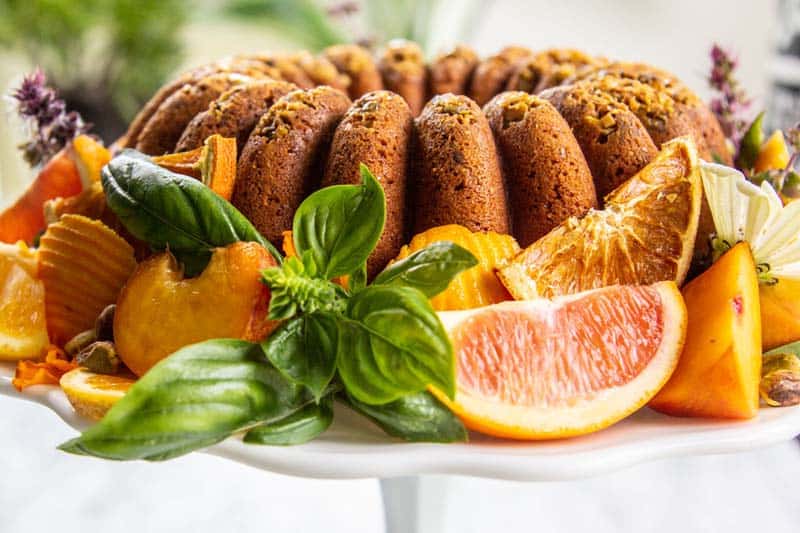 What does wine do in baking?
The function of wine in cooking is to intensify, enhance, and accent the flavor and aroma of food – not to mask the flavor of what you are cooking. So, in the case of our Pistachio and Moscato Bundt Cake the Moscato in the batter is noticeable upon the first bite, but it immediately fades and allows the flavor of pistachio to take the lead – leaving you with a flavor profile that is perfectly balanced on the palate.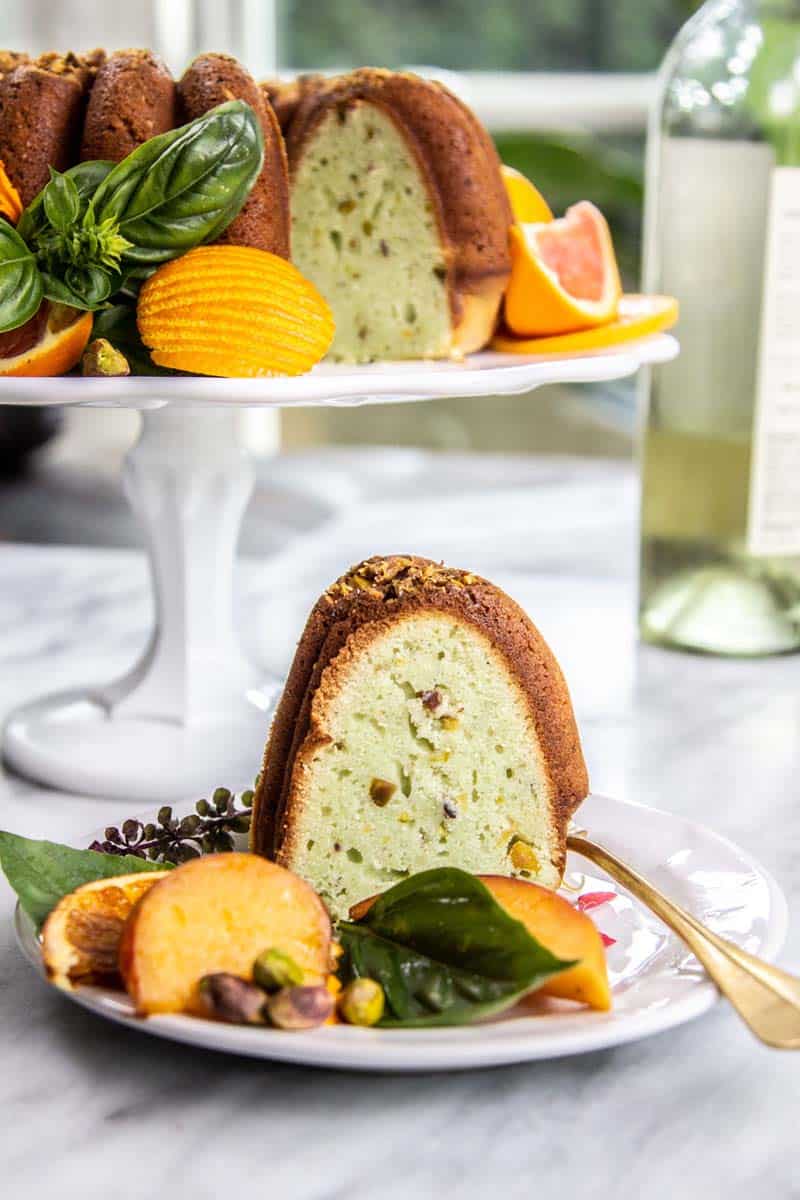 How to serve Pistachio and Moscato Bundt Cake
While some cakes require icing or some kind of sweet drizzle before serving, this one does not. The pistachio pudding mix in the batter keeps the cake nice and moist for days without needing any help.
In the summer months, you can serve slices of this bundt cake with fresh stone fruit and citrus-like we did here. But berries would be a delicious accompaniment to a slice of cake too.
Various fresh and dried citrus wheels and wedges make for a stunning display.
Don't skip on adding a few cut flowers like zinnias, marigolds, or basil blossoms. They make for a spectacular presentation.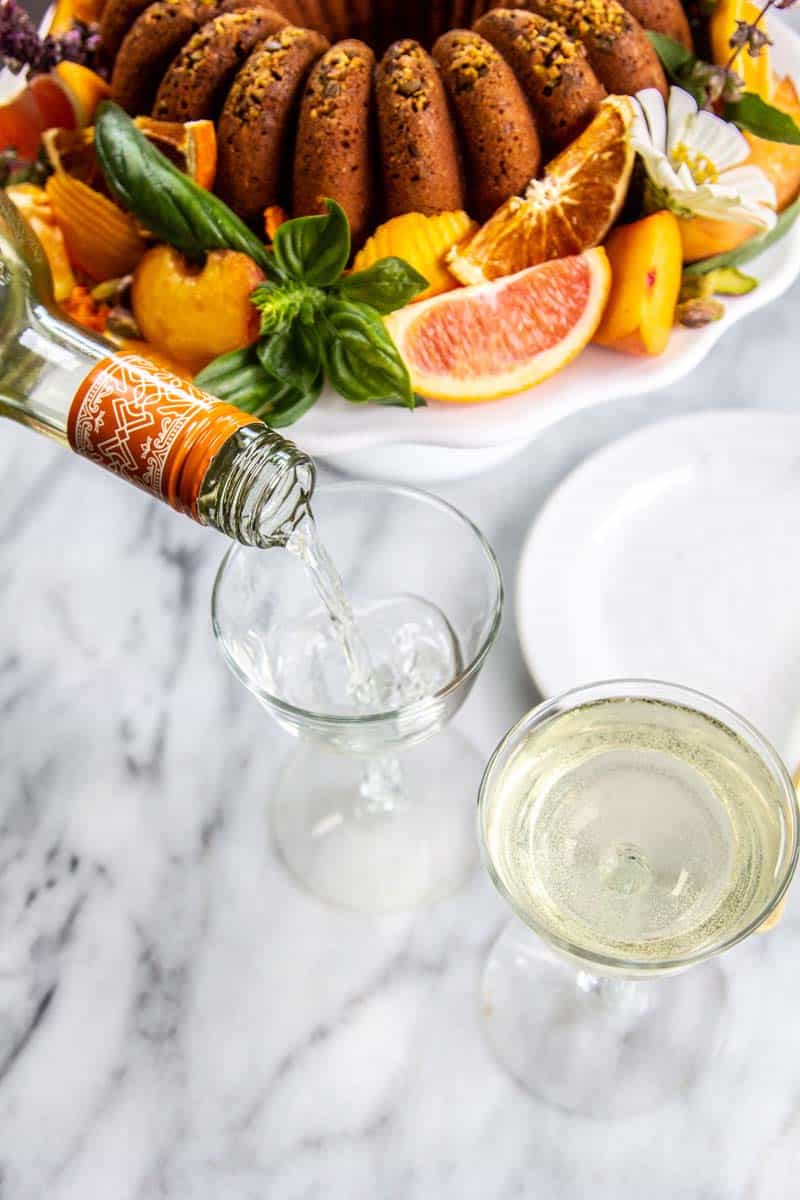 What California wine pairs best with this Pistachio and Moscato Bundt Cake?
Since this recipe for bundt cake calls for Moscato in the batter, you can bet that it is a perfect wine pairing to serve with a slice.
What does Moscato taste like?
According to Discover California Wines, the name of this wine comes from the Italian name of the tangy, fruity Muscat grape -Moscato. Muscat comes in a range of styles, from medium-bodied and dry or off-dry, to sparkling, full-bodied, late-harvest, and deliciously sweet.
You can also pair this cake with an effervescent glass of sparkling rose or your favorite sparkling wine from California.
Looking for another delicious recipe for bundt cake to try? Here are a few of our favorites!
A few of our California Grown Creators have baked up their own delicious recipes for bundt cake, and we couldn't wait to share them with you.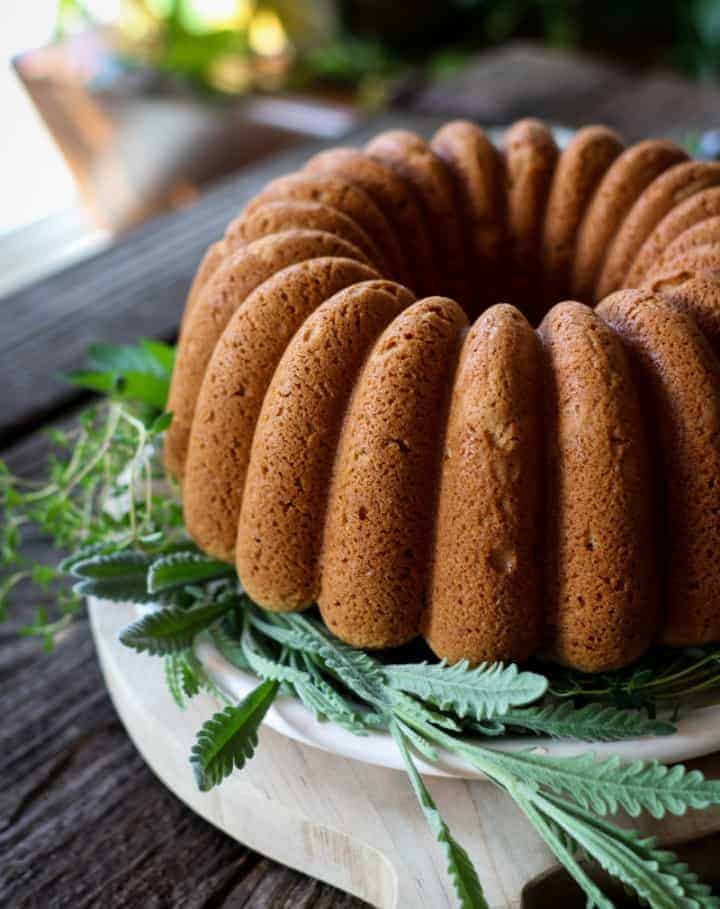 This moist, flavorful bundt cake from G Free Foodie is perfect for dessert or breakfast!
This recipe calls for Cream Sherry Wine which is sweeter than Dry Sherry Wine, but you can use either fortified wine in this recipe with excellent results.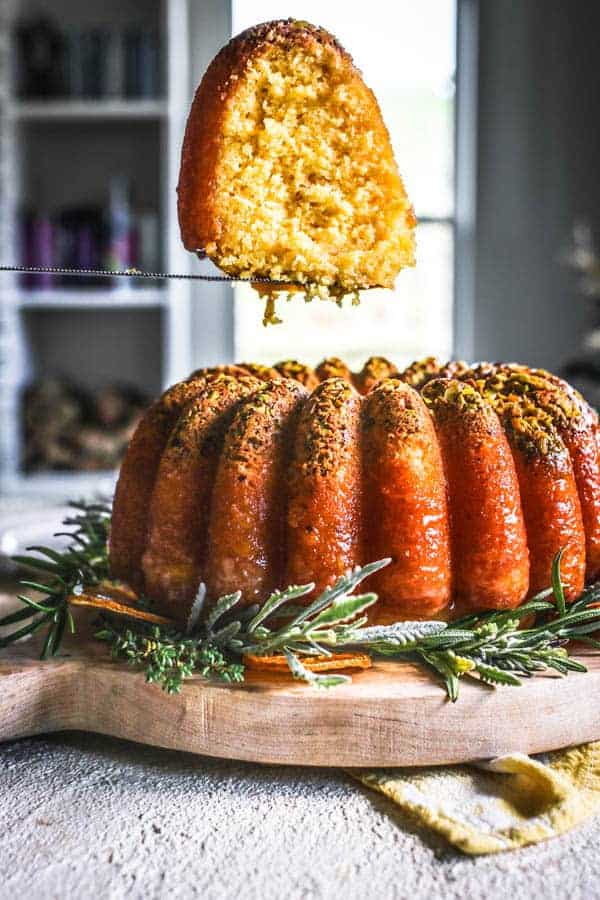 This Mess is Ours' Orange Juice Cake is tender and moist, keeps well at room temperature for over three days, and can be customized to your liking with different types of nuts or fruit juices.
It's basically the easiest cake you will ever bake!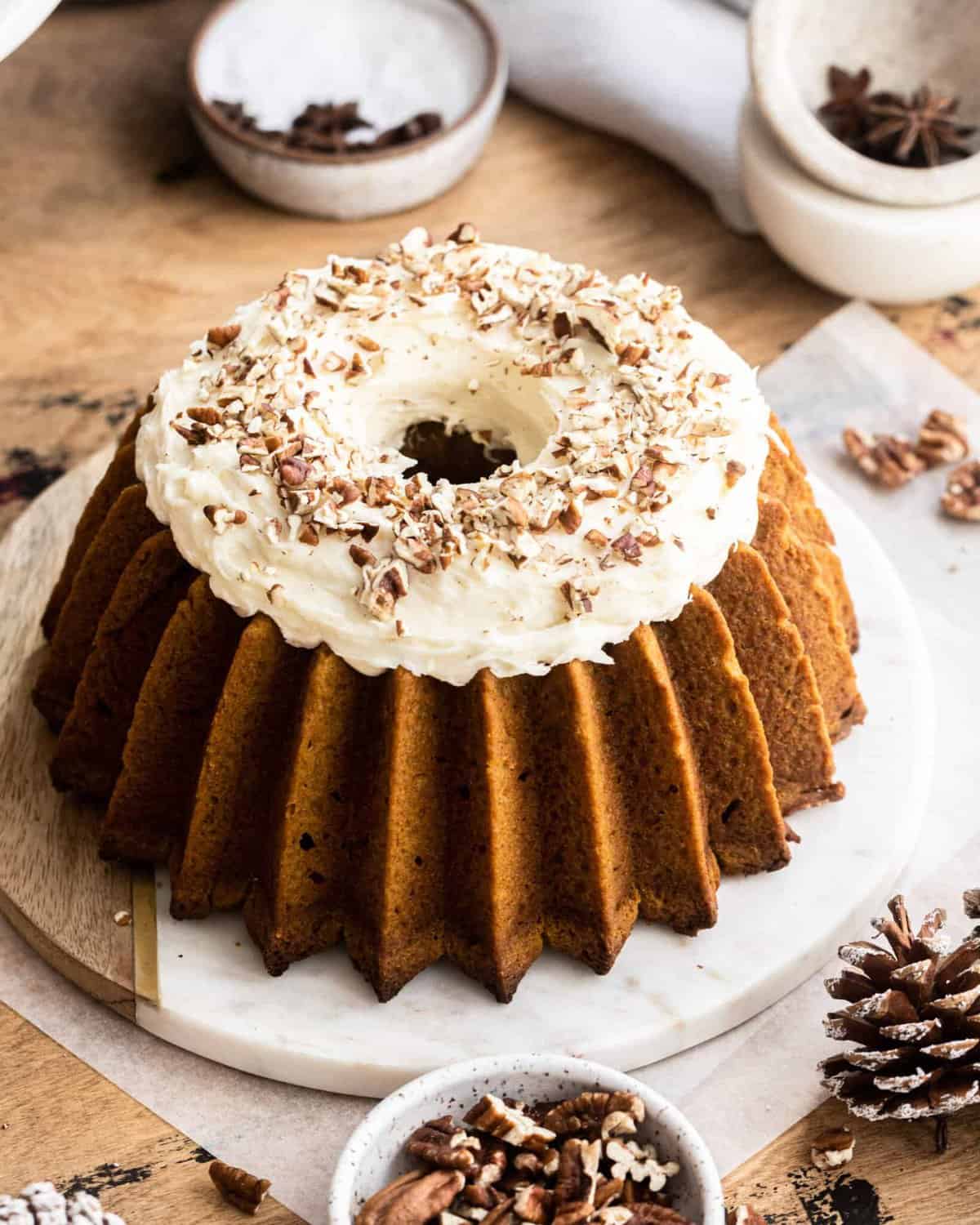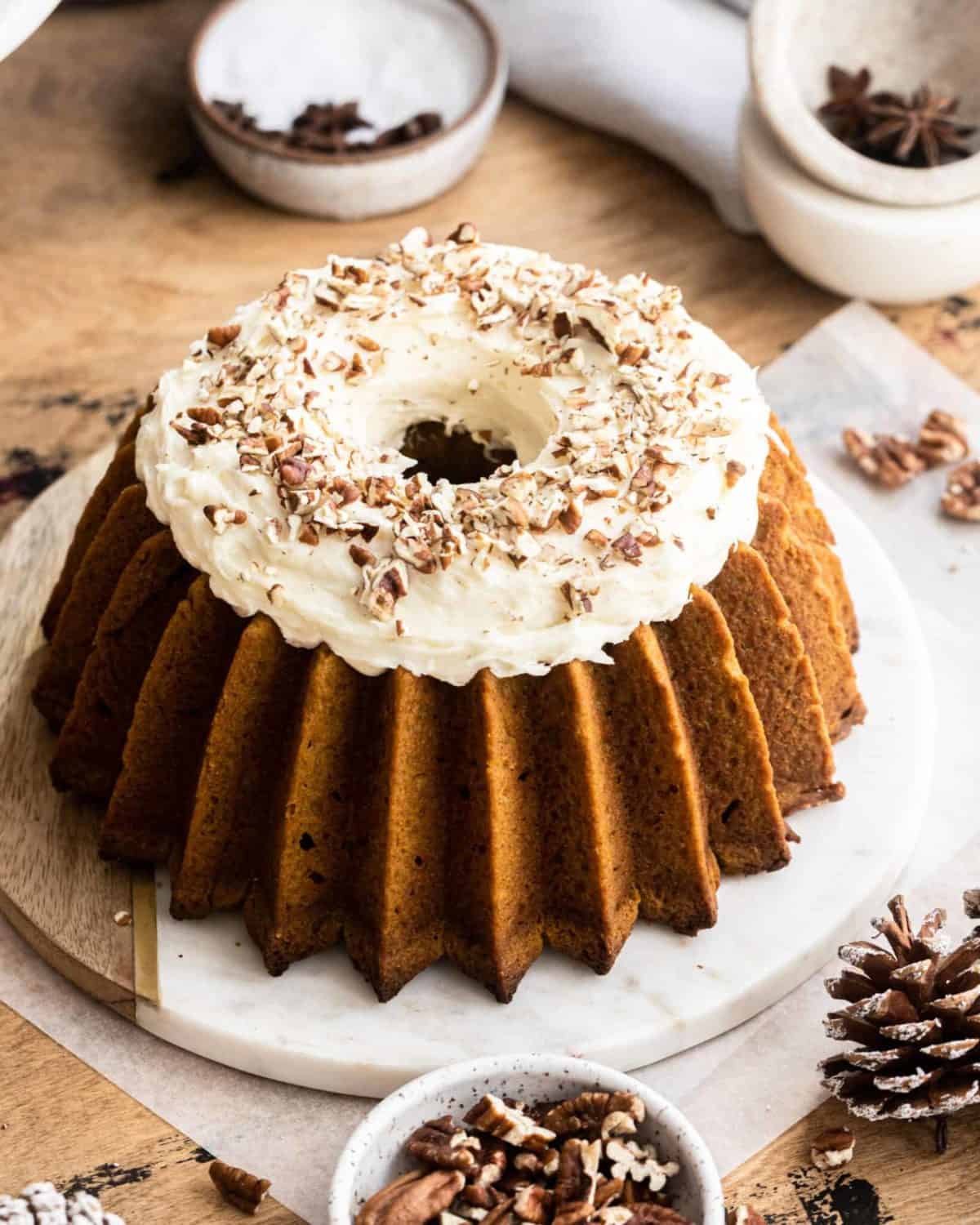 This bundt cake from Britney Breaks Bread is moist, perfectly spiced, and full of warm cinnamon flavors. Topped with a rich cream cheese frosting – so good! It's a delicious blend of sweet potato puree with hints of vanilla, nutmeg, and ginger topped with a luscious cream cheese frosting. If you love sweet potatoes, then you're bound to enjoy this cake!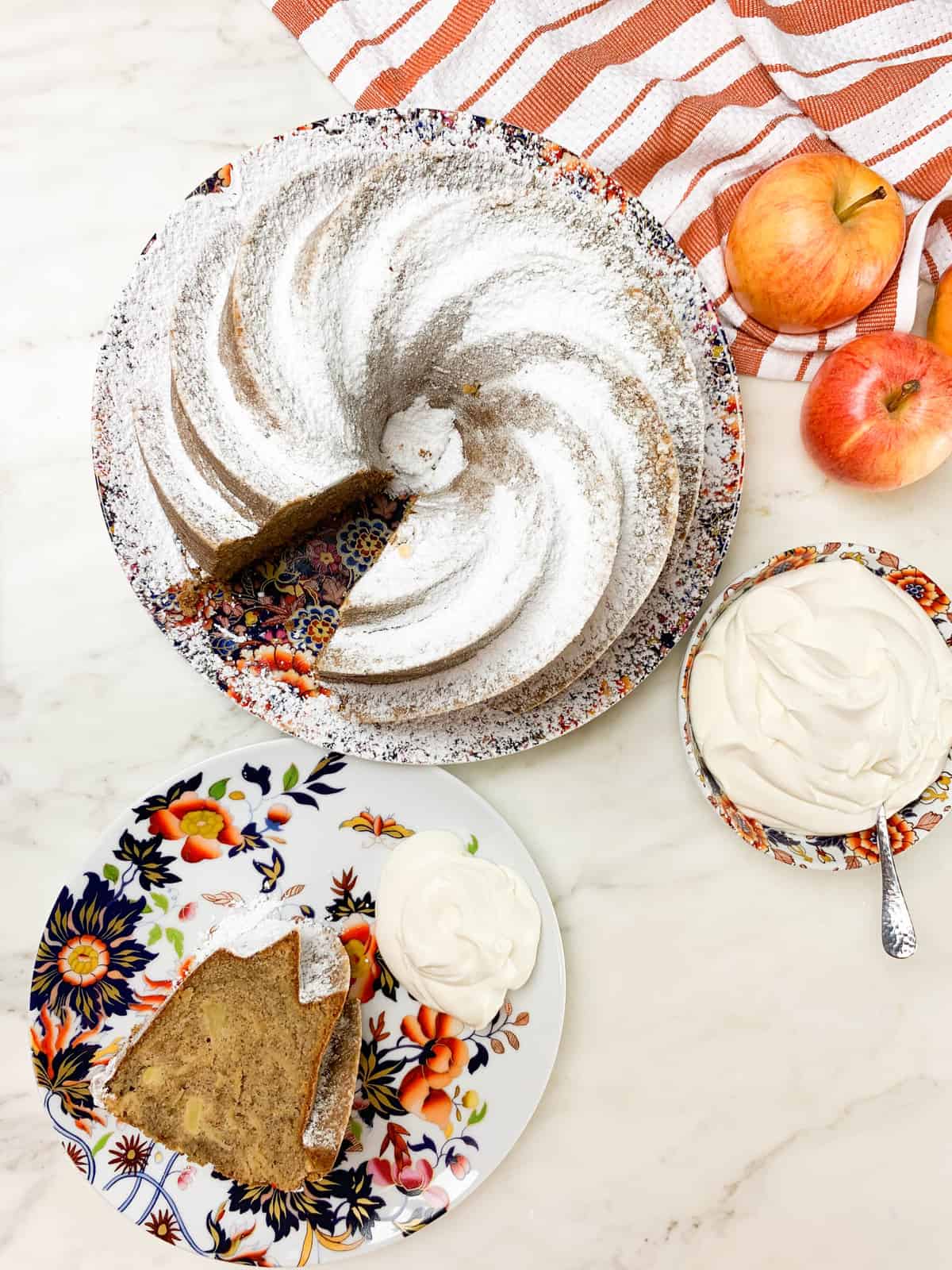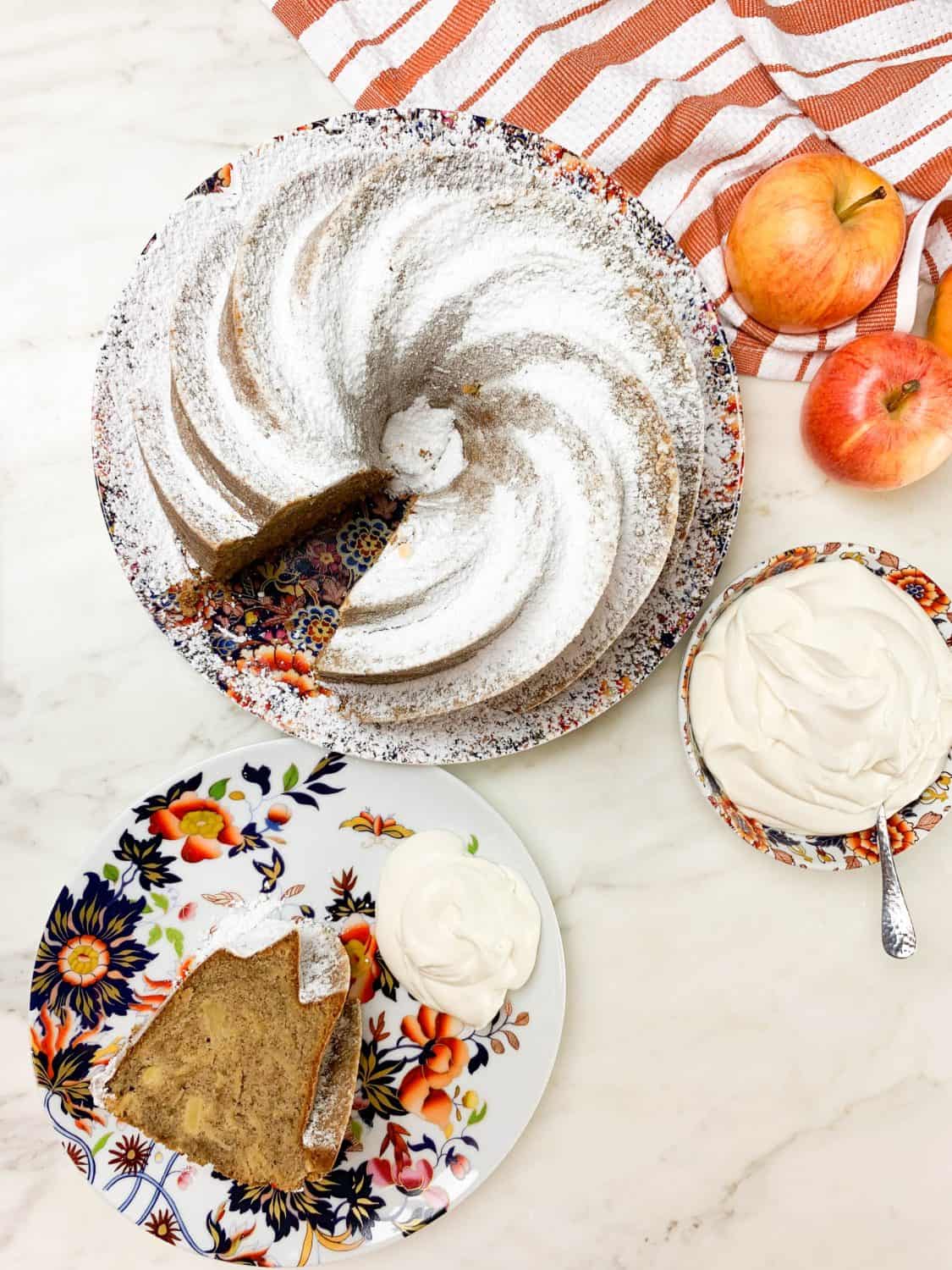 Our Spiced Apple Bundt Cake is the perfect dessert for fall! It is loaded with chunks of fresh apples, warming spices, and buttery olive oil.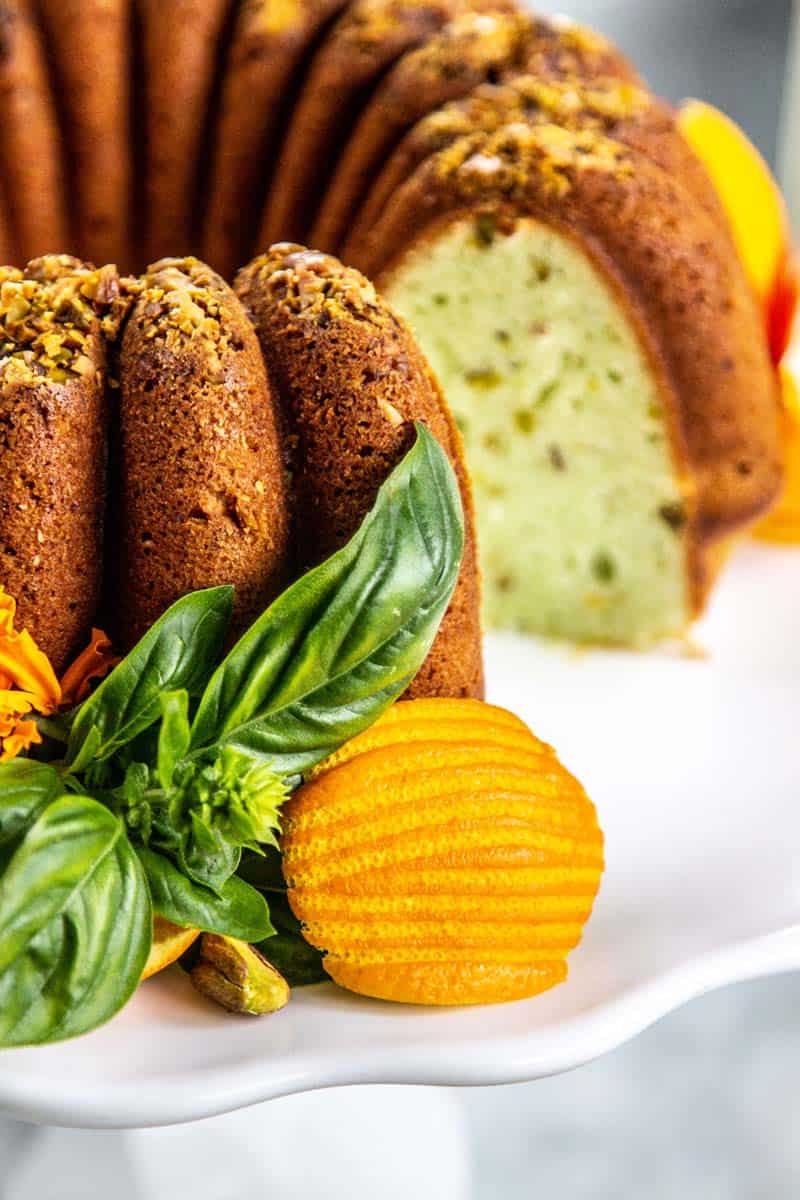 Share your favorite recipe for bundt cake with us by snapping a pic and tagging us on social using #CAGROWN.
Craving more CA Grown goodness? Follow us on Pinterest for fresh and fabulous recipe inspiration!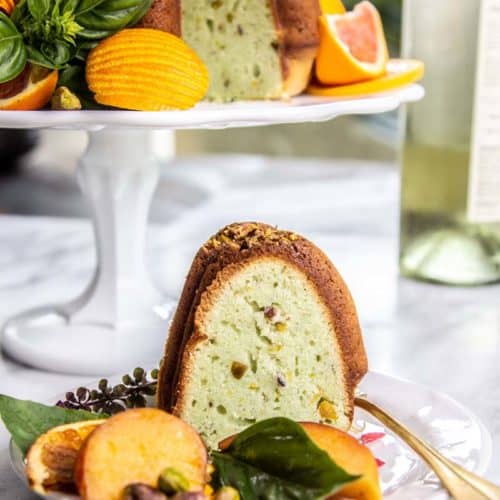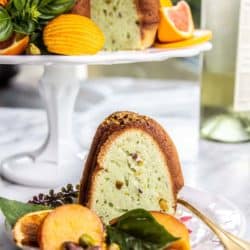 Pistachio and Moscato Bundt Cake
This just might be the easiest cake recipe ever! Just chop, mix, and bake. No need to ice this cake either, you can decorate this recipe for bundt cake with your favorite seasonal fruits and cut flowers.
Ingredients
3/4 cup pistachios chopped
1 package regular or gluten-free yellow or vanilla cake mix. You will need the package to be at least 13.5 ounces in weight. Nothing smaller.
1 (3.4 ounce) package pistachio pudding mix
3/4 cup Moscato
3/4 cup vegetable oil or melted butter
1 teaspoon orange extract
1/2 teaspoon ground cardamom
4 eggs
To decorate to serve
yellow peach, donut nectarine, fresh and dried orange wheels. sliced
basil leaves and blossoms, fresh cut zinnias, and marigold cuttings.
whole pistachios
Instructions
Preheat the oven to 350°F. Generously grease a Bundt pan then scatter 1/4 cup of the chopped pistachios into the bottom of the prepared pan. Set aside.

Combine the remaining chopped pistachios, cake mix, pudding mix, Moscato, vegetable oil, orange extract, cardamom, and eggs in the bowl of a stand mixer and mix thoroughly to combine. Mix at medium speed for 4-5 minutes then scrape down the sides of the bowl and mix again.

Pour the batter into the prepared Bundt cake pan, then bake for 50-55 minutes or until golden brown and cooked through.Allow the cake to cool on a wire rack for 5 minutes, then immediately turn the cake out of the pan onto a serving plate or cake stand.

The cake can be served immediately or garnish as desired with seasonal fruit and cut flowers.
Nutrition
Calories: 446kcalCarbohydrates: 87gProtein: 6gFat: 8gSaturated Fat: 2gPolyunsaturated Fat: 2gMonounsaturated Fat: 3gTrans Fat: 0.1gCholesterol: 65mgSodium: 1029mgPotassium: 149mgFiber: 2gSugar: 64gVitamin A: 134IUVitamin C: 1mgCalcium: 134mgIron: 2mg
Love pistachios, who doesn't?! Click on the links below for more pistachio recipes!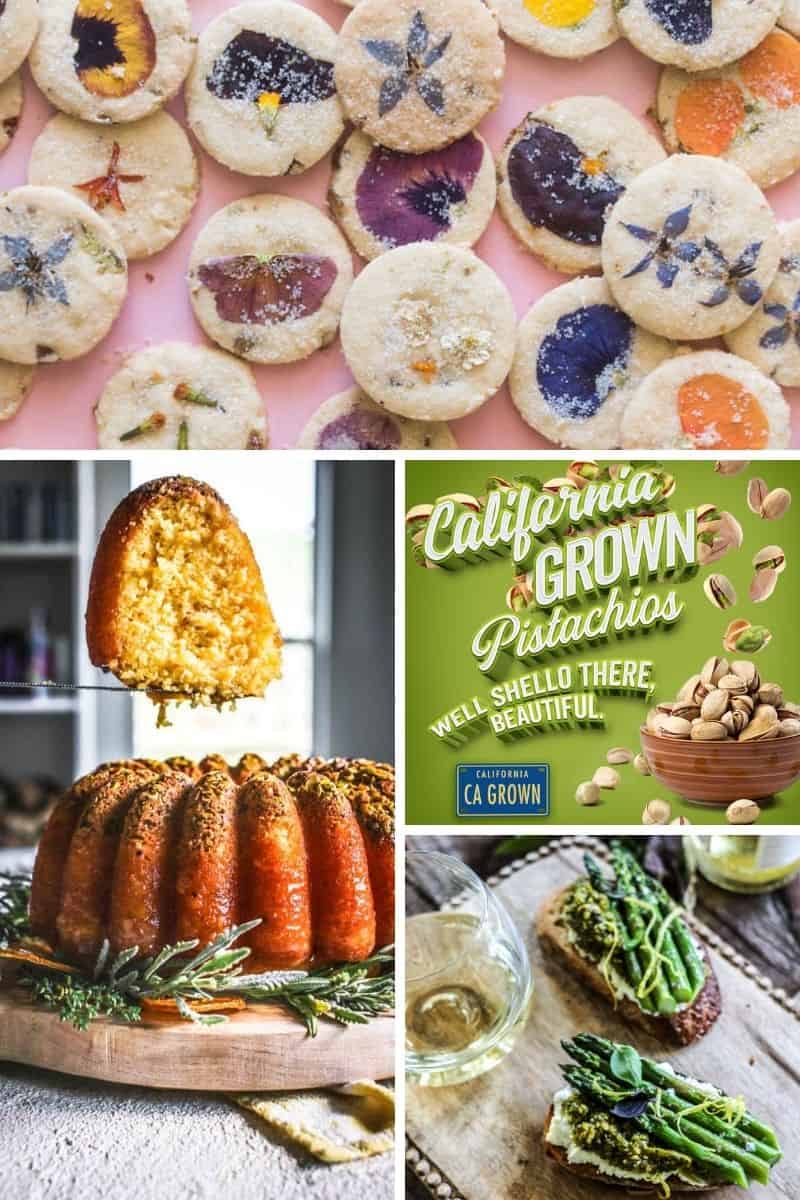 The Best Recipes With Pistachio We've Ever Tasted!
Good things come in small packages, and pistachios are no exception! This small but mighty nut adds flavor, texture, a pop of color, and lots of nutritional benefits to whatever dish you add them to. Read on to learn how pistachios are grown and harvested in California and for over 20 of the best recipes with pistachios from our California Grown Creators!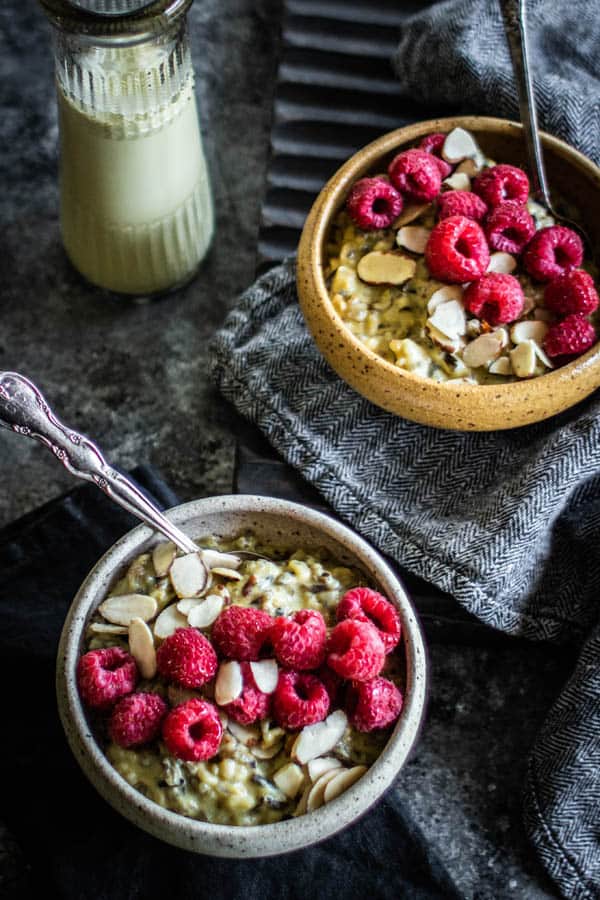 This easy recipe for rice pudding is made with creamy homemade pistachio milk and wild rice.
Free of refined sugars, this rice pudding has a flavor profile that is pleasantly nutty and rich without being cloyingly sweet! Because this recipe is perfect for breakfast or dessert, this protein-packed, plant-based rice pudding is the perfect addition to your next meal prep menu.