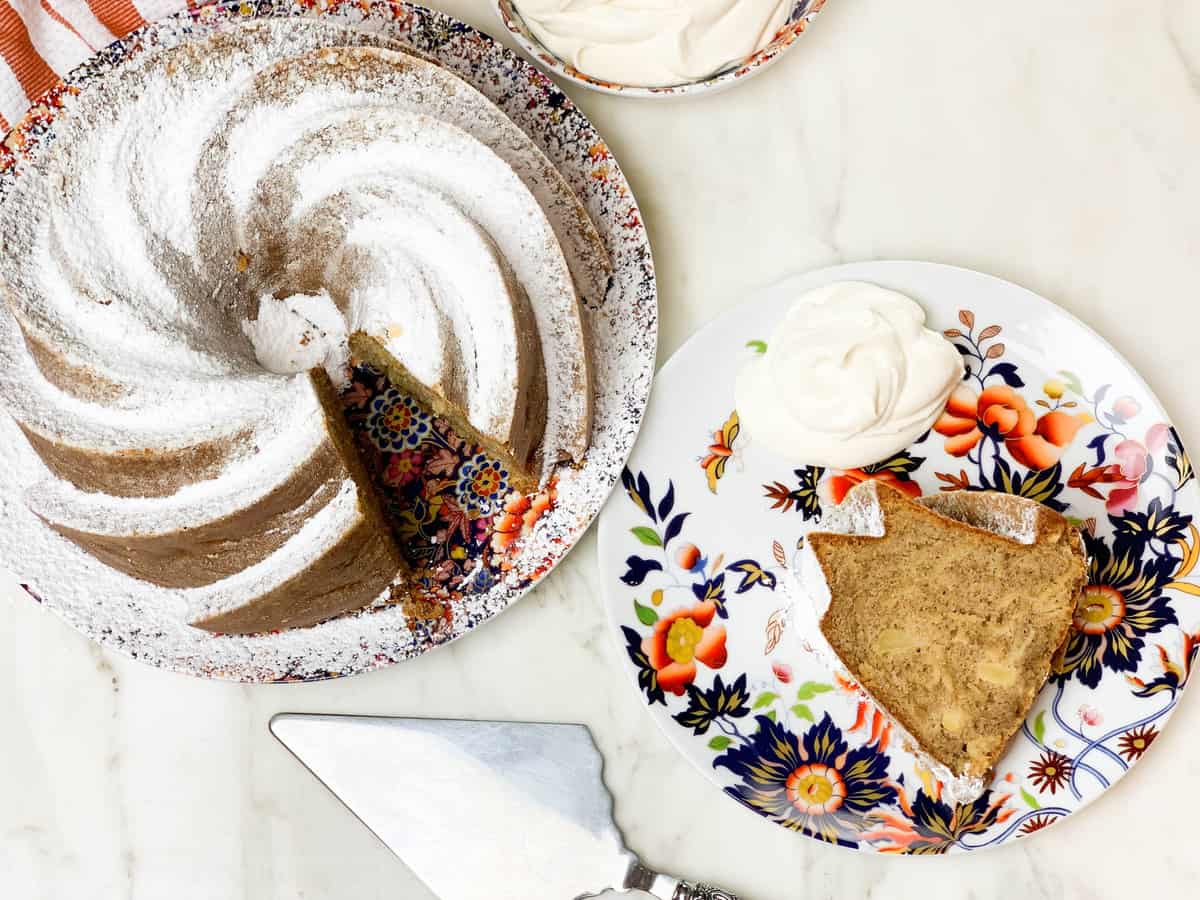 CA GROWN Blog
Discover. Learn. Connect.
The Only Apple Cake Recipe You'll Ever Need – Spiced Apple Bundt Cake with Olive Oil
October 2, 2019
Eat the Season!
Sign Up For Weekly Recipes
« Back to Recipes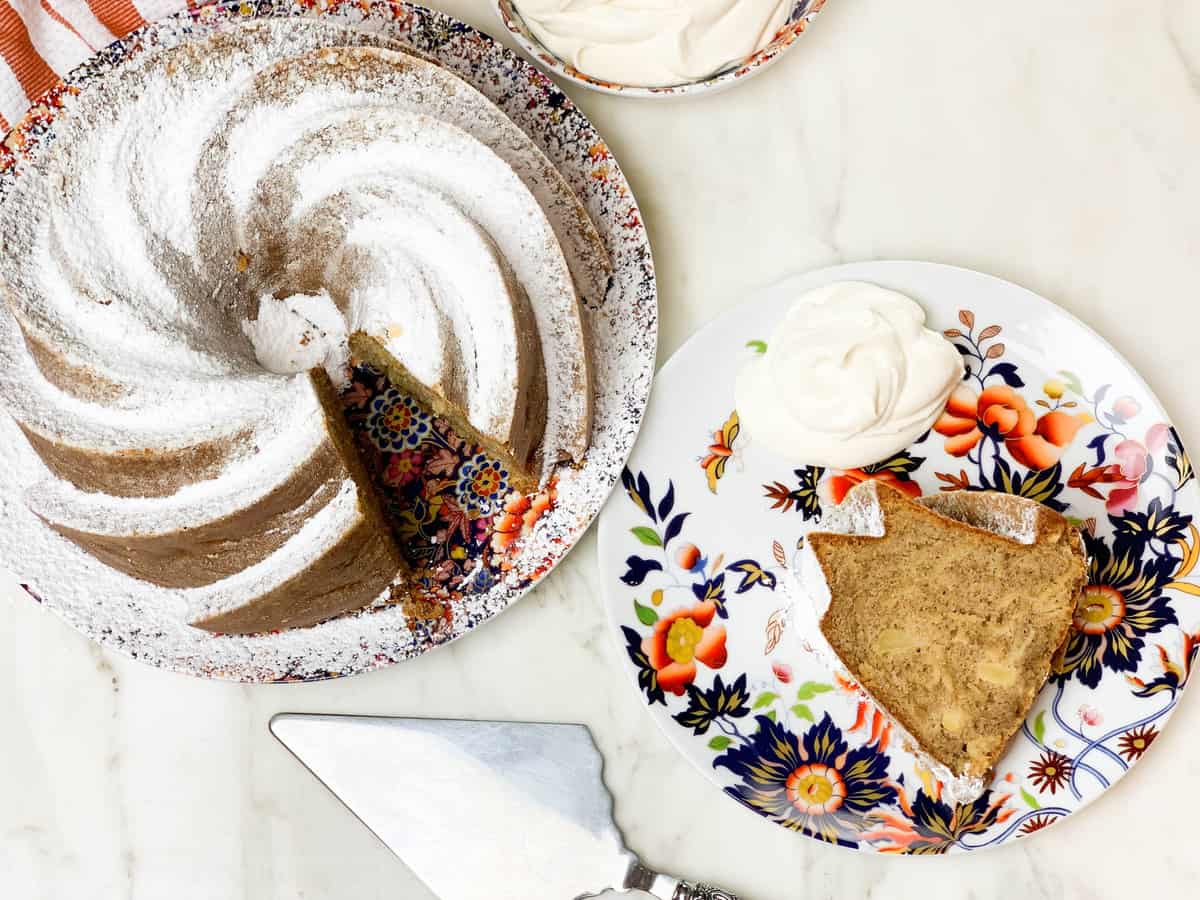 The Only Apple Cake Recipe You'll Ever Need – Spiced Apple Bundt Cake with Olive Oil
This apple cake recipe is our favorite fall treat!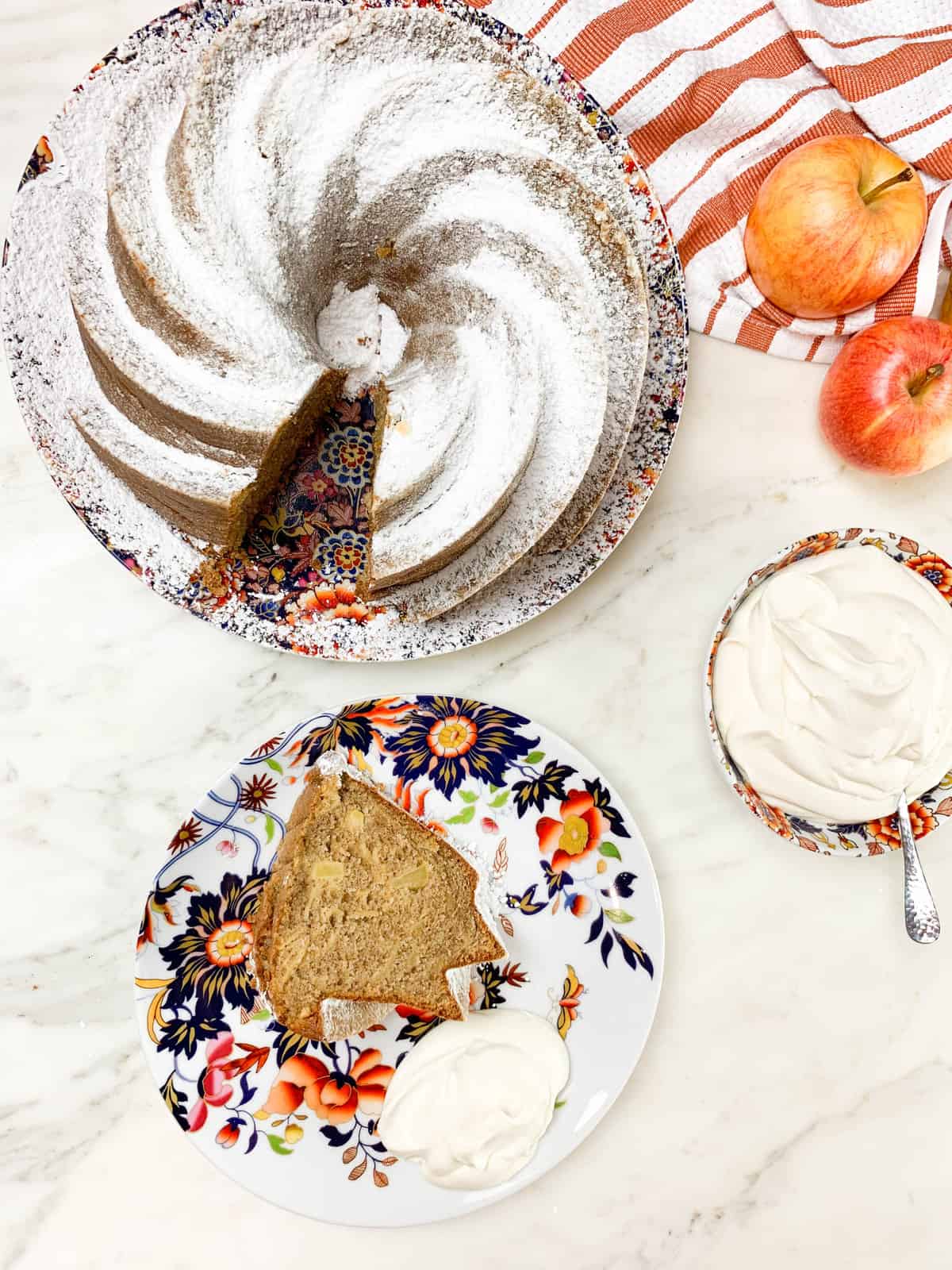 Apple season = time for apple spice cake!
Oh, the season for juicy, crisp apples and all the baked goodies!! Ever since I was a little girl, we would take a family day trip up to Apple Hill in the Sierra Nevada foothills and bask in the Autumn season of baked apple everything, arts and crafts, fresh apple cider, and pumpkin picking.  Then, we would load up the car with a couple boxes of fresh apples and tote our worn, happy selves home.  A visit to Apple Hill and a full box of apples in the cool garage always signifies the start of Autumn for me. We took our kiddos up to Apple Hill this last weekend for our annual excursion and then I baked up THE MOST SATISFYING spiced apple bundt cake! Absolute Autumn heaven.
I used plentiful spices, sweet Gala apples, and a mild buttery olive oil for this cake and you would not believe how moist and fluffy and full of fall flavors it turned out. Serve it with vanilla ice cream, caramel syrup, or a fresh and light maple mascarpone cream for the perfect balance. Bake it up in a bundt pan and you have a delicious AND stunning cake.
Let's make Spiced Apple Cake!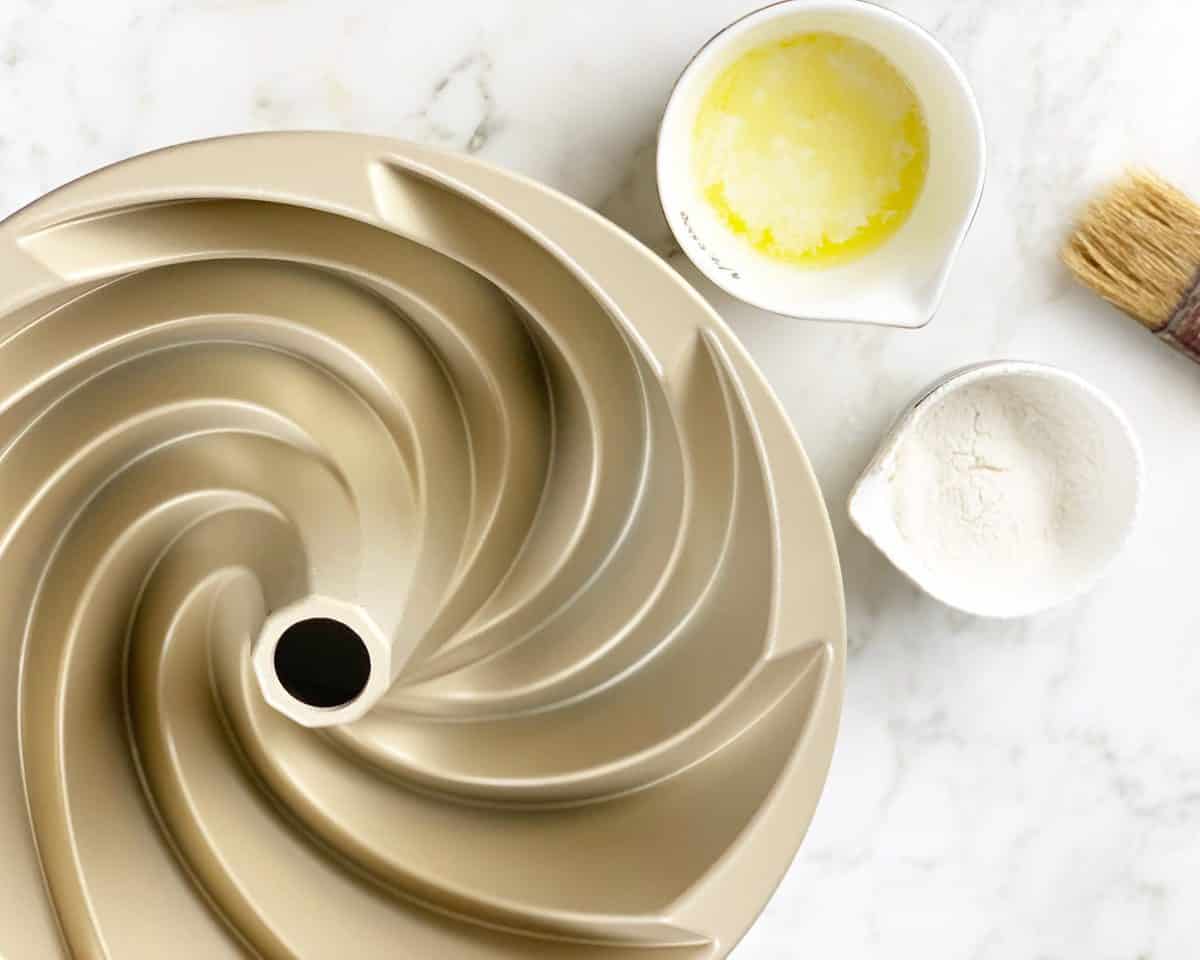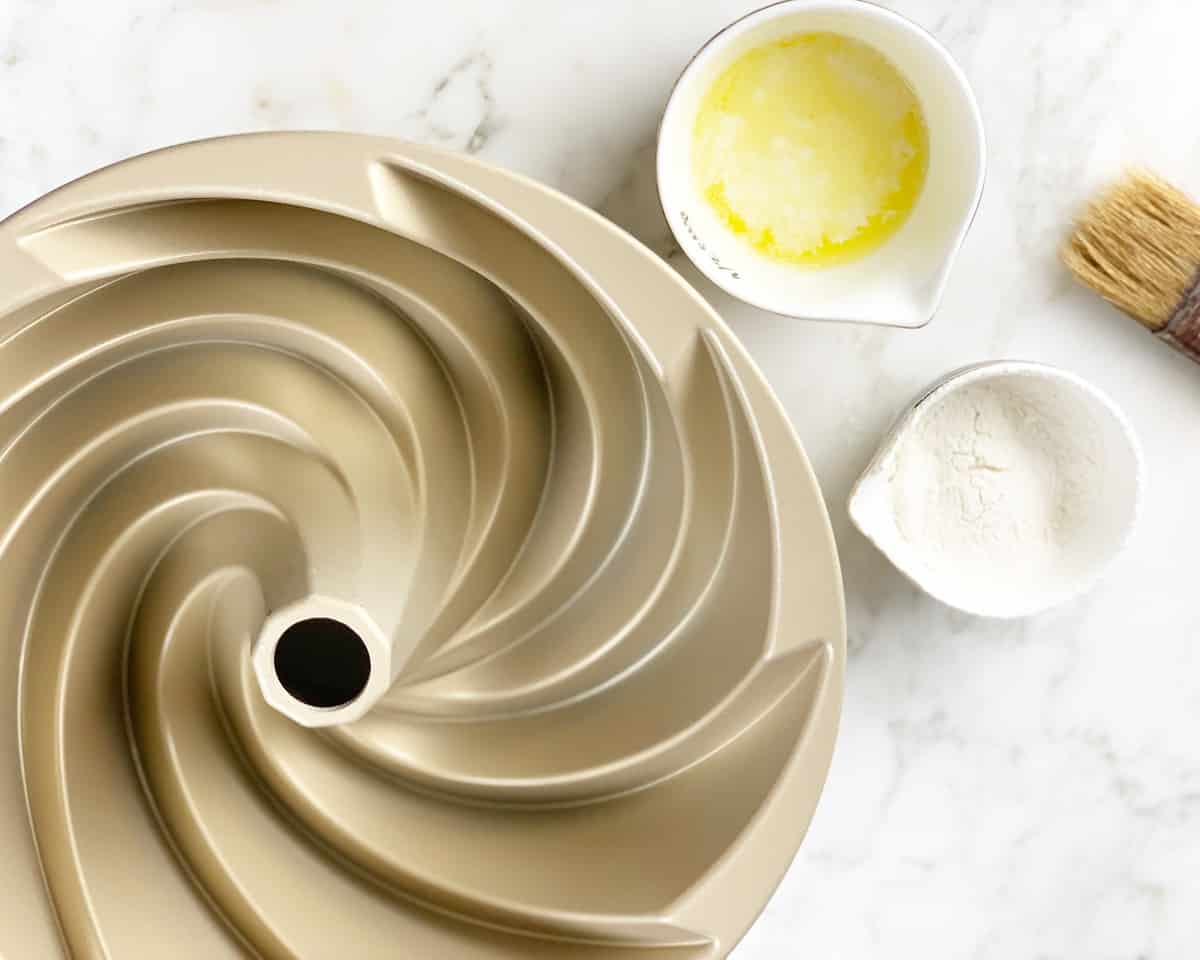 First things first, let's prepare our bundt pan.
There are two "ingredients" to make sure your cake pops cleanly out of the bundt pan – the first is to prepare it correctly with butter and flour and the second, is to allow it to cool down!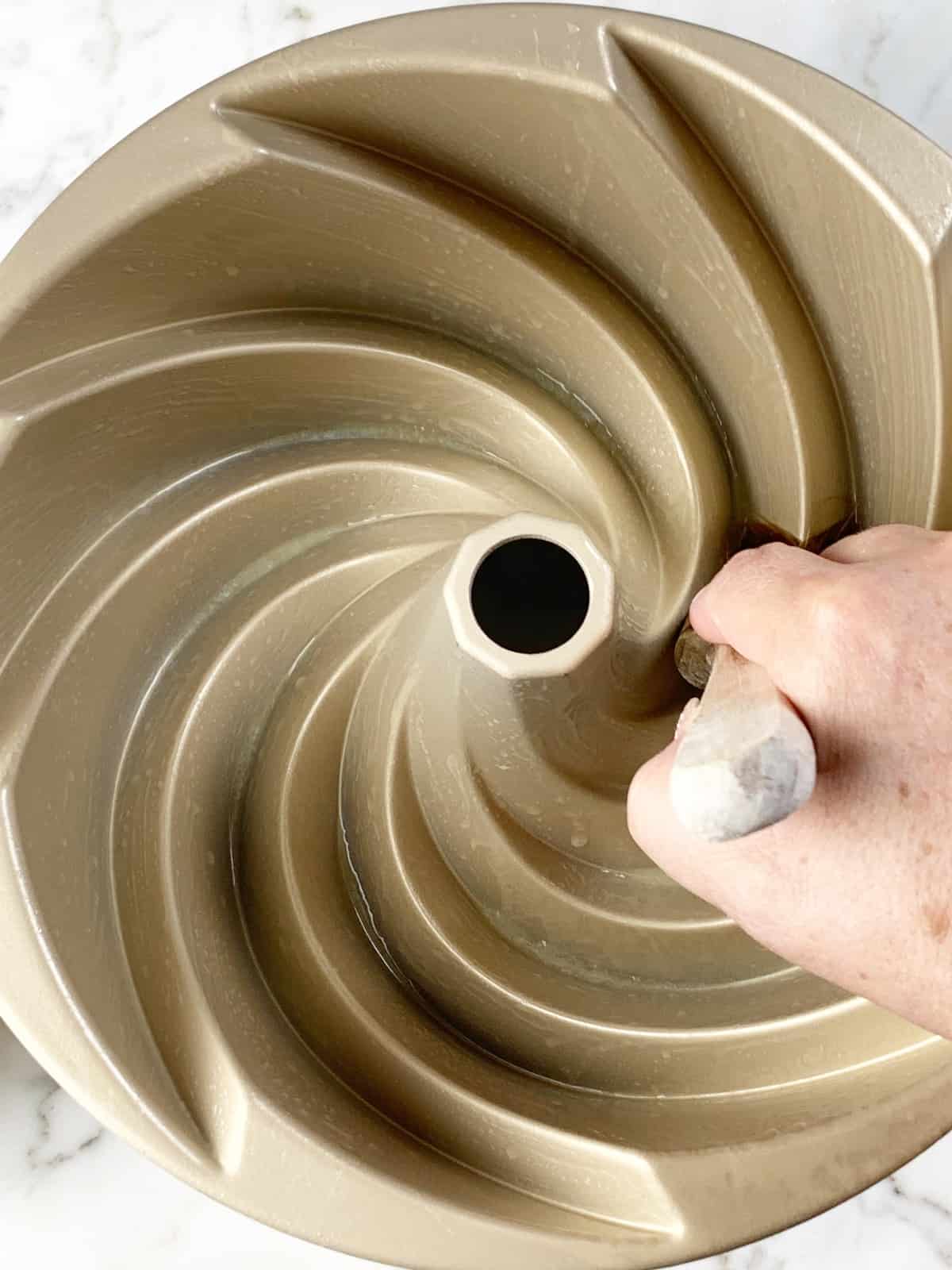 Melt 2 tablespoons of butter and use a pastry brush to coat every nook and cranny of the bundt pan – leave no space ungreased!!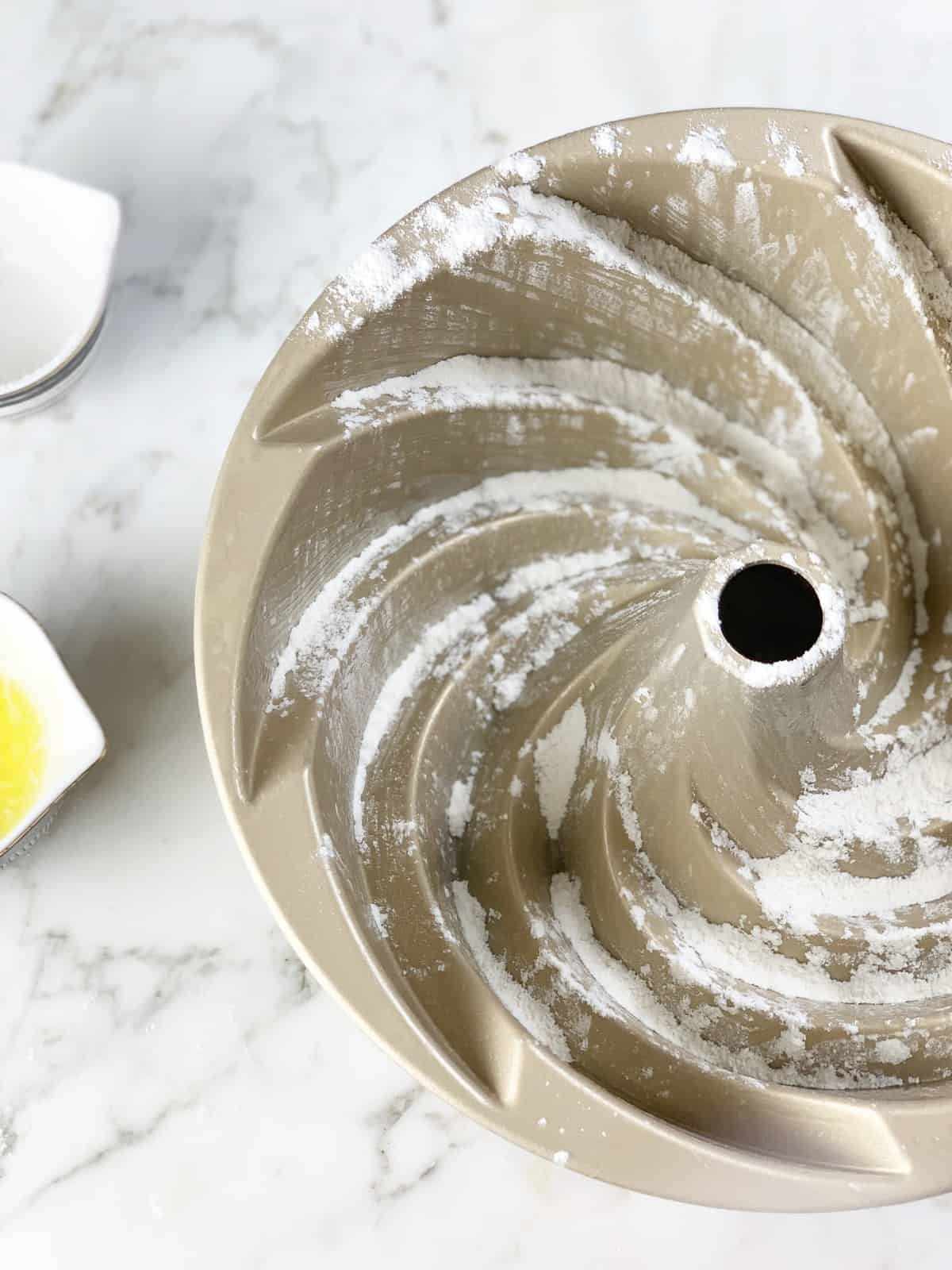 Sprinkle a few tablespoons of sifted flour into the bundt pan. Then, tilt and turn and pat and shake the flour so there is a light coating over every part of the pan.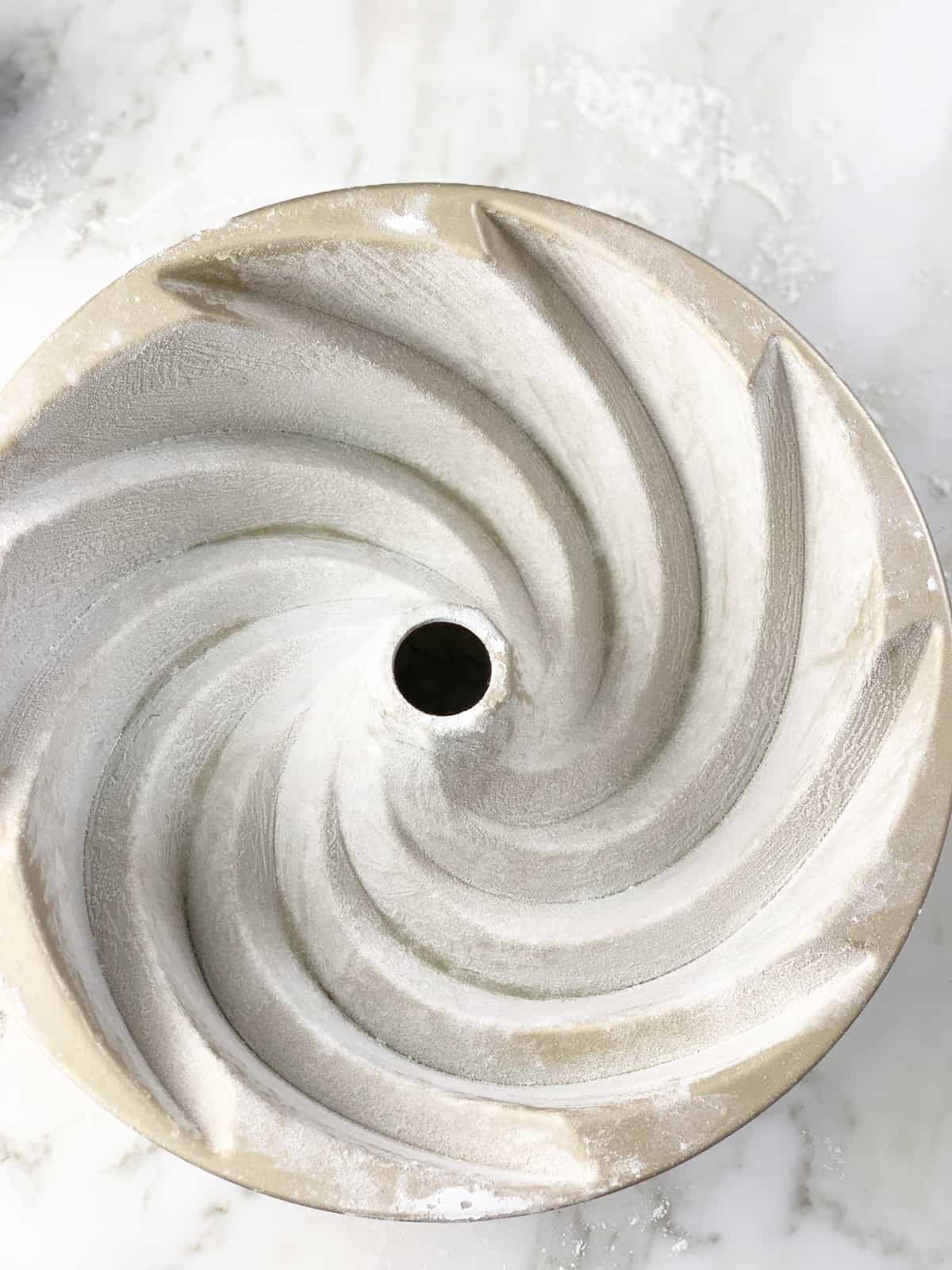 Tip the pan upside down (preferably over your sink) and tap out any excess flour. Set your pan aside while you prepare the cake!
Now, we're ready to start mixing up the batter!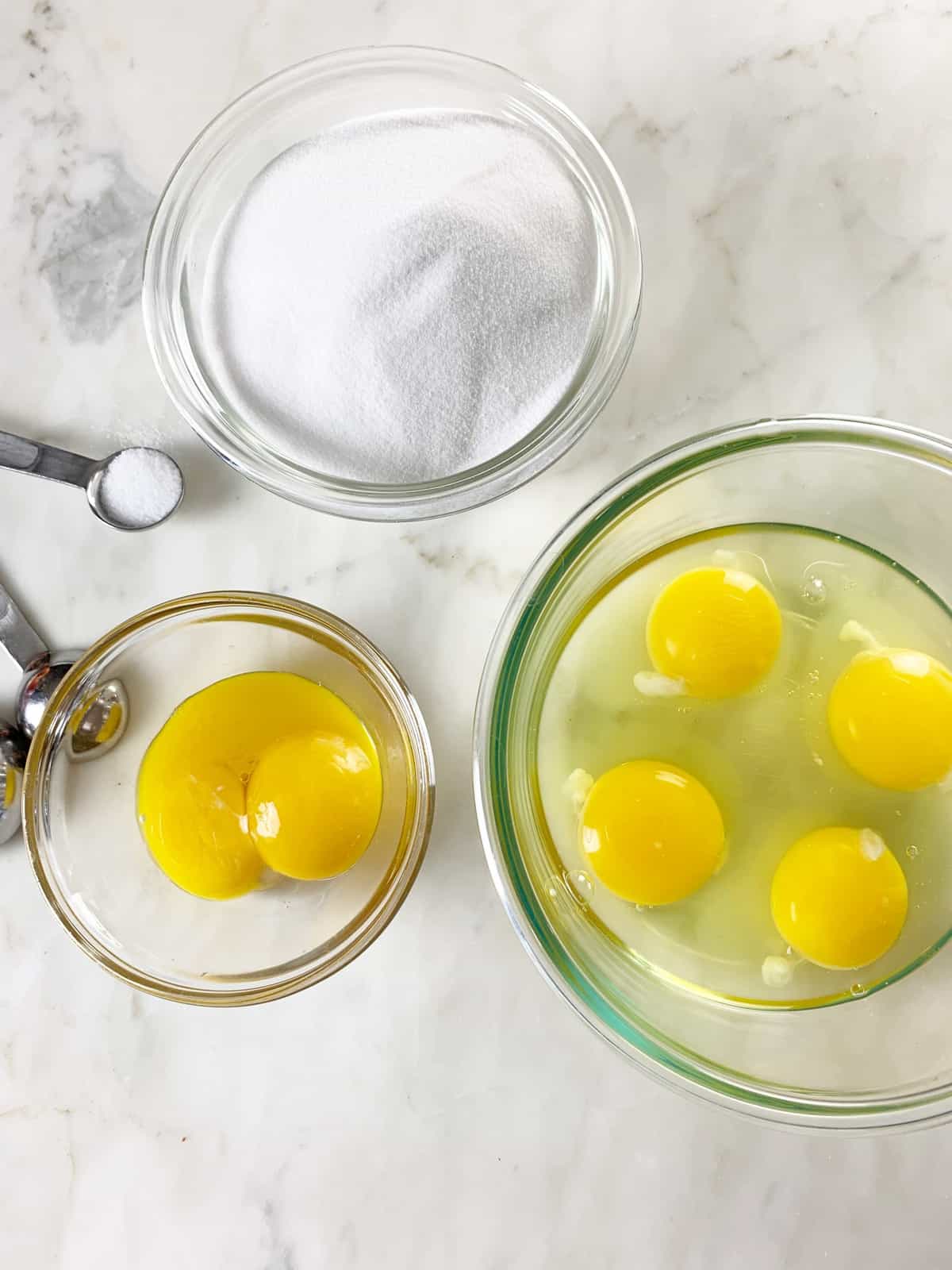 Preheat your oven to 350 degrees.
Combine your eggs, egg yolks, superfine granulated sugar, and salt into a mixing bowl.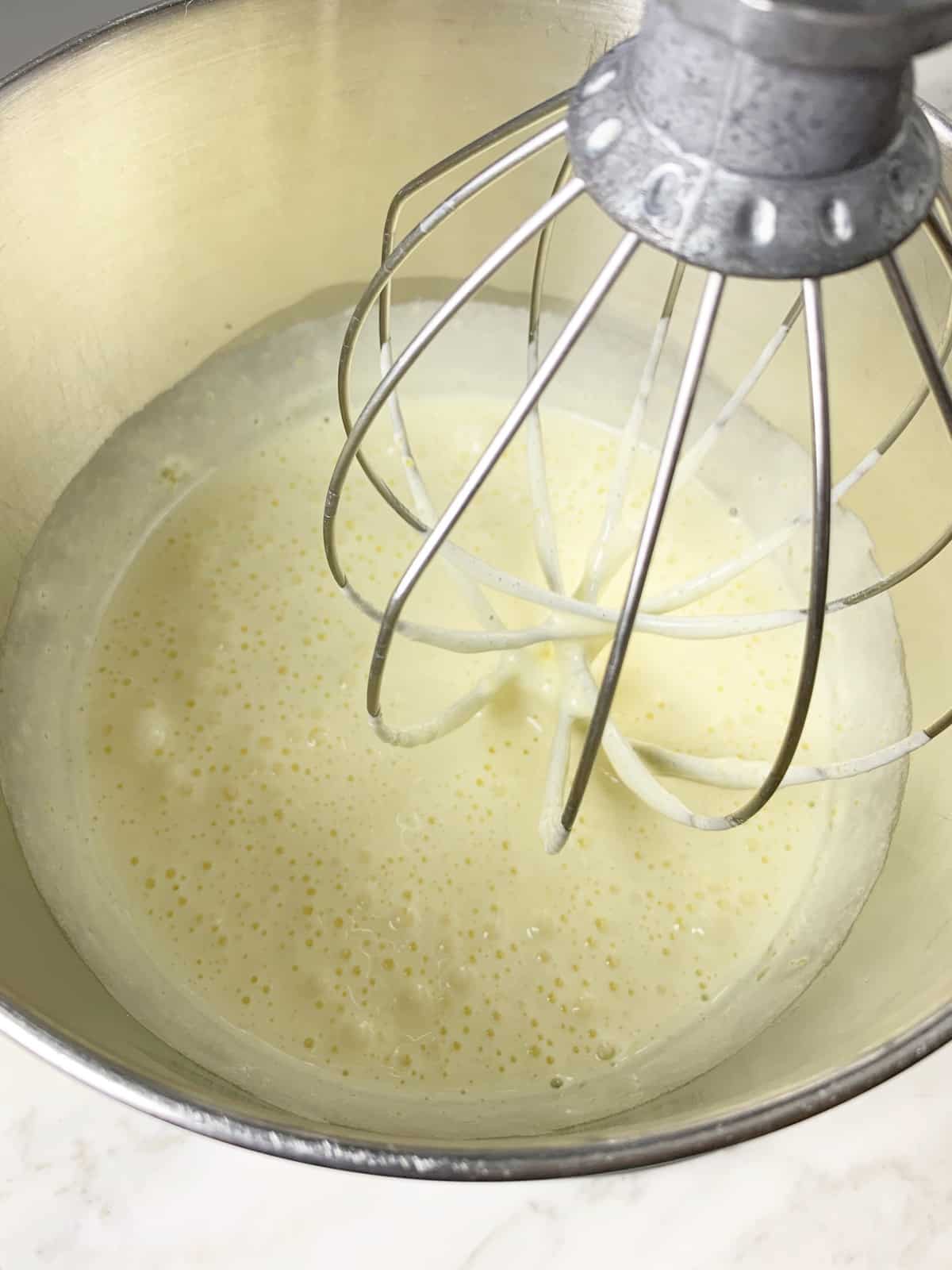 Using the whisk attachment, beat your egg and sugar mixture over medium speed for a full two minutes, until the mixture is pale and fluffy!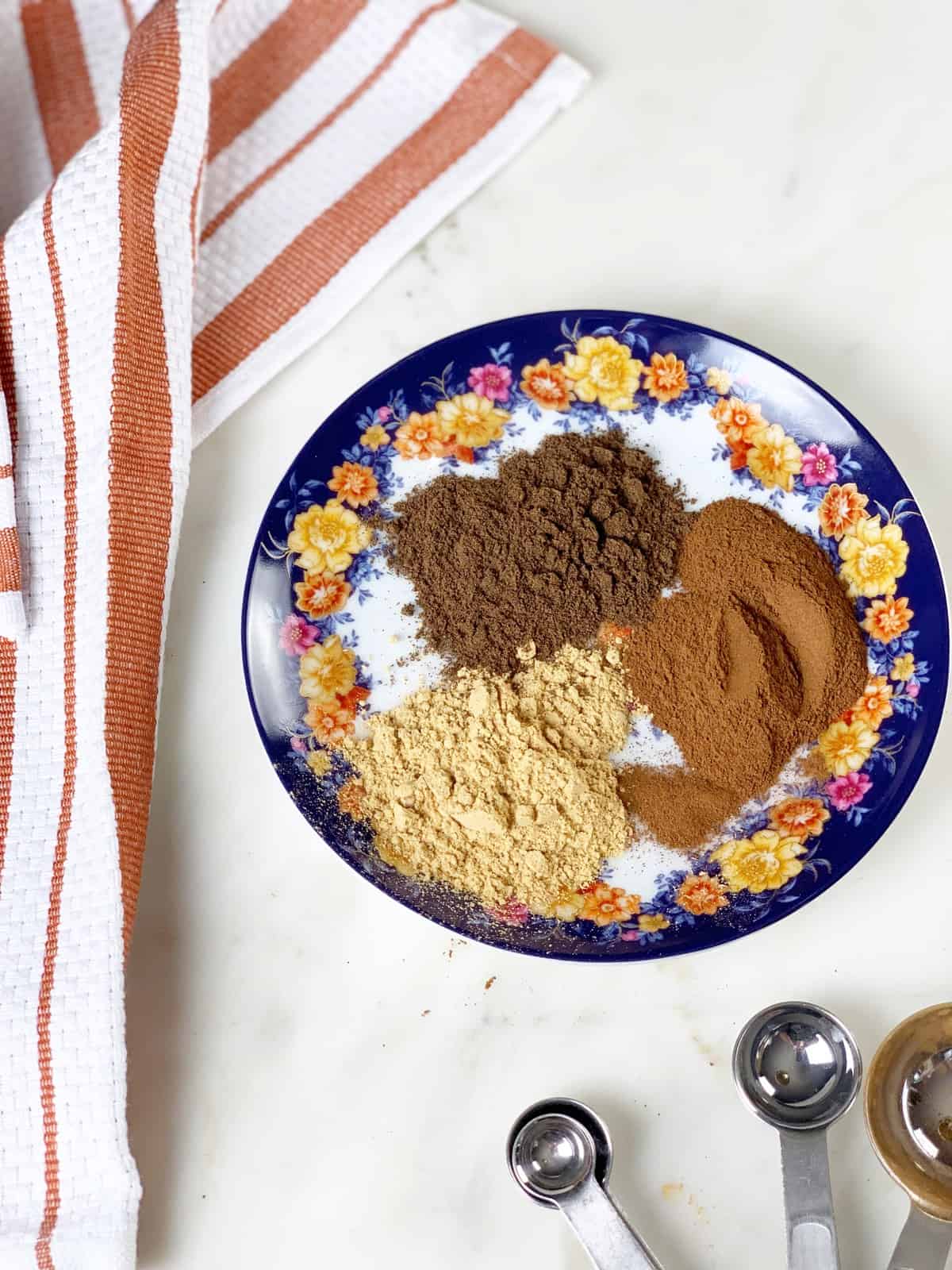 Time to add in those fragrant spices!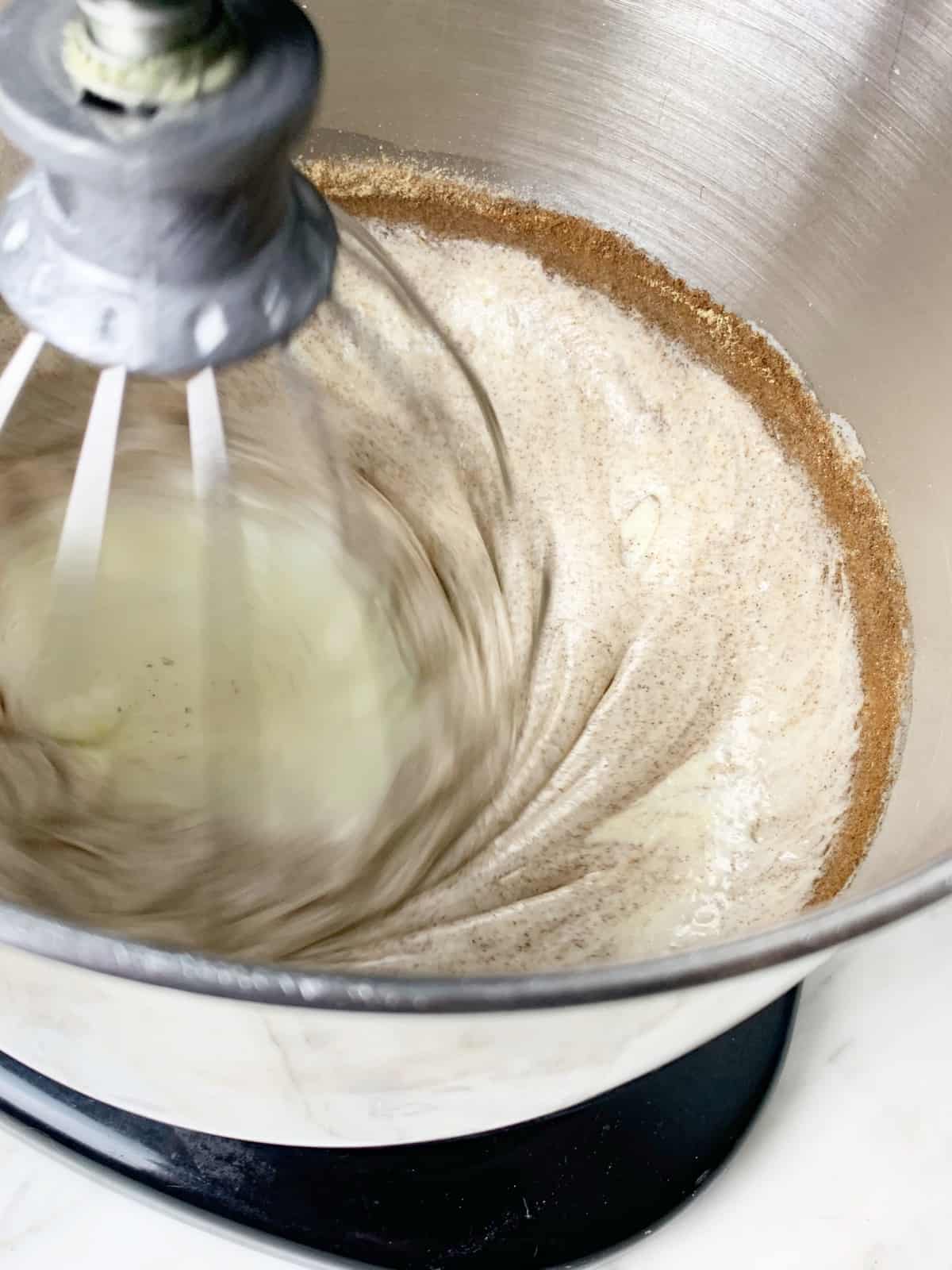 Whisk the spices into the egg/sugar mixture. Scrape down the sides of the bowl with a spatula and whisk a bit more to make sure everything is well blended.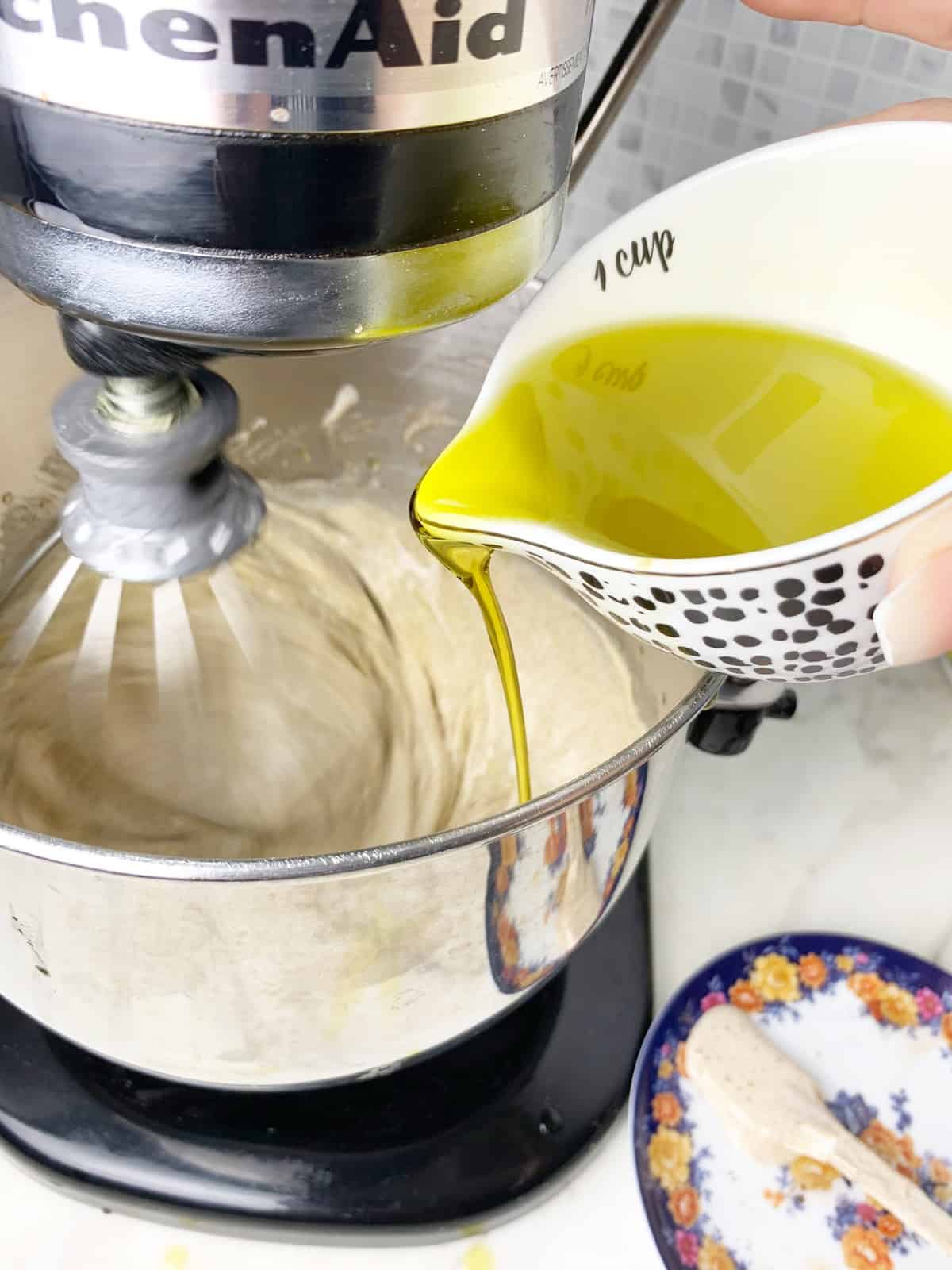 Time to add our olive oil! I chose an extra virgin olive oil labeled "mild and buttery" and the flavor perfectly complemented this spiced apple cake! With your mixer on low speed, slooooowly drizzle the olive oil into the batter until it is fully incorporated.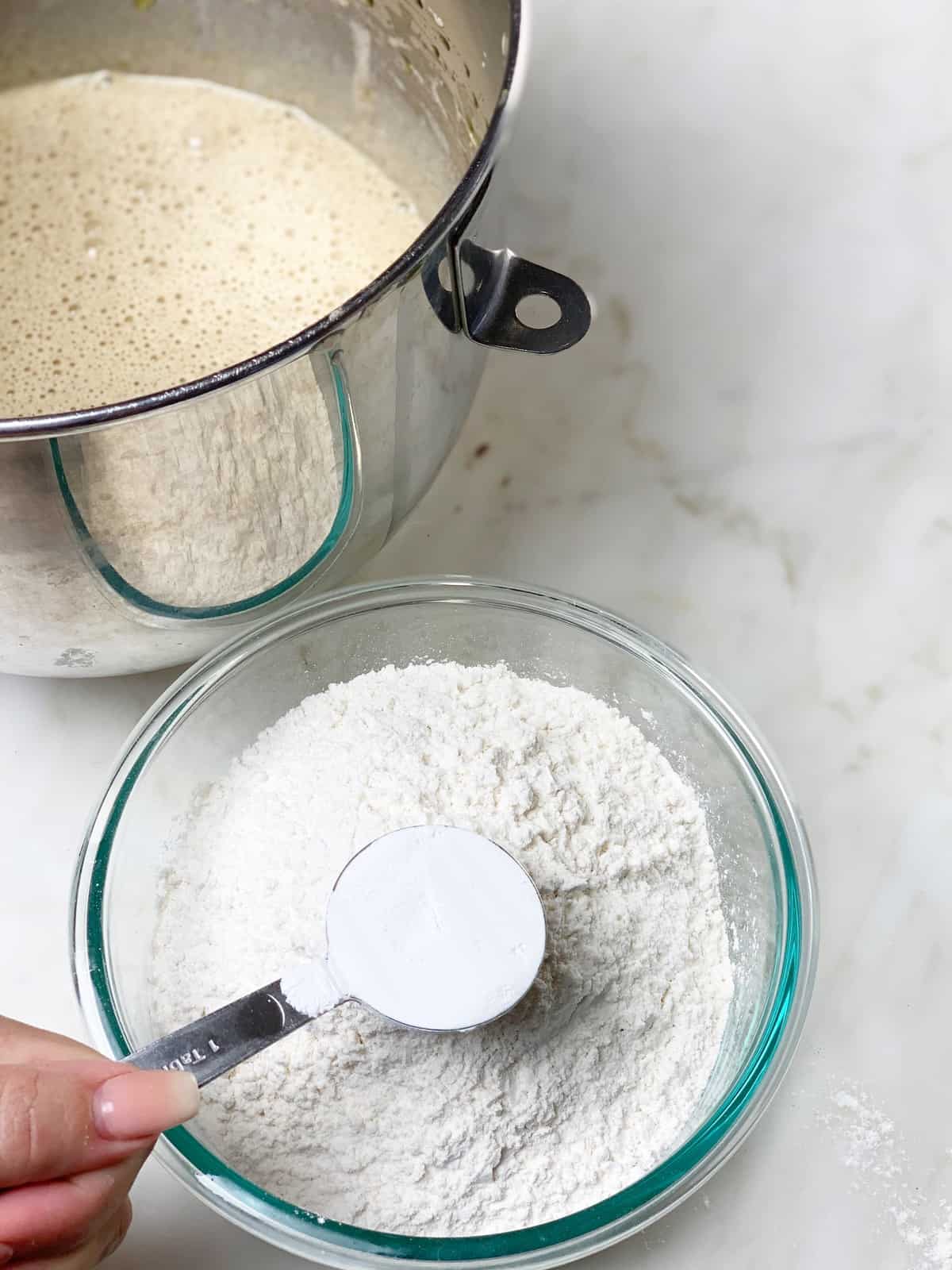 We are done with the mixer and ready to add our flour! Mix your baking powder into your pre-measured flour.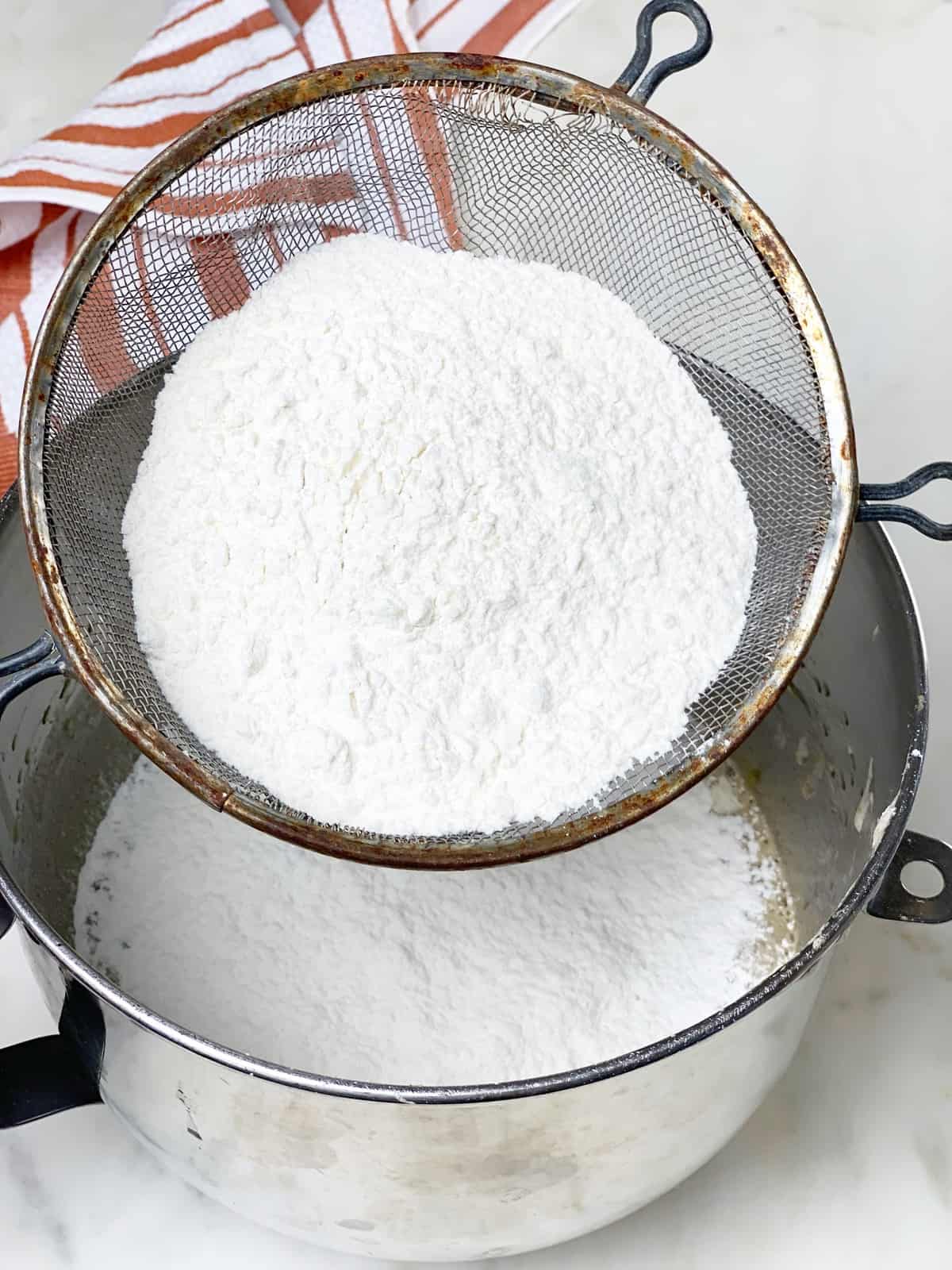 Sift the flour mixture into the mixing bowl of batter.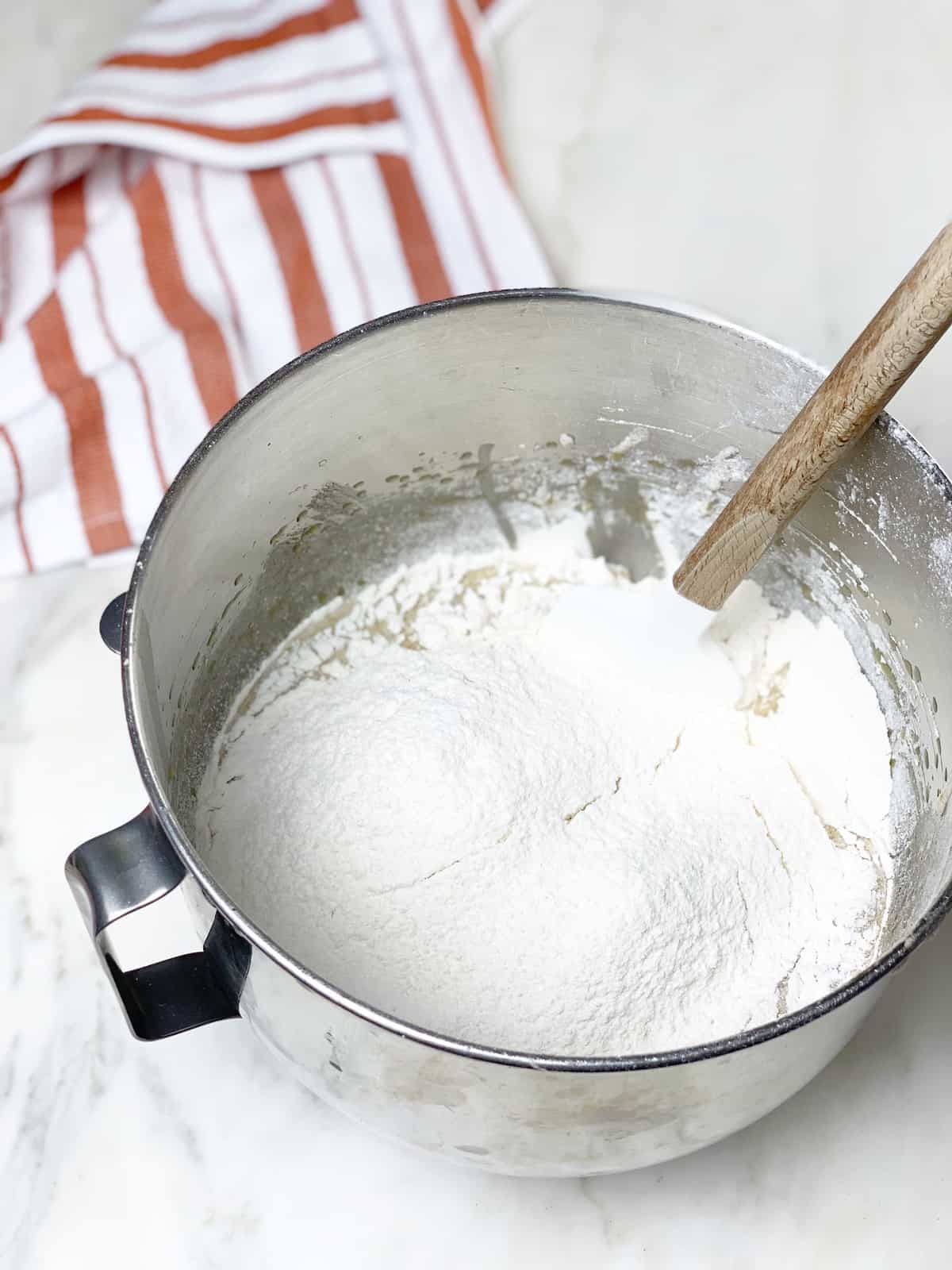 Use a spatula to gently fold the flour into the batter.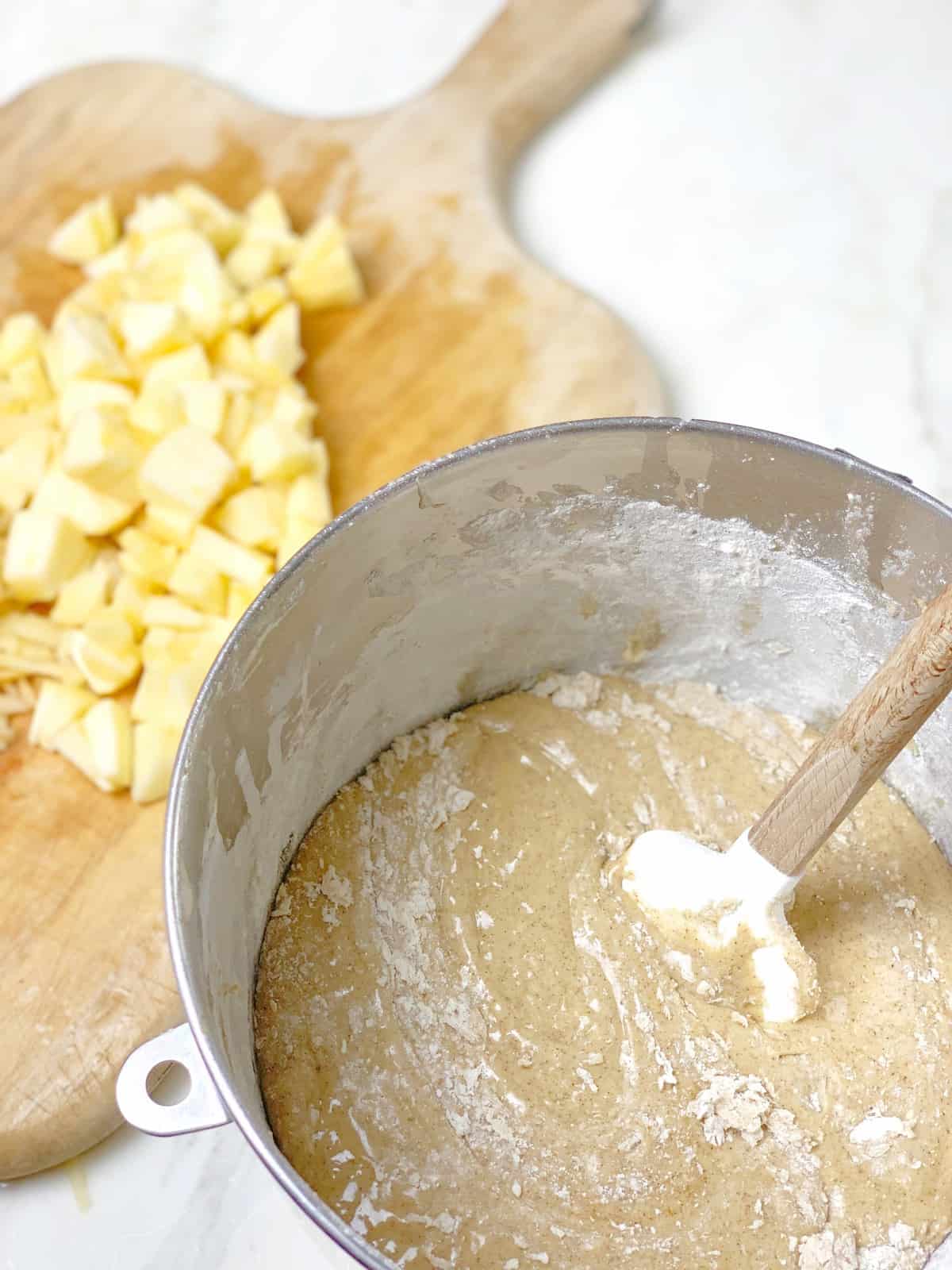 Do not overmix. Stir it just enough that the flour is mostly mixed in!
Now, let's prep our apples for the apple cake!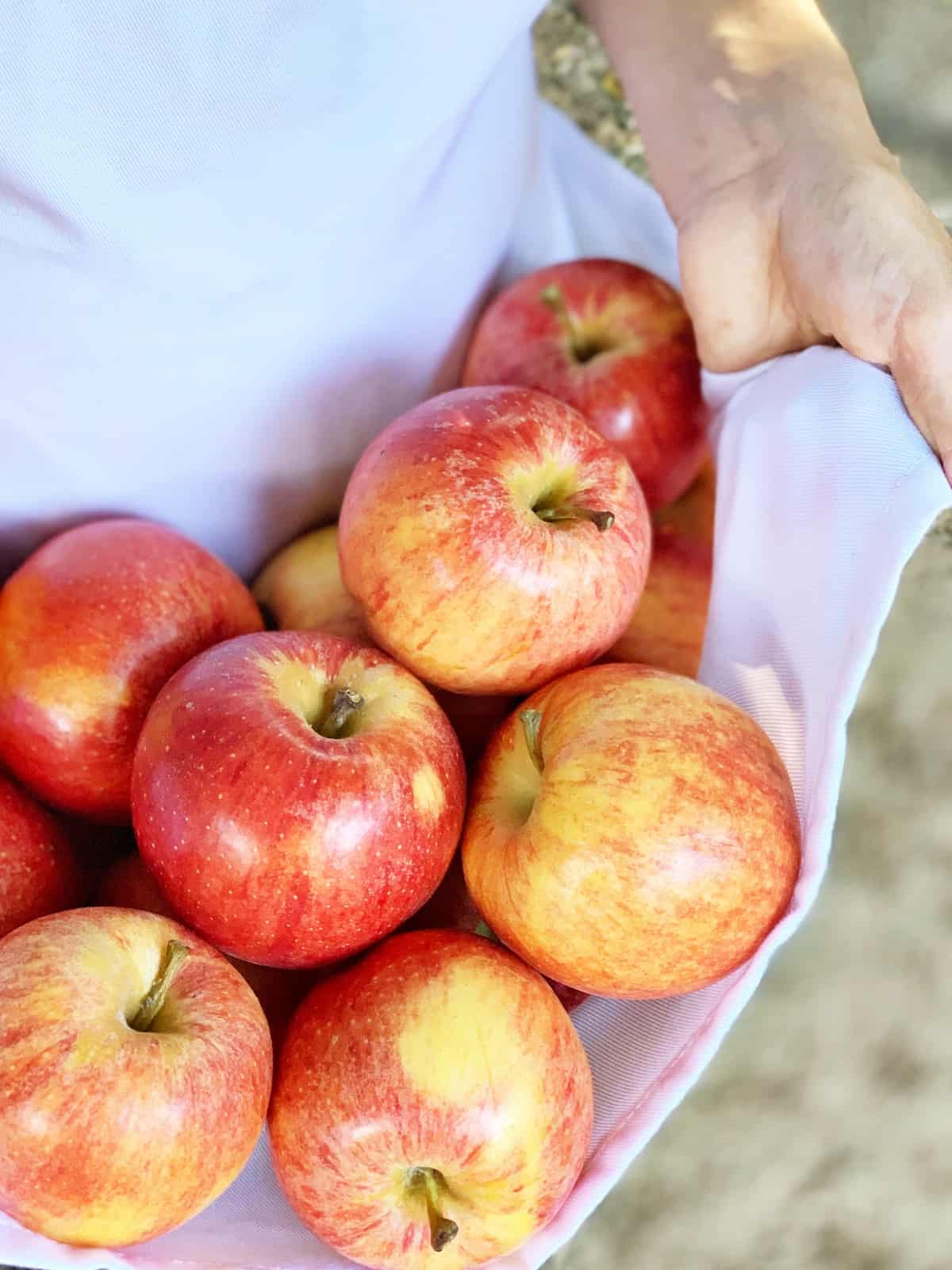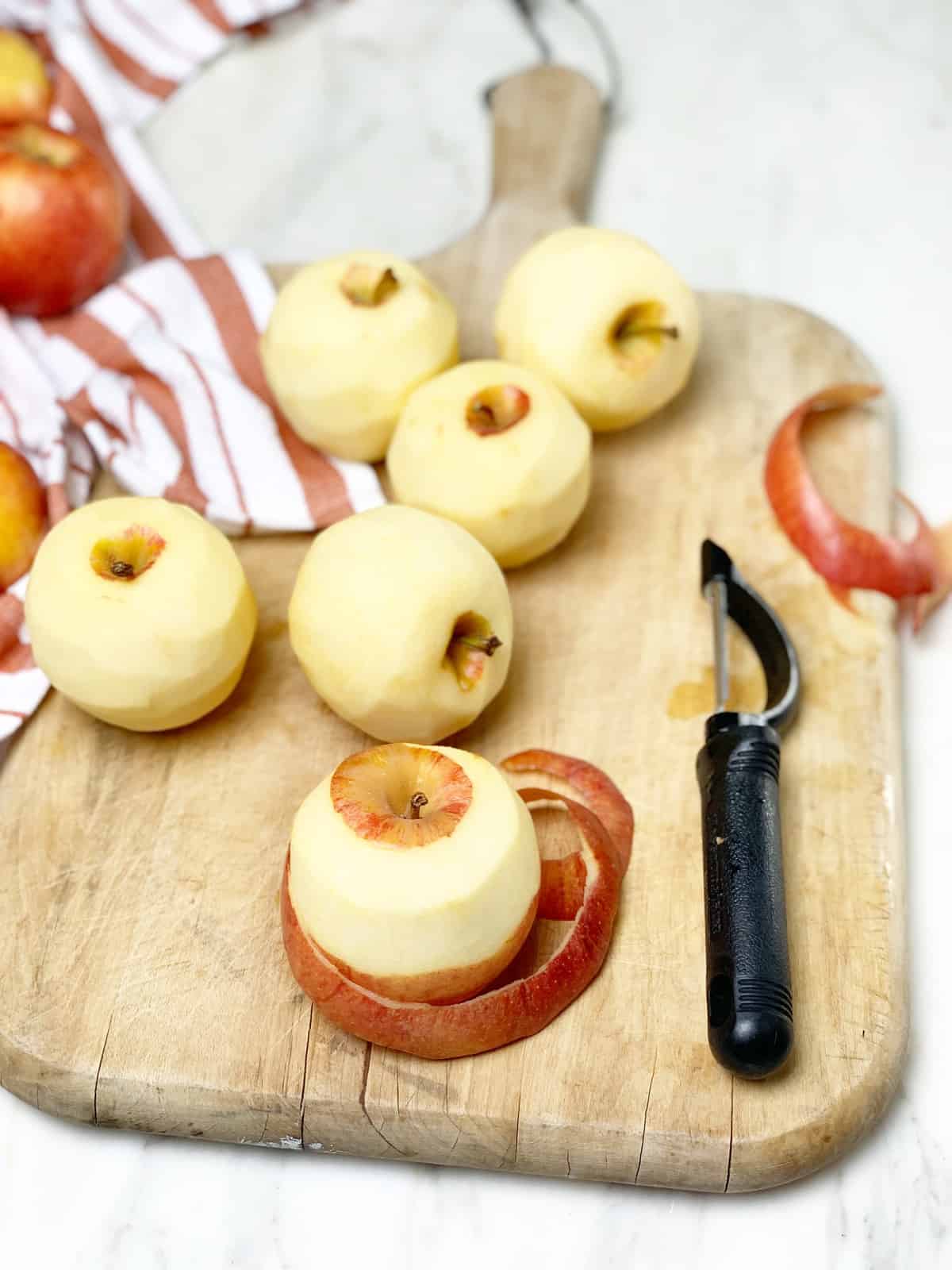 Peel and remove the cores from five fresh Gala apples.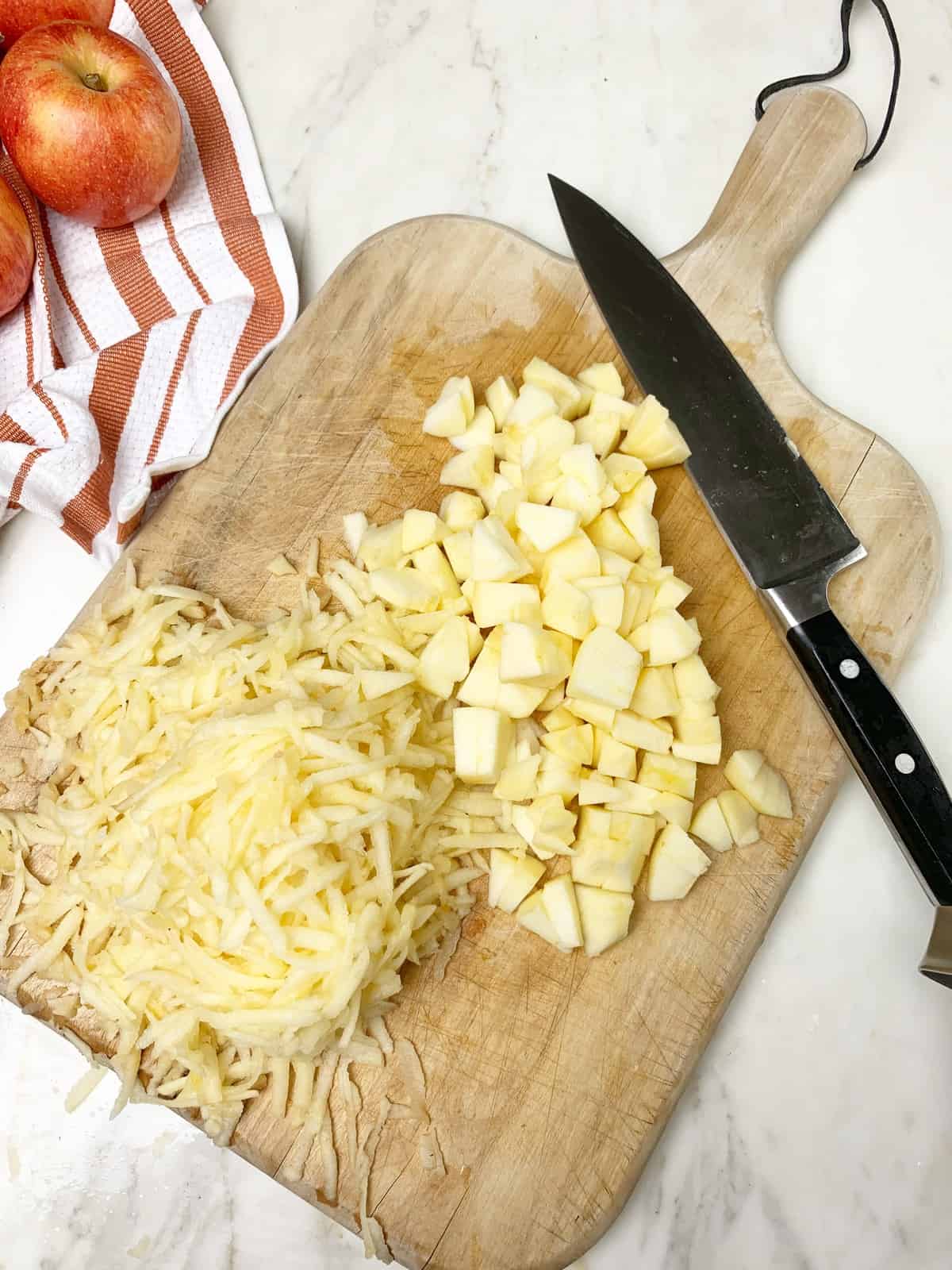 Grate three of the apples and chop the remaining two apples into small chunks.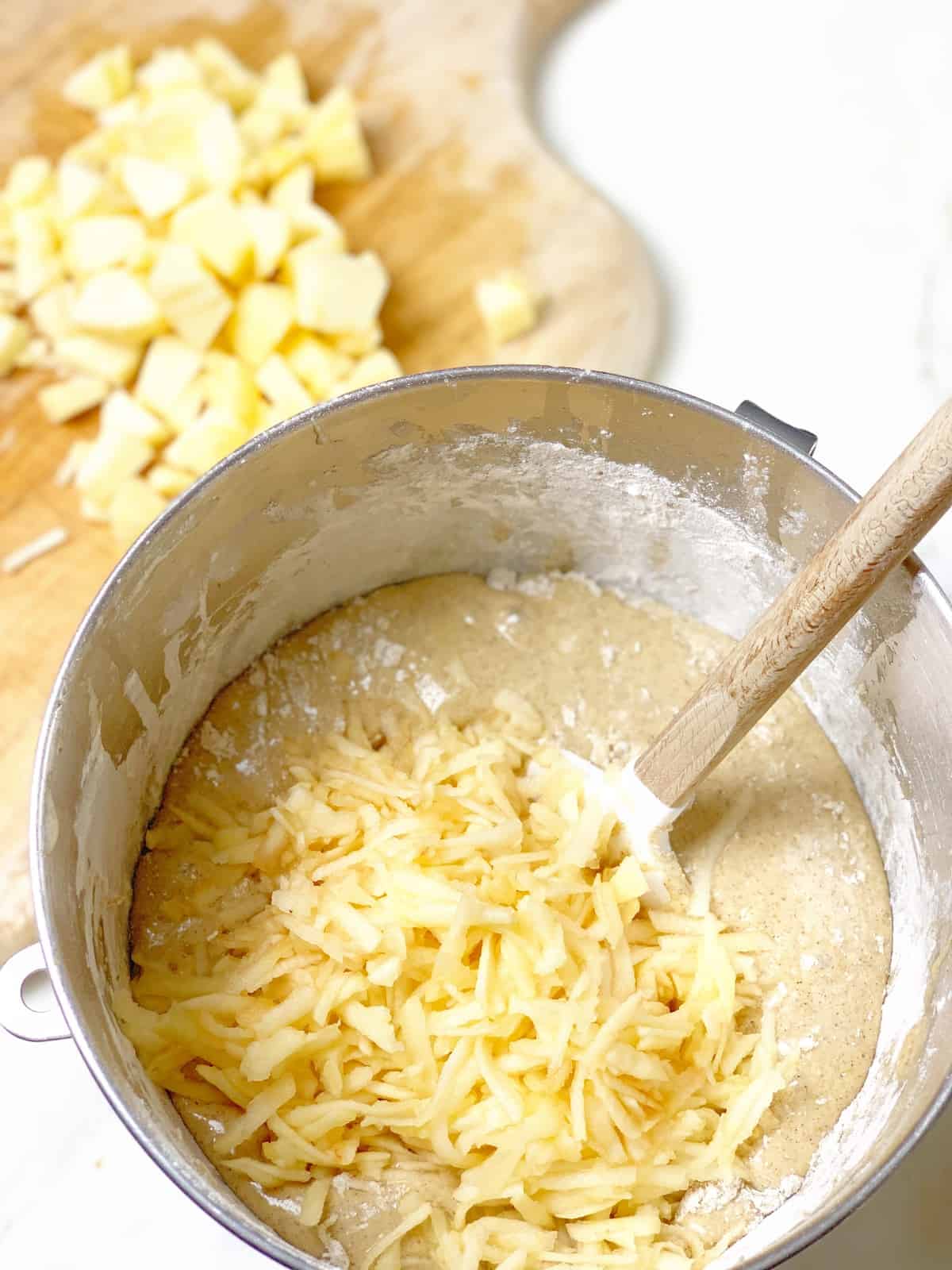 First, we're going to add the grated apple. Use a spatula to gently incorporate the grated apple into the batter – again, don't overmix.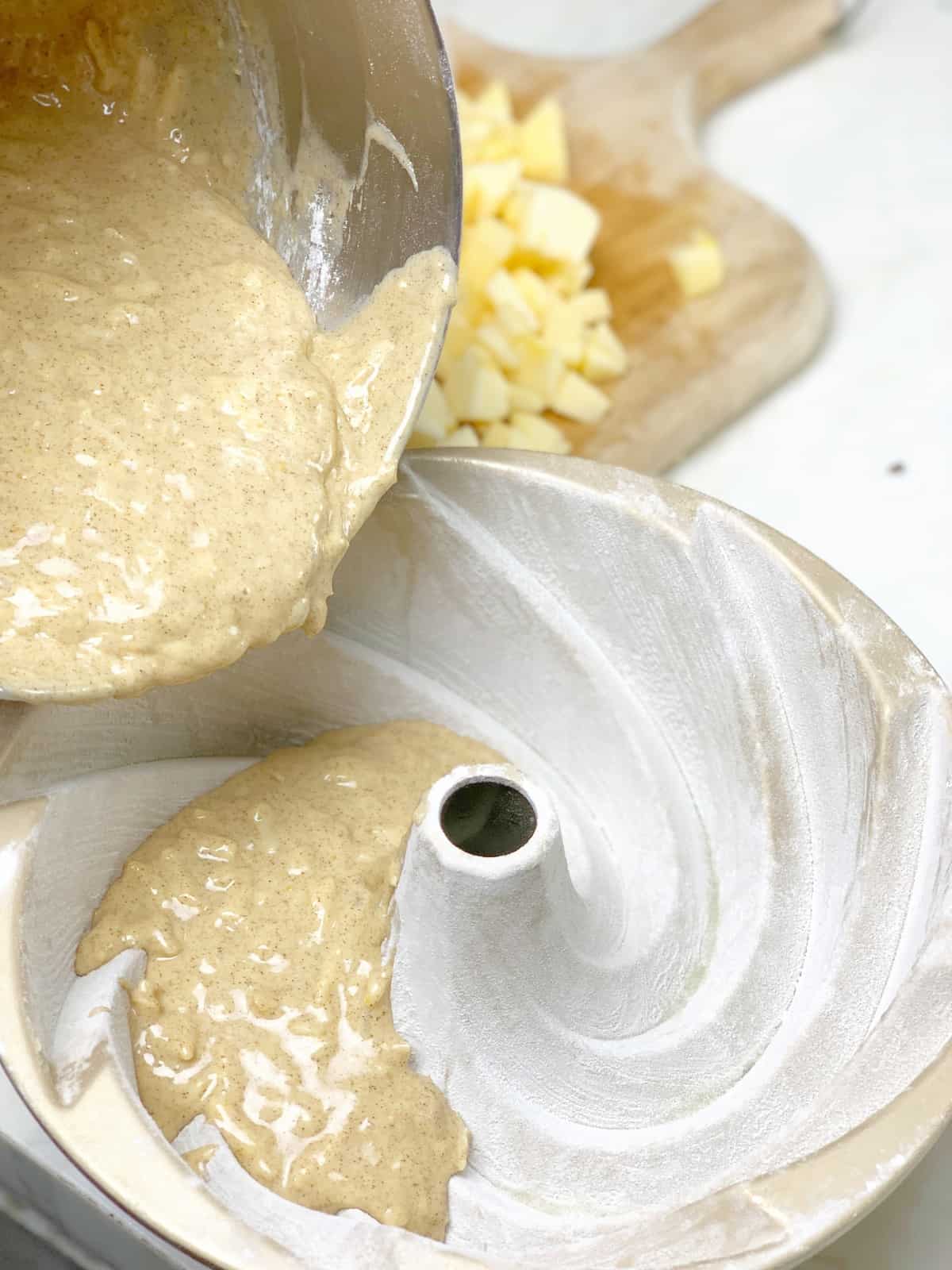 Spoon or pour just a bit of the batter into the prepared bundt pan. We're doing this so that there aren't any big chunks of apple at the very top of the cake (i.e., bottom of the pan) to infringe on that perfect, gorgeous decorative design.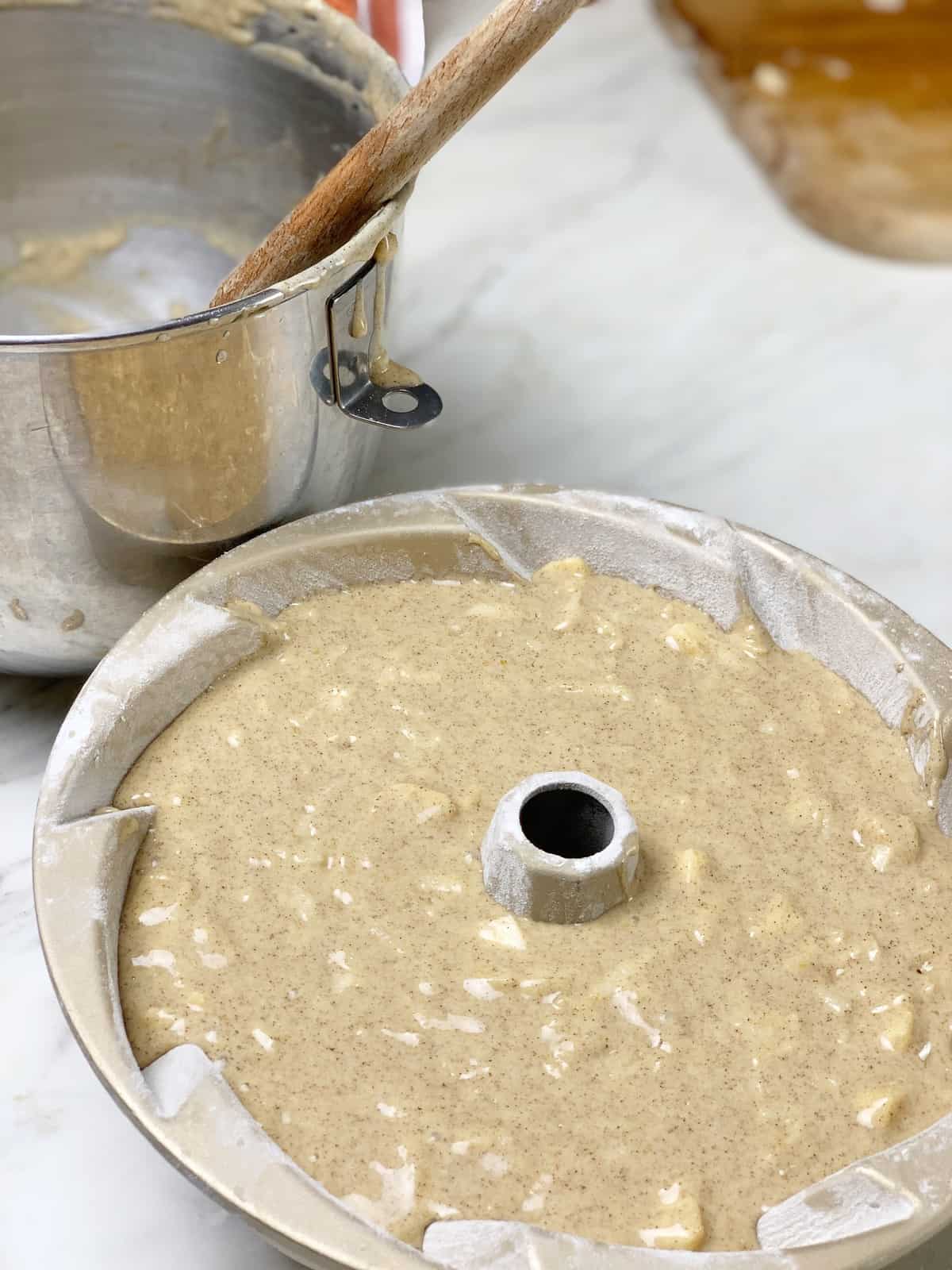 Alright, now gently fold in the apple chunks and carefully pour the remaining batter into the bundt pan. Smooth the batter to even it out in the pan! Ready for the oven!
Bake the apple cake!
BAKE for approximately 50-55 minutes, or until a toothpick comes out clean when poked into the cake.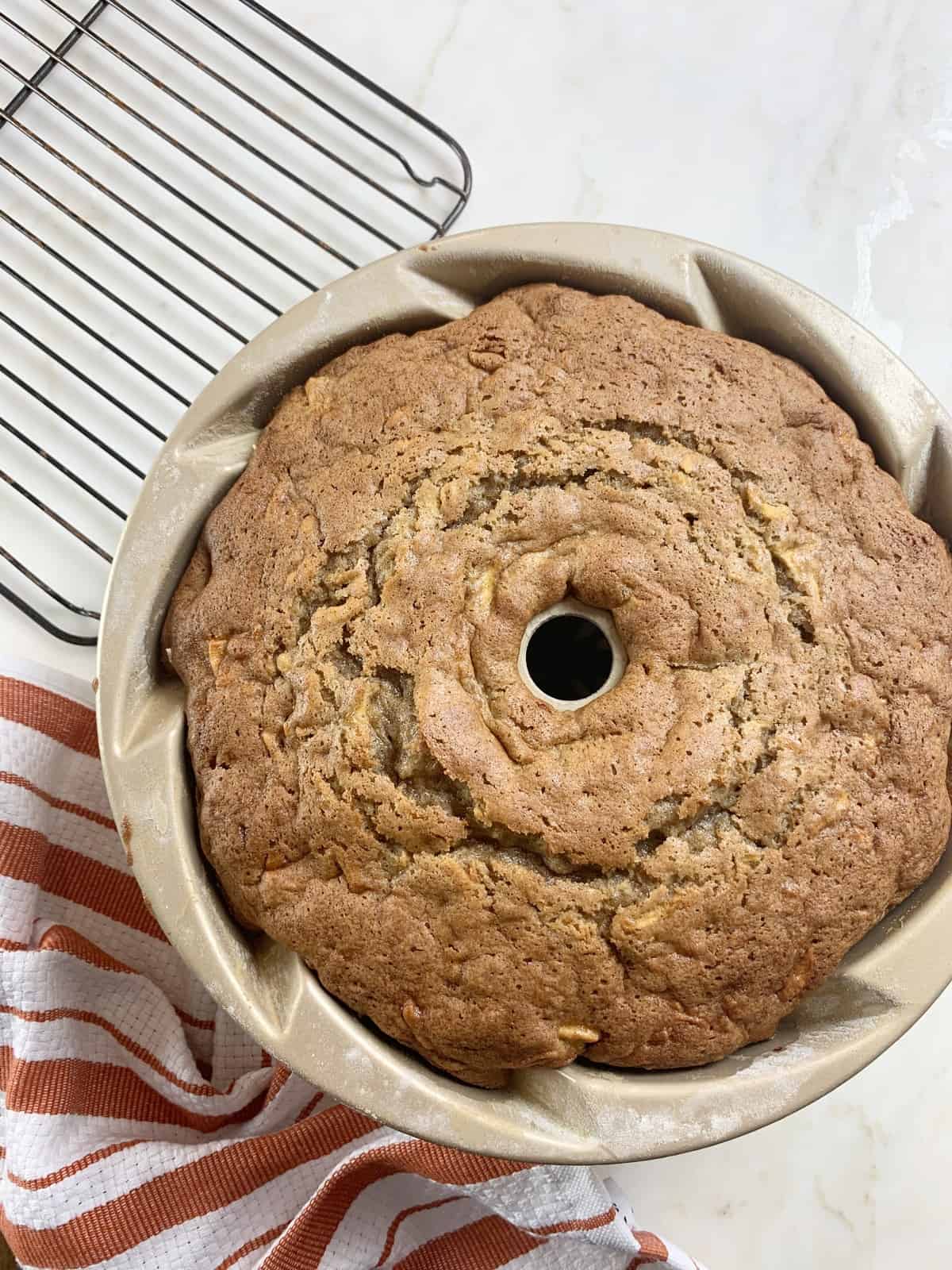 Patience is a virtue….but waiting is the worst!
Oh, glorious golden baked perfection!!!! Your house will be smelling AMAZING at this point. Don't get overeager though. Remember the second rule for getting that cake out of the bundt pan? You must let it cool for 20 full minutes. Don't skimp.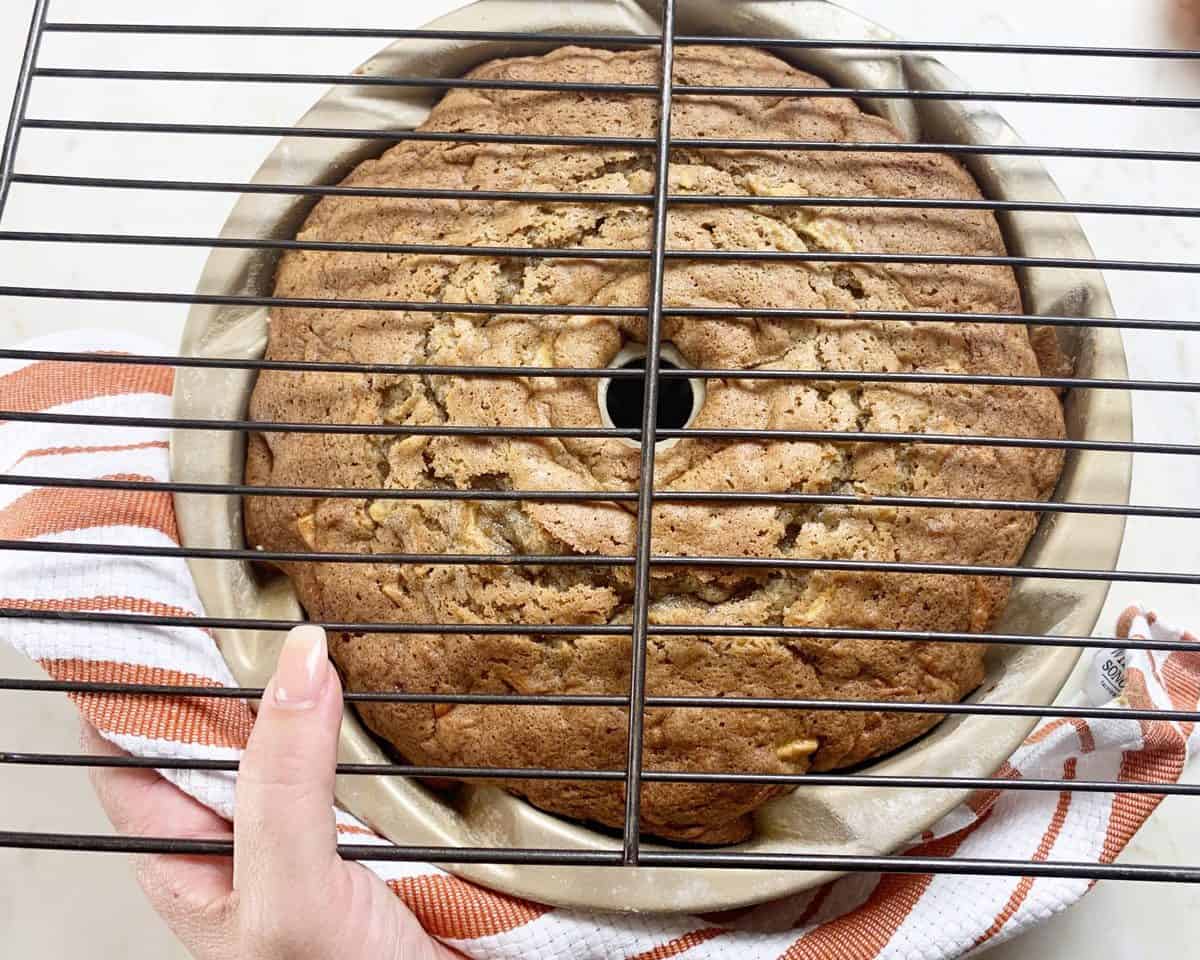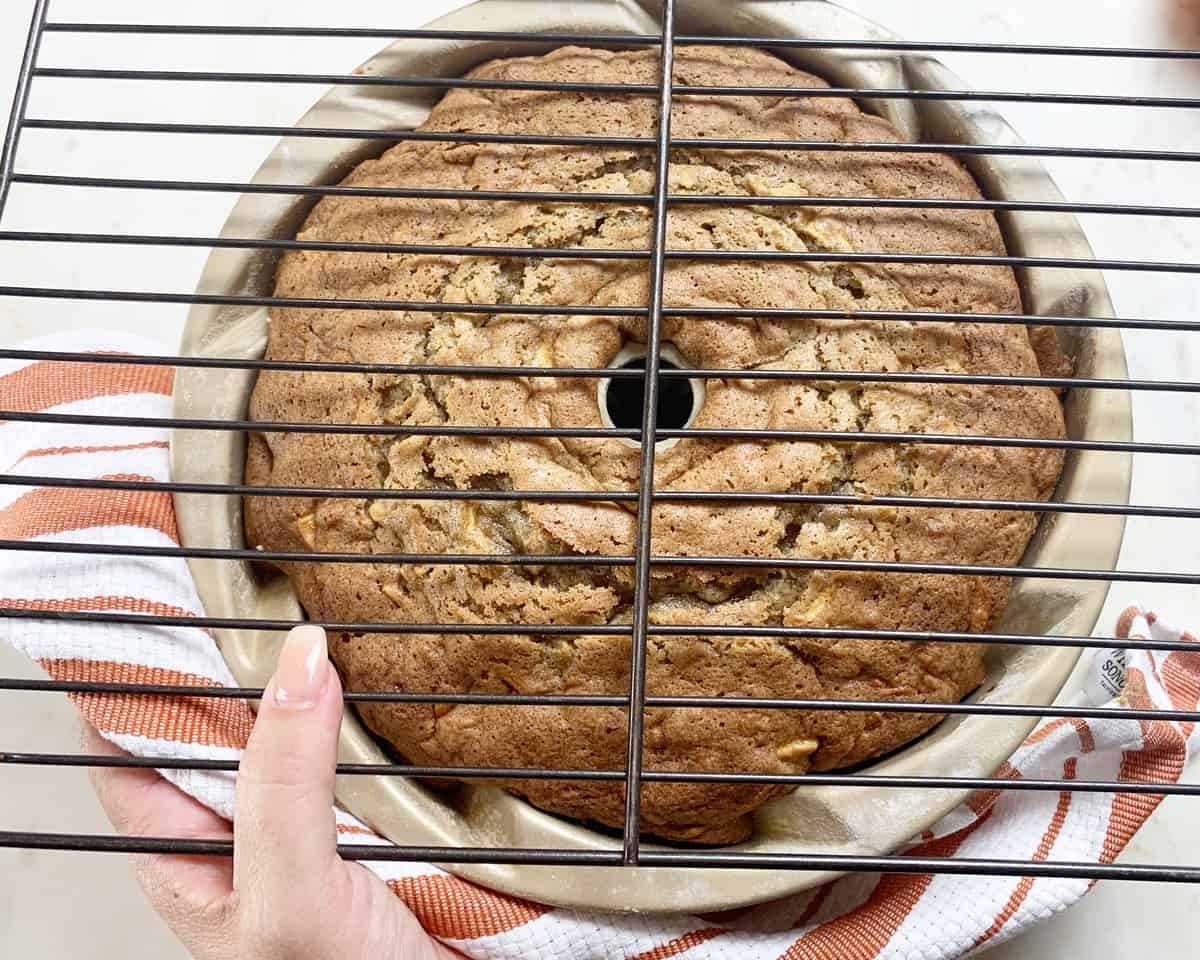 Okay! Your cake should be cool enough to remove from the pan now. Place a cooling rack over the top of the cake. Lift the entire pan and rack and flip them upside down. Keep the cooling rack pressed to the bottom of the cake so that it can gently plop out, not fall out suddenly and tear into pieces.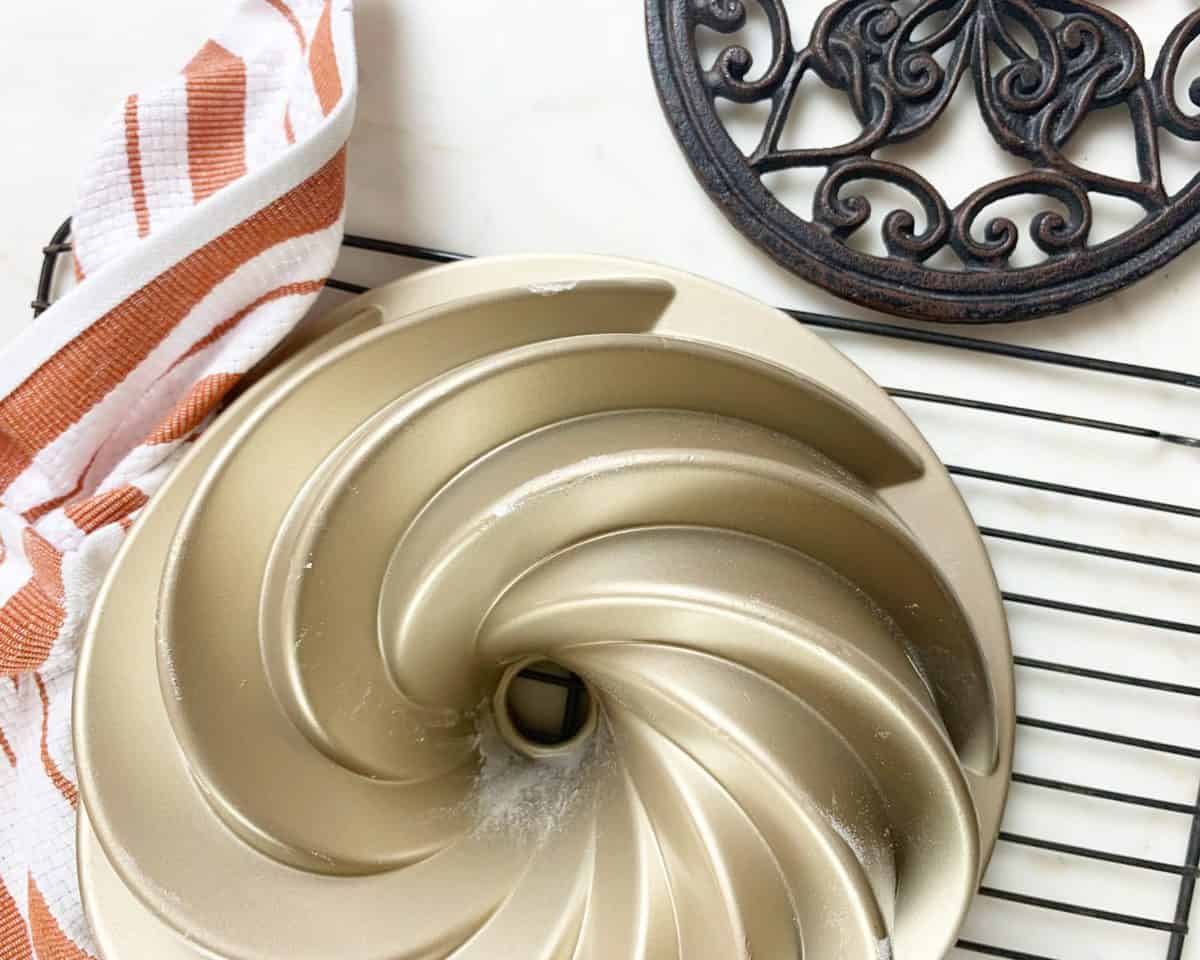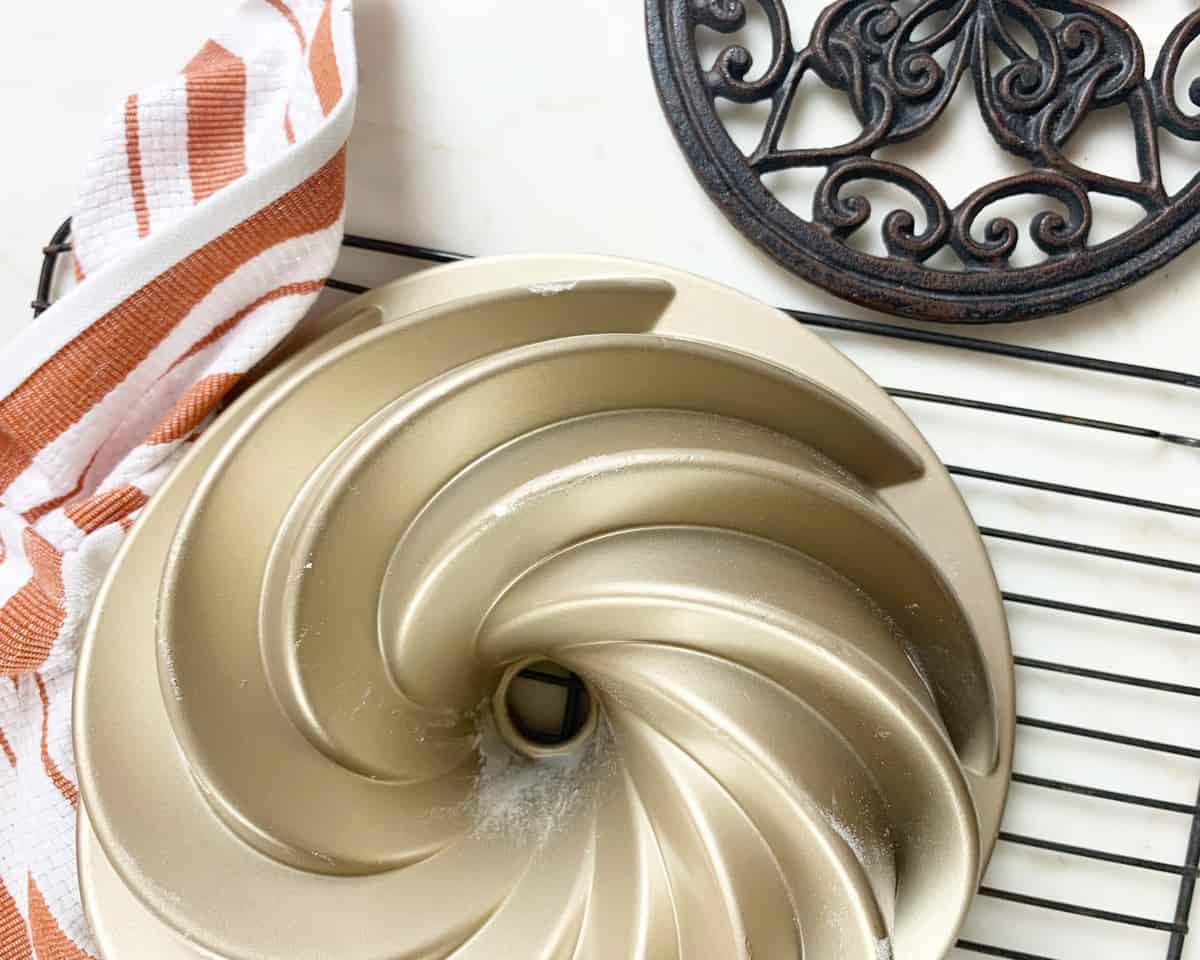 Slowly lift the bundt pan. Check to see that the cake is releasing. If it looks like it is stuck, turn it back over and let it cool a few more minutes and try loosening the sides with a spatula. If you've waited for it to cool and prepared the pan with butter and flour, it should come out easily.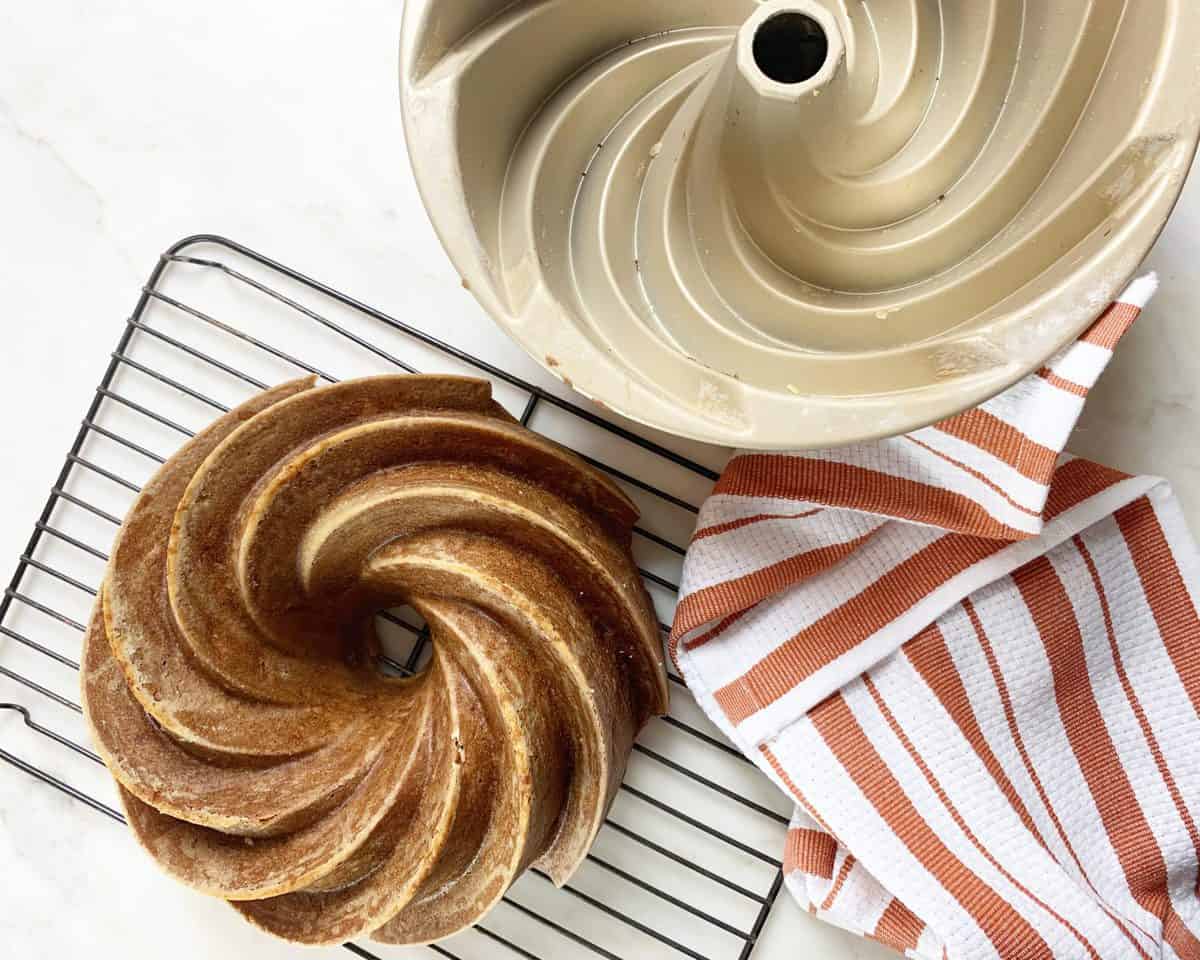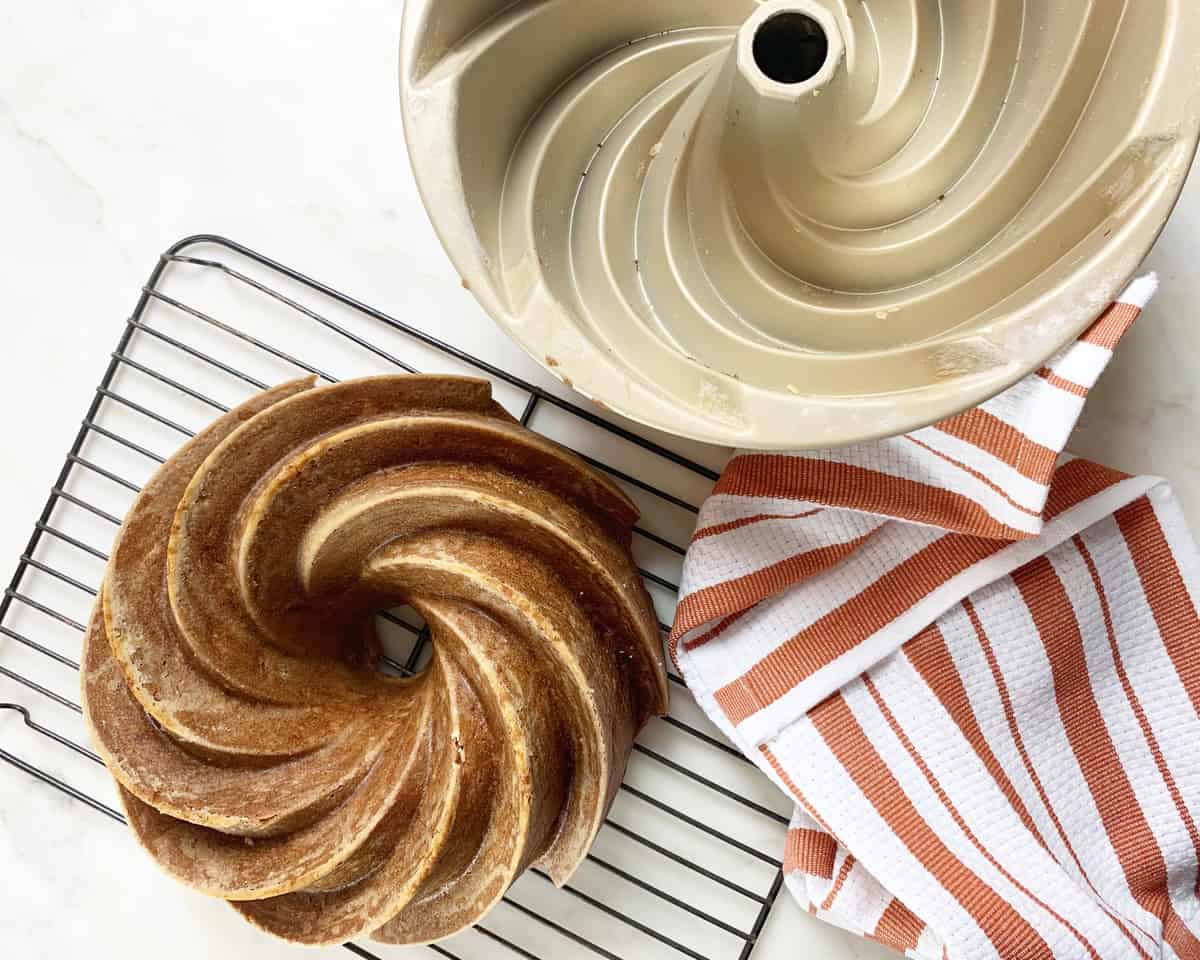 Oh, isn't that beautiful??? Okay, patience again….you must leave the cake to cool completely – this is going to take about 2 hours!
Let's talk toppings….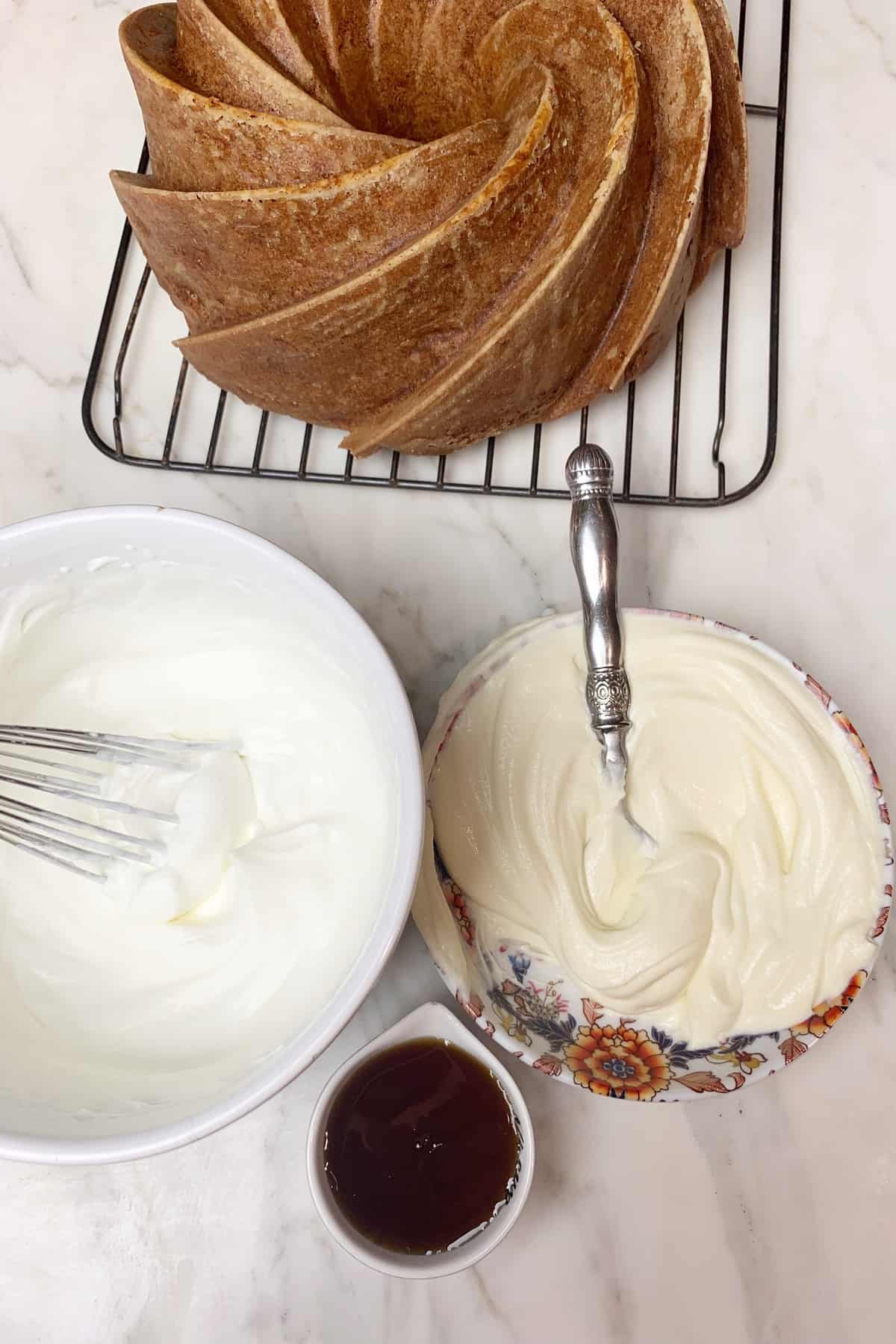 While you're waiting, you can mix up this maple mascarpone cream. Whisk heavy whipping cream in one bowl until it lightly holds its shape and beat the mascarpone with a spoon in another bowl until smooth. Add 2 Tbs. pure maple syrup to the mascarpone and stir completely. Fold the whipped cream into the maple mascarpone mixture. Chill until ready to serve.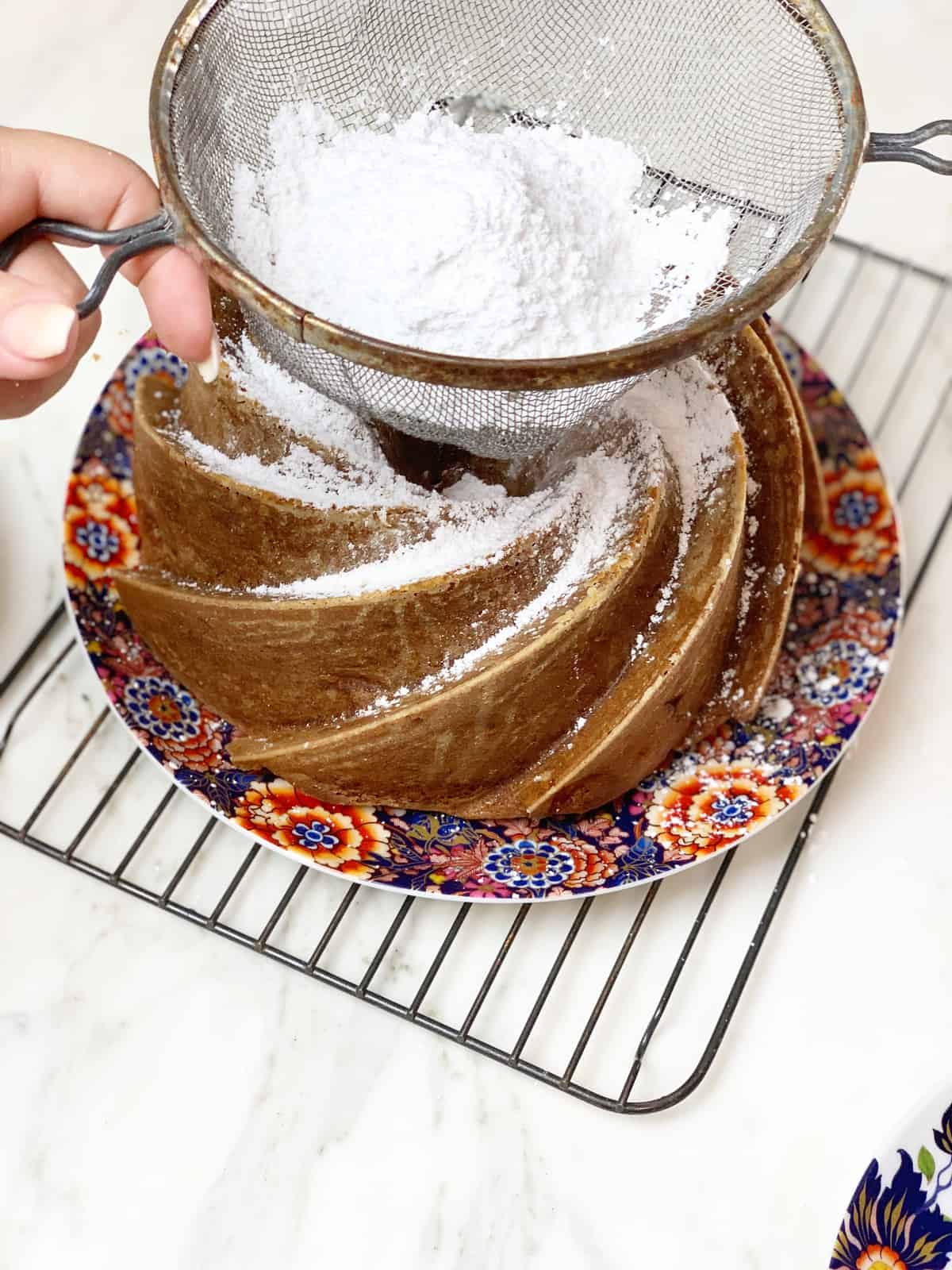 Okie dokie! When the cake is cooled, transfer to a serving plate and sift powdered sugar over the top.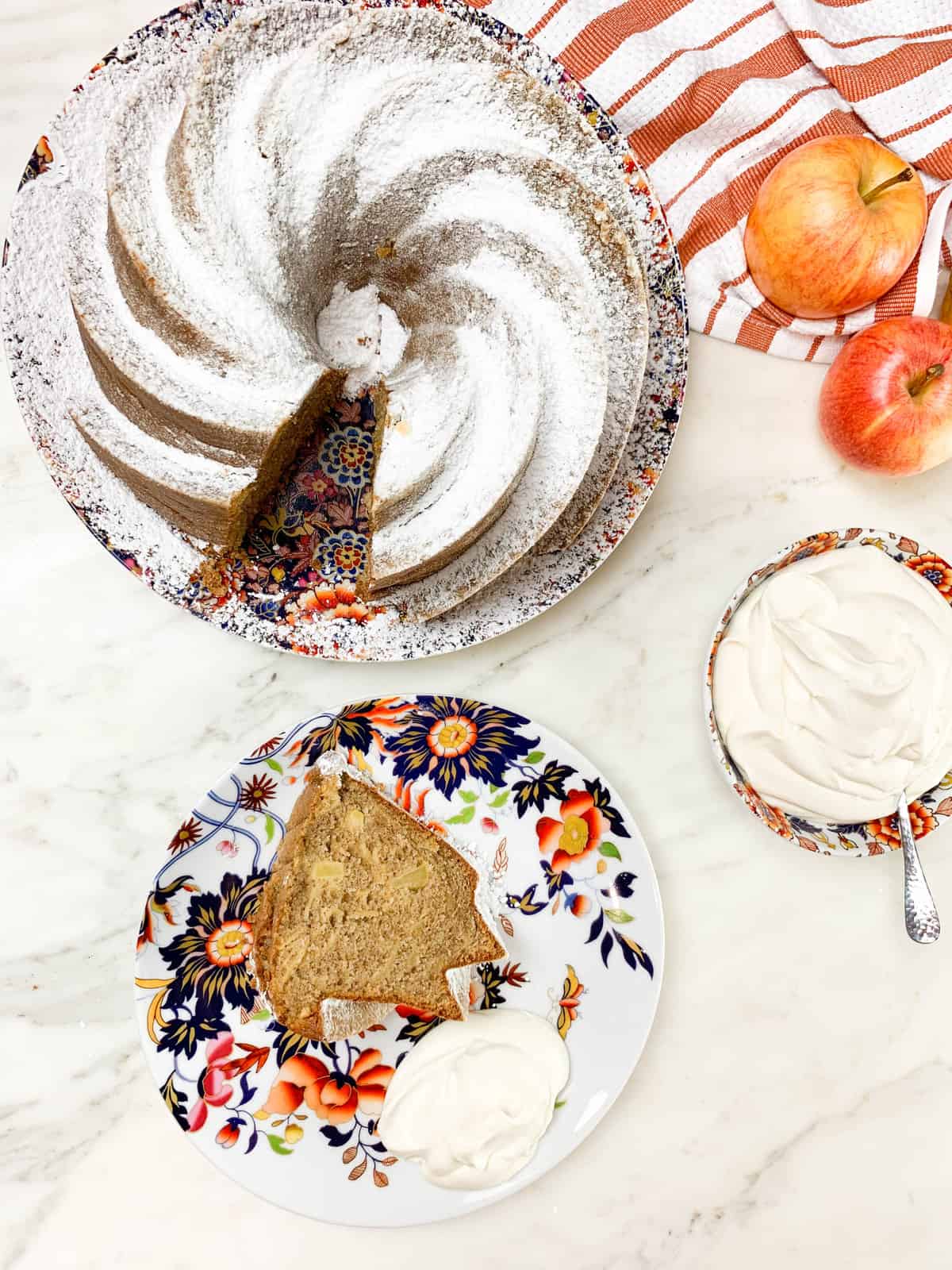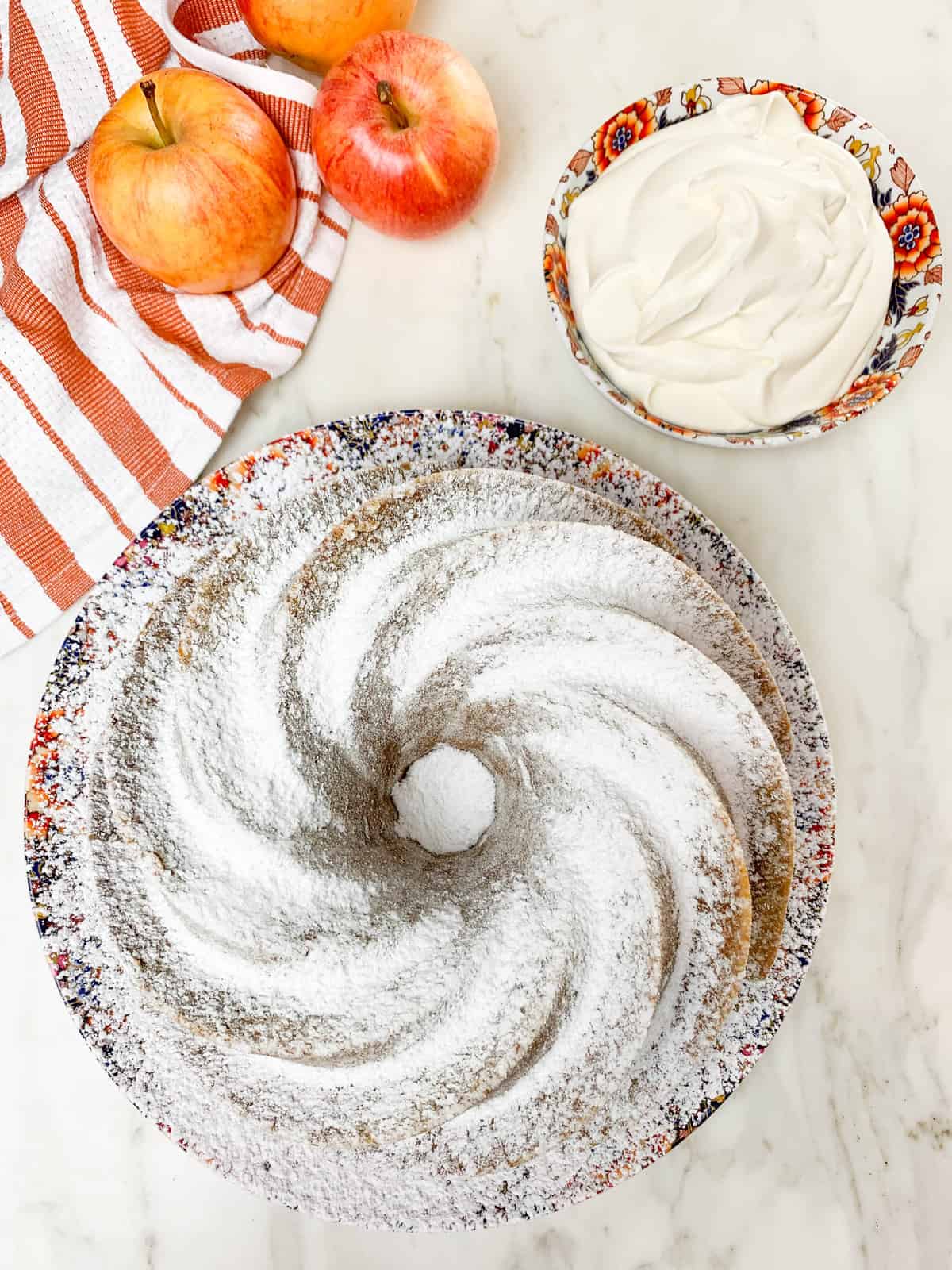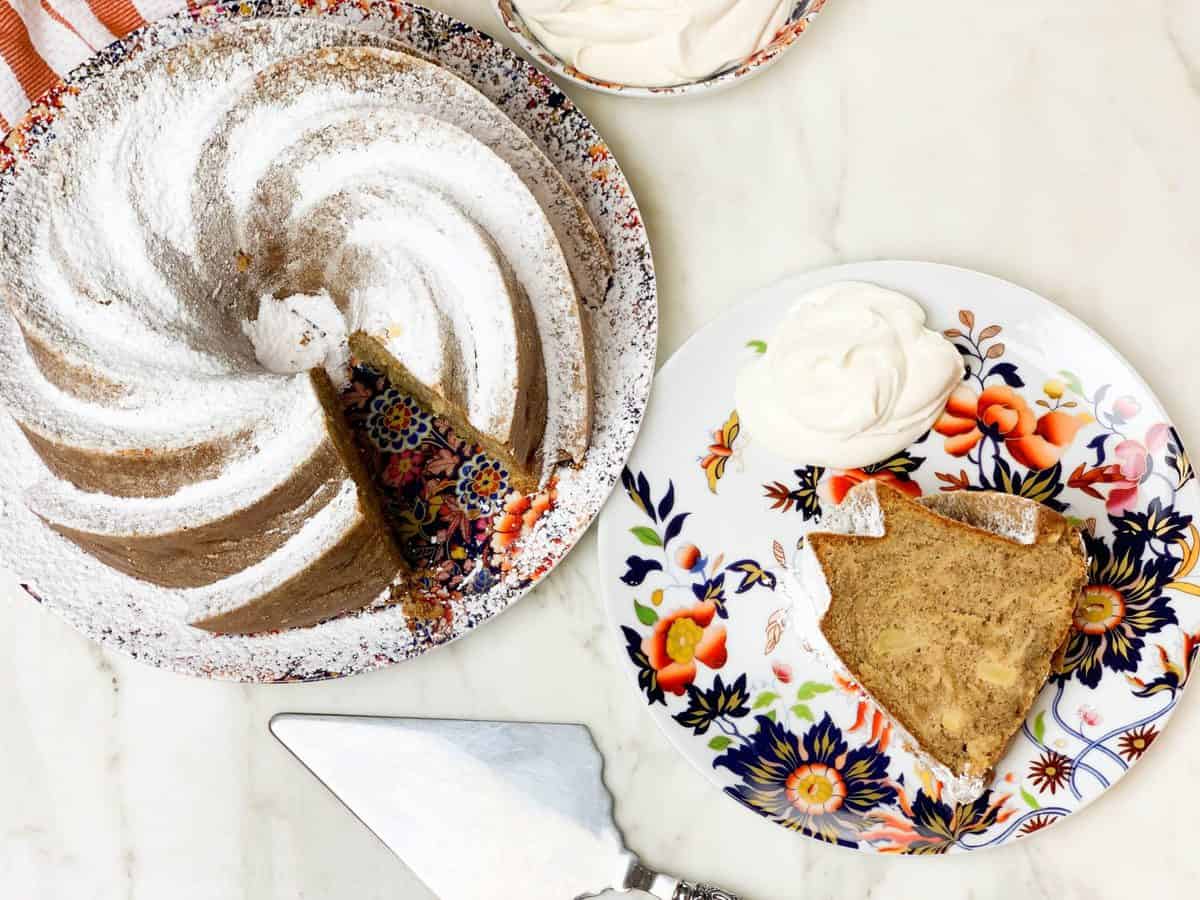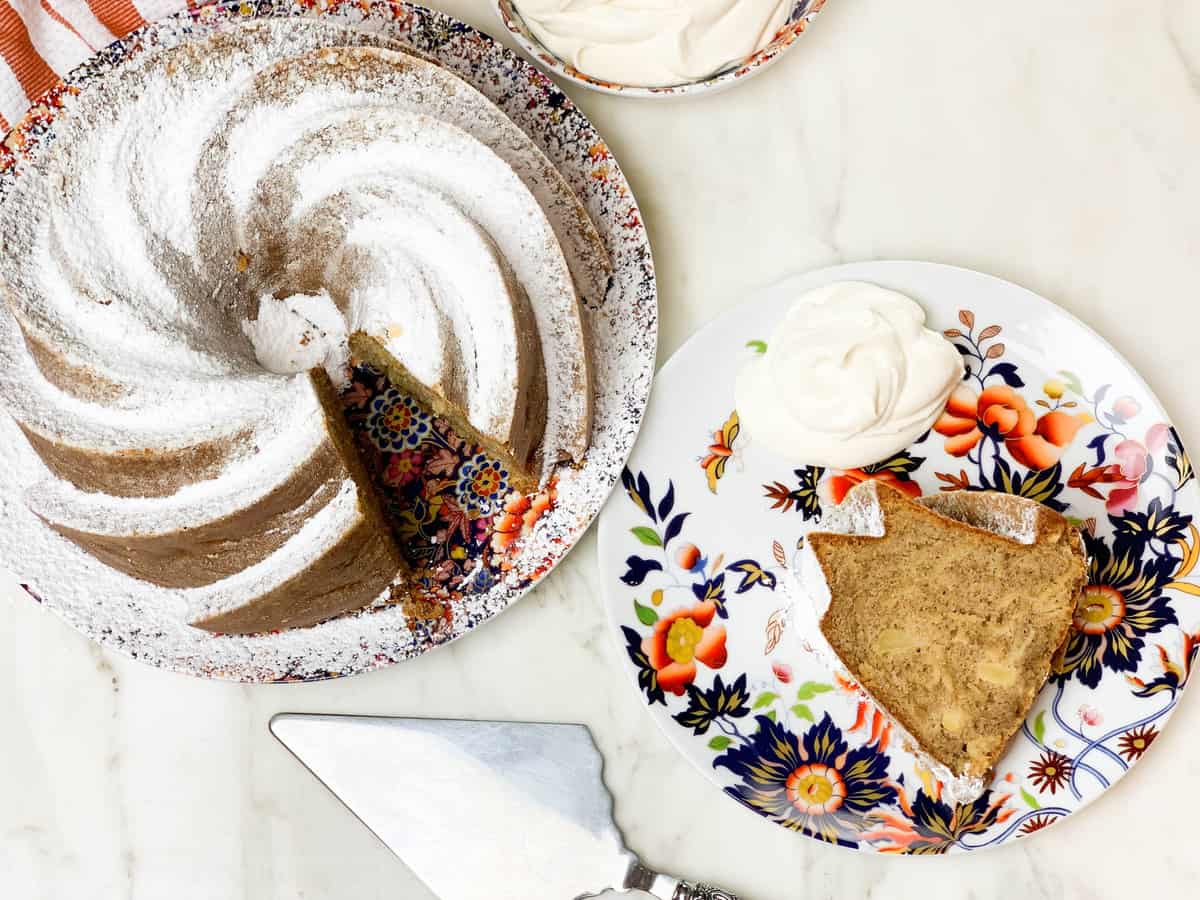 Are you ready for a slice of apple goodness?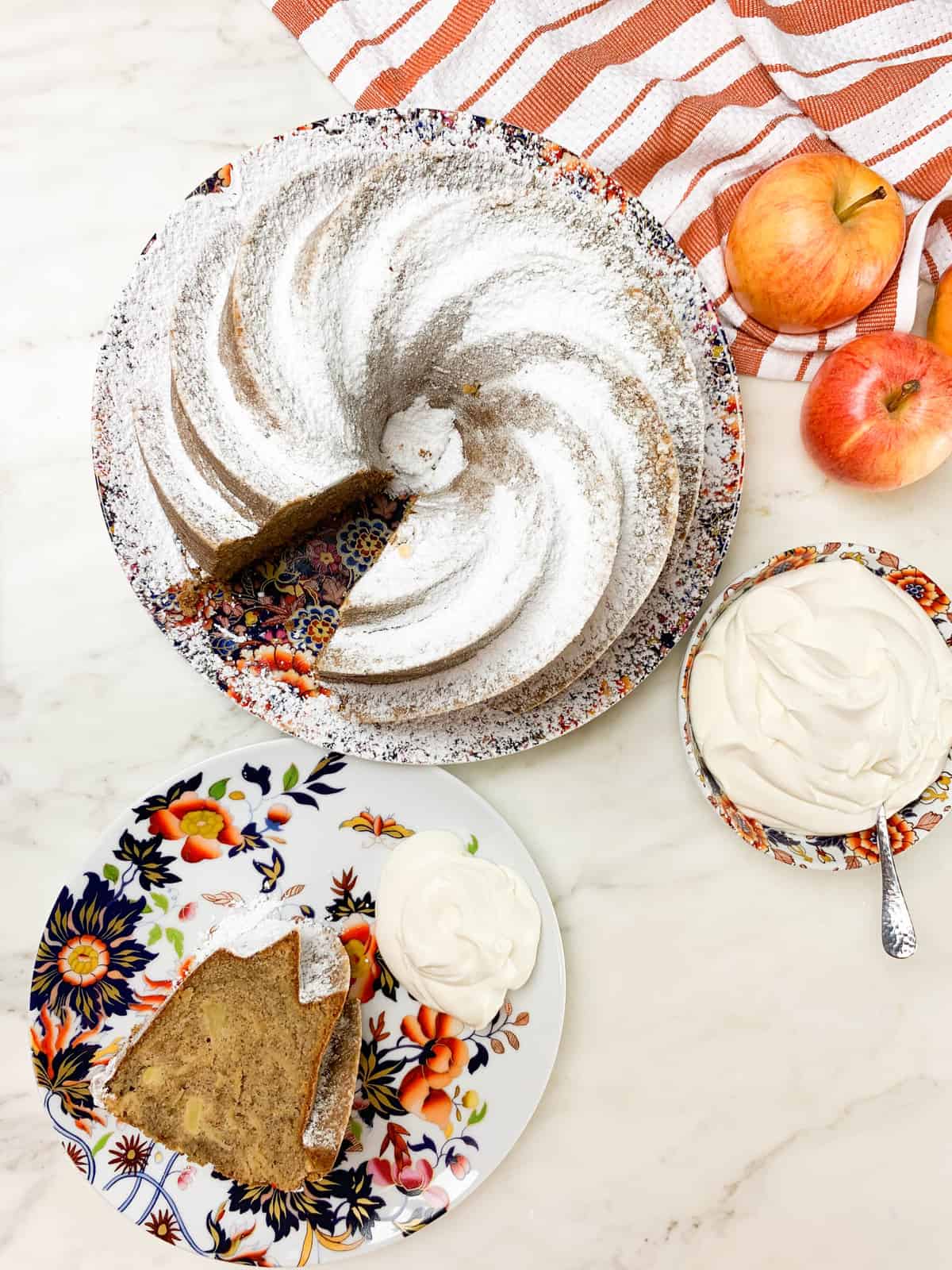 Serve up a nice slice with a dollop of maple mascarpone cream and ENJOY!!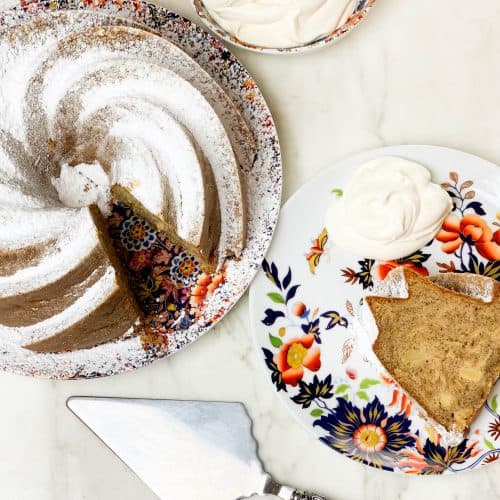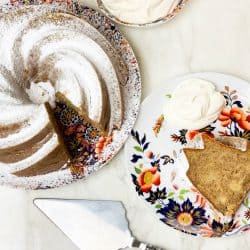 Spiced Apple Bundt Cake
Ingredients
2 tablespoons butter melted for greasing
1 1/2 cups superfine granulated baking sugar
4 large eggs
2 large egg yolks
1/2 teaspoon salt
1 tablespoon cinnamon
1 tablespoon allspice
1 tablespoon ground ginger
1 cup extra virgin olive oil
2 1/2 cups all-purpose flour plus more for dusting
1 tablespoon baking powder
5 Gala apples
powdered sugar for dusting
8 ounces mascarpone
8 ounces heavy whipping cream
2-3 tablespoons pure maple syrup
Instructions
Preheat oven to 350 degrees.

Prepare bundt pan by brushing with melted butter and dusting with flour. Set aside.

In a mixing bowl, combine eggs, egg yolks, sugar, and salt. Beat with whisk attachment for 2 minutes until light and fluffy.

Add spices and mix.

Drizzle olive oil slowly into mixture with the mixer on until fully incorporated.

Remove bowl from mixer.

Sift flour and baking powder together into the batter.

Gently fold flour into the batter, being careful not to overstir.

Peel and remove cores from apples.

Grate 3 apples and chop 2 apples into small pieces.

Fold grated apple into the batter.

Spoon a small amount of batter into the prepared bundt pan.

Fold in the remaining apple chunks and pour batter into bundt pan.

Bake for 50-55 minutes or until toothpick inserted in the center of cake comes out clean.

Cool on wire rack for 20 minutes.

Remove cake from pan and cool completely on wire rack (another 2 hours).

Lightly whisk whipping cream until it begins to hold its shape.

Smooth mascarpone by beating with a spoon.

Add maple syrup (to taste) into the mascarpone and stir.

Fold whipped cream into maple mascarpone and serve with cake.
Notes
Serve with a cup of coffee or a glass of California Chardonnay!
Nutrition
Calories: 586kcalCarbohydrates: 60gProtein: 7gFat: 36gSaturated Fat: 13gPolyunsaturated Fat: 3gMonounsaturated Fat: 16gTrans Fat: 1gCholesterol: 132mgSodium: 248mgPotassium: 172mgFiber: 3gSugar: 35gVitamin A: 715IUVitamin C: 4mgCalcium: 136mgIron: 2mg
Share your cake creations with us by snapping a pic and tagging us on social using #CAGROWN.
Craving more CA Grown goodness? Follow us on Pinterest for fresh and fabulous recipe inspo!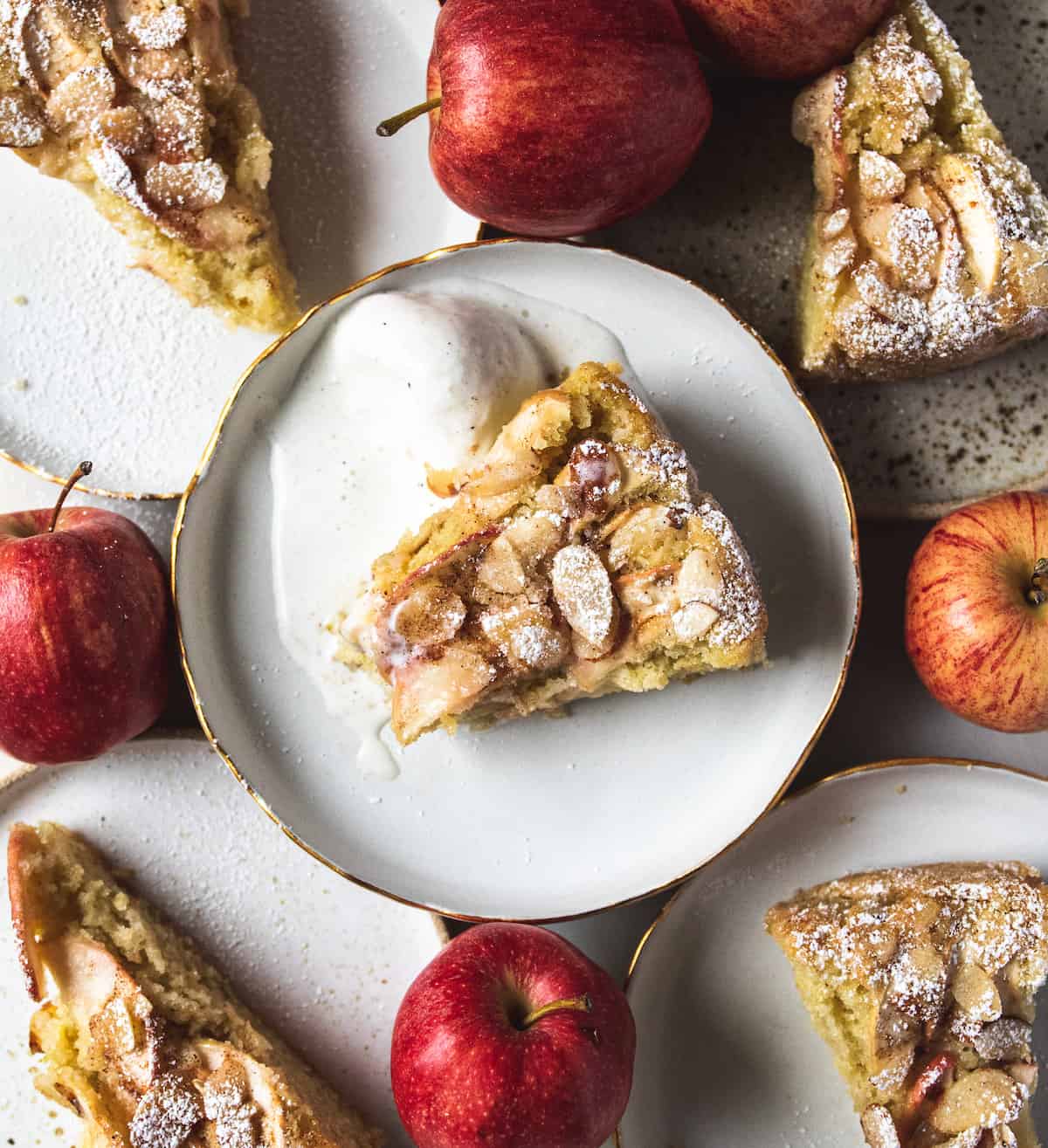 This French Apple Cake recipe from G-Free Foodie has a rich custardy bottom, a light cake layer, and a crisp sugary topping.
Serve it warm, or at room temperature-either way with a scoop of vanilla bean ice cream or a dollop of whipped cream.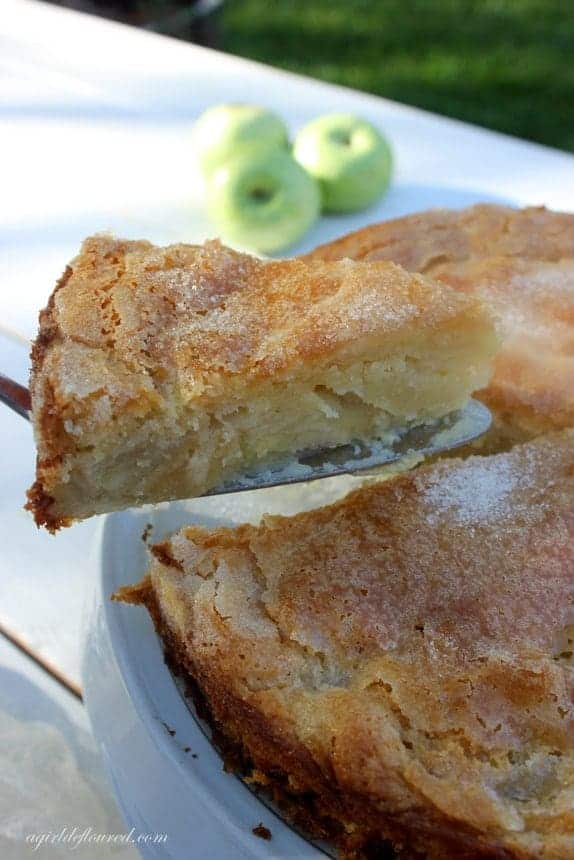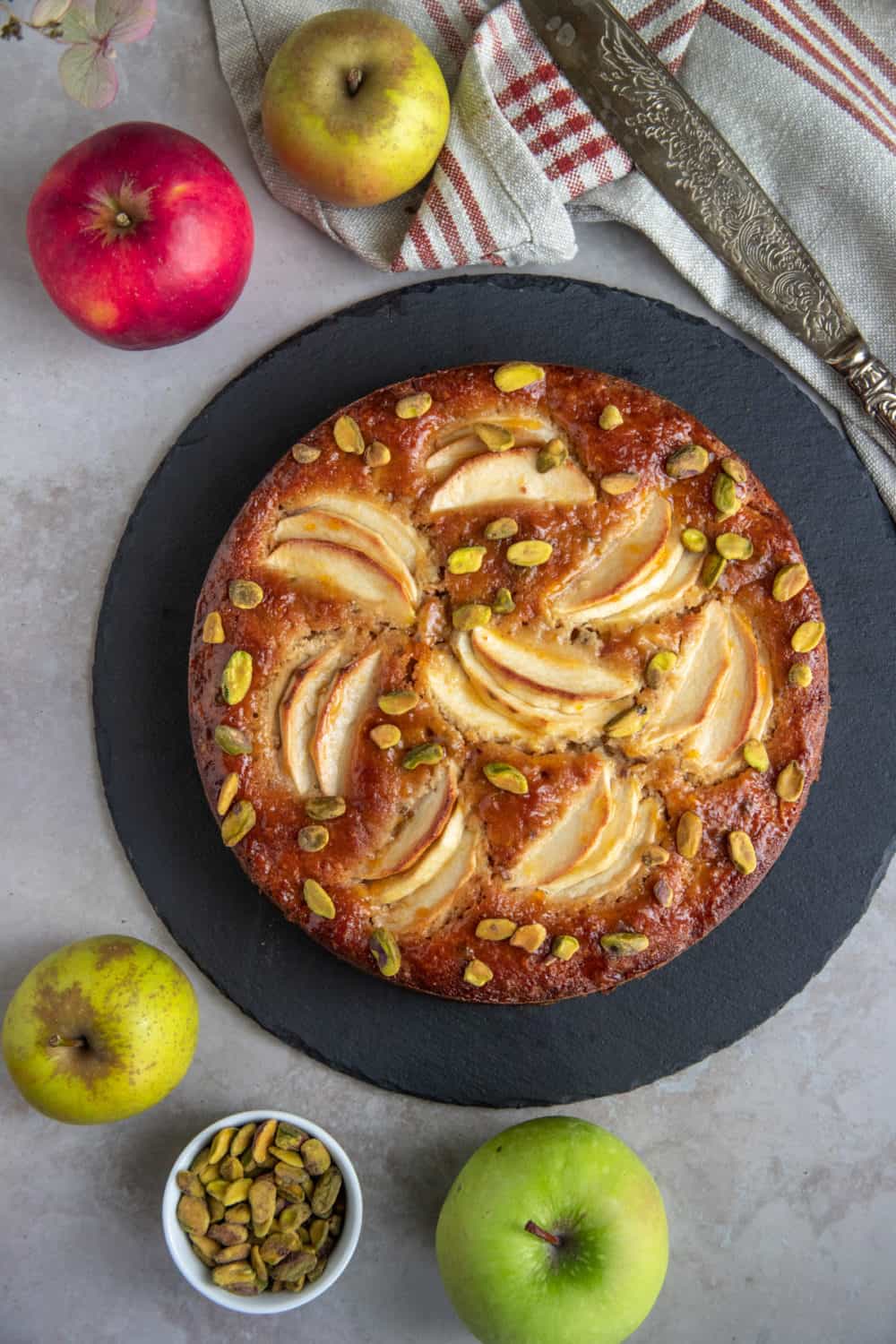 This delicious apple cake with pistachios from Bakes by Brown Sugar is full of Granny Smith and Fuji apples and crunchy pistachios. The cake is moist and dense with a hint of lemon that pairs really well with the sweetness of the cake and the tart apples
The mini apple cakes from A Girl Defloured are moist and full of sweet-tart apple chunks, and drizzle with a caramel sauce that will haunt you in your dreams! Consider yourself warned.