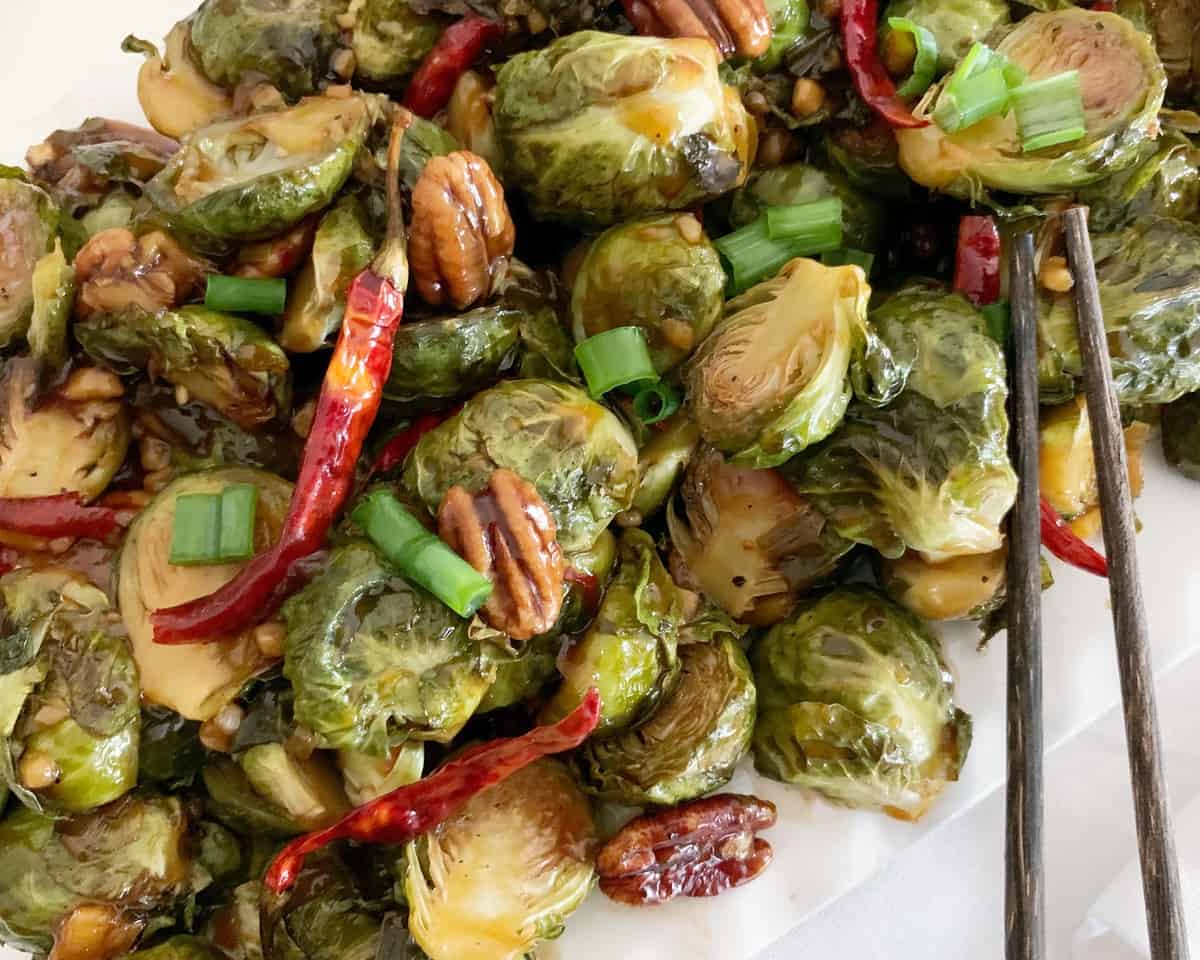 CA GROWN Blog
Discover. Learn. Connect.
Kung Pao Brussels Sprouts
October 10, 2019
Eat the Season!
Sign Up For Weekly Recipes
« Back to Recipes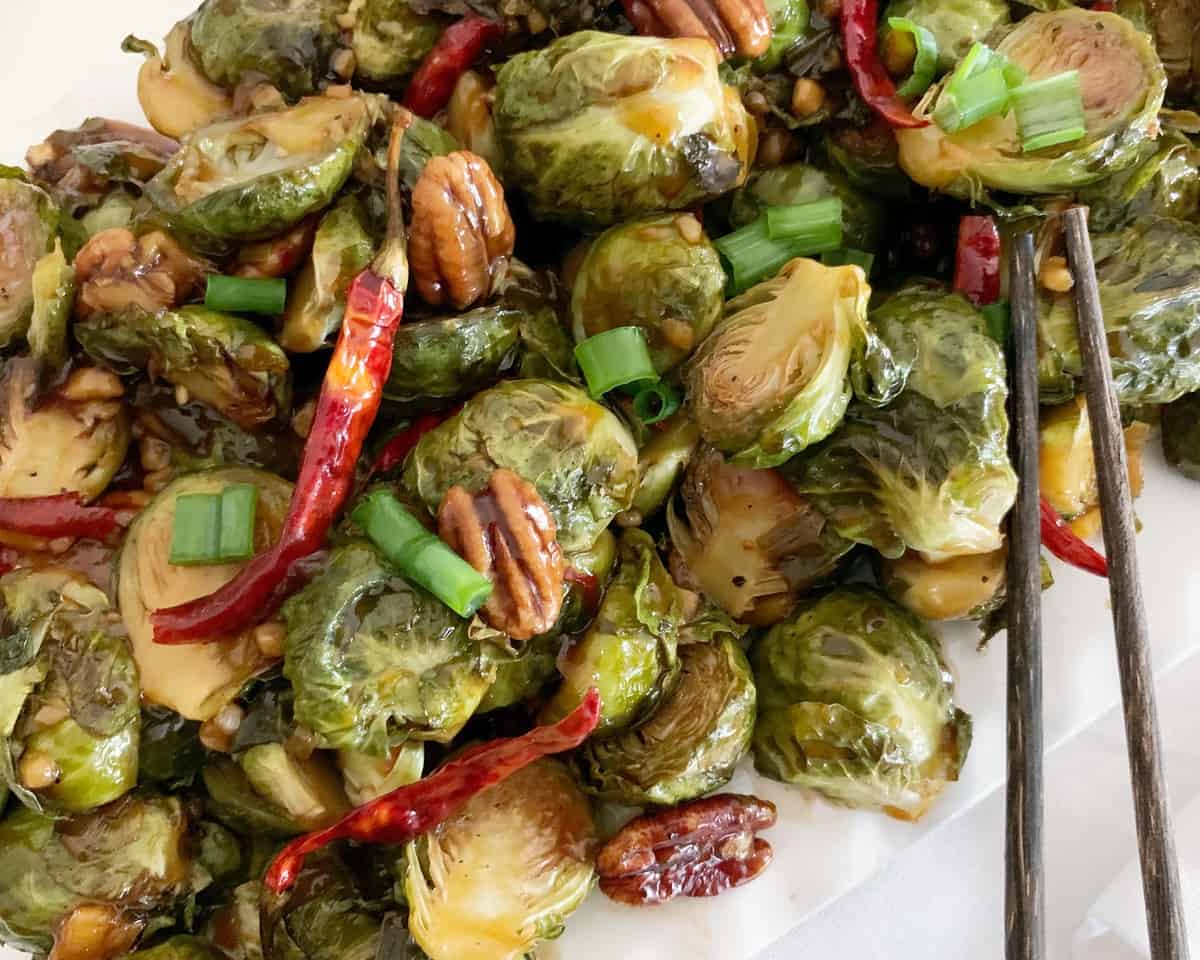 Kung Pao Brussels Sprouts
This recipe for Kung Pao Brussels Sprouts pairs a tangy, spicy sauce with roasted Brussels Sprouts and Pecans for a must-have craveable side dish!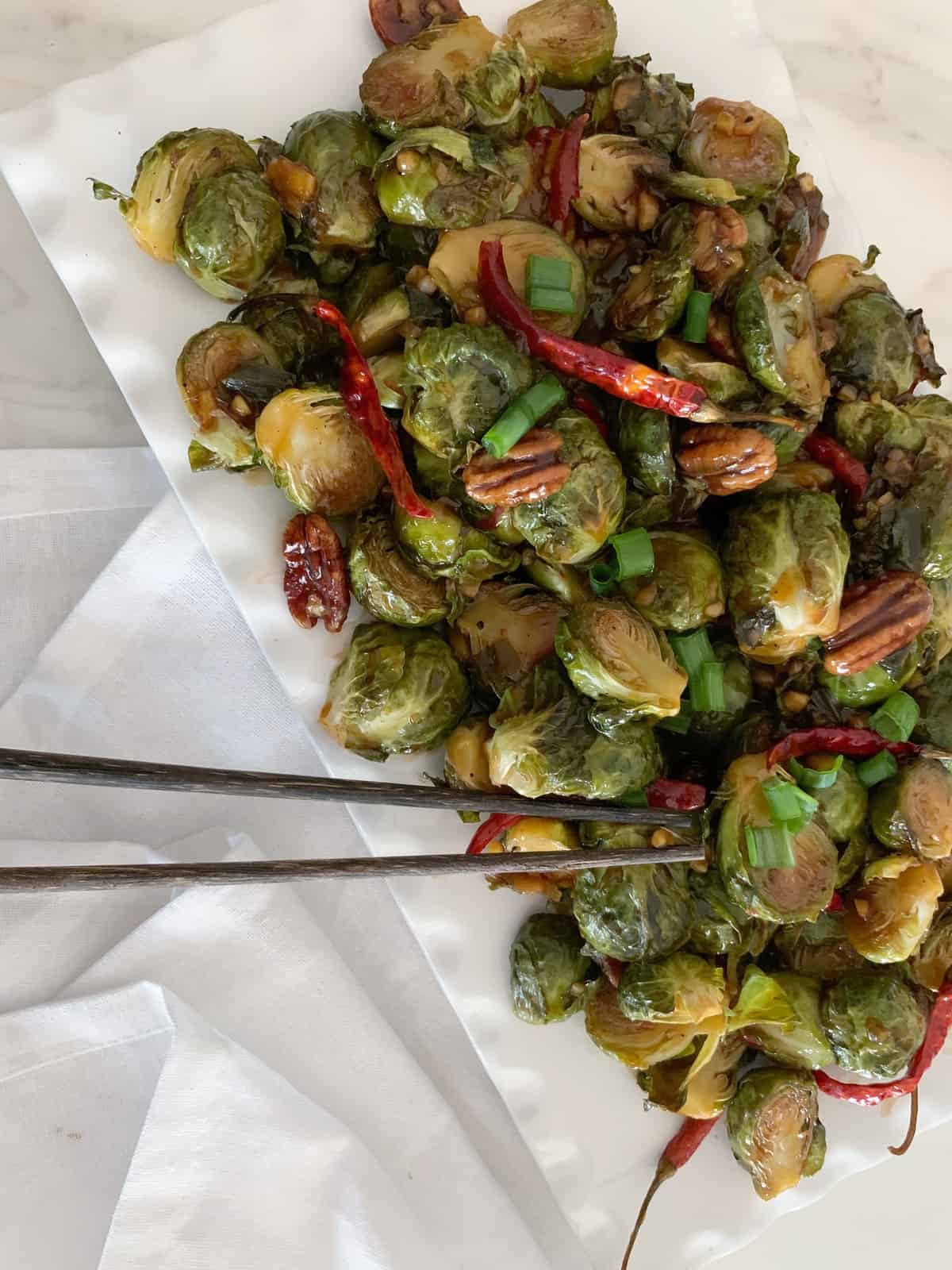 Let's talk about Brussels:
Brussels sprouts – the cutest little cruciferous vegetables you ever did see! Whether you're a die hard Brussels sprouts fan or you're just getting to know these health-packed buds, today's Kung Pao Brussels sprouts recipe is going to make you want to eat them every day! Roasted Brussels sprouts and California pecans (a fun twist on traditional peanuts in such a recipe) tossed with a salty sweet chile sauce is a combination too good to skip! Plus, you can have this whole dish made and on the table in just about 30 minutes!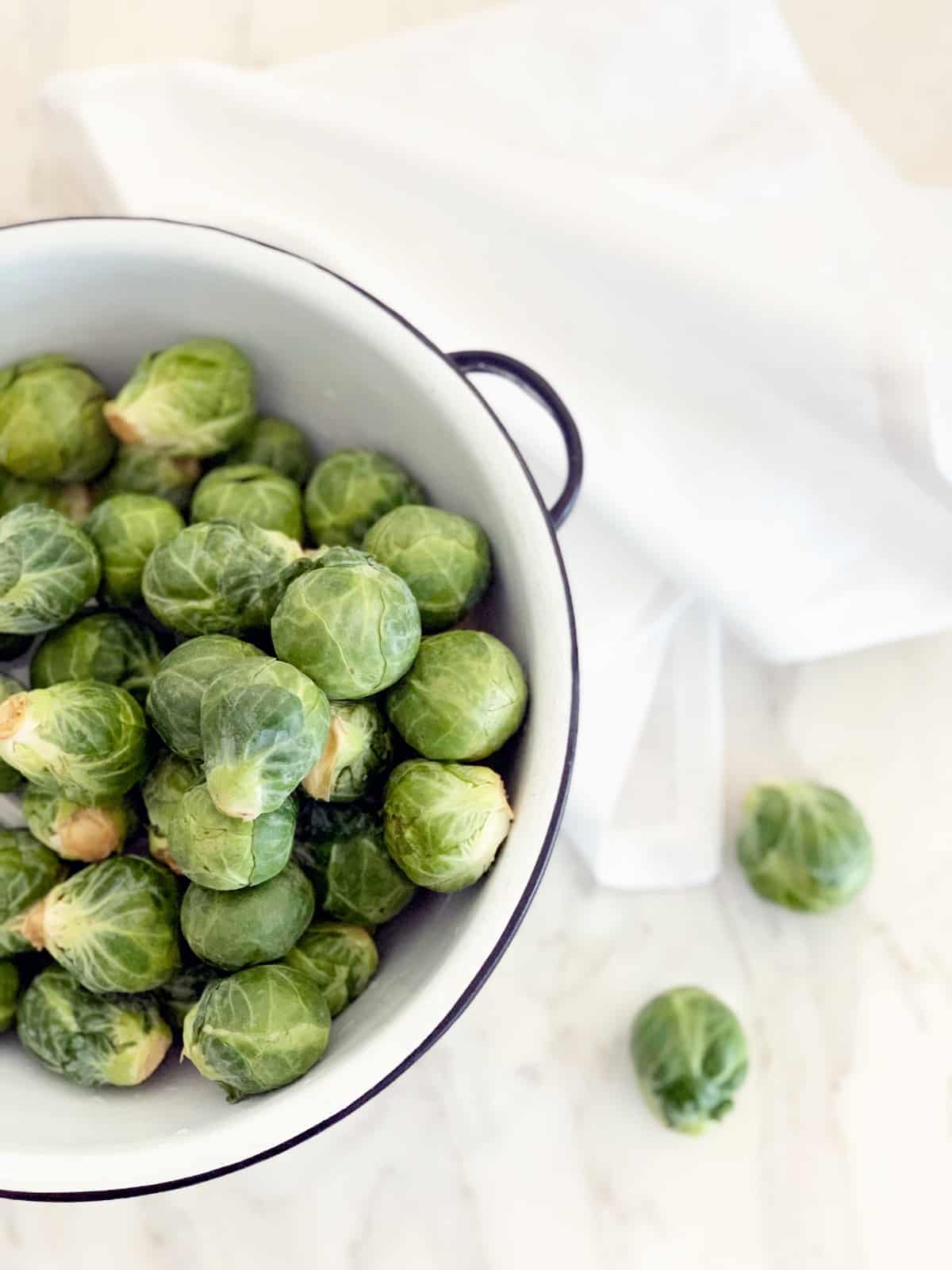 Let's start with the prep work.  Just a bit of preparation before you can start roasting these beauties in the oven.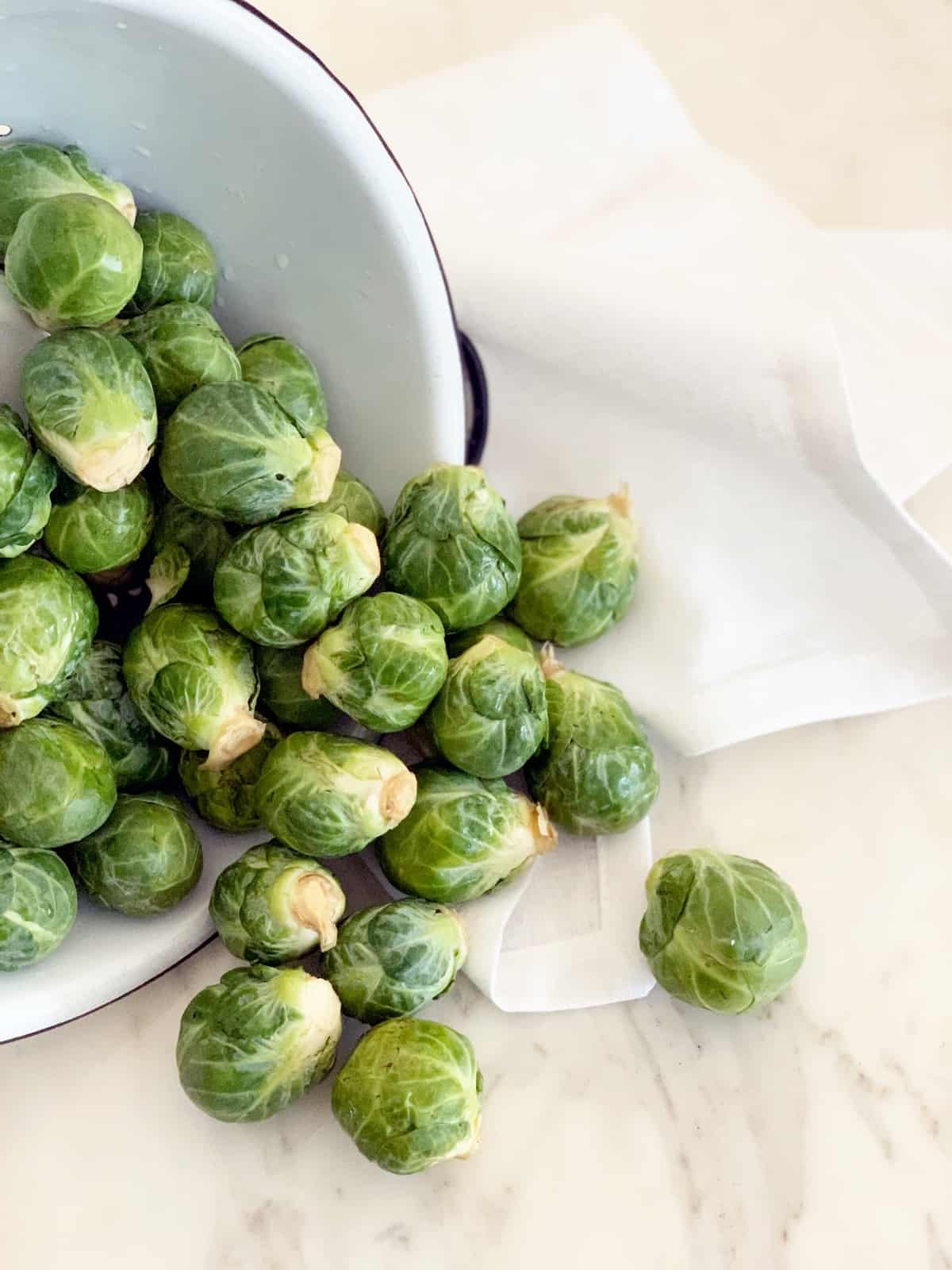 Let's make Kung Pao Brussels Sprouts step-by-step:
Give your whole Brussels sprouts a quick rinse and pat them dry.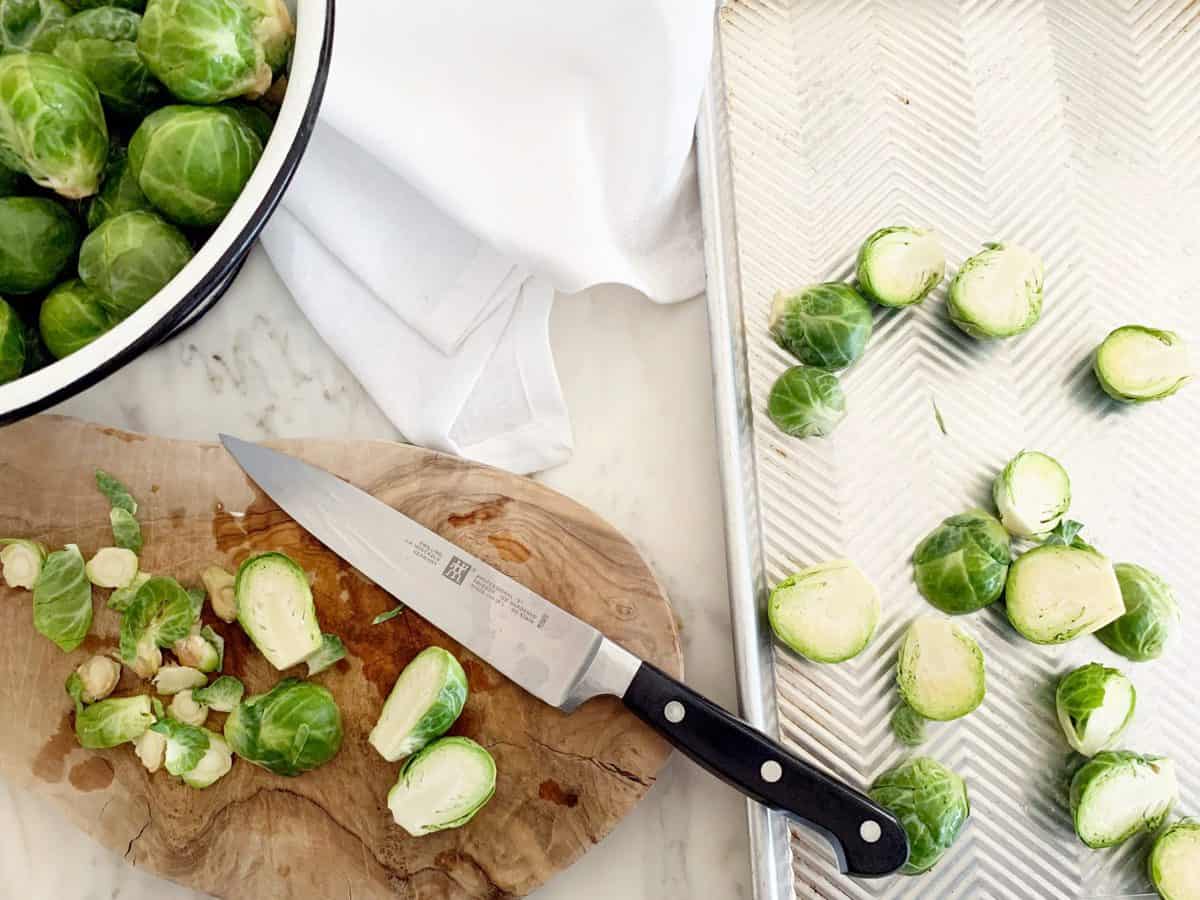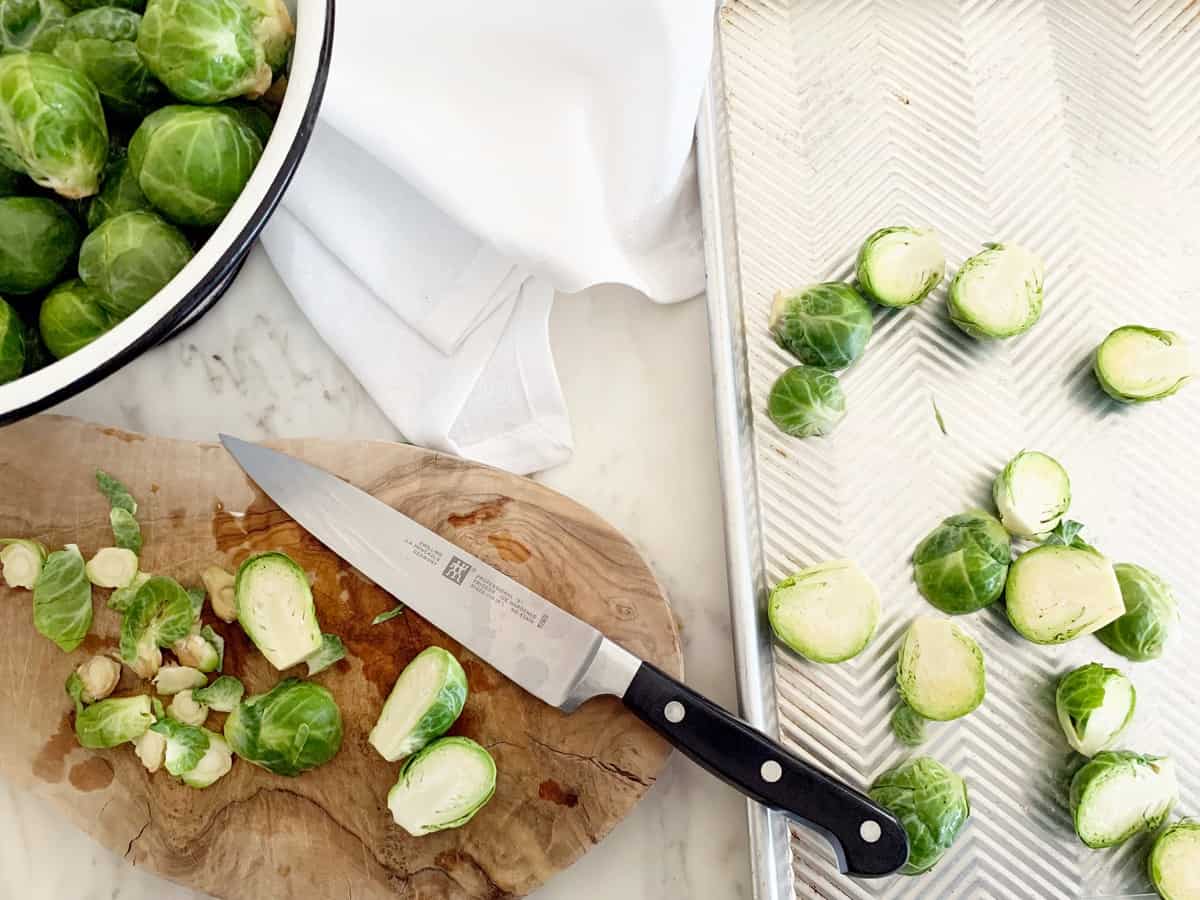 Trim the bottom of the stems just a smidge and slice each little guy in half. Transfer to a baking sheet. You can line your baking sheet with aluminum foil or parchment paper for easier cleanup, but it's not necessary.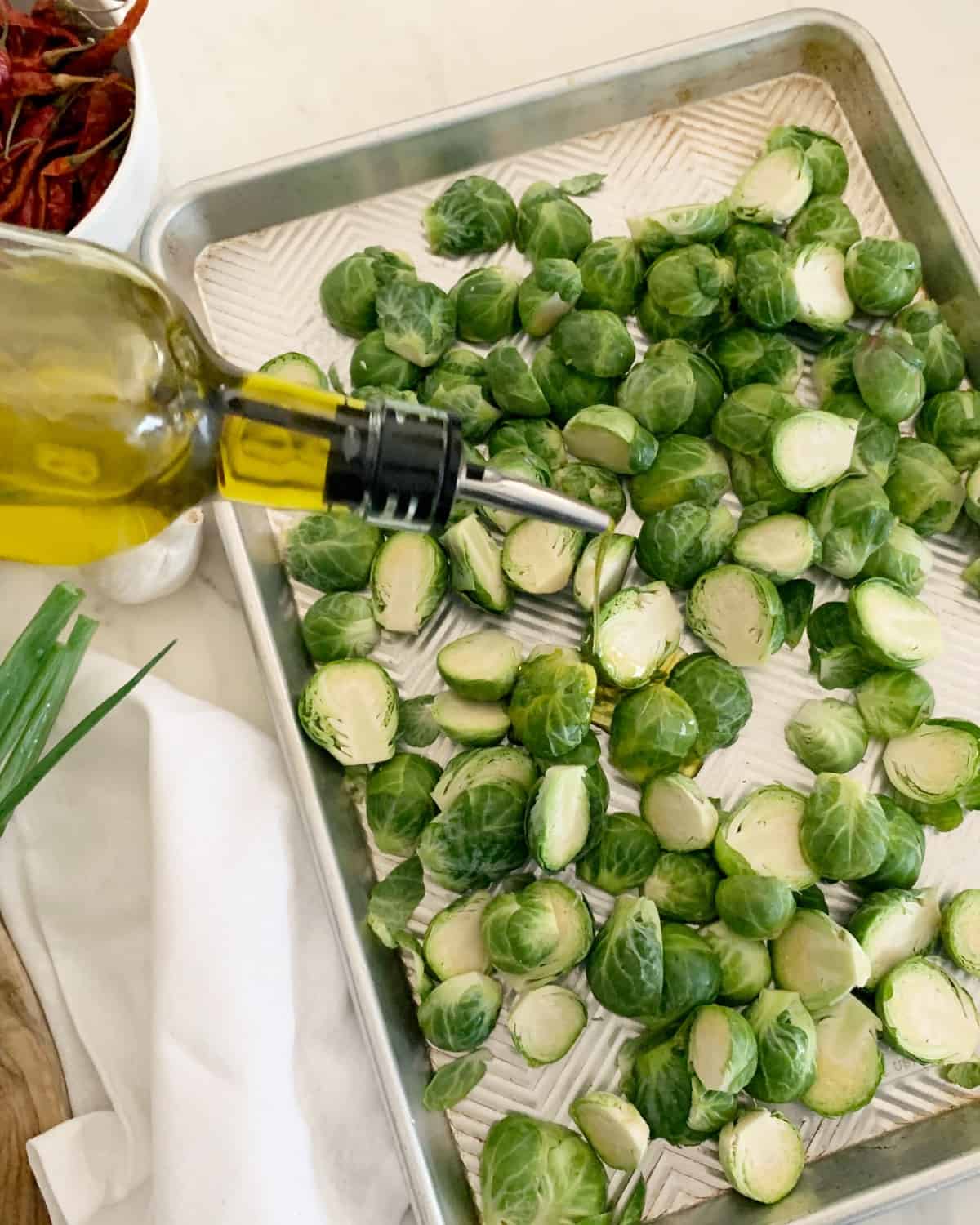 Drizzle olive oil over the Brussels sprouts. Use your hands to toss them around, making sure that they are full coated in a light layer of oil, but not sitting in pools of oil.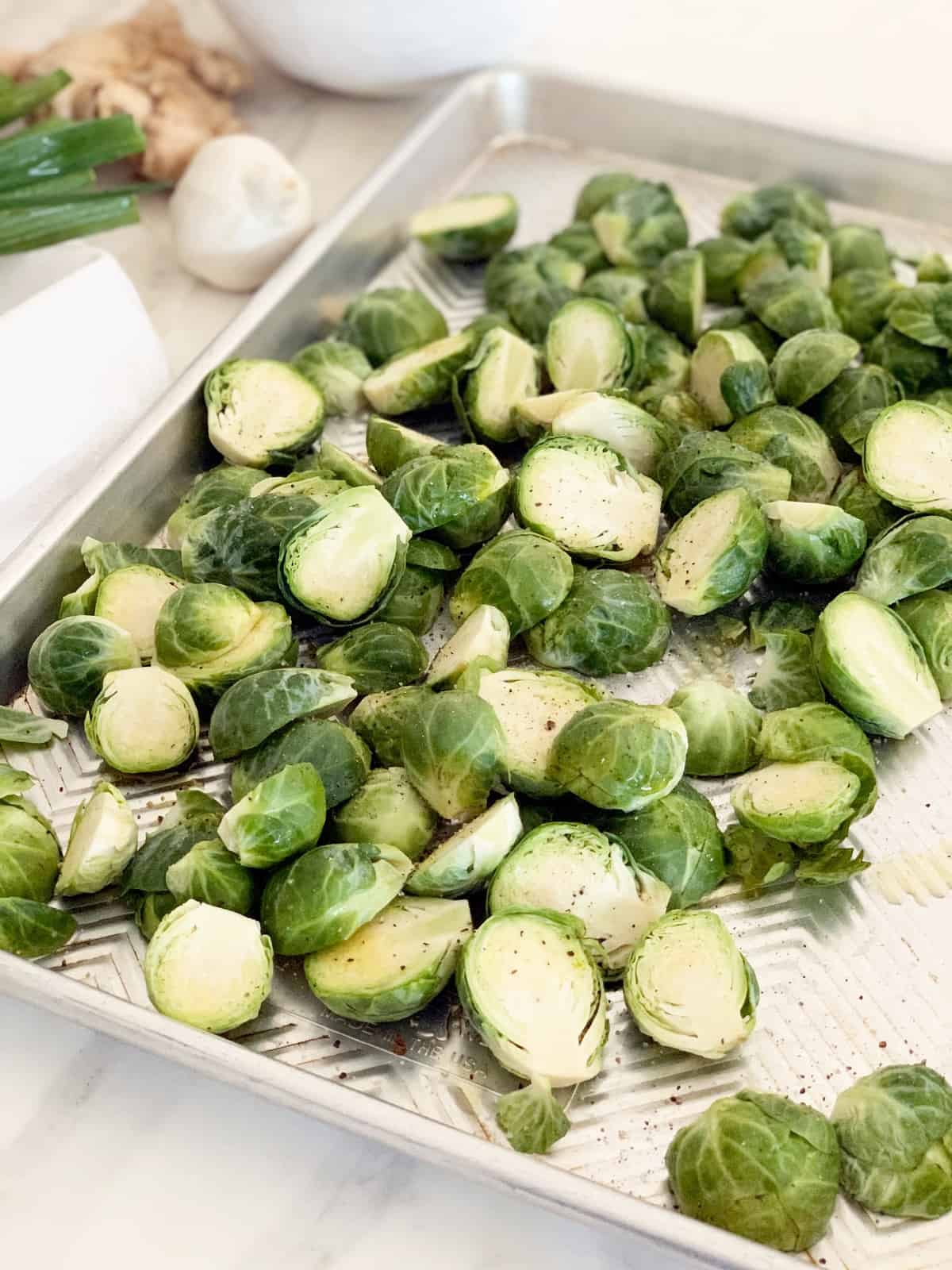 Sprinkle with black pepper and just a touch of salt – not too much because your sauce will have lots of salty flavor as well.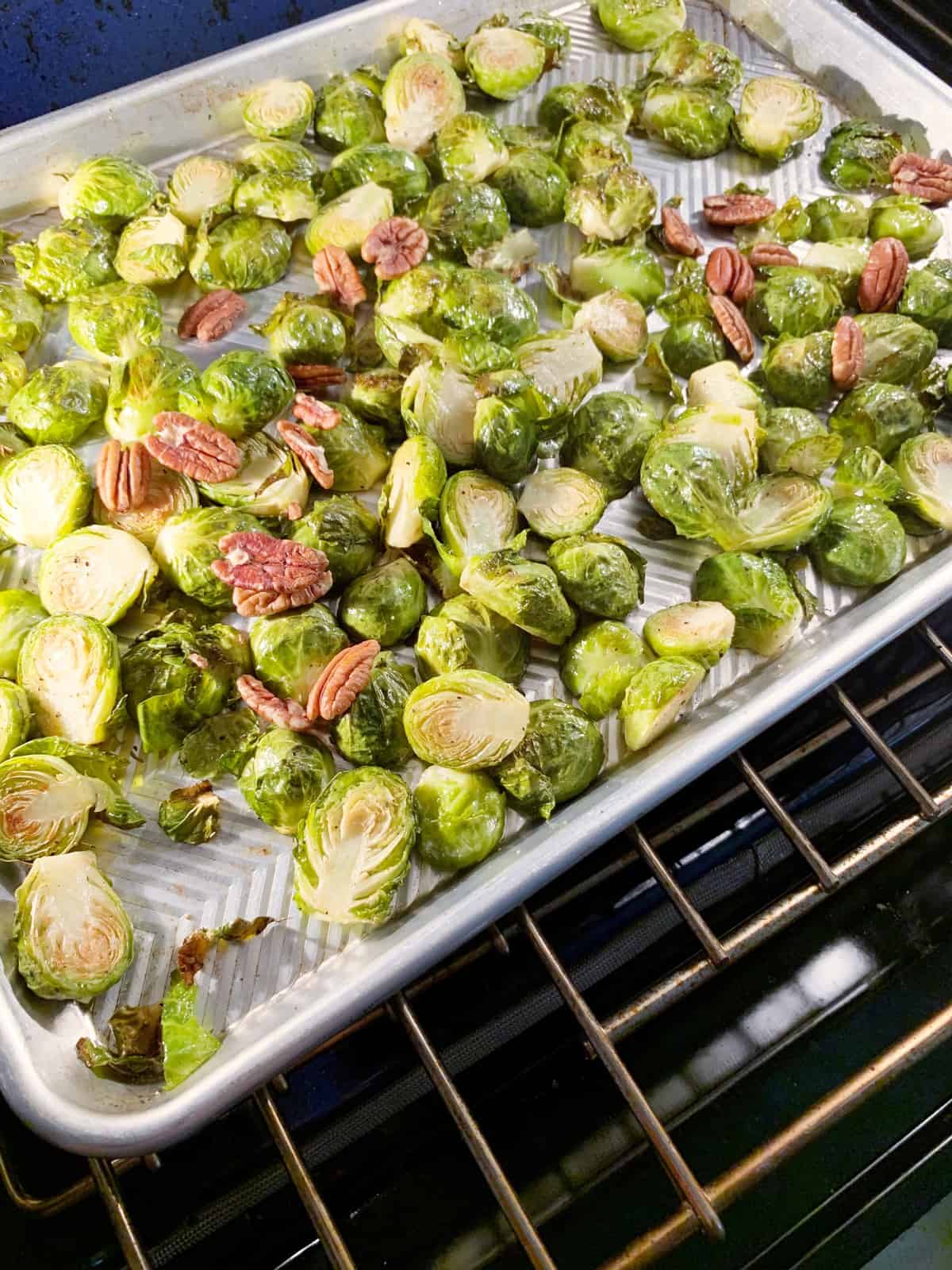 Pop the baking sheet into a 425 degree oven and bake for about 20 minutes. Toss them about halfway through cooking to make sure you get some nice even roasting on both sides. When they begin to get golden brown, you're going to add your pecans. Roast for about 5 minutes longer – the pecans should be lightly roasted, but not burned, and the Brussels sprouts should be a deep golden brown.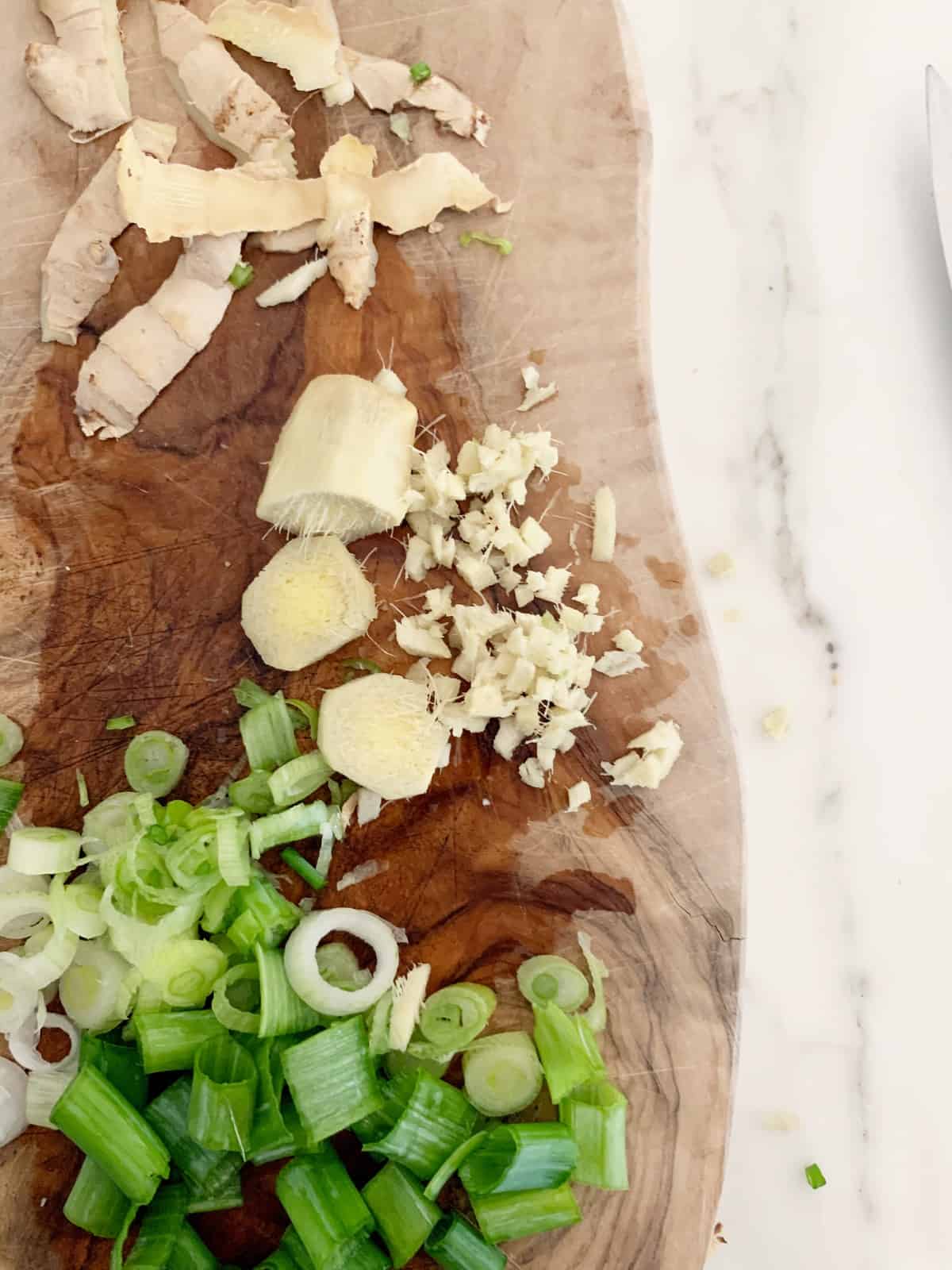 Alright, while your Brussels sprouts are roasting, it's time to make the Kung Pao sauce. Peel a piece of fresh ginger and chop into very fine pieces. Slice up the green onions.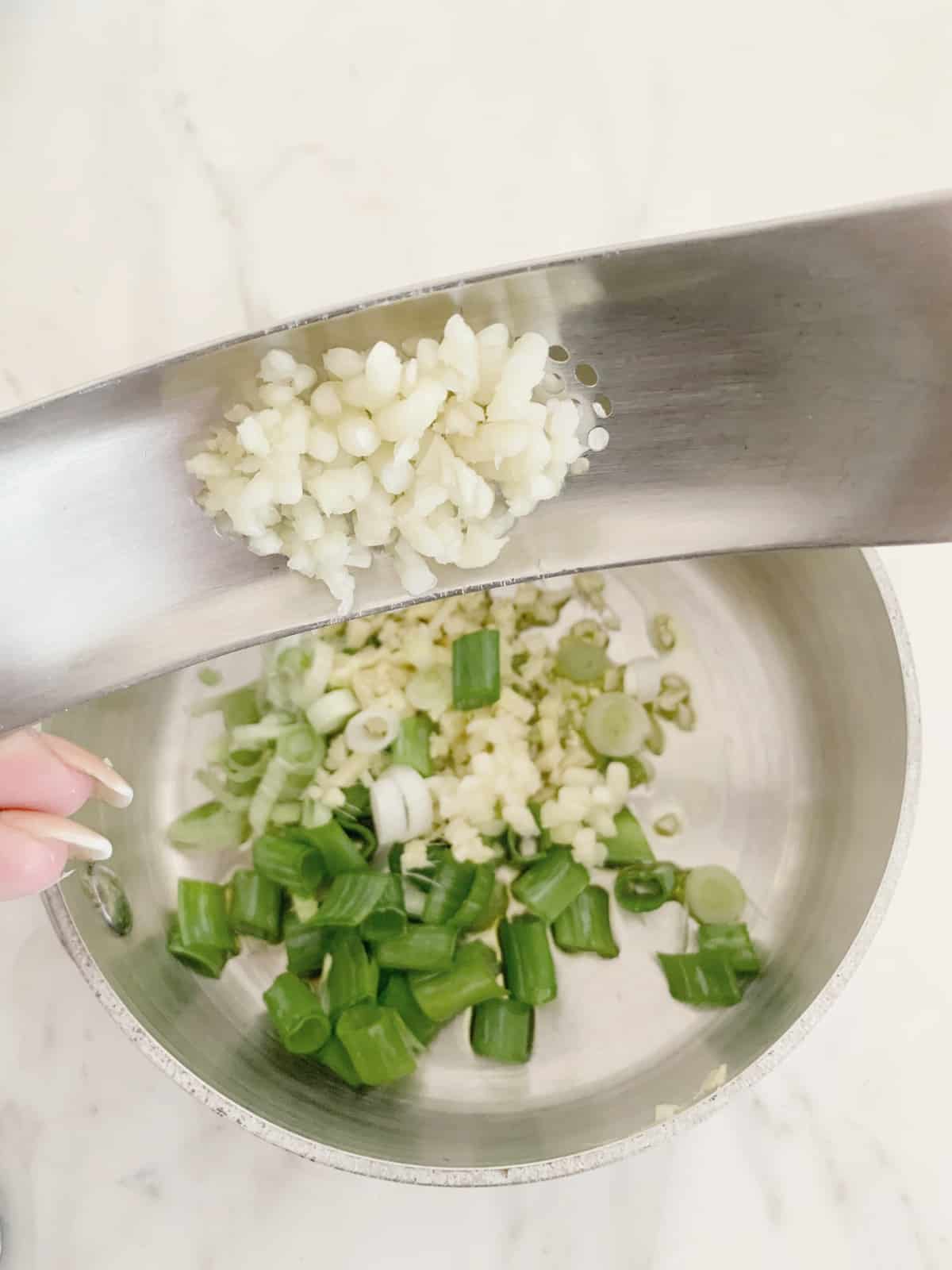 Add about 1 tablespoon of olive oil to a small saucepan and begin heating over medium heat on the stovetop. Add the ginger, green onions, and minced garlic and saute for about 1 minute.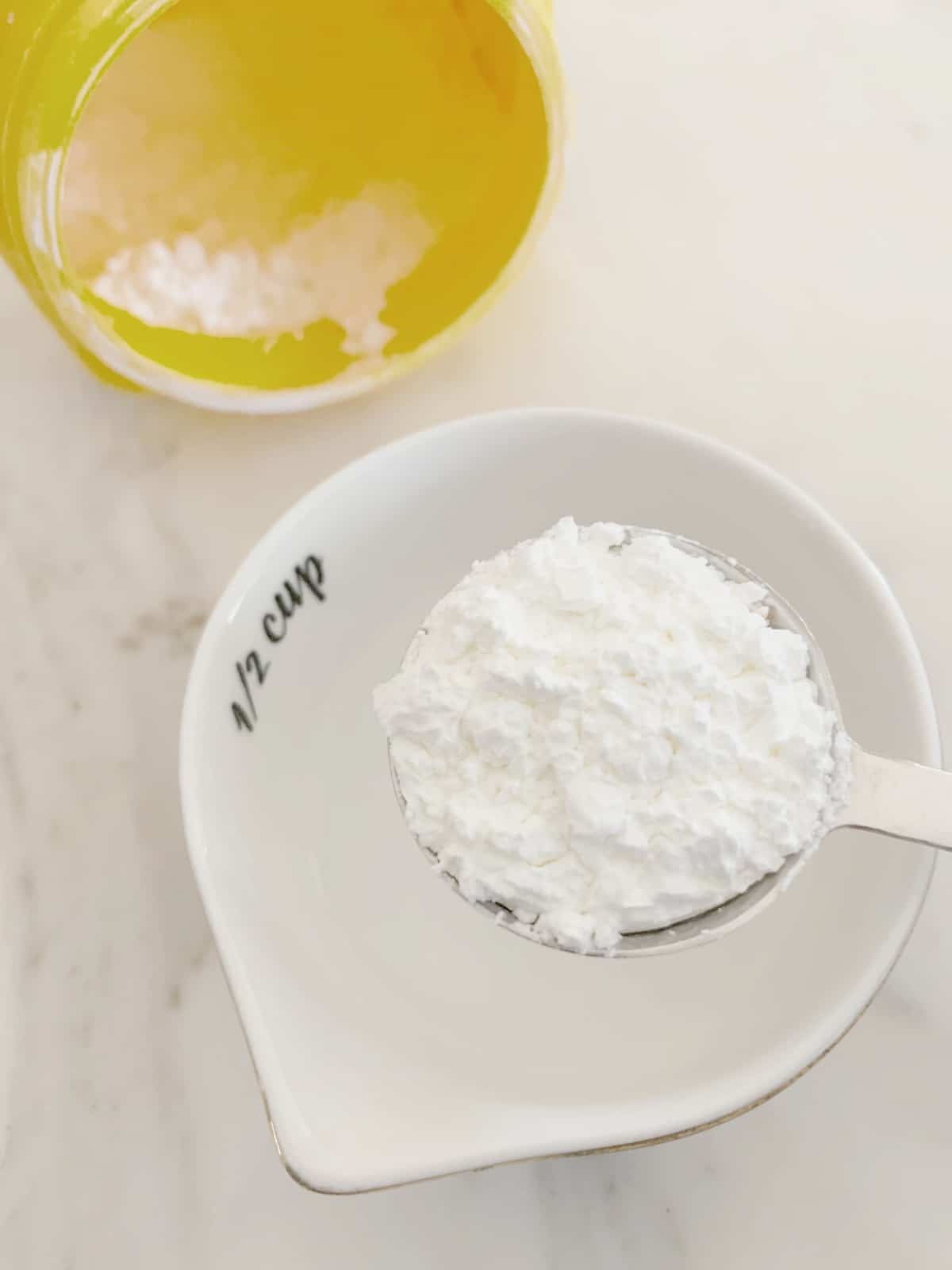 In a separate bowl, stir 1 Tablespoon of cornstarch into about 2 Tablespoons of water.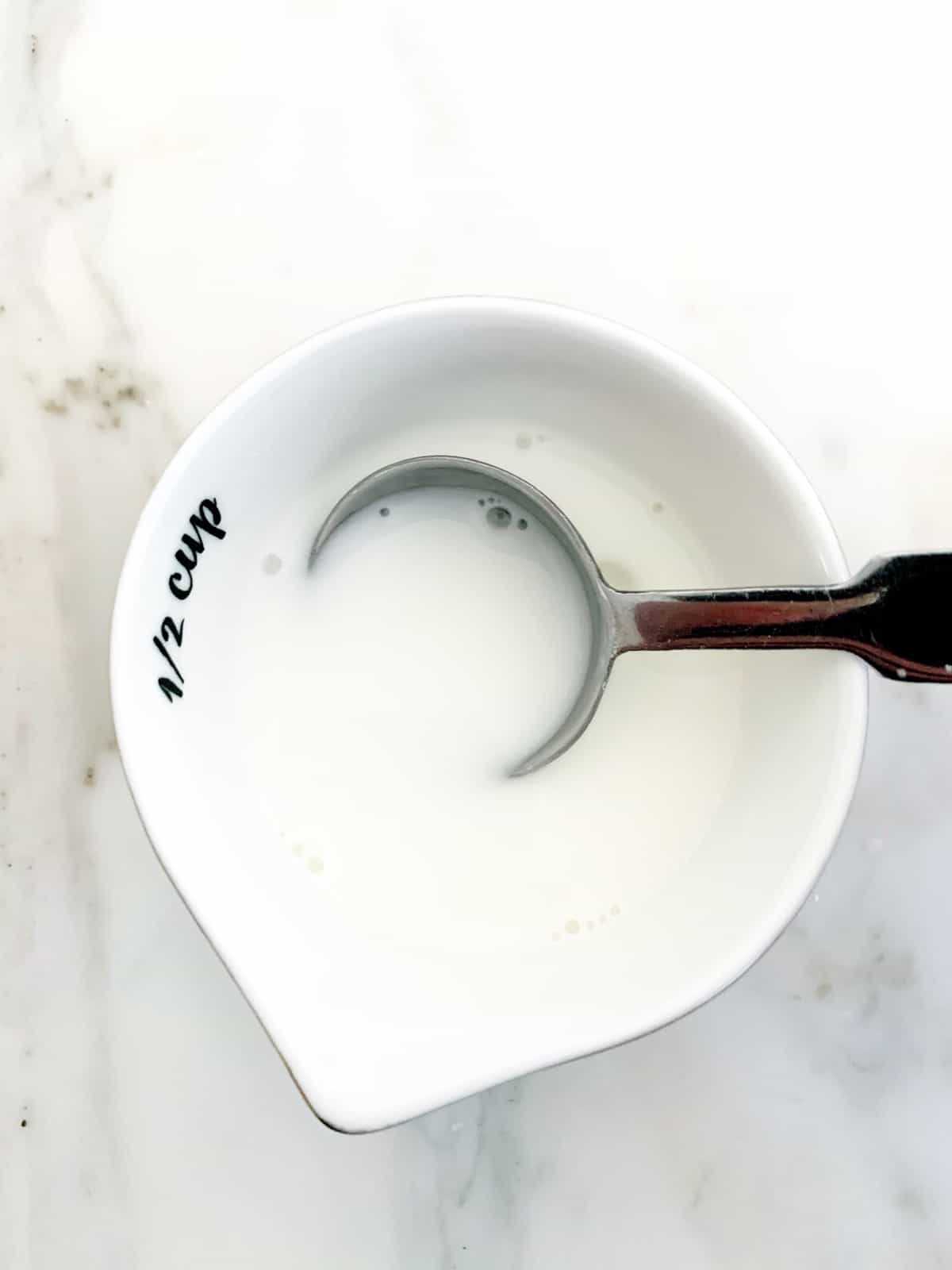 Stir so that the cornstarch completely dissolves into the water. This will be your thickening agent in just a moment.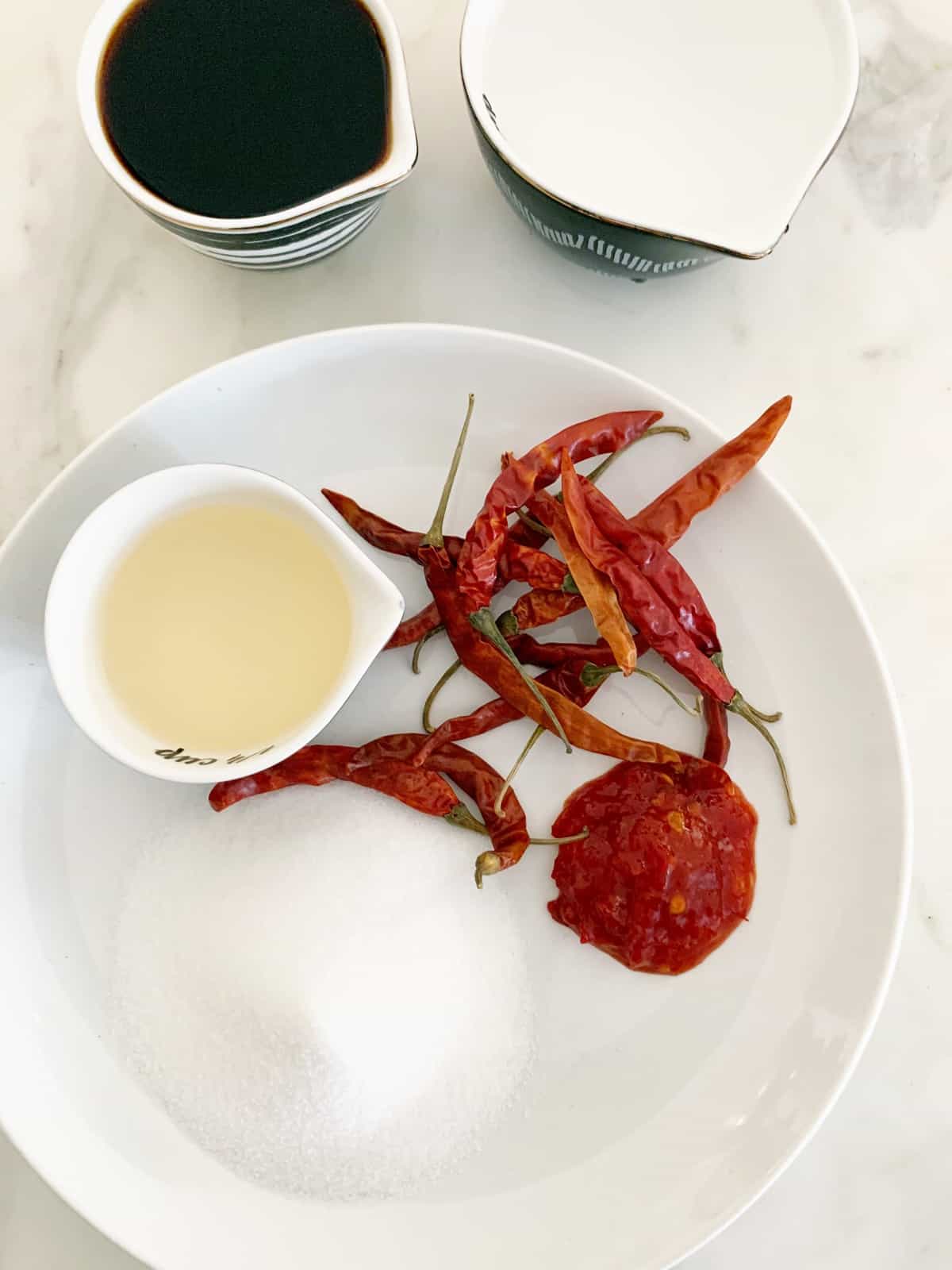 While the garlic ginger mixture is browning, gather the remaining ingredients – chili paste, sugar, rice vinegar, 1/2 cup water, soy sauce, and chiles de Arbol. Chiles de Arbol are a hot and beautiful red chile with thin skin. They are typically grown in warm, dry climates and ground into a powder or dried for use in dishes like this Kung Pao Brussels sprout recipe. They add spice, heat, and also a gorgeous accent color to this dish.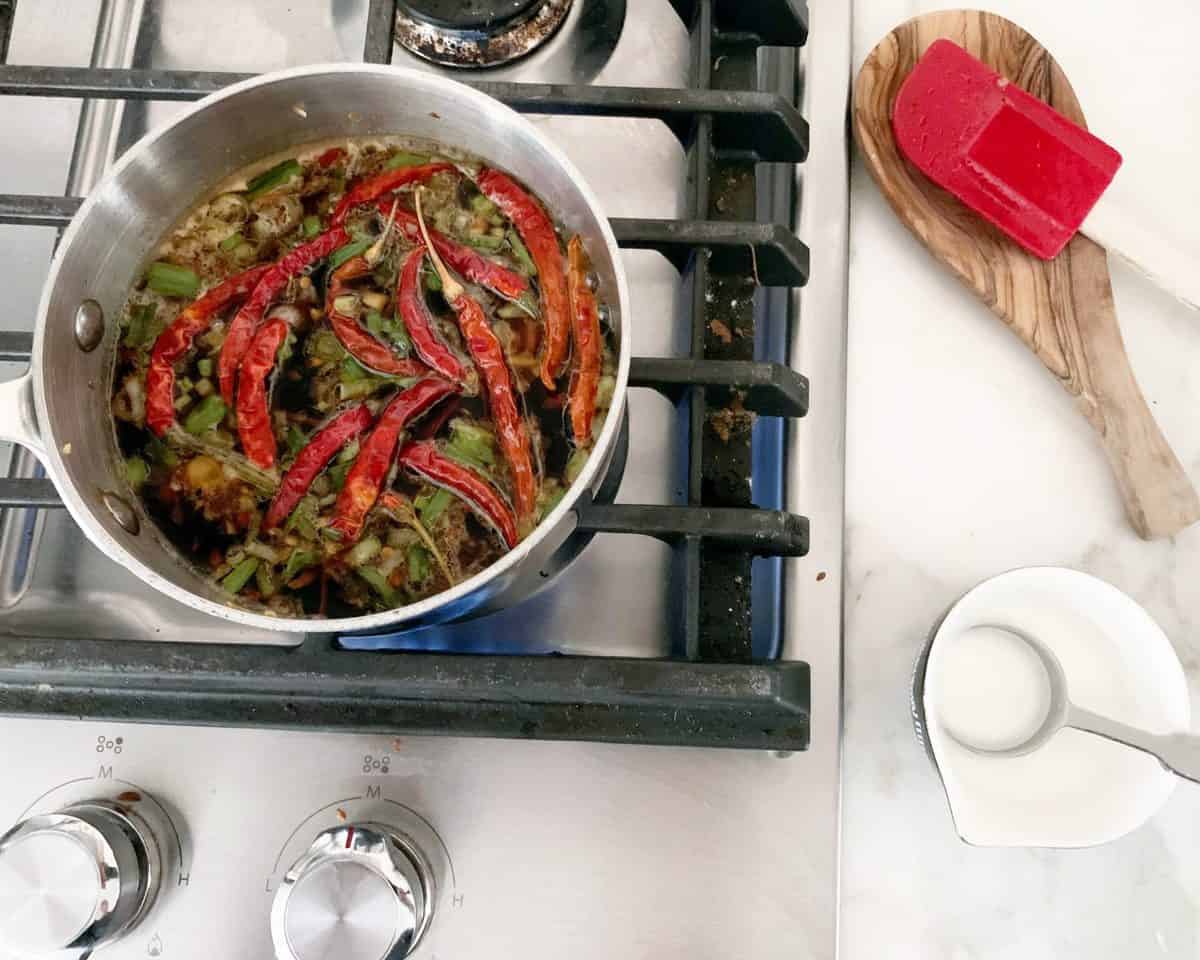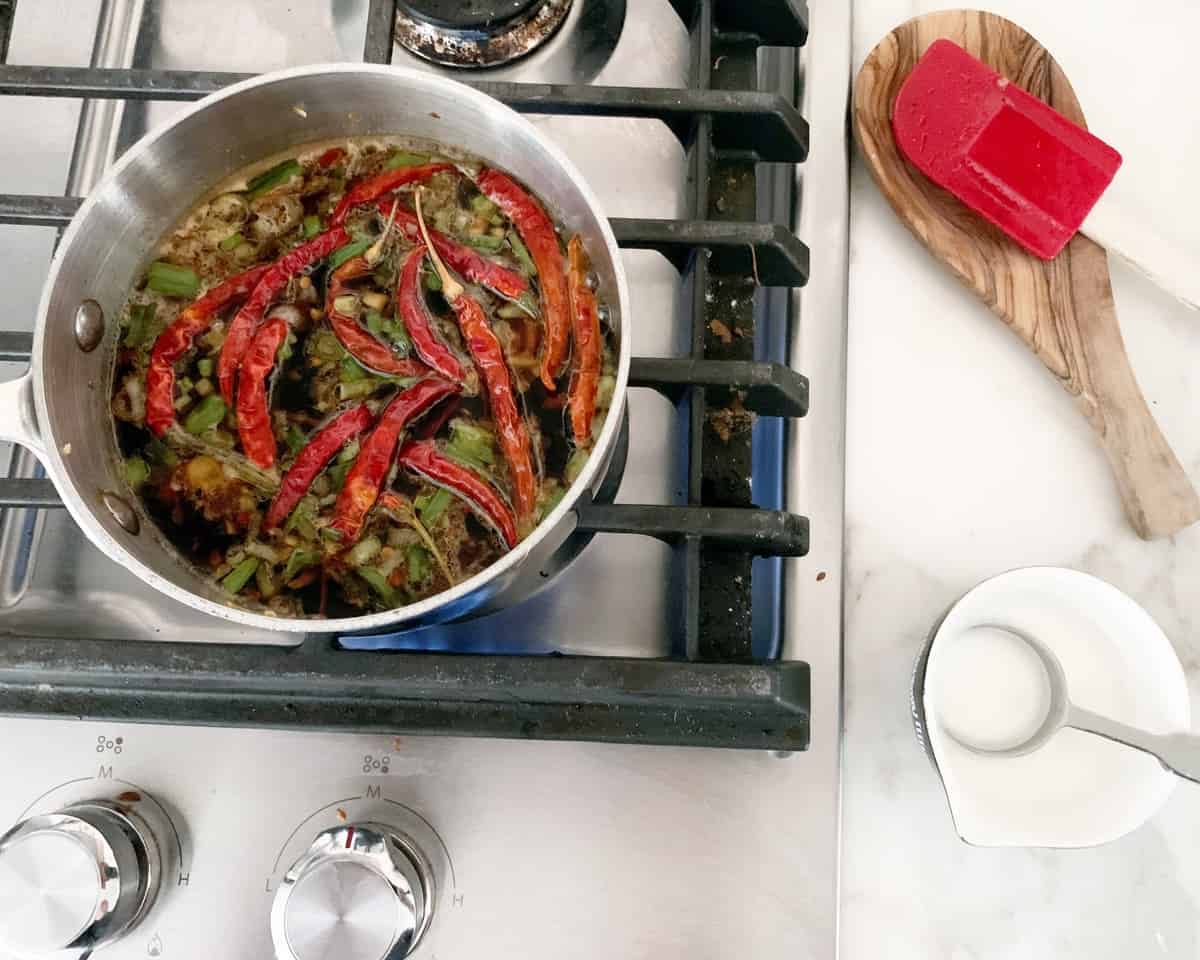 Add all but the cornstarch mixture to the saucepan and heat until it begins to simmer.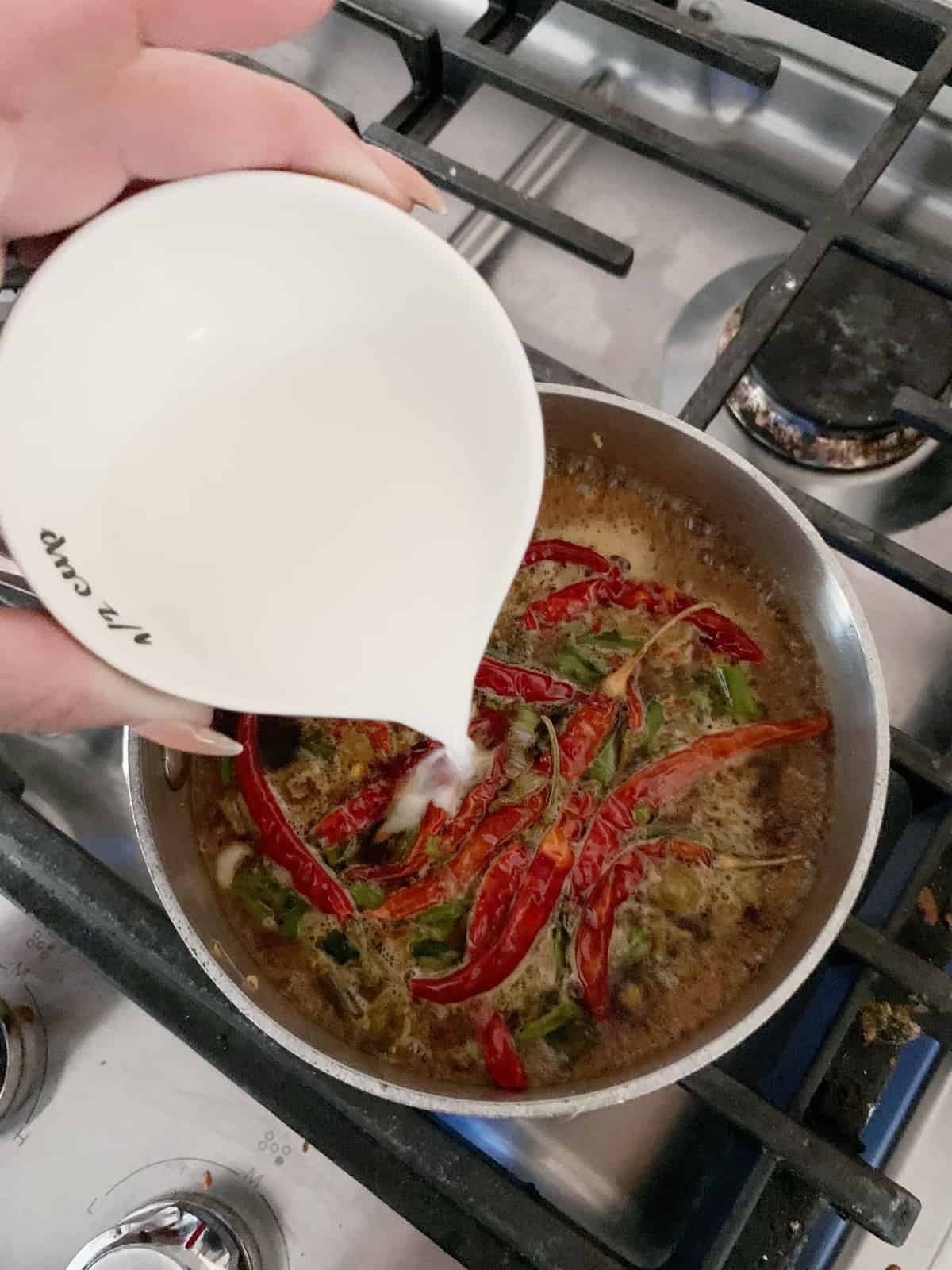 While stirring constantly, pour in the cornstarch mixture and continue stirring until it is well incoporated – we don't want lumps to form. Bring the sauce to a light boil and simmer for 1-2 minutes longer to ensure you've cooked the cornstarch and the sauce thickens up.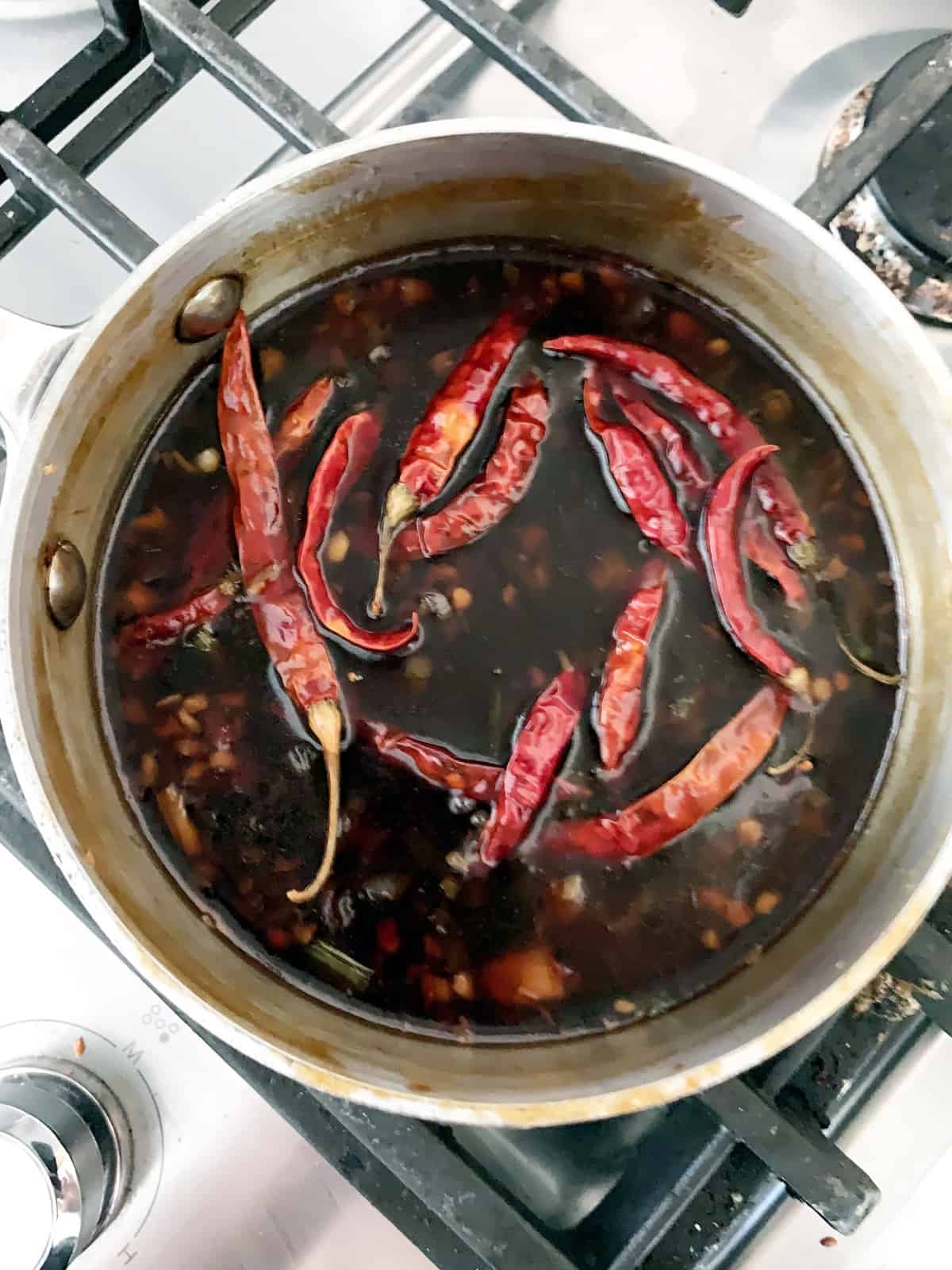 Remove the sauce from the heat and set aside until your Brussels sprouts are done roasting.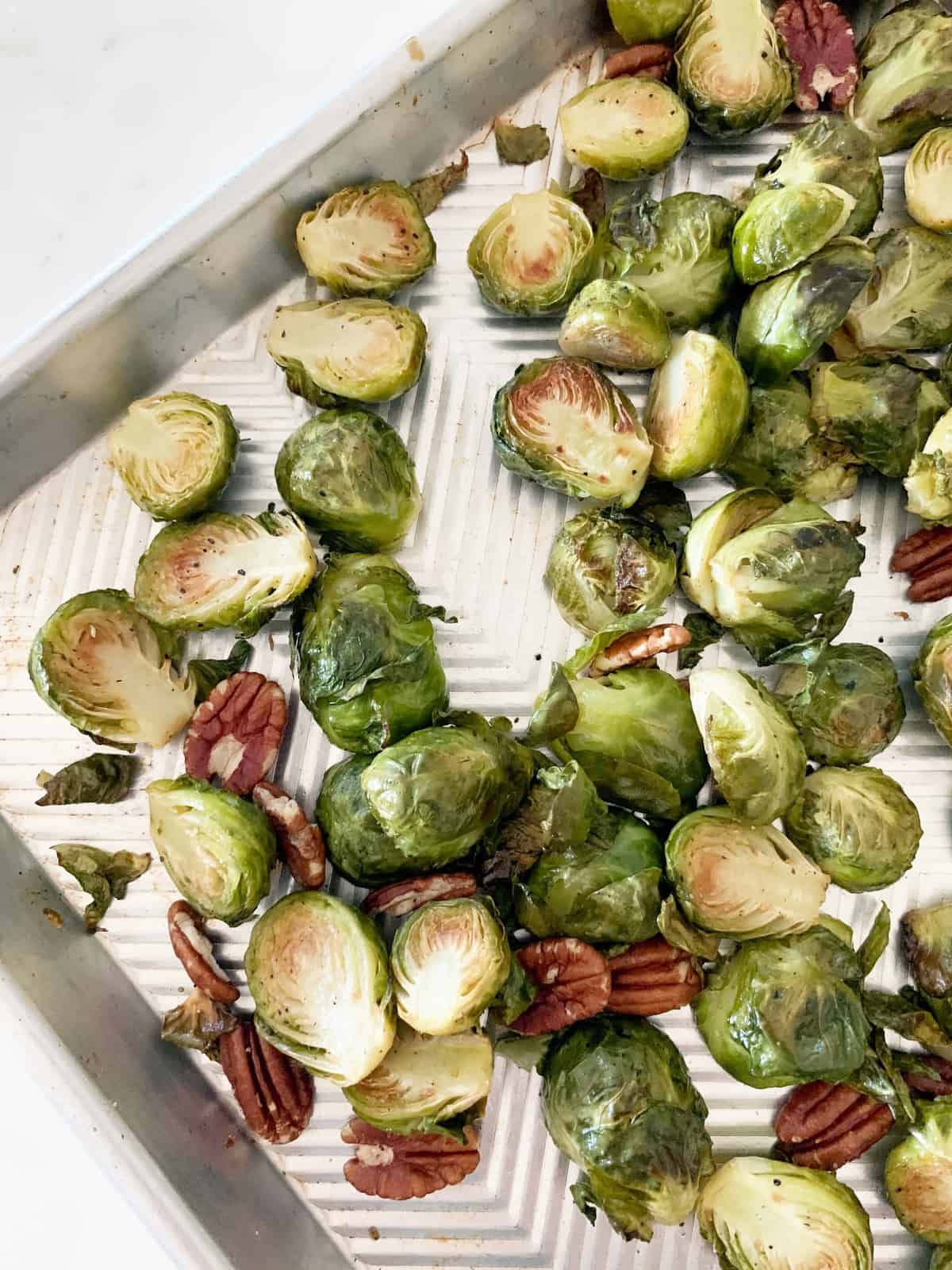 Remove the baking sheet from the oven.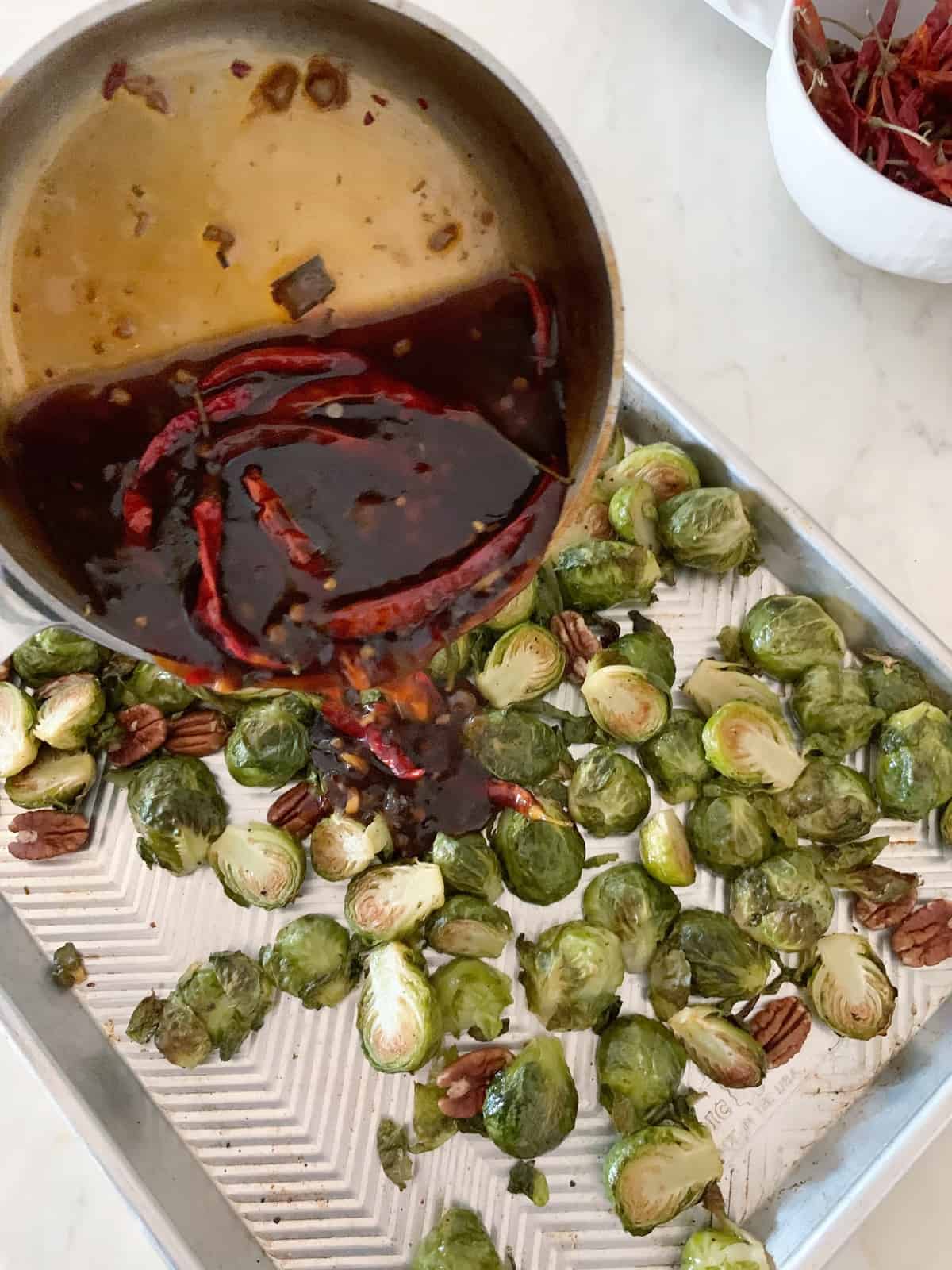 Pour the sauce over the top and stir to coat all the Brussels sprouts and pecans evenly.
Mix and serve!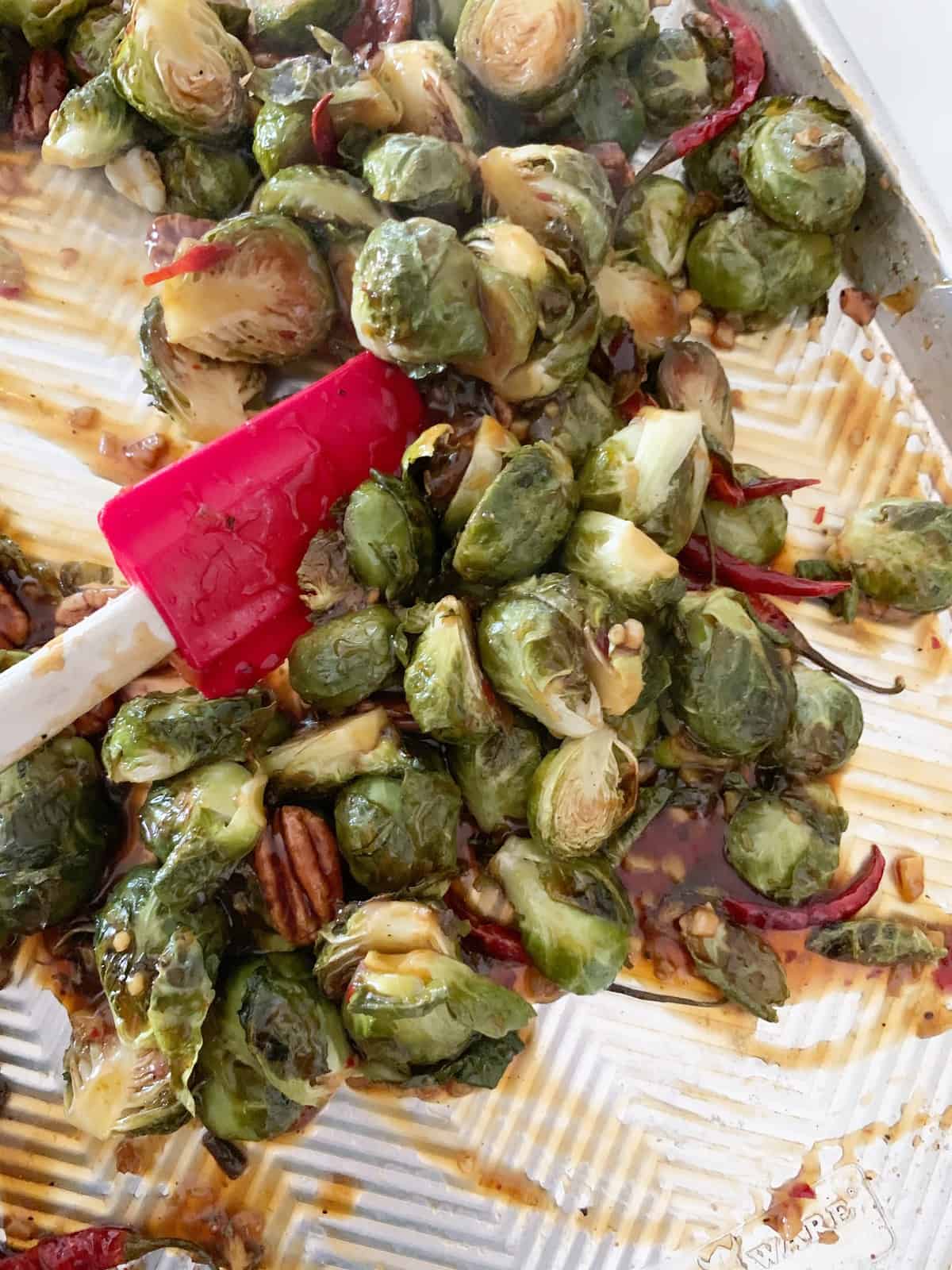 Time to serve! Serve with rice or eat as is.  Garnish with a few fresh slices of green onion if you'd like. I'm even thinking of adding some chicken or beef next time. However you decide to eat it, enjoy! Even my kiddos agreed, this was a dish worth having over and over again!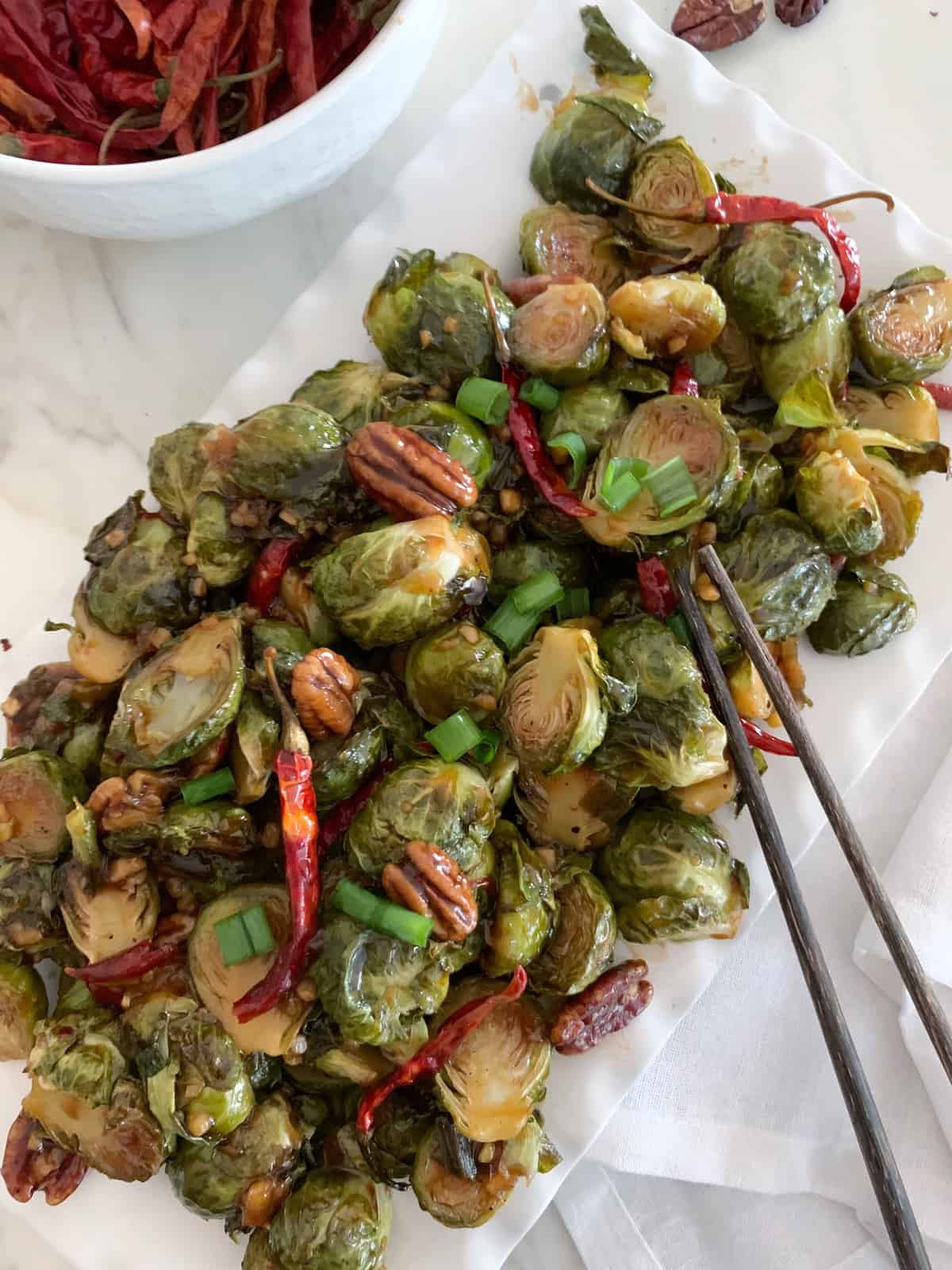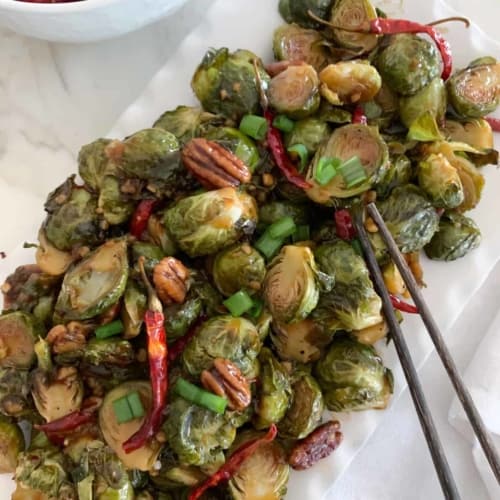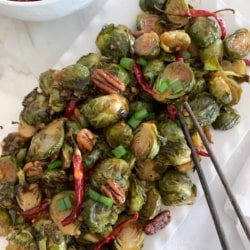 Kung Pao Brussels Sprouts
A sweet and spicy Kung Pao sauce coats roasted Brussels sprouts and pecans for a delicious, hearty dish that packs a punch of flavor.
Ingredients
2 pounds Brussels sprouts rinsed, trimmed, and halved
3-4 Tablespoons of olive oil
1/2 cup raw pecan halves
salt and pepper
1 Tablespoon of finely chopped fresh ginger
2 cloves garlic minced
2 green onions chopped
2 teaspoons of red chile paste
8-10 dried chiles de arbol
1/2 cup soy sauce
2 Tablespoons rice vinegar
4 Tablespoons of granulated sugar
1/2 cup water
1 Tablespoon cornstarch dissolved into 2 Tablespoons of water
Instructions
Preheat oven to 425 degrees.

Coat prepared Brussels sprouts with a light and even layer of olive oil and spread evenly onto a baking sheet.

Sprinkle lightly with salt and pepper.

Roast in oven for 20-25 minutes, turning about halfway through.

Add pecans onto baking sheet in the last five minutes of roasting.

Continue roasting until pecans are lightly toasted and Brussels sprouts are golden brown.

In a small saucepan, saute garlic, ginger, and green onions in a tablespoon of olive oil until lightly browned.

Add chile paste, dried chiles, soy sauce, vinegar, sugar, and water to the saucepan and bring to a simmer.

Add cornstarch mixture and stir continuously, cooking 1-2 minutes longer until sauce thickens.

Pour prepared sauce over the roasted Brussels sprouts and pecans; toss to coat evenly.

Garnish with a few green onion slices and serve immediately.
Nutrition
Calories: 240kcalCarbohydrates: 27gProtein: 8gFat: 14gSaturated Fat: 2gPolyunsaturated Fat: 3gMonounsaturated Fat: 9gSodium: 1121mgPotassium: 702mgFiber: 7gSugar: 13gVitamin A: 1365IUVitamin C: 130mgCalcium: 80mgIron: 3mg
Inspiration from Spicy Southern Kitchen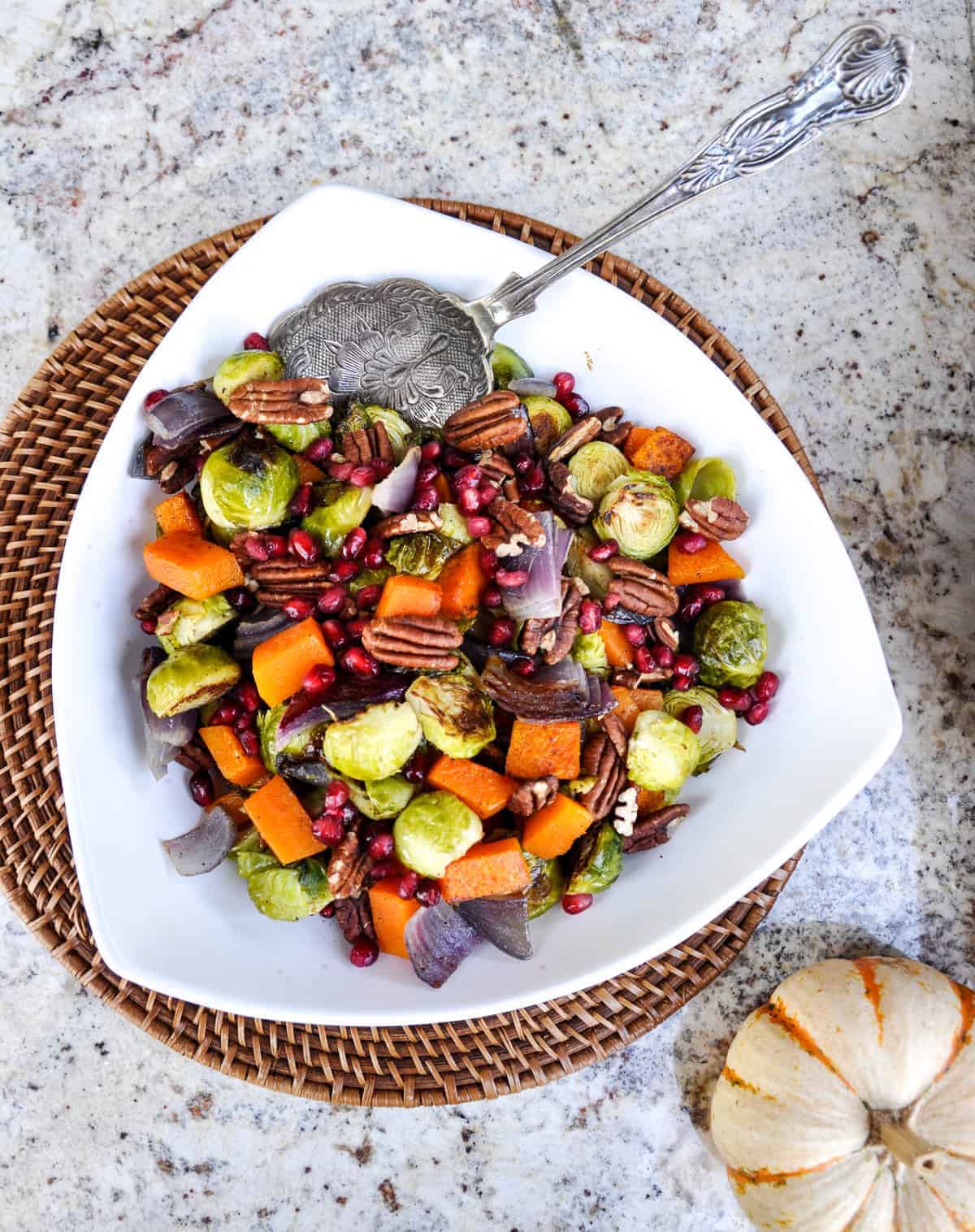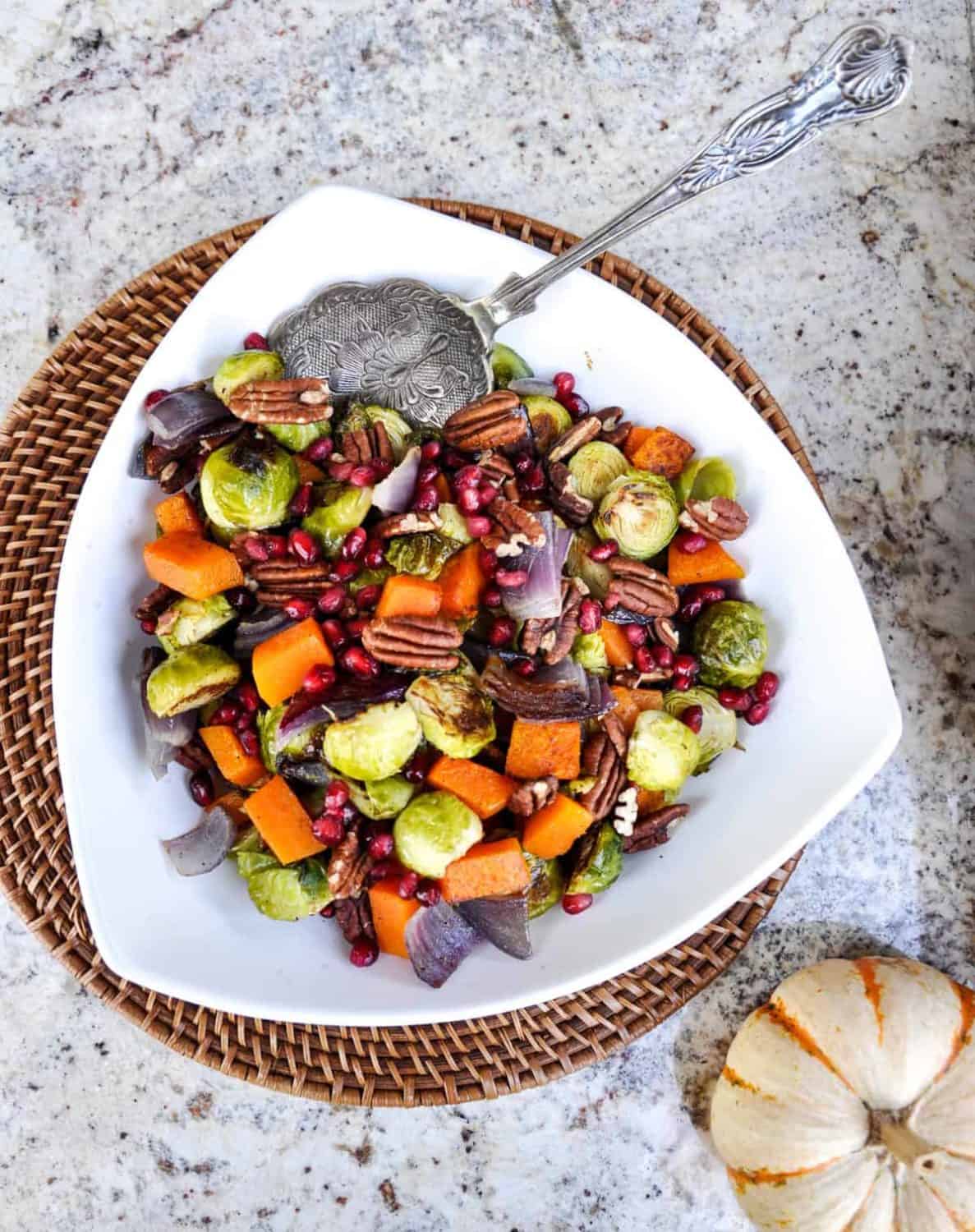 This Roasted Brussels Sprouts and Butternut Squash with Pecans and Pomegranates is full of fabulous fall flavor – and California grown goodness!